The Men's Hair Product Guide: All Major Types Explained
The world of male grooming has changed. Gone are the days of every man using the same three products for every purpose; we now have a smorgasbord of products, sub-products, and brands to choose from.
And this is great news: it means you can style your hair with greater control over the final result and greater confidence that the product you're using is right for your specific needs.
The downside is it's getting pretty tough for the average joe to keep track of all the different terms that get thrown around, and a men's hair product guide like this one is often necessary just to get your bearings.
Most guides simply tell you what types of hair products are out there.
But we've gonna do you one better than that:
We're going to look not just at what the products are but what you can use them for and how to use them like a pro.
We've opted not to include men's hair care products like shampoo and conditioner here; you can see a broader range of care and maintenance products in our dedicated post here.
This guide is for men who want style; for men who look at the heavily stocked shelves of a men's grooming store and think, with increasing exasperation, 'what hair product should I use?!'
But before we can get into that, we need to take a quick detour to explain a couple of key terms:
Key men's hair product terms
Hold
'Hold' refers to the strength of hold a product offers. A strong hold will make your hair stay in place longer with less flexibility, whereas a medium to low hold product will be more pliable but is unlikely to keep thick hair in place throughout an entire day.
When it comes to getting the right style, hold is what matters most. When you're shopping for a product, the amount of hold it gives will be described in low (light or soft), medium, or strong.
A product that gives your hair a lot of hold (strong) will keep your strands stuck in place exactly where you want them to be. If you're going for a more natural look and don't want your hair to feel as stiff, you might prefer something with less hold (soft).
Shine
'Shine' refers to the way your hair looks once the product is applied. High shine means your hair reflects a lot of light, making it appear glossy, wet, or even greasy depending on the product.
The shine of a hair product refers to how glossy it makes your hair look. If a product says "matte," it means that it won't make your hair look shiny at all; if it says "natural" or "low shine," it means that even though it has some conditioning ingredients in it, your hair won't look slick or greasy after use; while "high shine" implies that your locks are going to gleam like they were just polished by a professional.
Matte
'Matte' is essentially the opposite of shine, meaning your hair actually absorbs light. This tends to look like there is little to no product in your hair, making it appear natural.
The Definitive Guide to Men's Hair Products
1. Hair wax  (Medium hold, medium shine)
What is hair wax?
The most popular men's hairstyling product in the world; it's commonly made from beeswax diluted with fat or oil, although you'll often find natural oils, carnauba wax, and lanolin in there, too.
Hair wax usually offers a medium/medium-strong hold, meaning it will keep your hair in place but can also easily be restyled throughout the day; the shine tends to be medium too, though some products are a little duller, providing more of a matte finish.
Some wax products can be a little too greasy, and have a strange scent – so be careful when choosing a wax product. It's also best avoided for men with curly hair, as it often causes clumping.
Best suited for
Hair wax is highly versatile and great for most kinds of hair: thick and thin; long and short. It's real 'USP' is probably how good it is for men with relatively busy schedules, as it is easy to apply on the go and leaves enough give to restyle throughout the day.
The best hair wax line
Jack Black Wax is our top pick for men's hair waxes: it offers a truly superior hold, and its natural formula makes the grease issue we've discussed far less problematic.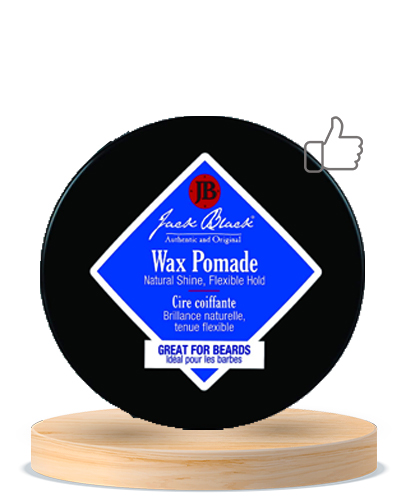 Pro tip
Air on the side of caution when it comes to quantity: even the slightest bit too much wax will make your hair look very greasy indeed.
2. Pomade (Medium hold, high shine)
What is pomade?
A creamy, slick hair product that offers a similar hold to wax but tends to be far more flexible, meaning men with curly hair can use it without the fear of clumping.
It provides a very high shine, and is often used for retro looks; it's also great for restyling throughout the day.
It's important to know the distinction between oil-based pomades and water-based pomades.
Oil-based pomades are made from grease, are generally cheaper, and tend to be low quality; water-based pomades offer a slightly weaker hold, but are much more flexible, are easier to wash out, and are less likely to cause problems for your scalp.
Best suited for
Like wax, pomade is hugely versatile. However, men with thick hair will get the most from it, allowing them to get a really stylish retro slick.
The best pomade line
Seven Potions' Hair Styling Pomade For Men is our pick for the best pomade product available today: it is made from an all-natural formula that provides a natural-looking slick, which both holds great and washes out easily.
Pro tip
Start applying pomade from the back of your head forward; this will ensure there's no too much on your fingers when it gets to the front, avoiding overuse.
3. Hair gel (High hold, High shine)
What is hair gel?
A hugely popular, yet often underappreciated, hair product. Gel tends to be associated with teenage boys who overuse it and end up smelling terrible, but if used correctly it can be a real asset for men who need a strong hold.
Gel is great for adding texture, as well as providing a high shine. However, you don't have as much room for restyling as with pomade or wax, and gel does have the potential to strip your hair of its natural moisture, causing dandruff and itchiness.
There's also a big distinction between natural gels and those which feature questionable chemicals; unsurprisingly, we suggest you opt for the former.
Best suited for
Men who need a strong hold, particularly those with thicker hair which can be a little resistant to other products. Gel is often the secret behind those really wild, ambitious hairstyles that seem to defy at least three basic laws of physics.
The best hair gel line
American Crew's Firm Hold Styling Gel is our tip for the best men's hair gel: it provides a really great, subtle texture; works on basically all hair types, and even features a serving of vitamin B5 to help tackle thinning hair.
Pro tip
Gel should be applied to damp hair for the best results, so make sure your hair is freshly washed and not totally dry when you apply gel.
4. Hair clay (High hold, low shine)
What is hair clay?
An increasingly popular men's hair styling product that provides a very firm hold on top of a bunch of extra benefits, like helping to repair damaged hair and actually clean the hair.
Unsurprisingly, it's made with clay – usually, bentonite, which is naturally sourced and great for the health of your hair because it helps draw toxins from the follicles and scalp.
Clay is easily absorbed by your hair, making it very easy to use, and adds a real thickness and body to your hair. It's also very sticky, and tends to add a low shine to your hair, meaning it generally looks pretty natural.
Best suited for
Men with frizzy hair: clay is ideal for controlling and managing frizz, allowing you to style your hair with less effort and providing the hold for it to actually stay in place throughout the day.
The best hair clay line
Baxter of California' Clay Pomade is the best clay you'll find: it's great for taming unruly hair, and provides a long-lasting, pliable hold. But it also contains fennel seed oil, which helps stimulate hair growth and add moisture to your hair and scalp.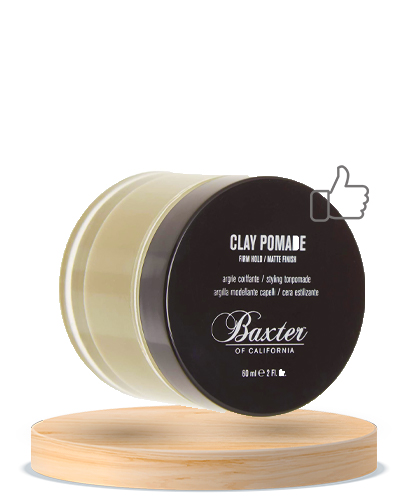 Professional tip
Use a very small amount: good quality clays are deceptively effective, requiring only the tiniest amount to 'lock' your hair in place.
5. Hair cream (Low hold, medium shine)
What is hair cream?
Hair cream is an (unsurprisingly) creamy product with a low hold and a natural-looking medium shine. It is not as widely popular as other hair products, but its combination of natural oils and amino acids makes it among the healthiest products for your hair.
Creams aren't necessarily great for texture because the product is so soft and the hold is very low. However, many men love how lightweight cream is, as it makes them feel like they're not wearing product at all.
Best suited for
Hair cream is hugely versatile, but it's most popular among men with medium-to-long hair who want to style their hair without losing its natural shine. Because it is highly pliable, you can experiment with a range of styles.
The best hair cream line
Paul Mitchell's Tea Tree Shaping Cream is our favorite hair cream: it's infused with tea tree oil, unclogs your hair follicles, and fights all kinds of bacteria and fungus to make your hair grow more healthily. And, of course, it provides a firm hold along with some lightweight texture.
Professional tip
Hair cream is great for men with thinning hair, particularly if you'd prefer to avoid more heavyweight options like pomade. Try using hair cream to add a little natural volume in the morning.
6. Hair spray (Finishing and texture)
What is hair spray?
Often overlooked as a product intended for women, hair spray has become more popular with men in recent years as a great, affordable styling tool.
Its big appeal is that it provides a decent hold without weighing your hair down at all. This means it creates a more natural look, and is great as a 'finishing' product. You can use hairspray as the main styling product, or simply as a means to give your hair a little lift.
It's important to note that hairspray comes in a variety of different strengths, meaning you can choose a product to match your hair's hold needs. But it's also important to note that many hairsprays use some fairly nasty chemicals, so it's worth taking care to check your ingredients.
Best suited for
Men with thinning hair; hair spray will help you create natural-looking volume that helps cover up the thinning and achieve a variety of hairstyles you may otherwise struggle with.
The best hair spray line
Sexyhair's Big Spray & Play Volumizing Hairspray is our pick for the best men's hair spray: it's great for bolder, ambitious styles, adding huge volume whilst reducing frizz for up to 72 hours.
Professional tip
Don't assume all hair products have to be used on their own; hairspray is fantastic in conjunction with products that offer a stronger hold,, like gel or pomade.
7. Sea salt spray (Beach texture)
What is sea salt spray?
A relatively new product, at least for men; sea salt spray is somewhat similar to traditional hairspray in terms of application, but it is made of natural salts and other compounds.
The great thing about sea salt spray is it absorbs the natural oils in your hair, allowing you to get more texture and volume without getting too greasy, thick or sticky. And it provides a medium-ish hold without taking away from your hair's natural bounce.
The main flaw with sea salt spray is it has a tendency to dry your hair and scalp out, so you may want to avoid using it as an everyday product unless it's absolutely essential to the style you're going for.
Best suited for
Men with longer hair find particular use for sea salt spray, and it's generally considered a summer-centric product, though it can be perfectly good for year-round use. It's known as the product of choice for men who want a natural, beach-bum look,
The best sea salt spray line
Davines' This is a Sea Salt Spray is the best sea salt spray you'll find: it creates fantastic texture and volume without giving you static. It also provides you with a nice, matte finish that looks natural and effortless.
Professional tip
Sea salt spray definitely works best on damp hair, so try to dampen your hair to the roots when you use it. It doesn't need to be soaked; just give it enough moisture to properly absorb.
Conclusion
The world of male grooming is often confusing, and we hope this guide helps you understand a little more about what you're actually buying.
We'd love to hear from you: which products do you get the most use out of? And are there specific products or brands you think we should know about?
Let us know in the comments below.