11 Best Hair Gels for Men That Provide The Perfect Hold
This post may contain affiliate links. Learn more.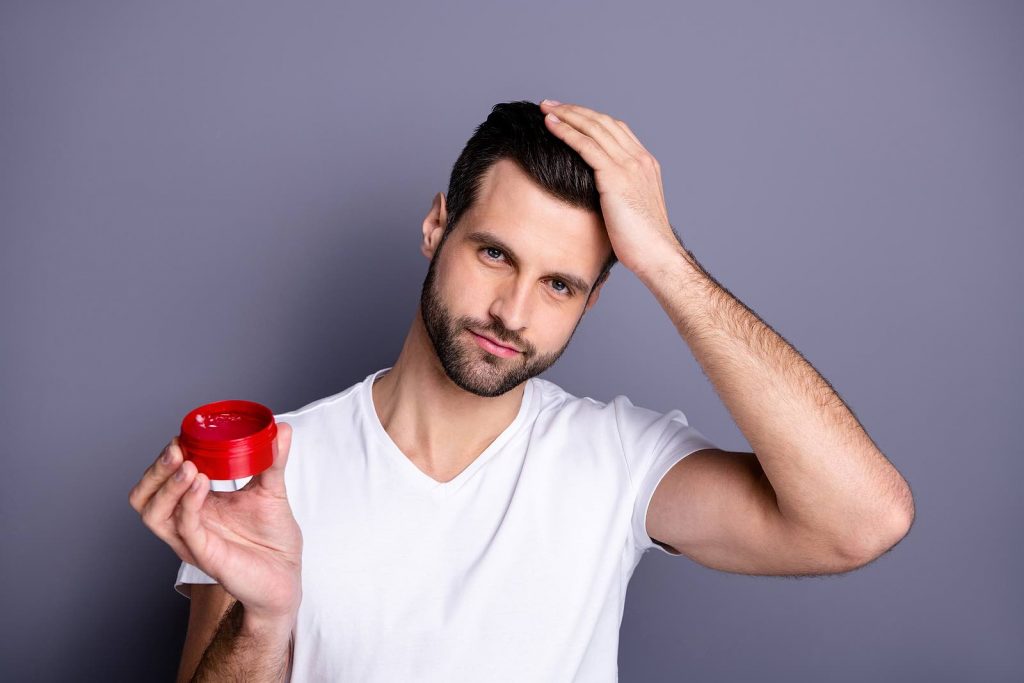 Hair gel is almost a cliché: every teenage boy has worn a little too much at some point. But the truth is, gel is popular because it does the job right – whether you're looking just to add a little texture or fully style your hair out, gel is never going to let you down.
And that's why finding the very best hair gels on the market is important.
So we've put together this review, to look at the 11 very finest products on the market – not just the best quality, but the best value and the most ethical.
In a hurry? Here are our top picks:
American Crew Firm Hold Styling Gel
Our no.1 choice, for example – American Crew Firm Hold Styling Gel – is a total all-rounder. It offers a firm hold that somehow never goes hard; works on almost every type and style of hair; and creates an exceptional texture overall.
Revita's Styling Gel
Our no. 2 choice is Revita's Styling Gel, which is ideal for folks who are experiencing hair loss and want a gel that not only helps them style their hair, but actively adds volume and promotes healthier growth.
So we've got you covered, no matter what you're after.
And there's more:
We're also going to give you an illustrated guide to properly applying hair gel, and look at the differences between gel and other styling products.
Let's start though, with a few simple tips to consider when purchasing hair gel.
Quick summary
<!—INSERT CODE BELOW—>

Best Overall

American Crew Firm Hold Styling Gel

Offers a firm hold but doesn't go hard

Can be applied to most hair types and styles

Great overall texture

Check on Amazon

Best for Hair Loss

Revita Styling Gel

Makes shaping hair easy, endless style possibilities

Assists in reducing hair loss

Cutting-edge Nanosome delivery system

Check Best Price

Best Vegan

R+Co Motorcycle Flexible Gel

Vegan, and cruelty free

Gives shine and controlled hold

Can be applied on wet hair

Check on Amazon

Johnny B. Mode Styling Gel

Has just the right amount of hold

Easy to wash out of hair

Smells good and long-lasting hold

Check on Amazon

Jack Black Body Building Hair Gel

100% natural and organic formula

Non-sticky and leaves no excess residue

Gives a natural look and shine

Check on Amazon

Clubman Styling Gel By Ed Pinaud For Men

Great scent

Non-greasy feel and look

Flexible hold, easy to modify

Check on Amazon

Tigi Bed Head For Men Power Play Gel

Medium hold that strikes the perfect balance

Perfect for thicker hair

Non-sticky, non-greasy finish

Check on Amazon

Style Sexy Hair Hard Up Gel

Excellent hold

Shiny, gloss finish but not too much

Suitable for a variety of hair types and styles

Check on Amazon

GOT2B Ultra-Glued Invincible Style Hair Gel

Superior hold

Great for vertical hairstyles

Only need to use a small amount

Check on Amazon

Oribe Rock Hard Gel

Extreme hard hold

Ethically produced

Subtle scent

Check on Amazon

Mitch Steady Grip Hair Gel

Reputable brand name in hair styling

Natural finish

Medium hold, not overly stiff

Check on Amazon
Before you buy: 5 Things to consider when purchasing hair gel
Your first step in the process is determining which hair gel is right for you. As always, we'll offer our choices for what we think are the best hair gels, but it's also helpful to have an idea what to look for when you consider which gel to buy.
1. Hair Type
What type of hair you have is an important consideration before buying any styling product. Whether you have curly, thin, coarse, fine, or thick hair, choose a gel that's appropriate to that type.
You can get gels with varying degrees of hold, from light to super strong, as well as ones for different hair types.
2. Hair Style
It's also important to choose a gel that works for your hairstyle. Are you going for a more traditional look, or do you prefer the tousled, "messy" look that many men favor today?
If you want to achieve a slick hairstyle with a lot of shine, you should opt for a pomade or hair wax. The main difference between the two is that pomade is oil-based while hair wax is water-based. Oil-based products tend to give more hold and last longer than water-based ones. However, oil-based products can be difficult to wash out of your hair.
Gels are usually made with water and alcohol (to help set the style). They are ideal for creating wet and spiky hairstyles because they provide enough hold without looking too stiff. They can also be used to add texture and volume to fine hair.
3. Hold
A product's hold refers to its strength for keeping your hair in place.
A gel with a stronger hold will "set" your style in place, so you probably won't have to restyle it during the day when a few hairs go out of place. A weaker hold means that you can restyle it (and works well for many "natural" hairstyles).
Meanwhile, a medium hold indicates that you can do some midday styling, but nothing too complicated.
4. Shine
You'll also have to decide how much shine you want; some gels give your hair a natural look, while others make it super shiny. And lastly, if you prefer organic or all-natural products, it helps to know which formulas are made with natural and organic ingredients.
Shine means just that, i.e., how shiny your hair is after you've applied gel to it. The higher the shine, the more slicked-back your hair will look. Many hair gel brands have a high shine, as do traditional pomades and waxes.
Again, it all depends on the look that you're trying to achieve.
5. Ingredients
A hair gel's list of ingredients varies from brand to brand, but keep in mind that many of them contain alcohol. While alcohol often gets a bad rap, it also has some benefits for hair – including that it works as an anti-bacterial agent.
Another type of alcohol – fatty alcohol – isn't an astringent but instead helps to retain moisture on the surface of your skin. Plus, they'll improve your hair's overall smoothness.
Many gels are water soluble, which makes them easy to wash out of your hair, and some contain antioxidants. Lanolin wax is another ingredient you'll commonly find in gels, while some products contain artificial fragrance, which isn't necessarily a good thing.
That covers some hair gel buying tips. Let's move on to our hair gel reviews.
The 11 best hair gels for men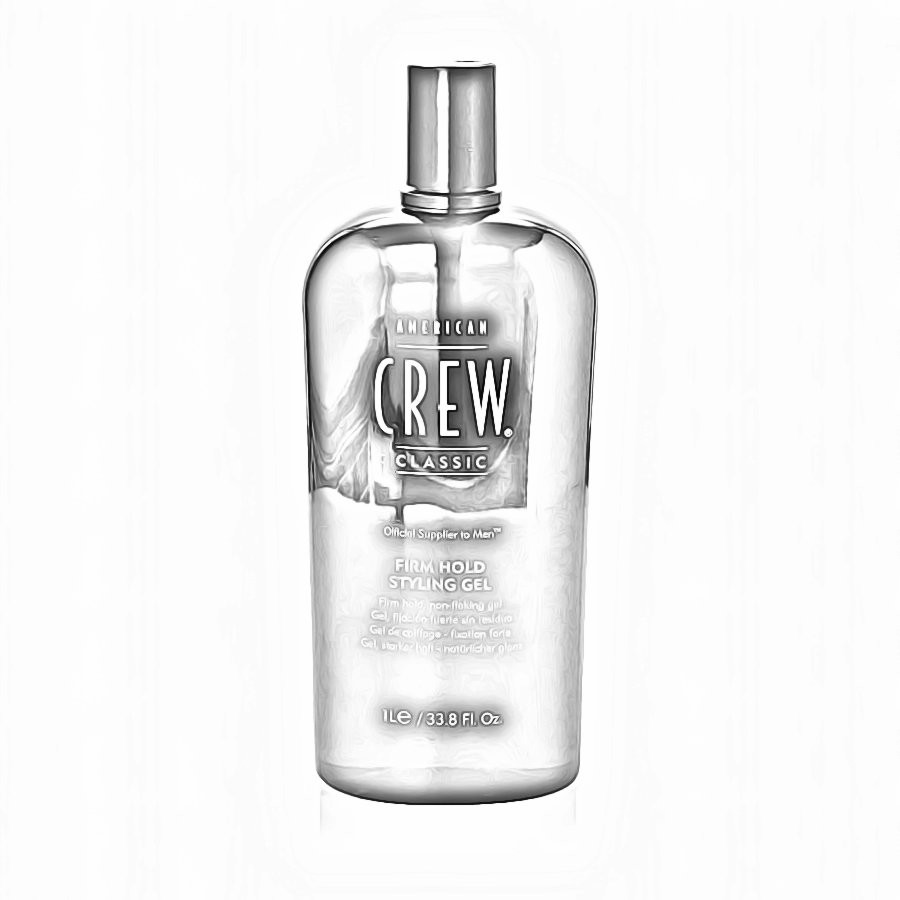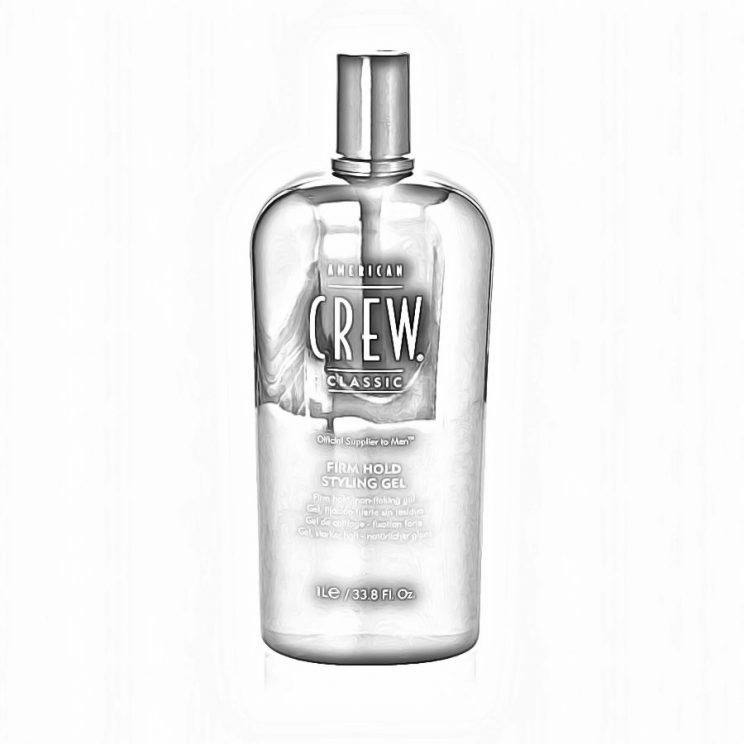 American Crew's Firm Hold Styling Gel gets high marks from a variety of reviewers – and users – for many reasons, not the least of which is its versatility.
After all, it works well with many hair types and styles, and it's easy to apply and makes getting your favored look simple.
And once you get your preferred style, you don't have to worry about it falling out of place. As its name suggests, it has a firm hold that lasts all day, especially for shorter to medium-length hairstyles.
You'll like the control it gives you without worrying if you need to restyle your hair during the day.
But there's more:
It's hard to beat the Firm Hold Styling Gel regarding texture. It lifts your hair to give it a thicker – and healthier – look
It works well on both wet and dry hair
While it has a firm hold, it doesn't have a lot of rigidity like many other gels do
It doesn't have a heavy shine
It's water-soluble and easy to wash out of your hair, and it won't leave flakes behind
It has a natural fragrance that's just the right potency but not overpowering
Another thing to like about American Crew's Firm Hold Styling Gel is that it's alcohol-free, and its list of ingredients includes natural extracts, such as vitamin B5, Panama bark, sage, and ginseng.
Vitamin B5 is among the best vitamins for hair care, so you'll often find it in products that treat hair loss and thinning hair.
You don't need to use a ton of the Crew's Firm Hold Styling Gel to get your desired results. Just a small squeeze should do, and considering that it comes in a hefty 33.8-ounce bottle, it's going to last you a long time.
Pros
Has a firm hold that isn't stiff

Good for most hair types and styles

Provides excellent texture
Cons
Not many, although its large bottle doesn't travel well
Bottom Line
The favorite of many, many men, you owe it to yourself to give this styling gel a try. It gives you the kind of hold you'd expect (given its name) but doesn't leave your hair feeling stiff, crunchy, or weighed down.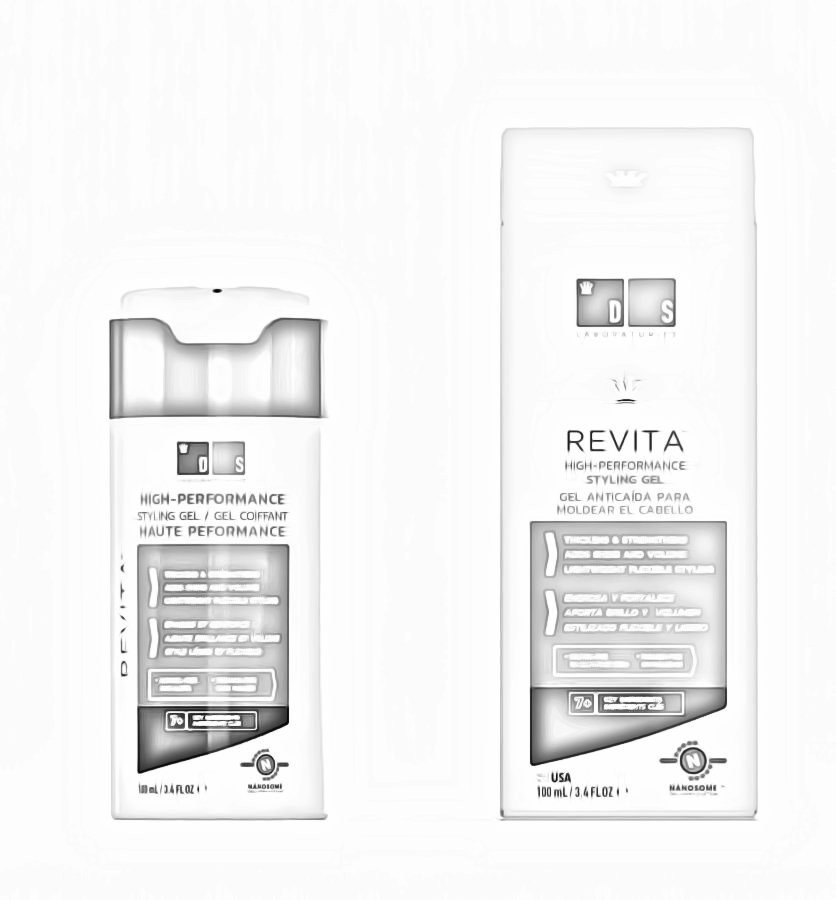 Another quality styling gel we like is DS Laboratories' Revita Styling Gel. And there's a lot to like about it, including its clinically-tested formula that's packed with hair-healthy ingredients.
But, then again, that's what DS Labs is all about: developing innovative grooming products that go through rigorous testing, including clinical trials. Their Revita Styling Gel passes with flying colors and does everything you'd expect from a quality gel, as well as actively stimulating hair growth.
It also features Revita's unique Nanosome delivery system that carries their ingredients to the scalp and hair for optimal hair health. Developed by DS Labs, it's a system that replaces the liposomes found in most other hair and skin products.
Revita's formula also includes Stem Cell Extracts which help prolong the productivity of hair follicles – in clinical trials, 92% of participants experienced a decrease in hair loss after using it. So this is the absolute ideal gel for any man or woman with hair thinning problems.
You'll also like the gel because:
It delivers a firm, but shapeable hold
It allows for maximum control and texture without leaving your hair feeling too stiff
It's excellent for molding your hair into your preferred style, or styles, and provides all-day resilience
It's easy to work the Revita Style Gel evenly through your hair to help give it an all-day hold. Again, it doesn't provide a hold that's too stiff, but one in which you can run your hands through your hair without the feeling that it's knotted or tangled.
The Revita Styling Gel also helps to give your hair a "lift" and to style it into waves, if you so prefer.
Pros
Makes it easy to shape hair into your desired style

Proven to decrease the effect of hair loss

Unique Nanosome delivery system
Cons
Hold may not be as firm as with some other gels
Bottom Line
Revita's Hair Styling Gel joins a long line of quality grooming products developed by DS Labs. It allows you to achieve the style and shape you want without leaving your hair overly stiff.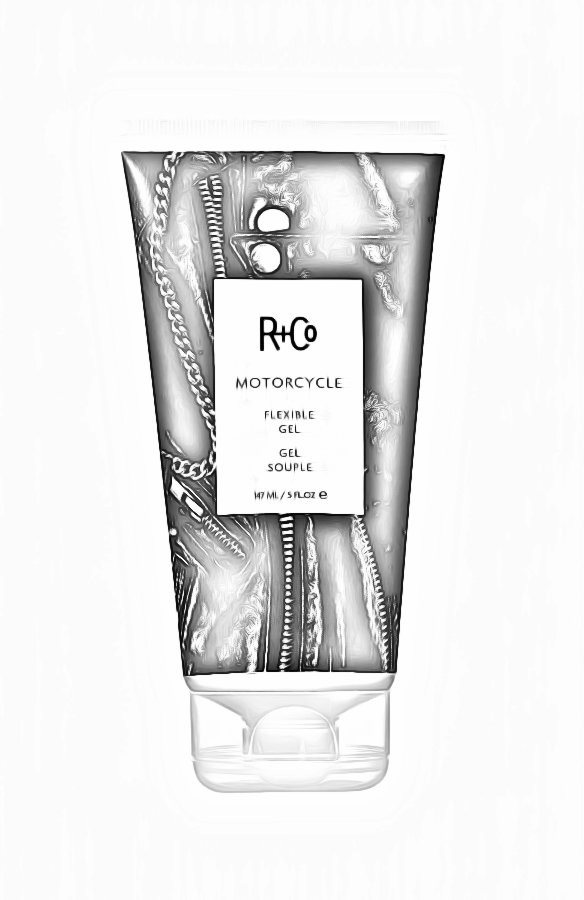 Some men avoid products like hair gel because they believe the chemicals and processes used to make them are fundamentally unethical. So it will surprise men like this to learn that there are actually plenty of totally vegan hair gels out there – and the finest, in our estimation, is R+Co's Motorcycle Flexible Gel.
Its formula is vegan, as well as being free of parabens, sulfates, cruelty – really anything even remotely questionable. It uses coconut oil, sunflower seed extract and a variety of other great ingredients to create a gel you can feel great about using.
So from an ethical standpoint, this stuff is gold. But does it actually work?
Well, the advertising suggests it's super flexible – like your hair in the wind on the back of a motorcycle. And in reality, it isn't quite like that. But it is a great gel – just in a totally different way.
It offers a really lovely looking shine to your hair, and allows for a controlled hold that adds plenty of texture and 'crunch' to your hair. Ideal, really, for creating a quite ambitious hair style.
It adds some real volume to your hair – primarily thanks to Keratin – and because of its natural ingredients it actually helps promote healthier, fuller-looking hair in the long term.
So not only is it ethical – it's great in-itself!
Pros
Paraben free, vegan and cruelty free

Great for applying to wet hair

Gives a shine to your hair and a controlled hold
Cons
The hold isn't as flexible as advertised
Bottom Line
A great gel for vegans in particular, and men who want a controlled hold more generally – brilliant!
Johnny B. Mode Hair Care prides itself on providing the best quality products for men who visit barbershops and salons, but you can also buy it online, and the company earns its reputation by strategically analyzing consumer preferences and needs.
Its Styling Gel reflects their commitment to developing quality products that are relevant to today's man. It has a thick formula that supplies a medium hold and allows room for flexibility and restyling throughout the day.
But the first thing you'll notice about this gel is its sky blue color. It looks great and also smells fantastic, with a fragrance that's cologne-like but not overpowering.
It's also easy to apply, although you only need a use a small amount to get the style and hold you need for most hair types.
Another thing about its hold: it's strong enough for thick hair, even though it doesn't have the same stiff hold of other products. It will last you throughout the day and has just enough hardening to let you know it's there (and to keep stray hairs in place).
The Johnny B. Mode Styling Gel is water soluble, so it rinses out easily between applications and won't cause flakes or unwanted buildup on your hair. And while it feels thick when you first put it in your hands, it eventually has a lightweight feel.
You'll get a nice, pleasant shine from this gel but not the glossiness that doesn't work for a lot of men – especially for those whose hair is already on the greasy side.
You can apply the Styling Gel to wet or dry hair. Blow drying your hair after you apply it will help you get the best styling results.
Johnny B. Mode's Styling Gel doesn't contain alcohol, although it does have fragrance added – but that's not necessarily a bad thing given how nice it smells.
Pros
Has just the right amount of hold

Easy to wash out

Lasts long and smells great
Cons
Make sure you buy it from a reputable, online seller
Bottom Line
The Johnny B. Mode Styling Gel does everything you'd expect from a high-quality product. It gives you an all-day hold without feeling heavy, it's easy to apply and rinse out, and it smells great.
OK, so this hair gel isn't targeting bodybuilders, although we're sure they're welcome to use it, but Jack Black's hair gel is for men who want a clean, natural feel to their hair without needing a heavy dose of chemicals to do it – or a set of barbells.
Jack Black prides itself on the natural and organic ingredients it uses to make its many men's grooming products. The company is a newcomer to the market but has ascended, thanks to the high quality of everything it makes – including its Body Building Hair Gel.
The gel is made through Jack Black's patented PureScience process that doesn't include parabens, fragrances, or artificial coloring. All of its products are cruelty-free, and its gel is dermatologist-tested.
If you're looking for a gel that has a lightweight, non-sticky feel without residue, then the Body Building Hair Gel is one that you should consider. It gives you the right amount of control – although its hold isn't as firm as some hair gels – while leaving a light shine.
You'll also appreciate its fresh, clean scent.
Jack Black's Body Building Hair Gel also comes in a convenient, travel-friendly size that fits nicely into your kit bag.
Pros
Leaves a natural look and shine

All-natural and organic ingredients

Leaves no sticky residue
Cons
Not for men who want a super firm hold
Bottom Line
The Body Building Hair Gel represents yet another quality product in the Jack Black line. It's lightweight and never heavy and helps you attain the look you want from your hair.
While Clubman's Styling Gel may qualify as a "budget" choice, there's nothing cheap about it. Instead, it's one of the best hair gels for men available today.
What makes it so good? A lot of reasons, really, including its manly scent that reminds you of barbershop scents. It won't overpower you – which is always a plus – but it's just noticeable enough to let you and others know it's there.
However, the scent is never a primary concern when we evaluate various hair styling products because it always comes down to performance and effectiveness.
The Clubman Styling Gel by Ed Pinaud answers the bell in both categories and earns high marks from users and reviewers alike.
Let's start with versatility: you can adjust its hold to be extremely stiff by applying it with your hands and leaving it in the hair.
You can also get a lighter hold – that lets your hair have movement – by applying it and then using a comb or brush to thin it out and leave a more even coating.
While men with thicker hair can choose Clubman's Styling Gel and get good results, it works best for on medium-length hair because of its somewhat lighter hold.
It's a hold that will last the day, mind you, but it's not so stiff that your hair wouldn't move in a hurricane. Instead, your hair will feel soft, and the gel washes out easily.
The Clubman Styling Gel has a natural shine that isn't glaring. If you want a higher shine, you can add a bit of water as you apply it.
We also like this gel's list of ingredients, which includes castor oil and wheat protein, which both have hair health benefits. It's also alcohol-free.
Pros
Non-greasy texture

The hold is adjustable

Great scent
Cons
A small number of users report flaking
Bottom Line
The Clubman Styling Gel isn't just good for the price, it's simply one of the best hair gels for men, no matter the cost. It helps gives your hair a natural look and feel while its scent is a nice bonus.
TIGI Bed Head goes the distance in creating products for men that deliver proven results. Their Power Play Gel certainly earns high marks, and it's an excellent product for men looking for a hold that's neither too strong nor too light.
It's also an excellent gel for men with long and thick hair who are looking for a strong style while maintaining a natural look. One could argue that it's the best hair gel for thick hair.
It's also a good choice for active men who want the right amount of hold to maintain their style while still retaining their hair's natural look.
While it's superior when used on long hair, it's also effective if your hair is wavy, straight, or curly. It has a matte finish that's never going to look greasy.
The Power Play Gel has a creamy, smooth texture that's non-sticky. It may feel a little thick when you first apply it, but it settles nicely into your hair without making it feel stiff. To get more of a crisp, crunchier look, apply it to damp hair and use a blow dryer to set it.
Like many of the quality gels on our list, TIGI's Bed Head gel for men washes out easily, and it won't leave any flakes or other residue. It's alcohol-free and contains antioxidants that are good for the hair and scalp.
Pros
Non-greasy finish

Medium hold that feels just right

Great for men with thicker hair
Cons
Some users don't like the fragrance
Bottom Line
The Power Play Gel has too many attributes to leave it off our reviews. From its natural hold to its non-sticky formula, there's a lot to like about this product.
If you're a man who prefers or needs a gel that provides a high hold, then Style Sexy's Hair Hard Up Gel is a product you need to try.
Few products offer the kind of hold you'll find in this gel. That's good news for men who have hairstyles that need to stay in place without much, if any, movement, even in extreme weather or grinding through a hard workout at the gym.
One of the reasons why this gel offers such a strong hold is that it has a wax base, including lanolin. It hardens onto your hair within minutes after application (on damp hair).
If you want a more tousled look, apply it to dry hair, and you can also use your hair dryer to create more volume.
It also works for men with different hair lengths. Again, if you want a product that provides a firm, all-day hold, this is a gel for you.
You'll also like the Hair Hard Up Gel's non-stick, non-greasy texture. Meanwhile, it has a clean scent that's so light others may not notice it, which isn't necessarily a bad thing. It has some shine, but it's not as glossy as other products that have a firm hold.
You shouldn't experience any flakes with this gel, but it's harder to wash out of your hair than many other styling products (which comes with having such a superior hold). Still, you only need to use a small amount of it to reap its benefits.
Pros
Superior hold

Nice shine that's not excessive

Works on many hair types and styles
Bottom Line
This gel's primary attribute – its hold – is excellent enough for it to merit inclusion on many "best-of" reviews, but you'll also love its fragrance and subtle scent, as well as its versatility.
It only figures that a product that has glue in its title would provide a firm hold.
The Got2b Ultra-Glued Invincible Styling Hair Gel by Schwarzkopf is all about the hold – well, maybe not all about – and it's strong, indeed.
You'd be hard-pressed to find a stronger hold, to be honest, but it's also pliable enough that you can style and shape your hair how you prefer.
It's also easy to "un-glue" by using a regular application of your favorite shampoo.
The Got2b hair gel delivers a glue-like hold without being sticky, and it's ideal for vertical hairstyles. You'll also add texture and height to your hair, and it's also good for men with thick, wavy hair.
You should use the Got2b gel on damp or dry hair; simply rub a small amount of it between your palms and then distribute it evenly throughout your hair.
Each order of this gel comes in a 3-pack of 6-ounce bottles. Since you don't need to use a lot of it for each application to get a good hold, the bottles will last you a long time.
Got2b is one of the brands sold by Schwarzkopf, a company that's been in the hair business for over 120 years.
Pros
A hold that's second-to-none and that lasts a long time

Great for vertical hairstyles

Adds texture and height to hair
Cons
White flakes may appear when you comb your hair
Bottom Line
There's no fooling around with the Got2b Glued Invincible Style Hair Gel. It provides a serious hold that lasts the entire day.
Oribe is a bit of a cult brand; their eponymous founder was a world-famous hairdresser, and the line of products they now produce is known the world over for its glamorous quality and high standards.
Naming their Rock Hard Gel must have been pretty straightforward, because it really does do what it says on the package: this is about the toughest, most rigorous hair you will find on the market. And while some will find that a little much, anyone looking to do something adventurous with their hair will find an awful lot to love here.
This is a crème gel, with almost no fragrance at all, which is ideal for many, as the extra fragrance can be a little chemically with many gels and frankly we'd rather keep the attention on our actual cologne.
Oribe's Rock Hard Gel is also kind to the scalp, never causing irritation; it is, however, a little less ideal for very hot weather as it is water based.
It is easy to use – just throw it through wet or damp hair – though some do complain that the bottle is a little leaky and can cause a bit of mess.
But it's nice to note that it's officially approved by PETA and contains no parabens, suflates or any of the nasty stuff so many manufacturers like to shove in their products.
Pros
About the hardest, toughest hold you'll find

Scent is not too strong

Ethically produced
Cons
Some find the packaging to be a little leaky

And it really is rock hard – so be careful!
Bottom Line
Rock Hard Gel is exactly right: a great water-based gel that will keep your hair in place all day, every day. While it costs a pretty penny, most find it to be worth the extra expense for true quality.
Mitch stands for Paul Mitchell's premium line of men's styling products – not that the company's regular list of products wasn't strong enough. Paul Mitchell, after all, has a lofty reputation in the hair care field, and it's well-deserved.
The Mitch Steady Grip Hair Gel lives up to that reputation for a variety of reasons. It's easy to use and provides a lasting hold, although not as firm of a hold as some other gels.
Then again, not every man wants a stronger hold, and many prefer their hair to have some "movement."
It also has a nice shine, although, like its hold, it's a more medium strength than anything else. It will leave your hair with a nice finish but one that's not too shiny or oily-looking, and it has an alcohol-free formula that won't dry out your hair or cause unwanted flakes.
Mitch Steady Grip Hair Gel comes in a compact tube that makes it easy to get the amount of gel you need without having a lot go to waste.
Pros
Well-respected brand name

Medium, not-too-stiff hold

Leaves hair with a natural look
Cons
Some users prefer a longer-lasting hold
Bottom Line
It's no surprise that Paul Mitchell's product line includes a quality hair gel. The Steady Grip Hair Gel leaves your hair feeling natural without being too stiff or too dry.
Why did we choose these products?
Since we never pick names out of a hat to choose the products for our reviews, a more specific approach is required. There are a plethora of hair gels to choose from, so narrowing it down to get our top 11 required answering a few questions:
Does it do what it says it does?
Does it have a lot of positive reviews, both from users and peers?
Does it fit into a variety of budgets?
Will it keep your favorite hairstyle in place?
We also looked for gels that fit a variety of hair lengths and textures and examined important considerations, such as their hold and shine. We think it's a well-rounded list that's helpful to any man.
What's the right way to apply hair gel? (A simple, illustrated guide)
Among hair gel's many advantages is that it's easy to apply. It takes some finesse, sure, but it's not the same as say, juggling knives (which is best left to the professionals). Here are some tips:
1. The amount
How much gel you use per application depends on your hair length and preferred hairstyle, for starters. As a general rule, a nickel to a quarter-sized amount is sufficient for shorter hair. You'll need a slight bit more for longer hair.
Perhaps the most important thing to remember about this step is that you don't want to use too much gel. You won't like how your hair looks with too much gel in it – a bit too greasy, for starters – and you run the risk of clumps forming, which is never a good look.
Also, applying too much gel can clog the pores of your scalp.
2. Prepare for application
Once you've squeezed out the right amount of gel in your hair, rub it between the palms of your hands, until you've formed an even coating. This is an important step in preventing clumps of product from showing up in your hair.
3. Use it on clean hair
You'll get better results if you apply your gel to freshly-washed hair. Make sure to use a quality shampoo. Any excess grease or dirt may make it more difficult to achieve your preferred style and leave your hair feeling a little too crunchy.
4. Styling it
It's your choice whether you work the hair gel into your preferred style by using your hands or a comb. Using your hands is particularly effective if you prefer a messier look, and if you have curly hair when you can use a scrunching motion.
While some hair professionals say it's OK to comb the gel into to make sure you evenly distribute it, others say to brush and style your hair before putting in the gel. Some gels and even pomades are meant to be combed in the hair, but that's not always the case.
Hair gel vs. all the rest
Finding a styling product that works for you is difficult only in that there are so many choices. From gels to waxes and pomades to hairspray, something is calling your name.
Here's a look at gel and some other hair products, including their characteristics and the purpose they serve.
Gel
Hair gel is no newcomer when it comes to styling products; in fact, its roots (no pun intended) extend back to the ancient Egyptians, perhaps even beyond.
They've come a long way over the past few thousand years and remain a popular choice among modern men.
While gels vary from brand to brand, most of them have a medium to high hold and a high shine. Gel keeps your hair in place and, in many cases, gives your hair a somewhat crunchy look that won't have a lot of bounce.
But again, the amount of shine and hold often varies from product to product.
If you have hair or a hairstyle that's difficult to keep in place, gel is a product you should seriously consider purchasing. Most gels have a high alcohol content, which can dry out your hair if left in all day, and others may leave some flakes behind.
While gel is versatile enough for use on most hair lengths, short to long, it's a particularly good option for men with thick hair.
It's also handy for achieving classic, old-school looks (think Elvis and John Travolta), but you can also use it for touch-ups to keep pesky stray hairs in place, especially for hairstyles in which the sides grow in different textures.
Gel vs. Pomade
Like gel, pomade provides a firm hold that's stronger than many other styling products, and many of the best brands today are water-based to help create a lightweight, soft texture that's easy to wash out.
Some pomades are oil-based, which offer a firmer hold than water-based products, as well as a higher shine. But, as you might expect, oil-based pomades are harder to wash out and not as easy to restyle during the day.
Pomades are helpful for attaining a variety of popular styles, including the pompadour, quiff, and slicked-back.
However, some pomades have more of a matte finish, which tends to work better for hairstyles worn in professional settings. Either way, pomades come with a variety of holds.
Gel vs. Wax
Most waxes are thicker than gel and offer a medium to strong hold, but they're smooth and add volume and texture to hair. Waxes tend to be oil-based, which makes them harder to wash out, although there are plenty of water-based waxes available.
One of wax's attributes is that it absorbs excess grease that's common for men with naturally oily hair, but that also means that it can dry out more quickly than, say, pomade. You'll find waxes in both shine and matte finishes.
Gel vs. Paste
Most pastes provide a medium hold and shine and have a thicker consistency than most styling products. Pastes add volume and texture to your hair, especially if you apply it when your hair is damp and before you dry it.
Among paste's many attributes are that it's versatile and effective for styling most hair lengths and types and that it's excellent for messy styles that look as if you've just rolled out of bed but still maintain a great, natural style.
Paste is typically water-based and easy to wash out of hair, as well as easy to restyle when your favorite look gets out of place. Another thing to like about paste is that you can use it on your beard.
Gel vs. Cream
Cream differs from gel and pomade in that it provides a low hold without as much stiffness or greasiness. Hair cream has a medium shine that many say is more natural, compared to other styling products.
A cream is a good option for men with thinning or fine hair who don't like to use pomade or wax. It's lightweight, so it can feel like you're not wearing any product at all.
Creams also range in texture somewhere between lightweight lotions and those that have a wax-like consistency.
Gel vs. Other Products
We've only touched on a few of the many hair styling products available to men. Just know that there are many others: mousse, clay, sea salt spray, mud/putty, hairspray, and more.
Gel, as we've already discussed, provides a firmer hold than many products and also tends to have a higher shine but, again, that may vary from product to product.
In any case, it's in your best interest to do all the research you can before choosing a product that's right for you.
Conclusion
As always, we welcome your comments and suggestions. Do you have a favorite hair gel? If so, why do you like it? Have you tried any of the gels on our list? We'd love to hear from you.