8 Best Sea Salt Sprays for Men & Women (Beach Look)
This post may contain affiliate links. Learn more.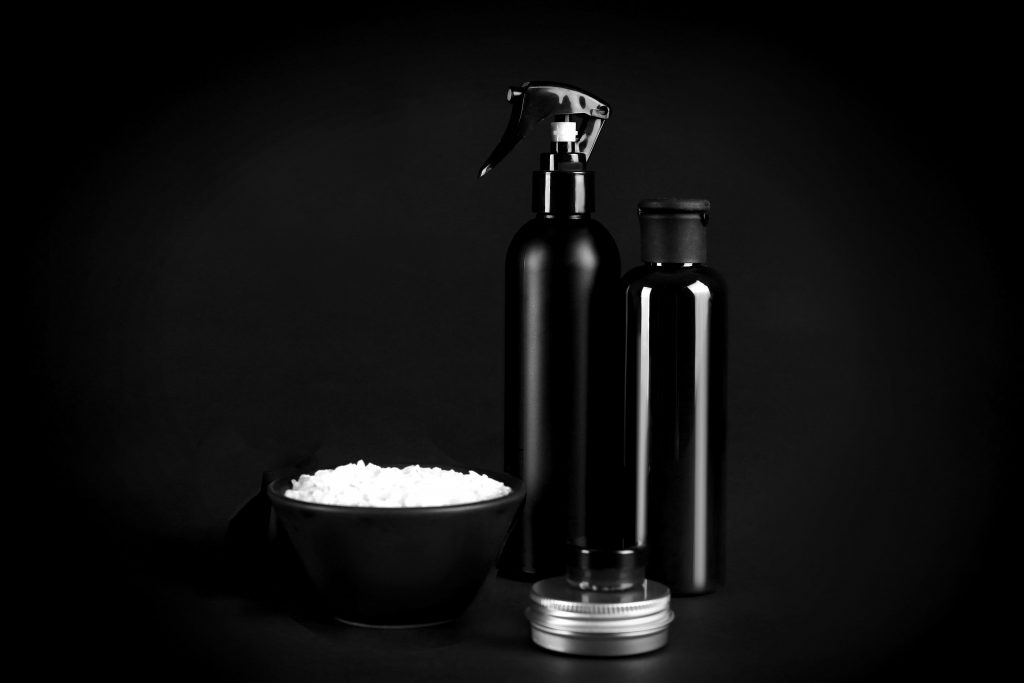 Nothing beats a day at the beach, but let's be real: few of us get to go as often as we'd like.
That doesn't mean we can't at least look like we've been, though.
And that's exactly what makes sea salt hair sprays so fantastic.
The best sea salt sprays will give you that rugged, sun-kissed texture and volume whenever you like, wherever you like.
They're also often great for keeping your hair healthy and shiny.
The only problem is finding the right product.
So we've put together this list of the 8 absolute best products we've found on the market.
As if that wasn't enough, we've put together a simple, illustrated guide to help you use sea salt spray correctly, as well as a guide to the differences between sea salt sprays and other styling products.
But before we get into that, let's look at the 6 things you need to consider when purchasing a sea salt spray.
In a hurry? Here are our top picks:
Davines' This Is A Sea Salt Spray
Our absolute top pick is Davines' This Is A Sea Salt Spray – the best overall product we've come across, it gives fantastic texture and boosts volume, and has an exceptional scent, too.
Billy Jealousy Sea Salt Spray
Our no.2 choice – Billy Jealousy Sea Salt Spray – is a great choice for men looking for a totally natural spray with excellent scent. Its formula produces a beautiful matte finish and makes the hair look energized and invigorated.
Quick summary
<!—INSERT CODE BELOW—>

Best Overall

Davines This Is A Sea Salt Spray

Gives texture and boosts volume

Helps you achieve the "messy" beach-like look

Exceptional scent for a sea-salt spray

Check on Amazon

Best Natural

Billy Jealousy Sea Salt Spray

Natural formula

Amazing lavender oak scent

Invigorates hair with superior volume and texture

Check on Amazon

Best for Hold

The London Grooming Company Sea Salt Texturizing Spray for Men

Keeps your scalp moisturized

Great hold

Gives additional volume

Check on Amazon

Bumble and Bumble Surf Infusion

Improves shine and adds definition

Gives moisture to the hair

A great product in a fantastic range from this company

Check on Amazon

John Frieda Beach Blonde Sea Waves Spray

Has a discreet volumizing effect

Effective on dry and damp hair

Appealing aroma

Check on Amazon

Alaffia Everyday Coconut Water Sea Salt Volumizing Texture Spray

Offers fantastic volume

Contains coconut oil that protects and hydrates

Suitable for all hair types

Check on Amazon

Brickell Men's Texturizing Sea Salt Spray for Men

Natural ingredients

Long lasting hold

Moisturizes hair

Check on Amazon

Paul Mitchell Awapuhi Wild Ginger Texturizing Sea Spray

Excellent fresh scent

Adds volume

Improves hair moisture

Check on Amazon
Before you buy: 6 Things to consider when purchasing sea salt spray
When purchasing a sea salt spray it is important to consider your hair type and the desired result. The natural ingredients in sea salt spray can leave your hair feeling rough and gritty, which may not be ideal for everyone.
It is far easier to find a sea salt spray that works for you than it is to create one at home. It is possible to mix together sea salt and water, but this will not give you the same natural look as a high-quality product.
Some of the best products contain additional ingredients that are beneficial for your hair such as oils, vitamins and minerals. These ingredients help to nourish and hydrate your hair while helping it retain moisture to keep it looking healthy.
1. Ingredients
The key ingredient in sea salt spray is, no surprise here, sea salt. It wouldn't exist – at least in name – without it.
But while sea salt helps to add volume and texture to hair, some hair experts say that using too much of it can dry out hair and cause damage that's exacerbated by the intense sun and heat of summer.
Keeping that in mind, it's worth your while to check the ingredient list of every sea salt spray before you decide to buy.
Those that provide a balance of natural salt and nourishing ingredients such as aloe vera, coconut water, and quinoa protein may be better for your hair and reduce any potential damage.
Also, many sea salt sprays contain essential oils, which have many benefits for your hair's overall health and growth.
2. Hair Length
Sea salt sprays work best on long hairstyles as a pre-styling product that adds texture and volume while helping to create a tousled look that many prefer. But that's not to say they won't work on short to medium length hair.
3. Hairstyle
If your goal is to create a textured, messy hairstyle, then sea salt is a go-to option. It doesn't work nearly as well on slicked-back styles that don't feature a textured, matte look that has movement, i.e., bounce.
4. Hold
The hold of any hair styling product refers to its ability to keep your hairstyle in one place for a long time. Pomades, waxes, gels, etc., tend to have a high hold.
But sea salt spray helps you achieve a style that has movement, not one that's going to be stiff or crunchy. So, if a firm hold is what you're looking for, shop for other types of products.
5. Shine
Shine refers to the amount of glossy finish a styling product leaves on your hair. The higher the shine, the more "wet" (shiny) your hair looks.
While some sea salt sprays may leave a light, barely noticeable shine, they're meant to leave a dry, matte finish that's common to textured, slightly messy looks.
If you're looking for a product that leaves a high shine, then hair gels, waxes, pomades are better options.
6. Scent
A styling product's fragrance is important to many consumers although we don't place quite as much emphasis on it when evaluating different brands.
But almost all sea salt sprays come with a light to medium scent that reminds one of the&beach – scents like citrus, coconut, etc.
Next, let's dive into our sea salt spray reviews.
The 8 best sea salt sprays for men & women
You can't say you were duped if you bought this product thinking it was something else, because its name says it all. But, it could be that Davines means "Now this is a sea salt spray" in the sense that few products live up to its lofty standard.
Either way, this is the best sea salt spray for hair – at least in our book – and includes a long list of benefits that make it worthy to stand out from all the rest.
It also combines a variety of ingredients that provide a nice dose of moisture, among other things. That's important because one of the knocks against sea salt spray is that it can cause hair to become overly dry.
But let's dig a little deeper into This is a Sea Salt Spray.
It gives you a beach-like look that so many desire. That means a lot of texture and volume without causing your hair to become static-y.
As one reviewer put, This is a Sea Salt Spray makes your hair look "perfectly imperfect," which is the tousled beach-look in a nutshell.
It leaves a matte, natural-looking matte finish
It works on most hair types, including thin and finer curly hair which could use more volume.
While fragrance isn't always at the top of the list when we choose products for our best-of reviews, the This is a Sea Salt Spray scent is exceptional. It's not overbearing or too subtle, but clean, fresh, and reminiscent of a day by the sea.
One of the secrets for this spray's moisturizing power is that it releases its ingredients gradually, which helps keep hair healthy and moisturized for longer than other sea salt sprays. It gives your hair texture and body without relying on potentially-harmful toxins, and we think it's the best sea salt spray that doesn't dry hair.
This is a Sea Salt Spray is paraben-free and doesn't include artificial colorings.
It works on both wet and dry hair.
Like most other sea salt sprays, you need to shake This is a Sea Salt Spray vigorously before applying it to your hair. Doing so keeps salt from settling on the bottom of the bottle and prevents an uneven application.
Pros
Adds texture

Adds volume

Helps to create the ideal "messy," beach-like style
Cons
Not everyone likes the scent
Bottom Line
This is a Sea Salt Spray could change its name to This is a Damn Good Sea Salt Spray if it wants to be even more specific. It gives your hair the ideal dry, beach effect while also providing it with the moisture it needs.
Billy Jealousy has become quite a name in recent years. It won several awards from popular magazines, such as Men's Health, Men's Fitness, etc., and continuously provides men with premium superior grooming products that give results.
So it is not a surprise that we have included Billy Jealousy Sea Salt Spray in our list. It is a water-soluble spray that is versatile and can be used on both hair and beard.
It is formulated with natural ingredients such as castor oil, sea salt extracts, and panthenol.
I think we don't need to say a lot about castor oil. It is one of the most used ingredients when it comes to hair care. It moisturizes the dry and irritated scalp and provides antibacterial and antifungal action, reducing conditions such as dandruff.
Additionally, it increases the skin's blood flow, promoting healthier hair and faster hair growth.
Sea salt extracts balance the skin's sebum production, unclogging the hair follicles and reducing irritations such as scalp acne. It makes the hair appear thicker and easier to style.
Panthenol adds extra hydration to the scalp and hair, making them more elastic and preventing breakage and split ends.
Billy Jealousy Sea Salt Spray delivers excellent results allowing you to style your hair and beard without effort.
It adds a light grit and texture to your hair while leaving the kind of natural matte finish you'd expect from a top-notch sea salt spray. There's no shine or greasy finish left behind after you've finished applying it.
However, you'll find it works best on shorter hair lengths due to the light styling hold it provides.
You will also love its unique devil's delight lavender and oak scent. If you are a man that appreciates smelling good, then definitely consider this sea salt spray. It is also available in three other scents if you want to experiment.
Last but not least, Billy Jealousy Sea Salt Spray is free from parabens and sulfates and is safe to use on color-treated hair. It is also vegan, which is a plus.
Pros
Can be used on hair and beard

Gives a matte look and adds excellent volume

Amazing lavender oak scent

Natural ingredients
Cons
Some might find the hold lacking
Bottom Line
A versatile sea salt spray that will make you fall in love with its scent and natural ingredients.
While most sea salt sprays are great for texture and volume, not many have the kind of firm hold you need to create a really intricate, ambitious style. So it's a good thing The London Grooming Company has made their Sea Salt Texturizing Spray For Men – the absolute best holding sea salt spray we've found anywhere.
Its water-based formula produces fantastic volume and texture, as well as a lovely matte finish. And because it's water-based, it's also incredibly easy to wash out at the end of the day. Plus it leaves the hair feeling and looking healthy.
The formula also features a nice dose of castor oil, too, which helps moisturize your scalp.
This stuff can also be used on any length and kind of hair, making it hugely versatile – it even boasts a woody, oud scent that you'll love.
And while the metal tube might seem a little small, you only need a few small pumps for a full, long-lasting hold.
Pros
Firm hold

Castor oil help moisturize the scalp

Adds volume and texture
Cons
It costs more than some guys will be willing to spend
Bottom Line
A sea salt spray that offers a super firm hold – perfect.
Bumble and bumble's original Surf Spray set a standard that few others could match, and it didn't hurt that a variety of celebrities sang its praises, or that it became a go-to product for the fashion industry.
The beauty of the original Surf Spray was that it gave hair a beachy texture – when the style was gaining in popularity – but didn't have the side effects of sprays laden with chemicals. It also helped establish Bb as an industry leader in sea salt sprays.
Now comes the Bumble and bumble Surf Infusion spray, which is very similar to the original Surf Spray but includes oils that provide additional moisture.
The unique salt and oil formula helps to create a textured look with a light sheen finish. Your hair will look soft and tactfully wind-swept.
The Surf Infusion spray has a slightly floral, slightly beachy fragrance. Meanwhile, you can apply it to dry or wet hair, although texturizing products such as sea salt spray often work best when applied to dry hair.
Surf Infusion also works on most hair lengths, although you should use salt sprays with other styling products if you have short hair. It helps to add a bit of grit to your hair that gives you the strategic slept-in look.
Another thing we like is that Bumble and bumble's products don't include parabens, mineral oils, or formaldehyde, all of which can damage your hair and scalp.
Pros
Another great addition to the Bumble and bumble line of sea salt sprays

Adds shine and definition

Provides moisture
Cons
Feels too heavy for some users
Bottom Line
Bumble and bumble helped set a high standard for sea salt sprays, and the addition of Surf Infusion does nothing to tarnish that reputation. It helps you to get that natural, beach-like look with plenty of texture.
Like Bumble and bumble's original sea salt spray, the John Frieda Beach Blonde Sea Waves Spray has an almost mythical status. The spray had a small, but cult-like group of loyal customers who were outraged when John Frieda discontinued it in 2007.
Several years later the company polled its customers about what discontinued product they'd like to see back on the shelves, and the Blonde Sea Waves Spray – known in the past as Ocean Waves – was the overwhelming choice.
And, here's the catch: Many users say the re-introduced product is better than the original. For one, improvements in technology helped upgrade the old formulation, but the folks at John Frieda say you'll get the same results as Ocean Waves, if not better.
What has remained is the spray's distinctive coconut scent that reminds many of pina colada mixed with sunscreen. But a sea spray has to do more than deliver a superb scent, and the Sea Waves Spray checks off the boxes in a lot of positive categories.
Formulated with sea salt, no surprise there, it gives hair excellent volume and the kind of texture you get from spending a day by the ocean.
It's also versatile enough to work on a variety of hair lengths, and we think it's the best sea salt spray for fine, straight hair. You can also let it air dry or use a hairdryer, especially one with a diffuser attachment.
The result is a tousled hairstyle that looks like it took little effort to create.
While the name might lead one to think that it's especially for blondes, that's not the case. It's just as effective for brunettes, and women of other hair colors, and leaves a pleasing finish that has volume but doesn't make your hair feel crisp, crunchy, or greasy.
Plus, it helps tame frizzy hair, just like a good sea salt spray should.
Check out this video if you want to learn more about John Frieda's iconic sea salt spray.
Pros
Adds subtle volume

Works well on damp or dry hair

Distinctive scent that's loved by many
Cons
Some users say it's stickier than the original
Bottom Line
Instead of just bringing back the original, John Frieda decided to bring it back with a few subtle improvements and the proof is in the results. You'll love the look it gives your hair and the scent is among the best you'll find in sea salt sprays.
It's hard not to like what Alaffia stands for and, not to mention, it's EveryDay Coconut Water Sea Salt Volumizing Texture Spray.
Alaffia, based in Togo, West Africa, helps empower West African communities to become sustainable through the fair trade of indigenous resources.
It also encourages empowerment through women's cooperatives, community projects, education, and more. And all of its ingredients are 100% certified fair trade.
Furthermore, Alaffia's guiding principles equality and beauty, as it provides natural, fair trade skin and hair products. Among their many quality products is its EveryDay Coconut Water Sea Salt Spray, which earns high marks for many reasons.
Like other sea salt sprays, Alaffia's EveryDay spray helps give your hair the same full-body, highly-textured look that you get after a day at the beach.
While natural sea salt provides volume and shape to your hair, the spray's natural coconut water protects hair from becoming too dry.
Another plus of EveryDay Coconut's Sea Salt Spray is that it's effective for all hair types. It leaves your hair with a nice texture but without leaving it dry and brittle thanks to the coconut water.
Women with thick, curly hair especially like it because it keeps their curls looking good while also keeping their hair well-moisturized.
All of Alaffia's products come loaded with natural ingredients, and they're handmade through the use of traditional methods.
What's interesting is that their products' mostly unrefined ingredients combined with hand-crafted methods make for a formula and consistency that may vary from batch to batch. But you'll still get the same great results for your hair.
Most users love Alaffia Sea Salt Spray's scent, which is mildly citrus with a bit of neem oil mixed in it.
Pros
Gives hair excellent volume

Protects hair through moisturizing coconut oil

Works well on all hair types
Cons
Some say it leaves hair a bit greasy
Bottom Line
Alaffia's reputation is impeccable for a lot of reasons, including that it works to empower others in a country where poverty is rampant.
But it also has great products, including their Coconut Water Sea Salt Spray that – among other things – adds volume and moisture to hair.
Brickell is a world-renowned brand, with a slew of absolutely top-class products. And their Texturizing Sea Salt spray is one of their best.
It's great for all lengths and styles of hair, which is unusual, and it's very easy to use. It helps you create incredible hair texture and volume without looking artificial: application is smooth, quick and easy; the effect is very versatile, allowing you to make your hair as wavy or slick as you like.
Brickell only use natural ingredients: no synthetic fragrances, no sulfates or parabens, no alcohol – nothing like that! Instead, they use plenty of glycerine, argan oil, green tea extract and honeysuckle, which makes the spray clear and clean. And of course, for this, list, lots of lovely sea salt!
It contains hydrolyzed proteins which help your hair retain moisture, as well as making your hair softer and more elastic; its healthy dose of sea salt absorbs your hair's natural oil, which gives it extra texture and builds its volume; and vitamin E helps your hair grow natural by reducing oxidative stress.
So not only does it give you texture – It also helps fight hair loss and keep your hair nice and healthy and clean. And it's entirely scent neutral, which is slightly unusual and will be a real sell-point for many who're sick of having to manage their cologne around the stench of their hair products.
Pros
Really good, lasting hold

Moisturizes and protects your hair

All natural ingredients
Cons
Some find the squeezy bottle a touch annoying to use
Bottom Line
A fantastic, natural sea salt spray that will help you get a great beach look with ease, and look after your hair health while you do it. Brilliant!
There is a lot to love about Paul Mitchell Awapuhi Wild Ginger Texturizing Sea Spray. First of all, it is a sea spray that is suitable for all hair types, it is paraben-free and gluten-free.
Applying to your hair, you will instantly notice the added volume it offers. It allows you to texture your hair effortlessly while at the same time boosting the hair's moisturization due to its inclusion of awapuhi extract in its formulation.
What will make you love this product, even more, is its scent.
It features a tropical ginger green tea mango scent that invigorates your senses and makes you feel like you are on a tropical island near the beach drinking a mojito. The scent is by no means overpowered but is neither lightweight, in our opinion.
The only drawback we should mention is its price. You can definitely find equal in performance alternatives cheaper. However, if you value great scent, this spray definitely deserves the money.
Pros
Provides rich volume

Has an excellent tropical scent

Doesn't make the hair appear greasy
Bottom Line
Paul Mitchell Awapuhi Wild Ginger Texturizing Sea Spray provides great volume with an amazing tropical scent.
How we chose our favorite products
With sea salts sprays, it all comes down to helping users create the nicely-textured beach look that's very popular. If a certain spray can't create that style and help hold it for a decent amount of time, then it's not worth your investment.
Some other factors we took into account when choosing the best sprays for our reviews included ingredients (the more natural, the better), how stiff they feel on hair, and how much movement they allow.
We've also considered the reviews of others – not the least of which were the reviews of customers.
The right way to use sea spray (A simple, illustrated guide)
The instructions for using sea salt spray are basically the same for men and women, perhaps with a few variations, but nothing that's going to change the overall process significantly.
1. Getting started
While it's not mandatory to apply sea salt spray to wet or damp hair, it's recommended by more than a few hair experts. If you'd like, you can shampoo your hair before application, but that's not mandatory, either.
If you do decide to shampoo your hair, make sure you use one that's labeled "moisturizing." Don't use a clarifying shampoo because that makes it harder to style your hair.
An important point: you don't need to soak your hair with water before applying sea salt spray.
Instead, dampen it to the roots. Patting dry your hair after a shower will make it just as damp as you need. Don't rub your dry with a towel because it places undue stress on your lovely locks.
2. Give your spray a shake
Make sure that you thoroughly shake your sea salt spray before you apply it to your hair. That will separate the ingredients and make for a more even distribution of spray. Don't forget this step!
3. Applying sea salt spray
One of the most important points about applying sea salt spray is to make sure you spray it evenly over your hair. You can spray your hair section by section if you'd like, but the main thing is that you want to make sure you've covered all of your hair.
For most people, 10 to 25 sprays are sufficient, depending on the thickness of your hair, etc.
4. Spreading the spray
Many people go immediately to this step after they've sprayed their hair, although others choose to do it as they're drying their hair. In any case, spreading the spray over your hair, and into the style you want, involves your fingers and not a comb or brush.
You'll want to spray and twist your hair or spray it while using a crunching motion with your fingers. Doing so not only helps you get the style you're looking for but also activates the spray's hair-beneficial ingredients.
5. Dry your hair
Drying your hair after applying sea salt spray is a crucial step in setting your style. Using a hairdryer with a condenser at the end will provide a bit more control but isn't mandatory. A few points you'll want to keep in mind while drying your hair include:
Feel free to use your dryer on a cool setting while holding the dryer at a greater distance from your hair than you normally would. Too much air pressure may keep the salt spray from doing its job. If you start with a warmer setting on your dryer, you should gradually decrease the heat as your hair becomes less damp.
Some people prefer to start at the crown of the head while drying the hair backward. For a more "forward" looking style, start at the crown and blow dry in the direction of your temples. Meanwhile, blow drying your hair in an upward motion on the sides and bangs helps create volume.
Make sure that you're drying your hair evenly and using your fingers as you style to check if some areas are more damp – or dry – than others.
Men may want to apply balm, or another styling product, while their hair is still a bit damp and then finish setting the style with a dryer.
You can also apply sea salt spray on dry hair while using your fingers to get that messy, tousled look many prefer.
Also…
There's something of a debate as to whether it's OK to apply sea salt spray to the roots of your hair. While some say it's not a good idea because of the spray's drying effects, many others say that spritzing spray onto your roots is a great way to create more volume.
Sea salt sprays & other styling products: What's the difference?
Sea Salt Spray is in a league all its own when it comes to styling products. On the other hand, it's used to accomplish basically the same thing, i.e., to help hold your hairstyle and desired "look" into place.
That said, here's a look at sea salt spray – and it benefits – when compared to some other popular styling products:
Sea Salt Spray
Not to restate the obvious, but sea salt sprays are just what the name suggests: sprays formulated with salt.
But it's not as simple as adding sodium chloride to water because it includes other ingredients that – when mixed correctly – volumizes, softens, and helps give your hair a natural (not glossy) shine.
Sea salt spray works, in part, by absorbing oil from your hair and scalp to provide better texture and volume.
Top-quality sea salt sprays won't leave your hair feeling sticky, greasy, or stiff, while they provide a light to medium bounce that allows you to retain your hair's natural bounce.
The salt in sea salt sprays comes from many sources around the world and may include a scent such as coconut or lavender. Also, some sea salt sprays provide UV protection against the sun's harmful rays.
Sea salt spray is a styling product and not one that cleanses or provides other benefits to the hair. Its main purpose is to help people create that "beach" look that's full of texture and strategically "messy."
Dry Shampoo
Sea salt spray and dry shampoo are similar in that both come in a spray, although dry shampoo often comes in powder form. Both do a great job in absorbing oil from the scalp to provide ideal texture, waves, and volume.
The major difference between dry shampoo and sea salt spray is that dry shampoo also cleanses hair. That makes it an excellent option for those mornings when you're rushing to get out the door and don't have time to wash your hair with regular shampoo.
Texture Powder
Like sea salt spray and dry shampoo, texture powder absorbs excess oil from hair while creating more volume and texture. It works best as a pre-styling product that you put on your hair before products such as hair gel and pomade.
Hairspray
Hairspray used to be all the rage a few decades ago and was among the favorite styling products among women and men (who maybe some who didn't admit that they were using it).
If you want superior hold, then hairspray is a good option. Its hold makes it an excellent finishing product after you've styled and dried your hair, and it holds hair in place in times of high humidity when hair goes limp.
Another one of hairspray's advantages is that you can use it with other styling products such as gel, paste, pomade, etc.
Gel
Hair gel is one of the most commonly-used hair products, especially for men, and it has a high hold and a high shine. It gives you the ability to shape your hair into any style that you want. Perhaps the biggest drawback of gel is that it can strip needed moisture from hair.
Fiber
Styling fiber is similar to styling wax and adds volume to hair. It has the kind of firm hold that means you won't have to restyle your hair during day.
Oil
Hair oil's history dates back to the ancient Egyptians, and perhaps beyond, and remains an effective styling tool, but is important to know how to apply hair oil.
It can protect hair against damage from the sun and environmental pollutants while strengthening hair and keeping it softer and shinier. Hair oil is also ideal for removing tangles from your hair.
Serum
Silicone-based hair serum coats the surface of the hair to, among other things, prevent it from tangling while adding softness and shine. Serums can also protect your hair from sun damage and damage from dust, grime, and pollutants.
Another one of hair serum's benefits is that it treats dry and damaged hair.
Mousse
Mousse has a foam-like appearance and provides overall fullness to hair. It provides plenty of hold but doesn't give hair an oily or stringy look. Many mousses contain essential oils that help treat hair loss in men.
Pomade
Pomade helps men attain a slicked-back look that also has a firm hold, but not so firm that it leaves hair feeling stiff or crunchy. Because of its creamy texture, pomade is excellent for styling thick and curly hair, although it also works on straight hair.
Cream
Cream has plenty of benefits as a styling product, including that it works well on mid-length to long hair and helps tame frizziness. But it's also a good tool for men with fine or thinning hair who don't want to use pomade or wax.
Creams provide a lower hold than some other styling products, although their hold may vary from product to product. They don't have the thickness or greasiness of some waxes and gels.
Hair wax
A common ingredient in wax is beeswax – the same strong material that holds beehives together. It's no surprise then thathair wax provides fairly firm hold.
Waxes also work well on hairstyles that require a comb, such as pompadour and side parts for men. Most hair wax has a medium shine but the shine varies from brand to brand.
Conclusion
As always, we welcome your comments and suggestions. Do you use sea salt spray and, if so, what's your go-to brand? Have you used any of sprays on our list? We'd love to hear from you!