7 Best Men's Hairsprays for The BEST Hold & Volume
This post may contain affiliate links. Learn more.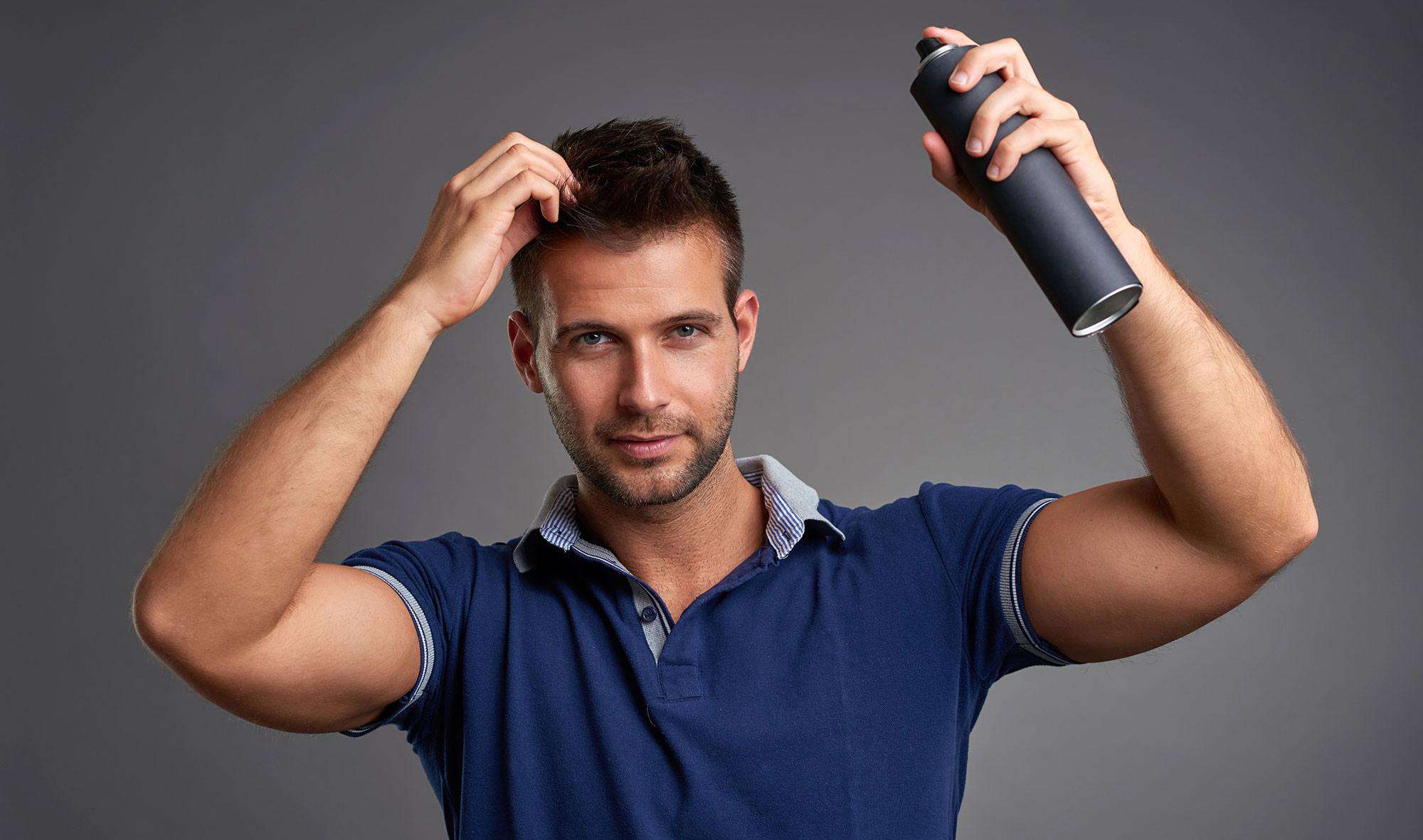 It used to be that no self-respecting man would be caught using hairspray. At least not publicly, that is. But times change. While hairspray is, traditionally, targeted for women, many men now use it as a useful styling tool.
Besides, there's not a lot of difference between hairspray and other men's styling products – which we'll explore in this post about the best hairspray for men.
In a hurry? Here are our top picks:
Sexyhair Big Spray & Play Volumizing Hairspray
The best overall hairspray is Sexyhair's Big Spray & Play Volumizing Hairspray. It not only adds volume – it reduces frizziness, too. It also delivers a really solid, firm hold.
Tigi Bed Hard Head Extra Strong Hold Hairspray
Tigi Bed Hard Head Extra Strong Hold Hairspray is also a great option. It provides an excellent hold, sure. But it also helps condition the hair, and you don't need much of it to get a really great effect.
We'll also look at the similarities and differences of different hairsprays for men and provide a brief tutorial on how to apply hairspray the right way.
So, spray away men. Your hair will be the better for it.
Quick summary
<!—INSERT CODE BELOW—>

Our #1 Choice

Sexyhair Big Spray & Play Volumizing Hairspray

Reduces frizziness

Adds volume

Delivers a firm hold

Check on Amazon

Tigi Bed Hard Head Extra Strong Hold Hairspray 

Helps condition hair

A little spray is all it takes

Excellent hold

Check on Amazon

Oribe Superfine Strong Hair Spray

Strong hold

Produced with ingredients that nourish and protect the hair

Great for any hairstyle

Check on Amazon

Boldify Thickening Spray

Free from harmful chemicals

Thickening effect to hair

Lightweight and non-sticky

Check on Amazon

Baxter of California Clay Effect Style Spray for Men

Strong enough hold for most hair types

Formulated with natural ingredients

Fights static and frizziness

Check on Amazon

Brickell Men's Texturizing Sea Salt Spray for Men

Scentless, does not conflict with your other scents

Natural botanicals gives general follicle health a boost

Easy to apply and gets to work fast

Check on Amazon

Sebastian Shaper Hairspray

Maintains your hair's natural volume and movment

Strong hold

Perfect for men on the go

Check on Amazon
Before you buy: 7 Things to consider when purchasing hairspray
Choosing the right hairspray is the same for choosing most products, i.e., the more research you do the better. Knowing what to research is more than half the battle, however, so consider the following factors when buying hairspray.
When it comes to finding the right hairspray, there are a few things to consider. First, you should decide whether you want something that offers volume or maximum hold. You'll also want to determine what kind of smell you want (if any) and if you would prefer something that's organic or all-natural.
Here are a few other factors to keep in mind as well:
1. Your type of hair
One of the most important factors in choosing hairspray is your type of hair. While hairspray, generally speaking, works best for men with thicker, wavier hair, you'll have a variety of sprays from which to choose, whether you have thick, thin, or curly hair.
Read the label carefully because it often says what type of hair for which it's intended.
2. Strength of hold
A spray's "hold" refers to how effective it is for keeping your hair in one place. That's of particular importance when Mother Nature turns nasty.
Hold is a key selling point of hairspray, but you may only need a moderate to light hold if you want your hair's waves to move naturally.
Some sprays have more firm hold than others. A "firm" spray should give you just enough control so that you can style your hair with ease. If you're spraying too much, try applying the second coat before texturizing with dry shampoo. That way, the volume stays in place instead of going everywhere else.
3. Type of hairspray
Hairspray comes in a variety of types and which one you choose not only depends on your hair type but how you plan to use it. Here's a brief look at some of the different "qualities" found in hairspray:
We've briefly mentioned hold already and it's important to read the label – or reviews of others – to learn what level of hold a hairspray provides. In general, hairspray offers three kinds of hold: flexible, medium, and maximum.
Thickening (or not thickening)
This factor gets back to your type of hair; if you have thinner hair, then it's wise to look for a hairspray that's labeled "thickening."
Thickening sprays add texture and provide a lift to hair that's otherwise limp. Volumizing spray (it will say so on the label, in most cases) offers the same benefits in that it makes your hair seem thicker and more full.
Fighting frizz is essential, especially if you have dry or wavy locks that can get all out of whack in windy, rainy, or muggy conditions. You want a spray that helps to keep your waves in motion but without looking like you stuck your finger in an electrical outlet.
This type of spray is, as the name suggests, a lighter weight type of spray. It allows you to add texture to your hair but without a stiff hold; you can move your hair around and into position with your fingers or with a brush without feeling like your combing a helmet.
4. Ingredients
The list of ingredients in hairspray is often extensive and includes a variety of exotic (or non-exotic) chemicals that potentially may scare you away.
Most of the chemicals, however, are polymers and you shouldn't be put off by them when you're selecting a spray that fits your needs.
When in doubt, however, look for a spray that has plenty of natural ingredients that won't hurt the environment. Many, many hairspray manufacturers take environmental responsibility seriously and it's worth taking a look at those that do.
5. Finish
A hairspray's finish refers to its volume, but also its shine, hold, and whether it leaves your hair looking natural, or one with a shinier finish which is more noticeable.
If you have thicker hair, you might prefer a more natural look without all the product build-up. In this case, it's best to choose a light hold hairspray that will enhance shine and eliminate frizz without weighing down your locks.
6. Brand
You've probably heard of the big-name brands, such as Paul Mitchell and L'Oreal, and most of them produce high-quality hairspray. But it never hurts to check out smaller companies that can compete with the big guns while offering a lower price.
7. Price
In general, a high-quality hairspray will cost somewhere between $8 and $30. You may have to pay more for some brands, but a higher price shouldn't matter all that much if you can afford it and the product is good.
Of course, a higher price tag doesn't guarantee a better product.
Let's move on to our reviews of the best hairspray for men.
The 7 best hairsprays for men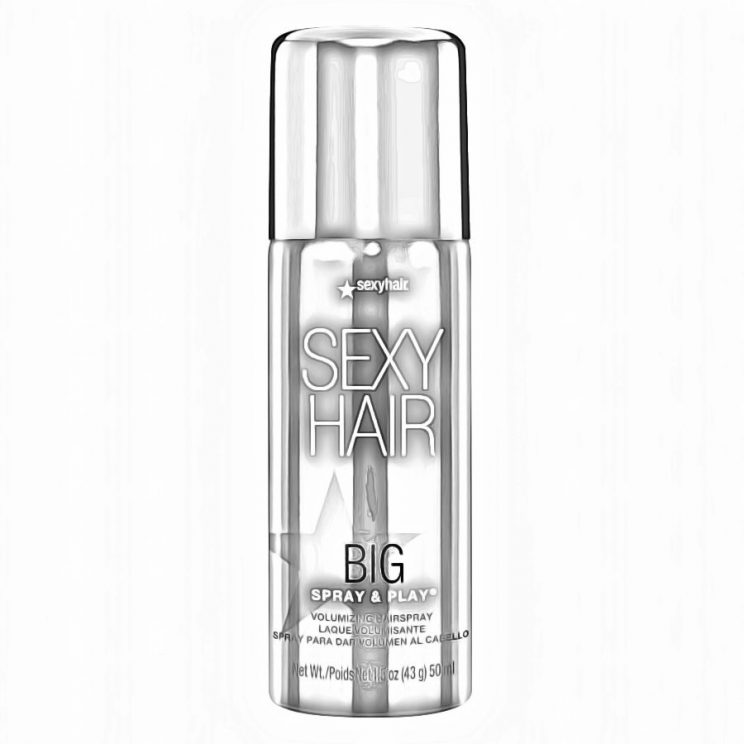 Sexyhair has just the spray for you men that like bolder hairstyles, such as spikes and faux hawks. The Big Spray & Volumizing Hairpray keeps those styles firmly in place while adding a hint of shine.
Not that its good for only those hairstyles, however. After all, it's a spray favored by many men and women for many reasons, including that it's anti-humidity hairspray that prevents frizziness for up to 72 hours after application.
While you can't beat its hold, especially if you like a firm hold, it leaves your hair pliable enough to make it brushable and easy to style.
Also, as its name suggests, this spray adds volume to hair. It's a good all-around product.
Pros
It works great for styling "bolder" styles, such as faux hawks and spikes.

Reduces frizziness greatly.

Adds volume.
Cons
Be careful not to use too much of it or you'll create excess shine.
Bottom Line
Los Angeles-based Sexyhair is a favorite of men and women worldwide thanks to products like its Big Spray & Play Volumizing Hairspray. It provides the firm hold and flexibility that many users prefer.
Some hairsprays provide an excellent hold but come with a few downsides such as excess stickiness. Or, the hold looks more than a bit unnatural – like a hurricane couldn't knock a single hair out of place.
Thankfully, you can buy products such as TIGI's Bed Hard Head Extra Strong Hold Hairspray that provide a firm, butt-kicking hold but without the stickiness and helmet head.
You'll get the hold you desire, one that defies humidity, among other issues, and can retain your preferred hairstyle throughout a long day. It also protects your hair against dryness.
Another plus of this spray is that it works for all types of hair and styles. But it's particularly good for men who prefer messy and casual hairstyles that look like they haven't been styled at all (a look that many men desire).
If you have a frizzy or otherwise unruly manly mane, however, TIGI's Hard Head Spray will help to keep things in place.
Again, it's hard to beat the overall hold of this spray but it still gives your hair enough flexibility and movement. It dries almost instantly, without leaving the overpowering crunchiness of some sprays, and its formula works to condition and repair your hair.
TIGI's formula also includes aminomethyl propanol, the serves to adjust your hair's PH level. Moreover, the spray leaves a nice shine (but not too shiny) and a pleasant citrusy scent.
You generally won't need to apply more than a thin layer in the morning, but you can it layer it throughout the day if necessary.
Pros
Superior hold

A little goes a long way

Helps condition hair
Cons
The nozzle is sometimes harder to control
Bottom Line
TIGI makes great styling products and their Bed Head Hard Head Spray is no exception. It keeps your hair in place and works well for many different styles and hair textures.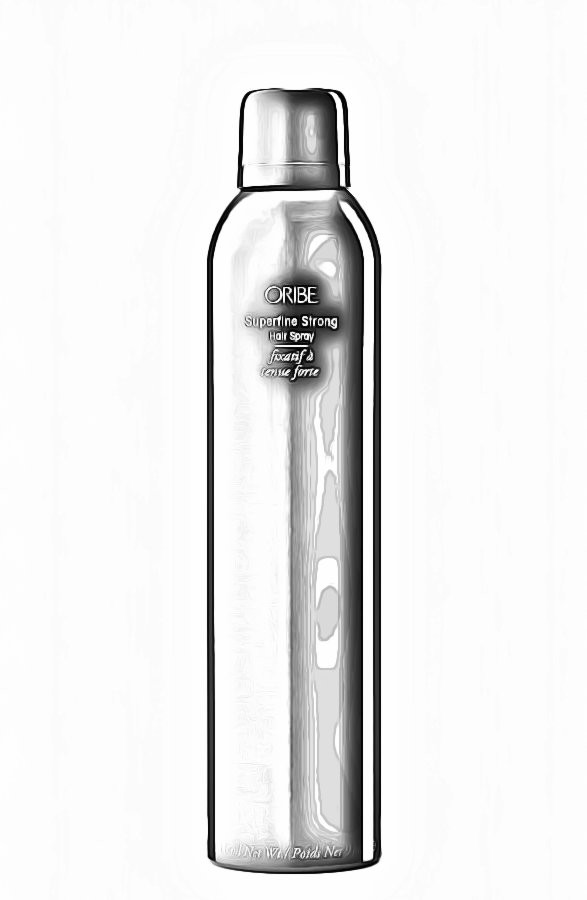 Oribe's product line is well-known to be the very highest quality, so it's unsurprising that their stab at hair spray is also an exceptionally strong player in the field.
The Superfine Strong Hair Spray is made from only the finest ingredients:
Plant-derived humectants to add shine and body
Hydrolysed wheat protein to condition the hair
Benzophenone provides UV protection
Vitamin B5 gives volume and thickens the hair
Aloe Leaf hydrates and nourishes the hair
Nettle leaf extract adds a little light shine to the mix
And the Oribe Signature Complex provides protection from drying and color-depletion
They also don't use any parabens or sodium chloride.
But what about the actual hold?
Well, like all Oribe products, the Superfine Strong Hair Spray does its job incredibly well, providing a great hold – particularly for fine hair. Ultimately, you will be able to lock in whatever style you wish whilst also taking great care of the hair itself.
While the superfine Strong Hair Spray is undeniably expensive, the reality is you get what you pay for. If you're looking for a top range hair spray, look no further.
It's also got a gentle but pleasant perfume that most report really enjoying – not chemically at all, like so many are!
Pros
Incredibly good for the hair – protective and nourishing

Very strong hold with plenty of room for styling

Great quality canister
Cons
It's very expensive – but then it is worth it!
Bottom Line
Oribe unsurprisingly deliver the goods, with a beautifully formulated hair spray that will keep your scalp happy, your hair healthy and whatever style you choose in place for the whole day.
Do you want your hair to have more volume? If so, Boldify has a hairspray just for you. Their Thickening Spray is the best hairspray for volume, and that's saying a lot considering how many contenders there are to the crown.
Here's another thing we like about this spray and Boldify's products in general: their products don't contain parabens, alcohol, or sulfates and if you're looking for the best natural hairspray out there, the Thickening Spray rates near the top of the list.
But let's get back to the volumizing qualities of Boldify's Thickening Spray, which comes with a 60-second guarantee in which your limp locks will get a noticeable lift in a minute or less.
Boldify advises users to spray a moderate mist over wet hair and then letting it dry to get not only exceptional thickness and volume, but also a layered textured finish with just enough hold to keep it all in place.
The moderate but not heavy hold comes from a lightweight formula that doesn't leave a sticky buildup or weigh own your hair like many other hairsprays for men. As the folks at Boldify put it, it's a "hair texture spray + volume spray without the gunky residue."
Another Boldify Thickening Spray benefit is that it makes for easy styling thanks to its lightweight hold and how it provides a natural definition.
You can easy it as a pre-styler, or to keep things in place after you've styled your hair the way you want, and it's no surprise that it's a go-to product of many barbers and stylists.
Boldify's Hair Thickening Spray not only works well for men with limp hair but also is effective for men with thinning hair because it helps to provide increased thickness.
If you're a man with thin hair, you'll appreciate how this spray allows you to be more ambitious and creative with hairstyles. It's also effective when used on short hair for the same reasons.
On the other hand – and it's another reason why we like this spray – it's an effective styling solution for men of all hair types and textures.
No matter what type of hair you have, however, Boldify's Hair Thickening Spray offers both short and long-term improvements to your hair.
Last, but not least, Boldify offers a 100% money back guarantee which means you can try it risk-free.
Pros
Thickens hair

Lightweight, non-sticky formula

Doesn't contain harmful chemicals
Cons
Some reviewers say it leaves hair a little dry
Bottom Line
Boldify's Hair Thickening Spray works brilliantly for men with thinning hair while also having enough versatility to suit every man's styling needs. You'll love its lightweight formula that doesn't leave a sticky buildup or weigh your hair down.
What else can we say about Baxter of California. It is a brand that has men covered in everything related to skincare, shaving, and hair care.
Baxter of California Clay Effect Style Spray is paraben-free and formulated with a selection of premium natural ingredients such as bamboo leaf extract, jojoba oil, and green tea in order to create a spray that is almost suitable for all hair types.
Why almost?
People with curly hair might find that it doesn't provide a hold that is strong enough. Even though Baxter advertises that it is.
It provides just the right grip allowing you to still move your hair around to position them (not a rock-hard but a moderate hold).
It is also worth noting that it's effective in fighting frizziness and static, and it gives your hair a natural matte finish which is a plus.
Its natural ingredients promote healthier hair and add volume.
Pros
Strong enough hold for most hair types

Formulated with natural ingredients

Give a natural matte finish after application
Cons
Not for those who want extra strong hold
Bottom Line
An effective and premium texture spray that your hair will appreciate.
Brickell is a great brand, and their texturizing sea salt spray is another great addition to what is by now an incredible line of men's grooming products.
What makes it so great?
It helps you create incredible hair texture and volume without looking artificial: application is smooth, quick and easy; the effect is very versatile, allowing you to make your hair as wavy or slick as you like. You can look windswept without leaving the house; you can look like you've got bedhead when you've been wake for hours.
They only use natural ingredients: no synthetic fragrances, no sulfates or parabens, no alcohol – none of that rubbish! Instead, they use natural sea salt, plenty of glycerine, argon oil, green tea extract and honeysuckle, which makes the spray clear and clean.
It contains hydrolyzed proteins which help your hair retain moisture, as well as making your hair softer and more elastic; its healthy dose of sea salt absorbs your hair's natural oil, which gives it extra texture and builds its volume; and vitamin E helps your hair grow natural by reducing oxidative stress.
So not only does it give you texture – It also helps fight hair loss and keep your hair nice and healthy, which might sound counterintuitive!
It's also worth noting that this is an entirely scent-neutral product, which is exactly what you want in a texturizing spray.
Pros
Great, easy to use and quick acting texture

Helps promote general follicle health

Scentless, so it won't interfere with your other scents!
Cons
Some reviewers dislike the shape of the bottle – can't please everyone!
Bottom Line
A natural, brilliantly effective texturizing spray which will help you achieve whatever rugged, windswept look you're after whilst keeping your hair clean and healthy.
The Sebastian Shaper hairspray is another product with enough hold to make it ideal for active men while providing enough control without restricting the hair's natural bounce and movement.
This isn't a spray intended only for active men, however, thanks to it lightweight blend that's suitable for all hair types and styles. Again, its hold isn't light, sticky or crunchy, and you can easily comb your hair while wearing it.
Sebastian's Shaper Hairspray also helps give your hair a natural shine that never looks glossy or greasy.
Pros
Fantastic hold

Retains your hair's natural bounce and movement

Great for active men
Cons
Scent is a bit strong for some
Bottom Line
Sebastian Shaper's spray is known for its superior, yet natural hold, one that outperforms many other sprays. It helps to keep your hair from becoming too messy while still maintaining its natural look.
How to use hairspray for men to keep you looking your best
There's no reason to be intimidated by hairspray, even if you're slowly emerging from the "hairspray is for women" cocoon in which many men have lived in for many years. It's a great tool for achieving the hairstyle you want.
That said, here are some techniques for applying hairspray that you can master in no time.
Make sure your hairspray is tailored to the finish you want
We included finish in our hairspray-buying tips and it's worth another mention. Have a clear idea what type of finish you want to achieve, whether it's one with a high shine, more volume, or a natural matte.
Again, read the label carefully; it should include an indication of the spray's hold.
Begin with dry hair
It's best to apply hairspray to dry hair. You want your hairspray to provide hold, but not feel crunchy or resemble a helmet resting on the top of your head.
If you apply it to wet hair and then let it dry, the possibility of helmet-head is greater, so only apply it after your dried your hair (and then styled it with another grooming product, if you so choose).
Note: You should always try to apply hairspray on clean hair, although it may not be as clean when or if you need a touch-up bit of spray during the day.
If your goal is to achieve a wet look, it's OK to apply a small amount of water to dampen your hair and then apply hairspray. Use a hairdryer and comb – preferably one with wider teeth – to get your desired style.
Applying the spray
Shake the can of hairspray for a few seconds to ensure that its ingredients are mixed properly. Also, make sure that the nozzle is free from any obstruction so that it provides an even mist of spray.
Hold the can about 8 to 15 inches away from your hair and spray a moderate amount. "Moderate" is the key word here; avoid applying an excessive amount that leaves your hair too stiff or crunchy. Use a circular motion when applying the spray.
If you want to add more overall volume to your hair, keep your head tilted downward and spray the underside of your hair toward its roots to provide extra lift.
Or, if your goal is to add more texture or give your hair a "messy" look, simply apply a bit of spray on your hands and rub it into the hair from the roots up.
A key point to remember when using hairspray is to apply only a light coating on your hair instead of applying so much that it looks like a layer of dew.
Apply only where needed
There's no need to spray all of your hair if you only want to target certain areas for styling. For instance, don't spray the back of your head if you prefer to maintain a natural there.
Use your hairspray with other products
One of the beauties of hairspray is that it works superbly in conjunction with other hair styling products such as gel, pomade, clay, etc. Apply your styling product first and then use hairspray before the product dries on your hair.
You'll still get the look that you're trying to achieve with the other products, but with an even firmer hold.
How hairspray compares to other styling products
Today's man has more hairstyling products available to him than ever before. Hairspray is just one option, albeit a good one, and works effectively on a variety of hairstyles and hair types. But how does hairspray stack up against all the rest? Let's take a brief look:
Hairspray
Hairspray is versatile. It adds hold. It's lightweight enough not to weigh your hair down. You can use it to help you achieve different styles.
It also has advantages that other styling products don't have, including that it – especially when targeted for your hair type – will leave a more natural look. And it's great for styles and hair types that require more volume.
Hairspray is also the ideal finishing product and for use after you've applied other products to your hair, if you use multiple products, that is. You can use hairspray to cover the outer layer of your hair, or you can spray it deeply into its roots to coat it and give it more lift.
We spoke earlier about three primary types of hold that hairspray offers – flexible, medium, and maximum.
Flexible hold sprays have the least amount of staying power and work best with longer hairstyles. They allow some natural movement and just enough control to reduce frizziness.
Medium hold hairspray offers a slightly stronger hold than flexible hold sprays while allowing a bit of natural movement (when not used in excess).
Maximum hold spray provides the most hold of all and works best for anyone who wants to keep every strand of hair in place the entire day. You'll still maintain the definition and texture of your preferred hairstyle while keeping it locked into place.
If your other styling products don't provide the hold you require, then give your hair a couple of spritzes of maximum hold spray to keep it locked and loaded.
Not that hairspray has a spotless reputation. It used to contain chemicals that were harmful to humans and even contributed to ozone layer erosion. While hairspray formulas have come a long way and become safer, it still contains chemicals, including formaldehyde.
And, while hairspray side effects are less likely to occur nowadays, you may experience issues such as irritation of the eyes, nose, throat, and skin, and overly dry skin and hair, especially if you're allergic to any of a spray's ingredients.
It always pays to read the label, or do your research, to learn what ingredients are in a spray's formula.
Hair gel
Men use hair gel more than any other styling product. It offers a firm hold and a high shine, although its hold, like hairspray, varies from product to product.
While gel is the go-to product of many men, it has some drawbacks – including that it can cause excessive dryness because the chemicals found in many gels strip moisture from the hair. It can also cause your hair to become overly frizzy.
Hair wax
Hair wax is useful for attaining a variety of hairstyles, from messy to those with more structure. It has a medium hold that's not as firm as hair gel but still pliable enough to allow you to restyle your hair when needed. Waxes tend to have a medium shine that's not overly glossy.
Pomade
Ah, pomade – the stuff of pompadours, quiffs, and other neat, slick-looking hairstyles. Pomade is creamier than wax and less drying than gel, and has a medium to lightly-hard hold that still allows you to restyle your hair throughout the day.
Pomades fall into two main categories: oil-based and water-based.
Oil-based pomades include grease or petroleum products, but can clog the pores of your scalp if used in excess.
Water-based pomades may not provide a firm of a hold as their oil-based brethren, but they wash out easily and don't impede your hair's natural movement.
Clay
Clay is a relative newcomer to the men's hairstyling game and offers various benefits, including that it nourishes the hair and scalp because it contains a healthy dose of minerals and nutrients that are good for hair health.
It also has a firmer hold than pomade and adds thickness to your hair. It's also lightweight and absorbed into the hair without leaving a noticeable residue behind.
If you have a hairstyle that requires extra volume but don't want to weigh your hair down, then you may want to give styling clay a try.
Cream
Hair creams work well with coarse, curly, or thick hair and give hair flexibility with a very light hold. Most creams include moisturizing ingredients and act as a conditioning lotion to help keep frizziness at bay.
A cream is a good option if you don't like the weight of pomade or wax.
Paste
Paste is a versatile men's styling product that provides medium hold and shine. Hair paste typically is thicker than pomade and suits most hairstyles.
A quality paste gives your hair flexibility and separation while also adding volume and texture when you apply it before blow drying your hair.
Most paste is water-based and easy to wash out.
How we chose the best hairspray for men
The good news is that you shouldn't have much problem finding a hairspray for men that fits your needs and hair type.
With that in mind, our goal was to offer a selection of sprays that were effective for many hair types and lengths, and also offered different types of hold, shine, and even price. When possible, we tried to include products that were a little less chemical-heavy.
As always, we carefully considered the reviews of others, particularly the reviews of those who use or have used the products.
Conclusion
How about you? Do you use hairspray for men and, if so, what's your go-to spray? Have you tried the sprays on our list? We welcome your feedback and suggestions.