The 14 Best Hair Products Every Man Needs
This post may contain affiliate links. Learn more.
Men's grooming has come so far: long gone are the days when just a few products were offered to the beardy sex, and today there are literally 100s of options for virtually every need we have.
And in this regard, hair can be particularly tricky.
How do you even get started trying to find the right products for your hair?
Well, we've got you covered.
In this review, we're going to explore the 14 best hair products available to men – looking at different types of products, and offering you the very best options in each category.
We hope this will give you a foothold in the market and help you find the very best products for your specific needs.
But there's more:
We're also going to help you figure out exactly which products are best for your hair, as well as going into some detail about how the various categories of men's hair products differ.
Let's start by looking at the 9 key factors men should consider when purchasing hair products.
Quick Summary
<!—INSERT CODE BELOW—>

Pomade

Seven Potions Hair Styling Pomade

Washes away easily

100% natural

Solid hold and shine - it just works

Check on Amazon

Wax

SexyHair Style Control Maniac Styling Wax

Gives a shine that doesn't appear greasy

Gives a hold that lasts all day long

Great for a variety of hair shapes and styles

Check on Amazon

Gel

American Crew Firm Hold Styling Gel

Great overall texture

Includes vitamin B5

Great hold that isn't too stiff

Check on Amazon

Hair Spray

SEXYHAIR Big Spray & Play Volumizing Hairspray

Strong hold

Adds volume

Reduces frizziness

Check on Amazon

Clay

Baxter of California Men's Clay Pomade

Natural-looking matte finish

Long-lasting hold

Easy to apply

Check on Amazon

Sea Salt Spray

Davines This Is A Sea Salt Spray

Provides long-lasting hydration

Many natural ingredients and no parabens

Full, textured look with a matte finish

Check on Amazon

Shampoo

Krieger + Söhne Shampoo

Good for all hair types

Infused with natural ingredients

Reduces dandruff

Check on Amazon

Conditioner

Nourishing Hair and Scalp Conditioner

Dermatologist-tested natural ingredients

Adds thickness to fine hair

It feels light on your hair

Check on Amazon

Hair Growth Shampoo

Revita High-Performance Hair Stimulating Shampoo

Contains no harmful chemicals

Assists in stimulating hair growth

Nanosome delivery system

Check Best Price

Hair Growth Treatment

Men's Rogaine

Easy to apply

Clinically proven results

FDA approved

Check on Amazon

Hair Clipper

xtava Pro Cordless Hair Clippers and Beard Trimmer

Amazing battery life

All in one set

Ceramic/Titanium blades

Check on Amazon

Hair Comb

Seven Potions Hair Comb

Handcrafted

Gentle sawcut teeth

Durable

Check on Amazon

Hair Dye

Just For Men Easy Comb-In Color

Long lasting

Easy to use

Protects against overcoloring

Check on Amazon

Hair Cream

Tea Tree Shaping Cream

Firm hold

Suitable for all hair types

Great scent

Check on Amazon
Before you buy: 9 Things to consider when purchasing hair products
We get it:
Choosing hair products can be tricky, especially given how many different options there are on the market.
Some men simply throw in the towel and opt for a 'trial and error' response. Or worse, they just buy whatever's cheapest and assume they're getting 'value for money.'
The truth is there are ways to ensure you make good decisions when purchasing hair products, and while one of them is using authoritative, trusted sources (like, say, a long, detailed review…) there are also several key variables you ought to keep in mind when considering your options.
1. The type of product
As will become clear throughout this review, there are numerous 'types' of hair products for men, and sometimes it can be a challenge just to tell the differences between them. Is this a pomade or a wax? Are clays and pastes the same?
Having a clear understanding of the differences between the products – and what each is used for and what kind of results you can expect from it – will help narrow down your search dramatically and ensure you get the absolute best product for your specific needs.
2. Your hair type
Many men go through their whole lives without any real sense of what kind of hair they have. And that's a big problem because different hair products have dramatically different effects and will inevitably be more or less suited to you, depending on the specifics of your hair.
3. What style do you want?
Of course, not every man has a specific style in mind when purchasing products for his hair.
But if you do – if you know, for example, you want to be able to spike it up or sleek it out – then you've got a massive head start, and you'll be much better positioned to find exactly the best hair product for your needs.
4. Hold and Shine
Directly related to the style you're looking for, you should have a clear sense of what sort of hold and shine you want your product to achieve.
'Hold' refers to how much your hair moves when you've applied the product – a stronghold is virtually unmovable, whereas a more pliable hold suggests you'll be able to readjust as you wish.
The shine is really about how 'wet' you want your hair to look. Some men really love that sleek, shiny look; others think it looks greasy and artificial, and are after something much more natural.
Most products will be very clear about these things – if they're natural-looking, they'll be labeled 'matte' or 'low shine.'
5. Ingredients
As you'll no doubt realize, the ingredients in a hair product matter a great deal – they're basically the thing that determines everything else we're discussing here.
So it's extremely important to understand exactly what the ingredients in your products are and what they're going to do.
It's easy to think of your hair as separate from the rest of your body, but the reality is it's literally biologically connected to you, and if you're putting something in it which isn't safe or healthy, it can have seriously negative effects.
6. Scent
Hair products are famous for smelling terrible – the classic scent of chemical-laden hair spray, for example. But many of the best men's hair products actually boast pretty nice smells and can add a little extra kick to your cologne or aftershave.
Equally, some men will much prefer a scentless product, and it's important, therefore, to decide ahead of time and be aware of the scent of the product you're purchasing.
7. Application and maintenance
It might be surprising to realize, but different hair products are applied in radically different ways and require much more or less maintenance.
Mostly, there will be at least some degree of lathering or technique required, but if you're looking for a more or less involved process, you should be aware ahead of time and look for specific products.
8. Brand
Of course, brands aren't everything – good brands have made terrible products, and unknowns often come out with game-changing stuff.
But there is some truth in the idea that brands are signals of quality, and if you find something from a revered brand – say, Jack Black's – then you're very unlikely to go wrong.
9. Cost and value
Finally, you should always be aware of the relative costs/benefits of the hair products you buy. Are you really going to get $50 worth out of a conditioner?
Maybe. But if you leap into the fray with no sense of what you want to spend or how much quality really matters to you, you may end up sorely disappointed with your purchases.
The reality is, the price of men's grooming products varies so much – from a few dollars to hundreds. And knowing exactly how much you value your hair products is important from the get-go.
The 14 best hair products for men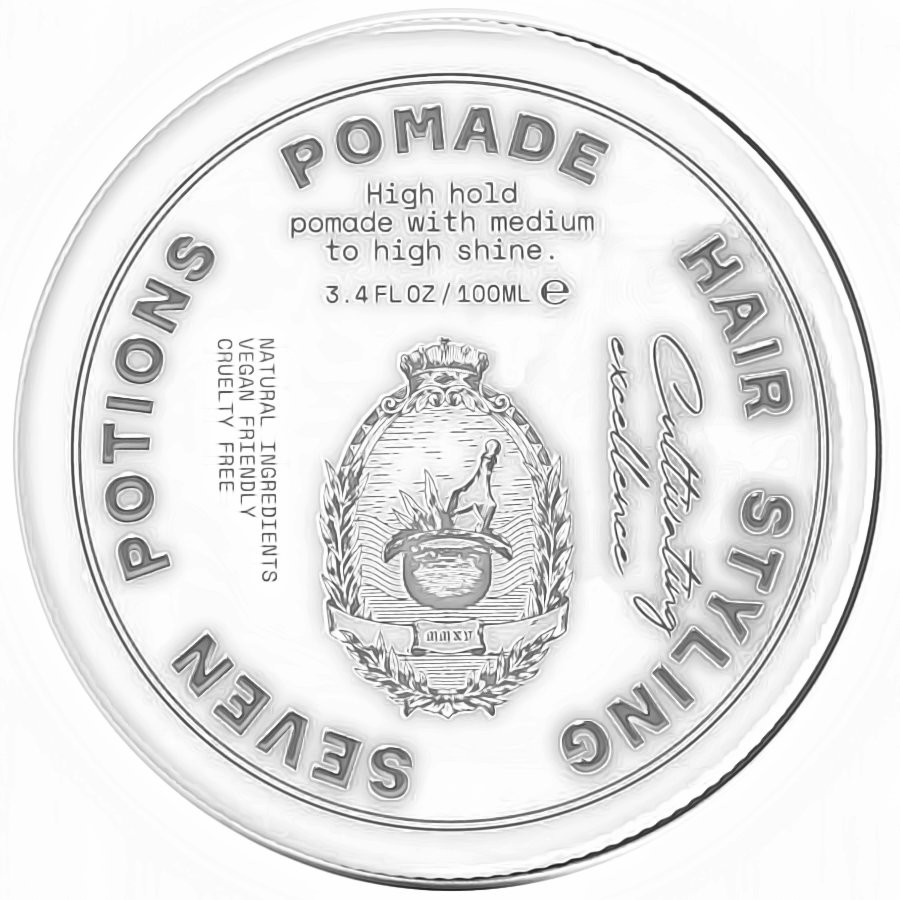 Seven Potions' Hair Styling Pomade stands out for several reasons.
For one thing, it is made from a fantastic formula of natural ingredients, with plenty of shea butter, sweet almond oil, and sandalwood essential oil, giving it both great moisturizing properties and a sweet, warm smell that you'll just love.
There's also the small matter of the quality of the hold, which is just awesome and gives you a high-hold without being overbearing or too tough.
Plus, the shine is lovely, and gives you a sleek, retro look without appearing artificial or (god forbid!) greasy. It will help you look suave and effortless, even on the worst days.
It's made without any of the bad stuff – no parabens, PEGs, colorants or synthetic fragrances. And Seven Potions guarantee it is entirely vegan friendly, too.
Cleaning it out of your hair is also very easy, because this stuff is entirely water-soluble, and it doesn't leave your hair dry or sticky or irritated at all.
Ultimately, it's the best a pomade can get – easy to apply, low maintenance, and a fantastic hold and finish.
A good wax should give great hold and shine without making the hair look oily or greasy. We understand that lots of waxes, leave a completely unnatural and often just plain ugly texture in the hair.
That is why we recommend SexyHair Style Control Maniac Styling Wax!
While its hold is firm, SexyHair doesn't make the hair stiff or hard, and you'll have no trouble restyling and shaping your hair throughout the day with this product.
It adds just the right amount of shine, making your hair appear stylish and refined. But this wax doesn't stop here.
It also hydrates the hair because it contains a lot of moisturizing stuff in it, such as safflower seed oil and panthenol. Also, it is humidity resistant for up to 72 hours and is cruelty-free.
Lastly, it doesn't feel heavy throughout the day and washes off in seconds when it is time to shower.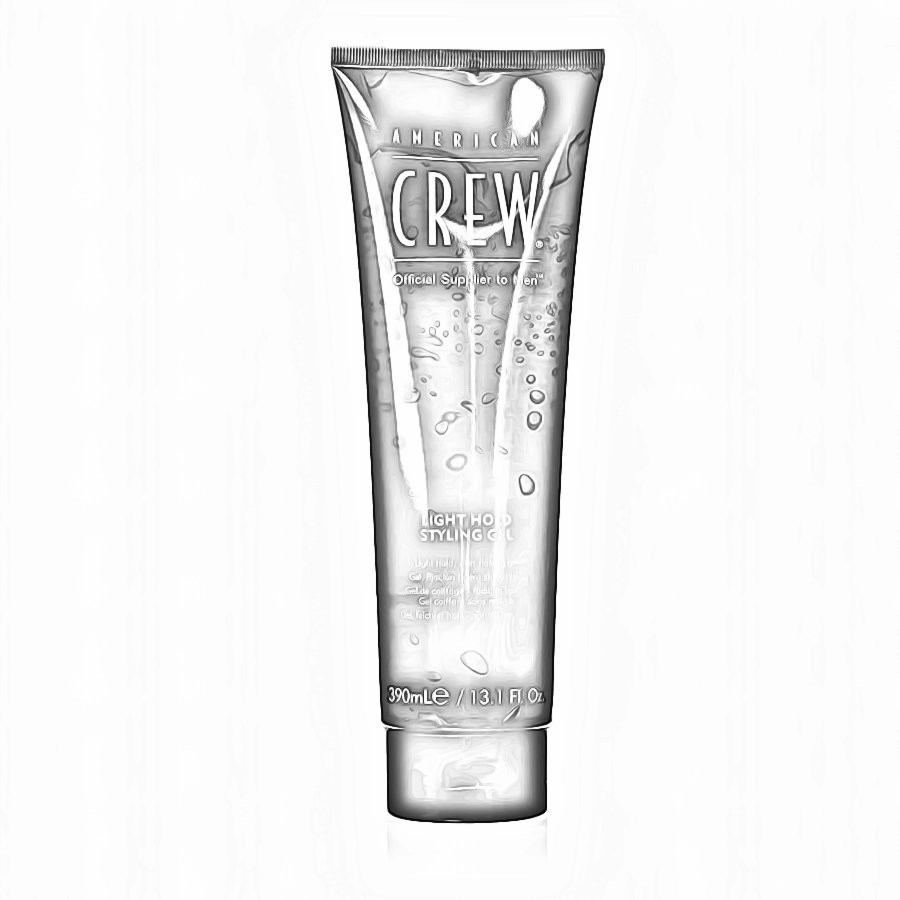 The first thing you notice about American Crew's Firm Hold Styling Gel is the packaging: it just looks like the real deal, with its cool, slightly retro-looking bottle and branding.
But there's far more here than just a stylish aesthetic – this really is a top-quality gel, giving you a firm hold that isn't too stiff, great for almost every hair type and style you could think of.
It produces a wonderfully stylish texture – especially if you've got thicker hair. And it is specifically designed to never dry your hair out – as so many firm holding gels do.
On top of all that, the good people at American Crew have made sure to include Vitamin B5 in their formula – this is a vitamin that is often found in hair loss treatments, and the effect is to promote healthier, stronger growing hair.
So while this truly is one of the best hair products you'll find for thicker hair, it's also great for men whose hair is thinning – you can combat the problem whilst improving your style.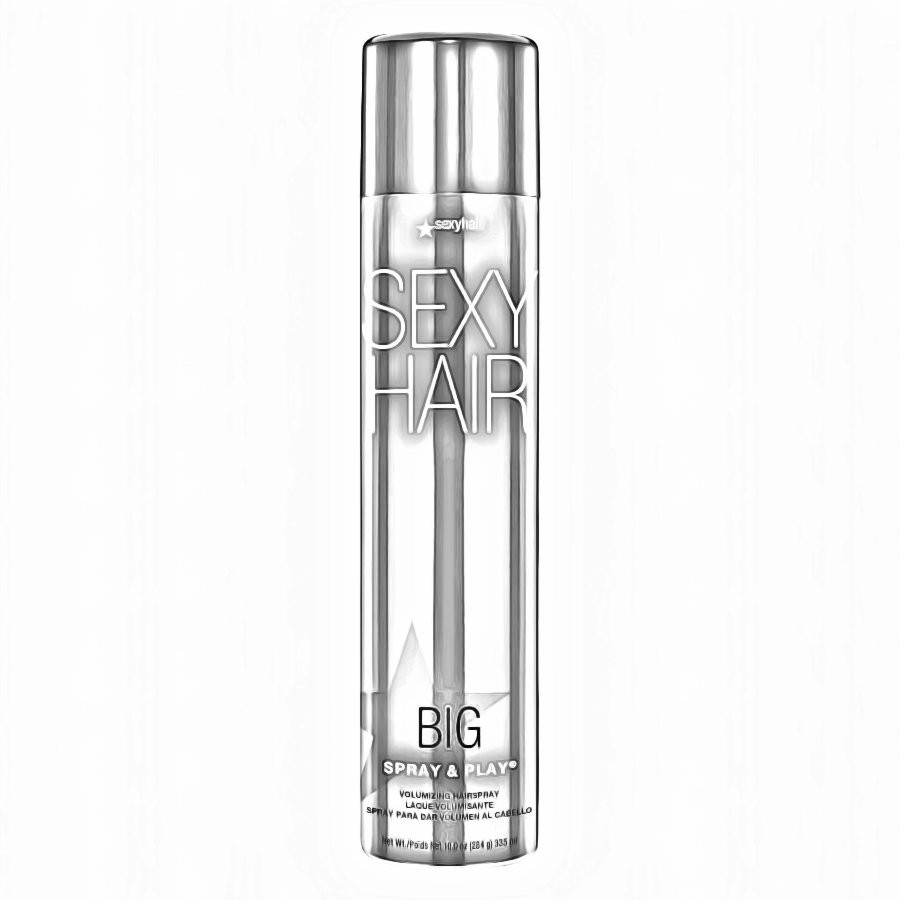 Sometimes, when you want to be truly bold, you need a product that matches that ambition and then some.
If that's you – if you're after a 'wild' style like faux hawks, spikes, and the like – then SEXYHAIR'S Big Spray & Play Volumizing Hairspray is exactly what you're looking for.
It will give you the lift and hold your hair needs to truly 'take off,' with 72 hours of humidity resistance and a ton of added shine to give your hair that extra kick.
The hold itself is medium to firm, but it's really the volume that you're looking for here. It also reduces frizziness dramatically, so if you have a problem with hair being too bold naturally and want to reign it in, this stuff is great for that too.
Ultimately, this is not a product for every man – it's really for a particular kind of trendsetter. And that's okay: not everything has to be right for us all.
But we have to acknowledge the superior quality here, and if you're in the market for a hairspray, this is almost definitely as good as you'll find.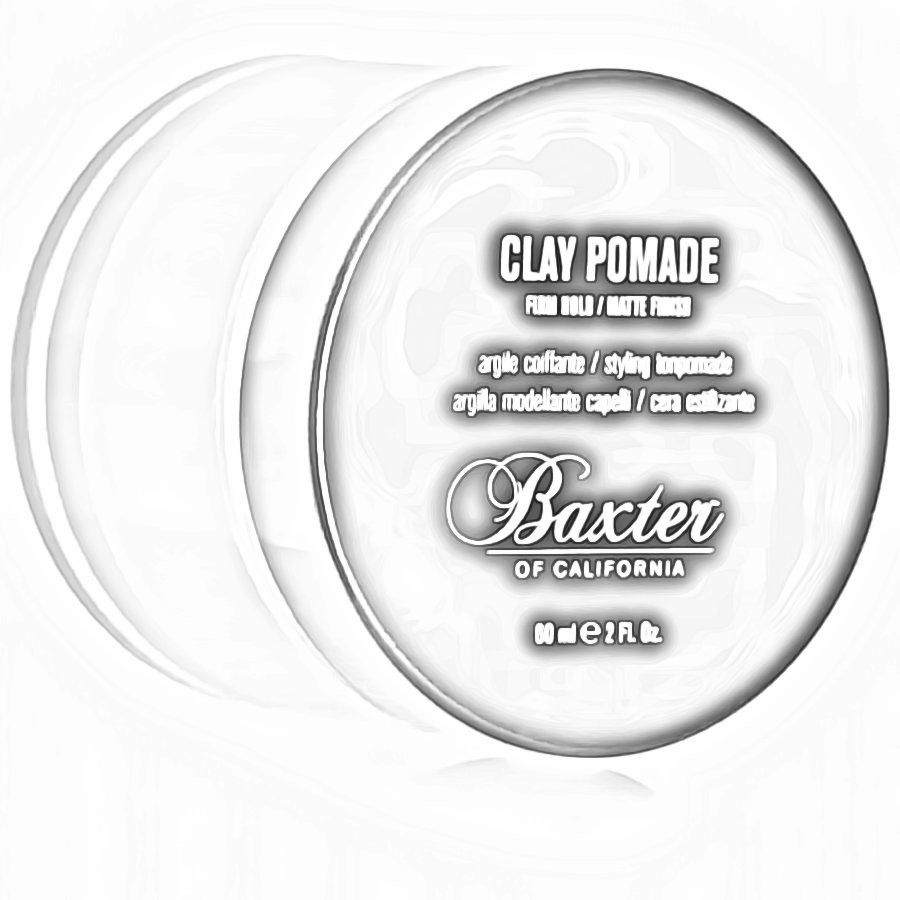 Baxter of California is by now an extremely iconic men's grooming brand – for decades, they've been pumping out a line of truly exceptional products of all kinds, and they don't show any signs of slowing down.
Their Clay Pomade is an absolute gem: its combination of clay and beeswax is not only ethical and vegan-friendly – but it also produces an exceptionally strong hold that many men will find a game-changer.
It leaves a great, natural-looking matte finish, which adds some extra shine without ever appearing synthetic or greasy. Plus, the hold is an extraordinary combination of long-lasting and pliable – it won't ever lose shape, but you won't have a hard time restyling it throughout the day if needs be.
This stuff is really ideal for taming unruly hair – it will help you get into check, restyle it and keep it under control, all without appearing to ever have had to apply a single product.
And the texture it produces is wonderful, too – nice and stylish, without being overtly 'styled,' sticky or tough.
Overall, Baxter of California has hit the absolute motherlode, balancing so many different poles to create a truly refined, sophisticated clay – that's probably why it's won so many awards!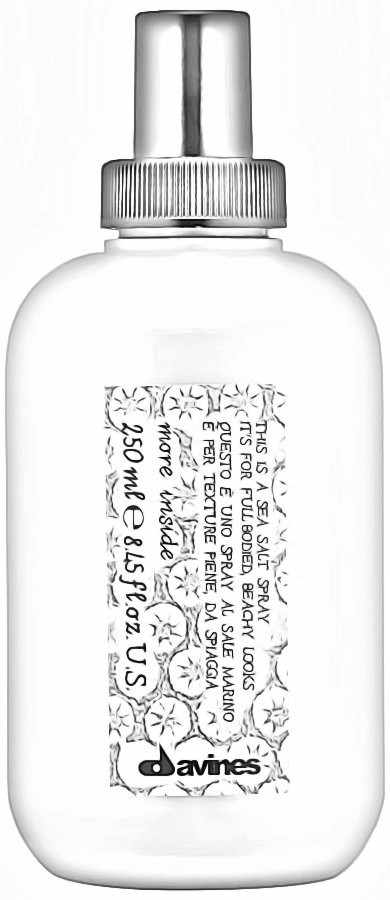 Sea Salt Spray is often a mixed ag – whilst it can give you a great, beach-ready look, it also often relies on nasty chemicals and ironically dries out the hair quite badly.
Not so with Davines' Sea Salt Spray, which is made from completely natural ingredients and products a beautiful, gentle scent while giving you long-lasting hydration and a full, texture look.
The finish has a gentle matte – nothing over the top, just a nice, easy shine that looks authentic and pure. Your hair simply looks like it's been given the dose of sun it needs to really shine. And the natural ingredients do actually promote healthier follicle growth, too.
For men with straight, fine hair (or a thinning problem!), this stuff will give you the kind of volume you need to hide it.
This isn't just a niche interest – it's truly one of the best hair styling products for men you'll find.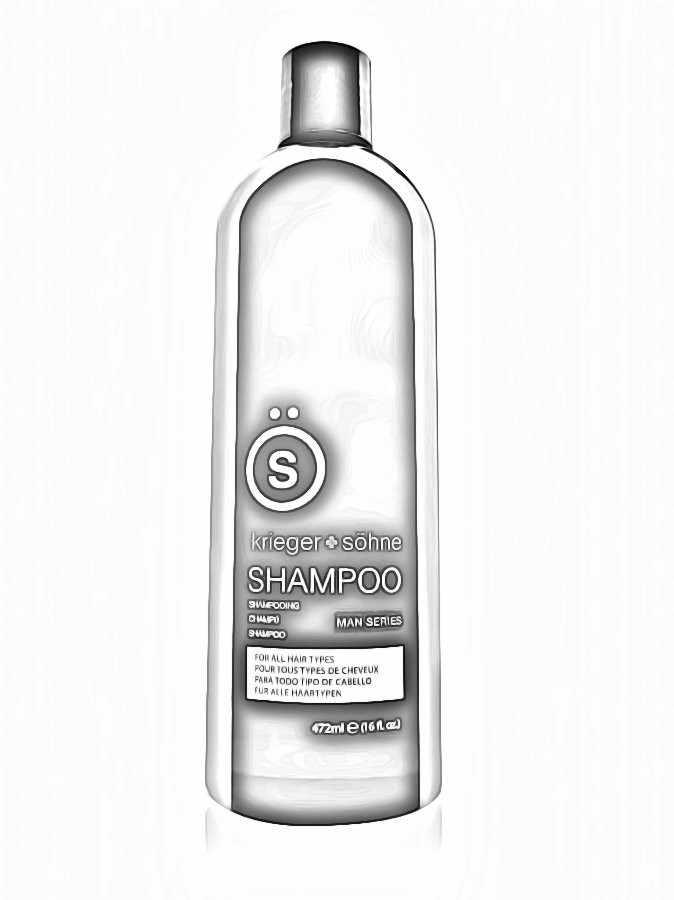 You might be forgiven for thinking shampoo is a pretty boring product – it just cleans your hair, what more could it do?
If this is you – if you're not sold on the potential for shampoo to be a transformative grooming product – then Krieger + Söhne's Shampoo is exactly what you need to be converted.
See, they use a formula heavily based on tea tree oil to create something which is not really about cleaning your hair – it's about giving you a relaxing, reinvigorating experience which leaves you feeling energized, motivated, and ultimately excited to start your day.
Whether you've just woken up or finished in the gym, there's always room for a little recharge. And the way this stuff stimulates your scalp and helps your hair feel soft and healthy will give you the boost you need.
It helps tackle dandruff and dry scalps and is safe to use every day without tiring or damaging your hair – as so many shampoos do.
While many shampoos are specialized, this truly is for any man who wants to win. As the name suggests (Krieger means warrior in German), this stuff is for men who take themselves seriously and know how important it is to stay fresh and clean.
Like shampoos, many men assume they know what a conditioner does and don't bother to worry too much beyond that. But once again, that's a huge mistake – as a product like Jack Black's Nourishing Hair and Scalp Conditioner illustrates.
For one thing, Jack Black's have made sure their conditioner doesn't weigh your hair down the way so many conditioners can. Instead, it makes your hair feel light, energized, and ultimately gives it that extra life and lift it needs.
The natural ingredients – as you'd expect from Jack Black – are just great. From tea tree leaf oil and silk protein to green tea extract and basil, the formula is beautifully natural and entirely vegan friendly. Plus, it's dermatologically tested to produce real results.
For men with fine hair, this stuff is just great: it will add plenty of thickness on top, without weighing on it or looking forced. And for men with frizz-related problems, Jack Black's conditioner will also do well by you.
Jack Black is a great, innovative brand, and it's unsurprising that they've produced such a high-quality conditioner – it's great for your hair, great for your skin, and even – ultimately – great for your wallet.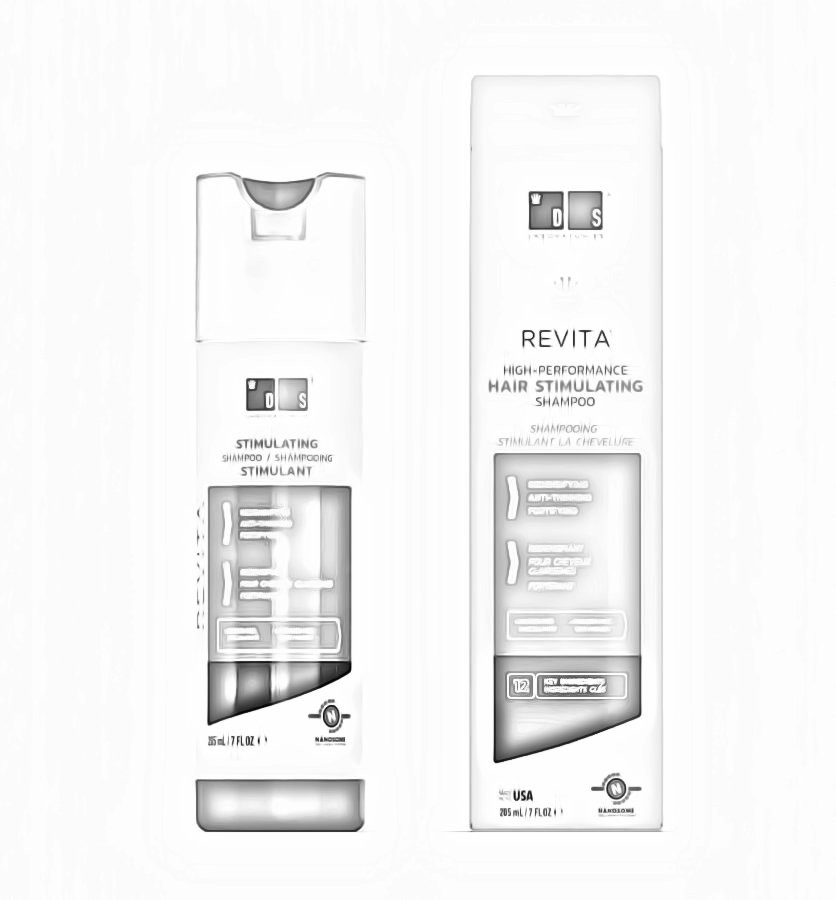 DS Labs' Revita® is a truly game-changing product for men who suffer from hair growth issues – and let's be real, that's a lot of men these days!
It is formulated to fight follicular dysfunction – that is, to help your hair grow better, faster, and more healthily.
It uses a unique, highly-effective delivery system that stimulates new hair growth more quickly than other products in the category, and DS's clinical studies have shown that Revita really does work.
Its key compounds include DHT blockers, ketoconazole, and caffeine, which combine to give the stimulation and nourishment your follicles need.
They've also thrown in plenty of biotin (vitamin H, as it's often known due to its importance in hair growth), which further contributes to the effect.
Another way Revita® sets itself apart is the speed with which it goes to work – rather slowly going to work; it begins immediately working on your scalp to rejuvenate growth and make your hair healthier.
Unlike most of its competitors, Revita® uses no chemicals or other toxic ingredients – it's just a smart combination of antioxidant and anti-androgen properties, peppered with potent hydrating molecules, hair growth stimulants and amino acids.
Ultimately, this is the absolute most effective hair growth shampoo we've come across – and trust us; we've tried a lot!
10. Hair Growth Treatment – Perfect example, Men's Rogaine

Sometimes, hair growth shampoo is simply not enough alone. And in those moments, an actual hair growth treatment like Men's Rogaine is the best possible route for men with thinning hair.
For one thing, it has been clinically proven to produce serious results – for a long time; it was really the only game in town for sufferers of MPB. It also has a nice, neutral fragrance and is pretty darn easy to apply.
Its key component is Minoxidil, an almost-literal miracle solution that regrows up to 25% more hair. But it also contains botanical extracts and emollient, which combine to help not just regrow hair but make sure the hair that regrows is healthier and thicker and looks better than ever.
Not only that: it also exfoliates the scalp hair, keeping follicles clean and open for hair growth Ultimately, the results speak for themselves: within 12 weeks, you can see visible improvements, and because it's so easy to apply you can simply slot it into your general grooming regime.
When it comes to hair clippers, the differences are a little tricky to see. It's really only when you use them side by side you see the incredible quality of a product like xtava's Pro Cordless Hair Clippers and Beard Trimmer.
For one thing, their ceramic/titanium blades absolutely saw through your hair with ease and accuracy.
Combined with the precise length control (4 length settings, from 1.0mm to 1.9mm), you'll be able to achieve the kind of trimming that you've always longed for without risking snags or cuts.
They really are just incredibly easy to use: with fantastic battery life (3 hours) and a variety of accessories, it's a complete hair clipping kit.
The ergonomic design makes them lovely to handle – lightweight, but with plenty of grip and not so light that you overcut. And if you're cutting for a long time, you'll avoid the kind of arm fatigue most other clippers produce.
All of that, and they come with an easy storage kit, a cleaning brush, and lubrication oil – a truly low-maintenance, no-hassle kit.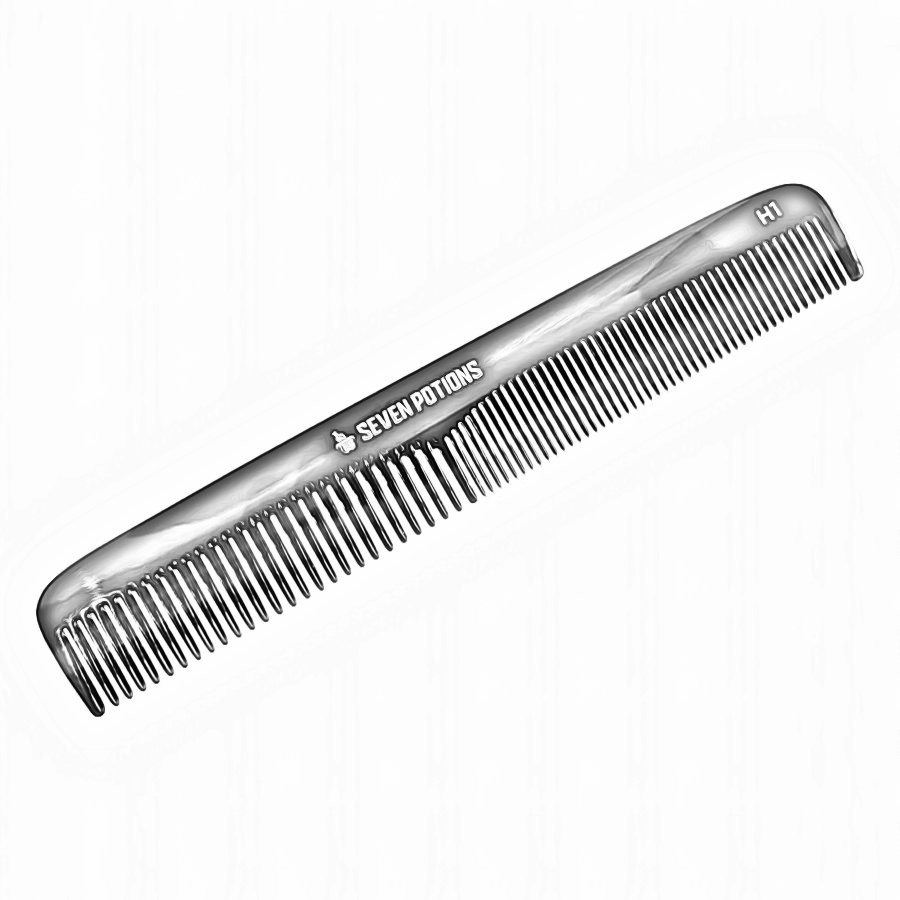 Hair combs, quite honestly, are often incredibly poor products – they're flimsy, poorly designed, and crumble after a few uses. But Seven Potions – a great brand which has already popped up on this list – shows us exactly what a hair comb ought to be like.
Theirs is handcrafted for truly quality construction, making for a product that immediately feels superior to its competitors when you hold it. And the construction is backed up by a design that is true class.
The saw cut teeth are extremely gentle on your hair, making for an experience which is easy and effortless – you don't have to be careful or reserved, you can just go for it and trust that Seven Potions has got your back.
Plus, the comb is extremely durable: unlike so many plastic combs, this thing will last you a long time. Made from cellulose acetate – which is a highly sustainable material – it avoids the static cling and pulling off.
This is a comb any man's hair can enjoy – whether it's thick or thin, wavy, or straight. Plus, it's waterproof and designed to be thin, allowing you to take it wherever you've got to go.
Hair dye is tough to get right: for most men, the biggest concern is to get a dye that looks natural and won't damage their hair, but historically most dyes have used ammonia or peroxide, which tends to sadly do both.
Just For Men's Easy Comb-In, Color takes away all of those anxieties: its formula is completely safe, producing natural, effortless coloring in a variety of 11 different shades, so you can match yours to the exact needs of your hair.
It's also exceptionally easy to use: all you do is comb it in, wait 10 minutes, and rinse your hair out.
The results last up to 8 weeks and look flawless. And the smart people at Just For Men have even built-in protection against the danger of over-coloring – the dye simply stops working after 10 minutes, meaning if you forget or get distracted, you won't come out of things too badly.
The set also comes with a comb applicator, which helps you apply it more strategically and precisely to exactly where your greys are.
Tea Tree Botanicals is a sub-brand of John Paul Mitchell systems – a leader of men's grooming products you probably recognize from earlier in this review.
Their shaping cream is a fantastic way to conclude our list, with its lightweight formula infused with beautiful tea tree oil that provides a firm but not-too-firm hold.
This is a product that is genuine for 'all' hair types – whatever your needs, this stuff will make it totally pliable and give you a long-lasting hold and a strong matte finish.
The flexibility you get – particularly with such a strong hold – is unusual, to say the least. And the extra texture is gentle but effective.
The scent is great, too: a refreshing tea tree kick with the slightest bit of citrus to refresh and reenergize you. Plus, the cream actually has active botanical ingredients that help invigorate and heal your hair throughout the day.
Ultimately, this is a really smart, simple product that will make a great addition to any man's hair grooming arsenal.
Method to the madness: How we chose these products
There are no two ways about it: cultivating a list like this is tough.
The number of great products we have to leave off the list is tough, and the number of terrible ones we have to try is even worse. And while we can't try every single item on the market, we try to be as diligent as possible in our pursuit of the best – and that involves testing an awful lot.
Put simply, we make a very large shortlist by checking reviews – both offline and in the trade magazines – and we go about testing them in each category to determine exactly what the best products around are.
The result, we hope, is a list that truly distills the very best products you can get your hands on today. But we're always open to suggestions for new products, or if you feel a truly exceptional item has been robbed of its place on our list – let us know in the comments!
What hair product is best for my hair?
As we mentioned earlier, the type of hair you have matters a lot in choosing hair products. And the main way to determine which products are best for you is to look at your hair and decide what it is you want to change about it using a product.
If it's particularly thin, you probably want to give it some extra texture and thickness – a hairspray may well be the best option for you, therefore. But if it's unruly and wild, it might be a wax or gel that best suits you.
If your hair is thinning, avoid heavy oil-based products that might wear it out and add to the problem. And if you have particularly oily hair, you'll want to avoid excessively oily products – though you've probably already figured that one out!
Ultimately, a certain amount of experimentation is inevitable, and the process of nailing your hair care regime will be one of discovering which ingredients and products work best in different contexts.
Try keeping notes whenever you try something new, and always – repeat, always – remember to read reviews to make sure you know what you're getting yourself in for.
Knowing the difference: the many types of hair products
When it comes to hair products, there are tons of options out there—and you can't just grab the first one off the shelf and expect it to do the job. If you've been struggling with your hair, don't worry: we're here to help.
The differences between all the many types of hair products can be confusing (and if you're anything like us, then you've probably ended up with a product that doesn't do what you want it to). So, we thought we'd clear things up for you.
Knowing what the best products are is all very well, but it's still important to understand what each category does and how they differ:
    1. Pomade
Pomade is great for short and medium length hairstyles – particularly if you're after a more 'retro look. It gives you a pretty high-shine, but it tends to offer a lighter hold than many other kinds of products. It's often more about the look of the hair than the styling per se.
2. Wax
Hair wax is usually oil-based and has relatively low-shine, which is ideal for lots of men. The texture can be off-putting, for sure, and it's much harder to get out of your hair than gel or putty.
3. Gel
Gel is perhaps the quintessential hair product for men. Generally, it's used on wet hair and gives you a really easy, strong hold. The downside is many gels have too much of a shine – it's a greasy look, really.
Gels tend to water-soluble, which makes them easy to wash out of your hair. But they also often have a high alcohol count and a tendency to dry out your hair over time.
 4. Hairspray
Traditionally hairspray would be associated with women. But these days, plenty of men are coming round to the uses of it, and there are plenty of great products specifically designed for men's hair.
If you have thin hair, hairspray is a great way to add volume; equally, longer hair can be given a nice firm hold with the stuff.
5. Clay
Clays tend to be drier than other hair styling products, which gives them a lower shine but also gives them a unique and often very cool texture. You'll find that clays vary wildly in terms of their hold, and regardless of your hairstyle, you'll be able to find one that matches you.
The key thing with clays is that they add thickness and a nice rougher texture to your hair.
6. Sea Salt Spray
Sea salt spray is fantastic for getting a beach-like look – particularly if you've got thinner hair. It tends to. E used to achieve a tousled, wavy style and gives you a matte finish that looks healthy.
7. Shampoo
Shampoo is obviously a standard hair product even for men with no interest in the dark arts of grooming. But knowing that shampoo can vary so massively – from ingredients to cost – is important.
The best shampoos don't just clean but actively help promote healthier hair growth and make your hair look not just cleaner but fuller and more alive.
8.  Conditioner
Again, conditioner is a classic you're likely familiar with. It should be used after shampooing and reduces the friction between strands of hair to make hair look healthier and feel more manageable. It's essential if you're looking to style your hair ambitiously.
9. Hair growth shampoo
Hair growth shampoo is a specific sub-genre of shampoo, which is specifically designed to promote hair growth for men who struggle naturally – whether it just doesn't grow fast enough or is actively thinning.
It tends to use active ingredients that nourish the follicles and help hair grow more easily.
10. Hair growth treatment
For men with real hair growth issues, shampoo often isn't enough.
That's where hair growth treatments come in: they are specifically formulated to rescue your hair and rebuild your body's ability to grow it.
While they might sound like magic, many of them are clinically-proven to produce results.
11. Hair clippers
Hair clippers help you trim and clip your hair with ease: rather than doing it with a traditional razor – which is often dangerous and always unable to fully deliver the results you want.
You get a clipper specifically designed to get to the difficult bits and give you the nuanced, detailed cut you want.
12. Hair comb
Hair combs are another classic, but many men overlook the differences – some combs are woeful and likely to actively harm your hair.
Whereas others – like the one from seven Potions we discussed above – are worth their weight in gold and will help you with virtually every aspect of your hair care regime.
13. Hair dye
Hair dye is often given a bad rap, but that's really unfair.
The truth is, many men really struggle to grow hair, which looks full or matches their general aesthetic, and for the hair dye can be an absolute lifesaver.
While historically many hair dyes have been ineffective and damaging, these days, we have a whole host of great products that really work.
14. Hair cream
Hair cream is a styling product that adds a natural-look shine to your hair and generally gives you a low-to-medium hold.
It's generally used to get rid of frizz without having an excessive effect on your hair's aesthetic, and it can be a godsend for men who want to be as subtle as possible with their use of styling products.
Conclusion
Now that we've discussed the best hair products for men, all that's left is for you to go try them yourselves.
We'd love to know how you find them – which really stand out for you? And which are you most excited to try?
Let us know in the comments below.