15 Best Men's Hair Products for Thin Hair That Work Great
This post may contain affiliate links. Learn more.
In a hurry? Here are our top picks:
Just because your hair is thinning doesn't mean you should panic.
True, it's an early sign of the slow process leading to baldness, but there are many great options in today's market.
Stop worrying about hair loss. It just increases stress, which, you guessed it, leads to faster hair loss. Instead, you can slow and reverse your thinning hair with one or a combination of our top recommended products.
There are plenty of innovative solutions available these days, from hair building fibers all the way to caffeine shampoos and microneedling.
We have looked at all the latest research and evidence for these products, so we only recommend those proven to reverse hair loss–saving you money, time, and worry.
We'll review 15 such products in this post while also looking at ways to style the hair to make it look thicker.
So, relax, gentlemen. Not all hope is lost if your hair has started to thin.
Quick summary
<!—INSERT CODE BELOW—>

Best Hair Building Fibers

Toppik Hair Building Fibers

A range of colour options available

Wash out easily

Gives the hair a thicker look

Check on Amazon

Best for Hair Health

Revita Hair Stimulating Shampoo

Improves the density of hair

Free of harsh chemicals

Gentle cleansing action, invigorates hair

Check Best Price

Best Caffeine-Based

Ultrax Labs Hair Surge

Supresses DHT

Unique formula

Encourages hair growth

Check on Amazon

Men's Rogaine Minoxidil 5% Foam For Hair Loss and Hair Regrowth

The first topical hair regrowth product

A proven track record, years of results

Keeps hair and scalp in good health

Check on Amazon

Nizoral Anti-Dandruff Shampoo With Ketoconazole

Powerful formula to use only a few times a week

Helps eradicate dandruff

Treats thinning hair to improve thickness

Check on Amazon

Hairguard Growband

Treats hair loss at the root cause with no side effects

Comfortable fit on the head

Increases blood flow to the scalp

Check Best Price

Lipogaine Big 5

Contains 5 key hair-thickening ingredients

Reduces DHT production

Suitable for those with sensitive skin

Check Best Price

StimuROLLER Hair

Accelerates hair growth

Promote a healthier and smoother scalp

Assist other treatments to work more effectively

Check Best Price

Man Made Hair Clay Pomade

Natural, non-greasy look

Improves hair thickness

Just a little needed for best results

Check on Amazon

Hairguard Growcomb

No side effects

Features a new patented technology

Doesn't require a lot of time to use

Check Best Price

Lipogaine Intensive Treatment For Thinning Hair

A reputable brand name

Fights DHT, protects scalp

Affordable option

Check Best Price

Nioxin 3D Thickening Style Spray

Improves hair volume

Gives a firm hold

Ideal for longer hairstyles

Check on Amazon

DermMatch Waterproof Hair Loss Concealer

Makes hair look fuller

Also soothes and hydrates hair

Waterproof

Check on Amazon

Maple Holistics Biotin Shampoo For Hair Growth

No harsh ingredients

Helps to improve the thickness of hair

Gets rid of excess oiliness

Check on Amazon

American Crew Classic Firm Hold Styling Gel

Excellent hold

Gives the hair greater texture and volume

Won't dry out and flake

Check on Amazon
Before you buy: Things you have to consider and look for when buying products for thin hair
If you're in the market for products that will treat your thinning hair effectively, it's always important to have a plan of attack before you shop. Keep the following tips in mind as you peruse the many products available for treating thin hair.
1. The ingredients
Always read the product's ingredients carefully before you buy. We always favor those with all-natural ingredients, such as essential oils, vitamins, herbal compounds, and aloe vera. This helps avoid the majority of irritations and allergic reactions.
They're also easier on your hair – meaning they'll cause less damage – and can help make your hair look its best.
Whenever possible, avoid products that include harsh ingredients, such as parabens, silicones, and alcohol.
Parabens and other preservatives can damage hair and accelerate hair loss, as will sulfates, silicones, and other chemicals.
Products that contain silicone may cause product build-up, which can make hair fragile and more prone to breakage, while products used to treat thin hair that contain alcohol may cause hair to become overly dry.
Confused about whether you need Caffeine or Ketoconazole in your shampoo? We cover all the major ingredients of our recommended choices at the end of the article so you can make an informed choice about which products are best for you.
2. Is it thin or fine?
Many hair experts say that an important first step – before you even begin shopping for thinning hair products – is to determine whether your hair is thin or fine.
Say what?
While it's true that thin and fine hair are very similar – and the terms often are used interchangeably – there are differences. Here's the main difference: while fine hair is small in size, it's often fairly plentiful. Thin hair tends to be a bit thicker, but fewer in number.
You can do a self-check for fine hair by taking a strand of your hair and rubbing it between your index finger and thumb. If you can't feel the hair or barely feel it, you likely have thin hair.
Does it matter all that much whether you have fine or thin hair when you're shopping for products to treat your hair's overall thinness? Not so much, but it's always important to shop for shampoos, conditioners, etc., designed for your specific needs.
3. Choose products that add volume
While it may seem overly obvious to suggest that you should look for products that add volume to thinning hair, it's still worth emphasizing. Volumizing products lift hair at the follicle and separate individual hair strands while adding density.
Avoid greasy products or any that clump hair together.
Even if you have dry hair, you also need to be careful when choosing moisturizing shampoos because they can clog your scalp's pores and hinder new growth.
The same truth holds when you are applying any hair loss products. Use them only as directed – don't douse your scalp in solutions. You run the risk of irritating your skin and hair follicles, which will just make the situation worse.
4. Choose products that nourish hair
Finding the right products for your hair type isn't always easy, especially if you have thin or fine hair. Thinning hair can be tricky to style without making it look limp or lifeless. However, there are many different products out there that can help you achieve the look you're going for, whether that's a natural, textured finish or something more polished and refined.
This point takes us back to #1 above (the ingredients). Look for ingredients – vitamins, for one – that nourish and fortify hair and protect your follicles from further damage. Many hair loss issues (aside from male pattern balding) can be put down to one or more deficiencies, whether in biotin, iron, or others.
By choosing products that help these levels replenish, you give your hair growth the best chance for success.
5. Conditioners
Conditioners! Are you looking for a friendly way to make your thinning hair look thicker? Then conditioners are for you. Conditioners can help make your hair look thicker because they contain ingredients that add moisture to each strand of hair, effectively adding bulk. Additionally, some conditioners are formulated with chemicals that, when applied to the scalp, can help revive hair follicles that have been damaged by stress, hormones, or other factors.
Many men use conditioners in addition to shampoo, including men with thinning or fine hair. Choose conditioners without harsh chemicals, and be wary of "heavy" conditioners that can weigh down your thinning hair.
Leave-in conditioners may fall into the latter category, so choose wisely, but lightweight leave-in sprays work well.
6. Choosing other types of products
Many men also use hair-styling products, such as pastes and pomades.
While men with thin hair should have no qualms about using pastes and pomades, they're best-served by those with water-based formulas that rinse out easily and won't cause excessive build-up on hair.
However, be wary of using hair wax because it often adds too much weight to hair and may tear out brittle hair during its application.
Next, let's look at our list of the best men's hair products for thin hair.
The 15 best men's hair products for thin hair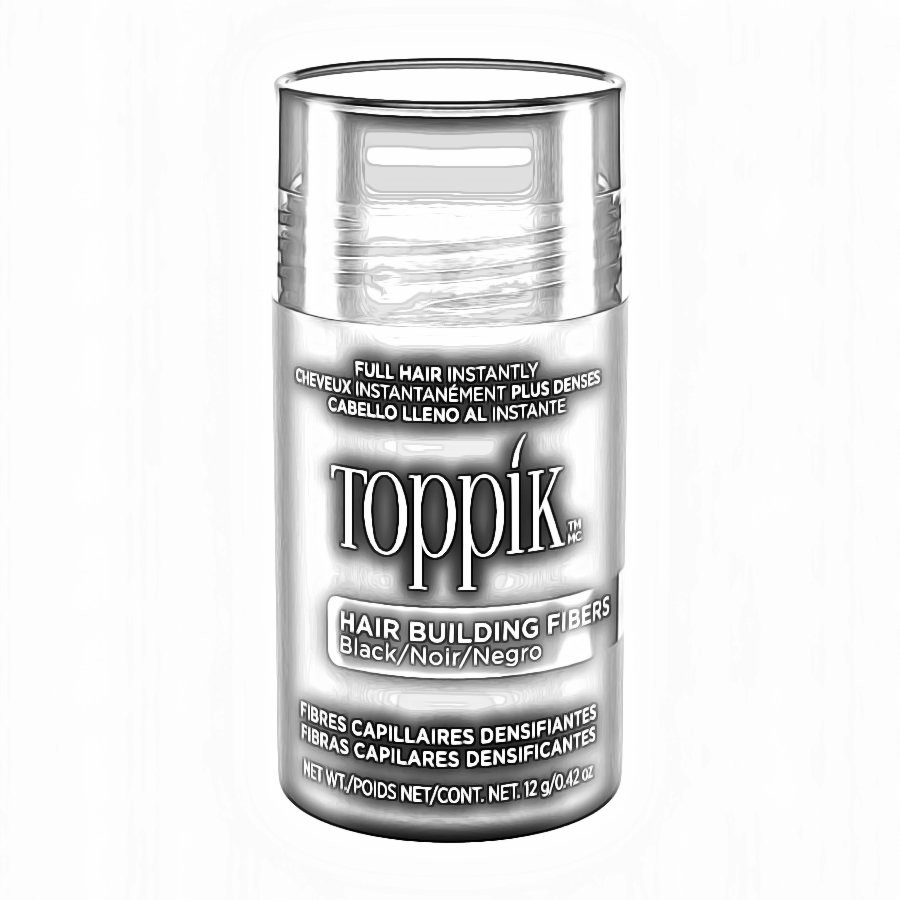 What stands out about this hair product:
Variety of shades available
Affordable price
Very natural looking
Best hair product for:
Men with early-stage thinning hair.
Overview:
Men who've used products designed for thinning hair before will understand the paranoia – can people tell? Does it look real? The truth is, as men, we can be pretty comfortable with the idea people know that we're trying.
We want to look effortless, to make everything seem easy. But sadly, for some of us, a thick head of hair just isn't gonna happen naturally anymore.
Toppik's Hair Building Fibers are designed specifically to cope with the anxiety men feel about not looking natural – it's made from natural, colored keratin protein. It works by tangling in with your real hair to give it more volume and life.
Rather than actually regrowing your hair, you're essentially using a concealer to fill in any weaknesses and bonding fake follicles with your real ones.
While that might sound a little precarious – what if it comes out? Can I even break a sweat? – it's actually very robust and sturdy, staying lodged in all day and only coming out when you actually wash it out with shampoo in the shower.
Aside from the keratin (which, as you'll know, is the protein that structures hair), Toppik has also filled their fibers with Silica, an under-appreciated mineral that helps transport vital minerals to the skin, nails, and most importantly hair, helping them function correctly.
In the spirit of keeping things looking natural, Toppik has created 9 different colors to choose from here, meaning you can almost definitely find one close enough to your own color to blend seamlessly in.
The good
They look very natural and bond tightly with your follicles well

The variety of options makes it easy to match

It washes out easily, which is always nice!
The bad
Cannot cover completely bald patches
Bottom line
Toppik's Hair Building Fibers are a brilliant find for anyone who feels the strain of early-stages hair thinning and wants to regain their confidence with low maintenance. There is a very low chance of scalp irritation compared to products like shampoos, so this should definitely be in every man's arsenal against thinning hair.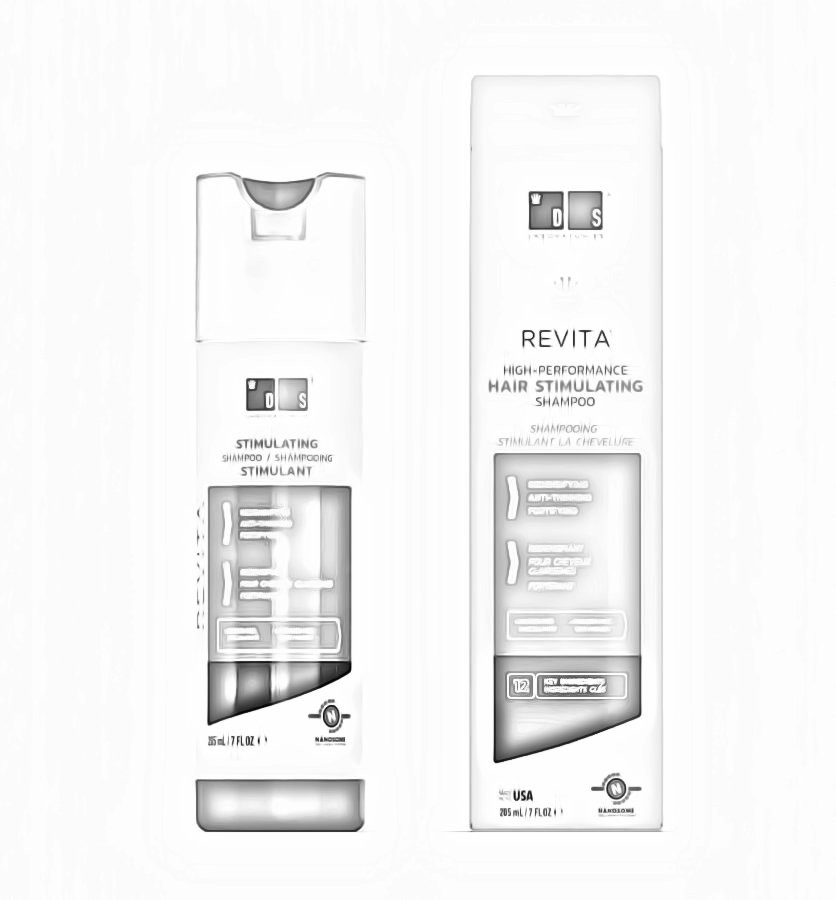 What stands out about this hair product:
It has the backing of dermatologists
Nanosome delivery treatment
Includes vital hair growth ingredients like ketoconazole, caffeine, and biotin
Best hair product for:
Anyone looking to enhance the overall health of their hair. The caffeine is also useful for men with male pattern balding as it counteracts the effects of DHT.
Overview:
Men who deal with thinning hair understand the struggle of dealing with bald spots, including taking desperate measures such as a comb-over (don't do it). Products that help ease the challenge and grow thicker, longer hair … well, they're as good as gold.
Revita's Hair Stimulating Shampoo is just such a product and has countless dermatologists' backing and research.
It also has the support of several clinical studies that prove that it works for strengthening hair, improving its thickness, and enhancing its overall quality.
It's also suitable for men and women while combining the cleansing power with therapeutic benefits that stimulate hair growth.
The Revita Hair Stimulating Shampoo, produced by DS Laboratories, has all the key ingredients you'd expect in a hair loss treatment, including ketoconazole, biotin, and caffeine, but also features DS's unique Nanosome delivery system.
It also contains B2, a powerful antioxidant, and amino acids that improve your hair's structural function while adding elasticity to hair follicles.
What you won't find on Revita's list of ingredients are harsh chemicals, and it's safe enough to use on color-treated hair.
Unlike liposomes found in most cosmetic products, Nanosomes allows for a higher concentration of active ingredients being encapsulated, which leads to a higher degree of effectiveness.
Combined with the high-quality natural ingredients found in its formula, the nanosome system helps set Revita's Hair Stimulating shampoo apart from the rest.
You can also use the Hair Stimulating Shampoo in conjunction with two other quality Revita products: their Hair Stimulating Conditioner and their Revita Tablets for Hair Revitalization.
The good
Enhances hair density and combats DHT

Gently cleanses and revitalizes hair

No harsh chemicals
The bad
Few, but it is somewhat more expensive than other hair loss shampoos
Bottom line
Gentle enough for daily use, Revita's shampoo will help keep your hair clean and healthy while easing the struggle of dealing with thinning hair.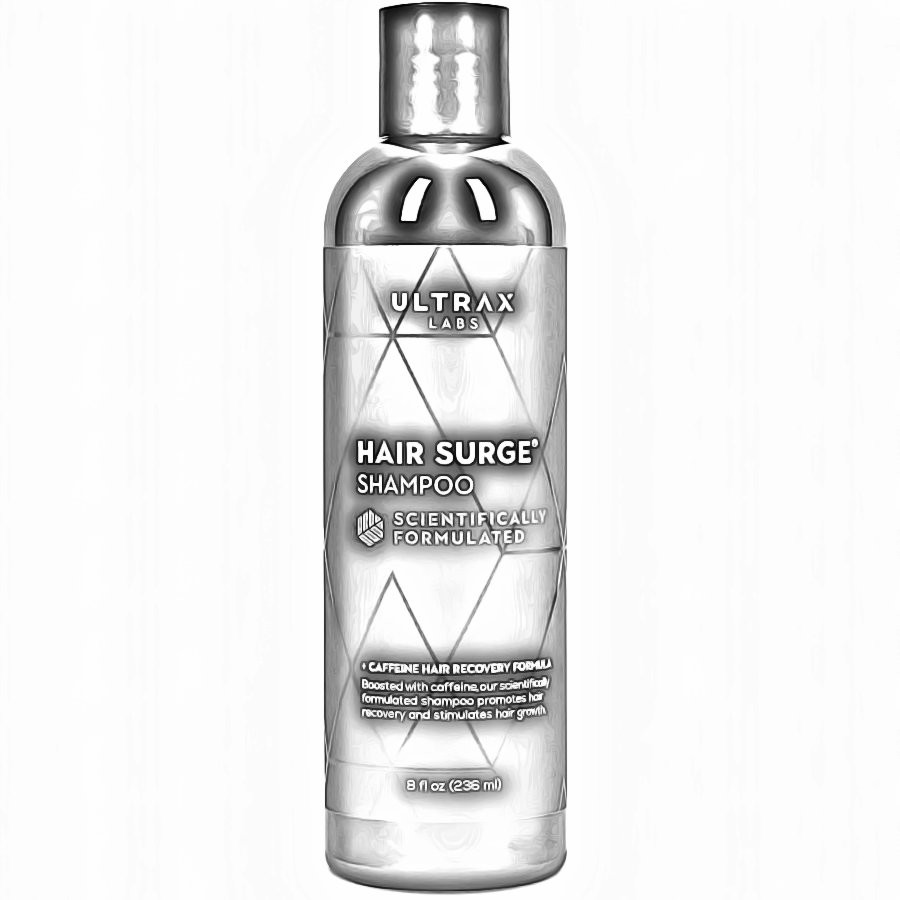 What stands out about this hair product:
Caffeine is a key ingredient which inhibits DHT
Many customers have used it with positive results
Very fresh fragrance
Best hair product for:
Anyone looking for a caffeine-based hair growth product.
Overview:
Some would argue that caffeine is more important than life itself. OK, so maybe they wouldn't go that far, but the stuff that gives coffee its kick is an essential part of many lives.
Caffeine takes on even more value when you consider that it's a vital ingredient in many shampoos and other products used to treat thinning hair.
Caffeine is a stimulant – no surprise there – and it stimulates the life cycle of hair follicles while encouraging healthy hair growth when applied to the scalp.
It's also one reason for the effectiveness of the Ultrax Labs Hair Loss/Hair Growth Stimulating Shampoo.
Few reviews of shampoos used to treat thinning hair don't include Hair Surge, which has over 6,000 reviews on Amazon – with the majority of them dishing out high marks.
Ultrax Labs markets Hair Surge as having a one-of-a-kind formula that does exactly what it says it's going to do: promote hair growth. It's a formula that also includes Ketoconazole, saw palmetto, peppermint oil, and menthol.
You'll find Ketoconazole in plenty of over-the-counter shampoos. It helps keep the hair and scalp healthy by blocking fungus and inhibiting the enzyme 5-alpha-reductase.
The latter is responsible for dihydrotestosterone (DHT) production. A hormone believed to be responsible for hair loss in individuals with androgenetic alopecia (a.k.a. male pattern baldness).
Saw palmetto also inhibits 5-alpha-reductase production when applied topically. However, be careful when taking it internally because it may cause certain parts of the male anatomy to remain flaccid, if you know what we mean.
Peppermint oil is also helpful for stimulating hair growth, while menthol is an organic compound with anti-inflammatory and analgesic properties.
Hair Surge does contain Sodium Laureth Sulfate (SLES), which sounds a bit too chemical to be 100% safe. Still, unlike Sodium Lauryl Sulfate (SLS), it goes through an extra step in manufacturing that reduces the risk of irritation.
You can – and should – use Hair Surge five days a week to get the best results. Ultrax recommends applying it evenly over wet hair and then vigorously massaging it into your hair and scalp. Leave it on for a few minutes before rinsing it off.
The good
Stimulates hair growth

Blocks DHT

Unique formula
The bad
Can be too mentholated for very sensitive scalps
Bottom line
Many men attest to Ultrax Labs Hair Surge shampoo's virtues, appreciating how it enhances new hair growth while treating thinning hair. Its unique blend of ingredients delivers positive results.
What stands out about this hair product:
Powerful minoxidil blend
Unscented foam
Long history of good results
Best hair product for:
Men seeking a 5% minoxidil solution, ie. those with male pattern baldness.
Overview:
New products come and go; technology evolves, research gets deeper – and, still, Rogaine remains right where it was over 30 years ago.
That is, it's one of the best products for hair loss and thinning hair in men and has the distinction of being the first topical hair regrowth brand approved by the FDA.
To say many men have experienced positive results through using Rogaine is an understatement, and it's certainly a product you should consider as you seek solutions to your thinning hair.
The unscented foam solution entered the marketplace in 2006, and many competitors have developed products that try to capture the Rogaine magic.
It's also all in the name: Rogaine is another name for Minoxidil, which works in two ways:
It stimulates dormant hair follicles that are the result of hereditary hair loss
It regrows hair.
Minoxidil belongs to a class of drugs called vasodilators and was created many moons ago to help treat high blood pressure. One of its pleasant side effects was that it spurred new hair growth, and the rest, as they say, is history.
Today, you'll find it in a multitude of men's hair products.
As a side note: women need to be wary of "unwanted" hair growth – such as sideburns – when using Minoxidil, which is why they should use Minoxidil only once a day (men are instructed to use it twice daily).
By dilating blood vessels, Minoxidil stimulates blood circulation to the scalp to improve and restart hair growth. Rogaine is said to grow 25% more hair than other regrowth products and has a couple of clinical trials to back those claims.
The Rogaine 5% foam (the 5% represents how much Minoxidil is in the product) includes Tricho-Prime Technology that's said to work on contact while penetrating deeply into the scalp to create healthier, thriving hair.
The Minoxidil foam also contains botanical extracts and emollients that help users maintain a healthy, well-conditioned scalp.
It also has alpha hydroxy acid (AHA) that helps hair follicles remain open while promoting natural skin exfoliation (removing dead skin cells) from the scalp.
So that you know, you may not experience hair growth or noticeable results for several weeks and may experience continued hair loss for another couple of weeks. Why? Because thinner hairs are shed to make room for thicker hair to grow in their place.
So, be patient and wait for Rogaine to do what it's supposed to do. If you're not satisfied within 120 days of daily use, Rogaine offers a full money-back refund.
The good
The original topical hair regrowth product

Years of proven results

Helps keep your hair and scalp healthy
The bad
May be unsafe if you suffer from heart disease – always check with your doctor. Stop taking if you experience water retention or chest pain
Bottom line
Rogaine's 5% Minoxidil foam is a good option for any man hoping to add volume to thinning hair while creating new growth. You may not notice results immediately, but the chances are good that you'll notice them eventually.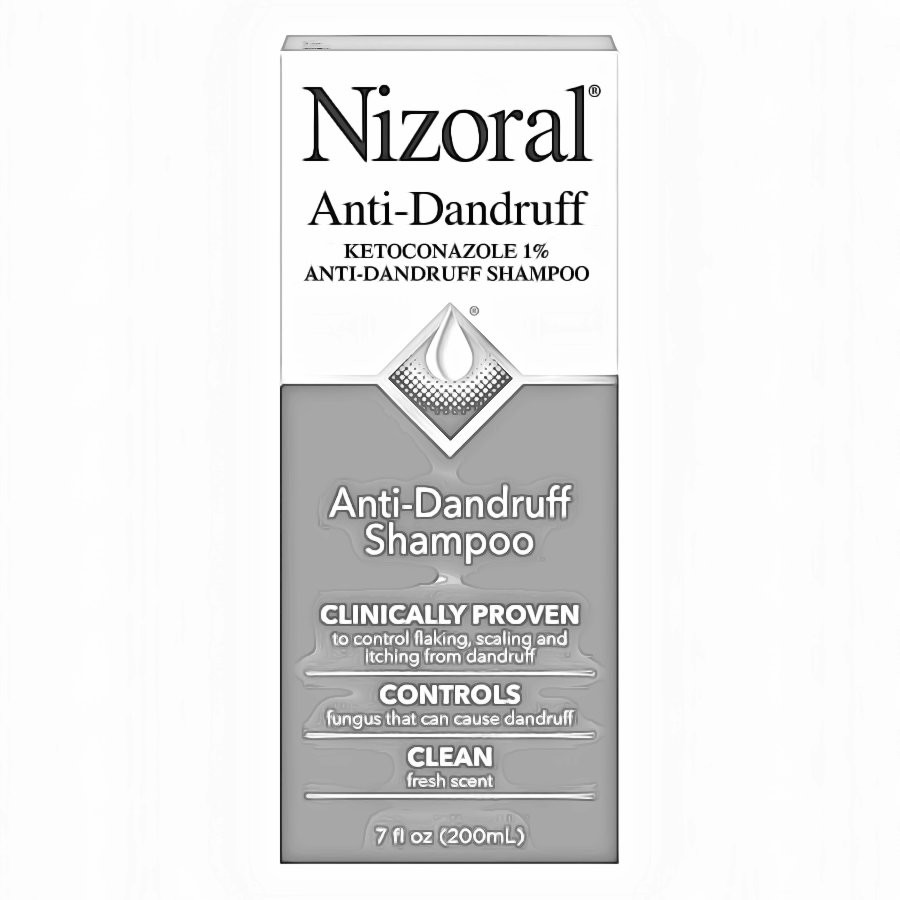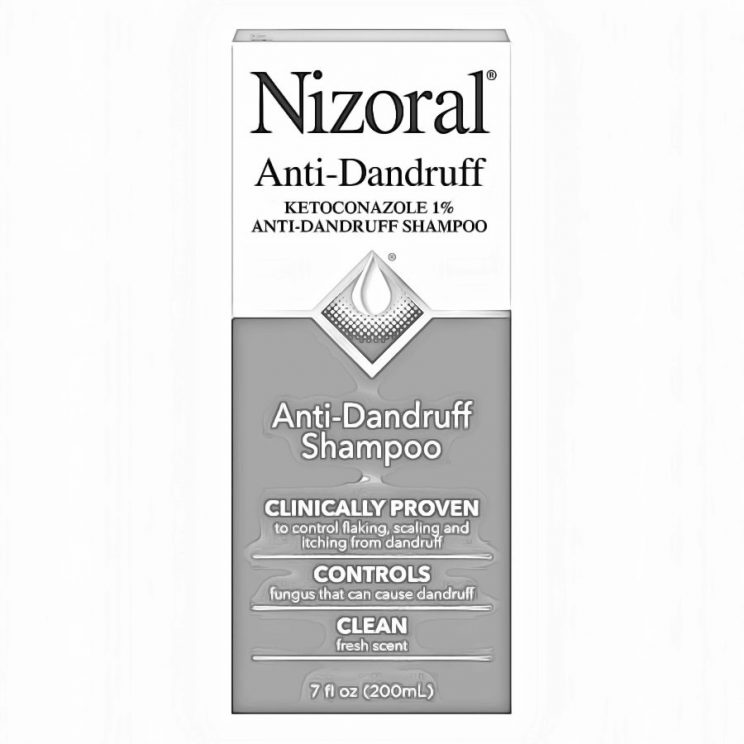 What stands out about this hair product:
Fights dandruff and hair loss
Reduces harmful fungus on the scalp
Thoroughly cleanses hair
Best hair product for:
A hair loss shampoo that also fights dandruff.
Overview:
If you suffer from dandruff, you may have an even bigger problem than those unsightly white flakes falling like snow on your shoulders and clothes.
If left untreated, dandruff also can lead to hair loss because it's a clear sign of an unhealthy environment on your scalp – particularly one that's rife with fungus.
Moreover, the frequent itching caused by dandruff also may contribute to hair loss.
Damn, if dandruff wasn't bad enough already.
But that's why the one-two punch provided by Nizoral's Anti-Dandruff Shampoo is an excellent solution for resolving thinning hair. It's not only a powerful dandruff fighter; it also contains Ketoconazole.
The latter has antifungal and antibacterial qualities that help slow hair loss while creating a thicker head of hair.
Nizoral A-D keeps the scalp healthy and reduces the impact of a fungus called P. ovale, which is found on every scalp but impacts individuals differently. For some, the fungus leads to flaking, irritation, and scaling that can damage hair follicles and lead to hair loss.
Make no mistake: Nizoral is strong stuff – so strong that you only need to use it twice a week to reap its full benefits. It's also gentle enough to use on chemically-processed or color-treated hair and even on gray hair.
Nizoral A-D produces a thick, rich lather that thoroughly cleans the hair and scalp and has a fresh scent. It won't leave your hair feeling dirty, greasy, or oily.
For best results, massage Nizoral A-D into your scalp deeply and then let it sit for several minutes before rinsing it off. Again, you only have to use it twice a week to notice a difference in both your dandruff and your thinning hair.
Nizoral comes in three sizes – 4, 7, and 14 ounces – and offers a money-back guarantee if you return it within 8 weeks of your purchase.
The good
Strong enough to use only a few times a week

Fights dandruff

Treats thinning hair to make it thicker
The bad
Some users say it leaves hair a bit dry
Bottom line
What's not to like about a shampoo that treats dandruff while also helping to create thicker, fuller hair? Nizoral A-D's one-two punch is hard to beat.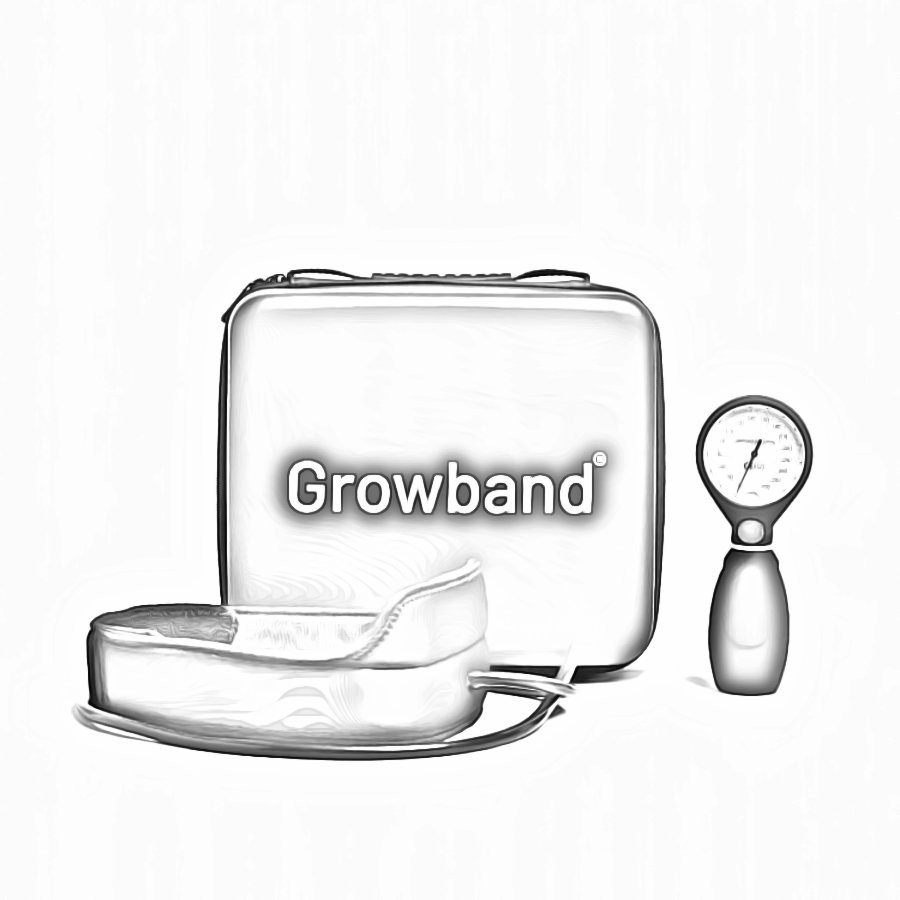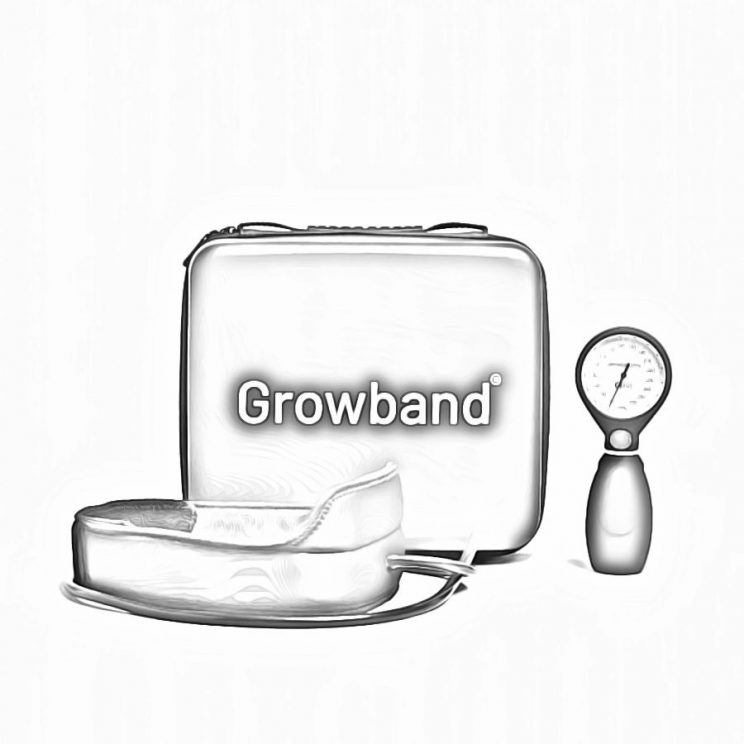 What stands out about this hair product:
Unique headband system
Increases blood flow to the scalp
Reduces scalp calcification
Best hair product for:
Anyone looking for an alternative to standard hair growth products.
Overview:
Hairguard's Growband is unlike any other product used to treat thinning hair.
The Growband features a band that you inflate and wrap around your head to release the tension on the scalp. In turn, it moves blood around the scalp and toward hair follicles.
Sufficient blood flow, mind you, is essential for helping hair follicles to thrive. One of the causes of thin or receding hair is a lack of blood flow, and by reducing scalp tension, blood will flow more freely and send essential nutrients to starving hair follicles.
Another plus is that the Growband potentially reduces fibrosis, making it difficult to grow thick, fuller hair.
As mentioned, the Growband features a band that's like an inner tube. You inflate it with a hand-held pump manually, and it rests comfortably on the head. It also features soft cushioning and neck support, as well as a strap you can adjust to fit your head size.
Many product testers have noticed visual hair growth within four months of first using the Growband. More good news: you only need to use it for 10 to 15 minutes each day to experience positive results.
The good
It doesn't cause side effects that you may experience with other hair growth/hair loss products

It comes with a 1-year risk-free guarantee

It's comfortable to use
The bad
Some users don't like that you must do manual pumping
Bottom line
The Growband is an effective alternative to other treatments for thinning hair. You'll experience positive results while only using it 10 to 15 minutes a day.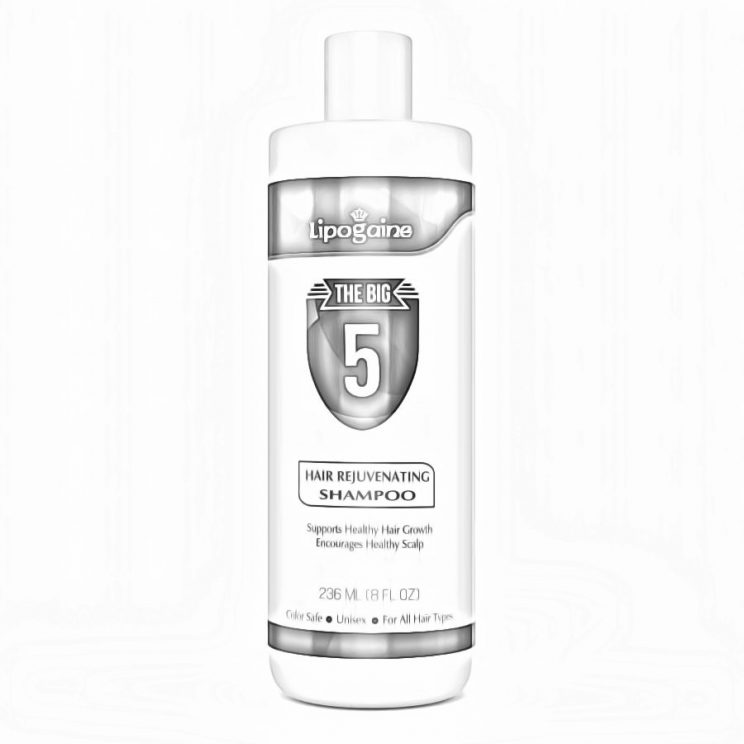 What stands out about this hair product:
Contains 5% Minoxidil
Helps increase blood flow to the scalp
Gentle formula
Best hair product for:
Men with sensitive scalps.
Overview:
Lipogaine is another brand that pops up frequently in searches of the best hair growth shampoos. It's been around awhile, for one, but also has a long, admirable history of delivering results where it counts: on the hair and scalp.
It also contains a long list of natural ingredients, which is always a good thing, that supports healthy hair and nourishes hair follicles. What it doesn't contain is toxic substances, such as sulfates, parabens, and phthalates.
Lipogaine also manufactures a wide assortment of hair care products, including its Lipogaine 5 and Lipogaine 3 shampoos. While the two shampoos have an abundance of similarities, they differ regarding their ingredients, as you might expect.
Lipogaine's Big 5 blends five (hence the name) ingredients that help add volume to thin hair: caffeine, biotin, argan oil, castor oil, and saw palmetto.
Biotin, otherwise known as vitamin B7, is an ingredient found in many hair loss shampoos because of the link between biotin and zinc deficiencies with hair loss.
Castor oil has multiple purposes, including fighting fungus and bacteria, which can disrupt healthy hair growth. Argan oil also promotes new hair growth while fighting fungus.
Lipogaine's blend of five powerful hair-healthy ingredients has the overall effect of fighting DHT, the hormone that's essential for forming many male biological characteristics (deeper voice, muscle growth, etc.).
But that can also block the vitamins and minerals needed to nourish hair follicles.
It also causes scalp inflammation, which makes hair weaker and more prone to thinning and falling out.
And, lest we forget, Lipogaine contains 5% Minoxidil, that remarkable over-the-counter medication for hair loss.
Lipogaine's Big 5 reduces DHT levels while stimulating hair growth by increasing blood circulation to the scalp, which means hair follicles get the proper amount of nutrients they need to thrive.
Another thing we like about Lipogaine Big 5 is that its blend of premium organic ingredients is gentle enough for use by men (and women) with sensitive scalps that are prone to irritation.
The good
Five hair-thickening ingredients in one product

Suitable for people with sensitive skin

Inhibits the production of DHT
Bottom line
The Lipogaine Big 5 blend of hair-enhancing ingredients is hard to beat, and you'll appreciate how it gives you a thicker head of hair without irritating the scalp.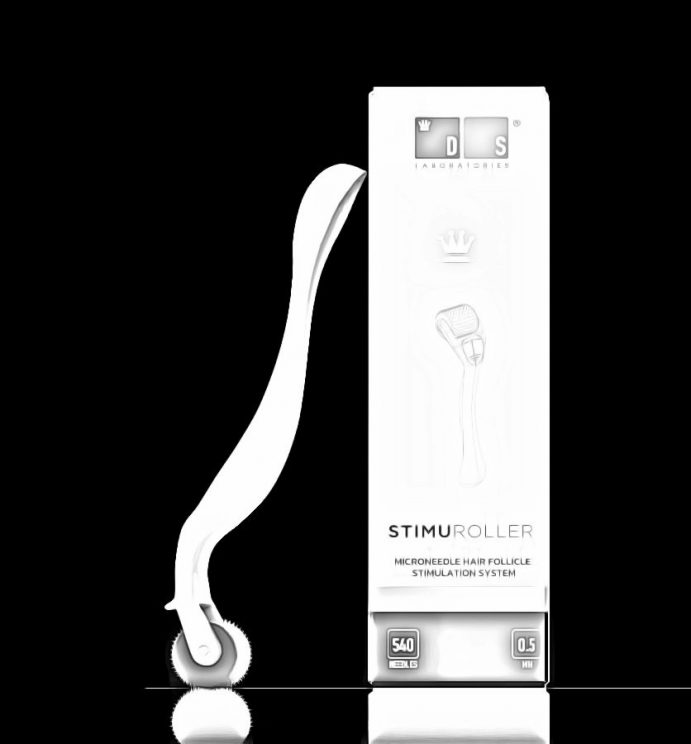 What stands out about this hair product:
Stimulates scalp collagen, creating a healthy base for hair to grow from
Easy to use
Improves hair growth
Best hair product for:
Augmenting the effects of other products whilst bringing life back to hair follicles.
Overview:
DS Labs produce innovative, exciting products – and StimuROLLER Hair is a perfect example of that. With its perfectly calibrated microneedles, it helps improve the growth, appearance, and health of your hair.
Simply put, it uses 540 tiny needles to produce punctures in the skin. These punctures then force the body to increase blood circulation to the head, encouraging faster, healthier hair growth.
Beyond that, it also encourages the skin to produce extra collagen and elastin, making it healthier and tighter. Plus, the punctures help the skin absorb other treatments more deeply.
It's easy to use, and while you have to use it regularly – around once a month – the effects are more than worth it.
It's been proven, for example, to produce 30% faster hair growth. And because DS Labs have calibrated the needles' length perfect for the head, there's no risk of damage or pain.
The good
Improves the speed of hair growth

Makes the scalp healthier and smoother

Helps other products work more effectively
Bottom line
An innovative, effective way of improving hair growth, scalp health, and ensuring other treatments are absorbed properly.
What stands out about this hair product:
Makes it easy to style hair
Non-sticky formula
Unique scent
Best hair product for:
Men who prefer styling products such as pomade.
Overview:
Once considered something of a "fringe" entry in the list of hair products, clay is now the go-to option for many men striving to improve their hair's look. It's also one of the better hair styling products for thin hair.
Hair clays have thickening properties and will coat and separate individual hairs to create a more full-bodied look that men with thin hair desire. It also has restorative and therapeutic qualities that improve overall hair health.
Among the best hair clays available today is Man Made's Hair Clay Pomade. Favored by many hairstyling professionals, Man Made's clay is considered a high-end product that works just as well at home, and there's a lot to like about it:
It works to thicken and texturize hair, thanks to its water-soluble mixture of clay, wax, and elastic fibers that also separate and define hair.
It allows you to mold strands easily into your preferred hairstyle.
It leaves a natural feel – one that's touchable and not stiff and crunchy.
It features a non-greasy blend of ingredients that leave a shine-free matte finish.
It has a unique scent – "Sweet Tobacco" – that leaves a lasting impression. It's mellow – but not so mellow that others won't notice it – and decidedly masculine.
Its non-sticky and easy to wash out at the end of the day.
Its blend of ingredients is paraben-free.
It works great on short to medium-length hair without being too heavy.
Another nice thing about Man Made's Hair Clay Pomade is that a little of it goes a long way. Simply scoop out a small amount of it, work it between your fingers, and then distribute it evenly through your damp or dry hair.
You can use your comb, brush, or fingers to style your hair into its desired shape.
The good
Helps to thicken thin hair

Non-greasy, natural finish

Only need to use a little to achieve the best results
The bad
Few, if any, although some users don't like the scent
Bottom line
If you don't have hair clay in your grooming arsenal, you're missing out on many benefits. Man Made's Hair Clay enables you to achieve the hairstyle you want while giving you a thicker, fuller head of hair.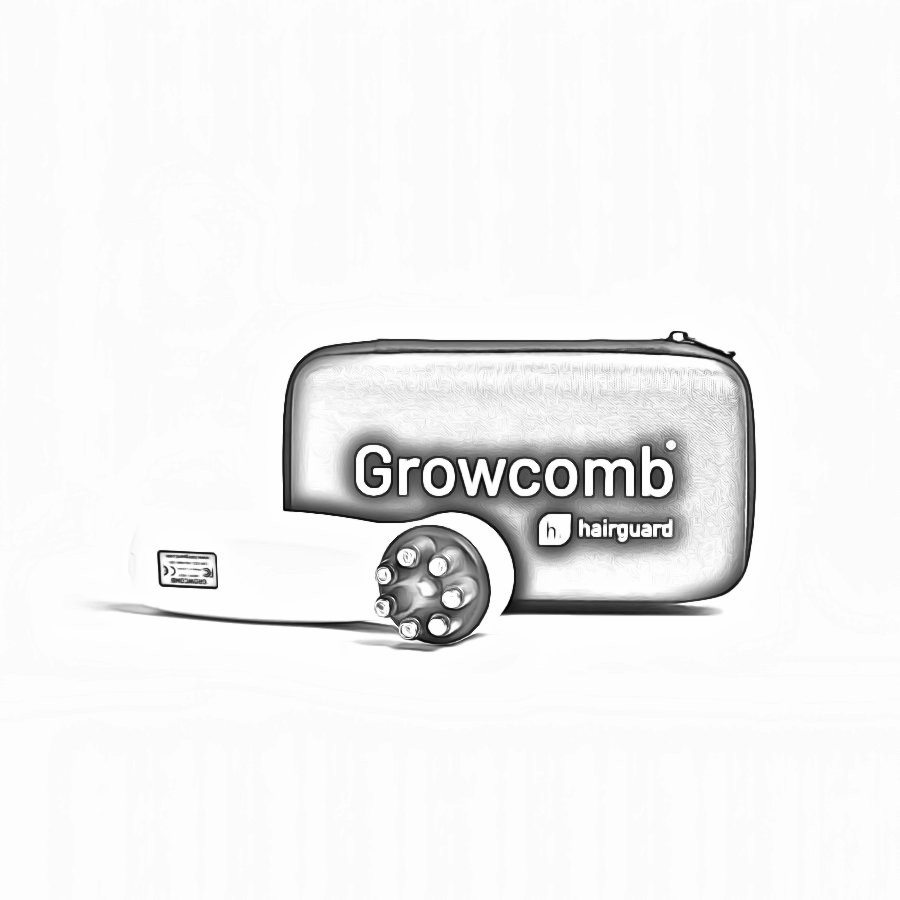 What stands out about this hair product:
Doesn't take much time to use
You can adjust the power settings
Convenient
Best hair product for:
Anyone who wants to try a comb-like device to treat thinning hair.
Overview:
We've discussed Hairguard's excellent Growband and its positive effects for treating hair loss, but the company has another product we like – the Growcomb.
As its name suggests, the Growcomb is a comb-like device you use to treat thinning hair areas. You use it by lightly brushing the scalp in a circular motion while letting the comb's technology do its work.
Its patented technology is Growcomb's key feature. It's called ETG (it stands for electrotrichogenesis) technology, and it works by emitting a pulsing electrostatic field through glass diodes that come into contact with the roots of hair follicles.
The electrostatic field helps kickstart dormant hair follicles into the anagen, or growth phase of hair growth.
The Growcomb is easy to use and comes with four power settings. Hairguard recommends that you use the first two settings until you get used to the sensation of the electrostatic field.
Not that sensation is uncomfortable; instead, it tickles a little and becomes more pleasant as you become accustomed to it.
The Growcomb shuts off automatically after 10 minutes – which should give you plenty of time to comb all areas of thinning hair. You can use it daily.
The good
It helps stimulate hair follicles to enter the anagen phase of hair growth

It comes with a rechargeable battery and cable

It doesn't take a lot of time to use
The bad
It may take some time to see results, which is true of many hair growth products
Bottom line
The Hairguard Growcomb is fast, effective, and easy to use. You can use it daily without experiencing side effects.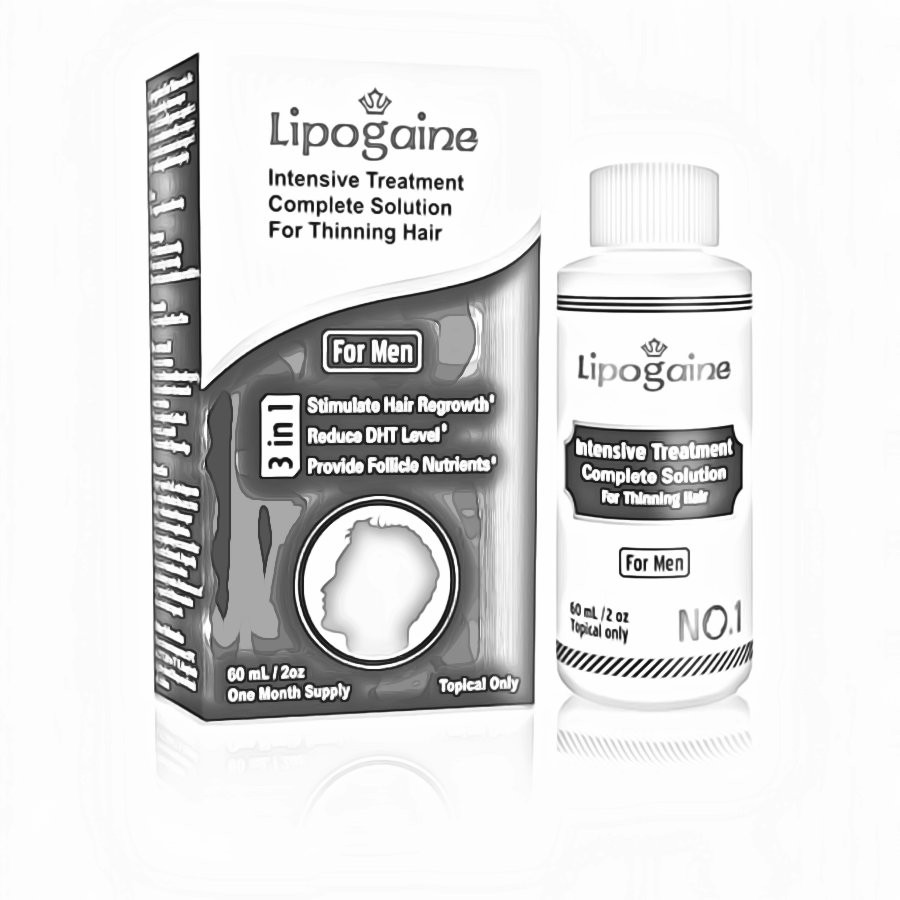 What stands out about this hair product:
DHT-blocking herbal blend
Contains biotin
You can use it daily
Best hair product for:
Anyone looking for an intensive treatment for hair loss.
Overview:
Another excellent product from Lipogaine is its Intensive Treatment For Thinning Hair. It offers everything you'd expect from Lipogaine, namely a unique blend of ingredients that help deliver proven results.
Moreover, like most Lipogaine products, it has plenty of well-deserved positive reviews. What's in it? Well, again, what you'd expect from Lipogaine, including Minoxidil – the big hitter that many consider the best compound for hair growth anywhere.
It also contains biotin, the powerful hair growth vitamin (B7). While it's DHT-blocking herbal blend – Lipogaine's secret formula, so to speak – protects the scalp from the negative effects of DHT.
In short, your hair follicles won't shrink and die off but will thrive and keep your scalp from thinning out.
Lipogaine recommends using its products every day – if not twice a day – while applying 1 ml of the product to an area of the scalp where the hair is thinning. It comes with a dropper that enables you to measure the right amount per application.
The good
Backed by Lipogaine's strong reputation

Affordable

Protects the scalp from DHT
The bad
Needs continued use to see the best results
Bottom line
Lipogaine's Intensive Treatment for Thinning Hair offers strong medicine for hair follicles that look and feel thin. Its blend of Minoxidil and natural ingredients is hard to beat.
What stands out about this hair product:
Works well for men and women
Doesn't weigh down hair
Also helps to style hair
Best hair product for:
Men and women who prefer spray products.
Overview:
OK, fellas, this is a unisex spray that many women use. Get over it. If you're serious about adding volume and thickness to your hair, you deserve to try Nioxin's 3D Thickening Style Spray.
For one, Nioxin specializes in products formulated for use on thinning and fine hair. They're products that strengthen thin hair, regrow hair, and make fine hair appear thicker. For what more could a man ask?
The 3D Thickening Style Spray takes advantage of Nioxin's ProThick Technology that coats individual hair strands to deliver immediate results, i.e., thicker hair.
It works by adding texture while boosting hair from the roots to the ends.
It leaves a slightly shiny finish, and it won't weigh your hair down or leave it stiff and crunchy.
You'll also appreciate that the Nioxin Thickening Spray formula strengthens thin and fine hair without damaging strands, as you find with many other sprays.
It's ideal for longer hairstyles and provides a firm hold, although it's suitable for medium-length to shorter styles, too.
All you need to do is to spray it evenly on clean, damp hair and then comb it through for even distribution. You can then blow dry your hair to style it and to create extra volume.
The Thickening Spray has a fresh, clean scent thanks, in part, to peppermint and wild leaf oils, but it's not so minty fresh that it trods all over your masculinity.
The good
Adds excellent volume to hair

Offers a strong hold

Great for longer hairstyles
The bad
Using too much can make your hair lose its natural bounce
Bottom line
Nioxin's Thickening Spray offers the kind of firm hold you'd expect from a hair spray while also helping to thicken hair. Why not get the volume you desire?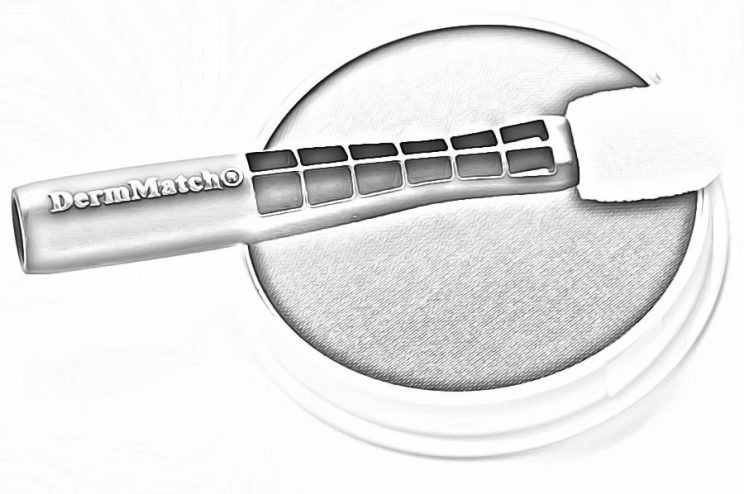 What stands out about this hair product:
Helps create the appearance of thicker hair
Natural, botanical ingredients
The disk lasts a long time
Best hair product for:
Anyone who prefers a hair concealer in cream form.
Overview:
Like Toppik's Hair Building Fibers, DermMatch's Waterproof Hair Loss Concealer creates the appearance of thicker hair but doesn't regrow it. Unlike Toppik's signature product, however, DermMatch doesn't consist of fibers but instead comes in a cream form.
Nothing against hair fibers because they produce fabulous results for many men, but some fiber products may fall off way too easily. That's not a worry with DermMatch's cream, which you apply all over the scalp with their excellent applicator (it comes with your order).
One of the many reasons DermMatch works is its tropical shading process, in which a compound color concealer shades areas where the hair is thin. It also blends naturally into existing hair, and the rest of us won't even know that you're using it.
Another feature of DermMatch's Hair Loss Concealer we like is that it's waterproof. Unlike many sprays and powders, it won't run off when exposed to excessive moisture, and you can swim without worry.
It also has natural thickening agents that coat the full length of the hair shaft while helping limp hair to stand and spread out, achieving a naturally "full" look. It even includes emollients that soothe, soften, and moisturize the scalp.
DermMatch's formula also has natural, botanical ingredients that come from mineral and plant sources. With eight blendable shades to choose from, you shouldn't have any problem matching your natural hair and skin color.
DermMatch comes in a disk form that should give you months of use. Thanks to its brush-like applicator, it's also easy to apply. It goes on "damp," so give it some time to dry before you put on your clothes and head out the door.
DermMatch advises users not to use heavy styling products such as gels, waxes, and pomade after you've applied their cream on your scalp.
The good
Waterproof

Gives hair a fuller look

Soothes and moisturizes hair
The bad
May cause existing hair to become dry
Bottom line
Not all hair concealers are the same or work the same. DermMatch's cream is unique but effective and an excellent solution for men with thinning hair.
What stands out about this hair product:
Infused with biotin
Naturally boosts volume and thickness
Good for men and women
Best hair product for:
Men (or women) who prefer a biotin-based shampoo.
Overview:
Maple Holistics' Biotin Shampoo pops up in many reviews. And not just reviews of products that enhance hair growth.
But it does work to enhance hair growth, or at least make hair thicker, and that's our focus here.
Biotin is a powerful B vitamin that strengthens hair follicles while promoting hair that's thick and healthy-looking. It also protects hair from damage and breakage while becoming softer, smoother, and more manageable.
Maple Holistics delivers a nice dose of biotin to your hair and scalp while also providing a deep cleansing that helps eliminate excessive oiliness and residue that can stunt hair growth and vitality.
It also includes other botanicals that help thicken hair, such as tea tree oil, rosemary oil, and evening primrose oil. They all blend together to get rid of impurities while unclogging hair follicles while allowing them to thrive.
Like all of Maple Holistics' products, its Biotin Shampoo doesn't contain parabens, sulfates, or other harmful chemicals that can damage hair.
The good
Biotin helps promote hair growth while protecting it against damage

You can use it on a sensitive scalp and color-treated hair

Provides a deep cleansing to the hair and scalp
The bad
Not all users like the scent
Bottom line
If you suffer from thinning hair, try swapping out your regular shampoo for Maple Holistics' Biotin Shampoo. You'll notice a difference in the overall thickness and health of your hair.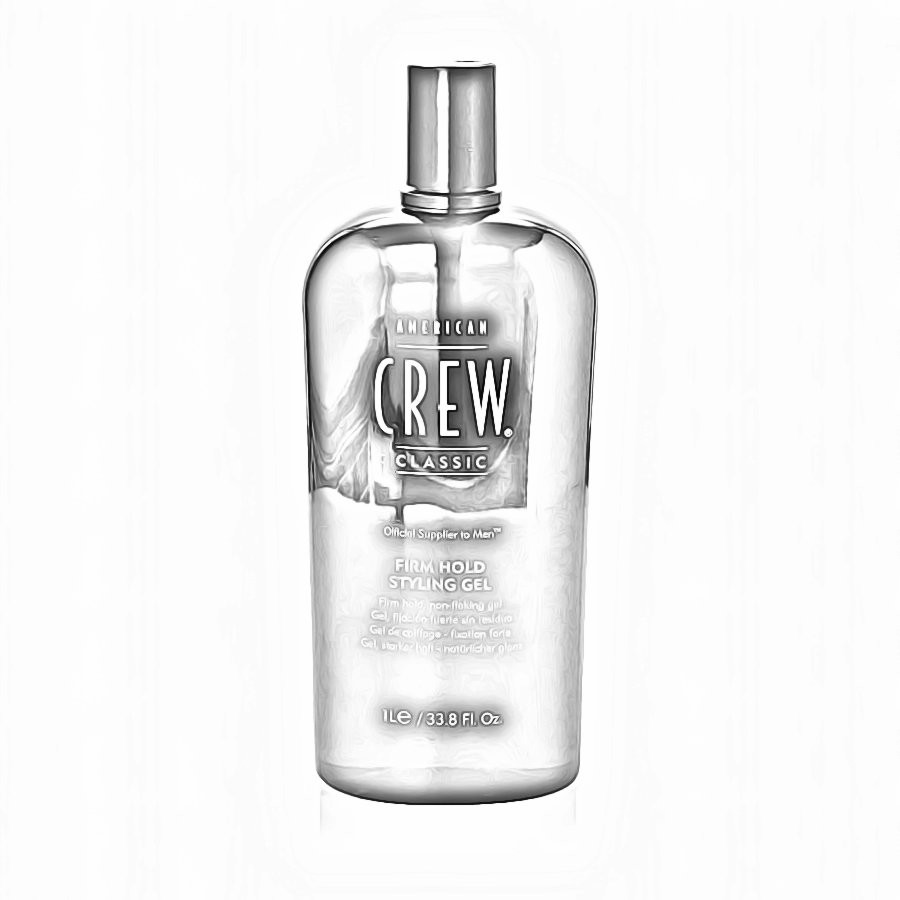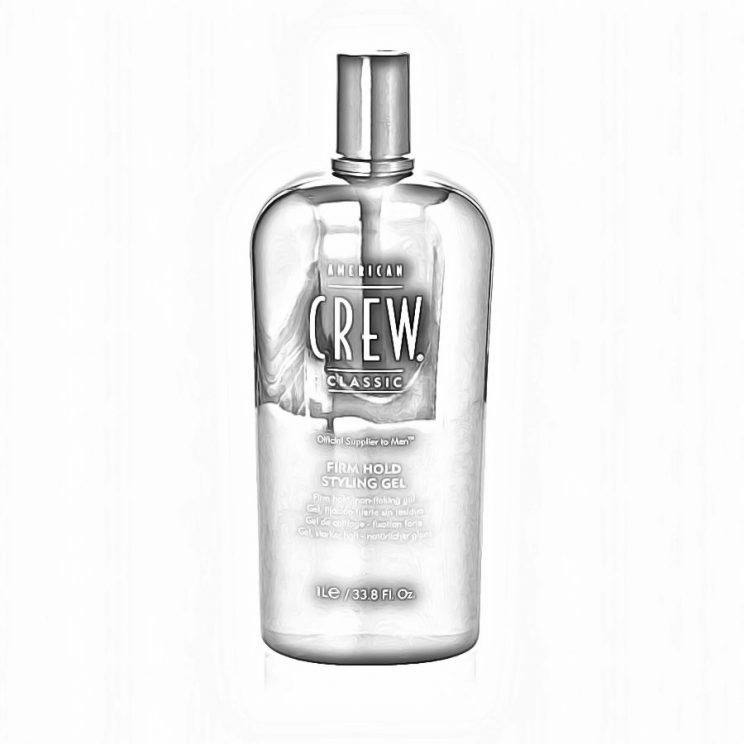 What stands out about this hair product:
Enriched with ingredients that treat thinning hair
Doesn't leave hair too stiff
Doesn't cause dandruff
Best hair product for:
Men with thinning hair who prefer styling gels.
Overview:
Hair gel remains one of the most popular men's grooming products, but that doesn't mean consumers have a ton of options regarding hair gel for thin hair. Hair gel is all about the hold and, to a slightly lesser degree, the finish, but not so much about making hair thicker.
Have no fear, however, because American Crew has you covered with its Firm Hold Styling Gel.
It does what a good gel should do – help hold your hair in place without leaving it too stiff and crunchy – but it's also enriched with natural extracts that help hair look thicker and have more body and shine.
You can use American Crew's Firm Hold on wet or dry hair – unlike with many pomades, clays, and creams – and it won't flake – unlike many other gels. Even if you apply too much of it, you won't have to worry about brushing flakes off of your shoulders the entire day.
Natural extracts such as vitamin B5 help to add texture and volume to hair while adding the right amount of shine. The gel also has a low pH to keep hair from drying out.
The hold is, well, everything you'd expect from a gel that has Firm Hold in its name. The hold compares favorably to the best clays and styling creams but isn't too rigid. It's also water-soluble and easy to wash out of your hair (without leaving flakes behind).
The good
Help add volume and texture to hair

Superior hold

Won't dry out and cause flakes
The bad
Large bottle isn't great for travel
Bottom line
Any hair product that offers the right amount of hold without being stiff and crunchy while also helping hair to look thicker is worthy of attention.
Products for thin hair: The talking points
As you can see, there are many products to choose from—each with its own benefits and restrictions.
Below we cover some of the main sticking points you may experience when choosing which hair solutions are right for you.
Should I use hair thickening products?
Our outward appearance remains as important as ever, with hair and hairstyle a permanent part of cultures around the world, allowing both men and women to express themselves and form their own identity.
For those of us who suffer from thinning hair, we know all too well that hair quality and health can impact our social standing, employment opportunities, mental health, and overall quality of life.[1]
There are many options out there to help reduce the appearance of thinning hair, ranging from supplements, dyes, thickeners, and more.
Each has its own pros and cons, which we will cover in detail for each product. However, do bear in mind that although we can objectively review each product and its ingredients, we each have our own individual hair characteristics, including volume of hair loss.
One product or combination may work very well for one person but simply not look right for another.
Your hair and general appearance is a very personal thing, so people all have their own reasons for wanting to bring more life and volume to their locks.
Some might think that this all boils down to vanity, but nothing could be further from the truth. Managing and improving hair loss has significant benefits in the real world.
Research has shown that reversing hair loss reduces the prevalence of depression, anxiety, and neuroticism.[2]
Curiously, scientists are still undecided about which condition leads to which outcome. Or to put it in plain English, it is unclear if hair loss causes those mental health concerns or if it is the mental illness itself causing the hair loss.
Either way, all the general public needs to know is that self-care that also extends to hair appearance can go a long way in improving psychological well-being and underlying biological causes of hair loss.
Pigmented powders and sprays
Topical (applied to the skin) hair fibers are one of the most interesting products for reducing the appearance of thinning hair.
Once upon a time, dermatologists simply recommended various types of human hair and synthetic wigs. Apart from the stigma wigs have carried with them over the years, there are also numerous other disadvantages.
These range from the price (some are $1000+), a mismatch of color, heavy weight, and simply an unnatural appearance. Many users eventually report skin irritation, which, of course, has the disastrous potential to speed up hair loss.
So what exactly are these topical hair fibers?
Ingeniously, they use static electricity to stick to hairs on the scalp, regardless of thickness or length. The visual effect is surprisingly good, with treated areas being very hard to distinguish from natural hair.[3]
Topical hair fibers can only be applied to existing hair. Spraying onto bald skin will not create the desired effect. However, the great news that many areas of balding or thinning hair can often be camouflage using topical hair fibers, even with the smallest amount of pre-existing hair to work with.
The treatments are often made using keratin derived from wool or rice, with keratin being the main component of human hair. The result is a water-resistant covering that looks like a natural extension of your own hair.
If you want to remove the product, you can simply wash it out with shampoo.
One of the best benefits is that keratin is the main ingredient used, along with dyes, to match different hair colorings. Although there are no specific figures, studies have concluded that the likely rate of allergic reaction or intolerance to this product is quite low.[4]
Alternative ways to combat thinning hair
Thankfully there is also a multitude of other ways men and women can combat thinning hair. These include the prescription-strength formulations you may have already heard of: Finasteride ( for males only) and Minoxidil solution (for males and females).[5]
Finasteride is an important DHT blocker that helps stop hair loss due to DHT/Testosterone sensitivity.
Minoxidil, on the other hand, appears to prolong the anagen phase of hair growth, leaving you with more hair for longer.[6]
So if there are prescription level treatments, why would we choose anything else? Well, there are a number of factors to consider, including side effects, price, and ease of use, amongst others.
Caffeine, for example, has shown great promise in treating both male and female pattern balding (known as androgenetic alopecia).[7] It is thought to stimulate hair growth and cell metabolism, counteracting the testosterone/DHT effect of shrinking hair follicles.
Caffeine has good skin absorption and follicular penetration, so it gets down into the roots of your hair, where it can start to take effect. In one study, just 0.001% caffeine was demonstrated to reverse the suppressing effect of testosterone and stimulate significant hair follicle growth.[8]
If you are worried that these are lab-based results that won't translate to the real world researchers, have also specifically looked at caffeine topical applications like shampoos.
After washing for just 2 minutes, the caffeine will have been absorbed into both your hair follicles and the top layer of skin, with levels reaching their highest 2 hours after you leave the shower.[9]
Finally, one of the most encouraging studies has shown that 0.2% caffeine was no less effective than minoxidil 5% solution! Not bad when you consider minoxidil is already considered prescription strength.[10]
Does ketoconazole help thinning hair?
If you are the type of wary consumer who looks up all the ingredients listed on products they use, chances are you have come across ketoconazole.
For those who are unfamiliar, ketoconazole is an anti-fungal drug, so you may be wondering if it is really beneficial to have it in your shampoo.
The obvious use case for ketoconazole is for those men who have an active fungal scalp infection. But what about the rest of us?
Well, surprisingly, there is more to this anti-fungal than meets the eye. As well as killing off fungal growth, it also seems to help inhibit the growth of bacteria.[11]
This goes hand in hand with its anti-inflammatory properties, calming down an angry or irritated scalp and giving it space and time to heal.
One of the more surprising effects is that ketoconazole appears to block DHT. This is great news for men with male pattern balding (androgenetic alopecia).
As we know, dihydrotestosterone (DHT) is the culprit here. It binds to androgen receptors within your hair follicles, stunting their growth and leading to the miniaturizing of follicles seen in male pattern balding.
Finasteride, prescribed to combat male pattern balding, reduces DHT production and has become popular due to its effectiveness. However, studies have now found that ketoconazole stops any remaining DHT from attaching to receptors in our hair follicles.
In fact, researchers suggest that any finasteride treatment should be used hand in hand with ketoconazole shampoo to get the best results possible.[12]
Novel ways to combat hair loss
New and fancy ways to combat hair loss are coming out every day, but it can be hard to sift through the noise to find something that will give you real results. As we have included some newer, mechanical solutions to hair loss, we briefly touch on the available evidence for these devices below.
Microneedling for hair growth
Microneedling may sound like a painful procedure, but it's actually something fairly tame that can be done at home.
Tiny needles on a roller prick the skin as they pass over the surface. It is considered safe and is used in dermatology clinics worldwide to encourage skin repair, growth of new blood vessels, and increased collagen.
While this is generally good for hair, using microneedling on your scalp has been found to have further benefits. For men suffering from male pattern baldness, microneedling appears to work well in conjunction with minoxidil.
The results are pretty promising: men who use both experienced over 50% more hair growth when using a microneedle device when compared to using minoxidil on its own.[13]
Growband
The growband is one of the first 'scalp tension' devices that we see coming to the market. But how well do they work?
There is some circumstantial evidence to suggest that it may help men with thinning hair, but this is inferred rather than direct proof. I.e., no studies have actually been carried out using the growband.
With that said, let's see how it's supposed to work.
First off, there is research to suggest that mechanical stress, i.e., pressure or tension within the scalp, can impact the rate of hair loss in androgenetic alopecia.[14]
Another indirect but promising study looked at the use of botox and reversing hair loss in men. Why botox of all things?
As a potent toxin, it knocks out nerves that control the skin, relaxing tension around the scalp. This study demonstrated that loosening the skin and reducing scalp tension did indeed result in an increased hair count for most men who took part.[15]
So the growband does seem to be supported in theory by recent research. We recommend that anyone suffering from male pattern baldness utilizes DHT-blocking shampoos or supplements first and then use the grow-band as a supplementary treatment rather than your mainstay.
ETG therapy (Electrotrigenesis)
The Hairguard Growcomb on our list utilizes another new hair retention method. As the name suggests, electricity is used to stimulate the scalp – the idea is that it promotes the growth of new hair follicles, which will eventually give the user a thicker head of hair.
Again, the device itself hasn't been tested, but the technology behind it has. One of the most promising studies has participants undergo ETG therapy for 36 weeks. That's around 9 months of use!
The research showed mild to moderate hair count increases; there is no evidence that this will work well for men with male pattern baldness or other hair loss conditions.[16]
However, in the study, 96% of the men who took part either had hair regrowth or no further hair loss. If you feel that current treatments are not stopping your hair loss or shedding, then a trial of ETG therapy may be right for you.
6 Tips for styling thin hair to make it look thicker
The above products play a key role in helping your thin hair look thicker, but it's also important to maintain a consistent, effective grooming routine. When considering how to style thin hair, keep the following tips in mind:
1. Keep your hair clean
How often you shampoo your hair is a matter of personal choice and what type of hair you have – oily, dry, frizzy, etc. It can also depend on the product and its overall strength and harshness.
But, no matter your hair type or the product you use, it's important to keep your thinning hair clean. For one, your strands of hair will clump together when they get dirty and greasy, which creates a lot of gaps in your hair (and over-emphasizes its overall thinness).
Many hair care professionals suggest that you wash your hair more often when it's thin because:
You want to keep oiliness and greasiness to a minimum.
You'll stimulate and energize your scalp in the process.
Speaking of stimulating and energizing the scalp, don't be afraid to massage your shampoo or other hair-thickening product with some force. A vigorous scrub helps get rid of loose skin particles while exfoliating the scalp.
2. Choose the right hairstyle
The hair on the sides and back of your head is naturally fuller than in other areas. You may choose to keep the sides and back a bit shorter while letting the thinnest hair – usually on the top – grow fuller and longer.
You want to create a blended effect in which the shorter sides fade into longer hair on the top.
The good news is that you can rock plenty of hairstyles with thinning hair, including:
Short and textured styles
Whether it's a short, textured, or "messy" style, it can look great, even if your hair is thinning. The disheveled look of a messy style gives the appearance of having more hair on top.
Short, textured styles work well for men who have baldness at the front of their head that goes beyond simply a receding hairline.
Parted or fringe hair
This type of hairstyle features longer hair on top, while the sides and back are kept short. Meanwhile, the hair is swept forward to create a fuller look to thinning hair. It's another style that works great for men with a receding hairline.
Fade hairstyles
Fades and undercut hairstyles help make the hair on top look thicker and more prominent because of shorter sides and back that add contrast. These styles work well for men who still have some hair in the front.
Pompadour
The swept-back pompadour is a nice look for men developing a bald patch on the crown of their head.
This style creates height at the front of your head as the hair is swept back toward the crown (the longer hair in the front is swept back over the thinning area on top).
If there's one style you should always, always avoid, it's the comb-over. The comb-over is a blatant example of using longer hair to cover a bald spot and not simply hair that's thinning. It's not a good look, fellas.
3. Be consistent
We've already mentioned the importance of consistency regarding your hair care routine for thin hair, but it's worth repeating. Whatever regimen you choose, don't veer from it – especially if it's one that produces noticeable results.
If you're using a shampoo formulated for hair loss, you should also use a conditioner formulated the same way.
4. Use hair fibers
Hair fibers can give your locks an instant volume boost. Fibers work by binding to hair follicles while creating a fuller look that hides your scalp. They also have an added benefit in that they stay in place until you wash or otherwise wet down your hair.
5. Use texture spray
Texture sprays, such as sea salt spray, are excellent for adding volume to hair while also helping to give it some curl and bounce if you so desire.
To apply sea salt spray, dampen your hair to the roots and spray it evenly over the entire scalp. Use your fingers – not a comb or brush – to create your preferred hairstyle.
For extra volume and texture, you can also use a hairdryer after you've applied the spray, but use a cooler setting on your dryer while keeping it at a greater distance from your hair than you normally would.
While there's some debate as to whether it's safe to apply texture sprays to your hair's roots – some say it causes hair to become overly dry – doing so will help create more volume.
6. Try mousse
Gel and wax are go-to styling products for many men, but you may want to re-think your strategy if you have thinning hair. Gels and waxes clump hair follicles together and expose gaps in your scalp, which isn't much of a worry if you have thick hair.
However, styling mousse will add texture without weighing down your hair, and it keeps your favorite style in place throughout the day. Or, you can try styling paste, a product that's somewhere between hair cream and pomade.
While products and styling options abound for men with thinning hair, you should also take into account lifestyle factors and the effect they have on overall hair health. Smoking, stress, poor nutrition, and alcohol abuse all can lead to hair loss.
How we chose the best products for thin hair
Some men's products used to treat thinning hair may cause follicles to become thicker, while perhaps even spurring hair regrowth, while others create the appearance of thicker hair. We're not advocating one over the other; instead, we're interested only in results.
The 15 products listed above have delivered on their promises for many men, which is the true bottom line. How they achieve that also is part of the equation, as are other parts of the equation, such as ingredients, ease of application, price, and more.
In the end, our goal is to help guide you to achieve solid, proven solutions for thinning hair – as well as easing some of the panics that come with it.
Conclusion
All of us lose some of our hair every day, and the process becomes more severe as we age.
But other factors, such as genetics, make some men likely to experience thinning hair to a greater degree than others.
Fortunately, the men's grooming market has a plethora of products to treat thinning hair and, if you have hair thin hair that's causing you unnecessary stress, then you owe it to yourself to try them.
How about you? Do you use products for thinning hair?
If so, which ones? We always welcome your feedback and hope to hear back from you.
---
References
"Hair Camouflage: A Comprehensive Review." International Journal of Women's Dermatology, vol. 3, no. 1, Mar. 2017, pp. S75–80. www.sciencedirect.com, doi:10.1016/j.ijwd.2017.02.016.
Q. Shi, M. Duvic, J.S. Osei, M.K. Hordinsky, D.A. Norris, V.H. Price, et al. Health-related quality of life (HRQoL) in alopecia areata patients—A secondary analysis of the National Alopecia Areata Registry Data. J Investig Dermatol Symp Proc, 16 (1) (2013), pp. S49-S50
J.C. Donovan, R.L. Shapiro, P. Shapiro, M. Zupan, M. Pierre-Louis, M. Hordinsky A review of scalp camouflaging agents and prostheses for individuals with hair loss. Dermatol Online J, 18 (8) (2012), p. 1
Donovan, Jeff C. H., et al. "A Review of Scalp Camouflaging Agents and Prostheses for Individuals with Hair Loss." Dermatology Online Journal, vol. 18, no. 8, Aug. 2012. escholarship.org, https://escholarship.org/uc/item/8h70t82k.
Torres F. Androgenetic, diffuse and senescent alopecia in men: practical evaluation and management. Curr Probl Dermatol. 2015;47:33–44.
Olsen EA, Dunlap FE, Funicella T, Koperski JA, Swinehart JM, Tschen EH, et al. A randomized clinical trial of 5% topical minoxidil versus 2% topical minoxidil and placebo in the treatment of androgenetic alopecia in men. J Am Acad Dermatol. 2002;47:377–385
Herman A, Herman AP. Caffeine's mechanisms of action and its cosmetic use. Skin Pharmacol Physiol. 2013;26:8–14
Fischer TW, Hipler UC, Elsner P. Effect of caffeine and testosterone on the proliferation of human hair follicles in vitro. Int J Dermatol. 2007;46:27–35
Otberg N, Teichmann A, Rasuljev U, Sinkgraven R, Sterry W, Lademann J. Follicular penetration of topically applied caffeine via a shampoo formulation. Skin Pharmacol Physiol. 2007;20:195–198.
Dhurat, Rachita, et al. "An Open-Label Randomized Multicenter Study Assessing the Noninferiority of a Caffeine-Based Topical Liquid 0.2% versus Minoxidil 5% Solution in Male Androgenetic Alopecia." Skin Pharmacology and Physiology, vol. 30, no. 6, Jan. 2018, pp. 298–305. PubMed Central, doi:10.1159/000481141.
Piérard-Franchimont, C et al. "Ketoconazole shampoo: effect of long-term use in androgenic alopecia." Dermatology (Basel, Switzerland) vol. 196,4 (1998): 474-7. doi:10.1159/000017954
Hugo Perez, B. S. "Ketocazole as an Adjunct to Finasteride in the Treatment of Androgenetic Alopecia in Men." Medical Hypotheses, vol. 62, no. 1, Jan. 2004, pp. 112–15. ScienceDirect, doi:10.1016/S0306-9877(03)00264-0.
Kumar, Muriki K et al. "A Randomized Controlled, Single-Observer Blinded Study to Determine the Efficacy of Topical Minoxidil plus Microneedling versus Topical Minoxidil Alone in the Treatment of Androgenetic Alopecia." Journal of cutaneous and aesthetic surgery vol. 11,4 (2018): 211-216.
Tellez-Segura, Rafael. "Involvement of Mechanical Stress in Androgenetic Alopecia." International journal of trichology vol. 7,3 (2015): 95-9. doi:10.4103/0974-7753.167468
Freund, Brian J, and Marvin Schwartz. "Treatment of male pattern baldness with botulinum toxin: a pilot study." Plastic and reconstructive surgery vol. 126,5 (2010): 246e-248e. doi:10.1097/PRS.0b013e3181ef816d
Maddin, W S et al. "The biological effects of a pulsed electrostatic field with specific reference to hair. Electrotrichogenesis." International journal of dermatology vol. 29,6 (1990): 446-50. doi:10.1111/j.1365-4362.1990.tb03837.x