9 Best Men's Hair Clays for a Thick & Full Hairstyle
This post may contain affiliate links. Learn more.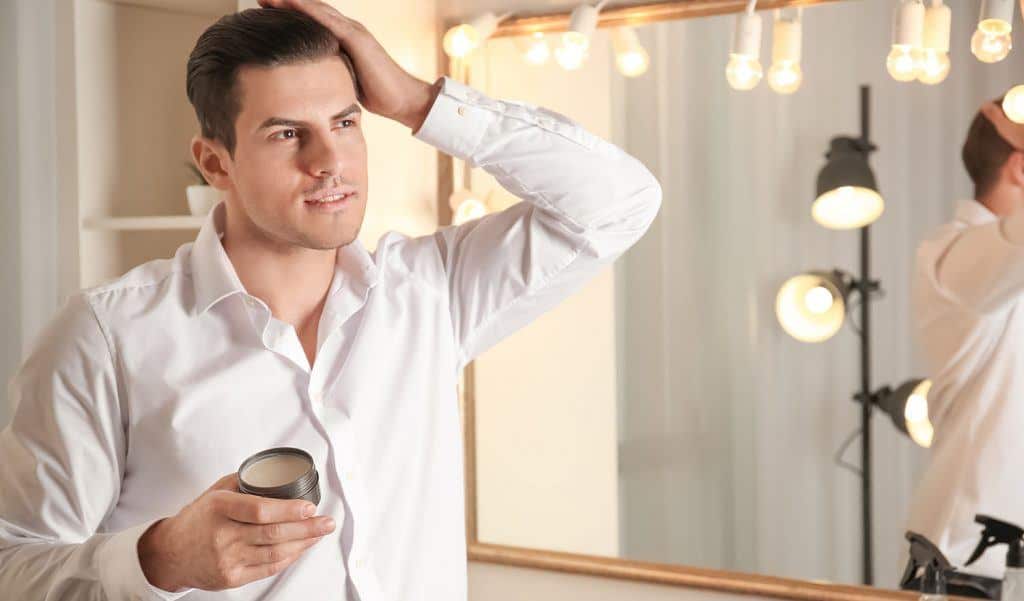 Hair gel, hair wax, pomade, hair cream – it can get a bit confusing when choosing a styling product. And don't forget about hair clay, a relative newcomer to the styling game that many men find effective for achieving the hairstyle they desire.
In a hurry? Here are our top picks:
Baxter of California Clay Pomade
Our absolute favorite hair clay is Baxter of California's Clay Pomade. It provides a really striking, natural-looking matte finish, and is absolutely excellent for keeping unruly hair under control.
Layrite Cement Matte Hair Clay
Layrite's Cement Matte Hair Clay is another very worthy product: it's perfect for anyone looking for a bolder hold, providing a long-lasting matte finish. Plus it gives of a very nice aroma.
Along the way, we'll delve into hair clay buying tips, compare clay with other styling products, and discuss the proper way to apply it.
Quick summary
<!—INSERT CODE BELOW—>

Our #1 Choice

Baxter Of California Clay Pomade

Provides a distinctive, natural-looking matte finish

Easy to apply but gives a long-lasting hold

Excellent for controlling unruly hair

Check on Amazon

Layrite Cement Matte Hair Clay

Perfect for those who prefer a firmer hold

Long-lasting matt finish

Water-based product with a nice aroma

Check on Amazon

Smooth Viking Hair Styling Clay For Men

Gives volume and texture a boost

Easy to apply and easy to remove

Great for a variety of hair lengths

Check on Amazon

Aveda Men's Pure-Formance Grooming Clay

Excellent hold

Most effecitive for shorter hair

Provides an attractive, matte finish

Check on Amazon

Jack Black Clay Pomade

Consists of natural ingredients

End result is a great looking, natural finish

Easy to use

Check on Amazon

Pete & Pedro Clay

Offers an excellent texture

Professional salon standards

Great for men with fine hair

Check on Amazon

Krieger + Sohne Premium Styling Clay For Men

Solid but natural and flexible hold

Effective for a range of hair styles

Made with natural ingredients

Check on Amazon

V76 by Vaughn Texture Clay

Gives an excellent natural matte finish

Very light on the hair

Works great on fine hair

Check on Amazon

Verb Sculpting Clay

Gives a subtle shinny finish

100% vegan and natural

Hydrates and conditions the hair

Check on Amazon
Before you buy: 6 Things to consider before purchasing hair clay
As befits a product that has gained in popularity in recent years, there's no shortage of choices when it comes to hair clay. Finding the differences between products makes your buying decision even more challenging.
So, what should you look for in a hair clay? Here are some tips:
Hairstyle/Length
Your current hairstyle, or the hairstyle you hope to achieve, is one of the most important factors when choosing hair clay. Your hairstyle helps determine the length of your hair, and hair length helps determine the type of clay you'll need.
While you can use clay on most hair lengths, make sure that you buy clay with a stronger hold if you have long hair.
If you're trying to achieve a loose and casual style with long hair, then clay is ideal. You won't get the same kind of hold as you do from a pomade or gel, but you don't need a super firm hold for popular "messier" styles.
Hair clay helps to add volume to your hair if your hair length is short(er) or medium. It's also effective for a thicker, stronger hairstyle in which you need a hold that lasts the day.
Hold
When we talk about 'hold' regarding hair styling products for men, we mean how strongly it keeps your hair in place. Most hair clays have a medium hold, but the hold often varies from product to product.
Men's clays are designed to have the strongest hold of any men's hair product.
They're typically made with a mixture of clay, beeswax, and water, which helps them create a hard shell around your hair that locks it into place. This makes them ideal for men with thicker hair and a lot of strands to manage. Men with thinner hair may want to stick to pomades or gels instead.
Finish
By finish, we mean "shine," which is how glossy your hair looks after you've applied a styling product. The majority of hair clays have a matte (dry) finish that makes it seem that you don't have any product in your hair at all.
When it comes to hair clays, the "finish" is everything. If you have thin hair and are looking to add thickness, a clay with a matte finish will give your mane more body while also making it look less oily. If you're going for a more natural look (or just want your hair to last longer) then this is the product for you.
Ingredients
The best hair clays for men are the ones that give you the kind of volume and texture you want.
Choosing products with plenty of natural ingredients is a good choice for any styling product. Look for clays that have ingredients like beeswax, bentonite, lanolin, and carrier oils that help nourish and soften hair.
On the other hand, try to avoid products that contain parabens. Parabens are synthetic preservatives that can be harmful to your hair or scalp. Then again, some parabens meet safety standards published by the FDA.
Clay
Hair clay contains clay – no big surprise, right? The clay most commonly used in hair clay is bentonite, which is naturally sourced and formed from volcanic ash that's weathered over time. Bentonite is good for hair health in that it helps draw toxins from the hair and scalp.
Clays are different from other styling products, like waxes and gels, because they don't leave your hair with a shiny finish. In fact, they're often called clays because of the matte finish they give.
In general, most clays are going to be great for shorter hairstyles. Since one of their main benefits is adding thickness and volume, if you have long hair, you'll probably want to stick with waxes or gels that will hold the shape of your style.
Price
The price of hair clay products varies widely from product to product, in part because of their ingredients, but also because of other factors, like brand name, etc.
Of course, just because certain hair clay brands cost more doesn't mean they're more effective for styling your hair. If you're choosing within a certain price range, do your research to find the best clay, or clays, that fits your budget.
Ok, let's move on to our hair clay reviews:
The 9 best hair clay products for men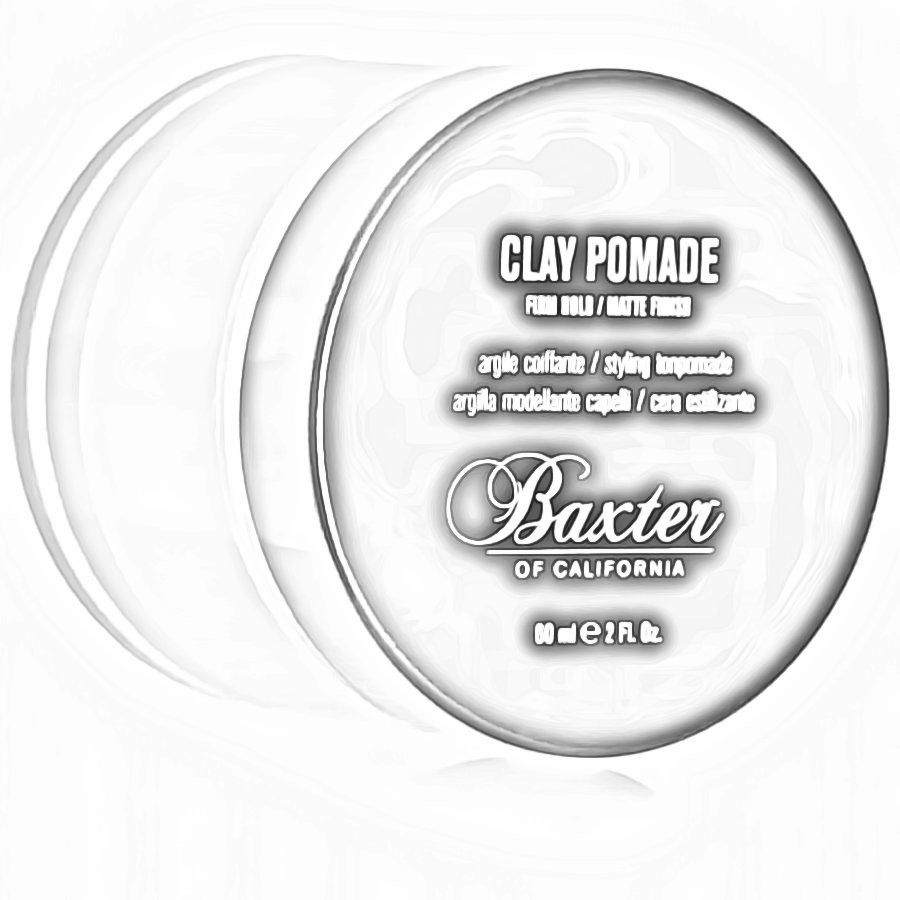 You'll often see the words "premium" or "luxury" used to describe Baxter of California's products, but that doesn't mean they're pretentious or not suited for every man. They also get the job done in a simple, powerful way.
Their Clay Pomade is no exception: it's a high-quality product that ranks among the best hair clays for a lot of reasons.
For one, it produces a firm hold that should last you the entire day, but it's one that's not so strong that you can't move your hair around and re-style it if needed.
B of C's clay includes bentonite and beeswax but also has other natural ingredients, such as lemon peel, fennel, and sage oils.
Fennel seed oil has many hair health benefits, including that it stimulates hair growth, provides needed moisture, and also helps to inhibit the growth of bacteria and fungus on the scalp. Fennel also includes vitamin C, which is a strong antioxidant.
While you'll also find petroleum in Baxter of California's Clay Pomade, it isn't sticky and won't leave a shiny, greasy-looking finish. Its scent, meanwhile, has subtle hints of lemon and sage.
This clay has a lot else to offer, including that it provides a natural, matte finish, while it also gives hair a lot of texture and definition. Applying it to damp hair and styling it with a hairdryer will help add volume, while it even works to remove frizz from hair.
Like with most other clays, you don't need a huge glob of Baxter of California's Clay Pomade to get your desired style and to hold it in place.
You'll maintain somewhat of a wet look if you apply it to wet hair – but not a high gloss, mind you – while applying it to dry hair helps you to achieve a natural, smooth appearance.
Pros
Leaves a great, natural-looking matte finish

Long-lasting hold that's also pliable

Great for taming unruly hair
Cons
It's a bit thicker, which can make it a bit harder to apply
Bottom Line
Baxter of California's Clay Pomade deserves to be on our list for a lot of reasons, including that it provides a natural-looking hold that should last you the day, but it also works to tame frizzy and otherwise unruly hair in a way that many other clays don't.
It's yet another quality product from a high-quality company.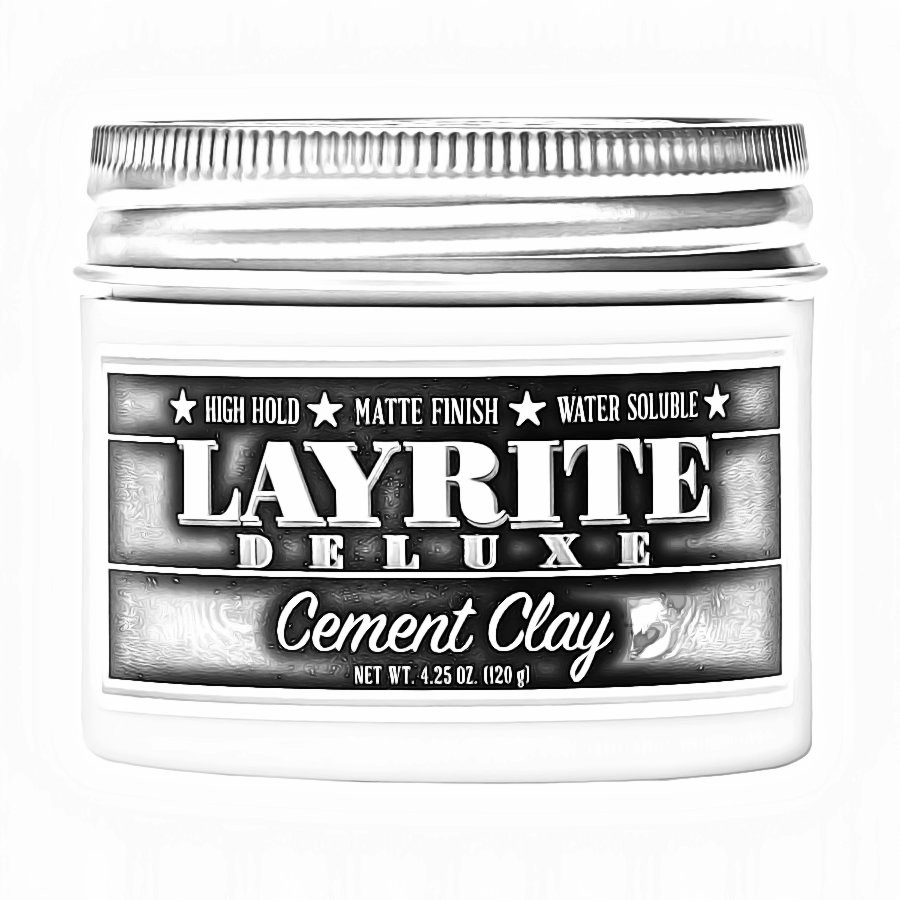 Layrite – the company, that is – has its roots firmly planted in the world of men's barbering. Founded by a barber, Layrite's products are formulated by professional barbers who know a thing or two about men's hair.
Their Cement Matte Hair Clay well represents their quality line of products, and we think it's one of the best men's hair clays.
It's also strong stuff: it provides a powerful hold that you won't find in most clays. It's meant to last, and one application should keep your hair in place all day long.
Layrite Cement Matte Hair Clay is a go-to option for men with long hair or men who want to rock a more extreme hairstyle. While it's the best hair clay for thick hair, men with thinning hair also may find it useful, because it helps to add volume.
You'll also like the Cement Matte Hair Clay's textured, natural-looking finish that doesn't leave behind tell-tale flakes like some other clays.
Because of its thick texture, you'll have to rub the clay between your hands to warm it up before you apply it, but that's hardly an inconvenience, given the results you're able to achieve.
It's also good for men with extremely curly or coarse hair who may have trouble finding a styling product that helps them keep their hair in place for a longer period.
As its name suggests, the Cement Matte Hair Clay has a low-shine, matte finish. Your hair looks natural, not contrived.
Layrite's hair clay is water-soluble, which means it's easy to wash out in the shower. Meanwhile, many users like its light vanilla scent that isn't overly sweet and doesn't overpower your cologne or aftershave.
Pros
Clean, matte finish that lasts all day

Excellent for men who prefer a firm hold

Water-based and has a pleasant scent
Cons
Harder to work into hair than some products
Bottom Line
Layrite's Cement Matte Clay has too much going for it to not include it in any review of the best hair clay for men. It provides a superior hold while creating a natural look, it has a nice scent, and it works on hair that's often harder to style.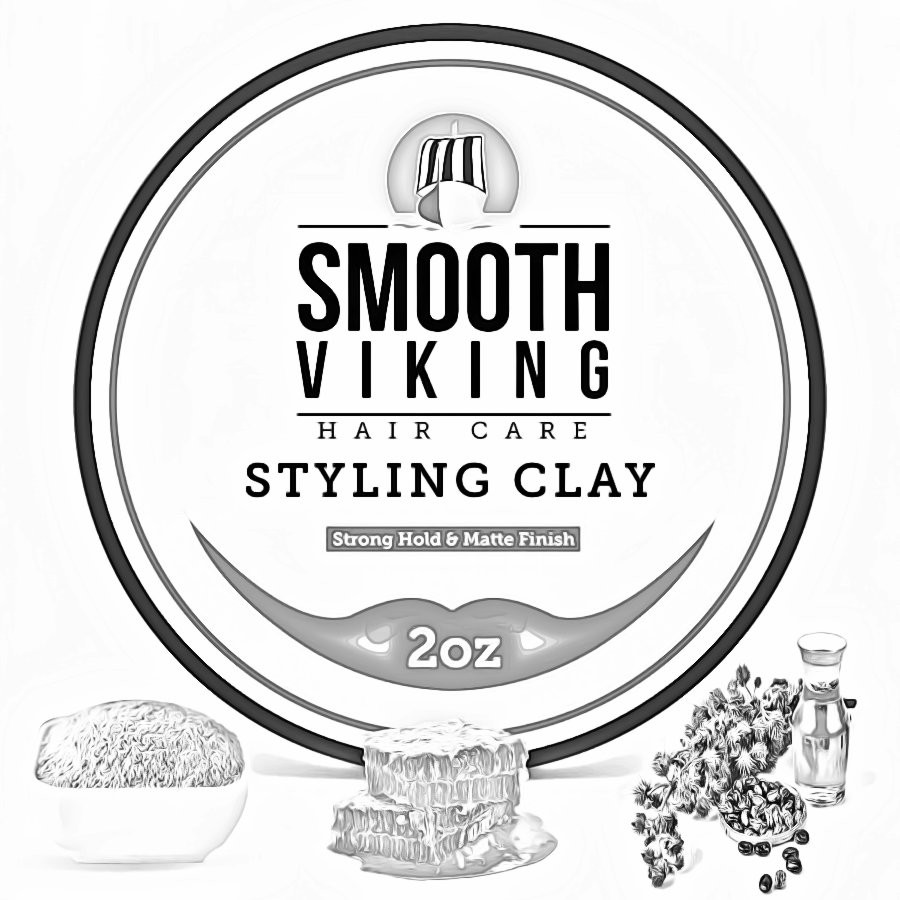 In many ways, Smooth Viking's Hair Styling Clay For Men is on a different end of the spectrum than Layrite's super-hold clay. Smooth Viking's clay shouldn't be your first choice if you're looking for a maximum hold that lasts 24 hours, after all.
But Smooth Viking's clay is similar to Layrite's in the most important category: performance. It delivers excellent results in a variety of ways, including:
It has a shine-free, matte finish without leaving any residue or sheen behind. That's crucial for achieving certain hairstyles in which no shine is needed (or wanted).
It has a similar feel to hair gels and creams but with a more fibrous texture. Unlike creams and gels, you don't have to worry about using too much product and leaving an unwanted shine on your hair.
Smooth Viking's Hair Styling Clay hold, while not as strong as some clays, is still strong enough. Some reviewers say you shouldn't count on its hold for more than 16 hours, but that's more than enough to cover most people's typical day.
It lasts for a fairly long time, and it stands up to moisture and humidity, including the kind of sweat and humidity that comes from a hard workout.
It works well for a wide range of hairstyles, including shorter, combed styles.
It helps to provide thickness to thin hair and provides texture to flat or straight hair without feeling like it's weighing your hair down. We think it ranks among the best hair clays for fine hair.
It's easy to apply. For one, it breaks down quickly in your hands as you prep it for the application. It also washes out easily.
You don't need to use a lot of this clay to get the style and hold you desire. A little goes a long way.
The Smooth Viking Hair Styling Clay's ingredients include bentonite clay mixed with petroleum, beeswax, lanolin wax, as well as a mix of essential oils. It has what some describe as an "earthy" scent that reminds one of, well, clay.
In any case, the scent quickly dissipates.
Pros
Adds volume and texture to hair

Easy to apply and wash out

Works well for a variety of hair lengths
Cons
The scent isn't for everyone
Bottom Line
Smooth Viking started as a company devoted to everything men's beards but has since expanded into hair care – for which many satisfied customers are grateful.
Their Hair Styling Clay is versatile, leaves a natural-looking matte finish, and helps add thickness and texture to your hair.
You'll find Aveda Men's Pure-Formance Grooming Clay in a variety of reviews of men's styling products. The logical conclusion is that they must be doing something right but – as always – it comes down to performance.
In that regard, Aveda's Grooming Clay proves its worthiness.
The Pure-Formance clay provides strong hold without adding too much shine, and it helps to add thickness to hair – which makes it a good choice for men with thin hair, but it's also suitable for most types of hair and hairstyles.
While its hold is perhaps its strongest feature – and it's a hold that still leaves your hair workable, when needed – Aveda's Grooming Clay also leaves a nice-looking matte finish that you'll often find in top-quality clays.
You can use it on dry or wet hair, but it may work best on damp hair that you blow dry following application.
It also can help you achieve more complex, aggressive hairstyles without leaving your hair feeling brittle or dry. While its hold is on the strong side, it doesn't leave hair so stiff that you can't rework it if your style goes out of place during the day.
Pros
Great hold

Leaves a nice, matte finish

Works effectively on shorter hair
Cons
It's a bit expensive when compared to other products
Bottom Line
Aveda's Pure-Formance Grooming Clay makes it easy to style your hair and to keep your hairstyle in place during the day. You'll like its natural finish and that it retains your hair's natural bounce.
What you won't find in Jack Black's many styling products are harmful ingredients. That fact is part of the company's mantra for delivering quality products that don't damage the hair, skin, or beard – and their Clay Pomade is no exception.
JB's pomade is vegan and doesn't contain parabens, alcohol, colorants, or synthetic fragrances, while it's also dermatologist-tested and cruelty-free. That's a good place to start, for sure, but it also has many other benefits, including its hold and matte finish.
As its name implies, the Jack Black Clay Pomade has pomade-like qualities but with a finish of clay. It provides a natural finish, whether you apply it to damp or dry hair, without much shine.
As far as its hold, Jack Black's Clay Pomade ranks as medium to strong, but it depends on the thickness and length of your hair.
Meanwhile, its list of natural ingredients has everything you need to keep your hair healthy:
Tea Tree Oil – You'll find tea tree oil in a multitude of hair products, because it helps to reduce itching and dryness
Lavender Oil – Helps soften hair's brittle ends
Sage Leaf Oil – Helps reduce and eliminate bacteria that cause scalp irritation
Organic Basil Leaf – Adds volume and texture to hair
Green Tea Leaf Extract – Stimulates hair follicles for healthier regrowth
The JB Clay Pomade has a creamy texture, creamier than many other clays, and is easy to wash out of your hair. We like that it's easy to apply on damp hair and that it leaves no clumps, but it's important to work it into your hands before you apply it.
It also has a subtle, clean, and natural scent that's derived from the essential oils used to formulate it.
Pros
Leaves an excellent, natural finish

Easy to apply

Natural ingredients
Cons
Doesn't have quite the hold of some other clays
Bottom Line
Jack Black's Clay Pomade is a good, all-around product that meets every man's hair styling needs. Its natural ingredients are beneficial to overall hair health and help add texture and volume to your hair.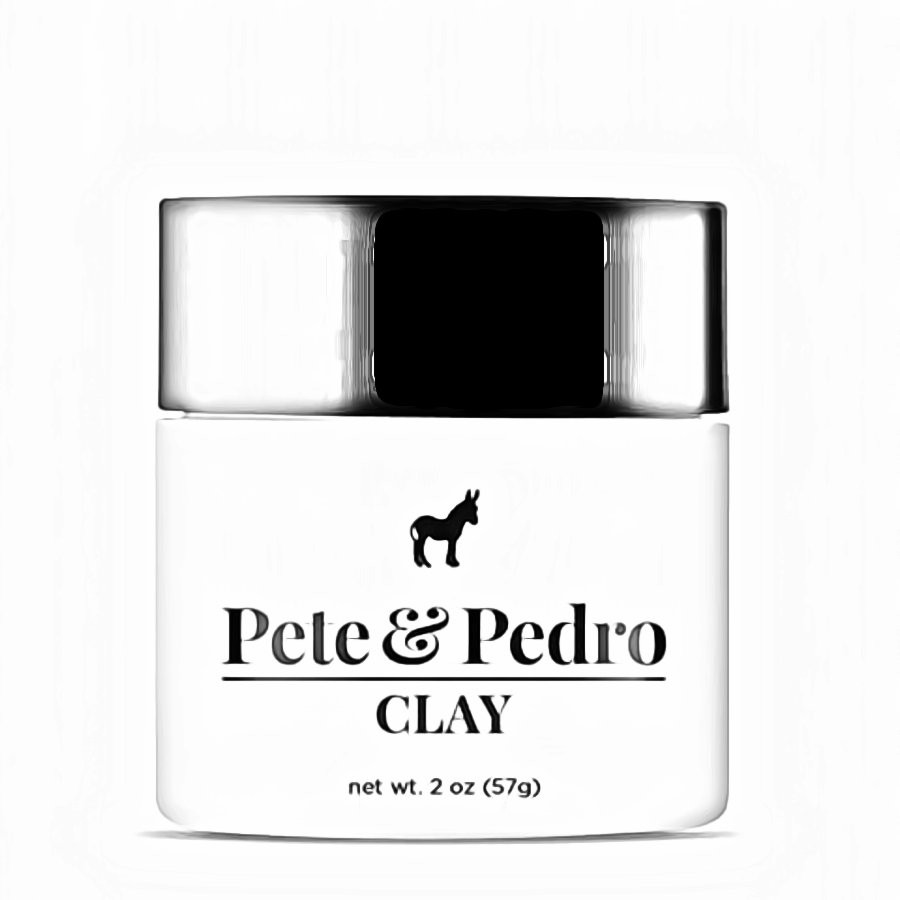 The founders of Pete & Pedro – Aaron Marino and Stephen Posta – don't want you to have just any type of hair. They want you to have "good" hair, and to say a product qualifies as good (skip other adjectives like "phenomenal" and "amazing) is high praise, indeed.
Their Pete & Pedro Clay is, make no mistake, good, although you could also say it's very good. But we'll stick with good, and it's good enough to make our list of the best hair clays.
So, what do we like about it? It's considered salon-quality, for one, because of its design rendered by high-end hair stylists.
But the proof is in the performance, and Pete & Pedro's Clay delivers with a paraben-free product that adds plenty of body and thickness to men's hair. Its ability to add volume helps make it one of the best clays for men with thinning hair.
Pete & Pedro's also delivers an all-day hold that's not overly strong but strong enough to leave your hair pliable and easy to work with if you need to re-style during the day. Also, it leaves a matte finish that looks completely natural.
This clay has a light, non-gritty texture and is easy to apply without forming clumps. The length of its hold depends on the thickness of your hair; for men with thin, fine hair, an 18-hour hold isn't out of the question. Moreover, it washes easily out of your hair.
Another thing worth mentioning about Pete & Pedro's Clay is its scent. It has a masculine fragrance that most men want from a styling product. As the folks at Pete & Pedro put it, it smells earthy – but "if earth smelled like a freshly-bathed Tiger!"
If nothing else, it sounds interesting.
The primary ingredient in this clay is bentonite, but it also includes mineral oil, beeswax, and lanolin.
Pros
Salon quality

Excellent for men with fine hair

Has a very nice texture
Cons
Perhaps not as effective for men with thick, long hair
Bottom Line
Pete & Pedro's Clay is an ideal choice for men with fine and thinning hair and delivers excellent results that you'd expect from a great (or "good") styling product. Definitely worth your consideration.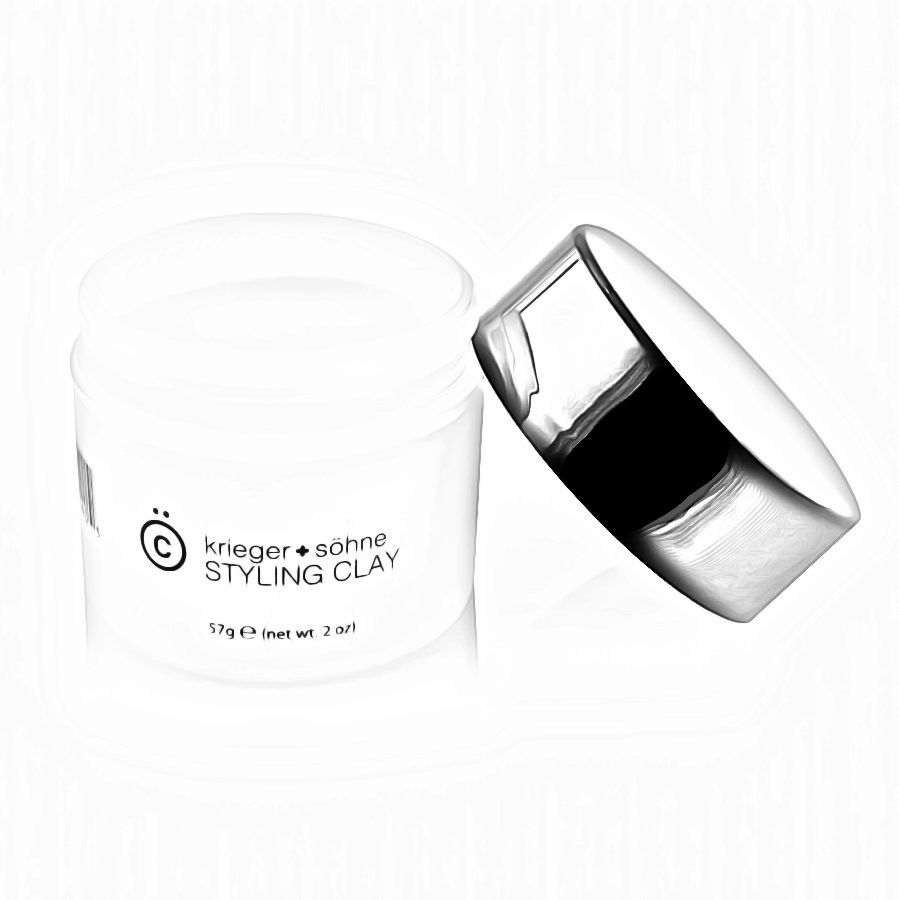 Krieger + Sohne is another company that's built a strong reputation in the past several years for creating quality men's grooming products.
It's also determined to create hair products that live up to a warrior's standard (Krieger is the German word for warrior) for strength and quality.
The K+S Premium Styling Clay certainly lives up to a higher standard – including in its list of ingredients that are paraben-free and filled with kind of natural stuff that A) won't damage hair and B) won't stiffen like many styling products infused with synthetic ingredients.
Among the Premium Styling Clay's natural ingredients is beeswax which, along with the clay, provides a firm hold and the right amount of control you need for styling your hair as you wish.
You can adjust the hold through the amount of clay that you apply: apply a small amount and get a softer hold; apply more for a stronger hold.
The K+S Premium Styling Clay gives you the freedom to create any style you wish while also adding volume to flat hair. It has a lightweight finish that's ideal for shorter styles or for longer styles that call for a more natural look.
Pros
Strong but flexible hold

Infused with natural ingredients

Works well for a variety of hairstyles
Cons
Perhaps not as effective for styling thicker hair
Bottom Line
The Krieger + Sohne Premium Styling Clay is a versatile option for men looking for clay that works on a variety of hairstyles. It leaves a natural look and plenty of movement and flow in your hair.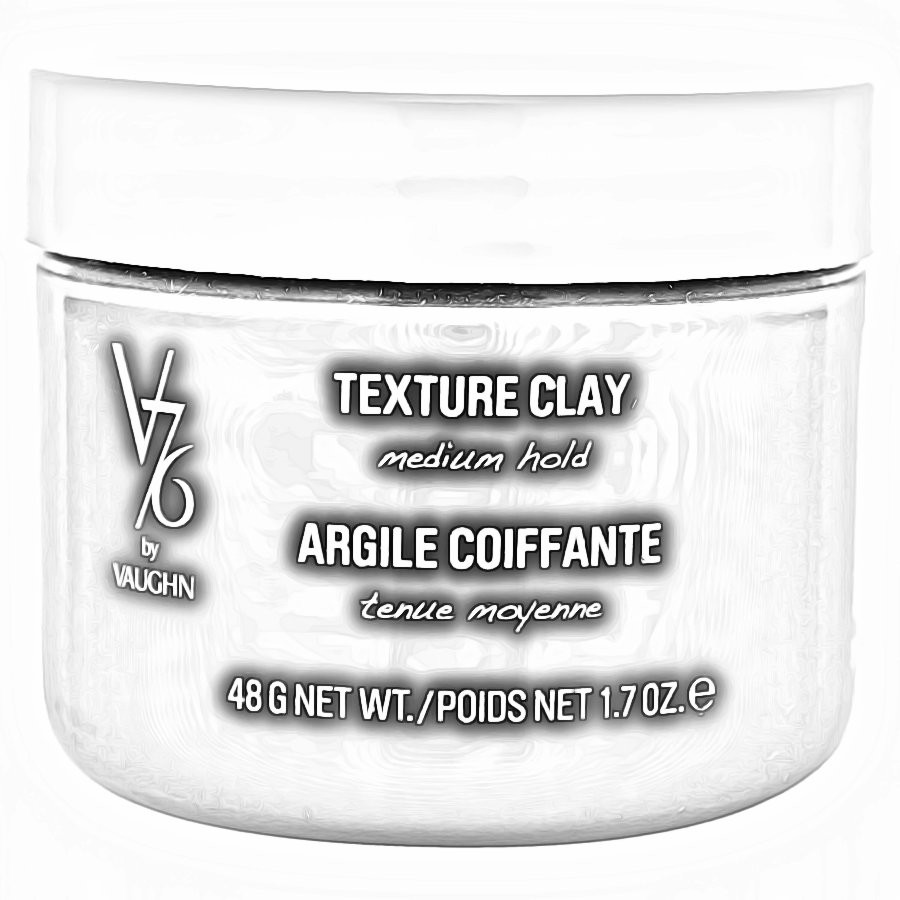 We understand that finding the right clay might be difficult if you are a person who prefers a more relaxed matte appearance for your hair. This is why we were so relieved to find V76 by Vaugh.
V76 by Vaugh means serious business with their V76 by Vaughn Texture Clay if you have fine to medium thin hair that is tired.
Unlike a lot of clays, it doesn't weigh down your hair, giving you a light hold that allows your hair to stay put but still breathe.
It gives a great texture that gives excellent manageability throughout the day without making the hair stiff.
What will make you love this texture clay even more is that it doesn't make the hair appear shiny or greasy. Instead, it gives a matte natural look, which makes it almost unnoticeable that you have applied a hair product.
But there's more.
It also gives some extra volume to the hair, which is always a welcome feature.
Of course, there are drawbacks we need to mention, however.
While the scent of this clay is woody, elegant, and masculine, you might find it a bit overpowering if you want to use it with your favorite cologne. Plus, the price is a little higher than you might be expecting to pay – although it really is worth it if you have thin hair!
Pros
Very light on the hair

Great matte natural finish

Great for fine to medium hair

Masculine woody scent
Cons
Scent might be a bit strong for some

A bit expensive
Bottom Line
This is a great clay for people who want some control but don't like their hair to look unnatural.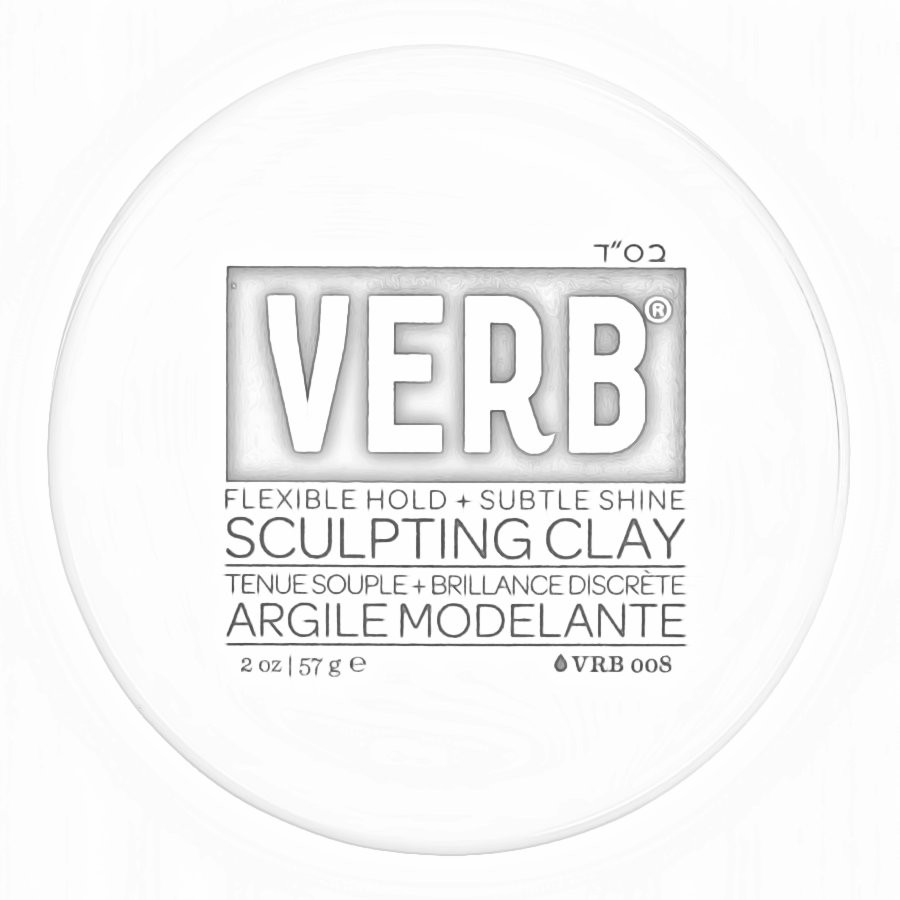 Verb Sculpting Clay is a fantastic hair clay that balances shininess, hold, and flexibility. Its main ingredients are argan oil, avocado oil, and sunflower seed extract, so you know it is also beneficial to your hair.
Let's talk about its ingredients a bit more.
Argan oil moisturizes the hair while also protecting them from everyday damage. It reduces split ends and hair breakage and helps with hair growth as it assists to keep the scalp healthy.
Avocado oil also enhances hair hydration, keeping them healthy and soft. It is rich in vitamin D, which is vital for the creation of new hair follicles. It is also rich in biotin, assisting in minimizing hair loss and promoting hair growth.
The sunflower seed extract is rich in antioxidants and anti-inflammatory properties, fighting conditions such as scalp acne, redness, and itchiness. It stimulates the hair follicles and promotes hair growth.
Applying it to your hair provides a medium hold and a subtle shine. While other clays provide stronger amounts of hold level, it is definitely enough for medium to short-sized hair.
Lastly, you will definitely feel your hair more hydrated. One thing to keep in mind, you need to blow-dry the clay for around 15 seconds before applying it because it is pretty thick.
Pros
Gives a subtle shine

Its natural ingredients offer a lot of other benefits to the hair and scalp

Provides great hair texture and moisturization of the hair
Cons
A little bit thick

Not very suitable for larger thick hairstyles
Bottom Line
The perfect choice for vegans or anyone else looking for a subtle clay, which will make hair healthier.
Applying hair clay for men (A simple, illustrated guide)
It often seems like life comes down to the basics. The more complicated we make certain aspects of our lives, the more challenging things become – at least it often seems that way.
The same is true of applying hair clay: the better you are at the basics, the easier the process becomes, and the better your hair looks.
Here are some basic tips for applying hair clay:
1. A little goes a long way
As a general rule, you don't need to use a lot of clay to "lock" in your hairstyle – and that's particularly true of the highest-quality clays. In that way, clay is a lot like hair wax: use a small amount, especially at first, and then only add more if you need it.
2. Warm it up
You'll need to warm the clay up before you apply it, and there's nothing complicated about it. Simply rub it between the palms of your hands until it's of a consistency that makes it easy to style and shape your hair.
Never skip this step to apply your clay onto your hair straight from the can.
3. Dig deep
It's not advisable to apply some hair products to the roots of your hair. Not so with hair clay, which you can rub into hair from its roots to its tips. Applying it down to the roots helps to provide long-lasting hold.
4. Spread it all over
Cover every strand of hair with your styling clay. Evenly distributing it ensures that you won't leave any noticeable streaks behind. Run your hands through your hair while, again, making sure that you cover it from root to tip.
You can lift and push your hair back to create more volume.
5. When to apply it
Styling clay is versatile enough to use before or after styling your hair. Many users prefer to style their hair first and then use a blow dryer to add even more volume.
The hairdryer also helps to lock in the clay's moisture. Others prefer to blow dry their hair into the style they desire and then apply the clay after their hair is dry.
6. The finishing touches
There are a few ways to achieve your hair's "look," including with a hairdryer, or you can style it with your hands and fingers to achieve a loose, textured style. For structure, such as with a side part style, use a comb to put it in place.
Again, a hairdryer helps set it into place. Use one of your dryer's lower heat settings; if you want an even firmer hold, you can add a bit more clay or even use hairspray.
Tale of the tape: Hair clay vs. other styling products
With so many styling products available – from clay to wax, pomade to gel – understanding their differences and what purpose they serve best is helpful, especially as you're looking for one that best fits your needs.
Let's break down clay and several other styling products while taking a closer look:
Clay
We might as well state the obvious at the start: to be a true hair clay product the product must include clay.
OK, so that fact won't rank among the hottest news stories of the day, but there are some products marketed as hair clay that don't contain clay. We're not interested in that kind.
To know you're buying a legitimate hair clay, check the ingredients for clays such as bentonite or ozocerite. Bentonite is the best and offers a variety of benefits for hair besides serving as an excellent styling tool.
A hair clay's base typically consists of petroleum jelly or water. Petroleum jelly isn't as greasy as it sounds and provides moisture to hair while providing a better hold than water-based clays.
Hair clay usually has a thick consistency that breaks down into a manageable styling product when you heat it up, such as by rubbing it between your palms.
It's a lot like hair wax – and has similar ingredients – but the clay helps make your hair look and feel thicker while adding volume. Using a hair dryer after you apply clay can create even more volume.
Hair clay creates thickness by, in part, adding fullness to individual strands of hair.
It also comes with a hold that ranges from medium to strong. You can choose a stiff hold or one that allows you some freedom to re-style your hair during the day.
Most clays include beeswax, which helps hair to retain moisture without making it look greasy or oily. In any case, you can expect most clays to provide plenty of hold.
Another important feature of hair clay is that it creates a textured, matte finish that helps your hairstyle look natural.
Pomade
Unlike hair clay, pomade has a long history. By "long," we mean a couple of centuries ago, but today's pomades hardly resemble the products of yesteryear (which were made from, among other things, bear fat).
Many of today's pomades are oil-based and typically leave a high to medium shine.
Water-based pomades have a higher shine but less hold than oil-based ones, but classic pomades, like those that became popular in the U.S. in the 1950s and 60s, are oil-based.
So, how do you use pomade? For starters, they're great for creating classic looks like the pompadour, the quiff, the Duck-tail, and other styles that hearken back to the "greaser" look.
Pomade's hold is stronger than that of other styling products, but it's not so firm that your hair becomes so stiff that you can't restyle it during the day. Pomades won't dry out during the day, and they don't leave tell-tale flakes.
The hold varies from product to product, however.
Pomades work best with medium to thick hair. And, as a final note, you'll probably want to think twice about buying an oil-based pomade if you have acne. The oil can clog pores and aggravate your acne issues.
Hair Wax
Like clay, hair wax is a great option if you're looking to add volume to your hair. And, like clay, wax won't leave a glossy shine like pomades but enables you to create the messy, strategically-tousled look that many men prefer these days.
While a wax's hold typically ranges from medium to medium hard, it's not so firm that you can't re-work your hair during the day, if needed.
Like pomades, they don't leave flakes – at least not the high-quality waxes, that is – and they tend not to dry out (again, the higher-quality waxes).
Wax is a versatile product in that it's suitable for almost every hair length and thickness. It's also a good choice if you have sensitive skin, because its ingredient list usually includes natural oils and beeswax.
It's often diluted with oil or fat to make it more pliable before you apply it to your hair.
Hair wax also comes in a wide variety of scents. Most of the fragrances come from natural – not chemical – ingredients, which is always a good thing.
Hair Gel
"Hair gel" often is used as a catch-all phrase for a variety of hairstyling products, but it's a different product than clays, waxes, and pomades. For one, gels typically include a copolymer called PVP K-90 that helps provide superior holding power.
The hold, mind you, is something that sets gel apart from other styling products. Most hair gels provide a stiff hold, although some produce a lighter hold.
In most cases, however, the hold is plenty strong enough to last you through the day (but not as workable as most other hairstyling products).
Hair Cream
Creams work well for giving mid-length and longer hair a natural, healthy look, as well as a natural-looking shine that isn't too greasy or oily.
Many men with thin or fine hair use hair cream, instead of pomade or wax, because cream has a lightweight feel, but it's good for a variety of hair types, including for frizzy hair that's hard to keep under control.
Paste
Hair pastes tend to have a thicker consistency than pomades – similar to hair clays – and you only need a small amount to get your preferred style and hold.
Paste has a medium hold and shine and is water-based, which makes it easier to wash out between applications.
Paste provides volume and texture, especially if you apply it to damp hair, and is another good option for men who prefer the tousled look.
Balm
Hair balm has several unique characteristics, including that you don't massage it down to your scalp as you would with other products. It also tames frizzy hair, which not every styling product can claim, but it's useful for achieving a wide range of hairstyles.
Be wary of using hair balm on a daily basis, because it can make hair look greasy and form clumps. Your best bet is to wash your hair regularly to remove the balm before your next application.
Sea Salt Spray
Sea salt spray has gained increasing popularity in the past few years and works great for men and women who want to achieve the textured and tousled "beach" look.
The salt water found in sprays absorbs the natural oils of your hair to give it better volume and texture.
One of sea salt spray's benefits is that doesn't leave your hair feeling sticky or hard, unlike many hairsprays, and provides a light to medium hold that enables your hair to retain its natural "bounce." You can also use it daily, especially if you use it in moderation.
How we compiled our list of best hair clays for men
The good news is that there are plenty of quality hair clays for men. The product you choose depends on many variables and personal preference, but, for us, we strive to select products that cover a wide range of hair types and styles.
That said, most hair clays accomplish the same thing (they provide texture and volume, they leave a natural matte finish, etc.), but overall performance remains the number one criteria. If a product performs well, and as expected, it's naturally going to earn high marks.
We also study the reviews of customers and peers. While we want to be careful about reading too much into some customer reviews, it would be crazy to ignore them.
Finally, we take into account other factors, such as price and scent, although the scent isn't a primary concern, unless it's unacceptable to a lot of users.
Conclusion
As always, we value your opinion. Do you have a favorite hair clay? Have you tried any on our list? We'd love to hear from you!