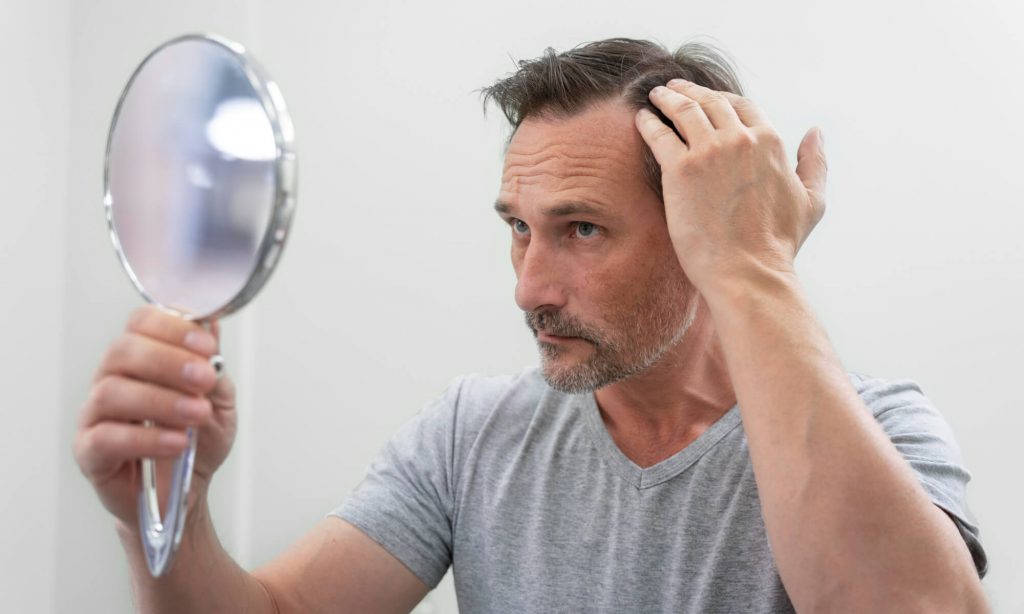 If you're going bald or your hair is thinning, shaving your head or simply accepting that your hair doesn't look as great as it used to aren't your only options. Some haircuts and styles help move the attention away from your hair and focus it on your face.
Let's go over the best haircuts for balding men to help you decide which one will work best for you. The right cut can bring back your confidence and keep you looking stylish and fresh.
9 Best Haircuts For Balding Men
Short Combover And Temple Fade
The short combover with a temple fade is a taper fade that is a favorite amongst those with short or thin hair.
The focus of this cut is the fade on the temple area extending down to the neck. The combover is the cherry on top that makes this cake a sight to behold.
The combination of the temple fade with the short combover makes for a simple yet stylish hairstyle that softens and fills out a receding hairline. It's an effortless look that's equal parts professional and cool.
Buzz Cut
When it comes to balding haircuts, the buzz cut is one of the most popular styles.
It's simple and sleek, and you'll still have hair on your head if you're worried about what you would look if you were completely bald.
The buzz cut is a clean yet edgy look that works well for those with thinning hair as the length of the cut is already short.
It takes the attention away from your thinning hair and focuses on an area that others will truly admire. Your face.
Crew Cut
The crew cut separates itself from the buzz cut by including a fade on the back and sides with a slightly longer top.
It has varying lengths and styles compared to the buzz.
In terms of the best haircuts for balding men, this is a step before the buzz cut if you aren't ready to fully commit to the buzz.
The first variation of the crew cut is high and tight, which includes a short top with a high fade.
The second is a crew with a fade, taking inspiration from the length of a buzz but standing out with faded sides.
Whichever variation you choose, you can't go wrong with the classic crew cut. Fading on the back and sides with some length at the top has never looked better.
Butch Cut
Living up to the name, a butch cut is masculine and bold. And those who choose it are bursting with confidence.
The butch cut is one of those bald hairstyles that has a short but even length around the head, taking inspiration from the military and army.
It's the easiest haircut for your barber and it's super easy for you to do at home by yourself. All you need is a  number 3 or 5 guard for your clippers and you can go nuts. You can't really mess it up!
There's no technique to the cut as it's even all around. It's a longer cut than the buzz or crew and gives a professional aesthetic.
This makes it one of the best haircuts for balding men.
Quiff With Taper Fade
Combining a quiff with an already stylish taper fade makes for a dashing and sleek appearance.
The contrast between the short hair on the sides with the longer but thin hair on top is a classic, cool style.
You could go the extra mile and razor in the parting of your hair making it more of a defined look.
Maintaining a neat quiff will require more patience and tending to than opting for a buzz cut. But, once you've got it, this haircut will change the way you look at your thinning hair.
Faux Hawk
This is the definition of a sleek, punk hairstyle. The faux hawk takes inspiration from the mohawk but ditches the fully shaven sides, going for a fade instead.
Believe it or not, a faux hawk works quite well with thin hair. The thin hair on top is styled upward with a tapered point.
Since the hair is styled upward with the hair giving a spikey aesthetic, it's one of those hairstyles for balding men that don't give away that your hair is thinning.
You're also able to brush the hair forward, lowering your receding hairline.
Regulation Cut
Another one of the best haircuts for balding men is the regulation cut, which takes inspiration from traditional, neat army hairstyles.
The top of your hair is trimmed and styled in a tight combover with a side parting. The sides are tapered or shaved for a very neat, well-kept look. It's practical and requires little to no maintenance.
To add more finesse to the look, you could look at adding some gel and move the top of the hair backward.
This is a haircut for balding men that doesn't require much effort but will keep the attention away from your thinning hair.
Spikes With Shaved Sides
Ditching the fade for fully shaved sides and spikey, 'unkept' hair on top is another great cut that requires little maintenance.
The shaved sides expose the skin but contrast well with lightly gelled tips on top. This gives the illusion of thickness and volume on the top of the head, taking attention away from any bald spots.
This type of look was very popular during the 90s and to this day serves as one of the best balding men's haircuts you can get.
The Clean Shave
If you can't pick a style that suits your current hair situation, choosing a clean shave is the final option.
For many, this seems like an intimidating option, but it makes for the cleanest look, drawing all the attention to your face.
A clean-shaven head is easy to maintain but be sure to apply the right shaving gel after the thin hair on your head has been trimmed.
It's bold, it's classic, and it looks fantastic with a beard.
Conclusion
There's a wide variety of balding hairstyles and haircuts that suit men with thinning hair. Try out some of the haircuts above and let us know which one is your favorite.