9 Best Beard Shampoos & Washes for a Spotless Beard
This post may contain affiliate links. Learn more.
Beards have gained popularity in recent years, but have you ever tried a beard shampoo and/or conditioner? If not, then you're missing out. If you have then I highly encourage you to give it a go. Here we will cover 9 of the best beard shampoos & washes on the market today.
It's not often you hear 'hey man, your beard looks so clean.'
Having a clean beard is unlikely to win you many admirers or compliments, but the reality is every great looking beard starts with a proper cleaning routine – it helps keep the hairs healthy, the skin underneath clean, and ensures your beard grows well.
Now, here's the problem: so many men think that regular hair shampoo is fine to use on their beard. But the reality is, if you want a great looking beard, you need the best beard shampoo wash.
And that's why we've put together this review.
In a hurry? Here are our top picks:
Professor Fuzzworthy's Beard Shampoo
Our no.1 choice – Professor Fuzzworthy's Beard Shampoo – combines a roster of all-natural quality ingredients and a masculine scent to help clean, condition and soften your beard.
Beardbrand Beard Wash
Our no.2 pick - Beardbrand Beard Wash has a magnificent scent, making it an excellent choice for any man who wants a pleasant aroma when washing their beards
And there's more:
We'll also go into the details of exactly how true beardsmen wash their beards, how often you should be doing it, and how beard shampoos differ from regular ones.
But first, let's look at the 4 key tips you need before buying a beard shampoo.
Quick summary
Best Overall

Professor Fuzzworthy's Beard Shampoo

All-natural ingredients

Cleans, conditions, softens

Versatile – can be used on your head and body

Check on Amazon

Best Smelling

Beardbrand Beard Wash

Excellent lather

Great beard cleansing

Fantastic scent

Check Best Price

Best for Sensitive Skin

Jack Black Beard Wash

Dermatologically tested

Great for sensitive skins

Uses natural ingredients

Check on Amazon

Best Versatile

Olivina Men Hair, Face & Body All-in-One Wash

Great value for money

Includes natural ingredients

All in one wash

Check on Amazon

Billy Jealousy Beard Wash

Gets rid of beardruff

Plant-based conditioners fortify your beard

Makes beards easy to manage

Check on Amazon

Seven Potions Beard Shampoo for Men

Cleans beard and skin

Reduce dandruff and itchiness

Helps tame unruly beards

Check on Amazon

The Gentlemen's Beard Beard Wash with Argan Oil

Infused with argan oil

Suitable for all beard types

Assists in hair growth

Check on Amazon

Bossman Men's Bar Soap

Gives off a refreshing, masculine scent

100% natural, organic formula

All-purpose, good for skin, hair and beard cleansing

Check on Amazon

Anthony Conditioning Beard Wash

Excellent hydration

Reduces itchiness and dandruff

Formulated with natural ingredients

Check on Amazon

Wild Willie's Beard Wash And Conditioner Bundle

Cleaning and conditioning all in one bundle

Organic ingredients

Softens and protects beard

Check on Amazon
Before you buy: 4 Beard shampoo & wash tips you should know
Before we delve into the best beard wash and best beard shampoo, let's take a moment to discuss a few key points when it comes to buying shampoos and washes. Here's our advice:
1. Always read the label
We like natural ingredients, so pay attention to the label on the container of the beard shampoo or wash you that's caught your eye. Are there a lot of natural ingredients? If so, that's good.
A lot of chemicals?
Not so good.
Natural ingredients are an important factor when keeping your beard clean and healthy. They can be the difference between an itchy, irritated beard that's plagued with beardruff and one that's soft and manageable.
2. Make sure you get what you pay for
Beard shampoo and wash aren't something you think much about unless they aren't working. It's only then that you realize your beard has been dry and scratchy. If this sounds like you, I've got some solutions to fix this problem.
Just because a beard wash or shampoo has a hefty price tag doesn't guarantee that it's high-quality. On the other hand, it doesn't mean it's a bad product, either, just like those that are inexpensive can be really good or really cheap.
Compare the price to its ingredients, what reviewers have said about it, and even the container it comes in.
3. How it feels and what it does
Why Your Beard Needs Special Treatment?
Your beard can be a haven for bacteria, germs, dead skin cells, and other nasty stuff. A good quality beard shampoo or wash can help keep that stuff away from your face—and mouth—while keeping your beard clean, soft, and shiny.
As a general rule, thicker beard shampoos and beard washes tend to be better than those that aren't.
4. Check the scent
Always make sure that the scent of any beard grooming product – whether it's balm, wax, oil, shampoo, or wash – has a scent that you find pleasing, and that fits your style. Remember, the scent will be with you wherever you may roam.
Now let's dive into our reviews of the best beard shampoos and washes of this year.
The 10 best beard shampoos and washes
And now, from the land Down Under, we give you an annual contender for best beard shampoo.
Yes, those Tasmanian (Australian) Devils on the Professor Fuzzworthy team have created a hit with their Beard Shampoo. It's unique, it works, and it's chock-full of natural ingredients.
First, a quick look at what Professor Fuzzworthy's shampoo is, specifically: it comes in a bar form, rather than liquid (like most shampoos).
No, it's not a bar of soap, but a bar of shampoo that you apply to your beard – and a little goes a long way – and then store in a soap dish or metal rack.
Let's dig deeper into why we decided to include Professor Fuzzworthy's Beard Wash Shampoo in our best beard shampoo reviews:
As mentioned, this is an all-natural beard shampoo that includes Leatherwood beeswax and honey. It gently cleans your beard while also giving it a healthy, shiny look that others will admire.
The list of ingredients includes essential oils that keep the skin underneath your beard healthy. There are no parabens, synthetic fragrances, or artificial coloring.
This is a versatile product that works on your head (as a shampoo) and as a body wash for all of your other parts.
It has a pleasing scent that is woodsy yet subtle.
Professor Fuzzworthy's Beard Wash Shampoo contains several ingredients found in a beard balm. That said, use less beard balm and oil, because this product has similarities that will save you money in the long run.
Don't get us wrong: we want you to use beard balm and beard oil, but this beard wash shampoo may have the added benefit of extending the life of your beard grooming products.
Users like how soft their beard is after using this shampoo.
A quick note: because the Professor Fuzzworthy Beard Wash Shampoo doesn't include the synthetic ingredients that keep a regular bar of soap hard, it may dissolve quicker. That said, using it outside of the shower can increase its lifespan.
Key Points
All-natural ingredients
Cleans, conditions, softens
Versatile – can be used on your head and body
Ingredients
Mount Wellington spring water, olive, coconut castor oils, soy wax, Leatherwood beeswax, Leatherwood honey, Tasmanian Seaweed extract, cocoa powder, essential oils.
Beardbrand is a well-known grooming brand, and their beard oil is the stuff of legends. So, it is no surprise that their Beard Shampoo would likewise be on the same level.
Filled with great ingredients such as glycerin, apple, and peppermint extract, it is no wonder that it excels in its cleansing action.
Glycerin moisturizes the beard, making it soft and manageable. It won't add oil or clog the pores meaning that it is an excellent ingredient for people who are looking to remove grease and dirt from their beard without drying it out.
Apple and peppermint extracts revitalize and strengthen the hair because they have lots of vitamins and minerals. They prevent hair loss and can assist in promoting hair growth.
Let's dive in deeper.
Apples are rich in vitamin B2 and biotin, which are some of the most important nutrients that keep the hair healthy. Peppermint acts as a vasodilator, meaning it increases circulation around follicles preventing hair, to fall.
All of the above ingredients are also great cleansers, as they gently remove dead skin cells, dirt, and dandruff that might be present.
The texture of this beard wash is neither lightweight nor heavy and is not by no means greasy. It is very easy to spread evenly on your beard, and you will absolutely love the way it lathers up. It probably produces the most lather I have ever experienced in a beard wash. It definitely does a fantastic job.
But, there's more!
If you are a lover of a good fragrance, you will definitely love this one. Beardbrand prides itself on the research it does and the time it takes to perfect the fragrances for its products.
Old Money – the fragrance in this beard wash – will surely invigorate your senses and make you feel calm and cozy. It has as primary notes, Oak, Amber, Leather, Lime, and Ylang Ylang that give a masculine, woody citrus character. The scent is certainly rich, and you will notice it throughout the day.
Key Points
Produces excellent lather
Old Money is a scent that is unique and excellent at the same time
Cleans your beard thoroughly from dirt, dead skin cells, beardruff, etc.
Ingredients
Water (Aqua, Eau), Potassium Cocoate, Sodium Lauroyl Methyl Isethionate, Fragrance (Parfum), Glycerin, Lauryl Betaine, Disteareth-75 Ipdi, Phenoxyethanol, Benzoic Acid, Ethylhexylglycerin, Glycereth 2-cocoate, Aloe Barbadensis Leaf Extract, Sodium Benzoate, Sodium Sulfite, Potassium Sorbate, Disodium Edta, Panthenol, Mentha Piperita (Peppermint) Leaf Extract, Pyrus Malus (Apple) Fruit Extract, Sodium Chloride, Sodium Hydroxide
Jack Black's is a bit special: their brand of innovative, effective men's grooming products is designed specifically to give men everything they need for a complete beard grooming regime. And this, their beard wash, is step one in the process.
As far as beard shampoos go, Jack Black's does more than most: it not only cleanses, conditions and softens facial hair – it also conditions the hair and skin underneath.
Their patented, trademark PureScience formula uses nothing but great, natural ingredients: aloe leaf, panthenol, jojoba protein, and organic sea kelp being the essentials. No parabens, colorants or synthetic fragrances to be found.
It produces a lovely, thick lather that makes cleaning your beard easy and pleasurable.
What makes Jack Black's Beard Wash noteworthy (and essential for this list) is it is fantastic for sensitive skin – with its emphasis on moisturizing and natural ingredients, it will be exceptionally kind to sensitive men's skin.
A few reviewers feel it leaves the beard a little dry – but most find it to be an absolute dream.
Key Points
Dermatologically tested and great for sensitive skin
Cleans, conditions and softens
Tons of natural ingredients
Ingredients
Water, Lauryl Glucoside, Cocamidopropyl Betaine, Sodium Lauroyl Sarcosinate, Aloe Leaf Juice Powder, Glycerin, Shea Butter, Seed Oil, Rosemary Leaf Oil, Hydrolyzed Jojoba Protein, Kelp Extract, Camellia Sinensis Leaf Extract*, Basil Leaf Extract*, Sunflower Extract, Rosemary Leaf Extract, Grapefruit Fruit Extract, Hydrolyzed Linseed Extract, Glycol Stearate, Ascorbic Acid, Citric Acid, Phenoxyethanol, Geraniol.
Who needs a separate wash for face, body, and hair when you can have all of it in one product. Olivina Men All-In-One Wash does exactly that. It is a versatile wash that can be used basically anywhere on your body: face, beard, hair, body.
Formulated with ingredients such as aloe vera, olive oil, and birch ensures all-round cleansing, hydration, and nourishment.
Aloe vera helps to hydrate the beard, keeping it free from itchiness and dandruff. Its anti-inflammatory and antioxidant properties also protect the skin from environmental stressors and acne.
Additionally, olive oil moisturizes the skin while stimulating hair growth due to its high amount of nutrients and vitamins. Lastly, Birchbark promotes collagen production and strengthens the hair. What else could you ask for?
I know what you are thinking: Affordable price.
Well, Olivina Men has you covered with that as well, as it comes considerably cheaper than many other washes on our list. Absolute bargain!
However, one thing to keep in mind is that its scent – while great – is on the stronger side. It contains fragrance, so if you have an easily irritated skin, it is advisable to use another wash geared for more sensitive skin types.
Key Points
All in one wash that is very versatile
Affordable price
Contains many natural ingredients while being paraben-free
Ingredients
Aloe Barbadensis (Aloe) Leaf Juice, Decyl Glucoside, Cocamidopropyl Betaine, Fragrance (Parfum), Hydrolyzed Barley Protein, Panthenol (Vitamin B-5), Ilex Paraguariensis (Mate) Leaf Extract, Sambucus Nigra (Elderberry) Fruit Extract, Betula Alba (Birch) Leaf Extract, Frangula Alnus (Buckthorn) Bark Extract, Juniperus Communis (Juniper Berry) Fruit Extract, Ocimum Basilicum (Basil) Flower/Leaf Extract, Glycerin, Olea Europaea (Olive) Fruit Oil, Cannabis Sativa (Hemp) Seed Oil, Vitis Vinifera (Grape) Seed Oil*, Bisabolol, Guar Hydroxypropyltrimonium Chloride, Caprylic Acid, Lauric Acid, Potassium Sorbate, Citric Acid, Sodium Chloride.
The Billy Jealousy company is proud of its grooming products and has the hardware to back it up.
Their Beard Wash, for instance, took first place in the 2014 Esquire Grooming Awards. It's lost none of its effectiveness since then, either.
Their primary goal, however, isn't to win awards but to make sure that they live up to your commitment to taking care of your beard.
They're serious about their products, and they want you to be serious about your grooming.
This wash does a lot of different things, not the least of which is giving your beard thorough grooming while preventing embarrassing moments, such as beardruff flakes settling on your clothes during your workday.
But whether it's stubble or a heavy beard, Billy Jealousy Beard Wash will get rid of the buildup of dirt, sweat, and oil that plagues every man – not just on their facial hair, but also the skin underneath.
It's made of a sulfate material that gives your beard a thorough cleansing without drying it out or matting it down like other washes and shampoos.
Billy Jealousy Beard Wash has a few other ingredients worth mentioning:
Aloe leaf and soy protein – which softens and hydrates your facial hair.
Honey extract – which moisturizes and protects.
Green tea extract – which includes antioxidant properties that will help slow the visible effects of aging. Green tea extract also helps soothe irritation.
There's nothing 'fancy' about this beard wash, other than the fact that it gets the job done. We also like the plant-based conditioners for conditioning and nourishing the beard.
Key Points
Gets rid of beardruff
Plant-based conditioners fortify your beard
Makes beards easy to manage
Ingredients
Water, Cocamidopropyl Betaine, Decyl Glucoside, Aloe, Hydrolyzed Soy Protein, Honey Extract, Green Tea Extract, Butylene Glycol, Lecithin, Polysorbate 20, Xanthan Gum, Tocopherol, Methylchloroisothiazolinone, Methylisothiazolinone, Fragrance.
For a brand that's only been around for three years, UK-based, Seven Potions is certainly making a name for itself, thanks to its premium beard care products.
And its Beard Shampoo for Men is no exception.
For one, it's good for men of all skin types and provides extra moisturizing without irritating your facial skin. That said, it's also ideal for treating dry facial hair.
But there's more:
The Seven Potions Beard Shampoo for Men is an effective combatant in the fight against the dreaded beard itch. It keeps your beard soft and doesn't strip your skin of its natural oils.
Because it replenishes your natural sebum oils, it also reduces dandruff and split ends.
Seven Potions makes its beard shampoo with 95% natural and organic ingredients. The shampoo contains no parabens, artificial fragrances, or colorants.
You only need to use a small amount to create a rich lather that helps thoroughly massage your entire beard.
You'll enjoy the Beard Shampoo for Men's sweet, woodsy, and manly scent that's 100% natural and won't leave your beard smelling "soapy" like other beard care products.
Key Points
Works well with all skin types
Softens your beard to make it more manageable
Fights dandruff and beard itch
Ingredients
Water, Capryl Glucoside, Cocamidopropyl Betaine, Vegetable Glycerin, Sodium Benzoate & Potassium Sorbate, Hydrolyzed Wheat Protein, Xanthan Gum, Citric Acid, Phenoxyethanol, Aloe Vera Leaf Powder, Organic Blackcurrant Seed Extract, Organic Lime Extract, Cedar Wood, Sandalwood, Mix of Premium Essential Oils.
The Gentlemen's Beard are a fun company, with a clear sense of humor. But their Beard Wash with Argan oil is no joke – with its natural formula filled with Argan seed oil and organic Aloe, it not only cleans but nourishes your beard.
And not just that: it actually aids hair growth. By improving blood flow to your follicles, it helps promote healthier, faster and stronger hair to grow in your beard. Using it for a few weeks, you'll really start to see a difference as your beard looks and feels thicker.
It also soothes and relaxes irritated skin to help aid it back to health. And the natural oils also moisturize, to tackle beardruff and leave your beards softer and easier to style and shape. And it works great with virtually all beard and skin types.
Plus it's got a really masculine musk which is quite subtle but will add a little extra virile energy to your wash. And there's a 100% returns policy, so if it doesn't produce the desired effects, you can simply return it, no hassle.
Key Points
Works for all beard types
Includes argan oil
Aids hair growth
Ingredients
Purified water, Decyl glucoside, Organic Aloe Barbadensis Leaf Extract, Organic Argan seed oil, Hydrolyzed Soy Protein, Fragrance
Bossman Men's 4-in-1 bar soap is an absolute killer: it comes in very manly packaging that will give you a kick every time you use it. It will help not just cleanse and nourish your hair, but your beard and skin too, making it a great all-rounder. Some have even used it as a shaving cream, so if that's your bag, knock yourself out!
The scent is Bossman's signature: fusing geranium, vanilla, lavender, rosemary, and patchouli for a truly fresh, invigorating scent with more than a little sweetness and manly woodiness. It's seductive and alluring without being needlessly masculine or abrasive. Not only does it smell great while you're showering, but it also lasts long afterward and makes for a great underlayer for your aftershave or cologne.
Bossman has also outdone themselves with their formula; they use brilliant, natural ingredients. There are no nasties like paraben, lanolin, MCI.MI, propylene glycol; there are no harmful chemicals and no alcohol to dry your skin out.
There's a lovely dose of shea butter, along with plenty of natural oils to moisturize and care for your skin. And there are some brilliant plantain leaf powder and organic cocoa powder that cleanse deep and leave you feeling totally refreshed. It helps preserve your skin's natural oils and maintain it not just in the short term but in the long term, too.
Of course, this is an expensive product. But the reality is you're getting what you pay for, and when you consider how versatile this stuff is, it's hard to argue against it!
Key Points
Works as a multi-purpose cleanser
Has a wonderfully fresh, manly smell
Contains only natural, organic ingredients
Ingredients
Organic coconut oil, organic shea butter, organic palm oil, organic safflower oil, organic plantain leaf powder, organic cocoa powder.
Anthony's Conditioning Beard Wash is one of the best beard washes you can find on the market, but it comes at a price as it is a premium product. It is suitable for all men, and not just for guys named Anthony!
Jokes aside, its expensive price is justified by the variety of natural ingredients it includes in its formulation, such as rosemary, black currant, and coconut extracts.
Rosemary and black currant extracts are known for their anti-inflammatory and antioxidant capabilities. They help with irritations such as itchiness and redness while providing nourishment to the skin.
Coconut oil, on the other hand, hydrates and softens the hair, making your life easier when detangling your beard.
All the ingredients combined create a lightweight texture that hydrates the beard – making it look healthy and easier to comb – while preventing split ends, dandruff, itchiness, and the loss of beard hair that so many people suffer from.
Its scent is subtle and fades away instantly, making it perfect for men who don't like other scents to interfere with their cologne.
However, it is important to note that while the manufacturer dermatologically tests its products, coconut oil is an ingredient that might clog the pores, and thus often leads to acne breakouts. So if you have oily skin, maybe you should consider avoiding this beard wash.
Key Points
Great selection of botanical ingredients
Improves the overall health of the beard and reduces itchiness, dandruff, and hair loss
Hydrates the beard
Ingredients
Aqua (Water, Eau), Cetearyl Alcohol, Cetyl Alcohol, Behentrimonium Chloride, Isodecyl Neopentanoate, Stearamidopropyl Dimethylamine, Glycerin, Rosmarinus Officinalis (Rosemary) Leaf Extract, Saccharum Officinarum (Sugarcane) Extract, Citrus Limon (Lemon) Fruit Extract, Citrus Aurantium Dulcis (Orange) Fruit Extract,Betula Alba Leaf Extract, Acer Saccharum (Sugar Maple) Extract, Vaccinium Myrtillus Fruit Extract, Ribes Nigrum (Black Currant) Seed Oil, Cocos Nucifera (Coconut) Oil, Helianthus Annuus (Sunflower) Seed Oil Unsaponifi-ables, Hydrogenated Ethylhexyl Olivate, Hydrogenated Olive Oil Unsaponifiables, Panthenol, Oryza Sativa (Rice) Bran Extract, Cardiospermum Halicacabum Flower/Leaf/Vine Extract, Phytosphingosine, Helianthus Annuus (Sunflower) Seed Oil, Jojoba Esters, Lactic Acid, Tocopherol, Propanediol, Ethylhexylglycerin, Guar Hydroxypropyltrimonium Chloride, Parfum (Fragrance), Polysorbate 60, Isopropyl Alcohol, Octyldodecano, Benzyl Alcohol, Ceteareth-20, Sorbic Acid, Benzoic Acid, Disodium EDTA, Polysilicone-15, BHT, Pentaerythrityl Tetra-di-t-butyl Hydroxy hydrocin-namate, Citric Acid, Phenoxyethanol, Chlorphenesin, Limonene, Linalool.
You have to love Wild Willie's philosophy: man up, grow a beard, don't be afraid to stand out, and never worry about what others think of you.
Indeed, it's part self-help, part beard grooming, but, if it gets you off the couch and into a whole new relationship with yourself and your beard, then so be it.
Wild Willie's backs it up with great products, too, including their Beard Wash and Conditioner Bundle, which is the best beard wash and conditioner combo you're likely to find.
Throw in their top-quality beard balm, and you're going to see some serious progress in getting your beard in tip-top shape.
But let's take a closer look at their Beard Wash and Conditioner Bundle.
Yes, Wild Willie's implores you to man-up, but that doesn't they want you to have a rough, unruly beard. On the contrary, they want your beard to be soft, manageable, and clean. They're confident their Beard Wash and Conditioner will help you accomplish that, and we think it's definitely on the list when it comes to best beard-softening shampoo.
They make a strong claim for using all-natural, organic ingredients, and the shampoo and conditioner are paraben-free. Their products also are handmade.
The shampoo nicely does what it's supposed to do – clean the dirt and other gunk from your beard – while the conditioner protects your beard while softening it. In turn, that gets rid of aggravating beardruff and itching.
Wild Willie's beard wash combines vitamins and oils to give you the kind of healthy shampoo you deserve. It also includes peppermint and eucalyptus oil, which will give your beard a clean, tingling feeling after shampooing.
Key Points
Cleaning and conditioning all in one bundle
Organic ingredients
Softens and protects beard
Ingredients
Water, Decyl Glucoside, Lauryl Betaine, Xantham Gum, Aloe Vera, Citric Acid, Benzoic Acid, Dehydroacetic Acid, Vitamin E, Peppermint Oil, Eucalyptus Oil, Lemongrass Oil.
The secret code: How we chose the best beard shampoos and washes
OK, so there's no secret code. What there is, however, is a lot of research, personal experience, and sifting through customer reviews. We like products that generate strong sales while delivering quality results.
While we haven't tried every beard wash or shampoo on the market, because we don't have the resources to do so, we're confident that the best washes and shampoos listed above will serve you well.
How to wash your beard properly in 8 easy, illustrated steps
Experts recommend washing your beard daily, except if you have particularly dry skin or brittle hair, in which case only wash it once or twice a week.
Not washing your beard properly is one of the common beard mistakes. The best way to wash a beard doesn't involve using the same shampoo you use on your head, far from it.
In fact, using that shampoo is bad for your beard, which we'll talk about a little later.
That's why you need to use a beard shampoo that keeps your beard looking and smelling good but won't mess with the oils that are essential for a healthy beard (and we'll talk about that later, too).
For now, let's stick with how to wash a beard, which seems simple enough. Deceptively simple, that is.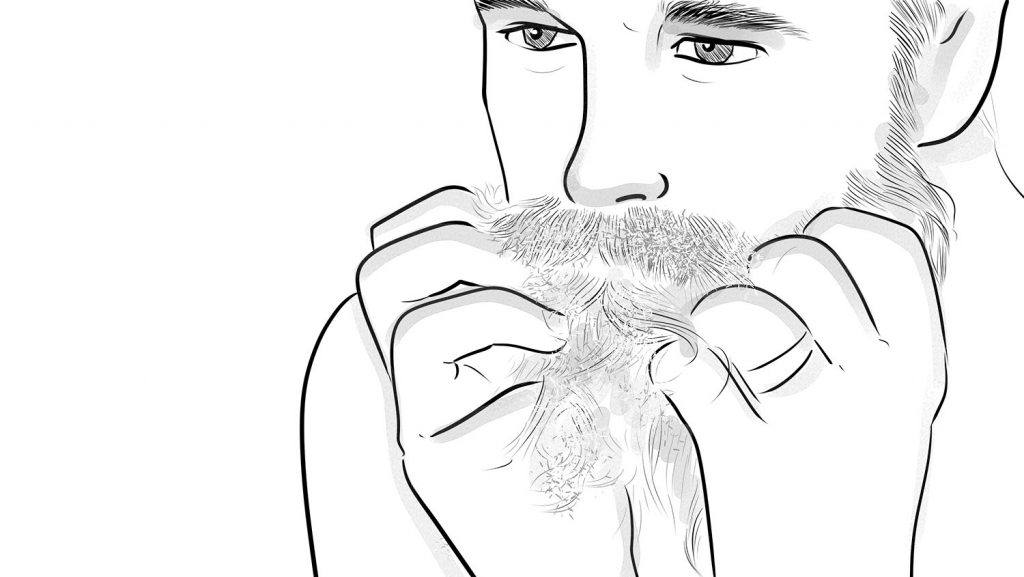 1. First, a quick note. You should shampoo your beard with the same mindset you use while washing your head hair, i.e., be sure to scrub deeply enough to cleanse the skin underneath your facial hair.
2. Moisten your beard with water, whether from the shower or your bathroom sink. We recommend the shower as the warmth, and humid air will loosen the pores beneath your hair follicles.
3. Apply a small amount of beard shampoo – but enough to work up a good lather. The nice thing about many of the top-quality beard shampoos is that it doesn't take a lot of product to get a beard full of suds.
4. Using the tips of your fingers, deeply scrub the shampoo from your skin to the tips of your beard hairs. Apply it so that you're shifting your hair in different directions. Some experts suggest that you scrub a bit more aggressively with a new beard because it will stimulate the hair follicles and encourage better growth. You can also check out our handy guide for properly growing a beard.
5. Pay attention to the temperature of the water. Very hot water will dry your skin and slow the development of your beard. Warm water, which opens the pores, is your best choice.
6. Rinse with water – again while moving your hair in all directions – while making sure that there's no leftover shampoo residue.
7. Dry your beard thoroughly, because excess water can irritate your skin. It's best to dry it by passing a clean towel gently throughout the area. Remember gentleness, not forcefulness, when it comes to drying your beard.
8. Finally, apply some high-quality beard oil, balm, and/or wax and comb it into the shape and style that you desire. Use the best beard comb or beard brush you can afford. Combs and brushes serve different purposes when styling and maintaining your beard, so be sure to check out our best comb and brush reviews.
Why and how often should you wash your beard?
We've touched briefly on why to wash your beard. Let's look a little deeper.
Unless you like leaving bits of food in your beard or don't mind that your glorious facial hair smells like your friend's (or your own) cigarette or cigar, then you need to keep your beard clean—no ifs, and, or buts about it.
It's not just about keeping your beard smelling fresh, either. There are plenty of other reasons why you should wash your beard:
A clean beard helps give you a healthy appearance overall. We know that beards exude confidence, but it will be difficult for people to take you seriously if a portion of today's lunch – or last night's dinner – is stuck in your beard. There's no way to avoid the dust, dirt, and lasagna that can accumulate in your beard on a daily basis, but there's no excuse for not getting rid of it.
Washing your beard will keep it soft and manageable. Shampoos and washes meant for your beard won't dry out your hair follicles but will instead help moisturize them. In turn, your beard will have a healthy look and be soft to the touch – not wiry like a brush.
Washing your beard will get rid of the dead flakes of skin that often form underneath the beard's surface and form beardruff.
You'll help to prevent beard itch and other irritations that – at their worst – can make you question your decision of growing a beard in the first place (It's OK to question it, but never give up on it).
So, all that said should you wash and shampoo your beard every day?
The answer: No.
The question of how often you should wash your beard will inspire a variety of different answers, but the consensus is that you don't want to overdo it.
Washing your beard every day with beard wash or shampoo increases the likelihood that you'll strip the natural oils from your beard that are so essential to its overall health. In turn, that will dry and potentially damage your beard.
So, what's the right number? That depends on your beard, but washing it two or three times a week should suffice. There's no harm in washing your face – the part not covered with a beard, that is – twice a day, but give your glorious manscaping a breather.
What's the difference? Why you use beard shampoo on your beard instead of regular shampoo
Don't feel alone if you've wondered why you can't use the same shampoo on your beard as you do on your head. A vast majority of beardsmen have had the same thought.
Let's start by saying there's a reason why there are so many beard shampoos available, including the quality ones we list here. It's not because it's a marketing ploy to get you to buy more grooming products.
It's because beard shampoo and wash were designed to clean your beard, and there's a difference.
A big difference.
Let's do a quick rundown of beard shampoo vs. regular shampoo:
Regular shampoo
Shampoo for your hair has two primary purposes: to clean your hair (of course) but also to rid it of oil that will it look greasy (and more greasy) if left unchecked.
It does that by stripping the sebum oil from your skin that also makes your hair stick together in a greasy, unwashed mess.
Regular shampoo typically accomplishes these things through the liberal use of chemicals.
Beard shampoo
Beard shampoos and washes don't contain the harsh chemicals found in regular shampoo.
Why?
Because good shampoo manufacturers know that the natural oils produced by your skin are vital for the overall health of your beard.
Indeed, the sebaceous glands at the root of each one of your hair follicles are responsible for ensuring that your beard is moisturized and well-nourished. The chemicals in regular shampoo will scrub the oils (and dirt) from the follicles.
Again, you need the oil for a great-looking beard.
The bottom line is that quality beard shampoos will clean your beard but also leave the oils in.
They'll also help wash away the dead skin cells – which come with not shaving – and alleviate irritation, itching, and beardruff. Using a regular shampoo on your beard will only make it worse.
Finally, without the oils, your beard will look dry, frizzled, and prone to split ends. We assume that's not the look you want.
There are plenty of other reasons why you should use beard shampoo. As you've probably noticed, your beard traps smells, such as food odor and cigarette smoke, but a good beard shampoo will wash those away.
Conclusion
That's all for now. We always welcome your comments and suggestions, including your experiences or preferences when it comes to beard wash and shampoo.
Stay bearded, my friends.