8 Best Hair Thickening Shampoos to Regrow Thinning Hair
This post may contain affiliate links. Learn more.
In a hurry? Here are our top picks:
Dealing with thin hair or hair loss often requires a multi-faceted approach with a variety of products and solutions, including your shampoo.
We'll look at the best hair thickening shampoos for men and women in this post while also examining how to use them, their key ingredients, how they work and more.
Let's start with some hair thickening shampoo buying tips.
Quick summary
<!—INSERT CODE BELOW—>

Best Overall

Revita Hair Stimulating Shampoo

Gives your hair and skin a boost of radiance

Stimulates hair follicles

Innovative, cutting-edge Nanonsome delivery system

Check Best Price

Best with Biotin

Ultrax Labs Hair Surge Caffeine Hair Loss & Hair Growth Stimulating Shampoo

Blocks DHT effectively

Regarded as one of the elite hair regrowth shampoos

Can be used by men and women

Check on Amazon

Best Anti-Dandruff

Nizoral Anti-Dandruff Shampoo With Ketoconazole

Refreshed, revitilized scent

One application a few times a week is enough

Combats dandruff whilst helping thinning hair

Check on Amazon

Giovanni Root 66 Max Volume Shampoo

Thickens hair

Vegan and cruelty-free

Deeply hydrates hair

Check on Amazon

Lipogaine Big 5 Shampoo

Antibacterial, anti-fungal

Suitable for men and women

Contains 5 key hair thickening ingredients

Check Best Price

Alpecin Caffeine Shampoo

Helps with other scalp ailments, like dandruff

Lowers DHT

Stimulates and invigorates sluggish hair roots

Check on Amazon

Lipogaine Big 3 Shampoo

Fully guaranteed if not satisfied

Loaded with organic ingredients

Suitable for all hair types

Check Best Price

Brickell Men's Daily Strengthening Shampoo

Packed with natural ingredients

Safe for any hair type

Makes hair thick, full and resilient

Check on Amazon
Before you buy: 4 Things you have to look for and consider when buying a hair thickening shampoo
Treating hair loss and thinning hair isn't a simple process, which makes choosing the right hair thickening shampoo – or any hair loss product, for that matter – a challenge.
Hair thickening shampoos abound, and choosing one that's right for you comes down to a variety of factors.
1. Know your hair (and scalp) type
Not all shampoos work for every kind of hair.
Hair thickening shampoos are in the same boat: what works for one person's hair doesn't work for another.
Why?
For one thing, it comes down to your hair and scalp type—a couple of terms we're going to use interchangeably for this item on our list of buying considerations.
So, before you buy, determine what kind of hair you have, if you already haven't, and then choose accordingly.
Buying the wrong shampoo for your hair type can result in negative consequences, such as itching, inflammation, dandruff, weakened and damaged hair follicles, and difficulty combing and styling your hair, and even hair loss, which is the complete opposite of what we're trying to achieve.
What's your hair type? Here are the main categories:
Normal
We salute you men and women who have normal hair. You have the hair that many dream of! It features an ideal balance between oiliness and dryness and isn't too frizzy.
Surprisingly, shampoos for normal hair aren't all that common because many brands concentrate on versions of their shampoo designed for other types of hair.
Oily
People with oily hair have an excess of sebum (the skin's natural oils) on their scalp. Their hair may look greasy and have an unwanted sheen to it.
Look for a shampoo and other hair products with lightweight formulas that won't weigh your hair down or shampoos with a solid base of natural ingredients.
Dry
Whether your hair is dry because your scalp produces less natural oil or because of dehydration due to heat or a chemical process, you need a shampoo that has a moisturizing formula.
Also, look for shampoos with higher levels of conditioning agents that help make your hair smoother, hydrated and more manageable.
Be careful when choosing shampoos that say "moisturizing" on the label, however—not that all of them are bad, but some of them simply coat the hair to give the appearance of softness.
In turn, the coating may wear the hair down without adding much in the way of needed moisture.
Frizzy or curly
Thinning hair that's frizzy or curly is a challenge to maintain. Like with people who have dry hair, look for shampoos with a higher level of conditioning agents, as well as some mild surfactants to help lift off dirt.
2. The reasons for your hair loss
We'll go into greater detail later about why you're losing your hair, and it's helpful to know the reasons as you shop for solutions – shampoo or otherwise.
The bottom line is that several factors can contribute to hair loss, such as genetics (your father and his father went bald), hormones, and age (you lose hair as you get older).
There are also many other things, including stress, smoking, alcohol abuse, a poor diet, poor hair care, not getting enough sleep and even certain medications.
3. Ingredients
A shampoo's list of ingredients may be the most important thing to look for when looking for the best product for thinning hair. We'll explore the best ingredients for hair-thickening shampoo later on, and it's a lengthy list.
Some of the more common ingredients you'll find in hair thickeners, and other shampoos that help prevent hair loss include ketoconazole, caffeine (not the stuff you drink), biotin, and saw palmetto. More on those later.
In general, protein-packed formulas work great in the fight against hair loss.
4. Ingredients to avoid
Be on the lookout for shampoos that contain harsh sulfates, such as SLS and ELS, which can irritate the scalp.
Parabens, including methylparaben, ethylparaben, and propylparaben, are found in some shampoos and may pose serious health risks – including breast cancer – if absorbed through the skin. The scalp is a very vascularised part of the body so it is very possible for these chemicals to be absorbed into your body as you use them.
Coconut oil, found in many products that claim to be "natural," maybe a chemically-enhanced version called Cocamide DEA that's unnatural and toxic. California added Cocamide DEA to its list of known carcinogens in 2012.
While harsh sulfates may produce results in the short term, they do more harm in the long run and can seriously damage hair while causing additional hair loss.
The 8 best hair thickening shampoos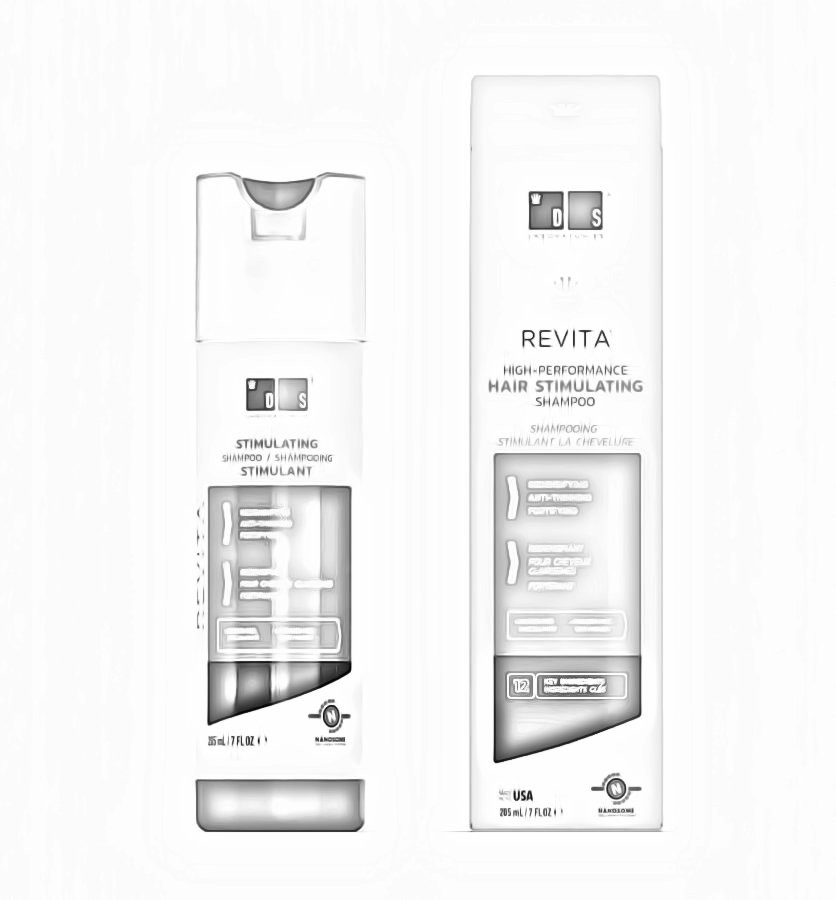 What stands out about this hair thickening shampoo:
Shampoo of the highest quality
Gentle yet effective
Packed with powerful hair thickening ingredients
The best hair thickening shampoo for:
Those looking for a top quality shampoo with reliable results.
Overview:
There are plenty of things that help set Revita's Hair Stimulating Shampoo apart from many other shampoos that promise to stimulate hair growth and why we include it on our list.
For starters, there's DS Laboratories' exclusive Nanosome delivery system, which the company (which creates and manufactures Revita Hair Products) calls the most "intelligent" way to deliver a product's active ingredients to where they're supposed to go.
Unlike the traditional liposomes found in most cosmetic products, Nanosomes have very high stability and a higher density per unit volume.
In turn, a higher concentration of their products' active ingredients is better encapsulated and a higher degree of effectiveness in delivering them than other types of skincare technology.
And the Revita Hair Stimulating Shampoo includes the most potent ingredients for improving your hair's thickness, including biotin, ketoconazole, zinc, emu oil, wheat protein, and more.
It's a gentle formula that's safe enough for daily use and one that maximizes hair and scalp health while enhancing hair density for thicker, fuller-looking hair.
It's also suitable for use by men and women and helps maintain scalp vitality and follicle health. Moreover, you can use it on any hair type.
Revita's Hair Stimulating Shampoo provides complete support for healthy and thinning hair while also reducing stress-induced hair loss. You'll even notice less hair falling out than you did before you started using it regularly.
You can, and should, use Revita's Conditioner and Revita Tablets for Hair Revitalization, along with the shampoo. The products complement one another and help enhance your hair's overall health. and strength.
Pros
Enhances hair and skin health

Unique Nanosome delivery system

Stimulates hair follicles
Cons
May take some time to see results
Bottom Line
DS Labs has a long list of unique products that stimulate the scalp and hair while fighting hair loss. Their high-performance Hair Growth Stimulating Shampoo is a popular choice among many men and women.
What stands out about this hair thickening shampoo:
Pleasant peppermint scent
Made with plenty of natural ingredients
Many users report noticeable results after only a few washes
The best hair thickening shampoo for:
When combined with a biotin supplement.
Overview:
You'd be hard-pressed to find many articles on the best hair growth and thickening shampoo that don't include something from Ultrax Labs.
Their Hair Surge Caffeine Hair Loss & Hair Growth Stimulating Shampoo consistently earns high ratings from experts and customers alike. It has well over 5,000 positive reviews on Amazon, which is no small feat.
So, what makes it so good? Results, for one thing. Ultrax's Hair Surge Caffeine shampoo for hair loss and hair growth is a proven fighter against hair loss while also helping to thicken hair that's thinning.
And it works, thanks to its unique formula, which includes caffeine.
Most of us think of caffeine in the liquid form that helps millions of grateful people get off their duffs in the morning and millions to snap out of their afternoon lethargy at work.
But that's not all!
Studies show that it works well to stimulate the life cycle of hair follicles when applied to the scalp.
It also encourages healthy hair growth. (More on caffeine and its effectiveness as a hair-thickening ingredient a bit later)
The caffeinated compounds found in the Ultrax Labs Hair Surge shampoo also integrate with essential oils and other active ingredients that are part of the Ultrax formula.
Another important ingredient found in the Hair Surge shampoo is Ketoconazole, which has potent anti-inflammatory and anti-fungal properties beneficial for people with thinning hair. Ketoconazole is also an essential ingredient in the fight against dandruff.
Saw palmetto, which some studies show blocks an enzyme called 5alpha-reductase, is another ingredient you'll find in Ultrax's Hair Surge. 5alpha-reductase changes testosterone into dihydrotestosterone (DHT), which plays a significant role in baldness.
Yes, there are many hair growth shampoos that add a couple of supporting ingredients to regular shampoo (which are then rinsed away with the shampoo).
But Ultrax Labs formulates its products to deliver the right ingredients to your follicles while ensuring they stay there.
A couple of other ingredients found in Hair Surge are menthol and peppermint oil. Menthol is an organic compound that has anti-inflammatory and analgesic properties and can improve blood flow to the scalp.
Peppermint oil helps promote hair growth by increasing blood flow to the follicles and is beneficial for treating a variety of scalp conditions, including dandruff and folliculitis (inflammation of the hair follicles).
If you're looking for the best shampoo to grow hair faster and thicker, you need to give Hair Surge some serious consideration.
Ultrax Labs' Hair Surge also includes Sodium Laureth Sulfate (SLES), a common ingredient found in shampoos that acts as a detergent and surfactant and also creates a healthy lather, making it easier to spread the shampoo evenly over the scalp.
While SLES and SLS have a close connection, SLES goes through an extra step in the manufacturing process – called ethoxylation – which reduces the risk of irritation.
Ultrax recommends using Hair Surge fives times a week to reap the best results. They suggest that you apply it evenly over wet hair while also massaging it into your scalp and then letting it sit for a few minutes to ensure full absorption.
You can apply your favorite conditioner after you've rinsed the shampoo from your hair.
Some other things we like about Ultrax Labs Hair Surge are that it's safe for men and women to use and that it comes with a 90-day money-back guarantee. It's a bit on the pricey side, but we think it's worth your investment.
Pros
One of the most highly-rated hair regrowth shampoos

Effectively blocks DHT

Suitable for use by men and women
Cons
May not work on color-treated hair

A bit pricey
Bottom Line
The Ultrax Labs Hair Surge Stimulating Shampoo covers all the bases for treating thinning hair while promoting hair regrowth. Its long list of ingredients packs a powerful punch and delivers long-lasting results. We think it's the best shampoo for hair growth and thickness.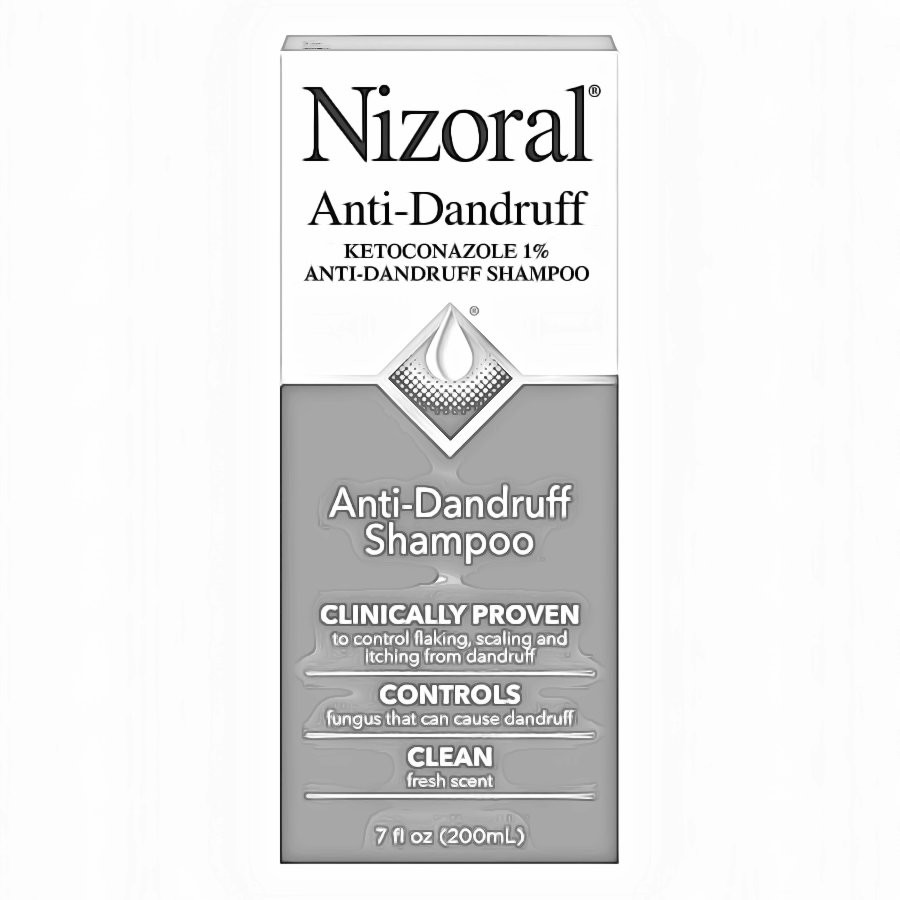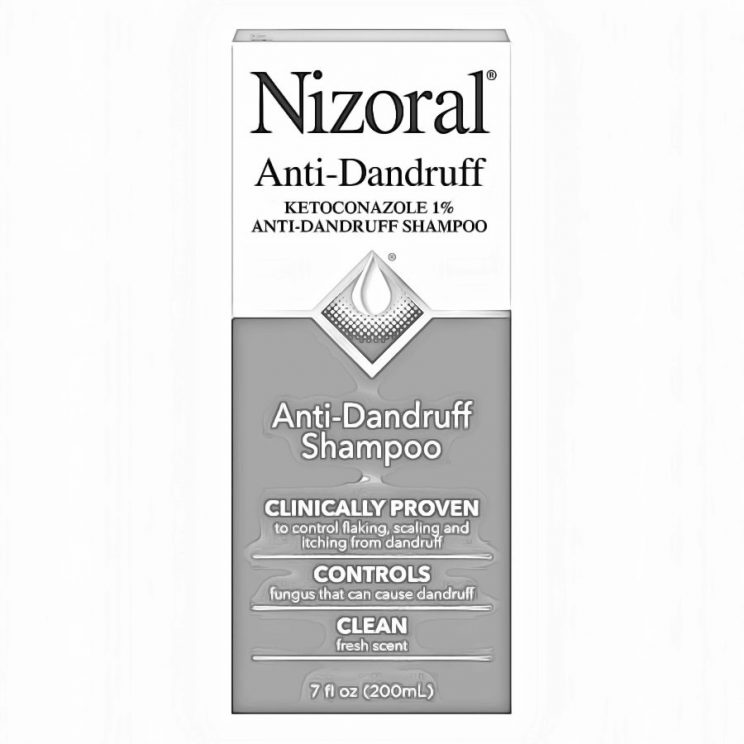 What stands out about this hair thickening shampoo:
Proven dandruff fighter
Antifungal and anti-inflammatory qualities
Results are possible within 2 months
The best hair thickening shampoo for:
Those looking for an anti-dandruff option.
Overview:
You may wonder why one of the most effective (if not the most effective) anti-dandruff shampoos is on a list of the best hair-thickening shampoos. It's a valid question.
Here's why: there's a link between dandruff and hair loss.
While dandruff may not directly lead to hair loss, it's caused by conditions on the scalp that don't create a healthy environment in which hair can thrive. Plus, scratching the itches caused by dandruff can injure your hair follicles, which may lead to hair loss.
Additionally, dandruff may increase hair loss in people with androgenic alopecia, a condition that leads to male and female pattern baldness.
This, in a roundabout way, leads us to Nizoral's Anti-Dandruff Shampoo with Ketoconazole.
Nizoral A-D is a dedicated dandruff fighter with proven results. Thousands of satisfied customers sing its praises on Amazon. It keeps the scalp healthy while greatly reducing the impact of P. ovale, a fungus found on every head but which impacts everyone differently.
Dandruff, those dreaded white flakes that end up on your clothes and are a source of embarrassment, represents the body's natural reaction to treating scalp fungus.
This reaction accelerates the growth of skin cell membranes while the old cells fall off, which leads to dandruff and its annoying itching and irritation. Flaking, irritation, and scaling may damage hair follicles and slow hair growth.
Nizoral A-D contains Ketoconazole, a major weapon to have in your arsenal for the fight against hair loss (and in the battle for thicker hair).
Ketoconazole has powerful antifungal and anti-inflammatory qualities that help people slow hair loss while achieving a fuller head of hair.
While other factors contribute to hair loss and thinner hair, fungus has its place among the usual suspects.
So, if you want a shampoo that can eliminate dandruff outbreaks while also potentially helping you to get a thicker mane, then Nizoral A-D is a solid choice. That it also rates among the best shampoos for thinning hair means it has an exceptional one-two punch.
Nizoral A-D works well for men and women and is strong enough that you only need to use it twice a week. Feel free to use your favorite shampoos and conditioners on the other days, but remember that Nizoral A-D has you covered in the fight against dandruff.
While it's strong stuff, Nizoral A-D also is gentle enough that you can use it on chemically-processed and color-treated hair—even on gray hair.
Most users appreciate that Nizoral A-D generates a thick, rich lather that provides a thorough cleaning of the hair and scalp. Your hair will look, feel, and smell fresh without looking dirty, greasy, or oily.
Some folks choose to use Nizoral in conjunction with a leave-in conditioner that helps restore volume and moisture to the hair. While you don't need a prescription to purchase Nizoral A-D, numerous users say that it's as powerful as many of the prescribed shampoos.
Nizoral suggests applying the shampoo while massaging it deeply into the hair and scalp, then letting it sit for several minutes before rinsing it off.
Using it only a few times a week for two months should get your dandruff under control, and then you'll only need to use it if dandruff flakes reappear.
Nizoral comes in 4, 7, and 14-ounce containers – all at a reasonable price. It also offers a full money-back guarantee if you return it within 56 days of your purchase.
Pros
Fights dandruff while treating thinning hair

You only need to use it a few times a week

Fresh, clean scent
Cons
Few, if any, but some users said it left their hair feeling dry
Bottom Line
It's hard to go wrong with Nizoral A-D. You can use it to get rid of dandruff but also to help treat damaged hair follicles while creating thicker, fuller hair. Many users rave about its range of benefits.
What stands out about this hair thickening shampoo:
Gives hair a silky soft texture
Deep-cleansing action
Natural ingredients
The best hair thickening shampoo for:
Those wanting a refreshed finish to their hair.
Overview:
Giovanni's products are all about natural and, in fact, it was the first full-range hair-care brand sold in natural product stores.
Founded by Hollywood (and Beverly Hills) hairdresser Arthur Guidotti, the Giovanni brand is committed to creating products that are as pure and natural as possible.
They're also products that deliver excellent results. The Giovanni Root 66 Max Volume shampoo is a game-changer for anyone with fine and thinning hair that needs a boost.
And it not only increases volume in limp, lifeless hair, it also provides a deep cleansing that leaves your scalp and hair feeling fresh and clean.
A key ingredient in the Giovanni Root 66 Max Volume shampoo is horsetail extract, which is a healing herb that's rich in nutrients that help keep hair hydrated and strong. It strengthens thin and fragile hair while protecting it from damage.
Reviewers, meanwhile, also like how the Root 66 shampoo leaves hair feeling soft and silky. There's no silicone buildup, which can also wreak havoc on the damaged hair.
Pros
Provides superior moisturizing to dry hair.

It doesn't contain sulfates and parabens and is safe to use on color-treated hair.

It's vegan and cruelty-free.
Cons
It feels a bit heavy to some.
Bottom Line
Giovanni's Root 66 shampoo nourishes, strengthens, and thickens hair with a powerful blend of vitamins, antioxidants, and omega fatty acids without stripping it of color.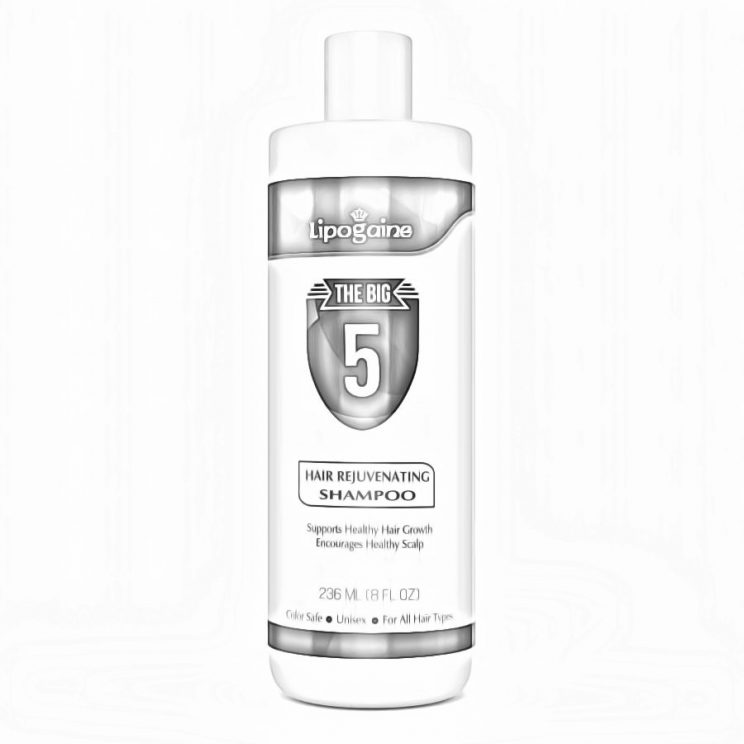 What stands out about this hair thickening shampoo:
Blocks DHT which helps against hair loss while stimulating hair growth
Excellent track record
Pleasurable mint aroma
The best hair thickening shampoo for:
Those looking for a shampoo containing Minoxidil.
Overview:
You've probably come across the Lipogaine name if you've done any research on hair loss and other products designed to treat thinning hair.
The Lipogaine portfolio consists of a number of products for thinning and receding hair for both men and women and has a solid track record of producing positive results.
Lipogaine Big 5, like other Lipogaine products, consists of all-natural ingredients that help support healthy hair while nourishing hair follicles. It's also safe for all hair types and colors because it doesn't contain toxic substances like sulfates, parabens, or phthalates.
What it does include is biotin, caffeine, argan oil, castor oil, and saw palmetto, all of which together can help thicken hair and even slow hair loss. Combining all five ingredients in one shampoo represents a nice value and convenience combination.
Like other quality hair thickening and hair regrowth shampoos, Lipogaine's Big 5 gets results by blocking DHT, a major culprit in hair loss.
While DHT is essential for the formation of male biological characteristics, such as a deeper voice, body hair, and muscle growth, it can also attach to hair follicles and block the vitamins and minerals needed to nourish them.
As a result of DHT's effects, hair follicles shrink and become thinner while also reproducing at a slower rate until growth stops altogether. DHT also causes scalp inflammation, which makes hair weaker and more likely to thin and fall out.
Lipogaine not only reduces DHT levels but also stimulates hair growth by increasing blood circulation to the scalp, which, as mentioned, means the hair follicles get the proper amount of nutrients they need to thrive.
Let's not forget about minoxidil, though! Minoxidil, the only over-the-counter medication for hair loss with FDA approval, helps make Lipogaine's magic possible. It's also said to work for two out of three men who are looking to stimulate hair growth.
How Minoxidil works comes down to the fact that it's a vasodilator, i.e., a drug that dilates blood vessels to make it easier for blood to flow through them (it's sometimes used to treat high blood pressure).
That's important for men suffering from hair loss that, in part, is due to a lack of vitamins and minerals reaching their hair follicles.
Lipogaine for men contains a 5% solution of Minoxidil, but Lipogaine isn't for men only. It also comes in a formula made specifically for women, which contains 2% Minoxidil.
Some dermatologists prescribe a 5% solution for women who suffer from androgenetic alopecia, one of the most common causes of hair loss. All in all, Lipogaine 5 is one of the best shampoos for women with thinning hair.
While many women experience excellent results from products that contain Minoxidil, it may cause unwanted hair growth – such as on the face – although the risk is low for those who use the 2% solution.
The castor oil found in the Big 5 formula boosts your hair's overall health because it has anti-fungal and antibacterial properties. It wards off would-be scalp infections while also fighting dandruff – which not only is unsightly and uncomfortable, but can negatively impact hair growth.
Lipogaine is also safe to use, or at least more tolerable, for men and women with sensitive scalps. That's one of the pluses of using a product made from premium organic ingredients.
To apply Lipogaine, start by wetting your hair thoroughly.
Apply the shampoo and work it into a generous lather, then leave it on your scalp and hair for at least one minute before rinsing it off. You can apply it twice, leaving it on your scalp for two to four minutes in the second application.
Lipogaine also has a pleasant mint smell that many users love.
Pros
Five important hair thickening ingredients in one product

Effective for men and women

Antibacterial and antifungal
Cons
You may need to use a conditioner to prevent hair from becoming too dry
Bottom Line
Lipogaine's Big 5 has you covered with a shampoo that packs five proven hair loss-fighting ingredients into one formula. It also contains Minoxidil, the only over-the-counter hair loss/hair growth medication with FDA approval that's suitable for men and women.
What stands out about this hair thickening shampoo:
Established reputation
Contains vitamins, minerals, and proteins which boost hair health
Easily absorbing
The best hair thickening shampoo for:
Those looking for a 'tried and trusted' option.
Overview:
A common ingredient that keeps popping up while researching hair thickening and hair regrowth products is caffeine. Most of us know that caffeine adds a nice pick-me-up to coffee – especially in the morning when it's often hard to drag our asses out the door.
But caffeine has other benefits, too, including that it stimulates the hair and scalp.
Companies like Alpecin take full advantage of those benefits with products said to make hair thicker and even promote hair growth (although claims about the latter are often met with skepticism).
We'll delve more deeply into caffeine when we discuss common hair thickening shampoo ingredients a bit later, but it works to stimulate the hair and scalp in a couple of ways.
First, it relaxes smooth muscle fibers around hair follicles to help improve circulation to the scalp, which means more vitamins, minerals, and protein are available for optimal hair health.
But caffeine also inhibits DHT production, which we've already discussed as being a prime suspect in any case of hair loss and thinning hair.
Caffeine is the primary active ingredient in Alpecin's signature shampoo. It absorbs easily into the scalp to reduce DHT and to help revive dormant hair roots. It also helps strengthen hair follicles while adding overall volume to hair.
Alpecin, based in Germany, is hardly a newbie in the hair loss game; after all, it has been around since 1905. Designed specifically for men, their Caffeine Shampoo is one of Germany's biggest sellers and has sold over 100 million bottles over the years.
Alpecin's Caffeine Shampoo for men continues to penetrate the scalp and deliver scalp and hair benefits even after it's rinsed out at the end of the shower.
Alpecin also says that the longer you leave their Caffeine Shampoo on your head before rinsing, the more benefits you'll experience, and you should always leave it on for at least two minutes.
Besides treating hair loss and helping to thicken hair, the Alpecin Caffeine Shampoo also treats scalp issues, such as dandruff and itchy and sensitive skin. It's suitable for all skin types.
Pros
Reduces DHT

Stimulates dormant hair roots

Works well for treating other scalp issues, such as dandruff
Bottom Line
There's a reason Alpecin's Caffeine Shampoo is such a big seller, namely because many men have experienced excellent results by using it. It's excellent for treating hormone-related hair loss, as well as other scalp-related issues.
What stands out about this hair thickening shampoo:
Contains biotin, among other hair thickening ingredients
Free of harsh chemicals
Moisturizes scalp
The best hair thickening shampoo for:
Containing biotin.
Overview:
Big 3 is the original Lipogaine Shampoo.
While Lipogaine 5 gets plenty of rave reviews and nods as the best shampoo for hair growth and thickening, that's not to say the "original" is any less effective. Indeed, it's still an important, quality product in the world of hair loss treatment.
Like Lipogaine 5, the Big 3 shampoo contains Minoxidil and ketoconazole but also biotin.
Also known as Vitamin B7, biotin is often referred to as the "hair growth vitamin." As we'll discuss later, Biotin helps maintain and support the protein infrastructures that make new hair growth possible.
A couple of other key ingredients in the Big 3 are castor oil and emu oil. Castor oil, used in many different home remedies, helps treat skin infections while also killing bacteria and fungus that may lead to, among other things, dandruff and other scalp issues.
Emu oil – yes, it's derived from an emu bird – is an anti-inflammatory that helps treat a variety of skin conditions, including those on the scalp. One of the more common causes of hair loss is severe inflammation of the scalp. Emu oil also helps to moisturize the scalp.
Also, like Lipogaine 5, the Big 3 shampoo is free of harsh chemicals that can wreak havoc on the hair and scalp, especially for men and women with sensitive skin.
There's a lot more to like about Lipogaine Big 3, including:
It's designed for men and women
It's safe for all hair types
It's safe and effective for use on color-treated hair
It has a gentle formula that, as mentioned, contains no harsh chemicals
It's affordable when compared to many other hair thickening and hair loss shampoos
Lipogaine's Big 3 also comes with a 90-day money-back guarantee, which demonstrates manufacturer confidence.
You only need to use Big 3 two to three times a week to reap its hair-thickening benefits. Massage it into your scalp and (wet) hair thoroughly for one to three minutes, then leave it on for up to five minutes before rinsing it off.
You can use your favorite shampoo – preferably one that's organic – on the days that you don't use Lipogaine Big 3.
Pros
Suitable for all hair types

Long list of organic ingredients

100% satisfaction guarantee
Cons
Some say the formula may be watered down and contains less ingredients
Bottom Line
Lipogaine Big 3 is still relevant after all these years and a top-notch strengthening shampoo. Many, many users still swear by its plethora of benefits.
What stands out about this hair thickening shampoo:
Free from harsh chemicals
Organic formula
Fuses skincare with hair care
The best hair thickening shampoo for:
Those looking for chemical-free, organic option.
Overview:
Founded in 2014, Brickell has grown to become a prominent player in men's skincare and grooming products, thanks to, in part, its emphasis on natural and certified organic ingredients.
It also makes quality products, however, and its Men's Daily Strengthening Shampoo is among the best thickening shampoo for men.
The latter is packed with ingredients that help strengthen and thicken hair: peppermint and tea tree oil, Vitamin E, amino acids, hydrolyzed protein, silk protein, aloe leaf juice, vegetable glycerin, and more.
Peppermint and tea tree oil, found in many hair strengthening and thickening products, help stimulate the hair follicles on the scalp while preventing dandruff, as well as creating an invigorating scent that's hard to beat.
The amino acids found in Brickell's Daily Strengthening Shampoo help restore your hair's natural shine while also helping to increase the follicle volume.
Hydrolyzed wheat protein helps increase the thickness of hair strands while strengthening the underlying hair structure. Vitamin E also helps to stimulate the scalp to help thicken hair while also limiting the amount of hair loss.
Because it contains no sulfates, parabens, glycols, silicones, synthetic fragrances, or phthalates, the Men's Daily Strengthening shampoo is suitable for all hair and skin types.
You can use it daily without worrying that you're going to irritate your scalp or that your hair will become dry and brittle.
Pros
Loaded with natural ingredients, no harsh chemicals

Strengthen and thickens hair

Safe for use on all hair types

Good for your skin too
Cons
Some users aren't enamored with its scent
Bottom Line
Brickell's long list of quality men's grooming products includes its Daily Strengthening Shampoo. It not only strengthens the hair and improves overall scalp health, but it also leaves your hair with a look that's fuller and thicker.
How we chose the best hair thickening shampoos
Most shampoos claim to thicken hair, but not all deliver results. As with reviews of any grooming products, our goal for this article is to deliver pertinent information that helps you make a wise buying choice without just accepting a shampoo's claims at face value.
What makes a particular hair thickening shampoo better than others?
As mentioned, results matter, but so do many other factors, including its ingredients, how well it performs its other functions (such as cleansing hair), and whether it serves multiple purposes, such as also serving as a dandruff fighter.
Customer reviews always carry a lot of weight when we're choosing between multiple products, as do any studies that show whether certain products or ingredients really do work.
6 Tips on how to get the most from your hair thickening shampoo
Now that you've found the most suitable hair thickening and hair strengthening shampoo for you, it's time to see what it can do. While using it doesn't differ all that much from using regular shampoo, it's important to keep a few things in mind:
1. Less is often more
Read the instructions on your shampoo bottle carefully before you apply it. They should provide the recommended frequency of use and, in many cases, you may not need to use it as much as you'd think—or, for that matter, shouldn't use it as much as you'd think.
Although many hair thickeners are gentle and safe enough for daily use, some provide sufficient results when used two to three times a week. Plus, over-using any hair product may cause hair to become brittle, lifeless, or even to shed.
People with oilier, greasy hair often think that they need to wash their more frequently, but too-frequent washing encourages the scalp to produce even more oil, making it become greasy faster.
Keep in mind as well that dandruff is often caused by fungal overgrowth, which you don't know about until your skin starts flaking. Not over or undergoing it with products should let your skin glands settle and produce normal levels of oils, which in turn will keep fungal growth in check
2. Apply it to wet hair
As with regular shampoo, you should apply hair thickening shampoo to wet hair.
3. Massage it deeply
Make sure that you massage your shampoo into your hair and scalp deeply to maximize its effects.
Don't rush it if you don't have to: hair experts recommend a one- to three-minute massage to ensure that your hair and scalp absorb all of the shampoo's ingredients. Plus, massaging your hair and scalp may stimulate dormant hair follicles to spring back into action.
4. Let it sit
Once you've thoroughly massaged your shampoo into your hair and scalp, let it sit for a couple of minutes before rinsing it out. Again, this allows the hair thickening shampoo's ingredients to become absorbed by the scalp while working their magic.
If you need to give yourself a little extra time in the morning to apply your shampoo, so be it.
5. Repeat only if necessary (which isn't often)
In most cases, one application of hair thickening shampoo is enough (never mind the "rinse and repeat" mantra). Unless you hear otherwise, like from a doctor or dermatologist, "rinse and be done with it."
6. Maintain a healthy diet
Finally, lifestyle factors also can influence hair loss and growth, particularly diet. Eating a healthy diet, particularly one that's rich in protein, will also feed your scalp while strengthening hair.
A diet rich in vitamins, such as Vitamins C and B, also helps strengthen weak hair while improving its texture.
Most common causes of hair loss in men and women
We've said it before, but it's always worth repeating: if you suffer from hair loss, you're not alone. Not that knowing that others also suffer from hair loss makes it any easier, but it may help relieve the "Why me!?" angst that many suffer.
Statistics tell us that nearly two-thirds of all American men will experience some degree of noticeable hair loss by the age of 35. That jumps to 85% by age 50.
Here's something else to consider: approximately 25% of all men who suffer from male pattern baldness start showing signs of it by the age of 21.
Permanent hair loss also affects 40% of all women in their lifetime. Come to think of it, all of us experience some hair loss when you consider that each of us sheds about 100 strands of hair each day.
Getting back to the question of "Why me?", if you suffer from hair loss, it usually comes down to several factors.
Gender
The bottom line is that men are more likely to experience hair loss than women.
Why?
Because men are more prone to a condition called androgenic alopecia, a genetically-inherited condition in which hair loss starts at the temples and works its way to the back of the head.
Hair is also lost at the crown of the head in most cases, as well.
Here's the other kicker, fellas: hair loss is more noticeable in men than women.
Women lose hair all over the scalp, but usually not in a blatantly obvious way, such as receding temples; women tend to keep their hairline, and the first sign of hair loss is usually in their part.
Women's hair loss is also more gradual. Sorry, gents, but those are the facts of life.
Genetics
If your grandfather or father suffered significant hair loss, the odds are greater that you will, too. Hereditary hair thinning or baldness has a scientific name – androgenetic alopecia – affecting some 80 million people in the United States.
Hormones
Dihydrotestosterone (DHT) is a 19-letter bad word for a lot of men. Why? Because men whose hair is overly sensitive to DHT are more prone to suffer from another nasty acronym: MPB (a.k.a. male pattern baldness).
The reason DHT is such a bitch is that it shrinks hair follicles, which results in thinner and finer hair until hair growth stops.
It all starts with testosterone that's converted to DHT, but it's important to note that an over-abundance of testosterone doesn't mean that you're more likely to lose your hair.
Many, many men who are bald or experience hair loss are still able to grow magnificent beards. And the bald-head-with-beard-look often rocks.
Hormones are also a culprit in hair loss for women, whether it's because of pregnancy, menopause, or a change in birth control. Women are also affected by rising DHT levels, which then leads to female pattern baldness and hair follicles that no longer grow.
Some women also experience hair loss after giving birth due to falling estrogen levels. Still, this type of hair loss is only temporary, and women will see their hair regain its normal thickness in a couple of months.
Age
There's nothing too complicated here: the more we age, the more hair we lose. There are plenty of reasons for this, including that hair follicles become weaker and more fragile due to a decrease in keratin protein levels and fatty acids and also become thinner.
It's no wonder that older men with a full head of hair are so worthy of our admiration.
Other factors that can cause hair loss in men and women
Hair disorders
There are many other reasons why hair starts to thin and fall out.
If you are serious about combatting hair loss, it pays to know the true cause. While the other causes of hair loss on the list should have serious consideration, not everything comes down to male pattern balding caused by too much DHT.
In fact, even if you do knowingly suffer from male pattern balding, there is every chance that there is something else going on that is accelerating your hair loss. Either way, by knowing specifically what is going on, you can then take steps to utilize the best treatments available for your hair.
If you do not have a formal diagnosis regarding your hair loss, then one thing you can do at home is look at the distribution of your hair loss.
Why?
Well, having patchy or diffuse hair loss is the first main clue into what may be causing your hair to be thin.
Our main culprit of male pattern balding (androgenetic alopecia) ironically doesn't fit neatly into either category. It can be diffuse or patchy, but it always follows the same pattern, hence the name.
So what are the other types of hair loss? There are many rare types, but the most common can be found below.
Firstly we have patchy hair loss. If your hair is falling out in clumps, then often the culprit is alopecia areata, tinea capitis, or something called trichotillomania.
Diffuse hair loss, i.e., what many see as simply 'thinning hair,' is often a type of effluvium, either anagen or telogen effluvium.
Below you will see each hair loss type and its distinguishing features:[1]
Androgenetic alopecia
Known as male pattern balding, this usually begins with thinning at the front and top of the scalp. It can spare the hair around the sides and back of the head or continue to complete baldness.
Women can also suffer from this type of alopecia, known as female pattern balding. In this form, it presents as thinning of the hair at the top of the scalp while sparing the hairline at the front.
Alopecia areata
This appears as quick hair loss in patches, with many short young hairs. The cause is actually unknown, but it is assumed that the immune system itself attacks hair follicles.
Telogen effluvium
Patches and clumps of hair coming away from the scalp, usually after brushing or in the shower. It is associated with high emotional or physiological stress.
Stressors can include a wide range of things, from having a high fever to malnutrition and long term illness. There are also certain medications that can start the process, so check with your doctor if you take a high number. Culprit medications include some retinoids, blood pressure tablets, and antithyroid medicines.
Triggers tend to occur 2-5 months before the hair loss begins.
Tinea capitis
Caused by a fungal infection of hair follicles, this requires oral medication as well as topical treatments like ketoconazole shampoo. Seen as patchy hair loss, occasionally with scaliness of the scalp.
The risk of tinea capitis increases with exposure to contaminated hats at work or home, brushes, and barber's instruments.
Trichorrhexis nodosa
With this condition, hair loss is diffuse and tends to look unkempt. This condition is due to repetitive habits damaging genetically fragile or weak hair. Typically caused by heating, styling, and brushing the hair to the point of breaking – these factors can affect healthy hair too but to a much lesser extent.
Damaging conditions can include frequent bleaching, overexposure to saltwater, and more.
Trichotillomania
Literally translated as 'hair-pulling madness' in ancient greek, patches of hair loss appear mainly at the front of the head and progress backward. Hair loss of the eyelashes and eyebrows may also be apparent. This is a repetitive behavioral condition that can be conquered by reducing stress or seeking professional medical help.
Disease
In the case of some diseases, such as anemia and thyroid disease, hair loss is one of the first symptoms. Hair loss often stops after successful treatment of the disease, however.
Cancer treatments, such as radiation therapy and chemotherapy, can cause hair loss, although it's often temporary.
Lifestyle factors
Too much stress, smoking, poor nutrition, alcohol abuse, and some medications can lead to hair loss. So can the use of hair styling tools, such as blow dryers and flat irons, as well as hairpins, clips, and rubber bands.
Proven shampoo ingredients for thickening hair & treating hair loss
You're not alone if you've asked whether hair thickening shampoos truly work. Considering our reviews of products and their hair-friendly virtues, we think they do – but not always in a way you might think or desire.
Indeed, while the marketers of hair thickening shampoos may lead you to believe that their product will prompt actual hair growth, the truth is that most hair thickening shampoos only make hair thicker, just as their name suggests.
The shampoos remove dirt, oils, and product buildup from the hair and scalp while also "plumping" each strand of hair to make it fuller and to occupy more space on your scalp.
While no new hair may appear, the hair you have has a fuller feel and look. There's nothing wrong with that. How it accomplishes that comes down to its ingredients, such as the ones we list here that can be found in a wide range of hair thickening and hair loss shampoo.
Ketoconazole
The primary purpose of Ketoconazole in hair loss and thickening shampoos is to treat fungal infections on the scalp, as well as dandruff buildup.
It's also a powerful inflammatory; in short, it resolves a lot of issues, current or potential, on your scalp that can lead to thinning hair and hair loss.
Ketoconazole became available in the 1980s as an oral supplement used to treat common fungal infections and conditions. It later came out in a liquid form and was added to many other products and supplements, including shampoo used to treat hair loss.
Last but certainly not least, Ketoconazole contains chemical compounds that counteract the effects of dihydrotestosterone (DHT) levels.
DHT binds to hair follicles and damages them while also accelerating hair loss. The less DHT present in hair follicles, the more likely hair will grow.
To get a bit scientific, Ketoconazole belongs to a class of antifungal medications known as imidazoles. As mentioned, it's highly effective for slowing fungus growth that leads to infections and irritable skin conditions.
It also comes in a cream used to treat a variety of other issues, including ringworm, yeast infections of the skin, athlete's foot, and jock itch.
Caffeine
Caffeine is not unlike activated charcoal in that it has become a key ingredient in many grooming products in the past several years.
With many success stories attributed to caffeine's positive impact for treating hair – as well as several studies to back it up – it doesn't figure to fall out of favor anytime soon.
And, no, no one is asking you to pour some of your morning java over your head (especially when it's hot), but the caffeine found in coffee, tea, cacao beans, etc., is the same stuff found in shampoos used to help thicken hair.
The fact is caffeine is a white, crystalline stimulant that's naturally found in a certain class of alkaloids.
While coffee drinkers understand how caffeine works to lift the mental fog in the morning while providing a nice kick-start to the day, many people who use hair products infused with caffeine like what it does for their luscious locks.
It does work for treating thinning hair in many cases—of that no one has doubt. A 2007 study found that caffeine stimulated hair follicles while increasing hair growth and slowing (or preventing) hair loss.
How it works relates specifically to how it suppresses the effects of the dreaded DHT, a leading cause of male pattern baldness. Before you go out and start drinking lots of caffeine, remember that it needs to be applied topically (to the skin) for there to be any beneficial effect. It is also known to enhance hair shaft elongation in both men and women.
Last but not least, caffeine extends the active (anagen) stage of the active hair growth cycle. Men and women who suffer from androgenetic alopecia – a scientific name for the balding process – have a shorter anagen phase than those who don't.
When applied topically, caffeine is absorbed into the scalp without harmful side effects—at least that's what the research shows, so far.
The caffeine that you ingest in beverages and food makes its way to your bloodstream and eventually reaches your hair follicles but not at a high enough level to make a difference to hair loss.
Nowadays, scientists and doctors say it would take 60 cups of coffee to get the same hair-beneficial effects as you would with caffeine-infused shampoo.
Don't drink 60 cups of coffee if your hair is thinning, friend. Among other potential health issues, it puts you at a greater risk of a heart attack.
Glycerin
Glycerin is another popular ingredient found in hair thickening shampoo and is a natural oil that helps lock moisture into the hair. Moisture retention is important for all types of hair, but especially for thin, fine, or dry hair.
Glycerin pulls moisture into hair follicles and locks it in to prevent hair from becoming dry or frizzy and to prevent it from breaking off, yielding split ends. In turn, the hair is healthier, and healthier hair always grows better and, in most cases, appears thicker and fuller.
Be careful not to overuse glycerin because it can make your hair feel greasy or waxy.
If you want to use glycerin on its own (not in a shampoo), mix equal parts water and glycerin in a small mixture that's enough to run through your hair.
Apply the mixture after you've washed and conditioned your hair – but before it's dry – while working it in with your fingers.
Leave the glycerin/water mix in your hair for up to five minutes, and then rinse out the excess with warm water.
Don't worry if you have a sensitive scalp – you can still use glycerin. A multi-study test found that 50% strength glycerin was not irritating, even to patients who had pre-existing dermatitis.[2]
Amino Acids
To understand how important amino acids are to hair health, simply consider that they're the building blocks of protein. The protein keratin composes nearly 90% of your hair, and the body needs about 20 different amino acids to produce keratin.
In short, the body cannot produce enough hair fibers without the right amount of amino acids. While studies show that amino acids applied topically benefit hair growth, they're generally more beneficial when part of a healthy diet.
Among the most important amino acids for hair health is cysteine, methionine, lysine, and glycine.
Research has shown that amino acid solutions don't really work for hair. But amino acids incorporated into a hair conditioner are quite a different story. When mixed within a conditioner, there are a number of differing positive effects based on the amino acid involved.
Uptake of pyrrolidone carboxylic acid (PCA), a derivative of glutamic acid, is enhanced by combining with arginine, an amino with a strong affinity towards the hair. Hair conditioners that include alanine improve the health of bleach-damaged hair, preventing water overload. Histidine and phenylalanine were found to improve the strength of hair, reducing the amount of loss by brushing and styling.[3]
Biotin
Biotin is beneficial for a long list of bodily processes, including growing a healthy head of hair. Research shows that hair loss is, in part, a consequence of biotin and zinc deficiency.
Also known as Vitamin B7, biotin supports cell growth, both when used topically and internally, and increased cell production means an overall healthier head of hair. But there's more:
Biotin aids in the transfer of carbon dioxide. That's important because the buildup of carbon dioxide within hair damages follicles while also leading to scalp damage and other issues, not the least of which is hair loss.
Biotin aids in cell repair. The body's cells become damaged – or die – for many reasons, both natural and unnatural, including the cells of the hair and scalp. Thus, the repair of damaged cells is vital for healthy hair growth.
Biotin also improves the overall health of skin and nails.
Saw Palmetto
The use of saw palmetto for medicinal purposes dates back centuries – as far back as the ancient Mayans and Native Americans, in fact – but its role in the quest for healthier hair is more recent, and research results are promising.
Specifically, saw palmetto – which comes from a plant native to the Caribbean and found in the southeastern United States – works in much the same way as finasteride (Propecia) regarding hair health.
Both saw palmetto and finasteride block the conversion of testosterone into DHT, the arch-nemesis of hair growth. By lowering DHT levels on the scalp, saw palmetto (like finasteride) increases the amount of hair during the anagen stage of hair growth.
There's been plenty of research regarding saw palmetto and its impact on healthy hair. Many hair thickening and hair loss shampoos contain saw palmetto, which comes in both oil and capsule forms.
Like finasteride, saw palmetto is also beneficial for treating an enlarged prostate.
Essential Oils
Many, many shampoos used to thicken hair and promote its regrowth include essential oils. Considering the benefits of essential oils for treating a variety of health issues, including those found on your scalp and hair follicles, that's not surprising.
In short, essential oils are highly-concentrated natural oils found in plants. They're extremely concentrated and potent, so you can't apply them directly to your skin or scalp; they must be mixed with carrier oils to become diluted enough that they don't cause harm.
As their name suggests, carrier oils are used to carry other substances, such as essential oils, to an area that benefits from the medicinal and healing properties of essential oils (such as the scalp and hair).
There's no shortage of essential oils used for medicinal purposes, including those that help thicken hair, slow hair loss, and even help regrow hair. Let's take a look at some of them:
Peppermint oil
The strongest peppermint oils are essential oils made by using modern distillation techniques, and peppermint essential oil is the most common form of the oil available for purchase.
Many people incorporate peppermint oil into their overall grooming and hair care regimen because of its many benefits, including that it's antimicrobial, anti-inflammatory, and analgesic.
Many studies show that peppermint oil may aid in the hair growth process. Menthol, the main component of peppermint oil, increases blood flow to where it's applied, including the scalp. In turn, better blood circulation encourages better hair growth in affected areas.
However, use it with caution because peppermint oil is irritating to the skin and scalp for some people.
One study, published in Toxicological Research, suggested that peppermint oil may even be better for promoting hair growth than minoxidil, the hair growth product approved by the U.S. Food and Drug Administration (FDA).
Among peppermint oil's other benefits is that it has a fresh smell and creates a tingly sensation on the skin and scalp.
Lavender oil
Lavender oil also offers a variety of hair and scalp benefits and has antibacterial and anti-microbial properties that improve scalp health. It also helps to control dandruff and keep hair looking shiny. Plus it smells amazing!
While you'll find lavender oil in many hair thickening and hair loss shampoos, you also can apply it directly to your scalp by mixing it with a carrier oil, such as olive oil or coconut oil. Leave the solution on your hair for 10 minutes before shampooing like you usually would.
Tea Tree oil
Many folks extol the virtues of tea tree oil for creating thicker hair, and with good reason. For one, tea tree oil unclogsunplugs hair follicles, promoting hair growth, and it also has antibacterial and anti-microbial properties that help keep the scalp healthy and prevents inflammation.
Tea tree oil also helps treat dandruff, as well as psoriasis and seborrheic dermatitis, which both cause an itchy, red rash on the scalp.
Like lavender oil, you can mix tea tree oil with a carrier oil and apply it directly to your scalp. Leave it on for approximately 15 minutes before rinsing it out.
Rosemary oil
Rosemary oil also packs a powerful one-two punch that improves hair thickness and growth.
Among its many benefits is that it increases blood circulation to the scalp and stimulates root growth while assisting with the treatment of thinning edges and bald spots.
Some experts suggest that rosemary oil performs as good as minoxidil without itching. That's a common side effect of the latter.[4] Combined with peppermint oil, users may find that these two essential oils are a better choice than using medication like minoxidil.
Cedarwood oil
Cedarwood essential oil helps promote better hair and scalp health by balancing the oil-producing glands – and the amount of sebum they produce – in the scalp.
Cedarwood also has antifungal properties that help treat dandruff, and it acts as an antibacterial to help resolve scalp conditions that may lead to a loss of hair.
Lemon oil
Lemon oil, or lemongrass oil, is another effective fighter against the causes of dandruff and has many antibacterial qualities. It's even used to treat acne.
Thyme oil
Essential oils are strong stuff; thyme oil is particularly strong, even among essential oils. It helps promote hair growth and hair thickness by stimulating the scalp.
Jojoba seed oil
Jojoba seed oil is similar to sebum, the natural oil produced by your scalp, making it an excellent moisturizer for hair.
Zizyphus Jujuba oil
Not to be confused with Jojoba oil, Jujuba or Chinese Date has been used in Chinese medicine for centuries as an anti-anxiety treatment. There is some initial evidence that using a 1% formulation results in faster hair regrowth.[5]
Castor oil
Castor oil is a carrier oil, and its therapeutic qualities include helping to promote thicker hair, hair growth, and overall scalp health. Like many of the other oils listed here, castor oil has a long, long history of use for medicinal purposes, including for hair and skin health.
There are many reasons why castor oil is beneficial to hair health, including:
Castor oil is a humectant, which means it absorbs moisture from the environment while preventing the loss of moisture – such as on the scalp and hair. We've already talked about the importance of proper moisture for maintaining healthy hair; that's particularly true if you have naturally dry or frizzy hair.
Castor oil is a lubricant for the hair and protects it from friction damage caused by frequent washing and combing. It helps you to get thick, glossy hair but without the greasiness.
Castor oil contains the Omega-9 fatty acid that helps moisturize and nourish your hair, scalp, and roots.
Castor oil also acts as a natural conditioner to prevent hair from becoming brittle and dry. It helps make your hair soft and shiny while also retaining its natural "bounce."
Castor oil doesn't clog pores even as it works to remove dirt, dead skin, and dry flakes.
Castor oil also has antibacterial and antifungal properties that protect the scalp from infections and other issues that can lead to hair loss. It even soothes an itchy, flaky scalp.
Vitamins
Your body requires raw materials to perform its daily functions, which include producing skin, muscle, and bone. Vitamins – which work in concert with minerals – perform hundreds of roles in the body, including that of building healthier hair.
Not all vitamins are great for your hair, however, but among those that are beneficial are the following five:
Vitamin C
An iron deficiency is said to be among the causes of hair loss, and Vitamin C helps the body absorb more iron into the blood. It also plays an essential role in the body's production of collagen, which is an essential component of the hair's structure.
In short, Vitamin C can help give you thicker, fuller hair.
Vitamin B3 (Niacin)
Another important vitamin to have on your side in the quest for thicker hair is niacin. Niacin helps the body to maintain healthy cells, including the cells of hair follicles. Healthy hair is hair that has less breaking, shedding, and loss.
Vitamin A
Vitamin A plays a vital role in maintaining a healthy body, including that it aids in cell growth. It also helps the skin produce sebum, the oily substance that moisturizes the scalp while keeping hair follicles healthy. Vitamin A deficiency can lead to dry hair ,and hair loss and even dandruff.
Vitamin E
Research suggests that people who suffer from hair loss have fewer antioxidants present in the scalp and more oxidative damage. Vitamin E is a powerful antioxidant that protects against oxidative damage.
Vitamin D
Vitamin D deficiency is another factor that's linked to hair loss. It's also thought that Vitamin D helps in the formation of new hair follicles.
Proteins
We've talked about the important role keratin plays in overall hair health and for creating thicker hair, but other types of proteins are similarly beneficial:
Wheat protein
Wheat protein helps to add volume to hair while also helping its follicles retain moisture. Moreover, it adds a protective film over the shaft.
Hydrolyzed wheat protein is the most common type found in natural products; hydrolyzed means the chemical compound is split into smaller units through hydrolysis.
Research has concluded that wheat protein 'possesses excellent properties in recovering damaged hair, making the surface of hair smooth and compact.'[6]
Rice protein
While there's some debate about the effectiveness of rice proteins for creating healthier hair, various research shows that brown rice proteins help strengthen and protect hair follicles while keeping them from drying out.
Like wheat protein, the process of hydrolysis breaks down rice protein into smaller units.
Silk protein
Silk is an exceptionally strong natural fiber, and silk proteins create a protective barrier on hair follicles to help prevent damage. They also make hair more elastic and flexible, helping for styling purposes while also locking in moisture.
Argan oil
Another oil worth mentioning is argan oil, which serves as a carrier oil for essential oils. Argan oil is thought to be the most expensive edible oil worldwide as it only grows in a limited geographical area, notably Morocco and Algeria.[7] The oil is a natural extract from the fruit of argan trees, specifically from the hard-shelled nuts found within the fruit.
Argan oil helps treat hair loss and promote thicker hair for several reasons:
Massaging Argan oil into the scalp improves blood circulation, enabling hair follicles to get the nutrients they need to survive.
It helps to moisturize the scalp while also helping to eliminate dandruff and other scalp conditions.
It has anti-inflammatory properties, which can help reduce the effect of any conditions affecting the scalp
It helps to treat split ends and frizziness, which are common traits of thinning hair.
Emu oil
Emu oil comes from the adipose tissue of a certain subspecies of the emu, a flightless bird indigenous to Australia. It contains at least 70% fatty acids, including oleic acid.
But how does emu oil benefit hair growth and fight against hair loss? Perhaps most importantly, it's an anti-inflammatory; one of the more common causes of hair loss and thinning hair is severe inflammation of the scalp.
For those of us using Minoxidil, utilizing Emu oil at the same time can result in over twice the number of hairs in the growth phase when compared to using Minoxidil alone.[8]
Conclusion
Dealing with thin hair and hair that's shedding too rapidly isn't a laughing matter for most people. The good news is that there are plenty of products that address these issues, including several quality hair thickening shampoo options.
We hope this article will help you find a solution to your thinning hair. We also welcome your input.
Do you have a favorite hair thickening shampoo? Have you tried any of those on our list? Let us know!
References
Phillips, T. Grant, et al. "Hair Loss: Common Causes and Treatment." American Family Physician, vol. 96, no. 6, Sept. 2017, pp. 371–78
Becker LC, Bergfeld WF, Belsito DV, Hill RA, Klaassen CD, Liebler DC, Marks JG Jr, Shank RC, Slaga TJ, Snyder PW, Gill LJ, Heldreth B. Safety Assessment of Glycerin as Used in Cosmetics. Int J Toxicol. 2019 Nov/Dec;38(3_suppl):6S-22S.
Oshimura E, Abe H, Oota R. Hair and amino acids: the interactions and the effects. J Cosmet Sci. 2007 Jul-Aug;58(4):347-57. PMID: 17728935.
Panahi Y, Taghizadeh M, Marzony ET, Sahebkar A. Rosemary oil vs minoxidil 2% for the treatment of androgenetic alopecia: a randomized comparative trial. Skinmed. 2015 Jan-Feb;13(1):15-21. PMID: 25842469.
Yoon JI, Al-Reza SM, Kang SC. Hair growth promoting effect of Zizyphus jujuba essential oil. Food Chem Toxicol. 2010 May;48(5):1350-4. doi: 10.1016/j.fct.2010.02.036. Epub 2010 Mar 3. PMID: 20206225.
Wang S, Meng D, Wang S, Zhang Z, Yang R, Zhao W. Modification of wheat gluten for improvement of binding capacity with keratin in hair. R Soc Open Sci. 2018 Feb 7;5(2):171216. doi: 10.1098/rsos.171216. PMID: 29515840; PMCID: PMC5830729.
Menni, Hanane Ben et al. "Anti-inflammatory activity of argan oil and its minor components." International journal of food sciences and nutrition vol. 71,3 (2020): 307-314. doi:10.1080/09637486.2019.1650005
Shatalebi, M A, and Y Rafiei. "Preparation and evaluation of minoxidil foamable emu oil emulsion." Research in pharmaceutical sciences vol. 9,2 (2014): 123-33.