7 Best Biotin Shampoos for Hair Growth That Actually Work
This post may contain affiliate links. Learn more.
To say there are many methods for fighting hair loss is stating the obvious. Hair loss solutions abound, with a mixed bag of results.
Biotin shampoo is one of those solutions and many have experienced positive results when using it.
In a hurry? Here are our top picks:
DS Labs' Revita Hair-Stimulating Shampoo
DS Labs' Revita Hair-Stimulating Shampoo is the best biotin shampoo you'll find: it helps combat thinning hair, and uses their patented Nanosome delivery system to optimize the effects.
Pura D'Or Professional Grade Anti-Hair Thinning Shampoo & Conditioner
Pura D'Or's Professional Grade Anti-Hair Thinning Shampoo & Conditioner is also sensational, using a powerful but gentle formula to increase the volume and thickness of your hair without causing any irritation at all.
We'll also discuss tips for using biotin shampoo, as well as three excellent conditioners you can use in conjunction with your shampoo to get the best results.
Let's begin by discussing some things to keep in mind as you shop for biotin shampoo.
Quick summary
<!—INSERT CODE BELOW—>

Our #1 Choice

Revita High-Performance Hair-Stimulating Shampoo

Assists male and female hair loss, thinning hair and pattern baldness

Free of harmful chemicals that irritate the skin and hair

Nanosome delivery system releases the optimum ingredients

Check Best Price

Pura D'Or Professional Grade Anti-Hair Thinning Shampoo & Conditioner

Powerful but gentle formula

Increases the volume and thickness of hair

Also treats dry, distressed hair

Check on Amazon

Lipogaine Hair Rejuvenating Big 5 Shampoo

Anti-bacterial and anti-fungal properties to help hair loss

Suitable for all forms of hair loss, including medical and age-related

Natural formula makes it suitable for all hair types

Check Best Price

Organix Thick And Full Biotin And Collagen Shampoo & Conditioner

Dual purpose, thickens hair while reducing hair thinning

Great for hair and also skin

Safe to use on all hair types

Check on Amazon

Mill Creek Botanicals Shampoo With Aloe Vera

Packed with ingredients that assist hair health

Provides a pleasurable tingly sensation on the scalp

Friendly formula for all hair types

Check on Amazon

Lipogaine Big 3 Shampoo

Anti-fungal properties help the scalp and hair follicles stay healthy

Suitable for men and women of all hair types

Helps to maintain the scalps PH balance

Check Best Price

Ultrax Labs Hair Surge Shampoo With Ultrax Labs Hair Plush Serum

Combines caffeine and biotin to stimulate hair growth

Unique delivery system gives the right ingredients to the hair follicles

Serum creates a nice cooling sensation on the scalp

Check Shampoo
Before you buy: 5 Things to consider when purchasing biotin shampoo
There are a few things to consider before you buy a bottle, or two, of biotin shampoo. Biotin shampoos abound, with a plethora of brand names from which to choose, so don't feel like you'll need to make a hasty decision.
Biotin is a B vitamin that helps the body convert food into energy. It's also important for healthy hair growth, so it's commonly added to natural and organic shampoos. If you've never used biotin before, it's important to know what to look for when shopping for shampoo.
Here are some things to consider when purchasing biotin shampoo:
1. Which brands are better than others?
We like all of the brands we list in our reviews of biotin shampoos but we're not here to tell you that one brand, or a couple of brands, beat all the rest.
We do suggest, however, that you choose brands that have few, if any, preservatives – such as Sodium Lauryl Sulfate – and additives, because those ingredients may damage hair in the long run.
If you have a sensitive scalp, or suffer from conditions such as dandruff, look for biotin shampoos that have little or no fragrance.
2. You may experience hair loss at first
Say what?
Yes, it's true, some users of biotin shampoos and other hair growth supplements that contain biotin may experience an increase in shedding during the first few weeks after using a biotin product.
But there's no need to panic and here's why:
Hair growth takes place in three phases: anagen, catagen, and telogen. Anagen is the phase of active growth and lasts longer than the other two phases. Catagen is a short transitional phase of hair follicle renewal, while telogen is a resting phase of three to six months in which shedding occurs.
For most individuals, 90% of hair follicles are in the anagen phase while the other 10% are in telogen. Most people shed 50 to 100 hairs a day (which is natural).
When you use supplements or other products – such as biotin shampoo – you'll initially speed up the process of shedding. This isn't a bad thing, because it helps to get through the telogen phase quicker so that your hair can get back into the anagen growth phase.
An excess of shedding is common in the first few weeks of using a hair growth/hair loss product but things will return to normal if you continue to use it consistently. If you stop using the product, you may notice shedding for a longer period until hair loss returns to normal.
3. Don't expect instant results
We just finished discussing how you may experience an increase in shedding when you first start taking biotin supplements, which isn't unusual at all.
But also keep in mind that hair regrowth can take several weeks, if not months, to achieve.
If you want to make sure your biotin shampoo has enough of the ingredient to actually be effective, look for products like Maple Holistics Biotin Shampoo that contain natural ingredients and no harsh chemicals.
That's why it's important to remain consistent in using your biotin shampoo; don't quit applying it if you don't see results sooner than you expected.
4. Key ingredients in biotin shampoo
Biotin shampoos contain many other ingredients, as well, such as ketoconazole, caffeine, keratin, saw palmetto, and others. Here's a closer look:
Biotin provides many benefits, not the least of which is aiding in hair growth. Also known as vitamin B7, biotin is found in many rich protein foods, such as meats, eggs, and nuts.
While biotin won't grow hair by itself, it ensures that you have the right nutrients in your body to facilitate hair growth.
A shampoo makes it easy to get biotin directly on your hair and scalp without changing your diet or taking supplements.
Most of us think of caffeine as providing that needed jolt of energy in the morning and, in some cases, throughout the day. But caffeine also helps thicken hair and stimulate its growth by increasing blood circulation to the area.
More nutrients, which come with increased blood flow, means more potential hair growth.
Caffeine also is a natural antioxidant that fights free radicals which contribute to signs of aging.
In case you wondered, drinking cup after cup of coffee won't make hair grow.
Scientists say that you'd need to drink 40 to 50 cups of java to experience any therapeutic benefit to your hair and scalp. And that amount of caffeine is toxic – so please don't try it at home.
Ketoconazole is another ingredient often found in hair growth and dandruff shampoos. It helps to increase hair density and the percentage of follicles in the anagen phase, but it also treats a harmful fungus called pityriasis that sometimes inhabits the scalp.
Researchers say that saw palmetto blocks 5-alpha-reductase, which is an enzyme that converts testosterone into dihydrotestosterone (DHT). DHT is linked to hair loss. Many hair loss and hair growth shampoos include saw palmetto as a key ingredient.
5. Don't overlook organic shampoos
Look for organic biotin shampoos if you worry about the chemicals that may damage hair found in many shampoos. Organic shampoos include essential oils and plant-based ingredients that nourish hair follicles while aiding in biotin's absorption into the scalp.
When looking for a biotin shampoo make sure that you read the labels carefully. Some shampoos have very little actual biotin in them, so you may want to double check the ingredients list before making a purchase. Other things that you may want to steer clear of include sulfates (which can dry out your scalp), parabens (which have estrogen-mimicking properties that can throw off your hormone balance), and artificial fragrances and dyes (which can be irritating).
Another plus of organic shampoos with biotin is that they stimulate the production of sebum, the natural oil and moisturizer found in the scalp. More sebum means less hair breakage because it keeps the scalp properly moisturized.
Next, let's move on to our biotin shampoo reviews.
The 7 best biotin shampoos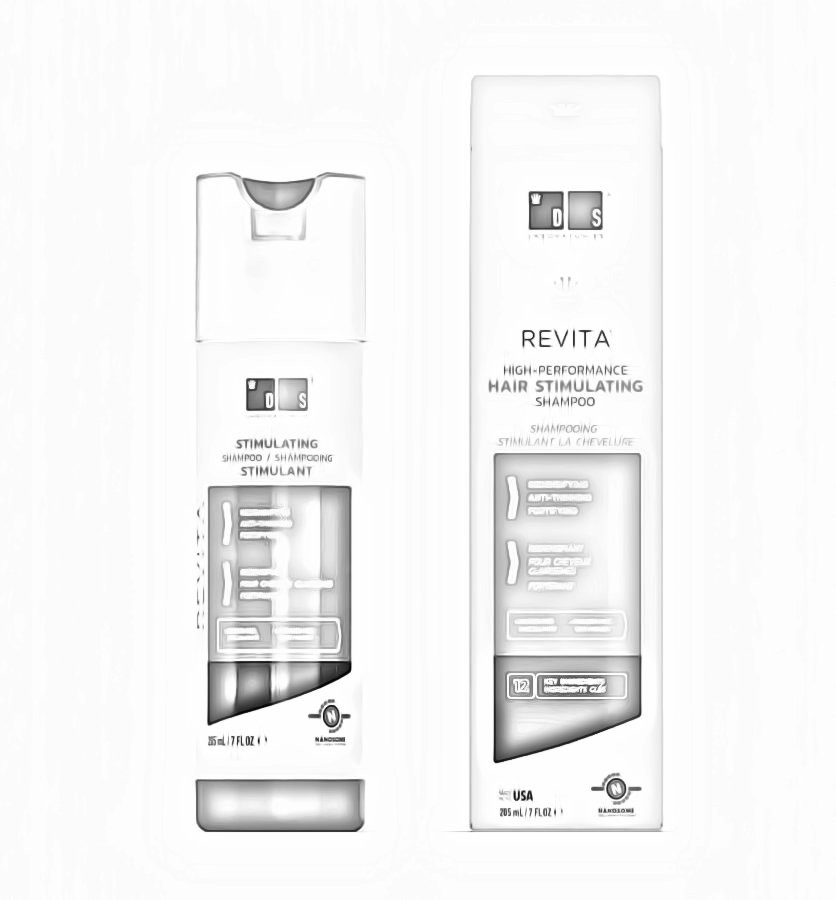 Best features:
Suitable for all hair types
Unique Nanosome delivery system
Strengthens and adds density to hair
Best biotin shampoo for:
Men and women looking for a natural biotin shampoo
DS Labs is all about innovation and technology but it's also big on results.
Case in point: their Revita High-Performance hair-stimulating shampoo helped 90% of participants of one study to experience a decrease in hair loss.
Meanwhile, 85% of participants in the same study had an improvement in the overall appearance of their hair. It's hard to argue with those kinds of results. And there's plenty of reasons why the High-Performance Hair-Stimulating Shampoo works.
For one, DS Labs has a unique Nanosome delivery system that helps set it apart from other hair growth shampoos.
The Nanosome system works, in short, by releasing the active ingredients found in Revita's products in a more gradual, programmed manner. It also allows the ingredients to penetrate the skin to the desired depth.
Many other companies feature liposomes, not Nanosomes, in their products but DS says using Nanosomes allows for a higher concentration and more efficient use of ingredients.
The Revita High-Performance Hair-Stimulating Shampoo gently cleanses hair while stimulating the scalp to help strengthen it.
Once dirt and other impurities are removed from the hair, the delivery system takes over to make sure key ingredients fortify and add density to hair strands.
Of course, biotin is a key ingredient in the Revita shampoo, which also includes ketoconazole and caffeine – other key dihydrotestosterone blockers.
Other important ingredients include vitamin B2, an antioxidant, and key amino acids that aid the structural function and elasticity of hair follicles.
What it doesn't include are harsh chemicals such as sodium lauryl sulfate, a detergent found in many shampoos that causes dryness, irritation, and may even exacerbate hair loss.
It's also hypoallergenic and suitable for all hair types.
DS Labs do not just focus on shampoo when it comes to hair stimulation.
Within their Revita range, they have also created a Hair-Stimulating Conditioner and Hair Revitalization Tablets, which complement the shampoo and can enhance results.
Pros
It's an excellent shampoo for men and women concerned about hair loss, thinning hair, or male and female pattern baldness.

Nanosome delivery system ensures that the right amount of ingredients absorb into the skin at the right time.

It doesn't include harmful chemicals that irritate the skin or may even lead to hair loss.
Bottom line
DS Labs' Revita shampoo sets a high standard and we think it's the best biotin shampoo for hair growth.
Best features:
Should see results within a month
Increases volume and thickness
Treats scalp issues such as dryness
Best biotin shampoo for:
Anyone looking for a professional-strength biotin shampoo
Overview
There's a lot of good stuff packed within a bottle of Pura D'Or's Professional Grade Anti-Thinning Shampoo, including biotin.
We've already talked about biotin and its many benefits for hair growth, but the Pura D'Or Anti-Thinning Shampoo also contains a long list of active DHT blockers, most of them natural.
Just to name a few: argan oil, cedarwood, clary sage, tea tree oil, saw palmetto, Korean seaweed, and black cumin seed oil.
All of the Pura D'Or ingredients combine to form the brand's Puraplex technology, which combats scalp and hair issues, not the least of which is hair thinning.
It also includes aloe vera, which is gentle on the hair and scalp but also contains amino acids and enzymes that promote a healthier scalp and help encourage hair growth.
The Pura D'Or shampoo and conditioner has twice the concentration of many other hair products, so you'll get a larger dose of its key active ingredients that leave hair healthier, hydrated, and easier to manage.
Pura D'Or says that some users report less thinning and overall thicker hair after only two months of daily use.
But you can also use it just twice a week to experience positive results. Its plant-based formula is gentle and won't strip your hair of its natural oils.
Pros
You can achieve maximum results by using it every time you shampoo your hair.

It has twice the concentration of many other biotin shampoos.

It also helps to treat scalp irritation and dry hair.
Cons
It feels heavy to some users
Bottom Line
Pura D'Or's Professional Grade Biotin Anti-Hair Thinning Shampoo is loaded with natural ingredients that not only help treat thinning hair but also treat other hair and scalp issues.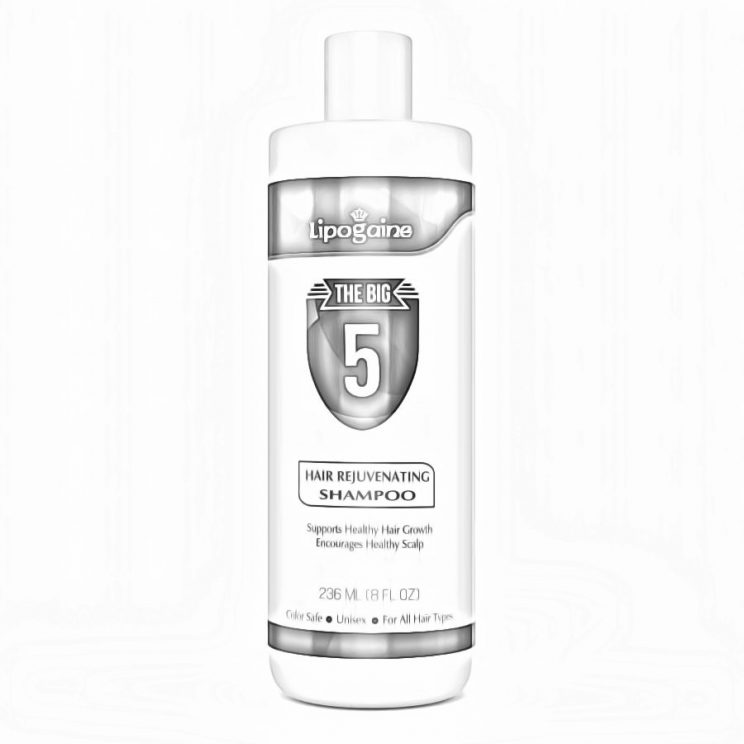 Best features:
Excellent for thickening hair
Suitable for men and women
Gentle formula
Best biotin shampoo for:
People looking for a top-selling hair growth shampoo that works
Overview
The "Big 5" in Lipogaine's Rejuvenating Shampoo refers to five ingredients known to help stop hair loss while help to generate hair growth. That's the good news.
The even better news is that this best-selling shampoo gets the job done.
You've probably heard of Lipogaine; if not it's worth checking out their Big 5 shampoo, as well as their Big 3, which we'll review in a bit.
The Big 5 is a somewhat newer addition to the Lipogaine line and certainly as popular as the Big 3.
The main difference between the two is that the Big 5 adds two primary ingredients to its list that features biotin, caffeine, argan oil, castor oil, and saw palmetto.
We write a lot about biotin, caffeine, argan oil and saw palmetto in this article; castor oil not as much, but it's another powerful ingredient in the fight against hair loss.
Castor oil has anti-fungal and anti-bacterial properties that prevent scalp infections that harm hair follicles, while also fighting dandruff.
One of the advantages of buying a product like Lipogaine 5 – or any of the biotin shampoos listed here – is that they contain ingredients that have a fairly high price tag when purchased separately.
For instance, a bottle of castor oil could cost up to $30 on its own. Purchasing the ingredients found in most biotin shampoos separately isn't necessarily cost-effective.
Lipogaine Big 5 also includes rosemary oil, coconut oil, jojoba oil, green tea extract, cedarwood oil, and more. Its all-natural ingredients block DHT (high DHT levels cause excessive hair loss and even baldness) and greatly reduce shedding.
The Big 5 formula also increases blood flow to the scalp which helps stimulate new hair follicles.
Research shows that saw palmetto, for instance, is an excellent DHT blocker that treats male pattern baldness by promoting the growth of new hair follicles.
While Lipogaine is strong enough to take on DHT and the other causes of hair loss, it's gentle enough for men and women with sensitive skin, as well as for folks with color-treated hair.
Pros
Lipogaine Big 5 contains castor oil, which has anti-fungal and anti-bacterial properties that help treat hair loss.

Its effective in treating all forms of hair loss, including alopecia and age-related loss.

Blend of all-natural ingredients is gentle on hair and excellent for people of all hair types.
Cons
It may dry out your hair if not used with a conditioner.
Bottom line
Lipogaine's Big 5 has a lot of research and satisfied customers that vouch for its effectiveness in fighting hair loss. It features a gentle, natural formula that helps keep your hair and scalp healthy.
Best features:
Collagen helps strengthen hair
Free of harsh chemicals
Safe for all hair types
Best biotin shampoo for:
For men and women seeking a biotin shampoo that's good for all hair types
Overview
Anyone shopping for a good biotin shampoo and conditioner combo should check out Organix's excellent two-bottle set.
Together, they create a high-performing shampoo/conditioner system designed to treat hair loss while creating fuller, denser hair.
The Organix formula includes biotin, no surprise there, as well as hydrolyzed wheat proteins that help strengthen the hair and add volume. But collagen is another key ingredient and plays many roles in improving overall hair health:
Collagen provides amino acids that are helpful in building hair. A formula rich in collagen helps provide your body with the building blocks it needs to create hair.
It also helps to repair damaged hair follicles because it acts as an antioxidant that counteracts free radical damage.
Research shows that collagen may prevent or slow hair thinning associated with aging.
Collagen improves skin elasticity and protects the layer of skin that contains hair roots. In turn, it may help decrease hair thinning.
Organix said users will notice the difference in their hair's overall density and thickness after just one use. Results may vary by person, but that's a pretty impressive claim nonetheless.
Another reason to like Organix Thick and Biotin Shampoo and Conditioner set is that it's to use on all hair types and for color-treated hair. It contains no sulfates, parabens, or other harsh chemicals.
Pros
Thickens hair while reducing hair thinning.

Safe for use on all hair types and color-treated hair.

Good for skin and hair
Cons
The shampoo may dry out hair
Bottom Line
Organix is another shampoo for natural hair that helps strengthen follicles while stopping or preventing thinning hair. Men and women of all hair types can use it safely.
Best features:
Soothes dry scalp
Moisturizes hair
Gentle formula
Best biotin shampoo for:
Anyone seeking a shampoo with biotin and aloe vera
Overview
The Mill Creek Botanicals Shampoo contains biotin, but also aloe vera – an ingredient found in a wide range of products for hair and skin care.
If you're like a lot of people, you've probably used it to soothe burns; the stuff works.
It has a lot of benefits for hair, however, because of several nutrients that keep hair healthy while also treating thinning hair.
An aloe plant extract contains vitamins A, B, C, and E, as well as many amino acids and helps the Mill Creek Botanicals' product among the best vitamin shampoos.
More specifically, aloe vera's chemical makeup closely resembles that of keratin, a protein that strengthens hair while also reducing breakage and frizziness that many people experience.
Aloe vera also contains enzymes which help heal the scalp, and a healthy scalp is one in which hair follicles can thrive.
Mill Creek's Botanical Shampoo contains aloe vera, biotin, and keratin, as well as peppermint and jojoba oils.
There's also argan oil, an excellent moisturizer, while you won't find sulfates, alcohol, or parabens on Mill Creek's list of ingredients. That makes it safe for use on all hair types and color-treated hair.
Pros
Contains biotin, aloe vera, and keratin – all of which aid hair health and help to reduce hair loss.

Peppermint oil gives it a tingly feeling on the scalp, which many users love.

Gentle formula is good for all hair types and color and chemical-treated hair.
Cons
Some reviewers say the dispenser doesn't always work correctly.
Bottom Line
The Mill Creek Botanicals shampoo combines many ingredients into one package that helps strengthen hair while reducing hair loss.
Best features:
Includes ketoconazole
Classic version of an effective product
90-day money-back guarantee
Best biotin shampoo for:
Men and women looking for a well-tested product that works
Overview
Let's be clear: you can't go wrong with either Lipogaine's Big 5 or Big 3 shampoos.
As we mentioned earlier in our review of the Big 5 shampoo, the only real difference between the two is that the Big 5 has a couple of extra ingredients.
The main question, then, is whether Big 3 is effective as Big 5? Again, the answer is yes, and which one you choose is more a matter of personal preference than anything else.
One of the other primary differences between the two is that ketoconazole is a main ingredient in the Big 3 shampoo.
Ketoconazole is a common anti-fungal solution for fighting hair loss that helps block DHT. It also reduces inflammation on the scalp.
Besides ketoconazole and biotin, Big 3 also features emu oil and castor oil. Emu oil is excellent for moisturizing the scalp and adds some natural shine to hair follicles. Like ketoconazole, it also fights scalp inflammation.
All in all, Lipogaine Big 3 features 17 natural DHT blockers that are gentle on the scalp while promoting hair growth and preventing premature hair loss.
The lack of harmful chemicals makes it safe for frequent use, although you may only need to use it two to three times a week.
Many Lipogaine 3 users say they've experienced positive results very quickly after they first start using the shampoo. Lipogaine recommends that you use its Big 3 shampoo for at least three months to achieve the best results.
Pros
Like Lipogaine Big 5, Lipogaine's Big 3 shampoo is suitable for men and women of all hair types.

Includes ketoconazole, a proven anti-fungal ingredient that helps keep the scalp and hair follicles healthy.

Castor oil helps to maintain the pH balance of the scalp while retaining its natural oils.
Cons
May dry hair, depending on the person. Use it with a conditioner, if possible.
Bottom line
Lipogaine's Big 3 shampoo is like the Big 5 product in that it effectively fights hair loss with a natural, gentle formula. It also comes with a 90-day money-back guarantee in case you don't notice positive results.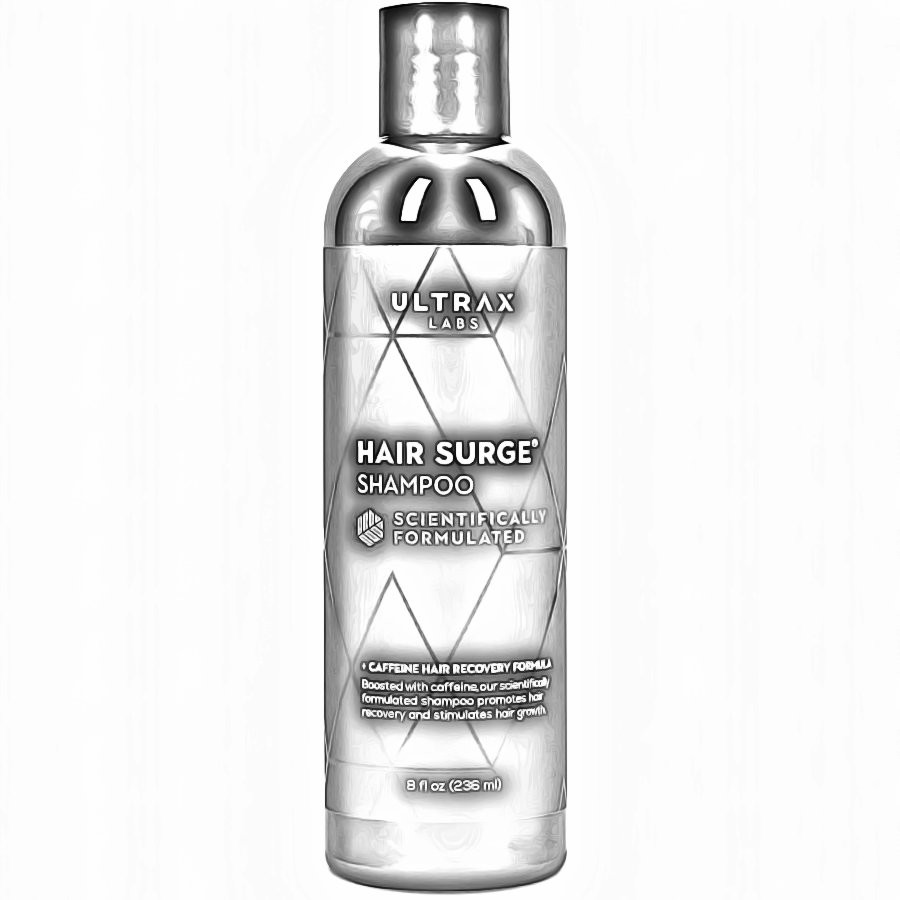 Best features:
Helps to thicken hair
Reduces breakage
Natural shine
Best biotin shampoo for:
Men and women looking for a caffeine-enhanced shampoo
Overview
Ultrax Labs has a nice line of hair growth and hair loss products. Not all of them contain biotin, although their Hair Plush Serum does and, in conjunction with Ultrax Labs' Hair Surge Shampoo, provides a sure-fire method for fighting hair loss.
Both the Hair Surge and Hair Plush contain caffeine – which studies show helps to thicken hair while also stimulating hair growth.
Caffeine works its magic by increasing blood circulation to the affected area, which means more nutrients get delivered. And more nutrients means more growth.
Caffeine also helps extend the lifespan of hair follicles which means less hair loss.
You may have heard of Hair Surge – it's regarded among the best hair growth stimulation shampoos on the market and has a long list of awards and accolades to back it.
Ultrax Labs markets Hair Surge as a "revolutionary" shampoo and it's hard to argue with them, at least after you read reviews of hair care experts and satisfied customers.
Its caffeinated compounds integrate with essential oils while Ultra Labs' formulas work as a complete delivery system which ensures that the right nutrients reach your hair follicle.
The Ultrax Labs Hair Plush Serum includes niacinamide, also known as vitamin B3. Like caffeine, niacinamide helps increase blood circulation while also nourishing the scalp and hair follicles.
In turn, it can lead to a reduction in hair loss while stimulating hair growth. B3 is a vitamin that many people may lack in their everyday diet.
The Hair Plush Serum also contains hydrolyzed keratin that coats hair follicles while strengthening them. Keratin helps to protect hair from harsh chemicals and the elements, such as weather extremes.
Keep in mind that Ultra Labs Hair Plush isn't a shampoo, but rather a serum that you leave in your hair after you apply it. You should use Hair Plush in conjunction with Hair Surge to get maximum results.
Unlike some hair serums, Ultra Labs Hair Plush has more of a gel-like appearance and texture. But it's not sticky or overly greasy and won't leave your hair with an unnatural shine.
You can squirt it directly onto the scalp – Ultra Labs advises users to apply a "generous" amount – although it may be easier to squeeze some onto your fingertips and apply it that way.
Pros
It offers the one-two punch of caffeine and biotin to stimulate hair follicles while increasing blood circulation to the scalp.

Unique delivery system means that the right ingredients get to your hair follicles when needed.

Peppermint oil found in the Hair Plush Serum creates a cooling sensation on your scalp that feels good throughout the day.
Cons
It doesn't come with specific instructions regarding how much you should apply with each use.
Bottom line
Ultrax Labs Hair Surge and Hair Plush are great products for aiding hair growth while helping to reduce hair loss. Using the two in conjunction will help you achieve maximum results.
5 Tips when using a biotin shampoo
One of the advantages of using a shampoo infused with biotin is that it has virtually no side effects.
Biotin supplement also won't cause serious side effects if you ingest too much of it (within reason), but too much of it can interfere with lab tests.
But rinse-off formula biotin shampoos won't cause an adverse reaction of any kind which means they're fine for frequent use.
1. But how often should I use it?
How often you use biotin shampoo depends a lot on your hair type. If you have an oily scalp and hair, for instance, you may want to use it once a day. For most hair types, however, you should only need to use it a few times a week at most.
2. When to start using it
Many hair loss experts say you can use biotin and other hair loss shampoos as soon as you notice hair loss.
Over half of all men will experience some hair loss by age 35; others may experience it much sooner than that.
There's no reason to wait if the signs of hair loss are clear.
3. Let it sit
Like regular shampoo, you apply biotin shampoo to wet hair, preferably in the shower or bath. But let it sit on your scalp and hair for a few minutes, if possible, to allow the ingredients to reach your scalp and roots fully.
4. Massage it deeply
Hair experts recommend that you massage your shampoo deeply into your scalp and hair for up to three minutes before rinsing it off.
Doing so allows the ingredients to soak in and work their magic, so to speak.
Besides, massaging your scalp may help dormant hair follicles spring back into action.
5. Read the instructions
If you have concerns about how often you should use biotin shampoo, or whether it may cause an adverse reaction, read the usage recommendation found on its container.
Don't ignore recommendations: they ensure that you'll get the best results without causing damage to your scalp and hair. Remember, biotin is just one component of an overall formula that includes many other ingredients.
Pay attention to those ingredients carefully.
Note: Pregnant women can use biotin shampoos safely and during breastfeeding to help counteract hair loss.
3 Great conditioners that go well with biotin shampoos
A good conditioner is great for your hair's overall health.
It has a variety of benefits, not the least of which is that it reduces friction between hair strands to make it easier to brush or comb your hair. It can also increase hair density.
The following three conditioners are an ideal complement to your biotin shampoo routine.
How often you use them depends on your hair and personal preference, but a couple of times a week should suffice.
Pura D'Or offers an excellent two-for-one special with its Anti-Thinning and Deep Moisturizing shampoo and conditioner set.
Both products come packed with cleansing, nourishing, and thickening argan oil and include several key ingredients that eliminate the sources of thinning hair.
Among those important ingredients is biotin (as the name suggests) and it's part of a clinically-tested formula that helps to thicken hair while stopping the relentless march of hair loss.
Both the Pura D'Or shampoo and conditioner are ideal on their own but work great when paired together as part of an overall hair care routine.
The conditioner helps to strengthen hair strands while preventing them from breaking, and also repairs them to eliminate frizziness.
Even better, it's good for men and women and every hair type.
Pura D'Or uses natural botanical extracts and its ingredients list includes saw palmetto, tea tree oil, aloe vera, Red Korean seaweed, and nettle extract.
Tea tree oil is effective in reducing itching and scalp irritation, while Red Korean seaweed promotes healthy hair growth.
Nettle extract has DHT blockers that also promote healthier hair. Vitamin E, another ingredient found in Pura D'Or's shampoo and conditioner, helps lock in moisture from the roots of hair strands to the tip.
The Pura D'Or conditioner has a natural scent that many users love, although some reviewers didn't like it as much.
Pure Biology markets its Hair Growth Stimulating Conditioner as an all-in-one solution for men and women who struggle with hair loss and other scalp-related issues as they age.
It contains biotin, but also many other ingredients that promote hair regrowth while moisturizing and fortifying hair.
It's also good for all hair types and people of all ages.
Among the key ingredients included in the Reviva Conditioner formula is argan oil, which is a strong moisturizer that also helps to prevent dandruff and dryness.
Hair Growth Stimulating Conditioner includes coconut oil that nourishes the scalp and helps to remove excess sebum build-up from hair follicles.
Meanwhile, Pure Biology says that the keratin-derived amino acids help facilitate deeper penetration into hair fibers than most other conditioners.
There's also rosemary oil, which is effective in the treatment of alopecia and thinning hair.
Pure Biology recommends that you apply their RevivaHair conditioner to wet hair and massage it gently into the scalp.
Leave if it in for at least a minute to get deep penetration and full absorption.
You should apply it at least three times a week for optimal results, but it's gentle enough that you can use it more than that if you'd like.
There's a lot to love about Pure Biology's Hair Growth Stimulating conditioner – from its deep moisturizing formula to the fact that it's sulfate and paraben-free. The only drawback, say some reviewers, is that it has something of a heavy feel
Maple Holistics' Argan Oil Conditioner is another product loaded with natural ingredients that help create healthier and thriving hair.
But that's nothing new for Maple Holistics, who enhance all of their ingredients with 100% natural oils while leaving out potentially harmful chemicals and parabens.
Argan Oil is a key ingredient in most of Maple Holistics' products and enhances their conditioner while moisturizing dry brittle hair while adding a bit of natural shine (but not too much shine).
The Maple Holistics conditioner is also rich in avocado and jojoba oil.
Avocado oil is lighter than most other oils and won't weigh down your hair or cause excess build-up. It's also rich in oleic acid and unsaturated fats, which makes it one of the few oils that can penetrate follicles while moisturizing your hair.
Jojoba oil is often added to shampoos and conditioners to provided added protection against breakage, dryness, frizziness, and split ends.
It's also rich in vitamins that nourish hair, including vitamin C, B, E, as well as copper and zinc. Because of its moisturizing qualities, jojoba oil can prevent dryness that may lead to hair loss.
Another plus is that the Maple Holistics conditioner is safe and effective for people with sensitive skin. Its formula is hypoallergenic and fragrance-free with no artificial coloring.
How we chose the shampoos for our review
You're in luck if you're looking for a good biotin shampoo. The marketplace offers many quality products, such as the ones we review above.
Choosing the best of them means narrowing things down to a few important factors, including:
The other ingredients besides biotin. We prefer natural, gentler ingredients that people of any hair and scalp types can use.
The price. While cost isn't the most important factor as we review products, it's also important to keep in mind their price range.
The results. Through our research and the reviews of others, including those of customers, we sought products that have produced positive results for anyone fighting hair loss.
The company. Some brands are better-known than others, but that doesn't necessarily mean they have better products. Plenty of lesser-known companies offer effective hair-loss solutions.
We hope the above list of products helps you to find a solution to your thinning hair.
Conclusion
Choosing the right products is crucial for fighting hair loss and promoting healthy hair growth, including biotin shampoo. Be wary of products that seem more "snake oil" than effective when deciding on your course of action.
We welcome your feedback, as well. Do you use a biotin shampoo? If so, which product, and what are the results? We'd love to hear from you.