9 Best Shampoos for Men You Should Try (All Hair Types)
This post may contain affiliate links. Learn more.
Shampoo is one of those grooming products that's so standard, every man thinks they know what's up with it.
But the truth is, the best shampoos do far more than just keep your hair clean – they actually improve your hair's health, sheen and strength, and keeps it conditioned and hydrated. Bet you didn't know this
So we've scoured the market for the most impressive products available, and put together this fine review – to help you get more from your shampoo, and make smarter decisions next time you're in the market for a shampoo.
In a hurry? Here are our top picks:
Krieger & Sohne Quality Men's Shampoo
At the top of our list is Krieger & Sohne Quality Men's Shampoo – the best overall shampoo we've come across. It's infused with natural ingredients and is great for everyday use, relieving dry scalp and dandruff.
Nia Restructuring Shampoo
Our second choice – Nia Restructuring Shampoo – is fantastic for damaged hair and nourishes and strengthens your follicles.
So regardless of your needs, we've got you covered.
Plus we've put together an illustrated guide to shampooing the right way, and a detailed discussion about the differences between shampoo and conditioner.
But before we get going, we need to look at the 7 simple considerations you need to keep in mind when buying a shampoo.
Quick summary
<!—INSERT CODE BELOW—>

Best Overall

Krieger & Sohne Quality Men's Shampoo

Infused with natural ingredients

Good for everyday use

Relieves dry scalp and dandruff

Check on Amazon

Best for Damaged Hair

Nia Restructuring Shampoo

Nourishes and strengthens hair

Provides excellent hydration

Safe for use on color-treated hair

Check Best Price

Best for Dandruff

BIOLAGE Scalpsync No-Dandruff Shampoo

Eliminates dandruff

Gives hair a healthy look

Cleanses hair and clarifies the scalp

Check on Amazon

Brickell Daily Strengthening Shampoo for Men

Thickens, strengthens hair

Quality list of ingredients

Gentle formula that provides a strong cleaning

Check on Amazon

Woody's Daily Shampoo For Men

All-natural ingredients

Stimulates the scalp

Improves hair's elasticity

Check on Amazon

R+Co Dallas Biotin Thickening Shampoo

Nice blend of natural ingredients promotes healthier hair

Helps to thicken hair

Amazing scent

Check on Amazon

Malin + Goetz Clarifying Shampoo

Fresh minty scent

Deeply cleanses hair and scalp

Can prevent hair loss

Check on Amazon

Rocky Mountain Barber Tea Tree and Peppermint Oil Shampoo

Gently cleanses the scalp

Good for all hair types

Made with essential oils

Check on Amazon

Baebody Moroccan Argan Oil Shampoo

Contains keratin

Strong natural blend of hair-healthy ingredients

It provides excellent hydration to the hair

Check on Amazon
Before you buy: 7 Things to consider when purchasing shampoo
So many shampoos, so little time.
But the sheer number of shampoos available today is just the tip of the iceberg when it comes to purchasing shampoo. There are many other factors you need to keep in mind before deciding which shampoo is best for you.
1. Know Your Scalp Type
A popular piece of advice says, "Purchase shampoo for your scalp, and purchase conditioner for the hair."
That's sound advice when you consider that your scalp type must be a consideration when buying shampoo. Let's dig deeper:
Oily scalp
There's no mystery here: if your scalp feels oily or greasy, then you have an oily scalp. And if you're like many men with oily scalps, you've tried a wide variety of shampoos to reduce the greasiness – perhaps without a whole lot of luck.
It's not the end of the world – your scalp, after all, is like your face in that it has sebaceous glands that produce sebum and oil – but we understand your frustration.
Here are some things to remember if you have an oily scalp:
Don't purchase a shampoo that's labeled moisturizing, hydrating, soothing, etc. These shampoos have extra moisturizer and exacerbate the problem of an oily scalp.
Shampoos with less moisturizing ingredients, such as those called "strengthening," "balancing," or "volumizing," are good for oily scalp so are those called "daily clarifying" or "rebalancing" are good, as well.

Make sure you take time to work the shampoo deep into the scalp. It will help the shampoo break up the excess oils and wash them off, so you don't have oil buildup and a greasy scalp.
Dry Scalp
If you fit into this category your scalp often feels dry, itchy, and dandruff is one of your mortal enemies.
There are varying levels of dry scalps. If you have minor dryness that doesn't itch a lot or produce dandruff, then a shampoo that promotes moisture, hydrates, or is specific to curly hair is a good fit on your shopping list.
If your scalp is very dry, in which itchiness and dandruff abound, then look for shampoos that include ingredients such as tea tree oil that provide deep moisturizing.
Do NOT purchase a shampoo that has strengthening, fortifying, or volumizing on the label. These types of shampoo will eliminate your scalp's already limited moisture.
Normal Scalp
Count your blessings if you have a normal scalp. Your hair is usually easy to manage and has the ideal amount of oil. Just look for a shampoo that has an even ratio of moisturizing and cleaning.
2. Cleaning Power
Shampoo's primary function is to clean dirt and oil from your hair and scalp. Clarifying shampoos usually clean better than other types – although that's not always the case – they are often harsher and more drying than other types.
3. Right Ingredients
Some of the best ingredients found in shampoo are jojoba oil, shea butter, palm oil, coconut oil, hydrolyzed keratin, silicones, and olive oil. Coconut oil, for example, is highly nourishing and moisturizing and improves hair strength and flexibility.
4. Scent
A shampoo's scent is a matter of personal choice so you're on your own here. But read reviews and labels carefully to understand each shampoo's scent. And some linger and leave your hair feeling fresh all day long.
5. Animal-Friendly
Again, this is a matter of personal choice, but it's important to know that some companies use animals to test the safety of their products. Look for shampoos labeled "cruelty-free" if animal-testing bothers you.
6. Price
Expensive doesn't always mean better with most products, and shampoo is no exception. Remember: pricier shampoos you can only buy in a salon often have the same ingredients as those that won't empty your wallet.
OK, let's get to the heart (or head) of the matter – the best shampoo for men.
The 9 best shampoos for men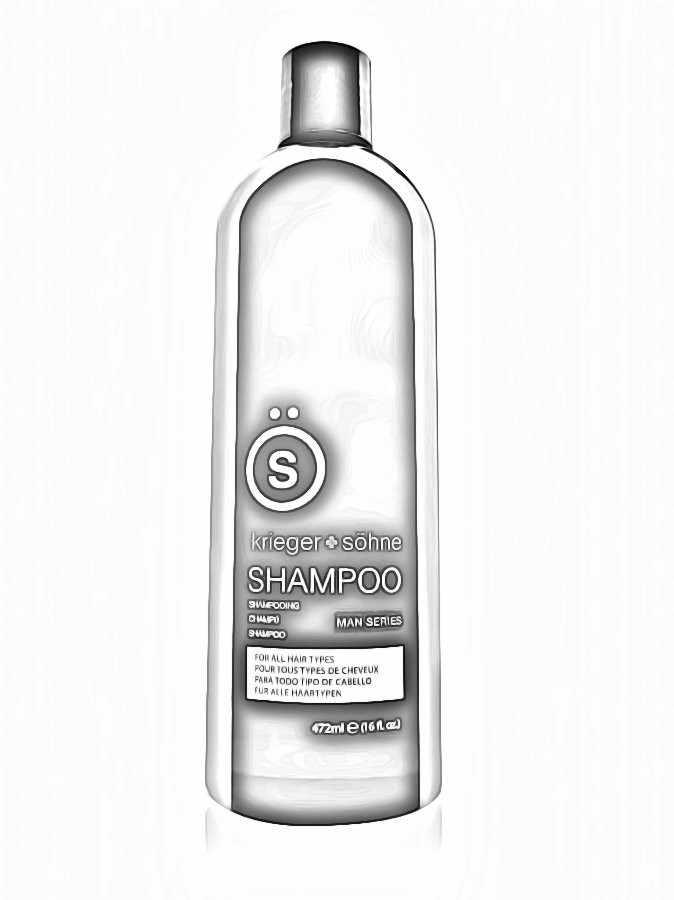 Like Redken's Go Clean shampoo, Krieger & Sohne's top-selling product isn't designed for a single hair and scalp type. Instead, it works for men who have thick hair, thinning hair, dry scalp, oily scalp – you get the picture.
What helps set K & S Quality Men's Shampoo apart from many others is its use of tea tree oil. The stuff has healing and therapeutic qualities and is found in a variety of men's grooming products simply because it works.
What's the big deal about tea tree oil? Well, it has anti-fungal, antiseptic, and anti-inflammatory properties, plus it's anti-bacterial. Using it will help you get rid of all the nasty germs in your scalp that can cause hair loss and scalp inflammation.
That said, the K & S men's shampoo is your number one ally against dandruff, dry scalp, and psoriasis as it rids your scalp of dead skin cells while fighting bacteria.
Indeed, K & S is great for battling the annoying, often embarrassing problem of dandruff.
It also gives you another option instead of having to pay for expensive treatments or a medicated shampoo. And it's great for daily use.
Another cool thing about tea tree oil is that it's also useful for aromatic therapy. It gives the Quality Men's Shampoo an invigorating kick and aroma that will last throughout the day.
The K & S Quality Men's Shampoo's list of ingredients also includes peppermint oil, wheat amino acids, citric acid, and glycerin. Note: this is not an all-natural shampoo, but it doesn't contain harmful additives that are known to strip your hair of its nutrients and natural oils.
Finally, it comes with a money-back guarantee. If you don't like it, just send it back for a full refund.
Who is it for:Men with dry to normal hair
Pros
Infused with natural ingredients like tea tree oil

Good for everyday use

Relieves dry scalp and dandruff
Cons
It may take several weeks for dandruff and flaking to subside in extreme cases
Bottom Line
Once you try this shampoo you'll be hooked. It's great for all kinds of hair and scalps, but particularly effective in fighting the battle against dandruff. It's the best dry shampoo for men and you can use it every day.
DS Laboratories' Nia Restructuring Shampoo doesn't just cleanse your hair and scalp, it also "restructures" the hair while repairing it and making it softer and more manageable.
Lofty claims, to be sure, but DS Labs backs it up with the kind of innovation and ever-evolving technology that goes into all of its grooming products.
Meanwhile, none of their products contain parabens, sulfates, phthalates, and harsh chemicals that irritate the hair and skin.
The Nia Restructuring Shampoo formula includes aloe, green tea extract, ginseng, hydrating honey complex, and protein and natural extract compounds.
It's a mix of ingredients that not only gently removes dirt and oil, but also provides excellent hydration while helping to repair split ends.
You'll also like the way it makes your hair feel: soft, manageable, and moisturized. And the Nia formula is safe to use on colored hair and protects hair from color washout.
The Nia Restructuring shampoo comes with DS Labs' unique Nanosome delivery system that allows the active ingredients to penetrate the skin to the desired depth, while also releasing them in a gradual, programmed way that best serves your overall hair health.
Pro tip:
DS Labs also recommends that you use their shampoo with their top-notch Nia Restructuring Conditioner for a complete hair treatment system.

Pros
Nourishes and strengthens hair

Provides excellent hydration

Safe for use on color-treated hair
Cons
Doesn't generate a lot of lather, which isn't necessarily a bad thing as far as it gets the job done.
Bottom Line
It's worth paying attention to any DS Labs' product because of the science, technology, and innovation they use expertly. Their Nia Restructuring Shampoo is certainly no exception.
Dandruff can be a serious problem for many: it's not only unpleasant, but it also feels yucky and can signal the start of severe hair issues. As a result, many shampoos were specifically designed to help treat it.
BIOLAGE Scalpsync No-Dandruff Shampoo is one of the best shampoos that combat dandruff, and there is a reason why. It contains Pyrithione Zinc which is clinically known for its effects on seborrheic dermatitis (a.k.a. dandruff).
It not only gets rid of dandruff but also cleanses, relieves the scalp from irritation and itching, and reduces the appearance of flakes.
Its smell is great without being overpowering or smelling like medicine, such as many other anti-dandruff shampoos.
However, while it provides great action, its price is undeniably high and not for everyone.
Who's it for: Men with dandruff
Pros
Eliminates dandruff and itchiness

Leaves hair healthy

Cleanses and relieves the scalp
Cons
The price is not for everyone
Bottom Line
The ideal shampoo for getting dandruff under control, it's also great as a general shampoo for giving your hair a healthy shine.
Brickell may not be a household name like some of the other companies included on this list but has steadily made a name for itself since Josh Meyer and Matt Bolduc founded it (in Matt's garage) just a few years ago.
And their Daily Strengthening Shampoo for Men is a steady seller that garners excellent reviews.
Like Redken's Go Clean Daily Shampoo, this is a shampoo for men of any hair type – thick, thin, oily, whatever. But it's particularly good for men with thinning hair because of its strengthening and thickening qualities.
There are plenty of reasons why Brickell is the best shampoo to strengthen hair, not the least of which is its natural list of ingredients.
First on the list is hydrolyzed protein, which helps increase the thickness of each hair strand while strengthening the underlying hair structure.
But the list goes on and includes: peppermint and tea tree oil, which get rid of scalp flakes while reducing irritation, amino acids, which restore natural shine, and vitamin E, which enhances hair growth by stimulating the scalp and hair follicles.
Brickell's Daily Strengthening Shampoo for Men is not only good for everyday use but also safe for men with color-treated hair.
Its gentle natural cleansers provide a deep clean and a scalp that's free from dandruff flakes. And your hair will look clean when you've finished your morning routine.
This shampoo's fragrance is a combination of tea tree mint and a touch of citrus lime.
Meyer and Bolduc are adamant about creating men's skincare and grooming products by using only natural ingredients while catering to the needs of every man.
Their products are now sold in over 20 countries and featured in notable publications such as GQ, Men's Journal, and more.
That said, their Men's Daily Strengthening Shampoo is worthy of all the attention it gets. It is simply amazing.
Who's it for:Men with thin to normal hair
Pros
Thickens, strengthens hair

Quality list of ingredients

Gentle formula that provides a strong cleaning
Cons
Make sure the scent is to your liking
Bottom Line
You'll pay a bit more for this product than you would for some other shampoos, but it's worth the investment.
While it won't help stimulate new hair growth like shampoos specifically designed to fight hair loss, it thickens the hair you already have and you'll notice quick results.
Woody's packs a lot of good stuff into its shampoo, all for the benefit of men's hair. And it leaves out parabens and other chemicals in the process.
So, what's in it?
There's ginger root, for starters, and ginger root can help stimulate new hair growth by increasing blood circulation to the scalp. There is also a nice list of essential oils, as well as vegetable and keratin proteins that strengthen and nourish hair.
Other important ingredients found in Woody's Daily Shampoo are tea tree oil, eucalyptus, amino acids, aloe vera, and vitamin E. Jojoba oil is another, and it offers many benefits to the hair, including that it enhances elasticity and helps enhance its shine.
Who's it for: This shampoo comes packed with a lot of ingredients that stimulate hair growth while strengthening existing hair. This makes it an excellent choice for Mmen with thinning hair
Pros
All-natural formula

Gentle enough for daily use

Soothes the scalp and helps to stimulate new growth
Cons
The consistency is a little thin
Bottom Line
Woody's is a relative newcomer to men's shampoos, but they're already taking big strides. Their daily shampoo is chemical-free and improves the hair's overall health.
For those who don't know, Biotin is a vitamin which is so vital to the production of healthy, strong hair that it's often referred to as 'vitamin H' – as in, Vitamin Hair.
In several studies, Biotin has been proven to tackle thinning hair, and also seems to improve the general strength and appearance of hair.
All of which explains why R+CO's Dallas Biotin Thickening Shampoo is so great for anyone with thin or thinning hair.
It's absolutely stuffed with Biotin, as well as a host of other great ingredients, such as Vitamin B5, Coconut oil and Palmetto Berry Extract.
The overall result is that your hair will be given a new lease of life, adding bounce and volume, as well as helping to support hair growth and revitalize your roots.
Plus it smells terrific and produces a really lovely, thick lather.
That said, it's worth noting that you do have to pay a little more than you might expect for this stuff, and it might be that only men who really feel their hair needs the extra help are willing to cough up so much money.
Who's it for: Men who want thicker, healthier hair
Pros
Promotes healthier, thicker hair

All natural ingredients

Smells terrific
Cons
It's fairly expensive, compared to most shampoos
Bottom Line
A fantastic premium product for men with thin hair.
Many guys like to apply hair styling products to their hair before leaving the house for work, the bar, or other activities.
Daily usage of waxes, pastes, and hairstyle sprays builds up on the hair because most washes aren't powerful enough to entirely remove them.
This is where shampoos such as the Malin + Goetz clarifying shampoo comes in.
Malin + Goetz clarifying shampoo is a shampoo that is formulated with natural ingredients such as peppermint and amino acids.
If you have no clue about what are the benefits of these ingredients, don't worry. We will dive into the details right now.
Peppermint is one of the most popular ingredients when it comes to hair benefits, and not without a reason. It increases the scalp's circulation, which, can potentially improve hair growth and prevent hair loss. It hydrates the hair, keeping them soft and strong while providing a refreshed smell and feeling to the scalp. It cleanses the hair effectively from any product used prior.
It is antibacterial, antiseptic, and anti-inflammatory and thus can also help treat conditions such as scalp acne and seborrheic dermatitis (which is the fancy word for dandruff).
Amino acids also help in hydrating the skin, but also in maintaining that hydration. They prevent damage to the hair, such as frizz and breakage, and give the hair a smooth and soft feeling.
Malin + Goetz formula is strong yet gentle enough to be used every day. The shampoo itself lathers well and doesn't feel heavy. It does a pretty great job at leaving the hair clean and fresh. You will definitely feel the refreshing peppermint calming your scalp and hair after use.
But you might be wondering. What about its scent?
It has a wonderful peppermint aroma that invigorates the senses and calms the scalp. The scent is not overpowering yet not very lightweight as it contains artificial fragrance. If you are very sensitive to fragrance, consider other shampoos on our list.
The price is a little high too for a shampoo, but it is well worth it considering the quality and extra features it comes with. However, it is understandable that this price is not suitable for everyone. Rocky Mountain Barber Tea Tree and Peppermint Oil Shampoo is an excellent, less expensive option.
Who's it for: All hair types
Pros
Cleanses the skin effectively from hair styling products

Provides a cooling and soothing sensation

Can assist in hair growth and hair loss prevention
Cons
It is a bit pricey

Can dry the skin if overused
Bottom Line
A great shampoo from Malin + Goetz that will clean and soothe the most demanding and tired hair.
Things you won't find in Rocky Mountain's products are harmful chemicals. Instead, it crafts its products – such as their tea tree oil, peppermint, and eucalyptus shampoo in small batches with natural ingredients.
Instead, it's made with natural oils, doesn't contain artificial fragrance, and is ideal for treating damaged hair. In this case, their Tea Tree and Peppermint Shampoo is meant for folks with dry, itchy scalps, although others can use it, as well.
It's also good for all hair types – straight, thinning, curly, thick; you name it. And the tea tree, peppermint, and eucalyptus oils not only provide a powerful cleaning without stripping your hair and scalp of natural oils.
Most users also appreciate its "forest mint" scent that's refreshing without being overpowering.
Who's it for: Men with dry, itchy scalps
Pros
Natural ingredients

Penetrates to the roots to promote healthier hair

Doesn't dry out the scalp
Cons
A little more expensive than some other shampoos
Bottom Line
Rocky Mountain's natural shampoos tackle tough scalp issues without damaging your hair. And men of all hair types can use it.
Baebody has a strong reputation for producing quality skin, eye, and hair products, and its Morrocan Argan Oil Shampoo certainly qualifies.
The latter contains an excellent blend of natural ingredients, including argan oil, of course, that offers many benefits to the hair and scalp.
The formula enhances hydration, revitalizes the hair's elasticity, and helps to give a nice shine to lifeless-looking hair. It even helps to repair split ends.
It's also safe to use on color-treated hair, as well as fine and curly hair and features a non-greasy formula.
Besides argan oil, Baebody's Moroccan shampoo also includes olive oil, vitamin E, coconut oil, aloe vera, shea butter, tea tree oil, and activated charcoal. All of its products are paraben and cruelty-free and safe for most skin types.
Who's it For
Men with dandruff and/or thinning hair
Pros
Strong blend of natural ingredients provides many benefits to hair.

It restores the softness of hair and repairs split ends.

It's safe to use on all hair types.
Cons
It has a thinner consistency.
Bottom Line
Baebody offers a unique blend of natural ingredients to promote the health of the scalp and hair. Your hair will be well-moisturized and look thicker.
Choosing the best shampoos for men
There were plenty of contenders when it came to choosing the best of the best of men's shampoo. But we wanted to keep the list somewhat compact to help you narrow your buying options.
We also wanted to provide a range of shampoos that were good for a variety of hair types, including for men who are experiencing hair loss. And we also strive to choose products from a variety of price ranges to compile a list that works for any man's budget.
A product's list of ingredients is another thing we consider. We're generally partial to those that have natural ingredients, but we're also open-minded. A shampoo's scent and anti-dandruff properties are also things we consider.
How it's done: Shampooing your hair the right way (A simple, illustrated guide)
Now that you've picked out your new favorite shampoo it's time to take it for a spin – around your head and scalp that is.
And what's so hard about shampooing, right? You just lather, rinse, and if you so choose, repeat.
Ah, not so fast.
There is a right way to do it, especially if you're looking to get the best results possible from your new shampoo. Here's a run-through:
Start by thoroughly rinsing your head and scalp. You don't have to stand under the nozzle forever, mind you, but let a gentle stream thoroughly saturate your hair long enough to make your hair soft.

Also, make sure the water is warm but not too hot. Water that's too hot can strip your hair and scalp of essential oils.
Next, apply a bit of shampoo into the palm of your hand. A spoonful or so should suffice; the key is to work up enough lather that covers your hair from root to tip.
Work the shampoo into your hair and scalp by using a circular motion with your tips and fingers. Start from the front of your scalp and work your way down to the back, then back up again towards the temples.
Continue this motion for a few minutes so that you're properly stimulating and exfoliating the scalp.
Don't be in a rush to rinse the shampoo off of your head and scalp. Let it sit there, up to a minute if you wish, to further let the shampoo work itself into your hair.
Now rinse off the shampoo completely. Don't be lackadaisical about this step because you truly want to get all of it off or your scalp (and hard to notice places like on your neck or behind your ears). Again, use warm – not hot – water.
Rinse and repeat? OK, there's some controversy around this step because shampoo manufacturers typically encourage you to rinse your hair clean and then repeat the entire process.
However, most people only need one application of shampoo, and too much shampooing can dry out your hair and scalp.
The fact is, most shampoo manufacturers want you to "rinse, lather, repeat" because it means you'll use up your bottle of shampoo more quickly – and need to buy more shampoo.
Apply conditioner. It's up to you to decide if you want to include this step in your regimen. Conditioner can provide many benefits, including extra hydration, and many men are using conditioners these days.
If you decide to join the club, simply apply your conditioner in the same way that you applied shampoo. But you should always leave it in your hair for a few minutes before rinsing it off.
Dry your hair with a soft towel by using a patting or stroking motion. Tugging or pulling at the hair can cause damage and breaking. For better comfort, make sure you use a good robe too.
Question: Should I wash my hair every day?
Answer: Most men do, but it comes down to how dirty and greasy your hair feels on any given day. There's certainly no harm in washing it every day.
Shampoo. Conditioner. What's the difference?
There are two bottles on your shelf that look very much alike but do completely different things. You got it, they're your containers of shampoo and conditioner and while both are hair care products, the similarities often end there.
When used together, however, they may help you get the kind of healthy hair you've always wanted – a nice one-two punch, if you will. Let's take a look at shampoo and conditioner, their differences, their uses, even the chemicals unique to each.
Shampoo
Let's start with the oldest of the two. Shampoo has been around for, well, not quite forever, but long enough. It comes from the Hindi word "champo," which means to massage the head with some kind of hair oil.
Indeed, before the advent of commercial shampoo at the turn of the 20th century, most people cleaned their hair with regular soaps and oils. Perhaps some men still use bar soap as their shampoo of choice today, but we can't imagine that the percentage is high.
So, what is shampoo, exactly?
Perhaps the best way to describe shampoo would be to say "it's like a detergent for your hair and scalp." It's made up of detergents and surfactants, a chemical that creates suds and cleanses the dirt and oil in your hair.
Shampoo's primary purpose is to remove the particles that build up in the hair, including dandruff and environmental pollutants. They'll also help remove dead skin cells that build up on your scalp and attach themselves to hair follicles.
Here's another thing about shampoo: water makes up almost 70 to 80 percent of the entire formula. The rest consists of cleaning agents, oils, anti-dandruff agents, etc.
These cleansing agents are typically mild and primarily used for removing dust and excess oil from the hair.
Conditioner
Hair conditioner is a hair product that is used to improve the condition of the hair. Simple enough.
Because shampoos may strip your hair of natural oils – although many include moisturizers which seek to alleviate that issue – conditioners may be applied after shampooing to make up for the loss.
And this of conditioner types is long: from moisturizing and deep conditioners to acidifying conditioners and color protection conditioners.
Conditioner ingredients include moisturizers, lubricants, anti-static agents, surfactants, and more. Cetearyl alcohol, an agent designed to reduce evaporation on the skin, is a key ingredient in most moisturizers.
Meanwhile, emollients help keep the skin moist and reduce evaporation on the skin and hair while producing a protective film on the skin. They can also restore vitamins and minerals that were lost through shampooing. So it is safe to say that conditioners help trap moisture in your hair, leaving it hydrated all day long.
The pH level is higher in conditioner because it provides a balance that promotes the development of amino acids – which make your hair shinier and full of body. Shampoos have a lower pH balance.
Unlike shampoo, conditioner can either be washed out or left in the hair depending on the product (and your preference). And, unlike shampoo, it doesn't produce lather.
Conclusion
OK, that's all for now. As always, we welcome your comments and general feedback. If you have a favorite shampoo that you think belongs on this list, let us know. Or, if you have questions about the products listed here, don't hesitate to ask. We'd love to hear from you.