7 Best Dandruff Shampoos for Men That Work Great
This post may contain affiliate links. Learn more.
In a hurry? Here are our top picks:
It can be exasperating trying to tolerate a daily dry scalp, scaly skin, and itching that accompany dandruff. The cause can seem a mystery, however, dandruff is simply a result of the body's response to suboptimal skin conditions. It is the overproduction and loss of skin cells in certain areas of the body due to environmental factors or skin conditions like seborrhea and psoriasis.
20% of men and women suffer from varying degrees of dandruff. For this reason, many have considered it a common enemy to their grooming routine. However, dermatitis (dandruff) is very controllable.
Anti-dandruff shampoos are viable ways to control the annoying dryness of scalp and endless itching.
Here in our reviews of the best dandruff shampoo for men, we list the perfect solutions that the market has to offer.
In this review, we'll discuss the things to consider when buying a dandruff shampoo, why we get dandruff, best practices in applying dandruff shampoo to ensure maximum efficiency, and much more.
Let's get started.
Quick summary
<!—INSERT CODE BELOW—>

Best Overall

Nizoral A-D Anti-Dandruff Shampoo

Invigorates and refreshes hair

Lathers up really well

Only required to use two times a week

Check on Amazon

Best Exfoliating Shampoo

Dandrene Anti-Dandruff Shampoo

Prevents flaking in an instant

Soothes and calms the scalp

Cleanses hair gently but effectively

Check Best Price

Best for Severe Dandruff

Head & Shoulders Clinical Strength Anti-Dandruff Shampoo

Gentle formula enables daily use

Triple action formula

Performs as good as product on prescription

Check on Amazon

Neutrogena T/Gel Therapeutic Shampoo

Use once a week is all it takes

Long term dandruff solution

Manages itching and flaking well

Check on Amazon

Maple Holistics Sage Shampoo For Anti-Dandruff

A very nice, pleasant aroma

Made with organic ingredients

Gentle but effective to manage dandruff

Check on Amazon

Jason Natural Cosmetics Dandruff Relief Shampoo 

No nasties, such as parabens or sulfites

Keeps your scalp and hair soothed and hydrated

Offers dandruff relief and scalp healing in one

Check on Amazon

KICK Men's Tea Tree Oil and Peppermint Shampoo

Unisex

Made with natural ingredients

Suitable for athletes

Check on Amazon
Before you buy: 3 Things to consider when purchasing dandruff shampoo
Dandruff shampoo is different from regular shampoo because it contains active ingredients that address a specific problem. Most people who suffer from dandruff are eager to see the problem vanish as quickly as possible. [1]
The active ingredients in any dandruff shampoo are very important and should be considered before making a purchase. The most common active ingredients are zinc pyrithione and selenium sulfide. These ingredients help to eliminate symptoms associated with dandruff and other conditions such as eczema or psoriasis.
Choosing the right dandruff shampoo to give your hair better health depends on a few factors, each of which should influence your buying decision as discussed below.
1. Cause and Degree
Understanding the cause and degree of your dandruff is imperative to buying the right anti-dandruff shampoo.
Seborrheic dermatitis is a fungal condition that appears in an area of the skin with a substantial amount of sebaceous cells affecting newborns and adults between the ages of 30 and 60 mostly [2][3]. It happens when yeast-like fungus feeds on oils from the scalp containing those sebaceous cells [4]. If this is the cause of your dandruff, using random anti-dandruff shampoos may prove abortive. Instead, it will be a better choice to buy dandruff shampoos with ingredients like ketoconazole, zinc pyrithione, selenium sulfide, salicylic acid, and sodium sulfacetamide [5].
Dead skin (scalp) buildup leads to dandruff also. This is caused by sensitivity to hair-care products, oils, or sweat [4]. The best shampoo(s) to take care of this should contain salicylic acid and coal tar. However, daily use of these shampoos may lead to scalp irritation.
2. Ingredients
Knowledge of the ingredients contained in dandruff shampoos will help you avoid contact dermatitis (sensitivity to certain hair-care products), saving you from severe cases of scalp buildup [4].
Here's a closer look at the key ingredients in anti-dandruff shampoo for men and what they do:
Selenium sulfide is a topical agent that works to fight fungus. It is available in dandruff shampoos at concentrations of 1% and 2.5% [6]. However, only shampoos containing 1% selenium sulfide are sold over the counter while those with 2.5% concentration are dispensed only with a doctor's prescription.
Zinc pyrithione breaks up the fungus and bacteria commonly associated with dandruff. In a study, zinc pyrithione was found to be highly effective in controlling dandruff, especially on repeated use [7]. It is not as hazardous as selenium sulfide, so say the experts.
Ketoconazole an active ingredient for treating dandruff. Studies have shown that dandruff shampoos containing 2% ketoconazole are more effective in treating/preventing dandruff than those contain 1% of it [8].
Coal tar is a keratoplastics drug [9]. Although it appears pretty strong, is an active ingredient that reduces the production of skin cells. Flakiness and itching from dandruff are as a result of the overproduction of skin cells [5].
Coal tar has no anti-fungal effect but is particularly helpful for people with overly oily and hyper-productive skin.
Tea tree oil is found in a ton of men's grooming products –from body wash to regular shampoo to conditioners and much more. It is a natural agent with antiseptic and anti-fungal properties. Also, it's mildness to the skin can't go without notice.
3. Use
Dandruff shampoos vary in their suitability of use. Research shows that some products are best used twice weekly [8]. However, many others are designed for everyday use. Make sure to confirm, from the label, how often an anti-dandruff shampoo should be used before buying.
If you have dry hair or sensitive skin, you'll want to take a look at a gentle anti-dandruff shampoo. If you have oily hair or are looking for a natural shampoo.
Now that you know the things to look at when buying, let's move on to our reviews of the best dandruff shampoo for men.
7 Best dandruff shampoos for men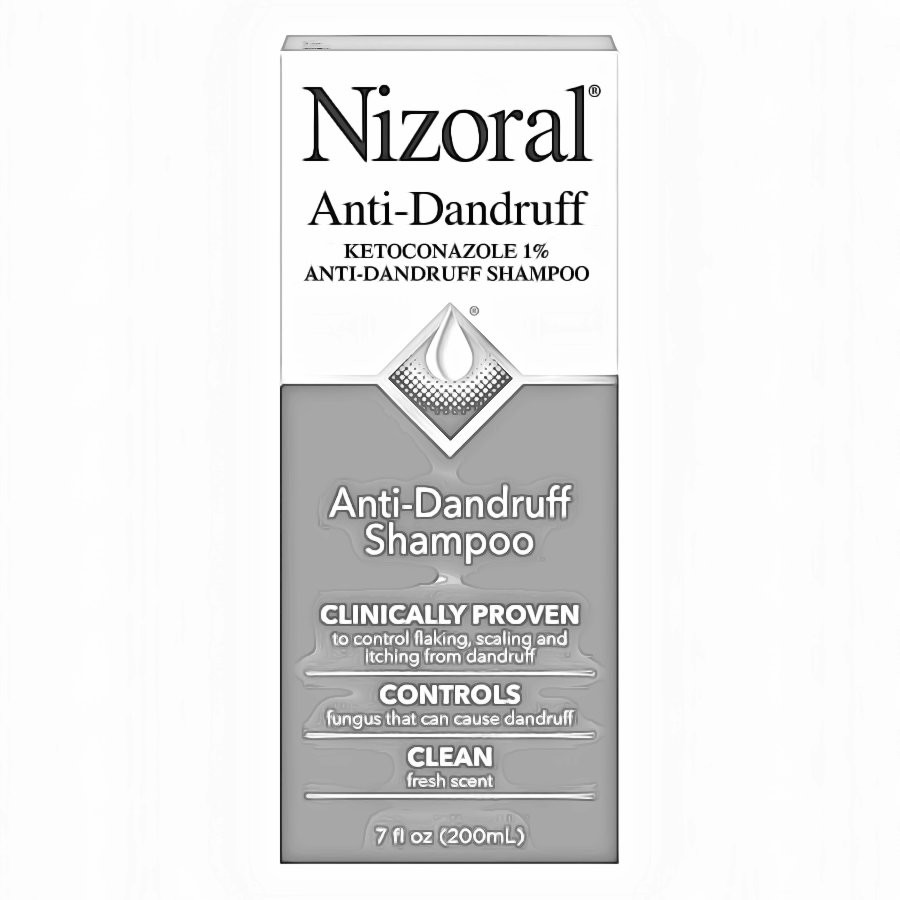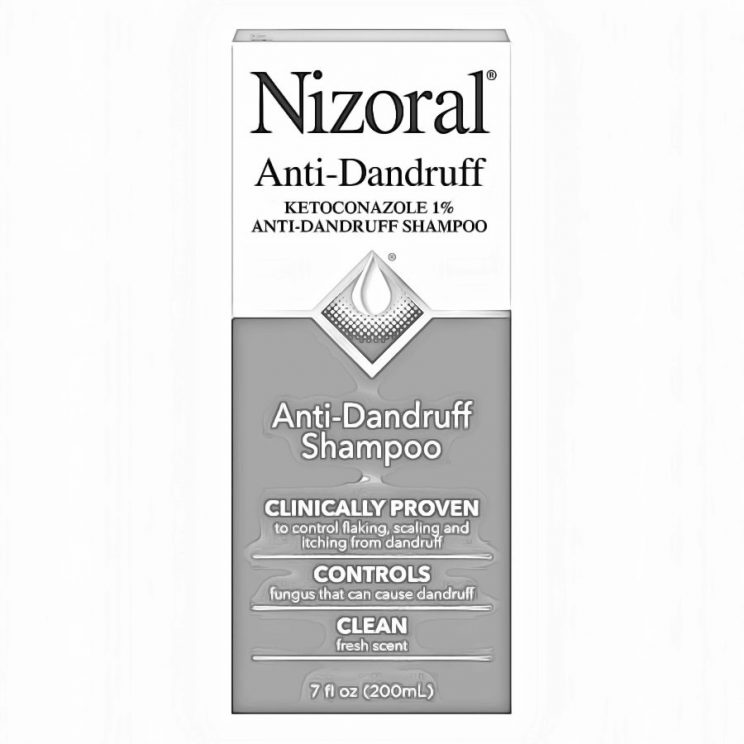 The Nizoral A-D our top pick for the best anti-dandruff shampoos. Dermatologists recommend this product for the treatment and prevention of dandruff because of its effectiveness in dealing with the flaking, itching, and scaling on your scalp that leads to dandruff.
Also, because of its strong chemical composition, it is seldom available for purchase over the counter. In severe cases, you will need a doctor's prescription to buy the variation with 2% ketoconazole, which is the key ingredient [10].
Although Nizoral A-D packs a powerful punch, it smells nice (unlike most dandruff shampoos) and is suitable for chemically-processed, color-treated, and gray hair. You're free to continue your grooming routine in days that you aren't using it. On very rare occasions, users have reported that it thickens hair texture [11].
Studies have also shown that the active ingredient, ketoconazole, found in Nizoral helps fight male pattern baldness [12]. However, children below 12 years old are not advised to use the product since children's skin is more permeable than adults [13].
It is recommended that, for healthy use, you should apply the Nizoral A-D Anti-dandruff Shampoo only 2-3 times a week [14]. It's designed to bind with the natural protein on your hair even after rinsing, thereby fighting fungal activities between uses. Thus, it is long-lasting and very easy to use.
How to Use:
Apply it evenly to your hair and scalp.
Leave for several minutes after application to let the ingredients bind to the skin proteins for a lasting effect.
Rinse thoroughly.
Nizoral A-D Anti-dandruff Shampoo comes in 4, 7, and 14-ounce plastic containers, each with an easy-to-use flip-top cap.
Pros
Only need to use twice a week

Thick, rich lather

Leaves hair smelling fresh
Cons
Relatively difficult to find
Bottom Line
A truly heavyweight champion among anti-dandruff shampoos, Nizoral A-D is the go-to option for many men. With only a few uses (twice a week), you'll notice the improvements (and fewer flakes on your clothes).
DS Laboratories have found a way for you to wear black clothing without worrying about dandruff standing out on it like a sore thumb. However, that's not the main reason why they developed their Dandrene Anti-Dandruff Shampoo, but it serves that purpose.
Dandrene combines DS's unique technology and innovation with hair-healthy ingredients that treat the flakes, dryness, itchiness, and redness of dandruff. You'll notice improved results quickly, and you'll give your hair a thorough, gentle cleansing in the process. It also delivers positive cosmetic results that leave your hair always looking its best.
Dandrene's formula includes hydrolyzed lupine protein and pomegranate peel with a 2% zinc pyrithione that exfoliates dead skin cells.
Research has shown that hydrolyzed lupine protein is effective for treating skin blemishes leaving your skin flawless and radiant. Another recent study reveals that this protein is very effective against planktonic cells and biofilms [15]. Therefore, athletes, surfers, and people who spend quality time in admiring nature or at the beach are safe from planktons creating strong biofilms of bacteria and fungi on their scalp.
Furthermore, pomegranate has been an age-long ingredient for formulating dandruff shampoos. A study published on the most recent (2020) release of the Journal of Pharmacognosis and Phytochemistry shows that pomegranate "combats hair loss, prevents dandruff, and darkens hair color"[16]. This makes Dandrene Anti-Dandruff Shampoo an excellent fix for numerous hair care issues.
The 2% zinc pyrithione, however, forces this product out of the counter but can be accessed with relative ease. Zinc pyrithione, although not as strong as selenium sulfide, has an impressive antifungal and antibacterial qualities that stick to hair follicles and actively fight dandruff causative agents between uses.
With the help of Dandrene's unique Nanosome delivery system, among many things, zinc pyrithione is exposed to every part of the scalp and hair for an extended period, leaving no area unattended.
Dandrene Anti-Dandruff Shampoo also produces a soothing, calming effect on your scalp by limiting excess oil produced by the scalp and reduced sebum degradation.
Pros
Stops flaking fast

Calms and soothes the scalp

Gently but thoroughly cleanses hair
Cons
Not as easy to lather as some anti-dandruff shampoos
Bottom Line
You need a shampoo strong enough to handle the job if you have serious dandruff issues. Using Dandrene Anti-Dandruff Shampoo offers you a more-than-strong-enough solution and also provides a nice cleansing that will help your hair look and feel better.
Head & Shoulders have led the fight against dandruff for over 50 years, reaching several milestones and inventing some of the best solutions for the average human to fight dandruff.
The Head & Shoulders Clinical Strength Anti-Dandruff Shampoo directly addresses the problem of seborrheic dermatitis as well as the itching, flaking, and irritated scalp that come with it. It relieves the symptoms while making those pesky white flakes disappear. There's no wonder why it is one of the most dermatologist-recommended dandruff shampoos.
This dandruff shampoo contains 1% selenium sulfide which, according to studies, has "cytostatic capabilities"[17] This makes it effective in reducing the number of squames (dead cells on the outermost layer of the skin) that usually cause flaking and itching.
While it's the strongest dandruff shampoo available for over-the-counter purchase, it's gentle enough for daily use.
Another key feature of the Clinical Strength Anti-Dandruff Shampoo is Head & Shoulders' unique "3-Action Formula".
Clean,
Protect, and
Moisturize.
The 3-Action formula helps create a full, rich lather, and better coverage across the entire scalp. With its strong lather and pH balance, it washes excess oil away from the scalp, giving the yeast-like fungus that causes seborrheic dermatitis less oil to feed on [4].
While packing a heavy anti-dandruff bunch, it has all the cosmetic benefits of leading beauty shampoos, suitable for all hair types, including color or chemically treated hair. Providing a good look and gentle feel with eradicated dandruff problems.
With this 3-Action technology, the size of zinc particles in the shampoo is reduced for ultra-mild cleansing of hair and scalp cells [18].
Pros
Prescription-strength formula available without a prescription

Gentle enough for daily use

3Action formula
Cons
May leave your hair feeling dry
Bottom Line
Let's face it, it's difficult to do any anti-dandruff shampoo review without including a Head & Shoulders product. The H & S team knows what it takes to relieve dandruff and its clinically-strong shampoo attacks the issue with vigor.
Coal tar, as earlier stated, is one of the ingredients you'll find in anti-dandruff shampoos. Regardless of harsh nature, coal tar is a cytostatic agent when applied intensively on the skin [19]. With this capability, it addresses dandruff issues by reducing the production of corneocytes (dead cells on the outermost layer of the skin). Overproduction of these skin cells is an underlying cause of dandruff resulting from scalp psoriasis and seborrheic dermatitis.
Although this agent (coal tar) is FDA-approved for dandruff treatment and prevention, it should be considered as a last resort and must not be used daily [20]. Dandruff shampoos with coal tar as a prominent ingredient are formulated to fight some of the most severe symptoms of dandruff.
Neutrogena's T/Gel Therapeutic Shampoo, having coal tar as its prominent ingredient isn't exempted from these precautions. However, it has a proven record of giving dramatic results when used twice a week as a recommended practice.
All of the products in Neutrogena's Therapeutic Hair Care line include salicylic acid and zinc pyrithione. The salicylic acid helps to loosen flakes that may already clog the scalp while zinc pyrithione helps to keep the formula attached to the hairs giving it an extended period of functionality [21].
As the Neutrogena T/Gel Therapeutic Shampoo is not a combination, it prepares the hair for easy conditioning with any suitable hair conditioner. Conditioning should be a vital part of your grooming routine if you're using this product because coal tar when used alone causes dryness of hair [22].
Pros
Long-lasting dandruff relief

Only have to use once a week

Controls itching and flaking
Cons
Can cause sun sensitivity
Bottom Line
As Head & Shoulders, Neutrogena is in the business of creating extra-strength dandruff shampoos that don't require a prescription. If you're looking for an anti-dandruff shampoo that you don't have to use every day, the T/Gel Therapeutic Shampoo is an excellent option.
With the Alternative Healthcare industry projected to be worth over 69 billion dollars in 2019, there are enough resources for businesses within this industry to develop natural and effective solutions to hair-care issues.
Maple Holistics is one of the companies thriving in the industry. This US-based company is committed to providing natural products for hair grooming and healthy living. Its products are eco-friendly, free of animal cruelty, and vegan-friendly (100% plant sources). Its Sage Shampoo for Anti-Dandruff is one of the best dandruff shampoos for men with no trace of harsh substances like parabens and sulfates.
The Sage Shampoo for Anti-dandruff is stuffed with natural ingredients that deal with dandruff's symptoms on many levels. Because of their commitment to producing eco-friendly healthcare products, this dandruff shampoo is 100 percent natural with no added chemical or derivatives.
As the name implies, the primary ingredient in this shampoo is sage. Sage (Salvia officinalis) is a plant with anti-inflammatory and anti-fungal qualities that make it ideal for quashing dandruff before it gets out of hand. It even provides a natural benefit for those dealing with hair loss issues. However, because of its strong aroma and earthy flavor, only a small amount of the plant is added to shampoo to prevent offensive smell [23].
Along with sage, this shampoo also includes rosemary and tea tree oil. Rosemary oil stimulates hair follicles and enhances hair growth and "tea tree oil helps remove dead skin cells and flaky skin on a dry scalp," according to a board-certified dermatologist, Dr. Marnie B. Nussbaum [24][25]
Tea tree oil is also a natural antiseptic that helps fight bacteria and improve oily scalp as shown in a 2016 study [26].
Jojoba and argan oil are also active ingredients in Maple Holistic's Sage Shampoo for Anti-Dandruff. These ingredients work together to restore moisture to the hair while keeping it from becoming frizzy and damaged.
The excellent mix of healthy breeds of natural plants found in this anti-dandruff shampoo gives it a spicy smell that, although isn't subtle, is quite suppressible [23].
Pros
Organic ingredients

Gentle but strong enough to deal with dandruff symptoms

Pleasing scent
Cons
Not as effective with certain types of severe dandruff
Bottom Line
If you're a vegan or nature-loving person, looking for an all-natural solution to dandruff, this Maple Holistics Sage Shampoo for Anti-Dandruff is a good choice. Even with its strong anti-inflammatory and antiseptic qualities, it is gentle enough for everyday use, and also has moisturizing qualities that prevent damaged hair.
The JASON brand got its name from the Greek word for "healer." From California, one of the world's top trendsetters, JASON's natural hair-care products have earned wide recognition for their ability to treat and heal severe hair conditions [27].
The JASON Natural Cosmetics Dandruff Relief Shampoo is an excellent, medicated product that contains natural ingredients to fight the daily battle against dandruff.
While it combats the troubles from flaking and itching skin, it 'heals' severe dandruff symptoms and restores the healthy balance to your hair and scalp. For this reason and many others including its availability and mildness, it is a high-ranking product among the best men's shampoo for dry and itchy scalp.
During the winter, cold and dry air dries the hair and scalp leaving layers of dead cells that soon start flaking and causing dandruff. Using moisture-retaining anti-dandruff shampoos, like the JASON Natural Cosmetics Dandruff Relief Shampoo during the winter is the best way to weatherproof your hair.
This natural dandruff shampoo also addresses the underlying causes of dandruff including tissue lesion and irritation. The contained natural ingredients make this possible.
Leading the mix of men's natural hair-care ingredients are tea tree oil, jojoba oil, and rosemary.
With rosemary oil stimulating hair follicles for enhanced hair growth and tea tree oil fighting bacteria and improving your scalp's health with its antiseptic qualities, this JASON Natural Cosmetics Dandruff Relief Shampoo both moisturizes the hair, heal ailing scalps and reduce dead cell production and flaking [24][26].
Jojoba oil, on the other hand, is rich in B-vitamins, vitamin C, vitamin E, copper, and zinc [28]. These vitamins are essential for healthy hair growth while studies have shown that copper and zinc are equally important to promote hair growth. Due to the correlation between testosterone and copper and zinc levels in the blood, researchers propose that they play a significant role in hair growth (facial hair specifically) [29].
Olive oil and Aloe vera are also ingredients of JASON Natural Cosmetics Dandruff Relief Shampoo. Although olive oil is known as a natural moisturizer, Aloe vera is proven to prevent radiation-induced skin reactions among other benefits [30].
To make the formula an effective solution that heals, treats, and prevents dandruff, sulfur and salicylic acid are included as vital ingredients to neutralize dandruff while dealing with any irritation caused by other agents [31].
Since the product doesn't contain chemicals seen in other anti-dandruff shampoos, including ketoconazole, zinc pyrithione, and selenium sulfide, it is considered safe for frequent (daily) use and can be purchased over the counter.
This dandruff shampoo is ideal for men with sensitive skin because it is free of parabens and sulfites which cause increased irritation when using other shampoos that may contain these chemicals.
From the company's guide, you're advised to use the Natural Cosmetics Dandruff Relief Shampoo three times a week at the start until you notice an obvious decrease in your dandruff. After that, you may want to reduce the frequency of use to once a week.
Pros
Provides long-term dandruff relief while healing the scalp

No parabens or sulfites

Keeps your scalp and hair moisturized
Cons
Some users complain about its sulfuric smell
Bottom Line
The Natural Cosmetics Dandruff Relief Shampoo is indisputably effective in fighting those white flakes. It has made our list for its ability to uphold this quality for an extended period. Although it is a great choice for preventing hair dryness and dandruff during the winter, it works excellently for all weather conditions and all types of hair.
Studies have shown that soaps and shampoos containing surfactants cause skin irritation, dryness, and itching [32]. KICK Men's Tea Tree Oil and Peppermint Shampoo was designed to fight these challenges that men face when using surfactant-containing shampoos.
With no nasty chemicals and eco-friendly ingredients, this Tea Tree and Peppermint Shampoo is 100% natural, containing botanical extracts with 11 herbal essences, including rosemary, Aloe vera, and tea tree oil among others.
With this all-natural dandruff shampoo, men can grow stronger and healthier hair while maintaining a clear scalp with no flaking and itching.
Depending on preference, this product has a smell that is invigorating although some find it overpowering.
Pros
Free of harsh chemicals

Natural Ingredients

Great for athletes
Cons
It is very strong smelling
Bottom Line
A great, natural anti-dandruff shampoo that is powered by organic, healthy ingredients. It is an excellent choice for men that are avoiding awful chemicals while maintaining healthy, dandruff-free hair, and beards.
Take control of your dandruff: How to apply your shampoo
The technique for applying an anti-dandruff shampoo is much the same as it is for applying regular shampoo. After all, they are both shampoos, even though their compositions and purpose vary.
Wet your hair with warm water.
Pour a small amount of dandruff shampoo on your palm.
Apply to your hair.
Massage your hair and scalp with your fingers.
Allow the anti-dandruff shampoo to stay on your hair for 5-30 minutes. This will allow the active ingredients to stick into the hair follicles and penetrate the topmost layer of the scalp.
Rinse the dandruff shampoo with warm water.
Apply hair conditioner for moisturizing (if your shampoo is not combined with a conditioner).
Rinse with clean water thoroughly. Leftover shampoo can irritate the skin, which is one thing you're trying to avoid in the first place
How often should you use dandruff shampoo?
Dandruff shampoos vary and their composition determines how often you should use them. Some dandruff shampoos have very strong agents that can be harmful to the hair when used frequently.
Shampoos containing 2% coal tar, for instance, may cause hair dryness and consequently, hair loss when used too often. Therefore, applying this type of dandruff shampoo once or twice a week is ideal [9].
Similarly, strong anti-dandruff shampoos containing ketoconazole may be dangerous to the hair and even your health generally. Nizoral A-D Anti-dandruff Shampoo is an example of strong anti-dandruff shampoo containing this active agent. It is recommended that you use the formula no more than twice a week.
However, there are dandruff shampoos designed for everyday use. These ones are mild and often 100% natural with botanical extracts.
Regardless of the ingredients and their concentration, ensure to check the instruction on the label of the shampoo or follow the instruction given by the dermatologist (if you had an appointment).
But use it regularly
Whether you are applying the dandruff shampoo daily or weekly, you have to use it consistently to achieve the best result and prevent further occurrences.
Many people are tempted to stop using an anti-dandruff shampoo after noticing improvement or relief from dandruff symptoms. In most cases, since there's no ultimate cure for dandruff, the flakes reappear a few weeks later.
Add conditioner to your routine
Omitting a good conditioner from your grooming routine may turn out to be a grave mistake. A conditioner coats the hair from the harsh atmosphere. The hair is like a reactive metal and a conditioner is the non-reactive coating that prevents the hair from corroding.
Dr. Adam Friedman, a board-certified dermatologist describes that "conditioner refortifies the cuticle with a protective coating, allowing the hair to keep growing and not break easily."
Therefore, to ensure healthy hair growth, you must include a conditioner in your grooming routine.
Nevertheless, there are some anti-dandruff shampoos that contain a combination of conditioner and the active shampoo. This is specified on the label of the product. If your shampoo falls within this category, you shouldn't panic about missing out a conditioner from your routine. To treat dandruff effectively, look out for anti-dandruff conditioners. They work magic!
Shampoo, dandruff shampoo: What's the difference?
Shampoos are really important to keep your hair and scalp healthy. However, there are different types of shampoo, each designed for a specific purpose.
Although all shampoos aim to moisturize, soften, and foster growth in hair, dandruff shampoos are designed with extra active ingredients with track records of inhibiting dandruff-causing bacteria and fungi on the scalp and hair.
Below are common differences between regular shampoo and dandruff shampoos
Regular Shampoos
Regular shampoos contain synthetic detergents found in laundry detergent, dishwashing detergent, soaps, and others [33]. These detergents serve as surfactants for washing off excess natural oil (sebum) from the hair and scalp.
Regular shampoos often appear attractive on the shelf because they are usually in combination with conditioning agents that protects the hair in case the detergent strips away too much sebum, leaving the hair frail and facing risks of hair breakage and loss [33].
Regular shampoos contain protectants, like sunscreen, to protect the hair from the sun's UV radiation and heat that may damage the hair and scalp through drying.
Regular shampoos may contain various types of fragrances, giving it some alluring scent.
Anti-dandruff shampoo
Anti-dandruff shampoos have the same features as the regular shampoo and more, although some smell more annoying than others.
Anti-dandruff shampoos contain ingredients that temporarily re-calibrates your scalp's pH balance. These ingredients include selenium sulfide, zinc pyrithione, ketoconazole, and several others that tackle dandruff in various ways through their anti-fungal and anti-bacterial qualities.
Anti-dandruff shampoos contain compounds that are harsher than those in the regular shampoo, thus, you may have to use them less frequently. However, some are labeled "gentle enough for daily use."
There are medicated dandruff shampoos that are less available for purchase than the non-medicated dandruff shampoos. These medicated shampoos (e.g. Nizoral A-D Anti-dandruff Shampoo) are dispensed with a doctor's prescription because they have very strong active agents that can be harmful when used wrongly [10].
Like regular shampoo, there are anti-dandruff shampoos for specific hair types. It's important to choose wisely rather than risking damage to your hair.
That said, it's never a bad idea to choose an anti-dandruff shampoo that uses a moisturizing conditioner in conjunction with salicylic acid.
So, why me? Why do I get dandruff?
Dandruff is a troubling condition suffered by over 20 percent of the world population. Thus, it could inspire anxiety and stress when it starts to appear. However, studies have shown that all kinds of stress causes of dandruff and Seborrheic dermatitis [34].
Dandruff is a common scalp disorder, mostly found in men. It is caused by the abnormal shedding of dead skin cells from the scalp. The severity of the condition is directly related to how quickly your skin cells are shed and replaced.
Other than stress, there are several causes, as well as risk factors, that may lead to dandruff [4].
1. Irritated and oily skin
These are primary symptoms of seborrheic dermatitis, a condition that is considered the most common cause of dandruff. People may also experience red and greasy skin covered with yellow scale-like flakes.
Even with good hygiene, anyone can suffer from seborrheic dermatitis. This disease is caused by usually harmless yeasts that live the skin. Also, stress and immune responses can cause it. Studies have shown genetic causes as well and sensitivity to certain medicines is not left out from the list of causative agents [35].
2. Dry skin
Published on Medical News Today, Yvette Brazier wrote that, "people with dry skin are more likely to have dandruff" [36]. She believes that cold weather and a heated room can also increase the itching and flaking experienced by people with dry skin.
The not-so-good news, however, is that dandruff caused by dry skins doesn't show redness and the frustrating irritations seen in seborrheic dermatitis.
3. Not shampooing enough
Not maintaining a good hair-care routine can cause dandruff. Shampooing your hair regularly can help deal with this occurrence on dandruff.
Failure to keep your hair clean consistently will cause skin cells to build up on your scalp. Also, the skin produces sebum (natural body oil) that needs to be washed off regularly. A deposit of this sebum over time will create a favorable growth culture for the yeast-like fungus (Malassezia) that, otherwise, is a part of the skin flora [37].
4. Malassezia
Malassezia is a yeast-like fungus found on the scalp of most adults. For some, however, it causes scalp irritation, causing increased skin cell growth, which then dies off to produces dandruff.
5. Sensitivity to hair products
Some men are sensitive to certain ingredients found in hair products (or hair dyes) and it may lead to an itchy and irritated scalp.
6. Risk factors
Being a male doesn't make you less susceptible to dandruff. Both men and women have similar skin flora and the yeast-like fungus that breaks down sebum is present in everyone.
According to a 1991 study, both men and women have equal sebum production [38]. This, however, doesn't even the "dandruff playing field" for both genders. 60 percent of men have facial hairs as against 5-10 percent of women who have facial hairs due to slight shifts in hormone sensitivity [39][40][41].
With this obvious data, it is clear that we (men) have more scalp areas growing hairs than our female counterparts. This makes us more likely to suffer from dandruff in multiple areas of our body including the face and sheen.
Immune diseases, like HIV, is a risk factor for dandruff. The skin is the body's first line of immunological defense and a compromised immune system means a compromised body defense beginning from the skin [42].
Poor diet is yet another cause of dandruff. Dry scalp and dandruff are symptoms of vitamin and mineral deficiency. Nutrients like zinc, B-vitamins, and essential fatty acids are necessary for improving the skin's health [43].
Also, it's important to drink enough water each day, because dry skin and flakiness are common signs of dehydration.
Our method of choosing the best dandruff shampoos for men
Finding a dandruff shampoo that works for you is tricky. Many factors come into consideration whenever you want to try a dandruff shampoo.
Your hair type,
How much oil your sebaceous glands produce,
Your age, and
How often you use shampoo.
Hopefully, our reviews of the best dandruff shampoos for men above will steer you in the right direction.
Just like you, we considered several factors when picking these best products; one of which is the overall performance of the formula. We believe that if an anti-dandruff shampoo doesn't deliver its promise of relieving dandruff, then it doesn't have a place in our reviews.
Some of the major factors considered in the selection process include:
How many positive reviews a product received. Products with a ton of reviews and an overall high rating across the internet (on sites like Amazon) always get our attention.
The cost of the shampoo (our main goal is to review products that fit all budget classes).
The ingredients. Like with other product reviews, we prefer natural ingredients but understand that not every one of our selections will consist of only organic ingredients. However, we focus on the best products in the market currently.
The type of hair and scalp for which the dandruff shampoo works best.
Conclusion
While you make your purchase, we encourage you to do some surface research to confirm the suitability of the product with your hair type and intended use frequency. This will save you time when buying and help you wade through the heap of hair-care products as well as the incessant noise from adverts.
If you have questions, comments, and recommendations on products that you will like us to look into, kindly leave us a note on the comment section below. We will do our best to answer your concerns.
We'd love to hear from you.
References