8 Best Razors for Men that provide a Nice, Smooth Shave
This post may contain affiliate links. Learn more.
In a hurry? Here are our top picks:
Every man knows how important a good razor is: without one, you end up with a face full of patchy stubble, nicks, and cuts.
A good face razor, on the other hand, makes shaving easy, safe, and fun, plus it makes you look good.
But with so many to choose from, finding the very best razors for men can be a challenge.
So that's what this review is about: helping you find the best shaving razor for you.
We've put together a list of our favorite 8 options, making sure there's something for every man's needs.
And that's not it:
We've also put together an illustrated guide to help you use your razor too because a razor could leave some really nasty results if you don't know your way around one.
So whether you're new to the world of men's grooming or an old hat looking for some new product recommendations, we've got everything you need.
But before we get into it all, we need to explain exactly what you should be looking for when you're in the market for a razor.
Quick summary
<!—INSERT CODE BELOW—>

Best for a Close Shave

Merkur Futur Adjustable Safety Razor

Multiple blade settings

Weight is evenly distributed

Matte-finish holds up well to wear and tear

Check on Amazon

Best for Sensitive Skin

Gillette Mach3 Men's Disposable Razor

Safe and comfortable to use

Easy-to-grip handle

Pivoting head and lubrastrip provide a super smooth shave

Check on Amazon

Best for Travel

Merkur Travel Razor With 1 Blade

Compact size

Durable

Double-edge blade compatibility

Check on Amazon

Feather SS Japanese Straight Razor

Resin, heat-resistant handle

Easy to replace blades

Rounded shaving head for superior control and comfort

Check on Amazon

Merkur 34C Heavy Duty Classic Double Edge Safety Razor

Great for sensitive skin

Superb Merkur craftsmanship

Two-piece design is easy to assemble and clean

Check on Amazon

Gillette Fusion5 Proglide Power Men's Razor

FlexBall Technology

Superior blades

Great on sensitive skin

Check on Amazon

Schick Hydro 5 Power Select Razor

Great for sensitive skin

Flip trimmer for hard-to-reach areas

Maximum lubrication

Check on Amazon

Dorco Pace 6 Plus

One-of-a-kind six-blade design

Ergonomic design

Has a solid feel to it

Check on Amazon
Before you buy: 7 Things you have to consider and look for when buying a men's razor
1. Type of razor
There are four basic types of razors:
Straight razors are the classic razor design, used by men for literally centuries. They require more experience and skill than many other kinds of razors, and for that reason are increasingly unpopular with the young and inexperienced shaver. However, they are not to be overlooked and can provide an unparalleled quality of closeness.
Safety razors are locked in a safe angle to expose only the very edge of the blade; this is so as to prevent nicks and cuts. They are popular with men across the experience spectrum and are very easy to use. A great example is Merkur's Futur Adjustable Safety Razor , which provides the very closest shave of any razor we've found.
Cartridge razors are multi-blade disposable razors; like safety razors, they are also very popular. They tend to vary more in quality than safety razors, but the best provide a close, easy shave and are relatively safe to use. The downside tends to be the cost – you can blow your life savings on these things if you're not careful!
Disposable razors are traditionally single-bladed, where the entire razor is thrown away once the blade goes dull. They are cheap, convenient and ideal for travel – they just aren't great quality, and won't give you the shave of your life. They do however get the job done.
Electric razors are also very popular amongst men who are prone to ingrown hairs. An electric shaver cuts the hair just above the skin. A manual razor cuts your hair just below the skin surface because the blades are designed to push your skin back a little bit. These razors won't give you that silky smooth finish but they are very quick and easy to use. 
They are also often preferred for beard maintenance because they come with various accessories that are suited for all sorts of beard maintenance tasks such as trimming, grooming, and shaving. A lot of men buy these razors as a beard trimmer just to keep a nice and groomed appearance for their beards, but they have the option to switch the trimmer blade to a shaving blade for a smooth shave. 
Some men do, however, get terrible razor burn from using an electric shaver, so you have to make sure you're not prone to razor burns.
2. Your skin type
Every man's skin is unique, and that means you need to be very careful to ensure your razor matches – and gets on with – your skin.
This is particularly important if you have very sensitive skin: you will need something like Gillette's Mach3 Disposable Razor , which boasts a pivoting head and lubrastrip to protect the skin and ensure your shave is smooth.
3. The handle
Usability is crucial – you want using your razor to be pleasant and easy. That's why the handle is such a pivotal part of any purchasing decision: it determines how it feels to hold and use the razor.
Gillette's Mach3 Disposable Razor is a great example once again: its handle is ergonomically designed to maximize both comfort and control.
4. Maintenance
Looking after your grooming products is clearly vital, and ensuring that you choose a razor that will be easy to maintain is pivotal. Many razors are prone to accumulate dirt and be difficult to disassemble and clean; others are designed with this in mind and make the process of maintenance easy.
5. Maneuverability and weight
When shaving – particularly when you're in a rush – you need to feel in control of your razor. And that means the weight and maneuverability of your razor are key.
In part, this is a question of personal preference: some men love to feel a hefty weight in their hands like Merkur typically provides; others will prefer a very light razor. The question is mostly about how you like to feel when shaving.
6. When and where you shave
Whatever your daily routine, shaving needs to fit into it. And that means choosing a razor that will enable you to go about your day with ease. If you are often in a hurry, a cartridge razor will help you out; if you travel a lot, you'll need a small design, like Merkur's Travel Razor with 1 Blade , which is compact and easy to transport.
If you have absolutely no time for grooming then you should get an electric shaver. These devices can be used for dry shaving on the go. Dry shaving with electric razors also doesn't cause skin irritation or burns.
7. Value
Top razors can get pretty damn expensive, so you need to be sure you're getting your money's worth. That doesn't necessarily mean shooting for a cheaper option – it just means being clear about what you expect to pay and what you expect to get for it.
It's extremely important to us that you get the very best deal you can, so we've tried to include razors from across the price spectrum, to give you a clear sense of exactly how much you should be expecting to spend.
Merkur's Futur Adjustable Safety Razor is exceptionally constructed and wonderful to use, but you will be paying a little more for it; Gillette's Mach3 Disposable Razors are much cheaper and still pack a punch, but you will be replacing them fairly frequently – and that can add up!
The 8 best razors for men
What stands out about this razor
Multiple blade settings for total control over length
Evenly distributed weight for exceptional control and maneuverability
It's compatible with all double-edge blades
The best razor for
Men who want the closest shave and the best overall razor
Overview
Merkur is a beloved brand in the shaving world, and for good reason: their German craftsmanship produces products with unparalleled construction and quality. And their Adjustable Safety Razor is a perfect use case for this.
The quality of the Germans construction is immediately clear: it just feels well put together and completely durable.
With its long, magnetic grip handle and beautifully distributed weight, it gives you exceptional usability. You feel totally in control with plenty of room to maneuver, allowing you to shave with ease and get around the tricky areas.
The razor also features 6 blade settings, which allows you to toggle from less to more aggressive shaves, and be totally in control of the length and precision of your shave. And because it's adjustable, you can use any of these settings with the same blades.
It's also compatible with all double-edge blades, making your life a whole lot easier when it comes time to buy replacement blades. And the Futur doesn't use a screw to keep the blades in place – instead, it uses a clip – so reloading the blades is far easier.
All sounds pretty great, right?
Well, there are some important points to note: as a safety razor, it is slightly more difficult to use than other razors on this list, and many newbies will be stumped.
It's great for men with big hands, because of its long handle, but that also means it's less easy to transport around.
With that in mind, this is still the best shaver for men you'll find, for an unbeatably close shave.
The good
Closest shave razor you'll find

Unparalleled durability and construction

Very comfortable to use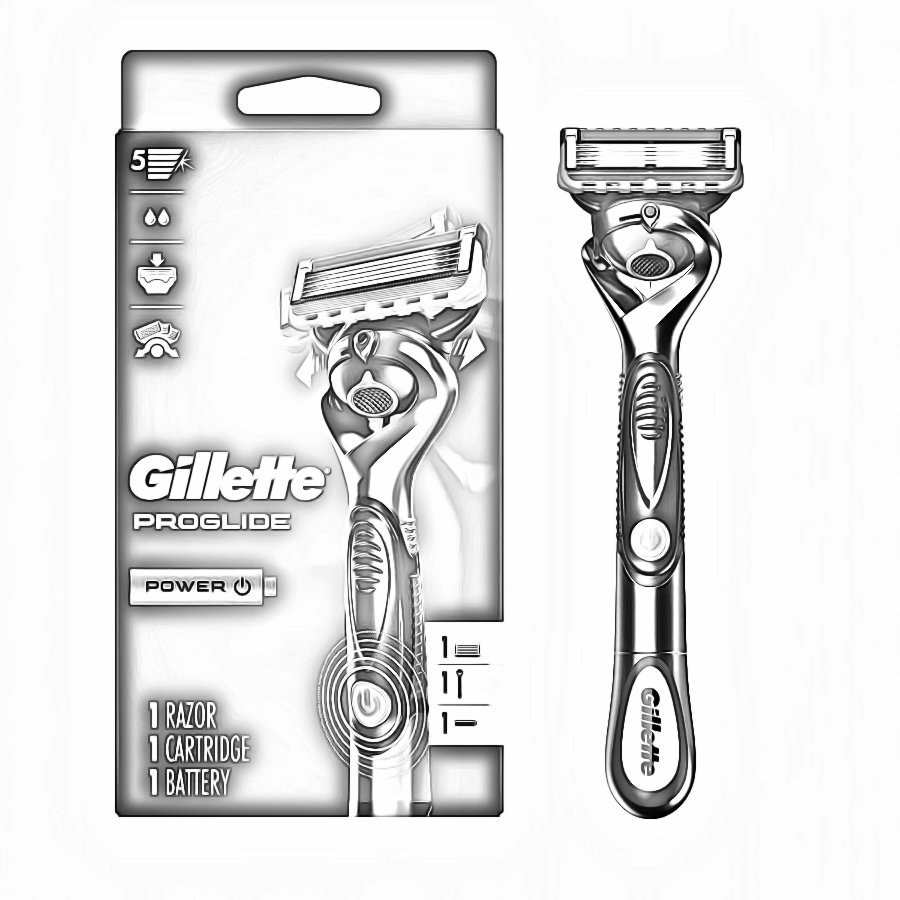 What stands out about this razor
Lubrastrip protects from dry skin
Ergonomically designed comfortable grip
Pivoting head for super safe shaving
The best razor for
Men with sensitive skin
Overview
Gillette's shaving products are legendary, and their Mach3 disposable razors prove why that reputation is deserved.
Simply put, this is the best disposable razor on the market: not only is it super easy to use, with its ergonomically designed grip, it's also extremely safe to use.
It features a pivoting head with Microfins that provide protection from cuts and rashes, meaning even very sensitive-skinned men can shave with confidence.
There's also the matter of the lubrastrip, which helps protect dry skin and provides a smoother, cleaner shave.
Ultimately, the experience of using Mach3 is sheer relief: you don't have to worry about anything.
Its 3 blades are positioned to cut closer, more evenly, and more easily – and they absolutely succeed.
Of course, there are some issues: for one thing, many wish Gillette would sell them in larger packs so you don't have to continually repurchase.
But they are also quite a bit more expensive than many other disposable razors, which can definitely add up over time.
If you want the best quality disposables though, that's just what you to deal with – and to be fair, you do get what you pay for. It's an excellent choice.
The good
Super easy, comfortable and safe to use

Extremely close, precise shave

Great for sensitive and dry skin
The bad
Many reviewers complain that they don't sell bigger packs
What stands out about this razor
Compact size
Durable design
Compatible with all double-edge blades
The best razor for
Men who travel a lot
Overview
Merkur clearly knows what they're doing: this is their second entry on our list, and it's not even going to be their last!
The Travel Razor with 1 Blade is a popular staple with men who travel a lot, and it's not hard to see why: when you're jetting around, it's important to have a razor with you that is not only easy to transport but actually gets the job done.
With its beautiful compact design, it is ideal for moving around with. But the closed-comb head and standard fixed blade gap mean it also absolutely lives up to the quality you expect from such an esteemed manufacturer.
It is extremely durable and tough, meaning you can buy it as a real investment. And it's super easy to clean.
Like the Futur, it's compatible with all double-edge blades, and like the Futur, it provides an extremely close, precise shave.
While some feel that the compact design makes the weight feel strange – it has a totally hollow handle mixed with the heavy razor that is Merkur's trademark – there aren't many other reasons to complain.
It's even affordable, meaning you can get a truly top quality product for a very reasonable price – and who doesn't want that?
The good
Great for travel

High quality and reasonable price

Extremely durable
The bad
The weight is distributed in an unusual way
What stands out about this razor
User-friendly design with heat resistant handle
Spring mounted blade head
Super easy to clean and durable
The best razor for
Men who want a truly user-friendly razor
Overview
We know you're serious about your shaving. We applaud you for that, because it's just another sign that you don't mess around when it comes to grooming.
Then there are those men whose quest for a close shave takes them beyond the boundaries of others.
Those are the men who use the Feather SS Japanese Straight Razor.
First of all, a straight razor – that incomparable grooming tool that your great-grandfather used – is the most basic way to get the most sophisticated close shave, if that makes sense. Do you want a really close shave?
Then use a safety razor, particularly the Feather SS, which is top-of-the-line in its genre.
Here's a look at some of the features we love:
It's billed as the ultimate replaceable blade shaving razor, and changing its blades is easy: just pinch the razor head and the blade pops out.
The blades are sharp, sharp, and sharp.

Then again, the Japanese are known for manufacturing the highest quality, sharpest blades you'll find anywhere else in the world. I mean there's a reason they have Samurais.

The Feather SS stainless steel body is going to last you a long, long time because it's heat-resistant and won't be worn down by chemicals and other impurities.
The silicon resin handle is as good as it gets. The resin has been engineered to be extremely heat-resistant (up to 275-degrees Fahrenheit), but most importantly, you get a superior grip that fits comfortably in your hand.
The blade head is spring-mounted and makes it easy to change the blade.
It comes in a smooth, matte black finish that looks great.
The rounded shaving head provides optimal blade exposure and delivers a smooth and soft shaving experience every time you use it.
While straight razors aren't for the faint-of-heart, or anyone new to the shaving game, the Feather SS provides the kind of control and grip that get you up to speed in a hurry. Just take your time, let the razor do most of the work, and you'll be amazed at the closeness of your shave.
The Feather SS is easy to clean; in fact, all you need to do is place it in boiling water.
The good
Resin, heat-resistant handle

Easy to replace blades

Rounded shaving head for superior control and comfort
The bad
The sharpness of the blades requires caution and patience
What stands out about this razor
Suitable for all experience levels
Knurling pattern on the handle for excellent grip
Very consistent blade alignment
The best razor for
Men with a taste for luxury
Overview
Ah, Merkur. So many choices, so little time.
A company that warrants praise in multiple product reviews must be doing something right. Indeed, Merkur has our top-rated razor (the Merkur Futur), but its 34C HD Classic Double Edge Safety Razor is pretty damn good, too.
For one, if you're a newcomer to safety razor use, the 34C HD has you covered because of its ease of use. Secondly, it's great for sensitive skin because it's not overly aggressive – another reason why it's good for safety razor newbies.
Another reason to consider adding the Merkur 34C HD (the HD stands for Heavy Duty) to your grooming arsenal is that it's affordable. You'll get a good quality razor without taking a direct hit to your budget.
No, it's not cheap, but you'll find a lot worse razors within its price range.
Here's a closer look at some of the 34C HD's features:
It's a two-piece razor (not adjustable) that comes with one blade
It has a classy chrome-plated finish that meets the high standards of Merkur craftsmanship
The Merkur 34C HD is lighter than a lot of razors and easy to handle
It has a consistent blade alignment which is, again, a plus for you gents with sensitive skin
The two-piece design makes it easy to clean and easier to adjust the blade.
Versatility is a strength because it's great for beginning shavers and veterans alike.
While considered "mild" on the aggressiveness scale, you can pair it with a sharp blade to easily handle thicker facial hair growth.
The handle has a knurling pattern that provides a great grip
The good
Great for sensitive skin

Superb Merkur craftsmanship

Two-piece design is easy to assemble and clean
The bad
You may prefer a more aggressive razor if you have very coarse facial hair
What stands out about this razor
Smart microchip technology
ProGlide blades are fantastic
Battery create Micro pulses for shaving ease
The best razor for
Men who want an exceptionally easy shaving experience
Overview
OK, let's welcome back our friends from Gillette and introduce another of their great products – the Gillette Fusion ProGlide Power Men's Razor.
Like their Mach3 Turbo, which is at the top of its class among disposable razors, Gillette also leads the way in the cartridge category with their Fusion ProGlide.
The ProGlide comes with plenty of bells and whistles while providing a superb shave. For the money, it's hard to beat this razor.
Let's get started with our ProGlide review by talking about its go-technology. And that would be the Flexball technology, a feature that allows the blades to adjust to the contours of your face while providing a clean shave without nicks and cuts.
The Fusion ProGlide also gives users the option of using battery power and comes with a microchip to provides you with a consistent shave every time you put the blades on your face.
Some users prefer the battery option, and others don't, but we'll leave that entirely up to you.
Just a quick note: the battery provides vibrations – or micro pulses – that are designed to give you a closer shave by reducing friction and increasing glide.
The microchip turns the battery off automatically after eight minutes of use – the reason being that your battery won't die if it's accidentally turned on in your grooming kit or travel bag.
Reviewers also like that the battery provides consistent energy throughout its life, i.e., you won't get more powerful vibrations at the beginning of the battery's life than you will at the end.
But let's get on to some of the Fusion ProGlide's other features.
The ProGlide's blades come with Gillette's most advanced coating. When used with FlexBall Technology, they're even more effective than they are with regular ProGlide razors. They're thinner, finer blades that reduce tugging and pulling.
The razor includes a micro comb that guides stubble into the blades.
People who use the ProGlide Fusion on a regular basis like how it produces little or no skin irritation in the neck area, especially when compared to other razors.
It comes with five blades and a blade for edging.
It also has an enhanced lubra gel strip to provide an even smoother glide.
With its micro pulse capabilities and thin, fine blades, the ProGlide Fusion is excellent for use on sensitive skin.
The good
FlexBall Technology

Superior blades

Great on sensitive skin
The bad
Replacement blades are pricey
What stands out about this razor
Gel reservoir reduces friction by 40%
5 blades for an extremely close shave
Easy to grip handle
The best razor for
Men who have trouble with razor friction
Overview
Schick doesn't hold anything back when it comes to it Hydro 5 Power Select disposable razor.
Do you like a razor that has the option of battery power?
Check.
How about a razor with a variety of settings?
Check.
Or, a razor that comes with a gel reservoir?
Check.
All you need to do is toss in some high-quality blades with skin guards and a flip trimmer – as Schick does – and you have a razor that can handle anything.
Schick is another company that's been in the shaving and razor game for a long time (since 1926 to be exact), and they know a few things about manufacturing products that will give men a consistently close shave, so you can absolutely trust them.
The Hydro 5 is one of Schick's more recent innovations and, as mentioned, it has plenty of unique gadgets. Most importantly, it answers the bell where it matters most, i.e., when you're standing in front of a mirror, razor in hand.
The "5" in the Hydro's name comes from its five blades that make for a super close shave and are great for those with extra-sensitive skin or who are prone to shaving bumps.
You'll get a faster shave, as well, because you don't need to make as many short strokes but can get by with longer strokes instead.
Skin guards placed at the top of each blade are designed to reduce friction and reduce post-shave irritation.
The gel reservoir takes lubrication a step further than traditional lube strips, and Schick claims that it cuts down on friction by 40%. The reservoir also is designed to hydrate your face up to one hour after shaving.
There's also a redesigned guard bar on the Schick Hydro 5 that stretches the skin to provide an even smoother shave.
The flip trimmer is also a great addition as it offers a unique design that allows you to reach those hard-to-trim places. All it takes is a flip of your thumb to switch to trimmer mode.
Finally, Hydro 5 comes with an ergonomically-designed handle that's easy to grip (and also disposable).
The good
Great for sensitive skin

Flip trimmer for hard-to-reach areas

Maximum lubrication
The bad
 Few, if any, but some reviewers on Amazon say the unit is a bit heavy. Why don't you try it out and let us know what you think.
What stands out about this razor
6 blade razor – a world first
Tilting head for increased precision
Open flow cartridge reduces corrosion
The best razor for
Who wants to experiment with the cutting edge in razor technology
Overview
You may not know a lot about Dorco, a South Korean company that's cranking out some very nice shaving products.
Then again, you probably know about them indirectly.
Dorco is the blade supplier for the Dollar Shave Club, which has made a huge splash in the shaving world in the past few years. Let's face it – who hasn't heard of the Dollar Shave Club?
But Dorco has its own line of razors, too, including the unique Pace 6 Plus – the world's first six-blade shaving tool.
Six blades? Yep, it's true, and the theory is the more blades, the fewer passes you need to make with the razor over your face. It's just like having more hands to do the job. Makes it faster and way easier. The Pace 6 Plus offers you a close shave in less time, which isn't too shabby at all.
Moreover, the Dorco's Pace 6 Plus is very affordable, plus you can get 10 refills and a handle for only $20. Compare that with the typical price of three or five cartridges at the local supermarket.
But there's a lot more to like:
It has a tilting head that increases your precision over every contour of your face while decreasing nicks, cuts, and other irritations.
It comes with a lubricating strip that includes aloe, vitamin E, and lavender oil.
It's easy to clean and rinse thanks to its open flow cartridge that reduces corrosion while increasing the life of the blade.
The Dorco Pace 6 Plus comes with a 100% guarantee. If there's something wrong with your razor, the folks at Dorco will make it right.
The Pace 6 Plus package comes with a quality handle that has a rubber grip.
It has an ergonomic design that makes it easy to maneuver and glide across your face.
It also comes with a trimmer that makes it easy to fine-turn mustaches and sideburns
The good
One-of-a-kind six-blade design

Ergonomic design

Has a solid feel to it
The bad
You need to make multiple passes to shave coarser hair
Choosing the best razors: The method to our madness
Coming up with our final selections for the best razors for men took a combination of research, personal experience, and heeding the words of others who've also used these razors.
There are countless other razors on the market we could've tried, but we don't have the resources to get to them all.
We like our top 8, however. And we think you will, too. Well, if you don't, leave a comment in the comment section, and we would clear that up for you.
So, you want to use a razor? (A simple, illustrated guide)
This is the part where we give you tips on how to shave and, no, it's not as simple as it sounds (or looks).
We've talked about several razors – both here and in past articles – that take a bit more touch than others and require at least some shaving experience.
For now, however, we just want to cover the basics of using a razor and help you get a flawless shave – no cuts, no nicks, no errors.
1. Wet your facial hair
Wetting your whiskers is a must if you're seeking an irritation-free shave. Your best bet is to shave after your shower, when your facial hairs are soft and moistened.  To avoid skin irritations, it is always best to start with a clean face. Give your face a good wash before you start shaving.  Soap is ideal for killing bacteria on your skin, and for getting rid of deposits that could end up clogging your pores.
If you are not taking a shower then you should wash your face, or apply warm water to your face by using a towel. Allow the warm water to sit for a while to open up some of the pores on your face. This will help you get a smoother and irritation-free shave.  
Shaving a dry face is just asking for trouble.
2. Use shave cream, preferably a quality shave cream
Your shave cream provides the lubrication that you must have to get a clean and comfortable shave. Quality shave creams form a rich, creamy lather and have less foaming action than less expensive brands.
Foam is more for show because what's directly on your skin and whiskers is what matters most.
Shave cream also locks in moisture to keep your facial hair soft and ready for the cut.
If you are not fond of expensive shaving creams, or if you are sensitive to some of the ingredients in these creams, then you can also get a quality shaving brush and shaving soap.  These brushes are usually designed with soft bore hair bristles.  
When you wet the brush and wipe it over your shaving soap, it will produce a frothy foam that you can apply to your face. Many people also consider this a more eco-friendly solution because the soap lasts a lot longer, and there is less pollution or waste in the form of shaving containers. Plus this could also reduce the chances of an allergic reaction.
3. The shaving brush: To use or not to use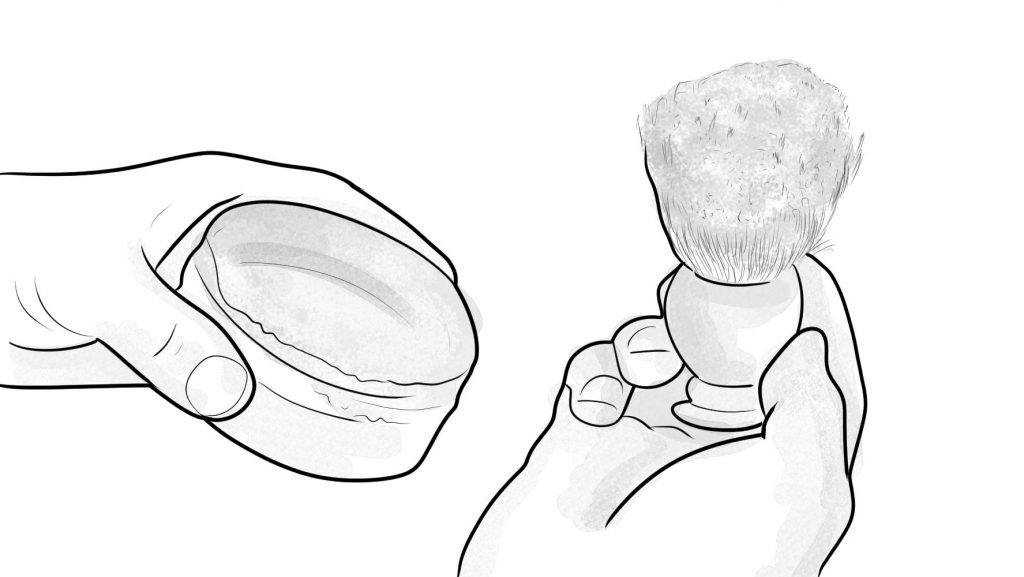 Many shaving experts recommend that you use a shaving brush to apply shaving cream on your face. It's an old-time tool (perhaps your grandfather used one) that's highly effective because:
It helps raise your hair follicles, making them easier to cut.
It enables you to create a rich, creamy lather that's hard to achieve with your hands.
It also removes dead skin cells to lessen the likelihood of razor bumps and other blemishes.
Use a circular motion with a slightly upward stroke when applying shave cream with a brush.  Shaving brushes are also ideal for applying shaving soap. A professional shaving brush and soap container can look pretty stylish in your bathroom.
4. Use a quality razor and blade
No need to spend a lot of time explaining this since we've covered the best razors on the market and what they add to your shaving experience. Just make sure that your blade is always sharp and change blades as soon as they become dull. Using a dull razor can be painful because they tend to pull hairs and they can cause skin irritations. 
It is also a good idea to keep your razor stored in a clean area so your razor blade won't become contaminated with germs and bacteria that could result in skin irritations or razor burn.
5. Gentlemen, start your razors
When it comes to putting your blade to your face, here are some important things to keep in mind:
Shave in the direction of your beard growth and not "against the grain." Shaving in the opposite direction as your hair growth increases your chances of self-inflicted nicks and cuts, as well as your chances of developing ingrown hairs.
Start with the sides of your face and then work your way to the mustache area, before finishing at your chin. Your chin hairs should always go last because they're tougher than other hair follicles and benefit by a little extra time spent under a blanket of shave cream.
Be gentle. High-quality razors are more "aggressive" than cheaper ones, meaning that you don't have to apply as much pressure to get a close shave. "Let the blade do the work" is always sound advice.
6. Rinse it
Rinsing your face with warm water after you shave is always a good idea, but you also may want to apply a facial wash for further cleansing. Finally, apply cool water to soothe your face and pat dry (don't rub) your face, because it's still a little sensitive. You don't want it getting all irritated.
The cold water will close up your pores so germs and bacteria can't get into your face to cause razor bumps.  It also soothes the skin.
7.  Apply a good skin care product
Good quality aftershave or moisturizer can do wonders for improving the way your skin looks and feels. Aftershave often contains alcohol that helps kill germs, and bacteria to prevent inflammation and razor burn. These products also soothe your skin so it won't feel like your face is on fire.  
If you have dry skin then you might want to consider applying a moisturizer. Moisturizers will hydrate your skin and will keep it from becoming dry and flaky. 
So, you want to use a straight razor?
Since shaving with a straight razor is a whole lot different compared to shaving with other types of razors, click here for the illustrated guide on how to shave with a straight razor.
Conclusion
That wraps up our review of the best razor for men for this year. As always, we'd love to hear from you, whether it's your opinion on the razors we've chosen here, your experience with using them, or other razors that you think warrant attention.
Until next time, my friends.