7 Best Disposable Razors: The Actually Good Ones
This post may contain affiliate links. Learn more.
There's a lot to like about disposable razors.
They're cheap, convenient, and easy to use. You can buy them pretty much anywhere, pack them in any-sized bag, and never have to worry about losing them.
But let's face it: a lot of them suck.
That's why we compiled this list of the best disposable razors for men. Never again will you have to deal with bad shaves from bad razors, that leave your jawline looking like a mess and your skin irritated.
In a hurry? Here are our top picks:
Gillette Mach3 Men's Disposable Razor
Our top pick featurse true disposables - Gillette Mach3 Men's Disposable Razor, which comes with excellent blades, a pivoting head, and protective microfins, for a great shave in a convenient package.
Schick Hydro 5 Sense Sensitive Skin Razor
Our second pick is a cartridge razor - Schick Hydro 5 Sense Sensitive Skin Razor, which combines Shock Absorb technology and a sensitive gel formula to give you a smooth, clean shave on even the most sensitive skin.
In other words, there's something here for everyone, no matter your needs or budget.
Plus, we'll also show you how to get the best possible shave with your disposable razor, how to sharpen your disposable razor and get the most life out of it, compare disposables with other types of razors, and more.
Let's start with our top buying tips for picking your next disposable razor.
Quick summary
<!—INSERT CODE BELOW—>

Best Overall

Gillette Mach3 Men's Disposable Razor

Excellent blades

Pivoting heads

Protective microfins

Check on Amazon

Best for Sensitive Skin

Schick Hydro 5 Sense Sensitive Skin Razor for Men

Shock Absorb technology adjusts pressure

Specifically designed to prevent skin irritation

Great ultra-glide blades

Check on Amazon

Best for the Closest Shave

Gillette Fusion5 Proglide Men's Razor

Efficient, sharp blades

Designed to reduce skin irritation

FlexBall Technology

Check on Amazon

Schick Hydro 5 Razor For Men With Flip Trimmer

Made with preventing skin irritation in mind

Hydrating Gel Reservoir that includes Aloe and Vitamin E

Flip Trimmer for hard-to-reach places

Check on Amazon

Schick Hydro Silk

Very good blades

Spring-loaded blades

Superior moisturizing

Check on Amazon

Bic Twin Select Disposable Razor

Excellent for irritable skin

Great price to quality ratio

Good, easy shave

Check on Amazon

BIC Sensitive Skin Men's Single-Blade Disposable Razor

Very affordable

Works great on sensitive skin

Comfortable plastic handle

Check on Amazon
Before you buy: 5 Things to consider when purchasing a disposable razor
Before you rush out and buy a disposable razor, here are some things to keep in mind before making your purchase.
1. Types
Disposable razors are either completely disposable in that you toss the entire thing (handle and all) out when the blade goes dull, or the kind where you just replace the razor cartridges with newer, sharper ones and keep the handle.
You pay more for cartridge razors – and the blades don't come cheap – but they're of a higher quality than a razor that's completely disposable.
Single blade or multi-blade
Disposable razors either come with a single blade or multiple blades. Single blades are the less expensive option, but the blade's steel might not be as good as the steel on multi-blades.
Multi-blade disposables make for a quicker, easier shave because more blades are gliding over your face. It's also widely assumed that multiple blades make for a cleaner shave, but that's not true in every case (see #2).
2. More blades don't guarantee a better shave
While it makes perfectly good sense that multiple blades dragging across your face can provide a closer shave than a single or double blade, your disposable razor is only as good as the quality of the blades.
In other words, if your razor's five blades are cheap or dull, you're not going to get the cleanest shave possible.
Here's something else to consider: it's harder to clean a razor that has multiple blades because your newly-shaven whiskers have a tendency to clog up between blades. Clogged blades can result in a duller shave.
It's not that we're anti-multiple blade razors – because there are plenty of good ones on the market – but they are more expensive, too.
3. Lubricating strips
Many disposable razors come with lubricating strips that are located above the blades and provide extra moisture to your skin.
Extra moisture helps reduce skin irritation, although the chemicals found in lubricating strips can irritate sensitive skin. But that's not a hard-and-fast rule.
There are some good disposable razors out there with multiple blades and lubricating strips that can provide you with a better shave than your old-school cartridge razor. They're also more eco-friendly than cartridges or double-edge safety razors, since they don't require any fancy extra parts or blades, and you won't run the risk of slicing your face open if you drop them.
4. Blades don't come cheap
Let's face it, the cost of a cartridge razor isn't much when compared with a straight or safety razor, but the price of blades can add up quickly.
Their price helps explain the rise of shaving clubs, such as the Dollar Shave Club, which will ship you blades for less than what you'd pay at the store.
But, to be fair, many of the cartridges you buy at the store are of high-quality and not a bad investment if you don't mind stretching your budget a bit
5. Brand
While a lot of good products come from smaller companies, there's something to be said for a brand name you recognize – like Schick, Gillette, and BIC.
While you might save a few bucks by buying an off-brand, you could easily end up with a shave that mirrors the cheap price tag. Yes, shop around, but there's a reason big-name brands have been in business for many, many years.
The 7 best disposable razors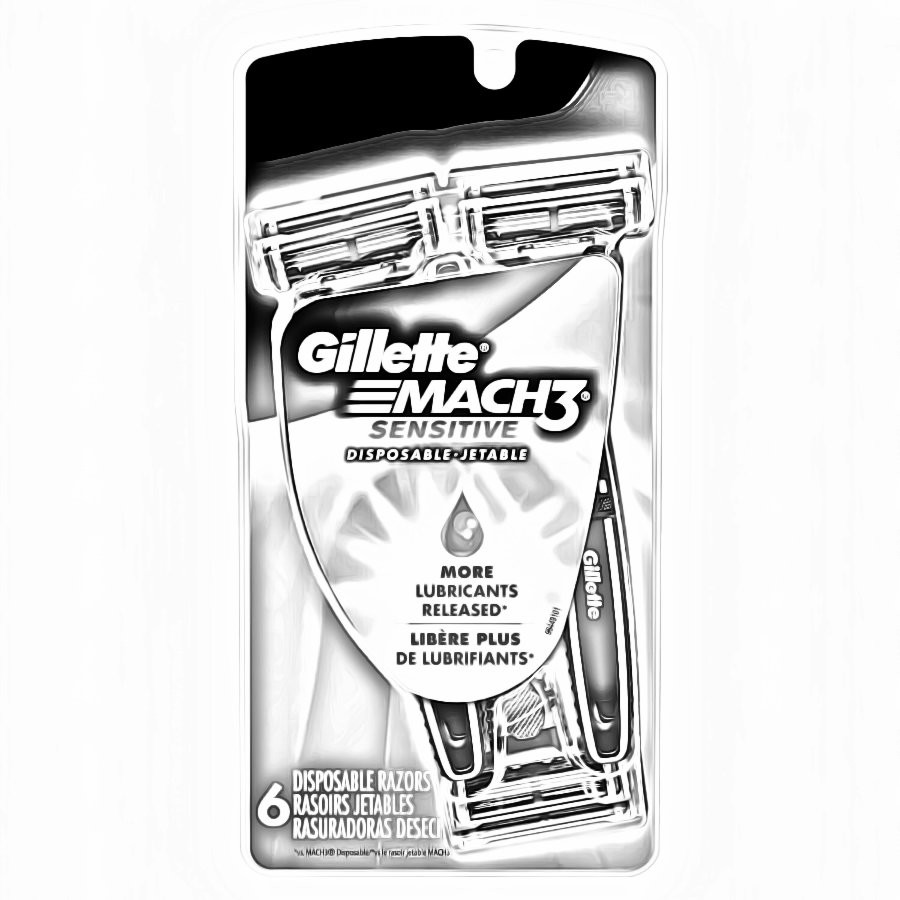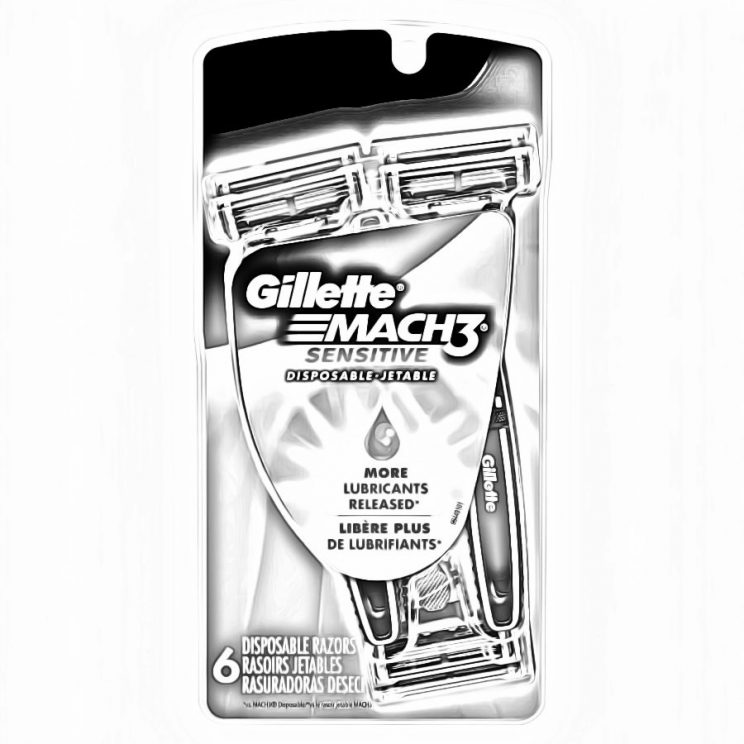 By now you've heard the ubiquitous slogan: "Gillette – the Best a Man Can Get."
Well, Gillette has been around a long time and is synonymous with "razor." With over 100 years of experience, it figures that they know a thing or two about shaving and they have plenty of fine products to back their reputation.
And when it comes to their Mach3 Men's Disposable Razor, they truly have the best a man can get. What's not to like about a razor that makes the task of getting a close, clean shave easier than other disposables?
It all starts with the Mach3's progressively aligned blades, which are positioned in a way that for each stroke you take, it takes three.
The razor also comes with a pivoting head that makes it easier to navigate the many contours of your race and avoid nicks, cuts, and irritation, and with protective microfins which provide further protection by smoothing down skin before the blade passes over it.
The Mach3 blades feature patented DLC (Diamond Like Cutting) coating that makes for a stronger, sharper blade.
Another feature in the Mach3 line of razors is a lubrastrip that provides another layer of protection in combating dry skin. The lubrastrip includes natural oils and fades to white when it's time to replace the blade.
Another thing we like a lot is that the blades' construction makes it easier to rinse out the facial hair, shave cream or gel, and other gunk that accumulates during a typical shave.
Finally, the Mach3 comes with an ergonomically-designed handle that provides a comfortable grip. You don't have to worry about the razor slipping in your hand while you shave.
Pros
Pivoting head

Protective microfins

Superior blades
Cons
More expensive than other disposables
Bottom Line
Yes, the Mach3 is pricier than many other disposable razors, but it's worth the investment. The folks at Gillette have gone the extra mile to guarantee that your shave will be clean, close, and nick-free every time you step in front of your bathroom mirror.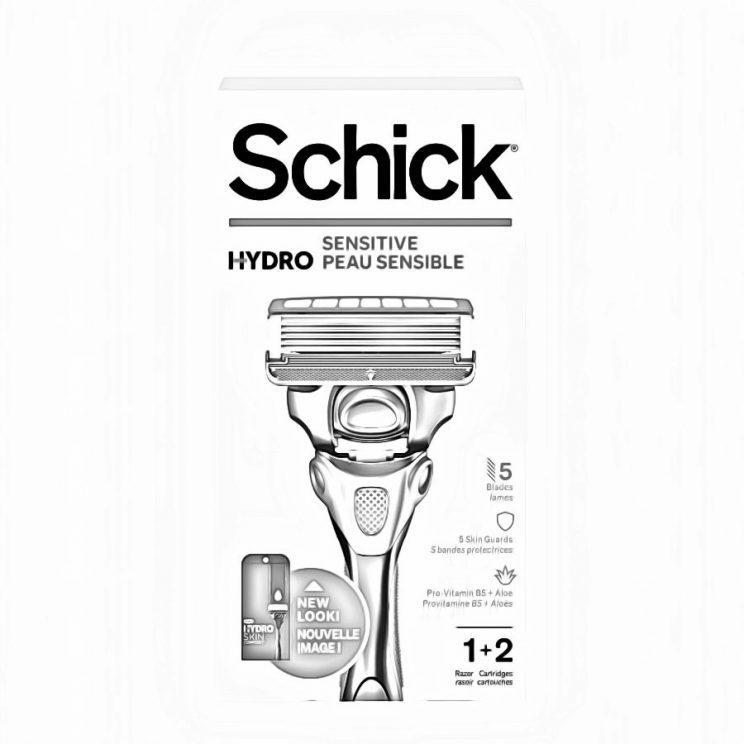 This Schick razor will see Gillette's three blades and raise them two, for a total of, that's right, five ultra-glide blades.
Of course, more isn't always better. But the Schick Hydro 5 Sense isn't bluffing; it gives an exceptionally smooth shave, as smooth as any disposable razor we've used.
And if other razors often irritate your skin, you'll want to pay particularly close attention, since this is our pick for the best disposable razor for sensitive skin. It's outfitted with multiple features that make it perfectly suited for giving close shaves without irritation.
We'll start with the head, which includes Shock Absorb Technology. If you press down too hard, the blade will back off; and when you lay off the pressure, it'll move back into place, ensuring you're always making contact in the skin in a way that's not too hard, not too soft, but just right.
Each of the five blades features a skin guard at the top, increasing points of contact and allowing the blades to glide across your face, without snagging or scraping. And above the blades are seven gel pools, which comfort, hydrate, and energize your skin via herbal extracts, coconut oil, and menthol respectively.
So, not only does the Schick Hydro 5 Sense not brutalize your skin like lesser disposable razors, it leaves it even better than it found it.
Plus, there's a trimmer that can be activated with a flip of the thumb, giving you a single straight edge for those areas of the face that need a little extra precision.
However, we will point out that all of these features, along with the five blades, do make the Schick Hydro 5 Sense a bit bulkier and heavier than other disposable razors. But it's a pretty small difference really, not something most men will even care about.
Especially since this razor is so reasonably priced given everything it brings to the table, and even comes with a replacement cartridge.
Pros
Made to prevent skin irritation

Shock Absorb technology auto-adjusts to shaving pressure

Flip Trimmer for added versatility and precision
Cons
Slightly heavier and bulkier than similar disposables
Bottom Line
The Schick Hydro 5 Sense is a great pick for any guy looking for a top-notch cartridge razor. But it's particularly enticing for men with sensitive skin, since everything from its head design to its lubricating technology are specially formulated to avoid irritation.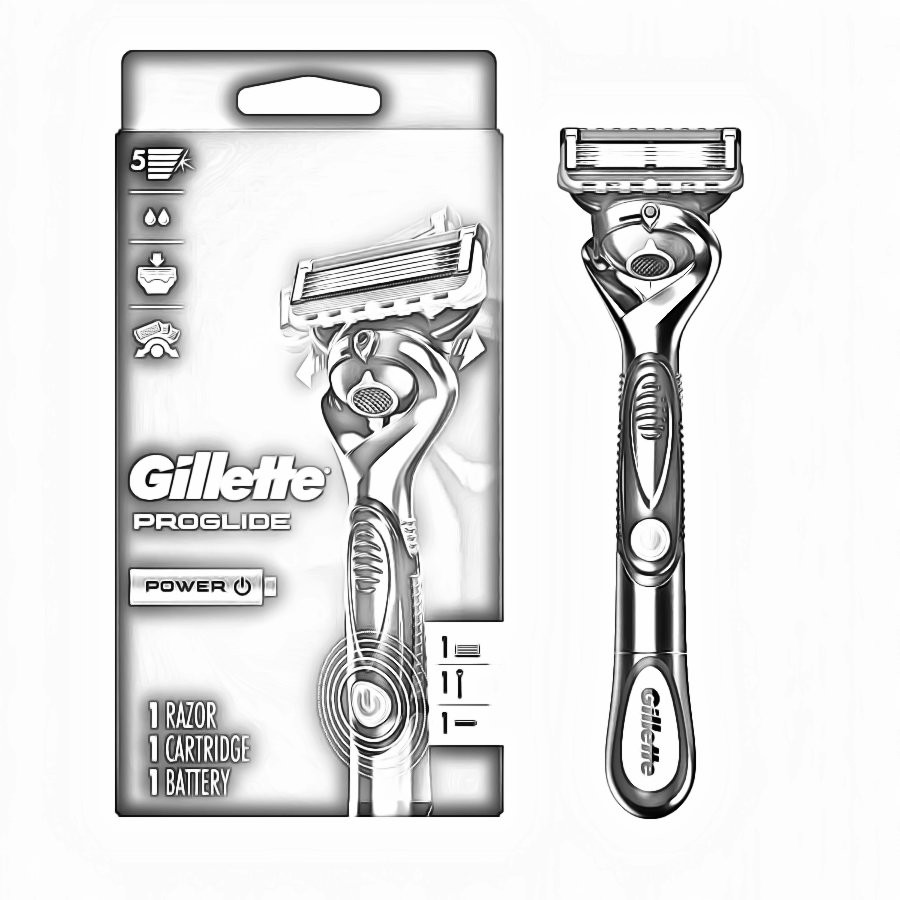 Using the Gillette Fusion ProGlide Men's Razor isn't just another morning shave; it's kind of like being in the cockpit of a jet.
If you like bells and whistles and gadgets, the ProGlide is right up your alley. To be clear, however, all the "stuff" is designed to give you the closest shave possible and not just a whole lot of gimmickry.
Still, when it comes to reviewing this razor, it's hard to know where to start. But let's give it a go:
The Fusion ProGlide's FlexBall Technology is as good of a place to begin as any.
Its purpose is to allow the blades to follow the contours of your face – which, admittedly, is the purpose of most razors – and they've taken it a step further with a shaving head that truly swivels as it glides over your face.
It also reduces how many times you have to twist your face in an awkward position to shave those hard-to-reach areas.
In turn, the blades remain close to your skin throughout the shave, rendering irritation all but non-existent.
Streamlined Comfort Guard
The Comfort Guard is another one of the ProGlide's unique features. It consists of a soft, flexible material that's fitted around the microfins and further provides better contact between the blade and your skin.
Precision Trimmer & Microcomb
The folks at Gillette say they've upgraded their Precision Trimmer with the addition of enhanced rinse slots that prevent clogging. Meanwhile, the ProGlide's Microcomb helps guide stubble into the blades.
Note: The ProGlide comes in two versions, manual and power. The "Power" version includes battery-powered micro-pulse to help reduce friction. It also includes a microchip that gives you the same performance with every use, even if battery power is waning.
Also, the microchip will turn off the battery after eight minutes of use, which might seem strange but is a handy feature to have if your razor is accidentally turned on in your travel kit.
OK, we've touched on some of the ProGlide's "gadgets," but what about the blades? Thanks to thinner, finer blades than with previous ProGlide incarnations, the Fusion gets a thumbs-up in this category, as well.
Reviewers also say that the blades last longer than other disposables – up to a month even – which is a good thing since these cartridges don't come cheap. Then again, getting what you pay for is sometimes a good thing.
Pros
FlexBall Technology

Sharp, durable blades

Reduces skin irritation
Bottom Line
Gillette is always at the forefront of cutting-edge (pun intended) technology, and the Fusion ProGlide is a prime example. With its many unique features and high-quality blades, this is a disposable razor that's truly a keeper.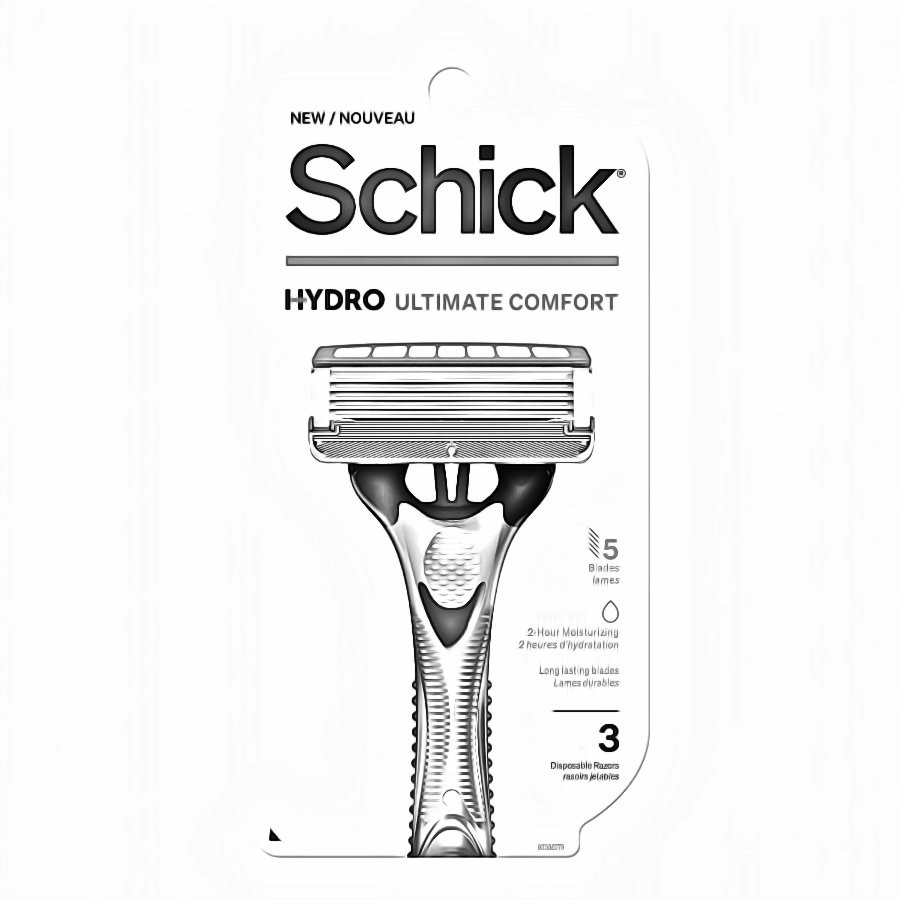 Every disposable razor can lay claim to providing a close, irritation-free shave, but Schick doesn't just talk the talk with its Hydro 5 Razor For Men.
Instead of a lubrastrip, the Hydro 5 has a Hydrating Gel Reservoir that provides instant lubrication and protection and reportedly delivers 40% less friction than a lube strip. It's also designed to lubricate a much larger area of your face.
And, finally, the gel reservoir provides enough lubricant to hydrate your skin for up to an hour after you shave.
That's hard to beat.
Schick also goes the extra mile in other ways to ensure a friction-free shave. The Hydro 5 has skin guards at the top of its Ultra Glide blades to control skin flow and reduce friction during your shave.
It also has a guard bar (that's larger and redesigned than on previous Hydro 5 models) to help stretch the skin for a smoother shave.
As its name suggests, the Hydro 5 Cartridge has five blades. While multiple blades don't guarantee a closer shave, the Hydro 5 delivers what Schick says is its best shave ever.
There's also less space between blades which minimizes skin bulge – which can make for a bumpy, skin-irritating ride across your face.
Another unique feature of the Hydro 5 is its Flip Trimmer, which is designed specifically to reach those hard-to-trim places (like under your nose). You activate it by simply flipping back the Hydrating Gel Reservoir with your thumb.
The Hydro 5 also has an ergonomic handle that fits neatly into your hand to provide further shaving control.
Your Schick Hydro 5 razor comes with two replacement blades and refills are available at most stores that sell shaving supplies. Note: The Hydro 5 works well when paired with Schick Hydro Sensitive Shave Gel and Schick Hydro Moisturizing Shave Gel.
Pros
Hydrating Gel Reservoir that includes aloe and vitamin E

Flip Trimmer for hard-to-reach places

Designed to prevent skin irritation
Cons
Handle isn't as good as on some other cartridge razors
Bottom Line
You won't go wrong with the Schick Hydro 5 for a lot of reasons, including unique features such as it Hydrating Gel Reservoir. You'll get a smooth shave without skin irritation while its blades are as good as any Schick offers.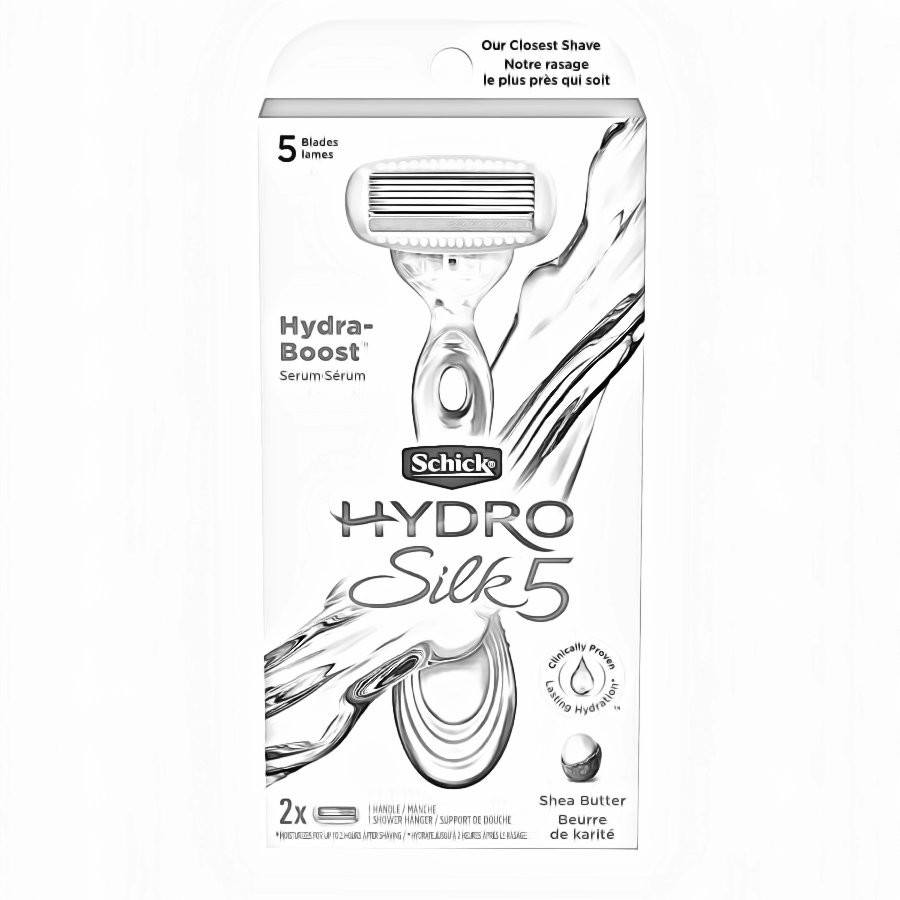 There's nothing simple about shaving your legs. Just ask any woman.
For one, there are a lot of curves to deal with, plus more skin to shave than on one's face.
Indeed, it can be a chore so making the task as stress-free and uncomplicated as possible is of vital importance. The Schick Hydro Silk does it better than all the rest and is the best disposable razor for women.
There's are many things that set the Hydro Silk apart from other disposable razors designed for women.
It even offers convenience and practicality with a refill hook that allows you to hang your blades so that you don't have to step out of the shower to change them.
But there's more:
The Schick Hydro Silk is all about moisturizing. It includes a lubrastrip with a water-activated moisturizing serum that's clinically proven to replenish the skin for up to two hours after shaving. After all, avoiding dry, irritated skin is a must.
There are five curve-sensing blades with skin guards that make for a smooth, irritation-free shave every time. The blades are spring-loaded and designed to follow the curves and contours of your leg.
Not only can you hang the refills on a hook, but they also come in waterproof packaging to protect the blades until you need them.
Finally, with hundreds of positive reviews, it's clear that Schick Hydro Silk users are an overall happy bunch.
Pros
Superior moisturizing

Spring-loaded blades

Excellent blades
Cons
Not many, although some users have complained about the handle breaking
Bottom Line
It seems like we keep coming back to Schick (and Gillette) but who are we to argue if they have excellent products? The Hydro Silk helps take the difficulty and tediousness out of shaving your legs while keeping them silky smooth.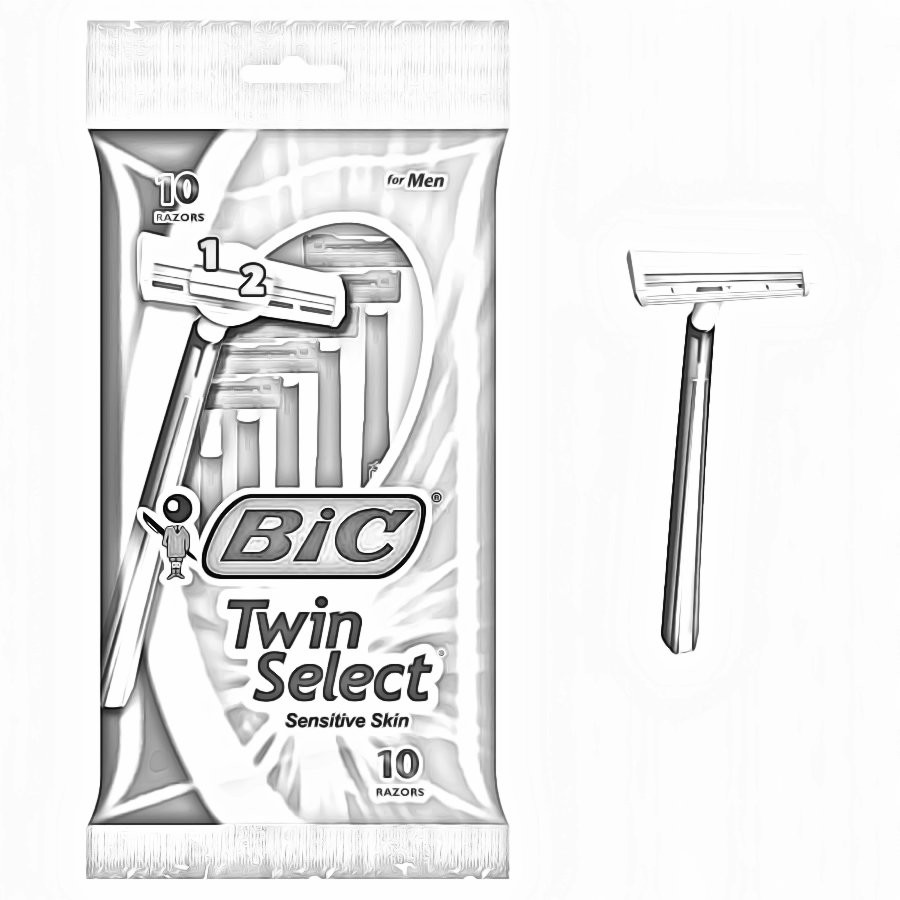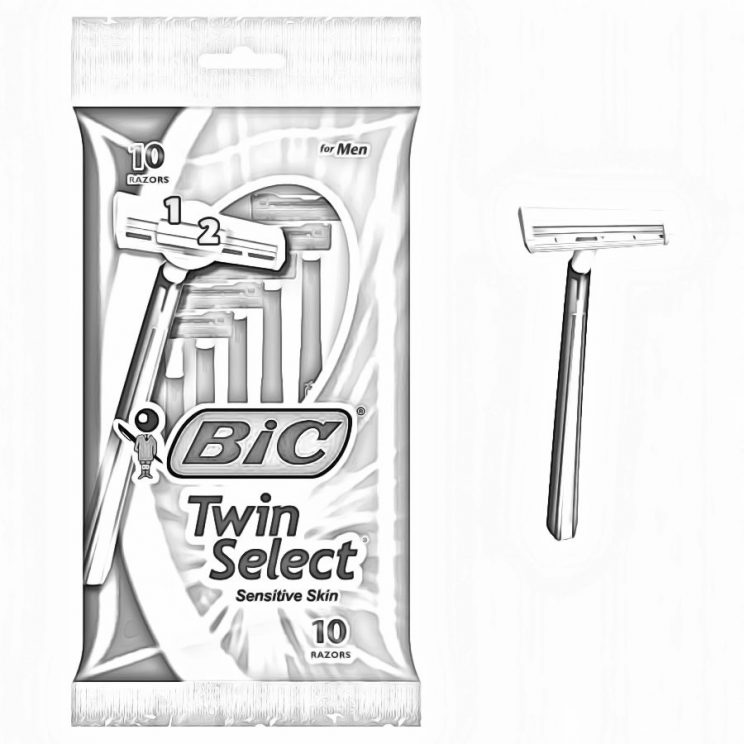 Some things in life are low-priced for a reason. Specifically, they're cheap.
But while the BIC Twin Select Disposable Razor – which comes in a package of 10 – is less than $10, the lower price doesn't mean lesser quality.
We think it's the best cheap disposable razor available for a variety of reasons, including the fact that it's advertised as being for sensitive skin and lives up to the billing, and we don't think it's "cheap" as in "crappy quality."
Fact: If you have sensitive skin, then the BIC Twin Select is a good tool to have in your grooming kit. It has a slimmer shaving head than other disposables and a tapered handle that provides additional control.
The narrower head also makes it easier to shave in tight areas and is angled to help prevent nicks and cuts. That also makes it great for anyone who's new to shaving and still mastering the art.
The BIC Twin Select comes with two blades to further help you get a close shave. It's also super-light compared to most other disposable razors. The blades are also long-lasting, which helps your overall cost, as well.
They're also completely disposable in the sense that you just throw the entire razor out – handle, blades, all of it – when it no longer provides a close shave.
Pros
Great for sensitive skin

Excellent quality for the price

Makes for an easy shave
Cons
Doesn't have lubrastrips like many disposables
Bottom Line
If you don't want to break your budget but aren't willing to compromise on the quality of your shave, we recommend the BIC Twin Select. You'll love the price and the closeness of your shave.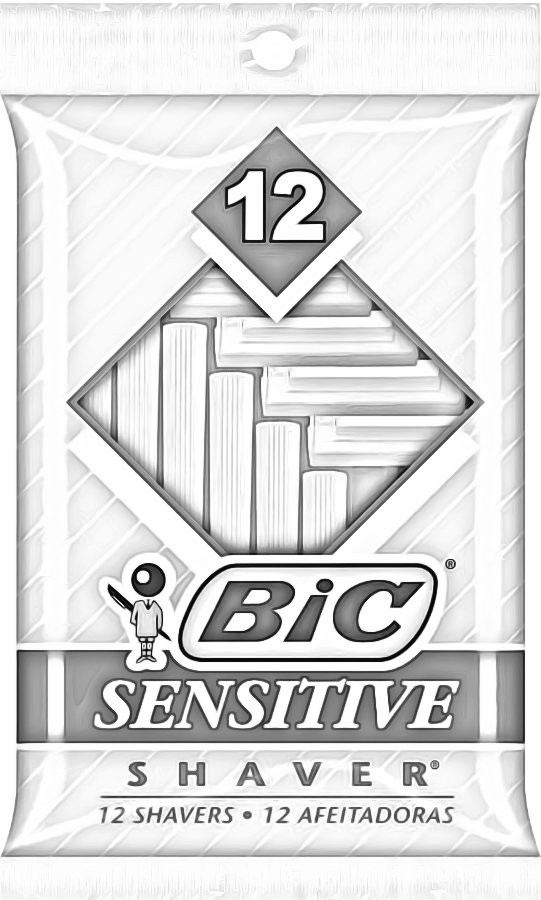 Many disposable razors claim to be suitable for sensitive skin, but not all can deliver what the manufacturer promises. Surprisingly, one of the least expensive razors out there – Bic's Sensitive Skin Single-Blade Disposable – does what it's supposed to do.
This razor is designed for a comfortable, soothing shave, even if your skin irritates easily. When you use it with a sensitive skin shaving cream, you'll all but guarantee outstanding results and a close, comfortable shave.
Another plus is that the single blade rinses easily for convenient cleaning, while the slim plastic handle is comfortable to use and provides enough control to get the job done.
Its size makes it convenient for travel, as well. Or, you can slip it into your gym bag or briefcase to use it for touch-ups when needed.
Pros
Excellent value

Works well on sensitive skin

It's ideal for travelling
Cons
Make sure your order contains all the razors promised
Bottom Line
Bic used to be the disposable razor of choice. While things have changed in that regard, they still make quality razors, of which their single-blade sensitive shaver is no exception.
Best disposable razors: How we chose them
Our "secret" formula for choosing the best in any men's grooming category is simple: we research, we rely on personal experience, and we consider the reviews and thoughts of others.
While we can't possibly try every disposable razor on the market, we think we've given you an excellent choice of products that will serve you well.
How it's done: Shaving with a disposable razor (A simple, illustrated guide)
Shaving always seems so simple, at least to the untrained eye. You know, just slap on some shaving cream and run the razor's blade over your face until all the stubble is gone.
Well, not so fast.
Getting a clean shave without nicks, cuts, and skin irritation involves more than just choosing the best razor for you (although that's certainly a big factor). But, like with any razor, shaving with a disposable requires equal parts preparation, patience, and technique.
Let's do a quick run-through:
1. Preparation
Not preparing your face before you shave with a disposable razor is a key tactical error. In fact, preparation is probably even more important for shaving with a disposable because the blades may not be as good as those on a safety or straight razor.
So, proper prepping includes either a hot shower or wrapping a warm towel around your face before shaving. The combination of heat and moisture softens facial hair and makes it stand straighter, as well as opening the pores of your skin – which leads to a better shave.
It's also a good idea to wash your face with an exfoliating soap before you shave because the soap will remove layers of dead skin, oil, and dirt.
2. Apply shave cream – but not just any cream
Your next step is to apply shave cream, gel or soap to your face – or at least we hope you do – but be careful in choosing your product. Canned aerosol and gels often contain alcohol and other chemicals that dry out your skin and cause irritation.
It's better to use glycerin-based creams or gels that won't cause dryness and itching.
The most common way to apply shave cream is with your fingers, of course, but using a shave brush represents the next level of application A brush will fully coat your facial hairs and helps to lift the hairs off of your face which, in turn, helps prevent razor burn.
3. Trim, if needed
The first step to getting a great shave is getting rid of those long hairs that your disposable razor just isn't going to cut. Use an electric beard trimmer to cut down all those long hairs so that your disposable razor can actually do its job. Cutting down all those long hairs will also help prevent ingrown hairs and razor burn, as well as reduce how often you have to replace your disposable razor blades.
If you're one of those dudes who lets your facial hair grow for several days without shaving, you may want to use a beard trimmer to get your scruff down to a manageable level before you shave.
Experts say that you should never shave off more than two days worth of growth without trimming it first.
4. Shave with the grain
If there's one common theme with shaving – no matter what type of razor you use – it's that shaving with the grain is your best bet. That's not to say you can't shave against the grain, but it's better if you first shave your entire face with the grain.
5. Rinse your razor
It's important to rinse your razor often during the shave. Disposable/cartridge razors clog up with hair and shaving cream more often than other types of razors. Rinsing your blade after each stroke, or a couple of strokes, is an easy way to prevent razor burn.
If you're using a disposable razor, you might think there's no reason to rinse it out—it's just going in the trash anyway! But rinsing it off serves a practical purpose: it keeps the blades from getting clogged. If your blade gets clogged with soap residue or hair, you're going to end up with a crappy shave that doesn't actually get rid of any hair. And just because you don't plan on reusing the same razor more than once doesn't mean you should waste money by having to buy another one.
6. Reapply shaving cream where needed
You may have to shave some spots more than once to get the closest shave possible. Don't hesitate to reapply shave cream to those spots to keep your skin lubricated. Yes, it adds a few seconds on to your shave, but well worth the effort and lack of irritation.
7. Rinse with cold water
Once you've finished your shave, rinse your face with cold water to help close your pores and ease any skin irritation.
The lifespan of a disposable razor
Here's the question: "How many times can you use a disposable razor/blade before switching to a new one?"
The answer: No one really knows.
Or, maybe the best answer is "it depends on who you ask."
Even a quick search Internet search will give you a variety of answers when it comes to the lifespan of a disposable razor. Some say four days. Others say five months(!) – and even longer(!).
Gillette did a study a few years back which revealed that the average male takes 150 strokes per shave. It also revealed that 10% of men replace their blades according to the calendar while everyone else does it by feel.
Meanwhile, the Dollar Shave Club advises that you changes blades once a week.
That still doesn't get to the heart of the matter. Again, there's no clear-cut answer other than, perhaps, "it depends."
Depends on what?
Well, a lot of things, such as:
Beard length
The toughness of your stubble (some stubble can kick you square in the ass if you're not careful)
The hydration level of your skin
The quality of your shave cream or gel
Whether you shave with the grain or against the grain. Shaving against the grain is said to wear out blades more quickly
What we do know, however, is that there seems to be a consensus about prolonging the life of a disposable razor. And it all comes down to water.
The fact is, razor blades will grow dull faster due to oxidation and microscopic rusting than due to shaving.
Water that remains on your blades between shaves causes oxidation – which leads to corrosion in which the blade's metal starts to flake off.
The blades then begin to tear and pull at your hairs, which leads to all kinds of irritation before you finally decide that it's time for a replacement.
However, you can avoid oxidation, pulling and tearing with some simple maintenance, such as drying your razor after each use and applying oils to the blades that prevent mineral deposits from forming.
But drying your razor after each shave is the best way to keep it from becoming a dull boy.
Some advise that you dry your blades with a blow dryer after each use. Or, you can drag the razor over an old pair of blue jeans (seriously) because the jean's fibers dry and sharpen the blades.
Which leads us to…
How do you sharpen a disposable razor blade?
Again, the blue jean razor-sharpening method is no joke, my friends, and it works. Some even claim that you can add months to the life of your blade by using it after every shave, and some even use it before their shave.
While some will argue that blue jeans don't exactly sharpen the blade but instead removes imperfections that cause it to grow dull, they do prolong the blade's life.
This video will show you how:
Not that the blue jean method is the only way to sharpen a blade.
For one, you can use a leather strap that's designed to sharpen the blades on a straight razor, but works with other blades, as well. But here's the difference: use the suede side of the strop to sharpen disposable blades, and the leather side to polish them.
And then there's the "forearm method."
Yes, we're talking about your forearm and using it to sharpen your blade. The theory is that the skin on your forearm resembles leather – a proven sharpening material – so why not use it to prolong the life of your blade?
Here's how it works: run the razor along the length of your forearm (from elbow to wrist) while making sure that the blade's sharp edge faces the opposite way than the direction you're moving the blade.
Finally, there are products available, such as RazorPit, that are designed specifically to sharpen disposable blades while dramatically increasing their lifespan. Most of them are simple to use and may save you a lot of $$$ you'd spend on blades.
Disposable razors vs. all the rest
Disposable (cartridge) razors certainly don't lack popularity, and it's not difficult to understand why. For one, you can't beat the convenience. If you buy a true "disposable" disposable, you simply toss the entire razor in the trash when the blade goes dull.
Cartridge disposables offer the same convenience: when the blade loses it effectiveness, pop it off and put on a new blade.
Probably the biggest advantage of a disposable razor, however, is availability. Practically every supermarket, drugstore, gas station mini-mart – whatever – carries disposables. Forgot to bring your razor on the road? No worries! A disposable is just around the corner!
Disposable razors also have the advantage of being easy to use. They come out of the package ready and raring to shave your face, and the learning curve – unlike with, say, a straight razor – is very mild indeed.
Even an electric razor has different settings and buttons that you need to learn how to use.
When it comes to the cleanest shave possible, disposable razors aren't exactly wimpy. But are they as close as a straight razor – the old-time tool that's also known as a "cutthroat razor?" Probably not.
Or, are they as close as a safety razor, which has replaceable blades that are typically of higher quality?
It's also worth taking a hard look at cost when comparing disposables to all the rest. A high-quality straight razor could cost in the hundreds of dollars but is likely to last you a lifetime.
Safety razors are a less-expensive initial investment than straight razors, but their replacement blades can be pricey.
Electric razors aren't cheap, but a good one should give you several years of use, and they rank right up there with disposables when it comes to convenience.
Meanwhile, the initial investment for disposable razors isn't very much at all, but the cost of replacement cartridges can drain your wallet if you're not careful.
As mentioned previously, however, there are ways to keep your cartridge blades sharp so that you don't have to replace them every fourth or fifth shave.
Conclusion
That's all for now, friends. As always, we welcome your comments and feedback. Have you used any of the razors we've listed above? If so, how did you like them? Or, do you prefer another brand of disposable razor?
Let us know. We'd love to hear from you.