7 Best Safety Razors That Give The Best, Closest Shave
This post may contain affiliate links. Learn more.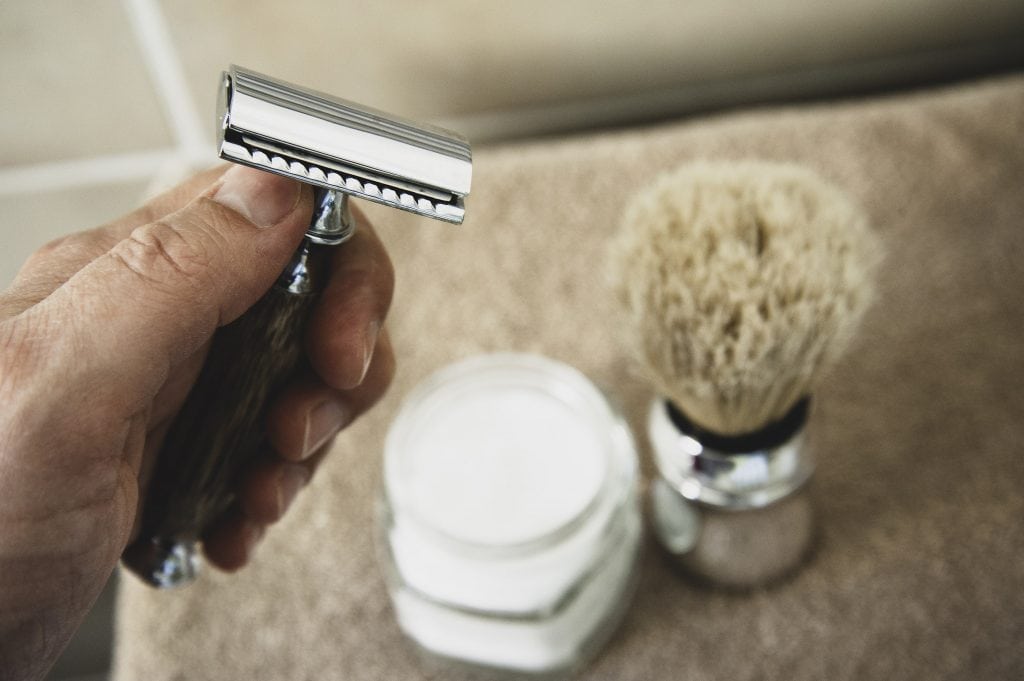 Regardless of the style or size of your beard, every man's grooming kit needs to feature at least one high-quality razor.
Of course, the question is what kind of razor you want.
And while there's plenty to recommend each of the various types of razors, there is very little that can beat the close shave you get with the very best safety razors.
Whether you rock a particular facial hair style or just want to keep things tidy, finding the right safety razor for you can be a game-changer.
So we've put together a list of 7 very best ones on the market, to help make sure you choose a truly excellent product.
In a hurry? Here are our top picks:
Merkur Futur Adjustable Safety Razor
Our no. 1 choice is the Merkur Futur Adjustable Safety Razor, which is a particularly weighty razor giving you superior control while shaving. It also features a smart dial to control the blade gap and multiple blade settings.
Merkur Travel Razor
Our no. 2 choice, for example, is the Merkur Travel Razor – it's ideal for traveling due to its ultra-compact design, and the razor itself is hugely durable and precise, making it all the better for men who move around a lot.
But we're not only going to offer up great safety razors for your delectation:
We're also going to explain exactly how you can discern the best razor for you; show you how to use a safety razor like a pro, and offer an honest and balanced comparison between safety razors and the various other kinds of razors available.
Let's get the party started.
Quick summary
Best Overall

Merkur Futur Adjustable Safety Razor

A variety of settings

Solid, good-looking design

Ideal weight

Check on Amazon

Best for Travel

Merkur Travel Razor with 1 Blade

Compact

Durable design

All double-edge blade compatibility

Check on Amazon

Best Value

Parker 98R Ultra Heavyweight Long Handle Safety Razor

Quality construction

Easy to clean

Long handle provides easy grip

Check on Amazon

Edwin Jagger DE89LBL Lined Detail Chrome-Plated Double Edge Safety Razor

Great body balance

Excellent for sensitive skin

Very durable

Check on Amazon

Seki Edge Feather AS-DZ Double Edge Safety Razor

Stainless steel design that will last a lifetime

Allows you to shave with little irritation

Easy enough for beginners to use

Check on Amazon

Muhle R41 Open Tooth Comb Double Edge Safety Razor

Close shave with fewer passes

Ergonomic design

Comes in three designs

Check on Amazon

The Chieftain Safety Razor by Vikings Blade

High-quality craftsmanship

Lifetime guarantee

Great for sensitive skin

Check on Amazon
Before you buy: 6 Things to consider before you purchase a safety razor
Our mission is to make sure you choose a safety razor that's best for you. We think you'll find one among those listed in our reviews, but here some things you should consider before purchasing your razor:
1. Design
Safety razors come in four basic designs: one-piece, two-piece, three-piece, and a butterfly head. And, butterfly open razors are actually common one-piece designs.
Without getting into too many details, here are some things you should know about design types:
1) Three-piece safety razors are probably the most popular type,
2) the two-piece design is favored by many wet shavers,
3) one-piece designs often feature a rotating handle that opens up the cutting head.
2. Double-edged
Safety razor blades are considered "double edge," meaning both you can shave with both sides of the blades.
Double-edged razors have been around for a while, but with today's popularity of wet shaving, they're all over the place again. They're often called "safety" razors because they feature a guard that helps prevent cuts and nicks while you shave. While typical disposable razors may be cheaper up front, over time you'll spend less money using a safety razor
3. Price
The price of safety razors varies widely – from less than $10 to up to $200. If you're a first-time user and don't want to spend too much, you'll still find quality razors in your more modest price range.
Safety razors are a great option for anyone who is looking for a closer shave without the hassle of going to the barbershop! Not only do they make this easy, but they also typically save you money in the long run. Safety razors are often considered something of an investment at first (most can cost upwards of $150), but after that initial spend, all you have to do is replace blades at a relatively low cost.
Not that price always makes a difference, but you'll notice the difference between a high-end razor and a cheaper one.
4. The Handle
The length of a safety razor's handle is usually one of the most overlooked aspects of finding a great shave. However, it is one of the most important aspects to consider when shopping for a safety razor. In general, there are three types of handles: short, medium-sized, and long. If you have small hands, you might be better off with a short handle. However, if you have larger hands you might want to go with something longer.
This will give you better control over the razor and allow for greater precision when shaving. It's also worth noting that long-handled razors tend to be heavier than shorter ones so they might be difficult to use if you have weak wrists or forearms.
The length of a safety razor's handle also is a matter of personal preference – it all comes down to which fits most comfortably into your hand.
A longer handle usually fits bigger hands best, but some users say that using one is more awkward than using a shorter handle.
5. Adjustable Blade vs. Fixed
Most safety razors have a fixed blade, which means you can't adjust how much of the blade is exposed. But some companies are producing adjustable blade razors.
Adjustable blade razors allow you to adjust the blade to be closer or further away from your skin. This can be a great option if you have sensitive skin, as you can set the blade to be farther away and less likely to irritate your skin.
Fixed blade razors are fixed in place and cannot be adjusted. These razors aren't as practical if you have sensitive skin, but they're usually much more affordable than adjustable razors.
6. Weight
The weight of a safety razor varies from model to model and brand to brand. Some men feel that heavier razors provide more control.
The weight of a safety razor has a big impact on how it shaves. If a razor is too heavy, you might find that you apply too much pressure and shave off more than you intended, which can lead to nicks and cuts. If the razor is too light, it can be difficult to control and may not give you the close shave you're looking for.
The best weight for a safety razor is somewhere in the middle—for most people, that means around 3 ounces.
Let's get rolling with our safety razor reviews:
The 7 best safety razors
What is the best safety razor?
Let's begin by saying that there are a lot of contenders.
But let's continue by saying it's hard to go wrong with the Merkur Futur Adjustable Safety Razor.
Merkur has been in the business of manufacturing adjustable razors for over 30 years, and they have their craft down to a science. The Futur is a high-quality razor that has a unique look and also gives users incomparable versatility thanks to six different settings.
What does a setting do? In short, it adjusts the blade exposure, with #1 providing minimum exposure while #6 reveals a lot of the blade and provides a very aggressive shave. It's handy to have those options as you adjust the blades to fit your face and facial hair.
Again, adjustable blades may seem like a relatively new thing, but Merkur's been making them since the 1980s. They've worked the bugs out.
Here are some of the Futur's other features:
It comes in smooth brushed chrome with a choice of satin, gold-plated chrome, and chrome finish depending on your preference.
It has a longer handle than most safety razors. Gents with large hands will like the grip they get with the Futur.
It has a nice weight to it that makes it easier to maneuver. Its weight becomes even more important the further you climb the settings ladder, so to speak while getting more aggressive with your shave.
It's made in Solingen, Germany. We've talked about German craftsmanship in previous posts about must-have men's grooming products. German craftsmanship almost always = good.
While inexperienced shavers may need some time to get used to the Futur (keep it at the lower settings in early going), experienced shavers will find that it gives them as close of a shave as they've ever had.
Pros
A variety of settings

Solid, good-looking design

Ideal weight
Cons
The bulky head may be tricky to maneuver around the lip and nose area
Bottom Line
There's a reason this product is first in line for the best safety razor. It's quality made and will be one of the best items in your grooming kit, especially as you gain experience using it. It's the best adjustable safety razor out there. You can buy this razor with confidence.
Given that they've clinched our top spot here, it should be obvious that Merkur is an exceptional brand, with that German precision and quality of design. But it's worth restating: this really is an exceptional brand.
For those for whom the Futur Adjustable Safety Razor isn't quite right, the Travel Razor might be. With its closed-comb head and standard fixed blade gap, it absolutely lives up to the quality you expect from such an esteemed manufacturer and is an absolutely ideal product for any man who needs to travel regularly.
Its design is exceptionally compact: the hollow handle makes it an absolutely ideal razor if you're sick of going back to cartridge razors on trips – and the leather travel bag it comes with is so compact it can fit in your pocket.
It's also compatible with all double-edge blades, meaning you can use cheap disposable blades to save money, and will never be caught out without compatible blades, even when you're in a totally foreign country.
On top of all that, the Travel Razor is hugely durable and easy to clean, so you can keep it in good condition with relative ease, no matter how often you're jet setting.
Of course, this isn't the best safety razor on the market – it's simply another great option for a specific need.
But the Travel Razor does offer a close, precise shave without multi-blade skin irritation and makes for a generally smooth, easy experience. So it's certainly not to be overlooked as only for traveling with.
Pros
Great for traveling with

Very durable design

Compatible with all double-edge blades
Cons
The hollow handle with a heavy razor can make throw your balance off a little
Bottom Line
A top-class safety razor for a jet setting man who needs a reliable, high-quality razor.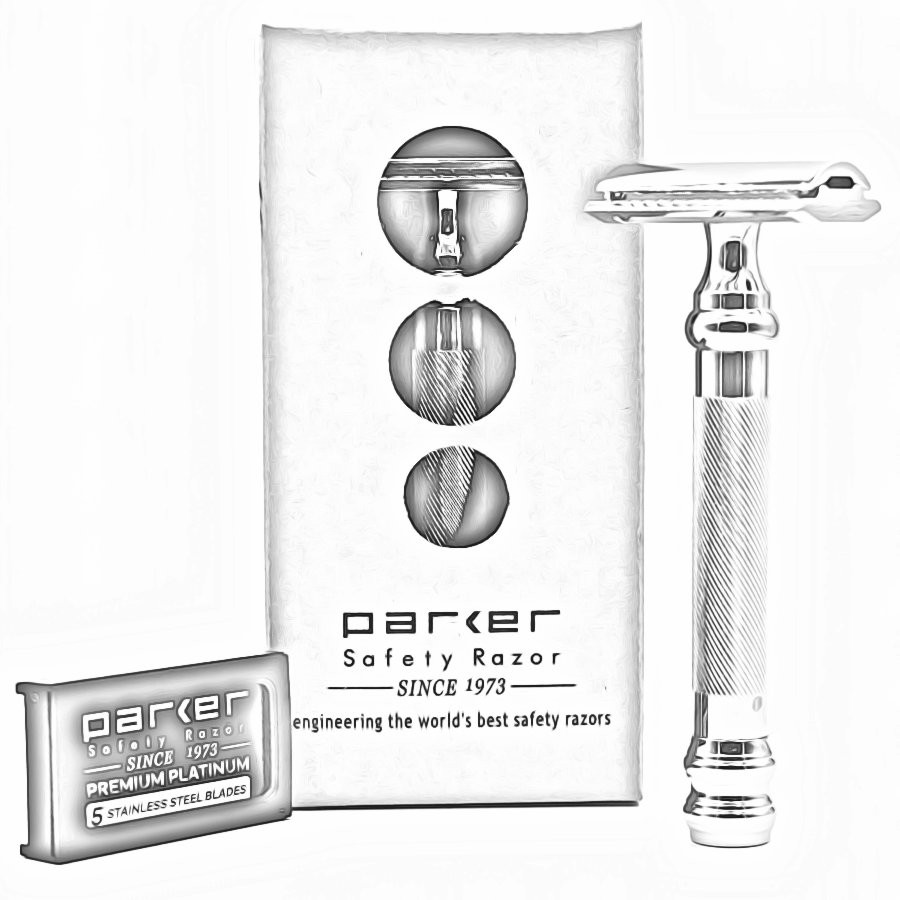 To say the Parker 98R double edge safety razor is a heavyweight is an understatement.
The better term is "superheavyweight" because this bad boy is big. You'll notice the difference in weight compared to other razors the minute you pick it up. It weighs 4.3 ounces, and you'd be hard-pressed to find a heavier razor out there.
And if you have larger hands, the Parker 98R should be one of your primary options when you shop for a razor.
While the Parker 98R gets a lot of attention for its weight – but not in a negative way – it must also be said that it's a quality safety razor in every other important aspect.
It consists of genuine brass construction and nickel plating, and it comes in three easy to disassemble pieces that make for easy cleaning and precise blade alignment.
But let's get back to the issue of weight when it comes to razors. Specifically, is a heavier razor "better" than a lighter one? Does weight make that much of a difference?
The truth is, you can get a great shave with either a heavy or light razor, and what size works for you is usually a matter of personal preference.
However, some people prefer a heavier razor because you don't have to apply as much pressure. Instead, you let the weight of the razor do the work for you.
Others prefer a lighter razor because they feel it gives them more control, particularly in tight places such as under the nose.
Yes, heavier razors tend to be more "aggressive," and you need to take care of how much pressure you apply while shaving. But once you get the hang of a heavy razor, you may never go back to a lighter one.
The bottom line is that you're going to get a close shave no matter who much the razor weighs, as long as it's a high-quality razor. Truthfully, how the weight is distributed over the razor is more important to most shaving experts – the more evenly-weighted, the better.
The Parker 98R has plenty of heft, but it also feels comfortable in your hand. It comes with an extra-long, knurled handle that provides plenty of grip. You won't have to worry about the razor slipping from your hand as you maneuver it around your face.
Durability is another important factor in choosing a safety razor, and the Parker 98R is built to last. Should one of its three parts wear out or break; however, you'll only need to replace that piece and not the entire razor.
The Parker 98R comes with five double edge blades, which you change by unscrewing the razor's head and inserting the blade. While blades come with, it also takes all standard double edge blades.
Pros
Quality construction

Easy to clean

The long handle provides easy grip
Cons
Some reviewers say they don't like the finish as much as they do on other razors
Bottom Line
The Parker 98R is a heavyweight champion in every sense of the word. It comes from a long line of excellent Parker razors made of premium construction. If you like heavier razors, it's time to grab hold of this razor.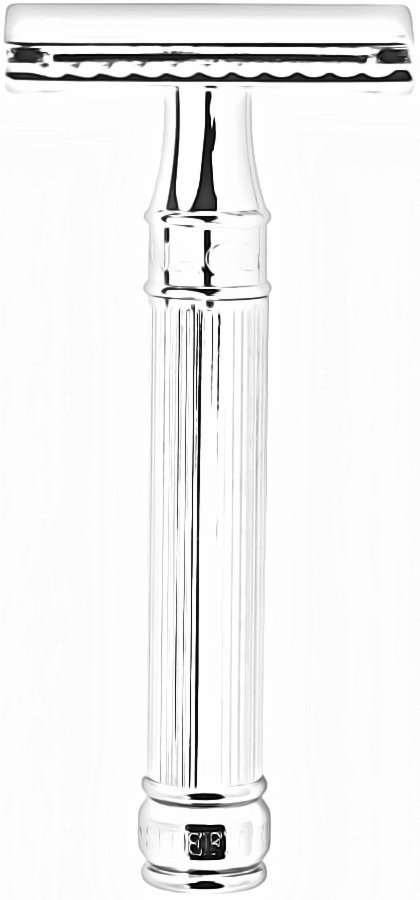 The family-owned and operated Edwin Jagger company of Sheffield, England has built a solid reputation in men's grooming circles on a foundation of fine craftsmanship and design. Their safety razors are no exception to the rule.
While they have a variety of razors from which to choose, the one we like best is their DE89Lbl chrome-plated double-edged safety razor. There are a lot of reasons why – not the least of which is that it has the best safety razor blades for sensitive skin.
It certainly is the razor of choice if you're a sensitive-skinned gent and more prone to nicks, cuts, and other potential irritations. Its body is well-designed and has great balance, and balance is a big factor regarding razors for sensitive skin.
But the DE89Lbl doesn't earn high marks just because it works so well on sensitive skin. No, it also provides a close, clean shave on any skin type thanks to Edwin Jagger's precision DE razor blade head.
It's a shave that even compares favorably with the kind you'll get with an old-fashioned straight razor.
There's plenty more to like with this razor, including its chrome finish that has a classy appearance that will last a long time. It comes in three separate pieces, which make it easy to clean or replace parts if needed.
The DE89Lbl's body is not only balanced but also solidly built – so much so that it could last you the rest of your shaving life.
You don't need to exert a lot of pressure when using the DE89Lbl, and that limits the number of nicks and cuts. You'll also get the kind of close shave the will reduce ingrown hairs.
You don't need to exert a lot of pressure when using the DE89Lbl, and that limits the number of nicks and cuts. You'll also get the kind of close shave the will reduce ingrown hairs.
Another thing to like about the DE89bl is its handle construction made of tubular brass covered with a chrome exterior. It has a nice weight to it, but it's not as heavy as some other razors.
Each razor also comes with five Derby safety blades so that it's always shave-ready.
Pros
Great body balance

Excellent for sensitive skin

Very durable
Cons
The handle may be shorter than some prefer
Bottom Line
The Edwin Jagger DE89Lbl is, to put it simply, a high-class safety razor. It's the right razor for you if you have sensitive skin, but it's also great for all skin types. Moreover, it's going to last you a long, long time.
We all know what it's like to buy something expensive and later realize that the product or service wasn't worth the major chunk of change.
Then again, sometimes performance matches the price tag.
The latter is the case with the Seki Edge Feather AS-DZ Double Edge Safety Razor. True, it's pricier than most other safety razors, but in return for your initial cash outlay, you'll get a high-quality product that's going to last you a long time.
The Seki Edge razor features quality design and craftsmanship, and it looks good. It's made from medical-grade stainless steel.
It's also a razor that safety-razor newcomers can handle with confidence as they get used to shaving without their handy disposable razor.
Let's take a closer look at the Seki Edge's many features:
Japanese-based Seki is known for its Feather blades, and they're among the sharpest blades you'll find anywhere, as well as being extremely efficient and effective.
While super-sharp blades may scare off those with little or no experience in using a safety razor, the Seki Edge's precise construction enables users to get a gentle shave with every use.
The stainless steel design of the Seki Edge is another of its essential selling points. Both the razor's handle and plate consist of stainless steel and will give you decades of use (if not last you the rest of your life). Furthermore, stainless steel is easy to sterilize and clean.
Your Seki Edge kit comes with five stainless steel, double edge blades that will also last you a good long time. The double edge blades are handy because you don't have to replace the entire blade once one side of it becomes dull. The blades also are easy to remove and fit snugly into the shaving head so that there's little movement during the shaving process.
The handle is compact at just under four inches long – which is shorter than some other razors – but it helps give you great control as you're shaving. There are deep grooves along with the handle, which give you a non-slip grip.
The Seki Edge has a more aggressive angle to it than other safety razors, so you'll want to adjust your shaving technique to get the most efficient shave.
You'll get a close, clean shave without irritation, and there isn't a steep learning curve for learning how to use this razor.
Seki has been in the business of making barber, grooming, and medical tools since 1908. They introduced the first replaceable blade razor to Japan in 1932.
Pros
Stainless steel design that will last a lifetime

Allows you to shave with little irritation

It's easy enough for beginners to use
Cons
Some reviewers think the handle is too short
Bottom Line
There's no getting around it: the Seki Edge safety razor is expensive. But it's also as fine as a quality of razor as you'll find anywhere, and your original investment will likely last you a lifetime.
The Muhle R41 has quite a reputation.
For one, it's nicknamed "The Beast." That should give you some idea of what users think of it, but "Beast" is a term of endearment in this case.
Why the nickname? Well, the Muhle R41 is among the most aggressive safety razors on the market. It's not necessarily a product that newcomers to the safety razor game should consider, but if you have some experience under your belt, you should give this one a try.
As its aggressive nature suggests, the Muhle R41 will give you a close shave – some would argue as close as a straight razor shave – without the need for applying heavy pressure.
It has an open tooth comb design that features a special blade angle made with experienced shavers in mind.
The open tooth comb design works in conjunction with the gap behind the razor's foam edge to ensure that the blade's edge is free of stubble and residue as you shave.
The Muhle R41's scalloped safety bar allows you to get a very close shave without the nicks and cuts of lesser quality safety razors. You just need to be careful that you're not hacking at your face like someone chopping limbs from a tree.
Also, you won't need to make several passes over the same spot as you're shaving.
While it has a beastly reputation, the Muhle R41 weighs less than many other safety razors and has the kind of balance expected from a top shaving company like Muhle.
You also have some options when choosing the R41 because it comes in three designs: the traditional three-piece design, the three-piece Grande, and the two-piece Twist.
The Grande design allows you to change the handle if you don't like the grip that comes with it, while the Twist is the heaviest version of the three designs and has the longest handle.
We also like the R41's chrome-plated finish that nicely represents that design and craftsmanship that's indicative of how Germany-based Muhle rolls.
Pros
Close shave with fewer passes

Ergonomic design

Comes in three designs
Cons
Inexperienced shavers must proceed with caution
Bottom Line
While this razor isn't for newbies, don't let its reputation scare you. Once you get the hang of its aggressive nature, you'll be pleased with the kind of a close shave you'll get every time you use it. Take it for a spin. You won't be disappointed.
Vikings Blade is an underground Australian workshop that's been around for over 30 years.
Don't let the "underground" reference fool you, however, because they have nothing to hide.
The Chieftain Safety Razor is one of the many high-quality products produced by Vikings Blade and is made from high-end, durable Swedish stainless steel.
It's a great razor that should not only last you a long, long time but also comes with a lifetime warranty against manufacturer defects.
We also like the Chieftain because it's a superior, manly product but also very affordable. You won't bust your budget or leave your face pocked with nicks and cuts.
Here's what else we like:
The Chieftain comes with a micro-comb feature that makes it a razor that's easy for beginners to handle. It has a closed-end that hides the blade and prevents accidental cuts.
It has an advanced butterfly head that allows you to change blades in a matter of seconds.
This a great razor for men with sensitive skin. If you've had problems with ingrown hairs – especially if you've been using an electric razor – this is a great razor for you.
The handle has a deeply knurled handle and provides a sure grip even when your hands are wet.
The shaving head is a bit smaller than others but helps you shave those hard-to-reach regions such as under your nose.
The razor has a nice weight and is heavy enough that you don't have to push hard to get the job done. You can just let the razor do the work for you.
Your Chieftain razor comes with a great leatherette and suede travel case (with mirror), and five platinum-coated steel blades.
It's also a great razor for women because it's sharper and more efficient than typical razors designed for the ladies.
Pros
High-quality craftsmanship

Lifetime guarantee

Great for sensitive skin
Cons
The shorter handle may be tricky for men with larger hands
Bottom Line
It's hard not to like this razor. From the fact that it's great for newcomers to safety razors to its lifetime guarantee and durability, the Chieftain would be a great addition to your grooming kit.
Our secret formula: How we chose the best safety razors
OK, our secret formula is simply this: 1) a lot of research, 2) personal experience, 3) and paying attention to customer reviews.
We don't have the resources to test every safety razor available, but we rolled up our sleeves and dug deep enough to come up with a list of quality products that you'll like.
9 Simple, illustrated tips for using a safety razor like a pro
Let's be upfront, fellas. Shaving with a safety razor means that you've stepped up your shaving game. You've ditched the clunker with 150,000 miles on the odometer for a Mercedes.
Welcome to real shaving.
Before your testosterone starts revving too high, however, you need to understand that using a safety razor isn't the same as using your daily disposable.
Yes, you'll get a better, more enjoyable shave with a safety razor, but you can't just hack away at your face, all willy-nilly.
You'll need patience – especially if you're a newbie to the safety razor game – and sound technique. And without technique, you can cut your skin.
Let's break down the process:
1. Get your skin ready
Your first step is preparing your skin for the fine machine that is a safety razor. Wash your face thoroughly before applying a good shaving cream or soap.
The best time to shave is right after you get out of the shower. Or, you can apply a hot washcloth for a minute or so to also soften your whiskers.
2. Fresh blades are best
It only makes sense, right? The fresher the blade, the sharper its edges, and the closer the shave.
3. Don't push!
Here's the deal: Perhaps you've been using a disposable razor for as long as you can remember, and your every instinct tells you to push the blade down on the skin.
But a safety razor isn't designed to be manhandled in that way; instead, you apply very little pressure and let the blade do the work. Don't worry; even light pressure will give you a clean shave.
4. It's all about the angle
The angle is everything when using a safety razor. Opening or closing your shaving angle will cut and nick your skin. The proper angle with a double-edged razor (or another type of safety razor) is approximately 30 degrees.
5. Shave with the grain
Always shave in the direction of hair growth. But keep in mind that hair grows in different directions on every man, so know your specific direction and follow it.
6. Stretch the skin
Safety razors do their best work on skin that is held tight. Use your free hand to stretch the areas that you're shaving over.
7. Less is more
We've already discussed the importance of applying less pressure when using a safety razor. The same principle is true for the number of passes you make over each area of your skin, i.e., less is more.
Never shave over the same area more than two or three times and take smaller strokes than you would with a disposable razor.
8. Rinse often
Run the blade(s) under water frequently during the shaving process to keep them rinsed and free of hair, shave cream, and other debris.
9. What about my head?
Our final tip has nothing to do with how to use a safety razor on your face but instead addresses the question of whether you can use a safety razor to shave your head. Indeed, we've discussed shaving your head in a previous post.
But to answer the question: sure, you can shave your head with a safety razor, but you need to be extremely careful.
The skin "up there" is even more sensitive than the skin on your face, and to shave means applying the lightest amount of pressure possible. And you sure don't want to be in a rush to get the job done.
Safety razors vs. all the rest
Many men will tell you that safety razors are the only way to go if you're serious about shaving. We'll let you be the ultimate judge of that, but we think safety razors are pretty cool, too.
Are they better than cartridge razors, straight razors, and electric razors? Again, that depends on who you talk to, what kind of shaving experience you prefer, and what you're used to when it's time to stand in front of the mirror and face the music, i.e., your whiskers.
Here's a look at the different types of razors and how they may be right (or wrong) for you.
1. Safety Razors
We don't need to go too in-depth here since we've devoted this article to safety razors. But it never hurts to get back to the basics.
The safety razor was the innovation that followed the straight razor, which we'll discuss in a moment.
Compared to the straight razor, the safety razor was quite in advancement regarding safety – fewer nicks and cuts – and introduced the men's grooming universe to replaceable blades.
The majority of safety razors today are double-edged, which means that both sides of the blade are exposed and at your service.
There are plenty of other benefits to a safety razor, including the fact that you'll save money in the long run after your initial investment.
Quality safety razors will last you a lifetime, or close to it, and replacement blades are relatively inexpensive – especially compared to disposable razor blades.
You'll also get a close shave with a safety razor, in some cases just as close as you would with an old-fashioned straight razor.
2. Straight Razor
If you want to go old-school – really old school – then the straight razor is for you. It's the razor your great, great grandfather used because he had no other choice (there were no safety razors then).
If you're not sure what a straight razor is, it's liable to show up in one of your favorite Western movies – you know, a cowboy or outlaw who's shaving on the trail with a straight razor and a piece of broken glass for a mirror.
A straight razor consists of two parts: the blade and the handle. The handle doubles as storage for the blade.
Fact: The straight razor provides the closest shave possible because you have full control of the blade since it's fully-exposed.
Fact: With the closest shave, possibly comes risks. The straight razor was once known as the "cut-throat" razor because of the nicks, cuts, and other wounds you might incur while using it.
Fact: You need a leather strop or hone to keep the blade sharp.
Not many people use a straight razor these days. Yes, it gives you a close shave, but it takes time to master its use, time to keep the blade sharp, and the concentration needed not to hack your face to pieces while you're removing its whiskers.
3. Cartridge Razor
Cartridge razors are all about convenience.
Introduced in the 1970s by Gillette, the cartridge razor has become the razor of choice for many men simply for its ease of use and ease of purchase. Forgot your cartridge razor while traveling? No worries, practically every drug store and gas station carries them.
Cartridge razors are also easy to use and come with a fixed angle that reduces your chances of cutting yourself, and they're very portable.
But here's the thing – while you'll pay more to purchase a safety razor than you will for a cartridge razor, the price of the latter's blades tips the scale negatively in the long-term investment category.
Do you ever wonder why stores usually keep their disposable blade behind a locked, glass enclosure? Because the blades cost so much that theft is always a risk, that's why.
That's not to say that you can't get a great shave with a cartridge razor. There are plenty of high-quality cartridge razors out there that will trim your whiskers nicely and leave you ready to face the day.
Will you get as close of a shave as you would with a safety razor? Probably not. Don't let that discourage you, however, because quality cartridge razors will give you the kind of shave that never offends – and they're so damn convenient.
4. Electric Razor
Electric razors take convenience one step further.
Let's face it; if you don't like the prep work, "mess," or time it takes to shave with other the other razors listed here, then an electric razor is for you. I mean, you just pick the electric razor up, turn on the power button, and away you go.
Electric razors come in two types: rotary and foil. Rotary shavers have three to four shaving heads with blades located behind each head. Foil shavers have a floating head with blades behind a protective metal grid.
What's the difference? Many experts will tell you have rotary shavers provide a closer shave while foil razors are easy to clean and quieter.
Electric razors also come in cordless and corded versions.
There's plenty to like about electric razors. They're lightweight, easy to carry with you, and are designed to give you a quick shave without the fuss. But they're also more apt to irritate your skin since there's usually no lubrication or prep involved.
Conclusion
And that's all for now, friends. As always, we encourage and welcome your comments. Have you used any of the safety razors listed here? Are there other razors that you think our fellow readers would like?
Let us know!