7 Best Razors for Sensitive Skin: Shaving Without Irritation
This post may contain affiliate links. Learn more.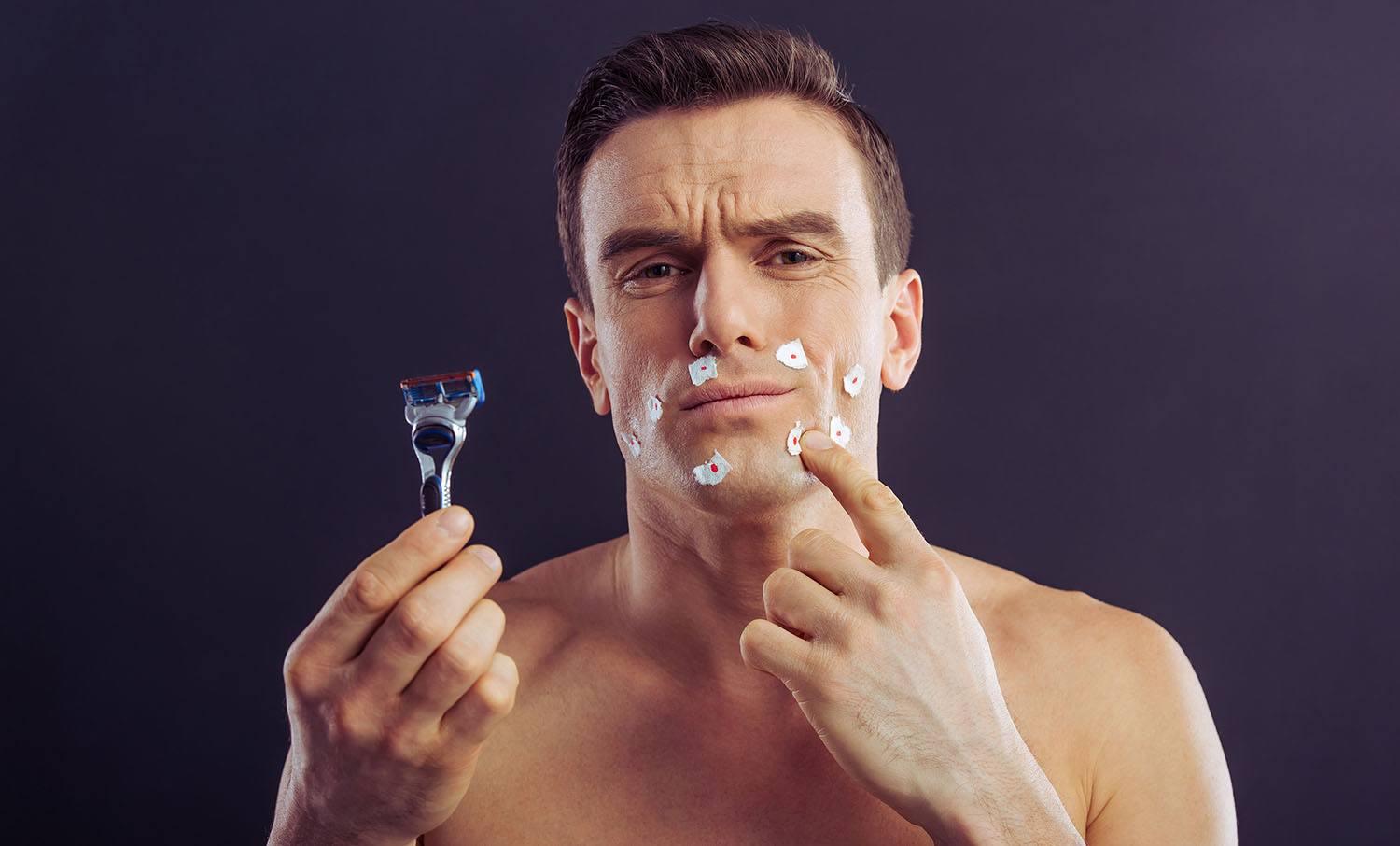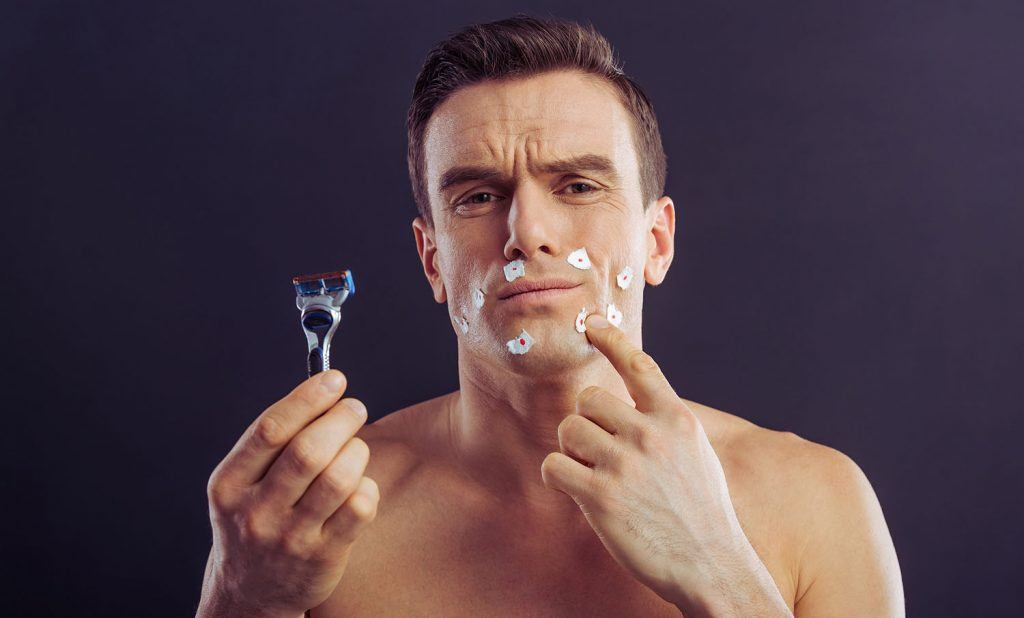 So, you've got sensitive skin.
And because of this, a lot of razors – and a lot of men's grooming products, in general – are simply too abrasive, leading to razor burns, breakouts, and all kinds of other nastiness.
We get it. It sucks.
But in this day and age, it's not really a big deal. That's because there are plenty of products out there that cater to your skin type. And we've compiled a list of the best razors for sensitive skin right here, for your perusal.
We think you'll find they're every bit as good as "normal" razors.
In a hurry? Here are our top picks:
Feather All-Stainless Steel Double Edge Razor Model AS-D2
The best safety razor is Feather All-Stainless Steel Double Edge Razor AS-D2. Made from beautiful-looking stainless steel, it is a perfect razor for beginners and is extremely durable.
Schick Hydro 5 Sense Sensitive Skin Razor for Men
The best disposable razor is Schick Hydro's 5 Sense Sensitive Skin Razor. It features technology to absorb shaving shock and offers instant lubricating protection for an all-round easy shaving experience.
Braun Electric Shaver Series 9, 92900CC
The best electric razor is Braun's Electric Shaver Series 9 – with a motor that just won't quit. It's great for both short and long facial hair, as well as wet and dry shaving.
Along the way, we'll teach you what to look for when buying a razor for sensitive skin, plus show you how to get a close shave without irritation.
Quick summary
<!—INSERT CODE BELOW—>

Best Safety Razor

Feather All-Stainless Steel Double Edge Razor Model AS-D2

Striking, stainless steel look

Perfect for safety razor beginners

Should last forever

Check on Amazon

Best Disposable Razor

Schick Hydro 5 Sense Sensitive Skin Razor

Flip Trimmer makes it easy to reach hard to reach places

Features a technology that absorbs shock making the shaving experience smoother

Instant lubricating protection

Check on Amazon

Best Electric

Braun Electric Shaver Series 9, 92900CC

Great for short but also longer facial hair

Powerful motor that remains exceptionally gentle

Wet and Dry shave

Check on Amazon

Gillette Mach 3 Men's Disposable Razor

Pivoting, responsive head

Protective microfins reduce irritation

Quality blades

Check on Amazon

Schick Hydro 5 Disposable Razor for Men with Hydrating Gel Reservoir 

Superior Schick blades

Hydrating gel reservoir

Flip trimmer for reaching tough places

Check on Amazon

Bic Twin Select Sensitive Skin Disposable Razor

Easy to use and manoeuvre

Great quality for the price

Long-lasting blades

Check on Amazon

Schick Hydro Silk Sensitive Care Razor

Offers great hydration

Blades follow the shape of your body

Serum lasts for 2 hours after shaving

Check on Amazon
Before you buy: 5 Things to consider when purchasing a razor for sensitive skin
While a quality razor should, at least in theory, work on all types of skin, some are better than others for shaving sensitive skin. Then again, qualities that make a razor great are also qualities that make many razors ideal for men and women with sensitive skin.
Confusing? Yes, a little.
But, before we launch into our reviews of the best razors for sensitive skin, let's look at some things to consider before you buy a razor – and if you have sensitive skin.
1. Cartridge or safety razor?
The nice part about cartridge razors is that they're everywhere – your local supermarket, the gas station mini-mart, in a pharmacy, etc.
If you forget to pack your cartridge razor before you head out of town, you needn't stress. Rest assured, after all; you'll find a cartridge razor (or disposable) at your destination.
For men with sensitive skin, cartridge razors are often a good option because there's not much – if any – learning curve when you first use it. In turn, a razor that's relatively easy to handle is a razor that will leave fewer nicks, cuts, and skin irritation.
If your skin is already sensitive, the last thing you want is for your razor to add to the irritation.
While double-edge safety razors take a little more technique than cartridge razors, it will in most cases provide a cleaner, closer shave.
In theory, you'll need to make fewer passes over your face during the shave – which decreases the number of times the blade can potentially irritate your skin.
Additionally, safety razor blades almost always last longer than cartridge blades. And, as most of you probably know, buying replacement cartridge blades isn't cheap by any means.
True, your initial investment in a safety razor is more, but the price of blades alone can save you money in the long run.
2. The shaving head
Many cartridge razors come with adjustable shaving heads. In other words, you can adjust the angle of the blade to fit the contours of your face.
You can simply adjust the setting to provide a more aggressive shave or dial it back to provide a milder shave – something many men with sensitive skin can appreciate. In turn, this leads to not only a closer shave, but also less irritation.
Other razors, particularly disposables, come with shaving heads that are designed by the manufacturer to already be at the optimal shaving angle.
For sensitive skin, we recommend choosing a razor head with fewer than three blades.
3. Price
Sometimes you get what you pay for – good and bad.
Many expensive razors are worth the price because they're made of high-quality materials and provide an irritation-free shave. Furthermore, many of them are designed to last a long time, so your larger initial investment is offset by the number of years you'll use the razor.
On the flip side, not all lower-priced razors are of lower, "cheaper" quality – particularly when it comes to disposables.
A true disposable razor – the kind you toss in the trash after the blade becomes dull – won't make much of a dent in your wallet but may still give you a quality shave that doesn't rile up sensitive skin.
4. Moisturizing
All but one of the razors listed before comes with a lubrastip or moisturizing gel reservoir that keep your face lubricated throughout the shave.
A well-lubricated face makes for a less irritating shave in most cases, although the size of the shaving head is another factor when it comes to purchasing a razor that's safe for sensitive skin.
To get the most out of your new razor, use it on freshly exfoliated skin with your favorite moisturizing shaving cream or gel. Then simply shave as usual—it can't get any simpler than that!
5. The handle
The handle of a razor is easy to overlook regarding its importance to the entire shave, but don't just choose any handle.
You should also choose a razor with a handle that's comfortable to hold and easy to use. With the right razor, you'll be able to enjoy a smooth shave without any irritation or discomfort
The good ones have an ergonomic design that fits comfortably in your hand, provide a secure grip, and won't make your hand grow weary during the shaving process.
The 7 best razors for sensitive skin
The Feather stainless steel safety razor is handcrafted in Seki, Japan, which also happens to be the birthplace of the samurai sword. So, at the very least, you know the blades are sharp.
But there's much more to this razor than its blades – enough to make it the best men's razor for sensitive skin. True, it's expensive when compared to most other razors, but it's worth the price. And there's a lot to like about it.
First, it's made of stainless steel, as its name suggests, and it was one of the first safety razors made from the material. One of the many nice things about stainless steel is that it will never tarnish or lose its appearance, which makes it suitable for the price.
It's also made to last you a lifetime – just replace the blades when they become dull – and that makes it a long-term investment that, again, justifies its price.
While its blades are sharp, the Feather AS Double Edge Razor is considered less "aggressive" than many other razors, i.e., you can apply some pressure during your shave without worrying about nicks, cuts, and skin irritation.
If you're a man with sensitive skin, that's about all you can ask.
Here's what else we like about this razor:
Included among the Feather AS's many great features is a knurled handle with horizontal grooves to provide you with a superior grip. There are six horizontal grooves in all, with three each on the top and bottom parts of the handle.
We've already mentioned its superb stainless steel body, but the Feather AS also utilizes a three-piece design with a close comb. We also like the overall balance of the razor, which weighs in at around 3.25 ounces.
The shaving head tilts to a 45-degree angle – most razors are at 30 – which makes it easy to align the blade. It also helps make it a good razor for beginners because there's minimal blade exposure to your skin. Some reviewers say that you hardly feel the blade at all.
Your Feather AS Double Edge comes in either a wooden or velvet box, depending on where you live. The package comes with five Feather stainless steel blades that are, again, among the sharpest you'll find anywhere.
Pros
Beautiful, stainless steel design

Suitable for safety razor newbies

Should last a lifetime
Cons
More expensive than most safety razors
Bottom Line
Whether you have sensitive skin or not – and this is an ideal razor if you do – the Feather AS is as good as it gets among safety razors. The blades are very sharp, yet the razor's design decreases the number of nicks and cuts you'll incur.
It's expensive, but it's also a great long-term investment if you're serious about shaving.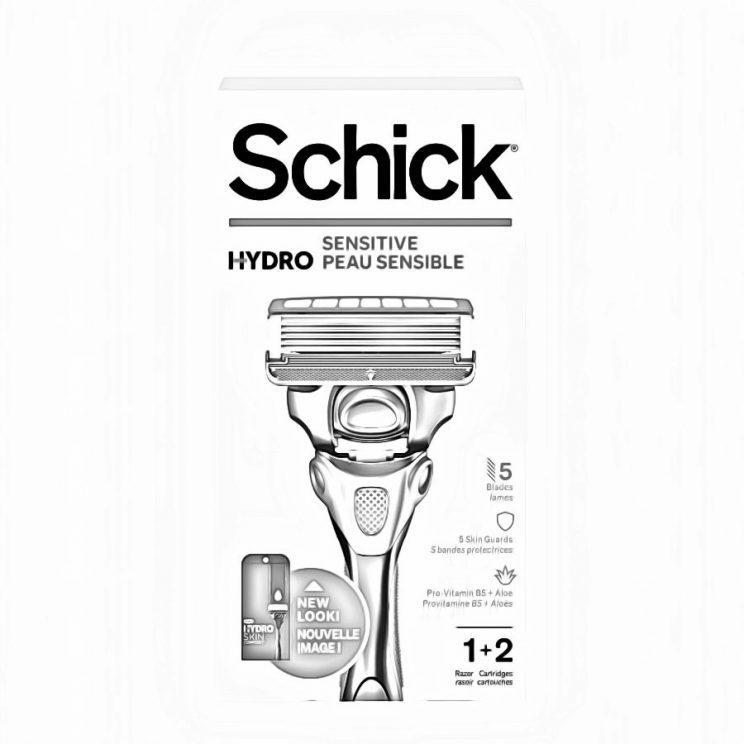 Schick's Hydro 5 was designed specifically to work with sensitive skin, so it's not a surprise that it is far more effective than 99% of razors. However, what is surprising is how easy it is to use at this price.
With shock absorb technology, the razor actually auto-adjusts based on how you personally shave, helping you avoid cuts and burns by increasing or reducing closeness when you're putting slightly too much or little pressure on the blade.
Not only that: it features a flip trimmer which allows you to switch between a large surface shaver and precision trimming – all using your thumb. This makes the process far smoother, and helps you achieve the close, clinical shave you want in far less time.
Then there's the Instant Lubricating Protection – a comfort gel with herbal extracts that soothes the skin as you're shaving to combat sensitive skin getting irritated.
The pack includes 2 razors, and beyond that you'll have to refill – which is the only real downside to the set. The refills are relatively expensive and it's worth being aware that, because you'll be buying new razors, it will require a fair bit more maintenance than some other razors.
Pros
Shock absorb technology

Flip Trimmer for hard-to-reach places

Instant Lubricating Protection
Bottom Line
An extremely user-friendly design made specifically for sensitive skin – exactly what you need.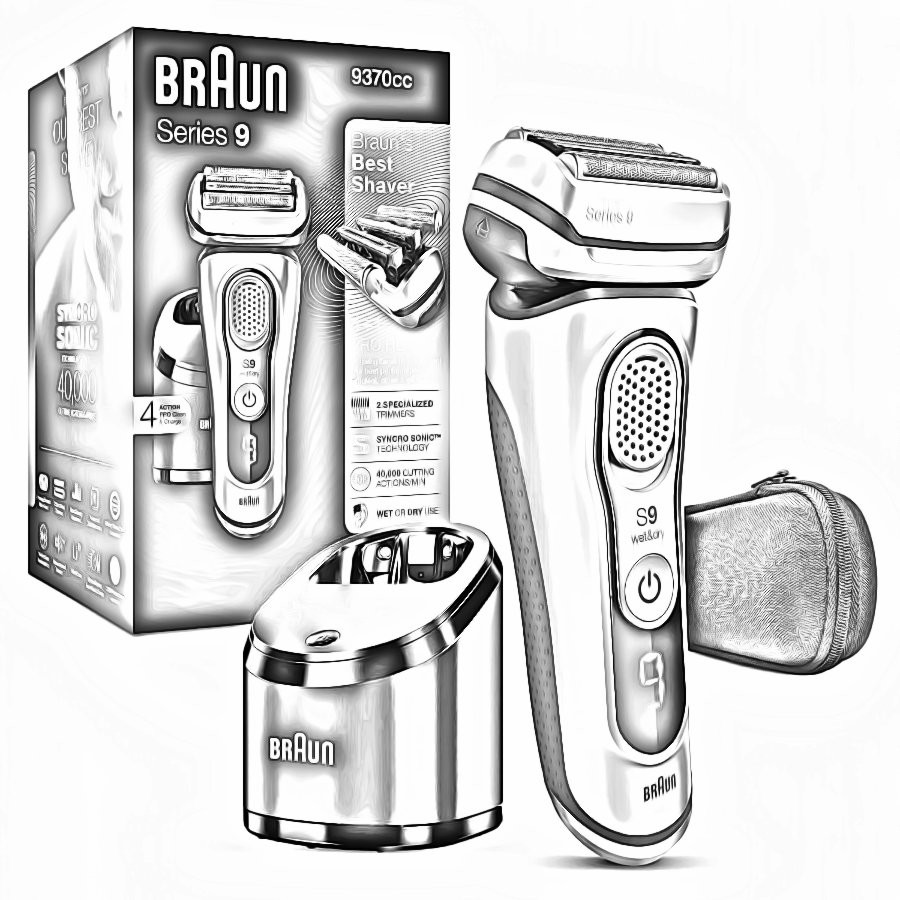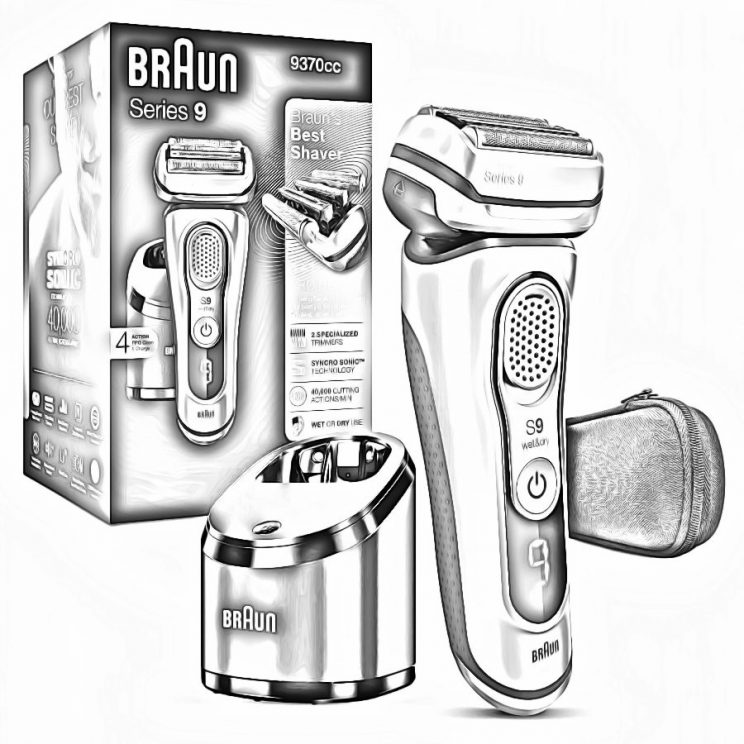 There's a lot to be said about the convenience of a quality electric shaver.
You can use them dry, without creams or even water, which means less mess. The blades have guards to keep them from snagging your skin, which means fewer cuts. And they're a lot faster than traditional razors, which means less time shaving.
And even more relevant to our subject, electric shavers are great for men with sensitive skin. Especially this pick, the Braun Series 9 Electric Shaver.
With its 10,000 sonic micro-vibrations, it glides over the skin gently and smoothly, while the 10 directional flexible head and 5 floating shaving elements adjust to the contours of your face.
In short, it's pretty sick.
And it's efficient too. It breezes through thick, long hair without a problem, giving you that close, sexy shave you're looking for with minimal passes.
Plus, it's 100% waterproof, so you can hop right into the shower with it. That makes it easy to clean too, and the Braun Series 9 comes with a Clean&Charge station. Just set it the shaver on the station when you're done with it, and by the time you're ready to use it again, it'll be cleaned, lubricated, and fully charged.
So, if you're looking for the easiest shave possible, both for you and for your sensitive skin, the Braun electric shaver is tough to beat.
But you will have to pay out a premium for such a premium shaver. Of course, we think it's completely worth it, especially since it's built to last up to 7 years.
Pros
Perfect for sensitive skin

Fast and powerful motor

Cuts through the strongest and longest facial hair
Bottom Line
The Braun 9290cc is an excellent razor that, while expensive it worths every penny. It combines innovative technology with quality, comfortability, and power giving you the smoothest and closest shave possible.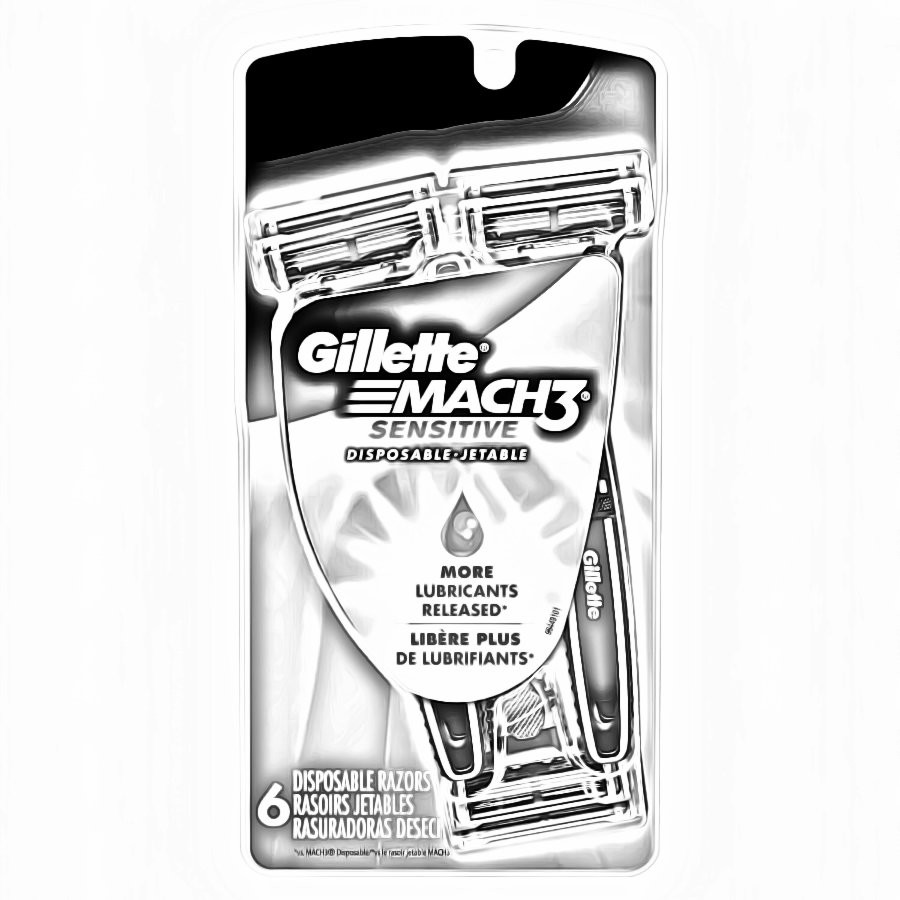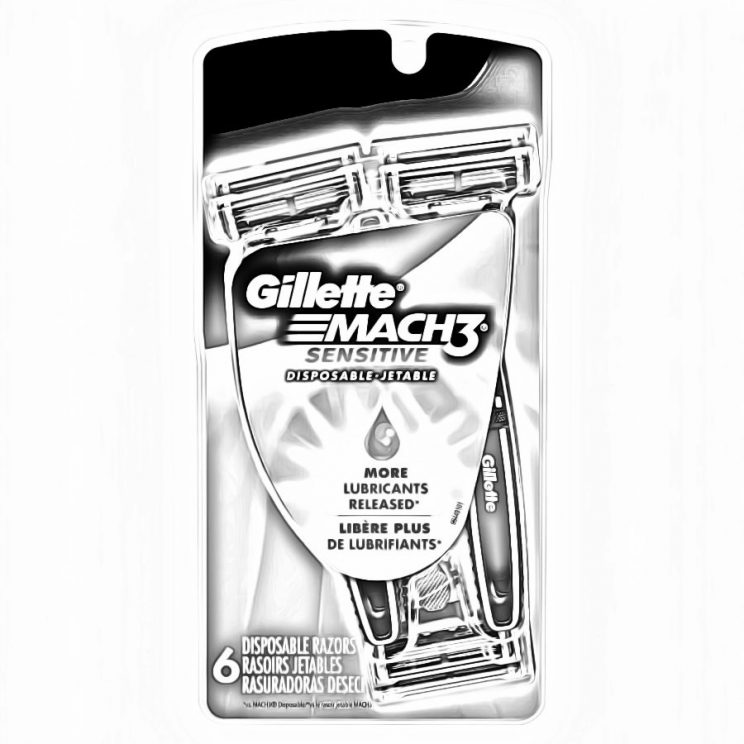 We've talked about Gillette's tradition in previous posts, but it's worth mentioning again. There aren't many companies, after all, with over 100 years of experience and a name that has become synonymous with shaving and razors.
We mention Gillette's history again only to emphasize that it tells us that they know what the hell they're doing.
Are they perfect? No company or individual is, of course, but you don't build a name and stay in business as long as Gillette has without doing something right.
They're certainly doing something right with their Mach3 Men's Disposable Razor, which we think is the best disposable razor for sensitive skin for a variety of reasons, including those listed here:
The Mach3's progressively aligned blades are positioned in a way that for each stroke you take, the blades take three. The Mach3 also comes with a pivoting head that allows you to smoothly navigate the contours of your face and neck while avoiding nicks, cuts, and irritation. It also comes with protective microfins which stretch and smooth the skin before your blade passes over it.
The Mach3 blades feature patented Diamond Like Coated sharpness, which some users say are the sharpest among any disposable blades on the market.
The Mach3 line of razors comes with a lubrastrip that adds another layer of protection in combating dry, sensitive skin that easily becomes irritated. The lubrastrip contains natural oils and will turn white when it's time to replace the blade.
The blades' construction makes it easy to rinse out facial hair, shave cream, shave gel, and other gunk that builds up on and between the blades during the typical shave.
The Mach3 also has an ergonomically designed handle that provides a comfortable grip. You don't have to worry about the razor slipping out of your during your shave.
Pros
Pivoting head

Protective microfins

Superior blades
Cons
More expensive than other disposables
Bottom Line
The folks have Gillette haven't held anything back to guarantee that your shave will be clean, close, and nick-free every time you get down to the business of shaving.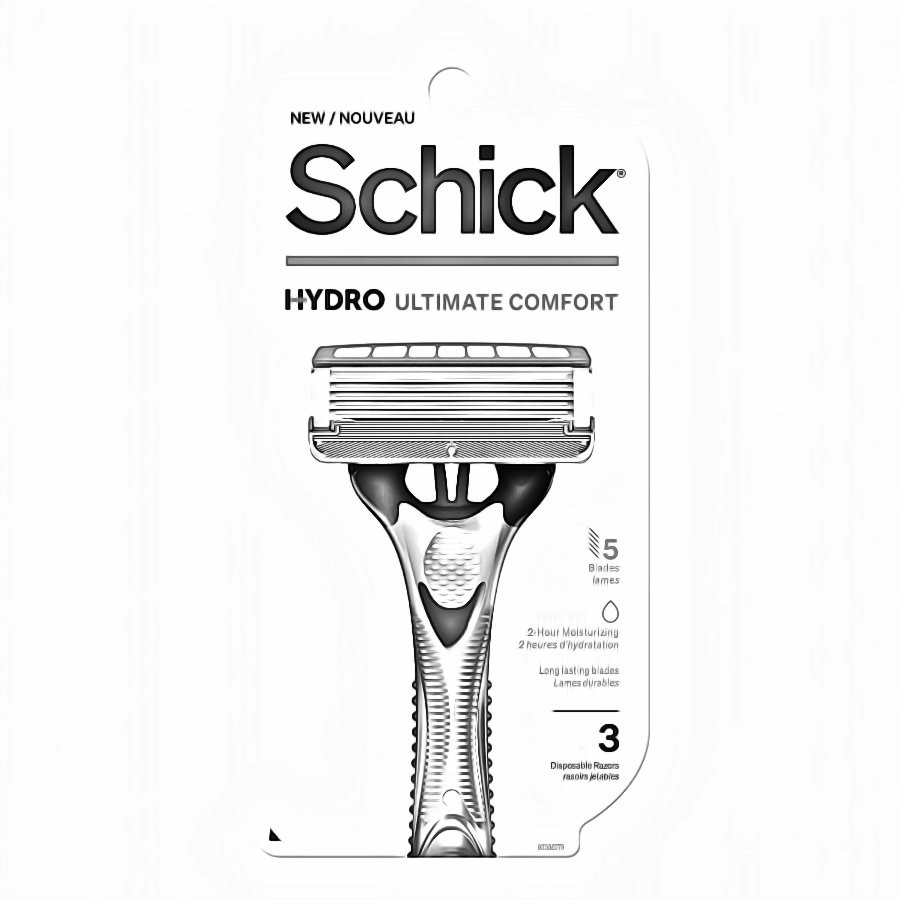 Moisture is a key ally in the fight against sensitive and irritated skin. Moisture, put simply, is your friend.
Skin that is properly hydrated and lubricated is not only skin that lends itself to a closer shave but skin that will experience less friction as razor blades pass over it.
The Schick Hydro 5 Razor – the best cartridge razor for sensitive skin – is all about moisture and lubrication. Then again, any razor that includes a Hydrating Gel Reservoir, as only the Schick Hydro 5 does, guarantees a well-lubricated shave.
Schick boasts that its exclusive Hydrating Gel Reservoir delivers 40% less friction than a standard lubrastrip, but also increases the lubricant surface area by 80%.
The HGR is billed as being able to hydrate your skin for up to one hour after your shave. And it contains aloe and vitamin E, which nourish and replenish the skin.
The Hydro 5 rises above other cartridge razors for other reasons, as well.
For starters, it comes with skin guards – placed at the top of its Ultra Glide blades – that control skin flow and help reduce friction during your shave. Additionally, it comes with a guard bar that helps stretch the skin for a smoother shave.
Note: the current Hydro 5 guide bar is redesigned and larger than on previous models.
The "5" in Schick Hydro's name stand for five blades. While multiple blades don't automatically make for a closer shave, the Hydro 5 blades are certainly among the best in the vast Schick arsenal.
There's less space between the blades than on other blades, which minimizes skin bulging. Anyone who has ever shaved over bumpy, bulging skin knows how irritating it can be.
Another unique feature is the Flip Trimmer, which is designed to reach those hard-to-trim places like under your nose or around your neck (in fact, it's the best razor for a sensitive neck). The trimmer is activated by simply flipping back the gel reservoir with your thumb.
We also like the Hydro 5's ergonomic handle that provides excellent shaving control while fitting neatly into your hand.
The Schick Hydro 5 comes with two replacement blades and refills are available at most stores that sell shaving supplies. Schick recommends that you use the Hydro 5 with Schick Hydro Sensitive Shave Gel and Schick Hydro Moisturizing Shave Gel to get the best results.
Pros
Hydrating Gel Reservoir

Flip Trimmer for hard-to-reach places

Top-of-the-line Schick blades
Cons
The handle is good, but perhaps not as good as on other cartridge razors
Bottom Line
The Schick Hydro 5 has unique features – such as its Hydrating Gel Reservoir and Flip Trimmer – but they're more than simply unique: they work and contribute to an irritation-free shave. You won't go wrong with this razor.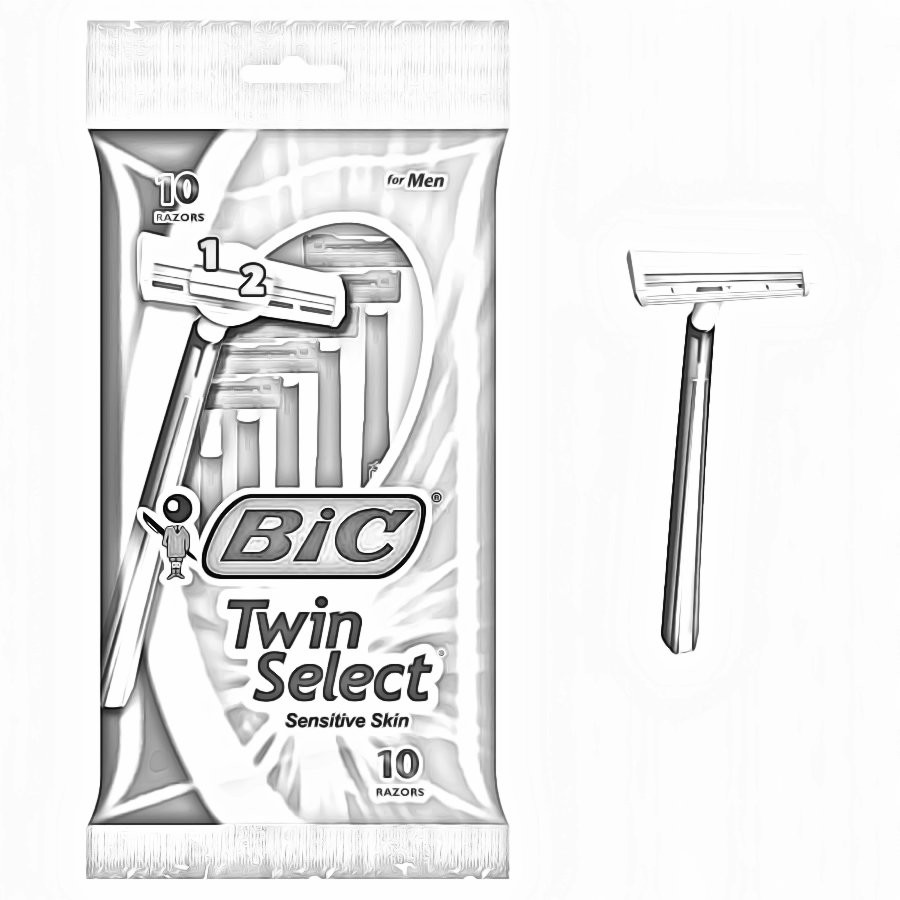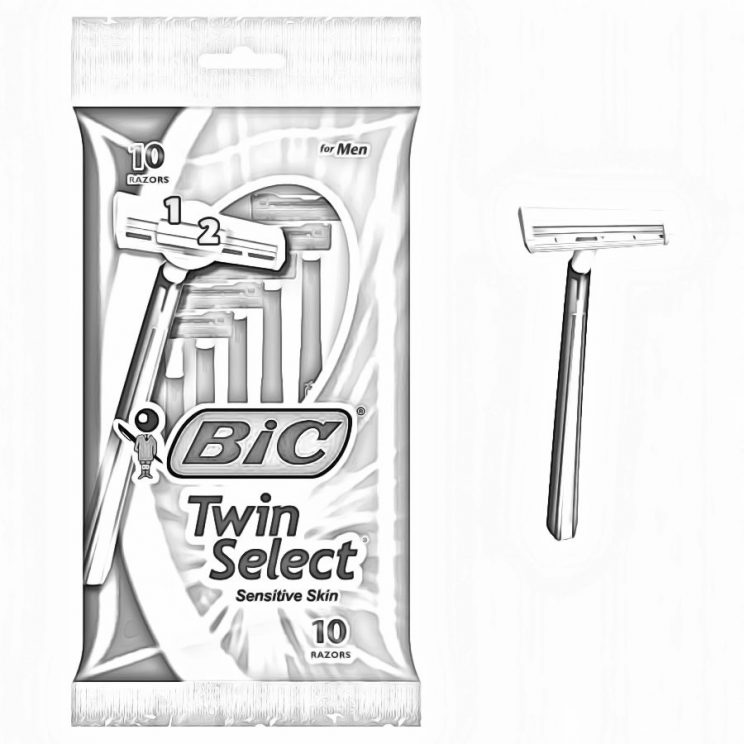 There are plenty of razors that claim to be good for sensitive skin. Plenty of them cost quite a bit of money.
The BIC Twin Select Sensitive Skin Disposable Razor doesn't just claim to tame sensitive skin irritation, however, it also gets the job done. And it's cheap – not regarding its design and durability, mind you, but regarding its low cost.
After all, you can get the 10-count package of Twin Select razors for under $10.
As its name suggests, the BIC Twin Select is disposable, i.e., when the blade goes dull you throw the razor – handle and all – away and grab a new one from your package of 10.
Interestingly, the Twin Select doesn't come with a moisturizing lubrastrip like many other razors that claim to be ideal for sensitive skin, but still gets the job done.
It has a slimmer shaving head than other razors that makes it easier to shave tight and hard-to-reach areas and is angled to reduce nicks and cuts.
The Twin Select also has a tapered handle that provides additional shaving control while also fitting comfortably into your hand.
The overall control provided by the Twin Select makes it an ideal razor for beginning shavers who have a heightened sense of paranoia about nicks and cuts. Moreover, it weighs less than many other disposables.
This razor comes with two quality blades to further help you get a close shave. Users have praised the blades' durability, which makes a low-cost investment even more budget friendly.
Like we said earlier, when your current razor grows dull and weary, simply toss it in the trash and reach into your package for a new one.
Pros
Excellent quality for the price

Easy to control

Long-lasting blades
Cons
No lubrastrip like many disposables
Bottom Line
The BIC Twin Select is an excellent razor for anyone who isn't willing to compromise the quality of their shave but doesn't want to ruin their budget, either. You'll love both the price and the closeness of an irritation-free shave.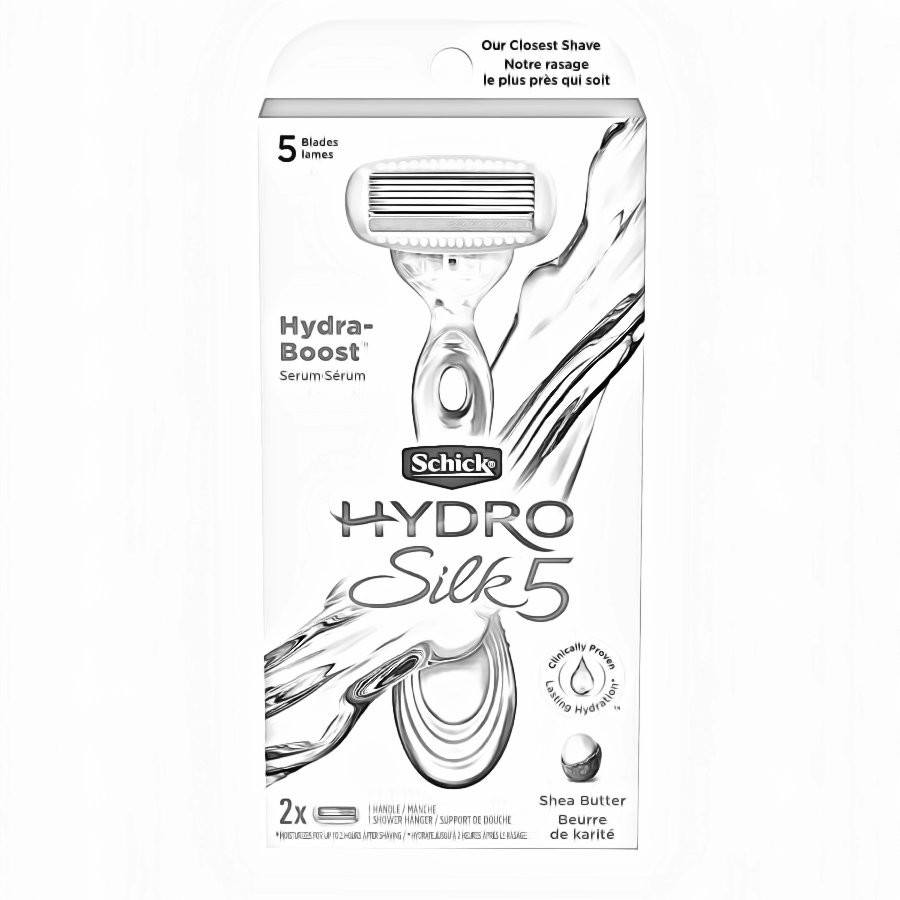 Leg shaving isn't among the favorite tasks of a woman's grooming routine.
There are many curves and contours to deal with, plus a bigger area to shave than a man's face. That's why finding a razor that is up to the task is crucial for women – especially women with sensitive skin.
Fortunately, razors like Schick's Hydro Silk are available to make the job easier.
The Hydro Silk is in our estimation the best women's razor for sensitive skin for a variety of reasons. Let's take a closer look:
This razor comes with a water-activated Hydra Boost serum formulated with shea butter (an excellent ingredient found in many grooming products). The serum is hypoallergenic and helps moisturize the skin and continues to provide hydration two hours after shaving.
The Hydro Silk has five curve-sensing blades that follow the natural contours of your body to provide an incredibly close shave. The shaving cartridge, meanwhile, has a smaller, oval shape that is the ideal size for accessing hard-to-reach areas.
Each blade comes with skin guards that smooth the skin during your shave and add further protection against irritation.
The Hydro Silk's handle ergonomically designed that has a comfortable rubber grip for easy control.
Pros
Provides excellent hydration

Serum lasts up to two hours after shaving

Blades that adjust to the contours of your skin
Cons
Some reviewers say the blades aren't as long-lasting as others
Bottom Line
It's hard to find a better women's razor for sensitive skin than the Schick Hydro Silk. From its unique moisturizing serum to blades that adjust to the contours of your skin, it's built to provide a shave that's free from irritation.
The inside story: How we chose the best razors for sensitive skin
OK, "inside story" suggests a juicy tale filled with never-revealed secrets when, in fact, the selection process we use for all of our reviews won't garner many headlines.
Instead, it involves less sexy – but always effective – strategies such as personal experience, research, reviews of other experts, and what customers say about each product.
While we don't have the time to review every razor available (not many do) we believe that we've come up with a method that covers a wide variety of products and styles, from those produced by well-establish manufacturers to lesser-known brands.
We're also confident that we've developed a list of razors that will serve you well if you have sensitive skin.
How to get a close shave without irritation in 6 steps (A simple, illustrated guide)
Now that we've discussed some of the highest-quality razors available for people with sensitive skin, it's time to take a look at some techniques for getting an irritation-free shave.
1. Prepare your facial hair with hot water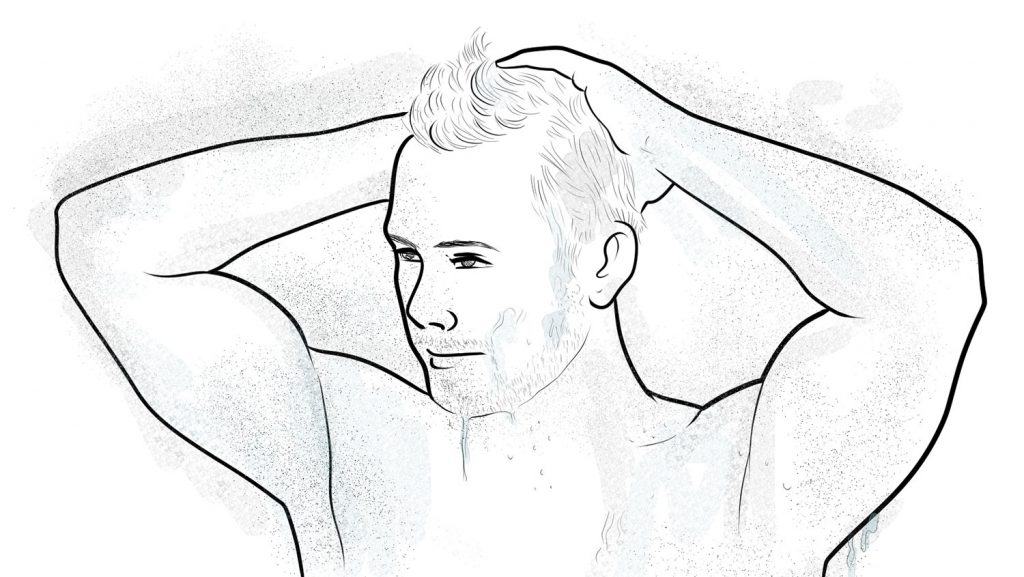 The chances are good that, like a lot of people, you shave after taking a hot shower each morning. If you don't, we advise that you give it a try – with water is being as hot as you can comfortably manage.
There are two reasons for doing so:
1) warm/hot water softens your facial hair and makes it easier to shave (and with less irritation)
2) you'll exfoliate and clean any dirt that may have accumulated over the shaving area.
2. Shave with sharp blades
OK, not to sound like Captain Obvious, but sharp blades deliver a closer shave.
Yes, you may run a higher risk of developing nicks and cuts, but a sharp blade won't pull and tug on your facial hair, which can easily lead to shaving irritation (especially if you have sensitive skin).
If your blade has become as dull as a butter knife, do yourself a big favor and replace it.
3. Shave with the grain
There are times when shaving against the grain can give you an ultra-close shave. But if you have sensitive skin that's prone to irritation, you're at a higher risk of razor burn and ingrown hairs.
That said, many shaving experts advise that you shave with the grain – particularly on the first pass – before going against the grain.
A two-pass approach will typically provide you with a close shave that's to your liking, although some suggest that a safety razor allows you to take a third pass against the grain without worrying about irritation.
4. Perfect your technique
Paying attention to technique is helpful in almost every endeavor, and shaving is no exception. There are a few things to keep in mind:
Let the weight of the razor do the work
Utilizing the weight of the razor is particularly important when shaving with a double-edged safety razor. A cartridge razor, however, requires that you apply some pressure yourself.
Watch the angle of the blade
The angle of the blade when shaving is very important in helping you get a damage- and irritation-free shave. Many cartridge razors have a swivel head that keeps the blade at a proper angle.
With a safety razor, the ideal blade angle is 30 degrees, and moving your arm – rather than your wrist – will help you maintain a consistent angle.
5. Clean the blade frequently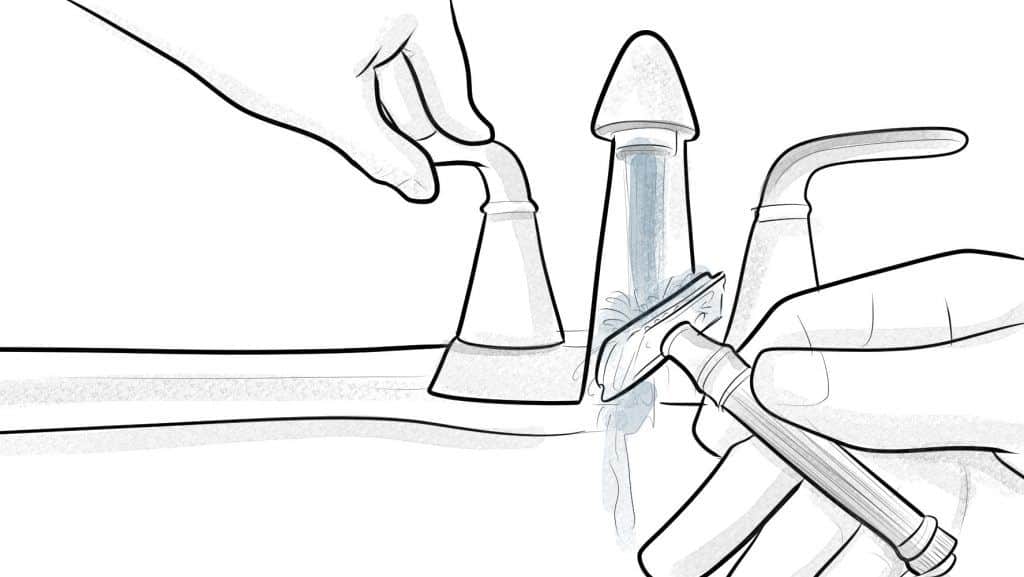 To keep your blade sharp, clean it frequently and store it in a dry area (like your shower). If you're still having trouble with a dull blade, consider switching to an electric razor.
If you have sensitive skin and suffer from irritation, consider cleaning your blade with water after each shaving stroke. It may make for a longer shave, but the build-up of whiskers and shaving cream in the blade can easily lead to irritation.
6. Use a moisturizer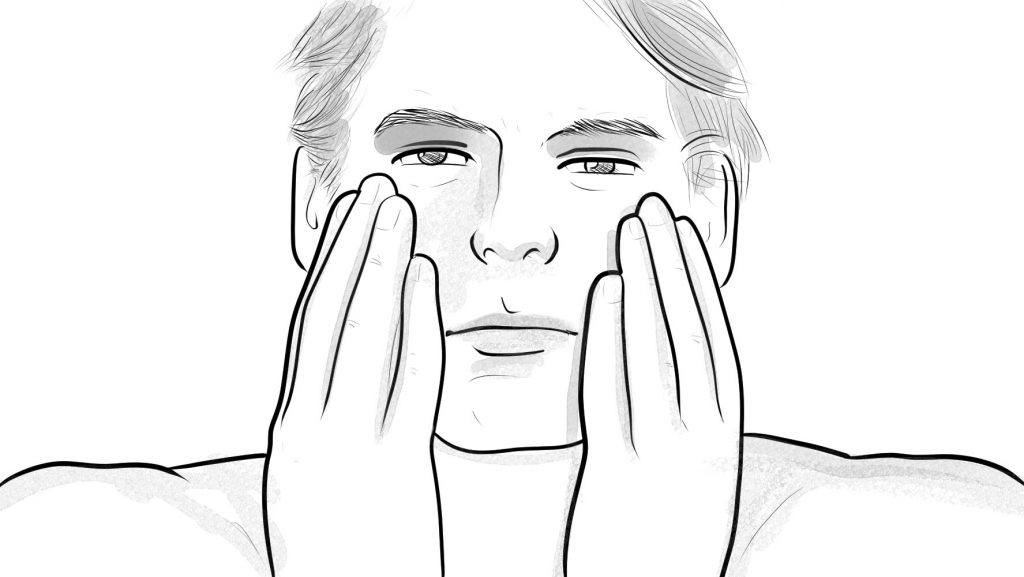 Your skin may develop pimples and bumps after shaving due to skin that's dried out. Moisturizer will counteract this effect and help ensure a shave that's comfortable even if you have sensitive skin.
Conclusion
That wraps up another review, my friends. As always, we hope that the information provided is useful and adds value to your all-around grooming experience.
We'd also love to hear from you: What razors do you use for sensitive skin? Have you used any of the razors listed above and what are your thoughts?
Until next time.