6 Best Razors for Shaving Your Head Bald Like a Pro
This post may contain affiliate links. Learn more.
In a hurry? Here are our top picks:
If you are thinking of shaving your head, then it is probably not without a reason. Whether you want you to embrace your baldness, or just like a scalp without hair by choice, you are probably here to find one thing:
The best razor for head shaving!
Regardless of the reason, however, finding the best razor for your scalp is very important as it will minimize any possible razor cuts while providing a close shave. We all know how painful those can be and how nasty they look, especially with a shaved head, where there's no hair to cover it.
That is why we have written this guide, because We understand that picking the perfect razor this is a difficult task especially if you take into account the variety of razors available on the market: disposable razors, electric razors, safety razors, etc.
That is why we've done all the hard work for you, did the research, and tested some of the best razors out there, helping you find the best option in no time.
But, we've done more:
We've also prepared a list of things you should consider before purchasing a head shaving razor, included a guide on how to shave your head, and also included a list of shaving accessories that will make your life easier.
Let's get started!
Quick Summary
Best overall razor

HeadBlade's Moto Head Shaving Starter Kit

Very easy to use because of its design

Includes everything you need

Low maintenance

Check on Amazon

Best compact razor

Premium Omnishaver

Great for traveling

Versatile

Blade design provides faster shaving

Check on Amazon

Best disposable razor

Gillette Fusion5 ProGlide

Flexball technology makes it very easy to use

5 ultra sharp long-lasting blades

Excellent for really close cuts

Check on Amazon

Best safety razor

Merkur Razor Adjustable Futur Brushed Chrome Safety Razor

Provides excellent reach, support, and balance

Adjustable blade settings (mild to aggressive)

Provides an ultra close shave

Check on Amazon

Best electric razor

Skull Shaver Pitbull Silver PRO Electric Razor

Lightweight

Makes head shaving very easy

Water resistant

Check on Amazon

Best for sensitive skin

Schick Hydro Skin Comfort Sensitive Razor

Unrivaled lubrication with aloe

The blades feature extra skin guards for extra protection

Great weight balance

Check on Amazon
Before you buy: 6 Things you have to consider when buying a head shaving razor
1. What type of razor do you want?
Decide which type of razor you would like to go for.
If you are a beginner, then disposable razors are probably your best bet as they are easy and straightforward and provide a really close cut.
If you know how to shave, you could go with a safety razor which is probably one of the sharpest options you can choose. However, it needs some learning curve in order to master it. And yes, by learning curve we mean you're going to nick yourself a few times. That's why it's a learning curve people.
Electric razors are also another great choice if you like to save time. However, they don't shave as close as other options, and some might not be water-resistant if you like to shave in the shower.
Each of these razors has its pros and cons. It is up to you to design which one fits you best.
2. Grip and ease of use
When it comes to ease of use, you should really take into account that some razors can be used straight away, while others need some preparation or special caring. For example, to use an electric razor, you need to make sure that the battery is full beforehand. A safety razor, for instance, needs to be assembled and disassembled when you need to change the blade.
You should also think about the razor's grip and weight. Usually, a heavier razor gives more control.
3. Length of the handle
Usually, for a handle, anything that ranges between 3 to 4 inches is the ideal size – that's what she said. Any longer than that can prove harder to control for precise shaving.
A shorter handle is usually easier to control and maneuver, especially for newcomers.
That is not to say that longer handles don't have their advantages as well. With longer handles, you can have easier access to hard-to-reach areas.
4. Number of blades it comes with
There are a variety of blade designs on the market. From single-blade to five-blade systems, etc.
However, the higher the number of blades does not necessarily mean closest or better shave.
For example, safety razors usually come with a single blade (usually double-sided) that most of the time beats the best five blade disposable razors out there. So yeah, it's not just about the numbers.
Moving on, it is also worth noting the number of blade refills your razor comes with, and check how available they are in the market as you will probably be needing to buy more.
Check their price, availability, and effectiveness before buying.
5. Is it right for your skin?
Your razor should not irritate your skin. If you have sensitive skin, for example, check if the blades are hypoallergenic or contain lubricants to make the experience smoother.
It's also a good idea to read reviews to see how other people with your skin type have fared with a particular razor.
6. Price
If you have a limited budget, then the cheapest razors you can find on the market are disposable.
However, it is important to note that buying a higher quality one might save you money in the long run as you won't be needing to purchase new ones very often.
Bear in mind that a razor can be an investment and factor in the length of time you expect to keep it.
The 6 best razors for shaving your head
What stands out about this razor:
All-in-one kit
Water-soluble
Easy to use
The best razor for:
People who are looking for the best overall razor for bald head or just starting out with head shaving.
Overview
Learning to shave your head correctly might sound hard, and without a doubt, there is some learning curve if you are just starting out.
But not to worry.
HeadBlade is a brand that understands that, and this is why it has created the ATX Men's Head Shaving Starter Kit.
It includes everything that a beginner needs in the kit, for example, a razor, a shaving cream, and 4 replacement blades; all at a reasonable price.
Let's discuss more.
Looking at the razor's fun race car design, you might be thinking: Is this a toy?
Well, fear not, its design is not just a gimmick and plays a crucial role. It features two wheels that let you roll it easily across your scalp for an effective and easy shave.
It provides solid grip and is well-weighted for better control and handling. Easy peasy lemon squeezy! Plus who wouldn't want to shave their heads with a fancy toy car?
What about its blade performance?
There are two types of blades that are compatible with the HeadBlade ATX. The HB4 and the HB6. The only difference between them is that the HB4 is based on a four-blade system and the HB6 on a six-blade system. As the product included the HB4, these are the ones we reviewed.
The HB4 have a solid cutting power within them. They are sharp and last quite a while before needing a replacement. However, they do clog up easily, if you shave areas of your scalp that have long hair. So, you will find yourself needing to double shave these areas in order to get the closest shave.
Pro tip:
It is always a good idea to trim long hair with a clipper before shaving.
Continuing on, the blades come with a lubricating strip that provides hydration to minimize any nicks and cuts. While the lubrication does a great job, it will not protect you if you apply a lot of pressure on the blades. So be careful!
Plus, by putting too much pressure, you risk the chance of breaking it as it is made of plastic. If you are looking for a more durable razor, then consider Merkur Razor Adjustable Futur Brushed Chrome Safety Razor. It has a metallic finish and is well-built to last longer. However, be aware of the safety razor learning curve.
Lastly, it is important to note that if you have large hands, you might find the finger holes of this razor a bit small. If you think that is the case, then consider buying Premium Omnishaver. It is also easy to use for beginners as it is another razor that easily glides onto the scalp for an easy shave.
The good
Genuinely includes everything you need to start shaving your head

Low maintenance and easy to use

Makes shaving your head fun

Comes with shaving cream and blade replacements
The bad
While we didn't experience any issues with durability, some have noted that it can break easily if you apply a lot of force while shaving.

Some find the roller system a little bulky and difficult to get used to

Finger holes might be small for larger hands
Bottom Line
This is one of the best razors that is specially designed for shaving your balding head. It is easy to use, comes with a shaving cream and a lot of replacement blades. What else could you ask for?
What stands out about this razor:
Easy to use
Versatile
Provides a fast shave
The best razor for:
Traveling and easy head shaving
Overview
This is another razor that, like HeadBlade ATX, is designed to shave the head. However, there are many things that make it different from HeadBlade.
Let's dive right in.
Right out of the bat, you can see that this is a perfect razor for traveling. It is oval-shaped and is very compact. Even though it is small, it can be easily held on the hand without any issues.
Holding it is not heavy, but it does have some weight on it – because of its triple-plated steel shaving head. This helps provide more control while shaving your scalp.
What makes it special, however, is not its weight or size but its blade design. Its shaving head contains two sets of blades that point in opposite directions.
I know… This sounds crazy, but there is some logic behind it. It enables the razor to shave in either direction, saving this way time and effort.
But there's more!
Because of its multidirectional blade design, the blades use your skin as a strop to keep them straight and clean their edges, increasing the razor's longevity but also convenience.
This blade mechanism also decreases the time duration needed to shave as there was no need to rinse it under the water a lot of times. This is a plus as water is the enemy of all razor blades.
Overall, the blades are sharp and able to perform a really close shave. But it has some disadvantages as well.
Firstly, if you have a sensitive scalp, you might find the blades more irritating than other razors as there is no present lubrication strip to calm the skin while shaving, and secondly, the opposite blade design increases the chances of cutting yourself if you are not careful.
Nevertheless, this is a very effective and unique razor that might be worth trying out as it is different from others on the market.
If you are looking for something more suitable for sensitive skin types, it might be worth checking out Schick Hydro Skin Comfort Sensitive Razor. It contains 7 cushioning gel pools that are made with aloe and vitamin B5, which are designed to soothe, calm, and hydrate the skin while shaving for fewer irritations.
The good
Very easy to use

Can be used anywhere on the body

Very compact

Blade design provides faster shaving experience
The bad
The opposite blade design needs some getting used to
Bottom Line
A very unique and versatile razor that is totally worth trying.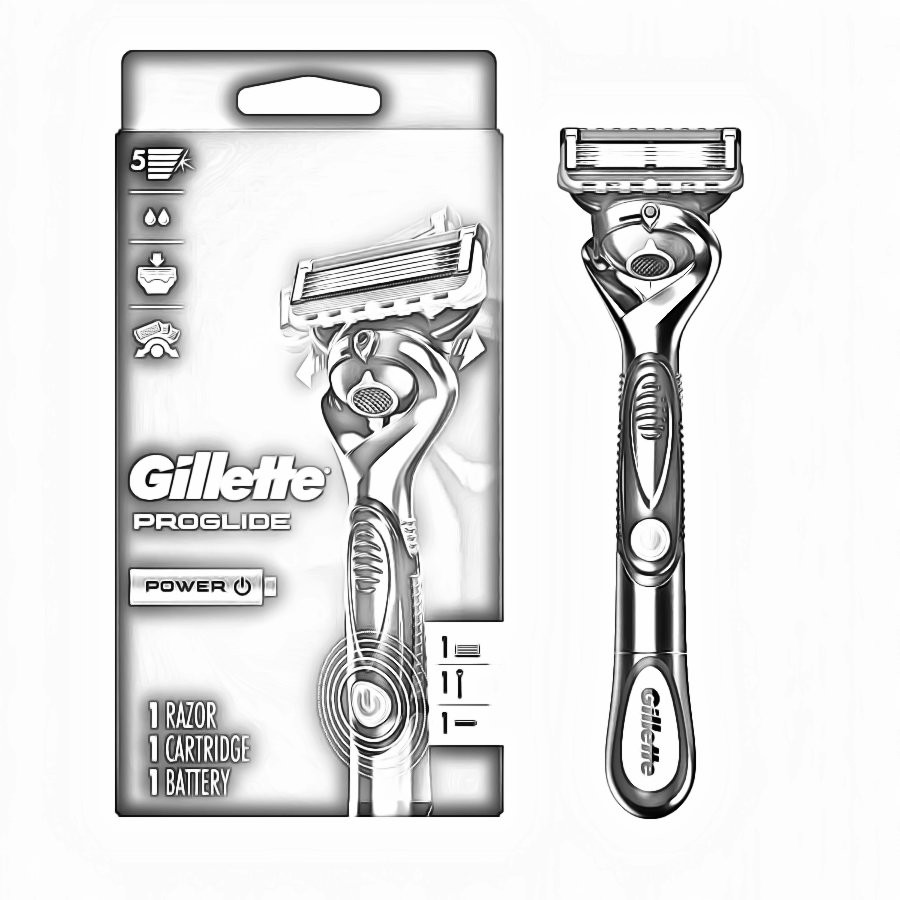 What stands out about this razor:
Flexball technology
5 highly durable blades
Lubrastrip
The best razor for:
People who prefer disposable razors as their way to go.
Overview
I mean, if you don't know Gillette, you are definitely living under the rock. While there are dozens of other brands that provide outstanding shaving products, only a few can match Gillette's degree of confidence and trust.
Gillette Fusion5 ProGlide is one of the best disposable razors for shaving the head and, we'll explain why.
Let's start with the handle. The handle is made of metal but with several rubber grips for more control and stability while shaving. It feels great and non-slippery on the hand, which minimizes the chances of cutting yourself accidentally.
The weight of the razor is acceptable due to its metal construction, but we do wish it was a bit heavier. As said earlier, usually more weight means more control.
What makes the handle special, however, is the FlexBall. It is a ball that allows you to move the razor head slightly left or right while shaving. This makes it easier and more flexible to slide along the facial curves without any pulling or cutting. A great feature to have when shaving your head.
The ball is also a button that's used to release the razor head when you need to replace it.
The shaving head pivots back with light pressure when shaving and goes back into place when the pressure is released. This makes shaving curved areas easier. You have to agree, that's a damn good design.
The razor heads that are provided in the box feature five blades.
The five-blade system is very sharp, meaning it can give a close shave while also providing a smooth experience due to the green lubrication strip above them.
Gillette claims that the lubrication strip is 25% larger than other razors, which does seem to be valid.
Overall, shaving with this razor is flawless and very comfortable.
One drawback we should mention is that when using it, the lubricant strip was running out (becoming dry) before the blades were losing their sharpness. Because of that, if you have sensitive skin, you might get in a situation where you would be changing razor heads for the lubricant rather than the blades themselves, which can be a waste.
If you have sensitive skin, consider Schick Hydro Skin Comfort Sensitive Razor. It is a disposable razor similar to this one but with a more enhanced lubricant action that your skin will thank you for.
The good
5 long-lasting flexible blades that provide ultra-close cut

Flexball technology makes handling easy

Easy to use and hold
The bad
Lubricant strips often run out before the blades lose their sharpness
Bottom Line
The greatest disposable razor for shaving your head – the pivoting sharp blades paired with Flexball technology provide for a smooth cut.
What stands out about this razor:
Great durability and construction
Adjustable blade settings for more control
Balanced weight that makes for exceptional maneuverability and control
The best razor for:
People who are looking for a safety razor with exceptional craftsmanship
Overview
Merkur is a brand that is well known for its safety razors. Their Merkur Razor Adjustable Futur Brushed Chrome Safety Razor is one of the best safety razors for head shaving on the market, and not without a reason.
Why?
It features an adjustable blade design, which consists of six adjustment settings. Depending on which setting you are on, the blade gap changes for a more aggressive or gentler shave.
The adjustment of the blade settings is done by just twisting the handle. If it is set at 1, this means the razor will provide a gentler shave. If you set it at 6, a more aggressive shave. This means you can adjust the aggressiveness of the shave depending on your skin type and personal preference, which is a huge plus. Not many blades can do this.
The design and craftsmanship of this razor are two of its most striking features. The silver matte finish along with its elegant design truly indicates luxury and premium craftsmanship.
Moving on, the Merkur Futur Safety Razor is a two-piece safety razor that is compatible with any universal safety razor blade. This is great as it gives you the ability to test different blades and identify what works best for your facial hair and skin.
The razor itself is heavy -heavier than most of the safety razors out there- meaning that you don't need a lot of pressure to achieve a very close shave (126 grams). The handle is long and thick, making it easy even for people with larger hands.
The balanced weight and the long handle, provide more control and maneuverability while shaving, especially on your head.
However, despite how amazing this safety razor is, there are some drawbacks to it.
If you are new to the shaving world, then this razor is not for you. Safety razors need a longer learning curve in order to master, plus their price is undeniably costlier. While this is understandable for the functionality and craftsmanship they offer, if you are looking for a more budget-friendly option, then consider other head razors on our list, such as ATX Men's Head Shaving Starter Kit or Gillette Fusion5 ProGlide.
Overall, this is one of the best safety razors available that will certainly provide an unbeatable close shave if you know how to use it.
The good
Provides a very close shave

Multiple blade settings (mild to aggressive)

Offer create maneuverability and control because of its balanced weight

Unparalleled durability and construction

Very comfortable to use
The bad
Very expensive

Difficult to use if you are a newbie
Bottom Line
We are confident that this is one of the best safety razors that money can buy.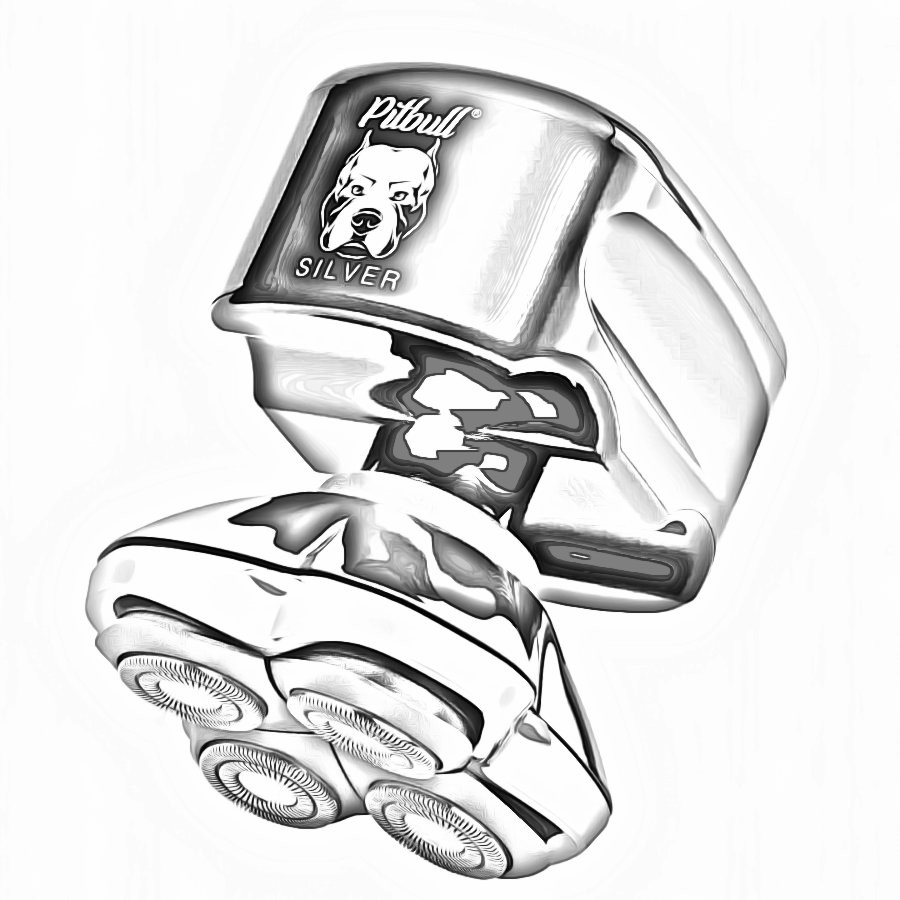 What stands out about this razor:
Specifically designed for head shaving
Lightweight
Four blade head
The best razor for:
People who like to shave their head with an electric razor
Overview
Skull Shaver Pitbull Silver PRO is one of the best electric razors for shaving the head. The main reason for making it on this list is its unrivaled ease of use.
This is a very comfortable razor to hold because of Pitbull's Shaver patented design. It allows you to hold it between your fingers with the palm towards your scalp, making it very easy to shave the difficult-to-reach back area of your head.
This makes it very easy for newcomers as well, which is always a big plus.
Now, let's discuss its performance.
The blades are great and are able to provide a pretty close shave. While using it, we didn't experience any tugging or pulling. This makes them even suitable for more sensitive scalps if you use a shaving cream.
Bear in mind, however, that it will not work well on thick hair. It is advisable to shave every 5 days to avoid any irritations. More than that, you might find it ineffective.
As for its weight, it is very lightweight, which is a good thing. However, its build quality is a bit lacking in our opinion as it is made with cheap plastic.
Regarding its battery, we found it to last around 40 minutes which is ok. This is, usually, the time that most electric shavers last, so we won't make a big deal out of it. Nevertheless, it needs around one hour to fully charge, and it can't be used corded (while charging).
Additionally, if you like to shave in the shower, then this electric razor is IPX5 certified. This means it is water-resistant, so you can use it with your favorite cream as well.
While, as said, it lacks a bit in battery life, and there are definitely better rotary razors out there, this is one of the best rotary head razors when it comes to ease of use. That is why we decided to use this on our list. For other rotary shavers, check out our review here.
The good
Great blade performance

Very easy to use

Water-resistant

Lightweight
The bad
Battery life could have been better

Cheaply made
Bottom Line
Probably the best electric head shaver when it comes to ease of use.
What stands out about this razor:
Gel pools with aloe and vitamin B5 that soothe the skin
Extra skin guards on blades for more protection
Comes with two refills
The best razor for:
Men with sensitive skin
Overview
Schick is another respectable brand when it comes to disposable razors. While it might not be as big as Gillette, it produces several products that deserve a mention, one of which is its Schick Hydro Skin Comfort Sensitive Razor.
Let us explain why.
This is a disposable razor similar to the previously reviewed Gillette Fusion5 ProGlide, with the difference that this is designed specifically for sensitive skin types. How does it achieve that?
First of all, their razor blades were dermatologically tested in order to provide absolute comfort while shaving. But there's more.
The razor head features 7 cushioning gel pools that are made with aloe vera and vitamin B5. These gel pools are designed not only to hydrate the skin but also to reduce friction and irritations while shaving. We have to say they were particularly effective in increasing smoothness.
Additionally, the five blades on its razor head feature skin guards that also provide an added layer of protection against cutting and pulling. The head also pivots for a more comfortable cutting experience.
Despite the strong skin protection, the blades still manage to provide a very close shave which is a plus. But what about the handle?
The handle is decently weighted and provides a solid grip – even if you are using it with wet hands. The handle comes with a shock-absorbing technology that lets it pivot when pressure is applied. While this is supposed to help shave curved areas smoothly, we didn't experience any benefits from using it.
Luckily, if you don't find this system useful, there is a lock underneath it that lets you disable it.
Additionally, the lubrication strip (gel pool) can be moved out of the way in order to use the blades as a precision trimmer. While it is very effective for shaving areas behind ears, underneath the nose, etc., to push back the lubrication strip, you need to place your hands very close to the blades risking cutting yourself, which we found inconvenient and unsafe especially if your hands are wet.
However, all and all, this is a great disposable razor that shaves sensitive skin types with unrivaled comfort and without irritations.
The good
Shock absorption handle
Very smooth and irritation-free shave
Great weight balance
The bad
Lubrication can get a bit gooey
Not that easy to flip back the lubrication strip for precision trimming
Bottom Line
If you have sensitive skin, Schick Hydro Skin Comfort Sensitive Razor is a razor that has your back.
How we made our list
Our method is straightforward but thorough: we examine the whole range of items available in a given category, reduce the field slightly based on reviews and industry knowledge, and then test as many of the products as possible to discover which truly stand out.
We made sure to consider every aspect of picking a head shaving razor for this review, including razor types, skin type, experience, budget, etc.
As you might expect, there are a plethora of razors available, many of which are suitable for shaving your head. And, while we strive to test as many as possible there's always the possibility that we've left a fantastic one outside.
Please let us know in the comments below if you think this is the case!
How to shave your head without getting razor bumps, in 5 simple steps
If you are taking your first steps in shaving your head, don't worry, there are plenty of people that are in a similar situation as you are, as many are afraid of hurting themselves while shaving. This is only logical as no one wants to go outside with razor burns or cuts on their scalp.
But don't worry. We have you covered.
Here is a simple 6 step guide to shaving your head without getting razor bumps:
1. Prep properly
If this is the first time you are shaving your head, make sure to trim down any longer hair you might have with a hair clipper before moving on to a really close shave using a razor.
Make sure you're cutting them down gradually. If you have a head full of long hair, don't go for the smallest guard right off the bat, as you might rip your hair off or slice your skull.
Before starting the process, it is also worth checking all of your equipment, if it works properly to avoid any issues down the road.
2. Wash yourself
When you shave your head, your skin needs to be clean, so take a shower and shampoo yourself before you begin. This will make the hair easier to cut as well.
3. Use plenty of lather
It may sound absurd, yet a large number of men begin shaving their heads with no applied shaving cream at all. And that is not a good idea.
A shaving cream creates a lather that acts as a protective layer between the razor and the skin. We can't stress enough how important it is to minimize the risk of cuts and nicks.
Get some good shaving cream, lather it up, and then generously apply it to your head before putting a razor near it.
4. Shave carefully with the grain of your hair
Make sure your razor is clean from any hair as this might irritate your skin, damage the blades, and give you razor burns. Now it's time to shave!
Where you start is up to you, but it is advisable not to begin from the back of your head, as this is where the thickest and strongest hair is found.
While shaving, don't use too much pressure. If the razor is good, it should glide right through, and your role is to relax and let it do its thing. Always go against the grain of your hair, which should feel the most natural.
5. Aftercare is essential
Even if you shaved without nicking your skin, it will still be painful and require some aftercare to keep it clean, healthy, and tight.
Take a small amount of both aftershave and moisturizer in your clean hands and gently rub it across the dome of your lovely, bald head.
Aftershaves and moisturizers that are alcohol-free, rich in antioxidants and, anti-inflammatory properties are preferred in this case, as they calm the skin from any irritations that might have occurred.
4 head shaving razor accessories you need right now
As you have read from the guide above, in order to make your shaving experience smoother and easier, you need some additional essential items:
1. Shaving cream or gel
Shaving your head without lather, as we've established, is risky.
Any man who is serious about shaving his head should keep a good quality shaving cream, or gel on hand at all times as it helps reduce cuts, burns, and any other irritation.
Jack Black's Beard Lube is our current favorite cream — packed with essential oils and natural ingredients, it has everything you need for a kind shave, and if you're shaving your head, its refreshing lather is about as excellent as it gets.
2. Moisturizer
After shaving, the skin is usually more prone to dryness. This is because shaving is a form of exfoliation. You don't only remove hair but also dead skin cells. Thus, if you put too much pressure while shaving, you run the risk of damaging the top layers of your skin, making it more sensitive and prone to dryness.
Another reason for dry skin might be the fact that you are using a shaving cream that is not suitable for your skin or contains harsh ingredients. You need a top-quality moisturizer that makes sure your scalp stays healthy and moisturized, while protecting it for the harsh environment..
Our choice would be Bee Bald Smooth Plus Head and Face Moisturizer: It has a lightweight formula that not only does it hydrate the scalp but also protects it from harmful UV rays as it contains SPF 30.
3. Aftershave
Using a good quality aftershave is equally important. A good aftershave not only does it offers protection to the skin but also calms post-shave irritated skin. It gives your skin the nourishment and soothing it deserves.
Your best bet here is Proraso's Aftershave Lotion – it has a pleasant scent, it is made with 95% of natural ingredients and, it refreshes and revitalizes the skin after your shave is done.
4. Razor bump ointment
You should never have to deal with razor bumps if you follow the instructions above. But we understand that accidents do happen when you're in a hurry. So having a specialist razor bump ointment on hand to treat any nicks, burns, or irritation is always a good idea.
Evagloss's Razor Bump Solution is our current favorite – the easy to apply and provides a quick relief from razor burns while also repairing the skin nicely.
Conclusion
Shaving your head is a life-changing experience for many men. We hope we've provided you with everything you need for an irritate-free shave.
How has it been shaving your head for you? What razors do you prefer, and where do you get them?
Please let us know in the comments section below.