The 13 Best Beard Products Every Beardsman Needs
This post may contain affiliate links. Learn more.
Growing a beard takes grit – you've got to put in the time and persevere even when things aren't happening exactly as you'd like.
But the reality is, grit isn't always enough.
To grow a truly magnificent beard, you also need a grooming kit filled with the best beard products, as well as expert knowledge of how to use them.
It's when that dedication and grit are matched with the right tools that magic starts happening.
So in this article, we're going to help you stock up the very best beard grooming products – from oils to razors to dyes.
And we're going to explain exactly what makes them so essential and how you should be using them.
Men's beard care can be tough, time-consuming, and expensive, but it's well worth the effort.
With the help of the products we're about to discuss, you'll have no problem at all growing that fierce mane you've been fantasizing about.
So let's jump right into it.
Quick Summary
Best Oil

Jack Black Beard Oil with Kalahari Melon Oil & Vitamin E

PureScience natural formula

Eliminates beard itch

Keeps your beard from getting too dry and brittle

Check on Amazon

Best Balm

Honest Amish Beard Balm Leave-In Conditioner

Uses the finest natural ingredients

Shape your beard while repairing any patchiness

Relieves itching

Check on Amazon

Best Wax

The Bearded Goon's Ridiculously Strong Beard and Mustache Wax

Ridiculously strong hold

Long-lasting

100% natural ingredients

Check on Amazon

Best Shampoo

Beardbrand Beard Wash

Makes your beard hair look and feel amazingly soft

Anti-itch qualities

Fantastic scent

Check Best Price

Best Beard Brush

Seven Potions Beard Brush for Men with 100% First Cut Boar Bristles

Made of 100% first-cut boar bristles in pear wood body.

The boar bristles are stiff enough with the proper density to tame the most unruly beard

The natural bristles carry the natural oils of your skin and facial hair and keep your beard soft and healthy

Check on Amazon

Best Comb

Baxter of California Beard Comb

Best for combing and shaping facial hair

Moves smoothly even through wet hair

Prevent the comb from scratching and irritating your skin

Check on Amazon

Best Trimmer

Braun Beard Trimmer for Men BT5265

AutoSensing Technology

Great battery

Comes with a variety of brushes

Check on Amazon

Best Scissors

Tweezerman G.E.A.R Moustache Scissors and Comb

Ideal for any type of beard

Very sharp at the tips

Wider finger openings

Check on Amazon

Best Disposable Razor

Gillette Mach3 Men's Disposable Razor

Get a cleaner cut with fewer strokes

Lubricating strip helps prevent skin irritation

Allows for a closer shave

Check on Amazon

Best Safety Razor

Merkur Adjustable Futur Safety Razor

Finely-crafted razor that gets the job done

Adjustable with a variety of settings

Easy to handle

Check on Amazon

Best Products for Beard Growth

Spectral.BRD

Produces no side-effects

Increase thickness and reduce beard patches

Lasting results

Check Best Price

StimuROLLER Face

Increase the effectiveness of other products i.e. Spectral.BRD

Assist in blood circulation to the face assisting in faster hair growth

Easy to use

Check Best Price

Best Hair Dye

Just For Men Mustache & Beard Coloring

Great for coarse hair

Easy to apply

Good color availability

Check on Amazon

Best Shaving Cream

Jack Black Beard Lube Conditioning Shave Set

Transparent

Natural ingredients

3-in-1 product: pre-shave oil, shave cream, and conditioner

Check on Amazon
The 13 best beard products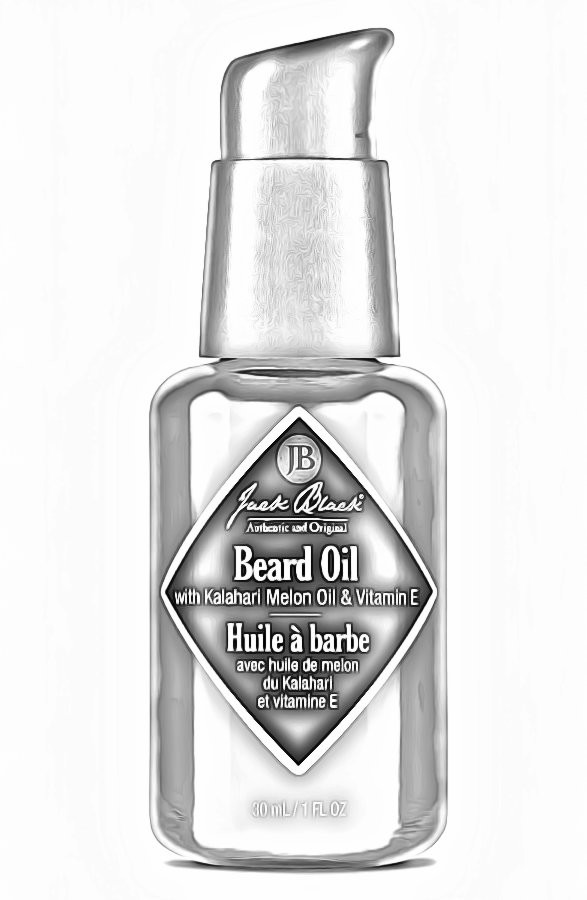 Beard oil is steadily growing in popularity and for a good reason.
In essence, it's designed to mimic your skin's natural oils, and helps smooth, soften and protect your beard hairs.
See, the skin underneath your beard is liable to get dry, itchy, and has even been known to produce beardruff – like dandruff, except somehow less attractive.
And this, in turn, means the hair follicles lose moisture, and therefore the hair doesn't grow healthily.
So beard oil hydrates your skin, keeping it clean, tight, and plenty moisturized.
This is especially important if you like in a cold or otherwise harsh climate, as those conditions can leave your beard dry, brittle, and looking lifeless.
And it's particularly useful for facilitating growth in the early stages.
Simply gently applying beard oil twice a day – evenly brushing it throughout your beard – ensures all of this is avoided and will leave your beard looking healthier and fuller, as well as promoting better, faster growth.
There are plenty of great beard oils out there, but our choice for this list has to be Jack Black's – it's brewed using their exclusive PureScience formula made up of organic natural oils, potent antioxidants, and vitamins, producing an extraordinarily potent oil that gives you everything you need in an oil and more.
There are too many ingredients to list here, of course. But among the skin-friendly stuff they put in, there are Kalahari Melon oil, marula oil, brown algae, carrot extract, vitamin E, and plum oil.
It's miraculous for reducing beard itch – some reviewers even claim it's changed their life!
And as far as ease of use (its squirt bottle is great), scent (it's light and unobtrusive) and value (it's very reasonably priced) go, it's about as good as you'll get.
Like beard oil, beard balm is specially designed to tackle the itchiness and beardruff that dry, tired, and under-moisturized skin can bring about.
And like beard oil, it does this with a combination of natural essential oils that compensate, nourish, and replace your skin and hair's moisture.
So it conditions and moisturizes the skin and beard, promoting growth, improving hair health, and generally ensuring your beard looks better than it ever has before.
But what is the difference between oil and balm?
For one thing, balm tends to be thicker, as its primary base is usually made of shea butter, beeswax, and/or cocoa butter.
Beard balm is best used when your beard is dry and can stay in all day, even helping facilitate styling if you need a little extra help.
And because it's thicker, balm is better for big, unruly beards that need help smoothing down and taming.
Our pick for the best beard balm is Honest Amish's Beard Balm Leave-In Conditioner. Which is unsurprising, because let's face it – the Amish know a thing or two about growing a beard!
Their beard balm is handmade with 100% natural ingredients, blending botanicals like Argan, Jojoba, grapeseed, pumpkin seed, and apricot kernel oils.
It helps relieve the itchiness and beardruff many beardsmen experience, as well as minimizing dryness, split ends, and breakage to your beard's follicles.
It's nice and thick, just as a beard balm should be; provides a really solid hold all day long; and has a lovely masculine scent with a hint of black licorice to it, which makes applying it pleasant without overwhelming your other scents.
Oh, and it's really easy to apply, too and comes with a burlap bag that holds the beard balm and beard care tips.
As your beard grows bigger, it starts to develop new problems.
Rather than simply needing the care and attention of oil or balm, it starts to demand something stronger to stay in place.
That's where beard wax comes in: it is one of the best beard styling products you'll find – exactly what you need if your beard gets unruly or you want to go for a style that's a little more…ambitious.
Like oils and balms, waxes tend to contain plenty of essential oils and moisturizing agents. But they are a much thicker consistency and
It's ideal for men who have longer beards, as even if you're not going for a particularly wild look, it's likely you need some help keeping everything in the right place.
But equally, tons of men with shorter beards will get something from wax as it makes the beard look thicker and fuller, as well as giving them the ability to reshape it just as they like.
Our pick for the best beard wax is The Bearded Goon's Ridiculously Strong Beard and Handlebar mustache Wax. It does exactly what a beard wax ought to, and it does it better than any other wax we've come across.
Its name is apt because it truly is ridiculous how strong this stuff – even the toughest beards cower in its presence.
One application will last you the entire day and ensure your unruly beard stays exactly where you want it – if you've got one of those beards whose hairs point in ten different directions, this stuff is essential.
And you can actually throw it on at night and wake up with the exact hold you're after.
If you're serious about keeping your handlebar mustache in place – and a handlebar requires some serious hold – then this is also the product for you. The last thing you want is for your handlebar to go flaccid as the day goes on.
It's made of 100% natural ingredients (as all the best beard care products are!), like beeswax, coconut oil, shea butter and tree resin – which is really important, because it means the wax doesn't dry out your skin (As some do!) and in fact ends up making your beard softer and more luxurious to touch.
Plus, it has a mild, earthy stench of beeswax that adds a little extra masculinity to the whole thing.
Keeping your beard clean is not as simple as it seems.
Sure, you could throw some regular shampoo on it, and it might feel clean, but the fact is regular shampoos don't enhance your experience of your grooming routine and often leave the skin dry.
Beardbrand, not only does it try to provide the absolute best products in terms of beard care, but also, tries to deliver a luxurious grooming experience to the people using their stuff.
First of all, it is formulated with ingredients such as glycerin, apple extracts, peppermint extracts, and aloe, meaning it will leave your skin conditioned and healthy.
Glycerin moisturizes the beard, making it super soft and easy to detangle. Apple and peppermint extracts are rich in vitamins and anti-inflammatory agents that cleanse bacteria, dead skin cells, and beardruff, promoting healthier hair and skin.
Aloe vera controls and balances excess oil on the hair as it contains enzymes that break down fats, leaving you with less greasy hair.
Applying it to your beard is an absolute joy. It is very easy to evenly spread as it produces a thick foam that feels really soft. It is very effective in cleansing your beard.
What truly elevates the experience, however, is its fantastic unique scent. Beardbrand definitely knows how to produce a great fragrance that its customers will surely love. In fact, a large portion of the company's money is going for research into formulating new scents.
While there is a variety of scents available, their Old Money fragrance provides absolute aromatherapy. It has a masculine woody citrus character with primary notes of Oak, Amber, Leather, Lime, and Ylang Ylang, that calm the mind. The scent is rich and lasts the whole day.
Overall, this is a great beard wash with a fantastic scent that will deeply cleanse your beard and leave it soft.
Beard brushes are another item that might seem unnecessary – why do I need a specialized brush for my beard?! – until you try brushing it with something else.
For one thing, the bristles of a beard brush are specially chosen to deal with facial hair (and the skin on your face) in mind.
They help you keep your beard looking sleek and polished, and improve the texture of the beard by loosening the curls, knots, and tangles that accrue even on relatively short beards.
Plus, they slowly 'train' your beard hair follicles to grow in the right direction, which slowly makes the beard easy to manage and maintain.
On top of that, they help promote faster hair growth by increasing blood flow to your hair follicles and even help your skin's natural oils coat each hair follicle to grow healthier looking hair.
Our pick for the best beard brush is Seven Potion's Beard Brush, which features 'first cut' boar bristles. That means they are stiffer and work more easily through your beard while also helping to remove dead skin cells.
Unlike many brushes, it manages to combine this toughness with a certain gentleness – it never tugs, even when untangling the thickest, mangiest manes.
And its pearwood body is beautiful to look and fits effortlessly into your hand without the slightest slippage.
Ultimately, this is a brush that can deal with any beard perfectly – whether it's simply keeping your stubble in order or actively taming a beast.
Beard combs are different from brushes in a few key ways – though both are essential items in any true beardsman's arsenal.
Combs feature teeth, which guide the comb through your hair as you style it, removing tangles, redistributing the oil more effectively, and helping shape the way your hairs grow.
They are exceptionally great for styling your beard – especially when combined with a little wax or balm – they tend to cause basically no friction on the skin beneath your hair.
If your beard is particularly fierce, you may find a comb a more effective way of taming it, particularly if you're just coming to grooming as your hairs are likely to be pretty tough.
Our pick for the best beard comb is Baxter of California's Beard Comb, which is loving handcrafted by a truly world-class grooming company.
Its smoothly tapered teeth and rounded tips create an extraordinarily comfortable grooming experience, reducing the risk of any irritation or nicking pretty much to zero.
Made of super high-quality cellulose acetate (using a 12-step manufacturing process), it is a great looking comb, and is actually huge versatile – you can use it on your beard, but also your eyebrows and even your mustache.
And it's got a fantastically compact design, which makes it very easy to travel with – unlike plenty of combs.
Keeping your beard trimmed is clearly super important – to keep it looking stylish, sure, but also to ensure it grows properly and stays healthy, too.
The right trimmer should make it easy to keep your beard in shape – it should have plenty of head options, plenty of battery, and a motor that really packs a punch.
Our pick for the best Beard Trimmer – Braun's BT5265 Beard Trimmer for Men – is a perfect example of this.
With its lithium-ion battery (which provides 100 minutes of charge time) and Lifetime metal blades, it gives you all the power you need to slice through that facial hair with ease.
And Braun's AutoSensing actually tracks your facial hair and adapts the blades to it, making trimming so easy you won't believe it.
The set comes with 3 different heads: one for short to medium beards, one for long beards, and one for contour edging and detailing. And it even comes with a Gillette Fusion 5 ProGlide razor to help you get to the really close bits a trimmer can't quite reach.
It has 39 length settings, too, which means whatever your needs, you'll find caring for your beard easy.
Ultimately, it's just a pleasure to use this set, and it'll top off any beardsman's grooming kit perfectly.
It works both cordless and plugged in; it is fully washable with water for minimal maintenance effort, and even comes with a great little set of brushes to help you clean the tricky bits.
We've all fallen foul of the over-correction problem when trimming your beard: you take a little too much off one side, try to compensate on the other, and soon enough you've pretty much got rid of your beautiful beard without ever meaning to.
Beard and mustache scissors are essential for all beardsmen because they protect against that possibility.
Beard scissors are smaller than normal scissors.- which you should never use on your precious mane! – and tend to be extremely sharp.
Their size allows you to reach hard-to-access areas of your face, and get a level of nuance and detail that is difficult to get with anything else.
For men with particularly refined, specific beard styles, beard scissors are extremely useful. They're also great for new beardsmen getting used to trimming and fantastic for getting rid of split ends that grow horizontally from your face.
Our pick for the best beard scissors is Tweezerman's G.E.A.R scissors and Comb. They are extremely sharp at the tips, which is hugely important and is great to handle with their wide finger openings.
They are made from stainless steel and feature micro serrations on the blades, which make them highly effective even on particularly tough hair and ideal for making intricate details.
They are roughly 4", which makes them extremely easy to travel with. Plus, they come with a solid beard comb, too.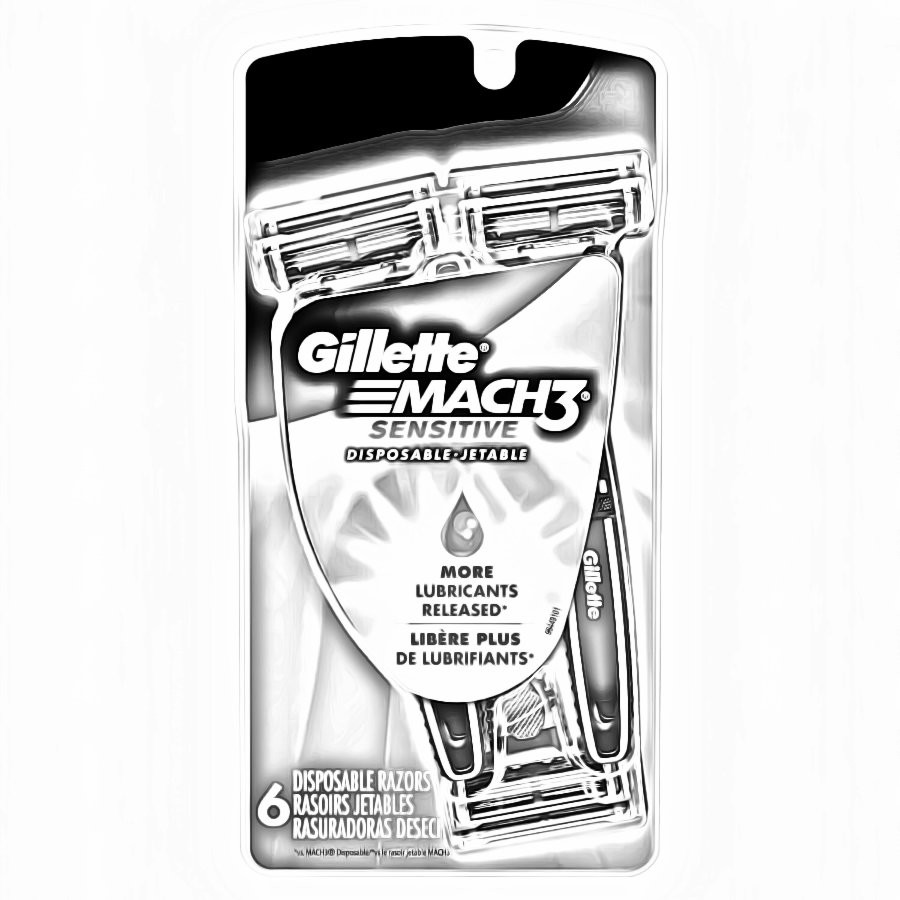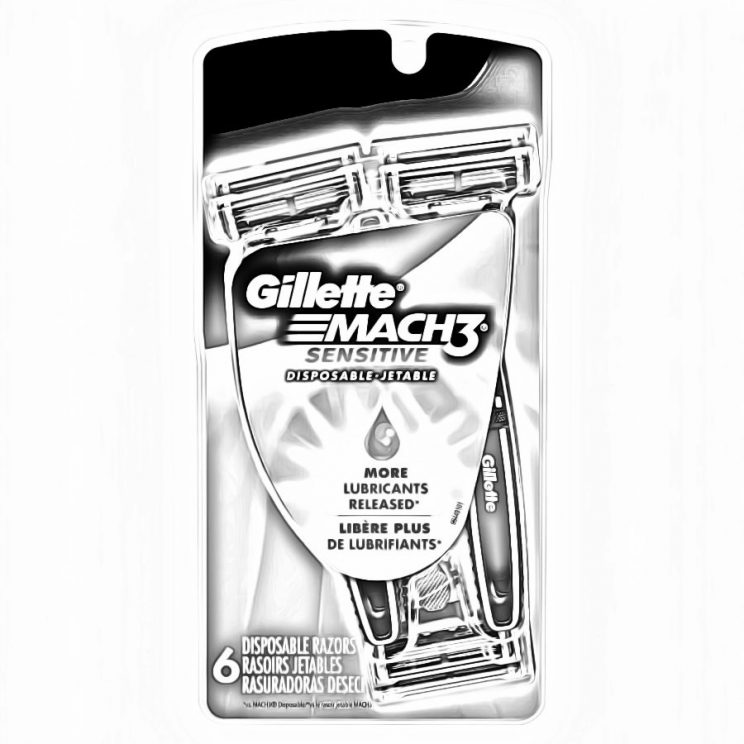 We'll be honest upfront: most disposable razors are dreadful.
Because they're disposable, it often doesn't seem worthwhile for the companies that make them to bother really producing good quality products.
But when they're done right, disposable razors are actually fantastic – extremely convenient, easy to use, and they get the job done without any hiccups.
Our pick for the best disposable razor – Gillette's Mach3 Disposable Razor – is a perfect example of this.
For one thing, they feature Gillette's classic design of 3 progressively aligned blades, which are specially positioned to get a cleaner cut from fewer strokes.
It makes shaving quicker, easy, and more effective.
As do the spring-loaded blades, which depress when pressed against the skin, allowing for a closer, more complete shave.
They also feature a lubricating strip at the top of the razor. It's made from natural oils that soothe the skin and ultimately help prevent skin irritation.
This also helps you tell when the blade needs replacing by fading to white.
The handle is ergonomically designed, making them extremely comfortable to use.
And they're super affordable, too – making them an exceptional addition to any beardsman's arsenal.
While disposable razors can be great – particularly for traveling – a proper safety razor is also essential for the true beardsman's kit.
For one thing, the precision you get is simply unrivaled. And the feeling of using a razor is hard to beat.
Our pick for the best razor on the market is Merkur's Adjustable Futur Safety Razor. Quite simply, it's the best razor you will find anywhere, and there a number of reasons why.
For one, its German craftsmanship and high-quality materials make it immediately clear when you pick it up that you're handling a truly premium product – the weight it beautifully distributed to make it supremely comfortable to hold and the matte finish looks great.
With a dial control that handles multiple blades and a magnetic grip that snaps together to fine-tune the closeness and get your ideal shaving length, it's also easy to use and practical.
Plus, it's super durable – a great all-round investment.
The weight means it's highly effective, cutting through even the toughest beards with ease. And the design helps you avoid any irritation or nicks with ease.
11. Best products for beard growth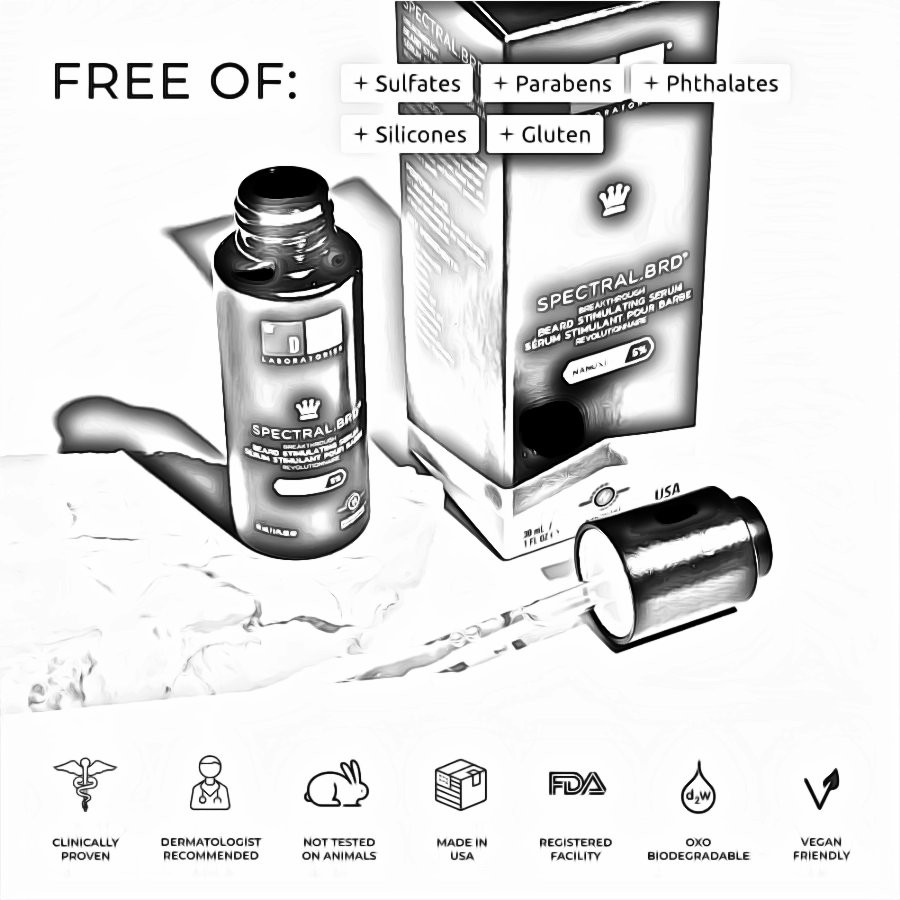 Sad as it is, it's important to acknowledge that some men really do struggle to grow a full beard.
And while there are plenty of permanent options, it's often the case that men in this situation simply need a product to supplement and improve their hair's natural growth.
The absolute best product we've found in this category is Spectral BRD. From DS Laboratories, a potent serum that promotes stronger beard growth and reduces patchiness.
Its key ingredient is Nanoxidil, but it also features a host of other important ingredients:
Adenosine, which increases thymidine uptake, helping induce hair follicle development.
Biotin (often known as Vitamin H because it's so integral to hair growth) increases hair growth and thickness
Piroctone olamine, which increases the amount of hair in the anagen phase of hair growth
Nicotinic and hyaluronic acids, which add moisture to the scalp and improve the density of existing hairs
And copper peptides, which are commonly used to improve the success of hair transplants
Spectral.BRD is easy to use: you just apply 6 to 8 drops wherever your beard is struggling the most and massage it evenly throughout.
The results are genuinely miraculous, and DS Labs' unique nanosome delivery system helps the key ingredients penetrate the skin deeply, so the effects can often be shockingly quick.
In conjunction with this, some men will need a little extra help – and to help the skin absorb the Spectral.BRD better, we recommend DS Labs' StimuROLLER Face.
Its 540 microneedles make very tiny punctures in the skin, which causes extra blood to circulate to the face and promote hair follicles to grow faster.
And most importantly, the punctured holes create a better pathway for other treatments to enter more deeply into the skin, helping products – like Spectral.BRD – to work more effectively.
While some men struggle to grow their beards thick, others are beset with full beards that don't look full enough because the hairs aren't quite dark enough.
For those men, beard dye is an absolute Godsend and can improve the quality of their beard almost immediately with basically zero effort.
The best hair dye we've come across is Just For Men's Mustache & Beard Coloring – it comes in 10 different colors, which makes it extremely adaptable to whatever needs you might have.
Plus, it's super easy to apply – you simply brush it into your beard, leave it for 5 minutes and wash it out.
It's formulated specifically for coarse hairs, which is great – it can be used by any beardsman, but if you've got particularly tough hairs, many other dyes will simply fail you.
It will actually condition that tougher facial hair and leave it feeling much better and healthier.
For a long time, all beard dyes used ammonia. But it turned out that it actually caused a massive amount of irritation to the skin and eyes.
So you'll be glad to discover that Just For Men's formula specifically excludes ammonia, making it stress-free and safe to use for any beardsman in need of a little extra color boost.
Finally, every good beardsman needs the perfect lather to keep his mane in order. And that means you need a really great shaving cream to hand at all times.
Good shaving creams not only create lather and make shaving easier – they actually treat your facial hair to make it softer, moisturize the skin beneath it and often smell really good, too.
Our pick here brings us full circle to Jack Black – an exceptional brand producing tons of fun products that are also just the absolute best quality.
Their Beard Lube Conditioning Shave Set is an award-winning 3-in-1: you get pre-shave oil, shave cream and conditioner, all in a single tube.
And it's not just a time saver – it's actually pretty great across all those different fronts.
A major positive is the fact that it's transparent because it means you can see exactly what you're doing as you shave. And the quality of the lather helps you get a super close shave.
From macadamia nut and jojoba oil to a lovely dose of glycerin, the formulate boasts a really nice blend of carrier and essential oils, producing this incredible sumptuous lather that will make shaving an absolute joy.
And it's great for your skin because of it, leaving you feeling refreshed and invigorated.
Plus, its fragrance and alcohol-free, meaning you don't need to worry about stinging or irritation; it's also cruelty-free and vegan friendly.
Beard Care Tips
Wash your beard with a high-quality beard wash or soap. Just like the hair on your head, your facial hair needs regular washing to keep it clean and healthy. Use a beard wash or soap instead of your usual shampoo, which is typically not designed for beards and may contain ingredients that strip away natural oils from your skin and hair.
Conditioning is essential when growing out a beard because it nourishes the facial hair as well as the skin underneath. Facial skin can become dry from exposure to harsh weather conditions, which can cause itching and flaking of both the skin and hair. Don't be afraid to use more than one conditioner to find what works best for you — just make sure they're all designed for men's facial hair.
Method to the Madness – How we chose the best example products
As you can imagine, with every category of product there are a lot of options to choose from. And while we endeavor to be diligent and make sure we're only giving the best, most honest information, we, of course, couldn't possibly try every single product in the universe.
So our process is simple: we use what we know about quality ingredients, check out some user reviews to see how people seem to be responding to various products, and then narrow down the list a little bit, so we have a manageable selection of products to test out.
From there, things get a little subjective – we'd never pretend that each of these products is the only worthy oil/wax/balm, etc., and in each case, we have a review you can reference elsewhere with a whole bunch of other options you could choose from.
But we've tried to weigh up the various considerations and include here only what we believe to be the very best product in each field – the best quality, the best value, and the most essential for a beardsman's arsenal.
We hope you'll be happy with our choices.
Conclusion
The truth is, a beardsman's arsenal is an evolving thing, and we get that you might not have the resources or need for every single item we've discussed.
But we'd love to hear about your experiences with those that you have tried, or if you've got a great recommendation for an alternative.
What do you believe is the most essential beard grooming product? How has your grooming improved since finding it?
Let us know in the comments below.