9 Best Beard Growth Products for Men That Actually Work
This post may contain affiliate links. Learn more.
Everywhere we go, we see men with great, effortless-looking beards who look like they were born with them.
But the truth is, a huge number of men struggle to grow a beard – whether it's just a little patchy or actively doesn't grow enough to register. There are plenty of reasons men struggle to become true beardsmen – whether it's genetics, diet, or testosterone levels.
And that's where beard growth products come in. These products, like beard oils, balms, and everything else, help encourage those annoying follicles on your face that just won't sprout hair and help promote healthy facial hair growth. 
The best beard growth products – all of which we're going to cover in this review – help you overcome whatever challenges you face. We know how difficult it can be to choose the best product for your hair, and that is why we have curated this article. InAnd in this review, we're going to look at 9 of the absolute best, and telling you all you need to know about them..
In a hurry? Here are our top picks:
Spectral BRD Breakthrough Beard-Stimulating
Our no.1 choice – Spectral BRD Breakthrough Beard-Stimulating Serum – is formulated with Nanoxidil, which doesn't produce side effects and is clinically proven to get results.
Rogaine for Men
Rogaine for Men, which produces quicker results than most and is exceptionally easy to apply.
As if that wasn't enough, we're also going to look at the art of applying Minoxidil and explain exactly why your beard might be patchy.
Hint: It's not always because of your genes, you might be able to fix this!
First, let's look at 6 key considerations you need when purchasing beard growth products.
Quick summary
In a hurry? Here are our top picks:
Best for Patchy Beards

Spectral.BRD Breakthrough Beard-Stimulating Serum

Produces increased beard thickness

Generates lasting results

No side-effects

Check Best Price

Best for Thick Beard Growth

Rogaine for Men

More effective than most other products

Easy to apply

Works quickly

Check on Amazon

Best for Natural Growth

Biotopic Healthy Beard Growth Serum

Natural ingredients

Absorbs deeply into your face and beard

Easy to apply

Check Best Price

StimuROLLER Face

Improves blood flow to skin

Up to 30% faster hair growth

Assists in the effectiveness of other products

Check Best Price

Beard Grow XL

Natural ingredients

Fast results

Hair growth from the inside out

Check on Amazon

Beard Growth And Thickening Shampoo and Conditioner

Organic ingredients

Fresh scent

Makes beards soft and manageable

Check on Amazon

Maxx Beard

All-natural solution

Easy to apply

Helps make your beard softer

Check on Amazon

Beard Flux XL

A little bit goes a long way

Great moisturizer

Pleasant, not overpowering scent

Check on Amazon

Shiny Leaf Cold-pressed Pure Castor Oil

Good for many types of uses

100% natural

Fast absorption

Check on Amazon
Before you buy: 6 Things to consider when purchasing beard growth products
Perhaps the biggest problem while shopping for the best beard growth products is separating the good ones from the ones that are b.s. more snake oil than they are beard oil. 
There are plenty of products that make lofty claims but have all the effectiveness of a water-soaked firecracker on the Fourth of July.
It does help if you know what you're doing – and looking for – however.
Here are some tips to keep in mind when you're looking for a beard growth product that's going to deliver results, not false promises. Whether it's a beard growth oil, a balm, or some magic comb that claims to work if you just run it down your face twice a day, this is what you're supposed to look for before you hurriedly add it to your cart and put in your card details. 
1. Ingredients
Don't choose a beard growth product without giving the careful study of its list of ingredients.
Many men prefer natural ingredients, and if you're one of them, you'll want to avoid products that have hormonal ingredients, such as silicone, parabens, and perfumes.
In other words, you're looking for all-natural and organic products – if that's your preference, that is. Also, some men have sensitive skin that's irritated by chemical ingredients. Some men are also allergic to some of these chemicals, hence their preference for organic products.
For such men, using artificial ingredients will not only not lead to fuller beards, but will cause side effects and other problems that can effectively ruin the overall look of their face. Always check the ingredients of your beard growth supplements. 
2. Nutrients
Many effective beard growth products contain healthy nutrients such as vitamins B, D, E, biotin, magnesium, zinc, and others.
3. Oral or topical?
You apply some beard growth products directly to your beard, while others you ingest orally.
Choosing between the two is often a matter of preference, but there are slight differences.
For one, oral supplements tend to have a higher nutrient count and can even act as a multivitamin and provide additional health benefits beyond the health of your beard.
Not that there's anything wrong with topical products. They may actually do a better job of nourishing your existing beard, and most of them are easy to apply. Some topical solutions may have a slight odor, however.
If you're easily nauseated, you might not want to walk around or go to bed at night with your face smelling of perfumed (even naturally) treatments. 
4. Overall effectiveness
A quality growth product heals damaged hair follicles, prolongs their growth phase, and heals damaged follicles. But it also should make your existing hair healthier and nourish the skin beneath it.
Many beard growth products are effective for dealing with acne, germs, and bacteria that build upon the skin, while also nourishing your skin while relieving itchiness and dryness.
They will also help get rid of dry and itchy skin due to the nourishment they provide to your facial hair follicles. 
5. Ease of application
The easier, the better is a rule to follow if you're thinking about purchasing a topical beard growth product.
Ask others, read reviews – whatever you need to do – to find out how easy it is to apply the solution.
True beardsmen are pretty vocal about such things as ease of application.
6. Price
We've said it before, but the price of any product doesn't indicate its overall effectiveness.
Again, see what others are saying about a beard growth product that's caught your eye.
The true measure of what you buy is how well it works, and not factors such as the expensive package it may come in.
Also, consider how long the product will last. A pricey product may create a strain on your budget, but if it lasts for several months (and it works), then it's a good long-term investment.
The 9 best beard growth products for men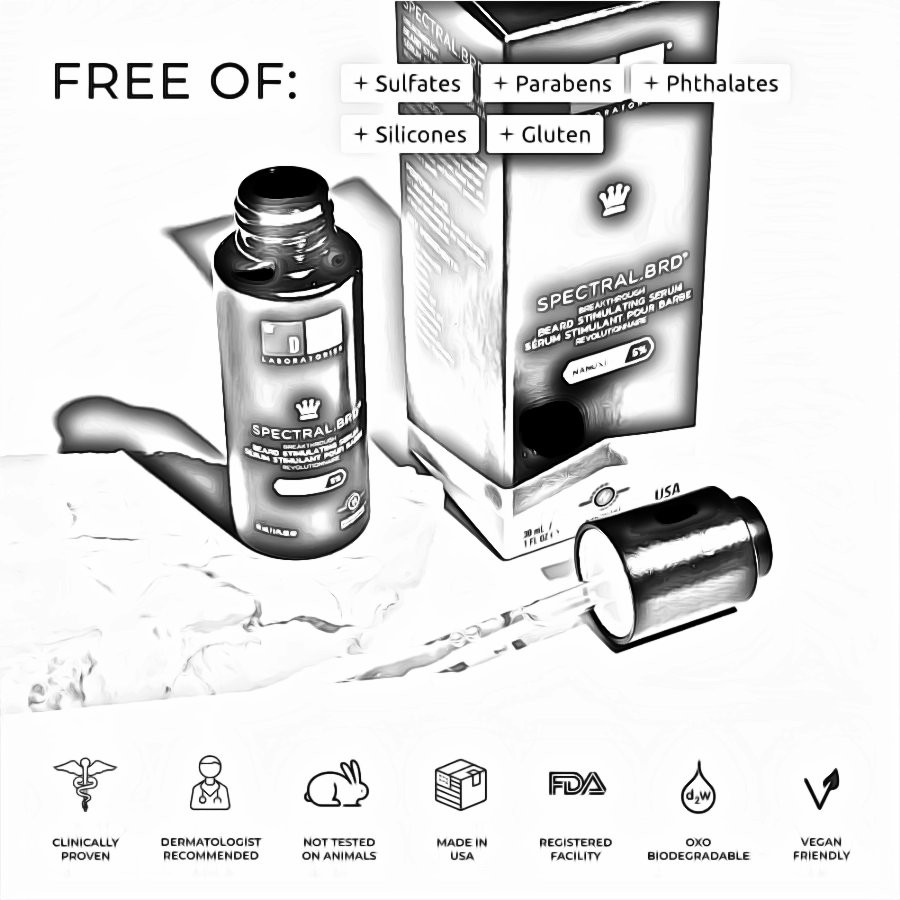 The team at DS Labs has hit on something really, really good with its Spectral.BRD beard serum.
That's "really good" as in amazing – and several other adjectives along those lines.
Spectral.BRD is for you no matter what kind of beard growth you hope to attain – from long stubble to a full, thick face full of facial hair. It works quickly and, says DSL; there are no side effects.
Its three main ingredients – Nanoxidil, Piroctone Olamine, and Adenosine – work together to increase the number of hairs per centimeter of your beard.
Basically, this means a thicker and more consistent beard that will not leave patches out and look great within a few weeks of use.
Nanoxidil is an excellent alternative to Minoxidil and doesn't have the side effects; Piroctone Olamine increases the amount of hair in the anagen (growth) phase, while Adenosine helps increases beard thickness and prolongs the anagen phase.
It also takes full advantage of DS Labs' unique Nanosome delivery system to create deeper penetration of the ingredients. And it helps to produce faster results that keep on working throughout the day.
Other key ingredients found in Spectral.BRD include caffeine, biotin, keratin, castor oil, and rosemary oil – all of which stimulate hair growth.
Something else we like is that DS Labs conducts rigorous clinical tests on all their products to ensure that they work as intended. They don't just push products out without proper testing. It's no surprise that their products are dermatologist-recommended.
Level of effectiveness: Clinically proven results
Pros
Produces long-lasting results.

Doesn't have side effects.

Increases beard thickness.
Cons
Few, if any, but it may take time to see results.
Bottom line
Spectral.BRD combines the right stuff with DS Labs' unique innovation and technology in a superb beard growth product.
Rogaine For Men packs a powerful one-two punch that enhances hair growth on your beard and scalp. Not that there's anything wrong with going bald – bald heads and beards are often a match made in heaven – but many men prefer to stave off baldness as long as possible.
But our purpose with this article is to uncover beard growth products that work, and Rogaine For Men certainly qualifies.
Just a quick note before we move on, however, Rogaine is a specific brand name of the hair growth drug minoxidil; there are other trade names for minoxidil products, but we think Rogaine is the best.
How does Rogaine work?
For one, Minoxidil is proven clinically-proven to combat hair loss while stimulating hair growth. Some studies show that Rogaine regrows hair up to 25% more effectively than other products, and many reviewers concur.
Rogaine Foam has a 5% concentration of Minoxidil, and it comes with Tricho-prime technology that penetrates deeply into the skin to reactivate shrunken hair follicles while increasing the beard's overall thickness.
Rogaine claims that its 5% minoxidil foam works faster to regrow hair than any other product, and, at least according to many customers, it's not just hype.
Mind you, you may experience hair loss for up to two weeks after you first apply Rogaine For Men, but that's normal because thinner hairs shed first to make room for thicker hair. As they say, one door has to close for another to open.
Your Rogaine For Men kit comes with three aerosol cans that make for easy application.
This beard growth spray works like a charm and will definitely lead to a thicker beard with proper and regular use. 
It's also easy to target certain areas of your beard that are patchier and thinner than others. We also like that the foam absorbs quickly into your beard, dries quickly, and is unscented.
Your supply of Rogaine for men should last you three months if used twice daily. It also comes with a 120-day money-back guarantee if you don't see results.
If you still have doubts, also consider that Rogaine has clinical approval from the Food and Drug Administration (FDA).
Level of Effectiveness: Reliable, proven results
Pros
Proven to be more effective than most other beard growth products

Easy to apply

Works quickly
Cons
Some say the foam is messy
Bottom Line
Rogaine for Men is the go-to choice for many men when it comes to hair regrowth. Rogaine's results have clinical-trial backing and FDA approval. They must be doing something right.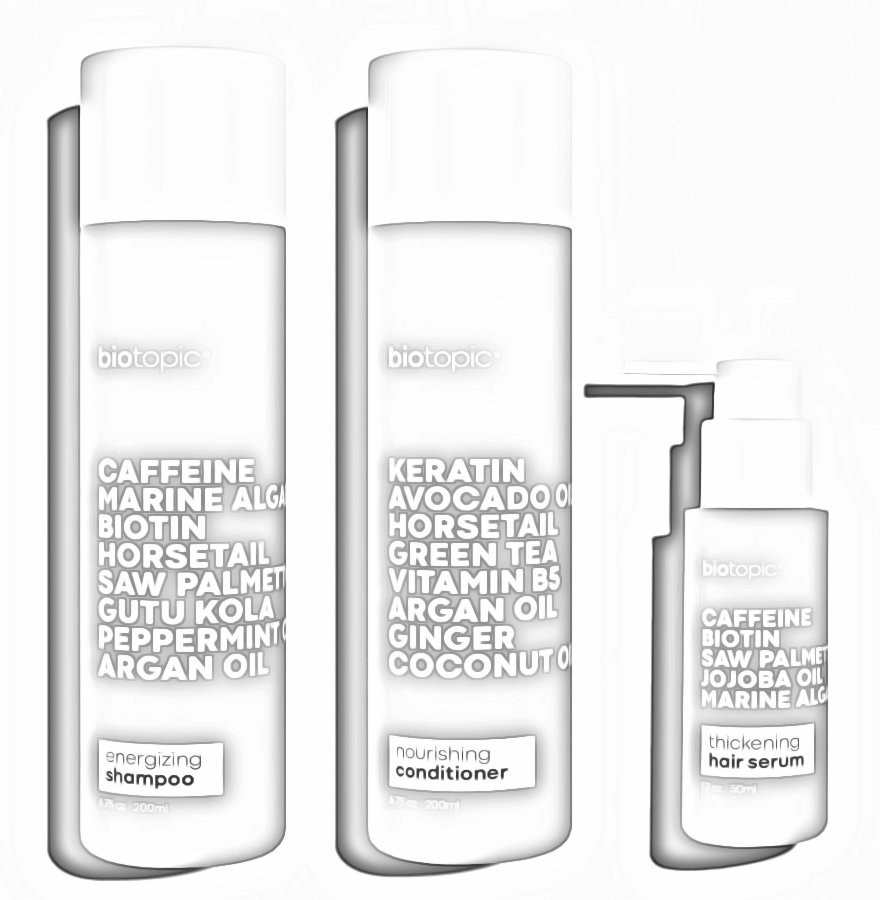 Biotopic claims it has the most powerful beard growth serum and, given the reviews of dozens of satisfied customers, they're not just talking the talk.
What makes Biotopic's serum more powerful than the rest?
For one, it relies on a drug-free formula that's packed with vitamins and nutrients proven to help beards grow thicker. It's backed by extensive research, and the ingredients won't cause harm to you or your beard and are eco-friendly.
The active ingredients used in it also make it suitable for all skin types. 
The Biotopic Beard Growth Serum's list includes over 27 plant-based ingredients, while it's highly concentrated with vitamins, nutrients, and bioactives that your beard and facial skin deeply absorb while coating individual whiskers for greater efficiency.
Here's just some of what's in it:
Anagaine

– Anagaine is Biotopic's trademarked "secret weapon" for beard growth. It contains Pisum Sativum to stimulate specific molecules in the skin while accelerating hair growth. The result is a thicker and fuller beard.

Biotin

– The powerful B vitamin that improves your body's keratin – the basic protein that makes up facial hair.

Argan oil

– A non-greasy natural oil that soaks into hair fibers while providing them with essential nutrients. Emphasis on "non-greasy" as no one likes to walk around with a greasy oily face. 

Caffeine

– Which stimulates hair growth while revitalizing it. It's also packed with nutrients and antioxidants that stimulate healthy cell production.

Vitamin C

– Vitamin C builds collagen, which is highly important for hair growth and helps maintain the structural integrity of the hair.

Hyaluronic acid

– It stimulates facial hair growth while also thickening hair.
Another thing we like about Biotpic's Beard Growth Serum is that it's easy to apply thanks to a pump applicator.
You pump a small amount of it on your fingertips and then gently massage into your face and facial hair. It's non-oily and leaves little if no mess.
Finally, it comes with a 100% satisfaction guarantee, so you can try it risk-free.
Pros
Natural ingredients

Absorbs deeply into your face and beard

Easy to apply
Cons
It takes time to see results
Bottom Line
Biotopic offers a risk-free solution for stimulating hair growth while repairing patchy beards. Its long list of ingredients helps thicken your beard for an overall fuller appearance.
DS Labs really know what they're doing, as is evidenced by Spectral.BRD taking our top spot.
And with StimuROLLER Face, they've knocked it out of the park once again – this time, with a micro-needle stimulation system that not only improves beard growth but improves the health of your skin and prevents aging.
The StimuROLLER boasts 540 tiny needles that roll over your skin, very lightly puncturing the skin. And I know what you're thinking – No, its not painful.
In response to the puncturing of the skin – which causes micro-traumas – the body sends extra blood flow and white blood cells to prepare the skin.
This, in turn, encourages new growth of hair follicles.
Not only that: it also causes the skin to produce collagen and elastin, which help keep the skin tight and youthful-looking.
And it increases the absorption and penetration of other topical treatment by around 20 times, making them far more effective more quickly.
It does that by creating an easier pathway for the products to penetrate the skin.
While this might all seem strange, the results don't lie: in trials, micro-needling has been shown to produce 30% faster hair growth, all without any adverse effects.
You'll need to use the StimulROLLER Face roughly once or twice a week, starting slow and working up to using it more regularly so that your skin isn't worn down.
Pros
Improves blood flow to skin

Helps other products work more effectively

Produces 30% faster hair growth
Cons
Has to be used relatively regularly to maintain effects
Bottom Line
A smart treatment that works both on its own and in conjunction with other products.
There are plenty of oral supplements out there that promise better beard growth, but few of them deliver like Beard Grow XL.
Packed with natural ingredients, Beard Grow XL is hormone-free and has an excellent track record of success regarding beard growth.
It also, at least according to the company, produces fast results and will give you a fuller-looking beard in no time.
The secret of Beard Grow XL is in its ingredients. It's loaded with vitamins (A, C, E, B1, B6, B12) and includes biotin, niacin, riboflavin, folic acid, and saw palmetto.
We've discussed the effectiveness of biotin and saw palmetto on hair growth in previous posts, but they're both worth revisiting:
Biotin – Also known as Vitamin H, biotin is water-soluble and one of several vitamins used to grow healthier, thicker hair. Scientific studies – at least some, that is – show that biotin helps promote hair growth. Biotin has positive effects on your skin and nails, as well.
Saw Palmetto – Saw palmetto is an herbal supplement that inhibits the enzyme 5-alpha-reductase, which converts testosterone to DHT – the hormones most closely connected with hair loss.
The folks at Beard Grow XL believe that hair growth starts from the inside, which is one of the reasons it comes in supplement form.
They also make their products effective for all ethnicities and hair types, and Beard Grow XL also improves the density of growth on your mustache, sideburns, and neck hair.
Another reason to like Beard Grow XL is that it doesn't contain harmful ingredients and ranks among the best natural beard growth products. You won't experience side effects with Beard Grow XL.
It's certainly worth noting, however, that supplements like Beard Grow XL are primarily effective if your diet lacks the vitamins and nutrients included in them.
Level of Effectiveness: Results may vary
Pros
Natural ingredients

Fast results

Hair growth from the inside out
Cons
May work better on some patches than others

Not everyone likes pills
Bottom Line
Beard Grow XL is an ideal hair growth supplement if your diet lacks essential vitamins and minerals. You'll like its results, however, and who wouldn't like a thicker, fuller beard just from taking a supplement?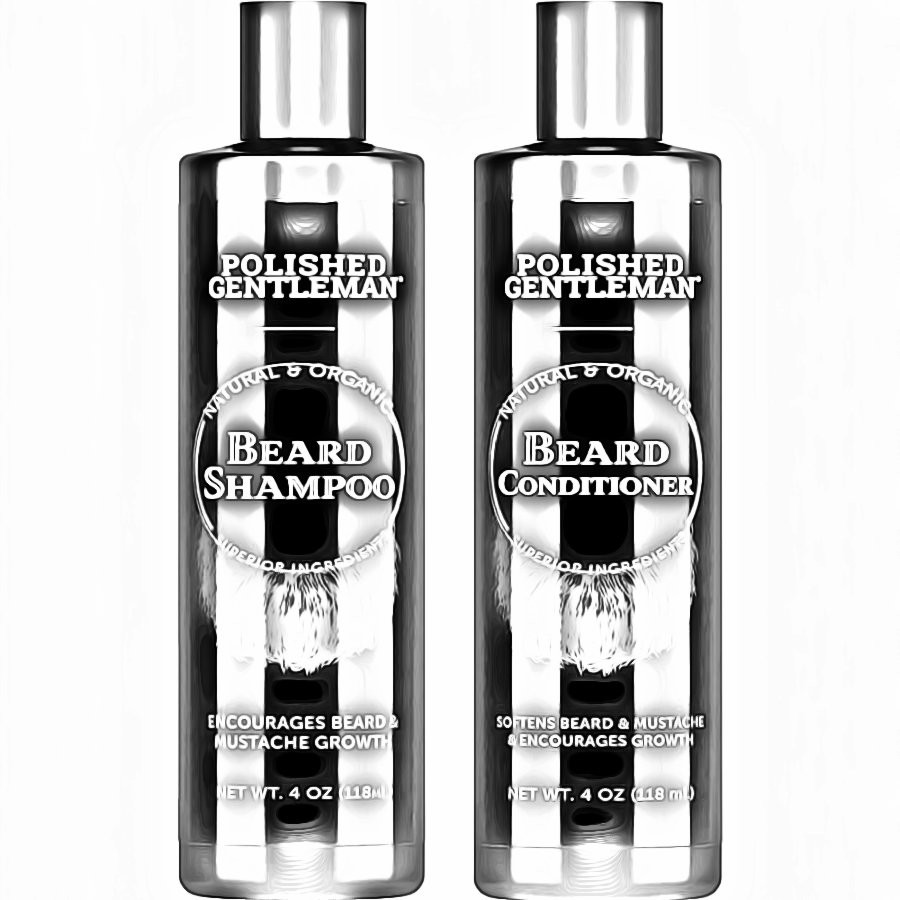 Maintaining a clean beard is a must for any distinguished, self-respecting gentleman. But keeping it cleaned and conditioned while also helping it grow?
Where do we sign up?
That's the beauty of Polished Gentleman's Beard Growth & Thickening Shampoo Conditioner: you get all the cleansing benefits of a quality beard shampoo combined with the always-welcomed benefits of beard growth stimulation.
It also packs another double whammy in that it encourages beard growth while healing the skin beneath your facial hair.
Indeed, the Beard Growth and Thickening Shampoo & Conditioner have powerful antifungal, antibacterial, and antiviral qualities that fight beardruff itching, and even acne and warts.
It manages to do all of the above thanks to a variety of organic ingredients that are A) a near-must for beard growth and B) for keeping your beard looking it's best and refreshingly clean.
Biotin is one of those ingredients, and you'll find it in the majority of hair and beard growth products.
Besides its positive effect on beard growth, biotin increases hair follicle hydration while relieving dryness, itchiness, and even addressing more serious issues such as seborrheic dermatitis.
Another key ingredient is raw Manuka honey, which also has antibacterial and antifungal properties and supports skin healing.
Other important ingredients include eucalyptus oil, argan oil, and tea tree oil:
Eucalyptus oil stimulates hair follicles and encourages beard growth while also improving your magnificent beard's shine and thickness. And it also has antibacterial and antifungal properties.
Argan oil is rich in vitamins A and E and packed with antioxidants and other good stuff that is moisturizing and anti-inflammatory.
Tea tree oil is another organic ingredient that stimulates beard hair follicles to promote beard growth. It's also effective in fighting dandruff, itching, and more.
Again, those are just some of the organic ingredients that you'll find in Polished Gentleman's Beard Growth and Thickening Shampoo and Conditioner.
Meanwhile, its makers are careful to make sure that everything is pH balanced because too much alkalinity will dry out and damage your beard, and to much acidity is just bad news.
What you won't find in this product are parabens, sulfates, and alcohol, while none of Polished Gentleman's products are tested on animals.
Another thing that you'll like about this shampoo and conditioner is that it makes your beard soft and manageable. It helps you to shape your beard easily and has a pleasing scent that's not too overpowering.
Check out this video to learn more about this product.
Level of Effectiveness: Good track record
Pros
Organic ingredients

Fresh scent

Makes beards soft and manageable
Cons
A bit more expensive than other beard shampoos and conditioners
Bottom Line
There's no question that Polished Gentleman's Growth and Thickening Shampoo and Conditioner gives your beard a "fuller" feel – as a good beard shampoo and conditioner should. But does it stimulate beard growth? Many reviewers think so.
While Maxx Beard doesn't have the proven track record as some other beard growth products listed here, it is garnering some attention. Moreover, it comes with a 100% money back guarantee, which at least shows that the company has plenty of faith in its product.
Maxx Beard is a serum that comes in a 2-ounce bottle, which includes a dropper applicator. That makes it easy to pinpoint patchy areas on your beard rather than also having to cover the parts of your beard that are growing normally.
So, how does it work? Thanks, in part, to a long list of organic ingredients that make it one of the best natural beard growth products available.
One of those ingredients is Kopyrrol, which we haven't discussed often. But Kopyrrol is an organic substance found in many hair growth products that works by dilating blood vessels around hair follicles to keep them healthy and nourished, thereby stimulating them to produce hair. – and producing hair.
Another ingredient you'll find in Maxx Beard is Azetinol, which is a natural DHT blocker. Again, DHT is a male sex hormone that studies show is one of the leading causes of hair loss.
Maxx Beard also includes biotin and niacin (a.k.a. vitamin B3). Among niacin's many attributes is that it improves blood circulation to hair follicles, which, in turn, also stimulates hair growth.
A couple of other Maxx Beard ingredients worth mentioning are castor oil, a fatty acid that is said to increase hair density, and argan oil, which repairs damaged hair follicles while also promoting hair growth.
Maxx Beard has a variety of other benefits, including that it makes your beard feel softer and look healthier. It also has a light, fresh scent that most users appreciate.
Level of Effectiveness: The jury is still out
Pros
All-natural solution

Easy to apply

Helps make your beard softer
Cons
Some users report a slight tingling sensation after application
Bottom Line
Maxx Beard is a promising product that doesn't have the track record of other popular beard growth products. But it shows potential and, with an all-natural ingredient base, it's worth checking out.
Beard oil may be the miracle drug of beard care. Not that it's a drug, mind you, but it has far-reaching positive effects – from relieving beard itch to making your beard manageable and easy to style.
Beard Flux XL is a beard oil that does what you expect a beard oil to do but with the added benefit of promoting beard growth. Like Maxx Beard, Beard Flux XL doesn't have the proven track record of some other beard growth products, but it shows promise.
We also think it's the best beard growth oil out there.
Also like Maxx Beard, Beard Flux XL is packed with all-natural ingredients that not only stimulate hair growth, but also leave your beard soft, manageable, and looking good.
According to the folks from Beard Flux, the ladies will love to run their fingers through your beard after you've applied their beard oil.
One of Beard Flux XL's key ingredients is caffeine, although it's probably not what you're thinking.
We're talking about caffeine in a white powder form that stimulates hair growth and strengthens hair follicles. So, no, you don't have to apply drops of your favorite coffee on your beard. Save that caffeine for your morning kick-start.
Beard Flux XL absorbs quickly into your beard to provide immediate nourishment, while also providing relief from beard itch and beardruff – as you'd expect from a good beard oil. You can even use it on a sparse mustache that has patchiness problems.
The Beard Flux XL list of ingredients has some interesting items, including horsetail extract.
Don't laugh; horsetail extract helps keep your beard, and underlying skin hydrated and even is good for fingernail growth.
But Beard Flux XL also is packed with vitamins (A, C, E, B1, B6, B12) and, of course, includes biotin.
You'll also find essential oils such as argan, amla, and jojoba that soothe your beard while making it softer and more manageable.
Beard Flux XL has a light scent that's noticeable, but not so noticeable that others will feel that you've splashed on too much of your favorite cologne. Users also appreciate that the Beard Flux XL oil doesn't feel greasy yet still provides plenty of needed moisture.
Beard Flux XL comes in a 2.5-ounce container that should last you a long time when you consider that you only need to apply a small drop to the affected area.
The company recommends – and so do we – that you apply the oil after you shower and when your beard is slightly damp.
Level of Effectiveness: Questionable because it doesn't have a long-proven track record yet
Pros
A little bit goes a long way

Great moisturizer

Pleasant, not overpowering scent
Cons
Application can get a bit messy
Bottom Line
Beard oil is an essential part of proper beard grooming, and Beard Flux XL is said to have the added benefit of promoting beard growth. While the jury is still out concerning its effectiveness, it's a good all-around product.
As you'll have noticed, Castor oil pops up as a key ingredient in many of the other products on this list. But it's important to know that it can be used on its own – and it's effective for a huge variety of needs.
From reducing acne and acting as an anti-inflammatory to preventing split ends and dandruff, castor oil is a great all-round product to have in your arsenal.
But its power to promote healthy beard growth is why it's included on this list.
Shiny Leaf Cold-pressed Pure Castor Oil is as good a castor oil as you're likely to find – it's made from 100% pure oil and is Hexane-free. It will help the follicles of your beard stay moisturized and produce healthier hair faster. Plus, it's super easy to use with its simple pump bottle.
This stuff is specifically engineered to maximize healthy hair growth, with zero parabens, synthetic fragrances, or bleaching agents.
Level of effectiveness: Great for beards, but also great for hair and eyelashes, too.
Pros
Natural ingredients

Fast absorption

Can be used for a variety of needs
Cons
Some reviewers feel the oil is a little thick
Bottom Line
A fantastic, pure castor oil that will help your hair not just grow, but retain its health and vibrance throughout the growth process.
The reasons why we chose these products
Every product we review is different, but we prefer to use the same criteria when choosing the best for any product line. That is, overall effectiveness is extremely important; if it produces minimal results, then it doesn't belong on your list.
We also consider the reviews from others, not the least of which are reviews of customers who've used the product (and found it effective), while the price is another factor.
But, we're not completely fixated on price – if a product works, why not spend a little extra? Then again, we also realize that a high price tag doesn't guarantee a superior product.
The art of applying Minoxidil to your beard & face in 7 easy, illustrated steps
It's important to follow a few rules of the road when applying Minoxidil (or nanoxidil) to make sure you're getting its full benefits. It makes no sense to waste an application, after all.
The following steps will help guide you through the process:
1. Wash your face thoroughly
Use a quality face soap that won't dry your skin, and wash thoroughly to get rid of excess dirt and oil..
2. Rinse your hands and fingers
Rinse your hands and fingers with cold water. Minoxidil foam dissolves quickly if your hands are warm.
3. Dispensing the foam
Dispense enough foam on your fingers that would fill about half of the container's cap (or, about 1 ml).
Note: How much you apply depends on the effectiveness of the product on your beard. The amount that works for someone else may not be the amount you need to use.
4. Leave the proper amount of time between applications
Many men use Minoxidil twice a day. That said, leave approximately eight to 12 hours between applications.
5. Rub it in
Once you've applied the product to your beard, rub it in deeply with your fingers.
After you've distributed it throughout your beard – or wherever patchiness persists – leave it in for at least four hours. You can rinse or wash your face afterward, or even apply some face lotion.
6. Stay hydrated
Dry skin and facial hair is sometimes a side effect, albeit minor, of Minoxidil. So, make sure you're drinking plenty of water and, by all means, use beard oil or face lotion to keep your skin and beard moisturized.
7. Be patient
Minoxidil doesn't work overnight. Every man is different, but don't give up if you don't see results right away.
Why is my beard patchy?
It's frustrating when, seemingly no matter what you do, you struggle to grow a thick, healthy-looking beard like the guy you work with, or a family member or someone with which you hang out.
Your first inclination may be to ask yourself what you're doing wrong. That's understandable, because we are somewhat responsible for our patchy beard growth, at least in some cases. In other cases, well, it's out of your hands.
Let's dig a bit deeper into the reasons for your inconsistent beard growth:
1. Genetics
Not much you can do here, gents. If your father had trouble growing a beard, you might have the same trouble due to genetics.
There's no guarantee that those genes are passed down, but it's worth taking a look at your family lineage if you're struggling to grow a full beard.
2. Age
A lot of things become a bit more, ahem, difficult as we get older, including that it's tougher to get the same thick period you got at age 28 when you're 58.
Not that older men can't grow a rocking beard, mind you, but you may need beard growth products to encourage its progress.
3. Testosterone
Let's call them "The Testosterone Crowd," i.e., the people who think testosterone levels play a big role in beard growth.
First, keep in mind that levels of testosterone may not have a thing to do with whether you can grow facial hair, but your "responsiveness" to testosterone is perhaps a bigger factor.
True, low testosterone levels may result in patchy beard growth, but you can't lump all men with low testosterone in the same category, either.
4. Skin conditions
It's rare when a skin condition affects beard growth, but it happens.
The skin condition alopecia affects hair growth on your scalp, for instance, and can cause thinning hair overall. But a patchy beard and hair loss may also be a symptom of iron deficiency or anemia.
In any case, contact your doctor if you think a skin condition is a culprit regarding your less-than-robust beard.
5. Diet
The adage "We are what we eat" applies to so many things, including beard growth. As we discussed earlier, a diet that lacks certain vitamins and minerals can have a negative effect on the health of your beard (as well as the health of every part of your body).
That's where beard-growth supplements come in: loaded with vitamins and minerals, they fill in the gaps created by your less-than-stellar diet.
Here's the other thing, eating a healthy diet can help you lose weight, and losing weight boosts testosterone, which may or may not affect beard growth.
6. Exercise
It only stands to reason that exercise may help the beard growth process because, like a good diet, you'll lose weight and potentially boost testosterone. A proper exercise regimen every day with the right diet will be a great combination that will literally man you up with the growth of testosterone, giving you that brilliant beard you've always wanted. 
Exercise also increases blood flow to your skin to provide it with more oxygen and nutrients that promote healthy hair growth.
7. Stress
Two schools of thought exist when it comes to stress and its effects on hair growth. Some studies indicate that stress increases testosterone, which can lead to hair growth.
For example, one study of college males shows that they grew better beards during times of stress – such as during end-of-semester exams.
Other studies, meanwhile, show that stress increases the level of cortisol in your body which, in turn, decreases testosterone.
By no means, however, are we suggesting that you create more stress in your life to help you grow a thicker beard. Again, even if it's true that excess stress accelerates hair growth, there are better ways to fix a patchy beard than becoming a stress junkie.
better ways to fix a patchy beard than becoming a stress junkie. 
Too much of anything will always end up messing with your health (and in turn, your beard). While stress might be known to promote testosterone levels, it should not come at the price of your health. Reduce your stress levels, friends. Your long-term health is at stake.
8. Sleep
Several studies show that a lack of sleep has a variety of negative effects on your body, including that it reduces testosterone levels. Moreover, a lack of sleep raises your stress levels.
Conclusion
Beard growth products used to be considered as hokum because of how impossible they sounded. The lack of a beard in someone used to be passed off to their genes, but now, we know better. We know that taking proper care of our face and the hair on it can cause us to grow thick, glorious beards that will turn heads in every room we walk into. 
In this article, we have outlined some of the best beard products on the market that can help you grow that beard you have always admired in others and hoped to grow one day. 
What are your thoughts? Have you tried any of the products listed here? If so, what were the results? We welcome your comment and suggestions and would love to hear from you. If you're interested in similar topics, please feel free to check out our other articles, as well!