7 Best Hair Removal Creams & Similar Products for Men
This post may contain affiliate links. Learn more.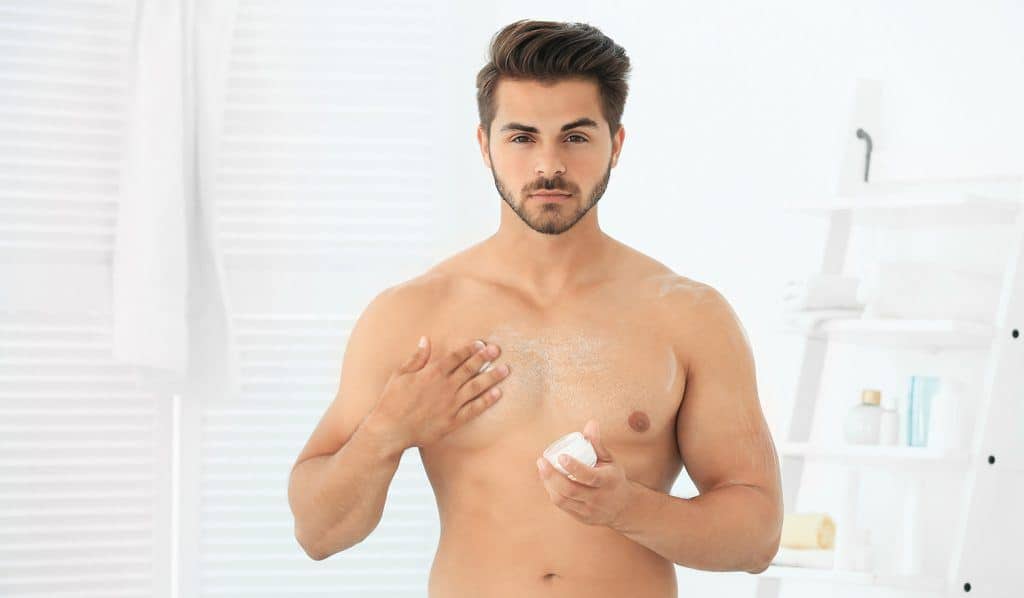 Things change. People change. Habits change. Even hair removal has changed.
Yep, that's right, hair removal – and we're not talking about shaving. Once geared primarily for women, the world of hair removal has changed dramatically ever since 'manscaping' became a common, acceptable process for men.
Don't like your hairy back? Manscape it. Prefer a bare chest? Manscape it. Need a trim 'down there' (c'mon guys, women do it)? Ditto.
In a hurry? Here are our top picks:
Nad's For Men Hair Removal Cream
Another great choice is Nad's For Men Hair Removal Cream, which is great for thicker hair. It contains aloe vera, too, which calms and soothes the skin, offering after-protection.
Let's get started by looking at some things you should consider before buying hair removal products for men.
Quick summary
<!—INSERT CODE BELOW—>

Our #1 Choice

Keramene Body Hair Minimizer

Reduces hair growth with minimal side effects

Optimizes hair removal techniques, such as waxing and tweezing

Moisturizes and brings life to the skin

Check Best Price

Nad's For Men Hair Removal Cream

Perfect for thicker, fuller hair

Contains aloe vera, calms and protects the skin

Effective, efficient properties to remove hair with ease

Check on Amazon

BAKblade 2.0 Back Shaver

Wet and dry shaving possibilities

Wide blade makes shaving super fast

Get the hardest to reach areas with the long handle

Check Best Price

Nair Men Hair Removal Body Cream

Works fast and efficiently

One application can last numerous days

Great for the coarser hair type

Check on Amazon

Veet Gel Hair Removal Cream

Highly suitable for easily irritable skin

Offers deep hair removal

Works immediately

Check on Amazon

Nair Men's Hair Removal Spray

Dermatologist-approved formula

Fast action

Simple to apply and use

Check on Amazon

Emjoi AP-18MS Emagine Epilator For Men

Dual speeds

One use every 5-6 weeks is enough

Efficient with thick, coarse hair

Check on Amazon
Before you buy: 4 Things to consider when purchasing hair removal for men
Hair removal often is a delicate process and one you shouldn't perform with just any product you'll find on a supermarket or pharmacy shelf. As with any grooming product, there's the good, the bad, and the ugly, but we're here to help.
Before moving into our reviews of the best hair removal products for men, let's look at some things to keep in mind when purchasing a product that's right for you.
The best hair removal creams for men will be easy to use, won't irritate your skin, and will effectively remove all of your unwanted body hair.
You may need to try several different brands before finding the one that works best with your skin type.
1. Your hair texture
This point is important. Before you choose a hair removal products, have a clear understanding of your type of hair. Some men have coarser body hair, while others have dense, thick hair.
Purchase your hair removal cream accordingly, because many hair removal creams are intended for certain hair types.
Your hair texture matters. If you have coarse hair, a light cream won't do much good. But if your hair is light and fine, a strong cream will have more side effects.
2. Usage
There are a couple of things to consider when it comes to usage: 1) is the hair removal cream meant for specific parts of the body and 2) how often do you need to use it?
When it comes to the first point mentioned, some creams are better for certain parts of the body than others. Women, for instance, know that certain creams are suited for private areas and bikini lines.
Many men's hair removal creams are good for several areas – arms, legs, chest, back – but not so good in private areas.
In fact, we'll talk about hair removal creams and your genitals a bit later, but make sure that the gentle cream is OK before you slather it on those areas. Believe us, you'll know the difference – painfully so, in many cases.
How often you need to use hair removal cream isn't as crucial, but it's helpful to know whether you'll have to reapply it in a few days or a week.
Most creams and other hair removal products are meant to provide several days of hair-free glory, but take a close look at a manufacturer's claims, nonetheless.
3. Skin type
Skin type is another important consideration when buying a hair removal product, because not all creams (and sprays, etc.) suit all skin types.
If you're a man with sensitive skin, look for products that contain ingredients such as aloe vera, rather than those with a heavy chemical base.
If your skin is sensitive or acne-prone, look for shaving creams and similar products that are particularly gentle and soothing.
4. Ingredients
We just touched on it in #3 above, but it's worth emphasizing: take a close look at a product's list of ingredients. Beware of ingredients that may trigger skin irritation or other unpleasant reactions. Some ingredients even may cause an intense burning situation.
Also, look for products that moisturize the skin while removing body hair. Hair removal easily can dry out the skin, so be wary.
All of the above tips will help you choose a product that best suits you. Now, let's move on to the best hair removal products for men.
The 7 best hair removal creams, sprays & other products for men
While some men like to leave their body hair as it is, others would rather shave or remove it all together.
The reason is different for everyone. Some appreciate the smooth feel of a hairless body, while others do it for cultural reasons.
So if you want to rid your body of unsightly hair, try these products that will help you achieve smooth, beautiful skin.
Hair growth consists of three stages: anagen, catagen, and telogen. Anagen is the growth phase, telogen is the phase when hair growth is dormant, while the catagen lasts for a short while after the anagen phase and signals the end of active hair growth.
The reason we bring all this up is that Keramene's Body Hair Minimizer induces the catagen phase to make hair stop growing while also suppressing keratinocyte production, so existing hairs grow slower.
So, when combined with the shaving, tweezing, and waxing, Keramene's body hair minimizing cream does exactly what its name says, i.e., reduces hair growth (while maximizing the effects of hair removal).
It not only extends the time between shaving and waxing but also leads to softer, finer hair growth.
And there's more: the Keramene cream includes vitamin D, which has conditioning and protective benefits, as well as witch hazel, which helps to prevent ingrown hairs.
It leaves your skin feeling moisturized, it's ideal for use on your arms, legs, back, and pubic areas, and it's specifically formulated to treat sensitive areas of your skin and body. This is also a good bikini cream hair remover that women can use.
DS Laboratories, the manufacturer of Keramene's Body Hair Minimizer, recommends that you use the cream daily after you shave. You don't need to rinse the product after application.
Type: Cream
Pros
Reduces hair growth with few side effects

Optimizes hair removal techniques, such as waxing and tweezing

Helps to hydrate skin
Bottom line
The Keramene Hair Minimizer is effective for slowing the growth of hair. It's an overall highly effective solution when combined with other hair removal techniques, such as waxing and tweezing.

The majority of men plagued with unwanted and unsightly body hair don't want to waste time getting rid of it. The goal is to manscape it away – fast – and then face the world with the confidence of someone who knows he's looking his best.
That's one of the reasons why many men choose Nad's For Men Hair Removal Cream: it enables them to get the job done quickly.
Not only is it effective in battling super coarse chest or back hair, it works in as little as four minutes. You get in, you get out, and your unwanted body hair is long gone.
Not that speed is everything, mind you. If a product produces fast results but results that are mediocre at best, then there's no advantage in finishing the job quickly.
However, Nad's Hair Removal Cream answers the bell in many other ways. For one, it's suitable for your back, arms, chest, and legs. For another, it's formulated with aloe vera to help soothe and protect skin.
Designed specifically for men's coarse hair, Nad's is tough enough to do the job but doesn't cause a burning sensation or irritate the skin. Indeed, it's extra strength but efficient and, as mentioned, doesn't waste time in getting rid of unwanted hair.
If your hair is extra thick, however, all you need to do is leave Nad's Hair Removal Cream on for a bit longer – usually no more than 10 minutes.
It's also easy to apply: just rub the cream onto dry skin, creating a thick, even layer in the process. You can test it after four minutes by wiping a small amount away with a tissue to see if it's removed hair sufficiently.
Once you're confident that it has done its job, wipe all the cream away and then finish with a thorough rinse.
Be careful where you use it, by the way. Again, it's great for your chest, legs, arms, and back, but don't use it on your face or genitals. It's strong stuff. Nonetheless, women also can use it, even if the product has men's coarser hair in mind.
Type: Cream
Pros
Works fast and efficiently to removed unwanted hair

Excellent for thick, coarse hair

Aloe vera helps soothe and protect the skin
Cons
Powerful scent is off-putting to some
Bottom line
Nad's Hair Removal Cream for Men is the ideal weapon to have in fighting thicker, coarse hair. It's strong, but not so strong that it irritates your skin. It's even gentle enough for women to use.
Let's face it, shaving your back while keeping it properly manscaped is often a chore. A man's arms and hands can only reach so far, which can mean hairier parts of the back remain unattended – and looking a bit ape-ish.
No worries, however. BAKblade has your back, literally.
The BAKblade 2.0 offers the best hair removal option for men's backs and enables you to rid yourself of unsightly hair that you couldn't reach previously.
And, in this day and age when manscaping is all the rage, most men wouldn't be caught dead with a hairy back (with apologies to all you proudly hirsute men out there).
The 2.0 is an upgrade on BAKblade's popular, and effective, 1.0 version thanks to an S-shaped ergonomic handle that allows you to shave those hard-to-reach areas of the back without applying excessive pressure.
It also features BAKblade's patented blades made to shave back hair and other parts of the body. The blade maintains continuous pressure on the skin, and features technology that keeps the friction between the razor and skin as light as possible.
The result is a pain-free shave in which you can get a close cut with only a swipe or two. Even better, you can use the blades for wet and dry shaving.
The BAKblade 2.0 comes with a 60-day money-back guarantee in which BAKblade will give you a full refund if you're not satisfied with their shaver after two months of use. BAKblade replacement blades are also very affordable.
Type: Back shaver
Pros
Upgraded handle

Able to shave the hard-to-reach areas of the back

Excellent blades
Cons
Some users say the angle of the blade has changed from the 1.0.
Bottom line
Shaving your back was never easier thanks to the BAKblade 2.0. You can reach every spot on your back with ease and you can use it on other parts of your body.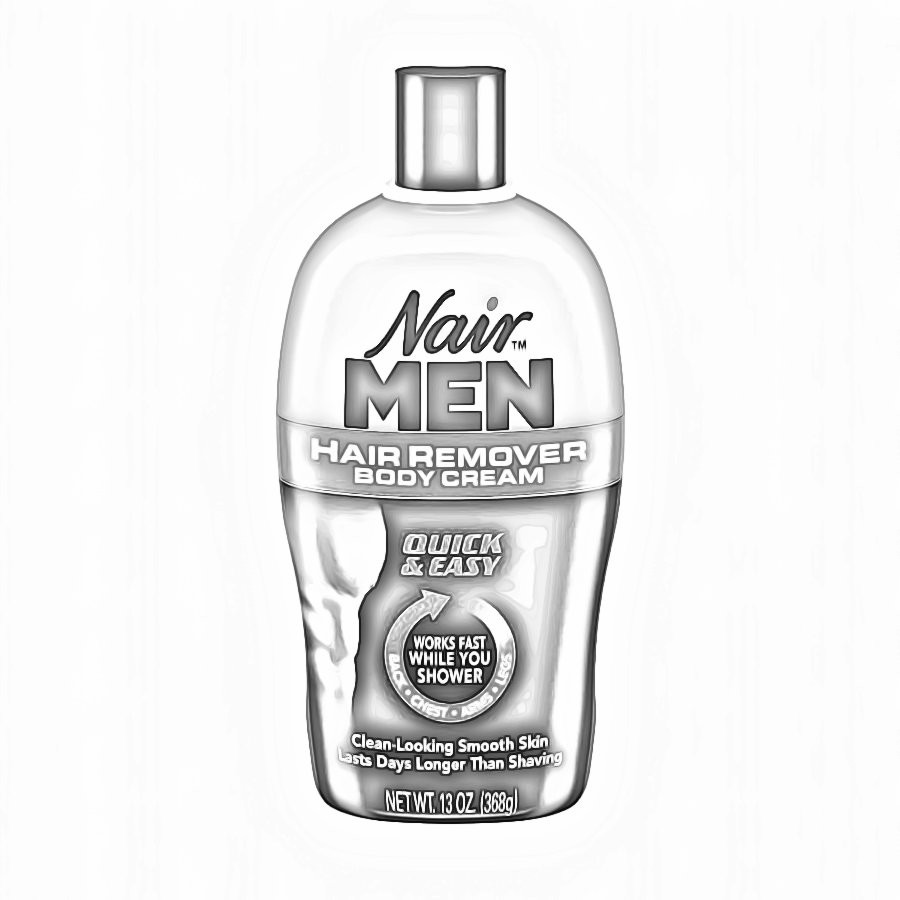 With over 75 years of experience, Nair is no newcomer to the business of hair removal, and in 2001 it introduced its first line of products for men. Given the quality of products such as Nair Men Hair Removal Cream, many men probably wonder what took them so long.
You'll find Nair for men on most lists of the top hair removal products – and with good reason.
Their Men Hair Removal Cream is among the best available for men looking for a quick, easy, yet effective way to remove unwanted hair – including the coarsest and thickest swatches of hair.
By "quick," we mean removing unwanted hair within 3-10 minutes. You simply spray the cream on the affected area via a handy, no-mess pump dispenser before you shower, wait a minute for the cream to work its way into the hair, then rinse it off in the shower.
The cream goes below the skin's surface to dissolve hair while leaving your skin smooth and hair-free.
Important note: Do not rub the cream into the skin, but just spray it on the area and then let it work its magic.
Here's another tip: don't rinse the Nair Men Hair Removal Body Cream directly under the shower's stream; instead, just shower normally and let the water that runs over your body remove the cream naturally.
The good news is that you can treat large areas of the body quickly with Nair's removal cream. It's good for your legs, arms, chest, and back hair, and you'll like its pleasant-but-not-overpowering masculine scent.
Do not, however, use it on your face, around the eyes, in your ears, or (note!) around the nipples or your genital area. That said, some men reportedly use it to remove hair from their scrotum.
Our advice: do not do it, but if you still want to do it, proceed with caution.
You'll also like that a single treatment of Nair Men Hair Removal Body Cream will last several days without leaving behind stubble or painful ingrown hairs that you may get with regular shaving.
If you're prone to razor bumps, ingrown hairs, and other irritations, then a cream like Nair's is something to add to your grooming kit.
Nair's hair removal cream comes with another benefit: it's one of the few hair removal products that's suitable for your, ahem, nether regions.
That's right, if your hair removal goals include getting rid of pubic hair (including sack hair), then give Nair a try. It's one of the best pubic hair removal creams for men.
Before you slather your junk with hair removal cream, it's important to follow a few guidelines, however. For starters, trim your pubic hair before applying the cream.
Hair removal creams contain chemicals that can cause discomfort – and even burns – so trimming the area first means you need to use less cream.
Also, never use hair removal cream when your skin is irritated or chafed in those regions, unless you enjoy a not-so-gentle sting. To each his own. Also, we recommend doing a 'patch' test before slathering it all over your equipment.
The active ingredient in this cream is potassium thioglycolate, which weakens hair and makes it easier to scrape or wash off.
It also includes a small amount of aloe vera to help soothe the skin, as well as alcohol (which can dry out your skin, so make sure you apply moisturizer to the affected area skin after you shower).
Type: Cream
Pros
Excellent for men with thick, coarse hair

Produces fast results

One application lasts several days
Bottom line
Nair is always near or at the front of the pack regarding hair removal products. Their Men Hair Removal Body Cream is fast and efficient and is ideal for dealing with thick hair that other methods, such as shaving, don't do as effectively.
It's also one of the best men's hair removal creams for private parts.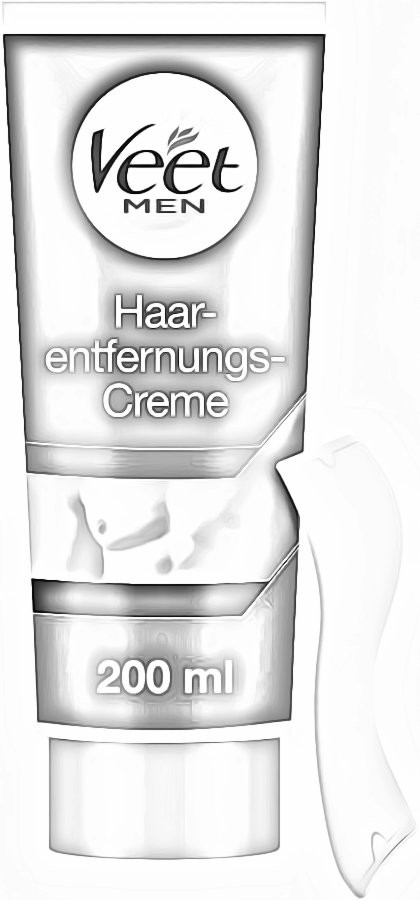 It's not always fun and games when you're removing unwanted body hair. Irritation is possible, especially if you have sensitive skin. Nonetheless, that shouldn't stop you from attacking unwanted body hair with a vengeance.
That said, Veet Gel Hair Removal Cream is an excellent option for men with sensitive skin, but it's also for any skin type. Its formula includes aloe vera and vitamin E, which help leave the skin feeling moisturized and irritation-free.
Veet is formulated, as mentioned, to leave skin feeling smooth and moisturized, but it also removes hair closer to the root.
That's a positive for many reasons, including that you don't have to use it as often, while it also maintains and restores your skin's natural hydration levels.
It's also fast-acting, as it effectively removes hair in as little as five minutes.
It comes in a pump bottle and a spatula that you use to apply it. Women love it because it leaves no stubble behind while reducing the danger of nicks and bumps, while everyone loves it because it penetrates the skin to dissolve hair closer to the root.
And if your unwanted body hair is more thick and stubborn, it's safe to leave Veet's on for a longer period (up to 10 minutes, actually).
We also like that Veet's Gel Hair Removal Cream doesn't have an overpowering scent. Then again, the fragrance isn't a selling point for the vast majority of hair removal creams, anyway.
A word of caution: while some folks say they've used Veet to remove hair on their private parts effectively, others report a burning sensation that is, to say the least, more than a bit uncomfortable.
So, be very, very careful if you're planning to use it on your genitals – or, perhaps better yet, don't use it at all down there.
Type: Cream
Pros
Ideal for sensitive skin

Provides deep hair removal

Fast-acting
Cons
Not as effective on thick, coarse hair
Bottom line
There's plenty to like about Veet's Gel Hair Removal Cream, including that it's great for sensitive skin and that it works effectively for men and women. It's also very affordable, and a little goes a long way.
Nair makes our list again with its Men's Hair Removal Spray, which we think is the best spray-type product for men looking to rid themselves of unwanted hair.
Nair's hair removal spray is the same dermatologist-tested formula as its hair removal cream but comes with the advantage of not needing to worry about cream getting all over everything if you're not careful.
It's also great for applying in wide swaths, which is nice when you're trying to spray the product evenly over a large area, like your chest or back.
The spray nozzle also is great for getting at those harder-to-reach places, because you don't have to use your hands and fingers to apply the stuff.
Let's face it, applying hair removal cream on your back by yourself isn't an easy task. With hair removal spray, however, the task isn't nearly as formidable.
Hair removal spray also has a clear advantage over shaving in that it A) doesn't cause the nicks and bumps that come with shaving and B) your smooth skin will remain that way for several days.
Like Nair's hair removal cream, Nair's men's hair removal spray contains Potassium Thioglycolate, and the steps for using the spray are the same.
Apply it to the affected area, let it sit for four minutes (don't leave it on your skin much longer than that), and rinse it off in the shower, preferably with lukewarm water.
Type: Spray
Pros
Easy to apply

Dermatologist-tested formula

Works quickly
Cons
Not as easy to apply under folds of skin
Bottom line
A spray is a great option for men who don't want to deal with creams and other types of hair removal products, and Nair has the best hair removal spray for men. It's a tried and true formula from the folks who specialize in helping you rid yourself of persistent body hair.
Your wife and girlfriend may already know about epilators. You, however, may not know much about them at all, considering that they were primarily used by women until not that long ago.
But if hair removal is part of your grooming routine, then you should at least consider using an epilator. What is it?
Basically, it's electronic tweezers that work like waxing by plucking hair out by the roots. Spinning discs within the device capture hair, while a rotating motion pulls hair away from the root.
The advantage of an epilator is that it's a fast hair removal solution that lasts a long time. You can do large areas of your body, such as your back and chest, in less than 15 minutes while leaving your skin free of unwanted hair for up to six weeks.
Emjoi says its AP-18MS Emagine is the first epilator on the market exclusively for men, and it's certainly an effective hair removal tool, because it has a lot going for it:
The AP-18MS features 72 tweezers mounted on a metal head. That's a helluva lot of tweezers (Emjoi says it's the most of any product).
It removes the majority of your hair on the first pass to reduce your chances of skin irritation while providing you with smooth skin.
It comes with patented glide technology that moves the tweezers over the skin gently – relatively speaking – while dual-opposed heads hold the skin taut and cover a greater surface area.
Lifting 'fingers' lift flat and short hair to decrease the possibility of ingrown hair.
The AP-18MS also includes silver ion technology that protects against bacteria.
It comes with an ergonomically-engineered handle that nicely balances in your hand and is easy to hold. Let's face it, the better your grip on your epilator, the better.
The AP-18MS comes with dual speed controls, so you can work through your hair quickly or slowly. A higher speed often is great for areas such as your chest and back, but you need to go more slowly in sensitive areas.
Another thing we like about the AP-18MS Emagine is that its head remains cool to the touch as you use it (and after).
Here's the other thing: epilators are sometimes painful to use, especially when tugging and tearing at thick hair, but with Emjoi's AP-18MS Emagine, you'll eliminate unwanted hair more efficiently with far less discomfort than you will with cheaper models.
Type: Epilator
Pros
Works well even on thick, coarse hair

Dual speeds

Only need to use it every five or six weeks
Cons
The tweezers may break after years of use
Bottom line
Epilators aren't for every man, but there's no denying their effectiveness in removing unwanted hair – especially when using top-of-the-line models, such as the AP-18MS Emagine.
The folks at Emjoi have bent over backward to provide a clean, efficient hair removal process that lasts for several weeks.
The how-to: Using hair removal products for men
Now that you've bought a hair removal product you like, let's talk about how to use it correctly, starting with creams.
1. How to use hair removal creams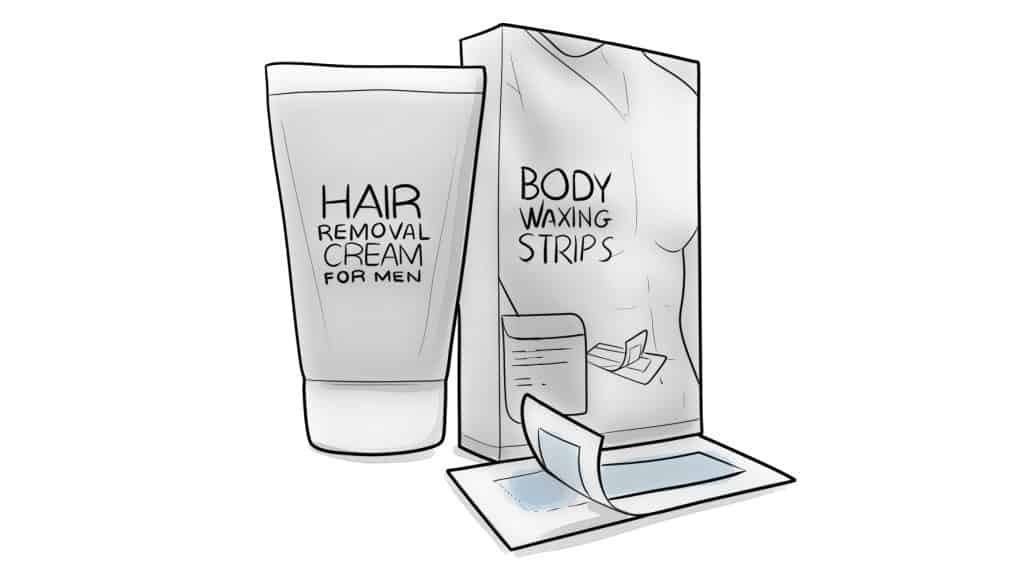 We've already talked some about 'patch' tests before using hair removal cream, and it's a point worth emphasizing. A patch test is just what its name implies: you choose a small amount of hair and apply cream to it to see how it works.
It's always best to perform the patch test on a less visible part of your body, in case things go awry, and you're left with, say, a giant red mark.
Also, it's of utmost importance to find cream suitable for your skin type. Think about your skin's sensitivity and where you plan to use the cream.
It's also important to examine the area for cuts, scrapes, irritated skin, moles, sunburn, etc. before you apply the cream. This will minimize your chances of developing a rash or chemical burn.
Let your skin heal before applying hair removal cream to those areas.
Read the directions! This is important. Make sure you read the directions carefully and follow them to the letter. Remember: different brands may have different instructions. If you've lost or misplaced the instructions, check the company's website.
Apply an even, thick layer of cream over the affected area. Use your fingers or a spatula – if one comes with the product – to apply it, but don't rub it into your skin. Evenly applying the cream ensures that you don't remove more hair than you intended.
Leave the cream on your hair for the recommended

application

time in the instructions. This can range from 3-10 minutes and varies from product to product and person to person. Leaving it on too long can harm your skin, so don't "guess" how much time has passed; use a timer, instead.
You'll likely notice an unpleasant smell when using the cream. Not to worry – that's simply the cream's chemicals interacting with the hair. It goes away when you rinse it.
Remove the cream with a washcloth or even with the spatula you used to apply it, and then rinse it with lukewarm water (in the shower is best). Don't worry if your skin is itchy or a bit red after use – that's normal – but if redness and itchiness persist, give your doctor a call or visit your pharmacist for an over-the-counter remedy.
Your skin should now have a smooth finish, but applying a little bit of cream or moisturizer will soothe the skin and avoid chemical burns. Look for a moisturizer that has ingredients like colloidal oatmeal, ceramides, almond oil, or aloe vera to nourish, and heal the skin.
2. How to use hair removal sprays
The advantage to using hair removal spray is that you don't have to use your fingers or a spatula to apply it to the affected area. Instead, just hold the container approximately four inches from your body and spray an even layer over the unwanted hair.
Leave the spray on for four minutes – depending on the instructed application time – and then gently wipe it off with a damp washcloth. Once the hair is gone, rinse the area with lukewarm water.
It is important to make sure that you wash off all products from your skin. You can also nourish your skin by applying a good-quality moisturizer with soothing or healing ingredients. These products will soothe your skin, prevent dryness, and make your skin feel soft.
3. Using a back shaver
One of the nice things about a back shaver such as the baKblade is that it doesn't require shaving cream. We do recommend that you dampen the area with water before you begin shaving and that you use a mirror as a guide.
Another key to using a back shaver is that you don't apply excess pressure. Even if your back hair rivals that of a gorilla, just let the shaver do the work. Depending on your hair, you may not need to make multiple passes with the shaver.
Shaving can sometimes cause razor burns. To avoid razor buns it is best to treat your shaved skin by applying a good moisturizer that has ingredients like aloe vera, avocado oil, cocoa butters, or other soothing ingredients.
4. Using an epilator
Things are a bit more complex when using an epilator, and you want to proceed carefully, because there is some pain involved. Desensitizing your skin with warm water always is helpful, as is exfoliating the skin within 24 hours of using your epilator.
It's important to make sure that your skin is clean and free of excess oils.
It's also better to epilate at night before you go to bed and apply a soothing, moisturizing cream to the area. Your skin will be soft and smooth when you awaken in the morning.
Here's the recommended epilation process:
You may choose dry or wet epilation, but most experts say that dry works best, because you won't weigh down the hair with water, making it easier for your epilator to get all hairs. However, don't hesitate to take a warm bath before you epilate, and, wet epilation is less painful and more convenient if you do it in the tub or shower.

Use your epilator on a lower setting at the start, especially if you're new to epilation.

Keep your skin

tight

. Doing so helps your hairs stand up while also making sure you don't pinch your skin.

You can pull your skin using one hand before you get to work while holding the epilator in the other hand to do this.

Keep the epilator at a 90-degree angle for best results.

Go slow. Going too fast may cause you to miss hairs or not to pluck them by their roots, which means you have to repeat the process.
The many options for hair removal: A comparison
Cream, back shavers, spray, epilators, wax, razors, and so on – you have many choices regarding hair removal products. All of them are effective in their own way, but choosing the right one for you depends on many factors.
Let's take a brief look at the seemingly endless list of ways (and products) with which you can remove unwanted body hair.
1. Cream & Spray
Depilatories – better known as hair removal creams – use chemicals to dissolve protein in the hair. The hair separates from the skin and is wiped off.
There are two big advantages to using creams: 1) they're easy to use and 2) they work fast. With most creams, you need only to leave them on for four to five minutes before wiping them and unwanted hair away.
Moreover, their results last longer than methods such as shaving.
Because they contain chemicals, you need to be careful when using creams if you have sensitive skin. You need to test for allergic reactions before you use these products. The good news is that many creams contain soothing ingredients such as aloe vera that is good for sensitive skin.
Gentle creams are affordable, effective, and good for removing even the most coarse, thick hair. They are also often used for bikini hair removal, but some creams might not be suitable for your private parts. It is advisable to always read the instructions before you apply creams to sensitive parts of your body.
Sprays are very much like creams in that they have similar ingredients and work in the same way: apply them to the affected area, let them sit for a few minutes, and then wipe them away. Their results, like creams, generally last up to a week or more.
Most users find spray more convenient in reaching hard-to-get areas of the body.
2. Razors & Shavers
We've talked about razors in many other posts but primarily regarding shaving your face. While it's certainly acceptable to use a regular razor on another part of your body, the results aren't as long-lasting as cream, spray, or other hair removal product.
One advantage to using a razor is that you have total control over the blade, and there's less risk of something going wrong. You even can use a razor for shaving your genital area, but proceed with caution (a vast understatement, at that).
Of course, using a razor increases your risk of nicks and cuts and may cause skin irritation. Luckily, there are shave creams and soaps for every skin type.
Also, as mentioned, you'll need to shave the area all over again in a few days – or more often, depending on how hairy you are.
Back shavers are convenient in that you don't have the awkwardness of applying cream or spray on your back – or asking someone to do it for you. They come with long handles that enable you to shave even the hardest-to-reach sections of your back.
3. Epilators
Epilators are small electronic machines with spinning discs that grab hair and yank it out by the root.
True, it's a process that's not without a bit of pain, but a lot of guys swear by it. It takes some technique to get used to an epilator, so start off slowly, until you get the hang of it.
Epilator results are long-lasting, but an epilator tends to work better on longer hair and may leave stray hairs behind if your technique isn't precise. Epilators often have a tough time removing fine or soft hairs. When hair is plucked from the follicle it grows back finer, softer, and lighter, which is a huge benefit for regions like the upper lip.
On the downside, when hair is plucked from the follicle it needs to regrow from underneath the skin. This increases your chances of getting ingrown hairs.
4. Waxing
Most of today's waxes are made from soy and consist of a creamy lotion that's applied to the skin. Strips of cloth are then layered over the mixture and pulled off once the solution is dry. And, just like that, your unwanted hair is gone for four to six weeks.
Wax is good for most areas of the body, including your genital region, but there is pain involved, for sure. If you've never tried waxing, we recommend having it done professionally before turning it into a DIY project.
When hairs do grow back after waxing, they regrow softer, finer, and lighter. This body hair removal treatment can however result in ingrown hairs or bumps when the hairs start to resurface.
5. Laser Hair Removal
Laser hair removal is about as permanent as it gets. Laser light energy kills the hair root to produce long-lasting results. The laser does not kill the hair follicle, however, so another hair could grow in its place, but that's fairly uncommon.
Ideally, you should get professional laser hair removal. But you can also get at-home laser hair removal devices that you can use in the comfort of your own home to treat more discreet regions, or to gradually remove hair from your body for good.
A typical laser hair removal treatment lasts 30 minutes, and several treatments usually are required to provide a permanent solution. Another advantage to laser treatments is that they're also good for thinning hair, rather than completely removing it.
The disadvantage of laser treatments? They're expensive.
6. Electric shavers
Electric shavers are a very popular hair removal method that is often considered eco-friendly because modern shavers come with rechargeable batteries. You don't need water or cream for shaving, and one single shaver can be functional for many years.
A hair trimmer functions by clipping your hair off just above the skin. These electric trimmers might have a tough time cutting fine hairs but they are ideal for stubborn hair like beards, underarms, chest hair, and bikini hair. Many women prefer electric shavers for bikini hair removal because they reduce the chances of getting ingrown hairs.
Electric shavers are, however, prone to cause razor burns or razor bumps which is why it is recommended you use a good moisturizer or after-shave when using these devices.
Some electric shavers might have a tough time dealing with the shortest hairs on your skin. If you want a smooth hair-free surface then you should look for a shaver that is specially designed to cut the hair closer or just below the skin surface.
There are other means of hair removal, such as electrolysis, threading, and sugaring, but we wanted to cover five main methods.
How we chose the best hair removal products for men
By now, you probably have a pretty good understanding that the business of hair removal resembles a wide-open frontier. With a multitude of products and methods to choose from, there's undoubtedly a solution that suits you best.
In this post, we wanted to touch on a variety of products (with an emphasis on hair removal cream) that many users find effective. For many years – decades even – hair removal was directed primarily toward women, but these times are a-changin'.
We hope you find our list helpful and that it helps you to choose the right product.
We think those we listed above represent the best of the burgeoning men's hair removal field.
Conclusion
That wraps up another best-of review, friends. As always, we encourage your feedback and comments. Is there a hair removal product that you've tried that's not on our list? Or, have you tried one of those listed here?
We'd love to hear from you.