7 Best Beard Moisturizers That Keep Your Beard Healthy
This post may contain affiliate links. Learn more.
In a hurry? Here are our top picks:
Growing a beard is not an easy ride. Once you've grown it beyond the ordinary stubble, you'll need to start caring for that hair to keep it from becoming scratchy, rough, and generally appearing dull.
This is where the beard moisturizer comes in. It is a product that every beardsman needs to get their hands on if they want a strong beard that will look healthy and feel soft.
But, there's more! The best beard moisturizer not only will it hydrate the beard, but also the skin underneath it, keeping it from dryness and flakes.
That's why we've put together this review. We've done all the research identifying some of the best moisturizers for facial hair out there, so you don't have to!
And…., we haven't stopped there!
We've also provided some tips you should consider before making your purchase and added a guide on how to use your moisturizer better. Additionally, we've also described the differences between the different beard moisturizer options – beard lotion, beard oil, and beard balm.
So, by the end of this review, you'll find the ideal beard moisturizer for you and know how to use it.
Let's start with some things to consider when purchasing a beard moisturizer.
Quick Summary
<!—INSERT CODE BELOW—>

Best beard lotion

Beardbrand Beard Softener

Reduces beardruff and provides excellent hydration

Great rich masculine scent

Makes the beard very soft

Check Best Price

Best for hydration

Billy Jealousy Beard Quencher

Excellent hydration

Easy to absorb

Natural formula

Check on Amazon

Best value

Clubman Pinaud 2-in-1 Beard Conditioner and Face Moisturizer

Affordable price

Improves hair growth

Conditions and moisturizes both the beard and the skin

Check on Amazon

Best beard oil, natural

Jack Black Beard Oil 

Provides unrivaled conditioning

Suitable for sensitive skin

Great subtle scent

Check on Amazon

Best smelling oil

Proraso Beard Oil

Powerful moisturization

Fantastic scent

Leaves a refreshing feeling

Check on Amazon

Best conditioning balm

Honest Amish Beard Balm

Minimizes beardruff

Affordable price

Greatly conditions the beard

Check on Amazon

Best for styling

Smooth Viking Beard Balm

Provides strong hold

Doesn't feel stiff

All-natural ingredients

Check on Amazon
Before you buy: 5 Things you need to consider when purchasing beard moisturizer
1. Ingredients
Make sure to always choose beard moisturizers that have a more natural & organic formulation.
Look for natural hydrating ingredients such as castor oil, shea butter, avocado, aloe vera, coconut oil, jojoba, olive oil, sweet almond oil, etc.
A great beard moisturizer will actually hydrate your face (not just make your hair feel soft). If you see coconut oil listed as an ingredient, that's a plus—the fatty acids help provide moisture while also nourishing the skin underneath. Argan oil is another great ingredient to look for. It increases elasticity, which can prevent beard dandruff and beard itch
Avoid moisturizers with controversial or harmful chemicals such as parabens, sulfates, petroleum, mineral oils, etc.
2. Scent
This is up to your personal preference. Some people prefer a beard moisturizer with a strong scent, while some others with a light scent.
If you are unsure, you should also consider how sensitive you are to scents. If you are very sensitive, opt for a beard moisturizer that has a light scent.
You should also consider if you wear cologne very often. If the answer is yes, then you probably don't want the scent of your beard moisturizer to intervene with it.
Lastly, it is important to note that the scents can be natural or artificially made. It is generally preferred to go with a moisturizer that doesn't have synthetic fragrance as it reduces the chances of irritations that might occur.
3. Your skin type
The skin type plays an important role when choosing a beard moisturizer. For example, if you have dry skin, consider moisturizers with ingredients, such as argan oil, shea butter, coconut oil, etc., which are extremely hydrating.
If you have oily or acne-prone skin, consider a moisturizer that has ingredients such as jojoba, aloe vera, grape seed oil, etc. These offer decent hydration while balancing excess oil and reducing breakouts due to their potent antibacterial and anti-inflammatory properties.
Lastly, if you have a sensitive skin type, opt-in for a more natural beard moisturizer avoiding products that contain harmful chemicals or alcohol, as they can be really irritating, increasing the chances of redness and itchiness.
4. Value
Buying the most expensive product doesn't always mean that it is the best in terms of quality. Make sure what you are getting comes with good ingredients, is easy to apply, and actually serves the purpose you want it to serve.
There are a lot of expensive moisturizers out there that are formulated with questionable ingredients or just don't provide any added benefits or value from cheaper ones.
5. Type of moisturizer
There are three types of men's beard moisturizers that you can consider when looking for one: beard lotions, beard oils, and beard balms.
Depending on each type's benefits, you can choose the type that works best for you:
A beard lotion or cream is generally the same as a face moisturizer but more light. It works best to hydrate the skin underneath the beard. Best if you experience redness or acne on the skin beneath your beard.
Beard oils or oil-based moisturizers work best to hydrate the beard, reducing dandruff, itchiness, and split ends.
Beard Balms condition the beard while keeping it in place, offering more hold for beard styling.
Check our more in-depth comparison between the three types in a later section of this review.
The 7 best beard moisturizers
What stands out about this beard moisturizer
Very lightweight
Great scent
Great list of natural ingredients
The best beard moisturizer for:
People who like their beards soft and love a great scent.
Overview
Beardbrand is one of the best brands out there when it comes to beard products, and not without a reason. They are producing products that are premium, effective, and elevating your entire grooming experience due to their unique variety of scents that they carefully create and provide.
So, it is no coincidence that their Beardbrand Beard Softener takes the first spot in this review. Its main ingredients are glycerin, coconut oil, shea butter, and peppermint extract.
Glycerin, coconut oil, and shea butter work together to provide unrivaled hydration to the hair and skin underneath it. They soften the hair, reducing breakage and frizzing. These ingredients also reduce skin redness and unwanted conditions such as itchiness caused by dryness.
Peppermint extract is anti-inflammatory and antibacterial, keeping the skin and beard soothed and healthy. Peppermint also calms conditions such as acne and redness and helps protect from hair loss.
The texture of this moisturizer is very lightweight and thus easily spreadable upon application. You will instantly feel your beard softer, refreshed, and hydrated. It is not greasy and doesn't make the beard appear shiny or oily.
But there's more.
One of the best notable features of this beard softener is its scent. Beardbrand spends a huge amount of its budget to research unique scents that will elevate the experience of its users. And, their Old Money fragrance does exactly that.
It has a rich aroma that has a woody, citrusy character and has as primary notes oak, amber, leather, Lime, and Ylang Ylang. The scent is pleasant, masculine, and will definitely make you feel more calm and relaxed.
Additionally, it comes in a variety of other scents, so you can choose one that is closer to your nose's preferences.
Lastly, the bottle design looks and feels premium. The lid makes it easy to apply the correct amounts and prevents the cream from leaking.
The good
Excellent hydration and conditioning effect

It provides unrivaled softness to your beard

Great scent that is rich and masculine

It reduces beardruff, itchiness, and improves the overall health of the hair
The bad
A bit expensive

The fragrance is synthetic and might irritate sensitive skin types
Bottom line
Overall, this is a moisturizer that has a fantastic scent and will leave your skin and beard soft and conditioned.
What stands out about this beard moisturizer
Quick absorption
Long-lasting hydration
Non-greasy
The best beard moisturizer for:
Men who want deep skin hydration
Overview
Billy Jealousy's Beard Quencher is another moisturizer made with lots of natural ingredients such as shea butter, black oat seed, amino acids, and panthenol.
Shea butter is an emollient that nourishes softens and protects the skin. It creates a layer that guards it against environmental stressors while keeping the moisture in for longer times.
Black oat seed oil increases the elasticity and hydration of the hair cuticles. This has a result in preventing frizz or breakage. It is also rich in antioxidants promoting collagen production and healthier skin.
Amino acids – like glycine and lysine – play a significant role in hair growth. They strengthen the hair, preventing damage and hair loss.
Finally, panthenol (a.k.a. Vitamin B5) is great for relieving the skin from conditions such as red skin, inflammation, or eczema. It also strengthens the hair and gives them a natural healthy shine.
The cream itself is lightweight and absorbed decently. While it has a slightly thicker texture than for example Beardbrand Beard Softener, if applied a small amount, it doesn't flake or feel sticky.
We found that Beardbrand provided a similar hydrating and softening effect to this one. Which means its hydration is great and can last all day. A slight note, however, is that this one might make the hair feel sticky, or weigh down due to its slightly thicker texture if overapplied.
We should also mention the smell: it was pleasant, but it is derived from synthetic fragrance. It reminds me of a blend of tobacco, sage, and leather. The scent, while not subtle, is not overpowering. So, it still might irritate people who are very sensitive to fragrances.
Another drawback of this moisturizer is its price. While it provides unrivaled elasticity to the skin, the price might just not be justifiable by some. If you don't suffer from very tough skin, I would consider using any of the other two creams we recommend in our review.
The good
Great for sensitive skin

Vegan, paraben, and cruelty-free formula

Helps you shape your beard
The bad
The smell is not for everyone
Bottom line
This is a great beard moisturizer for everyone who wants elastic youthful skin and a conditioned beard.
What stands out about this beard moisturizer
Conditioner and moisturizer
Gives a natural shine to your beard
Great price
The best beard moisturizer for:
A man looking for great value
Overview
Clubman's Pinaud 2-in-1 Beard Conditioner and Face Moisturizer has a lot that makes it worth buying, but the main reason is its good value.
So, what makes it worthwhile to purchase?
You can buy two packs at the price of one.
But we wouldn't recommend it if it wasn't performing well. Its recipe is designed to not only nourish your beard but also to minimize frizz, making it simpler to manage as it grows thicker. How?
Let's take a look at its ingredients.
It is formulated with natural ingredients such as glycerin shea butter, coconut oil, and argan oil. They provide a boost to the skin's and beard's hydration levels.
But there's more! It also includes sunflower, aloe vera, and rosemary which, not only do they assist in reducing conditions such as acne and redness but also speed up wound healing because of their antiseptic and anti-inflammatory properties.
Blending the above ingredients is a cream that has a slightly thicker texture when comparing it with the previously reviewed lotions. While it is very moisturizing and effective, because of its thicker texture, your beard will need a little bit more time to get it absorbed.
This means you will find yourself rubbing longer than other creams to soak it up but, if that is not an issue for you then you will definitely appreciate what it has to offer for the price.
A word of caution, if you overapply, you might notice some flaking as the cream gets dry and not absorbed on the beard.
The scent is nothing unique, unfortunately, and smells like a normal face lotion. It is, however, very subtle and not irritating.
The good
Really great value

Provides solid hydration

Looks after your skin simultaneously
The bad
Too thick for some

Can feel sticky or leave flakes if you overapply
Bottom line
This is a great value-for-money moisturizer that will last longer than others.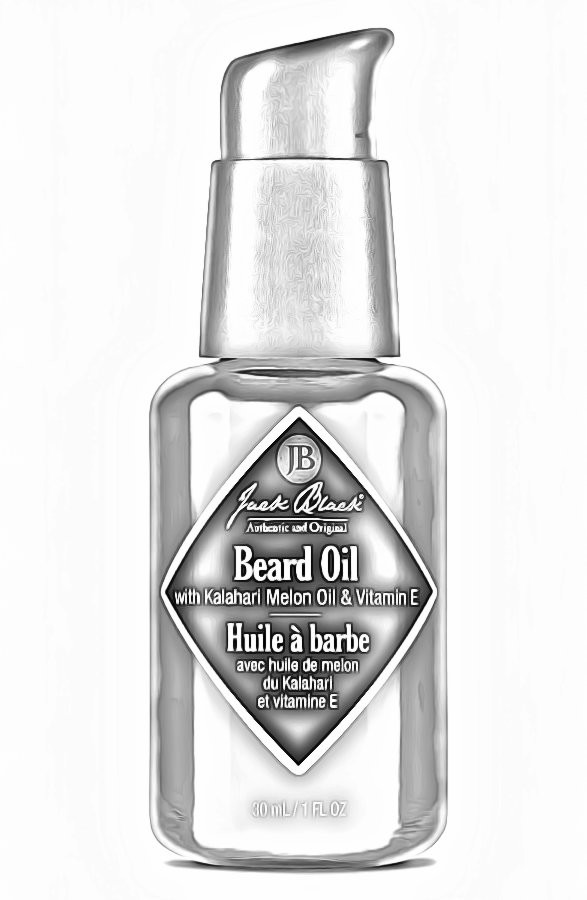 What stands out about this beard moisturizer
High-quality natural ingredients
The bottle comes with a pump for easier application and correct dosages
Suitable for all skin and beard types
The best beard moisturizer for:
Men who want the ultimate hydration to their beards in the form of an oil
Overview
Jack Black is one of the most popular brands when it comes to men's grooming products. They create top-notch products that feel luxurious and are of high quality. This is because they consider the grooming routine as an experience and not as a chore.
And this is shown in their Beard Oil. Its key ingredients include Kalahari melon oil, marula oil, brown algae and carrot extract, vitamin E, and plum oil.
Let's dive into the benefits of these ingredients before discussing our experience with the product.
Kalahari melon (watermelon) oil and marula oil are both very absorbent by the skin, meaning they help hydrate and soften the beard, without leaving any oily residue behind that makes it appear greasy and very shiny.
They are also rich in fatty acids, zinc, and magnesium, which are effective in strengthening the hair, and thus preventing hair loss.
Brown algae, carrot extract, and vitamin E are rich in antioxidants that protect your beard from free radicals and environmental stressors.
Lastly, plum oil is their secret ingredient. It boosts the hydration to new highs as it is believed to be eight times more hydrating than argan oil. Great stuff!
So, to answer your question. Is this beard moisturizer good?
The answer is a big YES!
Applying it to your beard, you will definitely notice that it is considerably more lightweight than ordinary beard oils on the market. It dries fast and leaves the beard itch-free and soft.
You will not have any problems spreading it evenly, and you will definitely appreciate the pump on the top of the bottle.
Remember when we were talking about how Jack Black takes experience seriously?
The pump makes for easy application and correct dosage, so you don't waste even a drop. Other beard oils, such as for example the other one we have on our list – Proraso Beard Oil – come with a usual dropper system which often results in wasting more product than necessary.
Additionally, its scent also adds to the experience as it is pleasant and is derived only from its organic ingredients. It is very subtle, and botanical (citrusy + floral), which also helps calm your mind.
Overall, this product will leave you with a well-conditioned beard that has regained its natural shine.
The only downside is its price. It is definitely not for people who are on a budget. If you are looking for a beard moisturizer, but you are on a budget, you can take a look at the Clubman Pinaud 2-in-1 Beard Conditioner and Face Moisturizer. You get two bottles of beard lotions for less than half the price of this oil.
The good
Amazing subtle scent

Provides unrivaled conditioning

Fast absorbing and lightweight
The bad
More expensive than other beard conditioning products
Bottom line
This is definitely the ultimate option for people who want beard oil to condition their beard. Totally deserves the price if you take into account the quality.
What stands out about this beard moisturizer
Variety of scents available
Good natural ingredients – 97%
Dermatologically tested
The best beard moisturizer for:
The best beard oil moisturizer for those who like to smell great
Overview
Proraso Beard Oil is a moisturizer that is not for the faint of heart. It is made for men who want a smell that lasts long and their beard conditioned.
Let's talk about its main ingredients.
It is made with 97%natural ingredients and does not contain any harmful chemicals such as parabens, sulfates, etc. Its key ingredients are avocado oil, sunflower seed oil, menthol, and eucalyptus.
Avocado oil has many benefits when applied to the beard. Firstly, it helps moisturize the skin underneath it, and secondly helps to reduce beardruff and flaking.
Also, it prevents breakage. If you have a long beard, you understand how difficult it is to have damaged hair full of split ends. It causes irritations such as itchiness, dryness, and redness constantly. Avocado oil keeps the beard flexible and strengthens it, reducing the chances of damage.
Moving on, sunflower seed oil makes the hair feel smooth, soft and helps it regain its natural shine.
Eucalyptus is rich in antioxidants, anti-inflammatory, and antimicrobial properties assisting in clearing your face from certain types of acne while stimulating the hair follicles, creating the ideal conditions for hair growth.
Menthol awakens your mind with a calming, refreshing feeling after application while also promoting hair growth.
This is another example of a lightweight oil that is absorbed quickly. This reduces the chances of having an oily or greasy appearance after the application.
It does provide solid hydration and conditioning while giving a refreshing feeling due to its inclusion of menthol.
If you like scents, then you would appreciate the strong masculine wood & spice aroma of this oil moisturizer. It lasts for a long time, probably hours before it wears down.
A word of caution, though. While we liked the scent, and it is one of the best we have tried in a beard product, it is artificially created from synthetic fragrance. If you are sensitive to strong scents, we recommend avoiding this oil and opt-out for one that has a more subtle natural scent, such as the Jack Black Beard Oil.
In addition, while this product claims to tame longer beards, this is just a marketing claim. If you are looking to add hydration to your beard and control it at the same time, you are probably better off with a beard balm moisturizer. For example, Smooth Viking Beard Balm conditions while also providing a strong hold to style your beard however you want.
Lastly, we found the dropper system to be a little bit cheap for a luxury product. When applying you will definitely waste some drops in doing so, which is not something you want.
The good
Good price

Refreshing feeling because of the included menthol

Fantastic scent that lasts for hours
The bad
Contains synthetic fragrance which, might irritate some

The dropper is not that effective
Bottom line
This is a great moisturizer in the form of oil that provides an unrivaled masculine scent that could potentially replace your cologne.
What stands out about this beard moisturizer
Light to medium hold
100% natural ingredients
Very moisturizing
The best beard moisturizer for:
People who like a beard moisturizer in a form of a balm that is very conditioning
Overview
Beard Balms are another alternative to beard lotions or oils when it comes to moisturizers for the beard. The added benefit of a balm is that it not only hydrates your beard but also provides some sort of hold so you can style your mane easier.
Honest Amish Beard Balm is a great example of that. It is formulated with natural ingredients that are known for their moisturizing and caring benefits when applied to the skin and beard. Notable ingredients to mention are cocoa & kokum butter, lavender oil, and beeswax. Like other beard moisturizers, it doesn't include harmful chemicals such as parabens, colorings, preservatives, etc.
Let's discuss the benefits of its key ingredients and then note how it performs.
Cocoa & kokum butter are two top-notch moisturizing ingredients when it comes to the beard. They soften and condition it, relieving itchiness and irritations from dryness. This decreases the chances of split ends and breakage. They are also rich in vitamin E, which is a great antioxidant that offers both anti-aging properties and protection against free radicals.
Lavender oil provides antimicrobial and antiseptic action that prevents the growth of bacteria and helps to increase hair growth when applied topically. A study in 2016 showed that it significantly increases hair on mice when applied to their skin.
So, let's discuss its effectiveness.
This is a balm that is undeniably very effective in conditioning and softening the beard and skin. If you take into consideration other balms on the market, this one is fairly thinner in texture. It dissolves easily when rubbing it in your hands, making the application easier without leaving any flakes behind.
However, inevitably as this is a beard balm, you will feel some form of oiliness after application.
As for its hold, this is a balm that emphasizes providing better conditioning than control, so if you have longer than a medium-sized beard, you will probably find it ineffective in terms of styling. That is why we included another balm – Smooth Viking Beard Balm – that provides a stronger hold which might be a better option for you.
Lastly, as for the scent, it has a subtle masculine aroma that has a cedar woodsy character which is very pleasant and fades away quickly.
The good
Minimizes beardruff and itchiness

Great price

Provides great hydration to the beard and gives it a natural shine
The bad
Feels a little greasy

No strong hold for long beards
Bottom line
Probably the best moisturizing beard balm on the market right now! And, it is cheap! Bargain!
What stands out about this beard moisturizer
Strong hold
All-natural ingredients
Good hydration
The best beard moisturizer for:
People who want to hydrate and tame their beards.
Overview
Smooth Viking Beard Balm is the kind of moisturizer that you want to use if your beard looks wild and untamed.
It is the kind of balm that offers, not only intense hydration but also strong levels of hold. How does Smooth Viking make that possible?
It uses natural ingredients such as argan oil, shea butter, jojoba to hydrate, and several types of waxes to increase the level of hold, such as beeswax, candelilla wax, and carnauba wax.
Because of the higher amounts of wax, you will definitely feel that this beard balm is thicker and greasier in comparison to Honest Amish that we reviewed earlier. However, despite that, it is easy to dissolve and apply evenly.
While the hold doesn't weigh down the beard throughout the day, again because of its waxier nature, you might feel your beard a little bit greasy if you overapply.
Due to its thicker nature and great hold, it can solely be used for styling your mustache as well.
Lastly, its scent might not be for everyone. While it is not overpowering, it smells artificial to some extent which is not something we favor. If you want a beard moisturizer with a better scent, then we recommend Proraso Beard Oil. However, as it is an oil, you will lose the stiff hold that this balm provides.
The good
Suitable for all beard types

Can be used for mustache styling as well

Doesn't feel stiff or heavy
The bad
Can feel greasy

Scent can be weird for some
Bottom line
A great beard moisturizer in a balm form that offers control and hydration to the untame.
How we chose these products
As the art of the beardsman has become a really widespread phenomenon, the market for beard moisturizers has grown in recent years. Because of that, it was difficult to decide which products to include on this list.
We tried to consider as many various elements as possible, ranging from moisturizer type to ingredient quality to all of the diverse criteria – such as skin types.
While we believe we've compiled a list of 100% great products, there's always the possibility that we've overlooked something truly exceptional. If you think this is the case, let us know in the comments below.
Different types of beard moisturizers
When we say ''beard moisturizer'', as a general term it can mean many things. It can mean a beard lotion or cream, a beard oil, or a beard balm.
That is why we included all of the three types in our review above. However, many people might not understand how they differ, and when they should purchase which.
This is why we created this section, to shine some light on the confusion that surrounds these beard products.
Let's dive right in!
Beard moisturizer cream or lotion
These types of beard moisturizers are usually water-based, and they don't differ much from a normal face moisturizer. The only difference is that they are formulated to have a more lightweight texture, with the reason to get through underneath the beard better.
They are better used to hydrate and condition the skin underneath the beard rather than the beard itself. This makes it very effective if you suffer from dry skin, itchiness, redness, or rough skin.
Beard lotion is a great product to use in the early stages of beard development when the beard is still a little fuzzy and needs a boost. It relieves irritation, which is common amongst new beardsmen, and aids in the healing of damaged hairs.
Beard oil
Beard oil is the best beard moisturizer type if you want to provide the absolute best hydration to your beard but also take some care of the skin underneath it. As it is an oil, it is very easy to spread out on both hair and skin.
They are great in reducing itchiness, beardruff, and damage to the hair while also keeping the skin underneath it healthy. They are usually formulated with essential oils and, they are oil-based.
So, if you don't suffer from a severe skin-related issue underneath your beard, then beard oil would be a better option than a lotion to get the best of both worlds.
It is suitable for all beard sizes.
Beard balm
Beard Balms, on the other hand, is a thicker version of beard oil. While having similar ingredients, it emphasizes more on conditioning, hydration, and control of your beard.
As it is thicker in texture, it is not very effective if your concern is to hydrate the skin underneath the beard like the other two beard moisturizer types.
Its texture offers a greater hold and control, making it very suitable for medium to long beard types.
What are the benefits of moisturizing your beard?
A beard moisturizer, as you probably know already, is mainly created to hydrate your beard and the skin underneath it. No way Sherlock!
However, it provides a lot more benefits than that.
In this section, we will discuss these benefits further.
1. Hydrates your beard
As I said, I guess no more is needed here.
2. Softens your beard
The intense hydration that a beard moisturizer offers to your beard makes the hair very soft and reduces the chances of becoming rough and dry.
3. Relieves from beard itch
As the beard gets softer, the feeling of itchiness and irritation goes away, resulting in calmer skin.
4. Removes beardruff
Dandruff comes with dehydration and dryness. As your beard and skin get hydrated, you will inevitably notice a reduction in flakiness.
5. Makes detangling your beard easier
Soft beard hair means easier detangling. This means less breakage and fewer split ends.
With all of the above benefits, it is a no-brainer how important a beard moisturizer is for a healthier beard.
5 Tips for using beard moisturizer better
1. Clean your beard within an inch of its life
Before applying any type of moisturizer to your beard, you need to clean it first. Why?
Moisturizers are more effective when the skin or beard is damp and clean, as it is absorbed more easily and thus increase the chances to lock in the hydration better.
2. Apply it before bed…
Applying a beard moisturizer before going to bed has many benefits not only for your beard but also the skin underneath it:
Repair any damage that occurred throughout the day: When you sleep, your body is literally rejuvenating and refreshing itself. So if you apply beard moisturizer before bed, you can take advantage of this.
Minimizes the effect of aging: Usually, beard moisturizers are rich in antioxidants and vitamins A, C, and E which, have strong anti-aging properties. This helps in the long run with premature aging, as they don't only increase the elasticity of the skin but also smooth out the amount of sun damage that happened during the day.
You will wake up with a far better hydrated, more energized look – ready for the day.
3.…but also in the morning
Even after you've got the advantages of moisturizing during a good night's sleep, you should apply a little more in the morning to maintain that healthy sheen and keep your beard moisturized throughout the day.
This is particularly crucial if you live in a cold area where your beard is likely to be subjected to some roughhousing by the environment.
4. Brush it in
Most guys simply apply the beard moisturizer and leave it alone, but if you use a decent quality brush, you can distribute the moisturizer more evenly throughout your beard, allowing it to absorb more efficiently.
5. Apply a little pressure
As previously stated, you're hydrating not only your beard but also the skin beneath it. And achieving the maximum benefit of your lotion requires a little extra pressure to ensure the skin beneath it is effectively absorbing it.
Condition
While this is certainly a personal preference, we'd love to hear what type of beard moisturizer you prefer. Beard lotion, beard oil, or beard balm.
We'd also want to hear your thoughts on the products we've chosen for this review — have you tried any of them? What were your thoughts on it?
Please let us know in the comments section below.
Until next time!