9 Best Beard Trimmers for the Perfect Facial Hair Trim
This post may contain affiliate links. Learn more.
In a hurry? Here are our top picks:
Great beards don't just appear overnight: they require time, discipline, and – most importantly – top quality tools.
Behind every true beardsman lies a pile of great grooming products.
And at the top of that pile? The almighty beard trimmer. You need powerful blades and handy accessories to give you those clean lines and well groomed beards that you see in commercials and on your social media. 
The only problem is, the best beard trimmers are hard to find: there are so many on the market, it really can be tough to tell the difference. On top of that, there are other things to keep in mind, like the overall quality, warranty period, and accessories (trust us, you need a beard comb) that come with the trimmer. 
Which is why we've put together this review: to showcase some of the top beard trimmers money can buy and help you find the perfect product for your specific needs and to further improve your grooming routine. 
We've looked at face trimmers from across the spectrum, trying out every well-known model and comparing the lot – so you know you'll only be getting the best.
And there's more:
We've also got a detailed, illustrated guide to help you use your beard trimmer better; a list of some useful accessories that will help you get more from your beard shaver; and a list of great, popular beard styles you could use your beard clippers to achieve.
But before any of that, we need to understand exactly what you're looking for when buying a trimmer.
Quick summary
Best overall, sharpest beard lines

Braun Beard Trimmer for Men BT7240

Long-lasting battery

AutoSensing technology

39 length settings

Check on Amazon

Best for sensitive skin, battery, traveling

xtava Pro Cordless Hair Clippers and Beard Trimmer

Titanium-Ceramic blades

4.5 hour battery life

Comes with a complete accessory kit

Check on Amazon

Best for thicker beards, professionals

Panasonic Cordless ER-GB96-K Beard Trimmer

Powerful motor

58 length settings

Higher precision blades

Check on Amazon

Remington MB6850 Stubble and Beard Trimmer

Mess-free trimming thanks to a vacuum and fan

Several length settings

Versatile, can be used for mustache, sideburns and neckline

Check on Amazon

Panasonic ER-SB40-K Beard Trimmer

Super fast action motor

Excellent blades for a precise trim

19 length settings for your perfect beard length

Check on Amazon

Hatteker Mens Beard Trimmer Cordless Hair Trimmer

Great battery life

All-in-one trimmer

Easy to maintain

Check on Amazon

Panasonic Beard & Mustache Trimmer ER-GB40-S

Suitable for wet and dry trimming, easy to clean

Perfect for super detailed trimming

Built with an ergonomic rubber grip for control and comfort

Check on Amazon

Remington PG6170 Crafter trim & Detail Kit

180 mins of cordless time thanks to Max lithium battery

12-piece kit of accessories, great versatility

Turbo mode for even more power

Check on Amazon

Conairman Super Stubble Ultimate Flexhead Trimmer

Perfect trimmer for shorter beard styles and stubble

The floating contour shaving head follows the curves of your face

Check on Amazon
Before you buy: 11 Things you have to consider and look for when buying a beard trimmer
1. Battery life
Nothing is more annoying than getting half way through trimming your beard with cordless beard trimmers when, suddenly, your trimmer cuts out on you. Of course, you can avoid such an event by charging it every time you want to use it. But does that really seem like a good use of your precious time?
We'll be honest: many beard trimmers have terrible battery life, and will constantly leave you in this situation. And if you do not want to use something with a rechargeable battery that you have to charge in advance every time you have an important beard day, it might not be the best use of your time, money, or effort. 
Shooting for a trimmer that boasts a solid battery life will solve this problem, allowing you to get tons of use without ever worrying about a mid-trim fiasco. And that is where we come in. We have some of Because the best electric beard trimmers will keep going for hours, thereby saving you valuable time on shaving and charging.. Several trimmers also come with a battery indicator, so that you know exactly how much you need to charge it before you use it. 
We've included several trimmers with spectacular battery life in our list, but Xtava's Pro Cordless Hair Clippers and Beard Trimmer really stand out, offering an exceptional 4.5 hours per charge.
2. Motor
The power of your trimmer's motor is important for two reasons: first, it is generally indicative of quality and durability, meaning a trimmer with a weak motor is not likely to last. We don't want you buying a new trimmer every 3-6 months now, do we?
Our favorite beard trimmers all come with powerful motors that will not snag and tug at your hair while you're trimming and give you a proper, clean cut. 
Secondly, a powerful motor means it will carve through your beard more effectively, so a strong motor is vital for any man who grows thicker, fuller beard hair.
An example of a powerful motor is Panasonic's Beard Trimmer and Hair Clipper which is effortlessly powerful, never making too much noise but gnawing through even the toughest, thickest beards.
3. Usability
How easy is your trimmer to use? This may seem like a silly question –all trimmers are basically the same, right? – but as you try out more and more trimmers, you realize quite how much usability matters.
Much of this is about the design – the handle, the weight, the grip – and that means you're not looking for a single 'thing' but an overall quality of user-friendliness.
Besides this, you get the ear trimmer, the nose hair trimmer, and entirely different options for body trimming. 
A model like Panasonic's Beard Trimmer and Hair Clipper stands out from the crowd, with a truly ergonomic design that makes the process of trimming fast, fluid, and easy.
4. Travel
For men who are constantly on the move, you should know that not all trimmers are equally easy to haul across the country. You need something whose key features specifically mention that it is a popular beard trimmer for travel. 
Many are big, bulky and feature too many parts; others are ideally designed to keep with you on your travels. You need an innovative design with a high-velocity motor, preferably one with an adjustable guide comb attachment to keep your facial hair looking sharp at all times and with minimal effort.
A great example is Xtava's Pro Cordless Hair Clippers and Beard Trimmer which is not only beautifully compact – it also boasts 3 hours' charge time and comes with a nice little travel pouch.
5. Beard length
You need to seriously consider what you're actually going to use your trimmer for: how long do you want your beard to be? And what kind of style do you want it to have? Do you want sharp lines or a more natural looking beard?
Trimmers vary wildly in the number of length settings they provide, and that means some are far better suited to your needs (and far more versatile) than others.
Braun's Beard Trimmer BT7240 for example, offers 39 length settings – which is fantastic. But Panasonic's Beard Trimmer and Hair Clipper features a whopping 58, making it the cordless model choice for men with longer beards.
6. Your skin type
As with any purchase-related to your skin, you need to be aware of your specific needs.
Many men, for example, have relatively sensitive or dry skin and therefore need to make sure they choose a trimmer that will be kind to their skin, based on the kinds of blades and protective qualities it offers.
A good example is Xtava Pro Cordless Hair Clippers and Beard Trimmer which is excellent for sensitive skin as its titanium-ceramic blades avoid any kind of snagging or irritation that could set sensitive skin off.
7. Wet & dry use
Whether or not a trimmer is waterproof is important: for one thing, if it isn't, that massively limits your ability to use it in the shower.
But it's not only that: waterproof trimmers are also far easier to clean and maintain – you just wash them at your faucet! They often come with removable blades that can be washed off easily. 
Panasonic's ER-SB40-K Beard Trimmer is a great example of a trimmer which is good for both wet and dry use, making it versatile and very easy to maintain.
8. Blades
What kind of blades does your trimmer use? How sharp are they? Are these adjustable blades? And will they last?
Good materials to look out for are stainless steel, chromium, and titanium: blades made from these tend to last longer and be more comfortable to shave with. They will also be easier on your skin, making them a better choice than less-expensive trimmers. 
Xtava's Pro Cordless Hair Clippers and Beard Trimmer feature titanium-ceramic blades, which absolutely illustrate this quality.
And if you're looking for extra precision, dual-edged blades may be your best bet.
9. Corded or cordless
As you'll soon see, trimmers are generally either corded or cordless – and both offer benefits.
With a cordless trimmer, you're getting flexibility and freedom, and you can use them wherever you like. However, you are reliant on the battery life lasting the course.
Corded trimmers, on the other hand, tend to offer more power, as well as relieving you of the concern about battery life.
And some of the best facial hair trimmers – like Braun's Beard Trimmer BT7240 – can be used both corded and cordless, giving you the best of both worlds.
10. Attachments
You should consider not just the quality of the trimmer, but what attachments it comes with: does it feature guides? Combs? Brushes? And which of these are most important to you?
Some trimmers barely come with any attachments, but some – like Braun's Beard Trimmer BT7240 – come with tons, and are far more versatile because of it.
11. Value
Finally, it's vital that you get the most value possible from your trimmer.
That doesn't mean simply going for the most expensive or cheapest option – it means thinking seriously about how much you value your grooming tools, and finding a model that combines the quality you want with a price you feel good about.
We've been sure to include products from the entire price range in our list, to give you a clear idea as to what you should expect to pay.
But fundamentally, this is something only you can decide: are you going to feel good about this purchase? And will you get enough use out of the trimmer to justify buying it?
The 9 best beard trimmers
What stands out about this beard trimmer
Multiple attachments for maximum versatility
39 length settings
Autosensing technology for a smoother trim
The best beard trimmer for
Men who want the best overall beard trimmer
Overview
Braun's BT7240 is an absolute marvel: from its smooth design to the smart technology it utilizes, this is, pound for pound, the best shaver for beards.
Consider, for example, its Autosensing technology: this allows the trimmer to read your beard (13 times per second) and adjust the power of the motor accordingly. The effect, ultimately, is to make trimming easier – in fact, it makes it an absolute pleasure.
But there's more than just fancy tricks here: the motor is strong and durable, more than enough to chop through the meanest facial fuzz. The smart features on this trimmer will ensure that you will not need a stubble comb or a beard brush to get a proper, clean trim.
The design of this beard trimmer model is extremely ergonomic: you can use it corded or cordless, and the handle is very user-friendly.
The blades are Lifetime Sharp Metal blades, which are solid, durable, and very easy on the skin. This makes the trimming process feel as easy as a hot knife through butter.
It features 39 length settings, making it great for a variety of needs.
And it even includes a Gillette ProGlide Razor Precision Trimmer, which is perfect for creating crisp, sharp beard neck and cheek lines after a beard trim.
Plus the waterproof design means that you can wash it with water in a couple of minutes, making maintenance simple.
Of course, there are some weaknesses: the battery lasts for 80 minutes, as well as offering a 5-minute quick charge that will give you enough spark for a single shave. While 80 minutes is generally enough for several shaves, the trimmer does have a relatively shorter battery life.
And while this is not the worst you'll find, it may be a disappointment to some and makes it that little more tricky to take on your travels.
Ultimately though, you won't find a better trimmer – or better value, for that matter.
The good
It is exceptionally easy and comfortable to use

The feature and attachments are fantastic

It is truly premium quality and durable
The bad
The battery life is weaker than many on this list
What stands out about this beard trimmer
Titanium-ceramic blades
4.5 hours of battery life
Comes with a travel pouch
The best beard trimmer for
Men who travel a lot, or who have sensitive skin
Overview
Men who travel often struggle with keeping their facial fuzz in check: it's not easy to find a trimmer that is compact enough to take with you wherever you go. And if that's a problem you regularly face, Xtava's Pro Cordless Hair Clippers and Beard Trimmer is the one for you.
For one thing, its compact design is ideal for moving about. You can get a comfortable shave without having to step into a salon or taking up too much space in your bag.
But it also boasts an extraordinary 4.5 hours of battery life, meaning you can take it with you for a business trip with complete freedom of movement and never have to worry about charging.
And to top it all off, it comes with a stylish little travel pouch that makes carrying and storing it easy as pie.
It's more than a travel trimmer though: it also features some very smart technology suited for all hair types. 
For example, the LED Indicator Display shows you what percentage battery you have left, as well as indicating when you need to add lubrication – so that you can drop oil at the right moments and avoid harming your skin.
It's ergonomically designed ensuring that it gives you a comfortable grip, with a lightweight body that makes movement easy and free.
Plus the sharp titanium-ceramic blades are both highly effective and great for sensitive skin.
And it comes with two clipping combs, lubrication oil, a cleaning brush and a charging adapter.
The only drawback, really, is it's not so easy to dismantle and clean.
But if you can look past that, this is a trimmer truly worth considering.
The good
Fantastic for travelling

Great for sensitive skin

Technology is very impressive
The bad
Slightly difficult to clean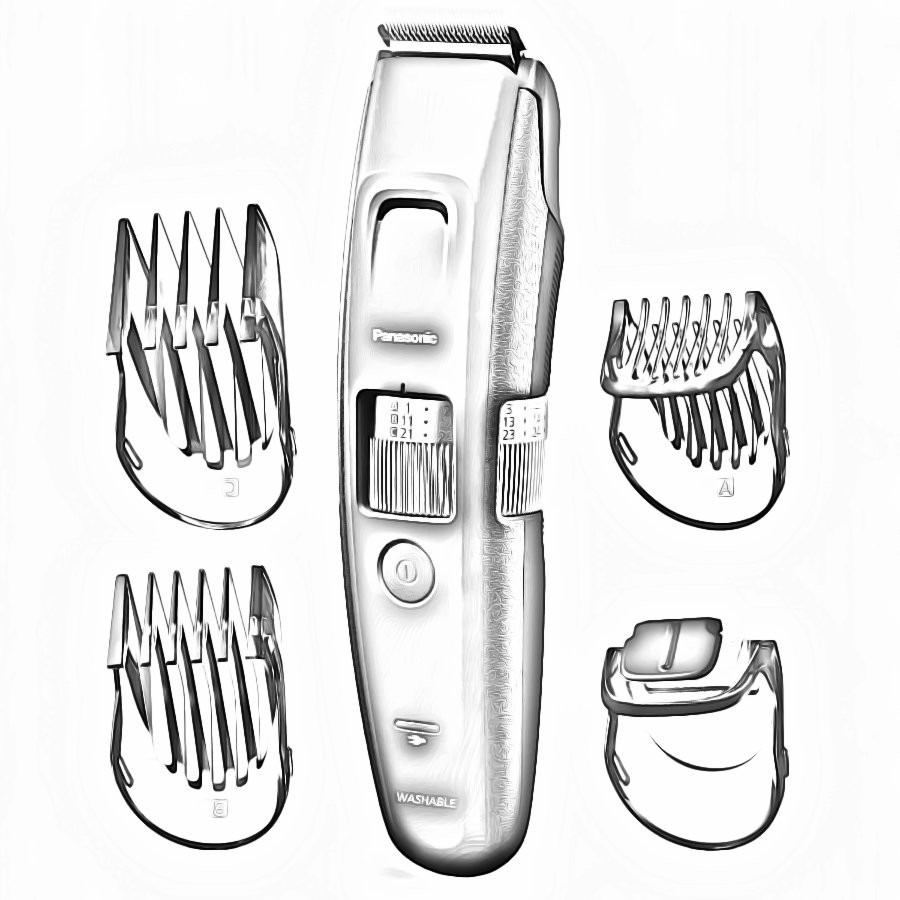 What stands out about this beard trimmer
Powerful motor with advanced blade system
58 length settings
Great ergonomic design
The best beard trimmer for
Men with thicker Beards and Professionals
Overview
Sometimes, your beard really does fight back. Those thick facial hairs really don't want to get shaved, and it takes something on the next level to deal with them.
Panasonic's Cordless ER-GB96-K is the perfect trimmer for those moments: not only is it a professional beard trimmer, it features a supremely powerful motor and precision blades that, quite frankly, your beard won't stand a chance against.
That's not to say you'll just blow through your facial fuzz to a clean shave: Panasonic have included a barrel-style adjustment dial with 58 half-millimeter increments, giving you a level of precision that is quite astonishing. So you won't only get through the thick hairs, you'll be in total control of them.
It features an advanced blade system, too. With wider spaces between the blades, they are both more efficient and safer to use.
You can use it corded or cordless, and the body's textured grip makes it a delight to use.
Plus it comes with 4 comb attachments that slide on and off with ease.
There are flaws, though: for one thing, the battery life is just 50 minutes, which is really quite low (though you'd expect it with such a powerhouse!)
And perhaps more importantly, the price is very high indeed, meaning you'll have to really feel you're going to get some good use out of it to justify the spend.
If you do though, you won't regret it: this is a powerful, durable, and all-round premium product that pretty much every reviewer we've found agrees is sensational.
The Good
The most powerful motor you'll find

Exceptional precision

Really comfortable to use
The Bad
Very expensive

Relatively weak battery life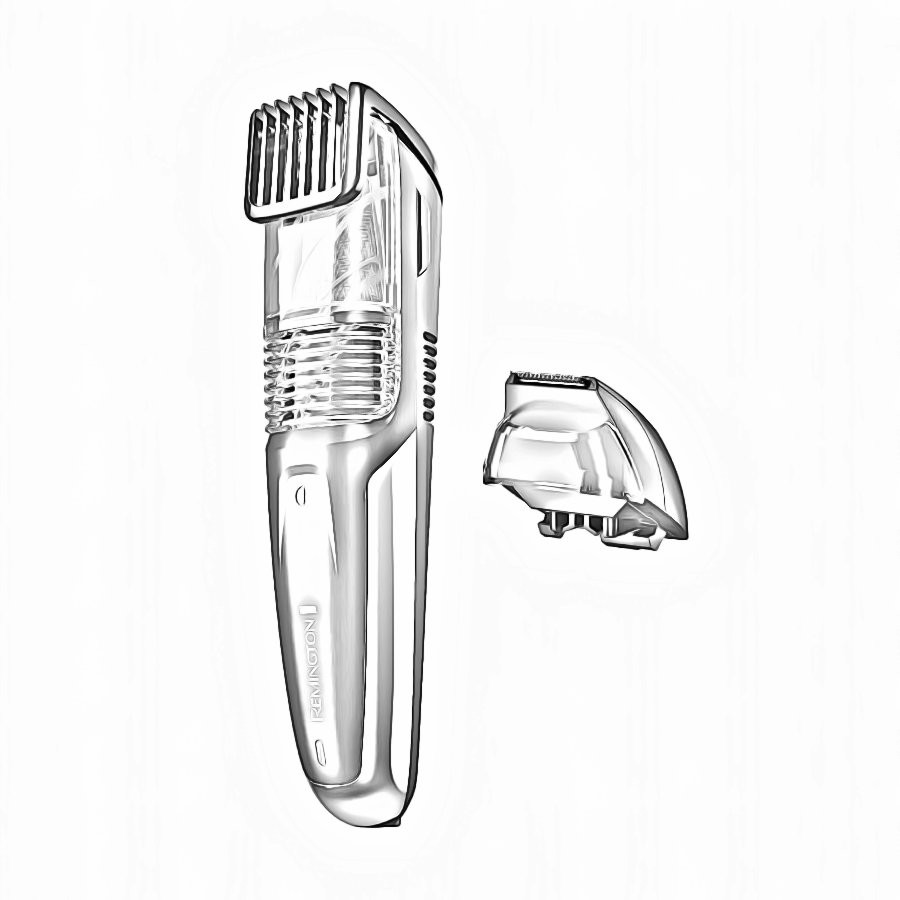 What stands out about this beard trimmer
Powerful vacuum system
11 length settings
Washable blades
Full-size trimmer
The best beard trimmer for
Men who like trimming without the mess
Overview
Trimming your beard can get a bit messy, even if you take every precaution. Clipped hair tumbles to the sink or floor, and few stragglers may appear on your clothes during the day.
The ability to gain control over that mess is one reason that the Remington MB6850 stands out among other beard trimmers.
After all, it features a vacuum system that works as you style and trim your beard to suction out trimmed hair into a collection chamber attached to the trimmer.
The folks at Remington say that the vacuum collects up to 95% of trimmed hairs, which leaves you with minimal clean up after you've trimmed your beard.
While the vacuum system helps separate the Remington MB6850 from many other trimmers, it has several other quality features that make it the right choice for many men.
It comes with self-sharpening steel blades that are washable with water, for one, but it also has an adjustable comb and 11 length settings.
The MB6850 also includes a smaller comb that's ideal for mustache and sideburn trimming, as well as a pop-out mini-blade for additional precision trimming.
The trimmer's rechargeable Lithium power battery provides up to 90 minutes of cordless run time (it does come with a cord, however) and will provide the power you need for several shaves.
The Good
Mess-free trimming thanks to a powerful vacuum and high-velocity fan.

Several length settings help to provide precise trimming and styling of your beard.

You can also use it on your mustache, sideburns, and neckline.
The Bad
Some users say it works best for users with longer, not shorter, beards.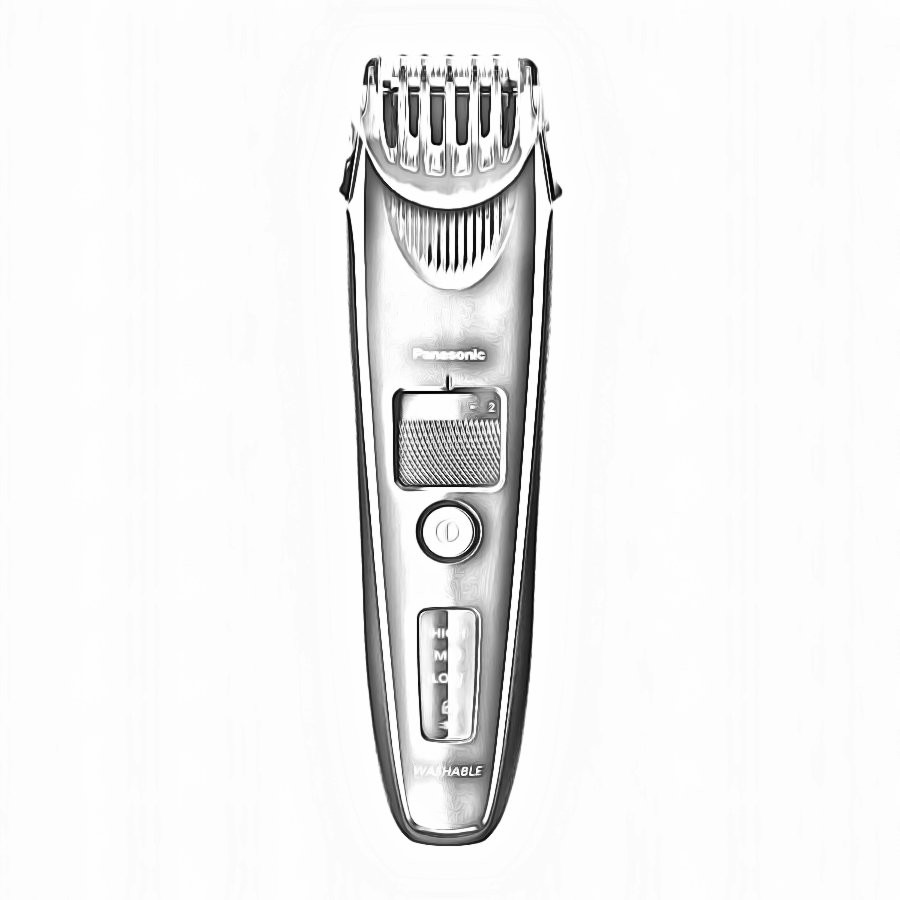 What stands out about this beard trimmer
Features Panasonic's fastest trimmer ever
Good for wet and dry use
19 trimming settings available
Suitable for corded and cordless use
The best beard trimmer for
Anyone who is looking for a precision trim
Overview
Speed isn't everything regarding beard trimmers – and a lot of other things – but it doesn't hurt, either.
It is one reason why the Panasonic ER-SB40-K is highly-rated; it delivers 9,800 cuts per minute thanks to a high-powered linear motor that trims hair quickly and comfortably.
The good news is that all that speed lasts right up until the end of the battery charge. That's not always the case with some trimmers, which start to slow down when the battery power wanes.
The ER-SB40-K motor also powers precision wide-tip blades that help deliver a cutting performance that's second-to-none.
The hypoallergenic stainless steel blades are ultra-sharp and ensure a comfortable, close trim with less irritation than many other trimmer blades.
The blades, combined with the unit's overall speed and power, can cut clean through the unruliest of hair, and even whiskers that lie flat on the skin.
The ER-SB40-K has 19 length settings that help you to customize your look and style via its quick-adjust dial. The lengths range from 0.5mm to 10mm and help you to trim to your exact, desired length.
It also features a snap-on trimmer attachment that attaches easily and quickly over the blade. The attachment allows you to also style and maintains your mustache, sideburns, and even the hair on the head and neck.
The ER-SB40-K's body is sleek and lightweight and features an ergonomic electric trimmer handle that's easy to control and very comfortable.
You can use the ER-SB40-K with or without a power cord. It comes with a Lithium-ion battery that provides up to 60-minutes of trimming power (after an hour charge).
The unit's handle includes a 3-stage power and charge status. Another bonus is that the trimmer includes automatic universal voltage should you travel internationally.
Last but not least, you can clean the ER-SB40-K under the faucet thanks to a water drain located in the water head.
The good
One of the fastest motors that you'll find on a beard trimmer.

The ER-SB40-K blades help you to achieve a precise trim even if you have thick, coarse, or unruly beard hair.

19 length settings from 0.5mm to 10mm make it easier to get your exact beard length.
The bad
The ER-SB40-K battery power doesn't last as long as many other trimmers, including some of the others on our list.
What stands out about this beard trimmer
Multiple attachments
2.5 hour battery life
Self-sharpening blades
The best beard trimmer for
A comprehensive set
Overview
Based on this set, Hatteker understands a simple fact about trimming your beard: it requires far more separate components than most men can be bothered to buy. So they've put together this comprehensive set for you, which features everything you need to keep your beard trimmed to perfection.
In it, you get:
A beard trimmer head
A detail trimmer
A precision dial
A guide comb
6 hair combs
A charger with USB connection
A cleaning brush
And not only is it all-in-one – every component is good quality: from the ceramic-titanium blades – which are self-sharpening to maintain precision and keep the maintenance down to a minimum – to powerful Lithium Ion battery which boasts a run time of 2.5 hours (on just 90 minutes charging time!)
The LCD display makes managing battery life very easy, and the collection guides and different heads are ideal for beginners who are just learning the fine, nuanced art of the beardsman.
The trimmer is a little heavier than others on this list, and that won't be to everyone's taste. But if you can overlook that, this set really does offer exceptional value for money and will give you everything you need to get trimming.
The Good
Comes with everything you need

The accessories are great

Requires very little maintenance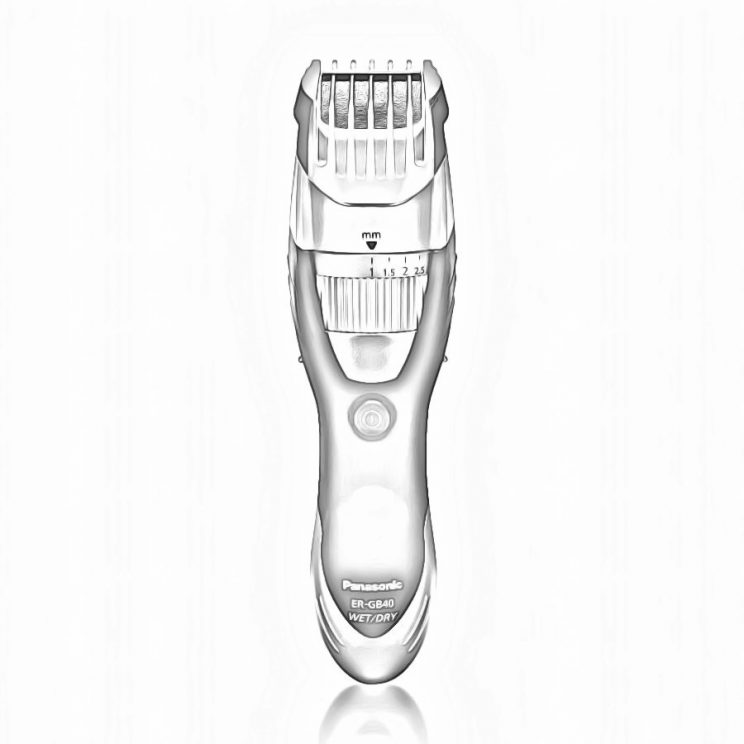 What stands out about this beard trimmer
Easy to adjust for different grooming lengths
45-degree blades
Ergonomic design
Suitable for wet and dry trimming
The best beard trimmer for
Men who are also looking to groom their mustache
Overview
Many brands claim that their beard trimmer also functions perfectly well for other facial hair, such as a mustache.
Many do, but some function better than others – such as Panasonic's ER-GB40-S Beard & Mustache Trimmer.
The ER-GB40-S has a strong reputation for being able to handle edging work while maneuvering easily in tight areas such as around the mustache. We all know how difficult it is getting precise cuts around there.
It features precision 45-degree stainless steel (and hypoallergenic) blades that cut quickly and cleanly.
A quick-adjust beard trimmer dial offers 19 precision settings that make it easier for styling, trimming, cutting, and detailing facial hair.
The ER-GB40-S is ideal for cordless use and has a Ni-MH battery that provides up to 50 minutes of run time on a single charge.
It comes with a charging stand that includes an indicator light and which is easy to store when not in use.
Another we like is that the ER-GB40-S is suitable for wet or dry trimming – whether you're at the sink or on the go.
The unit features an easy-to-open water drain that allows water to drain freely through the trimmer for quick cleaning that takes only a matter of seconds.
The Good
It's great for detail trimming, such as on and around your mustache.

The ER-GB40-S is easy to clean with water, and it's good for wet and dry trimming.

It has an ergonomic rubberized grip that enhances control and comfort.
The Bad
Some reviewers have complained that the ER-GB40-S tugs at their beard.
What stands out about this beard trimmer
Wide range of accessories
180 min cordless charge time
Titanium coated blades
The best beard trimmer for
Total control over your trim
Overview
Remington is one of those brands that are so well-known and successful that it's easy to forget what made them so popular in the first place. Well, if you are struggling to remember, their PG6170 Crafter Trim and Detail Kit will surely remind you.
With 180 minutes of cordless runtime thanks to its Max lithium battery, the PG6170 proves that cordless trimmers aren't always less powerful than their corded brethren. And it combines that power with titanium blades, which are both super-tough and highly precise.
It even feels powerful, with its nice weighty body (though some may dislike this) there's even a turbo mode option, which gives you an extra power boost to blaze through that thick mane which makes the blade glide even more seamlessly.
But then we come to the real selling points: the lovely range of attachments and accessories this gem comes with. A 12-piece kit that includes a detail shaver, nose and ear hair trimmer, detail trimmer, and 10-length adjustable comb. All that, and a set of 5 combs and zip-up bag to boot!
The result is a set which is absolutely ideal for a man with specific needs: whether you're looking to expertly shape your facial fuzz or achieve a super seamless clean shave, you're going to have what you need in this set. The heads are smaller than average and have more of an angle, which makes precise detailing much easier.
And not only is this range of accessories great for men looking for a specific but detailed cut – it's also amazingly simple to use. The blade assembly rarely needs cleaning; the whole thing is 100% waterproof; and shockingly compact, easily fitting into your kit bag!
The Good
Incredible range of accessories which are very intuitive to use

Turbo mode is great

180 mins of cordless battery power
The Bad
There aren't any, really!
What stands out about this beard trimmer
Contoured shaving head
Etched blade technology
Ideal for the shortest beard styles
Waterproof
The best beard trimmer for
Men who prefer the stubble look
Overview
If you struggle to grow a full beard or prefer a less bold beard style, you should consider growing and maintaining a stubble beard. It not only looks good, but many women find it sexy.
And if you're going to rock the stubble style, why not use the best tool to maintain it – namely, the ConairMan Super Stubble Ultimate Flexhead Trimmer?
The latter is an excellent trimmer that helps you to style and maintain any stubble look, including the 5 o'clock shadow, and other minimal beard styles.
It has the precision and power to help you get a well-groomed look that includes a lesser, but no less attractive, patch of beard.
The trimmer's flex head makes it easier to achieve precise trimming while also offering plenty of control and maneuverability. It tracks the curves of your face for extra comfort.
The ConairMan Super Stubble trimmer also
featuresfeathers
etched blade technology, i.e., electrochemically formed blades that offer the ultimate in sharpness and durability.
You can remove the trimmer's flip-back guide comb to use the blades for trimming fine lines and other detailing.
Other features include an LED screen that shows the selected cutting length and how much charge time is left.
You'll get up to an hour of shave time following a full charge, while there's also a quick-charge option that gives you enough power for a single trim.
The Super Stubble Trimmer is waterproof, as well, and is easily rinsed under the faucet and safe to use in the shower.
The Good
You won't find a better trimmer for styling and maintaining shorter beard styles, such as stubble.

The floating contour shaving head follows the curves of your face for extra comfort and control.

Various length settings help you trim to precisely.
The Bad
Some users say the motor is slower than those on other beard trimmers
Selection process: The method to our madness
There are plenty of reasons why the beard trimmers reviewed above are on our' best of' list.
We took into account a lot of factors: each trimmer's versatility, ease of use, the number of (useful) attachments, whether it was good for both wet and dry shaving, and durability.
We also carefully consider the reviews of others, particularly those of customers, as well as personal experience.
The most important factor, of course, is how it did what it's intended to do, i.e., trim your beard and perhaps touch up other areas of your face.
We also look at how much each product costs, and, as with all of our reviews, we want to cover a wide price range. Hopefully, it will help you to pick a trimmer that will serve you well for many years.
The proper way to use a beard trimmer in 6 simple, illustrated steps
While owning a quality beard trimmer is essential for helping your beard to look its best, so is following a sound trimming routine. The following is a routine I use and one that I think I've perfected over time.
1. Wash and Dry Your Beard
The first step is to wash your beard with a quality beard shampoo.
Don't use the same shampoo on your beard as you do on your scalp hair; regular shampoo often contains harsh ingredients that dry out the natural oils that your skin produces.
The result is, as you might expect, overly dry hair. Having dry scalp hair might be terrible, but having dry beard is an absolute negative.
Beard shampoos, on the other hand, don't contain those ingredients and won't dry out your whiskers.
Make sure to work in your beard shampoo similarly as you do with your regular shampoo, i.e., use your fingertips to massage the shampoo down to your skin and onto your beard follicles.
If you don't have the time to wash your beard, you can always use a soft, clean towel to remove excess (but not all) oil, dirt, and grime.
After you've finished shampooing your beard, you should comb it down with a high-quality beard comb.
2. Choose Your Preferred Length and Trim Your Beard
Find the beard length that best suits you while keeping in mind that what looks good on you may look completely different on someone else. Once you've chosen your preferred length, trim all parts of your beard.
Don't be afraid to experiment with different lengths on different parts of your beard. For example, you could use a 6mm length setting on all parts of your beard and a 4mm setting on sides or the intended beard lines.
You can always leave your goatee and mustache longer than your beard.
Whatever trimmer you choose, make sure that it has several different trimmer heads and guards that allow you to trim at various lengths.
3. Define Your Cheek Line
After you've finished trimming the bulk of your beard, remove the trimmer guard and begin defining the cheek line. The best rule of thumb for getting a neat, well-groomed cheek line is to follow its natural line. Try to trim as high as possible.
You should also fade your cheek and necklines with a lower length setting to achieve a more uniform look.
4. Define the Neck Line
Trimming your neckline can be a bit tricky and will leave you looking a bit, well, bedraggled, if you aren't careful. But here's how we do it:
Don't trim too high, but do leave a slight curve.
The hair on your neck that's pointing down should stay, while you should trim the hair that's pointing forward.
Again, fade your cheek and necklines with a lower length setting to create a more uniform look.
5. Use a Razor For Further Definition
Next, you can use a razor to create further definition and to take your beard to the next level appearance-wise. Begin by applying a clear gel on the areas of your cheeks and neck where you just trimmed.
Make sure to use a precise razor, like a good safety razor, or the precision trimmer found on a model such as the Gillette Fusion 5. Doing so can help you to create an even crisper outline and also enable you to shave off the stubble.
A beard shaping tool, such as the Manecode tool listed below, is another way to create an outline and definition that looks like it was done by a professional.
6. Use Beard Oil
Beard oil is something every beardsman should have in their grooming kit, and it's helpful for use on the beard and the parts you've trimmed. It acts as an aftershave and helps to relieve any irritation after you've finished shaving.
4 Useful accessories to elevate your beard to the next level
The following tools will help make your beard look its best:
Creating sharp, crisp outlines for your preferred beard style often requires the use of a razor, and the Gillette Fusion 5 is a godsend in that regard.
The Fusion 5 features a precision trimmer on the back that's ideal for getting to those hard-to-reach areas such as your nose and sideburns while also helping you to sharpen your beard's outlines.
It features Gillette's thinnest, finest blades that create less tug and pull than most other blades.
The razor also comes with an enhanced Lubrastrip that provides additional shaving comfort, and FlexBall technology responds to the contours of your face. The Lubrastrip also gives users a visual cue when it's time to switch blades (it fades to white).
The refill package comes with five anti-friction blades that fit all Fusion 5 razors, and one package will give you a month's worth of shaves, if not more, depending on how often you shave..
A safety razor is another excellent tool for defining the outlines of your beard.
While safety razors require a bit more finesse and technique than, say, cartridge razors or electric trimmers, the Merkur Classic 2-Piece Double Edge Razor is a great choice for anyone new to the safety razor game.
The Merkur Classic 2-Piece razor features a short, extra-thick handle and a heavier shaving head that lets the razor to do most of the work for you. That's a nice feature to have as you learn the art of shaving with a safety razor.
The Merkur razor has a unique two-piece design that's excellent for stability and easy loading. It also features a classic closed-comb, straight bar head design. All in all, it has everything you need to get a shave that's extremely close and irritation-free.
Moreover, the razor's knurled handle provides an excellent grip – another plus for beginners and men with sensitive facial skin.
Another thing to like about the Merkur Classic 2-Piece razor is its durability. But that's no surprise considering that it offers the finest German craftsmanship from a company that's been around since 1896.
Having a good trimmer is great, but you still need to be able to see exactly where your beard outline is while you're shaving.
Anthony Shave Gel for Men makes this possible, while also giving you plenty of lubrication and purchase to avoid making annoying – and potentially painful! – shaving mistakes. It is totally transparent, so you can see exactly where you're cutting at all times.
Plus, it features plenty of nice moisturizing properties to help your skin stay healthy and clean, as well as avoiding irritation. And there's no need for a hot towel with this stuff, either!
If you're serious about making the outlines of your beard more straight or curved, then you should consider purchasing a beard shaping tool.
Why a beard shaping tool? Well, it brings you close to beard grooming perfection – if not reaching it – and helps ease your mind about whether you're leaving the house with a lopsided or sloppy-looking beard.
It's also simple to use and reduces the time you need to create a symmetrical beard.
Fani's Beard Shaping Tool is among the best in the business and comes with a host of accessories, including a two-sided wooden comb, an apron, and mustache scissors.
The Fani's shaping tool is transparent and makes it easy to see your beardscaping efforts.
But you can also use it for your mustache, sideburns, and goatee. The wooden comb is helpful in that detangles and grooms your beard and mustache, while also gently massaging the skin on your face (without creating static electricity).
5 Popular beard styles you can achieve with a beard trimmer
The list of popular beard styles is a long one, and the good news is that you can achieve many of them with the use of a beard trimmer. Here's a look at five styles and a quick look at how you can achieve them.
Full Beard
One would think that the toughest part of creating a full beard is growing it. While that's true, to some extent, especially if your beard itches as it goes through its early growth stages, there's also the matter of maintaining and defining your beard once it becomes full.
While it's growing, use your trimmer to trim your neck hair and the stray hair on your cheeks. Your beard will start to look a bit unkempt after several weeks of growth, so use your trimmer to even it out to get rid of stragglers.
You can begin shaping your beard once it's filled in. Use a longer trimmer setting to trim the hair on your neck while working from the middle to the sides. Trim your cheek line by following your natural growth pattern while adjusting your trimmer for different length settings.
After you've defined your neckline and cheek line, comb your beard out and then use your trimmer to begin shaping it. A good rule of thumb is to increase the trimmer's length settings as you move from your cheeks to your chin.
Remember to shave off any stray hair from your cheeks and neck, and areas below the mouth.
Chin Strap
The chin strap is an ideal style for men with clean, defined jawlines who want to rock a minimal yet bold look.
Trim your beard evenly before you begin shaping it.
Use a precision trimmer to outline an inch-wide strip that extends from each ear down to your jawline. Identify the center point below your jawline and trim along your jaw on either side of your face.
Trim down the hair on your cheeks to create the chin strap. You'll want to use a rotary or foil shaver to shave your cheeks and neck clean.
Van Dyke
Ah, the Van Dyke, a classic beard style that dates to the 17th century. It remains a fairly popular style and is excellent for adding definition to a round face.
Growing a Van Dyke takes some commitment. Start by growing a beard that's just over a half-inch long (you'll have a grizzled look; don't fret if it's a bit patchy because a Van Dyke will still work for you).
After combing your beard downward, use your trimmer (without a guide comb) to create a slanting line from your mustache to your jawline.
Continue both lines before your jawbone and connect with a straight line along your neck.
Remove the remaining hair on your cheeks and neck without getting too close to the outline of your beard and mustache.
Stubble
Many men rock the stubble look, and many women – at least according to various studies – find it to be downright sexy. It's a perfect look for men with baby faces who may struggle to grow a kick-ass full beard, and it helps give a "stronger" look to men with weak jaws.
To keep your stubble at an optimum length, use a 3-4mm setting on your beard trimmer. Remove the trimmer's guard to shave any hair on the cheeks or below your Adam's apple.
You can contour your stubble look by, for example, shave back the stubble in your lower cheek area to give you the appearance of a lower beard line, as well as to elongate a round face.
Goatee
The goatee experienced a surge of popularity a decade ago. While it's not quite as popular today, many men still sport the look proudly. It's another easy-to-create style for men who struggle to grow a long beard.
Use the trimmer's edging blade to trim whiskers, so they ride just above the edge of the upper lip and from trimming down the side.
Decide where you want your goatee to end – usually just beneath the jaw bone – and trim accordingly.
Use a razor to keep your face clean-shaven around your goatee.
Frequently asked questions
What is a beard trimmer?
A beard trimmer is an invaluable grooming tool that allows users to clean up and trim beards to a certain length, or for even getting a closer shave without making contact with the skin. They're a must have for any man who likes to take his grooming seriously. 
Trimmers are excellent for maintaining beard hair to a particular length.
With trimmers, you cut from the beard's surface rather than cutting from the base (skin) as you do with electric shavers.
Trimmers have replaced scissors as the most popular beard-scaping tool.
How does a beard trimmer work?
Beard trimmers are powered by a motor – that runs on electricity or chargeable batteries – that oscillates the cutting blades.
An important feature of any beard trimmer is a comb that allows you to cut to a specific length. Combs can be either adjustable or fixed.
A trimmer's comb lifts the hair to allow the cutters to do their work.
How do you choose a beard trimmer? Which should you buy?
Some criteria to keep in mind when choosing a beard trimmer include the materials from which it's made, its extra features, wet & dry trimming capability, corded or cordless use, and more.
Check out our reviews of the 9 Best Beard Trimmers (above) for excellent buying options.
How do you use a beard trimmer?
Using a beard trimmer is part of a multi-step process that includes washing your beard, deciding its length, defining the cheek and necklines, using beard oil, and utilizing all of the trimmer's features. Brush off any excess hair before you begin.
Check out our section above about how to trim your beard properly in 6 steps.
How do you clean a beard trimmer?
Cleaning your beard trimmer is essential for ensuring that you get the most life from it. You want to make sure that you remove clogged hair from between the trimmer's blades while also oiling between the blades. You can clean many trimmers with water, but be sure they're waterproof before you stick them under a faucet, to avoid water damage.
How do you sharpen a beard trimmer?
The best method for sharpening a trimmer's blades is by running it over a coarse sharpening stone. Most hardware stores carry sharpening stones, or you can order them online. Move the blade in a forward motion across the surface of the stone five or six times.
How do you oil a beard trimmer?
Many beard trimmers require oil to keep them running properly and to prevent them from wearing out too quickly. Place a few drops of oil on the blades and then run the trimmer for about 20 seconds to ensure that the oil is distributed evenly.
How do you use beard trimmer attachments?
Attachments help make your beard trimmer more versatile while enabling you to achieve a variety of beard designs.
Most attachments include guards of different lengths; which one you choose depends on the section of the beard that needs trimming and how much you want to trim.
Other attachments include edgers, which cut closer to the skin and are excellent for shaping goatees, mustaches, and sideburns.
How do you disinfect a beard trimmer?
The first step in disinfecting a beard trimmer is to remove any loose hair, preferably with a cleaning brush that comes with your trimmer. Clean the surface of the trimmers with an alcohol wipe, while you should also soak its attachments in a liquid disinfectant.
Can a beard trimmer be used for body hair?
It depends on how you use it. If your goal is to shave your body hair, then an electric shaver is your best bet. But a beard trimmer can serve double duty if you're using it to prepare a part of the body for a full shave.
Beard trimmers may be more sensitive on certain parts of the body, so choose a trimmer that has a reputation for precise trimming without causing skin irritation.
Can a Beard Trimmer Be Used for Head Hair?
No rule says that you can't use a beard trimmer on your head hair, but, like using it on your body, it shouldn't be your tool of choice for giving yourself a haircut. The blades on beard trimmers are generally thinner than on hair trimmers and don't work as well on longer hair, especially if it has a lot of volume.
Can I Use a Beard Trimmer to Shave My Head?
Yes, you can, but there are better tools to use when shaving your head besides beard trimmers.
Hair trimmers make it easier to get a smooth finish when shaving your head, although a beard trimmer works OK for leaving you with a stubble look on your dome. Just go slow and easy.
Can You Use a Beard Trimmer on Pubic Hair?
Your best bet for trimming your nether regions is to use a trimmer that's designed for the job.
For one, they're usually easier to handle in sensitive areas of your body where control is everything. Also, you don't want to pass bacteria from other parts of your body to your pubic region, and vice versa.
Can a Beard Trimmer go in Hand Luggage?
Not only are electric trimmers and razors allowed in checked baggage, but you can also carry them on the plane as part of your hand luggage. By contrast, straight razors and safety razors aren't allowed on a plane unless the blades are removed.
Which Beard Trimmer is Best?
There are plenty of quality beard trimmers on the market from which to choose. The best ones are convenient to use, have plenty of helpful attachments, and the power to trim even the thickest, coarsest beards. Take a look at our 9 Best Beard Trimmers sections for ideas.
Which Beard Trimmer Gives the Closest Shave?
We think all of the trimmers in our reviews provide a close shave, so it's tough to single one out. But the Panasonic Cordless ER-GB96-K stands out thanks to its great precision blades.
Which Beard Trimmer Length Should I Use?
The answer depends on the desired length of your beard. In any case, it's best to start with a longer trimmer setting and then use a shorter trimmer guard if you want to take more off.
Which Beard Trimmer is Best for Stubble?
If stubble is your preference, then do yourself a favor and check out the ConairMan Super Stubble Trimmer above. It's designed specifically for stubble and other shorter beard styles and utilizes Flexhead technology that adapts to your face's unique contours.
Which Hair and Beard Trimmer is the Best?
More props to the xtava Pro Cordless Hair Clippers and Beard Trimmer because you can use it on your scalp hair and beard hair and get the same exceptional results.
Which Brand of Beard Trimmer is the Best?
It might be a stretch to declare one beard trimmer brand better than the rest, but you do see many of the same ones popping up in reviews of the best trimmers: Philips Norelco, Remington, Panasonic, Wahl, and others.
Where to Buy Beard Trimmers?
Many major retailers around the world carry beard trimmers – Walmart, Target, etc. – but you can also purchase them online, including through Amazon. Here's a link to some of Amazon's best-selling beard trimmers.
Where to Use a Beard Trimmer?
The most common place to use a beard trimmer is in the bathroom, either over the sink or in the shower, if your trimmer has wet-dry capability. The main point is to have a receptacle to catch the whisker clippings.
When Should You Oil a Beard Trimmer?
There's no harm in oiling your trimmer before every time you use it, but at the least, you should oil it every few uses. You can put a few drops of oil on the blade after trimming.
When Should You Use a Beard Trimmer?
You can use a beard trimmer to trim away stray, flyaway hairs, especially if you have a longer beard. But you can also use it to shape your beard and define your neck and cheek lines.
What Beard Trimmer do Barbers Use?
Professionals use a variety of trimmers and tools, but the Panasonic Cordless ER-GB96-K Beard Trimmer is one that's favored by many barbers. You can also use it at home and get the same results thanks to multiple attachments and length settings that make the job easier.
What Kind Of Oil is Best For a Trimmer?
Beard oil needs to be lightweight and able to withstand very high temperatures, and many trimmers come with oil designed for the job. Natural alternatives include vegetable or olive oil; do not use standard motor oil.
What's a Good Beard Trimmer With a Vacuum?
The Remington MB6850 Stubble and Beard Trimmer, which you'll find in our reviews above, includes a powerful vacuum system that captures up to 95% of trimmed hair. It seriously reduces the clean-up time after trimming.
What is the Best Trimmer With Guards?
Many beard trimmers come with guards and attachments that make it easier to get the style and precise detailing that you desire. The Remington PG6170, listed above, is an example of a quality trimmer with multiple guards.
What is a Good Trimmer With a Charging Dock/Stand?
Charging docks make it more convenient to keep your beard trimmer at full charge while also offering easy storage. The Conairman Super Stubble Ultimate Flexhead Trimmer, listed above, comes with a charging dock that takes up little space.
What is a Trimmer With a USB Charger?
USB charging capability makes it easy to keep your trimmer at full power, whether you're in the comfort of your bathroom or on the road. There are USB ports pretty much everywhere now, so charging wouldn't be such a bother anymore. The Hatteker Mens Trimmer is a great trimmer with USB compatibility.
What Trimmer Has a Precision Trimmer?
The Panasonic Cordless ER-GB96-K Beard Trimmer, favored by many professional barbers, includes a precision trimmer that's helpful for detail and edge work such as your sideburns, mustache, and even your eyebrows. But many other trimmers include precision trimmers, as well.
What Beard Trimmer Has the Longest Setting?
Among beard trimmers with the longest settings is the Panasonic Cordless ER-GB96-K Beard Trimmer.
What is the Best Corded Trimmer?
Many trimmers feature cordless and corded use. It's hard to beat the convenience of cordless trimming, but you do have to be aware of how much battery power you have left. The Panasonic ER-SB40-K is one trimmer that's ideal for corded use (and cordless).
What's the Best Trimmer With an Adjustable Head?
With 23 pieces included in its kit, the Philips Norelco Multi-Groomer 7750 makes it simple to adjust your trimmer to get the trim you need and at the length of hair that you desire.
What's the Best Trimmer to Trim Pubic Hair?
Many of the trimmers on our list are suitable from trimming "down there," but we have to give props to the Philips Norelco 1100 Series for being the best for that type of manscaping. Among other features, it includes an integrated body, protector guards.
What is the Best Beard Trimmer for Sensitive Skin?
Most of the trimmers listed in our reviews are suitable for use on sensitive skin, but the xtava Pro trimmer stands out because of its ceramic blades, which many shaving experts say provide a close shave without irritation.
Which Wahl Beard Trimmer is the Best?
Wahl has an excellent line of trimmers, which makes it hard to pick the best of the bunch. But the Wahl 9818 has many great features – including self-sharpening blade, four attachments, and 12 T-Blade combs.
What is the Best Trimmer for Longer Beards?
The Panasonic Cordless ER-GB96-K Beard Trimmer has integrated control settings that allow you to manually adjust the blade height, which makes it handy for trimming longer beards.
What is the Best Beard Trimmer for Thick Beards?
Trimming thick beard hair is often a challenge, but the Panasonic Cordless ER-GB96-K Beard Trimmer has 58 length settings along with sharp precision blades that make it easier to trim thick beard hair without pulling and tugging.
What is the Best Beard Trimmer and Shaver Combo?
The Remington PG6170 trimmer enables you to trim and shave from head to toe. It's also a great manscaping tool.
Beard Trimmer or Razor?
Beard trimmers and razors can co-exist because they serve different functions. Trimmers are best at maintaining facial hair at a certain length and trim from the top. Razors and electric shavers are the tools of choice when trimming down to the skin.
Beard Trimmer or Scissors?
Beard trimmers have replaced scissors as a favored grooming tool over the past several years because they're less risky to use and generally offer a more precise cut. They're also less tiresome and tedious to use.
Beard Trimmer or Hair Trimmer?
The biggest difference between hair trimmers and clippers is usage. Beard trimmers have a thinner blade and cut close to the skin but aren't as effective in trimming and defining the thicker hair on your head. Hair clippers are ideal for cutting and shaping longer hair.
Should I Use a Trimmer to Shave With or Against the Grain?
Cutting against the grain means that you'll cut more hair than you would be cutting with it. That said, longer beards should be trimmed in the direction of hair growth while you can trim shorter styles in either direction.
Beard Trimmer or Body Groomer?
Many beard trimmers are also suitable for use in other areas of the body, including your chest, legs, back, and groin area. But dedicated body groomers may provide better control when trimming in more sensitive regions.
Beard Trimmer or Stubble Trimmer?
Stubble trimmers and beard trimmers are very similar – and in some cases, your beard trimmer might work OK for maintaining stubble – but stubble trimmers are designed to maintain short facial hair. Most stubble trimmers allow you to go down to 0.5mm in length.
Can I Use a Beard Trimmer in the Shower?
The answer is a resounding yes – as long as the trimmer is waterproof, that is. And many are, which makes it easy for wet & dry use. Plus, you can clean many beard trimmers by simply running them under the faucet.
Best Beard Trimmer Under $50?
The Remington MB6850 Vacuum and Stubble Trimmer is an excellent buy at just under $50. It helps you style and your trim your stubble and vacuums away the stray hairs when you've finished.
Best Beard Trimmer Under $200
You can find a lot of great trimmers for under $200, not the least of which is the Braun Beard Trimmer for Men BT7240, a highly-effective trimmer with sharp blades and a powerful motor.
Best Beard Trimmer Under $30
While it may not have all the bells and whistles of other trimmers, the Philips Norelco GoStyler Trim and Shape trimmer is an excellent budget choice. It features Dual Cut technology and three precision beard combs.
What Are Some Beard Trimmer Tips?
Some good advice for using your beard trimmer includes finding the ideal beard length for you, maintaining your trimmer by keeping it clean and well-oiled, and starting long and finishing short when shaving. Remember to remove the guard for shorter styles.
Can I Use a Beard Trimmer on My Eyebrows?
Yes, you can, although it can be tricky. You don't want to trim too short or leave your eyebrows overly bushy.
Prepare your' brows by using a fine comb to comb them upward and then use a trimmer to get rid of the longer ones. Use a length guard to trim your eyebrows further.
Why Does My Beard Trimmer Keep Pulling My Hair?
Your trimmer may be pulling your facial hair because the blades need oiling or because you need to replace the blades or sharpen them. Try applying a couple of drops of oil to the blades first to see if that helps.
What is a Good Trimmer Apron?
Beard aprons abound, but you can't go wrong with Beard King's Grooming Cape Apron for Men.
How is a beard trimmer different from other trimmers, clippers, and shavers?
A beardsman who is serious about looking good has many tools in his grooming kit. A beard trimmer, for one, but also an electric razor, hair clippers, a stubble trimmer, etc.
But what's the difference? Can't we use just one tool to take care of at least most of our hair trimming needs?
The answer is no – because they serve different needs:
Trimmer vs. Shaver
A beard trimmer is what its name suggests – its job is to trim your beard and maintain it at the length you desire. Trimmers aren't used to shave your hair clean and down to your skin, like an electric razor. In fact, a trimmer's blades should rarely, if ever, touch your skin.
So, if you're looking to keep your beard trimmed for a certain look, your trimmer is the tool you need. If you're looking for a clean and smooth look, reach for your shaver. You won't get that look with your trimmer.
However, many shavers and trimmers today are good for both wet and dry use. Furthermore, you can use water to clean them more thoroughly than you would with dry cleaning.
Beard Trimmer vs. Stubble Trimmer
Here's where things get a bit foggy. After all, if you're using a beard trimmer to maintain a certain length of hair, doesn't it stand to reason that it could be used to maintain and trim stubble, as well?
The answer is no – at least if you're looking for the perfect stubble look.
Many beard trimmers can't give you ideal stubble, and your best bet is to buy a stubble trimmer meant for the job.
The biggest difference between the two is in the settings. A stubble trimmer can trim facial hair extremely short – short enough to give you the 5 o'clock shadow look if you so desire.
But, it's important to note that some beard trimmers can give you a very good stubble look. Not all of them, however.
Beard Trimmer vs. Hair Clipper
There are some similarities between a beard trimmer and hair clippers but also plenty of differences.
Hair clippers are designed to cut longer hair and typically come with several attachments to help you do the job. They're also made to cut larger chunks of hair more quickly and usually don't cut very close to the skin.
A beard trimmer, as we've seen, is not designed simply to cut long hair. And, again, a beard trimmer can cut the hair close, if needed.
Conclusion
A beard trimmer is an invaluable tool to have for maintaining your beard properly while helping to look its best. And many of them serve multiple functions and work well for trimming and shaving other parts of your body.
In this article, we talk about the best trimmers available on the market today, including what goes into making a good trimmer, and which option is the best beard trimmer for people with different requirements. Power, portability, ease of maintenance, and battery life have all been taken into consideration in this article. 
What beard trimmer do you use? Why do you like it? As always, we'd love to hear from you. If you are interested in similar topics about men's grooming, please feel free to check out our other articles, as well!