5 Best Stubble Trimmers for the Shortest Perfect Beard
This post may contain affiliate links. Learn more.
Facial hair has not only been a statement of style, but also of identity ever since mankind started taking fashion seriously. 
And it continues to this day. Your choice in beard styles can make a great first impression by showing off your masculine appeal, no matter what social or professional situation you're in. 
However, it's not entirely feasible to visit a salon every time you need a cut. In this article, we review the best stubble trimmers you can buy today and help you pick out the best one based on the type of user you are. A quality trimmer can change the way you think about facial hair, and indeed, yourself. It can save you a lot of time and energy, and help you take your grooming more seriously. 
In a hurry? Here are our top picks:
Stubble is one of the most popular looks for men today.
But too many men seem to assume that simply leaving their facial hair to grow for a few days is all it takes to cultivate a stylish, GQ-ready stubble. Life isn't that easy.
The best stubble trimmers are a godsend to men – not only do they help you achieve perfect designer stubble, but they are also affordable, versatile, and above all easy to use. An effective stubble trimmer will get you the shape and size you need without any hassles. 
And in this review, we've rounded up the 5 very finest stubble shavers you'll find anywhere. These are from excellent trimmer brands, and have the best quality of materials used in their construction.
But we know just having the best trimmer isn't always enough. You need to know how to use it in the grooming process. You also need to know which type of trimmer to use based on your beard type.
So we've also put together an illustrated guide to help you trim your stubble better, as well as a short explanation as to what makes each type of trimmer distinct.
But before all that, let's make sure you understand exactly what it is you're looking for with a face trimmer.
Quick summary
<!—INSERT CODE BELOW—>

Best Overall, Precise Trimming

Conair Man Super Stubble Ultimate Flexhead Trimmer

Ergonomic, extremely usable design

Advanced blade technology

Minimal maintenance is required

Check on Amazon

Best for Versatility, Battery Life, Traveling

Philips Norelco Multigroom Series 7000

Versatile, includes a variety of accessories

Can be used corded or cordless

Battery that lasts up to 5 hours when fully charged

Check on Amazon

Best Affordable, Value

Conair Man I-Stubble Ultimate Flexhead Trimmer

Affordable option, good value for money

Easy to change settings and adjust lengths

Blades cut with precision, quickly and cleanly

Check on Amazon

Philips Norelco Beard Trimmer Series 5000

Life & Trim PRO system

Sharp DualCut blades

40 adjustable length settings

Check on Amazon

Remington MB6850 Vacuum Stubble and Beard Trimmer

Self-sharpening blades

Can be used corded or cordless

Features a vacuum chamber that collects trimmed hair

Check on Amazon
Before you buy: 11 Things you have to consider and look for when buying a stubble trimmer
1. Motor power
With any electric trimmer, you need to be aware of the power you're working with; not only does it affect how well the trimmer works, it also affects how easy it is to use, and how efficient it will be.
Many trimmers on our list – like the ConairMAN's Super Stubble Ultimate Flexhead Digital Trimmer – have exceptionally powerful motors. And if you're looking for a hassle-free experience, this should be a major consideration.
2. Length settings
To achieve a very specific, detailed stubble, you need a trimmer that allows granular precision. And that means it must offer plenty of variation in length settings, so you are in complete control of your stubble's length, texture, and shape. A lot of men prefer a different length and style for work, and might want to switch their looks up over seasons.
A great option in this regard is Philips' Norelco Beard Trimmer Series 5000 , which provides 40 different length settings, going from 0.4mm all the way to 20mm, making it great for both long beards and very short, intricate stubble.
3. Cord or Cordless
You need to determine whether you want a cordless trimmer or not – and how important it is to you. Being able to use the trimmer anywhere, and move it around with total freedom, is vital for many men. On the other hand, a corded trimmer will give you more power and no danger of the battery running out.
Again, Philips Norelco Beard Trimmer Series 5000 is ideal here, as it can be used both whilst charging and cordless, giving you control over when and how you use it. This gives it an excellent advantage, as you don't run the risk of running out of juice, and the cord does not restrict your freedom of movement. 
4. Can you travel with it?
How big is your ideal trimmer? Do you need to travel with it? And is it important to be able to?
Just the size of your trimmer is not the only thing you need to keep in mind, as you also need something with a large rechargeable battery. If a trimmer can provide a long battery life for efficient beard trimming, you do not need to carry your charger around with it.
If you travel a lot or simply want to be able to, you should take this into consideration when buying your trimmer, as some are harder to transport than others. And some actually come with a full travel bag. With a portable trimmer, you can always do your grooming on the go whenever you're away from home.
5. Design and build quality
Clearly, you want to be conscious of the quality of construction and design, and that means you'll need to learn a little bit about how it's made and where it comes from.
A trimmer like ConairMAN's Super Stubble Ultimate Flexhead Digital Trimmer is very obviously well-constructed and features several smart design features like its flexible shaving heads.
6. Battery life
Battery life matters: having your trimmer run out mid-shave is such a pain, and the longer battery life, the less often you need to worry about that.
A standard battery life would be around an hour, and anything beyond that is great. Some trimmers also charge faster, and others like Philips Norelco Multigroom Series 7000 , boast a mammoth 5-hour battery life.
7. Wet or Dry shaving
Whether you like to shave wet or dry matters when picking a trimmer, as not every product is built for both. Trimmers that do work for both are of course ideal, but if you only ever shave wet, or only ever shave dry, you should be very conscious of this when making a purchasing decision.
8. Your skin and hair type
Any time you're buying grooming products, you should be hyper-aware of your specific needs. And with a trimmer, it's your skin and hair type that matters most.
If you have particularly sensitive skin, for example, you'll want hypoallergenic blades that protect your skin; equally, if you have particularly thick facial hair, you'll need a very powerful motor to chop through it effectively.
9. Cleaning and maintenance
The best stubble beard trimmers are easy to clean and maintain. You shouldn't be spending your weekends scrubbing your grooming stuff – it should take no more than a few minutes if that.
Look for trimmers that are waterproof – like ConairMAN's Super Stubble Ultimate Flexhead Digital Trimmer – as they can simply be washed at the sink in no time.
10. Versatility
While it's most important that you have a stubble razor that can actually achieve the look you want, it's also important to think about how versatile your trimmer is – can it work on other parts of your face? And are you, therefore, getting great value for your money? If there is a particular way in which you shape your beard, getting a precision trimmer is the way to go. 
11. Usability 
While most trimmers work in essence very similarly, there is huge variation in how easy and intuitive they are to use.
For example: ConairMAN's Super Stubble Ultimate Flexhead Digital Trimmer has a memory function, meaning it remembers your preferred length settings. This makes it much quicker, easier, and more pleasant to use.
The 5 best stubble trimmers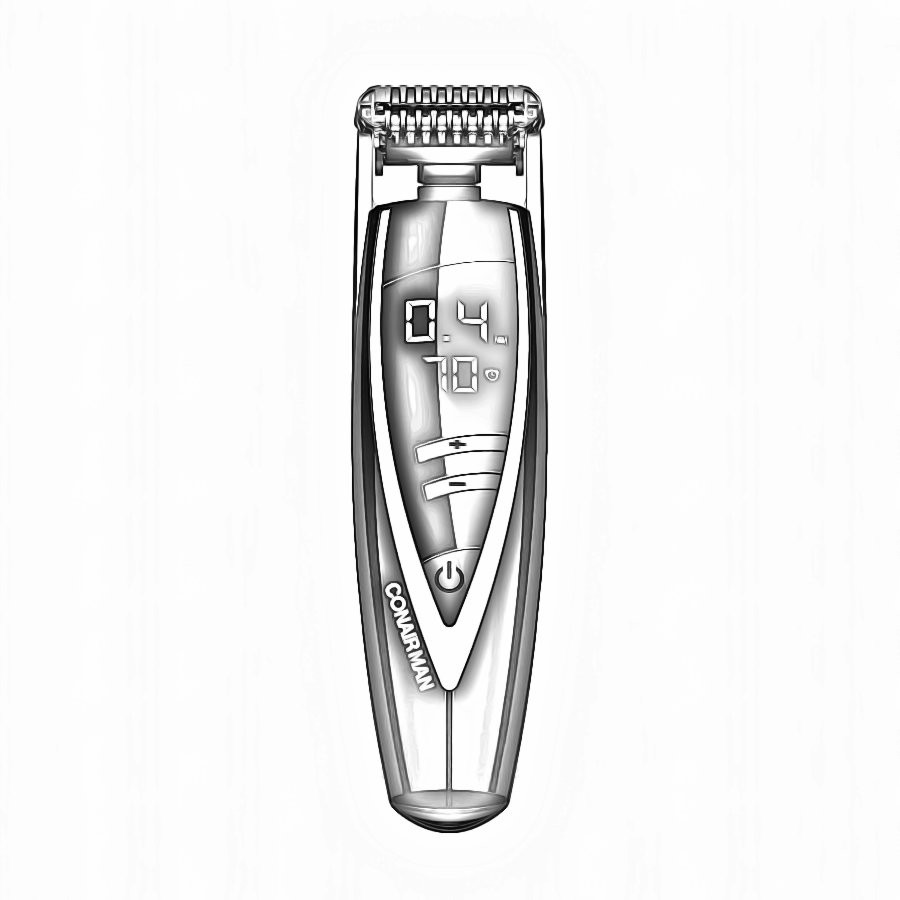 What stands out about this stubble trimmer
Powerful motor
24 settings length settings, from 0.4mm to 5mm
Flexible shaving head for unmatched accuracy
Remembers your length settings
100% waterproof
The best stubble trimmer for
Men who want the best overall beard trimmer for stubble
Overview
ConairMAN is an exceptional brand with a history of producing great products. But even for them, the Super stubble Ultimate Flexhead Digital Trimmer is a homerun.
Not only does it feature a supremely powerful motor that will slice through even the toughest, gruffest facial hair you can throw at it – it also features a bunch of smart design innovations that make it the best overall beard trimmer you'll find anywhere – both offline and online.
First of all, it's extremely easy to use: The flexible shaving head adjusts to your face and allows for a more accurate, easy shave. And the display continually tells you what length you're shaving at.
Combined with the memory technology, which allows the trimmer to remember your favored length settings and automatically instantiate them, it makes trimming your stubble an absolute delight.
And the ergonomic design makes it not just easy but comfortable to use, too.
It features 24 length settings, going from 0.4mm to 5mm, which means you can achieve a very detailed, designer stubble look or simply give your full beard a little haircut. And the flip back guide comb makes fine-line trimming and detailing simple and convenient.
It's also beautifully constructed and highly durable, meaning the admittedly rather steep investment will pay dividends in the long term, as the trimmer just keeps ongoing for years.
The lithium-ion battery is rechargeable, too, which is great. And you can use it totally cordless for full control and freedom when shaving.
And it's easy to look after and maintain because it's 100% waterproof.
The only tiny drawback is it doesn't work quite as well with dry shaves as it does with wet ones.
The good
Exceptionally easy to use

Very precise and powerful

Maintenance is minimal

Waterproof
The bad
Doesn't work perfectly when dry shaving
What stands out about this stubble trimmer
Up to 5 hours battery life
All in one kit, versatile
Waterproof
The best stubble trimmer for
Men looking for a versatile all-in-one electric razor that has unrivaled battery life.
Overview
Philips Norelco is included two times in our review of best stubble trimmers and not without a reason. It is a brand that specializes in manufacturing electric shavers since 1939 and, nowadays it is very trusted worldwide.
Philips Norelco Multigroom Series 7000 is the best trimmer we've found that covers both versatility and battery life.
Let's explain why.
It comes with 19 trimming attachments which help you cover all areas of your body, including beard and hair. It even includes specific stubble guards making shaving an enjoyable experience. What else could you ask for?
If you thought great battery life then, Philips Norelco has you covered as well. When fully charged, it can last up to 5 hours, which is something very unique when it comes to a trimmer. If that isn't amazing, what is?
Oh, there's more!
In the unlikely event that you run out of battery, you can even use it while charging. No wasting your time for the battery to recharge.
Additionally, it is also 100% waterproof which offers great convenience if you like to shave in the shower. Being waterproof also means quicker and easier cleaning, which is always a plus.
As for the motor and blades, we have to say we were amazed by their performance. The blades were sharp enough to cut even thicker beards without any issues.
What acted as a drawback for us is that you cannot buy any additional guards separately if you need more length sizes. That means you are stuck only with what you got, which can be a little bit frustrating for some.
Nevertheless, this is a great trimmer that is definitely worth every penny!
The good
Can be used corded or cordless

Powerful motor

Comes with a lot of accessories for beard, stubble, head, and nose cutting

Comes with a versatile all-in-one kit
The bad
You can't buy additional guards for more size options. You are stuck with what's in the box.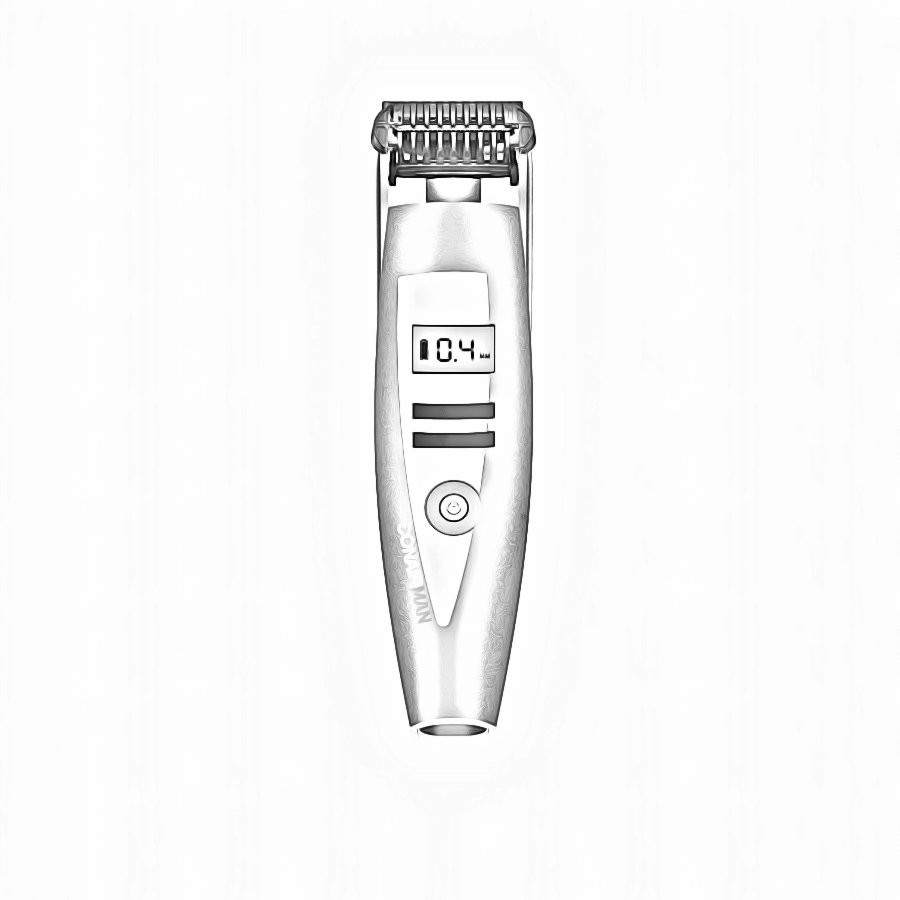 What stands out about this stubble trimmer
15 length settings
Cord & cordless use
Great price
The best stubble trimmer for
Men who want a precise, powerful trimmer but don't want to break the bank
Overview
As the name suggests, the I-Stubble Trimmer comes from the same family tree as the Super I-Stubble trimmer. As it also suggests, Conair clearly knows what it's doing when it comes to stubble trimmers.
There aren't a lot of differences between the two Conair trimmers, and you really can't go wrong with either one.
They share the same electro-chemically formed blades that are accurate, sharp, and durable, they both have a unique floating head for precise contouring, they both have an ergonomic design that feels good in your hand and is easy to maneuver.
However, the I-Stubble is not waterproof, and thus, cannot be rinsed under the faucet.
The differences? Let's take a quick look:
The I-Stubble has 15 settings instead of 24
The I-Stubble is both cord and cordless
The I-Stubble's run time is 45 minutes instead of the 70 minutes you get with the Super I-Stubble. It also needs a four-hour charge to bring it back to full power; the Super-I Stubble needs an 80-minute charge.
The I-Stubble is not waterproof
Other than that, these trimmers are very much alike and very effective. One has a few more bells and whistles, but we think you'll be well-served by both of them. Here's another look at the I-Stubble trimmer:
The good
Blades cut fast and clean

Very affordable

Easy-to-set adjustable lengths
The bad
Shorter battery life

Not waterproof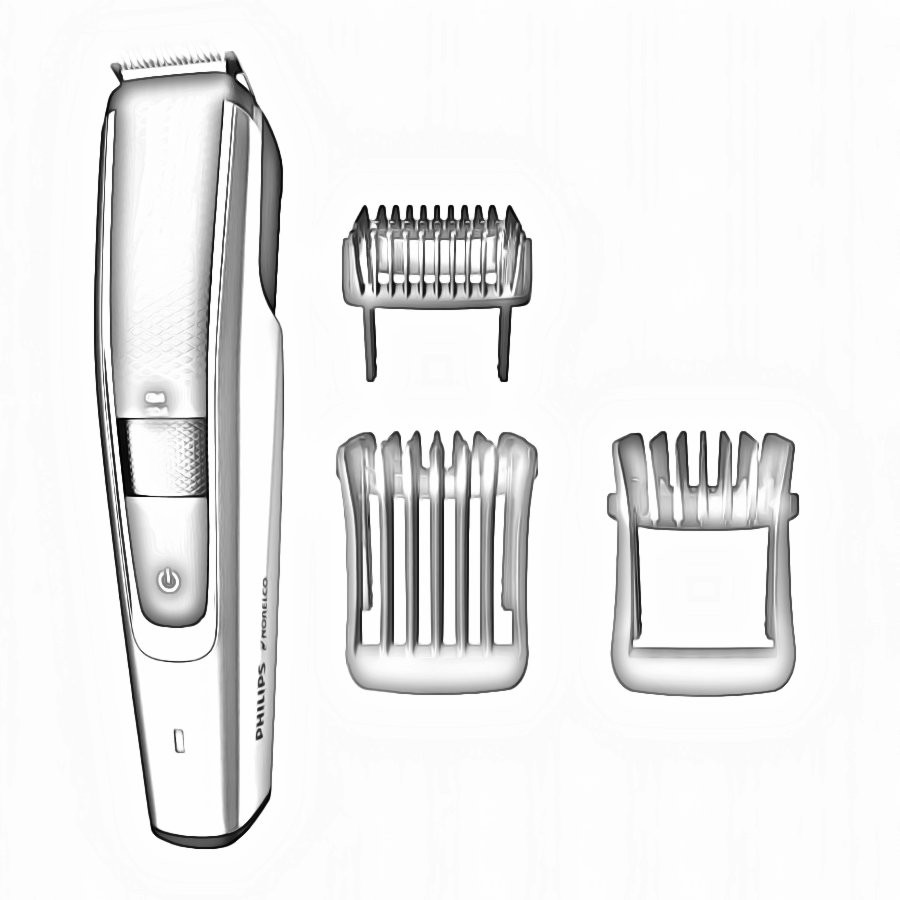 What stands out about this stubble trimmer
40 length settings, from 0.4mm to 20mm
Life & Trim PRO system
Great price
The best stubble trimmer for
Men who have long beards, or are looking for great value
Overview
Long beards need trimming too, and that's why Philips' Norelco Beard Trimmer Series 500 is so great: it features 40 length settings, ranging from 0.4mm to 20mm. And that means this is a fantastic choice for beardsmen of virtual persuasion.
It might not be the very best short beard trimmer, it's still a great choice for men who want a more refined, short stubble because the price is exceptional for the level of quality you receive.
While it comes with fewer accessories than others on this list, and some feel the guards it does come with are a little too flexible, you're very unlikely to find anything of the same quality for this price.
With its Life & Trim PRO system, it lifts low-lying hairs and guides them toward the blade for a more precise and easier shave. And handle grip is also highly ergonomic, making the experience of shaving feel light and easy. Unlike most conventional trimmers, you don't end up with wrist pains and hand aches after using this trimmer.
The battery lasts for around 90 minutes, and the motor is impressive – not excessively powerful, but enough to get the job done.
Plus it comes with a washable feature, which makes keeping it in good condition very easy.
The good
The huge number of length settings let achieve an unusually specific shave

The Life & Trim PRO system makes it easier to get at low-lying hairs

At this price, it's an absolute steal
The bad
Some find the guards are too flexible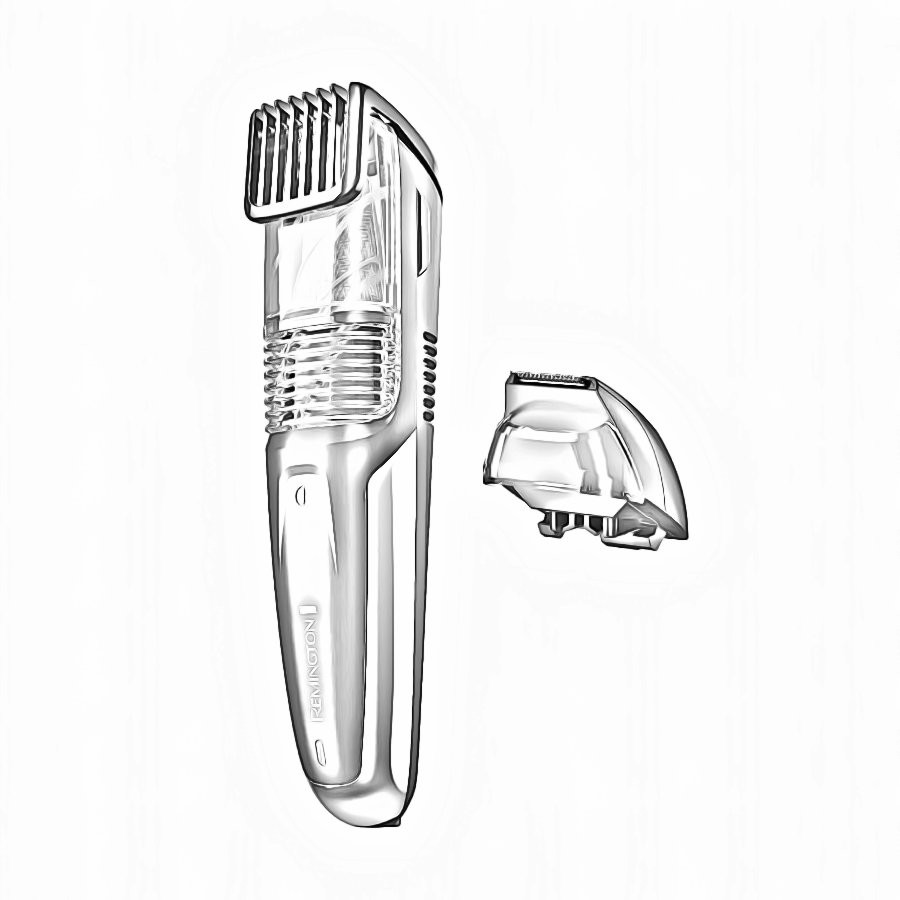 What stands out about this stubble trimmer
Vacuum system that collects trimmed hair
Can work on mustache, sideburns – the lot
11 length settings: 2 – 18mm
The best stubble trimmer for
Men who don't like to clean after their trimming sessions
Overview
The Remington MB6850 has a lot going for, including its versatility, functionality, and ergonomics. Its versatility makes it ideal for trimming your facial hair, mustache, necklines, and even other parts of your body if needed.
You might be wondering: What makes this possible?
Well, there are plenty of reasons why:
It features self-sharpening blades that are made out of premium steel. The blades provide consistency and accurate cuts on every use. Rest assured, they are very sharp but keep their edge for a long time without much maintenance. This makes them very durable.
The Remington MB6850 has eleven length settings that make it easy to achieve your preferred stubble and mustache style. The trimmer comes with an adjustable comb that locks in to provide trims from 2 mm to 18 mm.
This trimmer can be used corded or cordless. It features a lithium-ion-powered battery that provides up to 90 minutes of cordless runtime.
While its battery life is not the worst you can find in a trimmer, it is not the best either; as there are plenty of other stubble trimmers that last longer. For example, Remington MB4900, as mentioned earlier in the list, features a battery life that lasts up to five hours which is much more convenient, i.e. when you are on vacation.
Nevertheless, 90 minutes is still good enough for the everyday user.
Whether you're trying to achieve a stubble look that best suits you, or styling a goatee, this trimmer helps you do it. And its precision trimmer makes it easy to do detailed work, such as on your mustache and sideburns.
Easy maintenance and cleaning
Another thing we like about the MB4040 is that it's not hard to take care of: the heads are removable, making it easy to remove them for cleaning.
Also, it features an innovative design that includes a vacuum chamber collecting up to 95% of hair when trimming. This makes cleaning faster and easier, which is very convenient.
Overall, despite its battery life, this is a very unique stubble trimmer that will satisfy the needs of any hairy man.
The good
Self-sharpening steel blades that are washable

Very ergonomic and well-thought design that includes a hair vacuum

Can be used corded or cordless
The bad
 The trimmer isn't waterproof, which makes maintenance a little difficult.

 Battery life could have been better
How we chose our best stubble trimmers
Certain brands tend to dominate the stubble trimmer market – familiar names such as Panasonic, Conair, Philips Norelco, Remington, etc.
Those brands, at least at this time, seem to have the highest-rated razors, and our task often involved sifting through their many products.
In the end, however, we didn't rate trimmers based on a brand name or company reputation but took into account other factors, such as ease-of-use, accessories, quality of the blades, and even versatility.
We also evaluated battery life – obviously an important factor for cordless trimmers – and ease of cleaning. Ultimately, we came up with a list that we think you'll find beneficial.
How to use your stubble trimmer to get the best results in 9 simple, illustrated steps
Once you've chosen the right stubble trimmer, it's time to put it to the test. Proper use of your trimmer isn't overly complicated, but there are some techniques and other things to keep in mind, nonetheless.
Let your hair grow
OK, so it only makes sense that you can't trim stubble that doesn't exist. But you do want to keep a close eye on your facial hair depending on the type of stubble you're hoping to achieve.
In general, three to four days of not shaving results in what's known as "stubble." By four days, most men have enough growth to give their trimmer a true test.
If you're going for a really short stubble look, then one or two days of growth may suffice – depending on the thickness of your whiskers.
Choose your style
Not all stubble beards are the same. We've mentioned the ever-popular 5 o'clock shadow, but there's also light stubble, which takes the 5 o'clock shadow to the next step, and heavy stubble, which isn't quite a full beard but one that's thicker than other stubble styles.
Choosing your favorite style should take into account your face shape, among other things, and don't assume that a certain stubble look that looks great on another man will also look good on you. Choose the style that works best for you.
Comb your stubble
While "stubble" implies a shorter beard length, you should still comb it – and your mustache – before you begin trimming, especially if you have three to four days of growth or more.
Always comb your beard and mustache in the general direction of its growth to ensure that any long hairs will be lifted to stand out from the rest.
And it's always a good idea to use a quality beard comb – one that will serve you well no matter what type of beard you choose.
Choose the length of your stubble
This step is along the same lines as the first step and is just as important.
While there are no set-in-stone rules about what length of beard works for each man, there is a rule of thumb that says men with lighter-colored facial hair can wear longer stubble than men with darker hair.
Whether you choose a shorter or longer style, always strive for a uniform look.
Adjust your trimmer comb's length setting
Becoming comfortable with your trimmer's different length settings is important for becoming adept at trimming your stubble.
Most trimmers come with a variety of length settings, but we recommend starting with a longer setting and adjusting it as needed because there's no turning back if you trim your stubble shorter than intended.
Moreover, don't attempt different styles of stubble until you're comfortable with your trimmer and all of its settings.
The trimming process
In general, always trim toward your chin. Use steady, smooth strokes that slightly overlap to ensure that you cover the entire area.
It's also important to keep your neck in mind, i.e., whether you decide to fade the stubble into your neckline for a more natural look or to shave the neckline altogether.
Don't forget the details
Remove your guide comb once you've finished trimming your stubble into a uniform look. Your next task is detail work that includes checking for – and trimming – stray hairs; there's always a few that get missed in the initial trim.
A word or two about trimming your mustache
There are a few things to know if your "look" includes a well-trimmed mustache. First, hold your trimmer in a vertical position with the blades facing you. Doing so creates nice definition lines in your mustache.
If you prefer a tapered mustache, it's helpful to start with a medium length comb. Start at the middle of your mustache and trim upwards across the top lip and work your way to the edges.
Always clean your trimmer
Clean your trimmer after each use, whether that's with a brush – that may come with your trimmer – or with water if the trimmer is waterproof. Keeping your trimmer clean helps ensure that it continues to trim your beard efficiently, while also extending its longevity.
How a stubble trimmer compares to other types of trimmers
Stubble trimmers, beard trimmers, razors – what's the difference? In some cases, the difference isn't all that much. In others, well, their clearly different types of tools for different jobs.
Let's start with stubble trimmers and work our way through the various types of razors and trimmers.
Stubble trimmer
Perhaps the best place to start in describing what a stubble trimmer is to define what is meant by "stubble." The stubble style is pretty popular these days for a lot of reasons, but not every stubble style is the same.
Specifically, stubble is short facial hair kept trimmed between 0.4 and 5 mm. Most men can achieve this length in 3 to 5 days, or longer, depending on their natural ability to grow whiskers.
The 5 o'clock shadow comes to mind for many people when the term stubble comes up, but there are longer and shorter stubble styles.
The bottom line is that stubble by itself can start to look a bit untidy if not kept trimmed, which is where the stubble trimmer comes into play.
A stubble trimmer enables you to keep your stubble whiskers at the same length, which makes for a more attractive stubble look overall.
Stubble trimmers are very similar to beard trimmers. The major difference, however, is that a stubble trimmer maintains short facial hair, while a beard trimmer works best for longer styles.
Stubble trimmers are very similar to beard trimmers. The major difference, however, is that a stubble trimmer maintains short facial hair, while a beard trimmer works best for longer styles.
To break it down even further, the razor guards on most stubble trimmers allow you to go down to 0.5 mm in length, while the minimum length a beard trimmer allows is typically 1 mm.
Most stubble trimmers come with a variety of length guards, with all of them designed to trim shorter beard styles. Many of them also serve as mustache and sideburn trimmers, with some even work to trim other areas of your body.
Beard Trimmer
If your beard is longer than stubble, or if you've let your new beard grow for four to six weeks, then it's time to put away your stubble trimmer and reach for a beard trimmer.
It's also true that some – but certainly not all – beard trimmers can help you achieve the stubble look – but use a stubble trimmer if you plan to keep your whiskers extremely short.
Beard trimmers have longer length settings than stubble trimmers, and their blades should rarely if ever, touch your skin. A beard trimmer provides a variety of grooming benefits, including:
They allow you to shape your beard into whatever style you prefer
You don't have to worry about the blades leaving nicks and cuts on your skin
They help you give your beard an even, uniform look.
Like stubble trimmers, beard trimmers come with a variety of attachments and length guards. Some have interchangeable guard combs, while others have fixed combs that move with an adjustable wheel.
The general purpose of guard combs is to pull individual beard hairs tight as you trim, which ensures a more even cut.
It's nice to have a range of options when it comes to length settings on your beard trimmer. In general, the more intermediate settings you have, the better.
Electric shaver
Electric shavers, or razors, whichever term you prefer, aren't meant for trimming your beard, but rather for shaving your whiskers. In other words, they don't do the detail work of beard and stubble trimmers, but they take care of the heavier work of actual shaving.
One of the advantages electric razors have over other types of razors – cartridge, twin-blade, safety, straight-edge, etc. – is that they allow you to complete the task of shaving in less time.
They're ideal for men on the go, or for anyone who doesn't feel like dealing with the "mess" and potential nicks and cuts.
Electric shavers come in two types – foil and rotary.
Foil shavers have oscillating blades covered with thin, metal foil. The foils lift your whiskers and then guide them into the blade. Foil shavers have been around for 100 years or so, and many come with different cutting blades and spring-loaded heads.
Foil razors are, in general, better for men with relatively fine facial hair that's not overly long, as well as for men who prefer to shave in straight lines. They're also good if you plan to use your shaver every day.
Rotary shavers have three circular heads that cover a spinning cutter blade. An outer guard guides hair into the blades. This type of razor is best used with a circular motion that enables you to follow the contours of your face and makes it easier to shave around tricky areas such as your neck and chin. Most of them also pivot in different directions.
Rotary shavers work well for men who have thicker, coarser beards, or if you're cutting whiskers that have grown longer – like when you go a weekend without shaving. They're also good if your beard hair grows in different directions, particularly around the neck area.
Hair clippers
The names say it all when it comes to hair clippers, i.e., they're designed to trim the hair on your head and not your face. It's easy to confuse hair clippers with hair trimmers, but there are some important differences.
The biggest difference between a hair clipper and a trimmer is that clippers are basically designed to cut longer hair. For example, while good trimmers can have adjustable lengths up to a few centimeters, these will not work great on your hair. 
Clippers come with several comb attachments, much like stubble and beard trimmers, with each attachment adjustable to the length of hair that needs cutting. Clippers are often used to prepare the hair for the final cut and finish.
Hair trimmers work well with shorter or fine hair and typically have thinner blades that make it easy to work on the final details of your hair.
Some trimmers come with attachments but usually not as many as you get with hair clippers. Trimmers do have the ability to cut the hair fairly close to the skin.
Conclusion
Deciding your beard style, size, and shape has never been easier thanks to a complete grooming kit of equipment you can buy today. In this article, we've reviewed the best trimmers for your grooming routine you can buy today. There are multiple options based on battery life, charge times, and whether you need a corded or a cordless model.
What are your thoughts? Do you use any of the trimmers on our list? If so, what were your results? Or, what stubble trimmer do you currently use, and why?
As always, we welcome your feedback!