7 Best Balding Clippers for the Utmost Close Shave
This post may contain affiliate links. Learn more.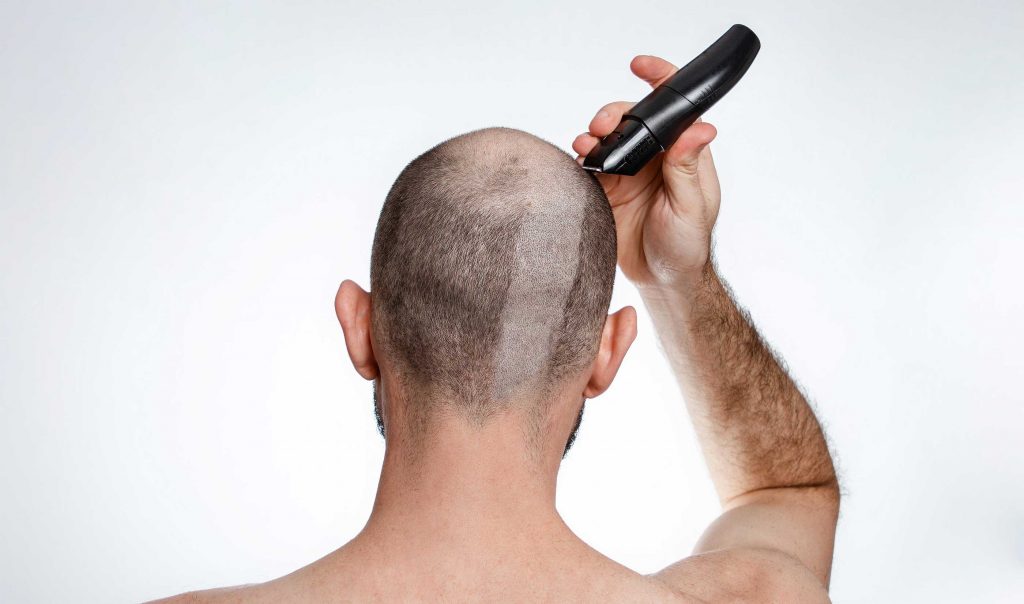 Whether your hair is thinning or you've got a thick, full head of it, there's something to be said about a man who shaves his head bald.
It's clean. It's powerful. And it saves you a lot of money on shampoo and time.
But it requires regular shaves and maintenance, which can cost you a fortune at the barbershop.
Or… you can do it yourself, at home, like a boss. And with a set of the best balding clippers at your disposal, it's not even that hard.
In a hurry? Here are our top picks:
Wahl Professional 5-Star Detailer Trimmer (8081)
Our #1 pick, the Wahl Professional 5-Star Detailer Trimmer - not only will this beast help you achieve a close, smooth shave, but you can also use it to touch up your edges and trim your beard too. .
Wahl Professional 5-Star Rechargeable Shaver
The Wahl Professional 5-Star Rechargeable Shaver is small, cordless, and pretty much impossible to cut yourself with. Shaving your head with these couldn't be any easier.
Or hey, maybe one of our other picks is more to your liking. You'll have to keep reading to find.
This article will also give you:
Some easy-to-follow guidelines on how to pick and buy the best balding clippers for your needs
A dozen helpful tips for using your clippers to get the smoothest, sleekest shave possible
Quick Summary
<!—INSERT CODE BELOW—>

Best Overall

Wahl Professional 5-Star Detailer Trimmer (8081)

Extra-wide sharp blades

Versatile

Lightweight and powerful

Check on Amazon

Best for Sensitive Skin

Wahl Professional 5-Star Rechargeable Shaver (8061-100)

Easy to use

Hypoallergenic gold foil

Great price

Check on Amazon

Best for Power

Oster Classic 76 Universal Motor Clipper

Versatile enough to use on other parts of the body

Powerful single-speed motor

It works with a variety of cutting blades

Check on Amazon

Wahl Balding 5 Star Series Clipper 

Gives a cut with surgical precision

Top quality, used by professionals for a reason,

Easy to maintain, cleaning brush included

Check on Amazon

Andis T-Outliner Trimmer

Affordable

Can handle other facial hair tasks

Sharp, carbon-steel blades

Check on Amazon

Andis Professional Master Adjustable Blade Hair Clipper

Easy to use

Lightweight

Silent motor

Check on Amazon

Panasonic ER-GP80 K Professional Hair Clipper

Very lightweight

Ergonomic and durable design

Can be used corded or cordless

Check on Amazon
Before you buy: Top 5 things to consider when buying balding clippers
We're going to give you our picks for the best balding clippers on the market, depending on your needs and budget.
But first, let's go over the key things to look at when comparing balding clippers – and deciding which one to buy.
1. Quality
Unless you want your head to look jacked up – or to be forced to replace your clippers every couple months – you better pay attention to the actual quality of the products that you're considering.
Because there's a whole lot of variance between the lowest quality and the highest quality models and brands.
There are some balding clippers, like our #3 pick, which are built to top standards. From the blade to the body, they use the best materials and the best craftsmanship. At the other extreme, there's cheap junk that, if you ask us, isn't even worth letting near your hair.
And then there are the majority of clippers, which fall somewhere in between. But you don't have to worry, we have done the thinking and selecting for you, so you don't have to go through the hassle.
2. Price
Of course, quality should also be considered in relation to another key variable: price.
This will not only help you find clippers that fit within your budget; if you have one, it'll help you identify the best values.
For instance, while cheap clippers may be cheap now, they often provide the worst value overall. Why? Because they usually give you a worse shave, and they're also more likely to break, and they might even leave you with some nasty nicks.
And cheap clippers that you always have to repair or replace may end up being more expensive in the long run.
You also have to consider the lost time, frustration, and pain that may come with a finicky pair of clippers that don't cut efficiently – or worse, cut what you don't want them to, like your scalp.
Like with most products, the relationship between a balding clipper's quality and its price is a balancing act.
3. Specialization
When you look through our picks, you'll notice that some can do a little bit of everything, from giving you a close shave to lining up your beard to cleaning your neck.
Others are more specialized. For instance, our #2 pick is only good for shaving, not trimming, while our #4 pick is great for giving your head a close shave, but not suited for much of anything else.
So, whether you buy a product from our list or from somewhere else, decide what you need your clippers to do, and then find clippers that can fill that role. Do you prefer a more specialized product or a more well-rounded tool?
4. Ease of Use
Not all balding clippers are equally easy to use.
On one end of the spectrum, you have devices that are practically foolproof. Just run them over your noggin, more or less, and watch the hair come off, leaving behind a smooth bald finish.
Okay, that might be simplifying things just a little, but you get the idea.
On the other end are the pure professional clippers. They're heavy. They're loud. Their blades are sharp. And they'll cut the crap out of you if you're not careful.
So, before deciding on one, consider your skill – and tolerance – level.
Would you rather have the first experience with clippers that are quick and convenient to use? Or are you willing to exercise a little more patience, more precision, more finesse in the hopes of getting a slightly better shave?
5. The Motor
The motor and blades are features that dictate the price of the clippers. Decent blades with a powerful motor makes all the difference! They make sure that there are no hair-pulling, messy cuts, and ensure a smooth run.
A powerful motor will surely last for a while, whereas cheap knock-offs don't provide enough power to the blades, and they burn out quickly. Make sure to buy high-quality clippers if you're looking for durability.
There are two basic types of clipper motors:
Rotary – These motors are primarily used in cordless clippers and prove to be powerful
Electromagnetic –

These are mostly used in corded clippers and can move the blades much faster. They're ideal for clippers that are not used very often
6. Skin Type
Do you have sensitive skin? Does it get irritated easily or break out with razor bumps after shaving? If not, well, don't even worry about this point. You're good, bro.
But if you answered 'yes,' then it's worth choosing a pair of balding clippers that are particularly good for sensitive skin.
We'll highlight that in our picks so pay close attention, but you can also read user reviews for other clippers if you're doing a little independent shopping.
Though, in general, balding clippers are already a lot less likely to mess with your skin than shaving with a traditional razor will. So, if you're used to razors, any of our picks will be a step up.
The 7 best balding clippers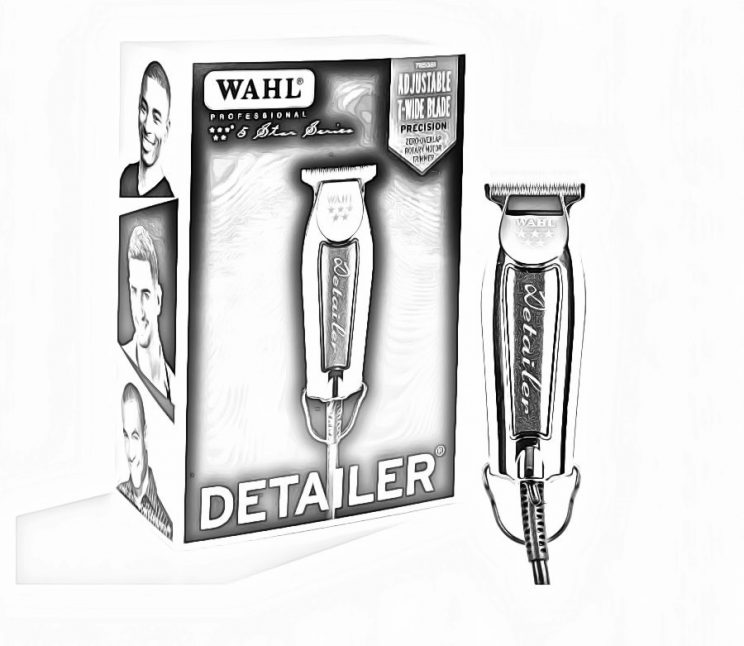 Best features
Extra-wide blade (1/4" wider than average Wahl)
Sharp blade and powerful motor
Compact, lightweight body
The best balding clippers for:
Guys who want a premium shave and a premium beard trim in one package
Overview
Even if you shave because you're going bald, the fact remains: sporting a smooth bald head creates a striking, masculine look that's sure to draw attention your way.
And the effect is only amplified when combined with a thick, well-manicured beard – or whatever your preferred facial hairstyle might be. Hey, the site ain't called Balding Beards for nothing, right?
Now, some guys will end up with one tool to clean shave their head and another to handle their beard.
But if you're the type who likes to save money, time, and space, you may be interested in a product that can handle both, like the Wahl Professional 5-Star Detailer Trimmer.
These babies sport a super sharp blade that you can zero gap for that close, precise cut that you're looking for.
In record time too, because of the extra-wide T-blade, that's 1/4" wider than most other Wahl blades.
Your cranium will be so smooth you can eat off of it. However, we're not exactly sure why you'd want to.
If you're not ready to go full bald badass, the Wahl Detailer Trimmer can also be used for fades, utilizing the three guides they come with: 1/16", 1/8", and 3/16". Combined with the 0 gap, you can also pull off a perfect skin fade.
But that's not all: these are excellent beard trimmers.
That's partially due to their powerful rotary motor, which is capable of cutting through all types of hair, whether thick or thin, wiry or soft, wet or dry.
And at just 5" long and 6.9 oz in weight, it's an extremely compact (but sturdy) piece of equipment. That makes them ideal for those more precise or creative cuts and lines – or for longer/multiple sessions.
No wonder the Wahl brand is so popular with professional barbers.
Of course, these clippers aren't quite perfect. And we do have a few minor complaints.
For starters, the blade is so sharp that you have to be careful when using it, especially if you have sensitive skin because these trimmers can cause irritation if you press too hard while shaving.
Second, while the extra-wide blade makes your job a lot faster, it also makes it harder to find compatible guards (outside of the three that come with it) because there simply aren't a lot of guards made to fit it.
But they're the Wahl Detail Timmer is still great at what it does, which is why it's our #1 pick.
Pros
 Extra-wide sharp blades make every shave faster and more efficient

Compact, lightweight body makes these easy to maneuver

Can handle full shaves, fades, beard trimming, and even complicated hair or beard designs
Cons
Not the best balding clippers for men with sensitive skin

Because of the extra-wide blades, finding compatible guards can be an issue
Bottom line
If you're looking for premium, professional clippers that can both give you a silky-smooth shave and handle your beard, you can't go wrong with the Wahl 5-Star Detailer Trimmer. These things are durable, powerful, and versatile to boot.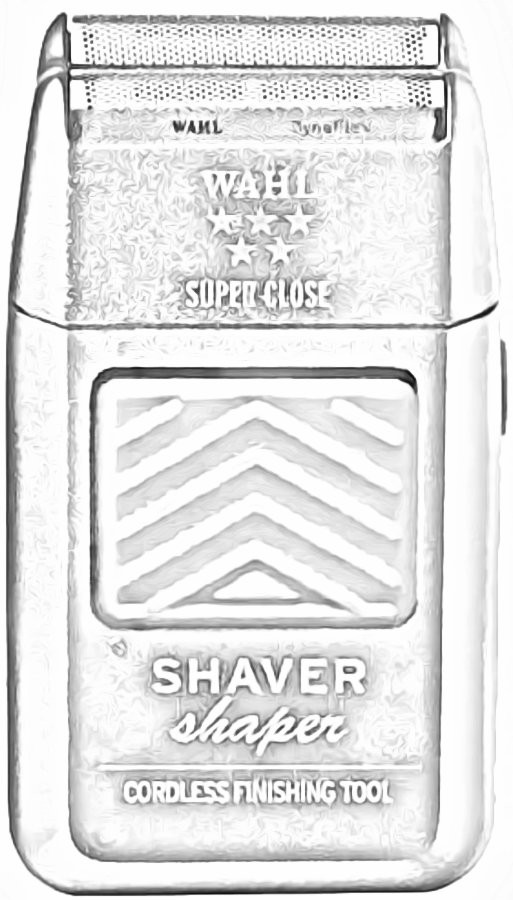 Best Features
Cordless and rechargeable
Hypoallergenic gold foil shaver
Lightweight and easy to use
The best balding clippers for:
Guys who want an easy, no-fuss shaving experience at a good price
Overview
What's one of the main reasons for shaving your head with an electric vs. a traditional razor?
Convenience. It's easier, it's faster, there's less mess, and you don't have to worry about nicking your scalp into oblivion with a razor blade.
And this pick, the Wahl Professional 5-Star Rechargeable Shaver, really embodies that convenience more than any other device on our list.
For starters, it's the only one that's cordless. Simply give it a good charge, unplug it, and go. You can use it for up to 60 minutes without being tied down to an electrical outlet.
At 5.8 oz or less than half a pound, it's also our lightest pick. And the shortest too, at only 4.6" long. Not only does that make it easy to handle, but it's also easy to pack as well, making these a great option for guys that want to shave on the go.
Just slip them in your bag or suitcase, with or without the charger, and you'll be able to keep that bald head clean any and everywhere, whether you're traveling for business or vacation.
Finally, there's the shaver itself. Rather than using a bladed design, like the rest of our picks, this particular Wahl uses a foil shaver.
Hypoallergenic gold foil, to be exact. So, in addition to being easier to use – especially if you're not a fan of bleeding from your head – this is an excellent shaver for guys with sensitive skin.
You'll never have to worry about razor bumps, irritated skin, or ingrown hairs again.
But don't get it confused. These will still give you that close shave you're looking for. Maybe not quite as close as a zero-gapped blade, but close enough – and again, these don't require nearly as much precision and caution to use.
However, there is one major drawback to this shaver: it tends to struggle with longer hair.
In other words, if you're using this as your main shaver, you'll want to do regular maintenance to your head, beard, and/or neck, rather than letting it grow out for a month between each cut.
But again, it's so easy to pull these out and run them over your head or face that having to shave once a week isn't a big deal.
Pros
Lightweight, cordless design that holds a charge for 60 minutes

Hypoallergenic gold foil shaver means no cuts and less irritation, even on sensitive skin

Professional clippers at an affordable price
Cons
Not as great for longer hair, so you'll want to do regular touch-ups

Don't shave quite as close to the skin as bladed clippers
Bottom line
These are the best cordless balding clippers. If you're the type of guy that likes to stay well-groomed without all the extra fuss, they're a great pick. Men with sensitive skin will love them too.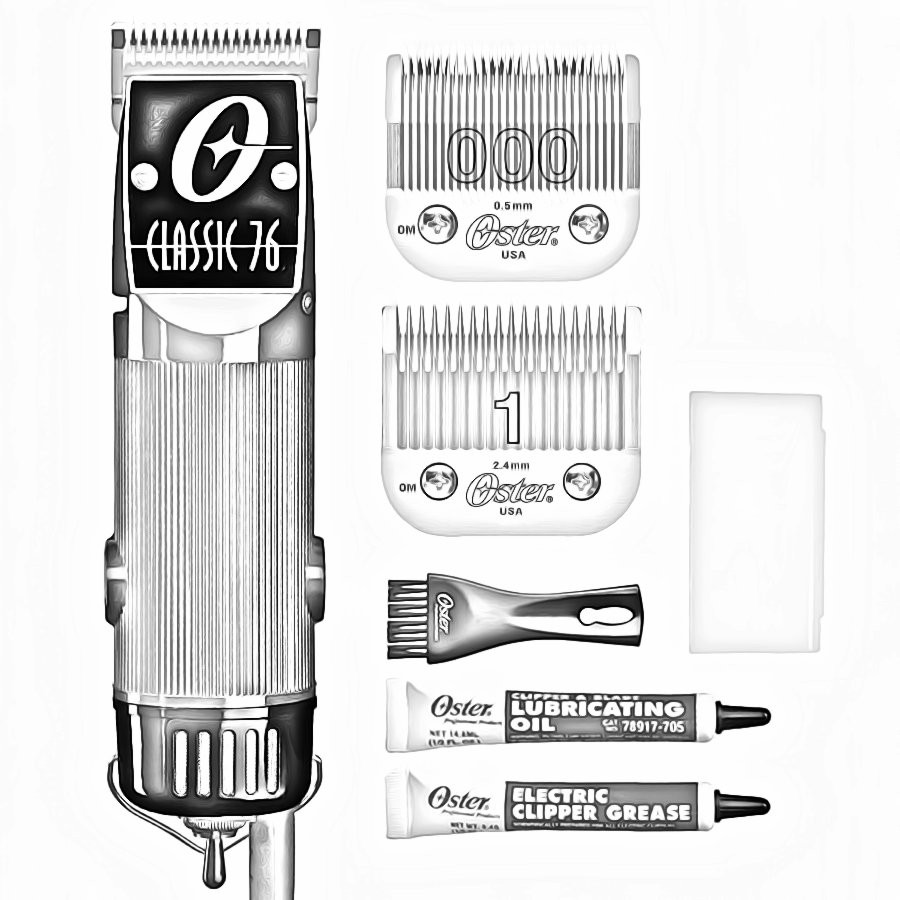 Best Features
Cryogenically-treated, stainless-steel blades
Powerful single-speed motor
Ultra-durable build quality
Multiple body colors to choose from
The best balding clippers for:
Those who want the most powerful, highest-performing clippers they can get
Overview
Different guys like different types of tools.
Some go for the cheapest: others, the easiest to use. Then there are men who pick based on popularity or looks. And of course, some dudes just grab the first tool they see and call it a day.
But there's one group for which none of this matters. No, for these men, only the best will do. They want the most powerful, the highest quality piece of equipment they can get, no matter the price.
If that's you, then the Oster Classic 76 Clippers are the ones you're looking for. From the blade to the body to the motor, these clippers are pure power and performance.
Not only are the blades made of pure stainless steel, but they're also cryogenically treated at negative 300 degrees Fahrenheit, which makes them even harder and stronger. Literally nothing can break these babies!
Combined with the powerful, single-speed rotary motor, they'll glide through any and all hair like butter… or, like softer hair.
The blades are detachable, and the unit comes with two sizes, 000 and 1, with more available for purchase. They'll give you a clean, close shave, even on sensitive skin.
The Oster Classic 76's body is made with valox, a thermoplastic that's also used in modern cars. Drop it? No problem. Throw it? Okay, don't throw it. But you probably could.
In fact, you'd have to beat the heck out of these things to actually break 'em. And if you treat them right instead, they should last you for ages. But know this, when it comes to durability, the Oster Classic 76 is king.
You can even choose from multiple colors for the body, including brown, green, pink, and white, as well as some more unique varies, like camouflage or rasta (red, green, and yellow). These guys sure know how to attract the men!
So, what's the catch?
Well… these are powerful clippers, in a powerful package. At 1.52 lbs, they're 50% heavier than our second-heaviest pick, and 2 or 3 times heavier than the others. These Oster clippers are easily the loudest too, and they get hotter than all of them except the Andis.
And while the Oster Classic 76 are incredibly durable, they'll also require more maintenance. For instance, you'll want to oil them very regularly.
Finally, they're the most expensive. Not only are the clippers themselves pricey, but the blades also are too – and you require entirely new blades to cut at different lengths. Though, to be fair, they'll last you forever.
In short, these are the best clippers on our list in terms of power, performance, and durability.
But they're also one of the least convenient to use – and the most expensive. Whether that's a trade-off worth making is up to your personal needs and preferences.
Pros
Powerful motor and blade that can cut through any hair you put in their way

Strong and durable, made from quality materials, these clippers will last you a long time

Will give you an incredibly smooth shave, and they won't bother sensitive skin
Cons
Between the cost of the clippers and the blades, these are the most expensive pick on our list

Heavier and louder than our other picks; they get a little hot too
Bottom line
The Oster Classic 76 are the most capable clippers on our list. But they also require the biggest time and money investment. For professional barbers, it's usually worth it. For home users, it might not be.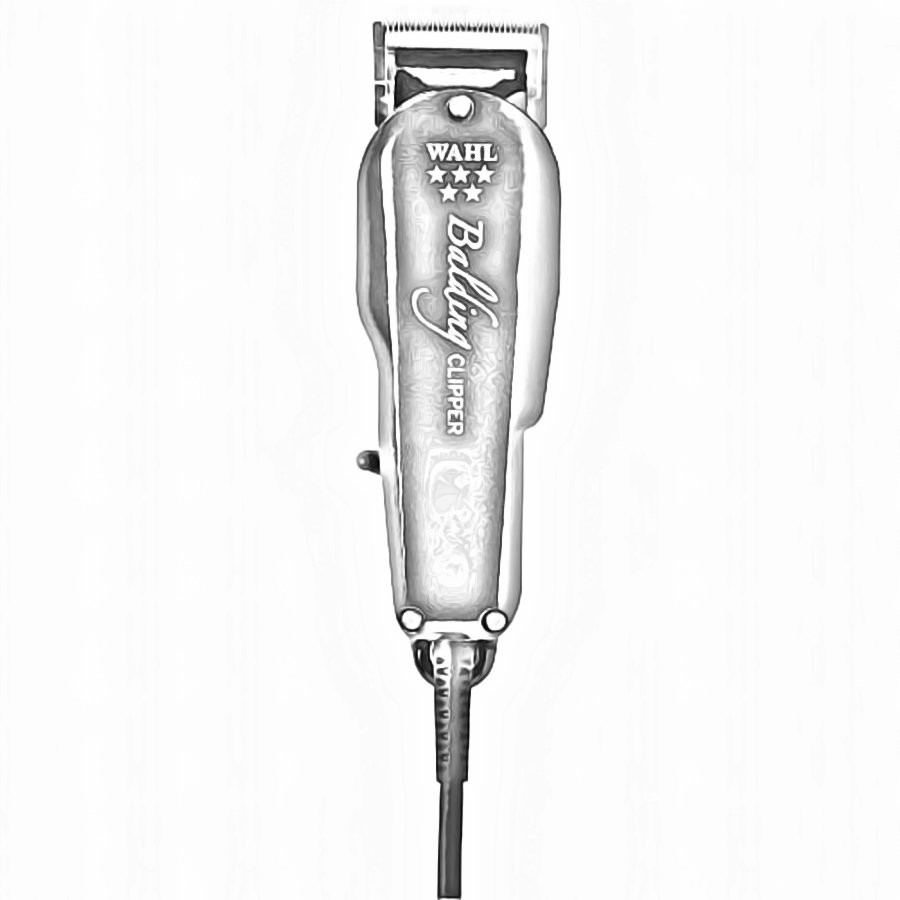 Best Features
Sharp, close-cutting 2105 blade
Surgical-steel blade on rust-resistant chrome
Cuts down to 0.1 or 0.2 mm
The best balding clippers for:
Those who want the closest clipper shave they can get
Overview
There's bald… and then there's bald.
In both cases, you've gotten rid of all the hair. But in the second case, what you've left behind is simply on another level.
It's smooth. It's shiny. It reflects light like your iPhone screen.
It's Mr. Clean. Lex Luthor. Morpheus. Thanos.
Okay, maybe we're getting a little carried away. But what we're trying to say is, there's a difference between a closely shaved head – and a really closely shaved head. And if you want the latter, you want the Wahl Professional 5-Star Balding Clippers.
Its draw lies in the unique, ultrasharp 2105 blade, which doesn't just cut hair, it eradicates it with extreme prejudice. This bad boy is made of surgical steel and is set on rust-resistant chrome.
With just the default setting, you can get down as low 0.1 mm.
Of course, maybe you're not quite ready to go that close. In that case, these balding clippers also come with two guards, 1/16" and 3/16".
The clippers are driven by a V5000 motor, which is plenty powerful – but also pretty quiet. These aren't nearly as loud as our #3 pick, for instance.
But they do have their own drawbacks.
The main one being that, because of how sharp the blade is and how close it cuts, they require a steady and experienced hand. Like any great weapon, you need the skill to wield them properly, or you might end up cutting off your own head.
So, take it easy. Take your time. Use the right angles, and don't press down too hard. These clippers are going to cut close by default, so you don't have stress on the issue.
They're not the smallest clippers either. Weighing in at 1 lb and with a body that's 6.25", they're the second-largest entry on our list.
Lastly, these are for shaving your head. They do that perfectly. But they're not what you want to use for line-ups, trimming your beard, or all that extra mess.
In short, if you're obsessed with getting the closest clipper shave, you can get – and you're willing to put in the necessary effort to pull it off – then get these.
Pros
Provides an extremely close shave, the closest you can get with electric clippers

Durable, quality construction that'll last you for a while

Comes with 1/16" and 3/16" guards, for those times when you want a less-close shave

The motor doesn't get hot like our number three pick, despite how powerful it is.
Cons
Very sharp blades; easy to cut yourself if you don't know what you're doing

Only for clean, bald shaves; not suitable for fades, line-ups, and other cuts
Bottom line
These are the hair clippers that cut the closest. They'll give you that perfectly smooth bald finish you're looking for, but you'll need a little bit of skill to use them properly.

Best Features
Sharp, carbon-steel blades
Affordable price
Newbie friendly and versatile
The best balding clippers for:
Guys who just want decent all-around clippers at a good price
Overview
The Andis T-Outliner Trimmer may be our last pick, but it's certainly no slouch.
It's got a sharp, carbon-steel blade that will give you a good, close shave, even on the most sensitive skin. Even when dry shaving, which it handles well, you won't have to worry about the bumps or irritation that some clippers can cause.
The trimmer's oscillating electromagnetic motor pumps at 7200 strokes per minute, and at just 11.2 oz, it's easy to handle at any angle. That makes it a great all-over trimmer, allowing you to shave your dome, outline your beard, clean your neck, or pull off a crisp line-up.
In short, the Andis T-Outliner Trimmer is a solid choice for the casual user who wants clippers that can handle a little bit of everything. And it's affordable too.
That being said, in terms of build quality, the Andis isn't quite on the level of the premium picks further up our list.
It's not as durable, its motor is less powerful, and it has the tendency to get pretty hot to the touch after about 15 minutes of use.
It doesn't come with any guards either.
But don't get us wrong. These are still a lot better than some cheap balding clippers you can find at the nearest big box store.
If you're looking for clippers that are versatile, affordable, and don't require a pro skill set to use, we'd highly recommend them.
Pros
One of our less expensive picks, great for guys on a budget

Even less experienced shavers can use these without cuts or irritation

 Can handle a little bit of everything, from close head shaves to clean beard edges, so it's a bit of an all-rounder.
Cons
Build quality is good but not great

They get hot faster than our other picks
Bottom line
The Andis are mid-range trimmers at a mid-range price. If you're a casual groomer who just wants something to keep their head, beard, and edges clean, they're definitely worth a look.
Best features
The professional standard for heavy-duty, all-around cutting and tapering

Unbreakable aluminium housing

Quiet operation
The best balding clippers for:
Those who want durable, lightweight, and all-around great clippers.
Overview
Andis Master is the perfect clippers made of carbon steel for all-around cutting and tapering. The motor on these clippers is extremely powerful and generates 14,000 cutting strokes per minute!
The blade is adjustable, meaning that you can operate it at various angles to achieve a perfectly shaved beard. You can adjust it from size 000 to size 1, and they can also be 0 gapped, in case you want to go for a clean shave.
There's an on and off button, which makes it super simple to use. They're lightweight, and the housing is made of aluminum, making these clippers very durable and easy to maintain for years.
You'll also get a user manual to review every detail before you put the clippers to use. However, don't forget to oil the blade before every use to ensure a smooth experience.
The Andis Master is not only incredibly easy to handle, but also runs without much noise!
Pros
Quiet motor

Easy to use

Lightweight
Cons
Some users complain that they get clogged easily
Bottom line
Andis Professional Master Adjustable Blade Hair Clipper is a solid heavy-duty clipper that comes at a solid price.

Best features
Impact-proof and break-proof X-taper clipping blade

A dual voltage clipper

Various cutting length ranges
The best balding clippers for:
Those who want outstanding performance, professional-like efficiency, and uniquely shaped blades!
Overview
The Panasonic ER-GP80 K belongs to the professional series of corded and cordless clippers and trimmers. They're commonly used by professional hairdressers in high-end salons, but this doesn't mean that you can't use them for personal grooming at your home. You just have to know how to handle them.
Regardless of your beard's density and type, these clippers run smoothly due to their 10,000 CPM linear motor drive and the Constant Control feature.
They're easily adjustable due to their 5-step height control, which allows you to adjust them from 0.8 to 2.0mm in increments of 0.3mm. Apart from that, there are three dual-sided comb attachments to cut in lengths from 1/8" to 5/8".
Precision 45° X-Taper ensures a precise and clean-cut, while DLC (diamond-like carbon coating) and TiN (Titanium Nitride) ensure that the edges are strong and durable!
After charging the clippers for one hour, you'll be able to use them cordless for approximately 50 minutes, which is more than enough for a session of shaving!
Pros
Very lightweight and ergonmic design

Durable construction

Can be used corded or cordless
Bottom line
A great clipper for those who are looking for versatility, comfort, and great battery life
How we chose the best balding clippers
We're going to let you in on a little secret: we haven't tried every single balding clipper on the market.
There are simply too many models, charging too much of a premium, to try every single offering from every single brand.
Instead, we go for fairly popular designs with established reputations, which leads us towards the most respected brands, like Wahl, Oster, and Andis, as well as some others that didn't make the list.
So, what exactly are we looking for in the balding clippers that we test?
There are four main components: quality, price, capability, and durability. Ideally, we're looking for clippers that do what they say they do, do it well, and are made with high-quality materials, all for a fair price.
Though, as you may have noticed, we try to recommend a variety of clippers, with different strengths and weaknesses, so that there's something for everyone. Hopefully, we managed to pick at least one that works for you.
How do you think we did? Did your favorite clipper make the list? We'd love to hear from you.
12 Tips for shaving your head with balding clippers like a pro
Shaving your head may seem like a pretty straightforward task. After all, what could be complicated about cutting off all your hair?
And to an extent, that's true. But if you want to make the job easier – and get the best, closest shave possible – there are a few tips you should try out:
Moisten your hair slightly
Why does the barber spray your hair with a water bottle before cutting it? Because it works. So, get your barber on and moisten your mop, er, hair before getting started. Note, you don't want to drench it or get it dripping wet. Just give it a few drops or spritzes.
Comb your hair in the direction it naturally grows
The more uniform your hair, the easier it's going to be to cut, so take a minute to comb your hair down in the direction of its natural growth. You don't want your clipper blades getting caught in tangled hair and snagging it as you run your clipper through your hair. Don't worry how it looks, since it'll be gone soon anyway.
Buzz your head to remove the bulk
It's a good idea to give your hair a quick buzz before you actually start shaving, especially if it's been a while since your last cut.
Not only will this make it easier on the clippers, but it'll also make your job easier, too, since you do not have to deal with a bunch of extra hair in the way.
Choose the right blade setting
The lower the blade's height, the closer the shave. To go bald, you want something zero or below.
But it also makes it a lot easier to cut yourself.
So, choose your blade appropriately, and make sure to be careful. Some people will also "zero-gap" their blade, which allows for the closest possible cut – but this makes it absurdly easy to cut yourself, so exercise lots of caution if you go this route.
Keep the blade on your scalp – but don't press too hard
To get an even shave in the shortest amount of time, you want to keep the blade pressed to your scalp.
But at the same time, you don't want to press too hard, since this can cause irritation or even cuts.
It may be tempting to press harder to shave closer, but it's not going to do you any good. Keep your presses light instead.
Shave in the opposite direction of your hair's natural growth
This may seem counter-intuitive since you're usually told to shave with the grain. But since you're using clippers: 1. They won't irritate your skin as much as a razor; and 2. They'll cut a lot more efficiently against the grain. So, like… do that.
Move the clippers in short, steady strokes
It might be tempting to run your clippers straight from one side of your head to the other, cutting a path through your hair like you're mowing your lawn – but it's not the best approach.
Instead, use shorter, steadier strokes, focusing on one area of your head at a time. This will give you a more uniform, precise shave – and also reduce the likelihood of cutting yourself.
Use your free hand to stretch your skin
By using your free hand to pull your skin slightly down or to the side, your skin will get tighter.
Why's this matter?
Because it helps the clippers glide more smoothly, keeps folds of skin from getting snagged on the blade, and better exposes the hair. The flatter and tighter your skin's surface, the cleaner and closer your shave will be, and the less risk you have of nicking yourself.
Step-by-step guide for shaving your head
Again, shaving your head isn't all that complicated, and you can do a perfectly good job without following the steps below. But if you're new to this, or you just want some directions to follow in your pursuit of the smoothest shave, give the following a try.
1. Start from the neck
Your neck is the hardest place to see, but it's also the best place to start.
2. Work your way upwards to the crown of your head
As you finish your neck, make your way up to the very top of your head.
3. Cut out from the crown in sections
Divide your head into imaginary sections, and cut each one at a time, with strokes that start at your crown and work out to the sides and front of your head.
4. Brush your head to expose any spots you missed
After your initial shave, use a brush on your head and look for dark spots – where the hair isn't cut as low as the rest of your head – as well as any straggling hairs that you may have missed.
Conclusion
Alright, we think that's about it. By now, you've got five top-tier balding clippers to choose from, along with some extra tips for both buying and using them.
Which one will you choose? Or if you've already used one, how did you like it? Let us know in the comments.
And if you've got a friend or two who could use a new pair of clippers, make sure to share this article with them.