7 Best Facial Masks for Men That Rejuvenate Your Skin
This post may contain affiliate links. Learn more.
In a hurry? Here are our top picks:
When in doubt, just clean your face with a bar of soap, right?
Wrong.
If you genuinely want a deep cleansing, one that doesn't dry and damage your skin (like bar soap), then it's worth giving face masks a try. You don't have to use them daily, and they can easily supplement other skincare products in your arsenal.
Face masks aren't just for women. Far from it. There's nothing wrong with pampering yourself, gentlemen. You work hard, lead an often hectic lifestyle, and stress may become burdensome.
So, put down the bar of soap, gents, and get serious about washing your face.
In this article, we will share a detailed review of the 7 best face masks for men.
We will look at their best features, their pros, and cons, and identify who they are most suitable for. We'll also cover the key talking points, such as what you should think about before buying a face mask and answer the frequently asked questions.
Whatever your requirements are for your next face mask, we will be sure to tackle it in this guide.
So let's dive in.
Quick summary
<!—INSERT CODE BELOW—>

Best Antiaging

Pure Biology Bentonite Clay Mask

Gentle exfoliates the skin

Restores moisture

Tightens skin and evens skin tone

Check on Amazon

Best for Sensitive Skin

ZELEN Life Mask

Organic super-enriched formula, replenishes and hydrates

Deep detox, removes dirt to help reduce breakouts

Anti-aging powerhouse, regenerates skin

Check It Out

Best for Blackheads

New York Biology Dead Sea Mud Mask

Comprises of Dead Sea mud

Gentle for use on a daily basis

Useful for oily skin and targetting blackheads

Check on Amazon

Rugged & Dapper Face Mask For Men

Made with men in mind

Organic formula offers vital vitamins and minerals

Pulls out impurities to reduce future breakouts

Check on Amazon

Brickell Men's Purifying Charcoal Face Mask

Suitable for all skin types

Designed specifically for men

A natural formula that purifies, detoxifies, restores, and moisturizes.

Check on Amazon

Superfood Marine Clay Mask

Great scent

100% vegan formula

Moisturizes and restores skin

Check on Amazon

MenScience Androceuticals Facial Cleansing Mask

Easy to apply and wash off

Matcha based natural formula

Nourishes and purifies the skin

Check on Amazon
Before you buy: 5 Things to consider when purchasing a facial mask
Choosing a face mask is a bit of a challenge, especially given all the options available. Plus, face masks are new to many men who, a few decades ago, never imagined they'd one day even consider purchasing or using one.
There are many things to consider when purchasing a facial mask. For example, you need to think about the type of skin you have. Based on your skin type, you can select the best face mask for men that will work great for your complexion.
Other important factors to consider include ingredients and price. The ingredients are important because not all facial masks are made with the same quality and quantity of ingredients. You also don't want to purchase a facemask that has too many chemicals in it.
Don't be intimidated, however. It's a new world, and we have your back.
1. Skin Type
Knowing your skin type is crucial to choosing any skincare products; what works for another man may produce less-than-stellar results for you simply because your skin is different. To pick what is best for you, you need to know your skin type.
The good news is that it's not all that hard to determine your skin type, and when in doubt, you can always consult a dermatologist. But we're confident you can figure it out on your own using our quick guide below.
Discover your skin type:
Dry skin
You'll know you have dry skin if it's flaky, exceptionally dry, or cracks easily. It all comes down to your skin sapping up the oils and moisture it naturally produces.
Harsh weather conditions, such as dry winter air, can exacerbate the problem, as well as other factors.
Shop for facial masks with moisturizing ingredients, such as jojoba oil, hyaluronic acid—especially important as our skin ages—and ceramides if you have dry skin.[1][2][3]
Oily skin
Men with oily skin often have a light sheen on their face, which may look slightly greasy. It means that your sebaceous glands are on overdrive while producing natural oils at a rate faster than your skin can absorb them.
Unlike men with dry skin, look for facial masks with fewer moisturizers but work to control oil production and shine. Clay-based masks often work best for men with oily skin.
Pro skin tip:
Jojoba oil, while a moisturizer, is also an oil-control product. Because it is so similar to our natural skin oil (sebum), it can actually curb sebum production in the sebaceous glands, which is very helpful for oily and acne-prone skin.
Acne-prone skin
Acne isn't just for hormone-flooded adolescents. Many men continue to suffer from bouts of acne long after they emerge from puberty, and using the wrong type of facial product can inflame the problem.
Many dermatologists recommend using face masks containing salicylic acid (a beta-hydroxy acid or BHA) to decrease oil production and prevent clogged pores. Other less potent forms of acids—called alpha-hydroxy acids (AHAs)—are also used to help curb outbreaks.[4][5]
Look for:
Glycolic acid
Citric acid
Lactic acid
Malic acid
Sensitive skin
Sensitive skin is susceptible to irritation, including when you're shaving, and facial masks that include ingredients that don't prolong irritation (be wary of alcohol-based products) are a safe bet for men with this skin type.
Normal skin
Men lucky enough to have normal skin—which represents the middle ground between dry and oily skin—can safely choose and use various facial masks. Just keep track of how they affect your skin and adjust your regimen as needed.
Combination
If your face is dry in some places and oily in others, then you have combination skin. You will need products formulated to address both conditions—think jojoba oil—or you will want to be selective about where you apply each product to tackle the dry and oily skin separately.
2. Ingredients
It's always wise to peruse a product's list of ingredients whenever you shop for skincare products, turn and learn! For one, you want to avoid additives that may cause allergic reactions when applied to your skin. While that's not a problem for many men, it always pays to be careful.
Common ingredients found in facial masks include collagen, hyaluronic acid, peptides, and essential oils. Many also contain ingredients such as volcanic ash and charcoal, which tackle particular conditions or ailments of the skin.
3. Types of masks
Facial masks available to men include an array of mask types, such as clay masks, charcoal-infused masks, sheet masks, mud masks, etc.
While each type works toward a common goal—to give users the healthiest facial skin possible—they often do so in different ways.
For example, some provide extra moisture, others reduce irritation and inflammation (redness), while others help treat the signs of aging or the effects of excess sun exposure.
4. Application
Always check the application instructions before choosing a face mask for men. That way, you will know what you are getting into and whether to ask for some guidance before taking it home.
Pro skin tip:
The instructions should include how long you leave the mask on during each application, and whether you should clean your face before and after each use.
5. Price
Most of us buy products based on our budget and lifestyle, although there's nothing wrong with a bit of splurging now and then. Especially for a product that delivers superior results or a more luxurious experience.
Remember that skincare is self-care.
On the other hand, there are plenty of high-quality face masks for men out there that come at an affordable price for almost anyone. Just because something has a higher price tag doesn't mean that it's a better product. The only part of the label that truly matters is that ingredient list!
Next, let's look at what we think are the best masks for men.
The 7 best face masks for men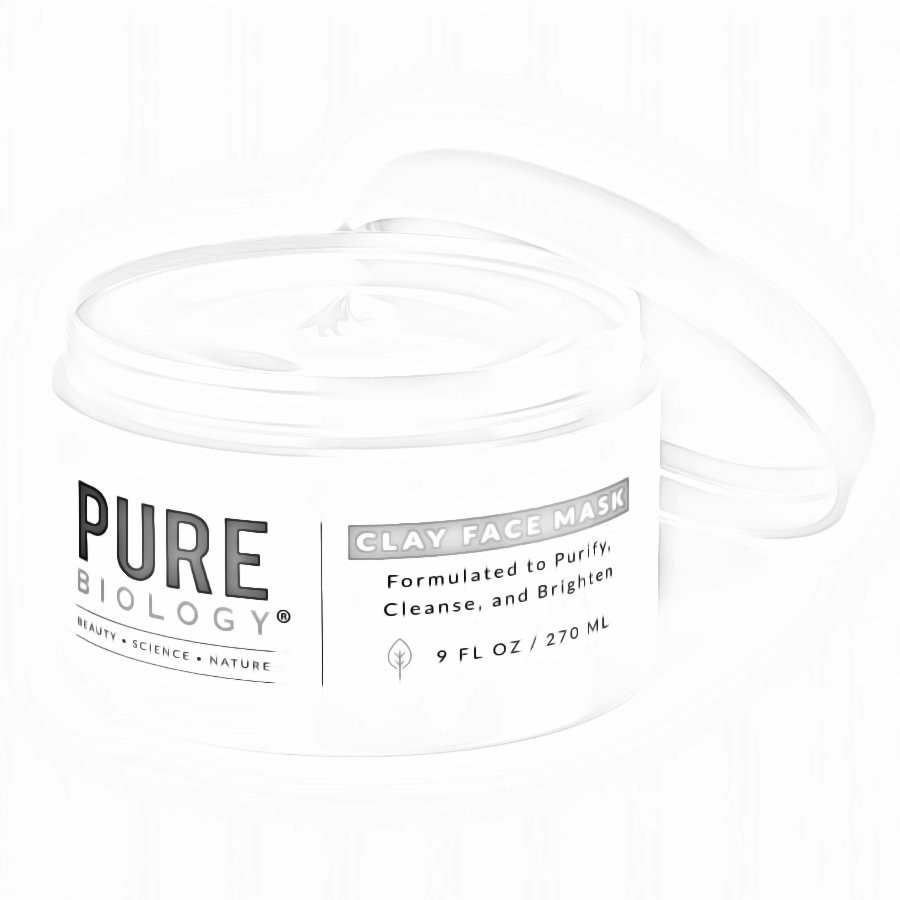 Best features:
Remove excess oil and the impurities trapped in it
Evens out skin complexion
Reverses sun damage
Smooths skin
Best face mask for:
This is the best mask for anyone fighting the signs of aging, especially aging due to sun exposure.
Overview:
Pure Biology packs a lot of healthy stuff into its clay mask for men and women, which helps users see many positive benefits for their skin.
What's in Pure Biology's mask?
Retinol (vitamin A), for one, which helps reduce fine lines and wrinkles. It works mainly by boosting collagen production and aiding the skin in the retention of hydration. In this mask, it comes in the form of retinyl palmitate, which is found naturally in our skin and also works as an antioxidant to help stop the damage caused by UV radiation.[6][7][8]
Another key ingredient is NaturePep Pea; this vegetable-derived compound helps reduce the production of melanin—natural pigments—caused by free radicals and harmful UV rays.[9][10]
It can also help tighten skin by promoting elastin and collagen production.[11]
Vitamin C & E are two other vital ingredients, and both reduce UV damage on the skin while protecting it from free radicals.[12][13][14][15]
Moreover, the two types of clay (kaolin & bentonite) serve as excellent exfoliators to eliminate excess oil and the dead skin cells and other impurities that get trapped inside it.[16]
Pure Biology recommends using its clay mask two to three times a week for the best results. Apply a thin layer of the clay on a clean face and then let it sit for 10-15 minutes before rinsing it thoroughly with warm water.
Pros
It is loaded with detoxifying and cleansing ingredients that improve skin health

Also suitable for treating acne breakouts

It gently exfoliates pores to reduce inflammation while allowing the skin to heal quickly

It helps to reduce the visible signs of skin damage
Cons
Be careful while using it on overly-sensitive skin.
Bottom line
The Bentonite Clay Mask by Pure Biology is suitable for men and women looking for a multipurpose product that addresses a long list of skin issues such as wrinkling and hyperpigmentation.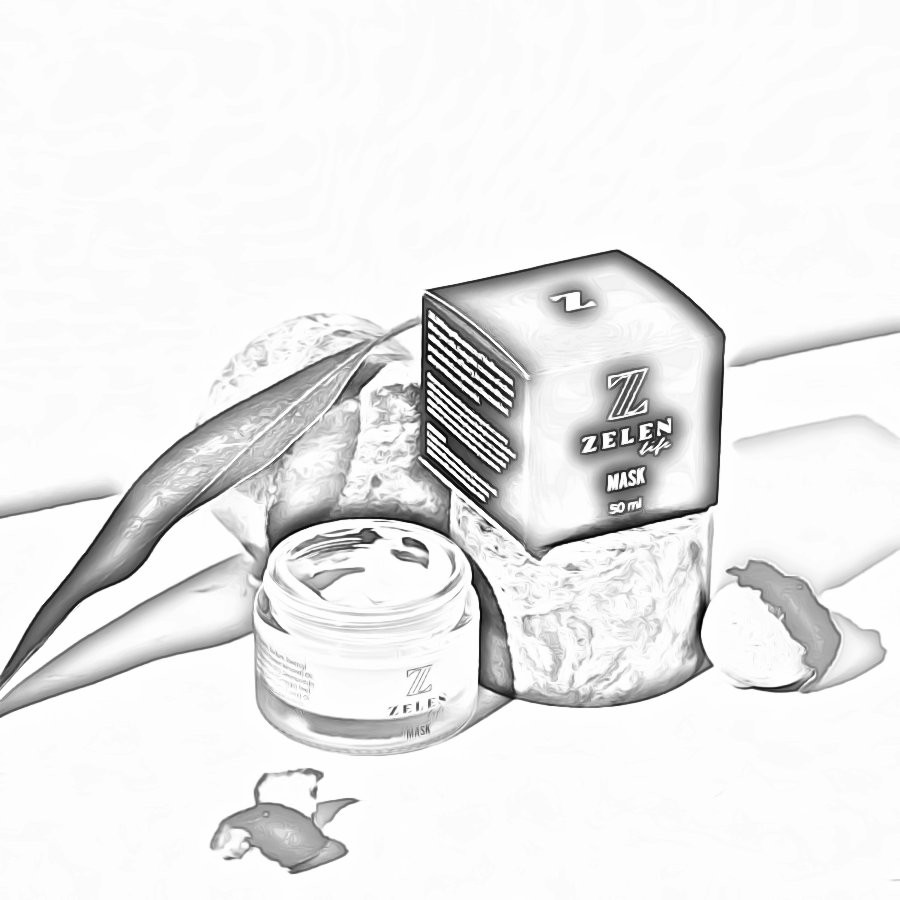 Best features:
Deep pore cleanse and controls skin oil
Adds moisture without clogging pores
Encourages skin regeneration
Anti-aging powerhouse
Best face mask for:
This is the best mask for anyone who needs a really deep cleanse, especially those who need help with oil control.
Overview:
The ZELEN Life Mask is handmade with an organic formula that contains powerful anti-aging and anti-acne ingredients.
It includes kaolin clay, a white clay that is a common ingredient for removing excess oil and impurities on the surface and deep within pores. It helps to reduce the occurrence of breakouts and keep the skin clean and clear.
Jojoba oil provides a nice hit of hydration for dry skin and provides a protective barrier to keep your skin healthy throughout the day. It also helps to control the amount of natural oil your skin produces. Jojoba oil is non-comedogenic, which means it does not clog your pores.[17]
Jojoba oil can also help regulate skin hormones and reduce the appearance of fine lines and wrinkles and speed up skin healing, helping repair any damage your skin may have endured.
Jojoba oil is one of the best ingredients you can use to control oil and hydrate your face!
Clary sage provides several soothing and beneficial compounds that reduce inflammation, neutralize free radicals, and kill bacteria. Clary sage helps to heal and protect your skin from sun damage while aiding in the prevention of acne breakouts.[18]
Last but certainly not least, the essential fatty acids provided by this mask give your skin the building blocks it needs to repair collagen, reducing fine line and wrinkles.[19]
Like all of ZELEN Life's products, the face mask doesn't contain chemicals; there are no parabens, sulfates, petrochemicals, or synthetic colors and fragrances. It is also cruelty-free and vegan-friendly.
ZELEN Life is a brand I am partly involved in, with someone who is no stranger to skincare issues, Jordan Sully. A completely natural and organic, Mediterranean-inspired skincare range.
Pros
White clay draws out impurities from the pores and skin surface

Jojoba oil adds moisture and oil control, reducing breakouts

Rejuvenates skin via encouraging new cell growth

Reduces redness and irritation
Cons
Some skin may react to clary sage
Bottom line
ZELEN Life's Face Mask is an organic mud mask packed with powerful ingredients that help to purify skin and control oil.
Best features:
Packed with skin-healthy minerals
Draws out excess oil to fight blackheads
Soothes skin
The best face mask for:
This is a great mask for those who have persistent blackheads. Give this one a shot to get rid of excess oil and those pesky little blemishes that come along with it.
Overview:
The Dead Sea conjures up many images, from religious figures to long-ago societies to iconic religious documents. The mud from the Dead Sea? Well, not so much, but the stuff has a lot of benefits regarding skincare.
It comes down to this:
The Dead Sea, a saltwater lake located in the Middle East between Israel and Jordan, has the lowest sea level of any body of water on earth. Mountains also surround this famous body of water.
The combination of the two makes the Dead Sea's mud rich with minerals such as potassium, magnesium, calcium, iron, and sodium. They're minerals that come with many health benefits, including increased hydration, improved skin barrier function, and reduced inflammation.[20]
The minerals from Dead Sea mud have been shown to help reverse the effects of UV radiation on the skin, one of the most significant contributors to skin stress and aging that we encounter.[21]
It means that they reduce skin impurities by helping to draw them away from the skin. This leads to cleaner, clearer skin with fewer blackheads for most users.
Which brings us to New York Biology's Dead Sea Mud Mask, it is useful for treating all types of skin and skin issues, including acne. Its high concentration of sodium and magnesium works powerfully to treat blackheads and other blemishes.
But there's more:
This clarifying mask relies mainly on shea butter and aloe vera for hydration.[22]
Aloe vera also soothes and heals skin helping it to recover from the environmental stressors of daily life.[23]
Shea butter aids in the alleviation of environmental stress as well. Recent studies have indicated that the triterpene esters consisting of the fatty acids: oleic acid, stearic acid, and others, make shea butter a powerful moisturizer with anti-inflammatory properties that increases the barrier thickness of the skin while promoting healthy collagen formation.[24]
To reduce irritation and inflammation on your skin, chamomile and sunflower oil have also been included.[25]
New York Biology has also included jojoba oil as well as vitamin A and E, which we already discussed above and are providing the same oil-control, healing, soothing, and skin tightening benefits here.
While the New York Biology Dead Sea Mud Mask comes loaded with various natural ingredients, it also contains dimethicone – a silicone that acts as a "smoothing" and hydrating agent that provides a silky feel. Whether that's a big deal for you is, of course, a matter of personal preference.[26][27]
Pros
Dead Sea mud helps to remove excess oil and impurities

Useful for treating blackheads and oily skin

Gentle enough for daily use
Cons
Some reviewers say it isn't as effective as previous versions
Bottom line
New York Biology's Dead Sea Mud Mask is the choice of many men looking to improve the overall health of their facial skin. It removes toxins, treats blackheads and oily skin, and gives your skin a healthier, softer feel.
Best features:
A little goes along, making this an affordable option
Formulated specifically for men's skin
Organic ingredients
Fragrance-free
The best face mask for:
Another clay mask, but this one is great for those with sensitive skin since R&D have left it free of fragrance.
Overview:
Clay is a ubiquitous and useful ingredient in face masks, including Rugged & Dapper's Face Mask For Men.
Clay and mud—you may wonder what the difference is, which is understandable. But there are differences, subtle as they sometimes may be.
Generally speaking, very generally, mud serves as a skin-healing agent, while the clay is more effective for removing excess oil. The latter makes clay an excellent choice for men with oily skin prone to breakouts (such as acne).
On the other hand, Rugged & Dapper's Face Mask is formulated to treat various skin types, not just oily skin, and it even provides a bit of hydration.
Rugged & Dapper's formula includes Kaolin clay, a common type of clay in many facial mask formulas. It's excellent for use on oily skin that leads to breakouts.
Besides clay, you'll find many other natural ingredients in the R&D mask, including aloe vera and shea butter, which we've looked at in the New York Biology mask.
What sets this one apart is grapeseed oil, sea kelp, and spirulina (a micro-algae that's an excellent detoxifier, among many other benefits), as well as a host of vitamins, minerals, and antioxidants.
The vitamins and antioxidants in grapeseed—including vitamin A and E and polyphenols—can reduce inflammation, destroy free-radicals, and even help prevent tumor formation.[28][29][30][31]
Sea kelp and spirulina are two marine-derived ingredients with several active compounds that aid in skin health. They work to reduce inflammation, improve skin texture, and reduce skin aging and sun damage.[32]
The Rugged & Dapper mask works by drawing out impurities while absorbing the excess oils that can lead to acne, blackheads, and an overly-shiny complexion. It also shrinks and tightens pores to prevent clogging – which also leads to breakouts.
Moreover, it provides another line of defense against fine lines, wrinkles, and other signs of aging.
While superb for men with oily and sensitive skin, the Rugged and Dapper Face Mask works well on all skin types and men of all ages.
Worth noting is what is not in this mask as well; it is entirely free of any added fragrances, which is very beneficial for those with sensitive skin as these are the types of ingredients that often lead to irritation.
Another thing we think you'll like about Rugged & Dapper's Face Mask for Men is that a container of it will last a long time because a little of it goes a long way. Meaning you don't have to slather it on in multiple layers to reap all of its benefits – and one or two applications a week will suffice.
Pros
Draws out excess oils and impurities that lead to breakouts

Formulated for men

Organic ingredients help to replenish essential nutrients

The fragrance-free formula is excellent for sensitive skin
Cons
The smell of the clay is a little strong for some
Bottom line:
Clay is an effective natural ingredient often used in skincare, and Rugged & Dapper effectively utilizes clay's many benefits in its Face Mask For Men. It's easy to apply, free of added fragrances, and you don't need to use a lot of it to get great results.
Best features:
Formulated for men
Helps to plump skin and reduce wrinkles
The best face mask for:
Men who are looking to reduce the visibility of wrinkles while giving their skin a deep cleanse.
Overview:
Brickell is an undeniably premium brand: they've featured on many of our other reviews, and they continue to impress us with their products' quality.
This Purifying Charcoal Face Mask is the perfect example of what they do so well: with its small formula filled with detoxifying Kaolin clay, it produces superb results for all skin types, leaving your skin firmer, healthier, and free of impurities.
The charcoal and Kaolin clay work together to extract build ups of bacteria, toxins, and excess oil from your face.[33][34]
MSM then restores and rejuvenates your skin tone by reducing inflammation and increasing collagen production, giving it a firmer appearance with a healthy glow.[35][36][37]
There's vitamin E to repair skin cells, tackling aging, particularly significant for men with oily skin. And there's plenty of aloe vera to moisturize your face and hyaluronic acid to hydrate and give a plumper appearance.[38][39]
While it's undeniably expensive, this stuff is definitely a step above most other men's face masks: it's specifically formulated with men in mind, and that's important because men's skin is generally quite different from women's.
So this stuff will keep yours feeling tight and fresh, no matter the specific issues your skin faces.
Pros
Purifies, detoxifies, restores and moisturizes

Great for all skin types

Designed specifically for men
Bottom line
A natural blend that works brilliantly for all men's skin.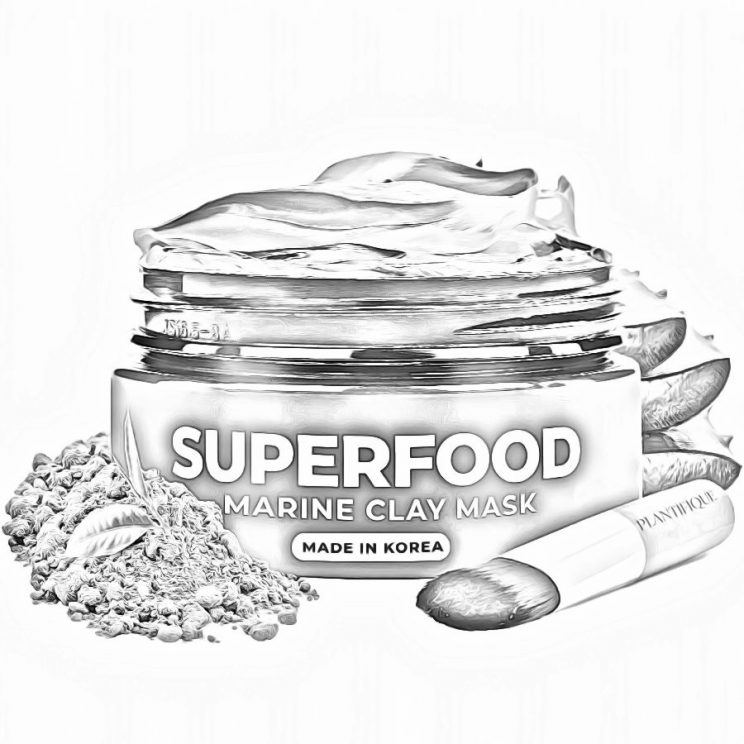 Best features:
Vegan
Contains 7 natural herbs
Easy to apply
The best face mask for:
The vegan conscious man
Overview:
While we haven't included any products on this list, which we would consider in any way morally questionable, we realize that some men have exceptionally high standards when it comes to the ethics of their grooming products. If that's you, you'll be glad to learn that this Marine Clay Mask is 100% vegan.
Made from all organic ingredients, this is a dermatologically certified blend that will cleanse your skin beautifully, leaving it looking more vital and healthier than ever.
The formula includes seven vitamin-rich ingredients (also known as superfoods), which give it its natural odor—some will love it, and some will hate it. But either way, it is not long-lasting and won't linger at all.
This list includes aloe vera and spirulina that we have already discussed.
But, it also includes the antioxidant-rich, free radical scavenging, youthifying green tea, and avocado.
Green tea helps to reverse damage from UV and boosts collagen production by promoting cell turnover—the process by which old, unhealthy cells are destroyed and broken down to make way for new healthy cells.[40]
Avocado oil has a host of beneficial compounds. Namely, vitamins A, D, & E, which we've talked about, help restore a youthful appearance in both tone and texture of the skin. It is also rich in linoleic and oleic acid and essential minerals. All of this adds up to a "superfood" that can reduce inflammation, nourish dry and chapped skin and promote collagen production.[41][42]
Applying this stuff is a delight: easy to spread, gentle to the touch, and very quick drying. However, removing it is a little harder than other face masks, and it can take a good scrub to remove every trace of it altogether.
Once you do get it off, though, you'll find your skin tingling: it tackles acne, redness, inflammation, and fatigue to bring your skin back to a natural, healthier state.
Pros
100% vegan and cruelty-free

Natural formula moisturizes and restores skin

Most reviewers love the smell
Cons
Not the easiest to remove
Bottom line
A perfect face mask for men who are looking for an ethical option that still produces results.
Best features:
A mega dose of antioxidants
Great for sensitive skin
The best face mask for:
If you have sensitive skin, give this one a go. It is packed with antioxidants and free of dyes and fragrance.
Overview:
Green matcha tea is an unusual ingredient to form the core of a face mask formula, and when you use MenScience's Androceuticals Facial Cleansing Mask, you will see why. Other skincare products, including many a face mask, include green tea.
Their premium face mask is made with a very high concentration of green matcha tea, which contains a ton of antioxidants and helps detoxify.
It also contains several other dermatological-grade ingredients like hyaluronic acid.
It purifies and detoxifies with the same Bentonite and Kaolin clay we talked about above, absorbing your skin's impurities and reducing oil, ultimately softening your skin and leaving it feeling refreshed for days afterward.
So if it doesn't have anything unusual from the other masks on this list, why did we include it?
Two reasons:
1) The sheer concentration (especially of green tea) sets this one apart and contributes to its effectiveness—but also its price tag.
2) The formula is totally natural—no chemicals, dyes, or added fragrances—and you can feel that as you use it. This makes it great for every skin type, which is unusual in a face mask, and means you can share it between friends or buy it with confidence no matter your skin type.
While it works like a dream, it is worth noting that this stuff is expensive, and you need to use reasonably generous helpings to get the full effect—meaning some will be turned off by the price alone.
Pros
Unique ultra-potent green tea matcha formula delivers high concentrations of antioxidants.

Actively purifies and nourishes skin with two types of clay

No added dyes or fragrances make this superb for sensitive skin
Cons
The price tag leaves some reviewers reeling
Bottom line
A natural, effective face mask that will help any man improve his skin, whether it is sensitive, oily, combination, or otherwise, leaving them feeling totally refreshed.
The how and why of our choices of best face masks
Face masks come in several types and with a variety of ingredients. Our goal was to include products that reflect this diversity.
We also wanted our list to include quality masks that could serve the myriad types of skin while offering many different benefits—from reducing impurities that lead to breakouts to adding needed hydration for men with dry facial skin to helping to fight the signs of aging.
Because skincare is so personal, everyone's skin is different; we wanted a list that covered the gamut of concerns men have for their skin.
We also considered other people's reviews, especially the reviews of customers, while also being conscious of other factors, such as price. You often get what you pay for, but sometimes even more for your money if you're a savvy shopper!
Thus, we have a range of products, all of which are quality but cover the spread of price ranges.
Frequently asked questions
Okay, so you've got an idea of some of the best products out there on the market, but you may have a few questions if you are new to the world of face masks. We are going to review a few of the most frequently asked questions here.
Why do I need a face mask, how are they different from other skincare products? 
While face masks may tip the scales in favor of your skin looking its best, or not, they're not the only facial skincare game in town by any means.
As with any aspect of your grooming routine—beard, face, body, etc.—it's to your benefit to have as many tools at your disposal as possible.
Here's a look at some of your many skincare options:
Face Masks 
Face masks have many advantages compared to other products, including that they come in a variety of forms that are effective in treating various skin issues. Using a face mask a couple of times a week provides many benefits which can include:
Moisturizing skin
Reducing fine lines, wrinkles, and other signs of aging
Exfoliating and unclogging pores
Providing a deep cleaning that daily cleansers just can't
Clearing acne and blackheads
Increasing blood circulation to your face
The type of mask may vary regarding its application: some will dry and harden on the skin before removal, while others will dry to a certain point before being pulled off. Others don't dry much at all, and you only need a gentle rinse with warm water to wash them off.
Finally, some are left on overnight or not removed at all.
While face masks might not be to every man's tastes, they're useful for everyone, if that makes sense.
If you can get past the "it's a woman's product" frame of mind (if you have that mindset, that is), you might find yourself with healthier facial skin that you previously thought was possible.
Anti-Aging Creams 
Some creams target the outward appearance of aging skin: wrinkles, brown spots, dark circles, tired-looking skin, and so on. Anti-aging creams and moisturizers contain a boatload of antioxidants, vitamins, and free-radical fighting ingredients.
These creams often slow the onset of the environmental effects of aging (think sun and pollution stress) while reversing the already present signs. Some target particular issues more than others, so you can pick and choose what your skin needs.
Cleansers 
Daily face cleansers and washes are better than your regular bar of soap—the one you just used to scrub your body and other parts.
Regular soap can dry out your facial skin, which is different than the skin on other parts of the body and can transfer bacteria and other nasty stuff to your face. You'll find cleansers for all skin types, from normal to oily to sensitive.
Exfoliators
Scrubs work well for exfoliating the skin and should be used once or twice a week for deep cleaning. Scrubs have a grittier formula than other skincare products and provide rigorous cleansing, not unlike facial masks.
These are called mechanical exfoliators. Be careful with these, as they can also cause microtears on your skin—not unlike rubbing with a towel.
Another type of exfoliator is chemical exfoliators. This includes the alpha- and beta-hydroxy acids (AHAs and BHA) we discussed earlier. They break the bonds between dead skin cells and the surface layer of skin, rather than trying to brute force them off like with mechanical exfoliators (scrubs).
Chemical exfoliation is actually a gentler process and usually easier on the skin, but everyone is different.
Acne Treatments 
Acne and oily-skin targeted products help to clear away excess oil and the impurities that get trapped within it. Oily skin treatments fall under a broad category. Some of the AHAs and BHA are also used to treat oily and acne-prone skin.
Gels 
Gels are lightweight, have a less-greasy feeling than other moisturizers and cleansers, and feel cooler on the skin. They use water, alcohol, or liquid fat to disperse their ingredients. They mainly serve as a moisturizer and not a cleanser.
Lotion 
Face lotions aren't as heavy as creams and primarily provide moisture rather than deep cleaning. The most basic kit for skincare includes a cleanser, a moisturizer, and sunscreen.
Because your face is much more sensitive than the rest of your body, you should have one set of products for your face and another for your body.
That being said, if you've got a skincare routine that works and have no issues present on your skin: don't fix it if ain't broke!
How do I use a face mask to keep my skin healthy?
There's more to using a face mask than slapping the product on and removing it within the suggested time frame. Not that it's a complicated process like, say, defusing a bomb, but there are some rules to follow.
1. Begin by cleansing your face
True, face masks are all about removing excess crap from your skin, including dirt and grime, but it's essential to start with a clean base before applying your mask.
Masks are for the deep-down dirt that a regular cleanse doesn't get, don't waste it on the surface stuff!
With a cleansed face, the mask's ingredients penetrate more deeply into the skin, improving the chances of getting the results you desire.
It's also a good idea to clean your hands with soap and water before you begin, as well. There's no sense in applying a facial mask with dirty or oily fingers.
When you're finished cleaning your face, pat it dry with a soft towel that doesn't irritate your skin.
Pro skin tip:
When drying, rubbing your skin causes microtears that you might be able to see but contribute to premature aging! This is true even if you have ultrasoft towels; stick to patting.
2. Open up your pores
This step isn't mandatory, but it is helpful: take a warm, wet towel, such as a hand towel, and lay it on your face for five minutes. The warm moisture helps open up your skin's pores and, in turn, makes it easier for your facial mask to provide deep cleaning.
3. Applying your mask
Apply generous portions of your mask to your face and neck areas. Be careful around your eyes; unless you're using a mask intended for your eyes, it's best to leave that area alone altogether. Masks that are made for undereye skin will often say so on the label.
4. Allow the mask to dry
Take the time necessary for your mask to dry thoroughly. Most take between 10 to 15 minutes to dry and harden—but check the label before you start and set a timer. There's no reason not to take advantage of this time, man—kick back, close your eyes, put on some smooth jazz, meditate, whatever! Just be still. Chill.
5. Rinse off the mask
Using a fresh warm and wet towel, gently remove the facial mask with small circular motions. Splash an extra bit of warm water to remove any residue that's left behind.
6. Dry your face
Gently pat dry your face with a soft cloth. Again, don't rub your face with a towel to dry it, but pat various sections of it dry before moving on to the next one.
7. Use a toner or moisturizer
The best way to finish your facial mask routine is by conditioning your face with a quality toner and moisturizer. Doing so helps hold the mask's beneficial ingredients on and in your skin, while also offering another dose of moisture.
Pro skin tip:
Toners are meant to help your skin absorb the active ingredients from other skincare products. They are simple to add to your routine and boost the effects of every other product in your skincare arsenal.
Can I use a face mask if I have a beard?
Absolutely! If you have a longer beard, you can apply it to the non-bearded areas of your skin. If your beard is shorter, to the point where you can get the mask onto the surface of the skin, then you can apply the mask to your entire face.
How often should I use masks in my skincare routine?
The answer depends on the mask. If they are soothing or hydrating, you can likely use them daily. However, a deep cleaning (aka "detoxifying") or exfoliating mask should only be used once or twice a week. Using these masks too often can irritate your skin.
Can I use more than one mask in a day?
Same as above, you don't want to use two exfoliating or deep cleanse masks in a day. However, you can follow one of those masks with something geared more towards soothing or hydrating, as either will help your skin recover.
You can also apply two different masks to separate areas of your face at one time. This type of application is useful for combination skin types or anyone else who has multiple skin concerns on their face—you can do this with moisturizers or other products as well.
For example, you may want to use something hydrating on drier patches and something that provides a deep clean on the oilier areas. Then, you can use a soothing mask to calm your skin.
What time of day is best?
Except for overnight masks and those containing retinoid compounds (vitamin A), there isn't a best time of day. You want to restrict vitamin A use to night time because it makes your skin more susceptible to UV radiation in almost all of its forms.
This increases your risk for sunburn and skin damage if you go out into the sun without giving the vitamin A several hours to do its work.
Other than that, it just about when you have time to wait for the mask to work before removing it. Face masks are a great way to make time for self-care and relaxation. They can be a great way to slow down after a hectic day or on your weekend.
Conclusion
Face masks are not just for women. Men can see significant changes in their skin if they start to incorporate these skincare staples into their regimen.
The best part is that you only need to use them once or twice a week—although some can be used more often if that's what you want.
Figure out your skin type and then pick the right face mask based on that.
Look for ingredients that are not only tailored to your skin type but address other concerns you have for your skin, such as aging, dark spots, clogged pores, or acne.
We'd love to hear from you. Do you use face masks? If so, what's your favorite brand and type? Have you used any of the products listed here?
If you know someone who is looking to boost their skincare game, share this article with them. We always welcome your feedback!
---
References
Eleni Papakonstantinou, Michael Roth, and George Karakiulakis, "Hyaluronic Acid: A Key Molecule in Skin Aging," Dermato-Endocrinology4, no. 3 (July 1, 2012): 253–58, https://doi.org/10.4161/derm.21923.
Tzu-Kai Lin, Lily Zhong, and Juan Luis Santiago, "Anti-Inflammatory and Skin Barrier Repair Effects of Topical Application of Some Plant Oils," International Journal of Molecular Sciences19, no. 1 (January 2018): 70, https://doi.org/10.3390/ijms19010070.
Luisa Coderch et al., "Ceramides and Skin Function," American Journal of Clinical Dermatology4, no. 2 (2003): 107–29, https://doi.org/10.2165/00128071-200304020-00004.
Christoph Abels et al., "A 10% Glycolic Acid Containing Oil-in-Water Emulsion Improves Mild Acne: A Randomized Double-Blind Placebo-Controlled Trial," Journal of Cosmetic Dermatology10, no. 3 (2011): 202–9, https://doi.org/10.1111/j.1473-2165.2011.00572.x.
Eskandar Moghimipour, "Hydroxy Acids, the Most Widely Used Anti-Aging Agents," Jundishapur Journal of Natural Pharmaceutical Products7, no. 1 (2012): 9–10.
Reza Kafi et al., "Improvement of Naturally Aged Skin With Vitamin A (Retinol)," Archives of Dermatology143, no. 5 (May 1, 2007): 606–12, https://doi.org/10.1001/archderm.143.5.606.
Siddharth Mukherjee et al., "Retinoids in the Treatment of Skin Aging: An Overview of Clinical Efficacy and Safety," Clinical Interventions in Aging1, no. 4 (December 2006): 327–48,
"Retinyl Palmitate | Paula's Choice," May 21, 2020, https://www.paulaschoice.com/on/demandware.store/Sites-paulaschoice_us-Site/en_US/Page-Show?cid=retinyl-palmitate.
Isabelle Imbert et al., "Pisum Sativum Extract for Safe- and Self-Tanning," n.d., 8.
"Pisum Sativum (Pea) Extract | Paula's Choice," accessed October 6, 2020, https://www.paulaschoice.com/on/demandware.store/Sites-paulaschoice_us-Site/en_US/Page-Show?cid=pisum-sativum.
Kennedy et al., "The Anti-Ageing Effects of a Natural Peptide Discovered by Artificial Intelligence," International Journal of Cosmetic Science42, no. 4 (2020): 388–98, https://doi.org/10.1111/ics.12635.
Patricia Farris et al., "Evaluation of Efficacy and Tolerance of a Nighttime Topical Antioxidant Containing Resveratrol, Baicalin, and Vitamin e for Treatment of Mild to Moderately Photodamaged Skin," Journal of Drugs in Dermatology: JDD13, no. 12 (December 2014): 1467–72.
Jens J. Thiele and Swarna Ekanayake-Mudiyanselage, "Vitamin E in Human Skin: Organ-Specific Physiology and Considerations for Its Use in Dermatology," Molecular Aspects of Medicine, Vitamin E: An Overview of Major Research Directions, 28, no. 5 (October 1, 2007): 646–67, https://doi.org/10.1016/j.mam.2007.06.001.
Naiara S. Barbosa and Amer N. Kalaaji, "CAM Use in Dermatology. Is There a Potential Role for Honey, Green Tea, and Vitamin C?," Complementary Therapies in Clinical Practice20, no. 1 (February 1, 2014): 11–15, https://doi.org/10.1016/j.ctcp.2013.11.003.
Yasunobu Ochiai et al., "A New Lipophilic Pro-Vitamin C, Tetra-Isopalmitoyl Ascorbic Acid (VC-IP), Prevents UV-Induced Skin Pigmentation through Its Anti-Oxidative Properties," Journal of Dermatological Science44, no. 1 (October 1, 2006): 37–44, https://doi.org/10.1016/j.jdermsci.2006.07.001.
Agnese Pura, Inga Dusenkova, and Juris Malers, "Adsorption of Organic Compounds Found in Human Sebum on Latvian Illitic, Kaolinitic, and Chloritic Phyllosilicates," Clays and Clay Minerals62, no. 6 (December 1, 2014): 500–507, https://doi.org/10.1346/CCMN.2014.0620604.
G K Sandha and V K Swami, "JOJOBA OIL AS AN ORGANIC, SHELF STABLE STANDARD OILPHASE BASE FOR COSMETIC INDUSTRY," 2009, 7.
Gokhan Zengin et al., "New Insights into the in Vitro Biological Effects, in Silico Docking and Chemical Profile of Clary Sage – Salvia Sclarea L.," Computational Biology and Chemistry75 (August 1, 2018): 111–19, https://doi.org/10.1016/j.compbiolchem.2018.05.005.
Meagen M. McCusker and Jane M. Grant-Kels, "Healing Fats of the Skin: The Structural and Immunologic Roles of the Omega-6 and Omega-3 Fatty Acids," Clinics in Dermatology28, no. 4 (August 2010): 440–51.
Ehrhardt Proksch et al., "Bathing in a Magnesium-Rich Dead Sea Salt Solution Improves Skin Barrier Function, Enhances Skin Hydration, and Reduces Inflammation in Atopic Dry Skin," International Journal of Dermatology44, no. 2 (February 2005): 151–57, https://doi.org/10.1111/j.1365-4632.2005.02079.x.
Portugal-Cohen, Meital, Yoram Soroka, Zeevi Ma'or, Miriam Oron, Tamar Zioni, François Menahem Brégégère, Rami Neuman, Ron Kohen, and Yoram Milner. "Protective Effects of a Cream Containing Dead Sea Minerals against UVB-Induced Stress in Human Skin." Experimental Dermatology18, no. 9 (September 2009): 781–88. https://doi.org/10.1111/j.1600-0625.2009.00865.x.
Chularojanamontri, Leena, Papapit Tuchinda, Kanokvalai Kulthanan, and Kamolwan Pongparit. "Moisturizers for Acne." The Journal of Clinical and Aesthetic Dermatology7, no. 5 (May 2014): 36–44.
Hamman, Josias H. "Composition and Applications of Aloe Vera Leaf Gel." Molecules13, no. 8 (August 8, 2008): 1599–1616. https://doi.org/10.3390/molecules13081599.
Andersson, Ann-Charlotte, and Jari Alander. "Shea Butter Extract for Bioactive Skin Care," June 10, 2020. https://www.semanticscholar.org/paper/triterpene-esters-reported-in-the-literature-they-Andersson-%C3%85lander/2f5d85c7dbcf402d8ff25692278808f27c2a2a69.
Tzu-Kai Lin, Lily Zhong, and Juan Luis Santiago, "Anti-Inflammatory and Skin Barrier Repair Effects of Topical Application of Some Plant Oils," International Journal of Molecular Sciences19, no. 1 (January 2018): 70, https://doi.org/10.3390/ijms19010070.
Leena Chularojanamontri et al., "Moisturizers for Acne," The Journal of Clinical and Aesthetic Dermatology7, no. 5 (May 2014): 36–44.
"Dimethicone | Paula's Choice," accessed October 6, 2020, https://www.paulaschoice.com/on/demandware.store/Sites-paulaschoice_us-Site/en_US/Page-Show?cid=dimethicone.
Mary Ndiaye et al., "The Grape Antioxidant Resveratrol for Skin Disorders: Promise, Prospects, and Challenges," Archives of Biochemistry and Biophysics, Biochemistry and Biophysics of the Skin, 508, no. 2 (April 15, 2011): 164–70, https://doi.org/10.1016/j.abb.2010.12.030.
John P. Heggers et al., "The Effectiveness of Processed Grapefruit-Seed Extract as An Antibacterial Agent: II. Mechanism of Action and In Vitro Toxicity," The Journal of Alternative and Complementary Medicine8, no. 3 (June 1, 2002): 333–40, https://doi.org/10.1089/10755530260128023.
Bahare Salehi et al., "Resveratrol: A Double-Edged Sword in Health Benefits," Biomedicines6, no. 3 (September 9, 2018), https://doi.org/10.3390/biomedicines6030091.
"A Review on Grapes: The Forgotten Berry of Cosmetics – ProQuest," June 3, 2020.
Valentina Jesumani et al., "Potential Use of Seaweed Bioactive Compounds in Skincare—A Review," Marine Drugs17, no. 12 (December 2019): 688, https://doi.org/10.3390/md17120688.
Hobson, Emma. "Down and Dirty." Professional Beauty, no. Jan/Feb 2017 (February 2017): 34.
Kabra, Kavya, Ismaeel Khan, Paul Anamika, Maham Malik, Sanjni Mehrotra, and Shipra Giri. "Preparation of Face Wash Using Activated Charcoal and Green Tea Extracts." World Scientific News113 (2018): 157–63.
Norma Cameli et al., "Comparative Instrumental Evaluation of Efficacy and Safety between a Binary and a Ternary System in Chemexfoliation," Journal of Cosmetic Dermatology17, no. 5 (2018): 788–96, https://doi.org/10.1111/jocd.12424.
Stanley W. Jacob, "DMSO: Potential Usefulness in Physical Therapy," Physical Therapy49, no. 5 (May 1, 1969): 470–75, https://doi.org/10.1093/ptj/49.5.470.
Matthew Butawan, Rodney L. Benjamin, and Richard J. Bloomer, "Methylsulfonylmethane: Applications and Safety of a Novel Dietary Supplement," Nutrients9, no. 3 (March 2017): 290, https://doi.org/10.3390/nu9030290.
Eleni Papakonstantinou, Michael Roth, and George Karakiulakis, "Hyaluronic Acid: A Key Molecule in Skin Aging," Dermato-Endocrinology4, no. 3 (July 1, 2012): 253–58, https://doi.org/10.4161/derm.21923.
Massimo Milani and Adele Sparavigna, "The 24-Hour Skin Hydration and Barrier Function Effects of a Hyaluronic 1%, Glycerin 5%, and Centella Asiatica Stem Cells Extract Moisturizing Fluid: An Intra-Subject, Randomized, Assessor-Blinded Study," Clinical, Cosmetic and Investigational Dermatology10 (August 11, 2017): 311–15, https://doi.org/10.2147/CCID.S144180.
Naiara S. Barbosa and Amer N. Kalaaji, "CAM Use in Dermatology. Is There a Potential Role for Honey, Green Tea, and Vitamin C?," Complementary Therapies in Clinical Practice20, no. 1 (February 1, 2014): 11–15, https://doi.org/10.1016/j.ctcp.2013.11.003.
Tzu-Kai Lin, Lily Zhong, and Juan Luis Santiago, "Anti-Inflammatory and Skin Barrier Repair Effects of Topical Application of Some Plant Oils," International Journal of Molecular Sciences19, no. 1 (January 2018): 70, https://doi.org/10.3390/ijms19010070.
Gennady Rosenblat et al., "Polyhydroxylated Fatty Alcohols Derived from Avocado Suppress Inflammatory Response and Provide Non-Sunscreen Protection against UV-Induced Damage in Skin Cells," Archives of Dermatological Research303, no. 4 (May 2011): 239–46, https://doi.org/10.1007/s00403-010-1088-6.
---
YOU MIGHT ALSO LIKE:
Best Eye Creams for Men to Fight Aging & Puffy Eyes