10 Best Lip Balms for Men Your Chapped Lips Urgently Need
This post may contain affiliate links. Learn more.
It's that time of your again, and your lips are dry, chapped, and cracking. Ouch.
What's a guy to do? Buy a good lip balm, of course.
Unfortunately, there are so many mediocre to bad lip balms out there, which use cheap, toxic ingredients, leave your lips shiny and glossy, or simply don't work.
So, to save you some time and headaches, we compiled this list of the best lip balms.
In a hurry? Here are our top picks:
Jack Black Intense Therapy Lip Balm SPF 25
Our top overall pick is Jack Black Intense Therapy Lip Balm SPF 25, which uses natural ingredients and antioxidants to give your lips dermatologist-tested protection from both dryness and the sun. It comes in a wide variety of flavors, from vanilla mint to grapefruit & ginger.
Brickell Men's No Shine Lip Balm
If you are looking for something that does not make your lips shiny – you'll love our #2 pick, Brickell Men's No Shine Lip Balm. It also provides decent sun protection.
Along the way, we'll also cover the different types of lip balm, give you some general tips for choosing a lip balm, and even show you the best way to apply it for maximum results.
Quick summary
<!—INSERT CODE BELOW—>

Best Overall

Jack Black Intense Therapy Lip Balm SPF 25

Natural formula packed with antioxidants

Dermatologist standard

Offers sun protection

Check on Amazon

Best For No Shine

Brickell Men's No Shine Lip Balm

Subtle UV protection

100% natural and organic

Doesn't make the lips shiny

Check on Amazon

Best Value

Burt's Bees Beeswax Lip Balm

Bio-active natural ingredients

Protects the lips in any environment

Affordable on a budget

Check on Amazon

Badger Balm Broad Spectrum Lip Balm Stick

Provides lips with moisture

Scented and unscented options

Excellent natural ingredients

Check on Amazon

Hurraw! Lip Balms: Sun SPF 15

Suitable for vegans

Great sun protection

Clear when applied

Check on Amazon

Oars + Alps Shine Free Lip Balm

Formula includes sun protection

Perfect for frequent use

Moisturizes and protects in one

Check on Amazon

Menscience Androceuticals Advanced Lip Protection

Natural formula

High quality sun protection

Active botanicals moisturizes lips

Check on Amazon

Anthony Logistics For Men Mint & White Tea Lip Balm SPF 25 

Soothing effect for sore lips

Non-glossy look

Strong sun protection

Check on Amazon

Dr. Dans Cortibalm Lip Balm

Protects lips in all environments and weather conditions

Hydrocortisone reduces swelling

Complements acne and psoriasis treatments

Check on Amazon

C.O. Bigelow My Favorite Night Balm No. 306

Great aroma to this product

Made by a company with elite experience

Actively works at night

Check on Amazon
Before you buy: 4 Things to consider when purchasing lip balm for men
As a man, it can be difficult to find a lip balm that caters to your unique needs. You may even wonder if lip balm is even necessary. The truth is, men's lips are just as susceptible to dryness and chapping as women's lips are. There are many things you should consider when looking for the right lip balm.
Buying lip balm is like buying most everything else: it helps to have a game plan and the facts before choosing a balm that's right for you. Here are some things to keep in mind before making your next purchase:
1. Ingredients
Balms are only as good as their ingredients and knowing what ingredients are good for you – and those that aren't – is vital in picking a balm for you. A balm with added phenol may actually dry out your lips and lead to cracked, broken skin over time, for example.
Meanwhile, ingredients such as camphor and menthol may leave your lips feeling tingly, which isn't a bad thing, but can enter your body if left on your lips for an extended time.
So, what ingredients should you look for in a lip balm? As with many other of our product reviews, we think natural ingredients are best. Ingredients such as beeswax and shea butter, for example, as well as essential oils and cocoa butter.
We also recommend that you consider a balm that offers Sun Protection Factor for extra protection. The skin on your lips is thin and can become cracked and dry due to over-exposure to the sun's rays.
However, you don't need a balm with maximum sun protection – as you'd find in a sunscreen – because you'll apply balm several times throughout the day.
2. Container
Your choices when buying lip balm almost always come down to balm that's in a stick, tube, or tin.
A stick is usually better when it comes to ease of application and less mess. But the quality of a balm doesn't depend on its container. It's simply a question of what type of application method you prefer.
3. Brand name
OK, the brand isn't everything when it comes to any product, because many so-called "off brands" are as good, or better, than easily recognizable ones. But there's also a reason that many people prefer popular brand names, and the reason is quality.
Well-known lip balm brands such as Jack Black are top sellers because, for one, they work. The bottom line is that many lesser-known balm brands work superbly, but you also don't want to ignore brands that you already recognize.
4. Value
There's nothing wrong with being cost-conscious, but beware if you choose a lip balm because of its (low) price tag. There's often a reason for the cheap price.
On the other hand, a higher price doesn't guarantee a better product. So, what you're looking for – depending on your budget, of course – is value.
It's worth noting, however, that balms that include natural ingredients tend to cost a bit more than those that don't, but we like natural ingredients and think you will, too.
Now that you're armed with some buying tips, let's take a closer look at the best lip balm for men.
The 10 best lip balms for men
It's no coincidence that the Jack Black name pops up often in reviews of the best grooming products for men. For one, they work, and its Intense Therapy Lip Balm SPF is no exception. We think it's the best lip balm for men.
And what's not to like?
Jack Black's go-to balm includes important natural ingredients such as beeswax (which serves as a protectant) and shea butter (which acts as a moisturizer). But there's more, including green tea leaf extract, cocoa butter, and avocado oil.
Here's the other thing: Jack Black's Intense Therapy Lip Balm SPF 25 also includes sun protection, hence the SPF 25 in its name.
The balm protects your lips from any weather condition, whether it's a hot day at the beach or a March morning in the most frigid of climates.
The Intense Therapy Lip Balm comes in a tube and is easy to apply. It provides a nice cushion on your lips without adding a ton of shine.
It comes in a mint flavor that is said to help freshen breath, and there are other flavors to choose from, including lavender, chamomile, vanilla, and more.
Type Balm in a tube
Pros
Natural ingredients and antioxidants

Provides sun protection

Dermatologist approved
Cons
Goes on too thick for some users
Bottom Line
Jack Black's Intense Therapy Lip Balm is a good choice for a lot of reasons, not the least of which is how it soothes dry, chapped lips. But it also offers sun protection and works well in even the harshest weather conditions. It even comes in a variety of flavors.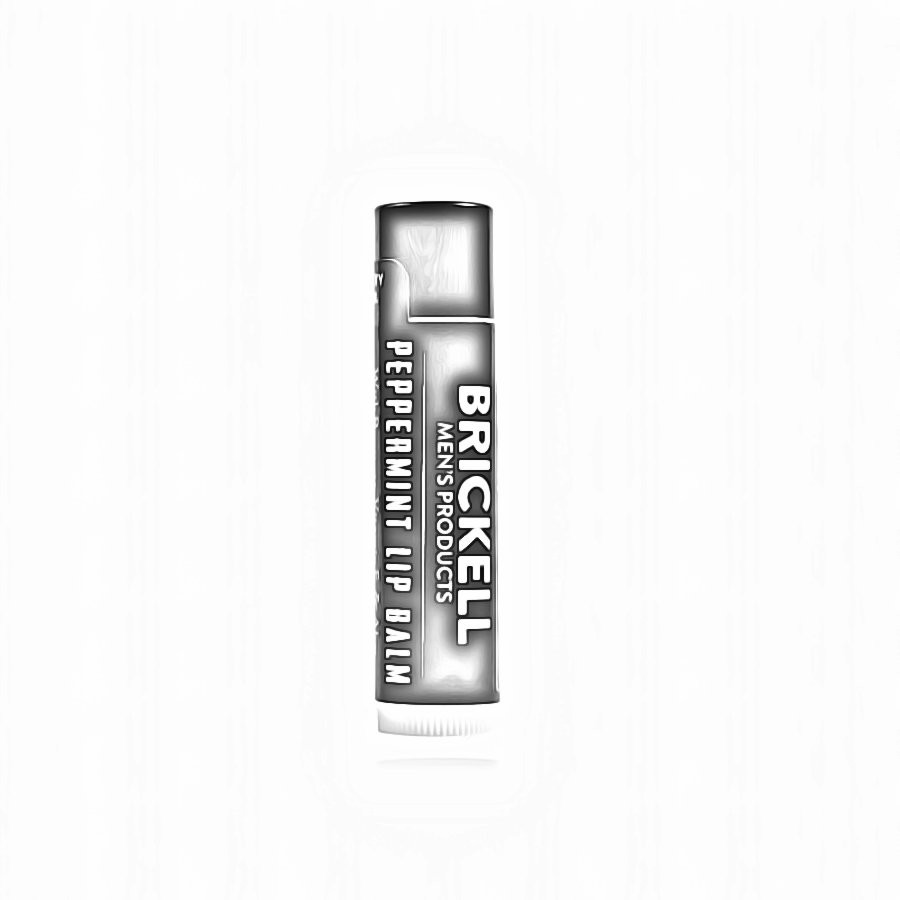 Your lips are dry and chapped, so you slather on some lip balm. Cool.
But when you catch your reflection in the mirror, you look like you're wearing your sister's Fabulous Diva passion fruit lip gloss. Not cool.
It's a common conundrum. You want to keep your lips healthy and moisturized. But as a guy, you don't want them looking all shiny and glossy.
Fortunately, with our next pick, Brickell Men's No Shine lip balm, you can have the best of both worlds. In fact, i's our top recommendation for a no-shine finish.
But it still holds its own among the best lip balms for repairing and renewing dry, cracked, and chapped lips. It even provides SPF15 rated UVA/UVB protection from the sun.
And it's made with 100% natural and organic ingredients, including olive oil and beeswax. It's also vegan friendly, like all Brickell's products, and doesn't contain sulfates, parabens, or any of that other crap.
Our only complaint? The price. Brickell's lip balm is one of the more expensive picks on our list. But then again, most natural and organic men's hygiene products don't come cheap.
Type: Stick
Pros
100% natural, 100% organic

Subtle UV protection

No shine when applied
Bottom Line
If you're looking for a great no-shine lip balm, a lip balm with 100% natural and organic ingredients, or both, Brickell's No Shine Lip Balm might be the pick for you. It'll soothe and moisturize your dry lips, without the shiny or glossy finish you get with some lip balms.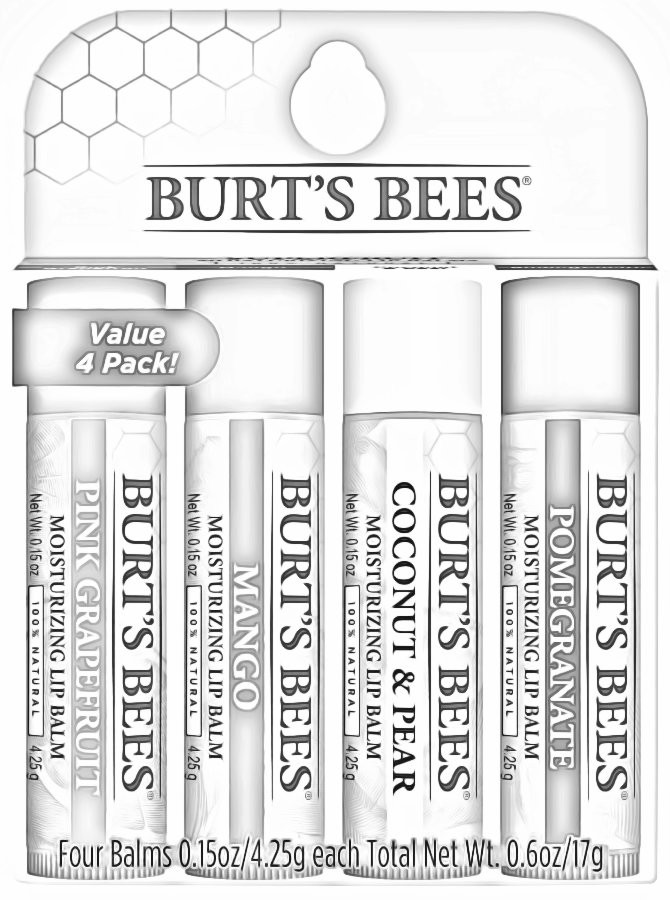 Burt's Bees founders Burt Shavitz and Roxanne Quimby got their start by selling candles made from the wax of Shavitz's beehives. They next decided to produce and market lip balm and the rest, as they say, is history.
Today, you'd be hard-pressed not to find a store or gas station or whatever that didn't carry Burt's Beeswax Lip Balm. The stuff has been around since 1991 and remains a popular choice for men and women seeking quality lip care.
It's also the catalyst that turned Burt's Bees into a widely-recognized brand name and a company that makes a variety of skincare products.
What makes Burt's Bees Beeswax so good, and so popular? Let's have a look:
Burt's Bees Balm – and their other skincare products – contain all-natural ingredients. Their lip balm includes beeswax, of course, but also other natural ingredients such as coconut oil, sunflower seed oil, rosemary leaf extract, canola oil, and more.
You won't find any harmful parabens in Burt's Bees Balm.
One of the many positives of beeswax is that it's great for conditioning the skin and is effective in fighting lip chapping.
Meanwhile, vitamin E is an antioxidant that provides additional moisture and protection for your lips, while peppermint oil provides a pleasing, tingling sensation.
Ideal for all weather conditions
Burt's Bees Balm works well in most environments, including the extremes of high heat and frigid cold. You'll have the confidence of knowing that your lips have protection in even the harshest of conditions.
You know how are your lips can get, especially in tough weather conditions: dry, chapped, sore, easily-irritated. Not much fun, to say the least. But Burt's Bees Beeswax Lip Balm has you covered with a formula that soothes your lips while making them softer.
Dark lips aren't the end of the world by any means, but many people – including men – prefer lips of a lighter shade. And one of the common causes of dark, pigmented lips is smoking.
The good news is that Burt's Bees Beeswax Lip Balm is one of the best balms available for dark lips thanks to its combination of healthy nutrients and nourishing elements which soften, hydrate, and even lighten lips. It's the best lip balm for smokers.
For a product that works so well and has been around so long, Burt's Beeswax Lip Balm is priced to fit every man's budget.
Type: Stick
Pros
All-natural active ingredients

Provides excellent protection in any environment

Budget-friendly
Cons
Some users say you have to re-apply it more than some other lip balms
Bottom Line
Just look at the reviews: people like Burt's Beeswax lip balm and continue to buy it 25+ years after it first hit the market. It does just what a lip balm should do, i.e., it soothes and protects the skin on your lips.
The good people at Badger Balm are all about organic and natural.
Company founder Bill Whyte was a carpenter who specialized in building non-toxic homes, but who was desperate to find relief from chapped, irritated hands that came from working outdoors in New Hampshire winters.
Whyte mixed up a batch of beeswax and olive oil in his kitchen, tinkered with the formula some more, and developed a skin balm that was an immediate hit among fellow carpenters.
Two years later, Whyte developed a lip balm that's still earning rave reviews two decades later.
What's Whyte's secret formula? Well, it's very similar to his original mix meant to soothe chapped hands.
Badger combines organic extra virgin olive oil, beeswax, and aloe vera in creating a balm that protects lips while providing needed moisture in even the harshest weather conditions.
Badger Balm's Broad Spectrum Lip Balm Stick is USDA-certified organic and also includes rosehip extracts and seabuckthorn. The balm has a light texture that goes on smooth and glossy and has a variety of antioxidants to keep your lips healthy without irritation.
Badger Balm gives you plenty of options when it comes to scent, as well. Their lip balms for men come in scents such as Lavender & Orange, Highland Mint, Ginger & Lemon, as well as Tea Tree & Lemon. Or, if the scent isn't your thing, they also make an unscented balm.
Hey, you can even use Badger Balm Broad Spectrum Lip Balm Stick on cuticles and dry patches of skin in a pinch. Your lips are the primary target, but the stuff's versatile.
Type: Stick
Pros
Moisturizes lips

Comes in scented and unscented varieties

Natural ingredients
Cons
A bit greasy for some users
Bottom Line
Badger Balm's products provide another great option for buyers seeking all-natural products.
Their lip balm is strong enough to protect your lips in the harshest of conditions – something you'd expect from a product originally designed to safeguard the hands of carpenters.
Hurraw's lip balms are different from many others in because they don't include beeswax. Instead, they use candelilla wax which, like beeswax, provides lubrication and gloss to chapped lips.
The only major difference between the two is that candelilla wax – derived from a shrub native to northern Mexico and the southwestern U.S. – is suitable for vegans.
Candelilla wax is also a bit denser than beeswax, and you don't need as much candelilla wax in a lip balm formula as you do beeswax, but both candelilla wax and beeswax are excellent for repairing and protecting your lips.
The Hurraw Sun SPF 15 balm also includes zinc oxide – the only natural sunscreen available that blocks both UVA and UVB rays. Zinc oxide is a mineral that provides a barrier between your lips and the sun's most harmful rays.
The SPF 15 means that your skin (and lips) are protected 15 times longer than products that have no SPF.
As you'd expect from a product that's suitable for vegans, the Hurraw Sun SPF 15 is made with organic ingredients – although zinc oxide, technically-speaking, isn't 100% organic – and lists oils such as coconut, almond, and citrus in its formula.
The Hurraw Sun SPF 15's scent vanilla and chamomile scent are nice, too. While that might not sound overly masculine, it's refreshing without being overpowering. Besides, you'll love the way your lips feel and the proven sun protection.
Type: Tube
Pros
Vegan-friendly

Excellent sun protection

Glides on clear
Cons
Not as easy to apply as some balms
Bottom Line
The Hurraw Sun SPF 15 lip balm is vegan-friendly, yet not only suitable for vegans. It protects your lips from the sun's harshest rays while repairing damaged skin.
There is a lot to love about Oars + Alps Shine Free Lip Balm. It is made with a lot of natural ingredients such as shea butter, beeswax, and alpine caribou moss, and it also includes SPF 18 sunscreen protection.
Let's talk a little bit about its ingredients.
Shea butter is rich in fatty acids and antioxidants, making the lips soft and supple. Also, it is rich in anti-inflammatory properties assisting to treat cracked lips.
Beeswax provides unrivaled moisturization to the lips reducing the effects of dryness. It forms a protective layer on the surface, keeping the moisture from escaping for longer.
Lastly, alpine caribou moss combined with the SPF 18 protection protects the lips from environmental elements such as harmful UV rays.
Applying this balm makes your lips instantly feel softer and hydrated. It doesn't make them shiny and does a great job protecting them from the sun, during the warm sunny period.
As for the scent, it has a minty character and is by no means overpowering. On the contrary, it is balanced and pleasant.
Overall, this is a lip balm that conditions and protects dry and chapped skin, it moisturizes, and leaves your lips feeling healthy in even the most extreme weather conditions.
Type: Stick
Pros
Great for very dry lips

The formula includes sunscreen (SPF 18)

Great scent

Great price
Cons
Other lip balms on our list have stronger SPF protection
Bottom Line
A super hydrating balm that also provides excellent protection against the harmful effects of UV rays.
MenScience Androceuticals formed in 2004 to provide men with modern skincare – forget ye olde soap and water.
They began with products designed to relieve ingrown hairs and razor burn, but expanded their product line to include anti-aging and acne creams, nutritional products and, yes, lip balm.
They even have a blog – MenScience Magazine – to keep subscribers informed about everything from skincare to nutrition. Their theory is that the more you know about your body, the more equipped you are to take care of it. We concur.
But let's talk about their lip balm and why we like it. And if you're a man suffering from chapped and broken lips, we think you'll like it, too.
For starters, the MenScience Androceuticals Advanced Lip Protection has a Sun Protection Factor of 30, which is higher than most lip balms.
It not only protects your lips from the sun, but also from wind and winter damage. In other words, it provides ideal year-around protection while reducing lip irritation in even the most extreme weather conditions.
The key ingredients in the Advanced Lip Protection lip balm include vitamin E, soy, and olive oil extracts.
Soy has many benefits to the skin; it adds moisture, it protects against aging, it helps protect against sun damage, it provides more even skin texture, and is rich in lecithin – which hydrates and repairs the surface of the skin.
Soy also includes something called isoflavone, which heals and clears age spots and sunburn scars.
Users say that one needs to apply a liberal amount of the MenScience Androneuticals Advanced Lip Protection to get maximum results, and that you should apply it frequently throughout the day during harsh weather conditions.
Advanced Lip Protection comes in a small tube that should last you a month but is more than good enough to justify buying a new tube every several weeks.
Also, there's free shipping on all MenScience products – which also come with a 100% money back guarantee.
Type: Tube
Pros
Natural ingredients

Superior sun protection for your lips

Natural botanicals moisturize your lips
Bottom Line
MenScience offers high-quality skincare products for a variety of uses, including its lip balm.
Their Advanced Lip Protection stands up in the harshest weather conditions but is also ideal for everyday indoor uses. Applying it a twice a day – or, as needed – keeps your lips smooth, moisturized, and without cracks, flakiness, or irritation.
We're men. And as men, we don't care that much if our lips shine after applying lip balm. What we care about is whether our chapped and sore lips are soothed and protected.
With Anthony Logistics Lip Balm SPF 25, you get all the protection without a shine. Not that shine is bad, mind you. It's just that some of us can do without it. All that said, the Anthony Logistics SPF lip balm is perhaps the best no shine lip balm on the market.
That's not the only reason to choose this balm, however.
It also comes with SPF 25 sun protection and its formula includes beeswax, shea butter, white tea leaf extract, green tea leaf extract, safflowers seed oil and other ingredients that nourish and protect your lips in even the harshest weather.
It even includes resveratrol, a proven wrinkle reducer.
But, again, one of the things we like about this balm is that it works "undercover" to protect your lips. That is, you hardly see it on your lips after application but you don't have to worry whether it's doing its job or not.
You will notice its mint flavor, which won't overwhelm you but helps freshen your breath, nonetheless.
Anthony Brands has been around for a while; well, since 2000 that is – and has become a leading personal care company that develops high-quality products for men and women.
Anthony Sosnick, a commercial real estate developer, founded the company because of his frustration over what he saw as a lack of excellent grooming products available to men.
Since then, his company has expanded to include a vast line of products sold worldwide. And when it comes to lip protection, don't hesitate to look for the Anthony name.
Type: Tube
Pros
Non-glossy finish

Robust sun protection

Soothes sore lips
Cons
Has a thinner finish than some would like
Bottom Line
There are plenty of reasons why you should choose Anthony Logistics Lip Balm SPF 25, including its even, no-shine finish. It also provides great sun protection while soothing sore lips and has a long list of natural ingredients.
Dr. Dans CortiBalm Lip Balm has many of the key ingredients found in other quality lip balms, including beeswax and mineral oil, but is perhaps the only balm that contains hydrocortisone (CortiBalm).
You've probably heard of hydrocortisone; if not, all you need to know is that it's a topical solution used to treat moderate to severe skin issues such as swelling, itching, redness, irritation, etc.
It's not a natural ingredient, but it does activate natural substances in the skin to reduce various types of skin irritation and inflammation.
As one would expect from a quality lip care product, Dr. Dan CortiBalm Lip Balm provides excellent protection in the harshest of weather conditions thanks, in large part, to its therapeutic blend of beeswax, petroleum jelly, and mineral oil.
It also moisturizes your lips to keep them soft and free of cracking and chapping.
Because it contains hydrocortisone, Dr. Dans CortiBalm Lip Balm is ideal for men who suffer from psoriasis and acne and are taking Accutane, Soriatane, and Amnesteen to deal with those issues.
Type: Stick
Pros
Protects lips in all climates and conditions

Hydrocortisone reduces swelling

Perfect for those taking medications to treat psoriasis and acne
Cons
Some users may have adverse reactions to hydrocortisone
Bottom Line
Dr. Dans CortiBalm Lip Balm is unique in that it contains hydrocortisone, which provides relief for those who suffer from more severe lip issues. But it also protects and moisturizes your lips.
C.O. Bigelow's lip balm No. 306 works while you sleep. Just apply it to your lips before you go to bed and it works overnight to nourish and moisturize dry, chapped lips.
You can use it during the day, too, but it works best as a nighttime treatment. Besides, who hasn't awakened with lips that are dry, cracked, and even painful?
So, why not let your product do the work for you while you catch some Zs? C.O. Bigelow's balm lasts for eight hours, which is the length of an ideal night's rest – at least according to sleep experts.
There's even some science behind the notion of bedtime application: the temperature of your skin rises in the night to flush out toxins and protect new skin cells, but your skin also loses moistures.
Applying a moisturizing lip balm protects the new cells while replacing the moisture that's lost.
The key ingredient in night balm No. 306 is shea butter, which softens and soothes lips while providing the necessary moisture to combat dryness.
It also has a nice scent – if you prefer a balm with some fragrance – that is natural and not artificial and doesn't have a taste that triggers your gag reflex if you accidentally ingest some of it (which happens).
C.O. Bigelow, the oldest apothecary in America, has a rich history, one that dates to the 19th century.
Hell, even renowned inventor Thomas Edison stopped by C.O. Bigelow's shop in New York City to buy salve for a sore finger. Their in-house chemists create all of their formulas, and never test them on animals.
Type: Tube
Pros
Works overnight

Nice scent

Made by a company with hundreds of years of experience
Cons
Too shiny of a finish for some
Bottom Line
This product is unique in that it's designed for overnight use, but it's not limited just for use at bedtime. Rich in shea butter, it soothes lips that become dry, chapped, and irritated.
Choosing the best lip balms for men
Walk into any supermarket, pharmacy, or gas station mini-mart and you'll find plenty of lip balms. Our mission is to choose the ones that we think will best serve men and we considered a few things before making those choices.
For one, we look for products that have worked for many men. Sounds simple, sure, but there's a reason why some products get positive reviews while others don't.
We also look carefully at ingredients – we prefer natural ingredients, but never ignore a product that also includes synthetics – and we look at the price. As with every product, just because a balm has a price tag doesn't mean it's superior to other balms.
We strive to find products that fit every budget.
The right stuff: How to apply lip balm (A simple, illustrated guide)
There's a right way and wrong way to do most anything, including applying lip balm. No, it's not overly-complicated, but here are some tips to keep in mind for when your balm meets your lips:
Applying lip balm from a container
Applying lip balm from a container – whether it's in a lipstick-type container or a tube – requires a few simple task:
STEP 1: Use the dial at the bottom of the tube/container to raise the balm just above the brim. You don't need to raise it very much because a little balm goes a long way.
Other gel-based balms come in a tube with a hole in the end; again, you don't need to use a ton of balm to get the job done. Remember, you can't return excess balm to its container, so be aware of wasting too much product per application.
STEP 2: Apply a thin, even coating to your lips. While more balm doesn't mean more protection, don't worry if you think you've applied too much of it.
STEP 3: Rub your lips together to help spread excess balm. It's also helpful to spread some balm over areas near the mouth which become dry and chapped.
Applying lip balm with your fingers
STEP 1: The first step – always – in applying balm with your fingers is to wash your hands. Your mother was always on your back about washing your hands, and with good reason.
Bacteria gathers on your hands and fingers and you certainly don't want those germs to touch your lips. That is, unless you like infections, which we're pretty sure you don't.
STEP 2: Use your index fingers to apply the balm, starting with the center of your bottom lip and working your way to the corners. Apply evenly and add more balm only when necessary.
Note: You can find small balm applicators for dipping into the jar of balm – saving you from having to apply the balm with your fingers. Not that's there's anything wrong with finger application, mind you.
Some other tips about using lip balm
A couple of other things to keep in mind when using lip balm:
1) Never, ever apply balm with your fingers when you're sick. You'll not only spread bacteria on your lips and in your mouth, but you'll contaminate your jar of balm, as well;
2) Throw your balm out once it has reached its expiration date because it will lose its moisturizing qualities and may harbor mold and bacteria; and,
3) Don't overuse lip balm. Too much balm may dry out your lips, so use it only when necessary.
Types of lip balm (as well as some history)
Lip balm is hardly new among skin care products but it probably goes back even farther than you think. American inventor Charles Browne Fleet – inspired by the use of earwax(!) as a treatment for chapped lips – marketed the first lip balm in the 1880s.
Fleet, bless his soul, eventually took earwax out of the equation and for that we're forever grateful.
Today, one peek at a supermarket or retail lip balm display reveals that there are enough brands on the market to cover the lips of a small army, including those listed in our above reviews.
As far as the various types of lip balm, we can break them down in a variety of ways:
1. Container
Lips balms almost always come in three types of containers:
In a container that resembles a lipstick tube. Commonly referred to as the "stick" form of lip balm, many people call this type of balm as ChapStick, which is a popular brand name that is just that – one brand of lip balm, not the name for all balms in existence.
In a tin, from which you extract the balm with your fingers and manually apply it to your lips.
In a tube form that you squeeze out similarly as using toothpaste or, well, you name it.
2. Ingredients
As previously mentioned, lips balms contain all-natural ingredients or rely on synthetic ingredients such as petroleum.
Many of the highest-quality lip balms include beeswax or shea butter, which are natural ingredients that soothe dry, chapped skin. Vitamin E, a noted antioxidant, is another ingredient commonly found in lip balm
Some lip balms contain humectants, which are ingredients that help the skin retain moisture. Emollients, which help hydrate and soften the skin, include beeswax, cocoa butter, shea butter, and almond oil.
Some skin experts argue that lip balms that contain water or glycerin-based emollients are best if your skin is easily irritated or excessively oily.
3. Sun Protection
Most lip balms provide some level of sun protection and they're particularly suited for people who spend a lot of time outdoors.
While many lip balms have a basic Sun Protection Factor of around 4, those designed particularly to protect against harmful ultra-violet rays have an SPF of 25, or more. These balms also tend to have ingredients such as aloe vera and Vitamin E.
4. Medicated
Many companies offer medicated lip balm that's meant to repair intense damage while soothing pain lip pain. Ingredients found in medicated lip balms include menthol, camphor, and phenol – which ease the pain – as well as petrolatum to repair the damage.
Conclusion
As always, we want and appreciate your feedback. Do you have a favorite lip balm that's not on our list? Or, do you have experiences with the balms listed here?
We'd love to hear from you!