9 Best Eye Creams for Men to Fight Aging & Puffy Eyes
This post may contain affiliate links. Learn more.
Your eyes are, no pun intended, the focal point of your face. They're one of the first things people look at when they see you, and they get a lot of attention during conversation too.
And yet most men don't take care of their eyes like they do other parts of their body. They skimp on sleep, stare at screens all day, and then wonder why their eyes are dark and puffy.
Fortunately, this list of the best eye creams will make it easier than ever to improve your eye-care regime.
In a hurry? Here are our top picks:
Brickell Men's Eye Restoring Cream
Our top overall pick, Brickell Men's Eye Restoring Cream, will help with everything from dark circles to wrinkles around the eyes, and it does it with natural, lightweight ingredients that won't harm your skin.
Tiege Hanley's AM/PM Eye Cream
If you have particularly sensitive skin, our #2 pick, Tiege Hanley's AM/PM Eye Cream, maybe even better suited to your needs. It's a full skincare system, which will not only reduce wrinkles, puffiness, and all that jazz, it'll fight off inflammation, irritation, redness, and even acne-causing bacteria too.
Along with highlighting and reviewing the best eye creams for men, we'll also give you some general eye cream buyer's tips, show you how to apply eye cream like a pro, and even compare and contrast eye cream with serums.
Quick summary
Best Overall

Brickell Men's Eye Restoring Cream for Men

Natural ingredients

Makes your eyes look more energized and less weary

Eliminates wrinkles and puffiness

Check on Amazon

Best for Sensitive Skin

Tiege Hanley's AM/PM Eye Cream (Skin Care System Level 2)

Reduces puffiness, fine lines, wrinkles, and discoloration

Money-Back guarantee

Improves circulation to the skin around the eyes

Check Best Price

Best for Dark Circles

Palm Beach Vitamin K, DCX & Arnica Eye Cream

It does a great job at reducing dark circles

All natural

Refreshes the skin

Check Best Price

Best Anti-wrinkle

StriVectin Intensive Eye Concentrate for Wrinkles Plus

Amazing at reducing wrinkles

Scientifically tested

Hydrates and rejuvenates skin around the eyes

Check on Amazon

Anthony Anti-Aging Continuous Moisture Eye Cream

Suitable for all skin types

Eliminates dark circles, puffiness, and wrinkles

All natural ingredients

Check on Amazon

Xfacio Eyes Eye Cream Gel

Made from advanced skincare science

Excellent for clearing up issues of the skin under the eye

Works to slow the effects of aging

Check on Amazon

Eye Cream Moisturizer 94% Natural Anti-Aging Skin Care

Excellent for removing puffiness under your eyes

Organic ingredients

Safe to use on your face and neck

Check on Amazon

Roc Retinol Correxion Anti-Aging Eye Cream Treatment

Retinol works as an anti-aging agent

Best anti-aging cream for 40s

Visibly reduces lines, wrinkles, dark circles, and puffiness

Check on Amazon

Baebody Eye Gel

Gets rid of dark circles

Removes puffiness

Restores and rejuvenates skin

Check on Amazon
Before you buy: 3 Things to consider when purchasing eye cream
If there's one thing, and one thing only, that you need to pay attention to when buying eye cream for men is its ingredients. Sure, there are a few other factors, but the ingredients make the eye cream.
First, however, a quick "buyer beware." There are many, many eye creams on the market, most of which come with big bold claims – some of which they can deliver. In that respect, the men's eye cream market has its share of snake oil elements.
Knowing this from the start can help you pick a product that truly works, and we'll provide a list of creams that we know work.
1. What do you see in the mirror?
Take a minute to make a true assessment of the skin under your eyes. Do you have bags and wrinkles that make you look perpetually tired? If so, cream with hyaluronic acid will flatten and fill in unwanted lines.
If the skin is dry and taut, the hyaluronic acid will help, as will plant-based and vitamin-rich ingredients. Dry skin sufferers typically should look for hydrating skin creams.
If you also have dark circles under your eyes, eye creams with caffeine or vitamin K help constrict blood vessels to make those circles fade away.
2. The ingredients
Back to our original point, which is that ingredients make the cream. There are other factors, but always take a long list of a cream's ingredients before you place it in your shopping cart.
Retinol, a vitamin A derivative, stimulates cell turnover and collagen production which, in turn, strengthens skin while limiting age spots and lines. It also helps to reverse damage caused by the sun's most harmful rays.
Retinol is a key ingredient in most men's eye creams, but be careful not to use it excessively.
Hyaluronic acid plumps up skin cells and draws moisture to help hydrate skin and flatten those unwanted lines and wrinkles under your eyes.
Ceramides provide a natural barrier to the skin to prevent water loss while making it more supple and moist. Combining ceramides with hyaluronic acid leaves the skin under your eyes looking rested and refreshed.
A neuropeptide isn't a word used in most people's everyday vocabulary, but it's a good one to know if you're serious about treating the skin under your eyes.
Put simply, neuropeptides are particles that prompt the skin to create more collagen and elastin, and thus improve the overall tone and texture of the skin under your eyes.
The C and E vitamins are powerful antioxidants that fend off free radicals in the skin caused by excessive sun damage. They also act as anti-inflammatories to improve the appearance of dark circles under your eyes.
Vitamin C, meanwhile, stimulates collagen and elastin production, while vitamin E soothes the skin and protects it from inflammation.
Caffeine, Green Tea, and Alpha-Arbutin
Ah, caffeine: that wondrous morning kick-starter. But caffeine isn't just for coffee drinkers, because you'll find it in many skin care products – including eye creams.
Caffeine and green tea extract reduce swelling and help you get rid of those dark circles under your eyes. They're also antioxidants that increase blood circulation to help tighten the skin.
Alpha-arbutin is a little-known ingredient naturally extracted from bearberry that inhibits the enzyme that leads to dark circles.
Eye creams can do a lot, but they can't prevent your skin from suffering sun damage.
That said, it's a good idea to choose an eye cream that includes sunscreen with a suitable sun protection factor (which measures how long a sunscreen protects you from the sun's ultraviolet rays).
Avoid fragrance if you can, because fragrances and other extracts and ingredients may cause skin irritation. Fragrance-free eye cream is your best bet.
3. Your age
Most skin care experts recommend that you begin a daily eye cream regimen at age 21 and over because it helps prevent future problems and may delay the onset of crow's feet and other signs of aging.
Most men begin to see signs of aging once they reach their 30s. If you're in that age bracket, look for creams rich in antioxidants that help cell turnover and boost the skin's natural collagen production.
Also look for ingredients such as hyaluronic acid and vitamins C and E to keep your skin looking bright and healthy.
Retinol becomes an important ingredient once you reach your 40s thanks to its anti-aging properties. Also, you should seek creams called deep moisturizers, or have protein added, because they'll help your skin maintain its moisture, durability, and elasticity.
Let's move on to our reviews of the best eye cream for men.
The 9 best eye creams for men
Natural and organic products always get out attention, including Brickell's Eye Restoring Cream for Men. Then again, Brickell – founded in 2014 – has made a name for itself with a variety of men's grooming products that fall under the Natural & Organic banner.
But we also like Brickell's eye cream because it works. If you're looking for the best eye cream for wrinkles and crow's feet, this is a cream worthy of your attention.
This cream works for men of any age or skin type and helps to give you brighter, more energized eyes. It's lightweight and absorbs quickly into the skin but doesn't leave behind a greasy residue or shine.
It also helps get rid of the dark circles and puffiness under your eyes that begin to resemble saddlebags (and make you look like you average only three hours of sleep per night).
Moreover, Brickell's Men's Eye Cream strengthens the skin surrounding your eyes. It manages to do all this with a powerful list of natural ingredients, including:
Hyaluronic Acid – the ultimate skin hydrator
Caffeine – a natural stimulant that reduces dark circles and puffiness by increasing blood circulation around the eyes
Matrixyl 3000 – which is a blend of protein peptides that boost collagen production and reduce wrinkles by up to 45% in two months.
MSM (Methylsulfonylmethane) – Don't let its synthetic chemical-sounding name fool you; MSM is a nutrient found in superfoods such as spinach and kale and reduces age spots and other common skin pigmentation issues that are part of the aging process.
What you won't find in Brickell's Men's Eye Restoring Cream for Men are potentially harmful chemicals such as sulfates, parabens, phthalates, petrochemicals, silicones, glycols, and synthetic fragrances. It's also unscented.
Brickell doesn't test its many grooming products on animals, and uses 100% organic ingredients whenever possible.
Brickell advises that you use their cream twice a day while applying a pea-sized amount of it around your eyes in the morning and at bedtime.
Pros
Natural ingredients

Makes your eyes look more energized, less weary

Eliminates wrinkles and puffiness
Cons
It may take some time before you see results (but it will work)
Bottom Line
You'd do yourself a favor if your search for the right eye cream began with Brickell's Men's Eye Restoring Cream. Brickell uses natural ingredients to produce noticeable results. You'll like what you see in the mirror after using this cream consistently.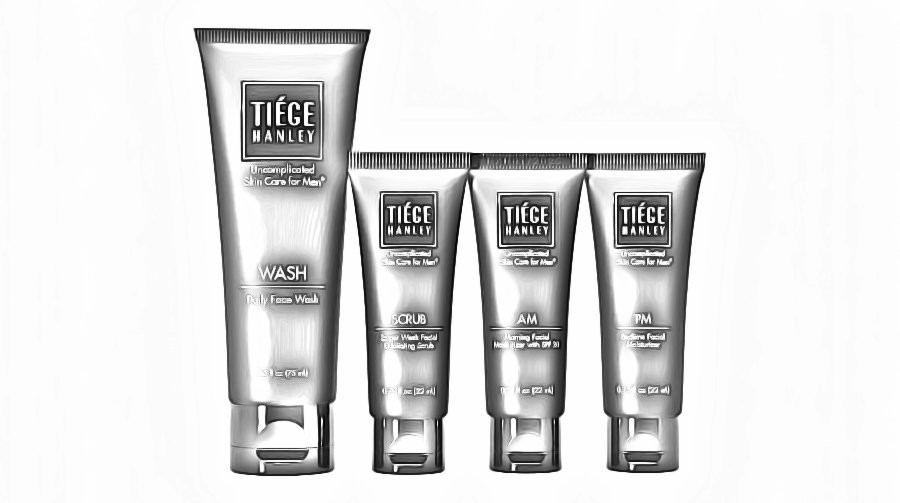 Tiege Hanley offers three levels of skincare for men, with each level loaded with quality products that help you to get the best-looking, most comfortable skin that you desire.
A key component of its Level 2 System is the AM/PM Eye Cream which has many features that we love.
A blend of caffeine and vitamin B3, among other ingredients in the AM/PM eye cream, helps increase circulation in the skin around your eyes, as well as tightening the skin.
It helps you to get rid of those wrinkles, fine lines, and bags around and under your eyes that can help make you look tired and, let's face it, old.
The caffeine extract found in the AM/PM Eye Cream also works to prevent the sun's most harmful UV rays from irritating and damaging the skin around your eyes.
Vitamin B3, meanwhile, helps improve skin elasticity while reducing discoloration that can add to an overall "tired" look that men would rather avoid.
Another key ingredient found in the AM/PM Eye Cream is acetyl hexapeptide-8, which reduces muscle contraction that can lead to wrinkles.
Men with sensitive skin appreciate that this cream is fragrance-free (fragrances can irritate the skin).
And while you'll get optimal results by applying it morning and night, a little of it goes a long way and you don't have to worry about your tube running out anytime too soon.
Pro tip:
You can use the code "BALDINGBEARDS10" at checkout to get a free Tiege Hanley Dopp bag.
Pros
Reduces puffiness, fine lines, wrinkles, and discoloration

Fragrance-free

Improves circulation to the skin around the eyes

Worry-Free Subscription/Money-Back Guarantee
Cons
Some say the serum is a bit oily
Bottom Line
Tiege Hanely's AM/PM Eye Serum is another product that does it all when it comes to the health of the skin around your eyes. It's a gentle yet effective treatment for improving the condition and appearance of your skin.
Ingredients matter in all grooming products, but it really feels like they're especially important when you're putting something so close to your eyes. Which is why Palm Beach's all natural formula is so reassuring – with its carefully balanced blend, it helps to reduce the look of dark circles and discoloration, ultimately leaving you feeling and looking totally refreshed.
The formula is packed with great stuff, including:
Yeast, soybean and rice proteins, to reinforce the skins functioning and support your natural collagen to repair and firm up the skin
Hyaluronic acid to draw out vital moisture and invigorate the skin
Vitamin K to reduce the appearance of dark bags
Squalane to enhance the skin's natural protective barrier
Arnica to reduce puffiness
The result is a cream which works on multiple levels, and leaves your skin totally renewed.
Of course, it isn't a miracle cream: while it works quickly, you do need to give it time to deliver. And while it will brighten your skin, it won't drastically change your complexion for the better.
There's also the matter of the scent, which is refreshing to some but a little clinical to others – even though there are no nasty chemicals in the formula whatsoever!
Ultimately though, these are minor speed bumps: this cream is revitalizing if you stick with it, and while it's a little pricey the results you get are more than worth it.
Pros
All organic ingredients

Reduces puffiness and dark circles

Refreshes the skin completely
Bottom Line
A terrific cream for battling the signs of aging with natural, organic ingredients.
Aging is simply one of those unavoidable facts of life. And with aging comes, that's right, wrinkles.
With every day that goes by, they get a little longer, a little deeper, and a little more noticeable. That is, unless you do something to slow them down.
Something like StriVectin Intensive Eye Concentrate, which is our pick for the best anti-wrinkle eye cream.
Its patented NIA-114 technology, which is an optimized form of niacin (vitamin B3), is backed by over 35 years of scientific research. And in clinical trials, 93% of users saw a reduction in fine lines and wrinkles – in just one week.
But that's not all. StriVectin also helps alleviate dark circles, puffiness, and other symptoms of sleep deprivation or screen fatigue. Not only will your eyes look younger, they'll appear healthier and more refreshed.
Pretty sweet, huh?
But unfortunately, StriVectin's products don't come cheap. Per ounce, it's one of the most expensive creams on our list.
But is it worth it? Well, it really all depends on how much you're willing to pay to get results in the fight against wrinkles.
Again, this is the best anti-wrinkle eye cream we've found. If that's what you're looking for, it's definitely worth the money.
Pros
Scientifically tested

Hydrate and strengthen the skin around the eyes

Reduce the appearance of all types of lines around the eyes
Bottom Line
StriVectin Intensive Eye Concentrate is clinically proven to reduce lines and wrinkles in as little as one week. It's expensive – but it works, so if you're determined to fight those crow's feet, give it a shot.
Anthony Anti-Aging Continuous Moisture Eye Cream is a great alternative to StriVectin Intensive Eye Concentrate for Wrinkles Plus if you are not willing to pay its high price tag. Anthony is a well-established brand, and it is well-known by the men's skincare gang.
This is an eye cream that also specializes in reducing the unwanted aging effects around the eyes using only natural ingredients. This means that it is free from harmful ingredients such as alcohol, parabens, phthalates, etc.
Now let's discuss its main ingredients which are arnica, allantoin, jojoba oil, shea butter, and carrot root.
Arnica is proven to be great when used under the eye. It helps reduce puffiness and dark circles while minimizing inflammation due to its anti-inflammatory properties.
Allantoin, shea butter, and jojoba are great for moisturizing the skin. They increase smoothness, and elasticity, reducing the appearance of wrinkles and fine lines.
Carrot root is a powerful antioxidant that is rich in vitamin C. That means not only does it protect from harmful environmental stressors, but also provides antiseptic, anti-inflammatory, and antimicrobial properties.
A little goes a long way with this cream. It absorbs very quickly and doesn't leave any greasy residue after application.
While this product is suitable for all skin types, some users with sensitive skin found it a bit irritating. While it doesn't include any harmful chemicals, always make sure to check the ingredients list for any ingredients that you might have allergies to.
Pros
Suitable for all skin types

Alcohol and paraben-free

Reduces puffiness and dark circles

All-natural ingredients
Cons
Still on the expensive side
Bottom Line
Overall, a great eye cream that will certainly produce noticeable results when it comes to puffiness and wrinkles.
When someone tells you that you have nice eyes, they're probably not talking about those circles or bags under your eyes. Fact is, those are things that easily detract from not only the attractiveness of your eyes, but your face as a whole.
Have no fear, friends – Xfacio Labs has a solution, namely, the best under eye cream for men.
First, a bit about Xfacio Labs. Located near Atlanta, Georgia in the U.S., Xfacio's flagship product is an anti-aging serum that's applied to the skin. They're also all about high-concept, scientific skin care with a focus on natural and organic products.
Xfacio Labs' eye cream increases the hydration of the skin – thanks to hyaluronic acid – while promoting moisture retention that plumps the skin and reduces the appearance of dark circles.
Meanwhile, it also contains amino acids that stimulate the production of collagen and elastin to improve the elasticity and firmness of the skin.
But there's more to the Xfacio Eyes Eye Cream Gel ingredient list, including:
Jojoba oil – which also helps moisturize the skin
Vitamin E
Matrixyl 3000
MSM – which boosts collagen and keratin production in the skin.
The Eye Cream Gel from Xfacio labs also helps reduce the size of pores while enhancing skin and combating the signs of aging. While it's second-to-none in dealing with the skin under your eyes, it provides complete care for all types of skin.
Pros
Made from advanced skincare science

Excellent for clearing up issues of the skin under the eye

Works to slow the effects of aging
Cons
Some users don't like its (slight) scent
Bottom Line
Xfacio Labs hit a home run with its anti-aging serum and has knocked it out of the park again with its eye cream for men. This natural cream delivers the results you're looking for in an eye cream.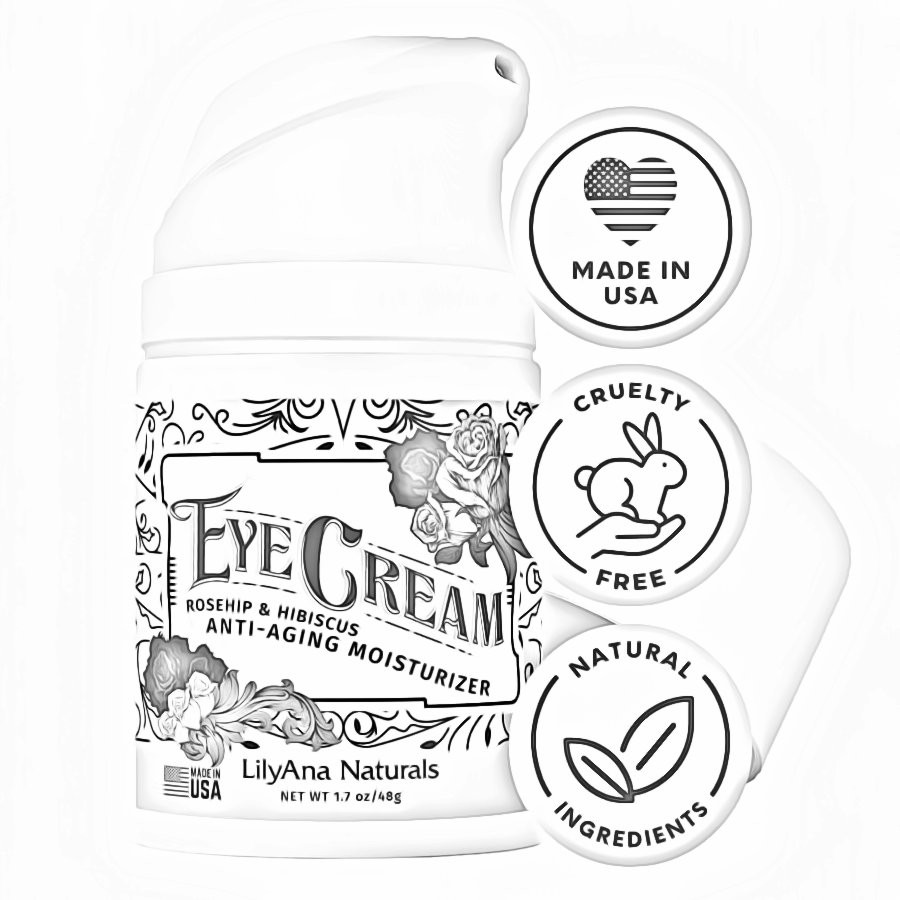 Another eye cream that's good for men and women, Eye Cream Moisturizer by Lilyana Naturals is highly-praised, not the least of which is by thousands of reviewers on Amazon.
While there's nothing in its ingredient list that necessarily makes it stand out from other products in our reviews, the Eye Cream Moisturizer & Anti-Aging Skin Care does include naturals such as vitamin C, vitamin E, rosehip seed oil, and organic hibiscus flower extract.
Rosehip oil regenerates skin, reduces scars and other discoloration, and prevents the progression of lines and wrinkles. Your skin will regain its natural color and tone.
Hibiscus extract, a.k.a. as "Nature's Botox," provides plumpness, moisture, firmness, and suppleness to the skin while improving its elasticity. We think this is perhaps the best eye cream for puffiness.
So, on second thought, maybe there are some things on this product's list of ingredients that stand out, after all.
Meanwhile, it doesn't contain parabens, artificial colors or fragrances, and is manufactured in an FDA-registered USDA Organic-certified facility (and is vegan-friendly).
Among its other ingredients are coconut oil, emulsifying wax, sunflower seed oil, neem seed organic oil extract, and rosemary leaf.
Another thing we like about it is that it's safe for all skin types, including sensitive skin.
As we've often mentioned in previous product reviews, sensitive skin requires careful attention; you can't just slather any skincare product on it. But we think this is the best eye cream for sensitive skin.
And it's not just effective for treating the skin around your eyes, because you can use it on your face and neck to make your skin appear more radiant.
Besides being effective in getting rid of puffiness under the eye, the Eye Cream Moisturizer provides excellent hydration to the skin. Indeed, it continually hydrates and moisturizes.
You can easily use this cream twice a day without worrying about irritation or skin issues.You only need to apply a small amount, so your supply should last a long time. It's also safe to use it under your makeup.
This product also comes with a 30-day money back guarantee.
Pros
Excellent for removing puffiness under your eyes

Organic ingredients

Is safe to use on your face and neck
Cons
Coconut oil may clog pores
Bottom Line
A lot of people use – and like – this product although Lilyana Naturals isn't exactly a household name. It's an effective, safe product that eliminates puffiness while moisturizing the skin.
You'd be hard-pressed to find an anti-aging product that's been on the market longer than RoC's Retinol Correxion Deep Eye Cream. It all began in a Parisian pharmacy 60 years ago and you'll find the RoC name on hypoallergenic skin care products to SPF sunscreen.
One reason they've been around this long is that their stuff works, and that "stuff" includes their Retinol Correxion Anti-Aging Eye Cream Treatment – the best retinol eye cream and the best anti-aging eye cream.
Retinol and anti-aging tend to go hand-in-hand, and RoC's formula – derived from an essential mineral complex – visibly reduces the signs of aging around the eyes, first by diminishing fine lines and wrinkles, but also crow's feet, dark circles, and puffiness.
RoC has some research behind it.
Johnson & Johnson completed a one-year clinical study proving that the effects of RoC's retinol don't plateau and continue to provide benefit with consistent use (note Johnson & Johnson owns RoC but a clinical study is still a clinical study).
You'll notice a diminishing in fine lines soon after you begin to use RoC Retinol Correxion cream, but you'll experience more dramatic results when you use it consistently for a month.
Not only will your fine lines fade, the dark circles and puffiness under your eyes also fade.
While Retinol degrades if not packaged properly, RoC uses a special aluminum tube that prevents light and air from getting to the cream (and thus degrading it).
RoC isn't a newcomer to the skin care game, yet keeps re-inventing itself with new formulas that meet the needs of consumers. Their products aren't all-natural, but they are proven effective for dealing with a variety of skin issues.
Pros
Retinol works as an anti-aging agent

Best anti-aging cream for 40s

Visibly reduces lines, wrinkles, dark circles, and puffiness.
Cons
Ingredients aren't all-natural
Bottom Line
RoC knows a thing or two about skin care and their retinol eye cream has years of experience and history behind it.
It's good for all ages and skin types, but if you're looking to find a product that effectively fights the signs of aging, this is an eye cream you should consider.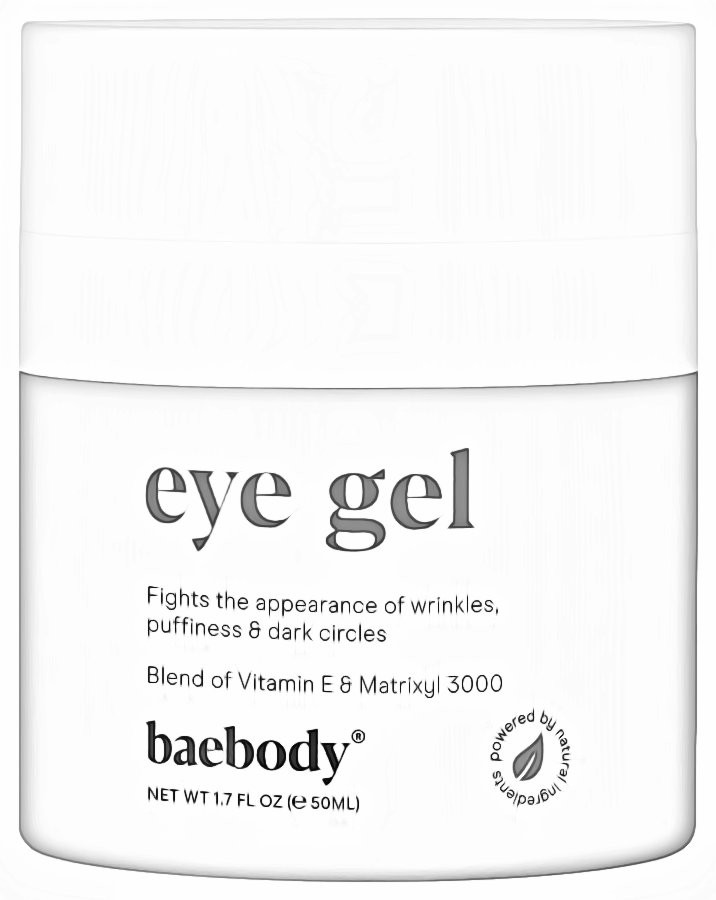 Haven't heard of Baebody's Eye Gel? By the number of reviews it has on Amazon, you'd be in the minority.
Over 12,000 reviews to be exact – which means men and women have tried (and are using) Baebody's Gel at an incredibly high rate.
OK, so some of the reviews were given in exchange for a free or reduced price product, but the vast majority of them are positive. In other words, they liked it regardless of whether they bought it or received it as a special offer,
So, what's the big deal? Why is this eye gel garnering so much attention?
Well, it works, for starters. Put simply, Baebody Eye Gel provides an effective, natural solution to getting rid of those irritating issues in the skin around your eyes: from dark circles to puffiness to wrinkles and bags.
It's made by a company in the U.S. that strives for safe, chemical-free solutions to skin care issues.
Their eye gel blends a unique mix of organic and natural ingredients, including plant stem cells.
The use of plant stem cells in cosmetics is something of a recent trend, but very popular amongst the anti-aging crowd. Plant stem cells are said to strengthen skin while protecting against sun damage.
We think Baebody is the best eye cream for dark circles because it works to moisturize the skin under your eye while reducing the signs of aging.
In fact, Baebody's Eye Gel includes several ingredients commonly found in anti-aging products: hyaluronic acid, vitamin E, and Matrixyl 3000. Again, Matrixyl 3000 increases collagen production while facilitating skin repair.
It also includes aloe vera, a well-known ingredient that soothes skin irritation.
While Baebody Eye Gel, as its name implies, is meant to treat the skin under and around your eyes, many reviewers say they've used it as an anti-aging cream on other parts of their face.
Baebody uses safe, natural ingredients in all of its products. You won't find parabens, artificial fragrance, dyes, and other fillers in their eye gel, while it manufactures its products in an FDA-registered and GMP (Good Manufacturing Practices)-certified facility.
And none of their products are tested on animals.
Baebody advises users to apply their eye gel twice a day, and say it's OK to use it under makeup.
Pros
Gets rid of dark circles

Removes puffiness

Restores and rejuvenates skin
Cons
May cause temporary irritation
Bottom Line
Baebody eye gel has a decent amount of hype but it also walks the walk. It handles a myriad of issues that may occur under and around your eyes thanks to a bounty of natural ingredients.
Choosing the best eye cream for men
A general Google search of eye cream – or, for that matter, skin cream – and scams will generate plenty of results.
It seems that the world of skincare is well-populated with shady salesmen and women who make grandiose claims, including one product marketed as the "Amazing new Hollywood secret!"
For us, the task of choosing the best eye cream for men demanded that we steer clear of scammers while always keeping a suspicious eye peeled for products that do everything from eliminating saddlebags to starting your car for you each morning (OK, so maybe they didn't go that far).
And that meant reading online reviews carefully, as well as studying each product's list of ingredients.
Price is always a factor in our reviews as we aim to create a best-products list that fits every budget. We also prefer natural products without a heavy dose of chemicals, although we respect any product as long as it works and doesn't cause irritation.
Do it like the pros: How to apply eye cream (A simple, illustrated guide)
You're going to have to use eye cream if you truly want to get rid of those saddlebags under your eyes, as well as the fine lines and wrinkles around them.
The bad news? The problem only gets worse as you age. While fat shows up in other places of your body as you age – sometimes too prominently – it thins in the area around your eyes, which make dark circles appear more prominent.
Meanwhile, the muscles that support your eyes get weaker, which leads to shrinking fluid and tissues – which leads to puffy eye bags.
The good news is that eye cream helps reduce the appearance of saddlebags, crow's feet and other eye skin issues that make you look old, tired, or both. So, buy a quality eye cream and apply it consistently. Here's how:
STEP 1: Wash your face thoroughly to remove any dirt, grime, or other foreign matter. These types of particles reduce the effectiveness of your eye cream.
STEP 2: Use only a small amount cream – no more than a pea-sized drop to be exact. Using too much cream prevents it from fully penetrating into the skin.
STEP 3: Apply it twice a day, preferably once in the morning and once more at bedtime. Again, use a small amount with each application.
STEP 4: Use your ring finger to apply it. This prevents you from applying the cream too roughly on your skin.
STEP 5: Don't "rub" it in! A mistake many people make when applying eye cream is massaging it into their skin as they would lotion or cream on other parts of your body.
The skin around your eye is more delicate than other skin and doesn't respond well to pulling and rubbing. And pulling the skin around your eye can speed up the aging process.
STEP 6: So how do you apply it, if not by rubbing? You "pat" it in instead, which prevents the pulling while making sure you apply the right amount to each area of skin under your eye.
STEP 7: Here's something else about applying an eye cream that may seem counterintuitive: you don't apply the cream directly to the problem area.
Applying it too close to your eye can cause irritation. Instead, the cream "travels" as your body warms up and will move to the affected area on its own in an hour or two.
Whatever you do, don't let the cream get on your eyelashes because that's certain to irritate.
STEP 8: Pat the cream around the entire eye, including up to your eyebrow and down until you reach the cheekbone. It's important to get the area near the top of the eye, even if it's not as visible.
STEP 9: Let the cream work its way into the skin, which typically takes 15 minutes, before going outside or doing anything else to your face.
STEP 10: If your eyes seem swollen in the morning, don't assume it's because you've applied the cream at bedtime. Instead, it could be the result of the cream's ingredients sloping into your eye because of the eye socket's natural incline.
Why I have bags under my eyes and the difference between eye cream and serum
You may wonder "Why me?" as you examine your eye bags and dark circles in the morning. It's a good question and one that has some urgency considering that bags, circles, and wrinkles make you look older.
You can blame age, for starters. The skin around your eyes is the most delicate part of your face, as well as the first place on your face that shows signs of aging.
It's skin that's thinner and dryer than in other areas of your face, while it's also skin that's constantly in motion thanks to the movements of our eyes.
But age isn't the only cause of those saddlebags. Other factors, such as a lack of sleep, smoking, dehydration, excessive use of alcohol, and a high-sodium diet contribute, as well.
Also, the skin produces less elastin as we age, and elastin is the protein that's responsible for the skin to snap back to its original form when it's pinched or pulled. Think of elastin as thick rubber bands linked together.
Another factor is the environment – weather extremes in particular – while exposure to the sun and regular rubbing of the skin around the eyes are also contributing factors.
Of course, there are also genetics – if your parents (and their parents) had puffy eyes and dark circles the chances are good that you'll have them, too.
Fortunately, eye cream and eye serum exist to help you deal with the bags, wrinkles, crow's feet and other assorted crud that forms around your eyes.
To this point, we've talked almost exclusively about eye cream (and listed some eye "gels"), but we don't mean to ignore eye serum.
So, eye cream vs. eye serum – what's the difference?
To be honest, there's not much difference at all, although skin care experts seem to waver on this fact. Nonetheless, here's a look at the similarities and differences between eye cream and eye serum.
First, their similarities:
They're used as an anti-aging eye treatment
They sometimes come in different forms
They provide essentially the same benefits
But there are differences:
Creams have a more viscous texture while serums are a bit more gel-like. This matters because – in general – the skin under the eye absorbs serum more rapidly than cream because of its gel-like consistency.
Eye creams are often thought to be better for the maintenance and prevention of skin problems. Serums, however, are effective in fixing skin that's already damaged because, in part, they encourage the skin to produce more elastin.
We've already discussed many of the ingredients found in an eye cream. Most serums include the same ingredients, including the anti-aging fighter retinol, along with natural proteins called neuropeptides that accelerate the production of collagen.
So, which one is better?
The fact is, there doesn't seem to be much of a clearcut answer. Again, eye creams work very effectively in reducing the appearance of fine lines, bags, and wrinkles, while serums work to fix skin that's already damaged (and needs a bit more help).
While some folks argue that eye serum is simply a more potent version of eye cream, others say that there isn't any difference and it all comes down to marketing. In other words, the results of using either aren't a helluva lot different.
Conclusion
How about you? Do you have a favorite eye cream? Have you tried any on our list? Let us know. We always appreciate your feedback and suggestions.
Talk to you soon.