8 Best Beard & Mustache Waxes that give a Powerful Hold
This post may contain affiliate links. Learn more.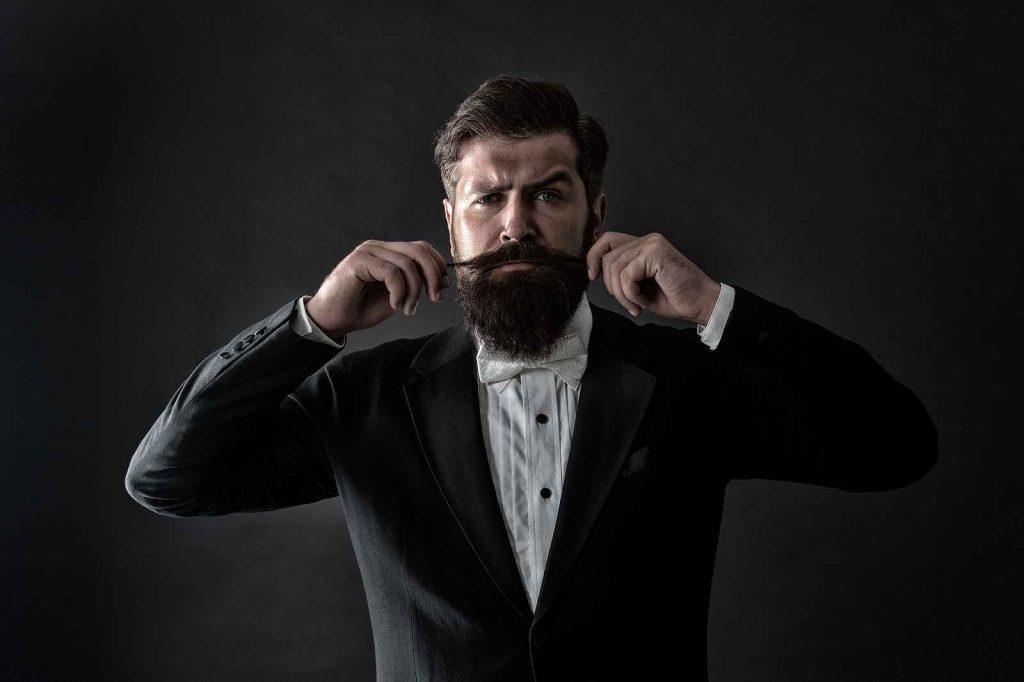 In a hurry? Here are our top picks:
Beards and mustaches come in all different shapes and sizes, from the weak and wimpy to truly unruly mountain-man. And many men struggle to create any kind of aesthetic order to their facial fuzz.
But there's actually a wonderful, underappreciated grooming product that can help you keep your facial hair in check: beard wax.
The best beard and mustache waxes help you style your facial hair no matter its natural composition, as well as offering other benefits like moisturization and improving the general health of your hair.
In this review, we're going to look at 8 of the very best of them, so you can find the best men's beard wax for your specific needs.
But there's more:
Too often, mustache wax reviews simply present you with products without any context or guidance.
So we've made sure to also include plenty of useful advice about the different types of wax, balm, and oil – as well as illustrated guides to applying the stuff.
Before we get into all of that, we need to provide some background on stache wax. And we'll do that by looking at exactly what it is you should be looking for when you're in the market for mustache and beard wax.
Quick summary
<!—INSERT CODE BELOW—>

Best for Longer Beards

The Bearded Goon's Ridiculously Strong Beard & Handlebar Moustache Wax

Super strong hold

100% natural with subtle scent

So long lasting it feels like forever

Check on Amazon

Best for Medium Sized Beards

Seven Potions Beard Wax 

Great natural hold that doesn't go stiff

Great creamy texture

Amazing scent

Check on Amazon

Best Versatile

Jack Black - Wax Pomade

For hair and beard

Fragrance-free

Natural formula

Check on Amazon

Best for mustache

Mustache Wax by Mountaineer Brand

Natural ingredients

Great moisturization

Designed specifically for mustache

Check on Amazon

Honest Amish Original Beard Wax 

Has been popular for decades

Tames even the most wildest beard hairs

Handmade

Check on Amazon

Fisticuffs Cigar Blend Mustache Wax

A very bespoke aroma

Soft texture, easy to apply

Doesn't look or feel waxy

Check on Amazon

Firehouse Moustache Wax Wacky Tacky

Offers a solid hold

Long-lasting

Made by hand

Check on Amazon

The Hairy Bastard All-Natural Hair and Beard Wax for Men

Excellent tobacco scent

Provides a light sheen

Smooth texture

Check on Amazon
Before you buy: 6 Things you have to consider and look for when buying a beard and mustache wax
1. The style you're going for
The first thing you really need to determine is what you want to do with your beard wax: there are a variety of adventurous styles you might plumb for, and they will require subtly different kinds of wax and routines to achieve.
Of course, this depends in part on what you're working with, and you have to be realistic: if you have whisper-thin facial hair, no amount of wax is going to get you the wild mountaineer look.
But within reason, the world is your oyster, so think seriously about what style will suit your face and general style.
2. The hold
Now you've got a style in your sights, the hold is really the key thing to consider with beard paste. Beard and mustache waxes come in a variety of 'strengths', from light to extremely strong, and this determines how long it will hold and how tough the hair will become.
The strongest mustache wax is probably preferable if you're looking to keep a full-on handlebar mustache in place, and you'll want something like The Bearded Goon's Ridiculously Strong Beard and Handlebar Mustache Wax .
On the other hand, if you have a shorter beard or mustache, you'll want a soft/light hold, like Fisticuffs' Cigar Blend Mustache Wax .
And medium-strength waxes are ideal for intricately styling longer beards and mustaches – something like Seven Potions' Beard Wax will go down a treat.
3. Ingredients
As with any grooming product, you should be careful about the ingredients your wax contains. Natural, organic ingredients are really always preferable, so something like Jack Black's Wax Pomade – which features tea tree oil, moringa, and a bunch more – works great.
While you don't want to 100% rule out synthetic ingredients like petroleum jelly, if you can find a more natural alternative, you'll be glad of it.
It may sound silly, but just looking at the number of ingredients can be useful, as a greater number of ingredients tends to be indicative of higher quality.
While all the best waxes tend to include a mix of beeswax, natural oils, and butter, some have a far greater variety in their blend, and that tends to make them more effective, and often better for your beard.
4. Scent
Scent is clearly not the biggest consideration, but you should definitely be conscious that beard and mustache waxes can give off a stench.
Some are lovely, like Seven Potions' Beard Wax, which has a sandalwood and cedarwood smell that's richly masculine. But some men simply don't want their beard to have a scent – and that's fair enough.
Those men will probably prefer to find a scentless product like Jack Black's Wax Pomade . Or at least one that's lightly scented, like The Bearded Goon's Ridiculously Strong Beard and mustache Wax , which has an extremely mild, earthy scent.
5. Color
There aren't many products out there that come in as broad a range of colors as beard and mustache waxes. From your basic brown and black to the more unique green and purple, you can find them all. This can make it difficult to pick the right one for you.
Waxes vary greatly in their color, and not every color is likely to work with your particular hair color or complexion. You should be mindful of this when you're choosing a product.
While some products – like Firehouse's Moustache Wax Wacky Tacky – work with pretty much any hue of facial hair, many are too dark for light-haired men.
6. Value
Finally, we want you to get the best deal possible, so you should have value in mind at all times. That means understanding the full range of prices you're faced with and making a clear decision about how much you're willing to invest – and what you expect to for your money.
Of course, brand names like Jack Black's are going to cost a little more, but you'll also have a greater guarantee of quality. Some products – like CanYouHandlebar's Secondary Strong Hold Moustache Wax for Men – even come with a money-back satisfaction guarantee.
The 8 best beard and mustache waxes for men
What stands out about this beard and mustache wax
100% natural ingredients
Incredibly strong hold
Has a very mild, light earthy scent
The best beard and mustache wax for
Men with long beards in need of a ridiculously strong hold
Overview
There are no prizes for guessing the big USP of The Bearded Goon's Ridiculously Strong Beard and Handlebar Mustache Wax: it is insanely strong, and if you've got a particularly unwieldy beard that just won't behave, this will be for you.
For men who want that big, woodsman look, it's perfect. And it's not just about strength: it also boasts a formula made of 100% natural ingredients – not nasty artificial stuff, no animal cruelty.
There's plenty of shea butter and essential oils, as well as pine tree resin and lanolin, and it creates a blend that is a fairly clear color that should work with most beard hues.
The scent is very, very gentle: a sort of earthy smell that disappears very quickly, so this will be an ideal choice for men who don't want a strong, active scent in their wax.
The Bearded Goon has a reputation to uphold, and this stuff more than lives up to it. While you don't get a ton of wax in each product, you won't find a stronger, more intense wax anywhere. And it's great for your mustache, too.
The Good
If you have a beard that won't behave, this is the product to knock it into shape

The ingredients are high quality

The scent is so gentle it will offend almost nobody
The Bad
You don't get loads for the price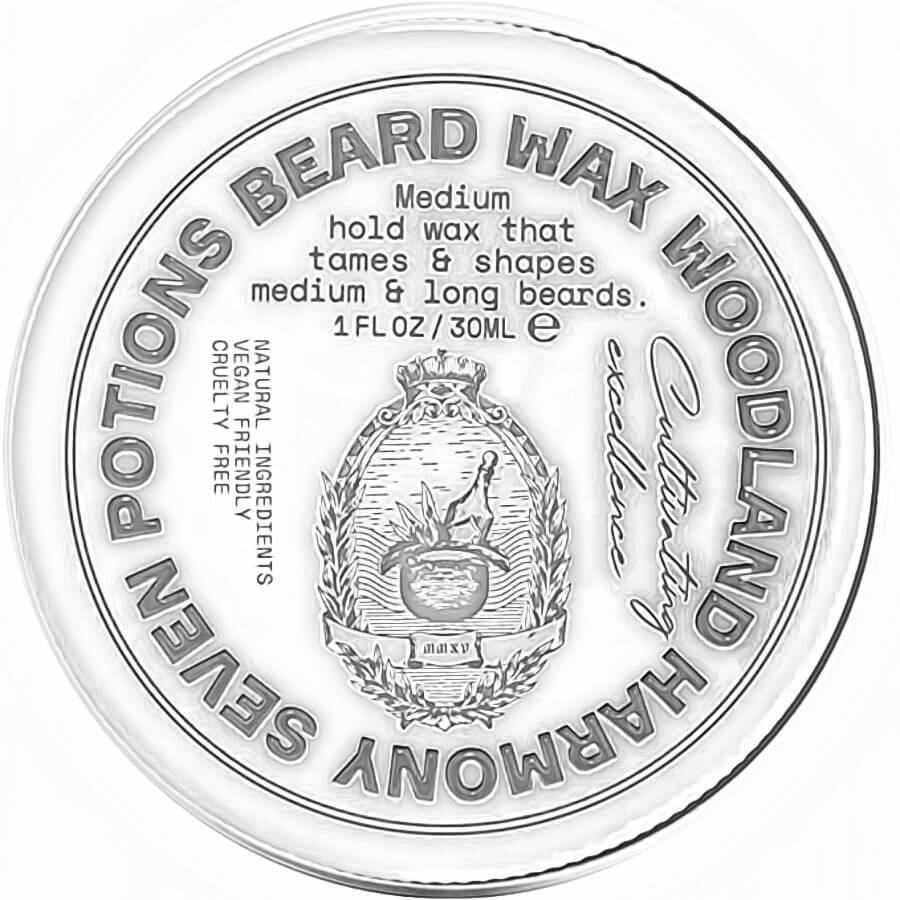 What stands out about this beard and mustache wax
Medium hold
All-natural ingredients
Conditions & protect the beard
The best beard and mustache wax for
Men with medium-sized beards
Overview
If you're the kind of guy who can grow a nice, long beard but never really feels you're able to get a real 'style' going, then Seven Potions' Beard Wax is purpose-built for you.
With its natural formula – filled with coconut oil and organic jojoba wax – it provides a lovely medium hold that is great for a really intricate, adventurous beard and mustache style. And the hold isn't rigid or excessively tough – it looks natural, like your beard just sort of happened like that.
It's actually very healthy for your beard too: it gets rid of beardruff, split ends, itching, and the rest, actually helping to condition your facial fuzz so that it feels great, is easier to play with, and is generally more attractive.
The scent is also a real treat: with a mixture of sandalwood and cedarwood that they call 'Woodland Harmony', and it's not just beautifully masculine but actually lasts a while. So while this will put some men off, it's a big plus for any man who isn't averse to a scent in their wax.
Ultimately, this is a truly premium product that is worth the extra financial investment – especially if you're a true beardsman.
The Good
Great for styling medium-sized beards

Beautiful, manly smell

Lovely, creamy texture
The Bad
Some feel it's a little too expensive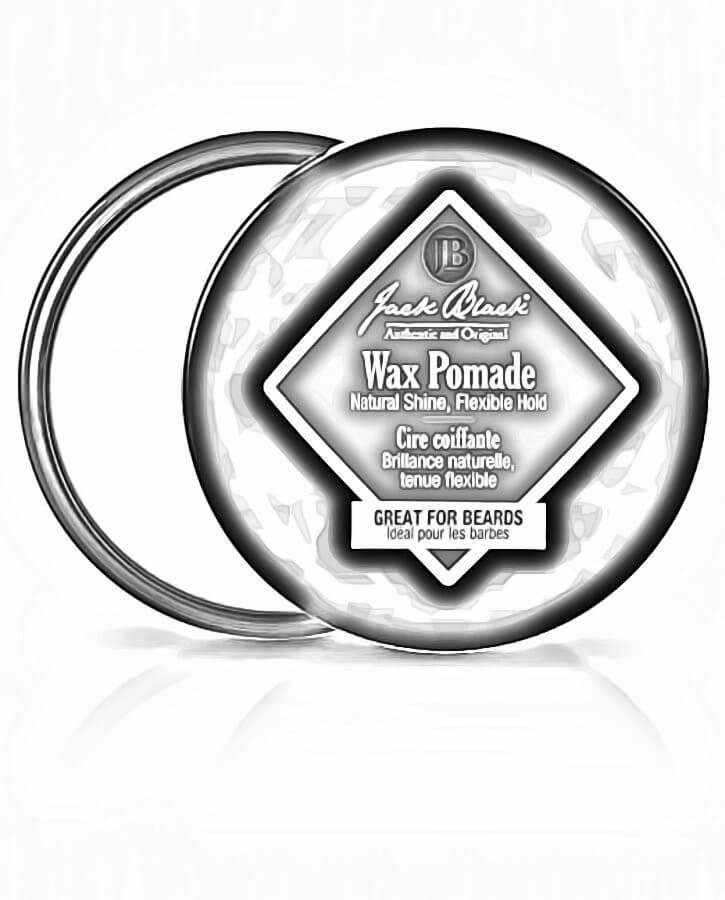 What stands out about this beard and mustache wax
Organic ingredients and fragrance-free
Great hold
Versatile: Can be used for both beard and hair
The best beard and mustache wax for
Men looking for a versatile product
Overview
Jack Black's is a brand we've talked about many times on this site, and for good reason: their products are consistently excellent, with a unique take on every category.
Their Wax Pomade is a beautiful beard and mustache pomade that provides a flexible hold, and gives you plenty of control over the style – whatever style you're looking to achieve.
Its PureScience formula is made from natural ingredients like Sage leaf, grapefruit peel oil and sea kelp. And this makes it not only great for styling – it makes it good for your beard, giving it a healthy boost and a lovely, natural shine.
It is anti-frizz, and while some find it a little too oily, most find the texture is perfectly agreeable. Plus it's fragrance-free, which is ideal for many men.
The color is generally great for all hair, and can even be used on your head if you so choose!
The Good
Frizz-free flexible hold

Lovely natural shine

Very versatile
The Bad
Some find it a little too oily
What stands out about this beard and mustache wax
Plant-based ingredients
No petroleum
Designed for mustache
The best beard and mustache wax for
Men who are all about the stache
Overview
Mountaineer's founder, Eric Young, has a rocking beard and a fire mustache, so you know that this brand's products are made with care and passion – and this is evident with their Mountaineer Mustache Wax.
We'll admit, this is a niche item: if you don't care about the stache, you can skip reading this and go ahead. But if you're looking for a product that will allow you to acquire the mustache you've always wanted, this is the guy for you.
Made with all-natural ingredients such as beeswax, grape seed oil, and shea butter, you know it will take care of your hair in the best possible way. Rest assured this wax will not irritate your skin and is not sticky.
Beeswax provides the strong hold that helps you achieve even the most unusual mustache shapes, while grape and shea butter keep the hair above your upper lip hydrated and conditioned.
So, what else?
While there is no artificial aroma, you can still smell the beeswax and its natural ingredients. It is not a powerful smell, so it won't overlap with your cologne which is a plus, in our opinion.
Another benefit is that it is very affordable. That means you won't need a loan to take good care of your mustache.
The only drawback of this product is that you might find the texture a bit hard. Make sure to use an air dryer to soften it down before application.
The Good
Specialized for mustachio men

Great, natural formula

Adds plenty of moisture

Very affordable
The Bad
Hard texture makes it a bit difficult to apply
What stands out about this beard and mustache wax
Handmade product
Very masculine scent
It has a real legacy
The best beard and mustache wax for
Men with wild, untamable beards
Overview
It's no surprise that the folks at Honest Amish know a thing or two about beards.
Amish men, after all, have been rocking beards since – well, long before the surge in popularity of beards over the past several years. When it comes to beard wax products, they know what they're doing.
And their Honest Amish Original Beard Wax is considered the oldest beard wax recipe on record. If you're looking for quality, it never hurts to go directly to the source.
While it first hit the market in the 1970s, Honest Amish Original Beard Wax remains popular to this day, and it's still doing the job for which it was originally intended: to tame the wildness of a man's beard.
It doesn't get any simpler than that when it comes to explaining what beard wax is for.
One reviewer described the Original Beard Wax as being the facial hair equivalent of hair spray, although one should never confuse an Honest Amish product with anything that doesn't include all-natural ingredients.
The point, however, is that this wax provides superior hold as well as an excellent balance of style.
The hold is derived from all-natural beeswax, while styling superiority comes from all-natural butter.
In other words, your sometimes-unruly beard will stay in place and look good. Isn't that what it's all about?
Honest Amish Original Beard Wax is also good for conditioning facial hair follicles as it's holding them in place.
Like all Honest Amish products, the Original Beard Wax has a natural masculine scent that's refined, not overpowering.
The bottom line is that it's hard to go wrong with any of Honest Amish's beard products. They've certainly been in the business long enough to know what they're doing.
The Good
Great for taming unruly beards

Smells fantastic

Conditions hair follicles, too
The Bad
Slightly difficult to get out of the tin
What stands out about this beard and mustache wax
Unique cigar-infused fragrance
Very soft texture
Hold is medium/light
The best beard and mustache wax for
Men who want to smell masculine
Overview
The Southern California company Fisticuffs LLC takes men's facial hair very seriously, as evidenced by its motto, "Grave Before Shave."
Their Cigar Blend Mustache Wax also shows their commitment to men's grooming. The stuff is good.
While it's not an (all) natural mustache wax like many of the other high-quality products available – it contains a bit of petroleum jelly to help with the 'hold' – it delivers quality in all the important categories, not the least of which is its scent.
What's so good about its smell? Just look at its name.
Cigar Blend Mustache Wax combines vanilla and cigar (yes, cigar) in a unique fragrance that's hard to beat.
OK, not everyone loves the smell of a good cigar; although it's hard to resist, that shouldn't be your sole reasoning for choosing another wax. But the cigar scent in the Fisticuffs' wax is far from overpowering.
If you're not a fan of 'heavy' waxes, this wax is a good choice for you. It's has a softer texture than most other mustache/beard waxes and can be applied to your facial hair after only a few seconds of softening it between your fingers.
It's also for you if you like a hold that's not too stiff. You can still get the kind of hold you prefer, only with a softer feel. But if you're looking for the strongest hold available, Cigar Blend Mustache Wax may not suit your needs.
All in all, however, this is a quality wax that stacks up against any of the other top products on the market.
The Good
The smell is unlike any other wax

It softens quickly and is gentle

Totally doesn't feel waxy
The Bad
The cigar scent will not be to everyone's taste
What stands out about this beard and mustache wax
Long-lasting hold
Handmade quality
Works well with any hair color
The best beard and mustache wax for
Men who struggle to find a wax to match their hair color
Overview
Firemen and mustaches have long been synonymous.
Nobody is quite sure why, but history shows that the brave men of the firehouse don mustaches more readily than other male sub-groups.
It's also part of the history behind Firehouse Moustache Wax.
As the story goes, Mississippi fireman John Pitts – a devoted mustache wearer – was on a quest to find a wax of the highest quality and was mixing up his own batches.
Each batch was tried by the other gents at his firehouse until he'd found the best mix – which is how Firehouse Moustache Wax came to fruition.
Pitts' recipe is a closely-guarded secret, mind you. You won't find the Firehouse Moustache Wax ingredients listed anywhere, although we can assume that, like most waxes intended for mustaches and beards, it includes beeswax.
Its unique history aside, Firehouse Moustache Wax Wacky Tacky (one of its variations) is a damn good wax.
Waxes are all about the hold, and Wacky Tacky earns high marks in this category. No matter how tough your mustache is to tame, Firehouse Wacky Tacky will help keep those hard-to-manage hairs in place.
You don't need a ton of Wacky Tacky to keep your mustache in place, either.
A small amount between the fingers is enough to give you the kind of hold you need. And it keeps its grip no matter the weather conditions, including humidity and heat than can wilt mustaches and beards.
Wacky Tacky looks darker than most mustache waxes, but it lightens up when it's applied and works well for almost any hair color. As tinted beard wax goes, few products are better.
What else is to like about Firehouse Mustache Wacky Tacky?
It's non-greasy, for one, and leaves your mustache looking naturally shiny and healthy. It's also longer lasting than a lot of waxes, and most users find that one application will hold up for the entire day.
The Good
You only need a little to hold your hair in place

Gives a natural, clean-looking shine

You can feel the handmade quality
The Bad
Some dislike the consistency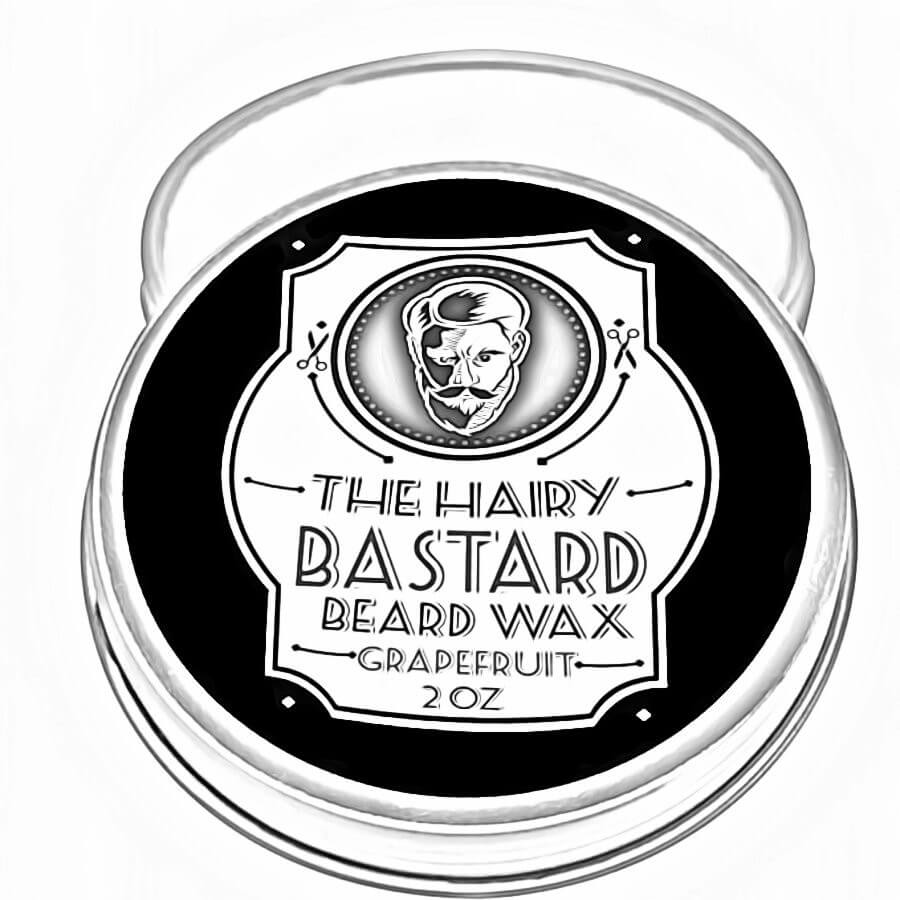 What stands out about this beard and mustache wax
Tobacco scent
Medium hold
Non-greasy blend
The best beard and mustache wax for
Men with long beards that need styling
Overview
The Hairy Bastard (the company that is) has hit upon something with its All-Natural Hair and Beard Wax. Specifically, its tobacco scent is one of a kind, and leaves beards smelling amazing, with notes of sun-baked tobacco, oak barrels, and earthy soil.
The HB All-Natural Wax has many other benefits besides its wondrous fragrance, however.
For one, it provides a nice, medium hold that keeps your whiskers in place without making them too stiff. Plus, it won't dry out and leave behind a bristly look and feel.
For another, it's not greasy but instead serves up a light sheen that helps make your beard look great. Whatever type of sculpting and shaping your desire, The Hairy Bastard Wax has your back.
All of The Hairy Bastard's beard waxes are hand-crafted, which is another reason we like their All-Natural Wax. Plus, they come in 2-ounce and 4-ounce cans, depending on your preference.
The Good
Provides a great, balanced hold

The tobacco scent stands out

The shine is non-greasy and natural
The Bad
Not everybody wants to smell like tobacco
How we chose the best beard & mustache waxes
Our goal with any of our reviews is to provide you with a guideline for making your buying choices.
While we can't try every beard and mustache available, we do research a lot of them. By combining our research – including the reviews of others – and personal experience, we've come up with a list that will point you in the right direction.
What's the difference between beard wax and mustache wax?
Beard wax, mustache wax – what IS the difference?
Honestly, there's not much of a difference at all.
True, they have different ingredients – although not dramatically so – but if forced to answer, you might say something like, "Mustache wax has a stronger hold while beard wax also acts as a conditioner."
You can also add the beard wax is softer than mustache wax.
But, other than that, mustache wax and beard wax are almost one and the same.
Beard balm, meanwhile, has been described as the "lovechild" of beard oil and mustache wax. We'll let you create your personal vision for that.
Another thing about mustache wax: Its main ingredient, in almost every case, is beeswax. It gives you a secure hold without bombarding you with chemicals that you'll find in many other grooming products.
Mustache wax, as noted in our product reviews above, may also contain pine resin (sap) that further strengthens the hold.
Again, mustache wax isn't a conditioner for mustaches or beards. Beard balm and beard oil will provide conditioning and can be used on your mustache, as well. Balms and oils will also resolve any issues you may have with beardruff, i.e., dandruff in your beard.
Finally, both beard and mustache wax are good for protecting your facial hair from the elements because the wax forms a protective layer that acts as a barrier from harsh conditions.
How to correctly apply beard wax in 8 easy, illustrated steps
Now that you have the right stuff to keep your beard from getting too out of control, let's take a look at how to apply it: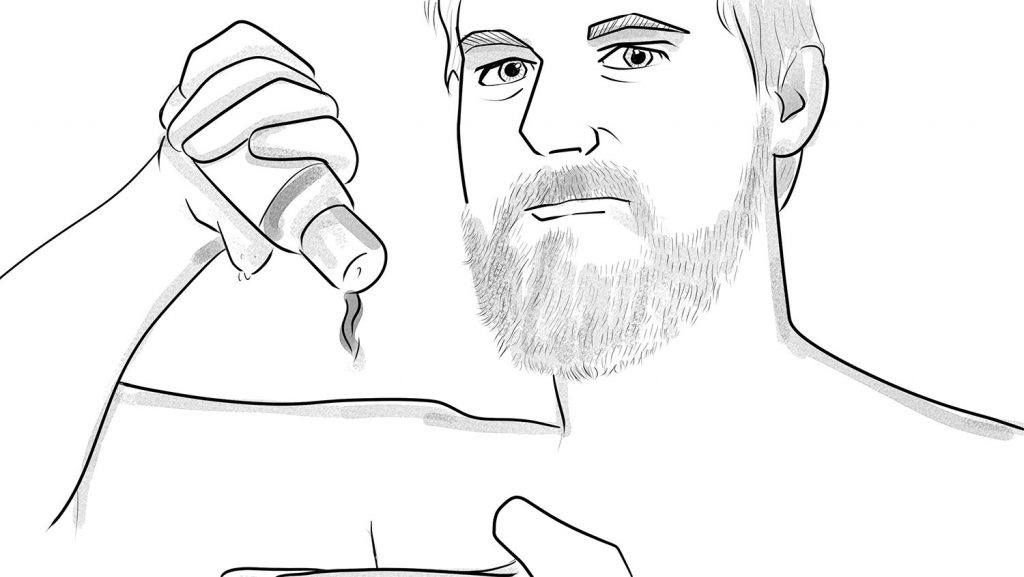 1. Clean your beard with one of the high-quality beard shampoos or a beard wash of your choosing. We recommend shampooing it during your normal morning routine.
Clean your beard. Even if it doesn't look dirty, you want to make sure any dead skin cells and oils are removed for an optimal wax application.
2. Make sure your beard is completely dry. Adding wax to a damp or wet beard reduces its effectiveness.
The main thing to keep in mind when using wax? Make sure your beard is completely dry. Adding wax to a damp or wet beard reduces its effectiveness—you won't be able to achieve the hold you want. And nobody wants that!
3. Use a beard brush to remove any stray hairs. All good beard grooming kits should include a beard brush.
The beard brush is a vital tool when growing a beard. It's great for detangling and softening the hair, and it can help to distribute the natural oils that are produced by the skin throughout the beard, which means fewer flyaways and a softer, shinier appearance.
Whether you're using a classic beard brush made out of boar's hair or you prefer a newer silicone version, there are a few key things to keep in mind. Here are some tips for using your beard brush:
-Use it every day to ensure that your beard stays soft and smooth.
-Brush in an upward motion to help add volume and length to your beard.
-Be gentle! You don't need to apply much pressure.
4. Put a small amount of beard wax in your palm. It may take you a few times before you have a good idea exactly how much wax you'll need for your beard. A good rule of thumb is that you should start with a small amount and only add more if needed.
5. Apply the wax to one side of your beard while rubbing it in until its consistency is smooth. Repeat the same process on the other side of your beard while being mindful that you're using the same amount on each side.
6. If you've ever tried to tame a wild beard, then you know it requires some careful maintenance to keep from looking like a cave man. To do this, you'll need to invest in a quality beard comb and, for those of us who have coarse hair that's prone to frizz, a good wax.
Use a quality beard comb to shape the hairs of your beard in the same direction. Which direction depends on the style of your beard.
7. Also, use a small amount of wax to in the front of your beard. And like with the sides, use a comb to shape it in the direction that you want.
8. Use a hand towel to wipe up any excess wax, if necessary.
How to apply mustache wax in 5 simple steps
As you might expect, applying mustache wax is a different process than applying beard wax although the principle is the same: you don't want to use too much (or too little):
1. The beeswax found in most mustache waxes will have a very hard consistency when you first open the tin of your chose wax. That said, you should warm the tin to soften the wax before using it.
Note: You can warm the tin in a variety of ways – with a hairdryer, leaving it on a warm vent, etc.
2. After you've warmed the wax, scoop out a small quantity. Rub the wax between your thumb and index finger to soften it further.
3. Apply it by starting at the center of your mustache and working outwards. The wax should be applied evenly throughout your mustache. It's up to you whether you want to use both hands or one hand to apply the wax.
4. The smoother the consistency of the wax, the better, so be sure to rub out any excess clumps of wax for the best results.
5. If need be, apply a small amount of wax during the day if your mustache hairs begin to go astray.
How is beard/mustache wax different than beard oil and beard balm?
By now, we hope you're convinced that your men's grooming kit should include beard and mustache wax, beard oil, and beard balm. It should, of course, also include other 'beard products' such as beard brushes and combs, shampoos, and conditioners.
With all this stuff at your disposal, however, it's helpful to understand the differences, especially when it comes to beard and mustache wax, beard oil, and beard balm.
Let's take a closer look:
Beard balm is the lovechild of beard oil and mustache wax
OK, maybe not "lovechild," but beard balm is a hybrid between beard oil and mustache wax. Like beard oil, beard balm contains carrier and essential oils. Like beard and mustache wax, the balm also includes some wax (along with shea or cocoa butter).
While excellent for shaping your beard, beard balm doesn't have the staying power of beard and mustache wax when it comes to hold. Beard and mustache wax provides a stronger hold that will last you throughout the day.
It's in the ingredients
Beard and mustache wax contains carrier oil, but their primary ingredient is beeswax.
Beeswax is the magical material that keeps a beehive together, which certainly demonstrates its strength. It only stands to reason that it can hold your stray facial hairs in place.
Why use beard wax? Again, it all gets back to the 'hold.'
And if you want to wear a handlebar mustache or any other mustache style that requires shaping your mustache into place (and holding it in place), then you must have mustache wax.
Beard and mustache wax isn't for conditioning your beard
But beard oil is, and that's the biggest difference.
Beard oil conditions and moisturizes your facial hair follicles and the skin beneath it. It also gives your beard a nice sheen while making it fuller and more manageable. Beard oil doesn't contain wax of any kind.
Conclusion
And that's a wrap, loyal readers. If you have any questions or want to share your experiences with beard and mustache waxes, we'd love to hear from you. Your comments are always welcome.