8 Best Hair Waxes for Men That Provide Excellent Hold
This post may contain affiliate links. Learn more.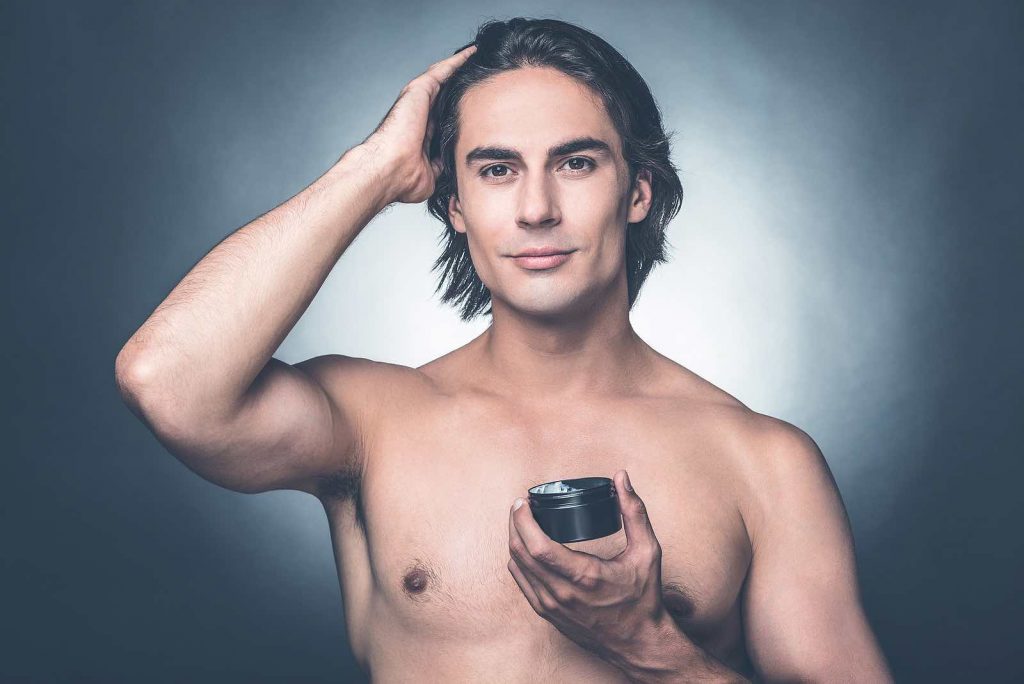 Hair wax is one of the bestselling men's grooming products these days, and that means the market has been flooded with products because everyone wants to get some!
So finding the very best hair wax – one that will give you exactly the hold and shine you need but is made from the right stuff – is seriously tough.
To save you the time and effort of scanning thousands of Amazon pages, we've put together this list of the very best hair waxes for men. We're talking about the right hold and shine, and the proper ingredients that are not toxic to your hair or body.
In a hurry? Here are our top picks:
Jack Black's Wax Pomade
Our no.1 choice, for example – Jack Black's Wax Pomade – is about as natural and versatile as they come. It's great to use on your beard and mustache as well as your head, and caters to thicker hair particularly well.
VOGARTE Hair Styling Aqua Wax for Men, Strong Hold
Coming in at no.2 is VOGARTE Hair Styling Aqua Wax for Men – a truly superior product, offering a long-lasting hold, a natural, non-greasy finish and great value for money.
So as you can imagine, there's a great product for everyone's needs.
And we're also going in hard, with a full 101 course on applying hair wax properly; a detailed discussion of the distinctions between wax, pomades, and all the rest; and a solid FAQ where we'll answer the most pressing hair wax questions there are.
But to kick things off, we're going to dive into 7 simple factors you need to bear in mind when buying wax.
Quick summary
Best Natural

Jack Black Wax Pomade

Good for thicker hair

Also works on beards and mustaches

Natural ingredients

Check on Amazon

Best for Hold

VOGARTE Hair Styling Aqua Wax for Men, Strong Hold

Strong hold

Gives shine and a healthy look to your hair

Easy to wash out

Check on Amazon

Best for Shiny Hair

English Laundry Shiny Hair Wax

Adds excellent shine to the hair

Medium to strong hold

Fantastic scent

Check on Amazon

Tigi Bed Head B for Men Matte Separation Workable Wax

Natural look

Good for different types of hairs and styles

Superior matte finish

Check on Amazon

MATRIX Style Link Over Achiever 3-In-1 Cream Paste Wax

Works well on all hair types

Excellent hold

Extremely versatile

Check on Amazon

CHI Matte Wax

Easy to apply on the hair

Strong but balanced hold

Matte look

Check on Amazon

SexyHair Style Control Maniac Styling Wax

Provides a firm hold

Shiny finish

Washes away easily

Check on Amazon

Gatsby Moving Rubber Spiky Edge Hair Wax

Extra strength hold

Nice scent

You don't need to use a lot

Check on Amazon
Before you buy: 7 Things to consider when purchasing hair wax
There's a lot of competition among hair wax brands trying to be a top dog while also trying to grab your attention in the hair products aisle.
Yes, there's so many choices and so little time, to borrow a cliché.
And if you go into it armed with basic knowledge (and take your time before choosing), you'll be better off than the guy who simply grabs the first – and perhaps only – product he knows. Or doesn't know. Hey, we've all been there.
Here are a few basics about hair wax:
1. Don't Choose Wax if You're Going for the Slicked-Back Look
Pomades are the way to go if you want your hair to look "slick" when styled. You won't get that look with wax, but they do provide a bit of fluff and are an excellent choice if you're in a hurry in the morning.
Like pomade, they don't flake and are easy to work with, even long after you've applied them during your morning routine.
2. How Does it Hold?
Just like with pomade and many other hair products, "hold" is everything (well, almost everything) with hair wax. Most quality hair waxes should last you all day long, but it's not as hard of a hold as you'd find with a hair gel.
So, it's a good idea to check yourself in the mirror throughout the day – and you may want to apply a bit of wax if you're planning to go out right after work. Which leads us to our next question?
3. Do You Re-Style Your Hair Often Throughout the Day?
Different from hair gel and many pomades, hair wax allows you to re-style your hair without re-applying more product or re-washing. In most cases, all you need to do is pinch and twist your hair back into shape. Fast and easy.
4. Waxes Smell Good
The consensus among many men's grooming experts is that hair wax smells better than other styling products. Of course, what smells "better" and what doesn't is a matter of taste. But you will find a wide range of scents in hair wax products.
5. Don't Cheap Out
This advice isn't anything new – and applies to virtually any product you buy – but you get what you pay for with hair wax. If a wax dries out and becomes flaky, it's very likely that it's a cheaper, lower-quality product.
We're not suggesting that you bust your budget and buy the most expensive brand on the shelf, but don't be afraid to make a sound investment in your wax and yourself.
6. Hair Wax & Its Many Aliases
Finally, hair wax often goes by other names, such as paste, putty, glue, or even "molding gum." A product's ingredients should tell you whether it's truly a wax.
7. How Does it Shine?
While wax doesn't appear greasy, it will give your hair some shine. Most waxes range from low to high.
OK, now let's dive in and take a look at the best hair wax for men.
The 8 best hair waxes for men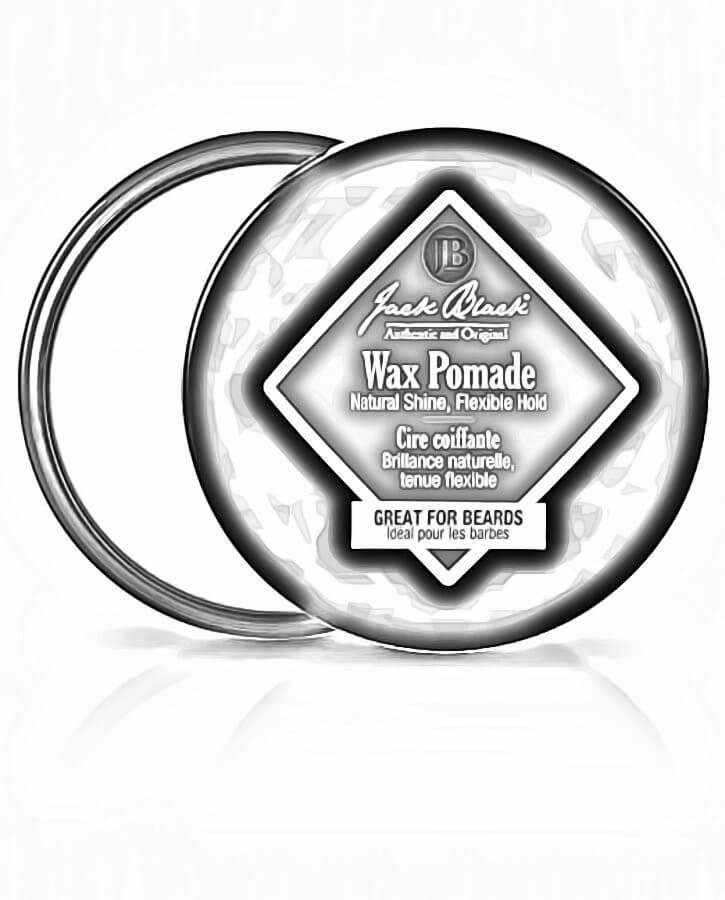 Best features
Provides excellent control
Works great on thicker hair
Can also use it on your beard and mustache
Best hair wax for:
Men with thick and curly hair
Overview
Some men have a lot of hair – you know who you are, lucky bastards – but who don't feel the need to go gonzo and shape it into a Mohawk or pompadour. Perhaps they work in a professional setting where straying-from-the-norm hairstyles aren't appreciated.
Or, maybe they just like it the way it is – simply styled, but looking good. And if your hair is curly or frizzy, then it's worth your time and money to check out the Jack Black Wax Pomade.
It gives you good control over your frizz or straying curls and waves and is the best hair wax for thick hair.
Here's another cool thing: It even helps condition your beard and mustache. In other words, it's a versatile tool to toss into your grooming kit.
But the versatility and the ability to keep your thick locks under control aren't the only reasons we like Jack Black Wax Pomade. It's also packed with natural ingredients and doesn't include parabens, artificial fragrances, or colorants, so you don't have to worry about skin reactions or unnatural smells.
Instead, the ingredient list includes tea tree leaf oil (reduces dryness and itching), sage leaf oil (fights infection), organic basil leaf and kelp (thickens, nourishes, and volumizes your hair), as well as green tea leaf extra that stimulates hair follicle growth.
Of course, beeswax is included to give you a marvelous hold while also locking in moisture throughout your hair. It even works to control dandruff.
Jack Black Wax is also dermatologist-tested and (animal) cruelty-free.
You'll find the wax lightweight and that it gives your hair a pliable, high-finish, natural-looking shine. You also don't need to use a lot of it to get an all-day hold, and it rinses easily from your hair and won't leave it feeling dry or greasy.
While it's excellent for thicker hair, it's also lightweight enough that it won't weigh down thinner hair types. And, as mentioned earlier, you can use it to condition and tame those stray hairs residing on your beard or mustache (or both).
Pros
Good for thicker hair

Also works on beards and mustaches

Natural ingredients
Cons
Perhaps not as effective with thinner hair (but still works pretty well)
Bottom Line
Jack Black is making its name with quality grooming products that have natural ingredients, and that get the job done. There Wax Pomade is easy to use, provides a firm hold, and is easy to rinse out.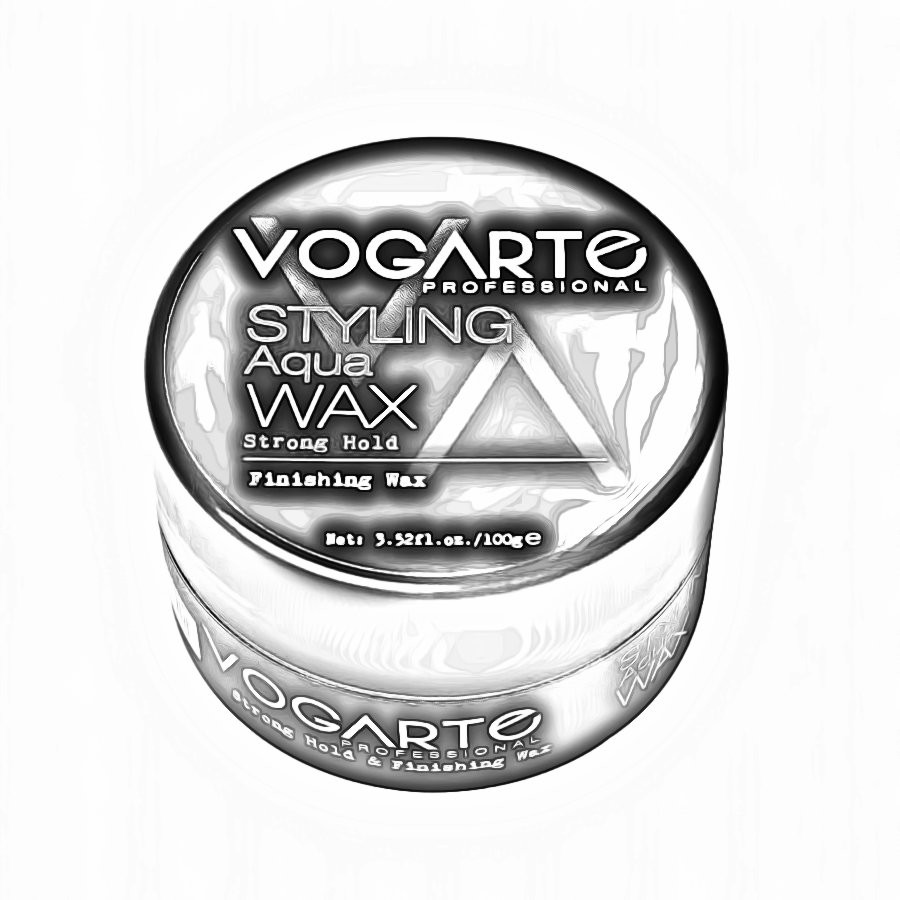 Best features
All-day hold
Gives hair a shine
Very even spread
Best hair wax for:
Extra firm hold and low-maintenance hair styling
Overview
VOGARTE's hairstyling aqua wax comes with a 100% satisfaction guarantee, which is very reassuring for prospective buyers. The reality is, however, that we can't imagine they get many customers returning the product – because it absolutely does the job
This is a water-based wax that is designed to offer a particularly strong hold, ideally to keep the hair in place all day and minimize touch uptime. It does this brilliantly: if what you're after is a strong styling wax, this is your stuff.
It doesn't only help you create a firm style – it also gives the hair a really radiant finish. Some wax can look greasy or grimy, but this stuff really makes your hair look healthy and natural, even while it holds it in patently unnatural positions!
And it's not only your hair that avoids grease: because it's water-soluble, VOGARTE's wax is unusually easy to wash out – even with very standard shampoos. And it leaves your hair exactly as it was, with no greasiness or stains – basically no evidence at all.
The only downside is the scent, which is quite strong and, for some, a bit off-putting. It's a fresh smell, for sure, and some will find it energizing. But it is a bit of a stench, and it's definitely important to be prepared for that.
Pros
Really strong hold for low-maintenance styling

Washes out with ease

Gives a really nice, healthy look to the hair
Cons
Some reviewers feel the smell is too strong – though others like its freshness
Bottom Line
A great, water-based wax that will keep your hair in place all day with ease, and then wash out just as easily in the evening.
Best features
Paraben-free
Adds high shine
Premium brand
Best hair wax for:
Men who like to add a bit of shine to their hair.
Overview
English Laundry is a premium designer brand that also specializes in men's grooming and hair care. While being a relatively new brand – launched in 2009 – it has expanded to more than 4000 locations around the USA, giving you an indication of the quality of the brand and how fast it is expanding.
Their English Laundry Shiny Hair Wax is the only wax a man wants if he yearns to achieve high shine levels without weighing down his hair or making it look greasy.
Made with beeswax, sunflower seed wax, and jojoba esters, it packs the necessary ingredients to provide great hold and care to your hair.
Beeswax has been a top-notch ingredient in waxes since ancient times. It is highly moisturizing, encouraging hair growth and reducing hair loss. It smoothes out and strengthens the hair, making it easier to style. It also gives a shiny look.
Sunflower seed wax helps repair the hair and protects against oxidative stress. Its antibacterial properties keep the hair healthy and shiny.
Jojoba esters also hydrate and condition, protecting the hair from breakage and split ends. It also helps control dandruff and scalp psoriasis.
You will love the hold that this wax has to offer. It is definitely strong, but rest assured, it doesn't make the hair stiff.
But there's more. Who doesn't appreciate a great scent?
You will fall in love with its fragrance. It reminds you of a vintage barbershop, but it still manages to be unique and sophisticated. English Laundry combines sandalwood, lavender, and citrus fruits to achieve its signature smell.
Pros
Its excellent vintage scent is unique and fresh

It adds a great amount of shine without being oily or greasy

Provides medium to strong hold
Bottom Line
This is a great wax for people who prefer shiny hair. You will also appreciate its vintage scent.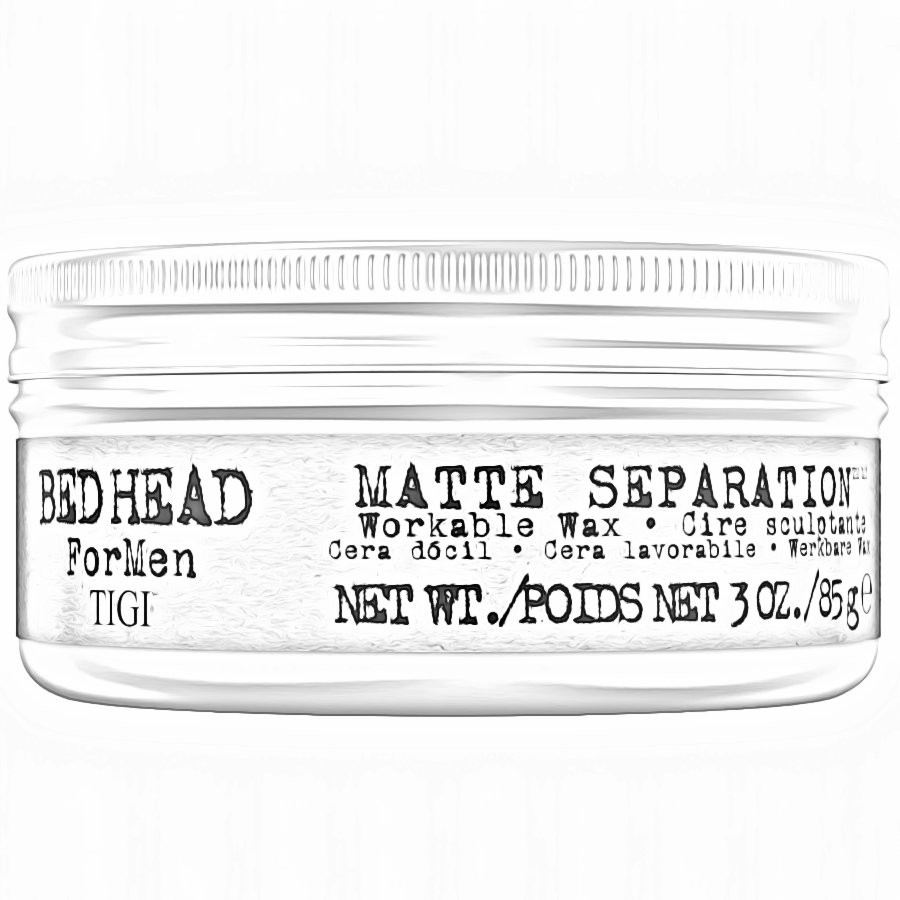 Best features
Natural look
Excellent for men with short or thinning hair
Helps thicken hair
Best hair wax for:
Men who want a natural finish on their hair
Overview
You apply your hair product, take one last look in the mirror, and think, "That doesn't look like my hair at all!"
If you've experienced the above scenario, we understand your pain. While you want your wax, or pomade, or whatever, to give you good hold and allow you to achieve your desired style, you don't want the result to look like someone else's hair or, even worse, artificial.
And that's a good reason to choose TIGI Bed Head B for Men. Make that a great reason. After you've applied TIGI Bed Head B, it's quite possible that others won't notice that you've used wax at all.
It provides one of the most natural looks there is and applying it in the right amount leaves a superb matte finish with excellent texture.
But there are plenty of other reasons to choose TIGI Bed Head B for Men:
It's a good wax for adding volume, which makes it an excellent choice for men with short and thinning hair. While it's extremely versatile and good for almost any hair length and style, it's the best hair wax for thin hair.
You'll like how easy it is to rework your hair long after you've applied it. You can adjust your style simply by using your hands, or you can apply a small amount of water (not much, mind you) for even easier styling.
Beeswax is a key ingredient and helps keep your hair in place while keeping it healthy. It also gives structure and fullness to your hair follicles. Carnauba wax is another key ingredient – it's used in a variety of hair products – and it has a softening effect that gives you superior styling flexibility.
Its shine is perfectly natural and not artificial-looking.
It has one of the best matte finishes of any styling product out there. A matte finish is preferable if you have short hair (almost too short to comb) or if you're going for the tousled, "bad-boy" kind of look.
You can combine TIGI Bed Head B for Men with a natural finish hairspray for even more precise styling.
Pros
Natural look

Very versatile and good for different types of hairs and styles

Superior matte finish
Cons
Doesn't provide as long of a hold like some other waxes
Bottom Line
This is an excellent product from a company that makes a wide range of grooming products for men and women. You'll love how it looks, and it's so subtle others may not know that you've even used a wax.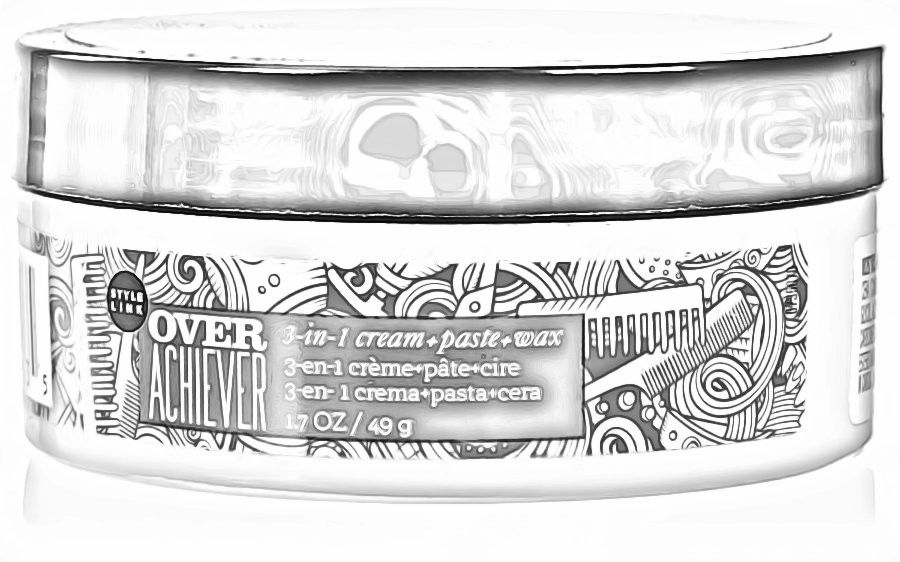 Best features
3 in 1 cream, paste, wax
Strong hold
Medium shine
Best hair wax for:
Men who want a firm hold
Overview
MATRIX has done it!
Their MATRIX Style Link Over Achiever 3-In-1 is the perfect product that combines all the qualities of cream, paste, and wax in one product, making the men's grooming routine easier and less time-consuming.
How does it achieve that?
It spreads like a cream, has a more pasty texture, provides a subtle shine, and holds like a wax.
It is formulated with Candelilla Wax, so you know that it is rich in nutrients and health benefits to the scalp and hair. It is an ingredient that is often used as a substitute for beeswax as it gives similar benefits. It prevents water loss and helps protect the hair from breakage and split ends.
This 3-in-1 wax makes styling easy; all you have to do is apply a small amount, and your hair will remain in place throughout the day.
But while its hold is strong, it's not so strong that it makes your hair feel stiff or unnatural. It provides excellent texture and a little extra lift, but you can move it around during the day if the mood strikes. It controls flyaways without any issues.
There's also nothing greasy about this formula, and it's easy to wash out. No stickiness, no tackiness!
So, what else?
It gives a satin finish (medium shine) and has a wonderful scent that your friends and girlfriend will truly appreciate. It is somewhat fruity and not overpowering.
Lastly, it works with all kinds of hair, so even if you have curly hair, its hold will still manage to provide you with great manageability.
Pros
Provides excellent hold

It has a more pasty consistency and texture which makes it easier to apply

Amazing scent

Works well on all hair types
Cons
You have to be careful not to apply too much as it will make the hair stiff if overapply

Some reviewers say the scent is a bit strong

A modern formulation that some might not like (doesn't include beeswax)
Bottom Line
It is a versatile product that provides a solid shine, is suitable for all hair types, and keeps your hair in place throughout the day.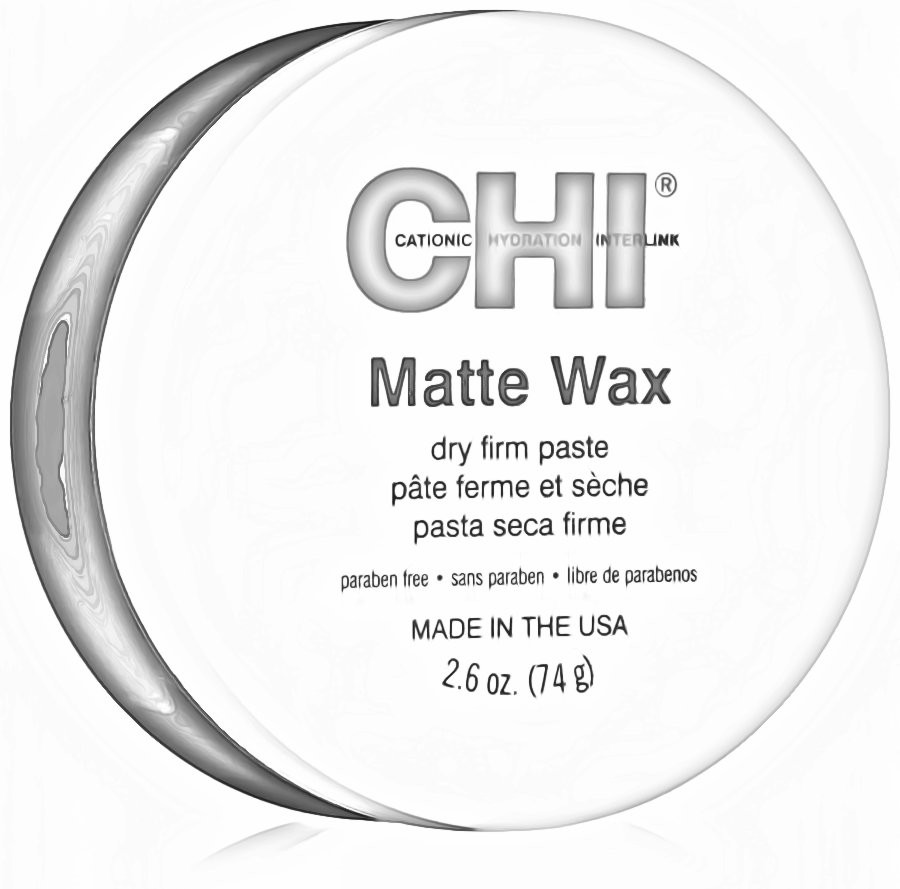 Best features
Matte look
Very strong hold
Suitable for all hair types
Best hair wax for:
An ambitious, involved hairstyle
Overview
Well-known design house CHI developed this – their strong hold matte wax – as a way of making ambitious, often curly and outlandish hairstyles easier to achieve. And they've definitely succeeded.
Made from elastic polymers, it offers an intensely strong hold without getting too greasy or stiff, giving you just the right amount of room to style and re-style. And though some reviewers find it a little thick and gloopy, most report finding it very effective and easy to use.
One great thing about it is you can use it on just about any hair style. While it might not be as good as some other on this list for shorter hair, it is certainly effective for any style that requires hold. It gives the hair a dry matte and very natural, healthy looking finish.
All you need of this stuff is a tiny finger full, and you'll have more than enough to completely transform your hair. And while being a little more subtle is a challenge with such strong stuff, it is definitely possible.
It's worth noting that this is not as natural in terms of ingredients as others on this list. And while it won't harm your hair, it is important to know what you're buying.
Pros
A great balance of hold and give

Very easy to apply

The matte avoids heaviness
Cons
It's a little thick and gloopy for some tastes
Bottom Line
A great, reliable and above all strong holding wax.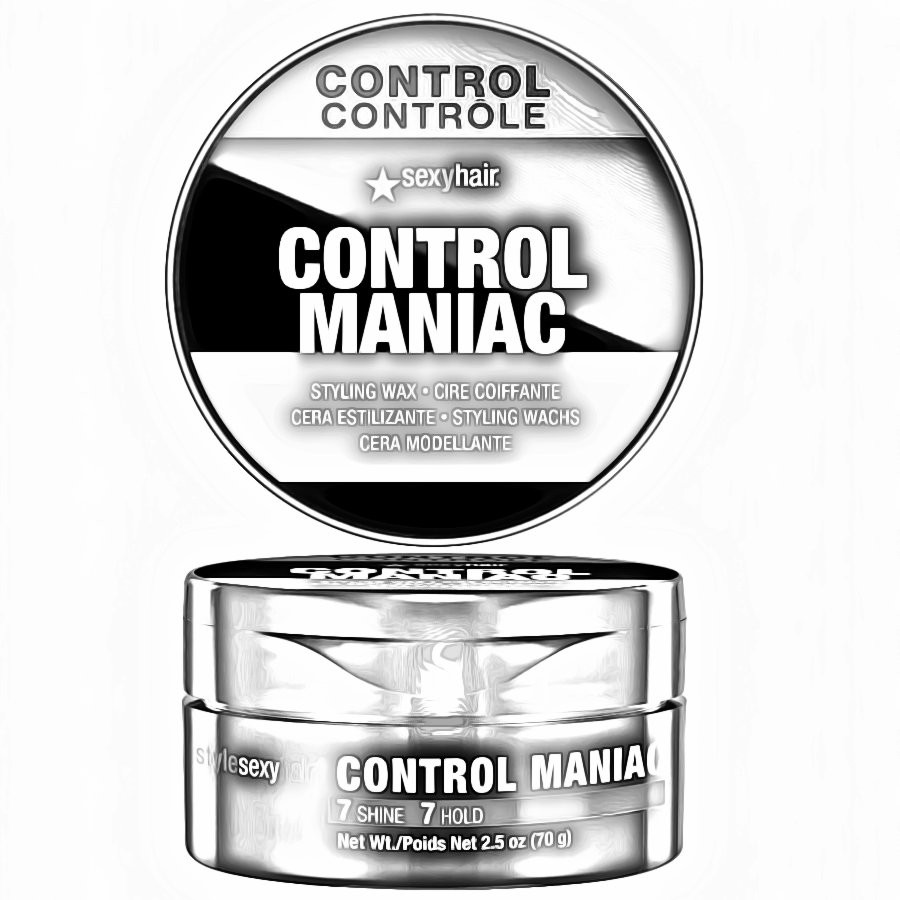 Best features
Strong hold
Cruelty-free
Suitable for medium to short hair lengths
Best hair wax for:
Men who are looking to add a shine to their look.
Overview
SexyHair Style Control Maniac Styling Wax is worth a mention in our list. It has a firm hold that lasts long in order to suit every man's stylish needs.
It is very versatile, and short to medium-haired men will appreciate the impressive control that this wax has to offer. A small amount is enough to achieve the style and shiny finish you are looking for.
You will also appreciate its non-greasy texture. Your hair will look healthy and natural rather than sticky and dry.
Throughout the day, it also doesn't feel heavy on your hair and washes off in a matter of minutes when needed.
Overall, a great wax for those who want a shiny look with absolute control. However, it is important to note that it doesn't add hair volume like other waxes on our list, which makes it not very effective for people with thinner hair.
Pros
Hold that lasts a whole day.

Adds a shiny finish to the hair.

It washes off easily in a matter of minutes.
Cons
Not very effective with thinner hair.
Bottom Line
SexyHair Style Control Maniac Styling Wax provides a hold that offers great control, and it works for men of many hair types.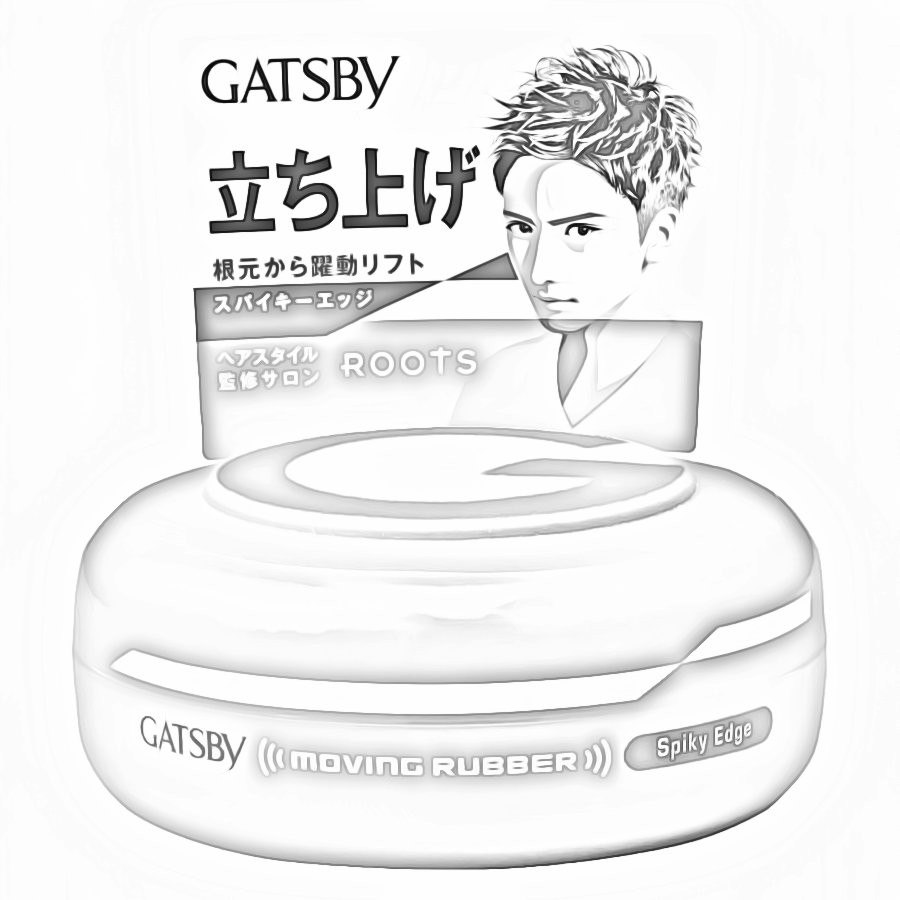 Best features
Very strong hold
Excellent for short hair
Ideal for spiked looks
Best hair wax for:
Men who want an extra-strength hold
Overview
The Moving Rubber Series is a collaboration of the Gatsby brand and Japanese hairstylists that has been around for a little over a decade.
Its developers sought a product with maximum hold, moveable texture, and something that will help the user get exactly the style they prefer.
Their Spiky Edge Hair Wax – the hardest wax of the Moving Rubber series – meets all of the goals listed above.
Whether you desire a Mohawk look or individual spikes, the Spiky Edge Hair wax is for you. For one, its hold is very strong, and it's ideal for short hair that you want to make stand up.
You could also use it slick back your hair, but, again, it's best for shorter hair and a spiked look.
While it's a hard wax with extra strong hold, it has a soft enough texture that allows you to reshape your hair several times throughout the day without having to re-apply it. It leaves a light feel in your hair that helps make it easy to style and re-style.
Two key ingredients in this wax are candelilla and microcrystalline, which are both waxes that play an important role in keeping your hair in place.
Other key ingredients include a palm oil derivative that's good for your skin, and stearyl alcohol, a conditioning agent. Unlike hair products that can dry out your hair and cause damage, it's a wax that's good for everyday use.
The Spiky Edge Hair Wax has a unique, green apple-like scent that's not necessarily overpowering, but will stay with you longer than a lot of other hair wax fragrances.
Finally, it's very affordable and is a great investment in that a can of it will last you for a long time.
Pros
Extra strength hold for making the hair stand up

Nice scent

You don't need to use a lot to get desired results
Cons
Not as effective for longer or wavy hair
Bottom Line
If Mohawks and spikes are your look, you owe it to yourself to try out the Spiky Edge Hair Wax. It provides excellent firmness without looking like you drenched your hair with product.
Choosing the best hair wax for men – Our method
We don't have a crystal ball. Nor do we pick names from a hat. However, we do roll up our sleeves and do a ton of research when it comes to choosing the products for our "best of" reviews, and it's the same approach we used for choosing the best hair wax for men.
As always, we study the products themselves, some through personal experience, while also considering the reviews of others we trust. A wax that performs as advertised and makes grooming easier for men always get high marks.
And, as with most products (hair or otherwise), the price isn't always a strong indicator of how good a specific product is. That said, we hope to provide products that offer a wide variety of price ranges from high to low.
That said, we think you'll like the products we've listed here.
Applying hair wax 101: How it's done
Now that you've chosen your go-to hair wax, here's how to apply it to get its maximum benefits:
1. Damp or Dry?
The consensus with hair wax leans towards the "dry" side of the equation when discussing whether to apply it to wet or dry hair. Hair wax doesn't as adhere as nicely to wet hair.
Additionally, applying wax to wet hair can cause your hair's outline and form to change when it dries. Also, the hair's volume may be lost when hair roots are wet.
Your best bet when applying wax is to dry your hair completely while shaping it into the desired look (and basic form of your style).
2. Use a Little, Not a Lot
We've used the phrase "a little goes a long way" in reviewing the best hair waxes, and in regards to other hair styling products such as pomade and conditioner.
It's also true with wax: use as little as possible while still being able to achieve the style and shape that you desire.
Some experts suggest that you use only a dime-sized portion of wax, even if you have longer or thicker hair. Putting too much in at first may lead you to have to wash, condition, and dry your hair all over again. Not fun at all, especially if you're in a rush.
Note: if you have a more complex hairstyle, you may have to apply an extra bit of wax. But never apply too much at first; see how your style looks after the initial application and go from there.
3. Loosen the Wax First
Your wax is much easier to apply when it's soft. Many waxes have a harder consistency when you first open the can, but it will soften if you heat it. Rub vigorously to soften it until there's not a single lump left.
It's much easier to deal with wax when it's already soft instead of when it's already in your hair.
4. Applying It
Start with a small amount of wax and work spread it on your palms, fingertips, and between your fingers.
The important thing to keep in mind is that you should spread the wax so thinly that it becomes colorless. Also, there's no need to apply the wax repeatedly over the same area because one application should be more than enough.
Start by applying it on the underside of your hair, then move to the surface and the tips. Finally, arrange the hair into the desired shape by twisting it with your tips.
It's best to apply it with your fingers, not with a comb or a brush. Yes, you can create a side part with a comb, but it may take a bit of practice to perfect it.
5. Keep it Off of Your Scalp
Do not let the hair wax touch your scalp. Your hair will look greasy, and the wax will be extremely difficult to wash off.
6. Hairspray, But Only if Needed
If you've set your hair with wax but are still having trouble maintaining its hold throughout your day, you can apply a hairspray finish over the style you've created with wax. But you won't need hairspray with most waxes.
7. Adjust, Adjust, Adjust
Remember – everyone's hair is different, and how much wax is needed varies from person to person. It may take some tweaking before you figure out how much you need for your hair. Again, start with a small amount and only use more wax if your hair needs it.
Hair wax vs. pomades vs. gels vs. clays
Yes, you truly have options when it comes to products that help style and keep your hair in place. We've talked at length about hair wax in this post, but hair wax isn't the only game in town by any means.
After all, there's also pomades, gels, and clays, and that doesn't even get into other products like shampoo and conditioner.
Honestly, there's no excuse for not making your hair look good – unless you're going for the unruly look (and hair products can help you achieve that look, as well).
All that said, let's dive in and take a peek at waxes, pomades, gels, and clays, including their differences, attributes, and more.
Wax
We've said it already, but it's worth repeating – hair wax is the most popular hair styling product you'll find on most supermarket shelves (and in most salons). The majority of incredibly-coiffed male models you see in magazine advertisements are using hair wax.
A key ingredient in most waxes is beeswax, which is diluted with fat or oil to make it easier to apply. Many waxes also have natural oils such as coconut oil, olive oil, and others, which add shine and moisture. Without those oils, waxes leave a matte or relatively dull finish.
What sets wax apart from other styling products? Hold, for one.
Most waxes have a medium to medium-hard hold that's going to keep your hair in place, but also make it relatively easy to re-style your hair after you, say, come inside from a windy day.
Again, you won't get a strong shine from many wax products, but if you're looking for a slicked-back look, then you're better off with pomade. Wax will give your hair a more "fluff" look if that's your preference.
Wax is definitely a good option if you're one of those folks who's perpetually running late in the morning. It allows you to style your hair quickly – with a nice hold – and washes out of your hands much easier than pomade.
Wax is also a very versatile product in that it's suitable for any type of hair – thick, thin, long, and short.
Most waxes have a pleasant, natural scent, and come in a variety of price ranges.
Pomade
Pomade is a hair product that lasts longer compared to other hair products (like hair spray) and has had a huge resurgence in the 2010s. It's primarily used for hairstyles like the pompadour, quiff, or the ducktail.
Available in two forms – water and oil, water-based pomades are usually better and more expensive, they're also easier to wash off and healthier for your scalp.
Using pomade does not dry out your hair or freeze it in place. Instead, it's best for hairstyles that allow some room for your hair to move freely. You can check our review of the best pomades right here.
Gel
You can trace hair gel's roots (no pun intended) back to the ancient Egyptians. As legend has it, they'd apply a gel to the hair of mummies so that the deceased would enter the afterlife looking well-groomed.
Hey, I guess you never know who you're going to meet on the other side.
Today's gels contain various chemicals that provide a firm hold while also extending the life of the product. Keep in mind, however, that most gels are water-based.
The hold is a big reason many men use gel. Most gels provide a firm hold – very firm.
If you're looking for something that is almost certainly going to stay in place throughout the day, then gel's a good option. It's not very workable, but you probably won't have to "work" with your hair anyway because of its intense hold.
Gel is water-based, meaning its easy to wash out, and that it's ideal for people who have sensitive skin or are prone to acne. If you have those issues, stay away from oil-based products.
Gel works particularly well with men who have medium to thick hair and works well with most hair lengths, as well.
Like wax, gel is relatively easy to apply, which is always helpful when you've overslept and are in a blazing rush to get out the door.
Buyer beware: You'll save money by buying a cheap gel, but cheaper gels tend to dry out and flake. There's no need to create your own dandruff, after all.
Clay
Clay is the new kid on the block when it comes to hair styling products. It's also unique and generally used less than wax or gel.
But it does have some advantages:
Clay has many of the same benefits of hair wax and includes bentonite, which makes your hair follicles look and feel thicker, and adds volume.
Hair clay is good for all skin types. Some clays even have healing properties that repair damaged hair and soothe dryness on the scalp.
Clay comes in a very thick, solid paste, but you'll hardly notice that it's in your hair after you've applied it. Its finish is very natural and matte-like.
The major downside to hair clays is that they're typically more expensive than other styling products.
Frequently Asked Questions
What does hair wax do?
Hair wax is a hairstyling and grooming product that contains wax. The wax helps keep hair in place but while still keeping it pliable (depending on the strength of the wax's hold).
Which hair wax is best?
Paul Mitchell Dry Wax, the first pick on our reviews above, is a superior hair wax that works great for all types of hair but is especially effective for men with thick or curly locks, as it provides a very firm hold.
Is hair wax allowed in hand luggage?
The answer is yes, but with some provisions.
Most notably, hair waxes and other liquid hair products should be placed in a clear, plastic bag; check the airline for the bag's size restriction. Also, the amount of hair wax you can bring is typically no more than 3.4-ounces, or 100ml.
Is hair wax considered a liquid when flying?
Hair wax, and other solid toiletries, are subject to the same TSA limits, i.e., they cannot be more than 3.4-ounces (or 100ml). They must be placed in a quart-sized, clear plastic bag before you pack them with your luggage.
Is hair wax water soluble?
Wax is an organic compound that's insoluble in water. However, it is soluble in organic, nonpolar solvents such as benzene.
Is hair wax vegan?
Most hair waxes contain beeswax and don't fall into the vegan category. However, vegan hair products abound in other forms, such as the Andalou Naturals Styling Gel.
Is hair wax temporary?
Yes. While hair wax helps to hold hair place while providing other benefits, you can wash it off with shampoo or rinse it out with conditioner. Using too much wax – because it contains oil – makes it harder to wash off, however.
Is hair wax water-based?
Hair wax is oil and wax-based, not water-based. It's an organic compound that's insoluble in water.
Is hair wax gel?
Hair wax isn't gel, although – like gel – it helps to hold hair in place. Gel is water-based, however, and easier to wash than wax, as we mention in our comparison of different hair products above. Gel offers a firm hold.
Is hair wax hard?
While hair wax is harder than other hair styling products, such as gel, its hardness often depends on the product. You can make harder waxes more pliable by warming them up in your hands before you apply them.
What is hair wax used for?
Hair wax is primarily used to hold a hairstyle in place after you've washed and dried it. Hair waxes tend to create a matte or natural finish, and they're pliable enough that you can re-style your hair during the day if needed.
What hair wax is best for thin hair?
The Bed Head B Wax by TIGI, which we list in our reviews above, is ideal for thin hair for many reasons, including that it doesn't have a heavy feel or finish.
When to apply hair wax
As we discuss in our "How to Apply Hair Wax 101" section above, the best time to apply hair wax is when it's dry. Hair wax doesn't adhere well to wet hair and makes it harder for you to achieve your preferred style.
What are the side effects of using hair wax?
Hair wax is pretty harmless to health, but that's not to say it doesn't have a few side effects. Some waxes contain chemicals that may irritate the scalp and damage hair, while some experts say excessive use of wax may lead to hair loss.
Can hair wax be used daily?
How often you use hair wax depends a lot on the condition of your hair. If your hair is damaged, or if you have a sensitive scalp that's easily irritated, you should only use it two to three times a week. Otherwise, you can use hair wax daily.
Can hair wax cause dandruff?
Hair wax doesn't cause the condition defined as dandruff. Product build-up that hasn't been washed out may show up on hair, but it's not the same as the tell-tale white flakes of dandruff.
Can hair wax cause acne?
Because hair waxes, pomades, and the like contain greasier wax and oil-based ingredients, they can clog pores, trap bacteria and, perhaps, cause acne. Then again, if you confine it to your scalp, you should be in the clear.
Can hair wax damage hair?
Some waxes contain chemicals that may damage hair and irritate the scalp. Or, if you apply too much wax, it may say some experts, lead to hair thinning and hair loss.
Can hair wax be applied to wet hair?
There's nothing to stop you from applying wax to damp hair, although you won't get the same results as you do from applying it to dry hair because wax doesn't adhere as well to wet hair.
Can hair wax make you bald?
Baldness in males and females has many causes, including genetics. Some people are naturally pre-disposed to suffer male and female pattern baldness. Hair wax is not a cause of baldness.
Can you use hair wax on a mustache?
Some hair waxes come in a stick form that makes it easier to apply to your mustache, or you can apply it with your fingers. Your best bet, however, is to use a quality beard and mustache wax that's designed for facial hair.
How is hair wax made?
Hair wax is a styling product made from plant or animal-derived waxes, such as beeswax. It also may include natural oils such as olive oil and coconut oil in its ingredients.
How do you remove hair wax from your hair?
A common way to remove hair wax from your follicles is through the use of a conditioner and shampoo.
First, wet your hair completely with warm water. Next, apply a quality conditioner and work it into your hair and scalp with your hands. Finally, rinse out the conditioner and wash your hair with shampoo.
How do you remove hair wax without shampoo?
Various methods abound for getting hair wax out of your hair without using shampoo. One method involves using more hair product – in this case, a water-soluble, wax-free styling product such as paste or cream. Work the product into your hair and then rinse it out.
How do you remove hair wax from your skin?
It's pretty easy to remove hair wax from the skin: place a hot, wet washcloth on the wax residue and let it sit for a minute or two. This should soften the wax, so it wipes off with the washcloth easily.
Conclusion
And that, friends wraps up another product review. If you have any experience with the waxes we've reviewed, we'd love to hear your thoughts about them. Or, is there a hair wax you like but doesn't appear on our list? We'd love to hear from you, too.
We always welcome your feedback and comments, no matter what topic we've covered. We welcome all comments and suggestions.