5 Best Pubic Hair Trimmers for Effortless Manscaping
This post may contain affiliate links. Learn more.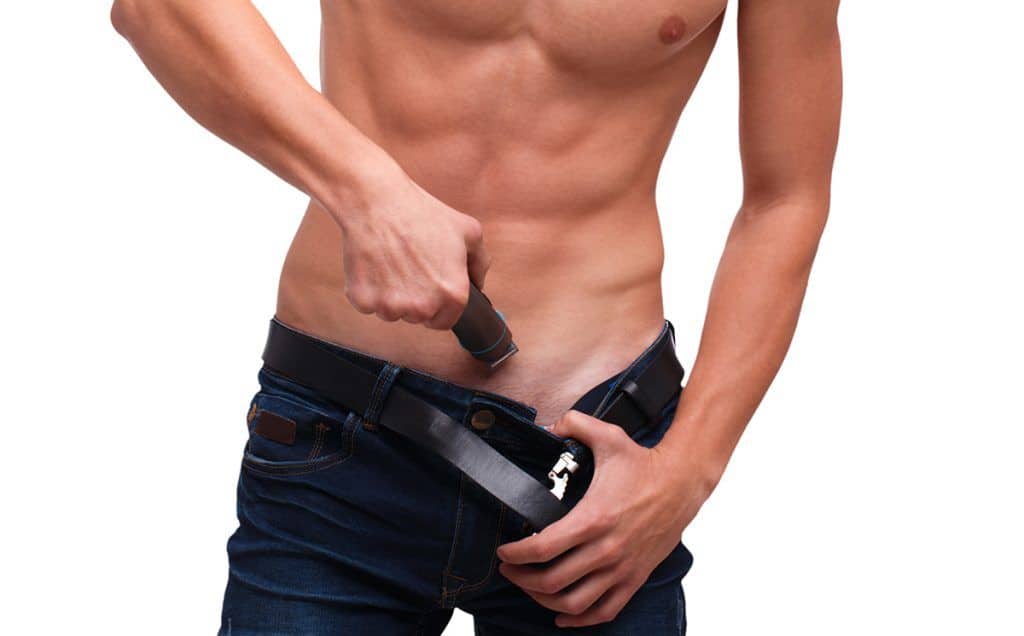 Women are way ahead of men in a lot of ways, especially when it comes to grooming. They pay particular attention to how they look, and as such take their grooming very seriously, unlike most men. For instance, women – more than men – understand the importance of trimming "down there.", and go out of their way to get the best products for this purpose.
However, Men have started taking care of themselves and paying more attention to their grooming, and a part of their self-care ritual is making sure that body hair is removed properly.
This does not only include hair on their torso. We mean,  
You know – trimming their pubic hair.
But, as men, we're slowly catching on, and many men today practice the art of pubic trimming.
For this reasonYou'd agree that the art of pubic trimming is indeed a very delicate art especially for men, as the slightest mistake can cause unbearable pain. For this reason, trimmers that are designed specifically to remove pubic hair have flooded the market. No doubt, tThere are a lot of excellent choices to pick from and it can be quite a struggle deciding which to go for., To make choosing easier,and the best pubic trimmer options have been described in detail in this article below. 
While any electric trimmer that you use on your beard can be used on your pubic area, there are some key differences that you need to keep in mind before you start using it everywhere. A body hair trimmer is not too different from a facial trimmer, but it does come with certain twists. 
Firstly, the skin around your pubic area is more sensitive and prone to cuts and problems like ingrown hair. For this reason, make sure that the trimmer you're using has a powerful motor and a size guard along with good blades. 
This is to make sure that the blade doesn't directly touch that area, and your hair does not get caught in it.
In a hurry? Here are our top picks:
The best overall pubic hair trimmer is also one of the original pubic hair trimmers. It is ideal for sensitive skin, as its blades aren't exposed. It's also highly ergonomic, fitting easily into the palm of your hand.
Philips Norelco Bodygroom Series 7000 Bg7030/49 Philips' Norelco Bodygroom Series 7000 uses dual-side trimming technology to make trimming delicate areas easier. Its rubber grim makes it comfortable to use, and the blades are good for both wet and dry use.
In a hurry? Here are our top picks:
The best overall public hair trimmer is also one of the original public hair trimmers. It is ideal for sensitive skin, as its blades aren't exposed. It's also highly ergonomic, fitting easily into the palm of your hand.
Philips Norelco Bodygroom Series 7000 Bg7030/49 Philips' Norelco Bodygroom Series 7000 uses dual-side trimming technology to make trimming delicate areas easier. Its rubber grim makes it comfortable to use, and the blades are good for both wet and dry use.
In a hurry? Here are our top picks:
Cleancut-ES4512
The best overall public hair trimmer is also one of the original public hair trimmers. It is ideal for sensitive skin, as its blades aren't exposed. It's also highly ergonomic, fitting easily into the palm of your hand.
Philips Norelco Bodygroom Series 7000 Bg7030/49
Philips' Norelco Bodygroom Series 7000 uses dual-side trimming technology to make trimming delicate areas easier. Its rubber grim makes it comfortable to use, and the blades are good for both wet and dry use.
A proper manscaping routine should include pubic trimming. If you haven't incorporated it into your grooming routines, there's no better time to start than now.
This would not only give you a more uniform look, but will also help you keep your sensitive areas hygienic and clean.
Or, if you already are doing it, then we'll help you find the highest-quality trimmers while including a variety of tips, including what to look for in a trimmer.
OK, time to stop beating around the bush. Let's get started.
Quick summary
<!—INSERT CODE BELOW—>

Our #1 Choice

Cleancut ES412 Personal Shaver

One of the original pubic trimmers

Great for sensitive skin

Excellent construction

Check on Amazon

Philips Norelco Bodygroom Series 7000 Bg7030/49

Dual-side trimming technology

Good for wet and dry use

Rubber grip provides comfort for safe trimming and shaving

Check on Amazon

Gillette All Purpose Styler

Design makes it easy to maneuver around sensitive areas

Can handle a variety of shaving and trimming tasks

Waterproof

Check on Amazon

Remington PG525 Head To Toe Body Groomer Kit

Excellent body trimmer with a 3-length adjustable comb

Good for most trimming jobs

Excellent blades

Check on Amazon

Philips Norelco Bodygroomer BG1026/60

Lessens the risk of nicks and cuts

Doesn't pull or tug long hairs

Good for wet and dry use

Check on Amazon
Before you buy: 8 Things to consider when purchasing a pubic hair trimmer
Trimming pubic hair isn't a job for the faint of heart. It requires equal parts technique (which we'll get into later), finesse, and patience. It also requires the right tools or, in this case, the right pubic trimmer.
So, before you grab the first trimmer that strikes your fancy online, or on the shelf, keep the following buying tips in mind.
Your man parts will thank you.
1. The more powerful, the better
The hair around your manhood is coarse – more so than on most other parts of your body. The last thing you want is a sluggish, slow trimmer that struggles to get through the forest that grows around your penis and testicles.
You want a fast trimmer with plenty of power, such as one with a 4,000 rpm motor. The more powerful the motor, the less snagging and dull trimming you'll experience.
It will also ensure that no pulling or tugging of hair happens, which can not only be painful but also cause bumps and other irregularities. 
2. Your blades should be sharp, just like you
The sharpness of your pubic hair trimmer blades is important – perhaps even the most important consideration you need to keep in mind. Dull blades won't cut it when you deal with those wiry, coarse pubes.
Look for a pubic trimmer brand that has sharp, hypoallergenic, rounded, and, preferably, stainless steel blades.These blades, especially on a precision trimmer, will help give you a clean, even trim. 
3. Cord or Cordless?
Some pubic trimmers for men come with power cords while others don't. What you choose is your preference, of course, but many shaving experts say skip the cord and go with a cordless model instead.
Why?
Because a trimmer with a cord limits your range of motion, and you need all the range of motion you can get when trimming around such a sensitive area.
4. Don't let your trimmer's battery life let you down
While cordless trimmers are your best option for trimming your pubic area, you have to be careful not to let your battery die out in the middle of the trim.
No one likes a job half-assed (or half-cocked, in this case), so your best bet is to choose a trimmer that has long-lasting battery life.
Because a lot of these trimmers need a long time to charge, make sure that you charge your trimmer in advance before you start trimming off those hairs. 
5. The better the attachments, the better the pubic trimmer
Most pubic trimmers come with various attachments, and that's a good thing. Attachments like guards help you to cut different lengths and textures of hair smoothly, soand you'd want to lookwant should look for trimmers that include a variety of guards that cut various lengths of hair.
Also, and this is important for ensuring that you don't nick or cut your balls and penis, make sure the trimmer has a safety guard. Let's face it, few things in life are less fun than nicking your nuts or manhood.
6. You don't need a lawnmower
A lot of men like big things. Big houses, big engines, big – well, you know – "manhood" (and if they don't, they may lie about it, anyway).
The same rule shouldn't apply to your pubic hair trimmer, i.e., you should choose a trimmer that's not too big and bulky because it won't maneuver around your pubic region very efficiently.
Instead, you need a trimmer that's compact, easy to hold, and can deal efficiently with the many hills, valleys, and slopes around your genitals.A smaller trimmer will help you trim more easily around the tricky areas, giving you a cleaner look. 
7. Like sex, long-lasting is important in choosing a pubic trimmer
It may go without saying, but it's still important to think about durability when choosing a pubic hair trimmer. Read the reviews of others, including third-party product reviews, to see how certain trimmers hold up over consistent use.
That's also why it's crucial to get a trimmer made for the job and not one designed to, say, trim your beard and mustache. Use your pube trimmer for your pubes, gents.
8. What do you prefer: wet, dry, or both?
Many pubic and body trimmers work well for wet and dry use. In other words, some trimmers you can be used in the shower, when your pubic hairs are wet, while some have dry use in mind.
One of the nice things about using a trimmer in the shower is that the water will soften your pubes, which makes it easier for your trimmer to do its job. So, keep in mind the type of trimming you prefer.
Next, let's take a look at our men's pubic hair trimmer reviews.
The 5 best pubic hair trimmers for men
Cleancut claims that its ES412 personal shaver is the first shaver ever designed for pubic trimming. Whether that's true or not, and we don't have reason to doubt them, the ES412 is a men's pubic hair trimmer that remains among the very best you'll find.
It's also among the most versatile trimmers you'll find for personal shaving in general – whether it's women shaving their bikini lines or men and women trimming their armpits. Do you feel the need to style your pubes? If so, this trimmer is for you.
There's plenty to like about the ES412, including that it's made of stainless steel. That makes it durable and long-lasting, while you can use it safely on all parts of the body.
But it comes down to performance, and the ES412 delivers for a variety of reasons. First, it has a top-notch motor that provides enough torque to cut your man bush nice and neat every time.
The blade assembly is also top-notch, and you'll love how the blades glide, not grind. Meanwhile, its foil brings it all together and provides a great trim and cut that captures hair but not the tender skin found in the pubic region.
The battery-powered ES412 has a unique, cylindrical design that provides easy maneuverability when trimming your pubic area and its sometimes hard-to-reach areas.
The trimmer's design is ergonomic and fits easily into the palm of your hand; after all, you want a secure, comfortable grip when you're trimming around your man assembly.
The blades aren't exposed – another plus for any trimmer for the private area – and the folks at Cleancut claim you can't nick or cut yourself.
And that, friends, is the kind of confidence that helps when you take on the challenge of trimming your pubes. It ranks right up there in the category of best trimmer for balls.
One thing your ES412 kit doesn't include is scissors, and Cleancut recommends that you trim longer hairs before cutting the rest with their signature trimmer.
They recommend applying a bit of talcum powder before your trim to ensure that the skin is dry and moisture-free, as well as cleaning the inner blade and foil after each shave.
Pros
One of the original pubic trimmers

Great for sensitive skin

Excellent construction
Cons
Doesn't work as well on longer hair
Bottom Line
A lot of reviewers testify to the overall quality of the ES412 and how it leaves their skin irritant-free while providing the kind of consistent trim that makes it great for the pubic region.
You want to choose carefully when purchasing a pubic trimmer, and the ES412 is a product on which you can count.
Among the many great features found on the Philips Norelco 7000 BG7030/49 body groomer is its dual-sided design that makes it easy to switch from one trimmer to another when shaving various body parts.
That's helpful when trimming around the groin, which requires precise, careful work to avoid painful tugging or nicks and cuts. If nothing else, you want a smooth, comfortable shave when it comes time to trim around your man package.
The two trimmers serve different functions: one allows you to cut down to the skin, while the other works best when trimming longer hair.
The Norelco Bodygroom Series 7000 features rounded blade tips that also help ensure comfort while shaving the most sensitive areas of a man's body.
But the Bodygroom Series 7000 BG7030/49 also is a multi-tasking tool that's effective for manscaping all over your body – chest, legs, back, armpits, etc.
It comes with a four-directional pivoting shave head that allows you to shave in different directions to attain the most efficient shave possible.
It also features five adjustable trimmer lengths, as well as self-sharpening blades that will continue to provide a clean-cut for a long time.
Wet and dry trimming is possible because the unit is waterproof. You can use it in the shower or out, and you can clean it by running it under the faucet.
An ergonomic rubber grip ensures better control and handling, which, again, is of vital importance when shaving your nether regions.
You can also use the Bodygroom 7000 without or without a power cord. An advanced Lithium-ion battery provides 80 minutes of cordless used after a one-hour charge.
Pros
Dual-side trimming technology

The rubber grip makes for easier handling

Good for wet & dry use
Cons
It's a bit heavier than some other trimmers
Bottom Line
The Philips Norelco Series 7000 BG7030/49 trimmer is a do-it-all tool that's ideal for use on and around your pubic region. It's easily adjustable to help you achieve a precise trim with every use.
The Gillette All Purpose Styler is another multi-tasking tool that's a good option for the often delicate job of trimming your mezzanine.
Gillette's Styler has a slim, ergonomic, and lightweight design that's important for grooming things down there, while also incorporating Braun technology.
And, as we've mentioned and will mention again, precision is a must for doing the work of, say, trimming around your little friend and his neighbors to the south.
Braun, a wholly-owned subsidiary of Gillette, provides the motor that powers the All-Purpose ProGlide Razor Styler, and that's a good thing, considering that Braun has a century of experience in designing motors for men's and women's electric shavers.
Most of their products are cordless and rechargeable, but they do offer corded versions for men who prefer to trim and shave that way.
There are a lot of other reasons why we include the ProGlide on the list, not the least of which is its maneuverability, which rivals that of any pube shaver on the market.
It has a slender design that makes it easier to work with, whether you're trimming your beard or pubic hair.
The blades are Gillette's most advanced and provide the closeness and comfort men desire, another important factor when trimming around sensitive areas such as the groin.
It also has a precision edging blade that allows users to get crisp, defined lines (which is necessary if you prefer a bit of style in your man shrub).
The Styler comes with three combs that provide you some options for deciding on your preferred cutting length. But, again, the key component is the precision edge trimmer that helps you to shave the tricky, sensitive areas of your body.
You can use it to get a comfortable shave and trim or cut the hairs right down to the skin.
The unit is also waterproof and good for use in the shower, which is always a good option to have for trimming pubic hair (it makes it easier to clean up once you've finished the job).
The razor comes with a green lubricating strip. When the strip turns white, it's time to change the precision edging blade. How long a blade lasts depends on the thickness of your pubes and how often you decide to trim.
The Gillette All Purpose Styler runs on 2 AA batteries, which should provide a couple of months of regular use. It is not rechargeable, however, so you'll need to keep a supply of batteries on hand to ensure that you get uninterrupted use.
Then again, the All-Purpose Styler comes at a very reasonable price, so your investment in a few extra batteries shouldn't be a big deal.
Your Gillette Styler kit also comes with a holder made of black and clear blue plastic. It looks good on a counter and is roomy enough to hold additional shaver heads.
Pros
Its design makes it easy to maneuver around sensitive areas

A versatile tool that can handle a variety of shaving and trimming tasks

Waterproof
Cons
Have to change batteries and blades manually
Bottom Line
While the Gillette Styler works well for a variety of trimming jobs – including your face and beard – it has the added versatility of being an excellent pubic shaver. It's easy to work with, and you'll like its lightweight design.
The official name for the Remington PG525 includes the word "kit," and it's only appropriate when you consider all of the stuff you get when you purchase it.
Stuff like eight attachments that cover all of your grooming needs, a full-sized trimmer, a foil shaver, a trimmer for nose, ears, and other fine details, a vertical body hair trimmer, a hair clipper comb with several length settings, and more.
In short, if you need a tool that can trim the hair on virtually every part of your body, then the Remington PG525 is one to consider. We think it's a quality trimmer for trimming your pubic area, but we won't ignore everything else it has to offer. Here's a closer look:
The body trimmer has, as mentioned, a 3-length adjustable comb for trimming and shaving body hair.
No matter how you choose to use the Remington PG525, you'll have excellent surgical steel, self-sharpening blades to back you up. The blades work particularly well in "cleaning up" smaller areas, although some reviewers say you shouldn't use it for full-fledged shaving jobs. It excels as a trimmer, however.
While the foil shaver includes just a single foil – and may require a few extra passes to capture most of your hair – it gets close to the skin to get a smooth, clean-cut.
The adjustable comb has eight lengths, which give you plenty of options when determining how long or short you want to leave your hair.
All of the unit's heads are waterproof and easy to clean. Note: the body of the Remington PG525 is not waterproof.
The PG525 has a rechargeable lithium battery that provides up to 70 minutes of cordless runtime after a full charge. A charging indicator light gives you a battery level status update, while the unit also comes with a charging stand.
There's also a two-year warranty.
Pros
Excellent body trimmer with a 3-length adjustable comb

Good for most trimming jobs

Excellent blades
Cons
Isn't as good for trimming thicker tufts of hair than some other shavers
Bottom Line
The Remington PG525 is another affordable trimmer that gives you a lot for the money. It has multiple uses, which makes it very versatile, but we think it's one of the better body trimmers available.
The Philips Norelco BG1026 Bodygroomer may not be quite as good as the Philips Norelco 7100, but it's close. And "cClose" enough to still makes it one of the best pube trimmers on the market.
The biggest difference between the BG1026 and the 7100 is that the BG1026 runs on batteries, while the 7100 is rechargeable and can also be used with the cord. While that may not be a big deal to some menyou, otherssome men prefer electric shavers and trimmers,and some even like it with the cord.
However, a battery-powered trimmer has its advantages: it's portable, you don't have to worry about tangled cords, etc.
The BG1026/60 runs on an AA battery that provides up to two months of normal use. That's nice, but there's a lot more that makes this trimmer great.
We especially like that it comes with integrated skin protector guards that prevent nicks and cuts while you trim. There's no question that it's built with groin trimming in mind; you can use it confidently to trim testicle hair without worrying about potential mishaps. Getting cuts on your sack while shaving is not exactly something we look forward to.
It also features a bi-directional trimmer that cuts hair in both directions without tugging and pulling. A 1/8-inch comb helps create longer looks while also enabling adjustable hair length preferences. Meanwhile, its blades are very durable.
Another reason we like this trimmer is its lightweight design. It's easy to hold and easy to maneuver around the delicate areas of your body.
Finally, the BG1026/60 is waterproof and good for wet and dry use. Want to use it in the shower? No problem – although some say that it works best on dry hair.
Pros
Bi-directional shaving heads lessen the risk of nicks and cuts

The blades and comb don't pull or tug long hairs

Good for wet and dry use
Cons
Need to trim over the long hair more than once
Bottom Line
The BG1026/60 is another quality product developed by the team of Philips Norelco. While it's good for overall body grooming, it has what it takes to handle the sensitive, often tricky job of pubic trimming.
Here's how you should trim your pubic hair (A simple, illustrated guide)
We've already said it, but we'll say it again: shaving your pubic hair is a delicate job. So is shaving your face, for that matter, but a nick or cut on your cheek isn't quite as heinous as a nick or cut on your balls – unless pain is your thing, that is.
Finesse and technique are important for shaving "down there," and you don't want to approach the job in the same way as a guy hacking a path through a forest. Let's take a look, but first, we'll explain why trimming your pubic hair is important.
1. Here's why you should trim your pubes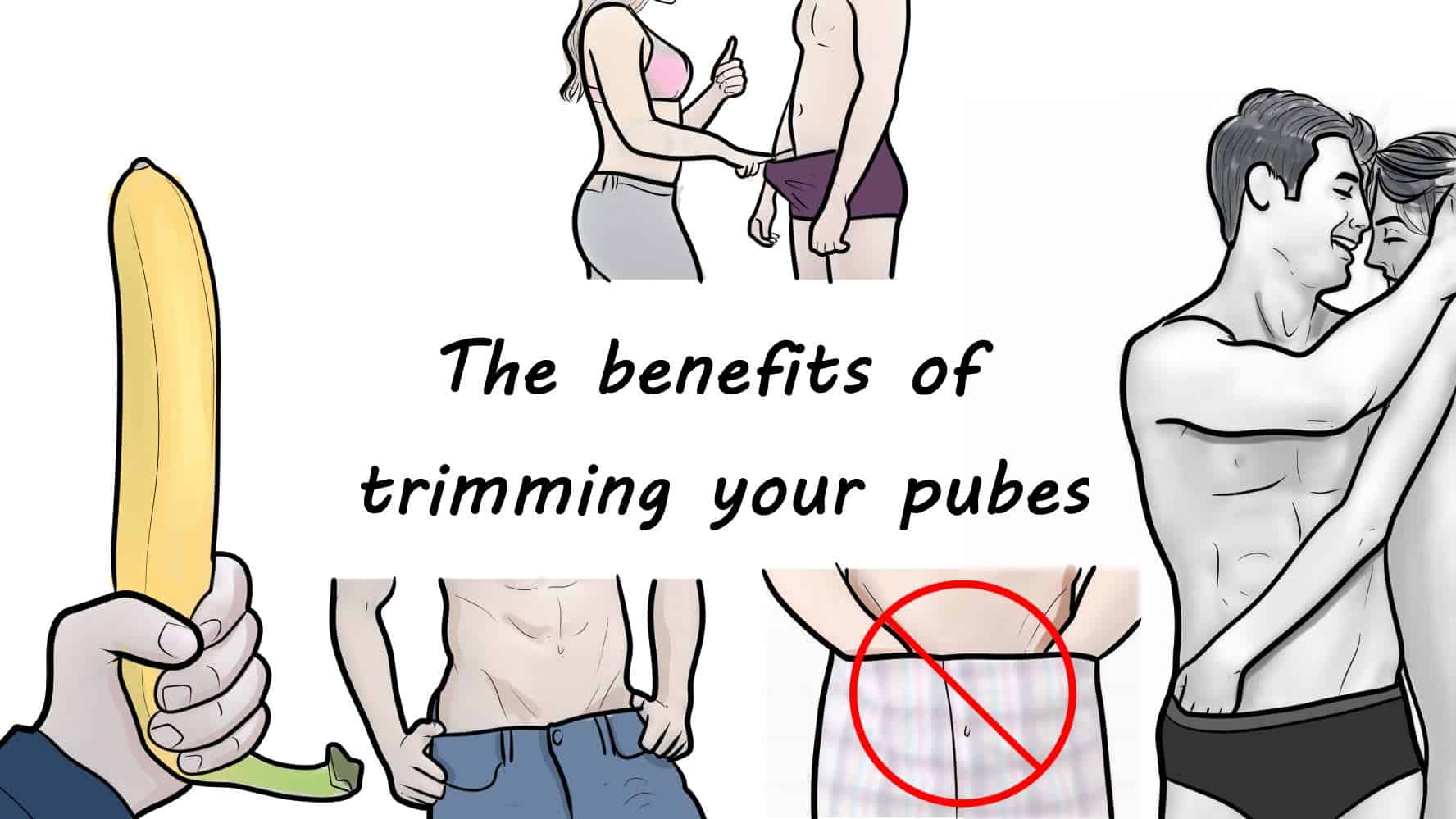 Women have years of experience in trimming pubic hair and often scoff at men who shudder at the thought of a pube trim – men have only jumped on the bandwagon recently.
For one, there's a "less is more" mentality that's popular among men looking to raise the bar on their manscape game, but there are other benefits.
It's true: a well-trimmed (or shaved) pubic patch will make your ol' friend down there look bigger. That's particularly true if you're trimming a forest-like patch of hair in which your penis has gotten lost.
For some men, creating a more well-endowed look is the primary motivation for trimming the man shrubbery. Don't let the bushes cover up your manhood's true length.
Things can get a bit sweaty and nasty in your groin area allowing the growth of some germs that can cause some nasty smells and even infections sometimes.We don't want that now, do we., but regularly Regularly trimming your man forest helps eliminate these germs and makes for better cleanliness. Moreover, things can get a bit smelly down there if you let your grooming – and pubes – get out of control.
Your wife or significant other will thank you
Many men can relate to the following experience: you know, you go on an oral "mission" in the midst of a lovemaking session and end up with stray pubes in your mouth or between your teeth.
Your love interest feels the same way – they don't appreciate having to deal with a thicket of hair when they go down on you.
By keeping it trimmed, you'll make their job easier and more effective, and this may increase their willingness to head south again when things are heating up.
Trimming may help things become more sensual
Some say a neatly-trimmed nether region makes for more sensual lovemaking. Others say the thought of the increased "exposure" that comes with a heavy trim adds to the eroticism.
Chafing in the groin area isn't unusual for men, especially for active men who combine the sweat of working out – or of engaging in any strenuous activity – with a whole lot of friction. Trimming your balls is one way to keep chafing at a minimum.
OK, let's move on to pubic trimming tips.
2. Length is important – comb length, that is
You'll need to choose your trimmer's comb length before you fire it up and begin the task of trimming your pubes.
Take a couple of things into consideration when choosing a comb length: A) how short you want to trim your hair, and B) how long it is now. If you haven't trimmed it in a while, and it looks like the fur of a wild animal, then you should choose your comb length accordingly.
3. You'll need the right tools for your "tools"
Don't multi-task when choosing your pube-trimming tools. A pubic trimmer specifically designed for the job is the only tool you'll need other than, maybe, a pair of scissors to lop off some of the extra-long hairs before trimming.
Whatever you do, don't use an electric razor with rotating heads to trim your sack and the underside of your penis. Scrotum skin caught in a razor head is never, ever a fun event.
4. Choose the pubic trim location
If you prefer to trim your pubic hair in the shower, then you don't have to worry that much about making a mess.
Trimming outside of the shower, when you stand on your bathroom floor, is another matter, however. Some advise that you should sit over the toilet, but that doesn't make it all that easy for men, who have a ball sack with which to contend.
You can always trim while sitting in the bathtub – without water – and then rinse away the pube remnants when finished. Hell, you can even do it in your backyard, but make sure that you're well-concealed from nosy neighbors.
5. Wash your parts
Use soap or body wash to clean your penis and testicles before you trim. For one, you want to get rid of any bacteria that may cause an infection if you nick or cut your skin during trimming.
6. A hand mirror is your friend
It's not always easy to see all of the landscape – or manscape, in this case – so a hand mirror or small compact will help you track the progress of your trimming effort. That's particularly important when trimming the underside of your testicles.
7. Rinse, rinse, rinse
Whatever you do, rinse off your parts when you've finished trimming, unless you don't mind a nest of trimmed pubes in your boxers or briefs.
8. Use a moisturizer of some sort
You should always apply a moisturizer or after-shave after you've shaved your pubes because it can relieve any discomfort. Choose a moisturizer that's perfume-free, because the harsh chemicals found in perfumes can scorch your privates.
9. Re-trim when needed
One thing to remember about pubic hair is that it doesn't continue growing like the hair on your head. Instead, it will reach a certain length and remain there until you trim again. For most men, trimming the man shrubbery every one to two weeks is sufficient.
Of course, how often you trim also depends on whether you trim your pubes into a certain style, which isn't uncommon.
Many women maintain a certain pubic "look," and there's no reason men can't, as well. And one thing you may want to consider is trimming your pubes in the same way women trim around their bikini lines.
For example, you could trim anything that sticks out from the edges of a pair of men's briefs or your Speedo. '
10. An important word or two about trimming your balls
Our testicles are sensitive. The pain of getting hit in the balls is unlike most anything we experience in this life, kidney stones, and bullet wounds notwithstanding. So, it only stands to reason that you need to take extra care when trimming our shaving the family jewels.
It's not all about the pain of nicking or cutting your testicles while trimming them, however, because the skin on your scrotum has all kinds of nooks and crannies that may trap large amounts of bacteria.
Even a minor cut or laceration can attract bacteria and lead to a variety of horrific conditions, including something called Fournier gangrene. While it's a rare condition, Fournier gangrene consists of bacteria that eat the flesh of a man's balls. No thanks.
The bottom line is that you need to be careful around your nuts, gents.
Use your non-dominant hand to pull the skin taut before you start trimming. If you do slip and cause a nick or a cut, immediately wash the area with soap and warm water, and also apply alcohol.
Yes, it's going to sting, but it beats the hell out of some condition that requires a visit to the emergency room.
Why use a pubic trimmer instead of other trimming tools?
A lot of men decide to become part of the pubic-trimming trend but think they already have the tools they need to get the job done right – you know, like scissors, a standard razor, a shaver/trimmer that you use on your beard, mustache, and sideburns, etc.
That is a mistake, however. True, you can snip away at an extra lengthy bush with a pair of scissors to make things a bit more manageable down there, but scissors don't represent the Holy Grail of pubic trimming.
Here are a few reasons why you need a trimmer designed for the job, not one you'd use on your face.
You need a trimmer that's easy to handle
There is a variety of areas that need trimming in your pubic region: the hair above your penis, for starters, which is the main portion of your man forest, but there's also the area under your penis and just above your testicles, as well as other various hard-to-reach areas.
In short, you need a trimmer that's easy to maneuver and not bulky like many shavers and trimmers designed for your face and beard.
You also want one that's lightweight.
You need a firm grip on any tool you use to trim around your groin, and choosing one that's lighter is a good idea.
The wrong tool can put you in a world of pain
Not to beat a dead horse, but pubic trimmers – or, at the least, body groomers that work for trimming around your groin – decrease your odds of inflicting painful, and potentially infection-causing, nicks, and cuts on your man parts.
One recent study showed that the vast majority of penis and testicle injuries requiring emergency room visits were caused by a razor.
All things considered, why place yourself in that kind of danger? Use a tool that's meant to trim your pubic region.
Don't pass the bacteria on to other parts of your body
Your pubic area is not necessarily a "breeding ground" of bacteria, but there's plenty of it down there. When you think about it for a second, why would you use the same tool you use to trim your groin area also to trim your face?
You risk passing on that bacteria to your face, and, all in all, it's just not hygienically sound.
You'll have more confidence that you'll do the job correctly
For most men, there's a bit of anxiety that comes with trimming around their private parts.
It's one thing to nick or cut your face; it's quite another to nick your balls. To be honest, why wouldn't you choose a trimmer designed for the job, rather than the same razor you use to shave your stubble?
Choosing the best pubic trimmers for men: How we did it
Our advice when buying a pubic trimmer: choose wisely.
There's too much at stake, after all. To be honest, there aren't a plethora of products dedicated to pubic trimming on the market. There are enough good ones, however, and that's good news for men, indeed.
So, what did we look for in the trimmersin trimmers we reviewed?
The ability to handle the sensitive work of groin trimming, including the ability to maneuver around the region's often hard-to-get parts. We like lightweight, easy-to-handle trimmers – preferably those with an ergonomic design.
We also like the convenience of wet-dry trimming, although it's not a "must."
Durability is another important factor, as is the quality of the trimmer's blades. We also considered the reviews of others, especially those of customers with real-life experience using the trimmers.
Conclusion
Cleaning up your pubic hairs is a good part of the modern day man's idea of taking care of himself. A lot of men nowadays make sure that they're properly trimmed down there, and have a good idea of the right way to do it to avoid unnecessary complications like ingrown hair and razor burn.
In this article, we talked about the best ways to trim your pubic hair, the precautions you need to take, and the best pubic hair trimmer options available on the market today. We hope that this article has helped you pick out the best choice according to your specific needs.
We'd also like your feedback and suggestions. Do you use a pubic trimmer? If so, which one? Have you used any of those on our list?
As always, we'd love to hear from you. If you're interested in similar topics, please feel free to check out our other articles as well!