5 Best Back Shavers for Men Who Want a Smooth Back
This post may contain affiliate links. Learn more.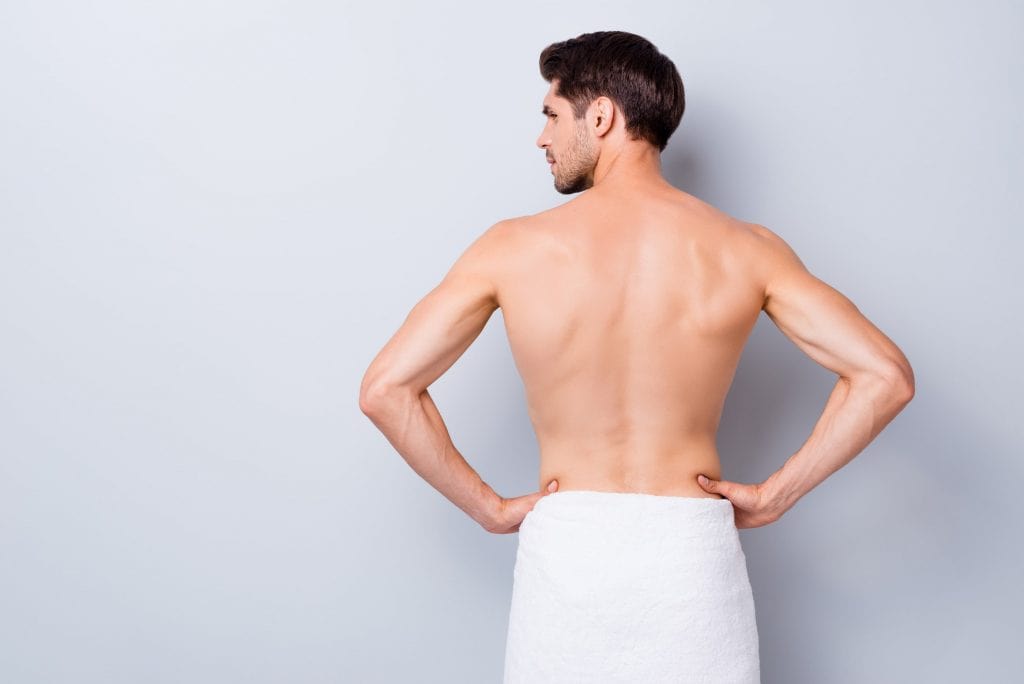 Let's be real: back hair is not ideal. Shaving your back seems like it would be a strange thing to do. However, men all over the world are doing it. In fact, you'll find a lot of forums with people asking questions about shaving their backs. It seems a bit weird at first, but once you get past the initial shock of doing something like this, you'll wonder how you ever didn't try it.
There might be the odd enthusiast, but generally speaking, a grizzly bear's back is considered as appealing as dandruff or halitosis.
That's exactly why back shavers are a pivotal part of many men's grooming kit – if you're unfortunate enough to struggle with a hairy back, you really do need a specialized tool to keep it in check.
In this article, we've put together the 5 best back shavers you'll find, to make the search easier and ensure you know exactly what you're looking for.
In a hurry? Here are our top picks:
Mangroomer's Ultimate Pro Back Hair Shaver
Our no.1 choice – Mangroomer's Ultimate Pro Back Hair Shaver – boasts an added power burst mode to get at those thicker hairs, as well as 2 attachment shaving heads and an extendable ergonomic rubberized handle that makes using it a delight.
BAKblade 2.0 Plus Back Hair Removal and Body Shaver
Our no.2 choice – the BAKblade 2.0 Plus Back Hair Removal and Body Shaver – is great for travel. It requires no batteries, and its patented DRYglide blades are exceptionally durable and long-lasting.
So there really is something for everyone here.
Plus, we've got an illustrated guide to help you shave your back with ease, and we're going to delve into the difference between electric back shavers and razors – as well as helping you understand whether shaving or waxing is better for you.
But first, let's look at the 6 key considerations you need to make when buying a back shaver.
Quick summary
<!—INSERT CODE BELOW—>

Best Overall

Mangroomer Ultimate Pro Back Hair Shaver

Multi-functional shaving head with shock absorption

Extreme reach handle

Power burst function

Check on Amazon

Best Manual

BAKblade 2.0 Plus Back Hair Removal and Body Shaver

Improved new design

Great for reaching difficult area

Doesn't clog hair

Check Best Price

Best for Thicker Hair

Mangroomer Do-It-Yourself Electric Back Hair Shaver with a 50% Wider Blade

50% wider razor head

Power burst function for thicker hair

Great battery life

Check on Amazon

Bro Shaver Back Hair Shaver

Functional, modern design

Suitable for wet and dry use

Highly experienced company in this industry

Check on Amazon

Razorba Back Hair Shaver

Design with proven track record

Easy to use and manoeuvre

Allows you to choose your blade

Check on Amazon
Things you need before shaving the hair on your back
Just like any other part of your body, you need to prepare your back before you start shaving. 
Since your back isn't one of those easily accessible areas, you'll need a couple of more pieces of equipment before you start shaving. 
Below is a list of everything you'll need to do before shaving your back and how exactly you should prepare for it.
Apply pre-shave oil
Shaving on dry skin can be painful and result in razor burn. Just like you lather up your face before shaving, you need to moisturize your back, too. 
Applying pre-shave oil before shaving can help you get rid of any unwanted hair and make for an easier shave. Keep your skin soft by moisturizing and always apply a good razor aimed at preventing skin irritation.
Pre-shave oil will soften and loosen your skin. It will also reduce the friction between the blades and your skin. This enables the blade to glide smoothly over your skin and remove all the hair without leaving a burn or cut.
Applicator brush
Whether you opt for pre-shave oil or shaving cream, you'll need a tool to apply it effectively on your back. The best solution to this is an applicator brush. It typically comes with a long handle so that you can reach the entire area without much hassle. 
When choosing an applicator brush, make sure you go for soft bristles instead of stiff ones. The difference between the two might seem simple but has a significant impact on how well you can lather up your back.
Stiff Bristles tend to scrub the surface with gel and cream instead of lathering it up. The aim here is to spread the oil or cream on your back and leave some part of it for the shaver to glide on. Only a soft-bristled brush is capable of doing that.
Hand mirror
Needless to say, you'll need a hand mirror to shave your back. Get a small hand mirror and stand with your back to the full-length mirror in your bathroom. 
In this position, you'll be able to see your entire back in the hand mirror. This will help you move the shaver efficiently all across your back and get rid of every patch of hair.
A collecting sheet
Collecting hair on your back is one of the most annoying and tedious tasks. Not only will it be uncomfortable, but shaving your entire back is a tough task that requires a lot of time and patience. However, there's an effective way to shave your entire back with using little to no effort.
It's better to stand on a plastic sheet while you shave your back. If the hair falls on the bare floor, it will be difficult for you to clean it up. 
Back shaver
This is the most critical component of shaving your back. You cannot use regular razors to shave your back due to the following reasons:
The blades of a regular razor are tiny and meant for your face. Your back has a larger surface area, and it will be very time-consuming to shave it with a regular razor.

It's difficult to reach every area of your back with bare hands. Back shavers are specially designed so that you can reach every part of your back easily.
Consider using a back shaver for a more smooth and clean shave.
Before you buy: 6 Things to consider when purchasing a back shaver
One of the things you'll notice when shopping for a back shaver is the variety of models.
Back shavers also vary widely in quality – which is one of the reasons we want to narrow the list down to a select few – but it helps to know some of the important qualities to keep in mind when choosing one that works for you:
1. The power source: electric, battery, or human
You have three options when choosing a back shaver:
Electric – If you choose an electric back shaver, you must worry about a power cord. There's nothing wrong with power cords, except they may become tangled and may restrict your movement.
Battery – Many men prefer battery-powered shavers and trimmers because of their convenience. There's no cord to contend with, which gives you the convenience of trimming wherever you want to, but keep in mind how long a shaver's battery lasts before it needs to be re-charged.
Manual – A manual back shaver is just like a manual cartridge (or safety) razor in that you provide the power. You can take it anywhere, but you do need to monitor the blade's sharpness and put in a new one when needed.
2. Length (of the handle) is important
Back shavers need handles for reaching hard-to-get areas of your back. Let's face it; your arms can only reach so far and, unless you have someone shave your back for you, you're going to need a bit of mechanical assistance.
The length of back shaver handles often varies from model to model, with some designed to reach every area of your back and some made to get rid of the man forest on your shoulders and upper back.
Another thing to consider about a back shaver's handle is whether it extends or retracts when needed and if it locks into place.
The last thing you need is for your shaver's handle to collapse or move around when you're engaged in the often sensitive task of shaving your back.
Back shavers also come with different grips, while some are waterproof. Choose a model that's easy for you to use, and that fits your grooming routine.
3. Does it have a flexible head?
Ideally, your back shaver should include a flexible head that follows the contours of your back and shoulders (which provides a more comfortable shave, for one).
It will never miss a spot. Plus it doesn't pull out your hair by the roots. Because let's be honest, nobody likes trudging through the day with a constant reminder of their back shavin' session the night before.
If a back shaver doesn't come with a flexible head, it should come equipped with gentler blades that reduce the risk of nicks, cut, and other skin irritations.
4. Don't forget about cleaning and maintenance
Like any product, a back shaver will last longer if you give it some good ol' TLC. Pay attention to the cleaning and maintenance required of your back shaver. The easier the maintenance, the better, in most cases.
5. And, don't forget about replacement blades
Replacing your blades is an important part of ensuring that you get a close, comfortable shave every time you use your back shaver.
The cost of replacement blades is sometimes expensive, however, which may make your back shaver not quite the long-term investment you originally thought.
Don't get us wrong, you want quality blades that stay sharp a long time, but you shouldn't have to bust your budget every time you have to buy new ones.
6. What about the warranty?
Always pay close attention to the warranty before you purchase your back shaver.
A longer warranty is typically better and provides you with the peace of mind that comes from knowing the company stands behind its product.
Let's move on to our reviews of the best back shavers for men.
The 5 best back shavers for men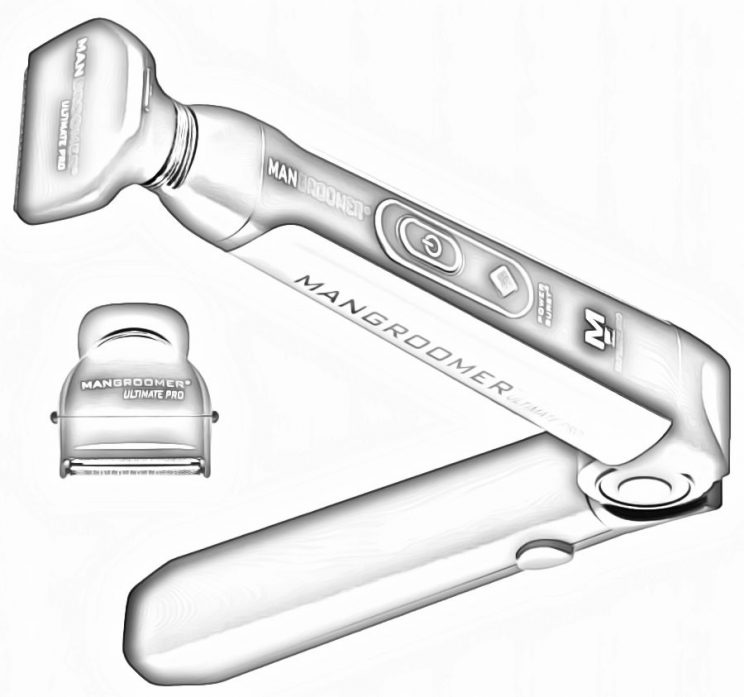 A decade of research and development went into Mangroomer's Ultimate Pro Back Hair Shaver and the attention to detail shows.
You'll find it on several reviews of the best body groomers available today, and we think it's the best back shaver.
What makes the Mangroomer Ultimate Pro Back Hair Shave so good? Let us list the ways.
Interchangeable flex shaving heads
Mangroomer's signature back shaver has a variety of features that show their commitment to detail (and, not to mention, their years of R & D).
It comes with two interchangeable attachment shaving heads, each with a multi-functional, flex neck that helps you to avoid skin irritation.
There's an ultra-wide groomer blade designed to shave larger areas of the back, but also a foil body groomer – with a multi-directional shaving head – that's great for regular maintenance and trimming shorter hair.
The Mangroomer's lengthy handle allows you to reach the hard-to-get areas of your back and comes with an ergonomic rubber handle and an extension lock button.
It also features a power hinge with a push-button lock that enables you to shave at a variety of angles.
The multi-functional Mangroomer neck on both of the attachment heads comes with a shock absorber that makes it easy to follow the contours of your back while providing an ideal angle for the blade to meet the skin.
The Mangroomer also features a Power Burst button that provides an extra burst of power, especially when you're trimming through the more forest-like areas of your back hair.
The Mangroomer Ultimate Pro comes with a battery that charges quickly and includes a charge light indicator, but you can also use it with a power cord if you prefer.
You'll also like the Mangroomer's Ultra-Sensitive, hypoallergenic blades made from stainless steel. They'll help you get a soothing shave without causing skin irritations.
Pros
Multi-functional shaving head with shock absorption

Extreme reach handle

Power burst function
Cons
More expensive than many other back shavers
Bottom Line
There's more than one high-quality back shaver on the market, but it's hard to beat the Mangroomer Ultimate Pro. It combines convenience with unique features to provide a comfortable, thorough shave.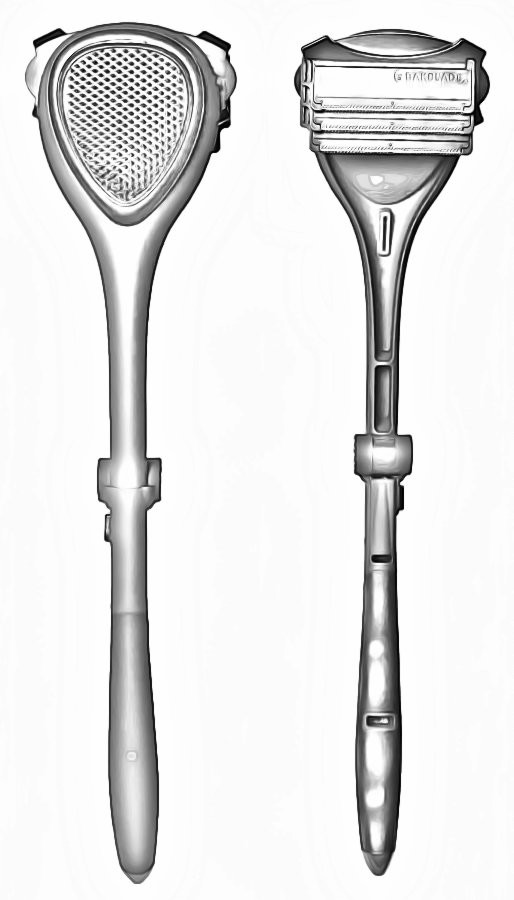 BAKblade took a good thing and made it better. Which is good news for men looking to rid themselves of unsightly back hair.
Not that "new and improved" necessarily means, well, new and improved, but in this case, BAKblade lives up to the label.
Their 2.0 Back Hair Removal and Body Shaver is a step up from the previous model in a variety of ways.
For one, it has an ergonomic, S-shaped handle that provides access to the remote areas of your back that many other shavers can't reach.
The handle also enables you to apply enough pressure to get a close shave but without nicking or cutting the skin. Moreover, the handle is collapsible, which makes for easy storage and traveling.
The 2.0 includes a redesigned shaving head attachment that now has two shaving heads, instead of one. It also has a removable shaving head attachment.
The newer model also comes with a small cleaning brush that attaches to the underside of the unit. Plus, the color of the new BAKblade is matte black – and not blue like the 1.0 – while the 2.0 also comes with a suction cup hanging device.
Another thing to love about the 2.0 is BAKblade's patented DryGlide safety blade cartridge.
The cartridge is detachable from the shaving handle, while a safety guard helps to prevent cuts and razor burn.
We obviously think the BAKblade works great for removing back hair, but you can easily use it to trim your chest and abdomen hair if you so desire.
All in all, the 2.0 design and razor flexibility create less friction between the blade and skin.
Less friction is always good when shaving, especially when you're shaving hard-to-reach, hard-to-see areas.
The 2.0 blades also represent an upgrade in that they're designed to last longer.
But the price of replacement blades is very affordable, so switching over to new blades every seven or eight shaves won't kick you square in the wallet. Also, the blades are easy to change.
The BAKblade 2.0 is suitable for dry and wet shaving. It's easy to clean, and you don't have to worry about the hassle of clogged blades.
Pros
The new design that improves upon an already-good shaver

Great for reaching hard-to-get places

Doesn't clog with hair
Cons
The handle is shorter than the previous version
Bottom Line
The BAKblade back shaver is an iconic tool that makes body grooming easy for men while also appearing in most back shaver reviews.
The 2.0 adds a host of new, quality features that make it even better than before.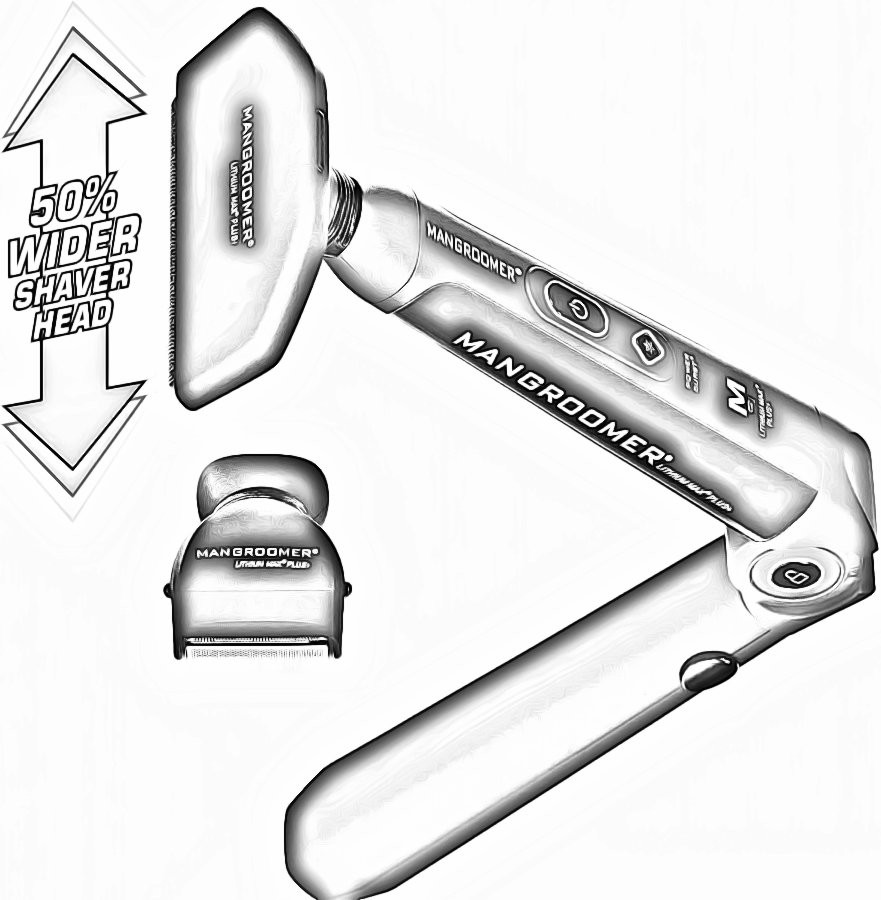 MANGROOMER clearly has back shavers down – not only is their Ultimate Pro model our no.1 choice here, we've also had to include this – their new lithium Max Plus shaver – because it's just that darn good.
Like the Ultimate Pro, it features an added power burst mode, which is fantastic for cutting through thicker hairs with ease. But it has plenty more to offer, too.
For one thing, its exceptional battery life is a real standout – the lithium MAX PLUS+ battery helps it last up to 5x longer than competitors.
It also comes with 2 attachment heads – one of which is ultra-wide, helping you get the larger areas of your back without any aid at all. Plus, each head comes with a shock absorber multi-functional flex neck, which follows the contours of your back, which makes the shave effortless and smooth.
Using it is generally a delight – the extendable rubberized handle locks into place and is highly ergonomic, making it easy to just get on with the shave.
Ultimately, it is designed to make shaving your own back as easy and fast as possible, and it absolutely succeeds.
There are flaws, of course: it makes a fair bit of noise, as many reviewers note, and it's a little bulkier than others on the list.
But if you can overlook those small issues, you'll get an exceptionally easy and comfortable-to-use shaver, which is powerful enough to cut through the thickest of back forests.
Pros
Added power burst mode to shave thicker hair

Wider shaver heads

Long battery life
Cons
Some find it a little too noisy and cumbersome
Bottom Line
An exceptionally designed, easy-to-use, and especially great for men with thick hair and wide backs.
While the Bro Shaver Back Hair Shaver may not have all the bells and whistles that other shavers do, that doesn't mean it won't help you rid yourself of unsightly back hair.
In fact, it helps you to perform the challenging task of shaving your back hair better than the majority of shavers.
Bro Shaver is an American company with over 15 years of experience in producing back razors.
Their Back Hair Shaver has a solid construction, which includes stainless steel bolts, and they back all of their products with a 60-day money-back guarantee and a one-year warranty.
If you don't like the Bro Shaver for whatever reason, send it back, and you'll get a full refund. It's always nice to have that kind of guarantee in your back pocket.
Why else do we include the Bro Shaver on our list? Let's take a look:
The Bro Shaver works for both wet and dry shaving. It's 100% water-resistant.
The latest version of the Bro Shaver Back Hair Shaver comes with Comfy Cloud Shaving Technology that helps to prevent skin irritation, even when dry shaving.
It comes with 15 stainless steel double-edge safety blades. Meanwhile, their blade refills cost less than many other back shaver brands.
The blades are sharp enough – and the shaver easy enough to maneuver – that you can complete the task of back shaving in less time than with most other shavers. Not that there's anything wrong with taking your time, mind you.
Its design is sleek and modern and includes a handle grip that prevents the shaver from moving, or dropping, in the middle of your job.
The handle measures 22-inches and helps you to shave those hard-to-reach places.
The double-edge blades are easy and fast to load, as well as factory-sealed and sterile.
You don't have to worry about a power source because the Bro Shaver Back Hair Shaver is fully manual.
Again, you can use the Bro Shaver with or without shaving creams and oils. Many users say you'll get a smoother, closer shave with shave cream, but you'll still get a close shave no matter how you use it.
Pros
Functional, modern design

Suitable for wet and dry shaving

Made by a company with plenty of experience in developing back shavers
Cons
Some say the handle is a bit too wide
Bottom Line
The Bro Shaver serves one primary purpose – shaving your back – and it's very good at what it's intended to do.
You'll like its ease of use, its fully functional design, and the closeness of its shave thanks to quality stainless steel blades.
Sometimes simple is effective. Simplicity is one way to describe the Razorba Back Hair Shaver – another do-it-yourself product for which you supply the razor blade of your choice.
If you think that seems a bit too simple, think again.
Razorba lays claim to being the "original" back hair shaver, which it may be, and has received rave reviews because of its award-winning design, including the New York Times, USA Today, and others.
It's a patented, ergonomic design used by many men to get rid of their back hair "issues."
Made from durable, hard plastic, the Razorba has an extended reach that gives you access to hair all over your back.
It also has an ergonomic grip on the handle to make using it more comfortable than a lot of other back shavers.
You provide the power behind the Razorba – there are no batteries or another source of power – and most users say it's very gentle on the skin. The fact that it's compatible with most facial razors is a plus for many men.
You simply insert the razor into the end of the Razorba and start shaving. It's also easy to replace the blade when it becomes dull.
You can use it in the shower or without, and with your favorite shaving cream. Again, you get to use a razor blade of your choosing and one of which you're familiar with. That provides peace of mind to many men.
The folks at Razorba say their shaver kicked the back-shaving market into full gear, and many others have jumped on the bandwagon.
We can't vouch for the validity of those claims, but we do think Razorba set high standards others have had to follow.
Pros
Proven, time-tested design

Easy to use

Allows you to use the blade of your choice
Cons
Doesn't work as well with thicker, coarser back hair
Bottom Line
Feel free to join the long line of Razorba users; chances are, you won't be disappointed.
There's nothing complicated about it, but it provides a host of benefits – not the least of which is a close, comfortable shave without a lot of fuss.
How we determined our top back shavers
You may be surprised at how many back shavers there is today. While certain brands (Mangroomer, for instance) seem to dominate the market, you'll find plenty of quality products from a variety of manufacturers.
Our criteria for picking the best of the back shaver bunch came down to a few things, such as ease of use (including the quality and length of the handle), durability, and how effective it is in reaching areas of the back that aren't easy to reach.
Of course, we also considered whether it provided a close, comfortable shave, and we studied the reviews of others, especially the reviews of customers.
There are plenty of good back shavers on the market, but we think our five represent the cream of the crop in many ways.
How to easily shave your back in 7 illustrated steps
We'd be lying if we said that shaving your back is easy because it's not.
The right tools, such as the back shavers we've listed above, will help make the task less daunting but we're talking about an area of the body that:
A) covers a wide area and has many contours
B) that we really can't see except with the help of a mirror
C) has sections that are very hard to reach with a normal shaving device.
So, what's a man to do?
Well, first, don't panic. Shaving your back isn't exactly rocket science, even if it requires specific tools combined with a nice dose of finesse.
It is, however, going to take more time than you'd spend shaving other parts of your body, so always practice patience.
1. Exfoliate the skin before shaving
Exfoliation is the process of removing dead skin cells that everyone has on his or her body because the skin is constantly renewing itself.
The dead cells not only make skin look dull and, well, lifeless, they also prevent you from getting the closest shave possible.
Removing them also reduces the risks of ingrown hairs after you've finished shaving.
You can use an exfoliating body wash on your back, or use a loofah – many of which come with a long handle that enables you to exfoliate the hard-to-reach parts of your back.
2. Trim first, shave later
Trimming before shaving is particularly important if you haven't shaved your back before, or haven't in a long time and have an extra-long patch of hair.
You can use a trimmer designed for body grooming tasks, or even a beard trimmer. Make sure that your trimmer comes with guards of different lengths; the best bet is to use a shorter guard to trim your back, or you can start with a longer guard and re-trim if needed.
Trimming is a step that may require the assistance of someone else unless you purchase a trimmer with an extra-long handle.
Either way, it's a good idea to trim longer hair to a more reasonable length before you shave. And, always make sure to rinse off the trimmed hair before you start shaving.
3. Check the blades
You'll always shave better with sharp blades and not ones dulled by frequent use – that's hardly an epiphany.
Nonetheless, shaving your back is a bit of a challenge, and working without sharp blades won't make it any easier or more comfortable.
Many back shavers – particularly manual ones – come with replaceable blades, while you can also use a shaver with self-sharpening blades.
4. Apply your favorite shaving cream or gel
Shaving creams and gels make your job easier and make for a more comfortable shave when using a manual back shaver (at least those designed for wet and dry use).
They also protect you from nicks and cuts.
While the temptation to use bar soap instead of shave cream is difficult to resist for some men, we don't recommend it.
Back hair is typically very thick, and you're going to need a lubricant that holds up under fire.
Apply your shave cream or gel as evenly as possible on your back.
Use a handheld mirror, or the mirror above your bathroom sink, to make sure that you've covered all areas of the back and that you haven't applied the shaving cream too heavily in some places.
5. Now it's time to shave
OK, on to the actual shaving process. First, start with the areas of your back that are easy to reach.
Make sure that you have a firm grip on your men's back shaver and go slowly. Rinse the razor head with water after every few strokes to prevent the blades from clogging.
You'll usually get a closer shave if you shave in the opposite direction of your hair's natural growth.
For the upper areas of your back, this may mean reaching over your shoulder and shaving with upward strokes.
Perhaps the most important thing to remember while shaving your back is to work slowly and with caution. Shaving too fast increases your risk of getting nicks and cuts.
6. Rinse it. Dry it.
Rinse your back with warm or cool water after you've finished shaving and then dry it with a towel. Be gentle with the towel: rubbing it too vigorously can irritate the skin.
7. Moisturize
Aftercare is another step you should include in the back-shaving process.
Rinsing your back with cooler water after you shave helps to ease any irritation caused during the shaving process and helps to prevent razor bumps. It's always a good idea to apply a moisturizer after you've rinsed and dried your back, as well.
That's especially true if you have dry or sensitive skin.
The difference between using an electric back shaver or a razor
Choosing a back shaver includes deciding whether to use an electric back shaver or a manual one. Is one better than the other? Well, that depends, but it's helpful to know the differences between the two:
One of the biggest differences between electric and manual back shavers is the types of blades they use.
Electric shavers typically come with self-sharpening blades, while manual razors usually use replaceable blades.
There's nothing wrong with either type of blade, but the cost of replacement blades can get expensive.
That's why it's always important to check out the price of replacement blades before you buy a manual shaver.
Thanks to a motorized shaving head, you can adjust an electric shaver's blades to attain the desired length of your trim.
Meanwhile, a manual back shaver's blades are wider than found on a conventional razor and are part of a more flexible design that adjusts to the curves and contours of your back.
Many electric back shavers use batteries. Again, nothing wrong with that, but make sure the average battery life is sufficient before you buy.
The battery should provide you with at least a couple of hours of use and that you're able to charge it rapidly when it runs out.
Also, many electric shavers come with power cords, which help conserve battery power, but a power cord limits your mobility and convenience (not that you're planning to shave your back from the comfort of your backyard, for example).
A shaver's battery life obviously isn't a concern with a manual razor. As long as you have a working arm, or two, your shaver's power source is always readily available.
A self back shaver requires little maintenance at all beyond changing the blades when they become dull. A bit more maintenance is required for electric shavers – they have moving parts, for one – but you don't need to be a mechanical genius to keep one in working order.
The smoothness of the shave
In most cases, but not all, electric back shavers reduce the risk of leaving nicks and cuts on your back's skin.
For one, most come with safety covers and guards that help prevent skin irritation.
Most electric shavers also have a rounded cutting edge at the front that raises the hair before a second blade trims it. The bottom line is that it's fairly difficult to cut yourself with an electric back shaver.
While the blades on manual shavers may, as a whole, be sharper than the blades on an electric back shaver – and even provide a closer shave – you must be careful not to cut or nick your skin.
Should I shave? Should I wax?
While more men than ever may be shaving their back and other areas of the body, more have also chosen waxing as a hair removal method. It's good to have options – and there are even more hair-removal methods besides shaving and waxing.
That said, let's take a closer look at shaving your back vs. waxing it.
Shaving
One thing you can say about shaving is that most of us men are used to it.
We started shaving as adolescents and, even if we now sport beards, still shave in some shape or form many years later.
It's something, as the saying goes, we could probably do in our sleep, and it's the simplest of all shaving methods.
Not that shaving your back is easy, by any means, at least not as easy as shaving your face – which you can easily see in the mirror as you line up for your morning shave.
But it doesn't require a lot of equipment beyond a back shaver and, perhaps, some shaving cream or gel if you're using a shaver that's suitable for wet and dry use.
Shaving is also a very inexpensive way to remove hair, especially when compared to waxing.
You can shave with a manual or electric razor – the latter reduces the risk of getting nicks and cuts during your shave – and you can do it almost anywhere, including in the shower (which can help produce an even closer shave).
Again, shaving your face and shaving your back are two different animals.
Shaving your back is a challenging process that requires a bit of dexterity and a bit of help as you shave parts of your body that are hard-to-reach and out of your line of vision.
Fortunately, back shavers typically have long handles that enable you to reach most areas of the back.
We've already talked about the methods of shaving your back, such as using a trimmer to remove longer back hair before beginning the shaving process.
It's also good to minimize ingrown hairs by exfoliating the skin once or twice a week. And it's always a good idea to use a moisturizer or other skin-friendly product after you've finished shaving.
What are shaving's cons? Well, it's not a permanent solution to hair removal by any means.
Most men need to shave their face every day, while the hair on your back continues to grow until you shave it again. There's also the risk of getting ingrown hairs, which can be painful, and always the risk of nicks and cuts that come with using sharp razor blades.
Waxing
Let's cut to the chase. Yes, waxing methods have improved over the years, but waxing still involves some pain.
Then again, what you expect from pulling your hair out from its roots?
No, it's not like getting kicked in the nuts, and certainly not a kidney stone, but you're going to have to man-up a bit to endure the waxing process.
So, why bother with the pain? Well, you can't beat waxing's long-lasting effects, for starters.
You're pulling hair out by the roots, not shaving it down to the skin.
A quality wax job on your back should last you six weeks, if not more, and the hair grows back with finer ends that cause less itching. Keep in mind that your genetics, age, and other factors influence how long your wax job lasts.
While there are DIY waxing kits on the market, it's always wise to enlist the services of a professional.
A true pro knows how to remove your hair while causing less trauma and pain and reducing the chances of ingrown hair.
Waxing has come a long way, and most wax jobs use soy waxes, which are creamy and adhere only to the hair and not your skin. Strips of cloth cover the cream in layers, and the professional pulls them off to remove the skin (kind of like removing a bandage).
It's important to reduce the risk of infections after a back hair waxing, and applying an antibacterial skin lotion for several days helps you do that.
Waxing's cons? It's often painful, for one, and it's more expensive than shaving. You also need to proceed with caution if you have sensitive skin. If you do, make sure to tell your professional, who will adjust the temperature and waxes accordingly.
Conclusion
Shaving your back on a regular basis is recommended for men, women and otherwise. Though you have to be timelier than most. Skipping days will result in razor burn that is unpleasant and shows you have bad personal hygiene. So that's the secret to shaving your back: do it regularly and you won't have any issues.
For those looking to level up their personal hygiene game, shaving your back is for you. It's a completely normal practice for men, women and everyone in between but it does need to be done regularly to avoid razor burn. Try doing it twice or even three times a week and you'll never have any issues!
Finally, we always ask for your feedback and suggestions. Do you use a back shaver? If so, what product? Have you tried any of the back shavers on our list? We'd love to hear from you.