6 Best Shaving Soaps for an Old-School, Effective Shave
This post may contain affiliate links. Learn more.
Sometimes, a little throwback is just what you need: from old timey cars to nostalgia music, a little blast from the past can really hit the spot.
A favourite of ours in this category is shaving soap – the lather of true old-schoolers.
While shaving creams and foams have grown in popularity, shaving soap has taken a drive – in fact, many younger men might never have experienced true shaving soap.
But the best shaving soaps can compete with any new-fangled lather, and they give you that fantastic feeling of classic masculinity.
Which is exactly why we've put together this list – to help you discover the pleasures and find the very finest products on the market.
Our no.1 choice – Proraso's Shaving Soap for Sensitive Skin – is made with all natural ingredients and produces a beautifully thick lather that smells fantastic.
But we realise men have different needs, so we've got plenty of other options to cater to them.
Like our no.2 choice – Taylor of Old bond Street's Sandalwood Shaving Soap – which has the most masculine scent you'll come across and offers exceptional lubrication.
And there's more:
We've also got a detailed discussion of the differences between shaving soap and shaving cream for you, as well as a detailed guide on how to build the best lather of your life.
First, we're going to look at 6 most important factors you should be thinking about when buying shaving soap.
Quick summary
<!—INSERT CODE BELOW—>

Best for Sensitive Skin

Proraso Shaving Soap For Sensitive Skin

Perfect for sensitive skin types

Made with natural ingredients

Mild, uplifting aroma

Check on Amazon

Best for Scent

Taylor Of Old Bond Street Sandalwood Shaving Soap

Masculine aroma

Lathers up super enriched like a lotion

Excellent lubricating properties

Check on Amazon

Best Value

Van Der Hagen Men's Luxury Scented Soap

Good as a budget option

Fast lather effect

Pleasant aroma

Check on Amazon

The Art of Shaving Shaving Soap Set

Brilliant moisturizing abilities

Creamy lather up

Appealing sandalwood scent

Check on Amazon

Maison Lambert Shaving Soap

Packed full of natural botanicals, chemical-free

Lathers up to the perfect thickness level

Protects and hydrates the skin

Check on Amazon

Barrister and Mann Bay Rum Shaving Soap

Great range of scents to choose from

Great with any type of razor

Great lather

Check on Amazon
Before you buy: 9 Things to consider when purchasing shave soap
Scalp Micropigmentation, also known as the hair tattoo or SMP, is a non-surgical and affordable solution for hair loss. The procedure is done by a technician or doctor who uses small needles to inject pigment into the scalp, creating tiny spots that look like follicles.
The end result creates an illusion of a buzz cut and can be used on men and women with thinning hair. It can also be used to cover up scars from hair transplants.
If you think you might want to do this procedure, here are some things to consider:
1. What type of soap do you want?
The 'type' of soap is determined by the process used to make it. There are three basic methods:
'Triple-Milled' soap is made by grating, melting, and then pressing the soap into a new puck or bar. What this essentially does is force water in the soap to evaporate, making the soap both milder and harder. They are generally also the most expensive.
'Croap' soap is very soft soap – as close to a cream as you'll get, without getting, well, a cream. It has far more moisture (and usually more essential oils) but is stored the same as harder soaps.
'Semi-hard' soap is a kind of middle-ground soap – it's less dense than Tripe-Milled but also lasts less time. They are generally cheaper though, which is nice.
2. What are its ingredients?
Ingredients are always important, and with shaving soaps, you should be especially conscious of what exactly is in your product. Natural ingredients are generally preferable, and synthetic ingredients are generally best avoided.
There are three basic standard bases for shaving soap:
Tallow-based soaps, which are the traditional kind. Tallow is animal fat, and they tend to have a very creamy but stable lather.
Oil-based soaps come in a variety of formulas, using various oils – olive, palm, Argan, coconut. These are generally seen as an ethical alternative to tallow, for those who are against the use of animal products.
Glycerin-based soaps are the softest, and generally the best for your skin. Glycerin itself has lots of moisturizing properties, though it might not be ideal for men with particularly oily skin.
3. Do you like the scent?
Soaps vary wildly in their scent – from virtually unscented to deep, long-lasting stenches. So you need to be highly aware of both the quality and length of scent you're getting yourself in for.
You'll also want to think about how the soap might interact with your aftershave or cologne, as the scent may linger and interfere with your chosen perfume.
4. Does it match your skin type?
As with any product involving your skin, you need to be conscious of your specific skin type.
If you have sensitive skin, for example, you will want to ensure that the soap you buy is hypoallergenic; if you have dry skin, you'll want a soap with plenty of moisturizing properties.
ome soaps will dry out certain types of skin, while others will cause a bad reaction in those with allergies or sensitive skin.
5. Is it easy to use with a brush or bowl?
While you can make soap lather with your hands, most men have a much easier and more pleasant time using a shave brush or a shave bowl. Plus brushes actually help you get a closer shave, by lifting the hair off your face. And that means your soap needs to play nicely with them.
How easy is it to load the soap onto your brush? How quickly does it lather up? You need to be conscious of these questions when looking at shaving soaps because different soaps will react very differently to your brush or bowl.
6. What kind of lather does it produce?
Different soaps produce very different qualities of lather – different thicknesses, different opacities. And different men have different preferences in terms of what they like to shave with.
You can often determine this based on the ingredients of a soap, but it's also worth looking at reviews from other users to see how they have found the lather.
The best shaving soaps are the ones that produce rich lathers, are very gentle on your skin, and come at an affordable price point.
7. What size do you want?
Shaving soaps today are available in all shapes and sizes, and it's worth thinking about what works best for you.
If you're going to be traveling a lot, it might be worth going for a smaller soap that will fit easily in your bag. Equally, you may get more for your money by going for a larger soap.
8. Is the brand well-known?
Of course, plenty of great shaving soaps are produced by unknown brands. But it's always useful to look into the brand you're buying from, to learn about its history and reputation.
Some brands on this list – like Taylor of Old Bond Street – have been around for hundreds of years, and that heritage really does show.
9. Is it good value?
Finally, it's important to make sure you're getting a great deal for your money. That doesn't mean always going for a cheap option – it means making sure the quality you get justifies the spend.
Before buying, make sure you know exactly how much you want to spend and what you expect to get it for it – this will minimize disappointment and ensure you get a product that you're completely satisfied with it.
The 6 best shaving soaps
Shaving doesn't have to be a boring, same-old ritual. In fact, with the right tools – including the best razors, shave creams, and soaps – it can be downright luxurious. Enjoy your morning shave, gents!
If you have sensitive skin, however, shaving can be an arduous process that leaves your skin irritated and razor-burned, and not just any old razor or shave soap/cream will do.
We've talked before about the best razors for sensitive skin, but what about shave creams and soaps?
Not to worry: Proraso's Shaving Soap for Sensitive Skin is just the product you need if your skin is easily irritated. In fact, it's the best shaving soap for sensitive skin that you'll find anywhere.
For one, Proraso's signature soap for sensitive skin includes oatmeal and green tea in its list of ingredients, both of which soothe and protect inflamed, easily-irritated skin. It also produces a creamy, rich lather that softens the skin while providing superb lubrication.
Based in Italy, Proraso has produced superior shaving products since 1948 and is one of its country's iconic brands.
Its products have evolved over the years to feature all-natural products that including botanical extracts and natural oils that protect the skin both before and after the shave.
Their products are also paraben-free, which is always a plus, and include no mineral oils or SLS (Sodium Lauryl Sulfate) that strips away the natural oils of your skin.
Another thing to like about Proraso's Shaving Soap for Sensitive skin is its scent, which has a light hint of lime and apple. It's neither too citrusy or overpowering, but just the right mix that doesn't enter a room before you do because it's too strong.
Pros
Great for sensitive skin

Mild, pleasing scent

Natural ingredients
Cons
Again, not many, although some reviewers suggest that the lather could be thicker
Bottom Line
If you have sensitive skin, you know how touchy your morning shave can be without the right tools. But this soap, combined with the right razors and blades, will make your shaving experience much easier.
Taylor of Old Bond Street was established in London in 1854 and has consistently built a reputation for grooming excellence ever since. Their signature sandalwood shaving soap sets a standard that most other shaving soaps and creams can't match.
There's so much to like about this shaving soap – from its lotion-like consistency to its pleasant sandalwood scent and the wooden shaving bowl that comes with it. Let's take a closer look:
As mentioned, the Sandalwood Shaving Soap has a consistency and feel that reminds you of lotion. While other shaving soaps are a bit thin, this soap is thick and provides an excellent foundation for your razor to slide over your face smoothly.
Another thing you'll like about this soap is that it comes out of the mug softer than almost any other shaving soap. It's packed with essential oils that soften your skin and beard, as well as provide superb lubrication.
Sandalwood has a reputation for being a "manly" scent with earthy tones that have a touch of cedar.
Our friends at Taylor of Old Bond Street also mixed in a touch of rosemary, jasmine, rose, and lavender to give it a unique, refreshing smell. It's not a shaving soap you can share with your wife or girlfriend, but you'll appreciate its masculine qualities.
One of the key ingredients in the Sandalwood Shaving Soap is glycerin, a naturally-derived sugar alcohol used in many moisturizing lotions.
Combined with palm oil, it helps make Taylor of Old Bond Street's classic shave soap a superior source of skin and beard lubrication.
Moreover, Taylor of Old Bond Street's products are paraben-free.
Your Sandalwood Shaving Soap comes packaged in a reusable wooden shaving bowl that helps you save water. The shaving soap bowl is another example of the classy, British elegance of Taylor of Old Bond Street's products.
While the Sandalwood Shaving Soap is more expensive than some soaps, you're not only paying for a quality product, but you're also making a sound long-term investment.
You don't need to use a large amount of this soap to work up the lather necessary for a close shave.
Note: Experts advise that you use a shaving brush with this product, both to mix it into an appropriate lather and also to apply it to your face while preparing your facial hair for your shave.
Pros
Superior lubricating qualities

Masculine scent

Rich, lotion-like lather
Cons
Not many, slightly more expensive than some shave soaps
Bottom Line
The majority of the best-of shaving soap reviews include Taylor of Old Bond Street's Sandalwood Shaving Soap, and with good reason. This is a high-quality product from a company known for its excellence. If you're serious about wet shaving, give this soap a try.
Still not convinced?
The scent isn't the most important quality of shaving soap. Lather, lubrication, how your skin feels after your shave – yes, those are important.
A shaving soap that can do all of those things and also have a great scent is worth a further look. Van Der Hagen's Men's Luxury Scented Soap falls into the "worth a further look" category.
Van Der Hagen – thanks to its combination of cocoa butter, mango butter, and shea butter – has found the right mix of appealing scent and quality shave in its scented soap.
The soap also contains glycerin, which has nothing to do with its scent but everything to do with a lubricating and moisturizing shave.
In turn, it helps make the Men's Luxury Scented Soap great for men with dry or sensitive skin (and it's also hypo-allergenic, which is another skin-friendly attribute).
There's more to like about this soap, however.
One of the first things you'll notice about the Luxury Scented Soap is how quickly and easily it lathers. Your brush will be fully locked and loaded in less than a minute after swirling the mixture of soap and water around in your shaving bowl.
The lather also tends to last longer on your face – especially when compared to other budget shave soaps.
Thus that's the other thing: you can purchase Van Der Hagen's Men's Luxury Scented Soap on Amazon for under $10, which is a true bargain for a soap of its quality.
It's worth noting that the lather isn't as thick as it is with other shave creams, but it still will provide a clean, close shave.
Moreover, Van Der Hagen's Men's Luxury Scented Soap is vegan-friendly and never tested on animals.
But back to the scent.
While this soap's fragrance isn't as powerful as, say, the Bay Rum-infused soaps, it's subtle yet noticeable.
The scent may not linger throughout the day, but you'll smell good and feel refreshed after your shave and on into your morning. It's a scent that qualifies as mildly masculine – but not in an in-your-face kind of way.
Pros
Budget friendly

Excellent scent

Lathers quickly
Cons
The overall slickness of the cream leaves a bit to be desired
Bottom Line
If you're looking to buy a quality shaving soap that won't bust your budget, then the Van Der Hagen Men's Luxury Scented Soap is worth considering. It compares favorably to other shave soaps that cost twice as much.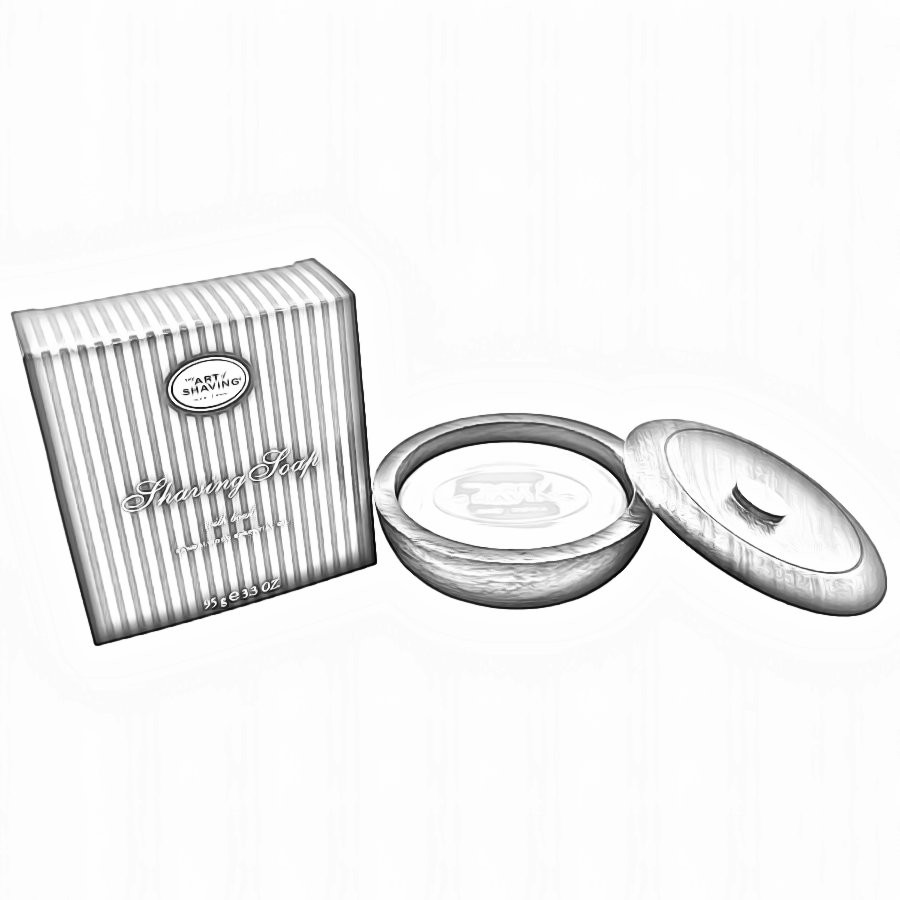 The Art of Shaving is a luxury brand that emphasizes specifically on what their name suggests: shaving. The company's purpose is to provide men the right products to perfect their shaving experience in an artistic and passionate way. Their Shaving Soap Set is evidence of that passion, and it would have been a blunder not to include it in our best soap list.
This soap has as its main ingredients glycerin, coconut oil, and corn oil.
Glycerin (as said previously) and coconut oil provide unrivaled moisturization to the skin and condition the hair. This provides a smoother shave, as the razor can then glide onto your face easier while shaving. These ingredients soften the beard and thus, making it easier to shave, minimizing this way the chances of irritations or razor burns.
Corn oil, on the other hand, is rich in fatty acids and antioxidants. Due to that, it assists in keeping the skin looking young and healthy but also, in wound healing, due to its anti-inflammatory properties.
Lastly, it is formulated without any alcohol or synthetic dyes.
What else could you ask for from a soap? Well, if it's rich lather and scent, then The Art Of Shaving got you covered in those areas as well.
The soap produces a lather that's creamy and rich. This also assists in improving the razor's gliding on the skin.
As for the scent, it has a sandalwood character that is wonderful and balanced (not overpowering nor light). Definitely a compliment magnet!
Lastly, the soap comes in a gorgeous wooden Teak bowl which can be refilled when it runs out.
Overall, this is a great soap that transforms the act of shaving into an absolute experience.
Pros
Comes with a gorgeous wooden Teak bowl

Provides rich hydration and lather

Amazing sandalwood scent that is hard to ignore
Cons
A bit on the expensive side for its size (3.3 oz)
Bottom Line
This is a soap that will change your perspective on your shaving experience. Totally worth the price!
There's plenty to love about Maison Lambert's Shaving Soap, starting with the unassuming jar which makes it super easy to load up your shaving brush and have at it. But that really is just the beginning.
The first thing to note is this is a vegan product: it's handmade using the French art of soap making, and is completely free of nasty chemicals like parabens, sulfates, artificial fragrances and all that rubbish. In fact, the scent comes from a beautiful concentration of essential oils like tea tree oil, rosemary and lavender, which give the soap a soft, subtle scent which is a little bit minty and extremely fresh indeed.
The lather it creates is rich and luxurious, but not too thick of fluffy and very sturdy – you won't catch it running down your face or disappearing as soon as it comes into contact with water. And it's completely protective, allowing you to achieve a seamless shave that will leave even sensitive skin safely unscathed and moisturized.
It achieves this by including plenty of lovely shea and cocoa butter and argan oil, which helps moisturize your skin and encourage the retainment of natural moisture. You'll end up with smooth, tight skin which is super clean and refreshed without a build-up of grease – perfect!
This is a particularly great soap for beardsmen, as all those natural oils and butters and aloe vera will nicely soften your mane up, ready for a good beard oil.
Pros
Loads of super natural, positive ingredients – from shea butter and aloe vera to jojoba oil and tea tree!

Lathers really nicely without excessive thickness or oiliness

Moisturizes your skin and protects it for the whole day
Cons
The jar could be more aesthetic, but that really is a minor concern!
Bottom Line
A wonderful shaving soap, particularly for the bearded, the sensitive skinned and the vegans!
Barrister and Mann Bay is a bit of a niche: they specialize in bringing older forms of grooming goods back into style, with a slightly modern twist. And if you're wondering if they succeed, just have a sniff of their shaving soap and see.
From its old-timey packaging to its thick, refreshing range of scents, this stuff will give you the true shaving soap experience – making you feel just like your great-grandfather did.
Its carefully calibrated formula makes it great to work with any type of razor – a big bonus for shaving soaps, which weren't even around when certain kinds of modern razors were about – and they've produced a huge range of great, masculine scents to choose from.
From Cheshire – a traditional English scent – to the spicy barbershop stench of Reserve Spice, each scent has something to recommend it, and we'd be shocked if you didn't love them – though some do find the spicier scents a little much.
The lather is also very easy to build up, and works a total dream – it won't take an age as some shaving soap (and creams) can.
Pros
Great to use with any type of razor

Multiple scents to choose from

Produces great lather
Cons
Some find the spicy scents too strong
Bottom Line
A true throwback, with a great range of scents and a lather that can compete with anything else on the market.
How we chose the best shaving soaps
It's not easy to find the "best of" anything when there are so many good choices. Make no mistake: there are a lot of quality shave soaps out there, and narrowing our list down to a few wasn't easy.
But, like with all of our product reviews, we use research as our foundation and build from there.
While it's true that we don't have the resources to try all of the quality soaps available personally, we sample as many as we can while rolling up our sleeves and digging into the research.
That research includes the reviews of others – including those of customers found on online retailers such as Amazon.
In the end, it comes down to a handful of factors: quality, price, ease of use, and even ingredients. We also take into account a shave soap's scent, although the fragrance is a small piece of the puzzle when determining shave soaps we think you'll like.
We're confident you'll like the soaps we've chosen.
Building an epic lather: Here's how
Now that you've chosen your shaving soap it's time to get down to the business of shaving. There's more to shaving with soap than you might think. First, you need to build a good lather that ensures your shave will be clean, close, and comfortable.
The best shaving soap is an effective way to achieve a luxurious shave. A good shaving soap will provide you with a thick, creamy lather that helps you achieve a close shave without irritating your skin.
Many people think that the difference between various soaps is in the ingredients, but it's really all about the lather. You want to find a soap that allows you to build an epic lather with ease.
A good shaving soap will be easy to whip up into a nice, thick lather and will glide smoothly across your face as you shave. It should also be long-lasting and not dry out quickly when exposed to air, which will provide you with a more comfortable shave.
Let's take a look at two methods for how to use shaving soap: a) with a shaving bowl and b) on your face. In both cases, we're talking about using shaving soap and a brush.
a) Using a shaving soap bowl
1. Your first step in using a shaving bowl is to fill the bowl with hot water. The water needs to be hot, but not boiling. Place your shaving brush in the water and let it soak for a minute or two. You also can soak your brush under running (hot) water.
2. After you've soaked your brush for a couple of minutes, empty the bowl until just a tiny bit of water is left. By "tiny," we mean just a teaspoon full. You'll also need to shake the brush free of any excess water.
3. While you're soaking your brush, soften your shaving soap by adding a small bit of hot water on top of it. A few drops will suffice.
4. After the soap has softened, take the brush and swirl it on the soap for 10 to 15 seconds. This is perhaps your most important step in creating a luxurious lather.
5. Next, take your brush and swirl it in the shaving bowl for approximately a minute. You'll see the lather start to build from bubbly to thick. Keep swirling until the lather is no longer bubbly. If it's too thick, add a few drops of water in the bowl and swirl again.
b) Building a lather on your face
1. Start by soaking the brush in hot water until its bristles are moist and soft.
2. Soften the soap with a few drops of water.
3. Swirl the brush on the soap – as you did above – for 10 to 15 seconds. All you need to do is make sure that the tips of the brush have some soap on them.
4. Finally, swirl the brush on your cheeks – using a circular motion – to build up your lather. It should take about 30 seconds to develop a thick lather.
If the lather is watery, swirl the brush on the shaving soap again. If it's too thick, put a few drops of water on the tips of your brush and re-swirl on your face.
Shaving soap vs. shaving cream – What's the difference?
There are a few basic things to remember when discussing the differences between shaving soap and shaving cream:
Shaving soap has been around longer – a lot longer. While shaving cream was introduced in the 20th century, shaving soap has been around hundreds of years. We're talking old, old school when it comes to shaving soap. Your grandfather and great grandfather used it, just like their grandfathers and great-grandfathers used it before them (and so on down the line).
Shaving soap almost always comes in a hard puck, unlike shaving cream. Building a lather with shaving soap takes a bit more effort, although the results usually are excellent.
But let's dig a little deeper:
Shaving Soap
As mentioned earlier, there's a wide variety of shaving soaps: triple-milled, semi-hard, croaps, etc. Triple-milled is the most expensive, but many wet shavers say that it produces a dense lather that you can't get with other types of shaving soaps.
Triple-milled soaps also are harder than others, which means they can last longer.
Creating a lather with shaving soap usually means adding water to it first, at least in most cases. Moreover, you'll need a shaving brush to build up the lather and apply it to your face.
While there's more of a learning curve to creating a lather with shaving soap, the quality of the lather – as well as the lubrication it provides – is second to none.
If you want to go old-school, then use a shaving soap with a straight razor. That's how it was done a hundred years ago (and more), my friends.
Price-wise, shaving soaps often are more expensive than shaving creams, but your initial investment buys a soap puck that can last up to four months. You always can find cheaper shaving soaps out there, although you're gambling with quality.
Regarding fragrance, shaving soaps usually don't have the lingering scent that's common to shaving creams.
Many shaving soaps have a subtle scent – such as those that include sandalwood – but you always can use an after-shave balm or oil that provides fragrance throughout the day. The myth that shaving soaps have no fragrance simply isn't true.
Shaving Cream
When most people think of shaving cream, they think of the kind that comes in aerosol cans. You know: the kind with which you press on the top and out comes the shave cream.
Shaving cream has been around since the 1940s and is found in almost every supermarket, pharmacy, or convenience store you can name. They're formulated to provide you a no-fuss lather that's often applied directly to your face.
For that reason alone, shave cream typically is better for anyone new to the wet shaving game.
The lather you'll build from shave soap is, as mentioned, second to none – especially after you get the hang of mixing it in a bowl or on your face – but top-quality shave creams also generate the kind of lather that deliver excellent lubrication and a superb cushion.
Shaving cream comes in many different fragrances, although you'll want to consider cream that has no fragrance if you have sensitive skin.
Conclusion
We hope you found this review helpful and informative.
As always, we encourage your feedback – whether through comments or questions – and we'd love to hear from you if you've tried any of the products listed above, or if you have a personal favorite not listed here. Stay in touch!
Until next time.