11 Best Men's Shaving Kits that will Up Your Shaving Game
This post may contain affiliate links. Learn more.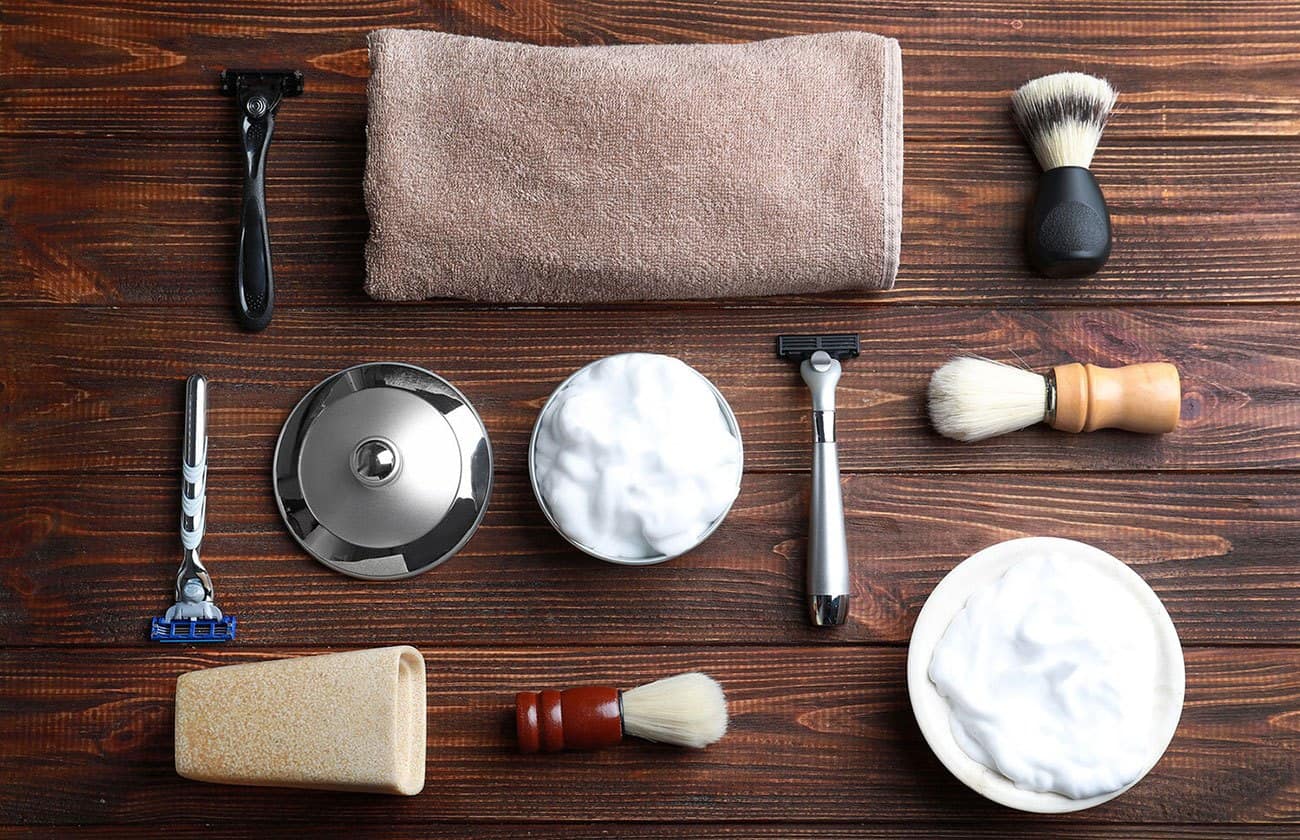 Cleary, we love beards: we named our entire site after them. But that doesn't mean we don't know the value of a good, honest shave, and in this review we're going to help you find the most convenient shaving product possible – a shaving kit.
The best shaving kits provide everything you need, all in one place – making your life so much easier and nicer. But there are so many on the market, it can be dizzying even getting started.
We've scoured the earth looking for the very best, and the one we've found – we think you'll agree – are genuinely outstanding.
In a hurry? Here are our top picks:
Merkur Deluxe Travel Dopp Kit
Our top choice – Merkur Deluxe Travel Dopp Kit – comes with a 100% genuine Merkur razor, and contains everything you could need in a shaving kit.
Braun's 10-in-1 Trimmer
Our no. 2 pick is Braun's 10-in-1 Trimmer, which is about as good an electric shaver kit as you'll find, with its long-lasting battery and waterproof guarantee.
We're also going headlong into the differences between classic razors and electric trimmers, and looking at 7 tips you can use to get a smooth shave without any irritation.
Beginning the search for the best men's shaving kit can be a simple and smooth process. There are many ways to find the right men's shaving kit, but it really all depends on how you want to spend your money. Men's shaving kits range in price from low end, mid-range, and premium with different brands to choose from as well.
But first, we've got to explain the 6 key factors you need to consider before purchasing a shaving kit.
Quick summary
<!—INSERT CODE BELOW—>

Best with Safety Razor

Merkur Deluxe Travel Dopp Kit

Consistent and trustworthy shave

Ticks all the boxes for a razor shaving kit

Rugged and good durability

Check on Amazon

Best electric shaving kit

Braun 10-in-1 Trimmer

Great battery life

Includes a Gillette razor

Versatile all in one kit

Check on Amazon

Best with a Disposable Razor

Gillette Fusion ProShield Shave Gift Set for Men

4 additional blade refills

Shaving gel contains 0% alcohol

Premium razor with a precision trimmer

Check on Amazon

Vikings Blade The Godfather Safety Razor Kit

Looks the business

So many positive reviews

Premium, top quality 'super blades'

Check on Amazon

Double Edge Safety Razor Kit + 5 Swedish Platinum Super Blades

Great reviews

Affordable price tag

Safety razor offers a close, efficient shave

Check on Amazon

Remington PG525 Head To Toe Lithium Powered Body Groomer Kit / Trimmer

Made with durability in mind

Well respected brand for shaving kits

Comes with 8 attachments for all grooming styles

Check on Amazon

Grandslam's Shaving Razor Kit

Can be a great gift set

Great value for money

Stylish black design

Check on Amazon

Harry D Koenig & Co 4 Piece Shave Set 

Looks good on the eye

Includes bowl and soap, shaving cream not needed

Handle compatible with easily accessible refills (for eg, Mach 3)

Check on Amazon

Philips Norelco Multi-Groomer 23 Piece Trimmer

DualCut technology optimizes precision

Battery life lasts a long time

Includes 23 grooming accessories for all your needs

Check on Amazon

Gentleman Jon Complete Wet Shave Kit

Alum block assists easily irritated skin

Everything you need for a wet shave

Can be a great gift set

Check on Amazon

Safety Shaving Razor Kit With Genuine Leather Travel Case By River Lake 

An effective budget option

Adjustable double-edged razor offers a flexible shave

6 different settings for the perfect angled shave

Check on Amazon
Before you buy: 6 Things to consider before purchasing your new shaving kit
1. Pay attention to your personal shaving style
One of the most important things to do before buying a brand new shaving kit is to pay attention to your own personal shaving style.
If you are anything like us, that can change on an almost weekly basis. One week, we may decide that we want to go for stubble, and the next we may just like to have a little shape up using a razor but leaving the beard intact.
Some of us have more conviction with our shaving practices and tend to stick to one method only. Regardless of what your method is, you need to keep it in mind when picking out your shaving kit.
Why?
Quite simply, because this will shape what kit you buy. If you are looking for a specific length of cut or specific shaping instruments, then this is something you have to keep in mind.
Otherwise, you will just start shaving with your new kit and realize that you are missing half of the things that you need to reach your desired look.
2. Look at the price of the product and make sure that it is in line with your budget
This is a tip that is lost on a lot of people. They will see a shaving kit that they love and buy it, irrespective of the price.
We believe that this is a bad idea, and it suggests a bad relationship with your money.
Instead, set yourself a budget and make sure it is a number that will not change your life in any way. If you do this, then you will not beat yourself up if the shaving kit that you buy is not exactly how you had envisioned.
That way, if it does pack in early or doesn't do the style that you had wanted, then you won't be too angry at yourself.
With that being said, we recommend that you always try to go for the maximum of what you can afford.
If your budget is a maximum of $50, then you want to aim for as close to that as you possibly can. There's no point in acting smart by going for a cheap option if you can afford better; it is almost always going to bite you back.
If you think about it, it just makes sense to take your budget and buy one shaving kit that is going to last plenty of years.
If you decide to skimp out for a cheap one, you may have to replace it once or twice a year, and then you'll find yourself spending more than you should have in the first place.
3. Read customer reviews, and use them to your benefit
You should always take customer reviews with a pinch of salt – they may be all fakes, or they may have been paid to write them.
But that is not to say that they are useless and do not have a place in your decision-making process.
Customer reviews can tell you a huge amount about a product before you spend your hard earned cash on it. We think that this is pretty much priceless advice and something that you should always take seriously.
If a shaving kit has thousands of positive reviews, including photos and descriptions of their particular shaving style, then you can find the ones that suit your own style and make your decision on whether or not the shaving kit is the one for you.
Similarly, if a shaving kit has overwhelmingly negative reviews, and people with your shaving technique have noted that it is not made for your style, then you should probably look elsewhere, instead of wasting your time.
4. Get quality products that are going to cause less irritation than cheaper ones
Quality shaving kits can make all of the difference in the world. It is easy to imagine all shaving kits as always the same and feeling the same, but that could not be further from the truth.
A good quality shaving kit can quite literally change your life. The process of shaving can go from a chore to an enjoyable experience, and it is all down to what you buy.
If you buy something high quality, then you are more likely to get a better shave – one that has less irritation and is generally less frustrating.
We all know what it is like when our trimmers tug on our facial hair, and it is something that can be avoided by making a simple switch to something higher quality.
For those of you who sometimes get their beards trimmed at the barber, you will notice that the trimmers they use literally tidy you up in seconds.
Even though they are likely to be very expensive pieces of kit, you can use an example like that as inspiration for the shaving kit that you should be going for.
5. Take a look at all of the brand options before going for something you don't recognize
Even though this is a massive blanket statement, it is one that we believe can be somewhat universally applied. Picking out a shaving kit from a reputable brand is going to be much safer than doing so from one that is relatively unknown.
Whilst these brands all have to start somewhere, we would always prefer our purchases not to be a risk.
Picking out a brand that you recognize and feel comfortable with can be your way of ticking another box before buying your shaving kit, and it will give you that added bit of confidence that your money will not be wasted.
If you are going to go with a brand that you have never heard of before and/or one with weak reviews, then you should think about going for one that has a warranty included. That way, you are getting what is effectively a risk-free trial period of your shaving kit.
If for any reason, it breaks, then you will be able to go and claim your warranty to get a new one free of charge – or even a full refund.
6. Pick out a specific type of shaving kit that you'd like to buy
This seems pretty general to someone who has never bought a shaving kit before, but it is actually something that you should certainly keep in mind.
Your shaving kit can come in many different styles or types, and you should always have a little idea in the back of your mind of what you are looking for. Otherwise, things are going to get confusing pretty quickly.
Firstly, you may just want something as simple as a safety razor kit.
In this particular example, you don't want anything too complicated, and things should be straightforward. On the contrary, being on the prowl for a luxury shaving kit or an old-school shave kit may complicate the process a bit more.
Whatever you are looking for, knowing your own preferences can be really helpful. Not only will it mean that you get something you enjoy, but it actually makes the whole shopping experience convenient – and men love convenience.
Here is a quick look at the top shaving kit types that you can buy today.
Straight razor kits
Straight razor kits have a more classic overall look and tend to be pricier because these kits can last many years. The razors are also referred to as cut throat razors. These razors need to be sharpened frequently and there is no safety shield on them.
If you watched Sweeney Todd then you are probably all too familiar with just how dangerous these razors can be. Cut throat razors are usually left to professionals and barber shops, but you can get one if you are looking for something that offers a classic and durable feel.
Safety razor kits
Safety razors usually have a protective shield fitted over the razor blades. This shield protects you so you can't cut into your skin as easily. These razors are designed with disposable razor blades that slide in and out of the razor. The blades can cut deep if you don't have them inserted correctly. The blades can be reused, but need to be discarded when they get dull.
Disposable razor kits
Disposable razors are tremendously popular because they are very durable and they offer a very clean and smooth shave. Many of these razor blades are also specially designed to reduce your chances of getting razor burn. You are not very likely to cut into the skin with these types of blades.
When the razor blade gets dull, you simply click the top off into the trash, and get a new blade. They are very easy to use.
Electric shaver kits
Electric shavers are also pretty popular because they are so easy to use, and these kits usually come with a number of razor combs that allow you to create all sorts of beard styles. Electric shavers are ideal for maintaining all sorts of beard styles.
The longer combs are perfect for keeping longer beards groomed, or you can switch over to a shorter blade that cuts the hair off close to the skin for a smooth shave.
Shaving kits can come with all sorts of accessories like storage bags, spare blades, shaving cream, aftershave, beard brushes, combs, scissors, bowls or sharpeners. The right combo kit can be very functional for shaving, and can offer aesthetic charm in bathrooms.
The 11 best shaving kits for men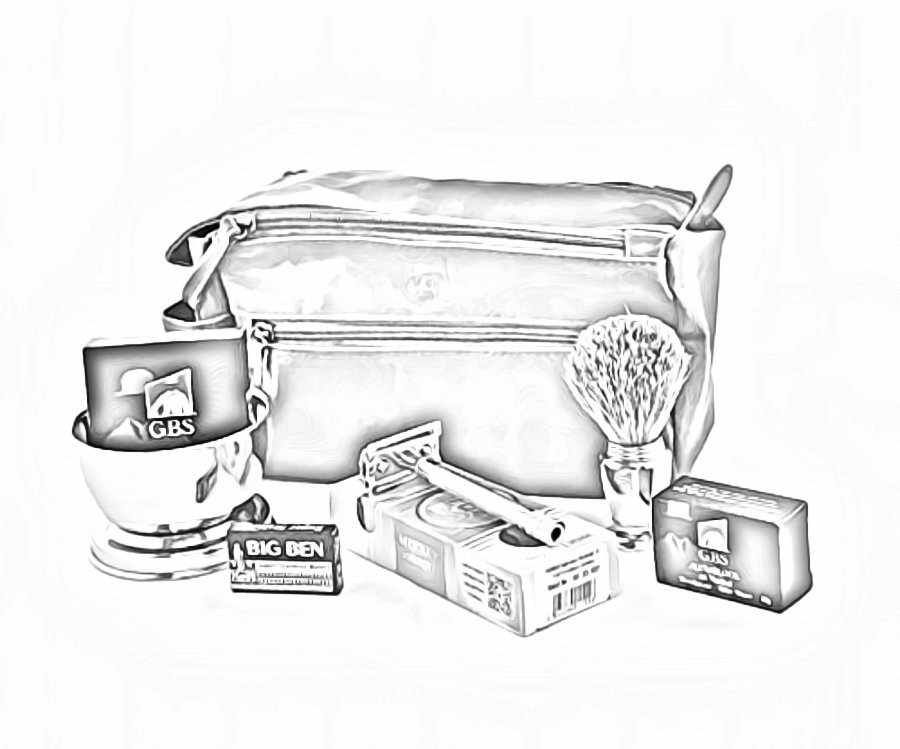 When we say shaving kit, we are generally talking about the umbrella of a razor/electric trimmer and a couple of additional extras that just make our lives easier when grooming.
This one, on the other hand, has gone all out to provide us with everything we could possibly need from a shaving kit.
The double edge safety razor included in this kit has an easy-to-use long handle and will give an extremely close, clean shave that is free of irritation, razor burn, or any other unnecessary issues that come from the typical razor blade.
Just in case anything should fire up, an Osma Block is included within the kit, and this will help to soothe any irritation you may get.
Additionally, we get a bowl to mix water and soap, and the soap itself is included.
These are two very important components to a successful shaving kit, as we always want to put our skin in the best environment before we take a razor to it. It's a sensitive area, so we need to take care.
The included badger shaving brush exfoliates your skin, clearing it of dead skin cells and dirt, whilst lathering on the soap that is so desperately needed.
The razor-specific kit itself comes with an additional 10 double edge razor blades, so this initial kit will last you plenty of time and will be durable for as long as they hold out.
And finally, we have a leather toiletry bag to store everything in. It has a large compartment with two storage areas inside, making it perfect for travel and for keeping the important goods safe.
Even though this already seems like a pretty sweet deal full of all the things that we need, a 100% satisfaction, money-back guarantee has also been thrown in as a gesture of good will.
It is always nice when a brand puts their money where their mouth is, and they clearly have. If you are ever unsatisfied with the product, they will need to honor this guarantee.
Pros
Rugged and durable

Good quality and good shave

Contains everything you could need from a razor shaving kit
Cons
The soap does not have a particularly brilliant scent, if that bothers you
Bottom Line
This shaving kit contains absolutely everything that you could possibly need. From the double-edged safety razor to the leather bag to store it in, you're completely covered.
Braun is a well-known, mainstream brand, and it's often easy to overlook them because of their huge popularity. But anyone in doubt that they got where they are for the right reasons should check out this 10-in-1 trimmer set – the absolute best electric shaving kit we've come across to date.
With its AutoSensing Technology, the trimmer itself is a pleasure to use: it reads your beard (13 times per second!) and adjusts its power according to the thickness of your beard. This makes getting the exact shave you're after incredibly quick and easy.
But there's more: this bad boy boasts 13 length settings, and its lithium-ion battery delivers 100 minutes of trimming from just an hour's charge time.
Plus it's easy to maintain and wash, as it's completely waterproof – which also means you can use it in the shower.
The set features attachments to detail, trim your nose hairs, body hair and basically anything else you might want to gnaw at; they've even thrown in a Gillette razor for good measure, in case you need something non-electric.
Ultimately, you get what you pay for: this is an undeniably pricey product, but if you're looking for an electric trimmer you won't find a more complete – or high-quality – option anywhere.
Pros
All in one shaving kit

Long-lasting battery and waterproof

Comes with a Gillette razor
Cons
The price will be a stretch for many men
Bottom Line
The absolute best electric shave kit we've found – easy to use, easy to clean and easy to love.
Disposable razors are becoming somewhat niche: increasingly, men are opting for long-lasting razors that are durable, and that makes sense. But any man who's looking for the sheer ease of a disposable razor shaving kit should look no further than this – Gillette's Fusion ProShield Shave Gift Set.
Coming with 4 blade refills, a Fusion5 ProShield razor handle and a 6oz tube of Gillette Shave Cream, this set provides everything you need to get that Gillette experience.
The razor itself is truly premium, with a precision trimmer on the back which will help you style and detail with ease. Plus the ProShield blades provide lubrication that helps protect your skin.
While the razor is a pleasure to use and provides a generally good grip, it is true that when wet it can get a little slippery, making the grip weaker.
The cream is free of alcohol, dyes, parabens and sulfates, making it totally safe for use. And the aloe they've added makes it delightfully refreshing, as well as very easy and smooth to use.
Pros
0% alcohol shaving gel

Premium Fusion 5 ProShield razor

4 extra blade refills
Cons
The razor handle can get slippery when wet
Bottom Line
A pleasure for any man looking to use a disposable razor – Gillette never disappoints.
When something is named after The Godfather, we often decide to take a closer look, so we aren't judging a book by its cover. The Godfather is an epic trilogy of films, but this comes pretty close in the ranking of shaving kits.
This shaving kit is made from what they describe as only premium, high-end, heavy-duty materials. This suggests that the razor itself is not going to be cheap or flimsy and should survive some serious wear and tear. Ideal if you need to shave often.
With this shaving kit comes a pack of steel mild blades, meaning that you can give yourself a different shave depending on the situation or your personal style preferences.
There is also a leatherette and alcantara case. This means that you can travel, transport, or just store your shaving kit in a stylish way that is sure to look good in anyone's bathroom.
The style of the razor itself is pretty irrelevant if we are thinking about the purpose.
However, if we are just looking at the aesthetics, then we can safely say that this is a great looking shaving kit. It is something that you would love to hold, and that says a lot about the quality of the product.
We also want to make a note of looking at the customer reviews, and this shaving kit, in particular, has over a thousand customer reviews that are all overwhelmingly positive.
That tells us that the product is wildly successful and clearly is made from the high-quality materials, as they so proudly suggest.
Pros
Premium 'super blades'

Excellent in terms of aesthetics

Plenty of positive reviews
Cons
Will begin to rust over time
Bottom Line
If you want a heavy-duty, handsome shaving kit, then you can probably stop your search here. This provides a close shave whilst maintaining the aesthetics that any artist would be proud of.
This shaving kit is absolutely great for men, as it is a safety razor kit that can provide you with the closest shave possible. The stainless steel production of these blades helps you to achieve the highest quality close shave that you've ever had.
For many of us, achieving that close shave style is something that can be consistently painful. You are either unable to cut close enough, or you find that your face ends up getting cut, and you'll have blood everywhere.
This shaving kit, in effect, should prevent either of those from happening. Firstly, they say that the shave is closer than anything you've had before. Secondly, they are all safety razors that have anti-cut technology and should prevent any mistakes from happening.
The set involves a primary razor and then a set of five additional razor blades that all allow you to get the best shave.
However, we know that many men will be looking for men's shaving sets with a brush. Unfortunately, this product itself does not come with a brush, and it is something that you should keep in mind if you were sold on the idea of having a brush with your set.
Even though the brand itself is not world-renowned, they put their money where their mouth is, and that's something we love.
They have included a 30-day money-back warranty policy, that means any of us can go ahead and buy the shaving kit and return it for a full refund if we are unhappy.
Pros
Safety razor that provides a close, clean shave

Good budget price

Good reviews
Cons
Some reviews say there is no long-term durability
Bottom Line
A safety razor kit should be at the top of most lists. They help you shave regularly without the worry of having to go into work with cuts all over your face. This one in particular is made from superior, high-quality materials.
Some shaving kits can be electric, and that is perfectly fine. This one from Remington gives you a combination of style, functionality, and a recognizable brand name.
Remington has been a leading name in shaving for years, and it is easy to see why when you take a look at this product.
This shaving kit has a primary trimmer, as well as 8 attachments that will suit any potential grooming requirement that you may have – and that includes areas other than the face.
You will be able to get a close shave with this trimmer, but you will also be able to get the minute changes that are otherwise difficult with a regular razor.
For long-lasting performance, the trimmer has self-sharpening, surgical steel blades that won't diminish quickly over time. This means that you will get the most out of your investment for months or even years to come.
Even though electric trimmers require charging, this one isn't much hassle at all. You can take advantage of the included charging stand and keep things where they are at all times.
One charge should last for up to 70 minutes of use, which is plenty of time to give yourself a decent shape up.
Pros
Electric style trimmer with 8 attachments for all styles of grooming

Built for durability

Renowned brand for shaving kits
Cons
It is electric and therefore cannot guarantee a shave as close and clean as a razor
Bottom Line
Not all of us are fans of old school razors. They are difficult to use and come with too many problems, like getting cut. Instead, electric trimmers are the new craze, and this one by Remington comes with 8 attachments for all of your grooming needs.
Grandslam's Shaving Razor Kit is a shaving kit for men who like everything in one package. It includes all things that a man needs to get shaved:
A double-edged safety razor
A brush
A shaving soap
A shaving soap bowl
A brush & razor stand
10 razor blades and
Durability
But there's more!
All of the above come at an amazingly affordable price, making it a true value for money kit. Everything that's included looks very stylish due to their black color and minimalistic designs. This means that Grandslam's Shaving Razor Kit is also great for a gift.
The only thing that could be improved in my opinion is the brush. It is made from synthetic hair, which doesn't compare to the quality and stiffness of other brushes made, for example, from boar or badger.
Beyond that, a great shaving kit overall.
Pros
Great value for money

Very durable

Its stylish design makes it perfect for a gift
Cons
Brush quality could be better
Bottom Line
A great shaving kit for those who want to try shaving with a safety razor for the first time. It includes everything needed for a great price.
This incredibly handsome 4-piece shave set is a great option if you love to add a bit of style to the bathroom whilst simultaneously adding an item that will improve your shaving game.
The kit itself includes a stand, a razor, a bowl, soap, and a brush. A shaving set with a brush is ideal for many people, because it allows them to get a perfect lather of soap over their face prior to shaving.
It also makes cleaning up after themselves easy – particularly when you think about getting rid of those little loose hairs that are so frustrating after a shave.
Even though it is all very simple, it is enough to get that perfect shave that you are always looking for.
Pros
Great to look at

Handle compatible with refills that you are likely to have around the house (Mach 3, for example)

Bowl and soap included – no need for shaving cream
Bottom Line
This is a pretty good razor kit for beginners. It comes with soap, a bowl, and a brush, so that you can get used to using all of the different components of a successful shaving kit. On top of that, this is one that genuinely looks great, which should certainly be kept in mind.
This shaving kit is slightly different from many of the other options because it is electric and actually identified as a trimmer.
Rather than a classic razor, this is an option that is extremely versatile, because the style of shave can change completely, depending on the piece that you put on the trimmer.
From clean, close-cut stubble to a general beard shape up, this kit allows you to do it all. On top of that, you get an eyebrow trimming guard and a cleaning brush as part of the kit, which makes it an ideal kit for the average man.
Philips is a really well-known brand, especially when it comes to trimmers and general beard grooming. This means that a trimmer from Philips will be worth investing in.
On top of that, Philips has a DualCut technology that they have innovated for their trimmers, meaning you can enjoy maximum precision, thanks to the heads having 2x more blades.
They sharpen themselves as they work, and Philips argues that the blades are as sharp after 3 years as they are on your first day of ownership.
Even though the worst part about any electric shaving kit is generally the charging difficulty, the lithium-ion rechargeable battery used in this trimmer means that you get 5 hours of uninterrupted runtime per charge.
For convenience purposes, you can also use the trimmer whilst it's plugged in, if you are in a rush.
Pros
Long lasting battery life

Maximum precision thanks to DualCut technology

All of your grooming needs met thanks to 23 pieces included

Reputable brand
Cons
None of the heads are adjustable, so you need one of the lengths to suit your needs
Bottom Line
Philips is long-renowned for producing some of the best shavers on the market. This set is no different. With 23 different pieces, DualCut technology, and a super-powered battery, you have no excuse for not having a perfectly trimmed beard every time you need one.
Gentleman Jon asks its customers to grow up by treating shaving not as a ritual and not as a chore. That's easier said than done, especially when a man is hustling to get out the door in the morning, but Gentleman Jon makes it possible thanks to its Complete Wet Shave Kit.
The said kit includes six items: a safety razor, a badger hair brush, an alum block, a stainless steel shave bowl, shaving soap, and Astra razor blades. In other words, it includes everything you need to get a quality shave, and all at a very reasonable price.
Let's break it down:
The safety razor is engineered for precision and comfort, and allows you to get the close shave that you desire.
The badger hair brush – made from 100% black badger hair – generates more lather while lifting your hair to open pores and exfoliate the skin.
The alum block, says Gentleman Jon, "stops razor burn in its tracks." It has antiseptic properties that help protect you from skin irritation.
There's also the stainless steel shave bowl, sandalwood-scented shaving soap, and five Astra double-edge blades. Astra's blades consist of quality stainless steel and offer plenty of durability and comfort.
We also appreciate that the Gentleman Jon kit comes in classic packaging that slides open easily and also looks great when presented as a gift to your favorite shaver.
Pros
All the tools you need

Alum block helps relieve skin irritation

Makes an excellent gift
Cons
Some users say you need to handle the safety razor with care
Bottom line
It's Gentleman Jon's goal to provide everything you need to get a "classic" shave and they succeed with their Complete Wet Shave Kit.
A good safety shaving kit will go a long way. It will give you a close, clean shave whenever you need it, and you'll feel like you won't cut your face off whilst doing it.
This razor kit comes with an adjustable double-edged razor that gives you a lot of flexibility. Depending on whether you've got long or short fingers, big or small hands, you'll be able to adjust it to give you the best environment for a close and comforting shave.
Not only that, but the adjustable part includes the blade height. You can adjust it across six different settings, meaning that you can get a perfect angle for your personal requirements.
We mentioned earlier on in this article about how much we respect and rate durability. It is greatly important, and that's why we love the genuine leather travel case that has been included in this kit.
You will be able to keep your razor safe, clean, and away from anything that could damage it in any way.
Finally, this is an excellent budget option for someone who isn't keen on spending too much on a shaving kit. This will give you exactly what you need at a fraction of the cost.
Pros
Adjustable double-edged razor for shaving flexibility

Great budget choice
Cons
Be careful with your fingers when removing the razor from the case; it is very tight, and you could slice them off
Bottom Line
As far as budget options go, this one is excellent. You've got an adjustable razor that comes with 10 replacement blades and a genuine leather case – all that the majority of us need.
How we chose the best shaving kits for men
There are many shaving kits out there, and that's why it was so difficult to narrow it down to just the 11 that we loved the most.
To play it safe, and to be consistent with our own teachings, we followed all of what we described earlier in the purchasing tips. Primarily, we wanted to choose products that were going to be durable and last a while.
This is something that is greatly important to us, because we feel that the longer your shaving kit lasts the greater the investment. They are judged on only one function in particular, so if it continues doing it well, then the investment is worthwhile.
Secondly, we decided to look at many of the other factors that we described, namely the price and customer reviews. We wanted to find options that suited all of our readers.
Of course, some of you will be reading this with a bank account absolutely loaded, and similarly, some will be reading this with just scraps left. Either way, we have dug out options for all of you, and we hope that you find a shaving kit that you love.
On top of all of this, we wanted to keep things versatile, too. Even though we know that shaving kits primarily refer to the men's classic shaving kit, we wanted to spice things up for those of you who are just looking to improve their shaving game electronically.
Electric trimmers have their place in the shave game, and those who invest in the right electric trimmers will have some of the best beards in the game, so it was important that we included a couple of options to show how it doesn't all have to be the same.
7 Tips for a smooth shave without irritation
Shaving can irritate your skin. This can result in itchy and painful bumps on your skin that can look red and inflamed. These irritations are also referred to as razor burn. Razor burn can be caused by quite a few different things. Here is a quick look at some of the top reasons that you might be getting razor burn.
Your skin is very sensitive

Your razor is old or dirty

The shaving products you are using don't work well with your skin type

Your shaving technique might be wrong
Skin irritation can be very painful to deal with, and it can affect your next shave. Shaving irritated skin can make your skin breakout which makes irritation a lot worse. If you continue to shave on irritated skin you could even end up damaging your skin or cause scarring.
Here are a few great tips to help you shave without getting those painful skin irritations.
1. Never, ever dry shave
Sometimes you'll be in a rush. That's perfectly normal. Imagine the scene:
You've just woken up late, completely missed the alarm, and now you've only got 10 minutes to sort yourself out.
You run to the wardrobe, catching a glimpse of yourself in the mirror. Horrified, you realize that your facial hair makes you look like you're homeless, and you make a quick dash for the bathroom.
Now that you're running out of time, you just grab your shaving kit and go for it. You begin dry shaving and ripping at your facial hair until you've got a finalized, albeit rough, clean shave.
What will follow this is a whole world of pain and irritation. A dry shave is one of the worst things that you can do, because your skin isn't ready to have a razor cutting across its surface.
Your skin needs to be suitably prepared and softened, and that is why you wet shave.
The only time that a dry shave can be acceptable is if you are using an electric shaver and not going all the way to the root. Just a simple clean-up can be efficient with this method, but if you are using a razor then it should be a big no-no.
2. Try to exfoliate before you shave
You should always try to exfoliate before you shave. The reason being is that you'll have a LOT of clogged pores and dead skin stuck in your beard.
At the end of the day, your hair follicles can absorb dirt just as easily as the rest of your skin, and your beard will end up being filthy.
Exfoliating your skin is the least you deserve, because it will allow your skin to breath a bit and keep things smooth and at a lower risk of irritation.
Try this the next time that you shave, and you may be pleasantly surprised with the results.
3. Close your pores back up after you have shaved
Once you've used plenty of warm water on your skin, your pores will completely open up. As soon as they feel comfortable and warm, they'll open. This makes it easier to clean your face, easier to shave, and easier to do all of those things that require your skin to be supple.
However, as soon as you're done, you are at risk of your skin attracting dirt. If your pores are still open, you'll be getting filth stuck in your freshly-shaved skin.
As soon as this happens, you will start getting ingrown hairs and other skin irritation issues as a result of all of the dirt.
To prevent any of these negative effects from happening in the first place, you can close your pores back up as soon as you have finished shaving.
To do this, just use the opposite on your skin as soon as you're done: cold water. Close everything back up with cold water, and you should be good to go. No ingrown hairs, no irritation, and no rashes. Perfect.
4. Avoid basic soap and invest in something that is made for shaving
Too many of us will just use a basic soap when it comes to shaving. We just clean the skin and then get to work.
Logically, it does make sense, but we owe it to ourselves to look after ourselves a bit better. Buying some top-quality shaving cream can make all of the difference, and this will allow you to get a closer shave with less irritation.
To illustrate, if you've invested in some top-quality shaving cream and applied this to your face before a wet shave, then you'll probably be pleasantly surprised at how moisturized your skin feels whilst it is being shaved.
This results in baby skin that has no razor bumps or ingrown hairs anywhere in sight.
On the other hand, if you are just using a basic bar of soap on your face, then you are probably not getting the best out of your shaving kit, and that defeats the point.
For some extra tips on how to avoid razor bumps and ingrown hairs, check out this article (and video) from Gillette.
5. Take your time when shaving
Men are impatient, and we all know what it is like to rush. The first glide down our face, and we've already caught it and drawn blood.
Instead, just take your time. This can make all the difference between a clean, smooth shave and something that is rough and a mess.
Taking your time, learning the way your hair grows, and figuring out a logical way of doing things for yourself is the best way to go.
For example, we like to start at our necks and then move up, but some others may prefer the opposite, or they may prefer to start on a particular cheek.
Just find what works for you and go for it, but go slowly. You're better than that.
6. Be careful not to burn your skin
It is far too easy to just pour out the hot water and throw it all over your face. However, this is not always ideal.
The perfect temperature would be something that's warm but not hot. This will allow your pores to open and welcome the razor but without being so shocked that it becomes sensitive and therefore has an adverse effect.
The tip here is just to be a bit more conservative with how hot you run your water whilst you shave.
7. Remember to continue replacing your blades or charging the batteries
Depending on whether you've got a classic razor or an electric trimmer, you'll need to either replace or charge them.
As your blades/batteries get older, you'll find that your cuts are getting worse. That is because they are simply losing their freshness and a lot of the added edge – blades especially will lose sharpness over time, akin to a knife.
You need to have some replacements on hand, so you can swap them out. Keeping things fresh will go a long way towards getting a perfect, smooth shave every time.
Classic razors vs. electric trimmers
Upping your shaving game can be a difficult task. With the wide array of shaving items out there these days, it's important to know what each one is best for.
Classic razors
Classic razors are those that have one option: shaving. The goal of a razor is to get a clean, smooth shave as easily as possible. A razor will give you the closest cut to the skin, and it is the primary option if you want a clean shave.
A classic razor can have an adjustable blade, but it will not give you the versatility of an adjustable electric blade, as these have been created to keep your facial hair at specific lengths.
A razor is an excellent choice if you are looking for a clean shave or if you require a clean shave for your job. On the other hand, you may just need specific areas of your face and neck to have a clean shave.
We like to just clean shave our necks and around the jawline to get that contoured appearance around our beards.
Electric trimmer
An electric trimmer comes in many forms, but the premise always stays the same: to trim your facial hair.
Even though it is to trim your facial hair, it can also give a cut that is pretty similar to a classic razor. Using a trimmer on its lowest possible setting will give something very close to a clean shave, and for a lot of men, that's just about enough to get away with.
An electric trimmer, unlike the classic razor, can be used on skin dry and in pretty much any scenario. It is very unlikely that you are going to hurt yourself or suffer from any particularly sensitive skin issues just from using an electric trimmer on your face.
A lot of men love to use an electric trimmer together with a classic razor to get the right shape-up and trim that they are looking for. With electric shavers you won't get that perfectly smooth shave, but the chances of getting ingrown hairs is reduced with electric shavers since the hair is cut off just above the skin.
Ultimately, it is up to you which one of these two you go for, but it is important to just keep in mind what you want from your shaving kit. Is it a consistent clean shave or is it just a smart trim up?
For a more in-depth video into the differences between different types of razors, check out this video:
Conclusion
Getting the best shaving kit for men is a difficult task. Many of us shave at least once a week, and that is why it is so important that you find the best quality product.
You wouldn't get a terrible haircut once a week, and that's the kind of logic you should take over to your beard, or general facial hair.
Getting the perfect smooth shave is an art form, and the razor is your paintbrush. You need to get the best paintbrush for your style of shaving, and that's what makes the process so complicated.
In this article, we have tried to make the process easier to understand. Starting off with some purchasing tips, we have really tried to explain what it is that you should look out for, as well as giving you the 11 best shaving kits that we found ourselves.
After that, we laid out our top tips on how to get a smooth shave without irritation. However, we'd love to add even more tips. If you've got one, then let us know in the comments below, and we'll get back to you!
---
YOU MIGHT ALSO LIKE:
12 Myths About Beards Most People Believe That Simply Aren't True
Best Philips Norelco Shavers for a Quality, Smooth Shave
Best Electric Razors for Sensitive Skin You'll Love Using
Best Safety Razors That Provide a Super Close Shave
How to Prevent & Get Rid Of Ingrown Facial Hair With These 18 Methods
How to Shave Without Shaving Cream Easily in 10 Illustrated Steps