The 7 Best Shaving Gels for Men (All Skin Types)
This post may contain affiliate links. Learn more.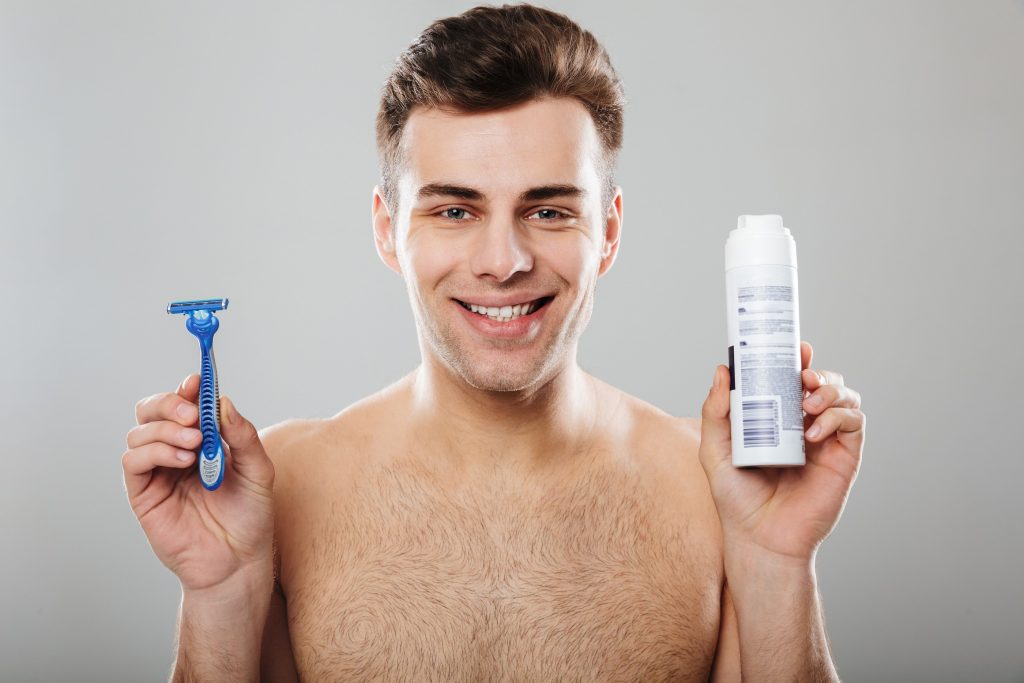 Shaving should never be a chore – if you're not enjoying it, something's seriously wrong.
Nothing feels more manly than expertly lathering up your face and cutting that facial hair down to size. You are in total control – at least, that's how it ought to feel.
Lots of men don't enjoy shaving because, frankly, they find it too difficult.
Either they can't get to the tricky spots properly, or they're heavily prone to nicking or irritating their skin.
It's not just that this means they miss out on the pleasure of shaving – they also miss out on the opportunity to make bolder, more nuanced decisions with how they shape their facial hair.
In a hurry? Here are our top picks:
Zirh Aloe Vera Shave Gel
The best shaving gel you'll find anywhere is Zirh Aloe Vera Shave Gel. It's suitable for all skin types, which is extremely useful, and its aloe based formula promotes healthy skin and facial hair growth.
EZ Blade Shaving Gel
Another solid gel is EZ Blade's Shaving gel, which can be applied without water. Its natural oil based formula is very clear, which makes shaving very close or hard-to-reach areas much easier.
In this article, we've put together a super-streamlined list of the 7 very best shaving gels for men – that includes the best shaving gel for sensitive skin, the best shaving gel for oily skin, and a whole bunch of options in between!
But there's more:
We've also put together all the information you need to make informed consumer decisions about shaving gel in the future.
We created an expert guide for using shaving gel and broken down all the different shaving accessories you'll need in conjunction with your new, premium shaving gel – all so that you can have the best possible shaving experience.
Quick summary
Our #1 Choice

Zirh Aloe Vera Shave Gel

Aloe vera based formula

Transparent lather

Suitable for all skin types

Check on Amazon

EZ Blade Shaving Gel

Waterless application

Natural oil based

Very clear gel

Check on Amazon

Anthony Shave Gel

Allergy and dermatologist tested

Suitable for sensitive skins

Wet or dry use

Check on Amazon

Vichy Homme Anti Irritation Shaving Gel for Men

Contains salicylic acid and vitamin C

Minimizes acne and irritations

Prevents ingrown hair

Check on Amazon

Dr. Bronner's Organic Shaving Soap

Variety of scents available

Includes ethically sourced ingredients

Suitable for oily skins

Check on Amazon

Bulldog Men's Original Shave Gel

Suitable for close shaves

Great price

Smooth on the skin

Check on Amazon

Shave Gel - Shaving Gel with an Aloe Enriched Formula

Masculine scent

Rich foam

Suitable for all skin types

Check on Amazon
5 Considerations before you buy shaving gel
A well-groomed, carefully cultivated man doesn't buy things without considering them in detail – that's obvious.
Shaving gels are no exception, and in fact, while it may seem a less 'exciting' product than some, getting the right shaving gel can actually make a huge difference to your grooming results.
So we've put together a list of the five most important things you need to bear in mind when buying one.
1. Know your skin type
Everybody's skin is different. It's easy to forget that when buying grooming products, and focus on the quality of the product or which branding you like most. But it really is a vital consideration, and you need to remember that.
For example, shaving gels vary in the degree of moisturization they provide, meaning whether you have oily or dry skin will dictate which shaving gels are particularly effective for you.
Equally, the degree of sensitivity your skin has will need to be factored into your choice. So knowing what the best shaving gel is will also mean understanding, which is the best shaving gel for your skin.
Fortunately, we've taken all these things into account in our choices for this review, meaning there's an option for everyone's skin to enjoy.
But if and when you venture beyond the products we've included here, understanding and respecting your skin's needs will be essential.
2. Be scent-aware
An often-overlook component of shaving gel is its smell. Now, of course, this is not your main concern. But it should be taken into account for a few reasons.
Firstly, if you're shaving several times a week, the gel you use is going to be a fairly present part of your life, and nobody likes a nasty smell. But beyond that, the scent will linger on your skin every time you use the gel.
Some men prefer to go for scentless options to remove any potential problems, but plenty of options on our list have actively pleasant scents, which will compliment your moisturizer and cologne nicely if chosen well.
3. What are you using it with?
Shaving gel, in of itself, is not all that useful. If you don't have a good quality razor, for example, the best lather in the world won't help you achieve a great shave.
So you need to be very aware of how the shaving gel you choose will interact with the other items you already own.
For example: knowing what the best shaving gel for safety razors is might be pretty useful if you only ever use safety razors!
Likewise, if you're going to go with a gel that is most effective with a shaving brush, you'd probably best own one before you buy the gel!
Too many men think of grooming products as singular purchases. But what you're really doing is putting together a collection of products which, combined, will make for truly great grooming.
Later in this review, we're going to discuss the various shaving accessories available, how to decide which you need, and how to use them more effectively.
But for now, just remember to bear in mind that different gels will require and work best with different shaving products.
4. Ingredients are important
There are two reasons why ingredients need to be a consideration for you when buying shaving gel: firstly, shaving gels can – if they contain nasty ingredients like parabens, phthalates, dyes, or sodium sulfate – be really problematic for the skin.
These things can cause everything from mild irritation or blotchiness to full-scale mutant-looking rashes.
But beyond that, there's an ethical concern: are the ingredients in your gel ethical? We're not here to impose morals on you – it's just important to know that some gels do use ingredients that are at odds with some people's ethical beliefs.
So if you feel strongly about certain things – say, palm oil, or toxins – it's really important to be wary of such things in your shaving gel.
We've obviously avoided including any ethically suspect shaving gels on our lists, and likewise products which we believe might cause irritation.
But it's still important for you, as a conscious consumer, to be aware of what you're putting on your skin and what practices you're supporting with your purchases.
5. Price and value
Put simply: you need to know what you're getting and what you're willing to pay for it.
Finding the best shaving gel for sensitive skin is one thing, but finding the best deal on it and being comfortable with the price you're paying is also important.
Shaving gel is very important – it's a fact.
But, remember that it's one of the many grooming products you require.
Blowing your budget on shaving gel without considering the razors you need or any of the other shaving products you might require is counterproductive.
So always be aware that value is relative, and think seriously about whether or not you want to spend lots of money on a shaving gel. Because if you do, it's certainly worth it – just not if you know you'll end up feeling you didn't get your money's worth!
The 7 best shaving gels for men
Best Features:
Works for all skin types
Aloe based formula
Transparent lather
Best Shaving Gel For:
Loves of transparent gel
Overview
Zirh's Aloe Vera Shave Gel earns its place on this list for a simple reason: its transparent lather.
It is non-foaming and remains totally transparent throughout your shave, which for many will be a boon – it means you can see in detail where you're shaving and make for a much closer, more detailed and precise shave.
However, it does also mean it can be a little tricky to know where you've actually put the gel – so this stuff requires a certain amount of attention and care to use properly.
It works on all skin types, which is great – particularly for men whose skin somewhat varies between seasons. And its aloe formula is great for replenishing, conditioning and revitalizing the skin, giving a new level of moisture and leaving you feeling super fresh.
It's also incredible value – relative to its value, Zirh really are punching above their weight.
However, not everyone loves the scent – one reviewer has described it as smelling like petrol! And the gel is undeniably colder than most, which can be a little bracing.
Pros
The transparent lather makes close shaves easier

Aloe vera is refreshing and great for the skin

It's fantastic value
Cons
Many reviewers dislike how cold the gel is
Bottom Line
A skin-friendly gel that's great for all skin types.
Best Features:
Completely waterless shave
Oil-based
Very clear gel
Best Shaving Gel For:
An expert shaver on budget, looking to carefully cultivate his facial hair without the cost.
Overview
EZ Blade Shaving Gel is an unusual specimen – it comes in a tub, which is relatively uncommon for a shaving gel, and it doesn't require any water at all to use.
Given its price, you might imagine these are bad signs. But this is actually a very high-quality product, with an oil base which makes it friendly to irritable skin.
While the gel initial looks slimy when applied, it becomes a perfectly smooth and clear lather, facilitating a really careful close shave over all areas.
It is completely non-foam, meaning you don't need to use water, and therefore avoiding the messiness issues some other gels suffer from.
So this is a great, wallet-friendly product for precision shaving. But it does require a level of expertise, because, without water, the lather dries more quickly than other gels, meaning you'll need to get to the shaving pronto!
Pros
It's completely clear, which allows you to see exactly what you're doing as you shave

Natural oils produce a great scent

Waterless applications make for very clean, fuss-free shaving, particularly good when pushed for time!
Cons
Dries very quickly, meaning you'll need to be efficient with your shave!

Some enjoy the foamy experience of shaving
Bottom Line
A unique product for men who know exactly what they're doing and want to do it fast without the fuss of foam.
Best Features:
Non-foaming
Great for sensitive skin
Natural formula
Best Shaving Gel For:
Extremely sensitive skin
Overview
Combining a solid slate of natural ingredients like kelp, elm extract, eucalyptus oil, and rosemary, Anthony's Shave Gel is an extremely natural, paraben-free gel that is ideal for men with very sensitive skin who need a truly moisturizing, nurturing lather.
It is highly lubricating and non-foaming, meaning it provides the means for a really nice, clean shave. Plus because the lovely concentration of aloe vera ensures your skin will feel fresh and vital after a session.
With plenty of cooling properties, it also ensures your skin stays totally irritation-free and actually helps promote hydration. And because it's such a strong concentration, you need less of this stuff than most gels – making it very cost-effective.
However, we really should mention the scent – some reviewers really hate it! And while we must say we found it fairly pleasant, you may end up siding more with the reviewers!
Pros
Great for sensitive skin

Can be used wet or dry

Allergy and dermatologist tested
Cons
The scent is not to everyone's taste – to put it mildly!
Bottom Line
A natural, hydrating gel for sensitive skinned men.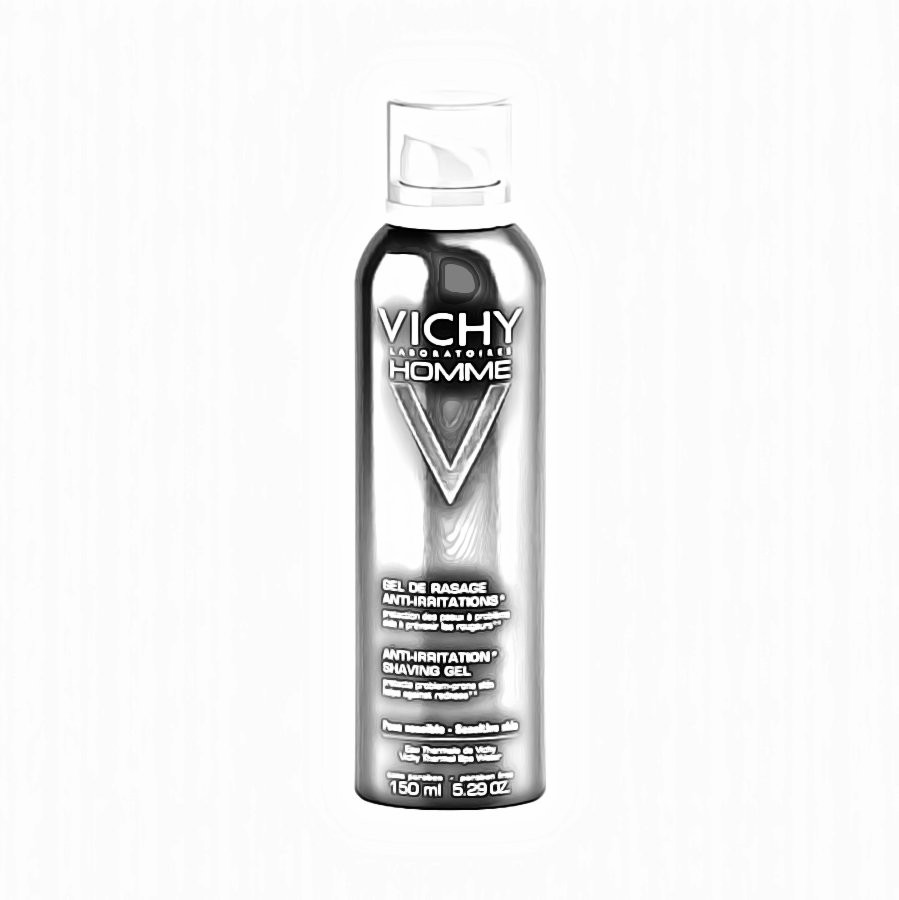 Best Features:
Suitable for acne-prone, sensitive skin
Contains salicylic acid and vitamin C
Dermatologist tested
Best Shaving Gel For:
Men who have acne-prone sensitive skin
Overview
We've all been there, gentlemen. At some point in our lives, we've all looked ourselves in the mirror, looking at our irritated, sensitive skin and thinking about what we can do about it.
Well, luckily, nowadays, Vichy Homme has the solution!
Vichy Homme Anti Irritation Shaving Gel for Men is made with salicylic acid and vitamin C, and is specifically made for people with oily, acne-prone, sensitive skin.
There is only one word that can describe this shaving gel. Brilliant!
Salicylic acid helps exfoliate the skin, fight inflammation and balance excess oil production. It unclogs the pores, reduces ingrown hair, and minimizes the possibility of unwanted razor pumps.
Vitamin C is a rich antioxidant that hydrates the skin and, as a result, makes it regain its natural color and younger appearance.
The texture of this gel is soft yet thick, allowing you to shave even the most difficult parts. It calms and softens the hair providing ease of movement. It lathers well, but at the same time, it washes away easily.
You will feel your skin soothed and not dry after your shaving session. What more can you ask for?
Of course, there is one small drawback that we need to mention. While it didn't bother us much, the scent in this shaving gel is pretty strong. If you are allergic to heavy fragrances maybe consider another option on our list.
Pros
Soothes irritations and reduces acne

Unclogs pores which prevents ingrown hair

Makes the shaving experience an absolute joy
Cons
Scent can be heavy for some
Bottom Line
If you have acne-prone or sensitive skin, this is probably one of the best options you have available on the market.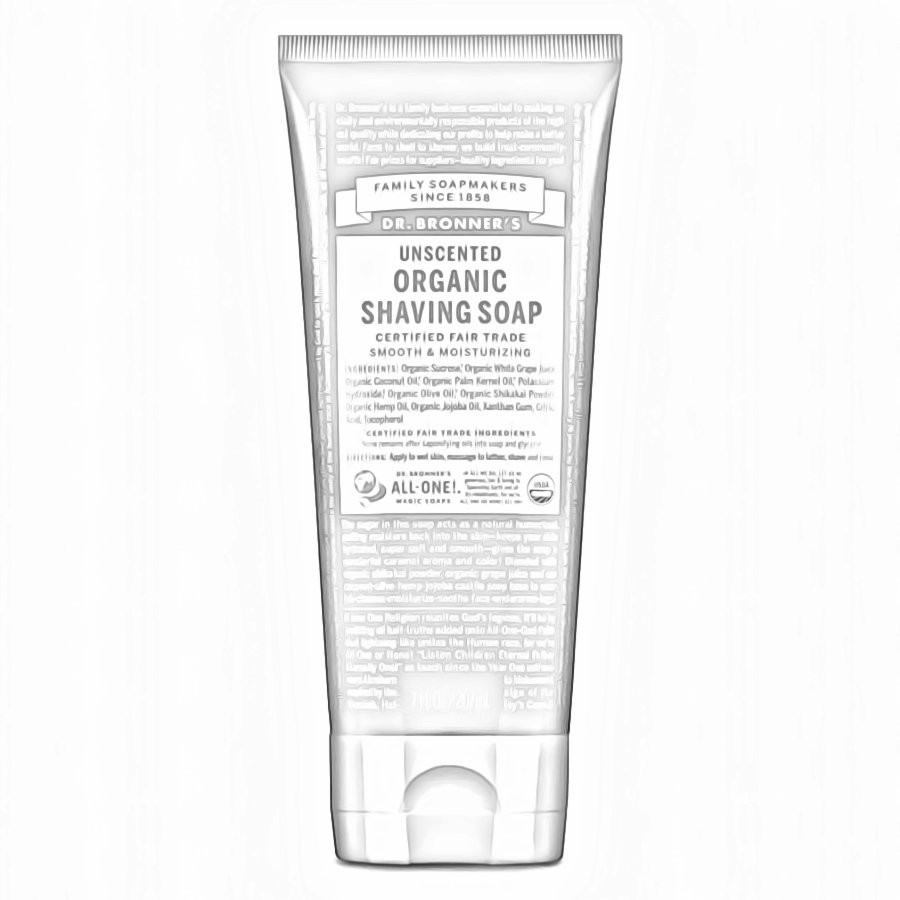 Best Features:
Highly ethical ingredient sourcing
Great range of scents available
Completely natural shave
Best Shaving Gel For:
Oily skinned men with a conscience
Overview
Dr. Bronner's organic shaving Soap is our vote for ethical-buyers choice. It is sourced with fair trade ingredients – like organic sugar and white grape juice.
It lacks any synthetic preservatives and detergents. Basically, they've made sure it is 100% eco-friendly and organic! But there are benefits to it beyond just a clear conscience.
Its ingredients are natural; it gives the skin a really earthy feeling – shaving with it, you'll feel far more manly than normal.
It is worth noting that you may need a good shaving brush to help with the application, as it is a little thinner than other gels on our list.
This also makes it the best shaving gel for oily skin on our list, as it retains a very light layer and moisturizes without clogging the pores.
On top of this, the gel is available with several different scents – from unscented all the way to Lemongrass Lime – so you can choose an ideal scent that mixes with your natural shaving experience.
Pros
It's always nice knowing you're buying from a highly ethical business

Natural ingredients help fight oily skin well
Cons
The lather is thinner than others, meaning you'll need to be careful applying it evenly
Bottom Line
An ethical company producing a great quality shaving gel – what more could you want?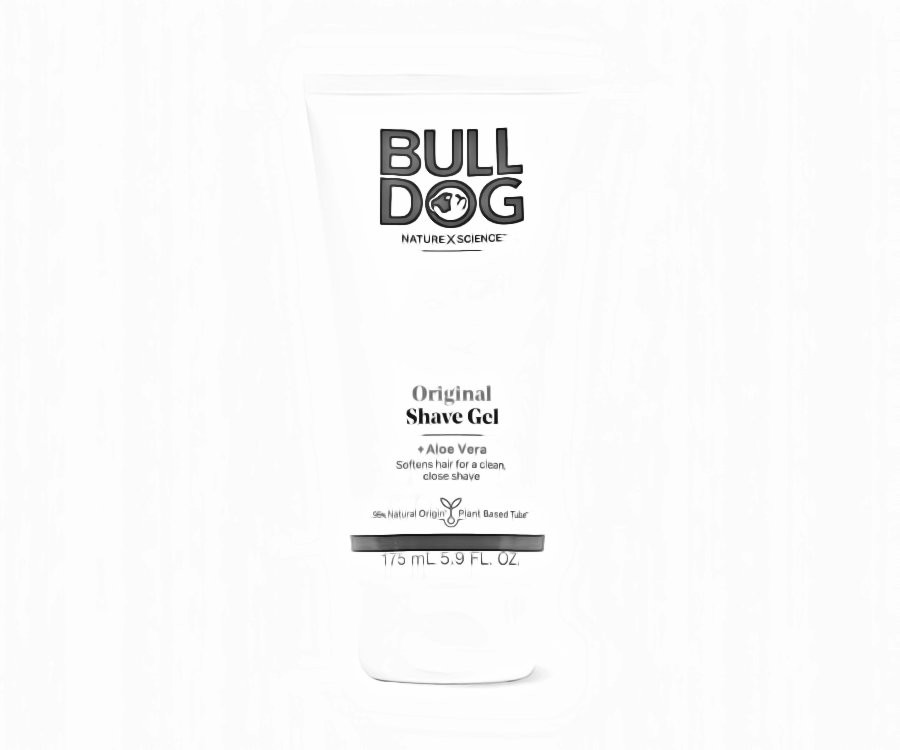 Best Features:
Plenty of essential oils
Great for close shaves
Super competitive pricing
Best Shaving Gel For:
A man on a budget who still wants quality ingredients
Overview
All too often, we are faced with a cruel choice: either fork out some serious money or settle for low-quality, often toxic ingredients. But Bulldog is seemingly on a mission to fix this.
Their shaving gel is great: it contains zero toxins, eight essential oils, and provides a really smooth, easy shave for the average man's skin. It appears to work on even the toughest beards and is completely scentless, which for some, is seen as premium quality.
Yet a nearly 6-ounce container of this stuff is shockingly cheap, making it that rare thing: a budget item which is not budget quality.
It is, however, worth noting that the container can cause troubles – it's a squeezy bottle, which many men loathe – and safety razors can struggle with the thinness of the lather.
So while there are much better quality shaving gels on our list, this is a perfectly good product for anyone who's unsure that they're likely to get their money's worth from a more high-end shaving gel.
Pros
Fantastic price makes it affordable for all

Easy on the skin, containing no problematic ingredients and plenty of moisture

Did we mention it's GREAT value?
Cons
The squeezy bottle is pretty annoying, and certain razors fare better than others with the thin lather
Bottom Line
A brilliant budget shaving gel – a solid step above the spray can rubbish many men settle for, without breaking the bank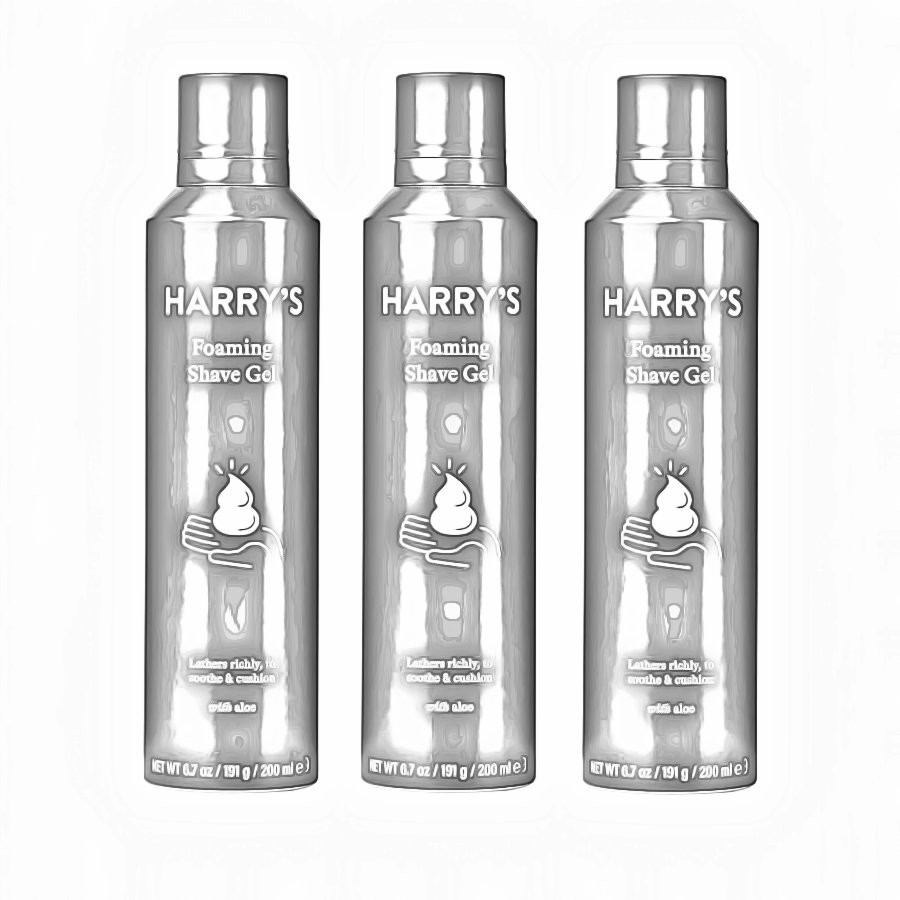 Best Features:
Beautifully thick foam
Easy application
Strong, manly scent
Best Shaving Gel For:
A man's man wanting a great deal for his money
Overview
Another really great value shaving gel – this time from Harry's, whose whole range of men's grooming products are a great stepping stone between the really cheap stuff and high-end premium products.
But please don't take that as a dismissal of this gel as 'budget' – it may actually be the best shaving gel for a safety razor on our entire list!
Its super-rich, thick foam makes for a really easy, comfortable shave, and because it contains lots of aloe and cucumber, it feels incredibly refreshing and reinvigorating after a shave, leaving you ready to go out and get going with your day!
Harry's' branding is on-point, too, meaning the packaging looks cool and tasteful, especially if you've got a whole collection of Harry's products.
And for a reasonable price, you can get three cans of the shaving gel – plus its really good quality, so you'll get even more shaves out of each can than you expect!
Pros
Three tubes will last several months – even if you're shaving every day!

Great for all skin types, which is unusual

Many seem to really love the smell. However…
Cons
Some find the scent excessively masculine and strong – we quite enjoy it though, truth be told!
Bottom Line
A great way to keep stocked up with shaving gel for long periods without breaking the bank or lowering your standards!
How an expert groomer uses shaving gel
Now that you've found the perfect shaving gel for your needs, you might assume it's all good. But actually using shaving gel is an art in-of-itself.
So we've put together a little guide to help you master it, improve your shaves and start feeling in full control of your facial hair.
1. Proper preparation is key
Preparing for your shave may be the most important differentiator between the average man and genuinely great groomers.
That little extra effort will go a long way.
For example, skin tends to be puffy in the morning, so leaving it a little while before you shave – say, fifteen minutes – will make a big difference!
The first thing you'll need to do is get the hair you're trimming under control.
If you're dealing with a longer beard, for example, you'll want to use scissors to trim the excess to a more manageable length and quite possibly apply some pre-shave oil to give your lather a helping hand.
Finally, before you start lathering, it's important to remove any dead skin that might be lingering to keep your facial hair soft and nicely hydrated.
Some men choose to do this in the shower; others simply throw some warm (but not too warm!) water over their faces.
Either way, the important thing is to use a good quality exfoliant – rub and rinse it gently, to avoid unnecessary irritation!
2. The art of lathering
Turning shaving gel into a proper lather requires more effort than other shaving products – but this just means there is more room for nuanced skill on your part!
The first step is to fill a hand (or bowl, if you choose!) with the correct amount of gel.
Usually, this will be around ¾ of an inch of gel, but different products will need different amounts, and part of your process will need to involve experimenting with the gel you use to master exactly what is the optimal amount.
Next, you'll need to rub it in a circular motion, using a few fingers. This will take roughly 20 seconds, although again, you'll need to learn exactly how long your specific product needs.
The tell-tale sign that it's ready will be that it grows in size. And depending on the product, you will likely benefit from adding some amount of water to the lather, too.
Once you have a good, full lather, you need to apply it gently and evenly, making sure to leave absolutely no patches at all. And finally, you'll be ready to get going with your razor!
3. How expert groomers shave
How you shave largely depends on the results you're looking for. However, there are a few important tips to remember when using shaving gel.
First is to always shave with the grain – i.e., in the same direction, your hair grows! This will allow the gel to guide your razor and avoid hacking at your face.
We get it – it's tempting to shave against the grain, and get that 'smooth' feeling. But it's incredibly dangerous to do this, and you'll soon realize that when your razor gets caught and slices your face!
The angle of your razor should always be between 30 and 45 degrees.
You should never push the razor – instead, use a light pressing motion to ease it along in a downward 'swiping' motion with as little pressure as possible. Always go steady with this – it really isn't a race!
Another important tip is to rinse the blade regularly as you go because shaving gel has a habit of clogging the blade.
And finally, leave your lips till last: the hair there tends to be thicker, and therefore the longer you leave it, the more time that hair will have to soften with the gel!
4. Post-shave tips
Now that you've finished the actual shave, it's time to maintain your skin and tools.
Firstly, you'll want to rinse off the lather with cold water, helping to close your pores.
Then you should apply some aftershave balm and/or beard oil to cool your skin and keep it in tip-top condition for the whole day.
The gel can occasionally dry out the skin, and a good quality balm or lotion will rejuvenate it nicely for the rest of the day!
Finally, you need to make sure your razors, gel, and any other accessories you've used are properly put away – that means, for example, making sure there's no excess gel clogging the cap of the canister! – so that they're ready for use the next time you shave.
Too often, men want to just get on once they've shaved, but properly taking care of these products will make them last longer and perform better in the future.
Why use shaving gel – an analysis
So we've talked a lot about shaving gels so far – which are the best, how best to use them – but we haven't really delved into quite why you should use a shaving gel.
At least, we haven't delved into why you should choose shaving gel over shaving cream or other lathers on the market.
And the truth is, the choice really isn't so fast and dry as that – there are nuances to the question, and for some men shaving cream may actually prove the preferable option.
The key difference between shaving gel and other shaving lathers is the kind of lather you get: generally speaking, you'll be using less (if any) water with a gel, making it less soapy and runny – though of course, a large part of this is the skill of application!
Gels also tend to have more moisturizing ingredients and less fragrance, making them less likely to irritate the skin.
They are better at lubricating, making them ideal for men with sensitive skin who fear to nick their chins, and they tend to be thicker and more transparent, making them the ideal choice for really finely sculpting facial hair.
However, because they're thicker, some men find gels awkward to use. And they have a tendency to clog up your razors if you're not vigilant with your post-use cleanup.
Shaving foam is more popular for fans of a wet shave, and the relative ease of application – they're faster to lather and generally just come in canisters – means that men who are tight-pushed for time may benefit from opting for them too.
Ultimately, the choice really comes down to personal preference: some men like the traditional feeling of shaving cream, and even aesthetics can play a large deciding role.
We'd love to hear your thoughts, so please feel free to let us know what your preference is and why in the comments below!
7 Brilliant shaving accessories
The right razor and shaving gel will get you far – but there's a whole world of shaving accessories to explore beyond these essentials. So below, we've listed seven of our favorites for your consideration.
1. Beard scissors
Beard and mustache scissors can, of course, be used instead of a razor altogether, making them less an accessory and more the main event! But the reality is, relatively few men will be able to get the exact shave they want simply from a pair of scissors.
Instead, they function as a really great accessory to shaving, allowing you to more easily trim down the excesses of an over-grown beard, or delicately put the finishing touches on a particularly tricky facial hairstyle.
So regardless of how you use them, scissors are an essential tool for any man looking to cultivate a complete shaving set – just make sure yours are good quality!
2. Pre-shave scrub
One of the key reasons we use shaving lather is to raise the hair from the face so that the razor can get a good purchase on it without risking slashing your skin in the process.
If you have a pile-up of dead skin (which there is no shame in – it can accumulate incredibly quickly!), it's harder to gain that purchase because your skin is uneven and thick.
Therefore, a good quality pre-shave scrub, to exfoliate this build up and make your skin as clean and supple as possible, is an important investment for great quality shaving.
It is easy and quick to use, and the small added effort will lead to great results – both a better shave and healthier, better-looking skin in general!
There are plenty of great, affordable options here – like Cantu Men's Cleansing Pre-shave Scrub – which will make a fine addition to your shaving kit.
3. Pre-shave oil
Shaving gel is enough – a good quality shaving gel for sure. But for many men, particularly those with super sensitive skin, a pre-shave oil will add an extra layer of protection, as well aiding closer, more detailed shaving by increasing lubrication.
Choosing between the many options can be tough, but once you find a product that suits your particular skin, having a pre-shave oil at hand will make your shaving experience that much easier, more refined, and more enjoyable.
Pre-shave oils can be beneficial if you have extremely sensitive skin or if you don't use a very high quality razor blade. However, many of today's best shave gels already contain skin moisturizers and conditioners, so it may not be necessary for you to use a pre-shave oil as well. If you have dry skin or tend to experience ingrown hairs when you shave, then a pre-shave oil could be helpful for you.
4. Shaving brush
Some will claim that using a shaving brush with shaving gel is unnecessary – one of the gel's benefits is its thickness, and shaving brushes primarily exist to make creams thicker and fuller.
But consider this: a shaving brush almost immediately makes your shaving experience easier and, crucially, cleaner.
Rather than using your fingers to lather up your gel and then having to wash them haphazardly, you can simply use your brush, delicately wash it up, and get going with your shave!
So find yourself a great shaving brush – like Proraso Professional Shaving Brush – and save yourself the hassle!
5. Aftershave and post-shave balms
Aftershave is, of course, now most closely associated with cologne, and used primarily for the purpose of smell. So it's easy to forget that it was originally used as a way of healing the skin after a shave – hence the name!
The truth is, aftershave is like medicine for your skin – it eases any ailments from your shave, and helps maintain your skin's texture and appearance. These days, there are many different variations to choose from – from post-shave cooling balms to aftershave gels.
So you'll be spoilt for choice, both with regards to the scent you swing for and the nuanced differences in ingredients and benefits.
6. Beard oil
There are numerous benefits to using beard oil – it helps fight dandruff and fix embarrassingly patchy-looking beards. But it also helps to soothe the skin after shaving and combat in growing hairs, which might otherwise rudely pop out.
Once you've learned to apply it like a master and decided on the brand for you, having a good quality beard oil to apply as part of your post-shave routine is a big deal.
Having a good quality beard oil will make the shaving process more complete, leaving you completely put together, as well as giving you a great smell, a great looking beard, and taking care of your easily-irked skin!
7. Wash bag
The ultimately shaving accessory may not be involved in the shaving process at all. We're talking, of course, about the wash bag.
It's so easy to overlook, but when you have a proper shaving set to put together – from pre-shave oil and beard scissors to beard oil and the rest – it's going to take a lot of work to keep it all organized – let alone lugging it about to the gym or on the weekend away!
So a really good wash bag – like Jaald Men's Genine Leather Toiletry Bag – is about as good an investment as you can get.
The ease of having everything living in one place, never having to worry where you left your pre-shave oil or whether you've remembered your razor, is worth every penny of the purchase!
How we chose the best shaving gels
As you'll by now, no doubt understand, what makes a great shaving gel is a big question.
So a lot of different elements go into choosing the right shaving gel: everything from the ingredients and price to your own skin type and razor of choice needs to be considered.
We can only hope our review will have helped you navigate your options and make sense of the market.
Whilst we can't possibly try every shaving gel that's out there– there are literally hundreds – we've sampled a very large amount of them.
We tried to ensure we included choices for as many different skin types, personal preferences, and economic considerations as possible.
So that regardless of your circumstances, there's something on our list for you.
Conclusion
And that brings us to an end – we'd love to know what you think of our choices, and whether you feel that shaving gel is a good choice for today's well-groomed man.
Is it your choice of lather? And if so, what do you enjoy about it?
What do you think is the best shaving gel? Did it make our list? If not, please let us know what we're missing!
If you've found this review useful, please let us know and share it with friends who might similarly appreciate the help!