9 Best Shaving Creams That Deliver a Flawless Shave
This post may contain affiliate links. Learn more.
Shaving cream is tricky for lots of men. Isn't it all the same? And why would you bother with that expensive stuff?
Well no, it isn't all the same. And the reason so many men are willing to fork out for fancy shaving creams is simple: they really do get results.
You can have the best razor in the world, but if you've not got top-quality lather to keep your skin safe and help the razor glide sleekly through those tough facial hairs, it's all for nothing.
In a hurry? Here are our top picks:
Jack Black Beard Lube Conditioning Shave Set
Finding the absolute best shaving cream – like our #1 pick, the Jack Black Beard Lube Conditioning Shave Set – can be the difference between a so-so shave and a game-changer.
Proraso Shaving Cream
Another great option is Proraso's Shaving Cream, which offers a great quality creamy lather, and leaves your skin feeling totally refreshed.
It really is that simple, and that's why we're dedicating this entire review to unpacking exactly which shaving creams will be best for you and helping you understand why.
But there's more:
We're also going to talk you through exactly how an expert shaver applies his shaving cream; which accessories will help you create a truly excellent shaving routine
We will talk about the differences between shaving cream and other lathers
We will answer some common questions we often hear from men about shaving cream and shaving in general.
Quick summary
Our #1 Choice

Jack Black, Beard Lube Conditioning Shave Set

3-in-1 product: pre-shave oil, shave cream, and conditioner

Transparent

Nice blend of carrier and essential oils

Check on Amazon

Proraso Shaving Cream

Made by one of the most reputable companies

Quality, creamy lather

Leaves your skin feeling refreshed

Check on Amazon

AHAVA Men's Foam-Free Shaving Cream

Foam-free

Suitable for sensitive skin

Leaves your skin soft and nourished

Check on Amazon

Taylor of Old Bond Street Sandalwood Shaving Cream Bowl

Excellent, rich lather

Provides superior shaving comfort

Superior, timeless craftsmanship

Check on Amazon

Christian Dior Eau Sauvage Lather Shaving Cream

Great for close shaving

Great Sauvage fragrance

Includes plenty of glycerine

Check on Amazon

Clinique for Men Cream Shave

Suitable for dry skins

Portable and easy to travel with

Offers great moisturization to the skin

Check on Amazon

Kiehl's Ultimate Brushless Shave Cream

No water needed to apply

Suitable for all skin types

Scent-free

Check on Amazon

Anthony Shaving Cream

Great natural ingredients

Excellent protection while shaving

Great for sensitive skins

Check on Amazon

Tom Ford Shaving Cream

Thick lather

Minty scent

Stylish packaging

Check on Amazon
Before you buy: 4 Things to consider when purchasing shaving cream
1. Skin type
One of the primary things shaving cream does is protect your skin – and therefore knowing which kind of skin you have is going to be vital.
But there are other considerations, like how your skin reacts to specific ingredients, how often you shave, and various others which all center around understanding your unique skin.
You see, there are three common types of skin – oily, sensitive, and dry. But within these three categories, there are huge variations, and most men will find they have a fairly unique set of traits with regards to their skin.
So rather than just looking for 'the best shaving cream for sensitive skin', you'll need to be extra conscious of all aspects of your skin and be careful to look at reviews to see how people with your skin needs have found specific products to effect.
2. Ingredients
Put simply, what you put into your body is important. As is what practices you support with your wallet. So avoiding toxic, dangerous is important, as is avoiding unethical and environmentally harmful ingredients.
Parabens are often used in skincare products because they prevent bacteria growth, which is obviously good. But they're hugely toxic and bad for your health. Plus there are plenty of alternative ingredients companies now use instead
Similarly, Sodium Lauryl Sulfate or SLES are best avoided. Both have often been used in shaving products historically, but like parabens, they have been discovered to be toxic and public outcry has rightly led to them being used less and less.
Then there are unethical ingredients, like palm oil, which you need to look out for.
Of course, this isn't to say you have to look out for such ingredients – that's a choice for you to make, depending on your own moral opinions.
But you should at least be aware that, if things like that do bother you, they've been widely used in shaving creams and you'll want to be extra vigilant and check your ingredients carefully!
3. Scent
While the smell is not the no.1 concern of any man looking for shaving cream, it's important to note that not all creams are scentless and therefore you will need to be aware of what you're getting yourself in for!
This is something you're going to be using likely several times a week for at least a few months.
So getting involved with a scent that you just can't stand is definitely not a good idea!
We've tried to take scent into account in our reviews, but of course, each person's olfactory sense is unique to them – so take care to note smells when you're looking at shaving creams!
4. Value
Finally, you need to really consider how much you're willing to spend and what you expect to get for it.
The cost of shaving cream can vary widely. The price range is generally between $3 and $40, but you can also find some at the high end of this range. Fragrance-free formulas can be a good choice if you have sensitive skin.
Expensive: There are many premium shaving creams in the $30 to $40 range that offer excellent results, but for most people there's no reason to spend more than about $20 for an excellent shave.
Mid-range: Shaving creams in the $5 to $15 range are generally sufficient for most people's needs. Many of these brands offer scented and unscented options, which give you more flexibility when it comes to your shave.
Budget: Inexpensive shaving cream is available for as little as $3 per canister. This option might make sense if you're looking to try a new brand or don't shave frequently enough to justify spending more money on a product you won't use that often.
Tips
Consider travel sizes: If you like to take your shaving cream with you when you travel, look for companies that sell travel-size versions of their products. These typically cost less than the full size and are small enough to fit in your pocket.
As you'll see, shaving creams come in all shapes, sizes, and most importantly prices! So we'd hate for you to overspend (or underspend!) on your shaving cream without meaning to.
That's why lists like this are useful – we'll help you understand exactly what it is you'll be getting for your money, and hopefully ensure you make a decision that you're happy with so that you feel you've got plenty of value for your money!
The 9 best shaving creams for men
Best Features:
Loads of essential oils
Versatility – it includes everything you need!
Really refreshing lather
Best Shaving Gel For:
Sensitive skinned men looking for an all-in-one shaving solution
Overview
Jack Black's Beard Lube set is a marvel – there are plenty of three-in-one sets out there, but generally speaking, they're pretty poor quality, designed mostly for Christmas stockings or awkward gifts for teenage boys.
This, on the other hand, is a genuinely top quality set, where you're getting everything you need and you're getting it with style!
The cream is great quality: it's made from a unique formula that contains phospholipids, which are a rich source of essential fatty acids that bind moisture to the skin while supporting the skin's foundation.
Then there's the Macadamia nut oil, jojoba oil, and plenty of glycerine, making for really great lubrication and forming a perfect protective cushion for your skin.
And peppermint, eucalyptus, and menthol too, just to give your skin a fresh little kick.
Plus its fragrance and alcohol-free, as well as being vegan friendly.
The result of all this is you can shave very closely with ease, without your skin ever drying out or risking a nick. So this is not just our #1 pick – it's also our pick for the best shaving cream for sensitive skin.
It's also probably our pick for best shaving cream for a black man because black men are more likely to have irritable skins with in-grown hairs, and this takes care of all that beautifully.
So it's unusually great value and great quality – but how does it actually shave?
Well, the lather has a wonderful see-through texture, which allows you to see exactly what you're doing while you shave.
Meaning you can not only get a supremely close and shave, but it's also great for detailed cultivating and getting at those difficult bits men so often miss!
This is, in our humble opinion, the best shaving foam you can get.
Pros
It includes everything you need: pre-shave oil, shave cream, and conditioner!

The clearness makes for a really detailed shave, letting you exactly what you're doing as you go.

Plenty of essential oils, which is never a bad sign!
Cons
Not ideal for straight razors – certainly not as good for them as other creams!
Bottom Line
This is our top pick, and it's not hard to see why: a genuine all-in-one shaving solution that will help you achieve as close a shave as you could wish for, as well as being made from really great quality ingredients.
Best Features:
Super rich, full lather
Ease of application
Icon branding
Best Shaving Gel For:
An easy, no-hassle shave – particularly for beginners!
Overview
Proraso is an Italian company with a real legacy: they've been in business for over 100 years and making shaving cream pretty much since shaving cream became a widely used grooming item. So they know what they're doing.
Their signature shaving cream is a great way to get to know the brand. But more importantly, it's one of the absolute best shaving creams on the market. So we had to include it on our list!
This is a super affordable option, yet you get plenty for your money. It is great for a classic wet shave, and very beginner-friendly, making shaving cream feel easy to use.
The ingredients are also solid: the little hits of Eucalyptus oil and menthol add a lovely freshness. When you open the tube, you'll be immediately hit by that fresh menthol smell. And menthol is also great for dry skin.
Equally, it's free from most of the big nasties – parabens, silicones, and the like. Which is fairly rare for a shaving cream of this price range – just another way Proraso proves their excellence!
Unfortunately, it does have a questionable "fragrance" ingredient, which may prove to mean it contains some fairly unfortunate artificial chemicals.
The company uses a 'hot soap' process to make its creams, ultimately producing an incredibly rich, full cream that makes for wonderful creamy, thick lather. And a thick lather means a really comfortable, safe shave as well as keeping your skin cool afterward.
Perhaps the best thing about Proraso's shaving is simply the ease with which you can use it.
There's no fuss and no muss: you'll have that beautifully generous lather almost immediately, without having any troubles. And it doesn't discriminate: you can use whatever razor you have with ease.
Plus its thickness is also particularly great for uneven and sensitive surfaces, making it our pick for best head shaving cream.
Pros
A refreshing scent makes shaving really calm and invigorating.

The price is particularly great considering the quality you're getting!

Super easy to use for shavers of any skill level
Cons
One of the ingredients is "fragrance". That usually means a bunch of artificial chemicals, which is a bad sign for some!
Bottom Line
This is a great all-round shaving cream: by no means the very best on the market, but as far as value goes it fairly unbeatable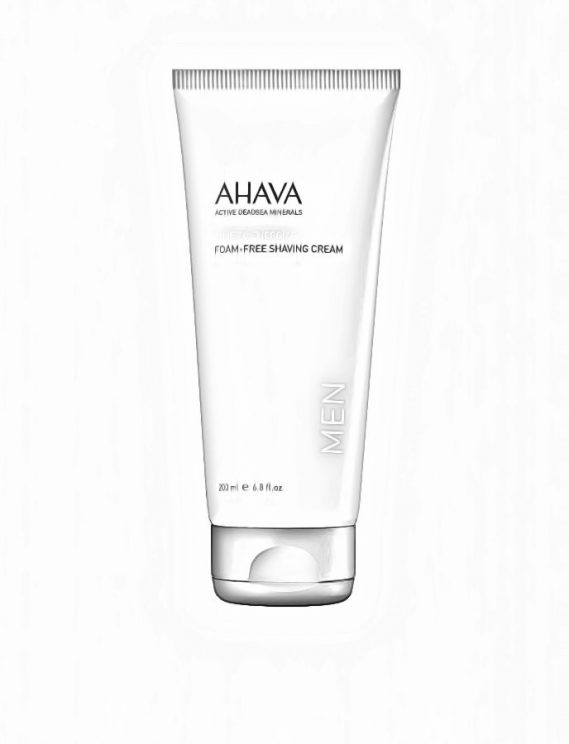 Best Features:
Foam free
Natural ingredients
Hypoallergenic
Best Shaving Gel For:
Men with easily irritated skin
Overview
AHAVA Men's Foam-Free Shaving Cream is a shaving cream for men who don't like lather while shaving. It soothes and softens the beard to prepare it while keeping the skin hydrated and nourished after shaving.
This is possible due to its three main ingredients: lactic acid, dead sea water, and allantoin. It is free from harmful chemicals, such as parabens, and is also hypoallergenic, making it great for sensitive skin types.
Its only downside is that with the lack of foam, you need to add a larger amount of product to create a layer that is thick enough for a smooth shave.
That said, this is a high-quality brand and product, so if you're looking for luxury, you should look into it.
Overall, a great shaving cream that can be used anywhere on the body.
Pros
Great for sensitive skin types

Free from harmful ingredients

Hydrates and softens the skin
Cons
Some might find the lack of foam inconvenient
Bottom Line
A unique yet effective shaving cream that surely is not for everyone.
Best Features:
Awesome, iconic packaging
Great, hydrating lather
Highly efficient cream-to-lather ratio
Best Shaving Gel For:
A sophisticated man looking to make the most of his safety razor
Overview
Taylor of Old Bond Street's Sandalwood Shaving Cream Bowl is about as iconic as you can get: a genuine classic in the field, it's thrilled successive generations of men without losing any of its coolness or quality.
The first thing that will strike you is the aesthetic: the understated British style, creating a real sense of sophistication and masculinity.
The lid is super easy to screw off and makes for a very clean, easily maintained product. But there's so much to explore beyond that it's almost hard to stop gushing about it.
The cream itself has a beautiful consistency – it's almost lotion-like but super easy to apply and great to work with, making for a brilliant, highly-effective lather. And it comes with its own shaving bowl, making it super practical, too!
One of the main ingredients is glycerine, which makes it supremely moisturizing and allows it to give real relief to sensitive skin. And while it can be used with whatever razor you happen to have, this is definitely our pick for best shaving cream for a safety razor.
The cream gives off a real masculine sandalwood scent.
The cream combines notes of cedar and hints of vanilla, you get this wonderfully subtly yet distinctly manly flavor as your lather up and apply it, making shaving a joy, particularly at the start of a day when you need to feel in control and on it.
It's also worth noting, however, that there are a variety of other scented options from Taylor of Old Bond Street – from almond to peppermint.
Sandalwood is just our choice for the best. So if you don't love the masculine edge of that, there are plenty of other varieties to choose from!
Some might be put off by the price here, but think about it this way: you're not going to need very much of this cream for each shave, so eventually, it roughly evens out.
A quality product like this is an investment, and it very quickly pays – not only will the quality of your shaves improve, but you'll actually save in the long run by not having to buy more shaving cream every other month!
Pros
Coming with its own bowl is pure class, and makes things far easier!

Really great, moisturizing lather requiring very little cream

Manly scents are always welcome!
Cons
The price is tough for some – though entirely worth it, if you ask us!
Bottom Line
Another classic for a reason: this is a real classy, top-shelf shaving cream, particularly for a man who likes to use a safety razor.
Best Features:
Signature Sauvage scent
Great looking packaging
Plenty of glycerine
Best Shaving Gel For:
A man who needs a little extra incentive to shave
Overview
If you've yet to become acquainted with Dior's now-iconic Sauvage scent, let us describe it for you: it combines notes of Calabrian bergamot, jasmine, lavender, and chypre to create a spicy yet sweet fragrance that makes you feel like exploring the wilderness.
Sound a little OTT? Well, that's because the smell really is great.
While people often like to bag on it because it's so popular, the enduring success of the Eau de Parfum and aftershave products in the Sauvage line doesn't lie. And this shaving cream brings that exact scent to your shave with, in our opinion, really great effect.
Of course, shaving cream can smell as good as it wants, but it has to actually do its job, too.
This cream contains tons of glycerine, making for a really rich lather and a moisturizing after feel, and its enriched with natural-origin cactus extract too, making for a very natural recipe.
We'll be honest: this isn't the best cream on this list.
There are other creams that are genuinely exceptional and will change the way you feel about shaving.
But this has a different USP: it makes the process of shaving invigorating with its scent, and it gets you ready as a primer to put on your main cologne afterward.
So this a shaving cream mostly for men who a) love the scent, and b) need an extra reason to go to the bowl and get shaving!
Pros
The smell is an underrated aspect of shaving creams, and when a great one comes along it makes a world of difference

Makes a really nice, easy lather, allowing quality close shaving

Leaves you feeling fresh and adventurous
Cons
It does contain a small amount of SLS – though it isn't enough to cause problems for the majority of men!
Bottom Line
A great choice for anyone already in love with the Sauvage scent, as well as anyone looking for an unusually scent-heavy shaving experience.
Best Features:
Great for dry skin
Easy to travel with
Super hydrating lather
Best Shaving Gel For:
An aging man with skin on the dry side
Overview
Generally speaking, Clinique can be counted on to produce great quality products that are great for your grooming regime. And their shave cream is no exception to this.
The cream is gentle and puffy, producing a lovely light lather which is excellent to shave with.
It is our pick for best shaving cream for dry skin: it contains several ingredients – among them Butylene Glycol, Menthol, and Glycerine – which are great for easing and relieving dry skin. Plus it contains plenty of vitamin E, which has great anti-aging properties.
On top of all that, this is a super-efficient cream: you only need a tiny amount, and you'll have a lather full enough to make a great close shave.
This, along with its great quality packaging, makes it a particularly great choice for men who travel a lot.
It will leave your face super soft and your skin feeling significantly younger.
If there's excess lather after the shave, it can be used as a secondary moisturizer. And in fact, some men apparently even use it as a pre-shave oil, lathering shaving soap on top of it!
Pros
Great moisturizing quality will help even the driest skin heal after a close shave

Great branding and packaging make it a delight to own

It's easy to travel with
Cons
Some oily skinned men will find it slightly exacerbates their oiliness
Bottom Line
An absolutely killer cream for dry skinned men – really easy to use, great hydrating and moisturizing qualities and very nice to travel with.
Best Features:
Waterless application
Great quality natural ingredients
Scentless
Best Shaving Gel For:
Clean shaves and clean application
Overview
Kiehl's Ultimate Brushless Shave Cream – the name is quite a mouthful, but it's worth memorizing because soon enough you're gonna be wanting to tell everyone you know about this cream!
The first thing to note is simple: this is great value! Whilst not super cheap, you get plenty of cream for your buck and you'll need hardly any of this quality cream to achieve really great lather. So now that's nice and clear, we can get on to the cream itself.
This is a cream which needs no water added – a somewhat unusual quality, which makes for a much easier, less messy lathering experience.
But what's more, without water it still manages to create an exceptionally thick, richly texture lather that is a sheer joy to shave with: it makes close, even shaving easy with any razor, and makes doing it feels great!
This is a cream infused with tons of super ingredients, managing to be friendly to all skin types.
Castillian olive oil is combined with polyphenols, tocopherols, antioxidants, and vitamins A, B, E, and K, which is what makes it such a beautifully rich and healthy lather.
Plus it contains lots of Socium PCA and sesame oil, which work to moisturize and soften the toughest of skins with ease. And it's very rich in aloe vera, which soothes the skin after shaving, making for a really refreshing, rich and energizing after-feel.
Finally, this is a total scent-free shaving cream: for some, that might be a let-down. But for many, that's a boon.
Pros
Great for all skin types, which is rare, and filled with great quality, skin-friendly ingredients

It's super refreshing and invigorating, leaving you feeling ready to take on the world

Waterless application makes it very easy to keep clean and tidy during your shave!
Cons
Squeezy bottles are annoying to some and difficult for others!
Bottom Line
A refreshing, great feeling shaving cream that requires no water and makes no mess. Brilliant!
Best features:
For all skin types
Formulated without any harmful chemicals
Made with natural ingredients
Best shaving gel for:
People who have an easily irritated skin
Overview
Anthony knows exactly what men want. A great shaving cream that will prevent any irritations and accidental cutting when shaving our beard.
That is why they created Anthony Shaving Cream. It is a shaving cream that is specifically designed with sensitive skin in mind and has many natural ingredients.
Some of its most notable ingredients are eucalyptus, rosemary, squalene, and hops.
Eucalyptus has many benefits for the skin. It is rich in anti-inflammatory, antibacterial, and analgesic properties which all of them together assist in quick wound healing and soothing of the skin. It delivers an intense level of hydration that provides a gentler shave and more supple skin.
Rosemary, squalene, and hop are also great anti-inflammatories that help to reduce puffiness and swelling. They are rich in antioxidants helping the skin to remain young and free from wrinkles.
To top it all off, it is free from any harmful chemicals such as parabens.
Now, let's discuss its texture and application experience.
The texture of this cream is definitely on the thicker side, but it is easy enough to spread evenly on your face. While it doesn't provide the foamiest lather, it does create a protective layer that is very effective in minimizing nicks and cuts.
But, there's more.
The scent is lovely and not very overpowered. It is a blend of eucalyptus and rosemary aroma, which you will surely appreciate.
Lastly, it is a little expensive for the ml you are getting. Nevertheless, it is understandable as it is a premium shaving cream.
Pros
Great natural ingredients

Amazing scent

Great protection while shaving

Suitable even to sensitive skin types
Cons
It's pretty darn pricey, and some will find that tough to swallow!
Bottom Line
If you have sensitive skin and are looking for a shaving cream that will protect you without irritating you, Anthony Shaving Cream is a great choice.
Best features:
Brilliant caffeine-infused scent
Air-whipped cream
Beautiful packaging
Best shaving gel for:
An early morning shave
Overview
As many people have said before: Tom Ford delivers full sensory experiences with all of his products.
And his shaving cream carries on this tradition, offering a top-class cream that will definitely demonstrate to any skeptics the difference between foam from a can and the real deal.
This is an air-whipped cream, which softens the hair at the same time as smoothing any irritations and create a protective layer for your skin.
You can shave as close as you like: this cream will just not let any slips happen! So this is a great choice for a close shave and a great choice for lovers of luxury.
But there's more: the real 'sensory' part of this cream comes in its attention to detail.
Most notably the striking citrus herbal scent which is strong in spearmint with just a tinge of caffeine thrown in to keep you awake. It really makes you take notice; it'll make your whole face wake up!
Combined, this makes for a really great 'wake-up' shave, especially on those early mornings when you're a little bleary-eyed and not sure it's really worth trimming your mane.
It takes very little moisture to get a full lather out of this stuff, and it produces the lather super quick.
And finally, it comes in exactly the kind of package you'd expect a Tom Ford product in – its beautiful, elegant tub has a real feeling of classic, vintage suave about it, without feeling too self-conscious or showy. An absolute stunner!
Pros
The energizing, minty scent makes your whole shave invigorating and gives you plenty of pep for the morning

Beautiful packaging – it's almost like décor, honestly

The richness of the lather makes for a very safe, nick-less shave every time
Cons
Let's be real – Tom Ford is always gonna be pricey!
Bottom Line
A great-looking, great feeling cream. The most expensive on our list, and understandably so: this is a true luxury item.
How to apply shaving cream like an expert in 7 easy, illustrated steps
Using shaving cream is an art form. You won't simply buy the right cream and beset – it's going to take practice and attentive learning to achieve the brilliant, effortless shave you're after.
So we've put together a quick guide to using shaving cream like a true great.
1. Prepare your face
Prepping your face might seem easy, but it needs to be done very carefully, to ensure your skin is nice and clear and your facial hair is properly saturated with warm water so that it's soft and ready.
We'd recommend using a pre-shave scrub for your skin, and potential applying a pre-shave oil to your beard hair to give it a little extra give when you eventually start shaving.
2. Soak your brush
The next step is getting your shaving brush nice and wet with warm water. Some men prefer to just put it under the tap, but allowing it to sit and soak in warm water for a minute will be most effective. The bristles should feel soft and easy when it's sufficiently soaked!
3. Put cream on the brush
Now you need to create the lather: first, put a reasonable amount of your shaving creaming into your brush – a decent guideline is ¾ of an inch of cream.
4. Whip it up
Then you're going to start whipping your brush around in your shaving bowl, turning the cream into a rich, full lather.
You want to make circular motions as you whip, and you may need to add more water to the cream – you'll be able to tell by the eye within fifteen seconds.
5. Lather up
It's finally time to apply the cream to your face. Using the brush will be ideal, but if you haven't been using a brush or don't have time, your hands will do.
Slowly and gently apply the cream, so that it's even across your entire face and neck.
The bit thing here is consistency – you can make the layer thicker or lighter, depending on preference, but if it's uneven you're going to be in for a nasty surprise when the razor comes out to play.
6. Let it settle
You'll be tempted to just have at it now, but leaving the lather to settle for 2 or 3 minutes will massively improve the quality of your shave.
It will improve the hydration and therefore make it easier for your razor to glide across the skin – especially on drier parts of your face, like your upper lip!
7. Let's shave!
And now, finally, you can get at the shaving!
Shaving cream vs other lathers: an analysis
Now that you know what's up – what the best shaving creams are and how to use them – it's worth digging into the most fundamental question: why?
Why use shaving cream rather than other types of lathers.
Clearly, this isn't a straight forward question – each kind of lather has its pros and cons, and plenty of men will find soap or gel a preferable option, all things considered.
So below, we've briefly explained how and why the lathers differ and offered some analysis as to what these differences might mean for your shaving choices.
Shaving Soap
The most important difference between shaving soap and shaving cream lies in the ease of use: shaving soap doesn't contain water the way creams do, meaning you have to work much harder to create a good quality lather.
Soap is also, therefore, a fair bit messier and more time-consuming.
However, many men still believe shaving soap to be the most 'natural' way of shaving – it's the classic, and it's been around since the 15th century, whereas cream is very much a 20th-century innovation.
Soaps will also last longer because you generally need to use a little less per shave. So that's good to know.
Soaps are generally unscented, and creams are generally scented. So while you can find exceptions on both sides, if you're particularly set on having an earthy scent during your shave, or a scent-free experience, you'll want to bear that in mind.
And finally, ingredients: it would be easy to make a hard-and-fast generalization here.
Something like: creams tend to be better because they are more likely to contain essential oils and the like.
But in reality, if this is something that matters to you, you'll have to take in on a product by product basis – there are plenty of great creams and plenty of great soaps, all of which are safe, high-quality and ethically sound.
Shaving gel
As far as shaving gels go, the differences are strangely opposite: gels require even less water than creams, making creams the messier option (though they're rarely at all messy, especially if you know how to use them!)
Gels tend to offer slightly better lubrication because their lather is a little thicker.
But this does mean they have a tendency to clog up your razors, and can be a pain to apply.
And while there are plenty of options for both products, there does appear to be a greater variety of options for shaving creams. Plus there's an aesthetic pleasure to creams which gels can sometimes lack.
Ultimately, what kind of lather you want is a question of personal taste – there are no wrong answers, and many men choose to switch between them, depending on how pressed for time they are or how close a shave they're going for.
What about you – which do you prefer and why? Let us know in the comments below!
7 Useful shaving accessories
With the differences between lathers settled, you've surely made a decision as to which you want to use. Shaving is a complete process, and just having the right cream and knowing how to use a razor isn't gonna cut it when it comes to a truly quality shave.
Nope: you're gonna need some serious accessories to achieve that clean, sculpted look you're after! So we've listed seven of the most important items you'll need below, and tried to offer some quality examples to help you choose!
Shaving isn't only about your facial hair – it's also about your skin. Skin accumulates dirt and dead cells extraordinarily quickly, and a build-up– even a light one – can cause real problems with shaving.
It can make it harder for the razor to get a purchase, and it increases the likelihood of nicks and cuts because it makes it harder for the lather to create a proper separation between razor and skin.
A good quality pre-shave scrub will help avoid this: by exfoliating your skin, it will ensure that your skin is clean and clear whenever you shave.
It won't add more than a couple minutes to your shaving routine, and the results will be amazing – both for the quality of the shave and the overall quality of your skin!
There are plenty of great, affordable options here – like Cantu Men's Cleansing Pre-shave Scrub – which will make a fine addition to your shaving kit.
Pre-shave oil adds an extra layer of protection for your skin – which is obviously great.
But it also helps improve your shave, by making a closer, cleaner, and more detailed shave possible by increasing lubrication and making you feel more confident to really go for it without fear of slashing your face!
Think of it like painting the walls: without a good quality undercoat, you're never going to get quite the right finish.
Pre-shave oil is the same: having a really great oil – like The Art of Shaving's Sandalwood Pre-Shave Oil – will totally transform what you're able to achieve with your shaving.
Lathering with your fingers is gross – it's unrefined, it's messy, and frankly, it's not very effective.
A quality shaving brush is therefore an absolute must: it'll make your shaving process easier and more effectively, as well as giving you that great feeling of being a real shaving artist.
There are tons of great shaving brushes out there, but we particularly like Proraso's Professional Shaving Brush, for its top of the range boar bristles and great, classic aesthetic.
If you're gonna use a brush, we'd really recommend also using a bowl! And what's more, we'd recommend using a bowl even if you don't!
If your lather doesn't come in a bowl – and plenty don't! – a bowl will help you whip up a more effective lather as well as keeping things cleaned and easier.
So that's great. But there's also the simple fact that shaving bowls have real aesthetic charm – as the Parker's Deluxe Stoneware Apothecary Style Shave Mug demonstrates – and feel great to use.
Shaving a really big beard is a challenge, and you'll be very aware you either need a quality electric razor or a pair of great beard scissors to fix it up before you go for the closest shave.
But what many men don't realize is how useful beard scissors are even when you're not having to chop huge mounds of facial fluff off.
If you have anything beyond basic stubble, beard scissors will help you prep for a quality close shave by snipping away loose hairs which might get in the way of your lather or make the full shave more laborious than it needs to be.
Using anything else risks irritation or worse!
These simple scissors by Suvorna are a great purchase – solid value, and no needless frills.
Aftershave is like medicine for your skin – it eases any ailments from your shave, and helps maintain your skin's texture and appearance.
So while it's come to be synonymous with cologne and scents, aftershave is still an essential ingredient in the perfect shaving routine.
And aftershave has evolved so much: from post-shaving cool balms and aftershave gels, there are so many variations to choose from it's hard to keep track!
That means you can customize based on your skin type, fragrance tastes, and a whole bunch of other considerations.
Our current pick is definitely Musgo Real's After Shave Balm – with its spicy scent and quality ingredients, it's an absolute treat after a good thorough shave.
Once you've put together a great shaving collection, you'll notice one thing: it's quite a bit of kit! So to keep it all safe and together, you'll need a wash bag to top your collection off!
Washing bags are not just functional though – they're also their own little aesthetic category, and a really great looking one – like Jaald Men's Genine Leather Toiletry Bag – is about as good an investment as you can get.
With a good quality wash bag, you'll be easily prepared for an unexpected shave at any time – whether you're at the gym or on a weekend away. And you'll never find yourself wondering 'where did I leave that beard oil?'
How we choose these products
Taking on a market as large as the shaving cream market has become is daunting. We couldn't possibly try every available product, and we wouldn't pretend to have.
Instead, we've tried to sample as many well-received, popular and seemingly high-quality creams as possible, and determine what are the absolute best options for a man.
That involves several big considerations: quality of the lather; quality of the ingredients; the value of the product; aesthetic of the packaging; as well as specifically looking for products suited for particular skin types and grooming considerations.
All in all, we hope we've put together a genuinely helpful list, with something for everyone.
Nothing on this list is anything but the very best we could find – but if we've missed anything, please let us know!
Frequently asked questions
What does shaving cream do?
Put simply, it helps keep moisture in your beard hairs during the shave, making them softer and easier to cut; it also creates a nice layer of protection between the blade and your skin, to avoid nicks, rashes, and irritation.
Plus it helps you track where you've shaved. And many modern shaving creams have moisturizing properties that help promote better overall skin health.
How long should I let shaving cream sit?
Between 2 and 3 minutes. This will help soften the hair.
Ultimately, you'll actually save time by doing this, because the extra hydration – particularly in drier spots like your upper lip – will facilitate a far more efficient and accurate shave. Not to mention being kinder to your skin!
How do I shave without shaving cream?
There are several methods you might use: hair conditioner, baby oils, soap, or even peanut butter.
The main thing is to be careful and look after your skin, as well as staying hydrated and using good quality aftercare.
You can see our full guide to shaving without cream here.
How long does shaving cream last?
Roughly 6 months. Of course, this will be dependent upon the size of the product you buy, the frequency with which you use it, and the amount you use during each shave. But between 3 and 6 months is a safe bet – any less or more time is very uncommon!
Who invented shaving cream?
Frank Shields. Frank was an MIT professor, and he first developed shaving cream in 1919.
His product was sold under the brand name Barbasol and was marketed as a way for men to avoid the dull business of working soap into a lather.
And amazingly, Barbasol is still sold to this day!
Conclusion
So that brings us to the end. We've covered the whole gamut – from the best shaving creams on the market to who even invented the stuff.
We'd love to know what you think of our choices – have you tried them? What do you think?
And we'd really appreciate you sharing our list with anyone else you think might find it useful!