The 7 Best Aftershaves to Soothe & Regenerate Your Skin
This post may contain affiliate links. Learn more.
These days, aftershave is synonymous with cologne.
But as the name suggests, it's actually a key component of a solid shaving routine, and any man yet to use it in that capacity is missing out big time.
See, the best aftershave is like medicine for your skin: it helps take care of razor cuts, burns, ingrown hairs, and the rest.
In this review, we're going to look at the 7 very best aftershaves we've found – in the hopes it'll inspire you to start using it.
In a hurry? Here are our top picks:
Proraso's Aftershave Lotion
Our no.1 choice – Proraso's Aftershave Lotion – is based on a formula of natural ingredients, promoting skin healing, revitalization and purification. It has a pleasant smell, but it isn't overpowering – and it's great value for money.
Our no.2 choice – Anthony After Shave Balm Lotion for Men actually offers your skin great hydration and protection.
And there's more:
We're also going to show you exactly how to apply aftershave properly and explain the difference between balm, splash lotion and gel.
First, let's look at the 4 key considerations you need in mind when buying aftershave.
Quick summary
<!—INSERT CODE BELOW—>

Best Overall

Proraso Aftershave Lotion, Refreshing And Toning

Over 95% natural ingredients

Refreshes and revitalizes the skin after shaving

Pleasant scent that doesn't linger

Check on Amazon

Best for Sensitive Skin

Anthony After Shave Balm Lotion for Men

Heals, hydrates, and calms irritated skin

Excellent hydration and protection

Great ingredients

Check on Amazon

Best for Scent

Paco Rabanne 1 Million After Shave Balm for Men

Very gentle to the skin

Long-lasting smell that is amazing

Soothes the skin

Check on Amazon

L'Occitane Soothing Cade After Shave Balm

Refreshes and conditions the skin

Great scent

Non irritating natural formula

Check on Amazon

Barberry Coast Bay Rum Aftershave Splash

Excellent scent

All-natural ingredients

Money-back guarantee

Check on Amazon

Billy Jealousy Shaved Ice After-Shave Balm

Skin restoring, smoothing formula

Cooling effect soothes razor burns in an instant

Invigorating oak scent without being overpowering

Check on Amazon

Nivea Men Original Replenishing Post Shave Balm

Vitamin E and B5 regenerate, replenish skin

Long-lasting moisture

Absorbs quickly into the skin

Check on Amazon
Before you buy: 4 Things to consider when purchasing aftershave
First, a quick thought about aftershave, something that definitely will inform your buying decision. And the thought is this: an aftershave's scent should be a small part of the equation when you're shopping for the product that best suits you.
After all, you can get a decent scent with a cheap cologne – but don't go crazy when you apply it.
But aftershave has a much more important role than simply making you smell good, and the main reason is that it's good for your face.
Aftershaves help prevent infections that may occur from cuts and nicks you get from shaving because they contain an antiseptic element.
Aftershaves also contain moisturizers that soften that skin after a shave, as well as "cooling" it following the friction of your shave.
So, yes, you want to consider an aftershave's scent before you buy it. But there's plenty of other things to consider before choosing one for your morning routine.
1. Types
There are four primary types of aftershave: splash, lotion, gel, or balm. Choosing the right one for you depends on your skin type.
If you have normal skin, the splash type of aftershave is best for you.
Splashes, lotions, and gels will work well if you have oily skin.
If you have dry skin – and live in a cold or dry climate – balm types of aftershaves are a good choice for you, especially if you're just starting to use aftershaves.
For men with sensitive skin, the best bet is to choose aftershave that's paraben-free and doesn't contain alcohol that can burn the skin.
2. Ingredients
The two major aftershave ingredients to look for are witch hazel and alcohol. Let's take a closer look at each of them:
When you think of witch hazel, think "natural." It's a natural astringent for your pores and is the main ingredient in all kinds of beauty products. As an aftershave, it works to constrict your pores without drying out your skin.
Witch hazel also has anti-inflammatory qualities that help soothe irritated skin. You'll also find it in products such as those used to treat bug bites and rashes.
Finally, witch hazel is effective in cleaning the skin because it flushes out bacteria – including bacteria that can cause acne.
Men and women have used rubbing alcohol as a means to scrub their skin for ages. The problem is, alcohol will aggravate irritated skin (and sting when you apply it to your face). Moreover, alcohol will dry out your skin.
Are we suggesting that witch hazel is the better ingredient in aftershave? Yes, we are.
3. Other ingredients
Like witch hazel, there are other natural ingredients that you should look for when choosing an aftershave.
Tea tree oil is a natural antiseptic that flushes out the pores of your face to help prevent skin infections. A mix of tea tree oil and witch hazel is very soothing on your face after you shave.
You've certainly heard of – and used – aloe vera and its considerable soothing qualities. It helps heal burned skin and lessens the pain, so you know the stuff is good when it's applied to irritated skin after a shave.
Humectants such as glycerol, sorbitol, and lactic acid are often found in aftershaves and help minimize the dehydrating effects of other active ingredients.
4. Fragrance
OK, our heads aren't so far in the sand that we don't think scent will be at least part of your buying decision. So, let's take a closer look:
How long a scent lasts on your skin depends on many variables, not the least of which is body chemistry and skin type.
Oils are the main ingredient in fragrances and will dissipate more quickly when applied to dry skin.
However, the fragrance will last longer when applied to oily skin.
Alcohol, meanwhile, also affects fragrance duration because it evaporates quickly. If the aftershave contains less fragrance (but also alcohol), the scent will fade at a faster rate.
The most popular types of fragrances used in aftershave are floral, citrus, oriental, and woody. It's important to note that quality fragrances are multi-layered and appeal to a person's sense of smell in three stages, top, middle, and base.
The top layer of the fragrance is what you'll smell when first opening the bottle. But that layer lasts the least amount of time, while the middle layer makes up the bulk of the fragrance.
The base layer comes out when the top layer has completely evaporated and combines with the middle layer to provide the lasting scent.
Now let's move on to the heart of the matter – the best aftershaves available today.
The 7 best aftershaves
Proraso's Aftershave Lotion takes you back to the golden age of barbershops when a haircut and a shave was something every man looked forward to with enthusiasm.
You know, the hot towel to soften your beard, the super-close shave with a quality straight razor, and all followed by a splash of fragrant, refreshing aftershave on both cheeks.
But that's not a surprise when you consider that Proraso has been around since 1948 and is one of Italy's most iconic brand names.
Proraso's products are a staple of Italy's culture and have evolved with all-natural formulas that don't include parabens, silicones, or artificial colors.
Their Refreshing and Toning lotion is both the best aftershave for men and the best aftershave lotion. Proraso also makes an excellent aftershave balm.
Moreover, we've also reviewed Proraso's superb shaving soap and shaving cream in previous posts. If you're truly serious about wet shaving, then you owe it to yourself to check out all of Proraso's products.
But back to their aftershave lotion, which is of superior quality for a variety of reasons:
The lotion is formulated with a selection of fresh, natural ingredients. Eucalyptus oil tones purify your skin and facial hair, while menthol refreshes and revitalizes your face after you shave. Witch hazel is also included and reduces rashes and razor burns.
It has a pleasant scent that is clean, mild, and doesn't linger the entire day. It will dissipate within an hour or two and blends well with colognes.
You'll love the price, as you can purchase the Refreshing and Toning Lotion on Amazon for $14. When you consider that many quality aftershaves sell for upwards of $40 … well, you get the picture.
You'll like the immediate relief this lotion provides after your shave and the fact that it refreshes and tones your skin.
Proraso Aftershave Lotion includes no animal-based ingredients to make it vegan-friendly.
Type
Lotion
Pros
Over 95% natural ingredients

Refreshes and revitalizes the skin after shaving

Pleasant scent that doesn't linger
Cons
Scent has a slight medicinal smell
Bottom Line
Proraso is known for its superior wet shaving products, and its Aftershave Lotion is certainly no exception. You'll love the way your face feels after gently massaging this lotion into your skin.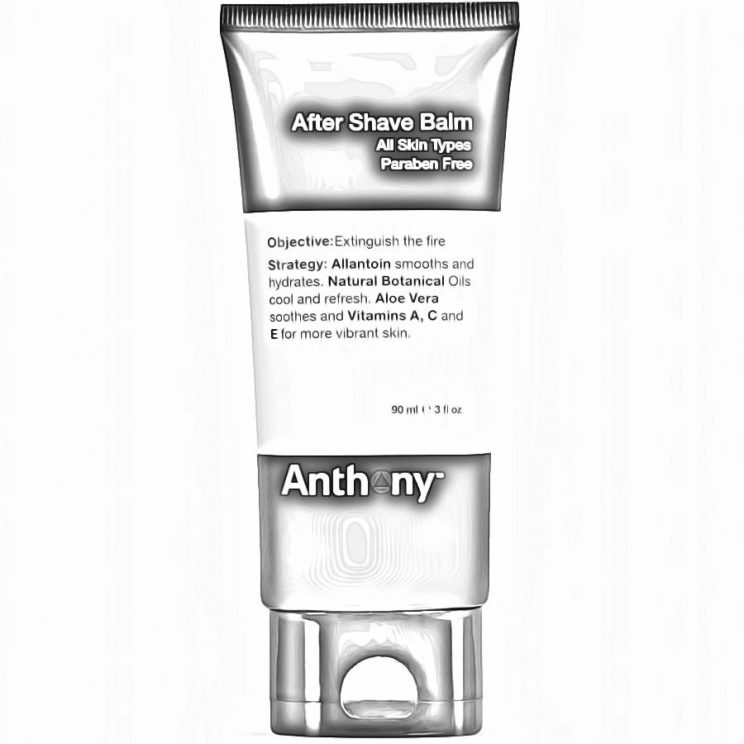 Every time we go in front of the bathroom mirror or grab our razor in the shower, we should all aim for the greatest shave possible. However, like everything else in life, we may not always perform at the top of our game.
Whatever the cause – lack of attention, a dull blade, or exhaustion – your shave turns into a conflict in which the flesh on your face always loses. Nicks. Cut. Bumps from a razor.
It's too late.
But everything is not lost.
Anthony comes to the rescue with their Anthony After Shave Balm Lotion for Men. It is formulated with natural botanical ingredients such as aloe vera, eucalyptus, corn mint, and rosemary. Not only do they provide unrivaled hydration, but also deliver antibacterial and anti-inflammatory action.
It is also rich in vitamins A, C, and E keeping the skin healthy, wrinkle-free, and revitalized.
The lotion itself is very lightweight and not greasy. It won't clog the pores, and it is suitable for all skin types, even sensitive. We have found it to be very hydrating, meaning it can even replace your regular moisturizer the days you use it.
As for the scent, it has a slightly minty character and goes away almost instantly. We have found its aroma to be very pleasant and not irritating however, it is important to note that some reviewers haven't liked it as much.
One drawback that this aftershave has is its price. Nevertheless, we believe it is justified due to its quality and premium formulation.
Type
Balm Lotion
Pros
Heals, hydrates, and calms irritated skin

Great scent

Suitable for all skin types

Great hydration and protection

Great list of ingredients
Cons
A bit on the expensive side
Bottom Line
If your face is easily irritated, this lotion is difficult to beat, especially after a bad shave. It is suitable for all skin types and is very hydrating.
Sometimes what you really want after shaving is a really beautiful scent, and that's why Paco Rabanne's 1 Million After Shave balm is included on this list.
If you're a perfume lover, there's a good chance you already know the smell. But if not, it is a heady concoction of amber leather, cinnamon, blood mandarin and peppermint, creating this rich, riveting sense of the exotic – ideal for giving you a little extra masculine energy after a shave.
Most men find once they've used it, they simply never want to stop.
And it isn't only a great scent: this balm also helps refresh and calm the skin after shaving, easing it back to health and helping to tackle any harshness and redness that might've been caused by the razor.
There are reservations though: the tube can be a little difficult, as many reviewers have noted, and the price is admittedly steep – though that's to be expected from such a high-end brand.
Ultimately though, if you value premium grooming products and are worth to spend a little extra, we strongly recommend you give this a go – if for no other reason than to experience the scent.
Type
Balm
Pros
Fantastic scent

Soothes and relieves the skin

Balm is very gentle
Bottom Line
A fantastic smelling balm from a true luxury brand.
L'Occitane is one of the best brands out there when it comes to skincare products, no matter the gender. Because of the quality of the products and reputation, it was only logical to include their Soothing Cade After Shave Balm in our list of best aftershaves for men.
It is an aftershave in the form of balm, and it is formulated with natural ingredients such as shea butter, oak root, birchwood sap, and rosemary.
Shea butter is a great moisturizing ingredient that softens and smoothes out dry skin. It is naturally antibacterial and soothing, making it very effective in soothing razor burns.
Oak root cleanses the skin by removing dirt or any dead skin cells that might be present on the skin. It is rich in antioxidants that not only do they protect the skin from environmental stressors but also revitalize the skin. It also creates a protective layer that prevents water loss, leaving the skin hydrated for longer periods of time.
Lastly, Birchwood sap and rosemary are both rich in anti-inflammatory properties, helping soothe the skin from any irritations. They help reduce swelling while also helping to heal burns due to their rich antibacterial abilities.
Applying this balm after shaving will definitely give a less burning sensation than other aftershaves on the market that contain high amounts of alcohol. It goes on the skin smoothly and evenly. While it doesn't have a greasy formula, as it is a balm you will definitely feel it a tad greasier than other aftershave products.
As for the scent, it is very lightweight and great. It gives a hint of sandalwood that relaxes your senses without being overwhelming.
Overall, this is a premium product, so it is priced higher than regular aftershaves. However, we believe that it deserves the money for its numerous qualities.
Type
Balm
Pros
Natural formulation that is not irritating

Great relaxing scent that is not overwhelming

Moisturizes and protects the skin
Cons
The pricing is a bit high
Bottom Line
A great soothing aftershave with premium qualities that you can't go wrong with.

The scent of Bay Rum conjures up images of grizzled sailors and pirates who sailed 'round the Caribbean Islands centuries ago. After months spent on the open sea, sailors reached land in desperate need of a shave and, well, anything that helped them smell better.
Enter Bay Rum aftershave, which resolved both the issue of taming irritated skin and the problem of stinking like someone who just spent significant time away from land.
Bay Rum was effective then, and it's effective now. The Barberry Coast Shave Co. has wedded the past and present into an aftershave splash that smells great and is healthy for your post-shave skin. It's a combination that's hard to beat.
The best aftershave splash on the market, as well as the best smelling aftershave, Barberry Coast's Bay Rum splash is handcrafted with all-natural ingredients and aged to perfection (for at least 30 days) before it's made available to the buying public.
Barberry Coast uses glycerin, not alcohol, to help moisturize your face without the stinging and other irritation that may come with alcohol-based products.
The Bay Rum Aftershave includes a unique blend of exotic spices, citrus, essential oils, and extracts – as well as the essence of bay leaves found in the West Indian Islands.
Again, its ingredients are all-natural, vegan, with no GMO oils or parabens.
Applying this splash to your face after a shave will give you a quick burning sensation that's not at all uncomfortable and will awaken your senses. You'll not only feel ready to face the world, but you'll smell damn good, too.
And some men suggest the Bay Rum is like catnip for the ladies (it's worth a try, anyway).
Here's another thing to like about Barberry Coast Bay Rum Aftershave Splash: It comes with a 100% lifetime guarantee. If you don't like it, for any reason, you'll get a full refund.
Type
Splash
Pros
Excellent scent

All-natural ingredients

Money-back guarantee
Cons
Scent may be too strong for some
Bottom Line
Barberry Coast is in the business of producing unique men's grooming products, and its Bay Rum Aftershave Splash is unlike any other. It smells great, but also provides excellent re-moisturizing and replenishing for your skin.
Billy Jealousy's Ice After-Shave balm does exactly what it's supposed to: it cools the skin when you've shaved and really effectively soothes whatever razor burn or itchiness you've accrued with its cooling effect and deep hydration which comfort the skin and helps combat ingrown hairs. You'll notice the difference almost immediately.
It restores your pH very quickly and moisturizes and conditions not just your skin but your beard, too, if you're a fellow beardsman. It even won Best Splurge at the 2006 men's Health Grooming Awards!
This is a great balm to use with any razor (though it is especially well paired with a safety razor). And the scent is very clear and fresh, making for a really nourishing, reassuring, and energizing aftershave to use first thing in the morning or before you go out.
It is worth noting that it isn't all rainbows: the squeezy tube can be a little annoying, and because it can be inconsistent, you may end up wasting a fair bit of the balm, which sucks.
You'll also want to be sparing with it: it's very thick (which is good), but if you use it in the quantities you've likely become accustomed to, you'll end up with excessively thick, sticky stuff on your face all day.
But if you are careful with it, you'll get incredible, invigorating results.
Type
Balm
Pros
Restores the skin and makes it smooth and clean

Soothes any razor burn very effectively and quickly

Lovely oak smell that lasts without being imposing
Cons
The squeezy tube is a little tricky to use, some report
Bottom Line
An award-winning, top-quality balm that is unusually thick nourishes your skin beautifully and lasts all day long with a calming, cool scent.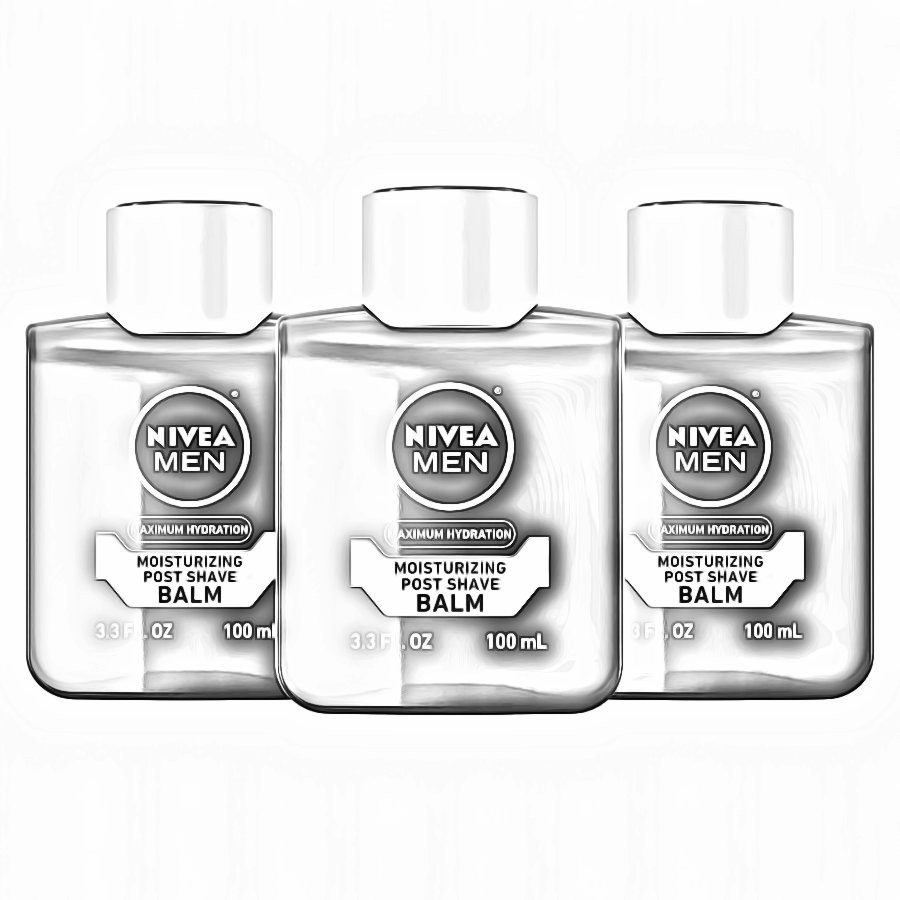 Nivea is fairly new to the U.S. market, but their lotions have been available in Germany for over a century.
They also offer more than 1,600 products, including their iconic Nivea Crème, as well as their Nivea Men Original Replenishing Post Shave Balm, which is proving to be a hit in America.
Nivea also offers a post-shave balm for men with sensitive skin, but many users have found the Original Replenishing Post Shave Balm to be just as effective with skin that's easily irritated.
The difference is that the latter contains more alcohol – and leaves a mild burning sensation after it's applied.
But it's still a good aftershave.
Nivea's Original has a mild, non-greasy formula that uses Vitamin E and Provitamin B5 that replace and regenerate skin, while special moisturizers provide long-lasting moisture.
Your skin will feel refreshed and replenished long after you've shaved, and the balm absorbs quickly into your skin.
And while, again, it's not sold as being specifically for men with sensitive skin, it helps protect against skin irritation, and men with touchier skin will like that. But it is a bit stronger than the sensitive skin version, no question.
The only real drawback with this balm is its scent, which some critics say is too strong and too stereotypical of masculine drug store scent.
Type
Balm
Pros
Vitamin E and B5 regenerate, replenish skin

Long-lasting moisture

Absorbs quickly into the skin
Cons
Strong scent bothers some users
Bottom Line
Yes, it uses alcohol – not witch hazel – but this is still a good product that's effective for soothing skin after a shave. And some users say the Original version is just as good for sensitive skin as the one designed for sensitive skin.
How we chose the best aftershaves
What makes for a quality aftershave? We hope we've answered at least part of that question with our reviews while giving you some ideas on what products are best for you.-Ingredients: We looked for aftershaves with ingredients that heal and soothe damaged skin.
We chose the best aftershaves based on these factors:
-Customer reviews: We considered the overall customer experience with each aftershave.
-Price: This list includes options at a variety of price points.
In choosing the best aftershaves, we took a variety of factors into consideration, including ingredients, how they feel on the skin, and – of course – how effective they are.
As with all of our reviews, we did a lot of research and perused the reviews of others who care as much as we do about proper grooming.
While we don't have the time to try every aftershave available, we're confident in our ability to weed out the mediocre (or worse) products while uncovering the best.
Be kind to your face: How to apply aftershave
Applying aftershave, like applying shave soap, shave cream, or shaving, is like a lot of things in life, i.e., it seems simple enough, but there's more to it than meets the eye.
No, it doesn't require a degree in chemical engineering. But there is a "right" way and a "wrong" way, and using a bit of technique when applying your aftershave will keep your face feeling great the whole day.
Many have weighed in on the proper way to get that soothing, healing, refreshing aftershave on your face, including this very helpful video:
We can also break it down – step-by-step – in writing.
Immediately after you've shaved, pat your face with cold water to close your skin pores and then gently dry your face with a clean towel.
Put a small amount of aftershave (balm, lotion, gel, splash) in the palm of your hand. Gently rub your hands together to spread the product evenly.
Use an upward, circular motion to massage the lotion into the newly-shaven areas of your face. This type of motion helps your face absorb the product quickly.
Let the aftershave soak into your skin until it's no longer visible; this could take a few minutes. In some cases, you may have to apply a second coat of aftershave to ensure that you've covered all areas of your face.
A couple of other thoughts when it comes to applying aftershave:
1) You can use a moisturizer on your face after you shave and before you apply aftershave, especially if you use a product that contains alcohol – which can dry the skin out,
2) You may also want to apply witch hazel to your face after you've shaved to remove any residue that was left behind after you rinsed your face. This isn't a mandatory step, however, and many of the best aftershaves already contain witch hazel.
What's the difference: Balm, splash, lotion, gel?
As indicated by our product reviews, aftershave comes in many different forms, with the main types being balm, splash, lotion, and gel.
Balms have thick consistency and a longer drying time. They are great for skin that is dry or irritated. They provide a protective layer on your skin to soothe it from razor burn or cuts. Splashes are alcohol-based with watery texture and evaporate quickly. Lotions are very light in texture and dry quickly as well.
Gels are typically alcohol-free and dry fast on your skin, with a cooling effect. They don't provide much protection from irritation but are usually non-comedogenic (meaning they won't clog your pores).
We've already discussed what type of aftershave is best for different types of facial skin, but let's dig deeper and take a closer look at each type.
Aftershave Balm
Put simply, an aftershave balm is a hydrating lotion with a mild scent – but not always – that goes away shortly after you apply it to your face. Balms are usually alcohol-free – but not always – and are effective in reducing the effects of razor burns after shaving.
You may notice a slight stinging sensation when you first apply balm to your face, but they're very effective in tightening the pores of your skin.
Balms are great for men with dry skin because they're ultra-lubricating and stay close to the surface of the skin.
They're thicker and heavier than other types of aftershave, and you should avoid them if you're acne-prone.
Splash
Splash is an antiseptic that is often alcohol-based that tightens and dries the skin.
They're good for cut and nick-prone men because they work to prevent infection.
If you have dry skin, avoid alcohol-based splashes, and stick with those that use witch hazel instead. If you have oily skin that can stand a bit of dryness, use an aftershave splash.
Lotion
Like splash, aftershave lotions tend to have a strong scent than other types of aftershaves.
The scent may even be strong and long-lasting enough for you to use it in place of cologne. The lotion works as a skin toner and tightens the pores after shaving. Lotions work great with oily skin.
Gel
There's not a huge difference between aftershave lotions and gels, but gels are great for cooling down your skin and reducing post-shave burning.
The skin quickly absorbs gel, which makes them great for humid climates when you know you're going to be sweating soon after your shave.
Because they absorb so quickly, gels may not provide enough moisturizing for some.
Conclusion
With that, we'll wrap up another of our "Best of" product reviews. As always, we encourage your feedback and welcome any comments – whether they're about the products listed in this post or a personal favorite that didn't make the list. We'd love to hear from you.