6 Best Philips Norelco Shavers for a Quality, Smooth Shave
This post may contain affiliate links. Learn more.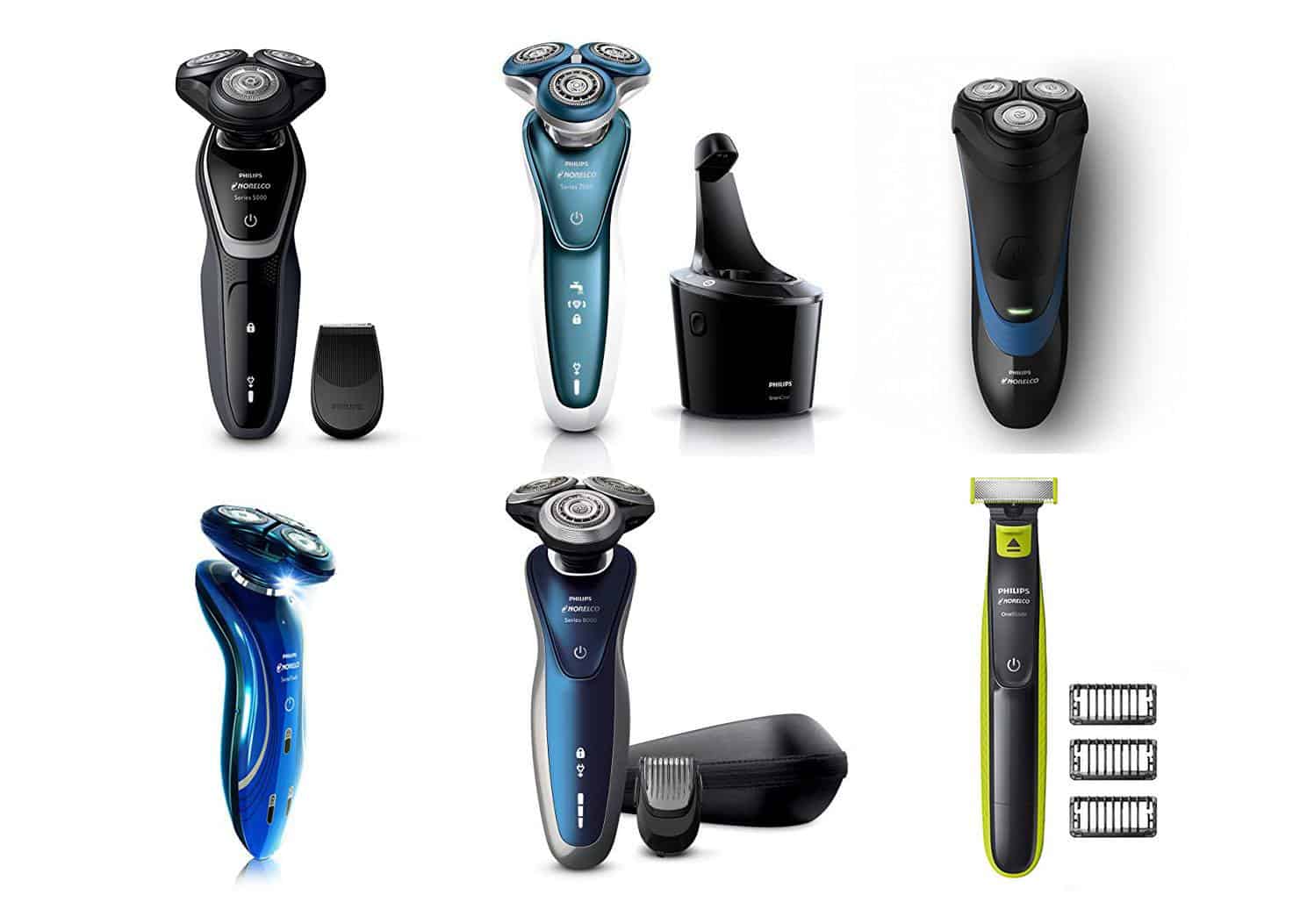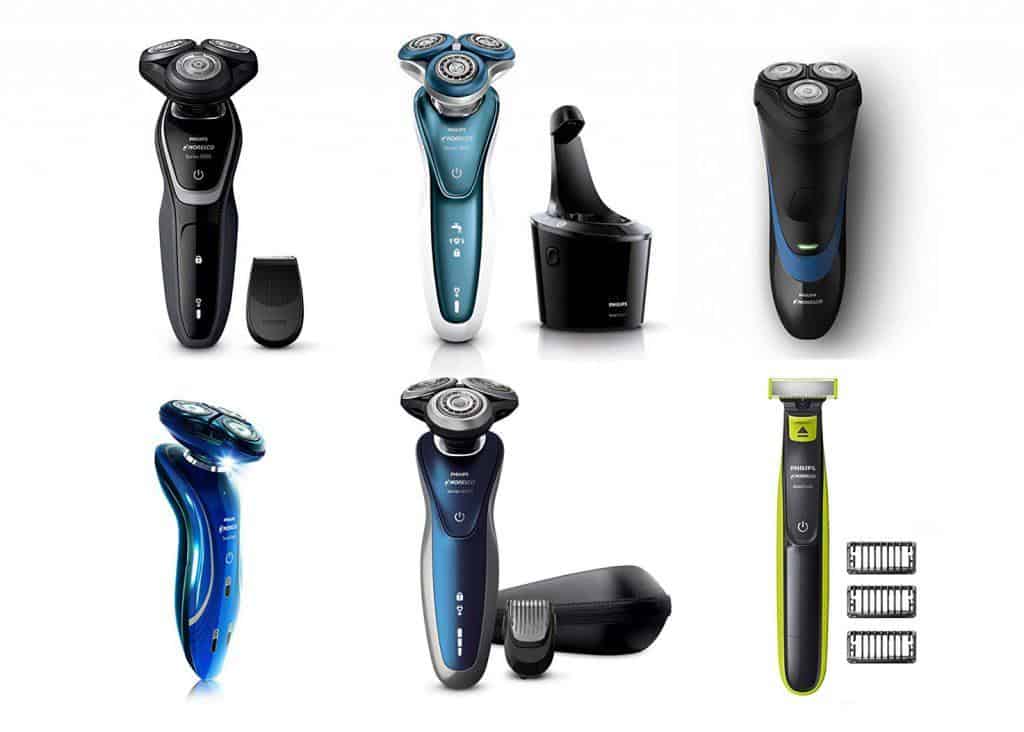 There are many reasons why some men prefer electric shaving over more traditional methods, such as using a cartridge razor.
There's the convenience factor, of course (you can shave with less fuss), but also the fact that today's best electric razors provide a close, comfortable shave that rivals that of manual shaving.
Not all electric razors are made the same, however, and, for our money, we think Philips Norelco makes some of the best shavers you'll find. The Philips Norelco Electric Shavers will not only be more convenient to use, but will also give you a clean shave, much unlike manual razors.
In a hurry? Here are our top picks:
Philips Norelco 7500
The 7500 For Sensitive Skin is great for both wet and dry shaving. The multi-directional shaving heads on this product help you reach even the most difficult areas. And because it's designed specifically for them, men with sensitive skin will have a great time with it.
Philips Norelco 6500
The 6500 is super easy to use – a great choice for beginners. It features anti-friction blades, and like the 7500 can be used very well for both wet and dry shaving.
We'll also look at things to consider when buying a Norelco shaver the product description, how to use a Norelco razor to get the best shave, the different settings on it, and how Norelco stacks up against other electric shaver brands.
Quick summary
<!—INSERT CODE BELOW—>

Our #1 Choice

Philips Norelco Electric Shaver 7500 For Sensitive Skin

Suitable for wet and dry shaving

Perfect for those with sensitive skin

Multi-directional shaving heads helps reach the difficult areas

Check on Amazon

Philips Norelco 6500 Shaver

Easy to use and no skin irritation, a beginners choice

Comes with a turbo button for more power

Can be used in the wet and dry

Check on Amazon

Philips Norelco 5100 Electric Shaver Wet & Dry

Speedy but effective shave

Efficient at trimming hairs of all sizes

Precision trimmer for the finishing touches

Check on Amazon

Philips Norelco SP9820/87 Shaver 9000 Prestige

5-minute quick charge

Sharp blades that protects sensitive skin

8-movement Contour Detect technology

Check on Amazon

Philips Norelco Oneblade Hybrid Electric Trimmer & Shaver

Simple and easy, but very effective

Different length guides

Excellent for edging and styling

Check on Amazon

Philips Norelco Shaver 2100

Quiet motor for discreet shaving

A solid all-rounder

Shaves close but without causing irritated skin

Check on Amazon
Before you buy: 6 Things to consider when purchasing a Norelco shaver
One of the nice things about buying a Norelco shaver is that you have plenty of options from which to choose. You can choose between their expensive models and the relatively budget-friendly ones.
Philips Norelco is a company that has a long-standing reputation for excellence and manufactures razors to fit a variety of needs, such as for men with sensitive skin. The products give you the closest shave without painful razor bumps or ingrown hairs.
The trick, then, is to choose the PN electric razor that best suits you, your whiskers, and your skin. There's no doubt that you'll find one that does, but here are some things to consider when choosing between the many Philips Norelco makes and models.
1. Foil or rotary
Electric shavers almost always come in two types: foil or rotary.
Foil shavers were the first type of electric razors to hit the market – thanks to the efforts of shaving icon Jacob Schick many moons ago – and are recognizable by their thin, curved metal foil that covers oscillating blades.
Rotary shavers, a more modern invention, feature three rotating shaving heads that pivot. You can shave your face in circular motions with a rotary shaver; the design of a foil shaver limits you to a straight line, up-and-down movements. Rotary shavers also cut your hair in a different shape and pattern than foil shavers, giving you a distinct shave.
Each type – foil and rotary – has its advantages and disadvantages.
Foil shavers tend to have more skin-friendly features that provide a close

gentle

shave without causing razor burn, razor bumps, and other types of skin irritation. They're also considered less "aggressive" than rotary shavers, which is another reason why they're a good choice for men with sensitive skin.
Rotary shavers are ideal for men who don't necessarily want a complete shave but are looking to trim the sides. They're a bit less gentle on the skin, and you should keep that in mind if you have sensitive skin.
Another advantage of rotary shavers is that they're excellent for trimming hard-to-reach areas, such as around the chin, jawline, and nose, because of how easily they pivot.
Foil shavers, in general, are a good choice for men who shave every day.

The sharp blade and the wide range of trimmer attachments available for them makes it easier to give shape to difficult hairs of all types.

Foil shavers are best for flat surfaces and straight lines. They are typically less expensive than rotary shavers and quieter because they use oscillating blades instead of rotating blades. However, they cannot handle very long or very short hair well, since the hair can get stuck in the foil.
Rotary shavers have three round heads on a circular disc with spinning blades underneath each one. These allow them to cut hair from any direction, so they work well on contours like your jawline and neck. Rotary shavers also tend to be more powerful than foil shavers: they are better at cutting long hairs and are great if you have a thicker beard.
2. Wet & dry shaving
Many electric shavers today – including Philips Norelco shavers – have wet and dry shaving capability.
That is, you can use them with water and shave cream (and in the shower) and can clean them with water, or you can use them with no moisture at all. If you have sensitive skin, shaving gels and creams can soften your beard to help prevent irritation.
The problem with cleaning dry shave trimmers is that you have to put a lot of effort into cleaning them, and oiling them can get messy. Small bits of hair can get stuck in the construction, and since water entering the mechanism might mess it up, you have to do the entire process manually.
Wet shaving:
-more control over razor blade angle
-easier to see what you're doing
Dry shaving:
-Faster
-Easier to clean up
-Convenient for travelling
3. Cord or cordless
Do you prefer greater freedom of movement when shaving – such as the ability to move about your bathroom and house without restriction? If so, then a cordless shaver – one that runs on battery power – is your best option.
Or, you may like the convenience of knowing that – while using a shaver with a power cord – you don't have to worry about the battery's charge running out. Besides, many shavers come with cords long enough to give you some freedom of movement.
We're sure that there's only a small area in your bathroom where you stick around to trim your hair. The problem with corded trimmers is not exactly about how much you can move around, it's the presence of a power outlet around you that gives you the freedom to use it to its full capacity.
If you do decide to go cordless, look for shavers that come with a low-battery indicator feature. Of course, they must also come with a means for which to charge them.
Another thing you need to keep in mind when choosing between corded or cordless trimmers is that corded trimmers are typically more powerful than their cordless counterparts. If you need something in a professional capacity, a corded trimmer is usually the better option.
A good balance between the two options is a dual option trimmer or shaver. You can use these kinds of trimmers in both a corded and cordless capacity, giving you both the power and the freedom to move around as you need.
Botom line:
Corded electric shavers are great for a quick shave, but you're limited by the length of the cord. If your bathroom or shower is far from an outlet, or if you just want to take your shaver on the go, you might prefer a cordless electric shaver.
4. Blade & trimmer options
Philips Norelco shavers offer a variety of blade and trimmer options that provide added convenience for users.
Multiple blade options allow you to adjust the blade to create the desired closeness of shave, while pop-up trimmers make it easier to do finer, detail work on your beard, mustache, and sideburns.
You'll also have a choice between click-on trimmers and built-in trimmers, i.e., trimmers that you attach to the shaving unit and those built into the shaver's body.
Some shaving experts suggest that click-on attachments enable you to trim difficult-to-reach areas of your face more efficiently.
The good news is that a lot of trimmers today come with multiple attachments that can work on several different types of hair to give you just the right results. These attachments are readily available with standard trimmer models.
5. Price
You can find Philips Norelco shavers to fit every budget. How much you pay often depends on how much you want – do you want all the bells and whistles, or is a razor with fewer gadgets, but still provides a clean, close, comfortable shave more to your liking?
What kind of trimming attachments do you need for your face, or do you prefer to use another device for more specialized tasks, such as mustache trimming? If you need different lengths or styles for different parts of your face, do you prefer a device that does it all or do you need specialized devices that do the job exactly right?
6. Skin type
While we touched briefly on skin type while comparing foil and rotary shavers, it's worth emphasizing that your type of skin will help you determine what razor is best for you.
Men with sensitive skin may benefit most from using a foil shaver, but that's not to say you automatically should ignore rotary razors just because your skin is prone to razor irritation.
Men who have normal skin types—meaning their skin isn't too oily and doesn't have any visible dry patches—can opt for a safety razor. These razors are designed for one-time use, so you can throw them out after shaving. The blades in these razors are very sharp, which means that they can cut through hair easily without having to press down on your skin.
For men with dry skin, however, safety razors might not be the best choice as the blades can be more likely to irritate your skin. Instead, you might want to consider an electric shaver. These shavers won't pull or irritate your skin as much as a safety razor would and will help keep your skin hydrated by distributing natural oils throughout your beard when it's being shaved.
Lastly, those with sensitive skin may want to stick with disposable cartridge razors. But this doesn't mean you can just buy any disposable razor—you'll want to make sure it has a pivoting head and moisturizing strip to help prevent irritation while shaving.
The 6 best Norelco shavers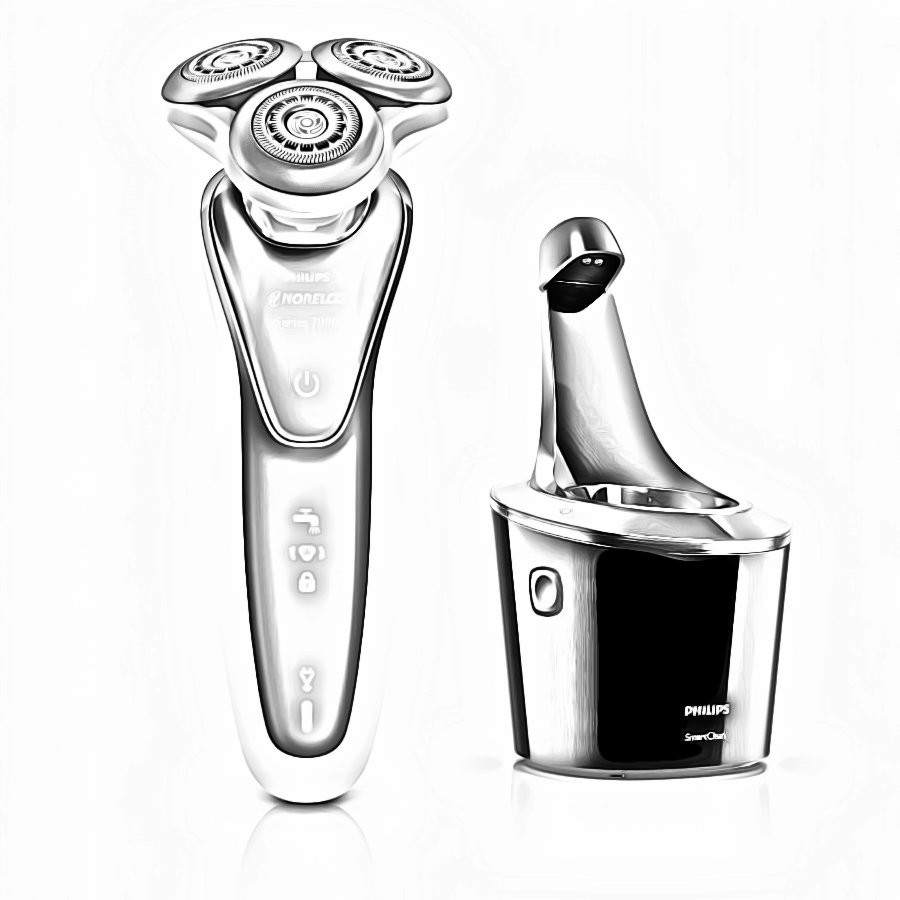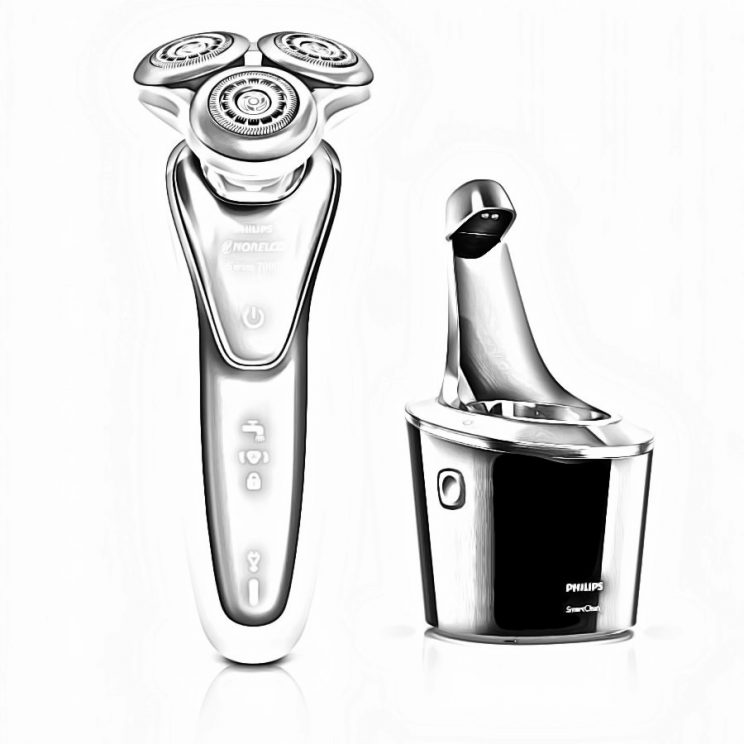 Shaving shouldn't be a drudgery. For men with sensitive skin, however, it can be a hassle because of razor burn, bumps, and other types of irritation potentially caused by shaving.
Fortunately, electric shavers such as the Norelco 7500 take the sting out of it by providing a comfortable shave without sacrificing closeness.
It's also an excellent all-around razor that's suitable for men of all skin types and beard density, and it's the best Philips Norelco shaver overall.
The 7500 comes loaded with features that make shaving easier and not a hassle, including Norelco's patented Comfort Rings.
The latter contains thousands of powder-like beads that help create a smoother shaving surface, so the rotary foils glide easily over the skin. According to the folks at Norelco, the Comfort Rings' micro-beading technology reduce friction by up to 85%.
We also like the 7500's GentlePrecision blades that cleanly cut short and flat-lying hairs while also providing a close cut on stubble that you haven't trimmed in a couple of days.
The 7500 also features Norelco's DynamicFlex Technology, which enables the shaving heads to move in five directions, making it easy to trim the various contours and hard-to-reach places of a man's face and neck.
The Norelco 7500 shaver includes an LED display with a 1-level battery indicator which warns users when the battery's juice runs low. The LED also has a cleaning indicator, replacement head indicator, and a travel lock indicator.
Keeping your 7500 in shave-ready shape is easy, thanks to a SmartClean cleaning station that lubricates – and charges – the razor to help keep it running at maximum efficiency. The cleaning station is skin-friendly because it uses no alcohol.
The 7500 runs on a Lithium-ion battery (typically the longest-lasting batteries found in electric razors) but also comes with a power cord.
It's suitable for wet and dry use, thanks to Norelco's AquaTec technology. Feel free to use it with your favorite shave foam or gel or in the shower.
Pros
Multi-directional shaving heads make it easier to access hard-to-reach areas of the face

Wet and dry shaving capability

Excellent for use on sensitive skin
Cons
Replacement heads are expensive
Bottom Line
It's not easy picking a single standout from Norelco's lengthy list of quality electric razors, but the 7500 is worthy of special mention. It has all the features you'd expect from a Norelco product, and it's good for men of all skin types.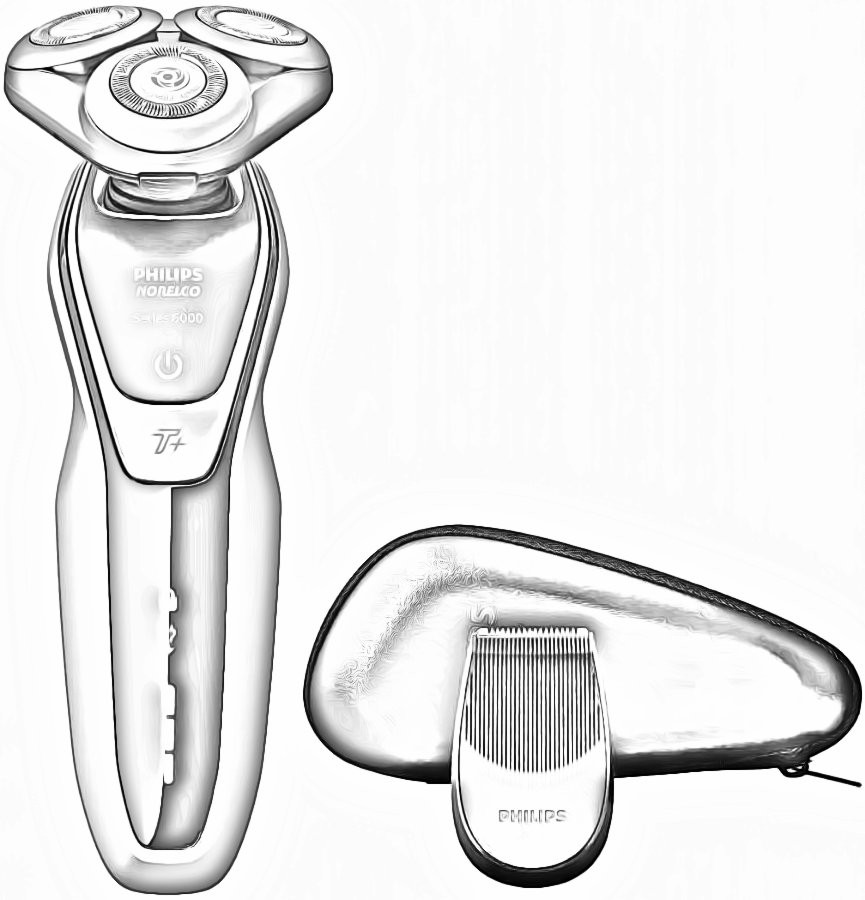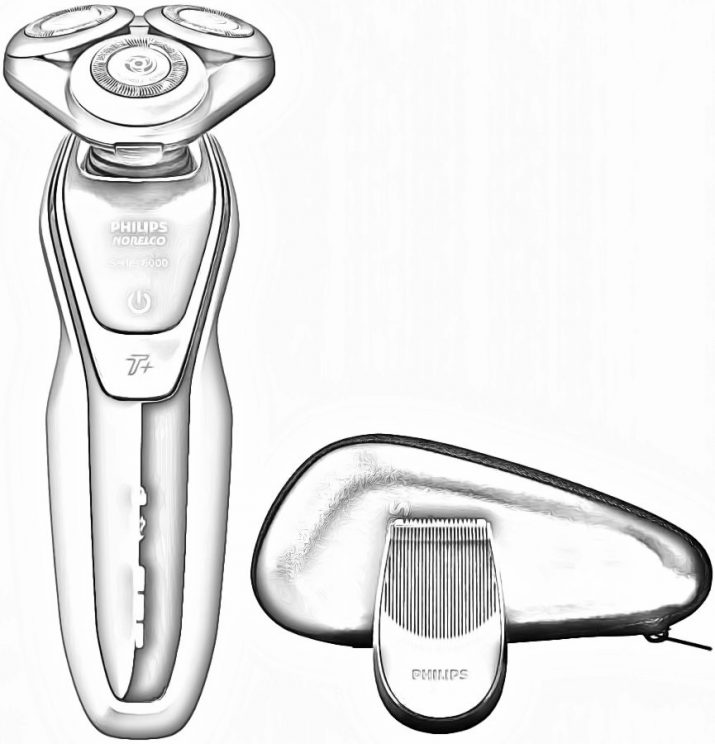 While the 6500 doesn't come with the bells and whistles the 7500 or 9000 comes with, it doesn't mean it's any less effective. In fact, in most cases, it has similar effectiveness.
The 6500 comes with an anti-friction coating and is waterproof, meaning you can use it with your favorite shaving gels and creams. Similar to other Philips Norelco shavers, it comes with their patented comfort ring coating, making gliding it on your skin, effortless.
It does a great job protecting you from irritations, redness, or accidental cuts. Even though it doesn't feature a cleaning station or a fancy led screen, it does come with the turbo button, which lets you increase its power by 10% for the denser parts of your beard.
But there's more.
The battery charges in one hour and has a 5-minute quick charge technology that lets you get juice for one shave if you are in a hurry. When fully charged it lasts around 50 minutes despite the advertised 60. However, it is still pretty solid and better than many others.
These are not the only reasons we like it, however.
It comes with a click-on trimmer that lets you detail shave your mustache and sideburns.
The shaving heads simply pop open with one touch of a button and the shaver is waterproof, making it easy to clean.
Comes with additional replacement heads, which last for about a year.
Last but not least, we liked is the 6500's motor's quietness. Without the excessive loudness of other electric shavers, you'll receive a clean, relaxing shave.
Pros
It doesn't irritate the skin, making it a good choice for beginners

It is waterproof and quiet

Comes with a turbo button for more power
Cons
Some people find its power lacking if they don't press the turbo button to achieve maximum power. However, we didn't experience such an issue. Make sure to shave every three days.
Bottom Line
The Norelco 6500 has a simple design and doesn't come with all the fancy features that more expensive Norelco shavers have yet provides all of the performance you'd expect from the company's excellent line of electric shavers.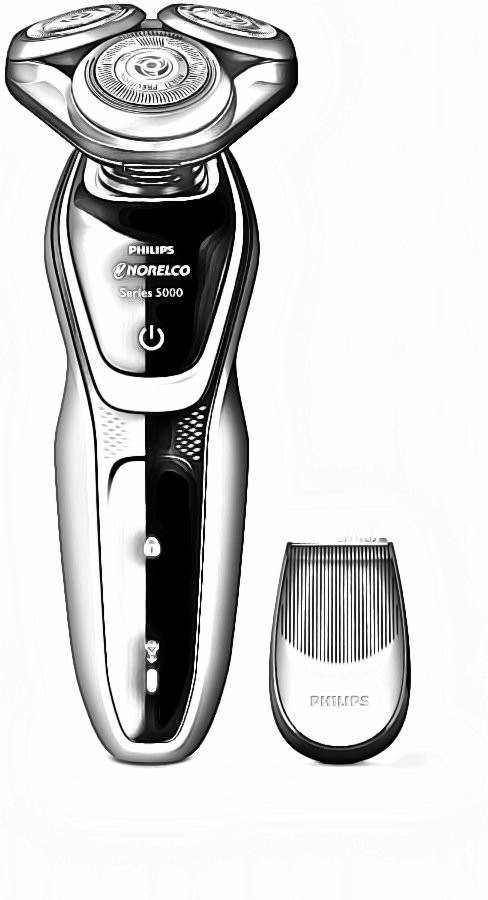 How fast of a shave a razor provides is often important for a few reasons, including that it helps you scurry out the door in the morning when you're running late. Fast blades can also cut whiskers more efficiently without the pulling and tugging of sluggish blades.
Not that a fast razor guarantees a close shave, but we think you will appreciate the closeness provided by the Norelco 5100 – a razor that many men claim will lap the field regarding speediness.
A bonus is that it also provides a close shave without skin irritation, which makes it suitable for men with sensitive skin.
The 5100 comes with Norelco's MultiPrecision blade system that cuts both long and short hair efficiently and smoothly.
The razor's five-directional rotary heads move independently and make it easier to cut close to the skin, as well easier to trim trickier areas, such as the neck and jawline.
Moreover, you won't have to make several passes to get the smooth, close shave you desire.
The 5100 is suitable for wet and dry shaving, thanks to its AquaTec function. You can shave dry, you can use your favorite shave foam or gel, or you can even shave in the shower.
The 5100 also comes with a SmartClick precision trimmer that allows you to take care of the finer details (sideburns, mustache, etc.).
The 5100 is cordless and comes with a Lithium-ion battery that provides over 40 minutes of run time, which is approximately 13 shaves, on a one-hour charge. There's also an LED that lets you know how much battery time is left and includes a cleaning indicator.
Pros
Fast but smooth shave

Effective for trimming all whisker lengths

Precision trimmer to touch up your look
Cons
Heavier than some electric shavers
Bottom Line
The 5100 appears in plenty of Philips Norelco razor reviews, and with good reason. It's a fast, efficient shaver that can handle long and short whiskers, as well as touch-up work.
The Norelco SP9820 ups the ante when it comes to shaving the facial contours unique to every man.
Let us explain why!
This is a razor that is versatile and provides advanced features that not all standard electric razors have.
The SP9820's close shave capability comes from, in part, its unique Contour Detect Technology, in which each shaving head moves in eight directions independently. It's a technology that makes for a more efficient shave that follows the curves of your face. The Contour Detect Technology along with its ergonomic design makes it easier to handle.
Additionally, its NanoTech Precision Blades help provide an extremely close shave due to their strengthened nanoparticles, which assist increasing precision.
You can achieve a really close shave without worrying about cutting yourself, due to the razor's inclusion of protective rings around the shaving heads. This helps the shaver to glide easier over your skin, minimizing the chance of causing irritations. Therefore it is suitable for sensitive skin types as well.
There are plenty of other reasons why we include the SP9820 on our list of best Philips Norelco shavers, including:
The SP9820 comes with a SmartClick precision trimmer that will help you refine the details of your mustache, sideburns, etc.
It is waterproof, so you can use it for both wet and dry shaving.
Its Lithium-ion battery provides 60 minutes of runtime. It takes one hour to fully charge the razor (if you've run the battery completely out). While the battery life is not the best you can find, it comes with a 5-minute quick charge function that provides enough runtime for one shave if needed quickly.
It comes with a luxurious travel case which also protects it from any damage.
Pros
5-minute quick charge

Blades are sharp and designed to protect sensitive skin

Easy to use due to its ergonomic design and 8-movement Contour Detect technology
Cons
The price is not for everyone
Bottom Line
This is a powerful, yet gentle on the skin electric razor that is durable and multifunctional. It's worth the investment.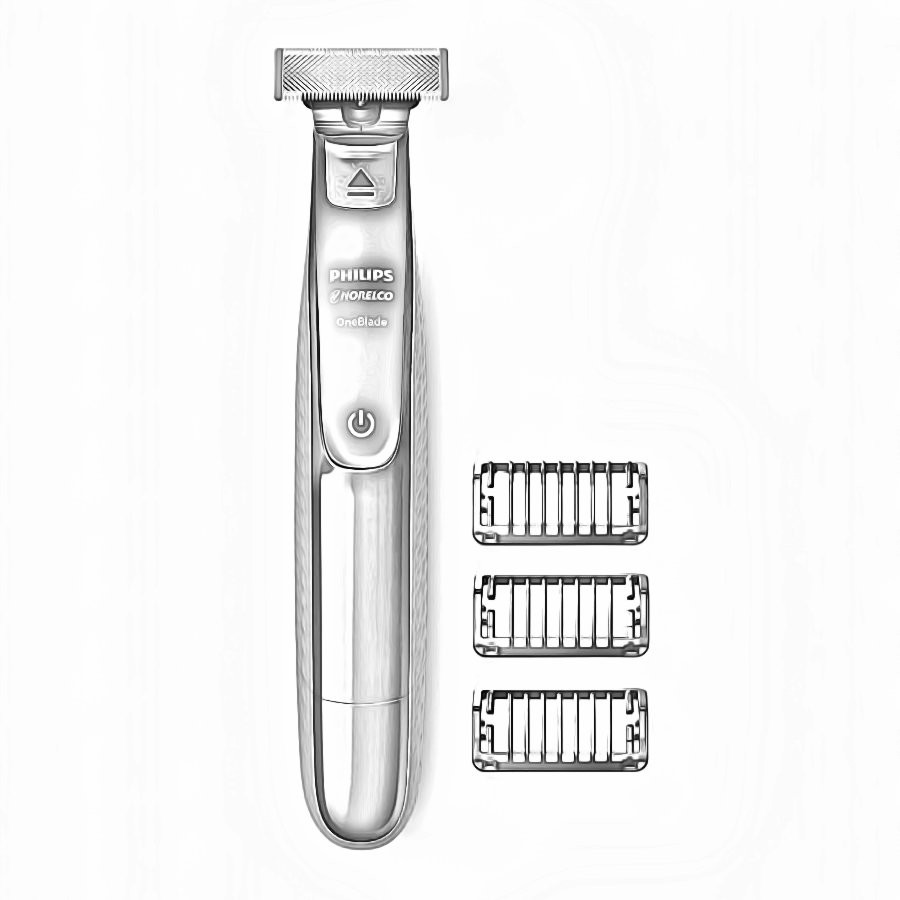 Is it a disposable razor? An electric razor?
At first glance, it's not easy to tell exactly what the Norelco OneBlade is, but it is indeed an electric razor (even if it looks a lot like a disposable).
It's also a versatile grooming tool that allows you to trim, edge, and shave any length of hair, and it can serve as a manscaping body groomer if you so choose.
The OneBlade name comes from the razor's single shaving surface, which looks like a small foil, and it also features a rapid cutter blade that's said to move 200 times per second.
It also comes with a dual protection system that enables you to get a clean, comfortable shave even on longer hairs.
The OneBlade is good for detail work; it comes with three trimming combs that help to give you a fast, even trim in the most hard-to-reach places, while the dual-sided blade is excellent for precise edging and creating the exact look you prefer.
It's an ideal tool for men who wear a variety of facial hair styles, including stubble and longer beards.
You can also use the OneBlade for wet and dry shaving, and, because it's water-resistant, it's easy to clean.
We also think it's perhaps the best Norelco shaver for the money. It's inexpensive, for one, but a blade should last four months before a replacement is needed.
Pros
Simple and easy to use

Great for edging and styling

Different length guides
Cons
Doesn't give as close of a shave as some other electric shavers
Bottom Line
The OneBlade is a surprisingly effective tool for trimming your beard and creating the shapes and styles you want. It also comes at a nice price.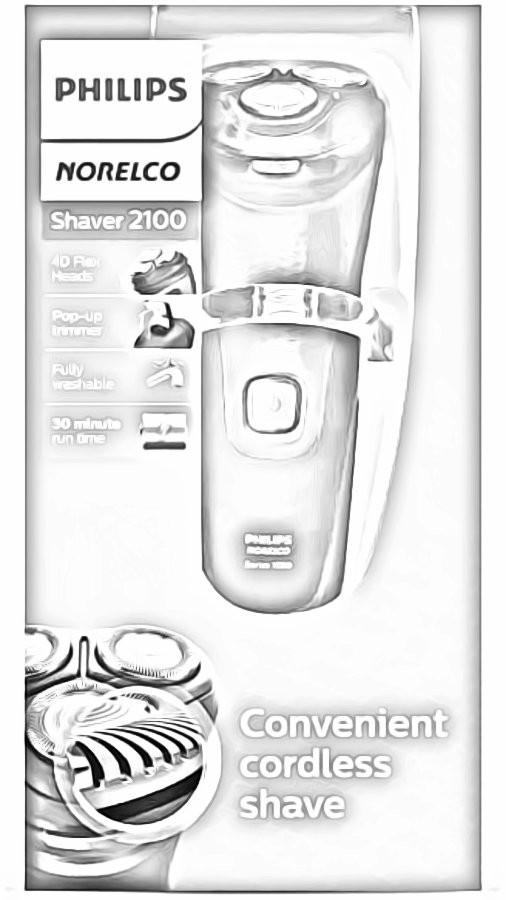 Everyone has to start somewhere, including shaving with an electric razor.
That's one reason to like a razor such as the Norelco 2100 – it's considered an ideal "entry-level" shaver that's great for newcomers but effective enough for use by men of all levels of shaving experience.
Like the Norelco OneBlade, the 2100 comes at an affordable price without skimping on any of the craftsmanship through which Norelco has built its name.
It features a CloseCut blade system that gives a close shave without irritation, while its blades are self-sharpening and maintain their consistency from shave to shave.
The 2100's shaving heads flex in four directions to easily handle the unique curves and contours of a man's face.
It also includes a pop-up trimmer that handles the "detail" work of sideburns and mustaches – for putting the finishing touches on whatever style you want to achieve.
The 2100 is capable of wet and dry shaving, and it's easy to clean (with water), thanks to a one-touch feature that opens the heads so you can rinse them.
Moreover, it's an extremely quiet razor that some users say is so quiet you can't hear it unless you're standing next to the person using it.
Its Lithium-ion battery provides up to 35 minutes of shave time and needs about eight hours to charge completely. An LED display lets you know when battery power is running low.
Pros
An excellent basic electric razor

Close shaves without irritation

Very quiet motor
Bottom Line
The 2100 is a no-frills razor that still delivers the quality shave you expect from Norelco's products. You could spend more on another razor that doesn't provide as good a shave.
How to use a Norelco razor to get the best shave every time
If you're new to shaving with a Norelco razor – or to electric shavers in general – your skin may need a couple of weeks to adjust. You may experience some slight irritation and discomfort in the beginning, but that's normal and shouldn't last very long.
There also are certain things you can do and techniques to follow to ensure that you're getting the most from your Norelco razor with each shave. Here's a closer look:
Pre-trim
Shaving longer whiskers with an electric razor is sometimes a chore and often uncomfortable. You'll do yourself a favor with a bit of pre-trimming if your beard is a couple of days old and heavier than usual.
Most Norelco shavers come with trimming attachments that help you to thin the forest, or you can use a quality pair of beard and mustache scissors.
Don't use too much force
There's no need to use excessive force when using your Norelco shaver – or any electric razor for that matter. Gentle pressure is enough to make your facial hair stand upright while ensuring that the blade catches and cuts it.
Too much pressure creates friction between your shaver and skin, which can lead to irritation. Go easy, friends – especially if you have sensitive skin.
Shaving difficult whiskers
Most men have a few facial hairs that seem to defy their best shaving efforts and escape the shaver. One of the ways you can get them to cooperate is by gently pulling the skin in that hair taut because it will lift the hairs and make your shaver's job easier.
Shave against the grain
While manual shaving (with exposed blades) involves shaving with the grain, the opposite is true for shaving with an electric razor. The shaving heads and foils of an electric shaver will best lift and capture your whiskers when you shave against the grain.
Also, remember to shave with circular motions only when using a rotary shaver. Foil razors limit you to up-and-down movements and can easily irritate the skin if you operate them with circular motions.
Wet shaving
Many men use their Norelco razor for wet shaving and feel that doing so gives them a closer shave. One of the keys to wet shaving is using a quality shaving foam or gel, and it's always a good idea to wash your face with soap and water before you start shaving.
Dry shaving
Dry shaving is always an option with any Norelco electric razor and is less complicated than wet shaving, in which you use products such as shave foam or gel.
To get started, wash your face with water and a good face wash or soap. Use warm water, because it will open up your skin's pores and give your whiskers an extra bit of "lift" that helps your shaver's blades catch them.
Let your skin dry completely before you begin shaving and then use circular motions to trim your facial hair (or up and down motions when using a foil shaver).
Detail work
Save your sideburns and mustache for last and give them a touch-up as needed. Again, your Norelco shaver probably has styling and trimming attachments that enable you to handle "detail" work smoothly.
Finishing up
A couple of things you should do after you've finished shaving and trimming is 1) apply aftershave and 2) clean your razor.
Aftershave will soothe your skin and give it the fresh-shave feeling that many men love while also easing potential skin irritation that's the bane of men with sensitive skin.
Finally, it's important to clean your Norelco shaver after every use, whether you rinse it with tap water or use the cleaning station that comes with many shavers.
You can also use a cleaning brush (most electric shaver kits include them) to wipe away excess whiskers left on the blades.
Following a consistent post-shave cleaning routine will help keep your razor working its best while also ensuring that you get the most life from it as possible.
How Norelco stacks up against the rest
The Philips company – which later became Philips Norelco – produced its first line of electric shavers in 1939. In other words, they've been in the shaving game for a long time and have introduced a lot of unique technology since then.
Many men swear by Norelco's shaving products, including their body groomers, and that loyalty isn't simply driven by marketing and advertising. Their razors produce superior results in a lot of categories, and there are plenty of reasons to like them:
Blades
Norelco's shavers come with blades designed to provide a closer shave with fewer passes. They're designed with a precision lift and cut technology that works on whiskers of different lengths.
Norelco's blades often change from model to model, however, but that's true of many other electric razor manufacturers, including Braun.
Most Norelco shavers feature blades that move in different directions – which, again, isn't unique – but it does allow users to trim hairs from different angles, which also helps improve shaving accuracy and decrease the likelihood of razor burn and bumps.
Type
Electric razors come in two types: foil and rotary. While Norelco manufacturers both types, one of their major competitors (Braun) focuses primarily on foil razors.
Both types of razors have their advantages, but one of the things we like about rotary shavers is that you move them in circular motions; foil shavers restrict you to straight-line or up-and-down movements.
Power
Norelco, Braun, and Panasonic shavers have motors of varying degrees of power, and you won't have trouble finding one with a motor powerful enough to suit your needs.
Braun may have an edge in power – its AutoSensing motor ranks among the best in the business – but more powerful motors typically generate more noise, which may or may not influence your buying decision.
Accessories
Norelco shavers come with a boatload of accessories – as evidenced by our razor reviews above – and include everything from precision trimmers and stylers to travel pouches and cleaning stations. Norelco has you covered if you like gadgets.
Wet & Dry Shaving
While foil shavers work particularly well for shaving with thick creams and gels, that's not to say Norelco's rotary models won't get the job done during wet shaving.
Maintenance and Cleaning
Among the advantages offered by Norelco's cleaning stations is that they don't use alcohol. That's another plus for men with sensitive skin – although, to be fair, the alcohol used in the cleaning stations of other major razor brands is often highly-diluted.
Batteries
Norelco shavers use Lithium-ion batteries that typically provide up to 40 minutes of shaving, and perhaps more, before needing a full charge. The battery should last the life of the razor.
How we chose the best Norelco shavers
No matter what your shaving needs or type of whiskers and facial skin, there's a Norelco Shaver out there with your name on it. Quality Norelco razors abound, which makes narrowing down the field to find the best of the bunch something of a challenge.
We chose the Norelco shavers for our best-of list based on a variety of considerations, including overall performance, blade quality, ease of use, attachments, battery life, and ease of maintenance and cleaning.
We also considered the reviews of others, particularly those of customers like you.
Price is another factor we considered, and our goal is always to provide a list of products that fit the budget of every man.
Conclusion
The Philips Norelco Shaver is a star in the trimming community because of the innovative design and the ease of use it offers to its customers. In this article, we talked about the different item models of the best Philips Norelco Shaver options, the way they work, what skin types they're best for, and why they are such a hit.
What are your thoughts? Do you use a Norelco shaver? If so, what model? Or, do you use another type of electric razor? We'd love to hear from you. If you're interested in similar topics about men's grooming, please feel free to check out our other articles, as well!