5 Best Foil Shavers for a Smooth, Fast & Convenient Shave
This post may contain affiliate links. Learn more.
Many guys simply don't have the time or the patience to fiddle around with a traditional razor.
They want convenience, and for that, an electric razor reigns supreme. Sure, it won't get your face quite as baby bottom smooth, but it'll still give you a very close shave.
And electric razors are quicker, cleaner, and less likely to leave your face a bloody mess if your hand slips.
Now, there are two types of electric shavers: foil and rotary. We'll compare them later in this post, but for now, we're focused on highlighting the best foil shavers.
In a hurry? Here are our top picks:
Panasonic Arc5 Electric Razor ES-LV65-S
We start with our #1 overall pick, the Panasonic Arc5 Electric Razor ES-LV65-S. This thing is a beauty and a beast, with ultra-sharp blades sitting on a multi-flex head and driven by a powerful motor. And it's waterproof too, so you can shave dry or wet – and even take it in the shower.
Braun Series 9 9290CC Men's Electric Razor
But for more sensitive skin, the Braun Series 9 9290CC Men's Electric Razor is the pick. It provides a great shave as well (and it's also waterproof), but its 10,000 Sonic vibrations make it even more gentle on your face.
As mentioned, we'll also provide a comparison of foil and rotary shavers, as well as give you some tips on choosing a foil shaver – and using it properly.
Quick summary
<!—INSERT CODE BELOW—>

Best Overall

Panasonic Arc5 Electric Razor ES-LV65-S

Ultra-sharp blades provide maximum cutting efficiency

Suitable for wet and dry use

Multi-flex pivoting shaver head

Check on Amazon

Best for Sensitive Skin

Braun Series 9 9290CC Men's Electric Razor

AutoSensing motor technology

Gives a close shave even for the thicker beard

Waterproof

Check on Amazon

Best Value

Remington F5-F800 Foil Shaver

Amazing price

Waterproof and easy to clean

Intercept shaving technology

Check on Amazon

Andis 17150 Profoil Lithium Shaver

Professional barbers love it

Lightweight for easy use

Long lasting battery

Check on Amazon

Braun Series 3 Proskin 3040S Men's Electric Razor

Sharp blades cut accurately but without irriating the skin

Easy to use, gets on with the job

Suitable for wet and dry shaving

Check on Amazon
Before you buy: 6 Things to consider when purchasing a foil shaver
Electric razors have come a long way, baby. Early models cost a lot and fell apart quickly, which is hardly a bargain in anyone's book.
But today's shavers, well, you'll find them in a variety of price ranges, and the best ones provide a close enough shave to make you think that you're using a blade. Here's a look at some factors to keep in mind when buying a foil shaver:
1. How fast is it?
Speed isn't always everything but it helps to have a speedy electric shaver. Here's the catch, however: the "speed" of a razor doesn't mean how quickly you can shave with it, but the speed of the blades. The faster the blades, the closer and more comfortable the shave.
An electric shaver's speed translates to Cycles Per Minute (CPM), and the top foil shavers generally have from 10,000 to 15,000 CPMs. Shavers with low CPMs can give you a lousy shave.
While foil shavers are more expensive compared to rotary shavers, they are faster and better at cutting through thicker hair. And unlike rotary shavers, they don't pull on your skin while shaving. You can use these shavers with water, foam or gel for extra skin protection and softness.
If you are looking for an easy, quick and pain-free way to remove all signs of hair growth, then you will love a foil shaver.
2. How long does the battery last?
No one likes to be in the middle of shaving when their razor runs out of power. An important buying consideration is battery life and it often varies from shaver to shaver.
That said, a quality shaver should run for at least an hour before the battery runs out, while some high-end models easily last longer than that.
Another thing to consider is whether your shaver comes with an additional power source, i.e., a cord that plugs into any outlet. Having both options – cordless and corded – makes for more convenient use, including when you travel.
As a general rule, corded razors are more inconvenient than those that run on batteries because the cord may get in the way of your shaving and restrict your movement.
If you prefer to shave while making coffee or fixing a bagel, a cordless model is for you. Just make sure that the cordless model you choose is rechargeable, however.
3. Can you use it wet or dry?
Among other options to consider when buying a foil shaver is whether you want to use it for wet or dry shaving, or both.
Wet shaving means you can use it in the shower (and with shave gel) to potentially get an even closer shave, while dry shaving is excellent for mornings when you're running late and have only limited time to fit in your grooming routine.
4. Make sure the price is right
The price of foil shavers varies widely. You'll find models as low as $20 and others that cost five times that, if not more.
It all comes down to your budget and making sure you get the best razor possible in your preferred price range. Look for bargains in which a good razor comes at a discounted price, even if just for a limited time.
The good news is that dependable shavers are available at almost any price.
5. Is it easy to clean?
Keeping your razor in tip-top shape requires a basic maintenance plan, and cleaning is a huge part of that plan. How to clean a razor is another thing that varies from model to model but you should strive to clean yours after every use.
As a general rule, foil razors are easier to clean than rotary shavers, while more expensive models may even come with a cleaning station.
6. Does it come with replacement foils?
Electric shavers, just like traditional blade razors, need a blade replacement from time to time.
It's a good idea to check if a foil razor comes with a second set of foils. If not, make sure you know how to buy new foils and replacement parts and also the cost of those replacements.
The 5 best foil shavers
Panasonic's Arc5 line of shavers has a lot to offer, and we think the ES-LV65 is the best of the lot. And that's saying something because the Arc5's are quality razors, indeed.
There are many advantages to choosing the ES-LV65, including that it costs less because it doesn't come with an automatic cleaning station. Not to worry, however, because Panasonic's shavers are easy to clean with or without a station.
Otherwise, the ES-LV65 has all the features you'd expect from the Arc5 series, including five ultra-sharp precision blades that cut hair cleanly at the base. Varied foil patterns capture and cut various hair types for clean, efficient shaving with every use.
The Arc5 ES-LV65 also features Panasonic's Active Shaver Technology in which the shaver's sensors detect differences in beard density. In turn, the motor automatically accelerates where the beard is most dense while cutting with less power in thinner areas.
The Arc5 multi-flex pivoting shaving head flexes from side-to-side and back-and-forth and follows the individual contours of your face, neck, and jaw.
There's also a precision pop-up trimmer that allows you to easily detail your sideburns and mustache, or to trim down longer stubble before you shave.
The ES-LV65 is suitable for wet and dry use and comes with a very powerful motor that delivers 14,000 cuts per minute.
Pros
Sharp, precise nanotech blades.

Its ultra-thin foil follows your facial contours for a close, comfortable shave.

An LCD battery indicator shows the status of your battery at a glance.
Cons
Doesn't work as well on longer facial hair.
Bottom Line
There's a lot to love about Panasonic's Arc5 line of razors, including the ES-LV65-S model, which is affordable and has all the features you need for a quick, close shave.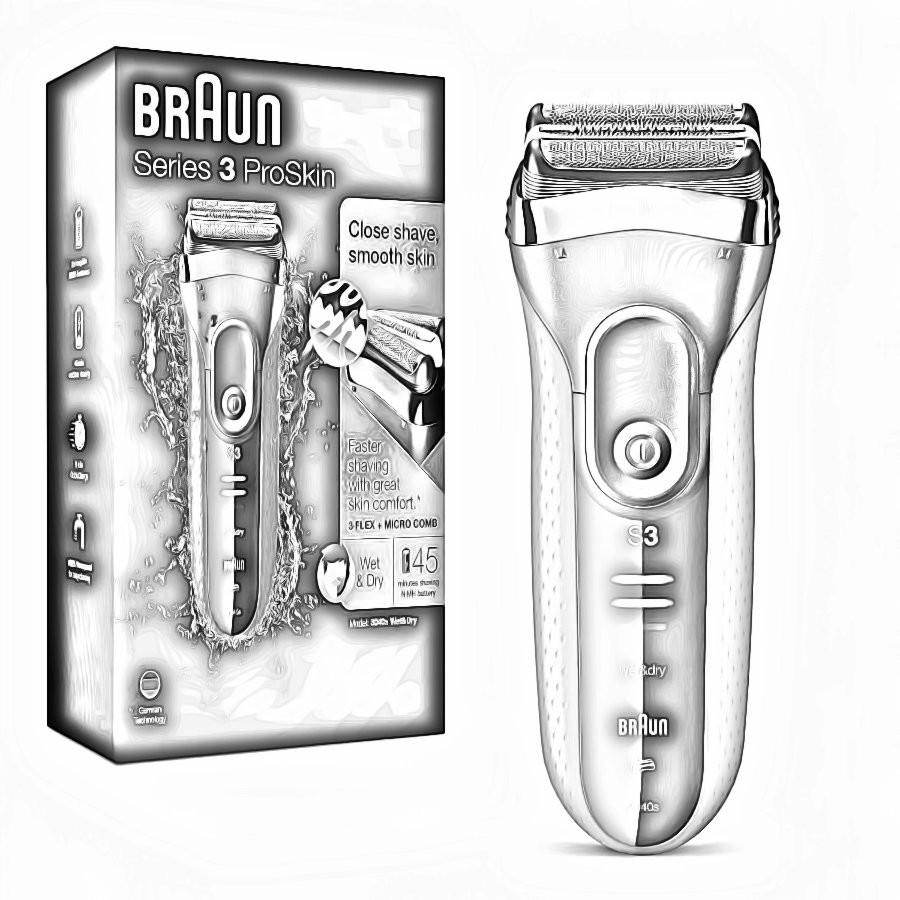 When a company known for producing superior products call one of it shavers its best overall, you can't help but take notice.
That's certainly the case with Braun's Series 9 9290cc Electric Razor, which is a shaver worth your serious consideration if you don't mind spending a little extra money.
The Braun 9290cc is a high-end, supremely crafted shaver that its makers also call the "world's most efficient" electric razor. That's a lofty claim, indeed, but the folks at Braun aren't exactly making a baseless boast.
The 9290cc deserves a spot among the best shavers available today.
We include it on our list of the best shavers for a lot of reasons. For one, it's tested – and works – on longer beards, while it includes Braun's most advanced shaving technology.
That technology includes five synchronized shaving elements that allow you to capture more hair in the first stroke than you can with most other shavers.
The 9290cc's five elements include four cutting elements and a skin guard that work together to give you a comfortable, close shave without skin irritation.
You'll love the clean-cut provided by the shaver's titanium-coated blades, as well as its advanced flexible shaving head.
The 9290cc comes with two specialized trimmers that capture even the most stubborn hair, while its AutoSensing motors, which is capable of 10,000 CPM, helps guarantee an efficient shave on even the thickest of beards.
Another plus is that the Braun Series 9 9290cc is 100% waterproof and excellent for wet or dry shaving. You can shave in the shower and rinse the razor with water when it's time to clean it up.
But the 9290cc also comes with a 5-action Clean&Charge station that cleans the shaver hygienically while also lubricating and charging it. You'll get a fresh start with your razor every day.
The cordless 9290cc provides 50 minutes of uninterrupted shaving thanks to a Li-Ion battery that fully recharges in one hour. The shaver's LCD provides a 5-step battery countdown, including the last nine minutes of shaving.
Pros
Provides a close shave even on thicker beards

Waterproof

AutoSensing Motor
Cons
Not in every man's price range
Bottom Line
The Braun 9290cc is a superior razor that you'll pay extra for, but also one that's worth every penny. It combines innovative technology with fine craftsmanship to provide users with a clean, comfortable shave every time they use it.
If you're on a strict budget, then pay attention – because this is the cheapest foil shaver on our list.
But don't get it twisted. The Remington F5-F800 is still a quality product.
It all starts with the Intercept Shaving Technology, which sits between the two foils and pre-trims longer hairs. As you know, these longer hairs can sometimes be a problem for foils to grab and cut, so the Intercept allows you to get a smoother shave on the first pass.
From there, the foils, outfitted with Pivot and Flex Technology of their own, adjust to the contours of your face, chin, and neck, keeping the shave close at all times.
Not bad for such an affordable foil shaver, eh?
There's even a pop-up trimmer, which lets you get those clean, precise cuts on your sideburns and beard.
The Remington F5-F800 features a rechargeable battery, that lasts for 60 minutes on a single charge. And it's easy to wash; just run the foils under the faucet, and boom, it's good as new. No need to fuss with taking it apart and getting hair everywhere.
So, why bother with more expensive shavers, if this one gets the job done? Well, for starters, while the shave is quite good, it's not quite as good as some of our other picks. And second, it doesn't have the same durability.
While it's cheaper in the short-term, you'll probably end up replacing it sooner. But hey, you get what you pay for. And the Remington F5-F800 provides plenty of bang for your buck.
Pros
Very affordable

Intercept shaving technology

Washable
Cons
Not as durable as our other picks
Bottom Line
The Remington F5-F800 is our top budget pick, providing a close, fuss-free shave at a very affordable price. If you're tight on cash, give it a try.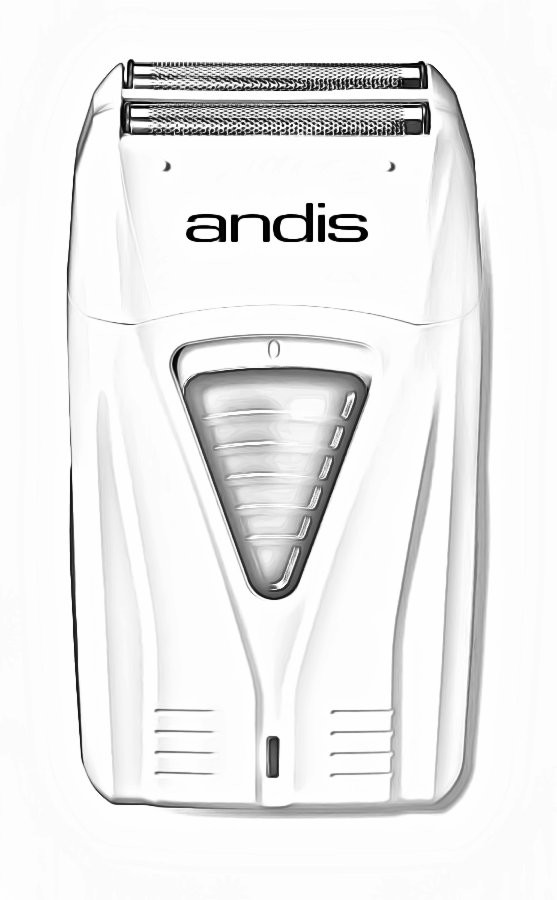 Andis is a company you may or may not have of heard of but it does have a long history. Started in 1922 as the Andis Clipper Company, it manufactures shavers and sells their products in 90 countries.
There's something to be said for longevity – you must be doing something right – and the Andis 17150 Profoil Lithium shows that the company continues to crank out products relevant to today's grooming world.
Among the first things, one notices about the Andis 17150 Profoil Lithium Shaver is how lightweight and compact it is.
It's easy to maneuver it around your face, including in the face's tricker contours, such as the neck and jawline, and also compact enough that it's ideal for travel.
And, if you have trouble with your hands, such as arthritis, the 17150 is light enough that you can still give it a firm grip.
The 17150 comes with staggered, hypo-allergenic foil heads that provide a clean, comfortable shave without razor burn – a huge plus for men with sensitive skin.
While the Andis 17150 comes with a charger, it also has Lithium-Ion battery that lasts up to 80 minutes when fully charged. Not many shavers have a battery life as long as this one.
Another reason we took a closer look at the Andis 17150 was because many professional barbers prefer it over other brands.
It works on all hair lengths, including whiskers that have grown for several days, and it's excellent for men with particularly curly facial hair, such as black men. All in all, it's the best foil shaver for barbers, but it's certainly good for home use, as well.
Pros
Lightweight design is easy to use

A favorite of professional barbers

Long battery life
Cons
Motor isn't as fast as those on some shavers
Bottom Line
The Andis 17150 provides a stress-free shave and works for men of all whisker lengths. It's also easy to handle and has a battery life that's second-to-none. It's definitely worthy of your attention.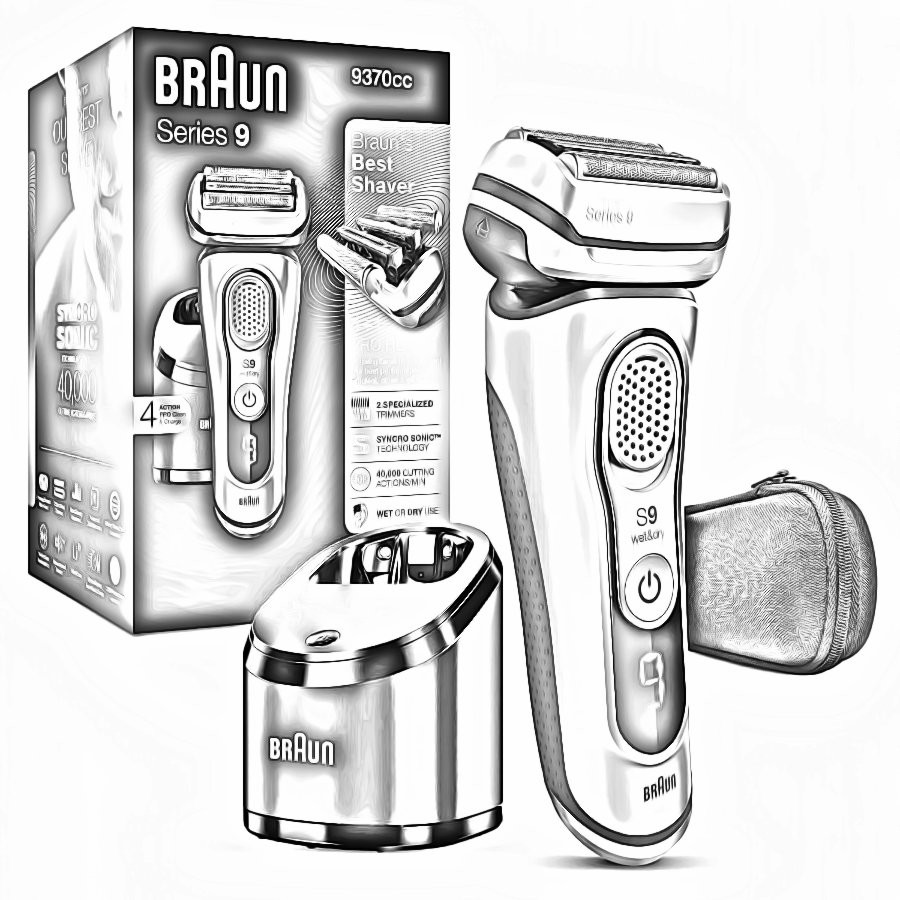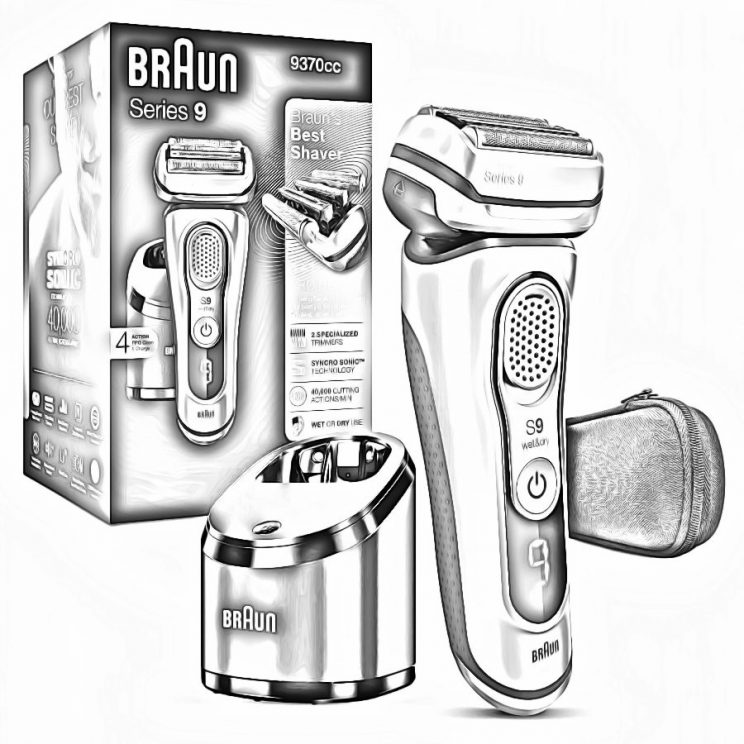 Not every quality electric shaver has to be a burden on your budget.
The Braun Series 3 ProSKin 3040 Electric Razor is a prime example because you'll get a top-notch razor that works better than many more expensive models. We think it's the best foil shaver under $100.
Braun is an iconic name in the shaving industry with a long history of producing excellent, innovative shavers that feature fine German craftsmanship. Their designs are simple and intuitive to use, and the Braun 3040 is no exception.
It works efficiently – which means you don't have to shave over the same spot twice – and minimizes skin irritation.
But there are other reasons for including the Series 3 ProSkin 3040s on our list, including Braun's patented metal mesh SenoFoil that enables you to get a close shave without discomfort.
The 3040s comes with three specialized shaving elements that work together, including extra-sharp blades that cut hair cleanly every time.
It also features Braun's MicroComb technology that enables you to capture more hair than you do with many other shavers, and also allows you to save time when shaving.
While the blades are sharp, they're also pressure sensitive. That means they'll automatically retract from your skin to protect you from abrasions while providing a gentle shave.
What else do we like about the Braun 3040? For starters, it comes with a built-in precision trimmer located on the back of the shaver that's ideal for trimming work and shaping sideburns. It's also 100% waterproof and it's good for wet and dry use.
Pros
It's easy and intuitive to use

Good for wet and dry shaving

Sharp blades cut cleanly and without irritation
Cons
Not as good on longer beard hair
Bottom Line
Braun knows a thing or two about electric shavers and their Braun ProSkin 3040s is another in their long line of excellent products. While there's nothing overly fancy about it, you can rest easy in knowing that it will provide a close, comfortable shave with every use.
How we chose the best foil shavers
Research shows that a few select companies dominate the electric shaver market.
That makes it both easy and tough to pick a list of the top foil shavers; easy because the majority of their products get rave reviews, but tough because it's harder to create a multi-company list.
In the end, however, it wasn't about brand name but about how well a shaver worked and the kind of reviews it received from consumers and shaving experts.
The ability to provide a smooth, comfortable shave was a key consideration, as was durability and the quality of features that came with each shaver.
We also considered the price and strived to include both higher-priced and budget shavers on our list.
Here's how to use a foil shaver to get a nice, close shave every time
Shaving with a foil shaver is different from shaving with a rotary shaver because of the difference in their shaving heads. Foil shavers move – and cut – best in a straight line, while rotary shavers work best when used in circular motions.
But let's talk about best practices and how to use a foil shaver.
1. Always follow a pre-shave routine
Just like it's wise to stretch your muscles before working out, there are things you can do to prepare your face before shaving with a foil razor.
Get rid of any moisture on your face or shaver before you dry shave. Don't wash or exfoliate your face before shaving and make sure your shaver is completely dry, especially if you've cleaned it with water.
Use an electric pre-shave lotion or powder that provides a layer of lubrication when you're dry shaving. It will tone the skin and make your whiskers stand up straight.
Make sure your shaver has a full charge. It's not a requirement, mind you, but some shavers don't maintain their peak power (and speed) when the battery has drained a bit. A sluggish shaver increases the chances of it pulling and tugging on your whiskers as you shave.
Clean your shaver before you use it. Dirt and leftover hair affect the shaver's performance, while a grubby razor is an excellent place for bacteria to thrive.
Make sure the blades are sharp. It's not something you have to stress about every time you step in front of your bathroom mirror but you'll probably need to change your foils and blades once a year depending on how often you shave and the coarseness of your beard.
Last, but not least, make sure your whiskers aren't too long (like 3 or 4 days worth of growth) because a foil shaver doesn't cut longer hair as efficiently as it does short, fine hair.
2. Deciding between wet and dry shaving
By "wet" shaving we mean using a shave cream or gel, although you can use many foil shavers in the shower, as well. If you decide to use shaving cream, apply it to your face as you normally would when using manual razors.
Bravo if you have a quality shaving brush, such as those reviewed in this article, because it's the best way to apply shave cream. In any case, let the shave cream on your face for five minutes to soften your whiskers.
3. Always follow the proper technique
Most shaving experts advise men to shave the sensitive areas of their face first when using a foil shaver before the shaver begins to heat up a bit. Shave with short strokes and in straight lines; don't use circular motions as you would with a rotary shaver.
There's also no need to press the shaver too hard against the skin; let the blades do the heavy lifting while reducing the risk of irritating the skin.
That said, use your fingers to pull tight the skin over which you'll shave. You'll eliminate creases and make it easier for your shaver to glide evenly over your skin.
A good place to start is your neck area, which is more sensitive. You can then move on to your face while starting at your jawline.
4. Follow a post-shave routine
Not only is it important to stretch your muscles before your workout but it's important to stretch them afterward, as well. The same goes for shaving – make sure you follow a post-shave routine that with soothe your face and prevent it from becoming irritated.
Using a quality aftershave is always a good idea. So is cleaning your shaver after each use, and one of the advantages of foil shavers is that they're easy to clean and maintain.
Most come with a small cleaning brush, while others come with a small cleaning station that also lubricates and dries your blades.
5. Be patient
It takes a week or two for your skin to adjust to using an electric shaver if you've just switched from a manual razor. The same holds true for switching from a rotary to a foil shaver. Moreover, it may take some time to adjust to the techniques of electric shaving.
Comparison test: Foil vs. rotary shavers
Your choices of electric shavers come down to two types – foil and rotary. We're spending the bulk of this article talking about foil shavers, but it's important to know the differences between the two types as well as the advantages and disadvantages.
The main difference between foil and rotary shavers is the type of metal grating used to grab your whiskers so the blades can cut them.
A foil razor has several rounded blades aligned under a thin, foil comb. Your whiskers get cut when they pass through the grating and get sheared by oscillating blades.
A rotary shaver has three (and sometimes four) flexible shaving heads with blades underneath that cut hair as they pass through the slots in the surface of each head.
Let's take a closer look at each shaver type:
1. Everything you need to know about rotary shavers
Rotary shavers have been around for almost 80 years, so there's nothing new about them. Rest assured, however, they've come a long way since then and the technology used to create them is ever-changing.
Again, the most noticeable difference between rotary and
2. The many advantages of foil shavers
So, you might ask, why should I choose a foil shaver over a rotary shaver? Both do an effective job of cutting your whiskers, but let's take a closer look at why you might pick a foil shaver.
Foil shavers typically more speed than rotary razors. We've already discussed what speed in a shaver means – and the importance of cycles per minute – and a foil shaver tends to provide speedier grooming.
Many men swear by foil shavers because they believe that foil shavers provide a closer shave than rotary shavers. One of the main reasons foil shavers provide a close shave is because of its microfoil, which is thinner than the shaving heads on rotary shavers.
Better for sensitive skin
Again, many men feel that foil shavers are best for shaving sensitive skin but that's not to say it's a given that rotary shavers, by comparison, don't do as good of a job on sensitive skin.
Easier to use for "detail" work
Foil shavers have a rectangular shape which makes it easy to maneuver them around while you're tidying your sideburns and mustache. Or, if you have, say a soul patch or goatee, a foil shaver works best to shave around them.
There's hardly anything complicated regarding the maintenance of a foil shaver. If it's suitable for wet and dry use, cleaning it is as easy as running it under water to remove leftover bits of hair and shaving cream or gel.
Cheaper models may require you to remove the foils before rinsing the shaver with water.
3. Some disadvantages of foil shavers
Foil shavers are like everything else in this life, i.e., they're not perfect. They're damn good, mind you, especially the top-quality shavers that we reviewed above, but you need to consider their drawbacks, too.
Most users agree that foil shavers are noisier than rotary shavers. It's not that foil shavers will wake the neighbors, but they may be loud enough – in some cases – to disturb those in your house who don't sleep as soundly as others.
If you prefer to move your shaver in circular motions when shaving, then a foil shaver may not be for you. Foil razors shave in straight lines, either vertical or horizontal, and doesn't fit the natural contours of your face like a rotary shaver.
4. The advantages of using a rotary shaver
While foil shavers have, in some ways, an overall edge over rotary shavers, that's not to say that you should automatically pick a foil shaver. Rotary shavers do have some advantages, after all:
They're good for cutting longer hair
Rotary shavers do an excellent job on longer facial hair. If you're one of those guys who shave every third or fourth day – when whiskers become a bit more than stubble – then a rotary shaver is a safe pick.
Rotary shavers also work well on coarse hair. That's a good thing for many reasons, including that coarse facial hair tends to grow in different directions, becomes tangled, and can cause skin irritation.
They're great for shaving your face's contours
The rotating heads on the rotary shavers make them ideal for shaving the many contours of your face that are often hard to reach with other razors – such as under the nose, around a sharp jawline, and around a prominent Adam's apple.
Rotary shavers are quiet in comparison to foil shavers.
5. Some disadvantages of rotary shavers
They don't provide as close of a shave
While rotary shavers allow you to better shave around the contours of your face, they don't offer a down-to-the-skin close shave as do quality foil shavers. While that may not be true in the case of every rotary shaver available, it seems to be the consensus of many men.
Cleaning a rotary shaver means removing a bunch of parts and then re-assembling it again after you've cleaned out the excess facial hairs and shave gel. As a result, users may have the temptation to put off cleaning their rotary shaver and shorten its lifespan.
Conclusion
How about you? What electric shaver do you use, and why? Have you shaved with any on our list? We'd love to hear from you and welcome your comments and suggestions.