7 Best Ketoconazole Shampoos for Hair Loss & Dandruff
This post may contain affiliate links. Learn more.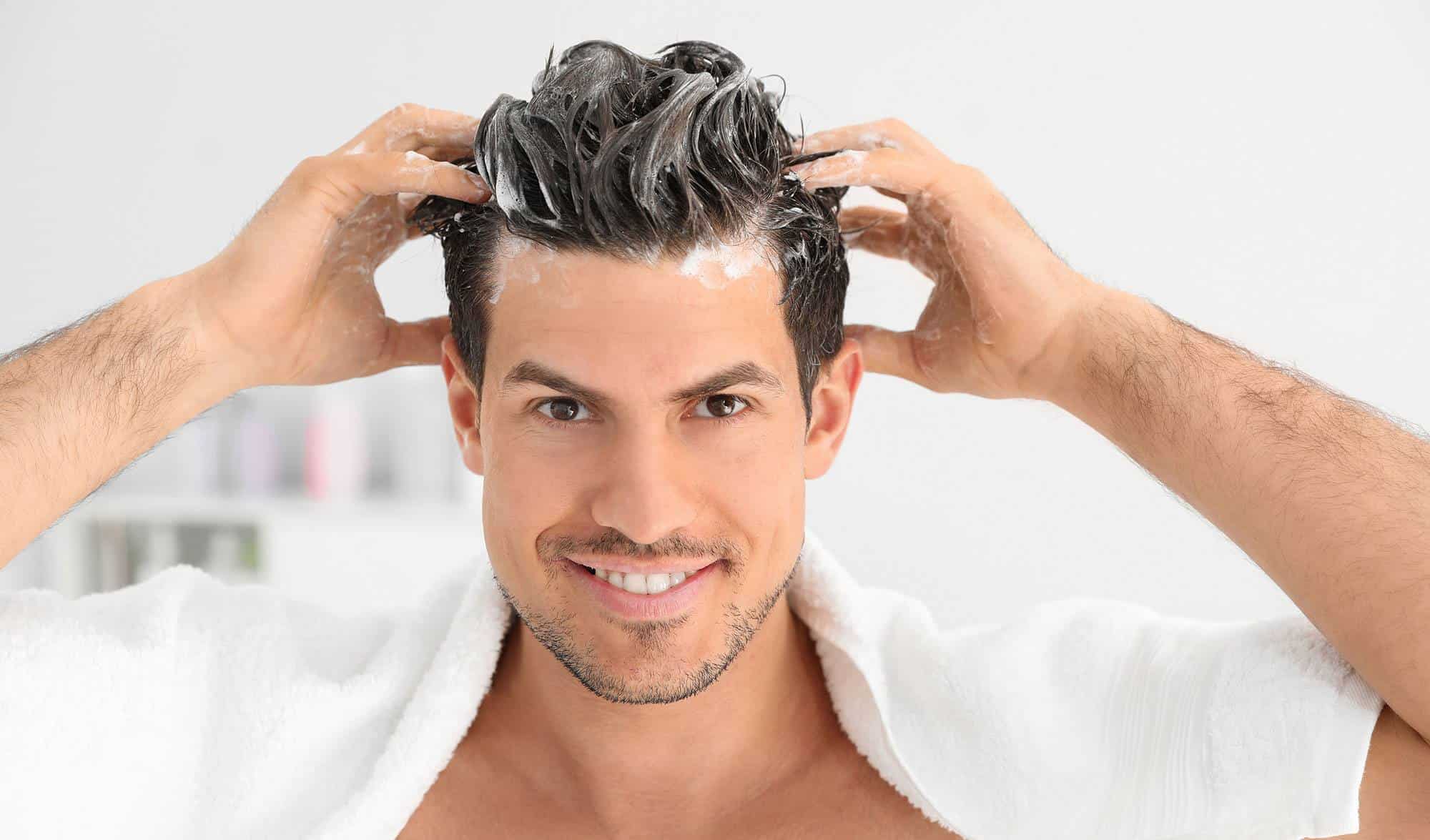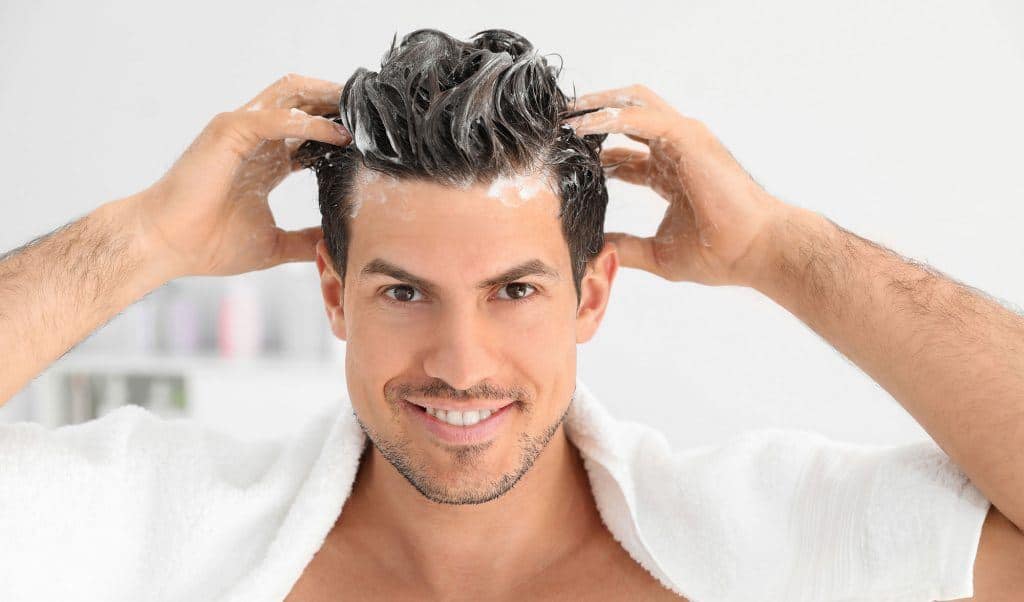 You're not alone if you struggle with hair loss or other scalp conditions. According to the American Academy of Dermatology, 80 million Americans suffer from hair loss and thinning hair. We can assume that similar numbers exist worldwide.
In a hurry? Here are our top picks:
DS Labs' Revita Shampoo
The very best ketoconazole shampoo comes from DS Labs. Their Revita Shampoo utilizes the patented nanosome delivery system which releases ingredients gradually, which is more effective. And it's totally free from nasty chemicals that irritate the skin.
Nizoral A-D Anti-Dandruff Shampoo
Nizoral's A-D Anti-Dandruff Shampoo is also a great product. It's a market leader in managing dandruff, and it helps tackle male pattern baldness, too.
We'll also discuss tips for using a ketoconazole shampoo to get the best results. But let's begin by looking at some ketoconazole shampoo buying tips.
Quick summary
<!—INSERT CODE BELOW—>

Our #1 Choice

DS Labs Revita Shampoo

Perfect for both men and women, and for all types of hair concerns

Nanosome delivery system releases ingredients gradually

Free from harmful chemicals that irritate the skin

Check Best Price

Nizoral A-D Anti-Dandruff Shampoo

A market leading product for managing dandruff

All-encompassing, helps a range of dandruff issues

Also beneficial for male pattern baldness

Check on Amazon

Ultrax Labs Hair Surge

Combines ketoconazole with caffeine for extra effect

Stimulates hair follicles for thicker hair

Safe to use on a regular basis

Check on Amazon

L'emarie Hair Growth Shampoo & Anti-Dandruff Treatment

Packed with ingredients to boost healthy hair

Also reduces DHT to help male pattern baldness

Fragrance-free and clinically tested

Check on Amazon

Wick & Strom Anti-Hair Loss Shampoo

Cleans deep within the follicles to revitilize hair

Pleasurable aroma, appealing for men and women

Exfoliation properties, lifts dead skin cells from the scalp

Check on Amazon

Lipogaine Big 5 Hair Stimulating Shampoo for Hair Thinning & Breakage

Unisex

Contains natural oils such as argan and castor oils

Reduces DHT

Check on Amazon

Regenepure, NT Shampoo Nourishing Treatment

Paraben and sulfate free

Suitable for all hair types

Reduces dandruff

Check on Amazon
Before you buy: 7 Things to consider when purchasing a ketoconazole shampoo
There are several things to keep in mind when buying a ketoconazole shampoo, especially if you're purchasing one for the first time. Let's start with the most important question:
1. What is ketoconazole?
Scientifically-speaking, ketoconazole is an imidazole derivative. In layman's terms, it's an antifungal medicine that treats many kinds of fungal and yeast infections, including seborrheic dermatitis.
The latter is dandruff caused by an overgrowth of a yeast fungus that's naturally present in the skin.
While ketoconazole shampoo fights dandruff, there's also plenty of evidence that shows it reduces hair loss while promoting hair growth.
The bloodstream doesn't absorb the ketoconazole found in shampoos, which means that its antifungal effects apply only to the scalp.
2. Other ingredients found in ketoconazole shampoo
Ketoconazole shampoos include several other ingredients that treat hair loss while helping to stimulate hair growth:
Biotin, or vitamin B7, is an important ingredient because biotin deficiencies can lead to hair loss.
Biotin plays an important role in skin cell health. While biotin doesn't grow hair by itself, it helps ensure that you have the right nutrients in your body that facilitate hair growth.
Biotin is found in many rich protein foods, as well, including meats, eggs, and nuts. It is also good to try biotin shampoos.
Caffeine is good for more than the desperate jolt of energy needed to clear the mental fog in the morning. It also helps thicken hair and stimulate hair growth by increasing blood flow to the scalp – which means more potential hair growth and less hair loss.
It's also a natural antioxidant that fights free radicals which may result in premature signs of aging.
Saw palmetto blocks 5-alpha-reductase, an enzyme that converts testosterone in dihydrotestosterone (DHT). In turn, DHT shrinks hair follicles. Men with a predisposition for male pattern baldness inherit hair follicles that are overly-sensitive to DHT.
The good news is that DHT doesn't cause hair follicles to die, so there's still potential for hair growth after DHT is blocked by enzymes such as saw palmetto.
It's worth noting that many folks think that balding is the result of too much testosterone; the truth is that hair follicles are more sensitive to certain hormones.
3. Proven results
Many shampoos with ketoconazole have backing by research and dermatological testing. While results may vary by product and individual, it's never a bad idea to check out the research and studies – if available – about shampoos before purchasing them.
4. Additional benefits
We'll focus a lot on how the best ketoconazole shampoos fight hair loss and stimulate hair growth, but also some on ketoconazole's other benefits, such as how it fights dandruff and increases the density of hair.
Among the many benefits of using a ketoconazole shampoo is that you can use it to treat dandruff without having to purchase another shampoo.
5. Be patient
While some ketoconazole shampoos work faster than others, at least according to reviewers, you shouldn't expect instant results. Slowing hair loss and stimulating new hair growth often takes time – even a few months.
It's important to remain consistent in using ketoconazole shampoo, and you shouldn't quit applying it if you don't see results after a few weeks.
Let's dive into our reviews of the best ketoconazole shampoos.
6. The concentration of ketoconazole
A ketoconazole shampoo can be used to treat dandruff, which is caused by a yeast or fungus called Malassezia globosa. This yeast thrives on the scalp and feeds on sebum (oil) naturally produced by the skin. However, some people have a hypersensitivity to this type of fungus, which leads to inflammation and irritation.
A concentration of 2% is the most common but if your symptoms are more severe you can use 1% or even 3%. A concentration of 1% is also suitable for children while 3% is rarely used because it can be too aggressive.
7. The base of the shampoo
Most commonly, the base of the shampoos is composed of various oils and surfactants. Unfortunately, these oils and surfactants can irritate your skin or cause an allergic reaction. If possible, opt for sulfate-free shampoos, which are less likely to cause an allergic reaction.
The 7 best ketoconazole shampoos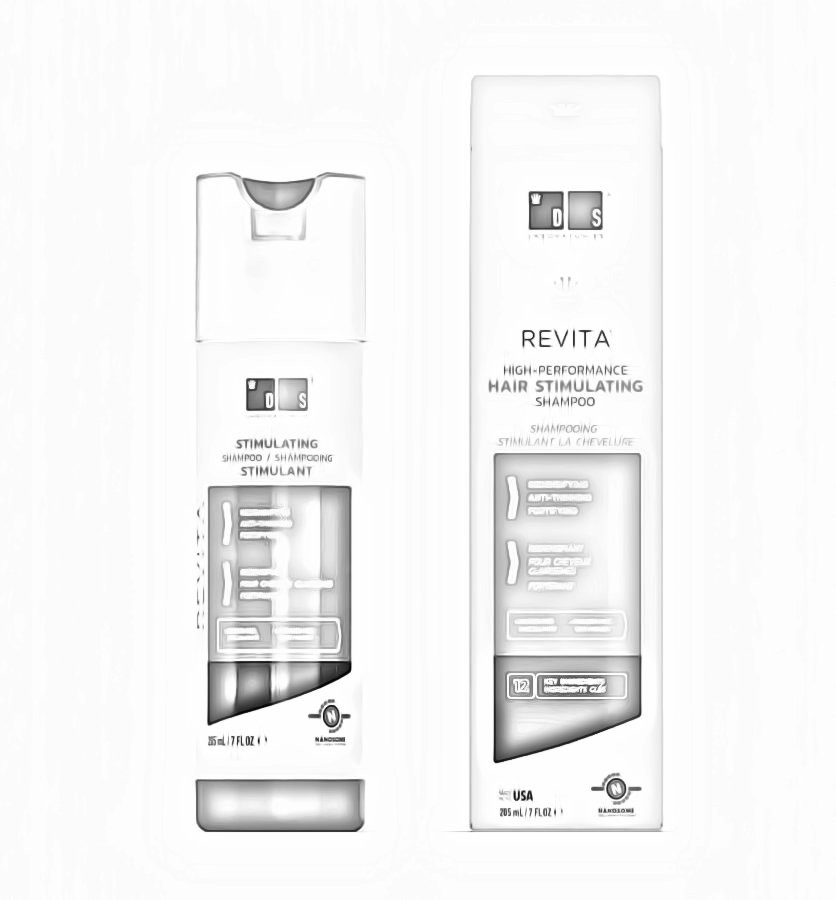 Best features:
Suitable for all hair types
Strengthens and adds density to hair
Unique Nanosome delivery system
Best ketoconazole shampoo for:
Men and women looking for a natural ketoconazole shampoo
Overview
Revita Shampoo has all the right ingredients – including ketoconazole – to fight hair loss and stimulate hair growth. It also has something else: proven results.
One study showed that 90% of participants experienced a decrease in hair loss when using Revita, while 85% noted an overall improvement in their hair's appearance. It's hard to argue with those results.
There are plenty of reasons while Revita is effective, not the least of which is an ingredient list that includes ketoconazole, caffeine, biotin, emu oil, vitamin B2, and key amino acids that aid the structural function and elasticity of hair follicles.
It doesn't include harsh chemicals such as sodium lauryl sulfate, a detergent found in many shampoos that causes dryness, irritation, and can cause hair loss.
Revita also is hypoallergenic and suitable for all hair types. We think it's the best sulfate-free ketoconazole shampoo.
Revita's formula provides plenty of hair-healthy benefits, including that it strengthens hair fibers while reducing shedding, including shedding caused by stress, which can lead to hair loss.
Revita works from the roots outward to enhance the volume and density of hair at its source.
Another plus is that Revita reduces the effects of aging – another common cause of hair loss – by offering benefits for the hair and scalp. And it reduces the appearance of a receding hairline, one of the first signs of impending baldness.
There's also DS Labs' unique Nanosome delivery system that sets it apart from other hair growth shampoos. The Nanosome system works by releasing Revita's active ingredients in a gradual, systematic manner.
It also helps the ingredients to penetrate the skin to the desired depth.
DS Labs say that, unlike other products that contain liposomes, their Nanosome delivery system allows for a higher concentration and more efficient use of ingredients.
What's more, DS Labs also have a Revita Hair Stimulating Conditioner and Revita Tablets for Hair Revitalization, which can be used in combination with the shampoo for an enhanced effect.
Pros
It's an excellent shampoo for men or women concerned about hair loss, thinning hair, or male and female baldness.

DS Labs' unique Nanosome delivery system helps the proper amount of ingredients absorb into the skin at the right time

It doesn't include harmful chemicals that irritate the skin and may lead to hair loss.
Bottom Line
DS Labs is an innovative company that makes products which work effectively and have proven results. We think it's the best ketoconazole shampoo for hair loss.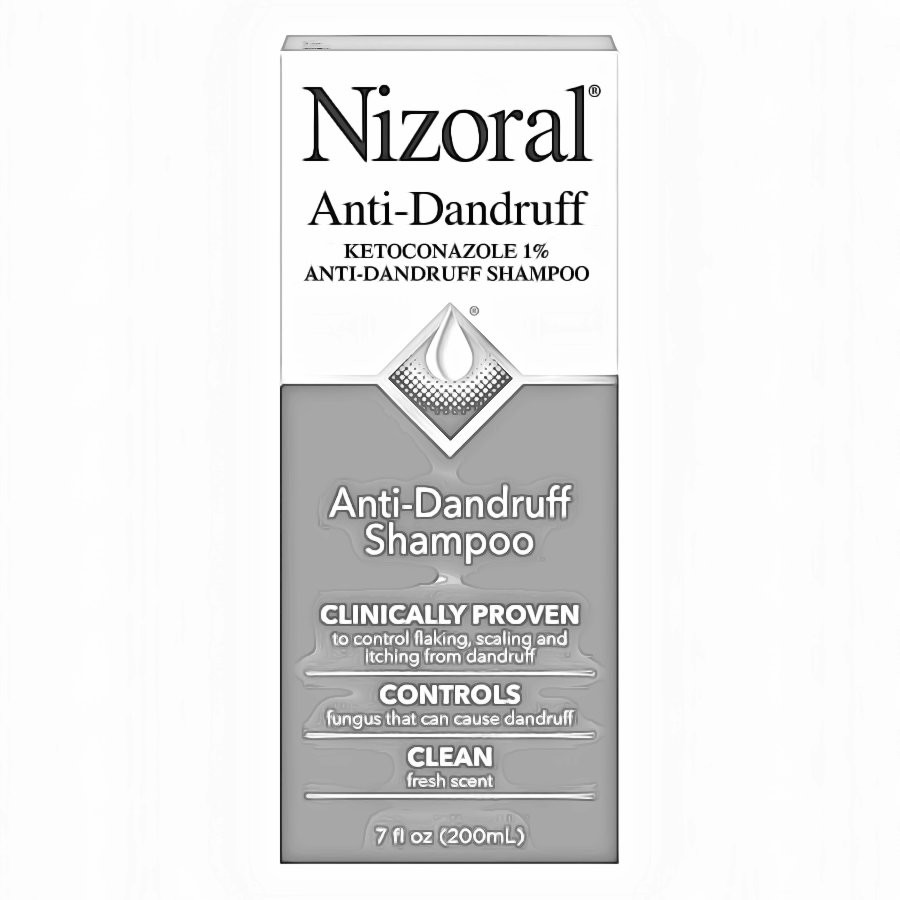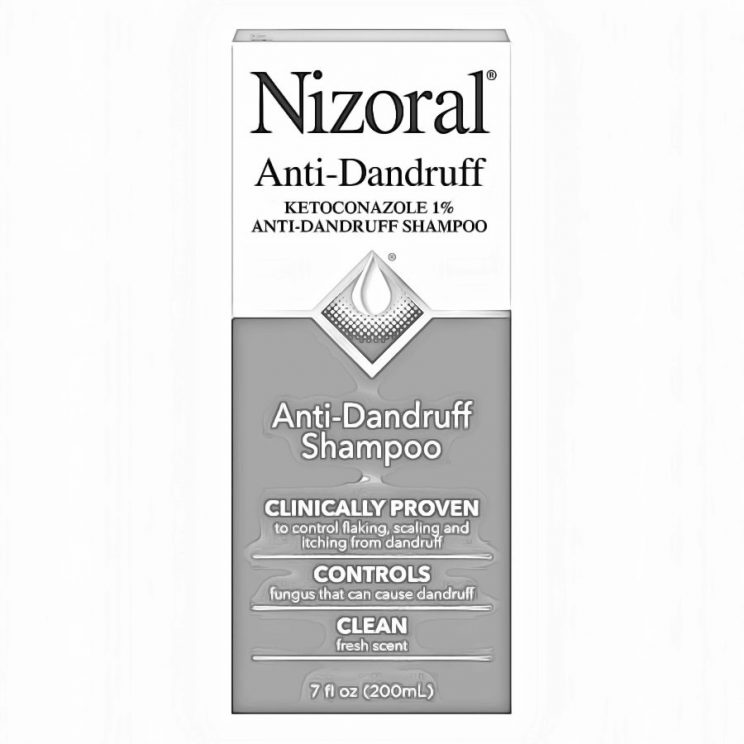 Best features:
Proven dandruff fighter
Relieves the itching caused by dandruff
Strong enough to use only once or twice a week.
Best ketoconazole shampoo for:
For anyone who suffers from dandruff
Overview
Dandruff is a big deal, at least to most people because, hey, who wants white flakes all over their clothing? But Nizoral has an ideal, yet an uncomplicated, solution to the problem.
Nizoral A-D includes a 1% ketoconazole solution binds to your hair's natural protein while killing dandruff. And it's strong enough that only need to use it twice a week, tops.
The only over-the-counter shampoo with 1% ketoconazole, Nizoral A-D offers other benefits besides its main one (fighting dandruff – including severe dandruff).
It eliminates the itching that often comes with dandruff, and it leaves your hair feeling clean and smelling fresh with a scent that's subtle, not overpowering.
While Nizoral is powerful enough that you only need to use a couple of times a week, it's still gentle enough to use on color-treated, chemically-processed hair. Some users even report that it helps thicken hair.
Nizoral advises that you leave the A-D shampoo on your hair and scalp for several minutes after application to lets its ingredients have a chance to heal your scalp before rinsing them off. Do not use it unless you are at least 12-years old.
Pros
Nizoral A-D is a proven dandruff fighter you can get over-the-counter and with a prescription from your doctor.

It fights all of the symptoms of dandruff, including itching and dry skin. It's the best ketoconazole shampoo for dandruff

It may even help to fight male pattern baldness.
Cons
Some users say that it can leave hair a bit dry.
Bottom line
Nizoral A-D is a go-to product if you suffer from dandruff. You can get it over the counter, and it's strong enough that you only need to use it twice a week.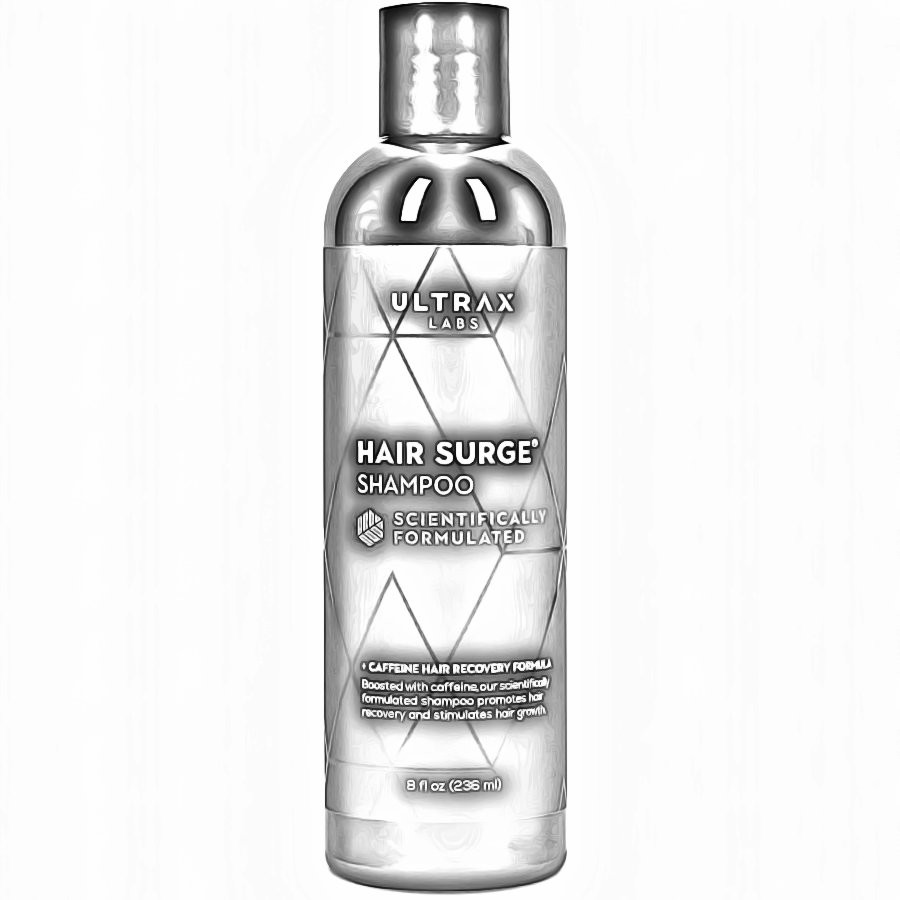 Best features:
Loaded with hair-healthy ingredients
Suitable for men and women
Can use it in addition to your regular shampoo
Best ketoconazole shampoo for:
Men and women looking for a powerful blend of proven ingredients
Overview
Reviewer after reviewer sings the praises of Ultrax Labs' Hair Surge. It has several thousand ratings and reviews on Amazon.
Clearly, Ultrax Labs is on target with Hair Surge, which is a unique shampoo that provides essential nutrients to hair follicles while stimulating natural hair growth and adding density to thinning hair. It's also effective for men and women.
Ketoconazole is a key ingredient in Hair Surge and it comes with its anti-inflammatory and anti-fungal properties, and provides a needed boost to thinning hair.
But Hair Surge also contains Ultrax Labs' unique CaffinoPlex blend which consists of powerful caffeine compounds.
Caffeine, as mentioned earlier, helps to reduce hair loss, stimulate hair growth, and block the effects of DHT on the scalp. The hair surge caffeine blend also includes essential oils and other active ingredients that help produce superior results.
Moreover, Hair Surge contains saw palmetto, another DHT blocker, as well as menthol – an organic compound with analgesic and anti-inflammatory properties.
Peppermint oil, which helps stimulate hair growth and is effective for treating many scalp conditions is another Hair Surge ingredient.
Hair Surge does contain Sodium Laureth Sulfate (SLES), which may lead to skin irritation if used in high concentrations. SLES is closely related to Sodium Lauryl Sulfate (SLS), a detergent and surfactant which may cause scalp irritations and itchiness.
SLES is different from SLS, however, because it goes through an extra step called ethoxylation in the manufacturing process to reduce the risk of irritation.
A couple of other ingredients in Hair Surge worth noting are rosemary oil and coconut oil. Rosemary oil helps to increase blood oxygen levels – including on the scalp – but also helps cleanse the scalp while blocking DHT.
Coconut oil absorbs easily into the scalp and hair and helps protect the strands from protein loss.
You can safely use Hair Surge in addition to, or in place of, your regular shampoo. Ultrax Labs recommends using it for up to five times a week to experience the best results.
Pros
Powerful caffeine blend, combined with ketoconazole, helps stimulate hair growth while slowing hair loss.

Studies show that it can help extend and stimulate the life cycle of hair follicles while creating thicker hair.

You can use it safely for up to five times a week, and in conjunction with your regular shampoo if you so choose.
Cons
Doesn't produce much of a lather, which is an issue for some folks.
Bottom line
You'd be hard-pressed to find any review of hair growth shampoos that doesn't include Ultrax Labs' Hair Surge. Thousands of users attest to Hair Surge's overall effectiveness.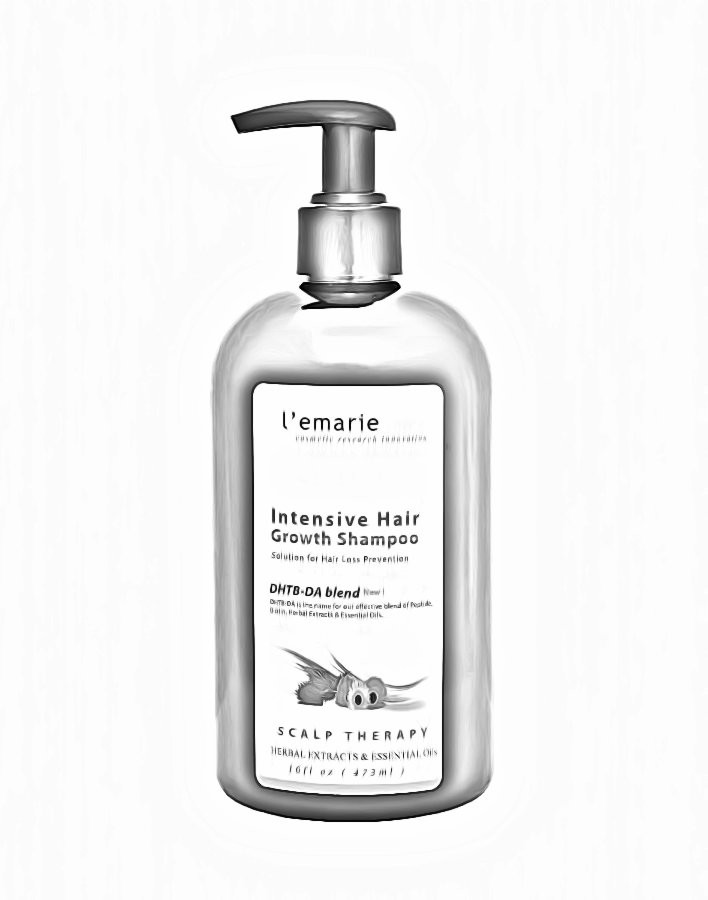 Best features:
Quality ingredients
Helps thicken hair
Fights dandruff
Best ketoconazole shampoo for:
Anyone who prefers fragrance-free shampoo
Overview
L'emarie's Hair Growth & Anti-Dandruff Shampoo has a lot going for it: it blocks DHT, it helps thicken thinning hair, it slows the rate of hair loss, and it treats dandruff. It's no surprise, then, that it's included in the reviews of many hair growth shampoos.
It's also good for men and women and contains 1% ketoconazole that helps eliminate DHT on the scalp and around hair follicles. It even comes with a 100% money-back guarantee.
It all starts with L'emarie's unique formula that includes ingredients which protect, cleanse, and treat your hair and scalp.
Biotin – Also known as vitamin B7, biotin enhances your hair and scalp while helping to reduce hair loss (biotin deficiency is a cause of hair loss).
Tea tree oil – Tea tree oil moisturizes and nourishes the scalp and stimulates hair growth without having to use harsh chemicals. It's blended with herbs and essential oils that gently enhance hair health.Tea tree oil also helps to fight dandruff because it cools the scalp while relieving itching and flaking.
DHT blockers – L'emarie's Hair Growth & Anti-Dandruff Shampoo includes a host of vitamins, essential oils, and other ingredients that block DHT while preventing hair breakage and loss. They also help to add moisture and shine to your hair.
Pea peptide – Pea peptide promotes hair growth by stimulating hair follicles and skin cells. It contains antioxidants, anti-aging properties, as well as hydrating and soothing benefits of the hair and skin.
Essential oils – The L'emarie Hair Growth & Anti-Dandruff Shampoo includes essential oils and plant ingredients such aloe vera, pumpkin seed oil, as well as tea tree oil, that promote hair growth while providing deep moisturizing to the hair and scalp.
L'emarie Hair Growth & Anti-Dandruff Shampoo doesn't contain fragrance and is good for men, women, and all hair types.
Pros
L'emarie's list of quality ingredients helps to promote healthy hair and prevent hair loss, but also to eliminate dandruff

It does a good job of eliminating DHT, a common cause of male pattern baldness.

It's fragrance-free, which many customers prefer, and it's clinically-tested to vouch for its results.
Cons
It may take some time before you see a noticeable difference in reduced hair loss and thicker hair.
Bottom line
L'emarie's Hair Growth & Anti-Dandruff Shampoo solves a lot of issues that stunt hair growth and lead to hair loss. Its blend of essential oils and other ingredients help promote healthier hair.
Best features:
Inhibits premature hair loss
Excellent blend of ingredients
Strengthens hair
Best ketoconazole shampoo for:
Men and women looking for a hair growth shampoo with a nice scent
Overview
The Swedish-American brand Wick & Strom makes quality hair and skin products that deliver the desired results of users. The Anti-Hair Loss Shampoo is an excellent example of their fine work.
The latter contains all of the right ingredients for fighting hair loss while promoting hair growth, including a 1% blend of ketoconazole that treats hair loss, fights fungus, and helps to create thicker, fuller hair.
It also does a great job cleaning hair, not all hair growth/hair loss shampoos do, and it invigorates the scalp thanks to its blend of ingredients. It even smells great – without the medicinal menthol smell that some hair loss shampoos have.
So what's in it? Well, one of Wick & Strom key ingredients is aloe barbadensis leaf, a product used in hair since ancient times.
Aloe barbadensis contains enzymes that help clean dead skin cells from the scalp – cells that can prevent important nutrients from reaching hair follicles.
Wick & Strom's Anti-Hair Loss Shampoo also contains caffeine that helps stimulate hair growth, as well as biotin that helps bolster hair roots by making them stronger and accelerating their growth rate.
You'll also find saw palmetto in this shampoo and saw palmetto, as we've discussed, does an excellent job of blocking DHT that's commonly associated with hair loss.
The Wick & Strom shampoo is suitable for all hair types and it's very affordable when compared to many other hair growth shampoos.
The folks at Wick & Strom are confident enough in their product that they offer a 60-day challenge, i.e., if you don't see positive results after using it for 60 days, you can send it back for a full refund.
Pros
Provides a deep cleaning to hair follicles to help invigorate and rejuvenate hair.

It has an excellent, invigorating scent that's suitable for men and women.

Thanks to aloe barbadenis leaf, it acts as a natural exfoliator to rid the scalp of dead skin cells.
Cons
It's too thick for some users
Bottom line
Wick & Strom offers an affordable, effective ketoconazole shampoo that offers many benefits for hair health. And they're confident enough to offer a money-back refund if you don't see results.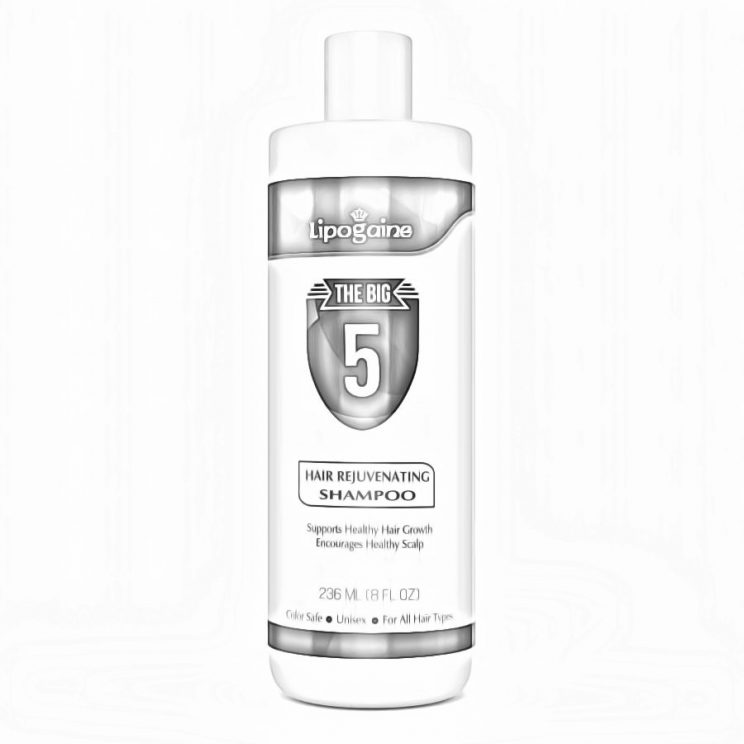 Best features:
Works for all hair types

Suitable for men and women

Infused with Biotin, Caffeine, Argan Oil, Castor Oil, and Saw Palmetto (Purple)
Best ketoconazole shampoo for:
Those looking for a shampoo to help with thin hair, breakage, and split ends!
Overview
Lipogaine Big 5 Hair Stimulating Shampoo is the perfect ketoconazole product to help you treat hair problems such as thinning and dandruff! It's even suitable for color-treated hair.
This shampoo comes in different fragrances, some of those being citrus, coconut, and rosemary.
The product is made of natural ingredients, including these major ones for hair volume:
Biotin

Caffeine

Argan Oil

Castor Oil

Saw Palmetto
Some other key ingredients are Beta-Sitosterol, Vitamin E, Green Tea, Niacin, and Cedarwood Oil.
It's pretty simple to use this shampoo, as well. You just need to moisten your scalp, use the shampoo, rinse, use the shampoo again, and let it sit for a couple of minutes.
You could follow the process 4-5 times a week, but it's not recommended to use the shampoo more than once a day!
Apart from that, it's entirely free of harsh chemicals such as SLS. It's commonly bought with Lipogaine Conditioner to make your hair even smoother.
Pros
Reduces levels of DHT

No chemicals

Antibacterial and Antifungal
Cons
Dryness (if you don't use the conditioner)
Bottom line
Lipogaine Big 5 Hair Stimulating Shampoo is one of the best ketoconazole shampoos out there. It boosts hair volume, helps with dandruff, and makes your hair thicker! It's a one-stop solution for all your hair problems.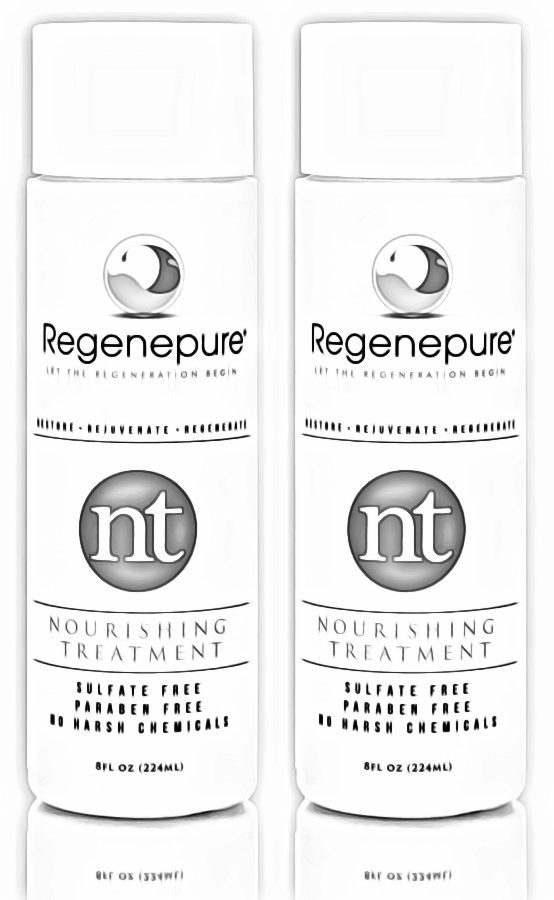 Best features:
Supports a healthy scalp

Perfect for thin hair

Nourishing ingredients
Best ketoconazole shampoo for:
Those that are looking for a shampoo that will make their hair thicker while maintaining a healthy scalp!
Overview
Regenepure, NT Shampoo Nourishing Treatment is the best nourishing shampoo that will make your otherwise dull hair healthy and voluminous.
It not only treats split ends but also feeds your hair follicles to improve hair growth. The shampoo contains ingredients such as saw palmetto, caffeine, emu oil, niacin, lecithin, linolenic acid, and vitamins B3 and B6, which are essential for hair growth.
The formula is free of harsh chemicals like sulfates and is safe for all hair types! This shampoo contains 1% of Ketoconazole.
Ensure to apply the shampoo on wet hair and gently massage it into your scalp and down the hair shaft.
Pros
Free of sodium lauryl sulfate (SLS)

Suitable for all hair types

Reduces dandruff and helps hair growth
Cons
It might cause some scalp itching
Bottom line
Regenepure is an excellent option if you're looking to thicken and volumize your hair. It's made of the best ingredients that won't damage your hair or scalp. It also works perfectly on color-treated hair and is suitable for both men and women!
5 Tips when using a ketoconazole shampoo
Ketoconazole shampoo is available in two ways: as an over-the-counter product you'll find in many pharmacies and supermarkets, or as a product prescribed by your doctor. How you use it often depends on whether you use the OTC version or get it via a prescription.
1. Using the prescription shampoo
Your hair and scalp should be wet, or at least damp, before you apply prescription ketoconazole shampoo.
Remember, ketoconazole shampoos (and creams) are only for use on your skin and scalp. Don't let it get into your eyes or mouth, and never swallow it. Wash your eyes with plenty of water if it does get into them.
Apply the prescription shampoo to the affected area and a large area around it. Rub the shampoo into your scalp with your fingers until it forms a lather.
Leave the shampoo on your hair and skin for five minutes. Doing so allows the ingredients to best absorb into the scalp.
Rinse the shampoo off, preferably with warm water. Make sure the water isn't too hot because it can dry the hair and scalp.
2. Using the over-the-counter shampoo
Make sure that your scalp isn't broken, cut, or irritated before you apply an OTC ketoconazole shampoo.
Wet your hair and scalp thoroughly before you apply your shampoo.
Use your fingers to rub the shampoo into your scalp until it forms a lather. Some shampoos will lather more than others.
Leave the shampoo on your hair and scalp for a minute before rinsing it off with warm water You can repeat the steps if necessary, although one application usually is enough.
3. Using the 1% and 2% shampoos
The ketoconazole found in hair growth shampoos is either 1% or 2%. The only difference in using the two is that you should leave the 2% solution on your hair and scalp for five minutes before rinsing it with warm water.
4. If you suffer from dandruff
You may want to apply ketoconazole shampoo more frequently if you suffer from seborrheic dermatitis (dandruff). If in doubt, check with your doctor first.
5. A quick note for those suffering hair loss
If you suffer from hair loss, you should consider other treatments, including minoxidil and finasteride.
Minoxidil, originally used to treat high blood pressure many moons ago, stimulates blood circulation to hair follicles. In turn, more hormones and nutrients reach the hair's roots to help grow thicker, fuller hair. It's similarly effective on beards, as well.
Finasteride, which is suitable for men only, helps reduce DHT while slowing down hair loss and increasing hair follicles on your scalp.
Two highly-publicized side effects of finasteride are that it may cause a lowered libido and erectile dysfunction. But the percentage of males who've experienced those side effects is quite low.
How we chose these products
Plenty of shampoos claim to slow hair loss while promoting hair growth, but not all of them deliver on their promise. The question of "can shampoo help hair grow?" is much-debated, but some shampoos do, at the least, help thicken hair to give it a fuller look.
The ketoconazole shampoos we chose for our review have the backing of many users who've experienced positive changes in the overall appearance of their hair.
They also do more than slow hair loss, however, and offer benefits such as moisturizing the scalp and follicles, as well as fighting dandruff.
For our purposes, the more hair healthy benefits a shampoo offers the better. We also sought out shampoos that worked for all hair types and, if possible, were suitable for men and women. As always, we carefully considered the reviews of users.
We also took into account brand name and price, although they're not as important as the results. We do hope to offer products in a wide price range, whenever possible.
Conclusion
Ketoconazole is an ingredient that's proven to help stimulate the scalp while also slowing the rate of hair loss. Finding one that's right for you may involve some trial and error, but we hope that our reviews will help you to make the best choice.
We also welcome your feedback. Do you use a ketoconazole shampoo? Have you used any of the ones we've listed above? We hope to hear from you.