8 Best Hair Cutting Shears for Professionals and Beginners
This post may contain affiliate links. Learn more.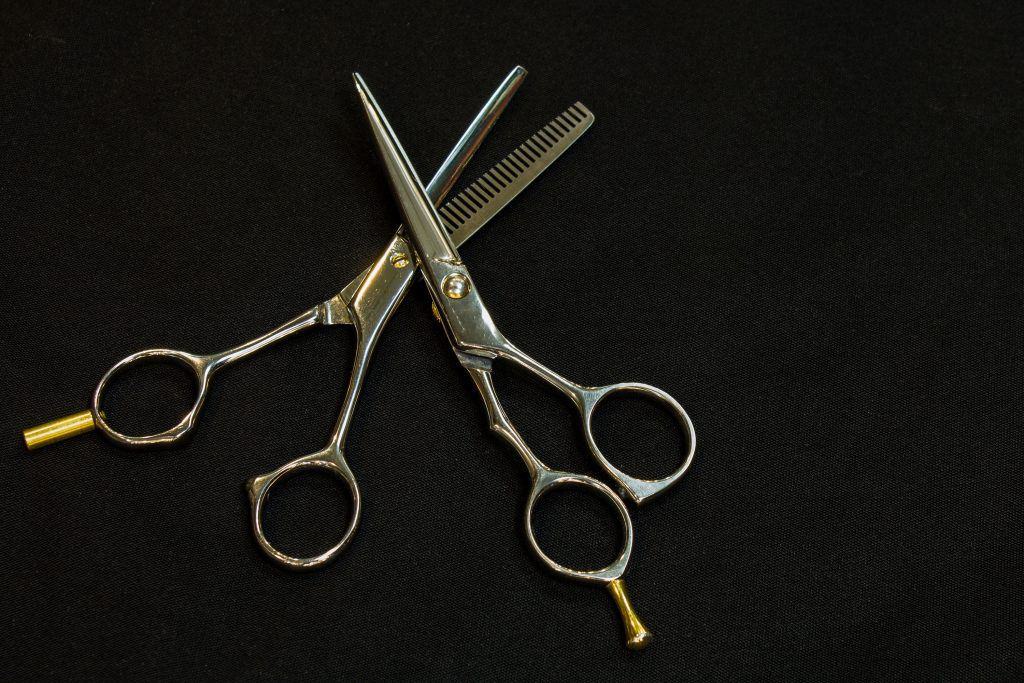 Having access to the best hair cutting shears is important, whether you're a hobbyist starting out or a seasoned pro making your living cutting hair.
But narrowing down the huge variety of shears available – not to mention finding those best suited your specific needs – is a challenge.
So in this article, we've put together a list of the 8 best hair cutting shears, bearing in mind the wide range of users who need them. We have something for everyone, so make sure you read till the end.
In a hurry? Here are our top picks:
ULG Hair Cutting Shears
Our top choice – the ULG Hair Cutting Shears – are made of 100% Japanese stainless steel and offer premium quality with a stylish design. They will satisfy those after the very best shears well.
Himart Professional Home Hair Cutting Scissors
But those looking for something more affordable shears will find options like the Himart Professional Home Hair Cutting Scissors more appealing, as they come with a set of thinning scissors, a comb, and a case – all for exceptional value. The lower price range of this high-quality shear still comes with a sharp blade and durable construction.
But we're not only going to list great shears:
We're also going to walk through the key considerations when purchasing hair cutting shears; offering you 6 tips that will help you trim hair like a pro, and explore the difference between shears and scissors.
Quick summary
<!—INSERT CODE BELOW—>

Best Overall

ULG Hair Cutting Shears

Offset grip reduces fatigue

Sharp blades

Multifunctional

Check on Amazon

Best Value

Himart Professional Home Hair Cutting Scissors

Ergonomic design

Great price

Suitable for beginners

Check on Amazon

Best Larger-Size Shears

OZZAR International Professional Hair Cutting  Scissors/Shears

7.5 inch high quality blades

Easy to use

Adjustable screw

Check on Amazon

Shearguru Barber Scissor Hair Cutting Set

So comfortable you can use over and over

Lifetime manufacturer's warranty

Long-lasting, ultra-sharp stainless steel blades

Check on Amazon

Master Go Professional Barber Salon Hair Cutting Scissors 

Stylish

High quality blades

Comes with additional accessories

Check on Amazon

Kovira 3pc Professional Hair Cutting Scissor Set

Adjustable grips provide comfort and support

Good for professionals and beginners

Made with high quality Japanese blades

Check on Amazon

JW Professional Hair Cutting Scissors & Thinning Shear Set

Superior aerodynamics for an efficient cut

Beautiful craftsmanship

Free 3pcs. comb set

Check on Amazon

Equinox Professional Shears Razor Edge Series

Well-balanced design comfortable for hand and wrist

Manually-sharpened stainless steel blades

Perfect for both pros and casual users

Check on Amazon
Before you buy: 6 Things to consider when purchasing hair cutting shears
You shouldn't have much trouble finding a pair of hair cutting shears that suits your needs, considering the many options available to consumers. Within those options, however, are several factors to consider before making your final choice.
1. Size of the shears
One of the most important factors when choosing the right shears is size. They must fit your hand comfortably. Shears that are too small for your hand limit your range of motion. Shears that are too large have a negative effect on your cutting motion, and may cause some annoying aches or pain.
The industry standard for shears (by size) is 5.5 inches, and it's the size usually used when teaching future barbers and stylists. Only if your hands are larger than normal should you choose larger shears, such as 6.5-inch shears.
If you're a hairstylist, comfort is an important factor when it comes to making your choice, as you're going to be using these products for long periods of time. You also should take into consideration the size of the shear's finger rings. One way to check for the proper fit is to slide your ring finger into a finger ring: the handle should not go past your second knuckle.
The thumb ring, meanwhile, should extend only a little beyond the tip of your thumb.
The size also depends on the job; shorter shears generally work better for precision point cutting.
No matter what type of job – or hand size – the bottom line is that you should have full control of the shears without forcing your hand and fingers into uncomfortable positions.
2. Type of shears
Shears come in a variety of types, and the type you choose depends on your needs. Here are some of the most common types:
A straight shear represents a do-it-all tool for professional and DIY barbers and is the type used for most cutting jobs. Professionals typically have two types of straight shears: one long and one short.
Smaller straight shears work best for a quick trim when you're pulling hair up over your fingers to cut it because the smaller blade lessens the risk of cutting too much or cutting crookedly. These also work excellently on wet hair.
Smaller straight shears work best when you're pulling hair up over your fingers to cut it because the smaller blade lessens the risk of cutting too much or cutting crookedly.
Smaller shears also work better at cutting around the ears and on the back of the neck, because you'll have better overall control.
Longer straight shears work best when you're lifting the hair with a comb to cut it because they can cover a larger surface more efficiently. They're also heavier than smaller straight shears, which makes them well suited for cutting wet or thick hair. This also means that they're heavier and a little more difficult to control.
Thinning shears are the go-to tool for cutting the bulk of thick hair and are essential for achieving the most common men's hairstyles. Like straight shears, thinning shears generally come in two types based on the number of teeth in the blade.
Shears with a smaller number of teeth (usually 28) are best for trimming and texturing hair that's very thick. Those with more teeth work well for blending, tapering, and adding texture to hair.
Some other things to keep in mind when choosing the type of shears that best fits your needs include:
Shears made of harder steel are best for cutting dry hair. As a general rule, heavier blades work better on dry hair, and the blade should be thicker in the middle before tapering down to the end.
Double swivel shears have two swivel joints on the thumb ring to minimize movement of the thumb, which is ideal for stylists who suffer from joint issues, such as carpal tunnel.
Shears with curved blades help to achieve precise, straight, and consistent cuts along the length of the blade.

Pinking shears have blades with teeth that are zig-zagged – like on a saw – and work well for creating jagged-edged cuts. We'll leave that one for the professional stylisyts.
3. Material
Most professional shears consist of steel and, even if you're an at-home amateur stylist, you should always choose steel.
Germany and Japan, in general, have the best steel for making blades, but that doesn't mean you should never choose shears made in other countries. Professionals usually choose to go for German steel or a Japanese shear because of their high-quality construction and sharpness.
4. The handle
The type of handle, or grip, is another key factor to consider when choosing shears.
Offset grip shears allow for more movement and help reduce some of the over-extension of the thumb. They consist of asymmetrical rings in which the blade is in line with the handle.
Opposing grip shears represent the oldest design and are most often used by stylists who cut with their middle finger and thumb.
Swivel thumb shears have a swivel joint that connects to the shear's shank. A major benefit of swivel thumb shears is its ergonomic design that limits thumb movement while allowing the wrist to flatten.
Left-handers understand the struggle that comes with living in a right-handers' world. Southpaw barbers and stylists must work around the adjustment dial on right-handed shears, but, luckily, shears with left-handed grips eliminate that issue. Trim away, lefties!
5. Blades
The main blade types found on shears are convex and beveled.
Convex shears, which originated in Japan, work well for cutting all hairstyles and for all cutting techniques. Their blades are very sharp, which makes them better suited for more experienced users. They also help create a smooth cutting action.
Beveled edge blades consist of alloys that are of lighter weight and often include micro-serrations that help prevent hair from sliding from the blade. It makes them ideal for anyone learning how to cut hair or who doesn't have a lot of experience.
While they're good for all-around use, beveled edge blades work well for detail cutting and for cutting dry hair.
6. Tension system
Each shear has a certain amount of tension at the joint between the blade and handle. The proper balance, generally speaking, is neither too tight nor too loose.
Tension that's too loose won't cut as effectively, while one that's too tight requires a greater amount of force needed to open and close the blades.
Pivots on a screw with a groove on top enable users to adjust the shear's tension with a screwdriver or coin.
A shear with this type of tension system features a leaf spring added below the dial that spreads the tension along the pivot area. In turn, the blades are more stable, have a more balanced wear system, and should last longer.
Take heart lefties – there's also a tension system with you in mind. A reversible leaf spring allows users to reassemble the blade and screw on the opposite side of the shear to make it more comfortable for non-righties.
The flat-bearing tension system consists of internal ball bearings between the joint blades.
Ball bearings help increase the stability of the blades because the blades rotate on a ball bearing, rather than on a washer.
Next, let's look at our reviews of the best hair cutting shears and scissors.
The 8 best hair cutting shears & scissors
There's a lot to love about Ulg's shears, not the least of which is that they're multi-functional, i.e., they're safe to use on men, women, seniors, children, and even babies.
What makes them so good? They're made from premium materials, for starters, including 100% Japanese stainless steel that allows you to cut hair without snagging and pulling.
Another key feature is that they have an offset grip in which the finger handle is bigger than the thumb handle. This reduces over-extension of the thumb, as well as excessive wrist motion, while also relaxing your elbow and wrist.
These shears measure 6.5-inches, which makes them a true shear, while the cutting blades measure 2.5-inches. They're perfect for professional barbers and stylists who use them several times a day for extended periods, and but also stay-at-home barbers, as well.
They also come with detachable finger inserts and a 12-month warranty that covers quality-related issues. And there's a 30-day money-back guarantee if you return them for any reason, which rarely happens.
Pros
Offset grip reduces hand, wrist, and elbow fatigue.

You can use them to cut hair on everyone, including small children.

They have a polished mirror finish.
Cons
Not as good of a fit for someone with large fingers.
Bottom line
Ulg combines craftsmanship and quality in its excellent pair of hair cutting shears. They're suitable for home and professional use.
These hair cutting scissors are an absolute dream for anybody learning to cut hair at home and wanting to get everything they need in one place. While they are by no means the finest quality scissors you will find, they are extremely affordable and provide a whole selection of goodies that will get you going and ensure you're never stuck without what you need. Plus they're pretty comfortable and they get the job done!
The set contains two pairs of shears: one straight blade, one textured. Combined, they will help you achieve a professional-looking cut. They are made of stainless steel and tempered with precision blades and hand-sharpened cutting edges. The thinning scissors have teeth on one blade and a smooth razor edge on the other, which is great for layering and texturizing hair.
Both feature an ergonomic grip with adjustable tension to make for an easy and comfortable hold. This is ideal for beginners whose hands are not used to hold scissors in this way, as it can hurt your hands at first.
The set also boasts a cleaning cloth, a grooming comb, two hairpins, and a case to collect the whole set in. Ultimately, this is a beginner's set, but everybody has to start somewhere, and if that's you, you could do far worse than saving some money and opting for this set.
Pros
Contains everything a beginner needs

Ergonomic grip

Extremely affordable
Cons
These are by no means the best scissors on the market – nor do they claim to be!
Bottom line
A great set for beginners who don't want to break the bank to learn the craft. If you're looking to save a buck, this is as good an option as any.
There's an awful lot to love about Ozzar's International Professional Hair Cutting Scissors, particularly if you're looking for professional-level scissors on a home-cutting budget.
For one thing, they boast a lightweight, ergonomic design (coming in at just 3.2 ounces) and a detachable finger rest, making them exceptionally comfortable and easy to use – even after a long day on the floor. Plus, the removable rubber inserts give them exceptional grip, avoiding dangerous slippages.
Then we've got the adjustable tension screw, which allows you to get exactly the ideal level of pressure for your needs and preferences. And the rubber silencer means you can minimize the noise, because .no one wants you clacking continuously over their heads
The 7.5-inch convex blades are made of high-quality reinforced stainless steel and are ultra-sharp for an unusually precise cut. The convex shape gives you better control over the cut, and you can use them on both wet and dry hair.
They are also very tough and don't seem to go dull, even after a good bit of time.
All this, and you get a 30 day no questions money-back guarantee – it seems obvious that these are an absolute steal.
Pros
Lightweight and easy to use

High quality, great performing blades

Adjustable tension screw
Cons
You have to wash and dry them before use, which can be annoying, especially waiting for them to dry.
Bottom line
A great pair of scissors for professionals and home users alike. Solidly constructed, comfortable to hold, and very durable. Excellent.
Another contender among the best professional hair shears is ShearGuru's scissors or, in this case, their professional scissor set. It's a kit that includes straight scissors and thinning shears, both built from high-quality Japanese stainless steel.
There's a lot to like about ShearGuru's scissors. Many professionals prefer them because of how comfortable they are to use throughout a long day in the barbershop or salon.
Cutting hair for eight hours takes its toll on your hands, wrists – even your shoulders – but the ShearGuru grip makes it easier to cut for an extended period.
The hand-sharpened stainless steel blades, made in Japan, are durable and also sharp enough to provide an even cut every time without leaving hair damaged or ravaged with split ends. A custom-designed tension adjustment screw is another plus.
Some reviewers say that the blades are hard and durable enough to last several times longer than other models. In any case, they come with a lifetime warranty that means you can send them back for any manufacturer defect.
ShearGuru is serious about providing the best products to professionals, and they consult with pros throughout the development process.
They understand that a professional stylist or barber needs shears and scissors that provide the perfect cut throughout the day while not putting undue stress on hands, arms, and shoulders.
Finally, both the shears and scissors come with a fancy leather carrying case that makes you look good while protectings both you and the products.
Pros
Made from durable stainless steel designed to stay sharp for a long time

Lifetime warranty for manufacturer defects

Comfortable enough for extensive use
Cons
Some users say the thinning shears don't work as well as the scissors
Bottom line
Many professionals choose ShearGuru products because, well, they're made for professionals. Their blades are sharp, while their shears and scissors provide all-day use without causing undue stress and fatigue.
There's a ton to like about these Professional Barber Salon Scissors, so rather than go into the background, let's just jump into what makes the set great:
They have highly adjustable handles so that you can get exactly the right fit that's comfortable for your hand size and gripping needs
There's also a spring plate that keeps them from getting too tight and damaging the product
They are super ergonomic, surprisingly lightweight given their impressive materials
Speaking of which, they are made from stainless steel, which is hand-sharpened and offers a really clean, effortless cut. But they also last absolutely ages
They have an adjustable screw, which allows you to have plenty of mobility

They're super versatile: you get two pairs of scissors – one for texturing and one for thinning – as well as two combs, two hair clips, and a microfiber cloth. Plus they all come in a lovely little case, so you don't have to worry about carrying all of these.

They come with a quality guarantee, which is really reassuring given the price.
The ultimate result is a set that provides everything you need – whether you're a homebound barber or a professional. They slice beautifully and pricey and are exceptional value for money. Plus, they look absolutely beautiful, with their shimmer silver and golden and cobalt blue screws.
Pros
Great set with combs, clips and even a microfiber cloth

Really robust, high-quality blades

They feel and look beautiful
Bottom line
A great set of scissors, which maintain an exceptional level of quality and will help you get a really detailed, professional cut.
There is an awful lot to love about Kovira's 3pc Professional Hair Cutting Scissor Set, not least of which is its money-back guarantee: if you aren't completely satisfied, you can return the set hassle-free. The reason they offer this is clear: they know customers are going to be satisfied. That's pretty confident.
So what do you get with the set?
Well, this is a 3 piece set, and all three scissors are made from premium long-lasting Japanese stainless steel. They are great for wet or dry cuts and are also perfect for feathering.
You get a straight edge and thinning scissors – both of which boast 7 cm blades – and a thinning razor blade whose bald is 6 cm. Each is superbly sharp and highly durable, taking a very long time to show any signs of rusting or need for sharpening. The thinning scissors also have exceptionally sharp cutting teeth, meaning the set provides pretty much everything you need to look after all types of hair as well as beards.
The scissors feature a very comfortable non-slip grip, along with rubber ring grips, which help create accuracy and precision. Plus, they are removable and adjustable, meaning you can perfect the grip for your exact hand size and personal preferences. The same goes for the finger rests, which you can easily unscrew if you prefer. Overall, these are exceptionally comfortable scissors to use, whether you are a hobbyist at home or a seasoned pro.
The set comes in a cool faux leather case, which makes them easy to maintain and keep track of.
Pros
The shears come with a set of great quality Japanese steel blades, ensuring sharpness and durability.

They have highly adjustable grips for comfort and support, making them easy to use for long periods of time.

The set is quite comprehensive, and features everything a home-barber needs.
Cons
However, there is a downside to these benefits, and that is that the set is a little pricey – but well worth the high price tag if you're serious about your business. See it as an investment in your craft.
Bottom line
A great set that boasts high-quality scissors and blades and will last you a long time.
JW packs a lot into this little set, and it's easy to see why so many reviewers get excited about it.
The first thing to note is you're getting both a pair of conventional shear and a pair of thinning shears, which makes for a very versatile set and allows you to make much more nuanced cuts than you could with any individual set of shears. You can blend and trim with unusual accuracy and ease.
The quality of the blades is great – they're incredibly sharp and tough, made from 9CR stainless steel. The result is a set of shears that are both safe to use and exceptionally effective on all types of hair.
The shears have an easy-grip handle design, which allows your fingers freedom and control. And come with a set of finger inserts, which allows you to adjust the size of the holes depending on the size of your fingers and how tight you like them to feel. Plus, the steel is very balanced, giving you an all-round comfortable, effortless experience.
The collection comes with a set of combs in several different widths, which adds to the versatility, and to top it off, you get a great little case to keep the whole set safe together.
This is a great set to achieve a salon-quality cut without leaving the house.
Pros
The blades of the shears are made out of a really high-quality steel, making them very sharp and hence, effective.

The shears come with an easy-grip design and finger inserts that make for a very comfortable cutting experience.

You also get a more versatile experience with this product, as the set includes everything you need for a complete cut.
Cons
However, there are some downsides with these shears, as they are more expensive than many other options. If you're on a strict budget and you're just starting off, you might want to look at other options.
Bottom line
An all-rounder that provides two pairs of lovely sharp shears, as well as combs and adjustment equipment to make cutting hair fast, effective and fun. Quality!
Professional barbers and stylists don't have the time to mess around with a pair of crappy shears. Too much is at stake, not the least of which is money and building a long list of repeat customers. A simple mistake like not investing in a good enough pair of shears can cause problems for their brand image and business.
That's one reason why a pair of Equinox Professional Shears is like gold in the hand of a pro; it's a quality brand that delivers quality results time after time. There is also a multitude of reasons why pros choose Equinox over other brands:
The Equinox Professional Shears are versatile, among other things. Whether you're a professional barber or stylist or someone who likes to trim hair at home, they're easy to use on men, women, senior citizens, and children. Their sleek design and stainless steel texture reduce the clumps of messy hair because the hair doesn't get stuck between the blades.
They come with an easy-to-grip handle design that's ergonomic and enables users to deliver a clean, precise cut every time. The handle design includes removable finger and thumb inserts for increased comfort.
They're longer than many other shears – measuring 6.5 inches – but are lightweight enough that anyone can handle them without excess strain. One of the things you'll notice right away is how nicely balanced these shears are – which translates into less fatigue in your arms and wrists.
They consist of Japanese stainless steel (as mentioned, some of the best stainless steel in the world) and feature hand-sharpened cutting edges that trim hair evenly and with ease.
Pros
The stainless steel blades on the scissors are manually sharpened for giving you a perfect balance between comfort and efficiency.

The design and construction of the scissors make them ideal for both professionals and people who choose to cut their own hair.

The well-balanced design helps ease hand and wrist strain.
Cons
However, the Equinox Professional Sheers do come with some downsides to their design. Some users have expressed concern about their durability over extended periods of use.
Bottom line
The Equinox Professional Shears represent a lot of things, including that they're the best professional hair shears around, but they're just as good for non-professionals who don't mind doing a bit of trimming at home.
How we determined the best shears
One thing we discovered when reviewing the best shears is that there isn't a lot of separation between the highest-quality products.
The best shears shared a lot of similar characteristics – including the type of steel used – but there were enough subtle differences to separate the wheat from the chaff.
We gave high marks to shears that both professionals and amateurs can use safely. Home hair-cutting isn't for the faint of heart, unless you have plenty of experience, and it's mandatory to have tools that make the job easier and reduce stress.
Ergonomics was another important consideration.
Shears and scissors that place undue stress on hands, shoulders, fingers and the back can not only lead to physical problems but also to mistakes as one becomes fatigued during a long day in the barbershop or salon.
6 Tips for using cutting shears to trim your hair like a pro

If you're a pro, then you already have a good idea about how to use shears (and scissors) to cut hair effectively. If you prefer to trim someone's hair at home and don't have a lot of cutting experience, the following tips will help:
1. Wet the hair, but don't soak it
It's important that the hair is damp before you trim it with cutting shears or scissors. An easy way to dampen it is by using a spray bottle filled with water, but only "spritz" the water onto the hair. Hair that's completely wet is harder to cut, especially with thinning shears.
Also, your hair expands when it's wet, and you'll end up cutting off more hair than intended when you cut it right after you hop out of the shower.
2. Comb your hair
Detangle the hair by running a comb through it. Doing so will give you an idea of how much and where to cut. You should also comb the hair into the desired style before you begin to cut it. Cutting tangled or uncombed hair could have you looking like someone ran a faulty lawn mower over your head. So yeah, let's avoid that.
3. Start with a section of hair
Grab a section of the hair and hold it in the ends of your fingers with one hand, leaving about two inches of hair at the top of your fingers.
Using your shears – thinning shears, typically – cut the hair diagonally one inch inward from its tips. Next, take the section immediately behind the section you just cut and repeat the process. Continue to do this until you've gone all around the head.
You may have to make some small overlapping cuts to make sure you trim all the hair.
4. Give it a careful look
Take a long look at the hair after you've finished trimming. Some areas may seem too bulky or misshapen. Feel free to go back and trim those areas some more, but be careful not to trim too much hair in the process.
5. Trimming the bangs
The same rule for trimming the various parts of your head and hair applies to trimming your bangs: whatever you do, don't cut off too much. Make small snips with the points of the scissors.
You can always cut more off, but you can't put hair it back in place once you've trimmed it. Your bangs should be damp, not overly wet before you trim them.
6. Cleaning up
Run a towel through your hair, or even your hands, to loosen up trimmed hair so it will fall to the ground. Many barbers and salons offer to wash your hair after you've trimmed it.
What is the difference between shears and scissors, or is there one?
So far, we've talked both about shears and scissors. It's easy to get the two confused because, in fact, they really aren't much different at all.
Shears look a lot like scissors and vice versa. They both feature two blades on a joint that's connected to a handle (with two shanks and rings). Both are staples of a barber or stylist's tool kit, and, if you're a do-it-yourself barber, you'll need both of them, too.
That said, what is the difference? The most significant one is the length of the cutting tool: shears are typically longer than 6 inches while scissors are shorter.
Since we're using the terms "shears" and "scissors" somewhat interchangeably, we talked about the varying lengths of shears earlier when discussing the things consumers should take into account before buying shears.
However, a true shear is over 6 inches. It doesn't get much more complicated than that.
Nonetheless, there are different types of shears, which we covered earlier, and that includes thinning shears – a certain type of scissors that have a solid blade (like normal scissors) and another blade that has gaps that create rows of teeth.
The teeth of thinning shears cut individual strands of hair while those that fall into the gaps remain uncut. This means that thousands of hair are cut, leaving the rest in a better texture that is easier to maintain.
Thinning shears have a variety of uses, such as softening cutting lines and corners and thinning the thickest parts of the hair. Blending, tapering and texturizingtexturing shears are all examples of thinning shears.
The greater the number of teeth on a pair of shears, the easier it is to cut hair finely without leaving tell-tale cut marks. The total area covered by each blade tooth makes these shears popular with your everyday professional hairstylist.
Convex and bevel-edge are the two main types of shears. Convex-edge blades are sharp and provide a quick, smooth cut, while bevel-edge blades are usually serrated and give a firmer, crisper cut.
A bevel-edge blade is thicker than a convex blade and doesn't provide quite as clean of a cut. Which one you, or your barber/stylist, choose depends on various factors, including cutting technique, experience, and comfort.
"Hybrid" shears and scissors include a combination of edges; for instance, you may have a convex shear that also has a beveled edge. This gives hair stylists more versatility while using them, but this is for the professionals and the experts – amateurs have no business using these.
Shears have also come a long way ergonomically over the past several years, thanks to design elements such as finger rests, finger inserts, and asymmetric handles. Each element is designed to reduce the risk of occupational injuries and fatigue.
Conclusion
For this article, we've reviewed the best hair cutting shears and scissors for hair available on the market today. Finally, we carefully studied the reviews of others, especially those of customers who have plenty of experience with using a particular shear or scissors.
Finally, we carefully studied the reviews of others, especially those of customers who have plenty of experience with using a particular shear or scissors.
What's your take? What brand of shears and scissors would you recommend? Do you use any of the products on our list? We always welcome your feedback and suggestions.