9 Best Essential Oils for Hair Growth & Thickness
This post may contain affiliate links. Learn more.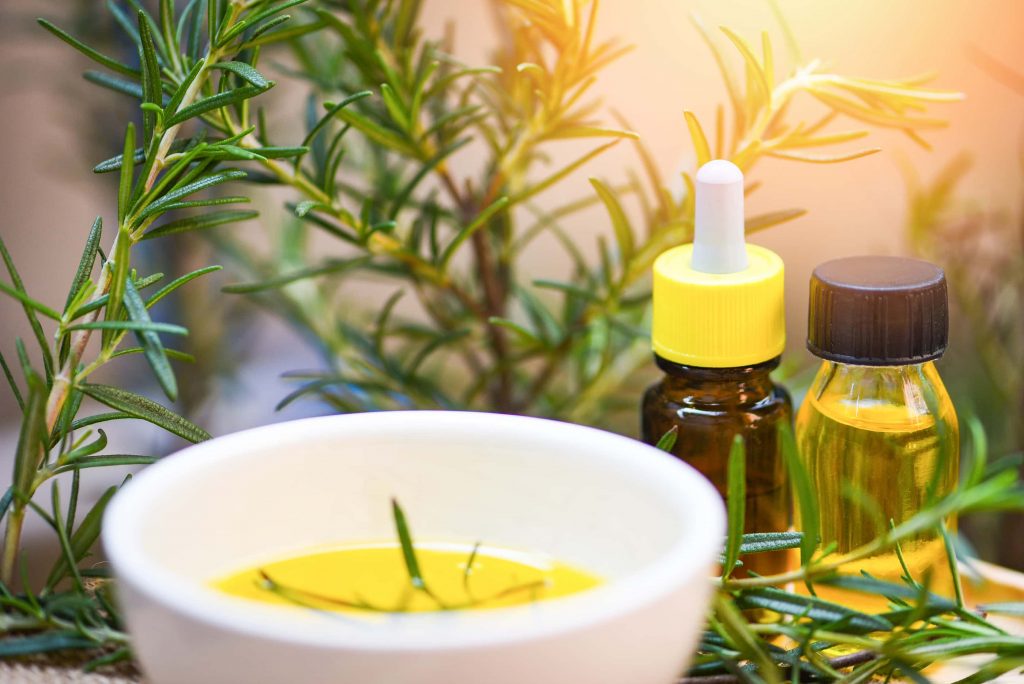 When searching for hair growth treatments, it never hurts to start with a more natural option, like essential oils.
After all, essential oils aren't just some modern fad. They've been around for thousands of years, going at least as far back as the Ancient Egyptians in 4000 BC.
That being said, there are dozens, if not hundreds of essential oils being recommended around the web, and their purported effects can sometimes be vague, misleading, and even over-hyped. With that in mind, we decided to cut through the BS with this list of the best essential oils for hair growth.
In a hurry? Here are our top picks:
Hair Thickness Maximizer Organic Hair Growth Oil
Our top pick is Hair Thickness Maximizer Organic Hair Growth Oil. It uses a range of 100% natural ingredients – from jojoba oil to pomegranate extract – to fight hair loss, as well as strengthen and thicken existing hair. And it even comes with a money-back guarantee.
Hairfinity Botanical Hair Oil
For damaged hair, there's our #2 pick, Hairfinity Botanical Hair Oil, which provides a chemical-free hair and scalp treatment and boasts a 95% reduction in breakage.
We've also included a handful of other great products, along with tips for buying and using essential oils for hair growth. You'll even find a quick rundown of some of the alternative hair growth treatments out there for men.
Quick summary
<!—INSERT CODE BELOW—>

Best Overall

Hair Thickness Maximizer Organic Hair Growth Oil

100% natural, organic ingredients

Money back guarantee

Many hair growth benefits

Check on Amazon

Best for Damaged Hair

Hairfinity Botanical Hair Oil

Proven reduction in breakages

100% natural formula

Suitable for all hair types

Check on Amazon

Best Affordable

Healing Solutions Rosemary Essential Oil

Helps improve hair thickness

It's suitable for a variety of uses

Affordability

Check on Amazon

Wild Growth Hair Oil 

Moisturizes hair and skin

Rich in natural oils

Assists in hair growth

Check on Amazon

Grande Cosmetics GrandeHAIR Hair Enhancing Serum

Castor oil with a variety of natural extracts

Reduces hair loss speed

Proven results on hair growth

Check on Amazon

Ancient Greek Remedy Oil

Raw, cold-pressed oils

Money-back guarantee

Regenerates and strengthens hair

Check on Amazon

Maple Holistics Pure Rosemary Essential Oil Stimulating Scalp Treatment

Produced with top quality rosemary oil

Reduces hair loss speed

Useful in many other ways

Check on Amazon

Plantlife 100% Pure Essential Oil

Comes with a pleasant aroma

Helps the scalp and the hair

Has multiple purposes and benefits

Check on Amazon

PHILIP B Rejuvenating Oil 

Hydrates hair and skin

Balances scalp sebum

Encourages hair growth and strengthens hair follicles

Check on Amazon
Before you buy: 12 Things to consider when purchasing essential oils for hair growth
For centuries, people have extracted fragrant and nutrient-rich oils from plants to make products like essential oils, soaps, detergents and perfumes. In recent years, however, the many uses of essential oils have expanded way past household cleaning. Instead, essential oils are being used for medicinal purposes ranging from relieving toothaches to treating depression. Nowhere is this trend more apparent than in the hair care community.
Buying essential oils is a sometimes challenging process because, if for nothing else, plenty of products make lofty claims. For another, you may come across many types of the same oil, making it a bit tougher to separate the good from the bad.
But we're here to help, friends, with a few handy tips that should make it easier to choose the essential oil for hair growth that's best for you.
1. Organic
One of the first things to look for in an essential oil is whether or not it's organic. Why should organic be your preference when buying essential oils?
Well, for one, oils extracted from organically grown crops won't have pesticide residue. We think that's pretty important.
Organic matter goes beyond crops and livestock. Just like plants, humans and animals need to be safe from ingesting toxins. This is especially important when it comes to something you are going to put directly onto your scalp or hair!
2. The Extraction Process
Essential oils are "harvested" from the seeds of plants through an extraction process. The type of extraction process is important, not only regarding the overall quality of the product but even for personal safety.
Essential oils are a great way to keep your hair healthy and moisturized. They are extracted from the seeds, roots, stems and some flowers of plants and trees. These oils have actually been used for thousands of years for medicinal purposes, spiritual development, fragrance and food flavoring. From ancient Egypt through the Middle Ages and into American history, people have valued essential oils for their potency and healing power. They are said to increase concentration, promote relaxation, fight stress-related illness, bolster the immune system and they can also be used in aromatherapy.
Here are three common types of essential oil extraction:
3. Cold-Pressed
Many essential oil experts say the cold-pressed method is the best one for extracting essential oils because the oil isn't damaged as it can be during a heat-pressed process.
You can usually tell a cold-pressed oil by its fresh scent and light color (the seed's natural fragrance isn't lost during extraction). It's worth noting, however, that cold-pressing isn't suitable for the extraction of every essential oil.
4. Steam-Pressed
Steam-pressing represents the "heat" option for extracting essential oils. Steam passes through the raw materials to vaporize the volatile oils, which rise with the steam and end up in a condensation chamber.
5. Solvent-Pressed
The first step in the solvent-pressed extraction process uses a solvent such as hexane. The plant's natural aroma remains intact through this process but solvents such as hexane – which can harm the nervous system if used in excess amounts – aren't always safe.
6. Avoid Synthetic Fragrances
There's a difference between pure essential oils and synthetic fragrance oils synthesized through chemical extraction processes. While they may smell the same, or at least similar to, pure essential oils, they may not have the same therapeutic qualities.
7. Type
The list of essential oils that aid hair growth and hair thickening is long and we won't mention all of them here. But here's a brief look at five of them:
8. Tea Tree Oil
Tea Tree oil comes with many benefits, including that it helps treat dandruff as well as psoriasis and seborrheic dermatitis – which causes a red, itchy rash on the scalp.
9. Peppermint Oil
Your hair and scalp will love peppermint because it's effective in treating both greasy and dry hair and helps improve blood flow to the areas of the scalp where it's applied. It's also good for opening skin pores to allow more of the essential oil to penetrate the scalp.
10. Lemon Oil
Lemon oil helps dry up greasiness and has anti-bacterial properties that treat latent fungus, as well as dandruff. It's also good for treating acne.
11. Lavender Oil
Lavender oil helps deeply condition the hair, keeps it shiny, and also works to control dandruff.
12. Rosemary Oil
Rosemary oil has many benefits for your hair and scalp, as well, including that it stimulates root growth and increases circulation to the scalp.
Again, the above represents only a small percentage of essential oils that are proven effective in dealing with hair loss and scalp issues such as dandruff.
Next, let's move on to our reviews of the best essential oil products for hair growth.
The 9 best essential oils for hair growth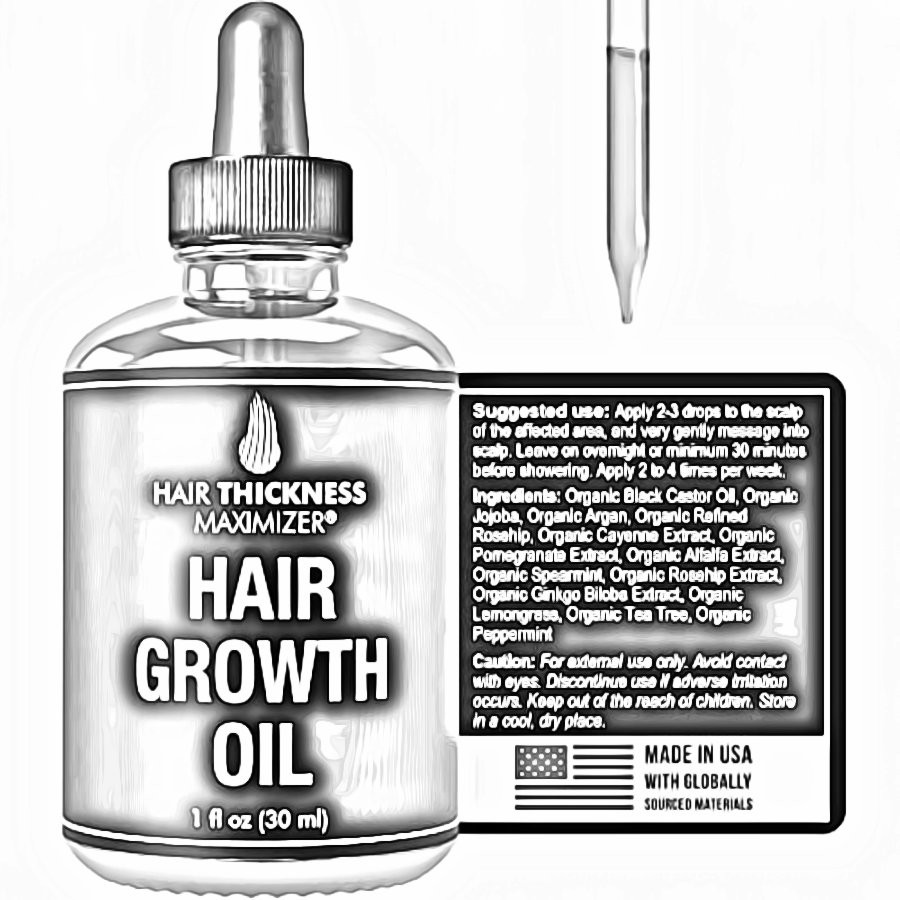 Hair Thickness Maximizer's products are just what the company name suggests – they're specific purpose is to give you a thicker head of hair while slowing hair loss.
Other hair growth products promote a variety of uses, which is great, but Hair Thickness Maximizer's sole focus is on delivering results to the top of your head.
Their Organic Hair Growth Oil certainly has the stuff to promote hair growth: from tea tree oil and peppermint to Jamaican black castor oil and jojoba. And there's more, including lemongrass, argan oil, and rosehip.
Argan oil, which has proven effects on hair re-growth, is worth special mention, while jojoba oil helps remove excess sebum on the scalp to help promote hair growth.
Jamaican black castor oil, meanwhile, increases the scalp's blood circulation while also addressing issues such as hair breakage, dandruff, eczema, and a dry and itchy scalp.
The oil's organic ingredients address several issues common to thinning and balding hair, including hair breakage, receding hair, weak hair, and overall hair loss.
How does it work? In a variety of ways, including:
It promotes thick, healthy hair
It nourishes the scalp
It assists in the preservation and strengthening of existing hair and hair follicles
It prevents hair loss and breakage
Hair Thickness Maximizer Organic Hair Growth Oil comes in a small bottle with a dropper applicator.
For best results, apply two to three drops to the scalp on the affected area (i.e., where hair is thinning). You can leave it on overnight, or a minimum of 30 minutes before showering, and should use it two to four times a week.
Each bottle comes with a 90-day money back guarantee, meaning there's no risk in trying this product because you'll get a full refund if you don't like the results.
Pros
All-organic and natural ingredients

Has several benefits for hair growth

Money back guarantee
Cons
May take a while to see results
Bottom Line
You need the right oil and blend of ingredients to make a difference in treating hair loss and hair re-growth. Hair Thickness Maximizer nourishes your hair and stimulates the follicles while improving its physical appearance.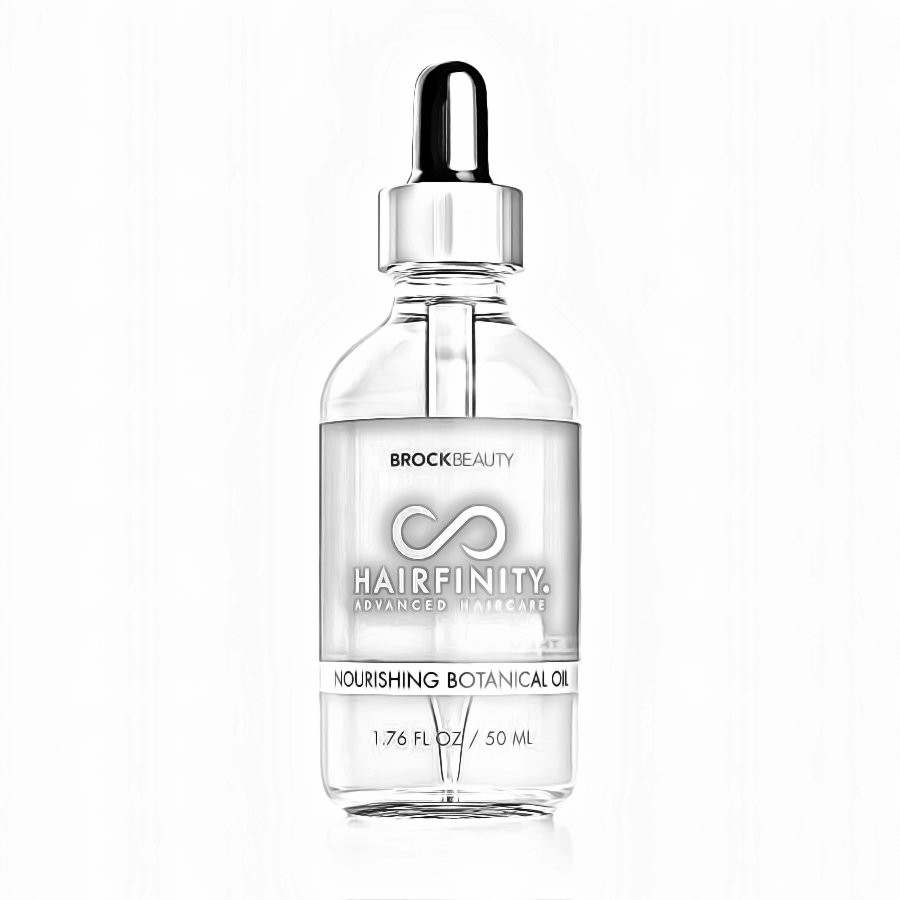 The beauty of Hairfinity's Botanical Hair Oil is it genuinely works with any and all hair types – men and women, curly or straight. With its 100& natural formula, it has been proven to reduce hair breakage by 95%, and it can have a profound – and rather fast – effect on the thickness and growth of your hair.
Not only that: it works great as a pre-shampoo, as a scalp treatment. Plus it will make your hair softer, easier to style and improve its general health and appearance immeasurably.
All you do is apply a few drops to the ends of your hair each day and wait for the magic to happen.
With a mixture of collagen, grapeseed oil, sweet almond oil, coconut oil, olive oil, jojoba oil, moringa oil, apricot oil and vitamin E, this stuff is completely free of sulfates, parabens and all the other toxic stuff we want nowhere near our hair.
And while the bottle may appear small for the price, even a tiny amount of this stuff goes an awful long way, so you get far more value for your money than might first appear. Just remember not to large amounts at a time – it won't affect the results, and you'll end up wasting good product!
The only drawback is the smell: many reviewers report finding the minty scent a little overbearing or obnoxious, and that's totally fair. Although many also find it refreshing and energizing – so it's really down to taste.
Pros
Works for all hair types

95% proven reduction in breakages

100% natural ingredients
Cons
The smell is a little much for some
Bottom Line
A great, versatile hair oil made with all natural ingredients and plenty of essential oils.
Healing Solutions is a smaller company that produces some excellent products that don't cost the customer an arm and a leg. Like their 100% Pure Therapeutic Grade Rosemary Oil, for instance.
The latter is an excellent example of a quality essential oil product for hair growth. It's a pure grade rosemary oil that's very versatile; yes, it helps to stimulate hair thickness and growth, but it serves a lot of other purposes, as well.
Healing Solutions customers report that they've used the Therapeutic Grade Rosemary Oil for pain relief, as an antimicrobial in their bath (in place of soap), and that it helps combat skin dryness. Some say they've even used it to reduce the amount of gray in their hair.
You can also blend rosemary with other oils, such as peppermint, lemongrass, sage, basil, and eucalyptus.
And, if you don't like it, you can send it back to Healing Solutions for a full refund, no questions asked.
Pros
Made from pure therapeutic grade rosemary oil

It has a sweet, herbal aroma

You can use it for multiple purposes
Cons
Feels a little greasy to some
Bottom Line
The Healing Solutions Pure Therapeutic Grade Rosemary Oil is versatile, including that it's great for the hair. You'll also like its scent.
Wild Growth Hair Oil is definitely one of the best hair growth oils out there. It contains a mixture of carrier and essential oils, such as coconut oil, olive oil, clary sage oil, eucalyptus oil, lavender oil, etc., that are proven to help with hair growth and maintaining healthy hair.
Let's examine some of these oils as we haven't discussed most of them in a previous section.
Coconut oil is a fatty oil that helps hydrate the hair and the skin underneath it, reducing dandruff and flakes. This has an effect in less itching and irritating sensations. However, it does make the hair feel a little bit greasy.
Olive oil also hydrates the skin and increases elasticity to the hair. This results in less breakage and frizz. Additionally, a study on mice indicated that a component found in olive oil named oleuropein promotes hair growth as it directly impacts the growth cycle.
Clary sage oil balances sebum production while also revitalizing the scalp. This results in the strengthening of hair follicles, which prevents hair loss.
Lastly, eucalyptus and lavender oils enforce all the benefits of the above ingredients.
It is important to note that this oil is rather thick. It can leave a greasy feel if you overapply, so be aware of that. However, even though you might feel your hair a bit oily after application, it is very effective in hydrating and nourishing the hair.
What we didn't like about it was its scent, which we believe was pretty strong. If you are sensitive to scents probably this one might not be the best choice for you. Healing Solutions Rosemary Essential Oil or, Healing Solutions Rosemary Essential Oil have more lightweight scents, making them more suitable options.
Overall, this is a great oil that helps with hair growth and moisturizes the scalp. At a great price as well.
Pros
Promotes hair growth

Rich in natural oils

Hydrates and soften the hair
Cons
The smell might be weird for some

Takes a bit of time to see results
Bottom Line
Wild Growth Hair Oil is an effective product that helps improve hair growth for both men and women at an affordable price. Awesome!
Grande Cosmetics GrandeHAIR Hair Enhancing Serum says it in its name. It helps you grow the ''grande' hair you have always wanted.
It is a unisex serum that is formulated with castor oil and a variety of botanical extracts, with the purpose of helping you grow thicker hair.
Castor oil is known for its many benefits. It nourishes and softens the hair as well as minimizes the possibility of breakage. It also increases the circulation to the scalp, which has as a result, increased hair growth.
According to the manufacturer when testing the product, 94% of its users had improved hair thickness and 82% reduced hair loss. This says a lot about its effectiveness.
As an additional bonus, it is also cruelty-free and paraben-free.
However, you should consider the low amount of serum you are getting for its high price. While it is a very premium product that screams luxury and can definitely make you see improvements, it might not be the right one for people looking for an affordable option.
Pros
Excellent blend of castor oil with other botanical ingredients

Loaded with vitamins and antioxidants

Proven results of improved hair thickness
Cons
The price is definitely not cheap
Bottom Line
A unisex serum that is full of natural oils which are proven to stimulate hair growth. A perfect combination of performance and luxury.
The Ancient Greek Remedy Oil uses a simple formula that includes just four natural raw ingredients – extra virgin olive oil, almond oil, grapeseed oil, and lavender oil.
It also includes vitamin E, which is a common ingredient you'll find in natural treatments for your hair, face, skin, nails, and feet.
But there are plenty of reasons why this oil is appealing to anyone who seeks holistic health solutions, including that it doesn't contain harmful chemicals, dyes, or color additives. Also, Ancient Greek Remedy Oil never is tested on animals and it's vegan.
Another thing to like is that it's extracted through the cold-pressing process that helps retain the oil's beneficial natural properties.
Greek Remedy Oil's benefits for hair are many and works for all hair types: straight, wavy, afro, curly, etc. It's ideal for rejuvenating and thickening weak, brittle hair, and it moisturizes and nourishes dry, flaky scalps.
You'll also like how it relieves chronic scalp itch, and how it works as a natural dandruff treatment.
Not that Greek Remedy Oil treats only hair, because it's excellent for skin care as it provides hydration that makes skin softer and smoother, and even relieves skin irritation.
You may also find it useful for cuticle and skin care, depending on your needs. Furthermore, it's safe for kids, including toddlers.
A 4-ounce bottle of Greek Remedy Oil should last you a long time because it comes with a pump dispenser that makes it easy to target just the areas on your scalp where hair loss and thinning hair are most noticeable. Each bottle has a shelf life of three years.
Last but not least, the Greek Remedy Oil comes with a 100% money back guarantee, which is always a good thing.
Pros
Rejuvenates weak hair

Cold-pressed

Money-back guarantee
Cons
The scent is a bit strong for some
Bottom Line
Greek Remedy Oil has a lot of uses, as do the other quality oils on this list, but we like what it does for hair health. You'll notice your hair becoming stronger and less brittle, while it's helpful in dealing with dandruff and other scalp issues.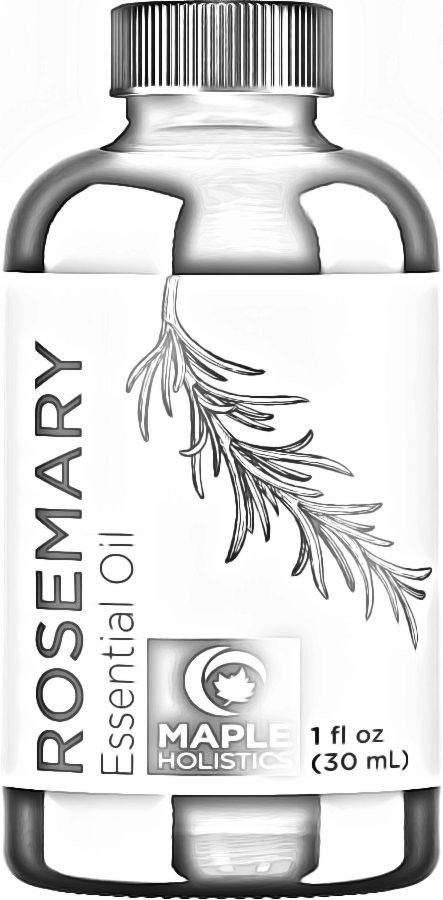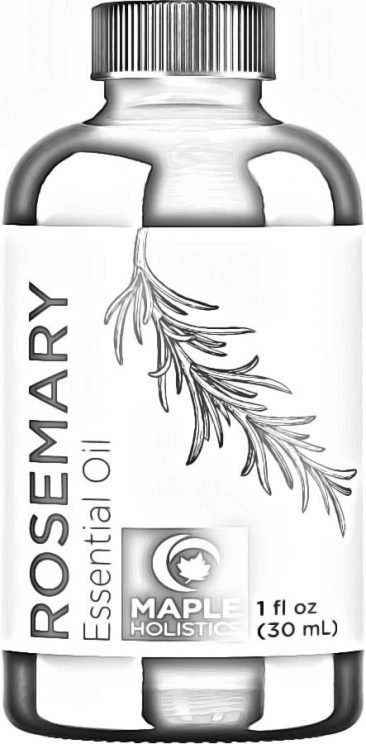 New Jersey-based Maple Holistics is committed to providing natural, holistic products that enhance personal hygiene and health, and their Pure Rosemary Essential Oil is no exception.
All of Maple Holistics' products are 100% pure therapeutic grade, which means – among other things – that their products consist of only natural ingredients and are sulfate-free.
Their Pure Rosemary Essential Oil is cold-pressed and made from high-grade rosemary extract.
The oil also serves a variety of health-related purposes, including that it works as an excellent skin treatment.
Rosemary oil, which certainly is in the discussing regarding the best essential oil for hair growth, also is said to help boost mental functions such as concentration, focus, and memory retention.
But our primary interest is how it works to promote hair growth and thickness.
That said, it blocks DHT (dihydrotestosterone), a hormone that's known to slow hair growth. Maple Holistics' Pure Rosemary Essential Oil also controls dandruff and tames frizziness that can make your hair hard to manage.
Hey, it's even good for beard health and growth.
All of Maple Holistics' products come with a money-back guarantee, so you're really at no risk to try the Pure Rosemary Essential Oil Stimulating Scalp treatment. And, chances are, you'll like it.
Pros
Made from high-grade rosemary oil

Slows down hair loss

Good for many other uses, too
Cons
Scent is too strong for some
Bottom Line
There's a lot to like about Maple Holistics' Pure Rosemary Essential Oil, not the least of which is its effects on hair loss and hair growth. Made from natural ingredients, you can use it safely without worrying about harmful chemicals reaching your scalp, skin, and hair.
Ah, rosemary oil. One of the most common oils used in hair growth products, with origins that extend way back to ancient Egyptians, Hebrews, Greeks, and Romans, rosemary has many, many uses – such as a treatment for mental fatigue and circulation problems.
Rosemary is the primary ingredient in Plantlife's 100% Pure Essential Oil, which comes in a portable 10ml bottle (with dropper) that you can take anywhere. It stimulates circulation to the scalp, which promotes hair growth, while also limiting dandruff and a too-oily scalp.
You can apply a couple of drops of Plantlife's oil directly to the scalp or add a few drops to your favorite shampoo or conditioner. It has a sweet, camphor-like scent that's lightweight.
Pros
Benefits the scalp and hair

Has multiple uses

Nice scent
Cons
Smell may be too strong for some
Bottom Line
We've already said it but it's worth repeating: rosemary oil is perhaps the best essential oil for hair growth and Plantlife's 100% Pure Essential Oil lives up to the billing. You'll like what it does for your hair and it has many other health benefits.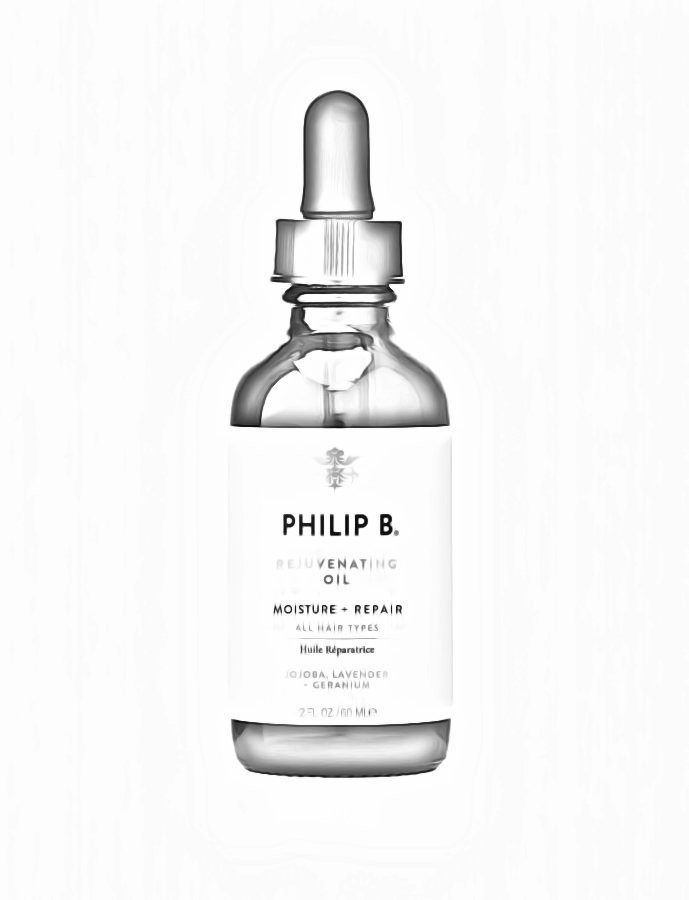 PHILIP B Rejuvenating Oil is another excellent oil that deserves a mention on our list.
It is a blend of ultra-light essential oils that not only do they help with hair growth but also condition and moisturize damaged dry hair.
The blend contains a variety of essential oils, but its main ones are jojoba, lavender, geranium, and olive oils. Rest assure, it is free from any parabens and other possibly harmful chemicals.
Jojoba contains vitamins and minerals that nourish and strengthen the hair, such as vitamin E, C, B, and zinc, while also promoting hair thickness. Along with olive oil, they moisturize the hair preventing split ends and breakage.
Lavender oil has become a very well-known essential oil when it comes to hair products. Except for its divine scent, a study has proven that it promotes hair growth, making the hair appear thicker and grow faster than normal.
Lastly, geranium helps improve the health of the scalp. It regulates excess oil and the production of sebum, reducing the chances of scalp acne and other related conditions.
You will love how lightweight this oil is. It makes the application a real joy and non-difficult. After even the first application, you will notice your hair is healthier, rejuvenated, and more elastic.
While it doesn't make the hair shiny, it brings back its natural shine.
Its scent is also a treat. It has a floral botanical fresh scent that you will adore. But, as it also contains fragrance, it is a bit on the heavy side.
If you are sensitive to strong scents, consider other options in our list, as several reviewers mention that they found its aroma too much despite it being divine.
Pros
Helps balance sebum production on the scalp

Nourishes and moisturizes the hair, reducing split ends, dandruff, and damage

Promotes hair growth and strengthen hair follicles
Cons
A bit expensive

The scent might be too heavy for some
Bottom Line
This is one of the best oils that will provide a lot of benefits to your hair. If you have damaged hair or suffer from hair loss, this is an excellent option.
How we chose these products
There's one primary criterion when evaluating the best essential oil for hair growth, i.e., how effective is the product in growing hair.
Indeed, that's our main consideration in evaluating the products found on our list – and others – and certainly served as the foundation of our research, including the reviews of others.
There are other things to take into account, too, including the overall list of ingredients (not just the essential oils), and we prefer natural and organic products over those that include chemicals.
We also like essential oil products that serve a variety of health-beneficial functions, which almost all of them do.
Applying essential oils for hair growth (A simple, illustrated guide)
There's no question that essential oils can boost the overall health of your hair in several ways. They're also relatively easy to use, but you need to take some care and follow a few rules of the road when regarding how to use essential oils for hair. Let's take a look.
Step 1:
Perhaps the most important rule when it comes to applying essential oil for hair growth is never to apply an essential oil directly to the scalp.
That doesn't mean the oils listed in our reviews, mind you, but essential oils that aren't diluted with a carrier oil(s). Essential oils can harm the scalp and hair if applied directly because of their high concentration and volatility.
Step 2:
A quick word about carrier oils. Unlike many essential oils, carrier oils don't evaporate quickly or have a strong smell, which makes them ideal for use in diluting essential oils.
Carrier oils allow you to cover a large area of your scalp and skin with essential oils without having to add too much. Examples of carrier oils include coconut oil, almond oil, jojoba oil, and olive oil.
Step 3:
The amount of dilution needed for an essential oil – that is, so it's safe to apply to the skin – usually depends on the strength of the essential oil. A very general rule of thumb suggests using 12 drops of essential oil with 30ml of a carrier oil before applying it to your hair.
Note: You can use more than one essential oil and one carrier oil together as long as you maintain the proper proportion of the various oils.
Step 4:
Different carrier oils, when mixed with essential oils, provide specific benefits to the scalp and hair.
For instance, jojoba oil and coconut oil help treat dry and damaged hair. Olive oil, castor oil and coconut oil (again) work as a dandruff treatment. For hair growth, castor oil, olive oil, sweet almond oil and grapeseed oil are considered among the best carrier oils.
Once you've determined your desired outcome, from stimulating hair growth to treating dandruff, you can then choose and mix the proper amount of essential and carrier oils.
Step 5:

You can test your oil on a small area of your body – such as your inner arm – to see if it has any adverse effects like itching or a rash – before using it on your head and scalp.
Step 6:
The following are ways you can use essential oils for hair care:
Mix the essential oil of your choice and massage it into your scalp just before you go to bed. Leaving it on overnight helps you reap the full benefits of the oil. You can then wash off the oil in the morning.
Heat up your carrier oil before mixing it with essential oil. Don't heat it under a flame because you'll lose much of the oil and its beneficial properties, but heat it by placing it in hot water, instead.
Once it's warmed up, blend it with the essential oil and massage the mixture into your scalp and hairs.
Another easy way to use essential oil is to combine it with another hair care product. You could add a few drops of it to your favorite shampoo or conditioner, for instance, and still experience the same positive results on your overall hair health.
Essential oils, carrier oils, & other hair growth treatments
We've talked about essential oils (a lot) and carrier oils (briefly), but it doesn't hurt to dig a bit deeper. After all, essential oils need carrier oils – and vice versa – to tackle hair growth and hair loss issues, although not all essential oils necessarily aid hair growth.
Moreover, essential oils serve a variety of functions beyond promoting strong hair health, which we've also discussed in most of our reviews of the best oils for hair growth.
All that said here's a basic primer when it comes to essential oils, carrier oils, and a few other hair growth products.
1. Essential Oils
There's no need to get in too much detail here about essential oils, since they represent the foundation of what we've talked about already, but here's another look at some basics:
Essential oils are the highly-concentrated oils found in the natural oils of plants. Extracting essential oils from plants requires a distillation process, such as cold-pressing or steam-distilled. Many parts of the plant get used during the distillation process – the roots, stems, flowers, bark, etc.
The distillation process, as mentioned, produces the highly-concentrated portion of the essential oil, which retains the characteristic fragrance and properties of the plant. In other words, it retains the true essence of the plant – including its healing properties.
Because essential oils are extremely concentrated and potent, you can't put them directly on the surface of the skin. If you want to use essential oils to stimulate hair growth, you should mix them with carrier oils to dilute them enough that they won't harm your scalp.
And, as mentioned, you can mix several essential oils and carrier oils to get the most beneficial combination for your hair.
Examples of essential oil for hair growth include peppermint, rosemary, cedarwood, clary sage, lavender, tea tree, lemon, and many others.
2. Carrier Oils
The name says it all when it comes to carrier oils; after all, they're used to carry another substance – such as an essential oil – to the area in which treatment is needed, such as the hair.
Because essential oils have such a high concentration, you need carrier oils to dilute them enough that you can apply them to the scalp or skin safely.
Carrier oils are extracted from the seeds, nuts, or kernels of plants and, when compared to stronger essential oils, are relatively "neutral." In turn, that makes them a good balance for essential oils.
Also, carrier oils don't evaporate at the same rate as essential oils, and many of them have therapeutic benefits.
Some common carrier oils include:
Coconut oil – One of the most popular carrier oils, coconut oil has a high concentration of antioxidants and provides anti-inflammatory and antifungal benefits.
Castor oil – Castor oil is good for hair growth and treating hair loss for a variety of reasons, including that it's high in omega-6 fatty acids that increase circulation to the scalp and help accelerate hair growth.
Jojoba oil – Like castor oil, jojoba oil offers a fatty acid that mimics the natural sebum in the scalp.
Grapeseed oil – Not only is grapeseed oil high in antioxidants, but it also moisturizes and nourishes hair while treating dandruff.
Olive oil – Olive oil is effective for treating dandruff, frizzy hair, and dry skin.
3. Other Hair Growth Treatments
We've discussed a variety of common hair growth treatments in previous posts, including topical solutions such as Rogaine (minoxidil) and Propecia (finasteride).
Rogaine and Propecia work, in part, by limiting the effects of DHT on hair follicles. While DHT is crucial for many human functions – including that it serves as a catalyst for puberty in young males – it may have a negative effect on hair growth.
Other, more expensive hair-loss treatments include scalp micropigmentation and hair transplants. Both treatments show proven results but, again, they don't come cheap.
Conclusion
That wraps up another product review, friends. Have you tried any of the products listed here? Have you used essential oils on your hair and, if so, what were the results? We welcome your comments, feedback, and suggestions, and would love to hear from you.
Essential oils have a number of uses. They can be used to make your home smell lovely, they can provide a number of health benefits, and they can even be used to promote hair growth. While taking care of your hair doesn't require a big commitment, caring for it does take time. However, there are several options for you to choose from when it comes to essential oils for hair growth. Since essential oil guides are readily available on the internet, finding the most effective essential oil for hair growth is just a click away.
---
YOU MIGHT ALSO LIKE: