The 5 Best Castor Oils for Hair Growth: Proven to Work
This post may contain affiliate links. Learn more.
It's hard to convince someone to use a product on their hair when that product is best known as a miracle cure for constipation – I mean there's no correlation between hair growth and bowel movement!.
But the reality is Castor Oil is an extraordinary, hugely versatile tool for you to improve your hair's health, growth, and a bunch of other things besides.
Rather than overlooking it, men and women alike need to start seeing castor oil for the hair product that it is, and the great number of benefits it offers.
So this review is intended to highlight some of the amazing benefits the best Castor Oils can have, as well as helping you pick the perfect product for you.
In a hurry? Here are our top picks:
Shiny Leaf Cold-pressed Pure Castor Oil
Our no.1 choice – Shiny Leaf Cold-pressed Pure Castor Oil – is 100% natural, works great for all skin types, and promotes hair growth, moisturizes the skin and stops dandruff.
Tropic Isle Living Jamaican Black Castor Oil
For example, our no.2 choice – Tropic Isle Living Jamaican Black Castor Oil – is a natural formulation from Jamaican Black Castor Oil which is great for promoting hair restoration.
So there are plenty of great, specific choices.
And there's more:
We're also going to offer an illustrated guide to using Castor oil properly and explore the ways Castor oil differs from other oils.
Let's start with the 7 most important things you need to consider when buying Castor oil.
Quick summary
<!—INSERT CODE BELOW—>

Best Cold-Pressed

Shiny Leaf Cold-pressed Pure Castor Oil

Fast absorbing, no residue

Has a variety of uses

No nasty chemicals

Check on Amazon

Best Jamaican Black

Tropic Isle Living - Jamaican Black Castor Oil

Moisturizes dry hair and scalp

100% natural

Promotes hair growth

Check on Amazon

Best Value

Kate Blanc Cosmetics Certified Organic Castor Oil

Cruelty-free company

Amber bottle protects from UV rays

Sparks hair growth and good for the skin

Check on Amazon

Rejuve Naturals Certified Organic Castor Oil 

Comes with brushes

Hexane and chemical free

Meets world wide certification standards

Check on Amazon

Sky Organics USDA Organic Cold-Pressed Castor Oil

Contains no chemical substances

Hydrates dry hair and scalp

Won't weigh hair down

Check on Amazon
Before you buy: 7 Things to consider when purchasing castor oil for hair growth
There are a few things to keep in mind now that you've decided to try castor oil for hair growth. Choosing the right oil can mean the difference between no results and a fuller, healthier head of hair.
1. Type
Castor oil comes in three main types for hair care:
Organic Cold-Pressed Castor Oil
You'll see and hear the phrase cold-pressed a lot when researching castor oil. What it refers to is the extraction process of the oil; in the cold-pressed process, the oil is extracted directly from the castor seed without heat.
While heat-pressing is common, it can degrade the nutrients present in the seed, and make it less efficient. Cold-pressing assures that all nutrients remain during extraction. Cold-pressed castor oil is pale yellow.
Jamaican Black Castor Oil
The Jamaican Black Castor Oil process involves roasting seeds and then pressing them for oil. The ashes created by the roasting process are mixed with the oil and give it its black color.
Jamaican Black Castor Oil has the same nutritional value as organic cold-press oil, but higher alkalinity.
Hydrogenated castor oil comes from hydrogenating pure castor oil with the aid of a nickel catalyst. Also known as castor wax, hydrogenated castor oil is odorless, brittle, and insoluble in water.
Note: You'll find hydrogenated castor oil in many cosmetics, varnishes, and polishes.
2. Purity
Pure castor oil is free from artificial ingredients, and you should look for one whenever possible.
"Pure" means that it doesn't contain artificial ingredients such as fragrances, alcohol, or other enhancements, because these ingredients may dry out or irritate your skin.
3. Certified Organic
Look for products with the USDA Certified Organic label. An organic product uses natural ingredients and doesn't include synthetics. Truly organic castor oil comes from seeds grown in a natural environment without the use of fertilizers or growth enhancers.
4. Buy From Authorized Sellers
Buy your castor oil from authorized sellers only – such as well-known pharmacies and health stores. If you're buying it online, make sure that you're purchasing it from a reputable e-commerce site such as Amazon.
If you have doubts, check the brand's website and browse the reviews of others who've used the product. This should give you a fair idea of their authenticity.
5. How Does it Look?
High-Quality castor oil has a thick, yellowish texture and color and a nutty odor.
6. Grade
Generally speaking, castor oil comes in two grades:
AA Standard (or "pale pressed") that comes from the first pressing of the seed and what many people refer to as virgin oil. This oil may be diluted and thin, so make sure that it's cold-pressed for the highest quality.
Industrial (or "imported") refers to the process of mixing the first pressing with the next batch of seeds. This process repeats multiple times.
7. Hexane-Free
Hexane is a solvent used to extract oil from seeds, including from castor oil seeds. Like any chemical solvent, hexane may introduce impurities to the process that affects the integrity of the oil. Your best bet is to choose products that don't include hexane.
Next, let's dig into the best castor oil for hair growth and our castor oil for hair growth reviews.
The 5 best castor oil for hair growth
Shiny Leaf makes it possible to keep your hair thriving and looking its best with its cold-pressed pure castor oil.
More good news: you can get more of it these days.
The folks at Shiny Leaf now sell their pure castor oil in a 16-ounce bottle that will last you a long time with normal use. And, by "normal," that also means for use on your hair, eyelashes, eyebrows, face, and other areas of the skin you might want to use it on.
To say it's an effective all-around product is an understatement, and when it comes to treating hair, it's among the best. It not only promotes natural hair growth, but hydrates the hair and scalp, and relieves dandruff and split ends.
The castor oil's nutrients penetrate deeply into hair follicles while nourishing and strengthening them.
You can use Shiny Leaf's Castor Oil on your hair daily to restore it from a dull, lifeless look to smooth and shiny.
As mentioned, this castor oil also is excellent on eyelashes and eyebrows, and it's easy to apply thanks to a free mascara wand.
Meanwhile, it cleanses the skin and works wonders on the face to remove fine lines, wrinkles, and other subtle and not-so-subtle signs of aging.
Shiny Leaf produces its castor oil through cold-pressing that's free of alcohol and hexane. It contains no additives or fillers.
Pros
It absorbs quickly without leaving a residue.

It's good for multiple uses.

It doesn't contain harmful chemicals.
Cons
It's a little thick for some.
Bottom Line
Shiny Leaf's 100% pure castor oil can help you look better from head to toe.
Tropic Isle Living first emerged on the international market around 1992, and their unique Jamaican Black Castor Oils have been making waves ever since. Their exceptional products are developed from authentic Caribbean oils, herbs, and berries.
With its natural formula rich in Vitamin E, Omega Fatty Acids and Minerals, their Jamaican Black Castor Oil helps restore, moisturize and strengthen your hair, as well as being useful as a conditioner, helping your eyelashes, brows, beard, and nails grow more healthily and even removing foot calluses. This oil really does it all.
Ultimately, this is an incredibly versatile product: regardless of your specific grooming needs, it's worth having one of these big bottles in the cupboard.
Pros
Totally natural formulation

Moisturizes the hair

Promotes hair restoration
Cons
The scent might not be for some
Bottom Line
An extraordinarily versatile Castor oil – and fantastic value for money.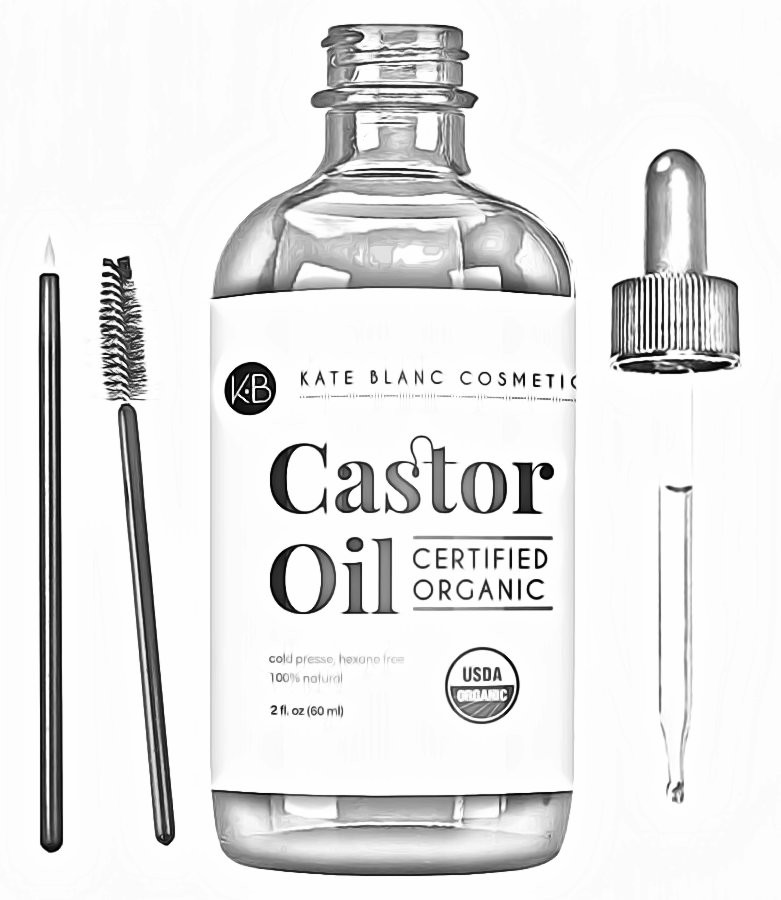 Castor oil has a long list of benefits, and Kate Blanc's Certified Organic Castor Oil is evidence enough. Not only does it stimulate hair growth, but it's also excellent for use on eyelashes and eyebrows.
Founded by an entrepreneur who converted her interest in organic oils into a thriving cosmetics business, Kate Blanc uses 100% USDA-certified organic oils, including its castor oil.
Their castor oil, like the other oils in our reviews, helps stimulate hair growth and diminish hair loss. It also treats dry, brittle hair, dry scalp, and dandruff.
What many users love about Kate Blanc's organic castor oil is the magic it works on their eyelashes and eyebrows. It comes with an eyelash and eyebrow kit that makes application simple and measures out just the amount of oil required for growth.
The oil absorbs easily into your lashes and eyebrows without making a mess, and you need only to apply a small amount before bedtime.
Kate Blanc's organic castor oil is also effective for treating dry skin, as well as blemishes, acne, fine lines, and scars. It helps your skin to retain moisture throughout the day.
Pros
All of Kate Blanc's products are cruelty-free and never tested on animals.

It comes in an amber glass bottle that protects it from UV rays.

Stimulates hair growth and also provides excellent treatment to the skin.
Cons
 It may take some time before you see results. Some

people

are not that patient
Bottom Line
Kate Blanc's 100% organic castor oil is safe to use and delivers positive results. It's a great all-around product for treating a variety of hair and skin issues.
There's a helluva lot to love about Rejuve Naturals' Organic Castor Oil – for one thing, it's 100% pure and USDA Certified, using no GMOs, hexane, additives, allergens or chemicals. So you can use it with a clear conscience. And it doesn't have much of an odor, which is often a concern
It can be used in a great variety of ways – to repair damaged hair, get fuller looking lashes and eyebrows, improve the tone and complexion of the skin, soothe dry eyes and relieve eyelid bumps to name just a few uses!
They've even thrown in a complementary set of eyelash and mascara brushes to make application easier and give you everything you need to get the most out of castor oil in a single purchase.
And you can see the results for yourself: there are literally 100s of reviewers all over the place singing its praises, usually from people who've discovered the joys of castor oil with the product.
And that's more than enough reason for us to feature it in our own round-up of the very best.
Pros
100% pure

USDA Certified

Comes with brushes to apply with
Cons
Some reviewers note that it's a little thicker than other oils
Bottom Line
A great, organic option for almost any castor oil need.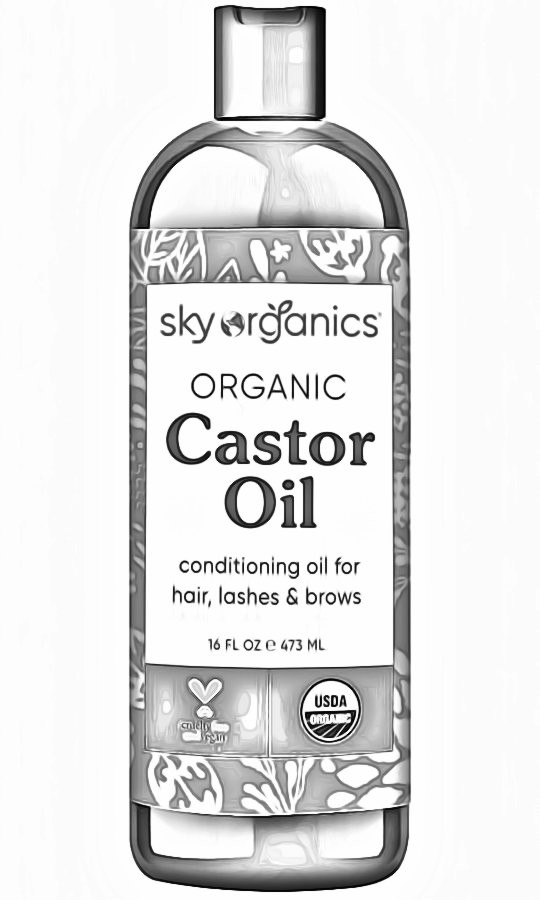 Sky Organics' Cold-Pressed Castor Oil is a versatile product that's good for hair, skin, nails – even eyelashes. But we include it here because of its many benefits for hair health, not the least of which is hair growth.
We also like Sky Organics because they're a company known for all-natural, organically-certified products, but also because those products deliver excellent results.
Their Cold-Pressed Castor Oil is rich in vitamins and fatty acids and is suitable for all hair and skin types. It's made from organic, chemical-free ingredients and won't trigger allergies or skin irritation.
The vitamins and fatty acids nourish hair follicles while hydrating the scalp to reduce dryness. In turn, it makes for healthier hair overall.
It is, after all, made of 100% pure oil that's sourced from organic, artisanal farmers in India. It comes in a 16-ounce bottle that should last a long time because you only need to use a small amount of it to get good results.
Pros
It's packed with nourishing organic ingredients

It hydrates hair follicles and the scalp to prevent dryness

A little bit of it goes a long way
Cons
Some users say it's not as easy to apply as some other products
Bottom Line
Sky Organics 100% Pure Castor Oil has many benefits for the hair and skin, plus it delivers excellent results.
How (and why) we chose these castor oils for hair growth
One thing you'll notice while researching castor oil for hair growth is how certain brands keep popping up in the "best of" reviews.
The truth is, you can probably find a lot of "snake oil" products when looking for the best castor oil, which is why we took a closer look at those that earned high marks from experts.
As with most of our reviews, we prefer products made from natural and organic ingredients.
Ease of use is also important, as is price, although how much a product costs, isn't necessarily a prime consideration.
After all, you can find high-priced products that don't work and others that work just fine.
Perhaps the defining factor for including any product on our best-of reviews is whether it gets results. If it doesn't or gets mixed reviews from consumers, we tend to look somewhere else.
How to apply castor oil properly in 6 easy, illustrated steps
There's no one "right" way to apply castor oil. You'll find almost as much information about methods for applying castor oil then you will find info about various castor oil products.
That said, however, there are some things to keep in mind regarding how to apply castor oil for hair growth:
1. Protect your area and clothes
First of all, you don't want the oil staining your clothes or getting all over your work area. So, use paper towels or old towels to cover the area around you and to cover your shoulders so that the oil doesn't get on your clothes.
You should do this every time you use castor oil, but especially if you're using it for the first time. Things can get a bit messy if you're not careful.
2. Dampen your hair first
While you can apply castor oil to dry hair, most experts recommend dampening it first to help absorb the oil better. The easiest method is to fill a spray bottle with water and then spritz it on your hair to keep it damp.
Also, comb or brush your hair before applying the oil to get rid of any tangles or snags.
3. Getting the oil ready
One thing to keep in mind is that you don't need to use a ton of castor oil for it to benefit your hair and scalp.
In most cases, a couple of tablespoons is enough, so your bottle of castor oil should last you for a fairly long time.
Another beneficial practice is to heat the oil before applying it to your hair. Warming the oil will help draw out its beneficial ingredients and make it easier to apply. Cold oil might just be too thick and more difficult to apply.
4. Mixing the oil with another oil
A good strategy is to mix the oil with another oil, such as jojoba, argan, coconut, avocado, or sweet almond oil.
Doing so also makes it easier to apply. Additionally, adding a few drops of essential oil such as rosemary, peppermint, or tea tree helps mask the stronger smell of the castor oil.
For instance, you could create a mixture of castor oil (3 tablespoons), jojoba oil (1 tablespoon), and coconut oil (1 tablespoon) in a small jar and shake the ingredients together.
To heat the oil, you can fill a bowl with very hot water and then place the jar of castor oil and other oils in the water (while making sure that no water gets into the jar).
Once the oil has warmed, you can place it in a small bowl so that it's easier to apply. Or, you can use an eyedropper to draw the oil from the jar.
5. Applying the oil
Once you've placed the oil in a bowl or another container, dip your fingers into it and massage it into your scalp for three to five minutes.
You don't need to use a lot of oil because a little of it goes away, but do make sure to spread it evenly between your hair roots and across your scalp. Use small circular motions with your fingertips to massage the oil.
If you're using an eyedropper, apply a few drops to various areas of your scalp – which may be a bit less messy than applying it with your fingers.
Whatever method you choose, massage the oil into your scalp for three to five minutes to ensure that you've evenly distributed it throughout your scalp.
6. Let the oil stay on your hair
Don't wash the oil from your hair immediately after you've applied it, but let it remain on your scalp for at least 15 to 20 minutes.
You can also leave it on overnight if you wish, but make sure to protect your pillow with a covering or case of some kind, or wear a shower cap or towel on your head.
How often should I use castor oil for hair growth?
If limiting hair loss and spurring hair growth is your goal, you should apply castor oil to your hair at least twice a week and even up to three to four times per week.
Washing your hair after applying castor oil
Castor oil is thick – and sticky – by nature, so washing it off your hair and scalp requires a bit of effort.
One of the keys to doing it effectively and without damaging your hair is to use warm water – at first. Doing so opens the pores of your scalp to release leftover grime and dirt.
Work your favorite shampoo into a generous lather and massage it gently into your scalp with your fingertips before rinsing with lukewarm water. Again, you can also leave the oil in for several hours or overnight if you so choose.
Castor oil: A closer look & how it compares to other oils
So far, we've talked a lot about castor oil, including the best castor oil products for hair growth, how to apply it, etc.
But let's take a look under the hood at exactly how castor oil works, its benefits, and how it stacks up against other oils commonly used in hair growth products.
1. So, what is it?
Castor oil comes from a plant called ricinus communis, which is native to the tropical areas of Africa and Asia.
While castor oil has gained popularity in the past few years as a hair and skin product, it has been around for thousands of years and has a long history of use for medicinal purposes.
2. How does it help hair growth?
Castor oil contains large amounts of ricinoleic acid – which is naturally antibacterial and antifungal. And bacteria and fungus dwell in the roots of your hair while stunting hair growth (if not completely stopping it).
It also contains omega-6 essential fatty acids, which improve blood circulation to the scalp while encouraging hair growth. Meanwhile, it's rich in essential nutrients that nourish the scalp and strengthenstrengthens hair roots.
To get a bit more scientific, studies show that ricinoleic acid inhibits something called Prostaglandin D2. PGD plays an important role in the development of the male reproductive system, but an overproduction of it causes slow hair growth.
Another castor oil attribute is that it locks in moisture due to its large amount of polyunsaturated fatty acids. The fatty acids adhere to individual hairs to stop moisture from escaping. It also attracts moisture from the environment to further nourish your hair.
Last but not least, castor oil protects existing hair follicles to limit hair loss. It even protects against environmental factors such as the sun's harmful UV rays and pollution and fights dandruff. In other words, it packs a pretty powerful punch.
3. The many other benefits of castor oil
As mentioned, castor oil is no new-kid-on-the-block, so to speak, not when you consider that it's medicinal uses date back thousands of years. Here's a brief look at some of its other uses and benefits:
If you're looking to stay "regular," castor oil can help.
We won't get into too much detail here, folks, but it helps you get the push you need to, well, get the job done. And one study showed that senior citizens who took castor oil experienced decreased symptoms of constipation.
User beware, however, because taking too much castor oil may lead to abdominal cramping and diarrhea.
It works as an anti-inflammatory
The ricinoleic acid found in castor oil reduces inflammation and relieves pain when applied topically. That's particularly helpful for people with rheumatoid arthritis or psoriasis.
Castor oil is a natural moisturizer
Ricinoleic acid is a monosaturated fatty acid that acts as a humectant – which prevents water loss from the outer layer of the skin – to moisturize the skin. You'll find castor oil in a wide variety of cosmetics, such as lotions, makeup, and cleansers, to promote hydration.
Better yet, castor oil often replaces harmful ingredients, such as perfumes, dyes, and preservatives found in moisturizing products.
Well, it may not actually heal wounds, but it promotes healing by creating an environment in which healing occurs – including that it prevents sores from drying out. Castor oil also reduces dryness and the buildup of dead cells that delay wound healing.
Castor oil has several qualities that may reduce acne symptoms, including that it fights bacterial overgrowth, which may lead to acne.
Castor oil also works as a moisturizer; it can help soothe inflamed and irritated skin that often affects people with acne.
Castor oil has antifungal qualities that can help treat candida, a common cause of serious dental issues, including gum infections.
So, all that said, castor oil appears to be something of a miracle drug. OK, maybe not quite a miracle drug, but pretty damn versatile, nonetheless.
However, there is potential castor oil for hair side effects, such as scalp itching.
Itchiness may occur because castor oil contains triglyceride and 90 percent fatty acid chains that, without getting any more scientific, cause itchiness in some users.
It doesn't happen to a lot of castor oil users, but you may want to put some on your inner arm first to check for potential itchiness.
Other symptoms may include a rash, inflammation, dizziness, and trouble breathing, but those symptoms occur almost exclusively in non-hair growth-related uses of castor oil.
4. Other oils used for hair growth
Like castor oil, coconut oil has many benefits for hair health for a variety of reasons. It's rich in lauric acid and several essential fatty acids that supply proteins to the hair to help it retain strength and avoid breakage and loss.
Coconut oil – again, like castor oil – has antifungal and antibacterial qualities that make it ideal for fighting dandruff and itching. Regular massaging of your hair with coconut oil is said to improve hair follicle health, while it also keeps your hair and scalp moisturized.
Many experts agree that castor oil is better than coconut oil for addressing hair loss, while coconut oil is ideal for regular hair maintenance.
Argan oil comes from trees native to Morocco and has been used for centuries for a variety of things, including cosmetics and hair health.
Like other oils, argan oil is most effective after it has gone through the cold-pressing process. And it has many benefits, including that it helps treat high cholesterol while preventing obesity and cardiovascular diseases.
We're primarily concerned with argan oil's benefits for hair growth, however, and it contains several vitamins and nutrients that increase blood circulation to the scalp.
Argan oil moisturizes the scalp while strengthening the hair's follicles to reduce damage caused by the sun's UV rays and other elements, as well as shielding them from damage caused by chemicals applied to the hair.
Because of its moisturizing qualities, argan oil also protects against itching and dandruff caused by a dry scalp.
While argan oil offers many of the same benefits for healthy hair than does castor oil, castor oil is probably better for people with sensitive scalps because it offers even more moisturization than argan oil.
Argan oil works well when combined with an exfoliating shampoo that unclogs the pores so that the oil and penetrate them.
You'll find jojoba oil in many skin and hair care products such as shampoos and conditioners. When used on the hair, jojoba oil acts as a "carrier" oil that delivers essential oils to the scalp while aiding their absorption.
But there's more: jojoba oil moisturizes the hair without leaving any residue and resolves the dryness that leads to dandruff and hair loss. And, because it moisturizes hair follicles, jojoba oil makes them stronger, healthier, and potentially more resistant to hair loss.
An easy way to use jojoba oil is to mix a few drops of oil in with your favorite shampoo or conditioner. You can also use jojoba oil after shampooing but be wary of using too much because it may leave your hair feeling (and looking) greasy.
Sweet almond oil contains oleic acid that deeply moisturizes and regenerates hair follicles. It also has anti-inflammatory properties and mixes easily with the natural oil (sebum) produced by your scalp and skin.
Sesame oil combines oleic and linoleic acid and regulates sebum to prevent excessive oiliness. It also contains vitamins E and B, a bunch of fatty acids, and important minerals such as iron, zinc, and magnesium that contribute to better hair quality.
The fatty acids contained in avocado help repair hair damage while also improving hair quality.
Avocado oil is very helpful if you have split ends or frizzy hair. Avocado oil, like olive oil, may help inhibit the enzyme by-product DHT, which is said to be a leading cause of hair loss in men.
Conclusion
Have you used castor oil for hair growth? If so, what product and what were your results? We welcome your feedback and suggestions and would love to hear from you!