9 Best Argan Oils for Hair & Skin (100% Pure & Organic)
This post may contain affiliate links. Learn more.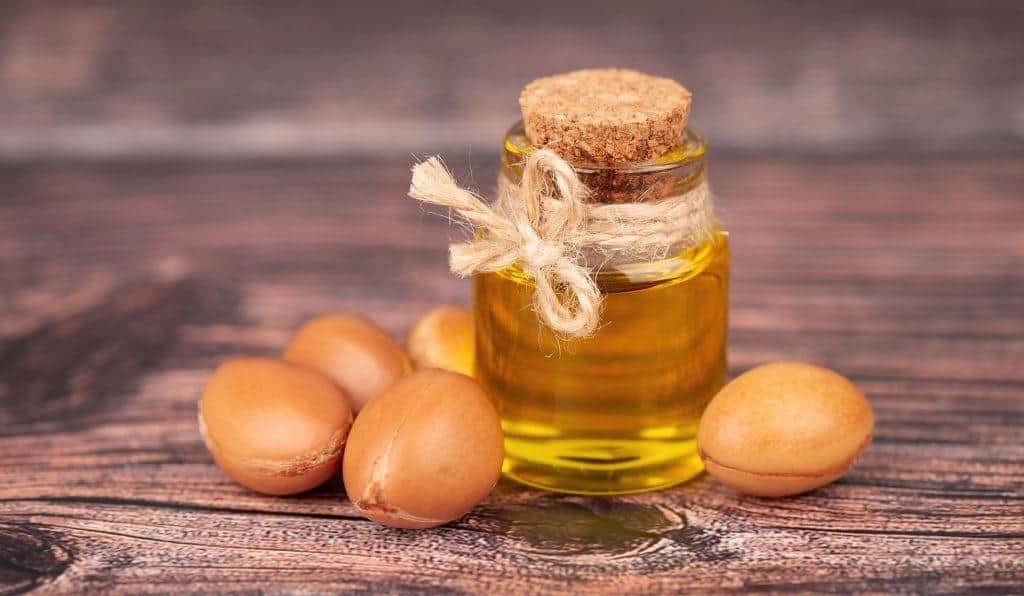 The surge in popularity of argan oil in the past decade is nothing short of amazing. There's a reason for it: it's a versatile grooming and cosmetic product with a long list of benefits.
In a hurry? Here are our top picks:
Argan Oil for Hair and Skin by Poppy Austin
Argan Oil for Hair and Skin by Poppy Austin is, in our opinion, the very best Argan oil on the market. It's 100% organic oil, and is great to use all over – hair, body, hands and particularly the face.
Pura D'Or Moroccan Argan Oil
If you're looking for an alternative, Pura D'Or's Moroccan Argan Oil is a unique product which boasts anti-inflammatory qualities, reduces wrinkles and offers protection against the elements.
We'll kick things off by discussing argan oil buying tips.
What is argan oil? It's the oil extracted from the kernel of the Argan tree, which is native to Morocco. Loaded with vitamin E and other antioxidants, it's good for hair, skin, and nail health. Many people use it today with noticeable, proven results.
Why Argan Oil is So Popular?
This amazing oil is used to treat everything from dry skin to split ends, and can even be used as a natural makeup remover. It's beneficial for hair of all types and conditions and can even help with fading acne scars! Many people love argan oil because it's 100% natural, so they don't have to worry about harsh chemicals irritating their skin.
Quick summary
<!—INSERT CODE BELOW—>

Our #1 Choice

Argan Oil for Hair and Skin by Poppy Austin

Suitable to use on hair, body, hands and face

Cold-pressed and pure oil

Easy dispenser to use

Check on Amazon

Pura D'Or Moroccan Argan Oil

Anti-inflammatory qualities

Reduces wrinkles and dark circles under the eyes

Protection against the elements, such as the sun, cold weather and pollutants

Check on Amazon

Cliganic USDA Organic Argan Oil

Certified 100% organic

Reduced smell

Multi-purpose oil

Check on Amazon

Plant Therapy Moroccan Argan Oil

Anti-aging oil

100% pure

Many sizes to choose from

Check on Amazon

Eve Hansen Organic Argan Oil

100% pure, free from chemicals

Relieves sunburn and chapped lips

Certified USDA Organic

Check on Amazon

Josie Maran 100% Pure Argan Oil

Vegan and chemical-free

Excellent for hydrating the skin

Rich in vitamin E and essential fatty acids

Check on Amazon

Moroccanoil Treatment

Great scent

Alcohol-free

Creates stronger and healthier hair

Check on Amazon

Maple Holistics Hair Growth Therapy Shampoo

Boosts hair health, promoting hair growth and reducing dryness

Does not contain sulfates

Contains essential oils that promote healthy hair

Check on Amazon

OGX Radiant Glow Argan Oil Extra Hydrating Lotion

Hydrates and smoothes skin

Suitable for all skin, including sensitive types

Helps clear away skin impurities

Check on Amazon
Before you buy: 8 Things to consider when purchasing argan oil
You must do your research before buying argan oil. For one, the difference in the purity of argan oil may vary from product to product, as some manufacturers dilute it to make it cheaper.
For another, make sure that argan oil's relatively high cost isn't more a matter of marketing and packaging.
Let's look at the most important things to keep in mind when buying argan oil.
When purchasing argan oil, there are certain things you want to look for to ensure that you get the best quality.
First and foremost, make sure that the product is 100% pure argan oil. Some companies will try to cut costs by diluting the argan oil with other cheap oils like sunflower or safflower oil. These oils are not nearly as good for your skin or hair as pure argan oil, so always make sure it's 100%.
1. Ingredients
Pure argan oil, when not sold as an ingredient in another product such as lotion or shampoo, should list one ingredient on its bottle: 100% argan oil (or Argania Spinosa).
Beware of a label that says "argan added." Also beware of the term "Moroccan Oil" because it often applies to products with a lesser amount of refined argan oil.
And, as always, try to steer clear of preservatives, fragrances, and other potentially irritating ingredients.
2. Scent
Most people describe argan oil as having a nutty aroma. It may seem strong to someone with a heightened sense of smell, but, in general, it's a mild aroma that disappears after it absorbs into the skin.
Overly-strong or odorless oil raises some red flags, as well as questions about its purity.
Strong-smelling argan oil may be rancid, while oil that has no scent may be overly diluted or not the real deal. Let your nose be your guide.
3. Texture
Argan oil should never be too watery. Instead, it should be smooth, with a little bit of weight, and not too sticky. Oil that's too lightweight or that has a slippery feeling is often diluted and not of high quality.
4. Color
Look for argan oil that has a light, golden yellow color. A color that's too light may indicate that the oil contains other cheaper oils and ingredients or subject to industrial processing.
5. Brand
Just because argan oil, or any product for that matter, comes from a big-name or familiar brand doesn't necessarily mean it's of the highest quality.
However, established and trustworthy brands often have a reputation for selling pure argan oil and don't do things like concealing all of the oil's ingredients.
6. Packaging
The argan oil you choose should come in a dark amber glass bottle. Try to avoid argan oil that comes in clear or plastic bottles, because the light that penetrates the bottle breaks down the oil's properties. Another plus: glass bottles are eco-friendly and recyclable.
7. Price
In general, argan oil doesn't come cheap – at least not the best brands – but that's OK, because sometimes you have to pay for high quality. What you don't want to do is pay for an over-the-top marketing campaign or fancy packaging.
And, whatever you do, don't pay a high price for a product that has a low percentage of what it needs the most: argan oil.
8. Cold pressing
You'll often see the term "cold-pressed" associated with natural oils, including argan oil. It's something to look for when buying argan oil, because cold-pressing ranks higher than other means of producing oil.
First, cold-pressed refers to a method which combines low heat and a grinding motion to create an even, smooth paste. It's then stirred, which helps oil and kernel particles to separate and stick together, thus forcing the oil out.
Cold pressing gets its name from the temperature of the environment in which the oil is pressed. If the temperature goes higher than between 80 degrees to 120 degrees (depending on the country), it can't be sold as cold-pressed.
Producing oil at a higher heat can reduce the nutritional value and benefits of the oil, cause it to change color, and may expose it to toxins.
Now, let's dive into our argan oil reviews.
The 9 best argan oils
Best features:
100% pure and cold-pressed
Organic and eco-friendly
All hair types
Overview
Let's cut to the chase here: this is the best Argan oil you'll find anywhere, and if you're looking for a truly premium product – for whatever your needs – this is the one to beat.
Poppy Austin harvests their oil in extremely small quantities, which allows them to focus entirely on quality. They take the fruit from Argan trees in the Atlas Mountains or Morocco and produce this incredible product. So while it's thin, you know it's concentrated and pure.
In fact, it's made with 100% pure, cold-pressed Argan oil. It's rich in vitamin E, which has great anti-aging properties, and when applied to your hair (beard or otherwise) it both softens and hydrates, making the hair feel and look a million bucks.
It takes tired hair, and adds life to it; we know this sounds like marketing speaks, but it genuinely does – you can see the results within a week!
If you have brittle or tough hair, this is absolutely the product for you. But it's also great for hair that just needs that little extra boost.
You'll also be glad to know that Poppy Austin provides a 30-day satisfaction guarantee, so if you buy it and aren't thrilled with the results, you'll get your money back.
And it's not just for the hair: it helps tackle psoriasis, eczema, and stretch marks, as well as hydrating and restoring your skin's natural elasticity.
Pros
It's systematically harvested to be pure and concentrated

Works great on the skin, hair, and many other areas

Really easy dispenser to use
Cons
Some don't love the thin consistency
Bottom line
A truly premium product: 100% pure, cold-pressed Argan oil that could change your life.
Best features:
Cold-pressed and 100% pure
Safe for all hair and skin types
Non-oily, non-greasy formula
Overview
You'll often see argan oil referred to as "liquid gold," because of its many benefits. Pura D'Or takes every advantage of those benefits while producing its argan oil.
That's nothing new for Pura D'Or, however.
The California-based company makes many products that offer natural benefits to users. They're USDA-certified and made in a solar-powered facility that meets high-quality control standards.
Their argan oil, like the others we review here, helps make for excellent all-around health care, whether it's for the hair, skin, nails, or just about everything else from head to toe.
The Pura D'Or argan oil has many benefits, including that it hydrates and softens skin.
It acts as a natural moisturizer and is non-greasy, non-irritating, and absorbs into the skin easily. It gives the skin a natural boost because of its high vitamin E and fatty acid content.
Not only does it act as a moisturizer, the Pura D'Or Moroccan argan oil has anti-inflammatory qualities that soothe irritated skin.
It can relieve itching, reduce inflammation, and minimize the appearance of scars and other blemishes, including signs of aging.
Another nice thing about argan oil is that it restores the skin's natural elasticity while making it softer and smoother.
Argan oil also provides protection from environmental damage, not only for the skin but for your hair and nails as well, such as protection from over-exposure to the sun's harmful UV rays.
The vitamin E found in argan oil – and Pura D'Or's oil – promotes healthy hair because of its antioxidants that strengthen hair follicles and help to thicken hair. It also repairs split ends while taming frizzy hair.
Moreover, you can strengthen your nails and repair cracked skin on your hands and feet while adding long-lasting protection to your skin in general.
Pros
It's one of the better argan oils for the face, thanks to its anti-inflammatory properties.

It reduces wrinkles on the face and treats dark circles under the eyes.

It helps to protect from the environment, including from the cold, pollution, UV rays, and more.
Cons
It's hard to get the remaining oil to the dispenser when the bottle is running low.
Bottom line
Pura D'Or is another company to keep an eye one when buying grooming products and cosmetics. Their 100% Moroccan argan oil has everything you need for overall skin and hair care.
Best features:
100% organic
Multipurpose oil
Lightweight
Overview
Cliganic is another company that emphasizes all-natural products that don't contain harmful chemicals.
There USDA Organic Argan Oil is an excellent example; it's 100% organic, and it's also an oil that delivers exceptional results.
And those results are multi-faceted because the Cliganic oil offers benefits for the hair, face, skin, and even for dry feet.
You can also use it as a carrier oil for aromatherapy and DIY beauty recipes. Or, you can use it to make an argan shampoo or conditioner.
Another plus is that Cliganic's Argan Oil is lightweight and absorbs quickly into the skin. It's also gentle enough for use on sensitive skin.
It comes in a premium dark amber glass that protects the oil from UV light that can shorten the oil's shelf life.
Some people aren't enamored with argan oil's basic smell, and Cliganic addresses this process through an extra filtration process that greatly reduces the smell. The process doesn't affect the overall quality of the oil, however.
Pros
It comes with a money-back guarantee if you aren't satisfied with the product

The argan oil smell is reduced through an extra filtration process

It's extracted through the cold-pressing process
Cons
It feels a little oily to some users
Bottom line
Cliganic's argan oil is meticulously developed to offer a variety of benefits to the hair, face, and skin.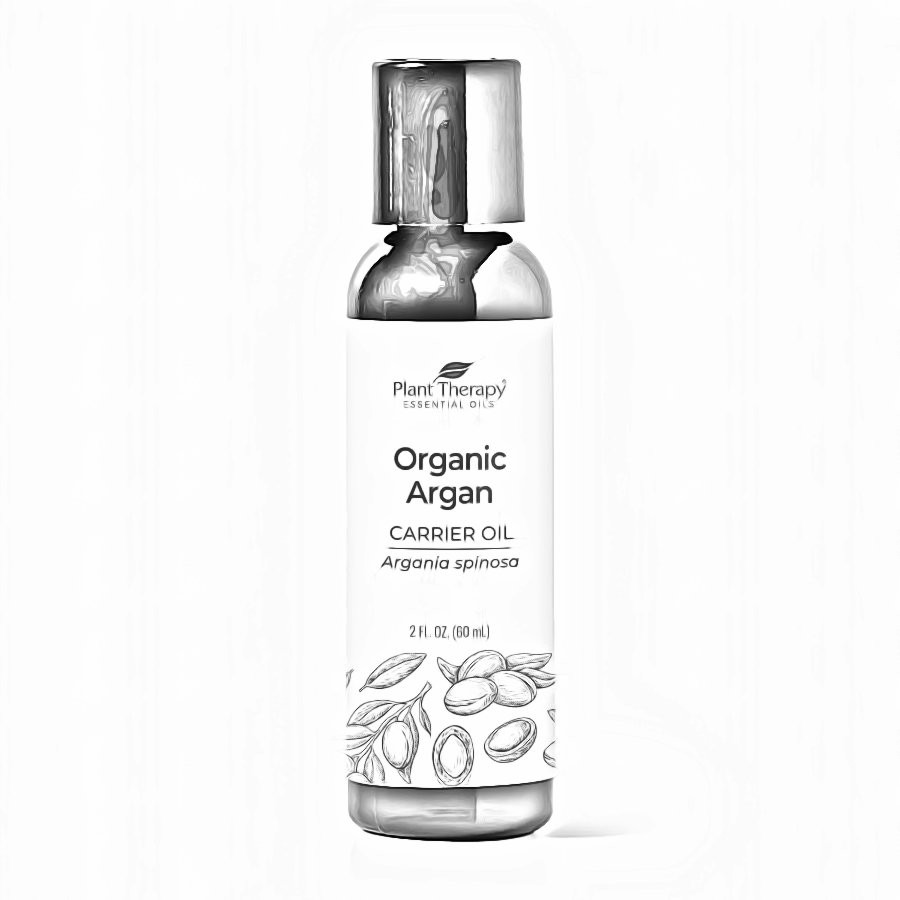 Best features:
Anti-aging oil
USDA certified
Many sizes to choose from
Overview
Let's a great deal to recommend Plant Therapy's Moroccan Argan Oil. For one thing, it's 100% natural, made with absolute highest quality oils – no chemical additions or fillers – and is USDA certified, so you can use it with absolute confidence.
Moroccan women have been using this kind of argan oil for generations, and by making it widely available this way Plant Therapy really are doing us all a service.
It is extremely rich in essentially fatty acids and vitamins – chief among them vitamin E and Omega-6. The effect is that the oil is incredibly powerful in a number of ways – from vitalizing your complexion to rejuvenating the hair and nails.
With the hair, it penetrated deep into the roots, helping promote stronger growth, clean and moisturize the follicles and repair damaged or tired hair.
Not only that: it's also got fantastic anti-ageing properties, helping reduce the appearance of lines and give you an overall 'reborn' look.
And if you're unsure about what to buy, Plant Therapy offer their Argan oil in numerous different sizes – from 2oz to 128oz – so you can opt for whatever amount you feel best about buying.
It's worth noting that there is a mild fragrance which is a little nutty – even smoky – and some reviewers do note finding it a little unpleasant.
Pros
The range of sizes is a really nice touch

The mixture of fatty oils and hair-friendly vitamins makes for a very healthy concoction

It's 100% pure
Cons
The scent is not to everyone's taste
Bottom line
A fantastic product, with plenty of health-promoting properties and a great range of sizes to suit your needs.
Best features:
Provides deep hydration
Excellent for use on hair
Good for sensitive skin
Overview
While you may pay a bit more for Eve Hansen's USDA-certified organic argan oil, you'll get a high-quality product in return. In other words, it's a good investment.
What makes it good? Everything you'd expect from pure argan oil and that it's suitable for people with sensitive skin who've tried many other products while still experiencing skin irritation.
Argan oil provides deep moisturizing for the skin, and Eve Hansen's oil is no exception. It relieves the appearance of wrinkles, fine lines, stretch marks, scars, and burns, all while giving skin a more vibrant, youthful appearance. It even helps to relieve sunburn.
Applying the Eve Hansen oil to your hair and scalp provides needed moisture while helping to repair split ends and other breakages.
Rub the oil between your hands to warm it before applying it to damp or towel-dried hair while focusing and the roots and individual strands.
You can also add a few drops of the oil to your favorite shampoo or conditioner to help boost your hair's health.
Like the other top argan products, Eve Hansen's oil works great for softening your nails and cuticles. You can even use it to repair dry, chapped lips.
The Eve Hansen team advises users to apply its oil – a small amount, that is – to their face after their morning cleansing routine.
Give the oil time to absorb before you apply other facial products. You can also use it at bedtime to help rejuvenate your face before you sleep.
Included among this oil's many benefits is that a little of it goes a long way. You need only to apply a small amount to whatever area of the body you choose while still reaping big results. It also has a nice, natural scent that's not overpowering.
Pros
The Eve Hansen oil is 100% pure and doesn't contain harmful parabens, colorants, alcohol, fragrances, or preservatives.

It has a variety of uses, including that you can also use it to relieve sunburn and chapped lips.

It's certified organic and comes in an amber glass bottle that protects against oxidation caused by the light.
Cons
Doesn't always do a good job on scars
Bottom line
Another argan oil that offers a long list of benefits but doesn't compromise on purity is Eve Hansen's excellent product. You'll get your money's worth, thanks to its wide variety of uses.
Best features:
Hydrates and nourishes the skin
Good for use on hair
No artificial ingredients
Overview
Another multi-tasking argan oil comes from Josie Maran Cosmetics, a company that sources its oil from Morocco. In doing so, the company accesses an ancient tradition of holistic beauty that remains relevant today.
Like other quality oils, Josie Maran's argan oil is 1) all-natural with no harmful chemicals, and 2) great for the skin, hair, and nails. Its only ingredient is 100% pure argan kernel oil.
It's also gentle enough to use on all skin types, is an excellent moisturizer, and is said to help lessen acne symptoms. It also reduces the signs of aging, such as wrinkles and fine lines, while improving skin elasticity.
The Josie Maran Pure Argan Oil comes in a recyclable glass bottle and is purchased from a women's cooperative in Morocco to help support the cooperative's social and economic welfare.
Pros
Doesn't contain parabens, sulfates, petrochemicals, or synthetic fragrances.

It works great as a daily skin moisturizer.

Cold-pressed to ensure the highest quality.
Cons
Some say it makes hair feel heavy.
Bottom line
Josie Maran's Pure Argan Oil is said to improve skin hydration and smoothness within four weeks of first using it. But it's also good for the hair and nails and doesn't contain harmful ingredients.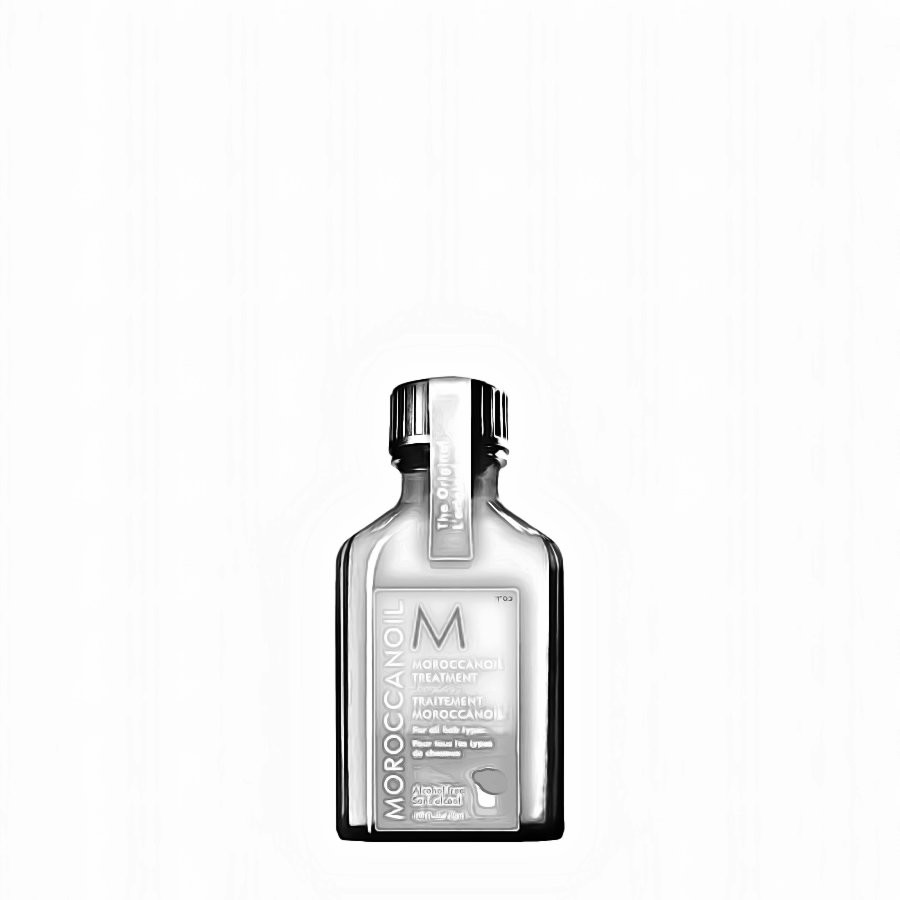 Best features:
Striking scent
Strengthens hair
Makes hair look healthier
Overview
Moroccanoil is an award-winning product. Now, that doesn't always mean much. But in this case, whoever judged the award got something very, very right.
This is truly versatile hair treatment: not only does it strengthen the hair and make it look healthier, it also detangles it and speeds up drying time. It makes the hair easier to manage and nicer to touch. It's also alcohol free, which is important and works on basically any hair – it comes in a special Light model for light or particularly fine hair.
Infused with argan oil and flaxseed extract, (along with cyclomethicone, dimethicone) their proprietary formula will shock you with its effectiveness.
As we've said, it strengthens, nourishes, makes hair more manageable and more healthy. But it does all this incredibly quickly and without leaving any greasy residue or unpleasant scent. In fact, it's fragranced specifically with a fascinating scent that mixes floral notes with a spicy base. While the scent does divide people, the vast majority seem to agree it's pretty darn pleasant!
Pros
Makes hair stronger, healthier, easier to manage and more attractive

Contains no alcohol or unsavoury ingredients

Highly versatile and works on all hair types
Cons
The scent will not be to everybody's taste
Bottom line
For many, this is a miracle: it really does change the way your hair feels and responds, making it ideal for anyone who wishes their hair behaved a little better when they're trying to style it.
Best features:
Excellent for overall hair and scalp health
Safe for all hair types
Hypoallergenic
Overview
While not a 100% argan oil, the key ingredient in Maple Holistics' excellent Hair Growth Therapy Shampoo is just that: argan oil.
The latter helps make it one of the best shampoos around – and not just one of the best argan oil shampoos around.
As we've discussed already, argan oil has many benefits for hair and scalp health, and this shampoo includes several other natural oils – including almond oil, jojoba oil, keratin, and peach kernel oil – to pack a powerful punch.
While many shampoos, especially the ones containing detergents, can strip your scalp and hair of natural moisture, Maple Holistics' Pure Argan Oil shampoo provides excellent hydration while preventing dry, brittle hair.
The shampoo includes keratin, as mentioned, and keratin is a protein that forms a protective shield around the hair shaft and helps hair remain elastic and manageable.
Keratin often gets depleted by over-styling, excessive heat, chemicals, and other processes that can damage hair and leave it brittle.
The Maple Holistics shampoo provides a gentle cleansing that doesn't strip hair of essential moisture.
It helps to replace the scalp's natural oils, which, like keratin, become depleted by all of the various processes to which we subject our hair.
It has plenty of other benefits for hair, including that it treats split ends, reduces flakiness that leads to dandruff, while also leaving it with a natural shine that's never excessive.
It contains vitamins A, B1, B2, D, and E, all of which strengthen hair while eliminating frizziness.
It also contains no artificial colors or additives, making it safe for use on all hair types and color-treated hair. Also, all of its oils are hypoallergenic, which means it's safe to use for anyone who may be allergic to certain shampoo ingredients.
Pros
Its combination of ingredients provides many benefits to hair, including that it reduces dryness while promoting thicker hair growth.

Includes several other essential oils that are excellent for helping to create healthy hair that looks and feels good.

It's free of sulfates and safe to use by men and women.
Cons
Be careful when using it on dyed hair, because it may remove the color.
Bottom line
Maple Holistics' long line of hair and skin products features several superior products, including its Pure Argan Oil Hair Growth Therapy Shampoo. It's the best argan oil deep conditioner product around.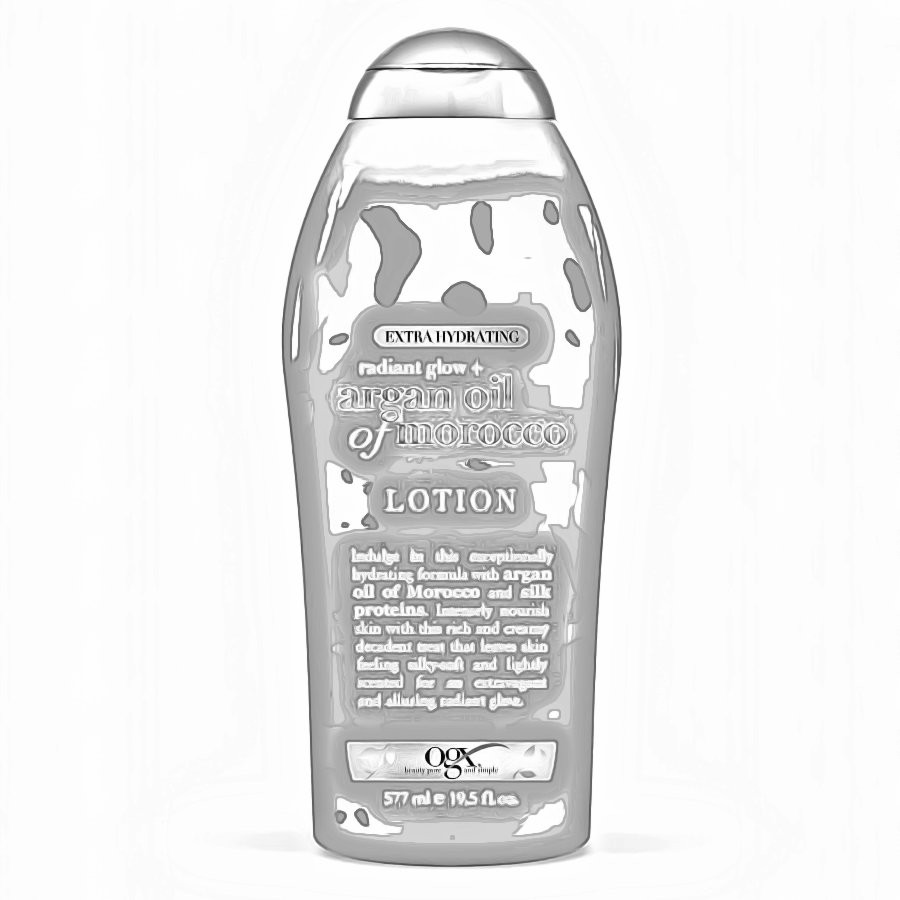 Best features:
Excellent moisturizer
Leaves skin feeling soft and smooth
Gentle formula
Overview
You'll find argan oil used in a lot of products and with good reason. We've discussed its attributes, not the least of which are its many benefits for the skin.
Argan oil is the key ingredient in OGX's Extra Hydrating Lotion. The latter is the best argan lotion out there and has what it takes to improve skin health and keep it looking and feeling its best.
Like many lotions that target the skin, the Extra Hydrating Lotion provides superb hydration while treating even the driest skin.
Also blended with silk proteins, the OGX lotion acts as a gentle exfoliator to wash away impurities that stand in the way of healthy skin.
Another plus is that the OGX lotion works on all skin types, from oily to normal and dry to combination skin. Plus, it's gentle enough for use on sensitive skin.
It's also gentle enough for daily use: OGX recommends applying generously over your body in the morning and at night. You can use it in conjunction with other OGX products for even better results.
Pros
Provides exceptional hydration to even the thirstiest skin while leaving it with a silky, smooth feeling.

You can use it safely on all skin types without worry about irritation.

The lotion helps to wash away impurities that negatively impact skin health.
Cons
Takes longer to absorb into the skin than some other lotions.
Bottom line
OGX's Extra Hydrating Lotion has the added benefit of including argan oil in its list of ingredients. Argan oil helps to boost the lotion's moisturizing qualities to superior levels.
7 Tips for using argan oil (A simple, illustrated guide)
One of the many pluses of argan oil is that it has so many uses. You can incorporate into one part of your grooming and skincare routine or use it in a variety of ways without having to switch from product to product. Here's a look at some of the ways you can use argan oil:
1. As a face moisturizer
Argan oil has many benefits for the skin, including facial skin. After cleaning your face, either in the morning or at night, apply a few drops of oil directly onto your face and neck. The best argan oils absorb into the skin quickly and don't leave a greasy sheen behind.
You can also use argan oil as a serum by applying a night cream after the oil absorbs into the skin.
2. As a leave-in conditioner
Argan oil is an excellent hair conditioner that you can apply to your scalp, hair follicles, and the tips of the hair to hydrate, condition, and moisturize.
Apply a few drops of argan oil to your hair while it's clean and still wet from your shower and leave it in for the rest of the day.
3. As a hair styling product
Applying argan oil to dry hair is a great way to style and add shine to those lovely locks. Rub a few drops of oil (you only need a small amount) between your palms and then run your fingers through your hair to tame frizziness while adding an extra bit of shine.
4. As part of a daily skincare routine
Many people use argan as part of their skincare regimen with good reason: it has a long list of skin-healthy benefits. Here are just some of the ways you can use argan on your skin:
Daily cleansing – One great way to use argan oil is to apply it to your skin, face, and neck first thing in the morning and also at bedtime. Doing so removes dirt, grime, and excess oil while also aiding the skin cell renewal process.
Exfoliation – To exfoliate the skin means to remove dead skin cells that can clog pores and lead to wrinkled skin and increased signs of aging. Argan oil works as a gentle exfoliator when applied to the skin with a soft cloth.
Moisturizing – We've already talked about using argan oil as a face moisturizer; the same principles apply to the skin on the rest of your body.
One effective way to use it is to apply it to your skin at bedtime, so it provides rejuvenation and repair as you sleep. If your skin is especially dry, you can also re-apply it in the morning.
5. For your hands and nails
Rubbing a small amount of argan oil into your hands and cuticles, particularly at bedtime, will help keep your hands youthful-looking and supple while also strengthening weak or brittle nails.
6. As a heel softener
Many people suffer from dry, chapped heels, but rubbing a few drops of argan oil into your heels, feet, and toes at bedtime will provide plenty of relief. Cover your feet with socks as you sleep to help the oil absorb efficiently.
7. For shaving
You can even use argan oil for shaving. Apply a small amount onto your face and shave the required areas with a clean blade. When finished, rinse your face with warm water, dry it with a soft towel, and then massage a small amount of the oil into the freshly-shaved area.
How we chose these products
Many of the things we discussed in our section about argan oil buying tips apply to how we choose the oils for your review.
In short, we looked for products that were pure argan oil, at least those that contained only argan oil and didn't have argan oil as an additional ingredient, and those that were cold-pressed.
We also considered price, because it may vary from product to product, but the good news about argan oil is that a little of it goes a long way.
Other factors we considered were the scent, the ease of application, and – as always – the reviews of other customers.
FAQ (Frequently Asked Questions)
What is argan oil?
Argan oil is a natural oil extracted from the kernels of the argan tree, which is native to Morocco.
It contains antioxidants and fatty acids that help promote better skin, nail, and hair health. It also has many culinary uses.
How do you use argan oil?
You can use argan oil by applying it to your skin, hair, and scalp directly. A little bit of it goes a long way, and argan oil, at least the best ones, absorb into the skin quickly and has a non-greasy feel.
You can also add argan oil to your favorite shampoo or skincare product.
What is argan oil good for?
Argan oil has many benefits for skin, hair, and nail health. It acts as a natural moisturizer for the skin, scalp, and hair and has anti-inflammatory and anti-fungal properties. It even works to protect the skin from environmental damage.
What is argan oil used for?
Argan oil's uses include promoting healthier skin, hair, and nail growth, whether it's applied directly to the skin or when added to a cosmetic product. It's also used for culinary purposes because of its mild, spicy flavor and also because of heart-healthy benefits.
Where does argan oil come from?
Argan oil comes from the argan tree, which is native to Morocco. The oil comes from the tree's kernels, and companies extract it through the cold-pressed process and other methods.
What does argan oil do?
Because argan oil is rich in vitamin E, fatty acids, and antioxidants, it provides many benefits to skin, hair, and nail health.
For example, it keeps the skin hydrated while making it more supple while also aiding better overall hair health while strengthening hair follicles.
How do you apply argan oil to hair?
There is a variety of ways that you can use argan oil on your hair to keep it healthy.
A common method is to apply a few drops of it to damp, freshly-washed hair while working it in from the tips of the hair to its roots. You also can massage it directly into the scalp to reduce dry skin.
What does argan oil smell like?
Argan oil has a natural scent, because it comes from the kernel inside the argan nut.
Many people have described argan oil's scent as light and nutty, while others feel that argan oil's scent is a bit too strong. The good news, however, is that its scent goes away upon absorption into the skin.
How is argan oil made?
Argan oil comes from the kernels of the argan tree. The oil is extracted in a couple of ways; the best method is through the cold-pressed process, in which low heat is used to preserve all of the many nutrients found in the oil.
What is argan oil made from?
Argan oil is made from the kernels of the argan tree that's native to Morocco. The oil is extracted from the kernel to produce the oil.
What does argan oil do for your hair?
Argan oil contains natural phenols that promote hair growth and thicker hair. It can also repair the damage caused by dyes and chemical treatment, including split ends.
The vitamin E found in argan oil helps boost skin cells while encouraging the growth of healthy hair.
What are the benefits of argan oil?
Argan oil is beneficial for the skin, hair, nails, and even the feet. As we mention in our Tips for Using Argan Oil section above, there are many, many ways to use it.
What does argan oil do for the skin?
Argan oil has many benefits for the skin, including that it provides a significant boost of hydration, thanks to its high quantities of vitamin E. Moreover, it helps skin appear more youthful while also inhibiting the production of excess pigment – such as in scars.
What is Moroccan argan oil?
Moroccan argan oil refers to the argan trees native to Morocco, the main source of pure argan oil around the world.
How to use argan oil for hair growth
Using argan oil as a conditioner can aid hair growth. Argan oil contains vitamin E, which promotes healthy hair growth, because it contains antioxidants that help boost cells while encouraging them to produce healthy hair.
How to use argan oil for curly hair
When applied to the hair as part of a regular grooming routine, argan oil has many benefits for curly hair, including that it keeps the hair moisturized and less frizzy.
It helps to make curly more manageable and easier to style while protecting it from damage caused by hairdryers and the like.
What does argan oil do for your face?
Argan oil has many benefits for the face, and, because it's neither too light nor too heavy, it's easy to apply. It helps to moisturize the skin, thanks to vitamin E (linoleic acid) and also softens dry patches and reduces acne.
Conclusion
Argan oil is one of the most versatile skincare and grooming products on the market. Whether you use it on your face, hair, nails, or skin, it's a natural, effective way to boost your overall wellbeing and health.
As always, we welcome your feedback and suggestions. Do you use argan oil? If so, what brand, and how do you use it? We'd love to hear from you.