Why We Choose Spectral.DNC-N over Rogaine for Hair Loss
In a hurry? Here is our top pick:
If you suffer from hair loss and looking for a solution to regrow your hair, you are absolutely not alone.
Just in the United States alone approximately 35 million men and 21 million women suffer from hair loss. Imagine how much higher these numbers are worldwide.
Hair loss is common, and many think that it is out of our control, as genetics and age are considered the main reasons for thinning our hair. But that does not need to be the case.
Several products and treatments have been created and proven to promote hair growth, with the two most popular being Spectral.DNC-N and Rogaine.
In this article, we will take a closer look at the two, explain their differences in detail, and suggest which one we prefer, making your decision easier.
Quick summary
Comparison
DNC-N

Rogaine

Ingredients
Nanoxidil, retinol, herbal extracts
Minoxidil
Treatment
Hair loss treatment for the entire scalp
Hair loss treatment only in the vertex area
Usability

Non greasy formula, as it is water-based
Not known side effects
Easy to apply

Can feel greasy
Can cause side effects such as irritation, etc.
Easy to apply

Molecules
Time
Results within 3 to 6 months
Results within 3 to 6 months
Rogaine vs. Spectral.DNC-N
The brand
Rogaine is a very well-known brand that provides effective topical treatments for hair loss to both men and women in the form of foam, drops liquid, or tablets.
The brand has been around since the 1980s, and it is the first brand that was started selling regular minoxidil as a treatment. Its name, "Rogaine", is synonymous with minoxidil like "Hoover" for vacuum cleaners. So, you know that it has acquired quite a bit of a reputation throughout the years.
Ingredients
You might be wondering – what is minoxidil?
Minoxidil is the main active ingredient in Rogaine's topical solution – and other hair loss solutions, and it is perhaps the most popular hair loss medication for over 40 years. It is a drug that is used not only for hair growth treatment but also as a treatment for hypertension.
Minoxidil is proven to work well, with users able to see results in less than six months. Its effectiveness is backed up by several scientific studies and trials [1,2].
However, its exact mechanism of action is not very clear until today despite its extensive research on hair growth. It is believed that it partially enlarges the hair follicles and lengthens the anagen hair growth phase, which results in more hair coverage.
Usability
Rogaine is most effective for people whose hair loss is at its first stages. If you are already lost all of your hair, it is unlikely you will see any results.
Nevertheless, it isn't helpful for treating all kinds of hair loss, such as a receding hairline or baldness in the front of the scalp. It is proven most effective in persons who have genetic hair loss at the vertex of the scalp (the area at the rear of the head, just behind the crown).
In order to see continuous effects from Rogaine, it needs to be applied twice a day. Results usually are evident after three to six months, depending on the individual.
Applying it more than twice a day will not improve its results; instead, you will waste product and be forced to purchase a new bottle of it sooner than necessary.
If you suddenly decide to stop using it, you'll stop experiencing any improvements in your hair loss as well. It is a treatment that you have to maintain using consistently as the results aren't permanent.
What to think about
Upon using the product, you will definitely notice that it definitely makes your hair or scalp feel and look rather greasy. Nonetheless, the foam version is very easy to apply, particularly if you have longer hair in the application area.
Another thing to bear in mind is that, while Rogaine has been approved by the FDA as a hair loss treatment and is considered safe, if not used properly, it can provide a variety of side effects to its user [3,4].
The most common ones that can occur are:
Some more serious, but rarest side effects include [3]:
Increased hair loss, instead of hair growth
Rapid weight gain
Dizziness and lightheadedness
Fainting
Chest pain
Fast and irregular heartbeat
Excessive swelling or numbness of hands, feet, face
Blurred vision
Disclaimer
Our goal is to give you the most up-to-date and relevant information possible. However, we can't ensure that this information includes all possible adverse effects because drugs affect people differently. This material is not intended to be a substitute for professional medical advice. Always consult a healthcare expert who is familiar with your medical history about potential side effects.
Studies have also shown that women are more sensitive than men when it comes to, side effects. That is why the recommended allowance for women is 2% instead of 5% for males.
Concluding, while Rogaine is effective, people have started to look for alternative solutions because of its many side effects. One alternative, we've found out is the innovative Spectral.DNC-N which, is producing similar results (if not better) with a heck of a lot fewer side effects and irritations.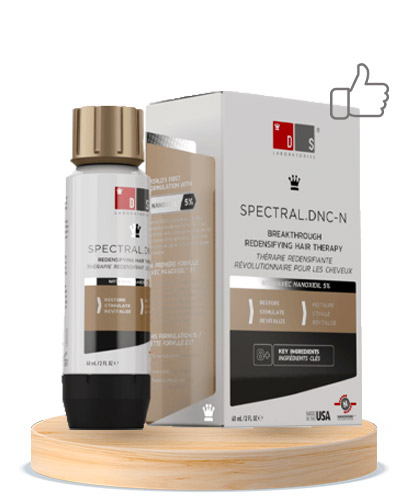 The brand
If you do research on DS Laboratories, you will notice one word popping up all the time in their branding philosophy ''innovation''.
It is a brand that is working really hard like Rogaine to minimize the effect of hair loss on every human being.
They have managed to create a product that not only does it provide similar results to Rogaine/minoxidil, but also has fewer side effects: The Spectral.DNC-N.
Ingredients and usability
Spectral.DNC-N has as a main active ingredient Nanoxidil, instead of Minoxidil.
I'm sure you are wondering now, what is nanoxidil?
Nanoxidil is very similar to minoxidil in its structure, but the only difference is that it has a considerably lower molecule weight. This results in better penetration of the product by the scalp and thus, in a better absorption rate and fewer side effects.
You can think of nanoxidil as a more advanced version of minoxidil.
There are a lot of studies out there that prove its effectiveness in treating mild to moderate androgenic alopecia (another fancy word for hair loss). [5,6].
In a recent study, in 2019, Spectral.DNC-N achieved around a 28.6% increase in hair growth within just three months of testing after ongoing treatment. The great thing is that researchers have come to the conclusion that it not only increases hair density and growth but also lowers inflammatory conditions on the scalp.[6]
Unlike Rogaine, which causes greater sensitivity and side effects on women, the above research found that nanoxidil is highly successful in the treatment of early female pattern hair loss with no side effects.[6]
But, there's more.
Spectral.DNC-N includes additional ingredients that are also well known for their effectiveness in promoting hair growth. Some of the most notable are:
Retinol – This ingredient aids in the product's absorption into the skin. It also blocks DHT (blocking dihydrotestosterone), which is known to shrink hair follicles in males.
Vitamin B2 – This vitamin aids in the treatment of receding hairlines.
Adenosine – This is a molecule that aids in cell optimization.
Copper peptides – which treat scalp irritation and inflammation.
Herbal extracts – which aid in the improvement of the scalp's overall health and condition.
Caffeine – Also a popular DHT blocker
What else could you ask for from a hair loss treatment solution?
Additionally, unlike Rogaine, Spectral.DNC-N is effective not only in treating the vertex area of the scalp but also hairlines as well. This is extremely beneficial as you get better all-round results. And as the product is water-based, it is basically not greasy on the scalp, unlike traditional Rogaine.
Results from Spectral.DNC.N users
What to think about
However, it is important to note that while early results and several studies show the benefits of nanoxidil, as it is a fairly new ingredient, undeniably, you will find more research on minoxidil since it exists from the 70s. Nevertheless, current clinical results show that nanoxidil might be the way forward.
Verdict
As a male who has experienced male pattern baldness, I have used both Rogaine and Spectral.DNC-N.
While both products performed well in diminishing my hair loss, I was surprised how well Spectral.DNC-N performed. Using Rogaine, I used to have some scalp irritations every now and then, but after switching to Spectral.DNC-N, they were nonexistent.
If you are using Rogaine, saw results, and don't have any side effects, then there is absolutely no reason for you to change your treatment. However, if you are experiencing irritations, or just starting to experience baldness, then Spectral.DNC-N, in my opinion, is the better choice.
Let us know in the comments below if you have used any of these two products, and your opinion.
References
Olsen EA, Dunlap FE, Funicella T, et al. A randomized clinical trial of 5% topical minoxidil versus 2% topical minoxidil and placebo in the treatment of androgenetic alopecia in men. J Am Acad Dermatol. 2002;47(3):377-385. doi:10.1067/mjd.2002.124088
Rundegren J. A one-year observational study with minoxidil 5% solution in Germany: results of independent efficacy evaluation by physicians and patients. Journal of the American Academy of Dermatology. 2003;50(3):91.
doi: https://doi.org/10.1016/j.jaad.2003.10.289
Shapiro, J. Safety of Topical Minoxidil Solution: A One-Year, Prospective, Observational Study . JCMS 7, 322–329 (2003). https://doi.org/10.1007/s10227-002-0121-6
Patel, Brijesh & Velasco, Maria & Tamez, Fernando. Phase II Study to Evaluate Efficacy and Safety of SPECTRAL.DNC-N Topical Solution For the Treatment of Mild to Moderate Androgenic Alopecia. ResearchGate. 2016 https://www.researchgate.net/publication/316087773_Phase_II_Study_to_Evaluate_Efficacy_and_Safety_of_SPECTRALDNC-N_Topical_Solution_For_the_Treatment_of_Mild_to_Moderate_Androgenic_Alopecia
Vincenzi C, Marisaldi B, Tosti A, Patel B. Effects of a New Topical Treatment Containing Several Hair Growth Promoters in Women with Early Female Pattern Hair Loss. Skin Appendage Disord. 2019;5(3):146-151. doi:10.1159/000493200