The 8 Best Hair Loss Concealers & Hair Fibers Reviewed
This post may contain affiliate links. Learn more.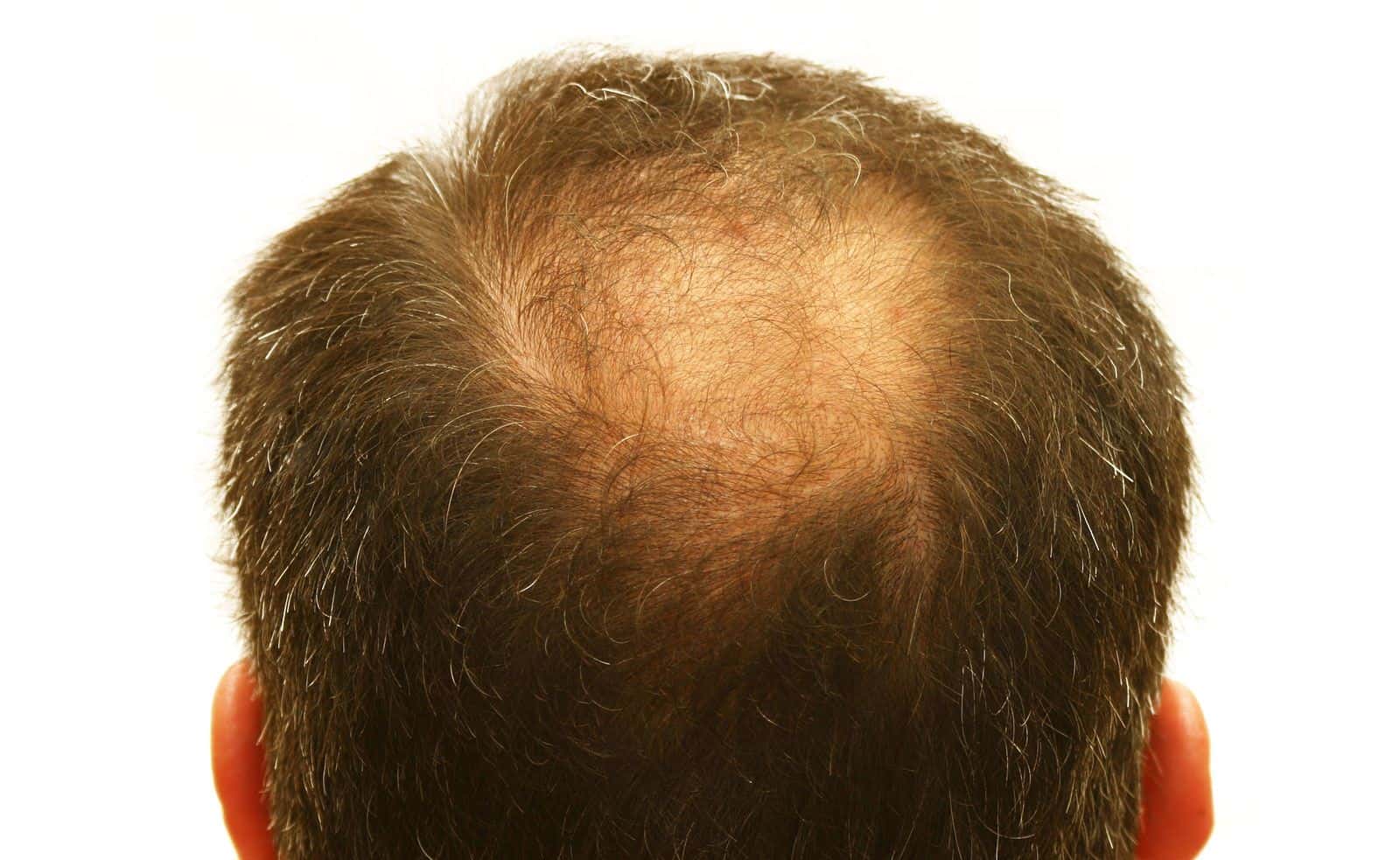 Hair loss is a fact of life for many men, as well as a source of frustration. There are a lot of reasons why men suffer hair loss, many of them through no fault of their own, while an abundance of products and procedures address the issue with varying degrees of success.
In a hurry? Here are our top picks:
Toppik Hair Building Fibers
The best hair loss concealer is Toppik's Hair Building Fibers, which provide many color options to create the perfect, seamless hair match. Their fibers essentially knit with the hair to make it look naturally thicker – and they work like crazy!
Caboki Hair Loss Concealer
Caboki's Hair Loss Concealer is also great: suitable for all hair types, and great for sensitive skin. It uses mineral-based colorants, so the process is totally natural, safe and ethical.
We'll offer some hair concealer tips, such as what to look for when purchasing a concealer and how to apply it.
Quick summary
<!—INSERT CODE BELOW—>

Our #1 Choice

Toppik Hair Building Fibers

Many color options for an accurate hair match

Fibers knit tightly with hair

Increases appearance of thicker hair

Check on Amazon

Caboki Hair Loss Concealer

Suitable for all hair types, male and female

Good for sensitive skin types

Doesn't mark the skin or stain clothing

Check on Amazon

Cuvva Hair Fibers

Fast and simple to apply

Suitable for men and women

Improves thickness and textured look of hair

Check on Amazon

Samson Best Hair Loss Concealer Building Fibers

Highly effective enhancer of thin hair

Sticks closely to hair follicles

Natural fibers are non-irritating

Check on Amazon

Strand Maximizer Hair Fibers

Made from natural plant fiber

Adjoins existing hair for a natural blend

Suitable for those undergoing hair loss therapy, men and women

Check on Amazon

BOLDIFY Hair Fibers for Thinning Hair

Realistic look that is difficult to detect

Full money back guarantee, for a lifetime

Easy to wash out with shampoo

Check on Amazon

Dermmatch Waterproof Hair Loss Concealer

Waterproof formula, rain-proof

A master for filling patches of thin hair

Provides the thicker, fuller hair look

Check on Amazon

Eclipse Hair Building Fibres & Beard Filler

Rain and wind resistant

Suitable for all hair types

Long lasting

Check on Amazon
Before you buy: 6 Things to consider when purchasing a hair loss concealer
No one wants to make a bad choice when purchasing any product or service.
Making the wrong choice when buying a hair loss concealer may lead to some embarrassment, however, and you don't want to be that person at the party – the one person everyone else talks people talk about for all the wrong reasons.
So, before you buy a hair concealer, we think it's important to keep the following things in mind:
1. Make sure it matches your hair color
It only makes sense, but it's worthwhile advice, nonetheless: your hair loss concealer must match the current color of your hair. Otherwise, well, you'll stand out like a sore thumb, or at least like a sore thumb with unnatural-looking hair.
2. Ease of application
One of the things we look for in the best hair loss concealers is how easy they are to apply. If you're like a lot of people, your time is precious, and you don't want to spend an inordinate amount of it applying your concealer.
Applying your concealer should be easy and not take forever.
3. Does it work on every hairstyle?
The best concealers should work with any hairstyle and hair type. Your hair may be straight, curly, thin, short black, brown (or another color), and your hair loss concealer should work with whatever you have going on up top. I mean, thats the reason you're buying it right?
4. The materials used to make hair loss fibers
Hair loss concealers consist of natural or non-natural fibers that can affect how realistic your hair looks after you've applied your concealer.
Natural human hair fibers
Most experts agree that the best hair fibers used in concealers are those made of natural human hair. They're safe to use and successfully cover your bald spots and thinning hair. In short, there's nothing more natural.
Keratin is another type of fiber commonly found in hair loss concealers and effectively covers bald and thinning patches without irritating the scalp.
All of us have keratin in our bodies; it's the type of protein that makes up our skin, hair, and nails, but you'll also find it in internal organs and glands.
Perhaps most importantly, at least for our purposes for this article, keratin is the structural building block of hair.
The cotton fibers used in hair loss concealers most often come from Moroccan cotton. These fibers stick easily to your hair and scalp and help to create the full-head-of-hair look that you desire.
Something to keep in mind, however, is that cotton fiber doesn't stick as well to existing hair as human hair or keratin fibers, and it's more effective when used on bald patches. So you might want to put extra thought when using one.
Even animal fiber, such as wool fiber, is fair game for use in hair concealers. Because animal hair structure differs from ours, wool fiber doesn't conform to all hair types and may lead to allergies or scalp irritations.
That's certainly something to consider, although side effects aren't all that common, and you'll find wool derivatives in several high-quality concealer brands.
5. Resistance factors
Look for concealers that have high resistance to water, heat, and humidity. You should feel confident that your concealer won't backfire on you when exposed to the sun and rain or as you dive into a pool, ocean, or lake for a good swim.
6. Is it skin friendly?
As noted, some hair loss concealers are gentler on the skin than others. Always choose a concealer that won't irritate your scalp and hair.
Here's a look at what we think are the best Hair Loss Concealers and Fibers.
The 8 best hair loss concealers & hair fibers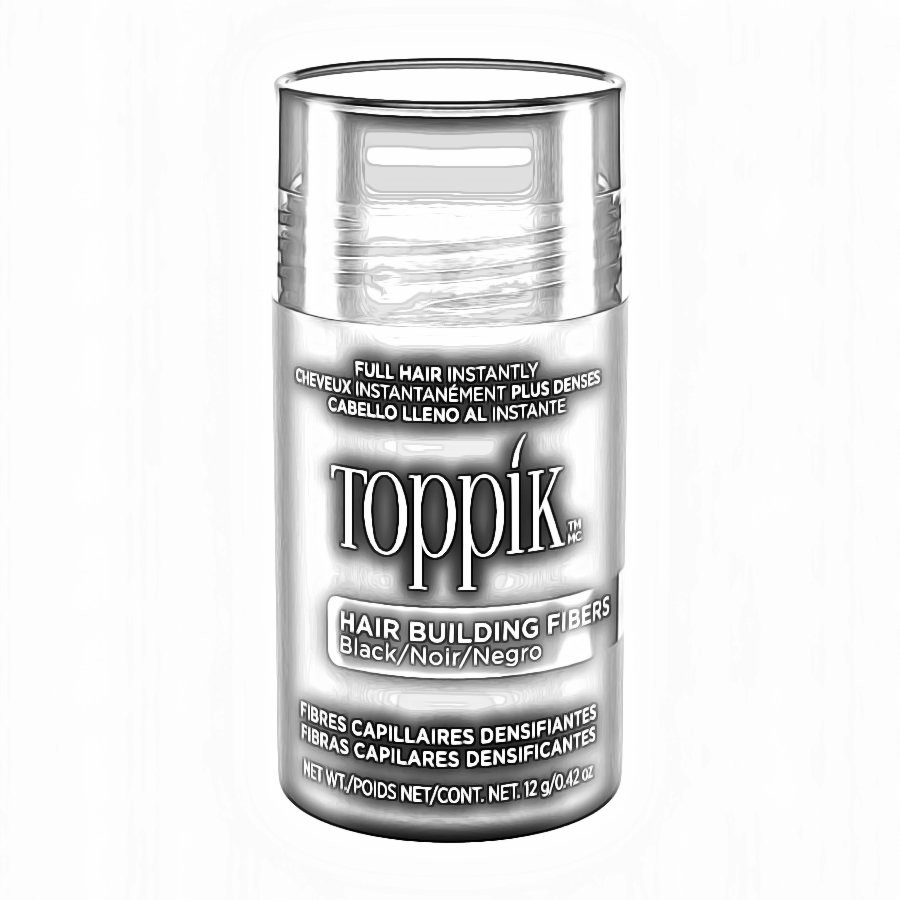 Toppik is another name that pops up frequently in discussions about the best hair loss concealers – not a huge surprise when you consider that Toppik is one of the biggest manufacturers of products for men and women with thin or thinning hair.
It also doesn't hurt that the stuff they make – such as their Hair Building Fibers – have generated positive results for thousands of satisfied customers.
Their hair building fibers give your hair a natural look and also the appearance of thicker, fuller hair. Furthermore, they're resistant to the wind, rain, and sweat, but you can easily wash them out with shampoo.
Toppik's Hair Building Fibers consist of keratin protein (derived from wool) of the highest grade and are naturally-colored. They come in nine shades, which you can mix and match to any hair color – even gray roots and color-treated regrowth.
These fibers help to create the look of fuller hair by attaching themselves to strands of hair. This "bonding" helps to cover up thinning areas of the scalp efficiently, without the mess and fuss you may get with some other concealers.
To delve a bit deeper, the keratin fibers have a static charge that ensures that they'll attach to any hair, even the thinnest of hair. Moreover, the fibers are colorfast and won't run or rub off on your clothes or pillows, remaining in place until you shampoo your hair.
While each shade, including those you create, is designed to match a variety of hair colors, Toppik recommends that you compare your hair's natural color with the color swatches listed on their website so that you don't stand out awkwardly with mismatched hair.
They also recommend that you apply the fibers after you've used styling tools, such as hair dryers, and after applying styling products, such as gels, pastes, and serums.
With Toppik's hair fibers, you'll get a product from a reputable, recognizable company which backs its product with a 30-day refund policy, in case you're not satisfied with the results.
Pros
Many color options

Fibers bond tightly with hair

Give the appearance of thicker, fuller hair
Cons
Takes a little longer to apply than some other hair loss concealers
Bottom Line
Toppik's Hair Fibers make it easier to match your natural hair color while also giving you the appearance of thicker, fuller hair. Like many, many satisfied customers, the chances are good that you'll like how you look.
The purpose of hair loss concealers is to hide thinning and balding areas of the scalp while looking natural. "Natural" is essential, because poor-quality concealers can reveal themselves in the worst ways at the worst possible times.
Not Caboki Hair Loss Concealer, however. It gives you such a natural look that it seems as if you aren't using a concealer at all. That's a good reason why we include it on our list, but not the only one.
Caboki's formula includes natural fibers from plants that are safe to use but also bond effectively to hair follicles. That means they'll stay put, even in the wind, rain, and even when you sweat, all without smearing or staining your clothing like liquid-type concealers.
Effective for use by men and women, Caboki's concealer helps make even the thinnest of hair thicker while helping to fill out noticeable areas of thinning.
How does it work? In scientific terms, the negatively-charged particles – such as those in Caboki's formula – create an enhanced bond, unlike positively-charged ones that resist, and even repel, each other.
And, again, Caboki doesn't use harmful fillers or synthetic dyes in their products (or artificial preservatives, for that matter), which can cause skin irritations and other issues for users.
It also uses mineral-based colorants, not stuff that's cooked up in a lab, and includes no animal ingredients. That said, it's safe to use on sensitive skin.
You'll also like how quickly the Caboki concealer works to cover up thinning and balding spots. All you need is one relatively quick application, and you're out the door. No complex procedures, all quick and simple.
There are a few things to keep in mind about the Caboki hair loss concealer and how to use it:
Like all hair loss concealers, the Caboki concealer doesn't regrow hair but creates the appearance of thicker, fuller hair.
It works on any type of hair, from normal to coarse to thick and thin, and also for African-American hair.
Many reviewers say Caboki works best during the early stages of hair loss, not when significant bald spots appear. If you have a small receding hairline, mild thinning, or even hair loss caused by stress, Caboki is a go-to product.
It comes in three sizes, which will last you from two weeks to up to 90 days with the largest version (30 grams).
Apply the Caboki Hair concealer on dry hair. Shake the fibers on your thinning areas and smaller bald spots. You can disperse them with your hand, with a comb, or with a brush.
Pros
Suitable for men and women of all hair types

Easy on sensitive skin

Doesn't stain the skin or clothing
Bottom Line
It's no surprise that Caboki's Hair Loss Concealer shows up on a lot of best-of reviews. It's a favorite of many customers, but it also works to treat thinning hair and make it look fuller again.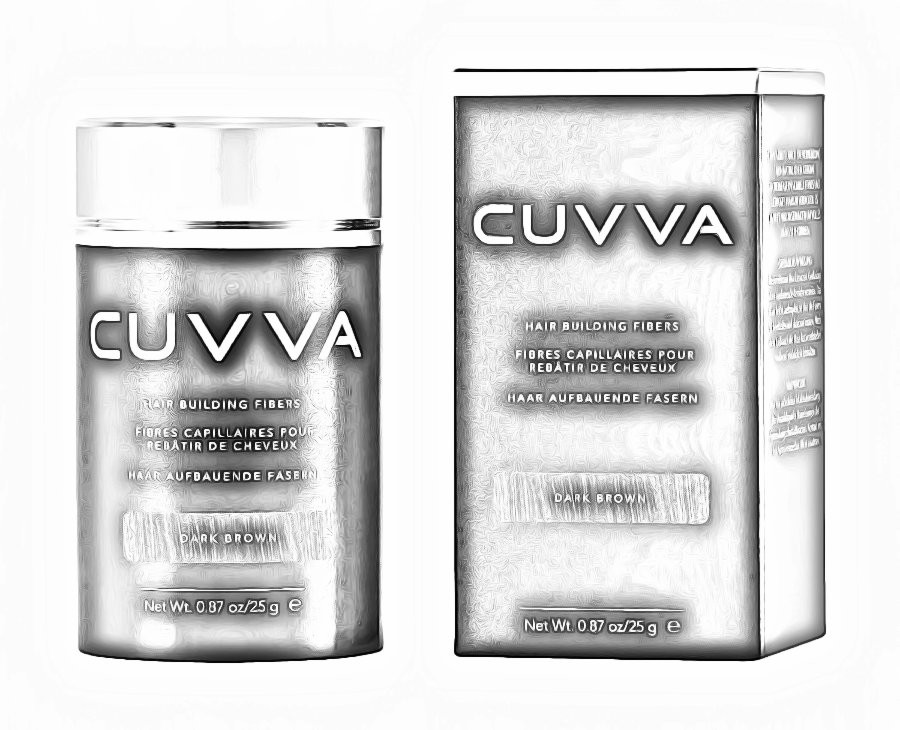 Many people contend with the daily "mad dash to get out the door in the morning." There's a lot to get done in a short period, whether it's getting the kids ready for school, making breakfast, showering and shaving, or dozens of other daily tasks.
If you're one of those people, Cuvva has you in mind. Their highly-rated hair loss concealer fibers offer a quick fix – they say an application takes only 20 seconds – while giving your hair the thicker appearance that you desire and others notice without any fuss.
But conquering the morning rush means little if the product doesn't work, so Cuvva has you covered in that regard, as well. The formula used in their hair fibers is designed to:
Make fine and thinner hair appear thicker

Fill in spot baldness and wide part lines

Add texture to any hairstyle

Touch-up roots between colorings

Easy application for a quick touch up
Like many other hair concealers, Cuvva's Hair Fibers rely on the power of keratin protein to produce the kind of results that satisfy customers with thinning or balding hair. They're also effective for men and women.
Cuvva recommends that you use their fibers on hair that's at least an inch long.
Patting down the fibers after application allows them to settle, while you'll get an even better hold if you use a top quality hairspray after you've applied them, as well. You can easily remove them by washing your hair.
Something else to like about Cuvva's hair fibers is that they come with a 100% money-back guarantee. If you're not satisfied with their product, simply send it back for a full refund.
Pros
Quick and easy to use

Gives hair the look of thickness and texture

Suitable for men and women
Cons
Doesn't work that well on gray hair
Bottom Line
Cuvva has you covered with a quick and easy solution for treating thinning or balding hair. Like with the other best hair concealers on our list, they're almost impossible to detect – even at close range.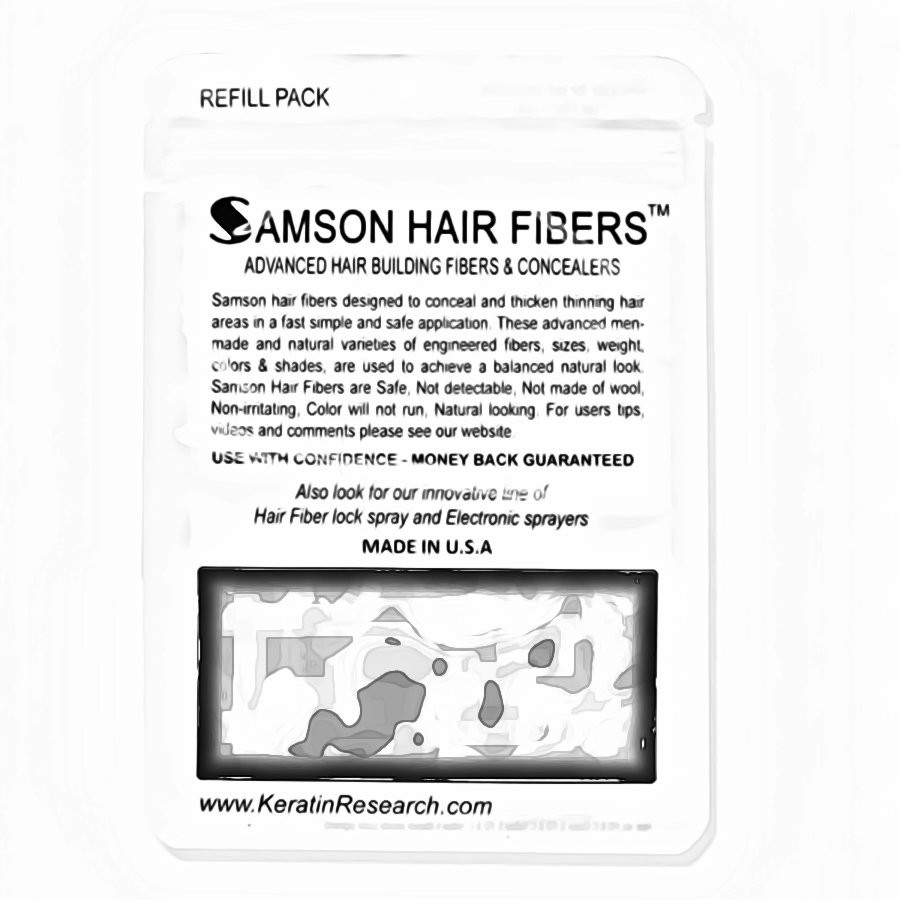 Samson offers a more natural approach than many other hair loss concealers, thanks to a process in which they use keratin fibers that aren't derived from animal fibers.
That's good news for anyone who avoids animal products for ethical reasons or who sides with the opinion that animal-derived fibers have a greater risk of causing irritation or allergies.
Here's something else: Samson's hair fibers don't contain keratin, which they say has no value in fiber form. That's open to debate, for sure, but Samson stands by their beliefs – and their results.
Samson's manufacturing process includes cutting hair fibers until they're as small and light as possible and then running them through an electro-static energizing process to help bond them tightly to hair shafts.
The result is hair that appears several times thicker and fuller than before as the tiny fibers cling to hair. They're also undetectable to the human eye while giving your hair a more natural, less contrived appearance.
You can apply Samson's hair fibers quickly and easily, as if shaking salt or pepper on your food, and you'll notice positive results almost immediately.
Samson also offers an electronic sprayer and Hair Fiber Lock Spray that helps keep the fibers in place with less waste. The spray dries quickly, and Samson says it's non-irritating.
No matter how you use their fibers, however, they'll remain in place until you wash them out with shampoo.
Samson also offers an electronic sprayer and Hair Fiber Lock Spray that helps keep the fibers in place with less waste. The spray dries quickly, and Samson says it's non-irritating – we belief it is as natural as the hair fibers.
Make sure that you spread the fibers uniformly on all areas of your scalp in which the hair is thinning. You can use a soft brush to help distribute them evenly, but there's no need to brush it through the scalp as if you were styling your hair.
Samson advises that you only apply their hair loss fibers on dry hair.
You also can rub an oil – such as argan oil – on your scalp to help the fibers stick to your hair; it's also a great way to pamper your scalp's skin, but only do this after you've washed your hair, which may deplete the natural oils of your skin.
Note: you shouldn't use Samson's hair fibers to cover bald spots – which is true of many hair loss concealers – as they work best on thinning areas of the scalp by making them appear thicker and fuller.
You also can use them when you're undergoing hair loss treatments while waiting for hair to grow.
Pros
Non-irritating natural fibers

Great for enhancing thin hair

Adhere tightly to hair follicles

Comes with an electronic sprayer and Hair fiber lock spray
Cons
Has a slight scent that some users don't like
Bottom Line
Samson's hair loss fibers offer a natural, safe way to treat thinning hair to make it appear thicker and fuller. They're easy to use and extremely hard to detect – if possible at all.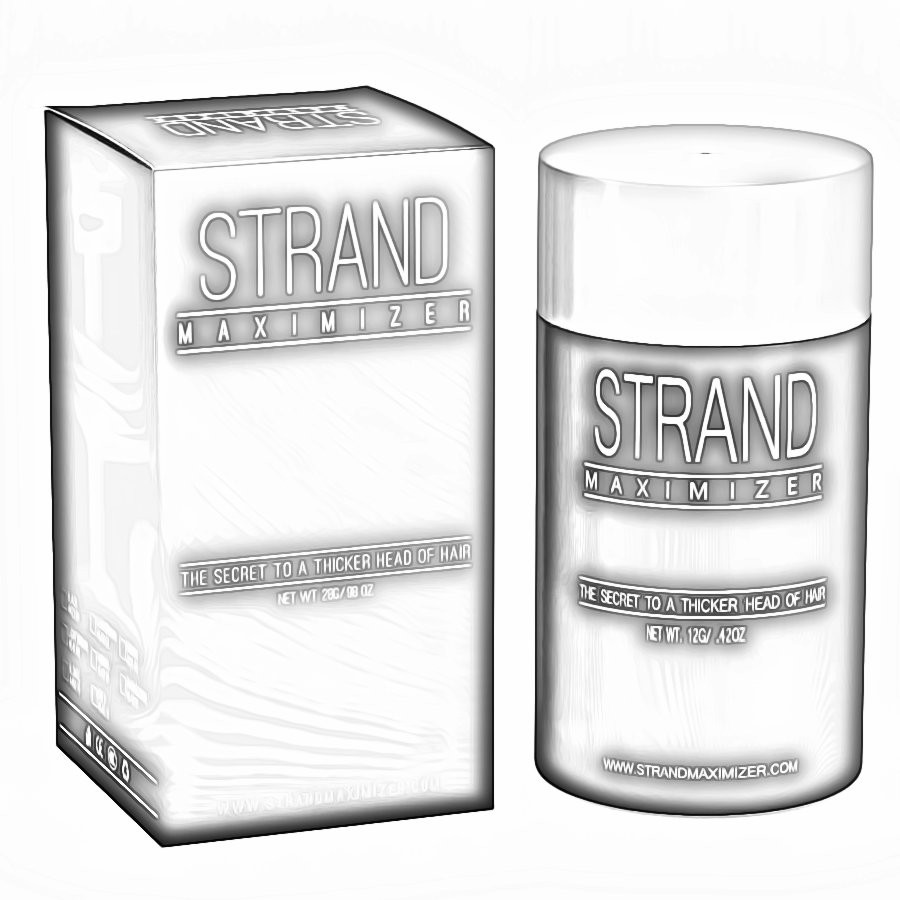 Strand Maximizer's signature product rates among the best hair filler powder for a lot of reasons, not the least of which is that it works wonders for treating thinning hair.
Furthermore, it's a go-to product for anyone who is undergoing hair loss treatments, such as Rogaine or Propecia applications.
It comes in powder form, as mentioned, and adds the appearance of thickness to your hair while giving it a lighter texture. Better yet, you'll achieve this result almost immediately.
You'll also appreciate how well Strand Maximizer's fibers blend with natural hair while leaving a finish that's undetectable. The chances are very, very good that no one will notice that you're using hair loss concealing fibers when you use Strand Maximizer.
Strand Maximizer relies on keratin fibers made of structural proteins that become charged with electrostatic energy.
The fibers bond tightly with the hair follicles while blending easily into your natural hair and its color, and they will stay in place until the next time you wash your hair.
Like most hair concealers, Strand Maximizer advises that you apply their fibers before you use styling products, such as hair gel, hair spray, mousse, etc., but you should apply the fibers after using styling tools, such as hair dryers.
Strand Maximizer's hair fibers come in 12g and 28g bottles. The latter should last you about two months.
Pros
Blend naturally with existing hair

Work well for men and women undergoing hair loss treatments

Made from natural plant fiber
Cons
Can be messy if you don't apply them correctly
Bottom Line
Strand Maximizer is an ideal choice for anyone undergoing hair loss treatments, as well as for anyone who has thinning hair. It blends easily with your current hair color and provides a look of fullness that's hard to beat.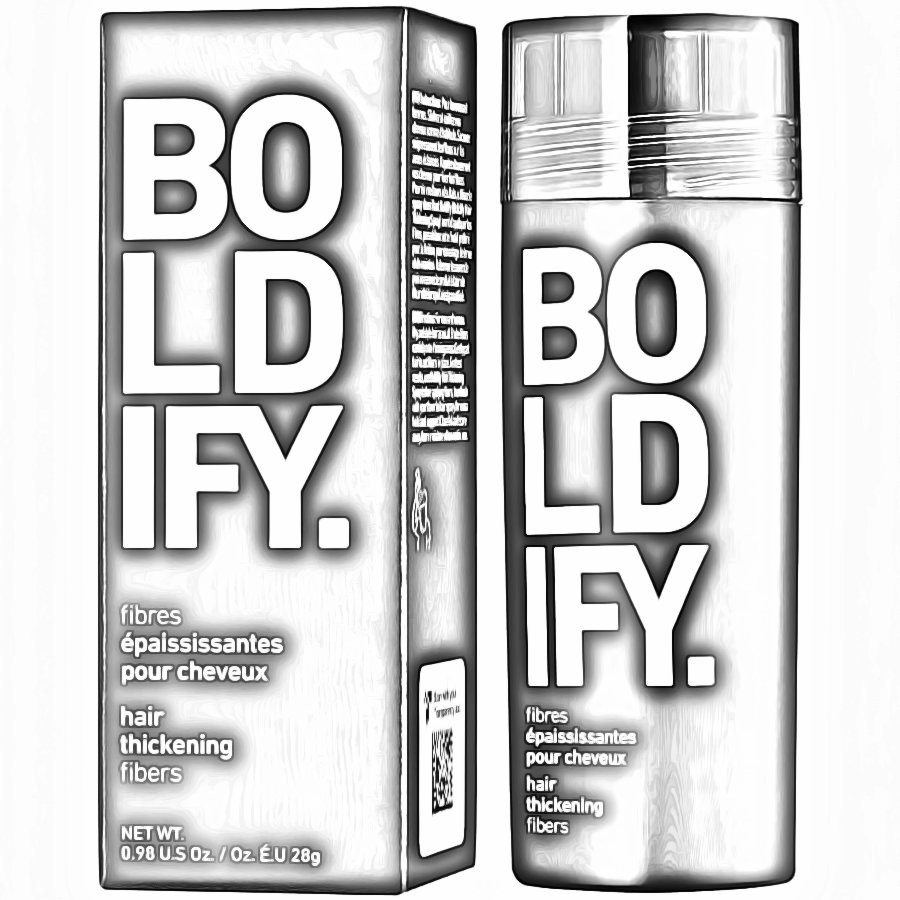 You shouldn't have to check the weather report before you apply hair concealer fibers. You want a product that won't wash off or become obvious in the rain and wind.
Boldify's Hair Fibers for Thinning Hair aren't affected by unpredictable weather conditions, or by sweat either. You won't need to reapply them until your next shampoo.
It should also give you confidence that Boldify's Hair Fibers were designed originally for the entertainment industry – which means they remain undetected even under stage lights and cameras.
It's a safe bet that no one will know you're wearing them, unless you tell them, that is.
Boldify says its hair fibers (made from keratin) are shinier than others and that makes them look more like real hair than many other products. There's not a dull, powdery look that can make them more noticeable.
Boldify's Hair Fibers work on all types and colors of hair and the company is confident that they can match your hair color precisely.
If you're not satisfied, send the bottle back and they'll continue to send you free bottles until you're satisfied with the color match.
The Boldify fibers are also lightweight and easy to style, and they won't clump together. Instead, they'll stick to hair follicles securely without falling off.
They also work for anyone with hair loss and offer an ideal solution for treating all areas of thinning, when it's on the crown, or the sides and back of the head.
Pros
They provide a realistic look and aren't easily detectable.

 They stick closely to hair shaft but wash out easily with shampoo.

Boldify offers a 100% lifetime money-back guarantee.
Cons
Ease of application; it may create a mess.
Bottom line
Boldify promises that its hair fibers will stay in place in all conditions, but also provide a realistic look without being noticeable.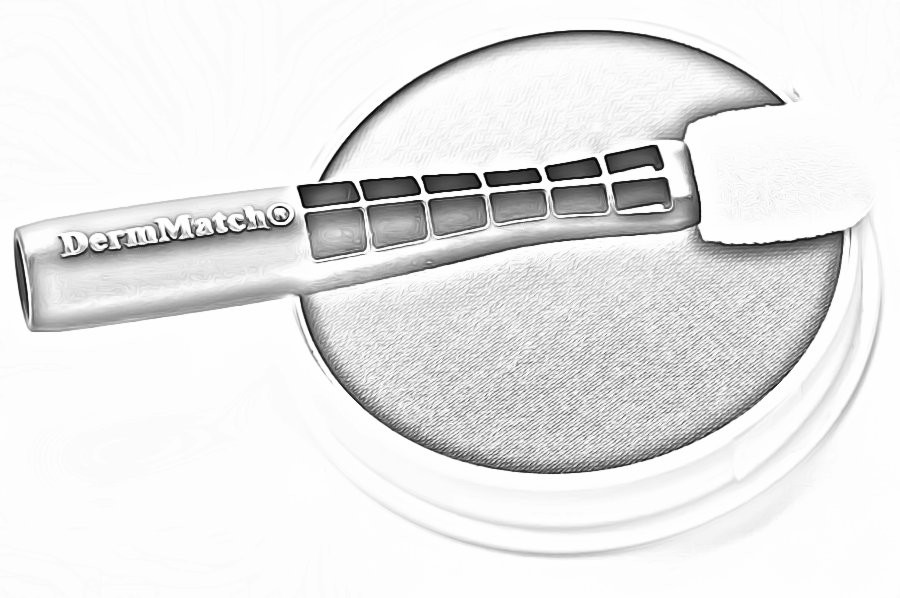 The folks at DermMatch are convinced that they have a better alternative to hair fibers. The latter, they say, come off too easily after application.
We have nothing against hair fibers for thinning hair – and include several hair loss concealers in our reviews – but we also think DermMatch has an excellent alternative.
DermMatch comes in a cream form, which you apply all over the scalp with a specially-designed applicator. It also consists of botanical ingredients – not hairs or fibers – and its colorants come from mineral and plant sources.
It comes in eight blend-able shades made to match a wide variety of natural hair and skin colors.
There's simply a lot to like about DermMatch's Hair Loss Concealer and reasons why we include it on our reviews of the best products. Let's dig deeper:
The DermMatch formula is waterproof and won't run off when exposed to excessive moisture, unlike many sprays and powders. You don't have to worry about it when you sweat, and it's the best hair concealer for swimming.
DermMatch relies on a "topical shading" process in which a compound color concealer shades areas of the scalp that are thin. In turn, it blends into existing hair easily.
We also like that DermMatch is a nice return on your investment. It comes in a disk, and DermMatch says one disk lasts three times longer than fibers and sprays.
Its natural thickening agents coat the entire hair shaft to help limp hairs stand out and spread out to help achieve that naturally "full" look.
If applied correctly, DermMatch is very hard to detect under normal lighting. That's a definite plus, because no one wants their hair loss concealer to stand out for the wrong reasons.
DermMatch also includes emollients that moisturize, soothe, and soften your skin.
We also think that DermMatch offers the best hair fiber applicator, which looks like a small brush. It's easy to use and doesn't cause a mess. While DermMatch is the best scalp dye for thinning hair and bald spots, you should keep in mind several tips for using it correctly to attain the maximum results:
Don't use heavy styling products, such as gels, waxes, and pomades after you've applied DermMatch to your scalp (because you apply DermMatch directly to the scalp). Instead, use a light spray post-application, because it won't come in direct contact with the scalp.
Rinsing your hair with distilled water, or using the distilled water on the applicator, will make it easier to apply DermMatch to your scalp.
People who most benefit from DermMatch are those who have thinning areas of hair, rather than bald patches.

DermMatch goes on "damp," and it's important to let it dry before you put on your clothes – except you want a streak of fibers on your clothes. It only takes five to 10 minutes to
Pros
Waterproof formula

Gives the look of thicker, fuller hair

Excellent for filling in thinning patches of hair
Cons
May dry out existing hair
Bottom Line
DermMatch is unlike many other hair-loss concealers, but its uniqueness is a good thing. We think you'll like how it gives your hair a thicker, fuller look.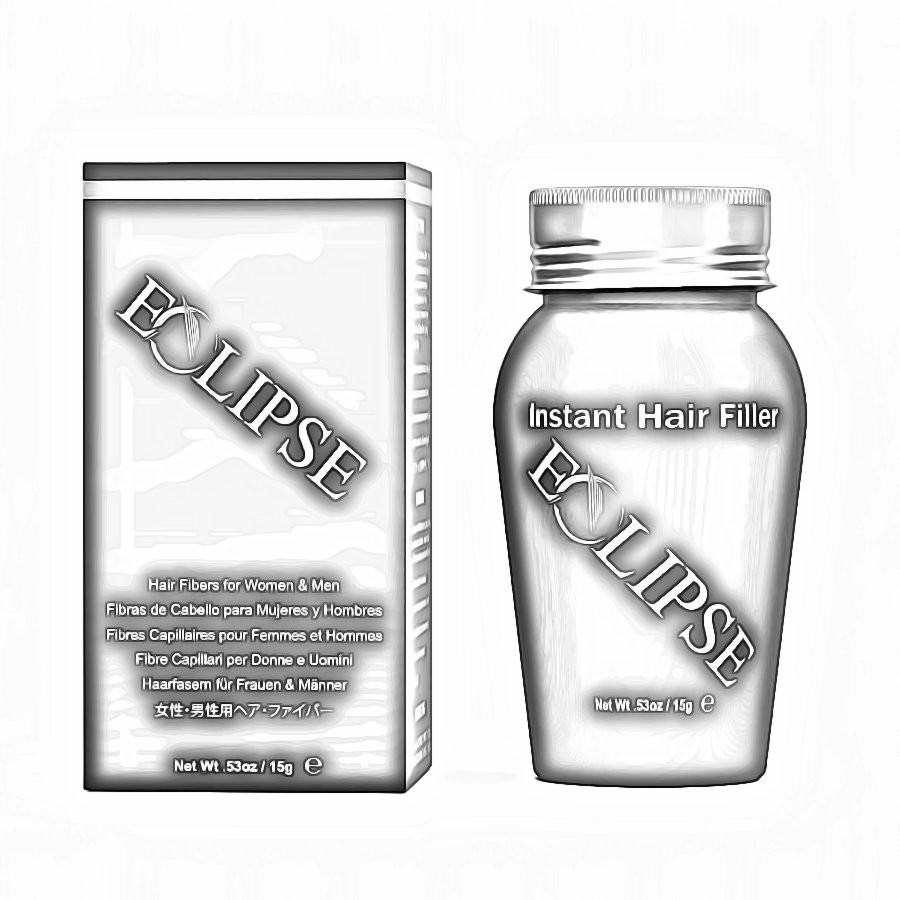 Eclipse's Hair Building Fibers and Beard Filler is an ideal solution for men who need a temporary, adjustable way of concealing hair loss. It works within 30 seconds to conceal and fill in gaps realistically. Plus it lasts until your next wash (up to a week!) and is designed specifically to be invulnerable to the elements.
All you need to do is shake or pump the fibers into the area you want to conceal – lightly patting the container between shakes – and use the Infinity Fiber Locking Spray (which comes with the product) to lock the fibers into place.
Eclipse have also made sure that these are available in numerous natural-looking colors, so you'll be sure to find a version of this product that's right for your hair. And it works for men and women alike, which is always nice.
There are, however, reservations: some reviewers find the fibers are a little too thin, meaning that men looking for a large amount of concealing will have to look elsewhere – this is really for an easy, natural looking solve for smaller concealments.
The bottles are also pretty small, which some will find irritating. Though it's worth mentioning this makes Eclipse easy to travel with, and the amount of treatments you get per bottle is actually quite good considering how long it can last.
Pros
Wind and rain resistant

Long lasting

Works for all hair types
Cons
The fibers are thinner than some on this list
Bottom Line
A highly resistant, easy to use hair loss concealer with lots of color options.
The how-to of applying a hair concealer
Before we delve into this section, it's important to note that there's no "one" way to apply hair loss concealers, because how you apply it depends on the product composition and type. With that in mind, here's a basic framework for applying concealers of all types.
1. Start with dry hair
No matter which type of concealer you use, it's best to start with dry hair. You want the product to cover your hair evenly and, besides, you never want to use a hair dryer or other styling tool after you've applied your concealer.
Even if you use a liquid-based concealer on wet hair – which may be easier – it can leave your hair with a dull and chalky appearance.
2. Apply concealer where hair already exists
Remember, hair loss concealer doesn't generate hair growth but rather gives hair the appearance of being thicker and fuller.
That's one reason you'll get the optimal results if you apply to areas of the scalp where hair is growing, albeit hair that's thin, but there's no reason to apply concealers to areas of the scalp that are bald already.
3. Choose the right color
Your goal in using a hair loss concealer is to create the impression of depth and thickness, and it's crucial that you choose a concealer shade that matches your hair's natural color.
Also, think in terms of darkness and light; for instance, make sure that the concealer has the same degree of darkness, maybe even a bit darker. A shade that's too light will look powdery and unnatural.
4. Applying a hair loss concealer to a thinning hairline and temples
Many men experience hair loss and thinning at the hairline and temples. The best way to apply hair concealers to those areas is to start from just behind the hairline (where plenty of hair remains) and then blend in the concealer with short strokes in all directions.
Try to stay within the hairline at the temples, but it's OK to go a bit over if there's enough hair to comb over the excess product.
5. Applying hair loss concealer on a thinning crown
You may have hair that's thinning at the crown or towards the back of your scalp. In that case, blend your concealer from the center of the thinning area in all directions towards the thicker hair surrounding it. You may need to use a hand mirror.
6. Comb or brush your hair
Comb or brush your hair into shape after you've applied your concealer. Combing your hair also helps to distribute the fibers evenly across your scalp. Feel free to use hair spray – it's often encouraged – to help fix the fibers and concealers into place.
The main types of hair loss concealers
When it comes right down to it, you can divide hair loss concealers into two types: liquid and powder.
Hair loss concealer sprays
You apply hair concealer sprays, as you'd expect, in the same way that you apply hair spray. Concealer sprays often contain color dyes and chemicals that enable you to get the same color shade as your natural hair.
Sprays are by far the most common form of liquid concealers.
But some liquid concealers also come in gel and crème form and are stored in tubs or packets.
Hair loss concealer powders
Powder, or "dry," hair loss concealers contain fibers that form a static electricity bond with the scalp and existing hair to give the hair a thicker, more voluminous look. Like hair loss concealer sprays, powders work instantly upon application.
How we chose the best hair loss concealers and hair fibers
While there isn't a ton of players in the world of hair concealers and fibers, there's enough to make things competitive. Several names pop up in a multitude of other reviews (Toppik, DermMatch, etc.), but we considered a wide range of products.
We considered a variety of factors in making our picks, including the material used to make the fibers, the ease of application, whether the product holds up in less-than-ideal weather conditions, and – last but not least – whether or not it delivered realistic results.
Conclusion
There are plenty of good concealers and hair fibers out there, so choose wisely. We think our list can help guide you in your decision making.
Do you use hair concealers and fibers? What product do you use? Have you used any of the hair loss concealers on our list? We'd love to hear from you and always welcome your feedback.
Until next time, friends.