6 Best Hair Growth Vitamins & Supplements That Work
This post may contain affiliate links. Learn more.
In a hurry? Here are our top picks:
We all lose hair every day. Not that we're trying to be a bearer of bad news, but studies show that everyone loses about 100 strands of hair each day.
The key is that some of us don't grow that hair back, and we enter the vicious cycle of male pattern baldness (MPB).
MPB has many causes – including genetics, stress, and aging – but it doesn't mean we have to sit back and take it.
Many vitamin and mineral deficiencies have an impact on all types of hair loss, so it makes sense to take steps to combat this.
Among popular hair loss treatments are hair growth supplements, which contain these vital ingredients that could be the answer to slowing or reversing your hair loss.
Everybody wants healthy, strong hair. And there are plenty of hair growth vitamin supplements that can help you get there. But…which ones actually work? There are a lot of different ones out there, and it can be tough to choose between them
Let's start with some buying tips.
Quick summary
<!—INSERT CODE BELOW—>

Best Overall

Revita Nutraceutical Tablets For Hair Growth

Dual effect: Boost hair growth while reducing hair loss

Only one tablet a day is needed

Packed full of natural ingredients for hair growth

Check Best Price

Best with Biotin

Hair La Vie Clinical Formula Hair Vitamins

Natural formula reduces hair loss without side effects

Also boosts your skin and nail quality

Suitable for men and women

Check on Amazon

Best with Finasteride

Hims Edible Kit

Kits includes two proven hair-healthy supplements

Contains hair growth vitamins to support your diet

Gummies offer an alternative to swallowing pills

Check Best Price

Natrol Biotin Maximum Strength Tablets

Stimulates the hair into growing thicker strands

Reduces hair loss

High strength biotin for maximum effect

Check on Amazon

Ultrax Labs Hair Rush

Suitable for men and women

Zero side effects

Formula does not contain drugs

Check on Amazon

Vital Proteins Pasture-Raised Grass-Fed Collagen Peptides

Fast absorbing

Easily consumed with food and drinks

Contains 9 grams of protein in each serving

Check on Amazon
Before you buy: Things you have to consider and look for when buying hair growth vitamins, pills & supplements
Questions abound regarding the effectiveness of hair growth vitamins and supplements, including the most important one: Do they work?
The answer is 'yes,' but that leads to another question: "Can't I get the same results with a regular multi-vitamin?"
The answer to that is 'perhaps', but supplements designed for hair (and nail) growth typically include the proper amount of vitamins and minerals found to be essential to healthy hair.
We'll touch on those vitamins a bit later.
For now, just know that there are plenty of hair growth supplements, pills, and vitamins on the market.
We'll touch on the best ones in this article, but be wary of inferior products that do nothing more than overload you with certain vitamins and minerals without doing a thing for hair growth.
Furthermore, dietary supplements aren't tightly regulated in the U.S. by the Food and Drug Administration, so be wary when choosing the right product.
We think the following tips will help:
1. Know your hair growth vitamins
We'll discuss the five most important vitamins for hair growth later in the article.
However, key vitamins and minerals include vitamins A, B12, niacin, folic acid, C, E, D, and minerals such as iron, zinc, magnesium, calcium, omega-3 fatty acids, riboflavin, and a few others.
Vitamin B7, better known as biotin, is an essential ingredient in hair growth supplements. You can find biotin shampoos as well.
2. Check the label
It's easy to say that all of us should check the label of everything we buy. It's another thing actually to do it. Do your best to check the label of any beard growth supplement before you buy it.
For one, there may be an ingredient that you're allergic to or otherwise is not good for you.
That said, try to avoid supplements that are non-natural or chemically-produced. Check for pure vitamins and minerals that come from organic sources.
Plant-based supplements are good, too, because your cells absorb them more easily.
You should be aware that the general population develops allergic reactions to non-natural compounds found in generic care products like shampoos.
If you have used these over many years, they could be contributing to thinning hair. Make the switch to natural and more gentle products to give any supplements you take the best chance of working.
3. Key ingredients
So, you check the label, but it's helpful to know what ingredients are good for you.
We've already discussed important hair growth vitamins, but you also should look for extracts such as saw palmetto berry, bamboo stem and leaf, flaxseed oil, borage oil, kelp, and others.
Not that these ingredients must be in every bottle you examine, but just know that they're helpful to hair growth.
Keratin, an essential protein found in hair, skin, and nails, is another ingredient – much like biotin – that aids the hair growth process.
We discuss this later in the article, but supplements are just that – supplements for a healthy lifestyle.
Maintaining a good diet will go a long way in ensuring you can keep the number of supplements you take to a minimum.
4. Talk to your physician
Some nutritional deficiencies are common, such as iron, calcium, vitamin A, vitamin B12, magnesium, etc., and check with your doctor to find out if you may have one.
Otherwise, he or she can provide you with helpful information about how certain supplements affect your health.
Getting blood tests done by your doctor will help you pinpoint the best supplement for you and allow you to track your progress, and see if repairing the deficiency is having the desired effect on your hair.
5. Price
Expensive doesn't necessarily mean better for any product, including hair growth supplements. The important thing is to find a supplement that works and fits your budget.
6. Reviews
Check out the reviews of customers who tried a particular product. Note, some reviews should be regarded with skepticism, but you should be able to get a good idea of what products deliver results and are popular sellers.
Next, let's move on to our reviews:
The 6 best hair growth vitamins, pills & supplements
What stands out about this vitamin supplement:
Supplements your iron levels, the most common deficiency in humans worldwide
Contains powerful antioxidants to support scalp and hair health
Proprietary 'Nanosome' delivery system to ensure maximum uptake of active ingredients
Best vitamin supplement for:
All men, especially those starting on their hair care journey. There are plenty of potentially beneficial vitamins and minerals for hair, but all men should at least start with iron supplementation unless lab tests have proven they are not deficient.
Low iron levels have been implicated in exacerbating all types of hair loss, so reversing this issue is the best first step to take.
Overview:
DS Laboratories puts a lot of thought into serious research and development and leaves no stone unturned in their quest for hair growth and hair loss products that work.
That commitment shows in DS's Nutraceutical Tablets for Hair Growth. Like all of DS Labs' products, they're tested by dermatologists and have the backing of many satisfied customers.
And, also like all of the DS Labs products, they feature the company's Nanosome delivery system, which makes sure that the body absorbs the product's ingredients with the greatest efficiency.
The DS hair growth tablets come loaded with natural ingredients that promote healthier hair (and also aid nail growth). They're suitable for men and women.
The list of ingredients includes zinc, which aids protein synthesis and helps protect against oxidative damage, and biotin, which converts nutrients to energy and helps maintain healthy hair.
Several other ingredients contribute to the product's effectiveness, including:
Iron – This delivers oxygen to the hair follicle that helps to reduce hair loss. Restoring normal levels has been proven to reduce and even reverse hair loss – important when a deficiency is so common. This is especially true with women and vegetarians.
Melatonin – a powerful antioxidant and growth modulator that, among other things, helps to prolong the hair's growth stage. It also has a cleansing action that's said to be stronger than vitamin C.
Daidzein – is derived from soya extract and clover that works as an anti-inflammatory and a potent antioxidant.
Among other ingredients found in the Revita tablets is vitamin D, which studies show may help create new pores from which new hair follicles grow.[22]
One bottle contains 30 Revita hair growth tablets, and the recommended dose is one tablet per day. Don't exceed one tablet per day.
For enhanced results, you can also combine the tablets with DS Labs topical hair growth products. These being, the Revita Hair Stimulating Shampoo, and the Revita Hair Stimulating Conditioner.
The good
Stimulates hair growth while reducing hair loss

Natural ingredients

Need only one tablet per day
The bad
It may take some time to notice results

Less effective in those with normal iron levels
Bottom line
DS Labs is intent on paving new ground in the hair growth and hair loss industry. Their nutraceutical hair growth tablets have all the ingredients – and the proven results – to promote healthy, thriving hair.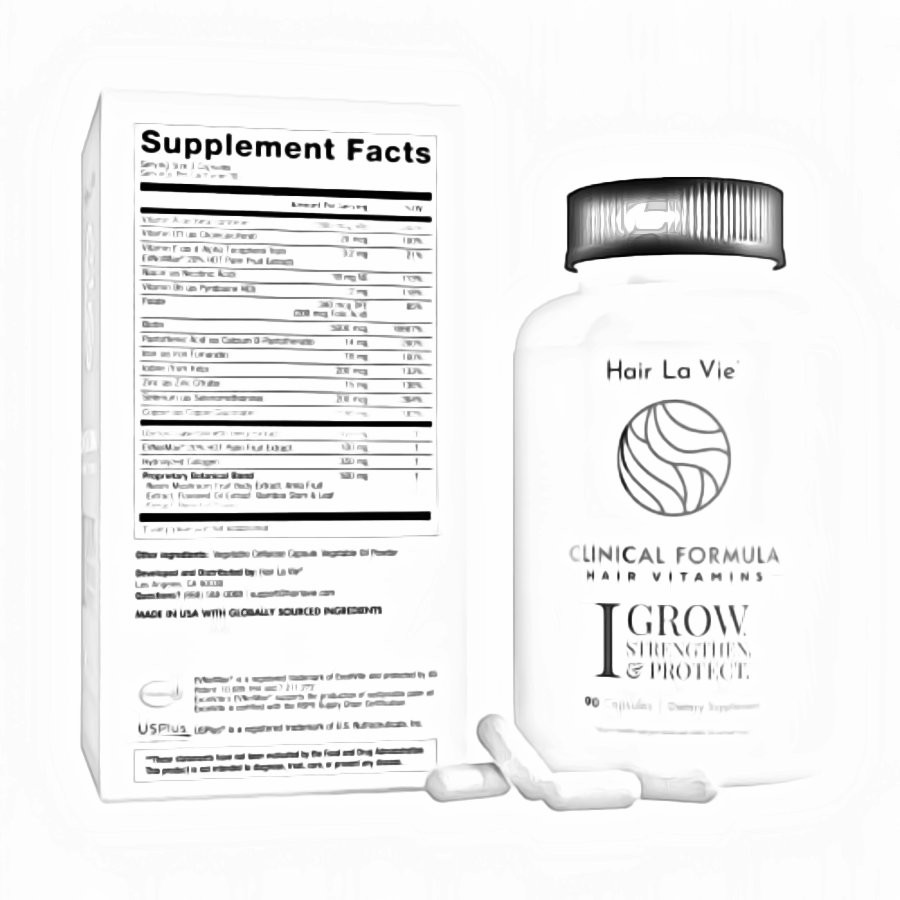 What stands out about this vitamin supplement:
Wide range of vitamins that support hair growth and overall health of the body
It is vegan friendly and cruelty-free
Great for both men and women
Best vitamin supplement for:
Men and women who are seeking great vitamins, that not only would provide them with better, longer-lasting hair but also healthy skin, body, and nails.
Overview:
Hair La Vie Clinical Formula Hair Vitamins with Biotin include everything you need for healthier and stronger hair and body. It comes with vitamins A, B (Biotin), E, D, Zinc, and saw palmetto berry extract.
Vitamin A is an essential vitamin needed for cell and hair growth. Essentially, hair needs proper hydration and vitamin A to grow.
Vitamin B7, also known as Biotin, is probably one of the most well-known hair loss treatment vitamins. Studies have shown that Biotin deficiency is closely related to losing hair.
Vitamin B6, which is also included in this supplement, was also found to help alopecia. Research has shown that taking vitamin B6 for several weeks had great improvement in the hair thinning condition of many women.
While vitamin D's role in hair growth is not understood, it has been found that low levels of vitamin D are also linked with hair loss.
Additionally, vitamin E has been shown to increase hair growth by more than 34% in a study.
Zinc not only does it boosts the immune system and overall body health but also plays a vital role in hair growth. It helps repair the hair tissues and keeps the oil glands around the follicles working properly.
Lastly, saw palmetto berry extract balances hormone levels and prevents hair loss by reducing the amount of DHT in the hair follicles.
Overall, the above ingredients are also beneficial for the skin and overall body health, increasing the quality of this supplement. All of the above vitamins and ingredients, work together to create a potent mix that surely provides you results.
Artificial colors, gluten, sugar, wheat, and other substances commonly found in hair growth treatments are not found in this supplement.
The good
Natural blend fights hair loss without side effects

Suitable for men and women

Also improves skin and nail health
The bad
Some reviewers say it may take time to see results
Bottom line
The Hair Growth Essentials' formula has everything you need to stop hair loss while promoting a thicker, fuller head of hair. Its natural formula makes it safe to use for men and women.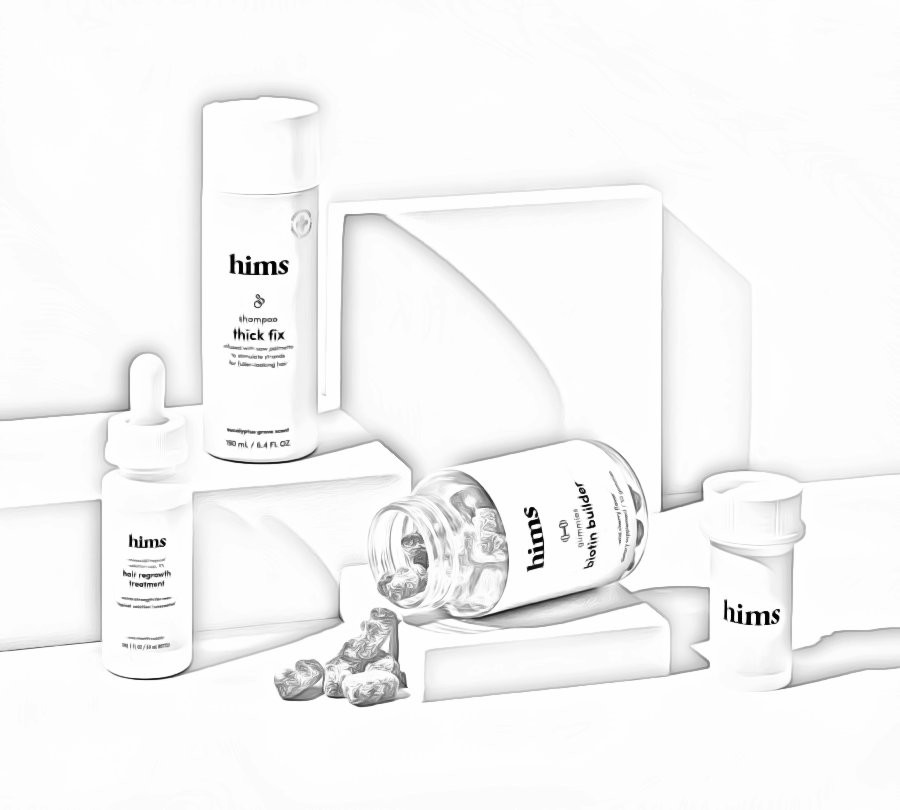 What stands out about this vitamin supplement:
Contains 1 of the only 2 medications licensed to treat hair loss: Finasteride
Backed up with natural biotin to ensure continued hair support
A more targeted solution compared to general vitamin supplements
Best vitamin supplement for:
Men who know they suffer from or have a family history of suffering from male pattern baldness (androgenic alopecia).
Overview:
While a well-balanced diet provides plenty of vitamins and nutrients, it's often hard to tell if you're getting enough of the "stuff" that can help promote hair growth while reducing hair loss.
Hims, a San Francisco-based company dedicated to men's wellness, has you covered if your diet lacks and potentially contributes to your hair loss with their Edible Kit.
The latter includes 60 biotin gummies and finasteride pills to provide a potent one-two punch that helps get your hair back on track.
Regular vitamin consumption – particularly of certain vitamins – can positively impact the thickness, shine, and overall health of your hair. Hair that's thinning, weakened, or starting to split may indicate that you lack certain vitamins in your diet.
The hims' edible kit includes a B7 (biotin) vitamin that offers a natural supplement to your diet – one that's proven to strengthen the hair and nails while also promoting healthy skin.
The kit also includes 30 (1 mg) finasteride pills.
Finasteride is a crucial piece of the puzzle regarding hair loss and hair growth. It stops baldness at its source by inhibiting the body's production of DHT – one of the most important factors in accelerating male pattern baldness.
The daily dose of 1 mg of finasteride included in the Hims Edible Kit is backed by research that says it will reduce the amount of DHT in the scalp by 60%.
While you may not see results immediately, the chances are good that you'll experience positive results in the long-term.
The good
Kits include two proven hair-healthy supplements

Helps make sure your diet includes the needed hair growth vitamins

Gummies offer an alternative to anyone who doesn't like swallowing pills
The bad
A very small number of finasteride users have experienced side effects, such as ED
Bottom line
Hims relies on sound science and innovation to help improve men's overall wellness, whether that's hair health or skin and nail health. Their Edible Kit offers a powerful solution for fighting hair loss.
What stands out about this vitamin supplement:
Pure biotin
Maximum level possible for those eager to see results
Best vitamin supplement for:
The go to supplement for those looking for maximum Biotin (B7) supplementation.
Overview:
We talk a lot about biotin in this post, and with good reason. Biotin is the 'X' Factor regarding healthy hair and is found in the vast majority of best hair growth pills.
It's a water-soluble B vitamin that promotes not only healthy hair but also healthy hair and skin. It also helps convert your daily food intake into natural energy.
Biotin, then, is good. Very good. As the name implies, it's the powerful engine that drives Natrol's Biotin Maximum Strength Tablets. In short, biotin may increase the rate of hair regrowth, increasing hair thickness.
Natrol's maximum strength tablets include 10,000mcg of biotin – the maximum dose found in hair growth vitamins. The recommended daily dosage of Natrol is 10mg or the equivalent of one tablet.
The recommended daily dose of biotin is 2mg, so Natrol makes sure you're getting enough biotin (and a lack of it may cause thinning hair, brittle nails, etc.).
The good news is that you can't "overdose" on biotin because it passes naturally through your body.
Then again, all B vitamins are necessary for your body to convert food into energy, but they're also necessary for a healthy nervous system. Biotin has the added plus of being healthy for your hair, skin, eyes, nails, and liver.
One study even showed that pregnant women are biotin deficient and that taking a supplement may assist in healthy fetal development.
Natrol also contains calcium, which is important for keeping teeth and bones strong, but it's also an important factor for growing healthy hair.
The good
Helps develop thicker hair strands

Maximum strength biotin

Reduces hair loss
The bad
Some users experience hair growth on other parts of their bodies
Bottom line
Natrol's maximum strength tablets provide you with a potent dose of biotin that helps promote hair growth while reducing hair loss. You'll find it in many reviews of the best supplements for hair growth, and they're the best biotin pills for hair growth.
What stands out about this vitamin supplement:
A great supplement for both hair growth and scalp health
Supports hair and skin by including more wide-ranging and holistic ingredients like Gotu Kola
Gotu kola has other great benefits like reducing stress -this also helps in retaining and growing healthy hair
Best vitamin supplement for:
Busy and stressed men who need a different approach to hair health – this product targets hair growth from the ground up.
Overview:
For men, DHT is like a villain that commits crimes without mercy. In this case, the crime is hair loss, and DHT is on the Most Wanted List.
OK, that's a bit of a strong analogy because DHT (dihydrotestosterone) serves many essential functions, including the development of male characteristics such as a deep voice, hairy chests, and muscle mass.
But DHT plays a key role in hair loss, as well. Men with male pattern baldness inherit hair follicles that have an over-sensitivity to DHT. When testosterone converts to DHT, it shrinks hair follicles.
Which brings us, in a roundabout way, to Ultrax Labs Hair Rush. It's worthy of inclusion in your hair growth pills reviews because, for one, it contains keratin, which counters the effects of DHT by serving as a building block for hair.
Ultrax Labs' Hair Rush has an exclusive keratin complex with essential nutrients that block DHT.
But that's not all. Other key ingredients in Hair Rush include:
Nettle leaf powder contains plenty of vitamins and nutrients, including vitamins A, C, D, K, and B, and also contains high amounts of amino acids and protein, which help strengthen hair. A bonus to nettle leaf powder is that it also fights dandruff.
Pumpkin seed is rich in fatty acids that help hair retain moisture. That's particularly important if you live in a colder climate that may dry your hair out, especially during winter.
What is gotu kola powder, you ask? Well, it's something that helps prevent hair loss, although scientists aren't 100% sure why.
It increases blood circulation to the scalp, which promotes hair growth, but gotu kola powder is also used to treat stress and anxiety, which contribute to hair loss.
While it sounds downright chemical, L Lysine Hydrochloride is an amino acid that helps fight hair loss. Collagen, one of the most important hair components, needs L lysine to absorb calcium for its creation.
When your body absorbs calcium, your body makes more collagen.
Saw palmetto is another ingredient found in Ultrax Labs Hair Rush and, like keratin, works as a DHT inhibitor.
The Ultrax Labs Hair Rush formula is chemical-free and safe for men and women. The manufacturer suggests that you use it for a minimum of 90 days for best results.
The good
Effective for men and women

Drug-free formula

Improves collagen production providing a more solid base for follicles to grow from
The bad
Doesn't come with a money-back guarantee
Bottom line
Hair Rush is an effective, safe way to treat hair loss and addresses hair loss's root causes. It causes no side effects while strengthening and nourishing hair from within follicles.
What stands out about this vitamin supplement:
Easily add to your health or workout drink
Titrate the dose as appropriate for you
Best vitamin supplement for:
Men who want to focus on both their skin and hair health.
Overview:
The first thing to know, and that you'll notice, about Vital Proteins Peptides is that they don't come in pill form. Instead, they consist of powder and are added to your favorite beverages and food to give you the vitamin boost you need for healthy hair.
So, whether you want to add them to your morning coffee, a cup of green tea, to your favorite fruit juice or smoothie, or even to oatmeal, soup, and your favorite desserts, it's a handy way to get a dose of hair-strengthening protein.
Collagen is the key ingredient in Vital Proteins' peptides. We've already talked some about it, but collagen is the protein that the body relies on for the health of skin, hair, tendons, cartilage, bones, and joints.
Collagen in supplement form is popular because it's not found in enough abundance in foods. The collagen particles found in Vital Proteins Pasture-Raised Grass-Fed Peptides are small enough to absorb into the bloodstream quickly.
For this reason, some users report positive results for hair growth faster than with other products.
Each serving of Vital Proteins Peptides contains 20 grams of collagen, and it's 100% pure collagen protein. Sourced from grass-fed, pasture-raised bovine, it's of the highest natural quality.
Even better, it's clean and tasteless, plus gluten, dairy, hormone, and preservative-free.
It also contains natural glycine, which aids the immune and digestive systems. Also, it's not just good for your hair, as it promotes healthy, youthful skin and stronger nails (and good for men and women).
The good
Is easily added to food and drinks

Absorbs quickly

Includes 9 grams of protein (collagen) per serving
The bad
Don't use if you're allergic to beef

Collagen only – you will likely want to add in another supplement
Bottom line
Sprinkling these powdered peptides into your morning coffee – or other favorite beverage – can help you get the healthy hair you desire. You won't taste it, but chances are good, you'll notice the results.
Using hair growth supplements the right way (A simple, illustrated guide)
There are a few other rules of the road for taking hair growth pills other than simply reading the label.
Of course, reading the label and sticking with the recommended dosage is crucial, but there are other considerations you need to consider to get the most from your supplement.
1. Improve your diet, too
You can't replace a bad diet with supplements. Maintaining a healthy diet is important in so many ways, including its impact on hair health. It's no secret that bad diets may lead to serious health issues, such as heart disease, diabetes, obesity, and so on.
That said, your best bet is to focus on a combination approach, i.e., have a healthy, balanced diet and ask your doctor about any vitamins and supplements you need.
So what does that mean for you? It means that the first step toward achieving long, luscious locks is improving your diet. Start with these three simple steps:
1. Don't skip breakfast.
This is a big one. You've probably heard it over and over again from your mother and your doctor, but it bears repeating: breakfast is the most important meal of the day for a reason. When you skip breakfast, you're depriving yourself of important nutrients and minerals right at the beginning of the day—and those are two things that are essential for healthy hair growth!
2. Eat healthy fats.
Don't freak out! We know "fat" is a scary word to some people, but when it comes to achieving great hair growth, you should embrace healthy fats with open arms. Healthy fats like polyunsaturated and monounsaturated fats are known to promote healthy cell growth—which means they're also perfect for promoting healthy hair growth
2. What can your supplement do for you?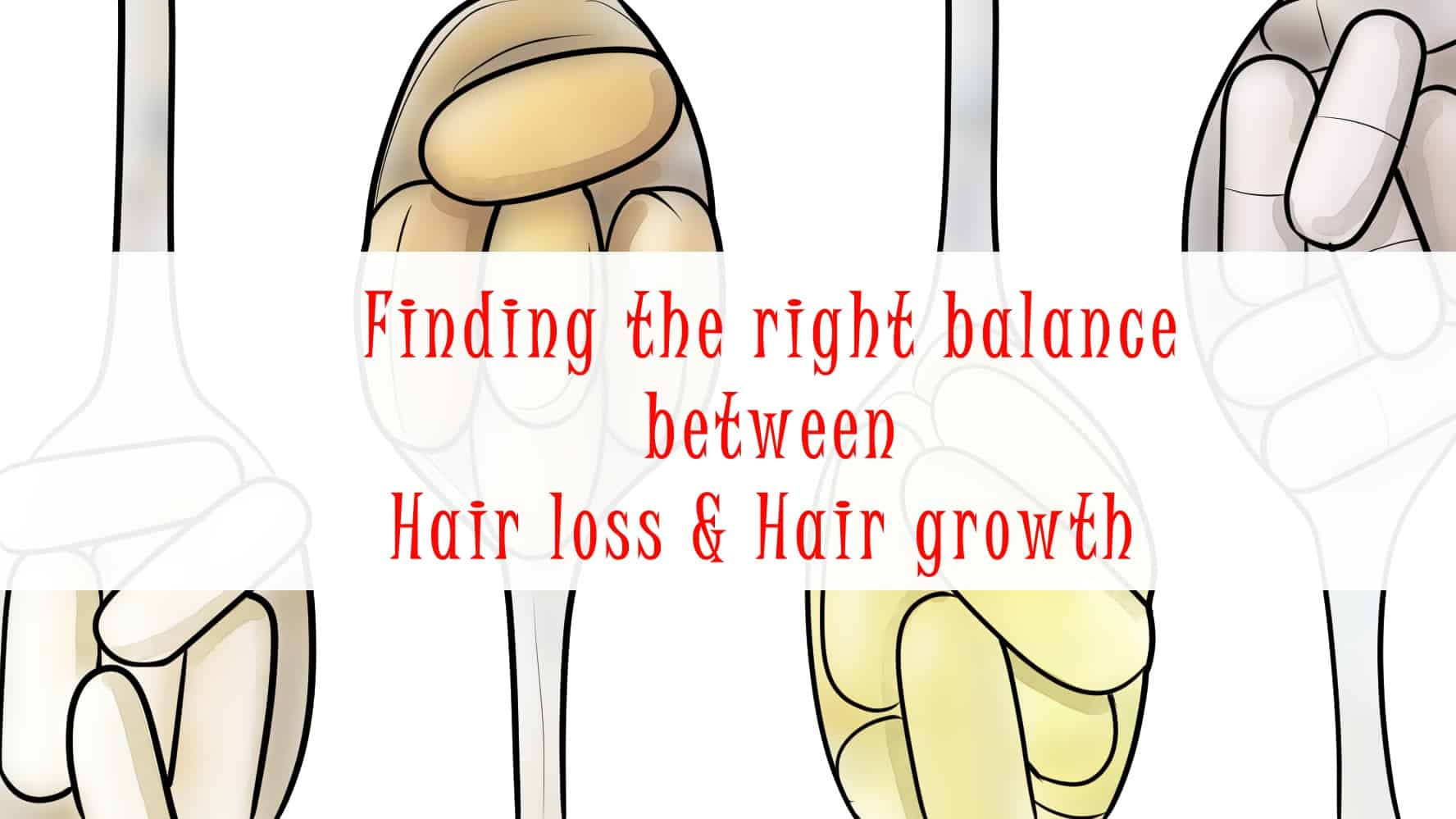 Some supplements may reduce hair loss without improving hair growth. Your focus should be on finding a hair growth pill that does both; it needs to reduce the amount of hair that's falling out while stimulating your hair follicles to improve hair growth.
3. Make sure your supplement blocks DHT
We've discussed the role of DHT and hair loss in this and other posts; it's simply that important. Ensure that whatever supplement you choose contains DHT blockers if you are at risk or suffer from male pattern baldness, i.e., androgenic alopecia.
DHT is a hormone that makes hair fall out, and it particularly affects men. The body converts testosterone into DHT, which then shrinks the hair follicles. It's a natural part of aging, but if you want full and healthy hair, you'll need to block DHT.
4. It's not just about vitamins
Hair growth vitamins are not the answer to all of your hair problems. The most effective way for long-term hair growth is to implement a consistent hair care routine that includes using the best shampoo and conditioner for your specific hair type. If you're in need of some serious advice, check out our article on how to grow your hair faster.
Vitamins are crucial to healthy hair, but they need some help. That's where nutrients like iron, zinc, and protein come in; to promote hair growth and get the good-looking locks you prefer, make sure you're getting the right nutrients, too.
A note about protein, however: too much of it may cause your hair to break. Protein hardens the hair to give it strength, but you don't want to go overboard with it, either.
5. Be patient
Hair growth and reduced hair loss don't happen overnight. You may need to consistently take your supplement (and at the recommended daily dosage) for three months before you notice real results.
That's not to say you might not see a difference sooner than that, but there's no reason to panic if you don't.
Of course, buying products that have a money-back guarantee of some kind may take some of the "pressure" off wondering when or if the supplement will work.
Essential vitamins for hair growth
The use of vitamins and minerals to supplement healthy hair and prevent hair loss has been an area of growing interest for years.
Unfortunately, there is much confusion and misinformation surrounding the use of these micronutrients and how much benefit they provide.
Thankfully there are plenty of beneficial vitamins and minerals for hair. You simply have to be careful about which claims you read and believe.
As it can be such a controversial topic, we've reviewed all the best currently available scientific evidence and summarised it in plain English for this article.
While we focus on the benefits that intelligent supplementation can bring, we also touch on the role of diet and how (big surprise) looking after your general health and well-being can significantly impact hair health and growth.
So why the concentration on vitamins and minerals if there is so much controversy surrounding utilizing them for hair?
While the source of confusion surrounds unscientific assumptions based on poor research, there are clear signs that they play an important role in follicle development and your immune response.
This has important implications for how your body treats your hair and follicles. An unhappy body and immune system is more likely to grow hair slowly, poorly, or push the strand from the follicle too early.
The latest hair and vitamin metastudy (a study of studies) concluded that "Deficiency of micronutrients may represent a modifiable risk factor associated with the development, prevention, and treatment of alopecia (hair loss), given the role of vitamins and minerals in the hair cycle and immune defense mechanism.[1]
So let's look at exactly what all this means for you, the consumer.
Hair loss and supplementation: An overview
Each of us has on our head roughly 100,000 hair follicles. Over 90,000 of these hair follicles will be growing hair, using vitamins, minerals, proteins, and essential elements to maintaining hair health.[2]
We know that supplementing with vitamins and minerals is important for hair growth and has been shown to improve or reduce hair loss.[1]
One of the first examples linking vitamins and hair loss was a ship captain named Vasco de Gamma in 1497. Of his 160 sailors, 100 died from the lack of vitamin C, having eaten only preserved meats and other foods on their journey.[3]
Supplements containing these ingredients tend to be cheaper than other 'nutraceuticals' as they benefit from mass production. The sheer level of choice can be confusing to the average consumer, not to mention the exaggerated claims some companies make.
In recent years several studies have confirmed what many of us have known anecdotally, with certain ingredients showing much more promise than others.
Vitamin A
Rather than being a single vitamin or compound, Vitamin A is actually a group of similar natural chemicals called retinoids. You may have heard of the main one: retinol.
This is a vital component for life, existing in both plants and animals. It is needed not only for cell growth and immune function but also is famously required for vision (carrots are packed full of vitamin A).
Vitamin A helps your scalp produce sebum, a naturally occurring oil that moisturizes your skin and keeps your hair from drying out. Vitamin E helps to combat environmental stressors like UV rays and pollution. Both vitamins A and E also have antioxidant properties, which help prevent damage to cells in your body (including those on your scalp).
As with most of the nutrition and vitamins we need, a healthy, balanced diet should provide all the vitamin A we need.[4]
The recommended dietary allowance of Vitamin A for adults aged ≥ 19 years is 1300 mcg/day (4300 IU [international units]) for those living in the US, so if you're not getting near that number, you could be deficient.
However, Vitamin A supplementation needs to come with a warning. If you double your recommended dose, perhaps to try and nourish and restore your hair as fast as possible, you will be easily nearing the toxicity level of Vitamin A.
The current thinking is that you should not go above 10,000 IU, ~2,700 mcg/day.
And what exactly is the effect of Vitamin A toxicity?
Hair Loss.[5]
Yep, despite being a core requirement of a healthy head of hair, being too overzealous with your supplementation could increase your hair loss rate. Not exactly the desired effect.
A note for those with acne: be careful with your use of isotretinoin, which is a type of Vitamin A.
One study followed patients being treated with the medication over the course of seven months. It found that isotretinoin reduced the number of growing hairs in the anagen phase, the overall hair count, and hair density.[6]
If you experience unwanted or excessive hair loss when using isotretinoin, stopping the treatment should see hair growth return to normal within 30 days.[7]
The bottom line is that all cells need vitamin A for growth, including hair. Vitamin A also helps skin glands produce sebum – an oily substance that moisturizes the scalp and keeps hair follicles healthy.
It's no surprise, then, that a vitamin A deficiency can lead to A) dry hair and B) hair loss.
However, be careful with vitamin A because taking excess amounts of it can have adverse effects, including hair loss. So, take the recommended amount and don't think that more is better when it comes to vitamin A.
Some high vitamin A foods include carrots, sweet potatoes, spinach, and kale, while animal products such as milk, eggs, and yogurt are also rich in A-vitamins.
Vitamin B
This is another of the vitamins which is actually a group consisting of thiamine (B1), riboflavin (B2), niacin (B3), pantothenic acid (B5), vitamin B6, biotin (B7), folate, and vitamin B12.
These vitamins are required for good cell health, with riboflavin, biotin, folate, and vitamin B12 deficiencies associated with hair growth concerns and loss.
Much current discussion around hair loss supplementation revolves around biotin. Interestingly, this is the only B vitamin that is actually produced in our own body, rather than being taken in from food.[4]
While we know that biotin, or vitamin B7, is essential to hair growth. A biotin deficiency is one of the causes of hair loss. The actual relationship between biotin and hair growth is still a bit of a mystery.
Severe biotin deficiency is rare on an average western diet, leading many clinicians to think that biotin supplementation is not required.
Recent research suggests that while severe deficiency might be rare, simple deficiency or marginal deficiency can be present in around 50% of the population.[8]
Biotin deficiency can result from either a poor diet or acquired genetically. Be careful if you go to the gym and consume raw eggs that have been shown to inhibit the uptake of biotin.[9]
Other proven causes include isotretinoin use for acne, certain blood pressure medications like valproic acid, long-term antibiotic use, and alcoholism.
This doesn't mean that alcohol will cause your hair to fall out. A healthy amount of alcohol is just fine.[10]
Drinking too much alcohol will also reduce folate levels as well, eventually contributing to hair loss.
It is known that B-vitamins help creates red blood cells, which play an important role in hair growth because they carry oxygen and nutrients to the scalp and hair follicles.
The good news is that biotin and other B-vitamins naturally occur in many foods, including whole grains, meat, seafood, bananas, almonds, and dark, leafy greens.
Vitamin C
Also known as ascorbic acid, this is the vitamin that was lacking in sailors who used to get scurvy. With regards to skin and hair, Vitamin C plays an important role in defense and health.
Not only does it mop up free radicals preventing skin and hair follicles from damage, but it also provides a healthier collagen structure in the scalp, again supporting and reinforcing hair follicles.
The science is complex, but if you suffer from an iron deficiency, then vitamin C supplementation can help prevent hair loss.[11]
Vitamin C is prevalent in various foods, including citrus fruits, strawberries, bell peppers, and Brussels sprouts.
Vitamin D
Perhaps one of the better-known vitamins, Vitamin D, is produced when we are exposed to sunlight.
Unfortunately for us in the west, due to a more indoor lifestyle and cancer warnings about sunbeds, many of us don't get enough sunlight to maintain healthy levels of Vitamin D.
Exactly how Vitamin D is used in the body is still unclear, but we do know that it is anti-inflammatory, helps regulate our immune system, and has been shown to support normal hair growth.[12]
Moreover, vitamin D may create new hair follicles and may play a role in hair production.
Your body produces vitamin D through contact with the sun's rays, while other sources include fatty fish, cod liver oil, and some varieties of mushrooms.
Many people don't get enough vitamin D on a daily basis, however.
Do you suffer from or have a history of alopecia areata, otherwise known as spot baldness?
This is classed as an auto-immune disease where the body's own immune system attacks hair follicles, causing spots or clumps of hair to fall out. Currently, there is no known cure, and patients are treated with steroids to calm the immune system.
A large study involving over 1000 patients, however, showed that those who suffer from alopecia areata typically had much lower levels of Vitamin D than those who did not.[13]
However, the jury is still out on how much Vitamin D deficiency causes how much hair loss. Conflicting studies looking at over 55,000 women found no significant link between vitamin D intake (not including sun exposure) and increased risk of developing alopecia areata.
Vitamin E
When it comes to vitamins for hair growth, vitamin E is the best one you can take. Vitamin E helps maintain healthy skin and scalp, which in turn will help your hair grow faster. This vitamin is also responsible for ensuring that your cells work properly.
Vitamin E is a great antioxidant, protecting the body from damaging free radicals. Hair loss has been linked to an imbalance of oxidants and antioxidants, which stresses skin cells.
Whilst this implies a strong case for supplementing your hair health with vitamin E, there haven't been any clinical studies looking at the direct correlation between the two.
As a vitamin that is already known to be good for your general health, our advice is that it makes sense to add it into your supplement stack.
Good sources of vitamin E include spinach, almonds, sunflower seeds, and avocados.
Iron
If you experience excessive hair loss, you should make sure that any supplementation you take includes iron.
Why?
Because iron deficiency is the leading nutritional deficiency in the world.[14] It took years for researchers to decide on whether iron was, in fact leading to hair loss, but the medical community is now in agreement that it does.[15]
Most of the research has focused on women. Still, most studies agree that iron is likely to affect many types of hair loss, including male pattern baldness, otherwise known as androgenic alopecia.[16]
Interestingly, there also seems to be a link between low iron levels, low vitamin D levels, and premature hair graying.[17] Another great reason to make sure that you are taking the right supplements for healthy hair growth.
Selenium
This is a trace element that is needed by the body to create various proteins. Although research is limited, lack of selenium has been implicated in both loss of hair pigmentation and increased hair loss.
The recommended dietary allowance for selenium is a daily dose of 55 μg daily in adults. Meat-eaters and vegetarians can easily consume selenium in meat, vegetables, and nuts.[18]
Again care must be taken when supplementing with selenium as too much can cause toxicity. Just like Vitamin A, too much selenium can cause hair loss rather than increased hair growth.
Back in 2010, a supplement company accidentally added too much selenium to their dietary drink: 10,000% more than the recommended daily dose, to be exact! Almost everyone who drank the supplement experienced nausea and vomiting, nail discoloration, and severe hair loss.[19]
Zinc
Another essential trace element, zinc, is sourced from the food we eat, mainly meat and fish. Unfortunately, there are several ways that you can become deficient in zinc, and it's not just by having a poor diet or having a plant based diet.
Simply by eating a lot of cereal grain, you can pull down zinc levels in your blood. Having a very low body weight or drinking too much alcohol is also known to cause problems.
To neatly summarize our current understanding of Zinc: "Alopecia (hair loss) is a well-known sign of established zinc deficiency with hair regrowth occurring with zinc supplementation."[20]
This important link between zinc and hair loss seems to be true regardless of the type, including male pattern balding and alopecia areata.[21]
Using vitamins to combat hair loss
Whilst there is much research still outstanding, and our knowledge of the causes of hair loss is incomplete, there is enough evidence here to show that smart supplementation of the right vitamins and minerals can help slow or even reverse hair loss.
Keep in mind that your hair and hair loss is directly linked to your general and skin health as well. This is why many good products also include other natural ingredients that may not have been proven to specifically help with hair loss but do support healthy and strong skin.
Of course, hair follicles are within the skin and rely on its health as much as anything else to give you a full head of healthy hair.
Why (and how) we chose these products
If you're not careful, searching for the best hair supplement products may take you into snake oil territory. That is, you have to be wary of products that make big claims but aren't any more effective for hair growth than a good multi-vitamin.
Our search for the best hair growth vitamins included deep label-reading. Did the product in question have ingredients essential to hair growth?
Did it have natural ingredients, or was it loaded with chemicals that may harm your body?
The reviews of others also are important, as was the supplement's price. As always, we look for items that fit any man's budget.
Conclusion
That wraps up another product review, friends. Do you use, or have you used, a hair growth supplement?
If so, what are the results? Or, have you used one of the products listed in this review.
We welcome your feedback and suggestions and would love to hear from you.
---
References
Almohanna, Hind M et al. "The Role of Vitamins and Minerals in Hair Loss: A Review." Dermatology and therapy vol. 9,1 (2019): 51-70. doi:10.1007/s13555-018-0278-6
Gg A. Diffuse alopecia; nutritional factors and supplements. Turkderm-Turk Arch Dermatol Venerol. 2014;48(Suppl 1):45–47
Stewart CP. GDLs. A treatise on scurvy. Edinburgh: Edinburgh University Press; 1953. pp. 145–148.
Vitamins and minerals: B vitamins and folic acid NHS choices. Washington, DC: National Health Service; 2017.
McLaren DS, Loveridge N, Duthie G, Bolton-Smith C. Fat soluble vitamins. In: Garrow JS, James WPT, eds. Human nutrition, dietetics. 9th edn. Edinburgh: Churchill Livingstone; 1993
Kmiec ML, Pajor A, Broniarczyk-Dyla G. Evaluation of biophysical skin parameters and assessment of hair growth in patients with acne treated with isotretinoin. Postepy Dermatol Alergol. 2013;30(6):343–349.
Shmunes E. Hypervitaminosis A in a patient with alopecia receiving renal dialysis. Arch Dermatol. 1979;115(7):882–883.
U.S. Food and Drug Administration (FDA). The FDA warns that biotin may interfere with lab tests: FDA safety communication. Washington, DC: FDA, U.S. Department of Health and Human Services; 2017. Updated 28 Nov 2017
Durusoy C, Ozenli Y, Adiguzel A, et al. The role of psychological factors and serum zinc, folate and vitamin B12 levels in the aetiology of trichodynia: a case-control study. Clin Exp Dermatol. 2009;34(7):789–792.
Goldberg LJ, Lenzy Y. Nutrition and hair. Clin Dermatol. 2010;28(4):412–419.
Valdes F. Vitamin C. Actas Dermosifiliogr. 2006;97(9):557–568.
Takeda E, Kuroda Y, Saijo T, et al. 1 alpha-hydroxyvitamin D3 treatment of three patients with 1,25-dihydroxyvitamin D-receptor-defect rickets and alopecia. Pediatrics. 1987;80(1):97–101.
Lee S, Kim BJ, Lee CH, Lee WS. Increased prevalence of vitamin D deficiency in patients with alopecia areata: a systematic review and meta-analysis. J Eur Acad Dermatol Venereol. 2018;32(7):1214–1221.
Trost LB, Bergfeld WF, Calogeras E. The diagnosis and treatment of iron deficiency and its potential relationship to hair loss. J Am Acad Dermatol. 2006;54(5):824–844.
Walters GO, Miller FM, Worwood M. Serum ferritin concentration and iron stores in normal subjects. J Clin Pathol. 1973;26(10):770–772
Kantor J, Kessler LJ, Brooks DG, Cotsarelis G. Decreased serum ferritin is associated with alopecia in women. J Invest Dermatol. 2003;121(5):985–988.
Bhat RM, Sharma R, Pinto AC, Dandekeri S, Martis J. Epidemiological and investigative study of premature graying of hair in higher secondary and pre-university school children. Int J Trichol. 2013;5(1):17–21.
Fan AM, Kizer KW. Selenium. Nutritional, toxicologic, and clinical aspects. West J Med. 1990;153(2):160–167.
MacFarquhar JK, Broussard DL, Melstrom P, et al. Acute selenium toxicity associated with a dietary supplement. Arch Intern Med. 2010;170(3):256–261
Alhaj E, Alhaj N, Alhaj NE. Diffuse alopecia in a child due to dietary zinc deficiency. Skinmed. 2007;6(4):199–200
Kil MS, Kim CW, Kim SS. Analysis of serum zinc and copper concentrations in hair loss. Ann Dermatol. 2013;25(4):405–409.
Aoi, N., Inoue, K., Chikanishi, T., Fujiki, R., Yamamoto, H., Kato, H., Yoshimura, K. (2012). 1 ,25-Dihydroxyvitamin D3 Modulates the Hair-Inductive Capacity of Dermal Papilla Cells: Therapeutic Potential for Hair Regeneration. Stem Cells Translational Medicine, 1(8), 615-626. doi:10.5966/sctm.2012-0032