5 Best Natural DHT Blockers for Men & Women That Work
This post may contain affiliate links. Learn more.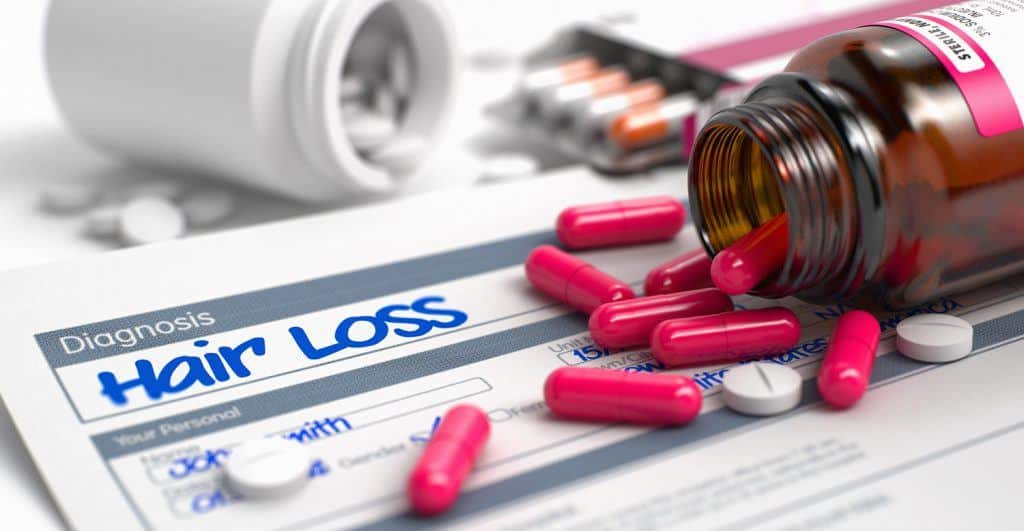 In a hurry? Here are our top picks:
For many men and women, hair loss sets off a series of alarms that are worse than those experienced at 6 a.m. on a workday after a long night.
Unless you're bald and proud of it, you've undoubtedly looked for solutions to reverse hair loss while stimulating hair growth. We get it – you look younger, even more virile, with a nice head of hair – and your self-esteem may be tied to what's growing on your scalp.
There are hundreds of products available that can help, including those which block dihydrotestosterone (DHT), a hormone that contributes to hair loss.
We'll review what we think are the best of the "DHT blockers" in this post, discuss what to look for – and look out for – when buying these products – and take a closer look at how they work.
Quick summary
<!—INSERT CODE BELOW—>

Best Overall

Revita Hair Stimulating Shampoo

Delivers stronger, healthier hair

Gentle enough for daily use

Helps hair to become thicker, fuller

Check Best Price

Best with Biotin

Ultrax Labs Hair Surge Caffeine Hair Loss Growth Stimulating Shampoo

Proven DHT blocker

Makes sure its ingredients penetrate deeply

Pleasant scent

Check on Amazon

Best Supplement

Revita Tablets for Hair Revitalization

Reduces hair loss

Stimulates hair growth

Only need to take one tablet per day

Check Best Price

Lipogaine for Men

Long history of positive results

Greatly reduces DHT on the scalp

100% money back guarantee

Check Best Price

Propidren by Hairgenics

Safe, effective

Strong list of natural ingredients

Strengthen weak, brittle hair

Check on Amazon
Before you buy: 5 Things you have to consider and look for when buying DHT blockers
You're ready to take on your thinning hair with all the weapons at your disposal, including DHT blockers. Before you take the plunge, however, here are some things to keep in mind.
1. What's causing your hair loss?
It only makes sense to determine that DHT is truly the cause of your hair loss before buying a DHT blocker. It's kind of a Captain Obvious moment.
But there may be other reasons for your hair loss and products better suited to address the issue, reasons such as infections and inflammations, thyroid problems, vitamin deficiencies, and even eating disorders.
Check with your doctor first before buying a DHT blocker. There may be something else going on that's causing your thinning hair.
2. What form?
DHT blockers can come in the form of a shampoo, cream, conditioner, or even a powder you sprinkle into your drink. But they also come in pill form, and many users find this to be the simplest method.
Our preference? Whatever works for you, but it's worth taking a closer look at the two most common forms – shampoo and supplements.
Shampoo
Depending on the product, hair loss (and hair growth shampoos) interact with the chemicals and hormones on your scalp, while others may remove scalp buildup that can limit hair growth.
Others, meanwhile, reduce hair breakage and stimulate hair growth. You can combine hair growth shampoos with other treatments to maximize the potential of improved hair growth and shorten your waiting time.
There are also conditioners designed to improve thinning hair that add more moisture and nutrients to your scalp and hair follicles. Unlike some conventional conditioners, they're not supposed to leave a residue on your hair.
Supplements
Supplements, almost always found in pill form, ensure that your body has the proper amount of nutrients and minerals to enhance hair growth.
Anyone may use supplements, but they're particularly helpful for people who have vitamin deficiencies or other medical conditions that limit how their bodies absorb nutrients.
While hair growth supplements help supply your body with the nutrients it needs, they aren't meant to replace a daily multivitamin or natural food sources.
3. Check claims against actual research
Many DHT blockers make lofty claims about their product's effectiveness. Only take those claims seriously if there's real proof – like a study or other form of research – to back it up. Be wary of big promises that come with no proof.
4. High cost doesn't always = high performance
Just because a DHT-blocking product has a high price tag doesn't mean it's a miracle solution for growing hair. There are a lot of products with hefty price tags that aren't any efficient. The active ingredients in each product are more important, which leads us to our next tip:
5. Always check the ingredients
There are many natural herbs and other ingredients that block DHT. Here's a list of ingredients you may find in a natural DHT blocker. We go into more detail on ingredients that specifically block DHT later in the article.
Saw palmetto
Saw palmetto is perhaps the most popular natural DHT blocker, and there's a lot of evidence that proves its effectiveness in preventing or slowing hair loss.
Clinical studies show that saw palmetto might block a specific enzyme (5-alpha-reductase) that converts testosterone into DHT. Saw palmetto has approval in Europe as a treatment for hair loss and men's prostate health.
Biotin
Biotin is also known as vitamin H but actually is one of the B complex vitamins that help the body convert food into energy. Biotin helps keep your hair, skin, eyes, liver, and nervous system healthy and is a crucial nutrient for pregnant women.
Most people can get the biotin they need through a healthy diet, although some claim that an extra dose of biotin has various health benefits including hair growth.
Pygeum bark
An extract from the bark of a cherry tree known as the African plum tree, Pygeum bark is another ingredient used to reduce DHT levels, while it also relieves the side effects of an enlarged prostate and helps reduce general inflammation.
Pumpkin seed oil
Pumpkin seed oil has rare amino acids such as arginine, lysine and glutamic acids that have DHT blocking properties and can improve the general health of your hair.
Rosemary oil
Studies show that rosemary oil produces an increase in hair growth similar to minoxidil over a similar amount of time.
Caffeine
You'll find caffeine in many grooming products, particularly those that deal with the skin and the hair. Caffeine extends and stimulates the life cycle of hair follicles while encouraging healthy hair.
Vitamins B12 & B6
"B" vitamins increase blood flow to the scalp to nourish hair follicles and promote healthy hair growth.
5 Best natural DHT blockers for men & women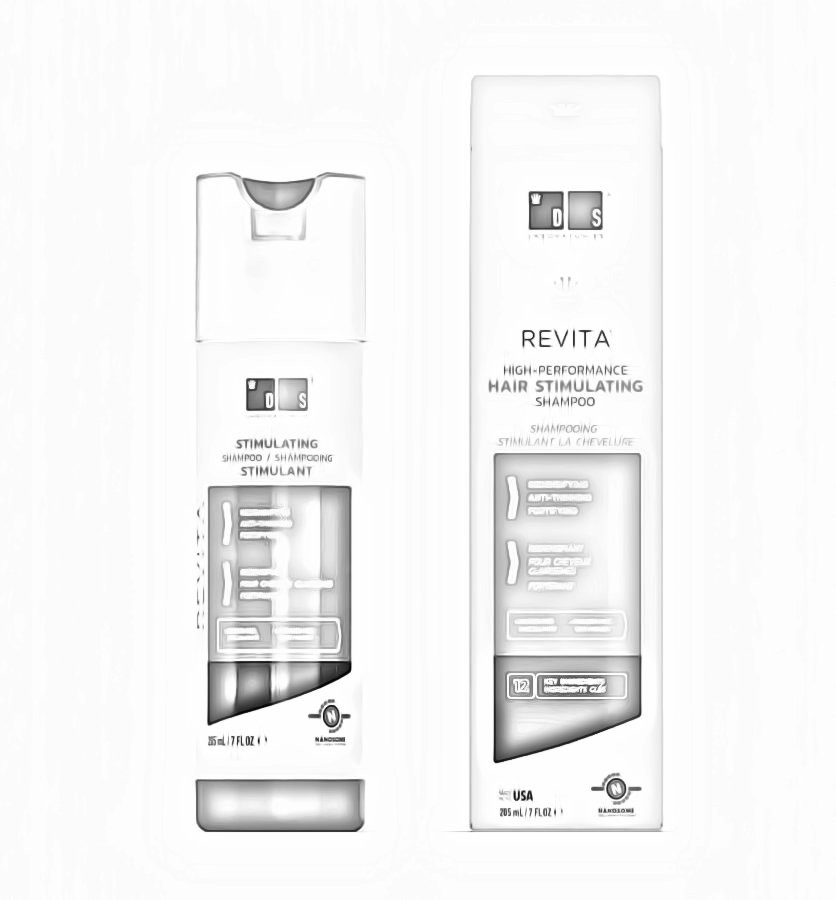 What stands out about this DHT blocker:
Superior quality shampoo
Includes a Nanosome delivery system
Made with numerous proven DHT blocking ingredients
The best DHT blocker for:
Those looking for a topical DHT blocker with reliable results.
Overview:
There's a lot to like about Revita's Hair Stimulating Shampoo because, well, it does a lot. It gently cleanses your hair, as you'd expect from a quality shampoo, it stimulates hair growth, and also contains ingredients that are proven to combat the effects of DHT.
It also incorporates Revita's unique Nanosome delivery system that offers better results over a shorter period. In short, Revita's ingredients are digested by enzymes in the skin, and their contents get released in a gradual, programmed manner.
Their Hair Stimulating Shampoo includes biotin, ketoconazole, caffeine, vitamin B2, and essential amino acids that kill the bacteria and fungus in the scalp, while improvingimprove the hair's structure and elasticity. Vitamin B2 is a powerful antioxidant.
The Revita formula does not include sodium lauryl sulfate, a detergent commonly used in shampoos that can cause dryness and other skin irritation.
While Revita's shampoo works to block DHT and its adverse effects on hair, it also enhances hair density to give it a thicker, fuller appearance. It's also suitable for men and women and gentle enough to use daily.
You can also use the Revita Hair Stimulating Shampoo in conjunction with Revita's Hair Stimulating Conditioner and their Tablets for Hair Revitalization.
Type: Shampoo
Pros
Delivers stronger, healthier hair

Gentle enough for daily use

Helps hair to become thicker, fuller

Has

antifungal

properties
Bottom Line
Revita's shampoo provides gentle cleansing, strengthens and boosts hair volume, and maintains scalp vitality and overall follicle health.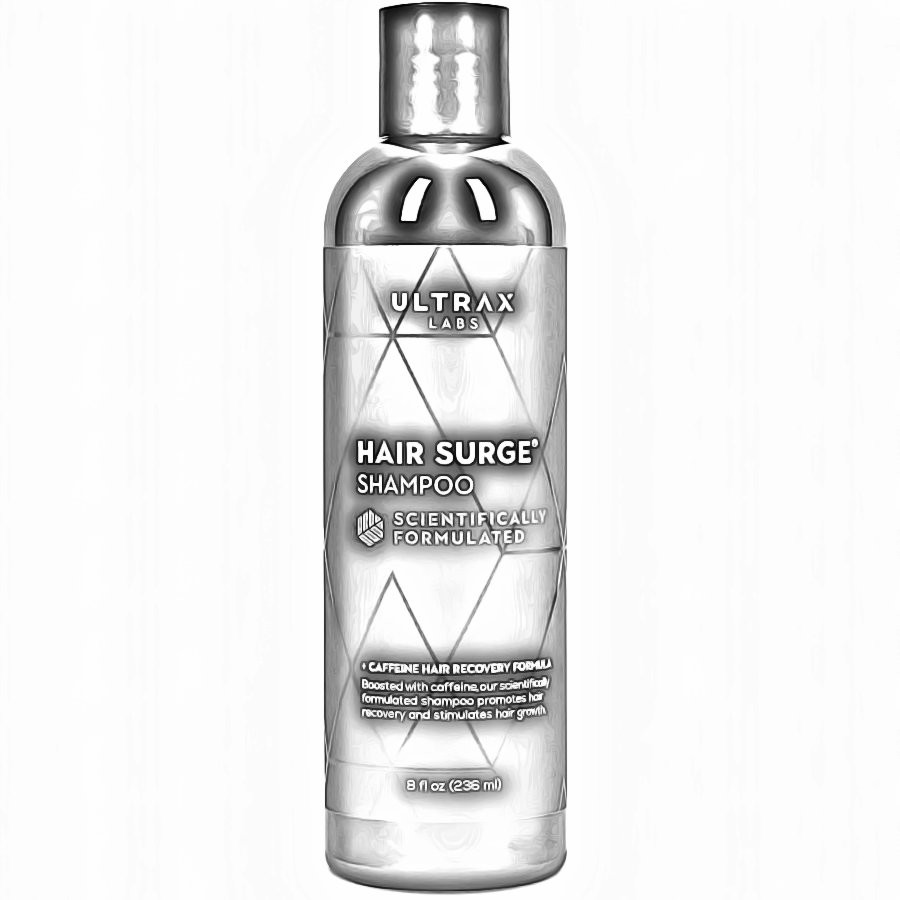 What stands out about this DHT blocker:
Fast action and may produce quick results
Loaded with natural ingredients
Pleasurable peppermint aroma
The best DHT blocker for:
When combined with a biotin supplement.
Overview:
If you don't mind a slight dose of synthetics, the Ultrax Labs Hair Surge Caffeine Hair Loss Growth Stimulating Shampoo provides excellent defense against DHT and its effects on hair loss.
And not to worry – Hair Surge contains only a tiny amount (0.2%) of ketoconazole, a chemical often found in anti-dandruff shampoos. Ketoconazole has anti-inflammatory and anti-fungal properties that help fight dandruff while also helping to prevent hair loss.
But there's also a lot of "natural" in the Hair Surge shampoo, and in fact, it's mostly all-natural. Other key ingredients including saw palmetto and caffeine, which you'll find in the majority of DHT-blocking products.
Ultrax Labs considers it vital that DHT-blocking shampoos provide a complete delivery system. That is, the key ingredients used in a hair-loss shampoo shouldn't easily wash away under the shower stream before they've had time to penetrate the scalp.
Their Hair Surge Caffeine Hair Loss shampoo delivers the necessary amount of ingredients to your hair while making them stay there.
Some of the many other things we think you'll like about Hair Surge shampoo include:
You can use it up to five times a week as a replacement for regular shampoo (but you can continue to use your regular shampoo, as well).
It's suitable for men and women.
It has a pleasant but not overpowering peppermint scent and provides a cooling sensation when you rinse it off.
Many users say they've noticed positive results after only a few washes.
It works for all hair and skin (scalp) types.
It has a thick consistency that doesn't drip off your scalp as you try to put it on.
You'll notice less hair loss and also thicker hair overall.
Other reviewers and users say you need to shampoo your hair with Ultrax Labs Hair Surge for at least two minutes per use to get the best results.
Type: Shampoo
Pros
Proven DHT blocker

Makes sure its ingredients penetrate deeply

Pleasant scent
Cons
Some of its benefits may take longer than others
Bottom Line
Some would argue that Ultrax Labs has the best shampoo technology available today and the best Hair Loss Growth shampoo with its Hair Surge product. Whether that's true or not, we think the results speak for themselves.
What stands out about this DHT blocker:
Packed with vitamins and antixoidants
Attacks hair loss from every angle
DS Labs quality
The best DHT blocker for:
Those looking for an internal DHT blocker (all-encompassing supplement).
Overview:
DS Laboratories is on the cutting edge regarding hair growth and the fight against hair loss.
Their line of Revita products, not the least of which is their Revita Tablets for Hair Revitalization, focuses on all the factors that can cause hair loss, whether it's hormonal issues, oxidative stress, or inflammation.
According to the folks at DS Labs, taking one Revita Hair Revitalization tablet a day – consistently – will gradually reduce hair loss while stimulating hair growth.
The Revita Tablets for Hair Revitalization contain proven ingredients such as melatonin, a powerful antioxidant and growth modulator that slows the oxidative stress on hair follicles.
Melatonin also helps prolong the anagen (growth) phase of hair growth while delaying the telogen phase, when growth ceases, and hair may begin to fall out.
Revita's tablets also include zinc and biotin; zinc contributes to protein synthesis while also helping to protect hair follicles from damage, while biotin serves a variety of pro-growth functions.
Another ingredient is iron, which delivers oxygen to the hair root while helping to reduce hair loss.
The Revita formula also includes vitamin D, which may spur the growth of new hair follicles, and isoflavones such as Biochanin A and Daidzein that inhibit 5-alpha-reductase while also stopping inflammation.
As mentioned, you only need to take one Revita tablet a day to get positive results.
You can also combine Revita's tablets with their Hair Stimulating Shampoo and Hair Stimulating Conditioner for enhanced results.
Type: Tablets
Pros
Reduces hair loss

Stimulates hair growth

Only need to take one tablet per day
Cons
May not notice results for some time
Bottom Line
Revita's Tablets for Hair Revitalization help fight hair loss and promote hair growth with a unique formula that delivers positive results to many satisfied customers.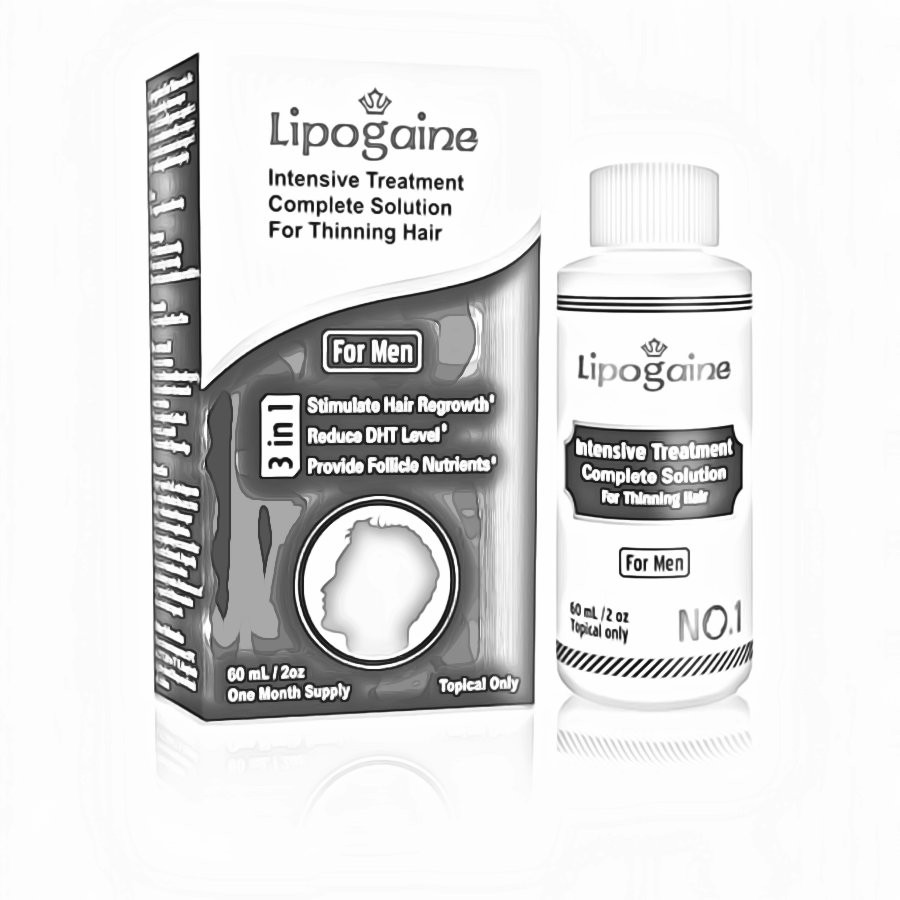 What stands out about this DHT blocker:
Easy to apply
Slows hair loss while encouraging the growth of new hair
Contains key fatty acids
The best DHT blocker for:
A topical option containing Minoxidil.
Overview:
Many describe Lipogaine as a "combination" hair loss treatment in that it slows hair loss while regenerating new hair growth. No matter how you describe it, however, the stuff works.
So, how does it work?
First, Lipogaine uses a Minoxidil formula in its shampoo for men. That's hardly insignificant because Minoxidil is, so far, the only FDA-approved ingredient for hair re-growth besides Propecia.
That doesn't mean other ingredients don't work. It's just that they haven't been approved by the Food and Drug Administration, at least not yet.
But there's more to the overall Lipogaine blend than Minoxidil, as it combines natural ingredients that lower DHT levels and support hair regrowth.
Minoxidil, in this case, 5% Minoxidil, is a vital part of the formula, no question, but other ingredients such as saw palmetto extract, oleic acid, biotin, and vitamins B12 and B6 help reduce DHT levels.
Another helpful ingredient is azetinol – an extract of grains and vitamins that reduces hair thinning (and contains key fatty acids).
You apply Lipogaine to dry hair – or hair that's towel-dried after a shower – and can wash it out after three hours if you'd like.
It comes with a dropper applicator that makes it easy to use. Simply squeeze the solution onto the areas of the scalp with the most noticeable signs of hair loss. You can use your fingers to rub the solution into your scalp.
Some users apply Lipogaine at bedtime and then wash it out in the morning.
Note: Lipogaine for Men also comes in a Sensitive Skin version for those whose skin (and scalp) may become irritated by topical products.
Type: Minoxidil-based treatment
Pros
Long history of positive results

Greatly reduces DHT within the scalp

100% money back guarantee

Almost no side effects
Cons
May leave a small bit of greasy residue
Bottom Line
Most DHT blocker reviews aren't complete unless there's some mention of Lipogaine. After all, Lipogaine is a familiar name among hair loss shampoos with an admirable track record for helping men fight the battle against hair loss.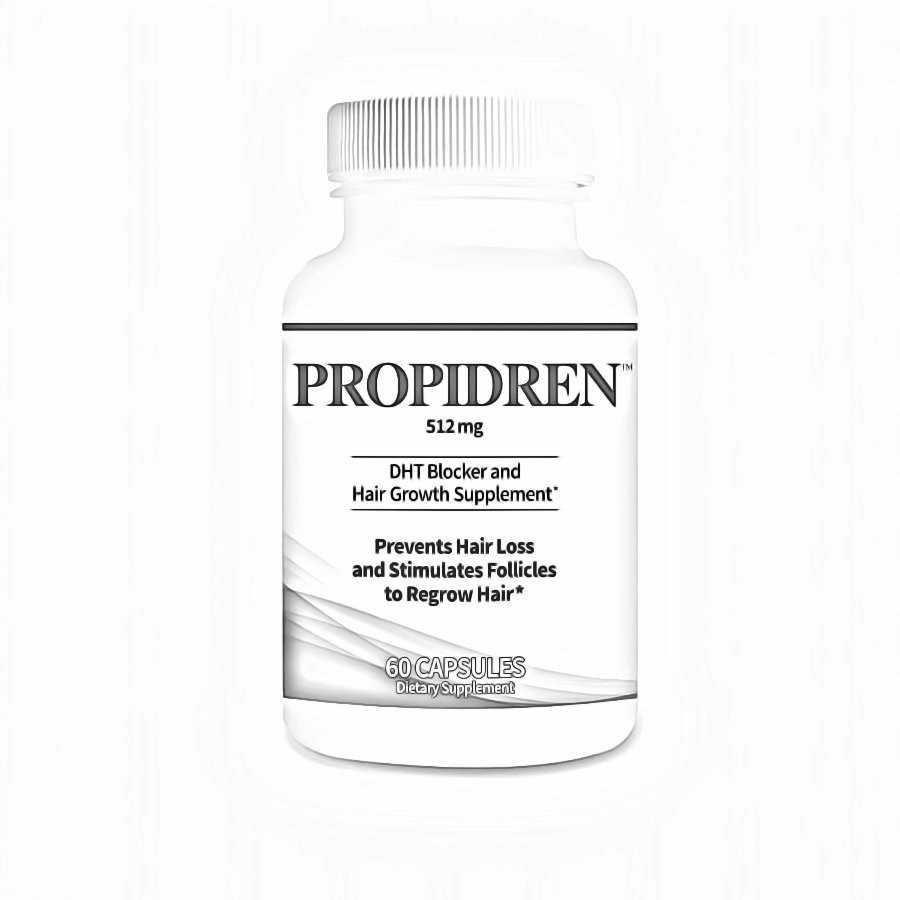 What stands out about this DHT blocker:
Energizes scalp and nourishes hair follicles
Money-back guarantee if you are not satisfied with the results
Natural formula, drug-free
The best DHT blocker for:
Those in need of a simple and convenient supplement.
Overview:
Propidren is another effective internal DHT blocker that relies on a long list of natural ingredients that prevent the negative effects of DHT. It's also safe, effective, and drug-free.
How does Propidren work? By supporting hair follicle growth and blocking the negative effects of DHT through the delivery of vital nutrients that nourish the scalp.
Saw palmetto, a wonder nutrient for fighting DHT, is a key ingredient and works to prevent testosterone from converting to DHT.
Biotin, which strengthens weak and brittle hair, is another key ingredient in Propidren. Other ingredients include nettle extract, pygeum back powder, and green tea extract.
Propidren markets its product by saying that it works from the "inside out." That is, it energizes the scalp while nourishing individual hair follicles. Most of all, it's a natural, safe nutrient boost that's great for your hair, scalp, and hair follicles.
Another key ingredient that you'll find in Propidren is iron. Iron combats anemia, and anemia is a leading cause of hair loss. An iron supplement is an excellent way to address the serious issue of anemia.
It's also hard to beat the convenience of a supplement such as Propidren – you simply swallow it by mouth twice a day.
Patience is important when using Propidren and, for that matter, any DHT blocker.
While your hair regrowth may occur after just a few weeks of taking Propidren, you'll notice significant results within three months. If you don't see positive results after 90 days, Propidren offers a 100% money-back guarantee.
Type: Pill
Pros
Safe, effective

Strong list of natural ingredients

Strengthen weak, brittle hair
Cons
You may not see results as quickly as you'd like
Bottom Line
Propidren gets high marks in a variety of DHT blocker reviews and with good reason. It's a convenient, safe way to deal with DHT's effects on hair loss and hair growth.
How we chose the best natural DHT blockers
One of our primary goals in choosing the best natural DHT blockers was to include both internal and external products.
For us, it's a matter of personal choice and giving readers the option of choosing the method that works before for them and for which they're most comfortable.
As with any natural product, the ingredients are paramount. While many DHT blockers share similar ingredients, such as saw palmetto, caffeine, and biotin, not all have identical ingredients.
We also study the reviews of others and, in particular, customers to gain an understanding of what products work and seem to have good momentum as far as sales. Price is another factor, and we strive to provide a range of products to fit every person's budget.
Understanding DHT and hair loss
If you are reading articles about DHT blockers, you are more than likely already familiar with Dihydrotestosterone (DHT) and its effect on so many men – male pattern baldness.
Male pattern baldness or Androgenetic alopecia, as it is otherwise known, is a genetic predisposition to DHT sensitivity. So if the older men in your family suffer from this type of balding, the chances are you will too.
Dihydrotestosterone is a sex steroid hormone produced in your testicles. Around 10% of the testosterone in your body gets converted into the stuff by an enzyme you may have heard of called 5-alpha-reductase.
Too much DHT miniaturizes your hair follicles, which lengthens the anagen (growing phase) but shortens the telogen (dormant) phase. This leads to increased hair loss and eventually hair thinning.
Fortunately, there are two medications available to prevent hair loss, with one specifically targeting the enzyme 5-alpha-reductase. By inhibiting this enzyme, the drug Finasteride slows down the rate of DHT production and protects your hair follicles from miniaturization.
There is also Minoxidil, another great option that increases blood flow to the scalp and supports healthy hair growth. So with both of these options available, there is a good chance you will be able to restore your hair to its former glory.
But what about other natural ingredients? Do they actually have any real-world effect?
Well, for one, there is a small chance with Finasteride and Minoxidil of experiencing some side effects. These include but are not limited to skin sensitivity reactions, burning sensations, and in some cases, decreased sex drive.
If you experience any side effects, you may want to switch to the other drug or go completely natural and use plant-based ingredients that have been shown to decrease DHT. The benefit of these solutions is that they tend to have fewer side effects, although, at times, this comes at the cost of being less effective at combating hair loss.
Natural plant extracts that can help fight hair loss
We have covered other ingredients like caffeine in this article along with minoxidil and looked at the importance of supplements here further down this page.
Today we're going to cover some of the more common or popular natural plant extracts which have shown promise in the fight against male pattern balding.
Saw palmetto
This is an extract from palm tree berries from the east coast of the US and the West Indies. They are packed full of fatty acids, in fact around 90% full, of which 3 are lauric acid, myristic acid, and oleic acid.[1]
This is exciting because these fatty acids work in a similar way to finasteride, decreasing the action of that annoying enzyme 5-alpha-reductase. This is the enzyme, of course, that turns testosterone into DHT. So Saw Palmetto reduces the main factor that causes male pattern baldness.
Research has found a dose of 320mg daily to be effective and has less side effects than an equivalent dose of finasteride.[2]
Green tea
This is a common drink worldwide, which makes it easy to get ahold of. Green tea is packed full of antioxidants, but it also has the tongue-twisters epigallo‐catechin gallate (EGCG), epigallocatechins, and epicatechin gallate. These contain proteins and Vitamins like B, C, and E.[3]
There are natural compounds called polyphenols, which have been shown to reduce cell stress and influence hair growth through anti-inflammatory action.
EGCG, however, has a direct effect on hair follicles, stimulating cell growth while reducing testosterone to DHT conversion.[4]
If that isn't enough to consider green tea as an important ingredient, it also is useful in combating Parkinson's, Alzheimer's, arthritis, skin damage, and obesity.[5]
Not bad for tea leaves.
Pumpkin seed
Pumpkin seeds are another well-known foodstuff that contains over 80% fatty acids and some essential amino acids that help reduce the amount of DHT being produced.
Several studies have tested pumpkin seed extract up to 500mg a day with no observable side effects.[6]
In fact, when combined with Saw Palmetto, the benefits can be even stronger.[7]
If you want to see the effects of Pumpkin seed extract, then a minimum of 400mg daily is recommended for 24 weeks.
Rosemary
Rosemary has been used in cooking for millennia, and the benefits of the extract are now coming to light.
There is a dizzying mix of acids, terpenes, esters, and more, which all combine in a unique way to give a surprisingly strong effect on your hair health.
This unique biological makeup has the effect of gently relaxing muscles and improving blood circulation to the scalp. This helps deliver oxygen and nutrients to your hair follicles and enhances hair growth in much the same way that Minoxidil does.
How does the natural ingredient stack up against the natural remedy?
When tested side by side, researchers have found that Rosemary extract was not significantly different from Minoxidil.[8] Great news for those who want to still to natural and organic treatments.
We recommend no more than 1400mg daily.
Grape seed
Aside from containing fatty acids amongst other hair-boosting compounds, grape seen also contains resveratrol. You may have heard that from red wine fame – it is the ingredient which is thought to protect from heart disease and clots.
Grape seed is also currently under investigation for its potential to help fight over 12 types of cancer![9]
Finally, its anti-inflammatory action alongside its ability to lower blood pressure help increase the rate of hair growth.[10]
It was found that proanthocyanidins found in grape seed oil and extract increased activity in the proliferation of hair follicles by 230%. Definitely a good step forward when tackling hair loss.[11]
Up to 400mg can be ingested daily safely.
Licorice
Best known as a sweet, this herb is rich in flavonoids and acids, as well as glycosides and terpenoids. All these compounds give rise to an 'antagonizing testosterone effect.' In other words, they drive down testosterone levels, limiting DHT production and saving your hair follicles from shrinkage.
It also contains polysterols, which reduce enzyme activity, so what testosterone is left doesn't get converted into DHT at such a high rate.
Both of these factors put together have a reasonably impressive impact on hair growth. When compared to Minoxidil 2%, it was found to be better at stimulating hair growth.[12]
For those who have ever found licorice in cold remedies, you may know that licorice improves immune system response and reduces inflammation, all great news when caring for your skin and hair.
Anywhere from 300 – 2000mg is effective in the short to medium term.
Be careful if you like eating licorice already – be cautious before adding a licorice extract on top. At very high doses, like 50g a day, which can be done if eaten like candy licorice, becomes a serious risk.
When eaten as a food every day, there is a risk of dropping potassium in your blood, which can cause heart irregularities. Stick to supplementation and small amounts of candy to be safe, or better still, consult your doctor.
Other ingredients to look out for
The ingredients listed above have produced the most interesting research so far. But that doesn't mean that there aren't plenty of other natural remedies that would be useful in your search for DHT reducing compounds. Below we briefly review other substances that have shown to have a positive effect for those of us suffering from male pattern baldness.
Ginseng
Known formally as Panax ginseng, this root used in cooking has been showing to block the action of 5-alpha reductase.[13]
Pygeum
Pygeum Africanum is a type of dried bark that contains Ferulic acid esters. These natural chemicals in the bark bring down circulating DHT levels in your body.[14]
Stinging nettle
You would be forgiven for thinking that this plant would be full of chemicals that would cause an inflammatory reaction. Aside from being a great source of Vitamin A, C, and K, it also helps block any DHT you have made from attacking your hair follicles.[15]
The future of hair loss treatments?
The fact that there is so much interest in natural alternatives to Finasteride implies that there is a desire amongst men for hair loss treatments that also have minimal side effects.
The use of natural ingredients like those listed above is now becoming recommended in conjunction with Finasteride.
The main reason for this being that results should be seen in a shorter period of time while also supporting general hair health and avoiding side effects as much as possible.
We know that Finasteride inhibits the action of the enzyme 5-alpha-reductase. But looking closer, scientists have found that it only inhibits one type of 5-alpha-reductase, namely Type II.[15]
Introducing: Dutasteride
Already making waves in the world of research, hair experts hope that it will turn out to be a Finasteride beater because it inhibits Type I and II of 5-alpha-reductase.
Finasteride is excellent, and we know it significantly improves hair growth and slows down the rate of hair loss.[16] So why the need for a better drug?
Well, if you have already tried it, you may be screaming the answer at the screen – it doesn't really work for everyone. In fact, after 1 year of the maximum dose of 1mg, only 48% of patients report an improvement in their male pattern baldness. This increases slightly to 66% after 2 years.[17]
Simply slowing hair loss is not enough and around 30-40% of men eventually report no improvement after using the drug.
On the other hand, Dutasteride is shown to be 3 times more effective at inhibiting Type I and 100 times (!) more effective at inhibiting Type II.[18]
To put that into real-world terms, Dutasteride at a dose of 0.5 mg/day has been shown to reduce serum DHT levels by more than 90%, while finasteride at a dose of 5 mg/day decreases serum DHT by 70%.[19]
Fears that side effects (like a drop in sex drive) would be worse with a stronger mediation are so far unfounded. Currently, for both Finasteride and Dutasteride, around 15% of men report negative sexual side effects. This impact is reversed on stopping the medication.[20]
To be clear for men who are worried about inhibiting 5-alpha-reductase naturally or with drugs: Several large population-based long-term placebo-controlled studies have demonstrated no clear evidence of the negative effect of 5-alpha reductase inhibitor on erectile function.[21]
So, why use a DHT blocker?
So we've talked at length about products that block DHT – which is our primary purpose – but let's spend a little time talking about how to use DHT blockers.
DHT: One of the culprits for hair loss
First, several causes contribute to hair loss, not the least of which is genetics.
If your father or grandfather experienced baldness or an otherwise significant loss of hair, chances are you may, too. Stress, medications, smoking, and many other factors contribute to hair loss, however.
DHT is a usual suspect regarding hair loss, and it's a naturally-produced hormone within the (male) human body.
Note: Women also have DHT present in their bodies, but not as much as men.
But back to our original point – when testosterone converts to DHT, it shrinks hair follicles, particularly in men whose follicles are over-sensitive to DHT. "Blockers" work by preventing DHT from attaching to the hair follicle.
Contrary to popular belief, DHT isn't the result of too much testosterone. Men who experience male pattern baldness aren't overflowing with testosterone, but their hair follicles are more sensitive to hormones.
Not that DHT is all-evil and no-good. After all, it's vital for the in-utero development of male genitalia, and men wouldn't have hairy chests, deep voices, and ample muscle mass without the aid of DHT.
Enough on DHT: How to use DHT blockers (A simple, illustrated guide)
1: There isn't anything overly-complicated about taking external and internal blockers, and it all depends on which product you choose. Perhaps the most important strategy is simply reading the instructions.
Again, how often you use a DHT blocker depends on the product and what its manufacturers recommend.
2: Most DHT shampoos are used several times a week, while topical solutions and foams are usually applied directly to the scalp as often twice a day.
3: Spend a little extra time shampooing when you use a DHT blocker, i.e., don't just rub it in briskly and rinse it off as you would with regular shampoo.
Many DHT shampoos should be rubbed into the scalp for at least two minutes and even allowed to sit a minute before rinsing them off.
4: The daily dose of internal DHT blockers – namely pills and supplements – depends on the product, as well. Many are taken once a day, and others advise taking two pills twice a day.
Whatever you do, don't go above the recommended usage while thinking "more is better."
5: What's important for using DHT blockers is consistency. Use the product as advised, without skipping applications or doses. Patience is also of the utmost importance because you may not see results as quickly as you'd like.
Again, it varies from product to product, but consistency is the key to seeing positive results.
6: Are DHT blockers for everyone? For most people, yes, but medical experts warn about potential DHT side effects.
You shouldn't take DHT blockers if you have high blood pressure (or are taking high blood pressure medication), psoriasis or another scalp condition, a shaved scalp, and if you're under the age of 18 or over 65.
What's the difference: DHT blockers vs. Minoxidil
Hair-loss and hair-growth treatments abound. While we've discussed DHT blockers in this post, we're also aware that you've probably heard of Minoxidil – a real heavyweight when it comes to hair products.
There are significant differences between DHT blockers and Minoxidil even though they're designed to do the same thing – slow the hair loss rate while promoting hair growth.
DHT blockers
A DHT blocker comes in many shapes and forms, primarily external (shampoos, etc.) and internal (supplements, pills). The primary purpose of a DHT blocker is to stop the effects of DHT, which is considered one of the main culprits of hair loss.
The conversion of testosterone to DHT, along with hormonal reactions within the body, affects the progression of balding (and all of us lose our hair to some degree, especially as we age). More specifically, DHT works by:
Lowering the baseline production of DHT
Preventing DHT from binding to hair follicle receptors
Inhibiting the prevalence of DHT by reducing the production of the 5-alpha-reductase enzyme that converts into DHT.
Purifying the scalp to remove excess scalp DHT and sebum.
A dormant hair follicle that DHT damages will no longer produce hair. And getting a "dead" hair follicle to grow hair is far more difficult than reinvigorating a hair follicle that's still producing hair, albeit thin hair.
In many ways, DHT blockers provide preventive maintenance to your hair and scalp. Using them now will help ensure that you'll have a healthier head of hair as you get older.
Minoxidil
There's nothing new about Minoxidil, which was introduced in the 1950s as a way to treat high blood pressure. One of its side effects, however, was that it promoted hair growth.
Also known as Rogaine, Minoxidil later became the first hair loss treatment approved by the FDA.
Minoxidil is different from DHT blockers in that its sole intent is to stimulate hair growth.
It also works by slowing hair loss and well-tolerated by users. However, it has some potential side effects, including a burning or stinging sensation, swelling of the hands and feet, a rapid heartbeat, and an unusual weight gain.
Minoxidil works by prolonging the phase of hair growth known as anagen. During anagen, the root of each hair divides at a rapid rate and adds to the hair shaft.
Scientists and other medical experts aren't completely sure how Minoxidil slows hair loss, but too many users have experienced hair growth to ignore its positive effects.
Minoxidil first came in pill form – back in the high blood pressure-treatment days – but now comes in a topical solution that you apply to your scalp, often twice a day. Unlike DHT-blocking shampoos, you don't rinse Minoxidil from your hair and scalp after application.
What type of hair loss treatment works best – DHT blockers or Minoxidil? While Minoxidil has been around a long time – and has FDA approval – many users say DHT blockers provide a more effective approach to hair loss and hair growth.
Moreover, DHT blocks come with fewer side effects, and many products include all-natural ingredients. But, again, it's a matter of personal choice.
Conclusion
We hope you find value and get good results from the products we've listed above. Have you tried any of those we've included in our reviews? If so, what were the results? Or, is there any product that you think we've overlooked?
If so, we'd love to hear from you. We welcome your comments and suggestions!
References
Rossi A, Mari E, Scarnò M, et al. Comparitive effectiveness of finasteride vs Serenoa repens in male androgenetic alopecia: a two‐year study. Int J Immunopathol Pharmacol. 2012;25:1167‐1173.
Pais P, Villar A, Rull S. Determination of the potency of a novel saw palmetto supercritical CO2 extract (SPSE) for 5alpha‐reductase isoform II inhibition using a cell‐free in vitro test system. Res reports Urol. 2016;8:41‐49.
Mccoy J, Ziering C. Botanical extracts for the treatment of androgenetic alopecia. Int J life Sci Pharma Res. 2012;2:31‐38.
Jain PK, Das D, Das C. Prospect of herbs as hair growth potential. Inn J Med Sci. 2017;5:25‐33.
Farooq S, Sehgal A. Antioxidant activity of different forms of green tea: loose leaf, bagged and matcha. Curr Res Nutr Food Sci J. 2018;6:35‐40.
Lestari B, Meiyanto E. A review: the emerging nutraceutical potential of pumpkin seeds. Indones J Cancer Chemoprev. 2018;9:92‐101.
Hong H, Kim C‐S, Maeng S. Effects of pumpkin seed oil and saw palmetto oil in Korean men with symptomatic benign prostatic hyperplasia. Nutr Res Pract. 2009;3:323.
Al‐Sereiti MR, Abu‐Amer KM, Sen P. Pharmacology of rosemary (Rosmarinus officinalis Linn.) and its therapeutic potentials. Indian J Exp Biol. 1999;37:124‐130.
Garavaglia J, Markoski MM, Oliveira A, et al. Grape seed oil compounds: biological and chemical actions for health. Nutr Metab Insights.2016;9:59‐64.
Masoudi M, Saiedi M. Anti‐cancer activity of grape seed. Pharm Lett. 2017;9:143‐154.
Takahashi T, Kamiya T, Yokoo Y. Proanthocyanidins from grape seeds promote proliferation of mouse hair follicle cells in vitro and convert hair cycle in vivo. Acta Derm Venereol. 1998;78:428‐432.
Upadhyay S, Singh V. Potentiality of petroleum ether (60–80) °C extract of Glycyrrhiza glabra on androgenic alopecia. Asian J Pharm Clin Res. 2013;6:52‐55
Prager N, Bickett K, French N and Marcovici G: A randomized, double-blind, placebo-controlled trial to determine the effectiveness of botanically derived inhibitors of 5-alphareductase in the treatment of androgenetic alopecia. Journal of alternative and complementary medicines (New York, N.Y.) 2002 Apr; 8(2):143-52.
Marks LS, Hess DL, Dorey FJ, Luz Macairan M, Cruz Santos PB and Tyler VE: Tissue effects of saw palmetto and finasteride: use of biopsy cores for in situ quantification of prostatic androgens. Urology 2001 May; 57(5):999-1005.
Shanshanwal SJ, Dhurat RS. Superiority of dutasteride over finasteride in hair regrowth and reversal of miniaturization in men with androgenetic alopecia: A randomized controlled open-label, evaluator-blinded study. Indian J Dermatol Venereol Leprol 2017;83:47-54
Sato A, Takeda A. Evaluation of efficacy and safety of finasteride 1 mg in 3177 Japanese men with androgenetic alopecia. J Dermatol 2012;39:27-32.
Clark RV, Hermann DJ, Cunningham GR, Wilson TH, Morrill BB, Hobbs S. Marked suppression of dihydrotestosterone in men with benign prostatic hyperplasia by dutasteride, a dual 5alpha-reductase inhibitor. J Clin Endocrinol Metab 2004;89:2179-84.
Sato T, Sonoda T, Itami S, Takayasu S. Predominance of type I 5alpha-reductase in apocrine sweat glands of patients with excessive or abnormal odour derived from apocrine sweat (osmidrosis). Br J Dermatol 1998;139:806-10.
Dallob AL, Sadick NS, Unger W, Lipert S, Geissler LA, Gregoire SL, et al. The effect of finasteride, a 5 alpha-reductase inhibitor, on scalp skin testosterone and dihydrotestosterone concentrations in patients with male pattern baldness. J Clin Endocrinol Metab 1994;79:703-6.
Gubelin Harcha W, Barboza Marttza J, Tsai TF, Katsuoka K, Kawashima M, Tsuboi R, et al. A randomized, active- and placebo-controlled study of the efficacy and safety of different doses of dutasteride versus placebo and finasteride in the treatment of male subjects with androgenetic alopecia. J Am Acad Dermatol 2014;70:489-498.e3.
Anitha B, Inamadar AC, Ragunatha S. Finasteride-its impact on sexual function and prostate cancer. J Cutan Aesthet Surg 2009;2:12-6