9 Best Hair Dyes & Colors for Men (And The Best Brands)
This post may contain affiliate links. Learn more.
Getting older sucks: you can do everything right, but your body is still gonna start slowly showing the signs – some grey hair here, some back problems there.
And while that is the natural way, there are plenty of things we can do to slow that process.
Some of them – like exercising and eating right – are long term and challenging.
But others – like improving the color of our hair – are relatively simple – provided you can find the right products!
In this review, we're looking at the very best hair dyes for men – ones that will truly look natural and will make you look younger for at least a little while longer, at least until you're ready to accept your gray hairs.
In a hurry? Here are our top picks:
Just For Men's Comb-in Hair Color
Our no.1 choice – Just For Men's Comb-in Hair Color – is the absolute best product, overall: it's long-lasting, easy to use and has a built-in mechanism to stop users overcoloring their hair.
Pure Natural's Henna Powder for Hair Dye
There's plenty more, like our no.2 choice – Pure Natural's Henna Powder for Hair Dye – which is made with 100% natural ingredients and actually strengthens and conditions the hair and scalp.
Plus there's more:
We're also going to give you an illustrated guide to using hair dye, and explore the important differences between hair dye and hair color.
First, let's kick things off with a few simple considerations you should have when buying hair dye.
Quick summary
<!—INSERT CODE BELOW—>

Best Overall

Just for Men Autostop Men's Comb-In Hair Color

Easy to use

Keeps users from over-coloring their hair

Contains no ammonia or peroxide

Check on Amazon

Best Natural

Pure & Natural Henna Powder for Hair Dye

Excellent natural hair dye

Contains no harmful ingredients

Strengthens and conditions the hair and scalp

Check on Amazon

Best Temporary

NYKKOLA Unisex Hair Wax Color Dye Styling Cream Mud

Variety of color options

Great price

Gentle to the scalp and easy to wash out

Check on Amazon

Clairol Natural Instincts Semi-Permanent Hair Color Kit

Proven brand name

Ammonia-free

Creates a natural look

Check on Amazon

Just for Men Touch of Gray Comb-In Men's Hair Color

Subtle salt and pepper look

Comes with an easy comb-in applicator

Works in 5 easy minutes

Check on Amazon

KAF Grooming Men's Hair Gel

You use it like a regular hair gel

Conceals as much or as little gray hair as you prefer

Helps to promote overall hair health

Check on Amazon

Bigen EZ Color Hair Color for Men – Jet Black

Easy to use

Contains no ammonia

Bold, vivid color

Check on Amazon

Manly Guy Black Hair Beard & Mustache Color

Contains no harmful chemicals

Vitamin-enriched and vegan

Doesn't irritate the skin or scalp

Check on Amazon

BIGEN Hoyu Ezcolor for Men, Real Black M2

No ammonia

Contains aloe extract and olive oil

It doesn't burn the skin

Check on Amazon
Before you buy: 9 Things to consider when purchasing a hair dye for men
It always helps to be a wise shopper before purchasing any product and buying hair dye is no exception. Here are a few tips that will help you make a smart decision when shopping for hair dye.
1. Know your shade
Your first step in purchasing hair dye is identifying your natural hair color. Why? Because doing so sets the foundation for choosing your desired (dye) shade. When in doubt, ask your barber or stylist – who can help identify your hair's tones.
2. What's your goal?
It's important to have a good idea of what you want to accomplish with hair dyeing. If you're looking to make a dramatic change, then hair experts suggest sticking with colors that are no more than two shades lighter or darker.
If you're going for a lighter shade, you may need a permanent hair color. Or, if you're looking to cover a few greys, then you probably don't need a permanent dye.
Just a note on covering grey hair: look for a product that specifically says something like "good for grey hair." Grey hair isn't always easy to cover but some hair dye brands are designed specifically for that purpose.
3. Permanent, temporary, semi-permanent, etc.
There are four categories of hair dye: temporary, semi-permanent, demi-permanent, and permanent. Temporary dye, as its name suggests, washes out after a couple of shampoos, while semi-permanent dye washes out after several (even as many as 12) shampoos.
Demi-permanent dye takes many more shampoos (up to 30 in some cases), while permanent dyes change the natural pigment of hair and last until the hair grows out when you cut it. Many permanent dyes contain ammonia.
4. What's the formula?
The best hair dyes won't damage your hair or irritate your skin when used as directed. If you have sensitive skin, you may want to purchase an ammonia-free dye for less irritation. Demi-permanent dyes don't include ammonia.
The fact is, any product with a lower amount of chemicals is safer in the long run. Chemical products may strip the hair of essential oils and nutrients or, in extreme cases, disrupt the texture of the hair and stunt hair growth.
5. Ignore the model
Just like you can't judge a book by its cover, you shouldn't judge a hair dye by the model on the box. The color of his hair isn't necessarily a replica of the dye's true color.
The good news, however, is that most dyes come with a color chart on the side of the box that matches the color you want to achieve.
You should also keep in mind that some hair dyes are darker at the beginning but fade a bit after you've shampooed your hair a couple of times.
6. Be wary of PPD
Many people are allergic to a chemical called para-phenylenediamine (PPD) found in some hair color products. Symptoms may include scalp irritation, itching, flaking, and blisters, and if they last for several days, you should see a doctor.
There are PPD-free hair dyes and colors available; if PPD is a concern, be sure to check the label.
7. Can't stand the smell?
Many permanent hair dyes have a strong odor – primarily because of the ammonia – but there are ammonia-free semi-permanent dyes if you have a sensitive nose or scalp.
8. The color
Of course, you have to consider each dye's color – after all, that's the part visible to you and everyone else.
Hair dye comes in a wide variety of colors – although men's hair dyes tend to have fewer shades than women's hair dye – and, again, the one you choose depends on your hair-coloring goals.
Here are a few things to think about when choosing men's hair dye colors:
Choose a color that adds a subtle change to your hair. A color that makes it overly-obvious that you've dyed your hair is often a source of embarrassment for men, so stick to colors close to your natural color (not more than one or two shades lighter or darker).
The best hair dyes don't look flat or "brassy."
If you're seeking a warmer tone, the dye's label should say something like "golden" or "warm." For cooler tones, "ash" is a good indicator.
9. Applicators
Applying hair dye is often a messy job and something of a challenge, which we'll delve into a bit later. Many brands come with tools such as gloves, applicator nozzles, and easy-to-handle highlighting wands.
It always helps to check out user reviews to see how easy a dye is to apply and whether it's drippy or messy.
Next, let's take a look at our men's hair dye reviews.
The 9 best hair dyes for men
Any list of best hair dye reviews wouldn't be complete without a Just For Men product.
Just For Men is, after all, always in the conversation when discussing the best hair color brand for men, and they have a plethora of products from which to choose. They have great beard dye as well.
The AutoStop Men's Comb-In Hair Color is a signature product of the JFM franchise and is easy to use. It also prevents dye job screw-ups because it can't get too dark – hence, the "AutoStop" mention in its name.
In short, this dye is a foolproof way for men to hide grey hair and for getting a natural result that doesn't scream, "Look! I just dyed my hair!" You'll get the right amount of color every time without looking like you dunked your head in the dye.
Indeed, the AutoStop Men's Comb-In Hair Color has many attributes:
It comes pre-mixed, which means that you don't have to mess around with the dye and the developer to get your desired color before you apply it.

It doesn't contain ammonia or peroxide, and gently changes your hair color. So you don't have to deal with harsh chemicals or pungent smells.

The AutoStop function shuts off the target color after 10 minutes so it can't get too dark. Instead, the color blends easily into the rest of your hair to create a more natural look.

It doesn't leave your hair feeling stiff and doesn't mess up the texture, but instead makes it soft and manageable.

The Just For Men AutoStop line comes in a variety of natural-looking shades so you won't have any problem finding one that best fits your natural hair color.

The AutoStop color should last you about two months although it may last a shorter time if your hair grows back quickly.

While AutoStop For Men is designed for use in your hair, you can also apply it to your beard with the same amazing results.
Pros
Easy to use

Keeps users from over-coloring their hair

Contains no ammonia or peroxide
Cons
The color doesn't last as long as some reviewers would like
Bottom Line
Just For Men is a major player in the men's hair dye market, and it didn't rise to the top by creating shoddy products. The AutoStop Men's Comb-In Color makes it easy to dye your hair and to achieve a natural, not overdone, look.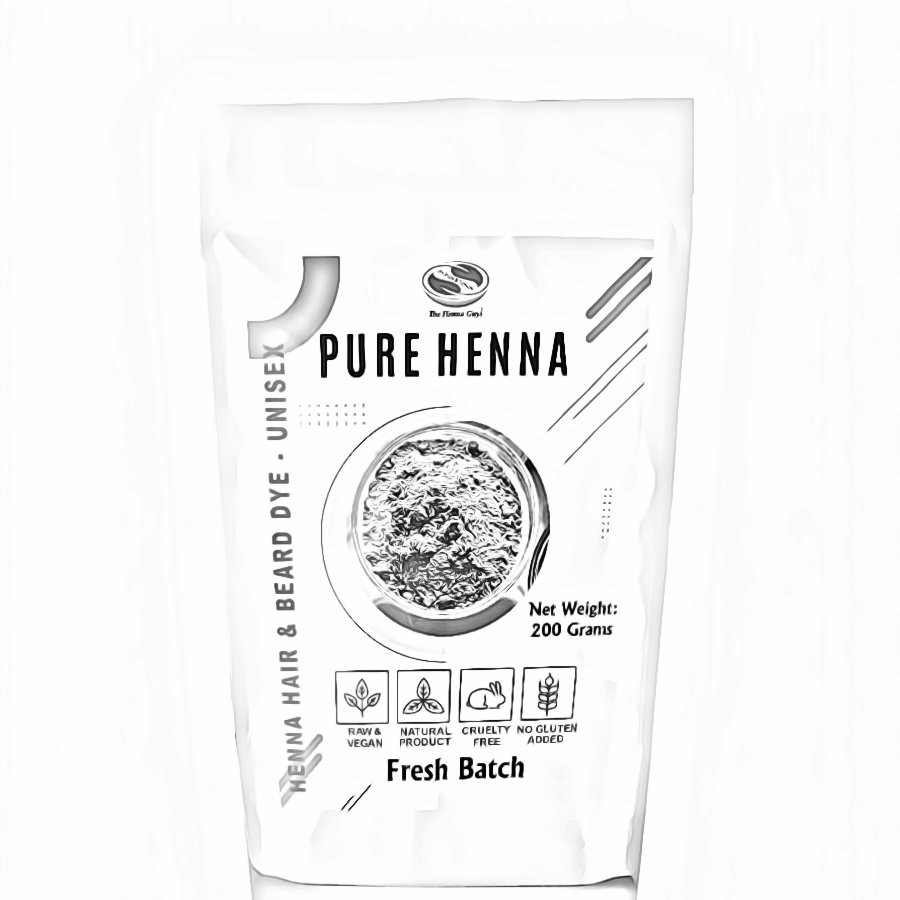 Illinois-based The Henna Guys is a company that takes natural and organic seriously. It sources quality ingredients from ethical producers around the world and uses them in all of its products, which includes hair care and skincare.
The Henna Guys' Pure & Natural Henna Powder For Hair Dye follows the company model for 100% natural ingredients and is arguably the best natural hair dye for men.
And, just as you'd expect, it's made from henna, a plant with a long history for providing color to the hair and skin.
But henna also has hair health benefits, including that it stimulates hair growth and strengthens the scalp. That makes it ideal for men with thinning hair who want more volume and thickness, but it also works for men with any hair type.
Another benefit of henna is that it helps to condition hair.
The biggest difference between henna hair dyes and many other types, however, is that henna doesn't contain harmful stuff like parabens, PPD, or allergenic preservatives. Meanwhile, henna dye fades naturally and without leaving obvious demarcation lines.
Henna, as mentioned, is a plant whose uses date back thousands of years. It grows in dry, hot climates and its leaves are dried and ground into a fine powder and made into a paste which is used to dye hair, skin, and fingernails.
While henna's natural color is reddish brown, companies like The Henna Guys make dyes in many different shades, with each one made from pure henna and plant ingredients.
As you'd expect, The Henna Guys' Pure & Natural Henna Powder contains no chemicals or other harmful additives. Instead, it's 100% natural, raw, vegan, animal cruelty free and pesticide-free. And they have 13 different shades from which to choose.
Pros
Excellent natural hair dye

Contains no chemicals or other harmful ingredients

Strengthens and conditions the hair and scalp
Cons
May cause dry scalp in some users
Bottom Line
Henna is a good option if you're looking for a hair dye that's completely natural. It's not only natural, but it also works and you'll like how your hair looks after you've applied it.
For anyone who isn't sure what color they want to dye their hair or doesn't want to commit to a long-term color commitment, NYKKOLA's selection of temporary hair colors is an excellent choice.
NYKKOLA Unisex Hair Wax Color Dye Styling Cream Mud is made with natural ingredients that minimize the potential for any scalp irritation. It is formulated with beeswax, tea extract (Camellia Sinensis), and castor oil.
This means it can be used by people of all ages and skin types, including sensitive.
Beeswax protects the hair from damage such as frizzing and breakage, plus it is a humectant, meaning it can help the skin to stay hydrated.
Tea tree prevents the build-up of dirt and dead skin on the hair, helping treat dandruff and flaky scalps. It is anti-inflammatory, antibacterial, and a natural antimicrobial, reducing, this way, conditions such as inflammation, redness and acne.
Castor oil is an ingredient that also helps keep the hair and scalp hydrated but also helps to promote hair growth, as it is proven to increase blood flow to the scalp.
On top of that, because it includes beeswax, it also helps style the hair, giving it the right amount of hold and control to last all day. It doesn't make the hair overly shiny or greasy, however.
Lastly, it is very easy to wash out – just washing with your regular shampoo will do the trick -, plus it is very adorable, making it a great choice for occasions such as Halloween and cosplay parties.
But, there are some disadvantages to it we need to mention.
While the scent is great, some might find it a bit strong. We recommend avoiding it if you are very sensitive to strong fragrances.
Additionally, its texture is a bit on the hard side. This means you will probably need to warm it up to apply it evenly.
Pros
Very affordable

Easy to wash out

Made with natural ingredients that keep the hair healthy

Multiple colors available
Cons
The scent is a bit strong, some people may not like it

Heavy texture makes it a bit difficult to apply
Bottom Line
A great range of temporary dyes, which can be used for a short-term color fix.
Clairol's Natural Instincts hair dye for men is another product that doesn't use ammonia, which can be harsh on hair, and it includes a variety of antioxidants and other natural ingredients that are gentle on your nice-looking locks.
It also comes in a variety of shades that provide plenty of coloring options for men and women.
For men, Natural Instincts provides an excellent solution for strategically covering up those grey hairs to give you a more youthful look. You'll make your hair's natural shade stand out without looking like you've created a new you that isn't, well, "you."
Let's begin with the ingredients. Clairol Natural Instincts includes hair-friendly ingredients such as aloe, protein, and vitamin E.
They help to make a gentler dye that's not too harsh or one that may potentially damage hair; instead, they help condition and protect hair, keeping it hydrated while it's changing the color.
The Hair Color Kit For Men is – and it's in the title – semi-permanent (or demi-permanent) in that it will last quite a long time before you need to re-color your hair.
How long? Well, you should get one to three months out of a single coloring. And, as mentioned, you won't drastically change your hair color (but you'll get rid of the grey) as long as you choose the right shade.
The kit comes with a developer and applying it shouldn't take more than 10 minutes.
Moreover, Clairol is known for its true-to-life coloring and ranks among the best hair color for men. It's certainly among the best men's grey hair treatment, as well, and – according to some reviewers – among the best hair dye for men with short hair.
Pros
Proven brand name

Ammonia-free

Creates a natural look
Cons
Some say it leaves hair feeling a little coarse
Bottom Line
Clairol's Natural Instincts hair color kit helps you get rid of pesky grey hairs without looking like you spray-painted on a new color. It's also ammonia-free and contains natural ingredients that help nourish the hair without causing any adverse reactions.
Back to the good folks at Just For Men, who can also lay claim to the best dye hair for men with grey (or "gray", whichever you prefer) hair with its Touch of Gray Comb-In hair color.
Not that this dye gets rid of all of your grey hair, mind you. But it takes away enough to leave you with a salt and pepper look that many men (and women) prefer over a complete grey "takeover," if you will.
Besides, removing all of your grey hair once you've reached a certain age may not look as well as you'd think. It can create an unnatural look that everyone notices for all the wrong reasons.
But why not rock the George Clooney touch-of-grey look with a hair dye that provides just enough grey hair coverage?
We think it's a worth a try.
The Touch of Gray Comb-In hair color falls under the "temporary" dye category because it lasts for only as long as it takes for your grey hair to grow back.
It's easy to apply and shouldn't take much more than five minutes to do so, and comes with an easy comb-in applicator.
Just For Men's Touch of Gray comes pre-mixed so there's no mess or messing around with developer to get the color that's most natural for you.
Just For Men advises that you should try the lightest color first if you have trouble choosing between two shades. It's always easier to go darker if needed.
JFM also makes a mustache dye that's just as easy to apply and helps you look like the sophisticated, gracefully-aging gent that you are. Oh, and if you're looking for a men's hair color shampoo, check out the Just For Men Control GX Grey Reducing Shampoo .
Pros
Leaves just the right amount of grey for a distinguished look

Easy to apply

No mix and no mess
Cons
It may be a bit darker than you'd think, so choose your shade accordingly
Bottom Line
Just For Men's Touch of Gray takes the edge off or your grey hair without making it look too obvious. You'll look younger, but not ridiculously so, and it comes from a company that knows a thing or two about men's hair coloring.
While not a hair dye, specifically, Kaf Grooming's daily hair gel targets gray hair in a way that works almost the same.
The Kaf gel has no dye added, but it replaces gray hair with subtle tones that match your hair's natural color. And you use it just like you would any hair gel.
We also appreciate that it minimizes the appearance of gray hair without the maintenance of permanent hair color. You wash it out at the end of the day and re-apply it the next.
What's nice is that you can use as much or as little of it as you desire. You can apply a small amount while maintaining salt and pepper look, or apply a bit more to conceal all of your gray hair.
You can even use it to touch up areas that you may have missed with your permanent dye job.
It has other benefits, as well, including that it helps to thicken hair to give it a fuller, more youthful appearance. The Kaf Grooming proprietary blend also helps to protect the hair from daily environmental stressors such as heat.
The Kaf Grooming kit includes four bottles of different colors to make it easier to decide which one of the gels best matches your normal hair color.
Pros
You can use as little or as much as you like

It works like regular hair gel

Offers other benefits to hair health.
Bottom Line
This product offers all the benefits of hair gel while also covering up gray hair. You wash it out at the end of the day, or each morning, and re-apply it again.
There's nothing subtle about Bigen's EZ Color Hair Color. It's bold and, if you're hoping to cover those grey hairs without leaving a trace, it's a product you definitely should consider.
It's also for you if you're looking for hair color or dye that's easy to apply and doesn't leave a mess. It's a cream that you comb into your hair and requires no mixing. Even better, you can use it on your beard, mustache, and eyebrows.
But back to the color, the Jet Black version, that is. It's very vivid and – yes – bold, and will help you attain a more youthful, fresh appearance. It's also among the best hair dye for black men, if not the best.
We also like that the Bigen EZ Color Hair Color contains no ammonia and is hydrogen peroxide-free. It won't leave stains on your skin because there's no excess dripping as with other hair dyes and colors. The only time stains may occur is if you have dry, flaky skin.
EZ Color also provides some conditioning because its list of ingredients includes aloe extract, while olive oil helps to leave hair healthy-looking with a natural finish.
Another thing to note is that EZ Color is a permanent hair color that lasts longer than non-permanent brands.
EZ Color's instructions say to leave the color cream in your hair for 10 minutes after before shampooing and rinsing hair. You can leave it in your hair longer to create a darker shade, although you should never leave it in for more than 30 minutes.
Pros
Easy to use

Contains no ammonia

Bold, vivid color

Works on beard and moustache too
Cons
May cause light itching

Not great for dry skin
Bottom Line
EZ Color will get rid of grey hair quickly, which is the solution that most users of hair dye and color seek. It's easy to apply, leaves no mess, and works well on your beard and mustache, too.
Another henna hair color kit worth serious consideration is Manly Guy's Black Hair Beard & Mustache Color. Made from pure henna – with all-natural herbs – Manly Guy's coloring doesn't contain any harmful junk such as PPD's and peroxide, and it's hypoallergenic.
But does it work?
That's the million-dollar question with any product, and regarding Manly Guy's Black Hair Beard & Mustache Color the answer is a solid "yes."
Many reviewers say it works as well, if not better, than traditional hair color kits that include chemicals, and covers up those greys that make you look a bit older than your years.
Meanwhile, it's other big advantage – that it's chemical-free – makes it worth your investment, as well. You don't have to worry about the itching, burning, rash, or other irritating reactions, that you do with many non-natural dyes and colors.
It's also vitamin-enriched and vegan and helps make your thicker and more healthy overall.
Manly Guy's coloring works on all hair and skin types, and on all types of treated hair – from color-treated to permed, to straightened – to any hair that's chemically-colored.
It also offers a variety of other colors, including strawberry blonde, dark brown, copper, dark red, and more.
Another plus is that the coloring is easy to use. You only need to add water, mix it into a paste, and then apply. Each kit comes with everything you need to color your hair multiple times: gloves, hair cap, and instructions.
Some say that Manly Guy's product leaves your hair with a green tint immediately after application, but that the shade fades away after the coloring sets in your hair completely.
Pros
Contains no harmful chemicals

Vitamin-enriched and vegan

Doesn't irritate the skin or scalp
Cons
The total application process is slower than with some dyes and colors
Bottom Line
Manly Guy's Beard & Mustache and Color helps you to get the hair color you desire without irritating your skin and scalp. Packed with natural ingredients, it even helps your hair to be thicker and healthier.
Sometimes, what you really want is a relatively cheap, hassle-free experience with your grooming products. And that's exactly what this dye is about.
For the relatively low price, you get a huge container of the stuff that will last ages – not least because each application lasts a decent while. Though it doesn't last as long as many, the application is so straightforward and safe, it's barely any hassle at all to reapply it.
Made with aloe extract and olive oil, its formula ensures that it never burns or stains your skin – as so many dyes have done, historically. And it doesn't use any ammonia at all, which is another classic problem dyes have faced.
What you get instead, is natural looking color on both your hair and beard that blends easily in and will actually keep your hair healthy and luscious. There are no side effects too, so no itching, redness or soreness.
It's also worth noting that several African Americans have found it particularly good for their hair.
Pros
Aloe Extract And Olive Oil

No Ammonia, Low Peroxide

Never stains or burns the Skin
Cons
It could last a little longer
Bottom Line
Easy to use and great value – what more could you want?
Our method for choosing these products
There aren't a lot of hair dyes and color for men when compared to other hair products, and especially when compared to hair color for women. Certain brands dominate the playing field, so to speak, with Just For Men leading the way.
Fewer choices don't make it easier to choose products for our review because it leaves less room for comparison. But those that made our list satisfied our expectations for effectiveness while earning high marks from users and other reviewers.
Ease of application is another consideration, as is each product's list of ingredients. We always like grooming products that have natural ingredients and are less harsh on the hair, skin, or beard.
In any case, we think you'll find our list helpful.
Applying your men's hair dye (A simple, illustrated guide)
Once you've purchased your hair dye it's time for the true test, i.e., applying it to your hair. While dyeing your hair isn't as easy as, say, applying a pomade, it's shouldn't be intimidating, either.
All you need is some time, patience, courage, and the commitment to following the directions that come with each dye.
Here are some common steps to follow:
1. Block off some time
The process of correctly applying hair will take some time. The last thing you want to do is to rush through the steps and end up with a coloring that's messy and cringe-worthy.
2. Have the right tools
Don't get started until you have everything you need to do the job right. And that includes:
A coloring brush, if one doesn't come with the product.

Latex gloves, because you don't want to get dye all over your hands, your nails – or any part of your body, for that matter.

A trash bag or another kind of plastic covering that protects your sink and surrounding area from dripping dye, which can cause stains easily.
A color developer kit, which comes with most hair dyes.
3. Strip down
No, there's no need to get naked (but feel free if you so desire), but take off your shirt, pants and other clothing that may get ruined by the dye. At the least, wear an old T-shirt that you can toss in the trash when the job's finished.
4. Guard your hairline
Many hair professionals advise that you put Vaseline or another kind of lotion on the outer edge of your hairline to prevent dye from bleeding down onto your forehead.
5. Mix the dye
This step is where following directions becomes crucial. Each product comes with a list of instructions for mixing the dye color and developer to create the final composition that ends up in your hair.
As a general rule, if you want a deeper color, you should increase the ratio of hair color to developer. But be careful that you don't overdo it and end up with a dye that's more than two shades darker than your normal hair color. You don't want your hair to stand out like a sore thumb.
6. Brush on the dye
Once you've developed your desired color, use a brush to apply the dye to the targeted areas of your hair. Keep an eye on the temples and sides of your head while leaving some natural color visible to help make the overall job look more realistic.
Note: some people apply the color to a comb with a tint brush and then delicately comb the targeted areas for subtle coverage.
7. Let it sit
Let the dye sit in your hair for the suggested time frame for each product. In most cases, it's only five to 15 minutes. You can reduce the amount of time the dye sits in your hair to get a more natural look.
8. Rinse it
Rinse your hair out in the sink – the wider the sink, the better – or shower after you've left the dye in your hair for the required amount of time.
And now you're ready to face the world!
Hair dye vs. hair color – What's the difference?
People often confuse hair dye with hair color – and vice versa – and with good reason. Hair dye is a relatively newer term and natural dyes were used to color clothes.
But synthetic dyes began to replace natural ones, in part because they last longer, and soon became popular for coloring human hair.
Confusion still reigns, however, because many companies that manufacture dye refer to their products as hair "color." No one is quite sure why, or perhaps because dye suggests a harsher product, but many hair color products are actually hair dyes.
Forgive us if you're still scratching your head about this subject.
There really is a scientific difference between hair dye and hair color and it comes down to this: hair dye goes inside strands of hair to provide color while hair color stays on the surface (like paint stays on the surface of a wall).
That said, hair color fades faster than hair dye.
Hair dye, generally speaking, consists of strong chemical mixtures that help make it more permanent than hair color. Hair color doesn't reach the roots of the hair but acts as a coating on the surface of the hair.
Regular re-application of hair color is a must for maintaining a well-groomed look, but not as important with more permanent hair dye.
In either case, however, any new growing hair will consist of its natural color whether you use dye or color.
Conclusion
Do you use hair dye? Have you tried any on our list? If so, how did they work? We always welcome your comments and suggestions and would love to hear from you!