9 Best Men's Hair Combs for Magnificent-Looking Hair
This post may contain affiliate links. Learn more.
Combs might well be the oldest grooming tool known to man. Since the days of cavemen, we've been using combs to tame our hair and entice the opposite sex.
But these days, there are so many options on the market, it's hard to know what the best hair combs for men really are.
Which is exactly why we've taken the time to trial as many as possible, and deliver this review of the absolute cream of the crop when it comes to men's combs.
In a hurry? Here are our top picks:
Seven Potion's Hair Comb for Men
Our top choice is Seven Potion's Hair Comb for Men – an all-round gem, with quality handmade construction, sawcut teeth that are gentle on the hair and an anti-static effect which makes styling super easy.
One&One Purpleheart Wood Comb
Our runner-up pick, is One&One Purpleheart Wood Comb – an exceptional choice for men with thicker hair, as its unique design, helps tackle the tangle and completely avoid static and pulling.
And we're not just going to review the top combs on the market:
We've also got a list of 7 handy tips for combing your hair, plus a detailed analysis of the differences between hair combs and brushes.
First though, we've got to dive into the key factors you need to consider when purchasing a comb.
Quick summary
<!—INSERT CODE BELOW—>

Best Overall

Seven Potions Hair Comb For Men

Handcrafted quality construction

Sawcut teeth are gentle on hair

Extremely durable

Check on Amazon

Best for Thicker Hair

One&One Purpleheart Wood Comb

Great for thick, curly hair

Bespoke premium design

Does not pull hair, no static

Check on Amazon

Best Portable

Go Comb Wallet Hair and Beard Comb

Very portable design

It's also a bottle opener

Durable and anti-static

Check on Amazon

Baxter Of California Comb

Produced through an extensive manufacturing process

Ideal for any combing needs

Thick and thin teeth options

Check on Amazon

Kent R5T Handmade Fine Tooth Comb

Superior strength and durability

Gentle, rounded teeth avoids irritating your hair and scalp

Bio-degradable for the eco-conscious

Check on Amazon

Rocky Mountain Anti-Static & No Snag Comb

Perfect for use with styling products

Teeth do not damage hair

Strong, long-lasting design

Check on Amazon

Kent A FOT Handmade All Fine Tooth Saw Cut Beard Comb

Handcrafted

Soft on the scalp

Compact size

Check on Amazon

Percy Nobleman Hair Comb

Sturdy, durable design

Looks nice and modern

Does not pull or snag hair

Check on Amazon

Kent Handmade Fine Cut Folding Pocket Comb

Gentle comb, kind to hair

Saw cut teeth

Fold away design for portability

Check on Amazon
Before you buy: 4 Things to consider when purchasing a comb
To say that you'll have plenty of choices when shopping for a comb is a massive understatement. Your favorite supermarket, pharmacy, and even the gas station mini-mart down the street carry combs.
Not that all of them are of high quality, however.
Sure, you can spend a couple of dollars on a comb and pat yourself on the back for your frugality, and no one will be the wiser, but your scalp and hair will notice the difference.
Also, the comb could break in a couple of months and send you back to the store to purchase another one.
We suggest putting a little extra thought into buying a comb, especially if you want healthy hair that looks well-groomed. So, what's the right way to choose a hair comb? Here are some things to keep in mind.
1. Materials
Plastic. Wood. Horn. Indeed, combs are made from a variety of materials, and not only the three we just mentioned.
Among the many virtues of metal combs is durability. They're made to last – as you'd expect from a metal design – and they have a "heft" to them you don't get from other comb materials. They also prevent friction and static that makes it hard to style your hair.
On the flip side, metal combs can snag and pull on your hair if the metal between the teeth isn't polished.
Plastic combs are the black sheep of the comb family, partly by reputation and partly by, well, they're just not very good.
The latter is especially true for cheap plastic combs you can buy practically anywhere; they're not very durable, they can leave lines, ridges, and seams in your hair, while their injection-molded design can snag and damage hair.
To be fair, however, not all plastic combs are crappy and bad for your hair.
Higher-end plastic combs are often of excellent quality and are hand-cut, which helps to create a comfortable finish without all the pulling and snagging of the drugstore-variety plastic comb.
Cellulose acetate, a synthetic material more akin to rubber than plastic, is a high-end material used to make combs. They're often hand-cut, polished to a nice finish, and durable enough to last for years.
So, while you don't necessarily have to rule out plastic combs, you do want to make sure that you buy one that isn't like all the rest.
Plenty of experts say that the best comb material is wood. And what's not to like? Wooden combs are excellent for massaging the scalp while releasing the natural oils that condition your hair, much like a brush does.
The smooth finish of handmade wooden combs enables them to glide through your beard more effectively than combs made of plastic or metal.
Also, you won't experience the static electricity buildup as you do with other comb materials, which means your hair will have a fuller, healthier look, not one that's dominated by frizziness.
Wooden combs also earn high marks for their durability, and a quality one should last you a lifetime.
Maintaining a wood comb is easy, too: you can rinse it with water (don't use soap) or, even better, with light oil. Washing it with water can cause it to crack or splinter over time.
Types of wood used to make wooden combs include sandalwood, bamboo, and cherrywood but aren't limited to those three.
Combs made from carbon also provide plenty of durability while producing less static, if any at all. Carbon combs are very firm and work well on thick, dense hair.
Buffalo horn, ox horn – both are used to make combs. And while a horn comb might not be the first thing that pops into your mind, you should give it serious consideration.
After all, a horn comb's natural material makes for super-smooth combing without static, and – like a wood comb – evenly distributes your scalp's natural oils to create a healthy shine.
2. Design
A comb's design includes its teeth and handle:
Wide tooth comb – A wide tooth comb has thicker teeth and works best on thicker hair. It's ideal for detangling curly and dense hair and your best bet for combing damp hair, as well. The spacing between the teeth on a wide-tooth comb is larger, which allows thicker hair to easily pass through and help "settle" things down after you get out of the shower or out of bed.
Fine tooth comb – Fine tooth combs work best on thin, straighter hair and do a nice job of removing tangles, creating parts, and keeping hair neatly in place. However, you probably don't want to use a fine-toothed comb to create a style such as, say, a pompadour, yet they're excellent for creating a simple, clean look.
Medium tooth comb – The most common and versatile comb choice is a medium tooth comb. It's excellent for preparing to cut hair, as well as for removing tangles and for styling and shaping hair.
3. Handle design
Combs come with a variety of handle designs made from the materials we mentioned earlier, and some even have two different tooth sizes for added convenience.
Meanwhile, combs can fold to make them easier to transport, which are considered pocket or portable combs that you can carry with you – even in your jacket or pants pocket (hence the name). Pocket combs are small and very lightweight.
A tail comb features an extra-long design with a thin, pointed tail on the handle that enables you to divide hair into sections or use for creating fine details. It's also excellent for managing stray hairs and cowlicks.
4. Sawcut vs. Machine-Pressed Combs
Another thing to consider when buying a comb is whether it's sawcut (and handmade) or not. With a sawcut comb, the teeth are cut by hand and not machine-stamped like plastic combs. The teeth of a sawcut comb are then buffed and polished to a smooth finish.
A comb that's been machine stamped or pressed often ends up with jagged teeth that are living hell on your hair and scalp. It's just the nature of the process and, rest assured, that $2 comb you just bought off the rack at your grocery store was machine-stamped.
The 9 best combs for men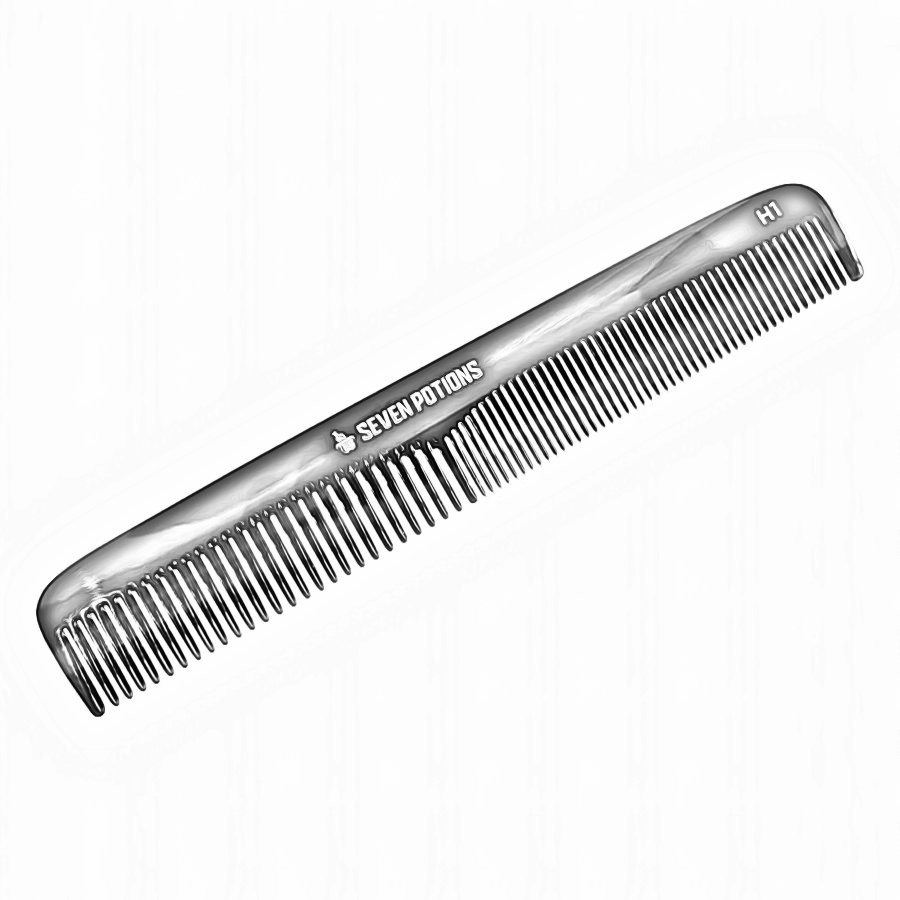 Good combs = good craftsmanship and vice versa. Seven Potions' Hair Comb for Men is a prime example of that: it's a handcrafted, sawcut comb that works amazingly well on all types of hair and has a classy, refined look.
That's saying a lot, for sure, but we think it's the best hair comb for men for a reason.
England's Seven Potions saw cuts their combs and then buffs and polishes them until the tips of the comb's teeth are rounded and smooth. You don't have to worry about potentially jagged teeth that tug and tear at your hair and scalp, causing damage.
It's also a great comb for stimulating the natural oils of your scalp while distributing them evenly across your hair. In turn, your hair will look stronger, shinier, and healthier.
While the Seven Potions Hair Comb for Men isn't made from wood, as many sawcut combs are, it consists of cellulose acetate, a non-petroleum polymer that's durable, flexible, and sustainable. It also resists static cling while pulling excess water from your hair.
The brush has both coarse and fine teeth, which makes it an excellent choice for all hair lengths, thicknesses, and styles.
Another plus of cellulose acetate is that it's waterproof and easy to clean without worry of damaging or compromising the brush's material and construction.
You'll also like how easily the Seven Potions brush fits in your hand and how easy it is to control, whether you're combing your hair right after you step out of the shower or as you're styling it before you leave home for the day.
As mentioned, the cellulose acetate material consists of a non-petroleum polymer that's sustainable and eco-friendly, which always is a good thing.
Pros
Handmade quality construction

Sawcut teeth are gentle on hair

Very durable
Cons
Few, if any, but a bit more expensive than some other combs
Bottom Line
It's hard to go wrong with the Seven Potions Comb for Men. From its craftsmanship to its suitability for all hair types to its durability, it's a comb that will serve you well for many years.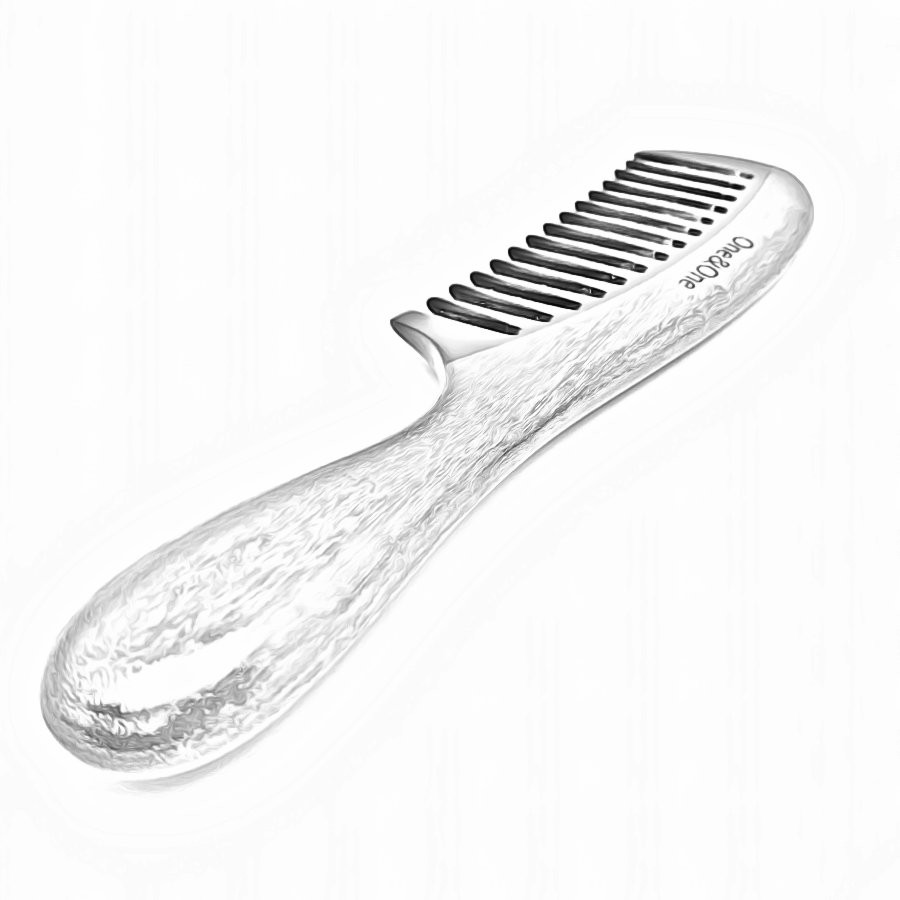 The One&One Purpleheart Wood Comb is handcrafted with 100% sandalwood wood and buffalo horn. It's a high-quality comb that makes combing enjoyable. How you might ask?
Its wider feet make detangling thicker or curly hair a lot easier without pulling or snagging them out.
Also, the buffalo horn teeth are very smooth, making gliding through the hair effortlessly. This reduces the chance of scalp or follicles irritations and protects your hair against split ends and breakage.
While these weren't enough, it is also static-free and does a fantastic job of dispersing your scalp's natural oils, resulting in fuller, shinier hair.
Its grip is very comfortable to hold, adding this way to its overall ease of use.
Generally, it is a very premium comb that is a must for those having trouble taming their hair.
Pros
Unique design

Wider teeth makes it excellent for thicker or curly hair

Handcrafted with premium 100% natural sandalwood and buffalo horn
Cons
Not very good with shorter hair
Bottom Line
A must-have comb for men with thicker hair. It is unique, effective and it is built to last.
Chances are you've never come across a comb quite like Go-Comb's Wallet Comb. It's unique, hilarious design is intended to solve a bunch of problems at once, start conversations and hopefully make people smile when they first see it.
Not satisfied with the classic-but-cumbersome comb designs they saw, this startup developed their combs so that is far more compact (and therefore easier to carry around.) But they had a couple of other ideas, too, and that was when it really began to get interesting.
See, this thing isn't just a good quality comb – sleek and durable and easy to use – it's also a bottle opener. It's small enough to just fit into your wallet, so that when you're out and about, you'll always be able to get your hair on point and your bottles flowing.
But it's no simple novelty item: the comb itself is made from high grade stainless steel, has fine teeth and is anti-static. And though it will get some laughs, it will make your hair look anything but laughable.
Because it's designed to be stored in your wallet, it's also probably the hardest comb to lose.
Pros
Compact, easy to transport design

Anti-static

Doubles as a bottle opener
Cons
Less sturdy than other combs
Bottom Line
One of the more unusual – and smartest – designs you'll see. While it isn't the best quality comb out there, it's certainly the most fun.
Another excellent comb made from cellulose acetate (and one that also goes through a rigorous manufacturing process) is Baxter of California's Comb – or combs, because they have different sized hair combs, but all produce the same superior results.
Baxter of California's combs are made in Switzerland – and not on the U.S. West Coast – but go through a 12-step manufacturing process. Their combs are sawcut, and the result is smoothly tapered teeth and rounded tips that won't pull, tug, or damage your hair.
The comb has a selection of thin and thick teeth, meaning it can adapt to just about any task, whether it's sculpting a more complex style or taming a few strays.
It's ideal for everyday maintenance and styling, and you can take their pocket comb with your wherever you go.
Their long comb, which we've linked to in this article, measures just under 8 inches and, again, works well for any combing task, whether it's heavy styling or just putting some strays back in place. It's also a great tool for creating parts that look crisp and sharp.
Their large comb has just the right amount of heft so that it works easily, but gently, through tangles, yet it also fits comfortably in your hand.
The Baxter of California comb also is versatile enough to use on your beard and eyebrows, but their 81-T handmade beard and mustache comb ranks among the best beard combs available.
Pros
Great for any combing task

Thick and thin teeth

Created via a rigorous manufacturing process
Cons
Perhaps a bit smaller than other "large" combs.
Bottom Line
Many, many men love – and are loyal to – Baxter of California's grooming products. They make quality products that are worth the price, and their hair comb is no exception.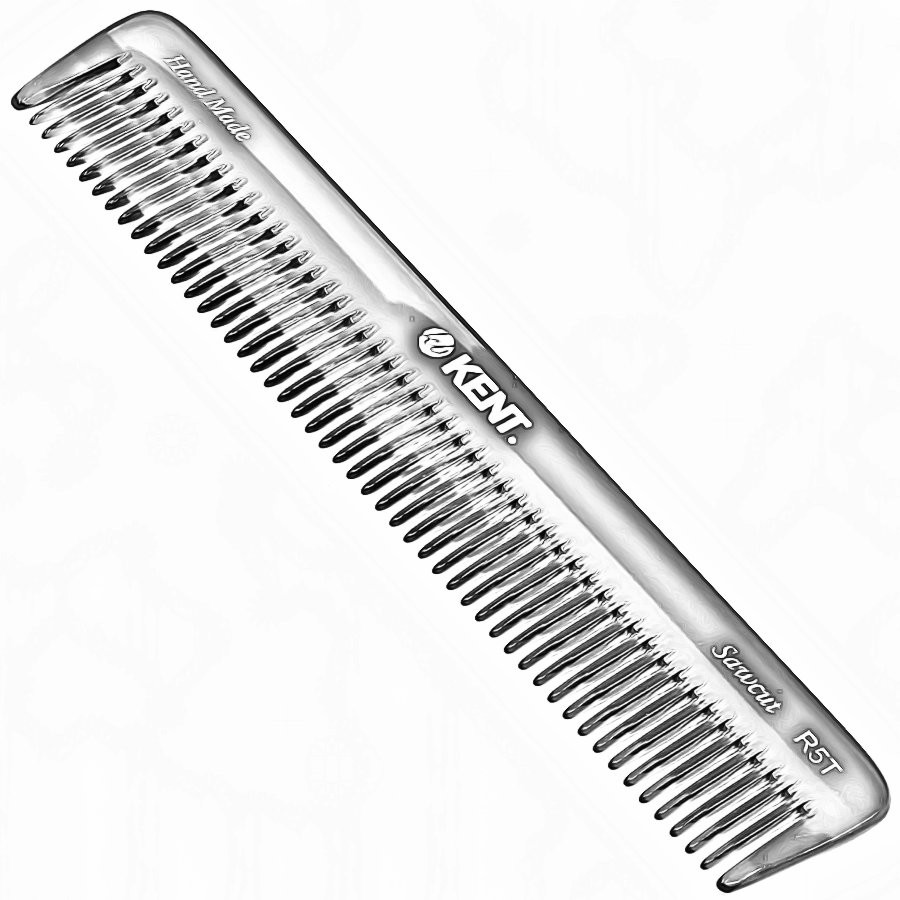 Kent R5T Handmade Fine Tooth Comb is genuinely excellent: it's made from quality, 100% cellulose acetate, which is both super durable and biodegradable. And each of its combs are entirely handmade, with the care and dedication of true expertise.
So far, so good. But what makes it exceptional?
Well, the round teeth ensure a smooth, comfortable action and are great for thick (or wet!) hair that needs a forceful motion to really detangle it. And its toughness makes it great for people with a Pompadour.
But that's not to say it isn't also great for fine hair, which also loves its smooth action and rounded teeth. Because they are made from cellulose acetate, they end up being exceedingly gentle, which is great for a detangling comb because they often end up a little harsh and prone to scratching the scalp if you're not careful.
You can use this not just to detangle hair, but to treat your beard too, which is a nice extra. And it fits neatly in your pocket, so it's easy to take with you if you think you might need a little extra grooming on the go.
Yes, this is a pricey comb. But quality will out, and frankly if you're reading a review like this, it seems likely you're after the best quality combs, not just the cheapest!
Pros
Fantastically durable and solid

Gentle, rounded teeth make it very kind to your hair and avoid that horrible scraping other combs sometimes cause

It's biodegradable, which is a big bonus for anyone who's eco-aware!
Cons
Let's be honest: the price may be a problem for some!
Bottom Line
This is a luxury comb: it's thick, high quality and somehow manages to fit in your pocket. Definitely worthy of its price tag!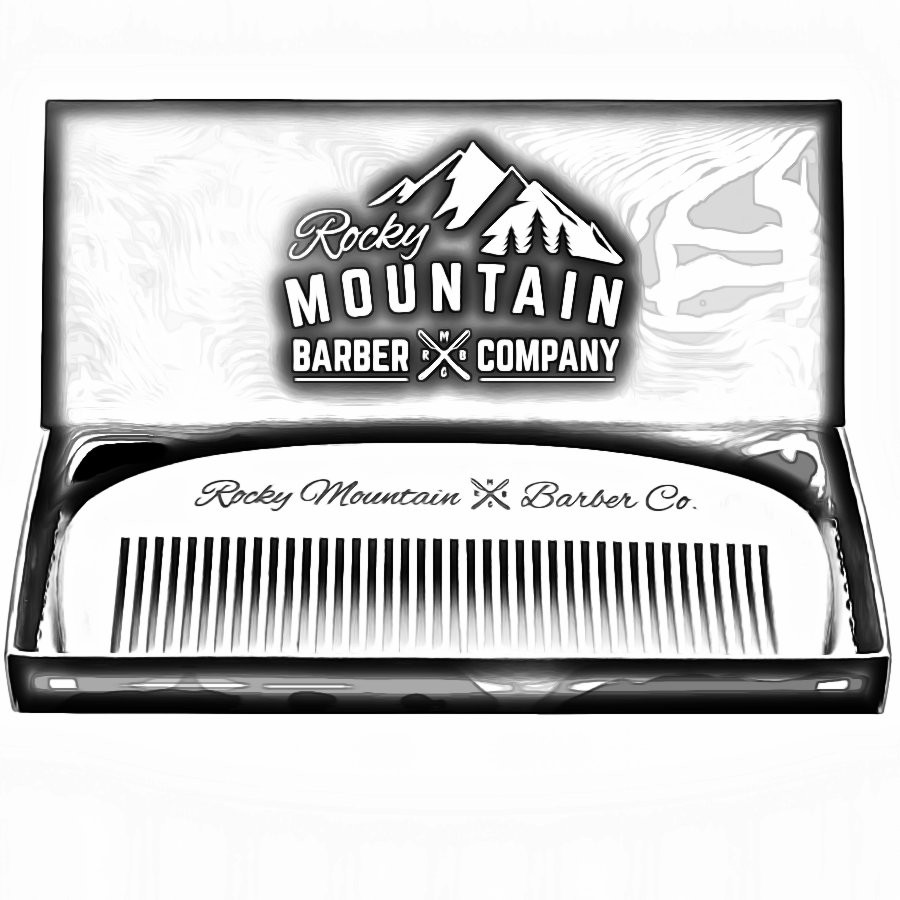 We've already discussed the many virtues of a wood comb – that traditional grooming tool that your grandfather used (and even your father). Wood combs are anti-static and generally gentler on hair than combs made from other materials.
The Rocky Mountain comb is rugged and durable enough to handle a man's daily combing tasks, and it's also warp-resistant. Yet, it has gentle, soft teeth that won't scratch or itch your face, all while keeping your beard neat and tidy.
Another reason we like it is that it's a great comb for pomade and other styling products that help you shape your hair into your favorite style, and you can use it on your beard and mustache without sacrificing any of its many benefits.
There's nothing necessarily fancy about Rocky Mountain's wood comb. Within that simplicity, though, lies a tool that offers everything you want from a comb and more.
Pros
Sturdy, durable design

Great for use with styling products

Teeth are gentle on hair
Cons
Some say it's not as effective on thinner, finer hair
Bottom Line
The Rocky Mountain Wood Comb is a versatile grooming tool with a throwback design that will help you to keep your hair looking its best.
Detangling thick hair can be a serious task; most combs buckle under the pressure and end up tugging at your hair in a painful, unhelpful way. But that's not the case with Kent A FOT's Handmade All Fine Tooth Saw Cut Beard Comb – a pocket size comb that is still able to tackle the toughest, knottiest, and thickest manes.
At 4 ½", you'd be forgiven for assuming this was more of a travel comb – and of course, it is great to travel with – but it's actually very tough, durable and easy to use.
It is hand polished and buffed to ensure the teeth are rounded and soft, which keeps it from scratching at your scalp and skin. The teeth even stimulate the natural oils in your hair, to keep your scalp and roots healthy and looking great.
Ultimately, the size and lightness make for a super easy experience – it just glides through the hair. And because it's made with cellulose acetate, it produces less static than other combs and leaves you hair smooth and silky.
The reality is, the size of this comb will simply not be to every man's liking: it does feel small in your hands, and it even becomes tricky to use if you have particularly large hands.
But if you can look past that – or actively like the size – then you'll get a great deal here: genuine quality hand craftsmanship from a company that's been around long enough to know a thing or two about how to build a fine tooth comb.
Pros
Handcrafted from cellulose acetate

Great for detangling thick hair

Soft on the scalp and skin
Bottom Line
Great things come in small packages: a beautifully made comb that is ideal for travelling men with glorious thick manes.
The Percy Nobleman Hair Comb is gentle on your hair and scalp yet strong enough to work on all hair types and lengths. It also comes with an attractive tortoiseshell design that helps set it apart from many other combs.
Made from soft-yet-sturdy synthetic acetate, the Percy Nobleman comb makes combing your hair easy and won't pull or snag, which not only can be painful but also hard on your overall hair and scalp health.
You'll love the nicely rounded teeth on the Percy Nobleman comb that further reduce irritation, while teeth come in two widths to help you maintain close control in shaping and styling your hair.
It's hand cut in France, so you don't have to worry about potentially jagged tips as you do with machine-pressed combs.
Overall, it's a comb you can use on both fine and coarse hair, plus everything in between.
This comb is longer than most pocket combs – it measures 7.5 inches – as well as more substantial, but it's still convenient enough to bring with you and ideal for an on-the-go lifestyle.
Pros
Won't pull or snag hair

Nice design and modern look

Sturdy, durable design
Cons
Few, if any, but it's bigger than most pocket combs
Bottom Line
Durable, lightweight, and gentle on your hair, the Percy Nobleman comb makes combing your hair a pleasure, and it's convenient enough for use on the go.
Kent's fine-tooth folding pocket comb is another excellent choice in the cellulose acetate line, but that's hardly a surprise. Kent combs are known for superior quality and craftsmanship, and it's tough to choose the best of their lot.
There's certainly plenty to like about their fine cut folding pocket comb. For one, it's gentler on the hair than many combs; for another, it works nicely to distribute the natural oils of your scalp and hair.
The Kent Handmade Pocket Comb consists of cellulose acetate that's cut from large sheets, rather than molded, which makes for a gentler comb that doesn't snag or damage hair. Its rounded teeth ensure a smooth, comfortable brush every time.
The saw cut fine teeth are particularly effective on fine, straight hair and also help make it easier to create different styles, including side parts. We think it's the best comb for a men's side part.
Something else that you'll notice is that the Kent Handmade Pocket Comb glides easily through your hair without creating even a hint of static.
As its name suggests, this comb has a hinge that allows you to fold it nearly in half. It measures 6.5 inches unfolded but folds to 3.5-inches to help it fit in your shirt or pants pocket perfectly.
Pros
Provides a gentle combing experience

Saw cut teeth

Folds easy for portability
Cons
Some users say the hinge is a bit weak
Bottom Line
Fine craftsmanship is part of the Kent legacy that dates to 1777. Their handmade comb has a modern look and feel while retaining the traditional aspects that make Kent's combs so good.
How we chose these combs for our review
A quality hair comb comes down to a variety of factors: the material from which it's made, how it was manufactured, how easy it is to handle and, last but not least, the ease with which it allows you style your hair while getting rid of any tangles.
We took all of those factors, as well as price, into consideration when choosing the combs for this review. We hope it's a helpful guide for picking the right comb for you.
7 Handy tips for combing your hair the right way
Many of us treat combing our hair like any other simple, daily task, i.e., we do it rather mindlessly without a lot of thought given to technique and detail.
The thing is, if you put a bit more effort and thought into it, combing your hair can easily enhance the look of A) your hair and B) your overall appearance.
So, keep the following tips in mind when you stand in front of your bathroom mirror, comb in hand.
1. Comb your hair when it's wet (or not)
There's a bit of debate about whether it's a good idea to comb your hair when it's wet. Some hair experts suggest that you shouldn't comb wet hair; others say it's OK to do so, as long as you do it gently.
In general, however, it's suggested that a comb is OK for wet and tangled hair, unlike a brush. You need to comb gently, because wet hair is more prone to wear, tear, and split ends.
What do we recommend? We think it's perfectly fine to comb your damp hair, i.e., hair that's about 80 to 90% dry.
2. Use a wide-tooth comb for detangling
A wide tooth comb makes it easier to untangle hair and loosen knots or would-be knots. Use a fine tooth comb for styling.
Combing your hair with the right tool is essential.
Using a wide-tooth comb to detangle your hair without pulling or snagging is key. The 11 best combs for men are a great place to start.
3. Use combs that generate less static
Plastic combs and other combs made of cheaper materials generate static when you guide them through your hair. Static not only causes frizziness, but it's hard on your hair and can cause damage, such as split ends.
Wood is probably the most gentle comb construction material, because it doesn't conduct electricity. Wood combs also provide a nice massaging effect to your scalp while evenly distributing its natural oils.
That's not to say that other materials aren't good for reducing static, and cellulose acetate is one such material that immediately comes to mind.
4. Parting your hair with a comb
The best tool for parting your hair is a comb. While there's nothing overly complicated about parting your hair, there are a few rules of the road you can follow to make it easier:
Decide which way to part your hair: You can part your hair in any direction, but your hair will have its own preferred, natural part. For the neatest, sharpest part, it's wise to follow your hair's natural part.
Finding your part: There are a couple of ways to find your hair's natural part. The first method is to comb your hair forward; your hair should part in at least one direction. Another way is to use your fingers to move your hair from front to back and side to side; your hair will fall in the direction that it naturally grows.
Creating a part line: Use your comb to create a part line by placing it over the section of the hair you want to part. Doing so establishes the line and creates a guide by which to style your hair. The most fashionable of (today's) styles tend to have a part from the far left or far right side of your head while avoiding the center.
Comb the larger side of the part line: Use a fine-toothed comb to comb the section of hair on the larger side of the divide established by your part. You can use your fingers to keep the part in place while you're styling your hair.
Comb the smaller side of the part line: Comb the smaller section of hair established by the part line while letting it fall naturally down the side of your head. You should have a clean, even part in which no hair is crossing over from one side to the other when you've finished.
Use hair product if so desired: Hair gel, pomade, and other styling products will help keep your hair in place and from wandering over your part line.
Don't be afraid to ask your barber: If you have doubts about the location of your hair's natural part, ask your barber. You might be surprised by the true location of your part.
5. Combing hair while using styling products
You don't need a ton of hair gel or another styling product to work your hair into your favorite style or to lie in a particular direction.
Rub a dime-sized amount of the product between your palms and then run your fingers from the front of the hair to the back while evenly coating its strands.
You may need a bit more product if you have long hair. Once you've established the shape of your hair, use a hair dryer for additional styling and to set it in place.
6. Combing tips for black men
Black men should comb or brush their hair when it's dry to avoid breaking and damaging your hair. Use oil to help with detangling your hair. Also, a comb is your best tool if you have shorter hair, although a wide-tooth comb or afro comb is suitable for long hair.
Combing hair is one of the first things a black boy learns to do. With that being said, it is important to know how to correctly comb your hair so as not to damage it.
The first thing to do when combing is to choose the right comb. You want to make sure that you are using a wide-toothed comb because it will be easier on your hair and less likely to cause breakage.
The second thing to do when combing is to use a conditioner before starting. This will help keep the ends of your hair from breaking off and splitting during the process.
The third thing you should do when combing is use an anti-static spray or gel before starting. This will help keep static from building up in your hair as well as keeping it from frizzing out during the process.
The fourth thing you should do when combing is use an anti-frizz product after every pass through with the comb so that no matter what type of style you have, there will always be one product for every look!
7. Using a comb to create spikes
You can create spikes in your hair with a comb after you've applied your styling product. Pull your comb from the bottom of the hair strand to the top while letting it stick up in the air, then twist the spikes in place.
Once you've styled the spikes, use a hair spray to harden them in place or let them dry naturally. Use a wide-toothed comb for larger spikes and a fine-toothed comb for smaller ones.
Hair comb vs. hair brush: What's the difference?
For some men, the real question concerning hair brushes and hair combs is this: What's the difference? In other words, can't you use one or the other and get the same results?
The answer is, no, not really, and both serve different purposes in many ways. Let's break it down a bit:
Combs & Combing
You can break down what a comb does in the following way:
Combing is especially effective for untangling hair when it's wet (and without breaking the hair when it's damp). Using a brush on tangled and wet hair can damage it, but it's always best if you use a comb with wide teeth, so it doesn't tug on the wet hair.
Combs gives you better control, in general, because they have one row of teeth, albeit teeth of different sizes. It's easier to create parts in your hair and, as we've already mentioned, combs are gentler on hair follicles.
A comb not only gives you better control of your hair but makes it easier to style it with gels, pomades, clays, and other styling products.
Hey, you can use even use a comb to rock a combover. Wait, there's no "rocking" a combover, no matter how good you think it looks, but if you're going to do it, you might as well use a comb.
Combs work well on every hair type: thick, thin, in-between, and for most styles.
Brushes & Brushing
Brushing is what you do after you've combed your hair – at least that's the general rule of thumb (but certainly not etched in stone).
It helps to remove the buildup of dirt, dead skin flakes, and hair product build-up that can coat the hair and scalp.
Brushing your hair massages the scalp while enhancing blood flow and stimulating the release of natural oils.
Using a brush after blow drying, or during it, is a highly effective way to give your hairstyle a fuller look.
Regular brushing can stimulate the scalp and help enhance hair growth. That's not to say brushing your hair will cause hair to grow, but stimulating the scalp improves its overall health and the health of your hair.
Avoid using brushes on curly hair, because they'll likely cause tugging and pulling.
Round brushes work better on layered hair while giving it volume and even waves, if you so desire.
Brushing is a quick way to get neat, smooth hair when pressed for time.
Conclusion
You owe it to yourself and your hair to not settle for a cheap comb just to save a few bucks. A quality hair comb will last a long time and will improve and enhance the overall health of your hair.
As always, we'd love your input. What's your favorite hair comb? Have you used any of the combs on this list? We hope to hear from you.